All of the diy garden sign projects that you see here are almost magical and mesmerizing. For those who love their gardens a lot, these 35 Charming Garden Signs DIY are nothing less than a blessing. Go through these diy projects and see how you can easily make the signs with very little effort and budget too. All the ideas are quite different from each other and you will never regret the efforts that you will put in these. Besides this some other garden themed projects are also included in these that will help you in satisfying your garden love.
You must pick and choose your favorite project among these and get started towards a new and creative mission to make your Garden look Nice and attractive than ever before. You will see different materials as well as themes beings used in these garden sign projects. The process to make any garden sign is not very difficult and you can easily learn it very conveniently. You can also make garden signs by using recycled materials to cut the cost and its ecofriendly too.
1. DIY Cottage Garden Sign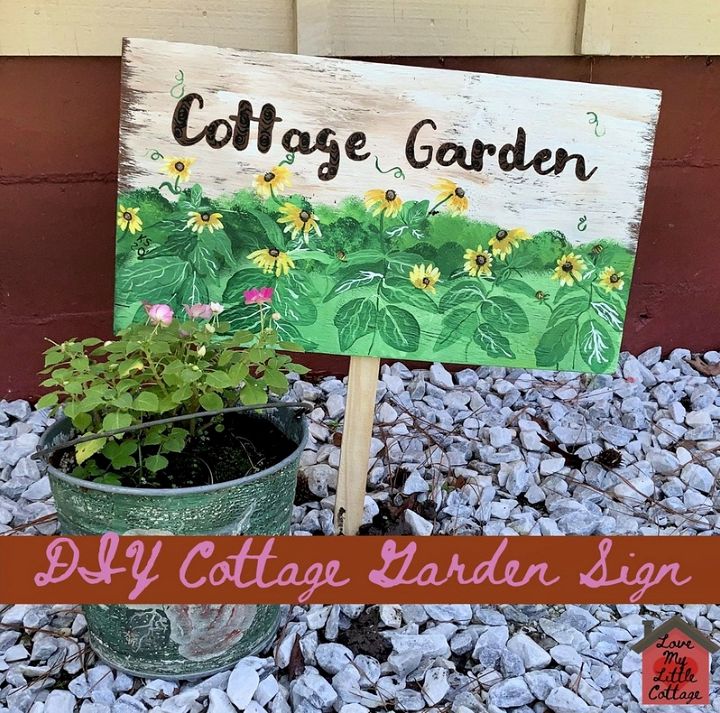 If you are also willing to Decorate your Home or garden with signs, this project will be of great help to you. This is a cottage garden sign here that you can easily make with the help of the steps taught here. a complete list of materials is also given here that includes plywood, wooden garden stake, measuring tape, wood screws, screws driver or drill, pattern, paint, brushes and mod podge Tutorial
2. DIY Garden Signs For Mother's Day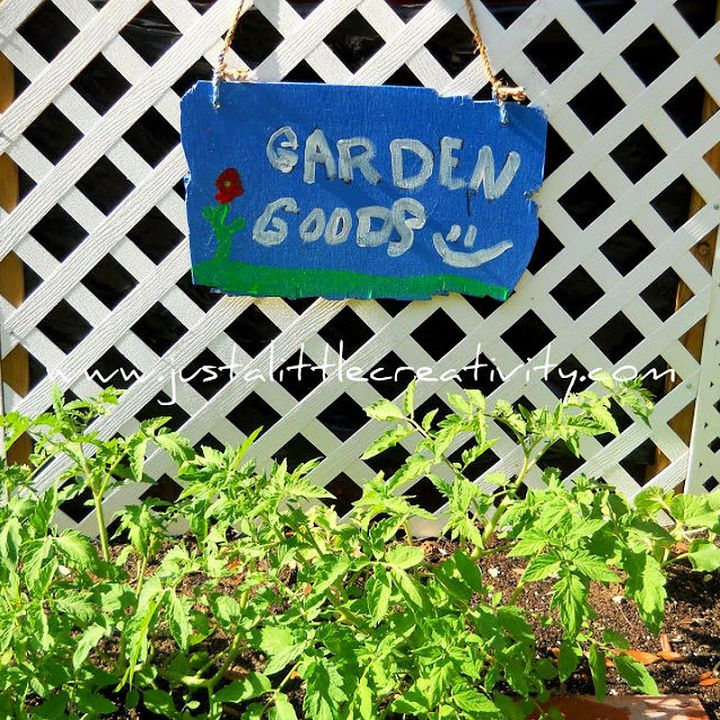 If you are out of ideas for a mother's day décor or celebrations, this garden sign for mother's day is something you would definitely love. Scrap wood is used in this project. The process involves a lot of cutting as you can see. With little efforts you are going to make something very creative and impactful Tutorial
3. DIY Garden Signs With The Cricut Maker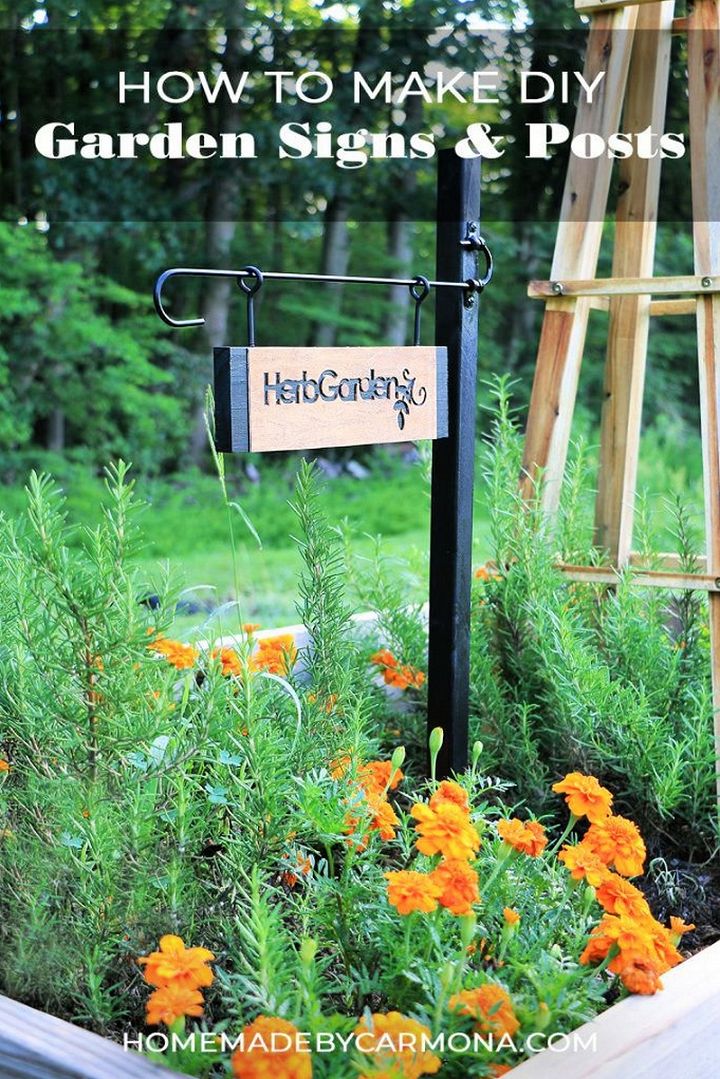 Are you also ready to make this diy garden sign with circuit. A complete process is given here in detail along with the list of materials involves so that you can easily catch up with this. The material list involves circuit maker, circuit knife blade, strongest grip machine mat, basswood, wood for signs, screw eye hooks, plant hanger, garden stake, wood glue, paint or stain and varnish. Tutorial
4. DIY Garden Signs from Tree Rounds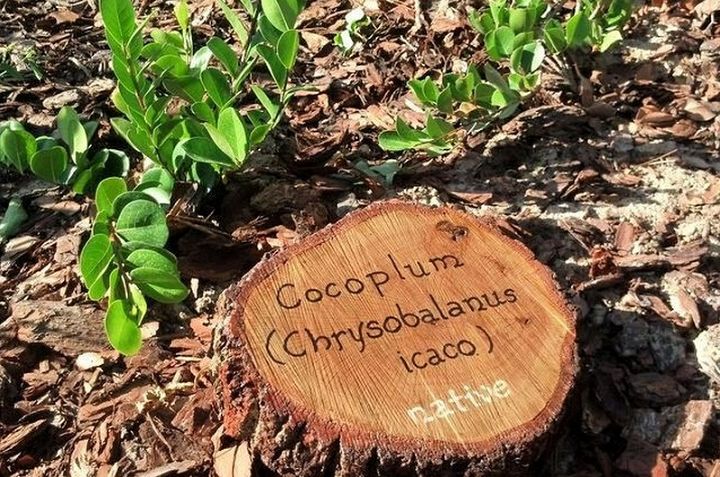 Tree trunk is something which is used in many creative diy projects in different ways. This diy project shows how you can make garden signs with the round of trees. If you are also interested in such activity you can follow the project. What you need for this project are tree cookies, medium grit sand paper, paint pen, polycyclic protective finish and paint brush. Tutorial
5. DIY Farmhouse Garden Signs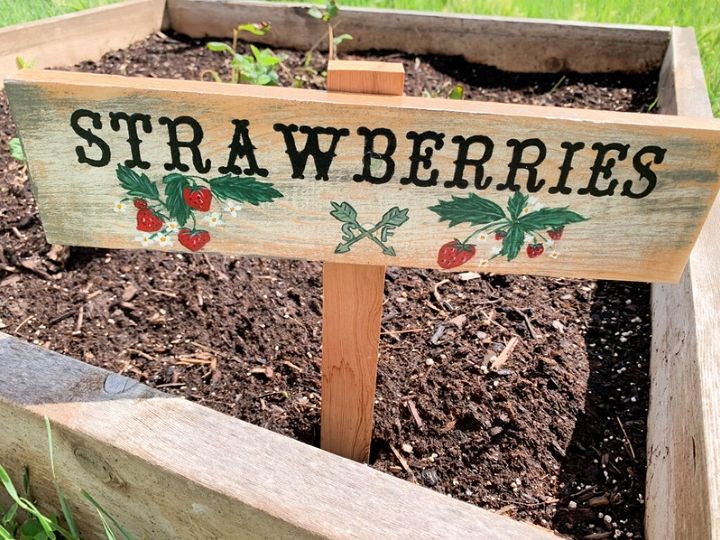 A Farmhouse garden signs is something that people are going crazy for. Some basic tools are required here like hammer, screws , drill etc. the process might be lengthy and requires some wood working however the end results will make your proud of yourself and will impress everyone with your skills. Circuit maker is also used here in this project. Tutorial
6. Please Grow – DIY Wood Garden Sign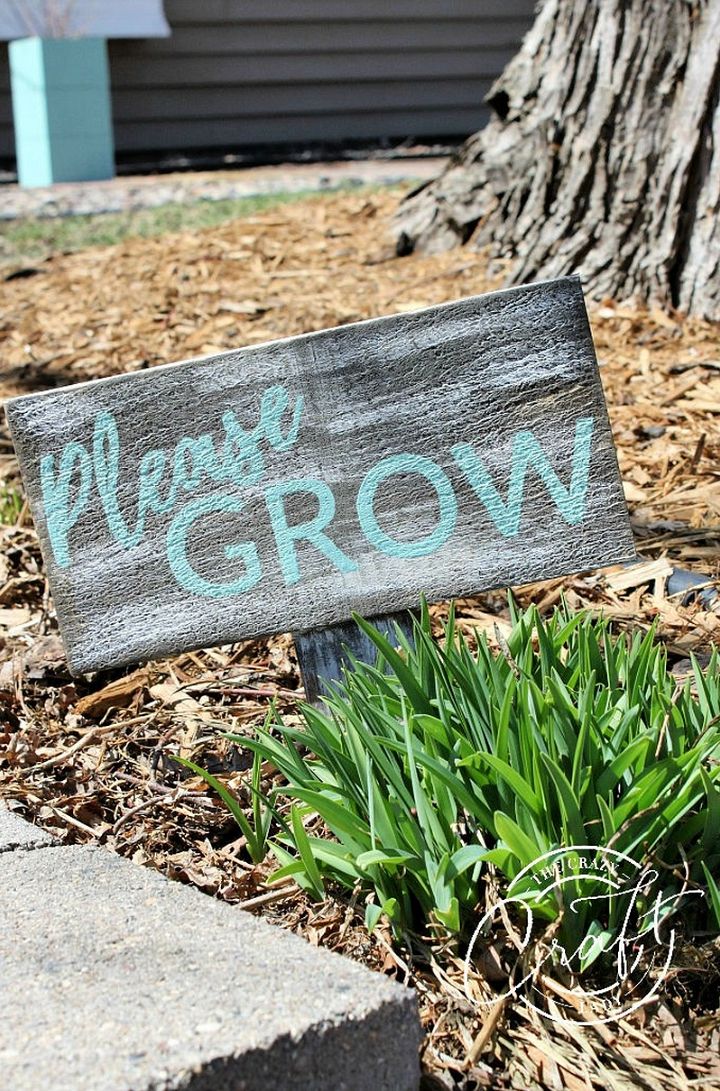 This wood garden sign that says, please grow looks absolutely relevant and we can literally feel this. Gardening is not easy especially when it comes to doing it as a hobby because you have to invest time and also formulate different ideas to maintain your garden and also to make it look good. Tutorial
DIY Plant Stand Plans – Make the perfect space to display your plants outdoors or indoors by using these innovative diy plant stand designs made of wood. These are all easy and trendy. You can get assistance and ideas from these free plans for DIY plant stands that include clear instructions as well as a list of materials.
7. Scrap Wood Garden Signs – Easy DIY With Kids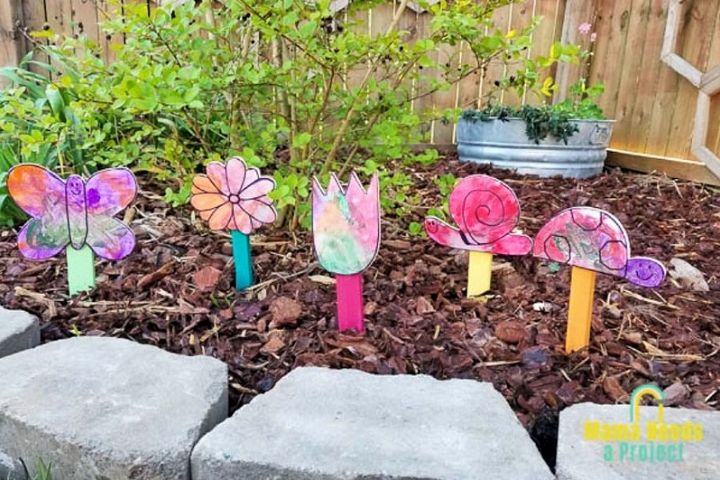 For this diy garden sign project all you need is scrap wood. You can engage your kids along with you in this activity and they will surely enjoy it to bits. Make the garden signs in silly shapes to enjoy and have fun. For this you need scrap plywood. Besides this you will also need scrap wood for stakes, jigsaw, small clamps, sand paper, paint, spray sealant, wood glue and nail gun. Tutorial
8. DIY Garden Signpost With Leftover Outdoor Paint And Upcycled Wood Battens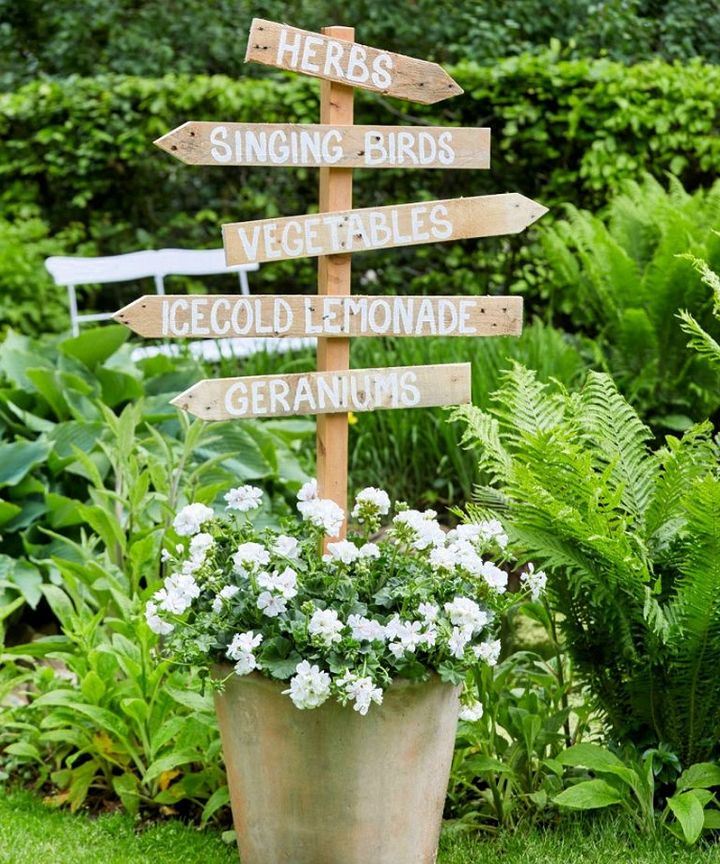 You can easily do garden signs with left over and recycled materials. The use of upcycled objects makes this project really budget friendly. The project here uses left over wood battens and left over paint for the outdoor purpose. The material list here includes wooden post, wooden battens, jigsaw and handsaw, sandpaper, hammer, nails, weatherproof paint and paint brush. Tutorial
9. Printable Garden Sign And DIY Garden Markers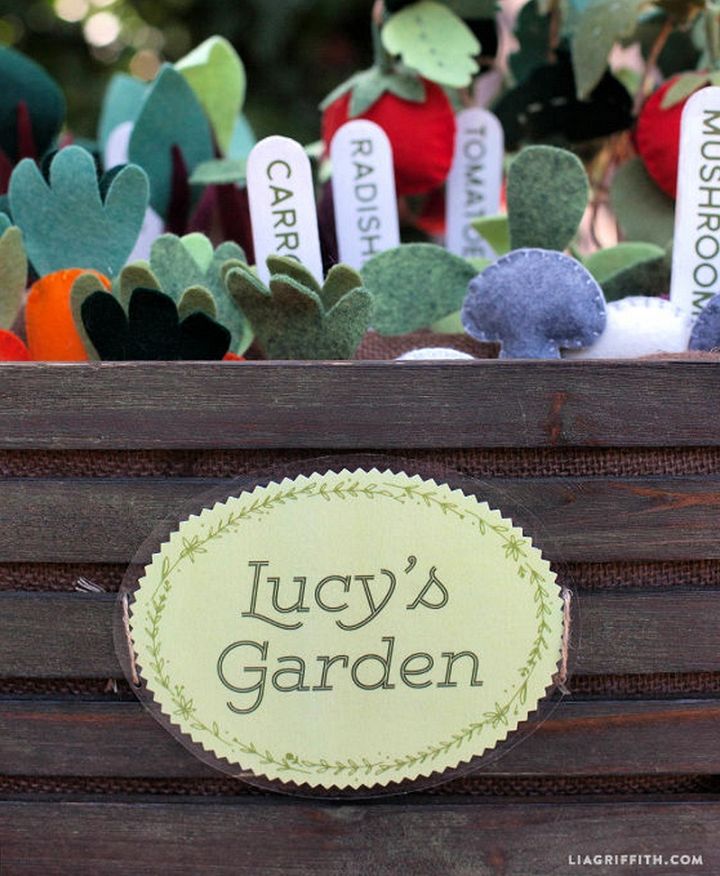 As we know that summer holidays are arriving anytime soon therefore we must think about some engaging activities for kids. These garden signs here and markers are all made easily at home and it's a wonderful and interesting activity as a whole. Follow the entire process and see how you can do your own thing all by yourself. Tutorial
10. How to Make Rustic Signs For The Garden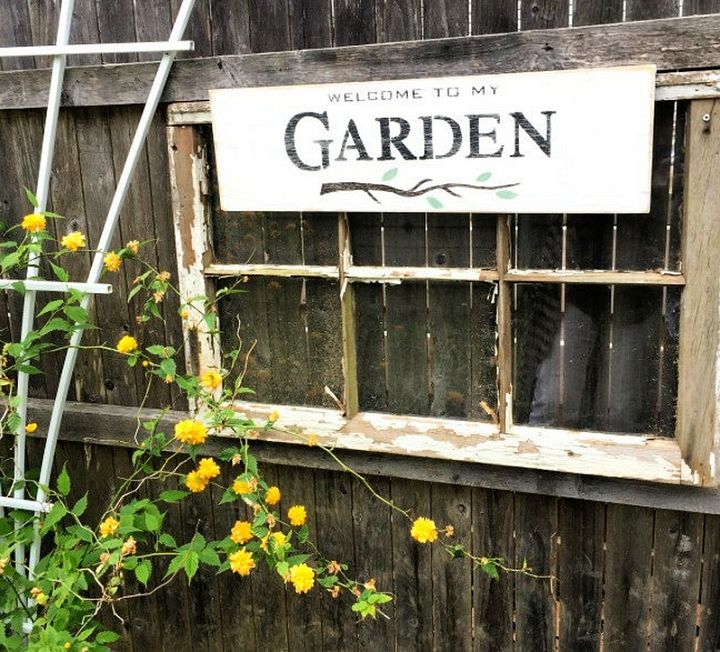 Are you ready to make rustic signs for your garden? If yes then you must follow the project carefully and see how everything is done here. coal black fusion mineral paint is used here in the project. the signs are made from cut boards. You will start off by painting the wood and the go ahead with the rest of the steps. Tutorial
11. DIY Fun Garden Sign to Brighten Your Yard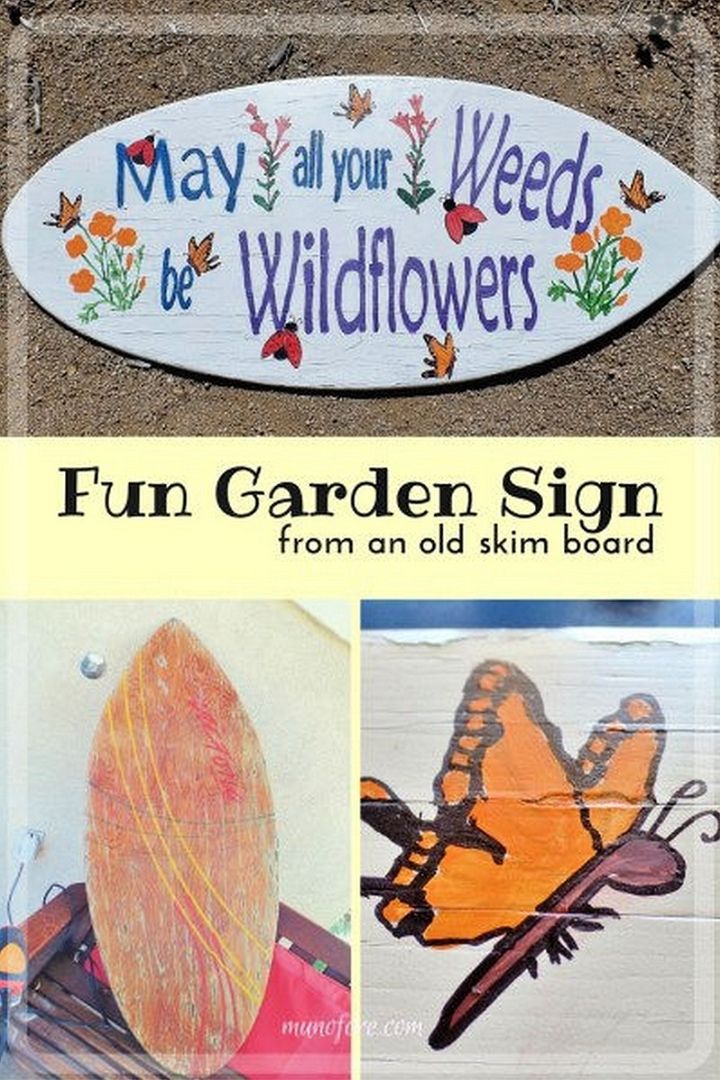 Get ready to make these fun garden signs to brighten up the yard and garden area in your outdoor space. All the detailing of how everything is done is given in the project descriptions and tutorial. You can see a very nice and positive message written over the garden sign that looks amazing , attractive and colorful all at the same time. Tutorial
DIY Patio Ideas On A Budget – Do you want to add something new to your garden and not burn a hole in your wallet? We have some fantastic backyard ideas that you can DIY within your budget that are perfect for your needs!
12. Get Growing – DIY Garden Sign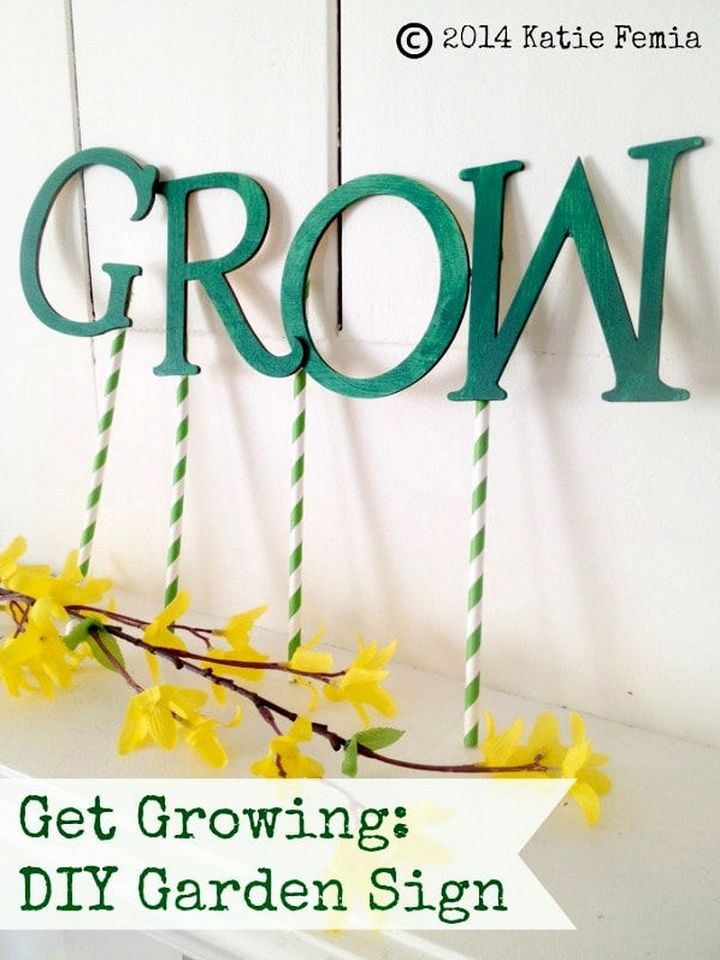 Garden are something that really needs your attention to grow and flourish. You must make some preparations and arrangements to make your garden look nice and have some fun elements in it too. these fun elements can be diy garden signs that you can make. Follow the step by step procedure and see how you can also make these interesting signs for your outdoor garden area and be proud of your creativity and skills. Tutorial
13. Inexpensive DIY Yard Signs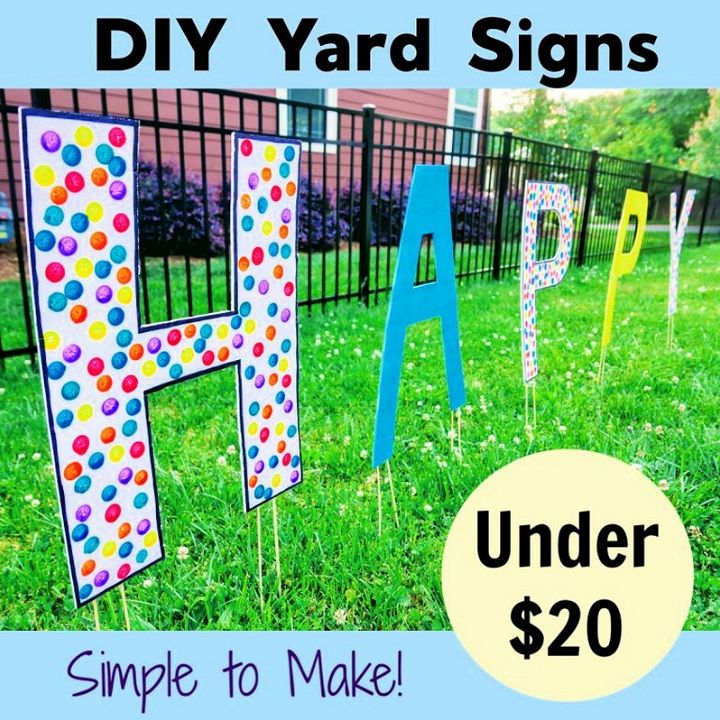 Its not necessary that you spend much money over garden and yard signs. Instead you can make these signs all by yourself in under 20$ with the help of this project here. the materials that you need to construct the letters are measuring tape, utility knife, black sharpie marker, white foam boards, t square tool, hot glue gun, pack of bamboo skewers and duct tape. Whereas to decorate these letters we need paint, bingo markers, markers and glitter. Tutorial
14. DIY Wooden Garden Sign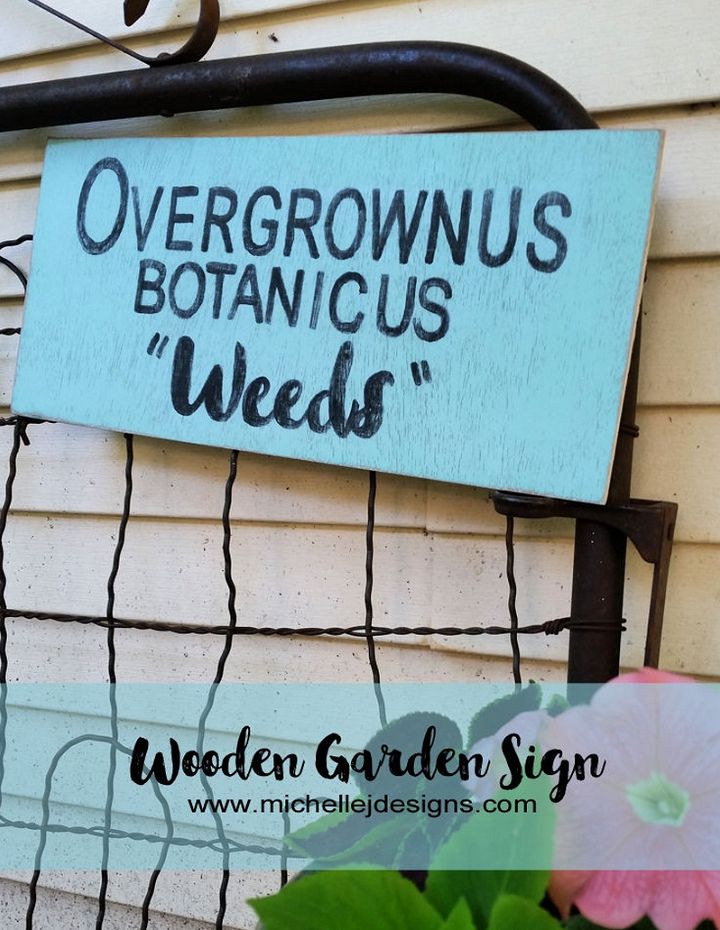 Get yourself ready to make these fun wooden garden signs all by yourself. With the help of these simple steps you will be able to create these amazing garden signs. You can also add humor to your garden area through these garden signs. Black acrylic paint is used here. get into the details to see what else has been used in the making of these garden signs. Tutorial
15. DIY Herb Signs For The Garden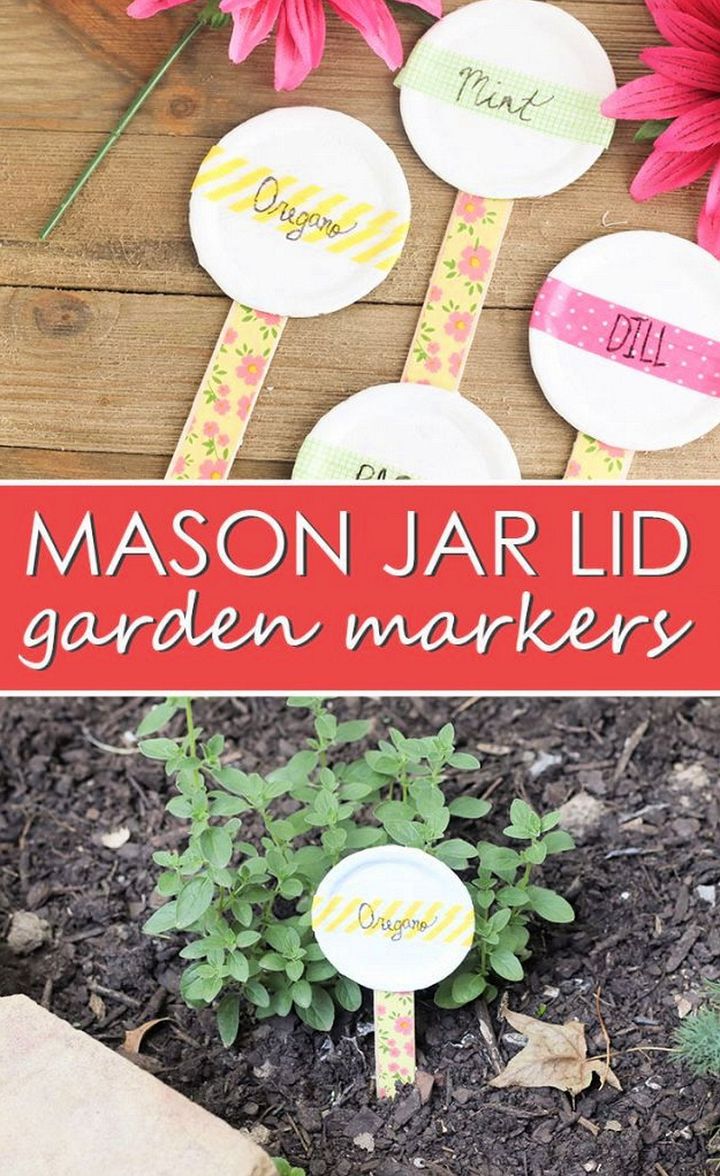 If you also have grown herbs in your garden, you must also make the signs for those herb plants to make them look great in appearance. The supplies that you need for this diy project are mason jar lid inserts, white paint, paint brush, washi tape, black marker, craft sticks, mod podge and glue. Tutorial
16. Easy Garden Sign For Bird Lovers With Rustic Cheater No Build Frame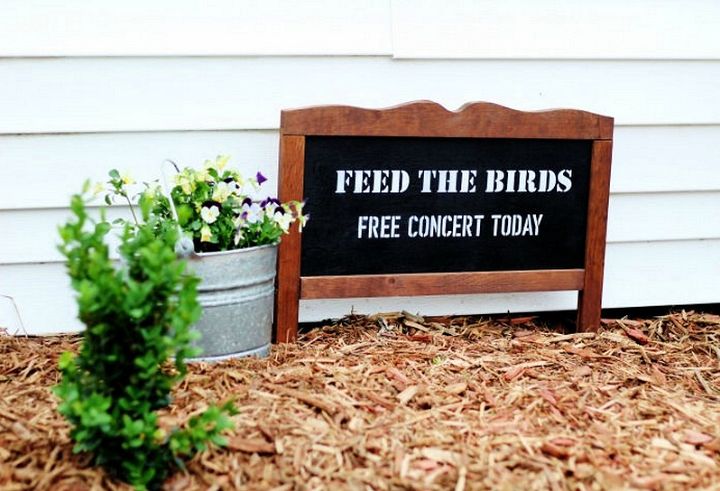 These diy signs are for those who really are bird lovers. This sign will definitely attract the birds towards itself. Here we have a supply list that you can see which includes decorative lattice board fence, feed the bird stencil, acrylic paint and outdoor sealer. To achieve the desired results you must follow the project description and tutorial carefully. Tutorial
DIY Garden Fence – We all like to take care of the garden and beautify it as much as we can. However, we often overlook things that are equally significant. In addition to landscaping the garden fencing is an essential component of the garden's decoration And these DIY projects can create a stunning fence. Find out more information of the tutorial on the instructables.
17. Repurposed Headboard Garden Sign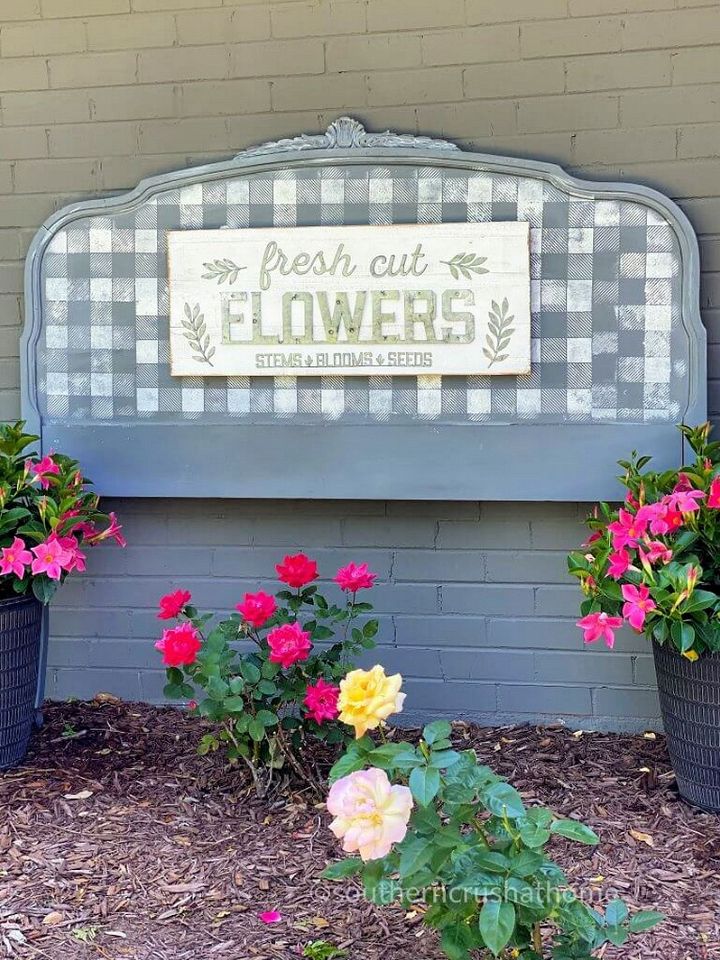 Recycled and repurposed projects are always oddly satisfying as they consume some of the uselessly lying objects that can be used in a completely new way to make something totally unpredictable. If you also have a headboard lying uselessly somewhere, you can make this garden sign easily. Tutorial
18. Garden Sign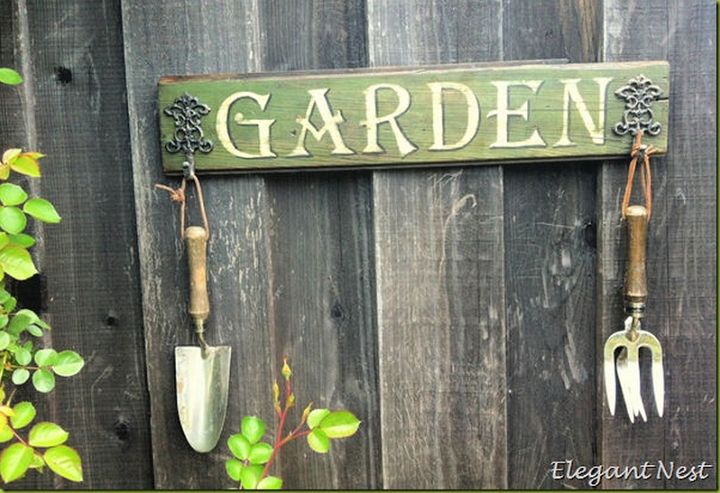 This diy project will give you an idea to hang your important garden tools in a stylish way. You can easily make this board to hang the tools with a piece of wood. You will have to use sandpaper to give that distressed look to the wood. Make the looks of the hooks distressed too. Tutorial
19. DIY Garden Shed Sign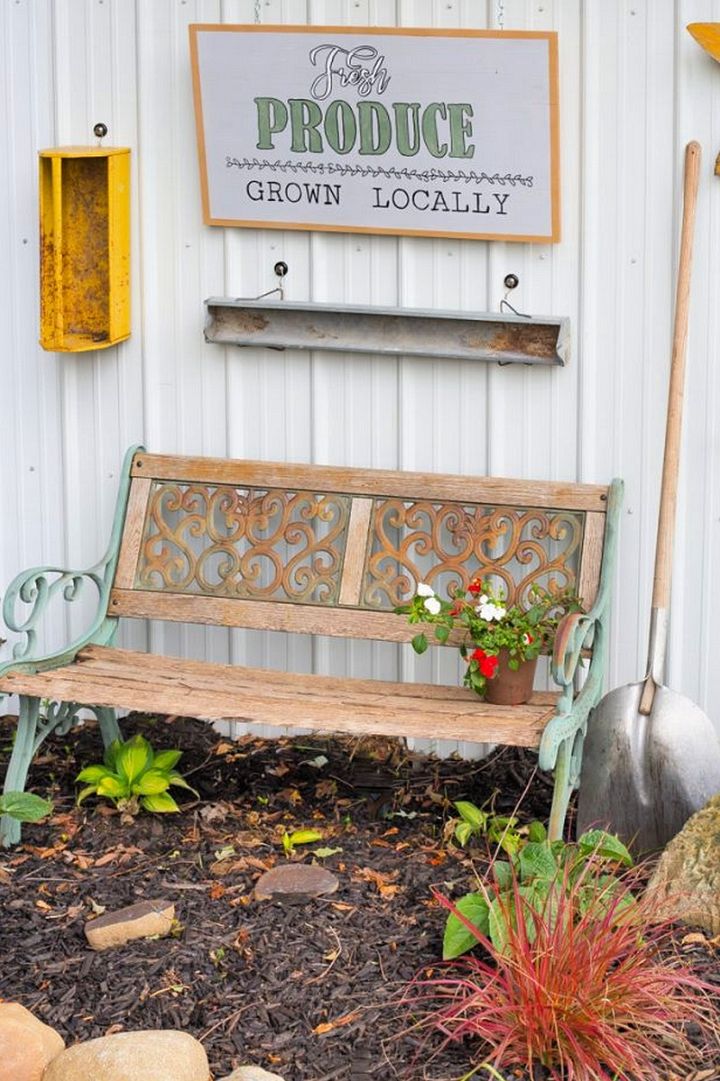 Making a garden shed sign was never too easy before such simple diy methods, this diy project will guide you through the process to make amazing signs for your garden. As its already summer hence it's easier to work outside and do any activity. This project is perfect for those who are not ready to spend much money over their garden maintenance and looks and still wants to make it look great. Tutorial
20. DIY Garden Signs From Grill Forks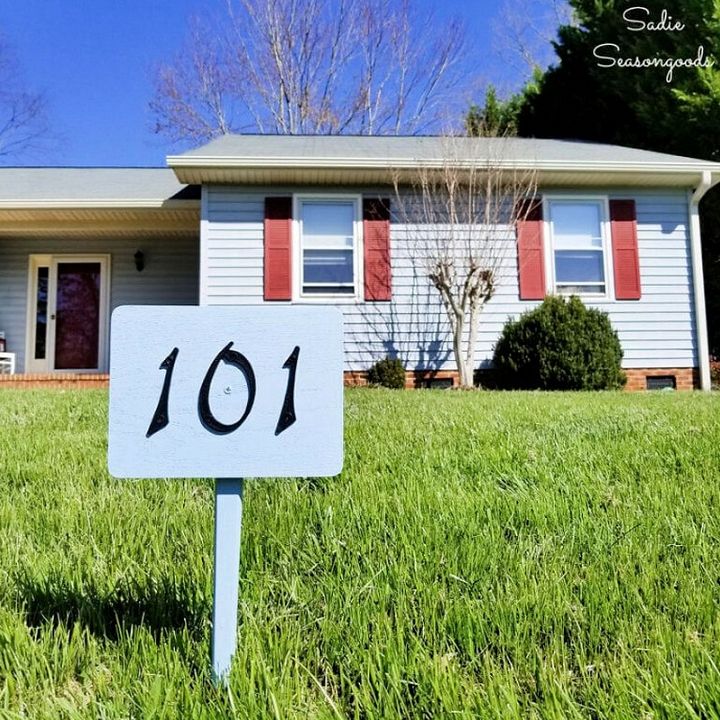 Have a look at this garden sign made from grill forks. This diy project is all about creating something different and unique for the garden. A lot of cutting, drilling and eventually painting is required in this project so that you can make it look interesting and attractive. follow the instructions as given so that you can achieve the desired results. Tutorial
21. Custom Garden Sign Made With Cricut Maker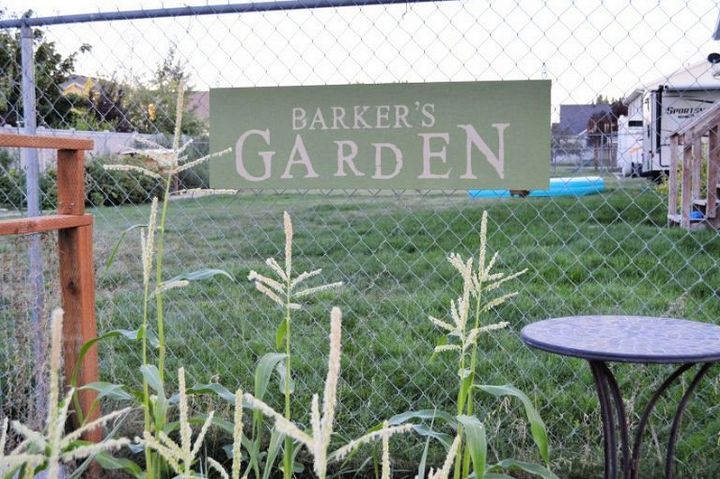 To make this diy garden sign in this project you need few projects like infusible ink transfer sheets, infusible ink pens, felt, chipboard, iron on, permanent vinyl. Besides this you will also need paint, paint brushes, piece of wood, transfer tape, eye hooks, s clips. If you are also one of those people who love working in their gardens in the summers, this project will definitely excite you a lot. Tutorial
DIY Raised Garden Bed – Take a look at this gallery of 36 waist-high raised garden bed designs that will reveal new techniques, hacks and plans for free on how to construct an elevated garden bed as a pro without costing a lot.
22. Wood Shim Garden Sign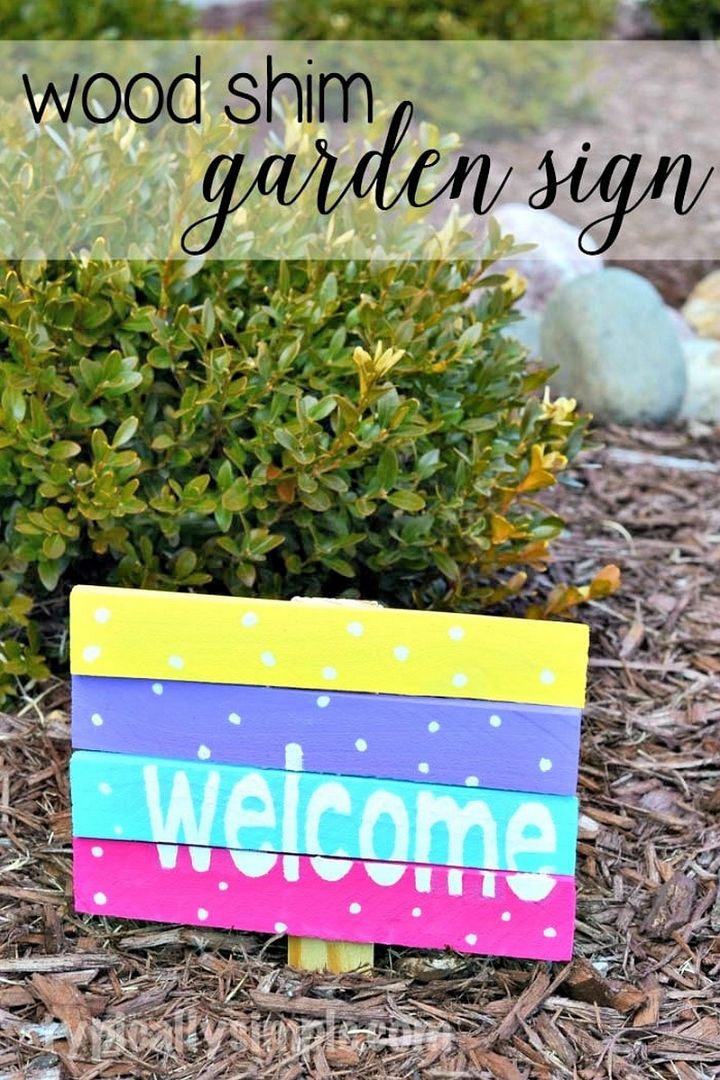 Wood is always fun to work with especially when its something about garden. This wooden shim garden sign is easier to create than the typical ones. The pallets of this wooden pallet is painted in different colors as you can see in the project here. such a colorful garden sign will be a prominent thing in the garden and will make your garden look more exciting than ever. Tutorial
23. Hand-Painted Garden Sign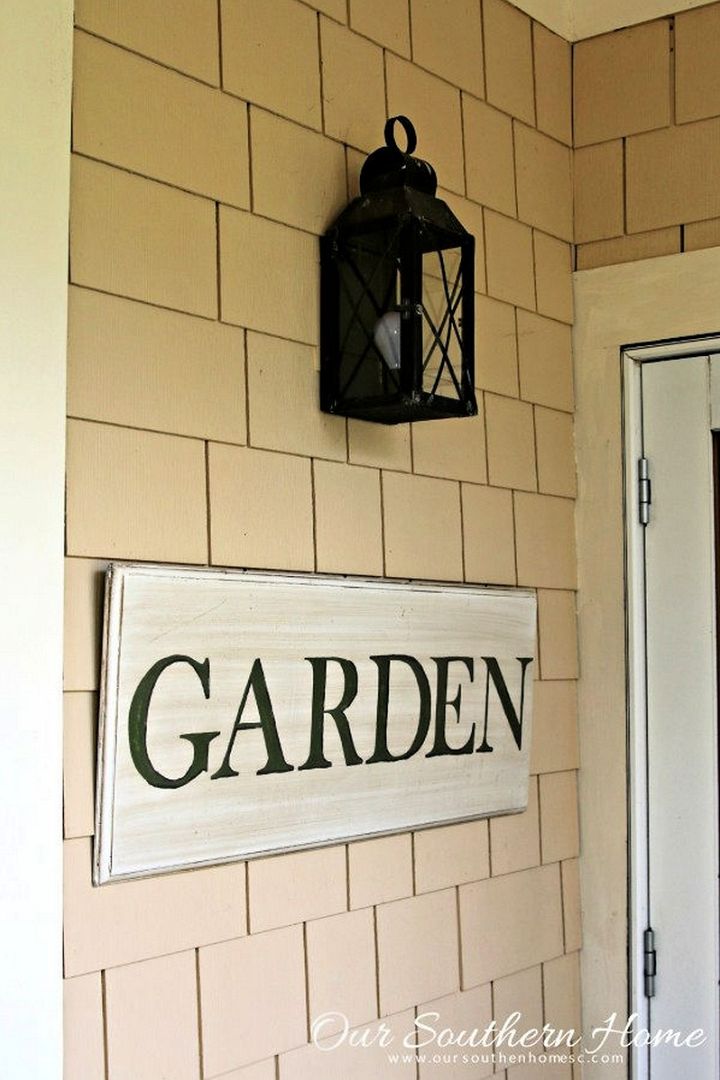 To make this diy garden sign you need to follow a few steps. You will start off by picking the font and decide about the size. Secondly you will have to in print it. In the third step you will tape it together and tape the board. Using the boil point pen you trace the top of the letters and leave an imprint. In the final step you will remove the paper and you will left with the tracing of letters to print. The end result is amazing and exciting as you can see. Tutorial
24. DIY Stamped Metal Garden Signs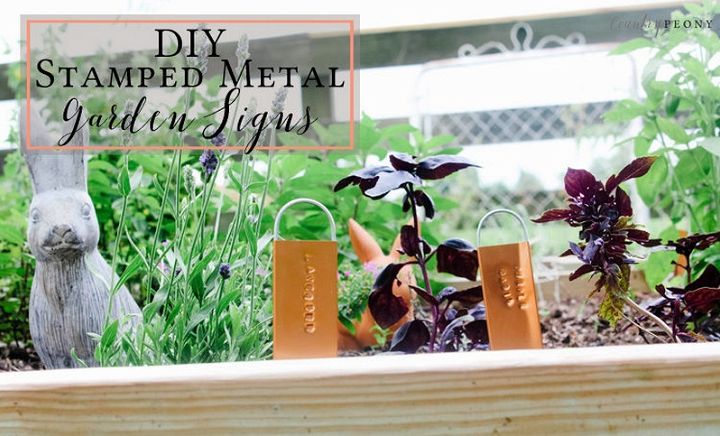 Have you ever wondered how a stamped metal garden sign would look in your outdoor space? If not then this is the time when you can opt for it with the help of this project. you will start off by first finding a strong metal surface. In the second step you will place the stamping block on that metal surface and place the garden sign on top. Afterwards you will enjoy the end product that you have created all by yourself. Tutorial
25. DIY Fresh Cut Flowers Rustic Outdoor Garden Sign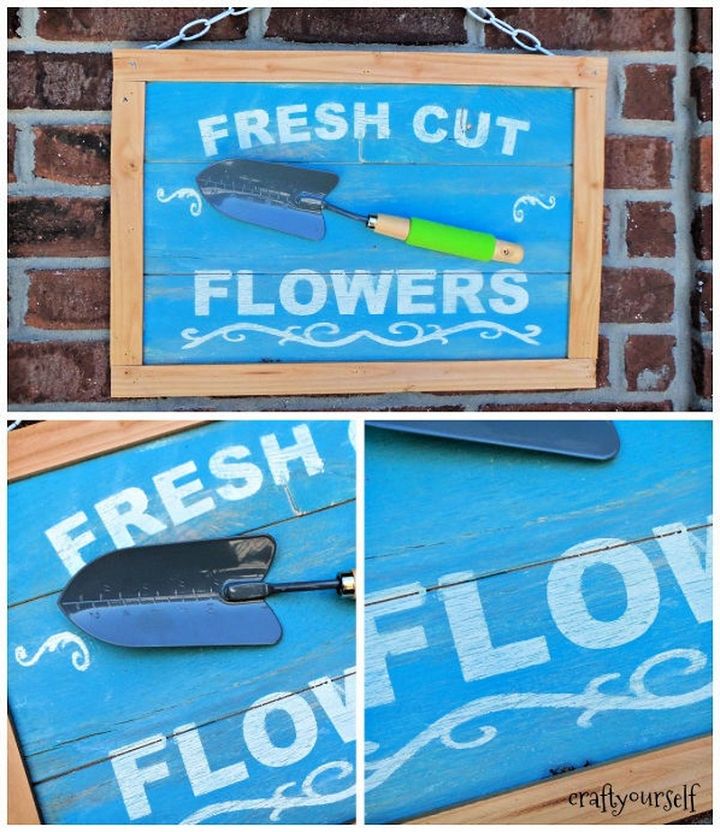 It sometimes get compulsory to bring some spark and fresh look to the outdoor garden. This diy project is all about making your garden look more expressive and maintained in terms of creativity. this rustic garden sign says fresh cut flowers and this is amazing for sure. Scrap wood is used to make this sign. You will take three wood slats in the first step. Secondly you will glue the tongue and grooves together of each slat using wood glue. Some painting activity is also done here. you will definitely enjoy this outdoor activity in the summer season these days. Tutorial
26. DIY Fairy Vegetable Garden Signs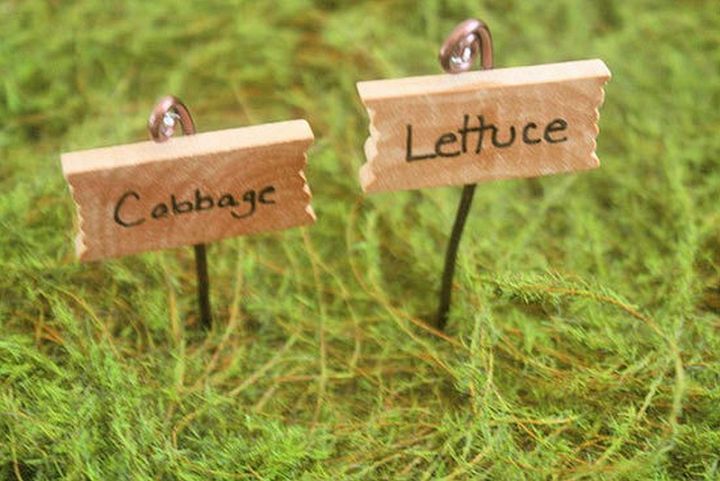 This vegetable garden sign here is something that would amaze everybody. You can now impress everyone with this interesting activity suing your skills with the help of this project. The things that you need are miniature wooden signs, permanent marker, copper wire, super glue, wire cutters, needle nose pliers and clear nail polish. Tutorial
DIY Fairy Garden Ideas – The popularity of fairy gardens is due to the fact that they bring us closer to our imaginations, which are sometimes lost, and help us build an imaginative world that is our own. They're an enjoyable, escapist project, no matter if you've got children! Take a look at these fairy gardening ideas.
27. How To Make A Farmhouse Rose Garden Sign Using A Transfer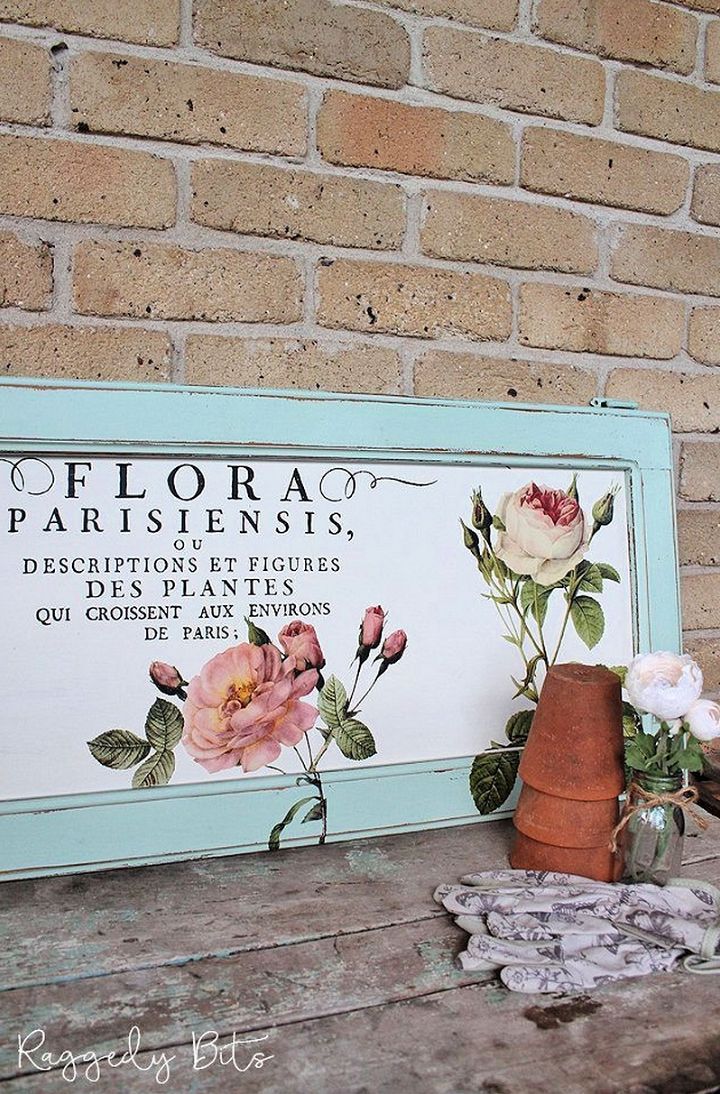 This rose garden sign is surely something that you will end up being proud of once you made it. You can learn everything about this garden sign from this project over here. a long list of supplies is mentioned here so that you can easily catch up with it. The list includes an old door, plywood, jigsaw, fusion mineral paint, milk paint, brush, sandpaper, décor transfer, brad gun and wax brush. Tutorial
28. Best DIY Garden Signs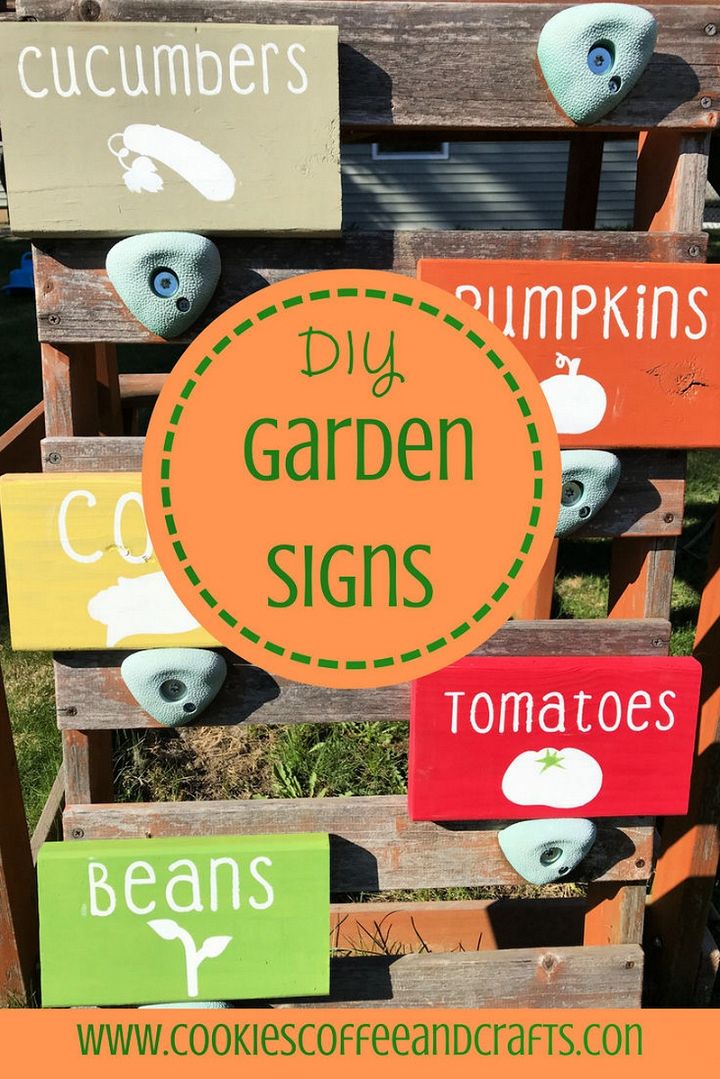 This diy project includes some of the best diy garden sign ideas. The supply list for this project includes outdoor wood, removable vinyl, transfer tape, paint, miter saw and sand paper. If you have these supplies with you ,you have every potential to make some awesome garden signs all by yourself Tutorial
29. Grow Garden Sign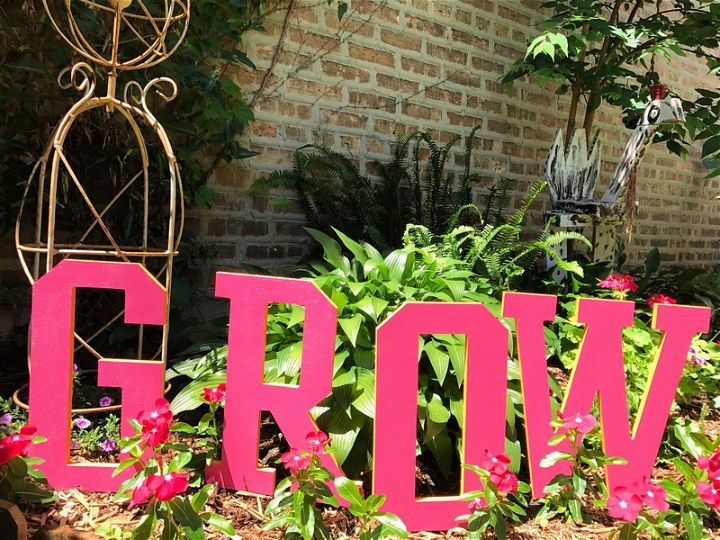 This motivational sign for your garden will definitely make all the area look more beautiful than ever. you can very easily make this sign with easily available materials that are listed here in the details of the project. for this project you need plaid crafts , paints, folk art, long wooden dowels, cutter and adhesive. Tutorial
30. Make an Easy Mini Garden Sign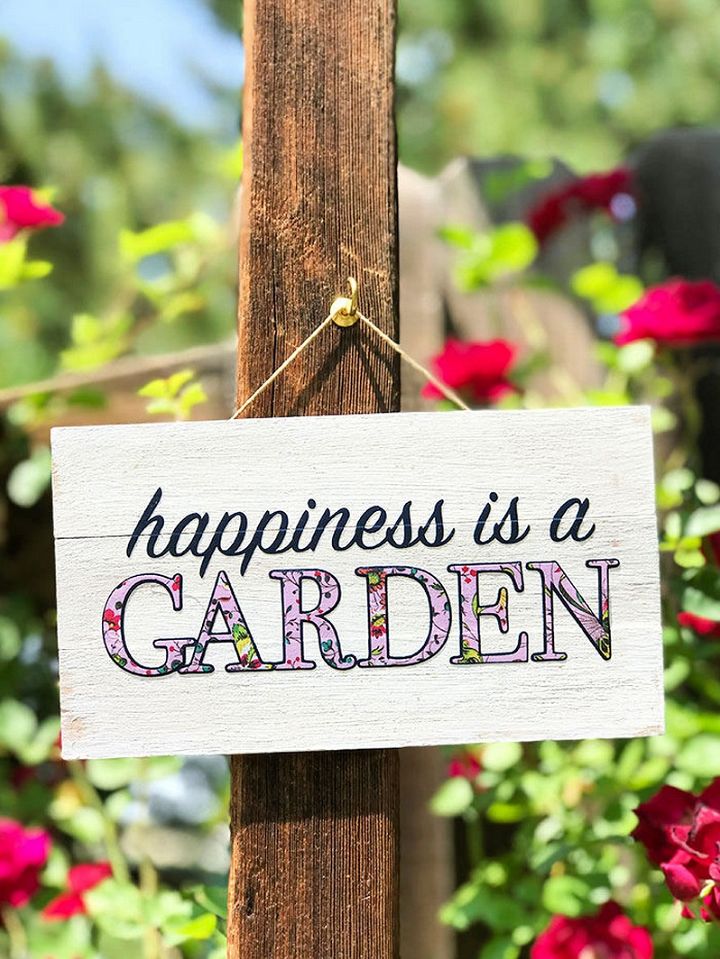 If you cannot put much effort into making garden signs, this easy diy idea can be your favorite. Get into the details and see how this mini garden sign is made with almost no efforts and only with your creative and innovative skill. The main materials that you need for this project are wood boards, circuit machine, and vinyl, easy press on iron, parchment paper and sealer. Tutorial
31. DIY Garden Sign – Grow Your Food Feed Your Soul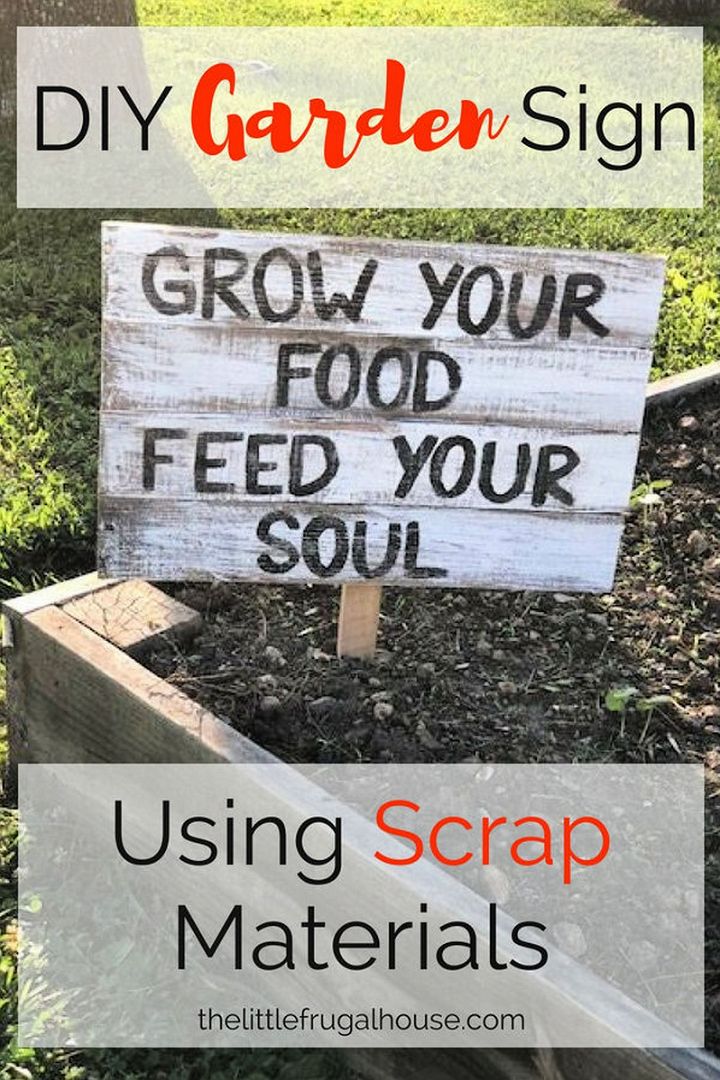 This diy project for the gardens are son beautiful that you will really want to try soon. If you see the details you will get to know how the project can be done easily without any extra efforts. If you also want to see your Garden Giving Good Vibes while growing, you should definitely try this diy with the help of this project. Tutorial
32. Rustic Shed Reveal With Potting Shed Garden Sign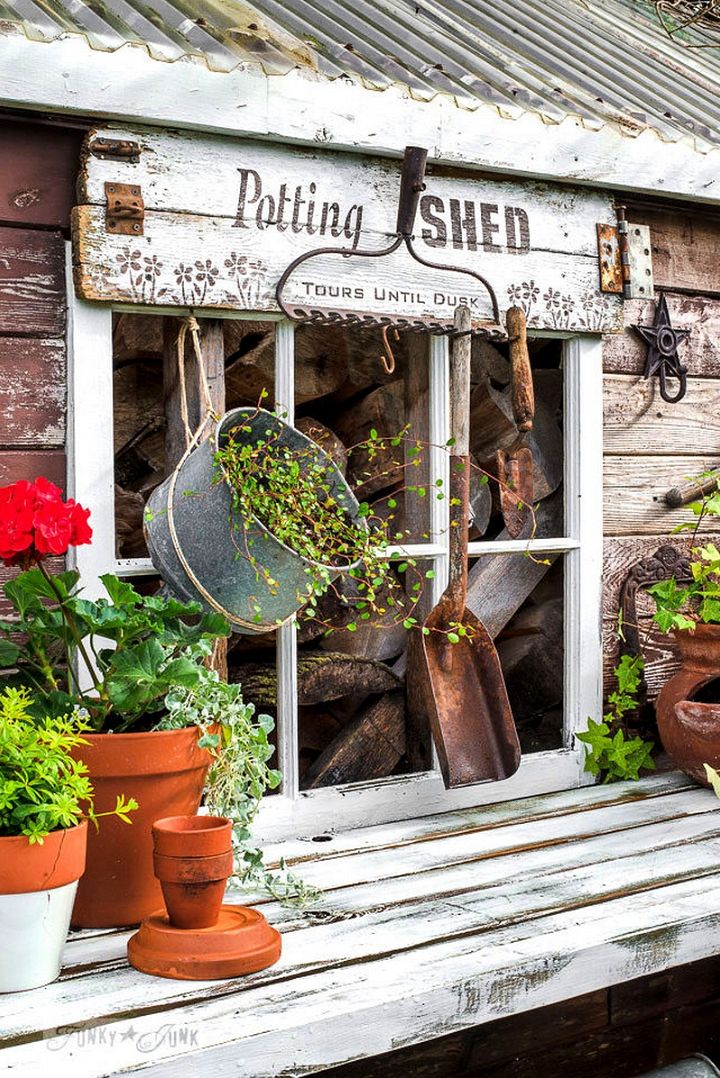 This diy rustic garden sign is probably the best especially for those who like rustic themes. to make this diy garden sign you need a few supplies such as reclaimed wood planks, old rake head, potting shed stencil, fusion mineral paint and palm sander. Tutorial
33. Paint a Radish And Carrot, Vintage Seed Packet Sign Cont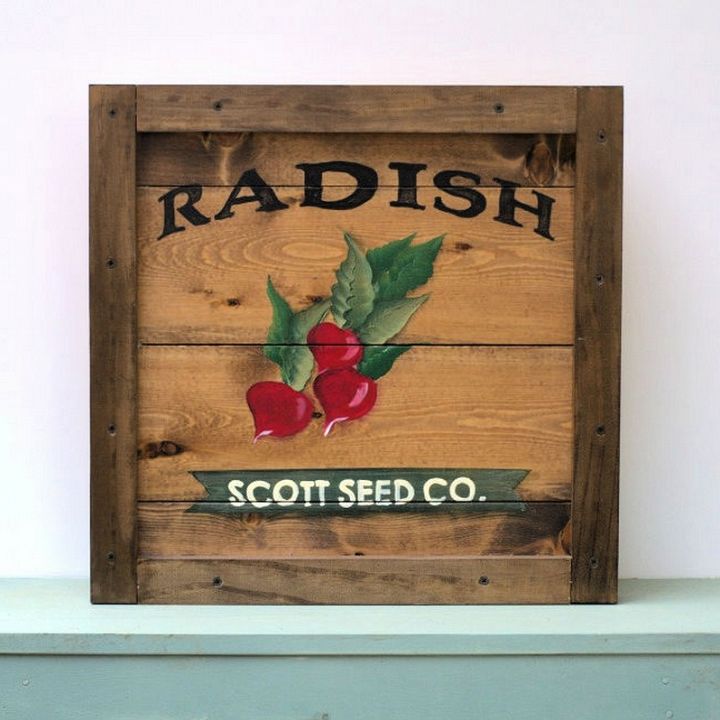 This painted diy garden sign project is so attractive that you will end up being proud of your own creativity and skills. You will get to play with colors in this project and see the magic. Get into the details of this project and see how you can make your own version of this. Once you are done with the coloring you will see some amazing results coming up. Tutorial
34. Garden Themed Entry Desk On A Wall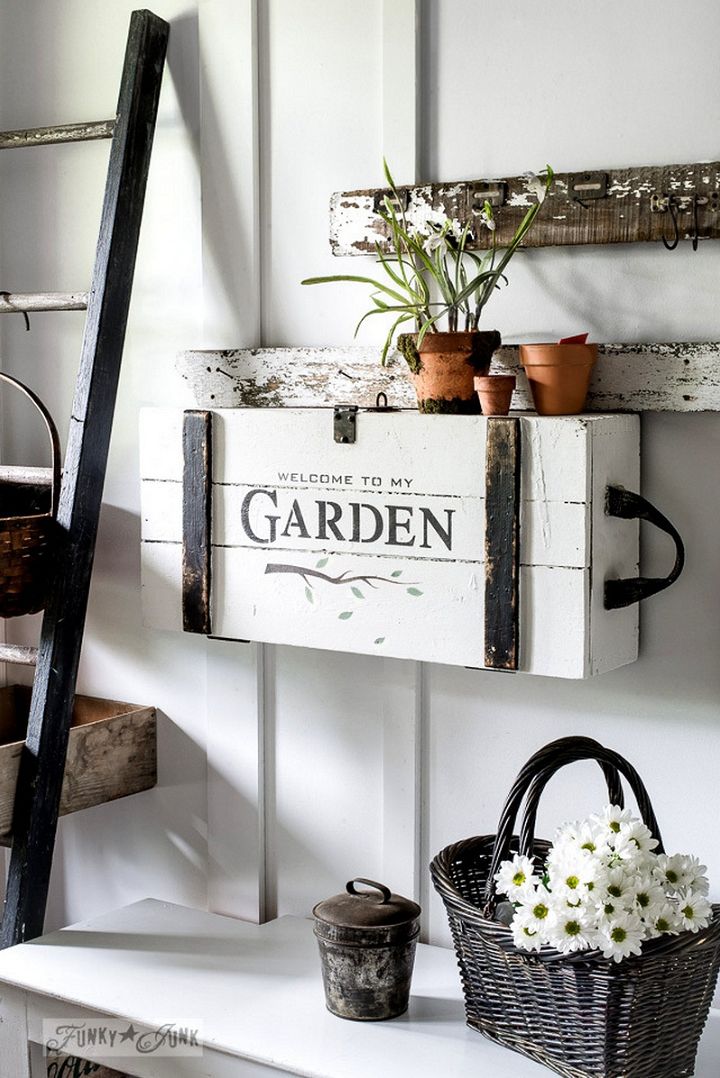 This garden themed entry desk on wall will definitely blow your mind. The details of the project are given here so that you can easily catch up with the project. A lot of supplies and materials are involved here therefore you must go through the set of instruction as well as the list of the materials and supplies. Tutorial
DIY Pallet Walkway Ideas – Take a look at these amazing methods to make the most beautiful paths in your neighborhood, be it by improving the curb appeal of your property or improving the beauty of your backyard. Take a look at these wonderful ideas for inspiration as well as helpful ways to start walking down a path that impresses! Check out Pallet Walkway Ideas
35. Schild in Pfeilform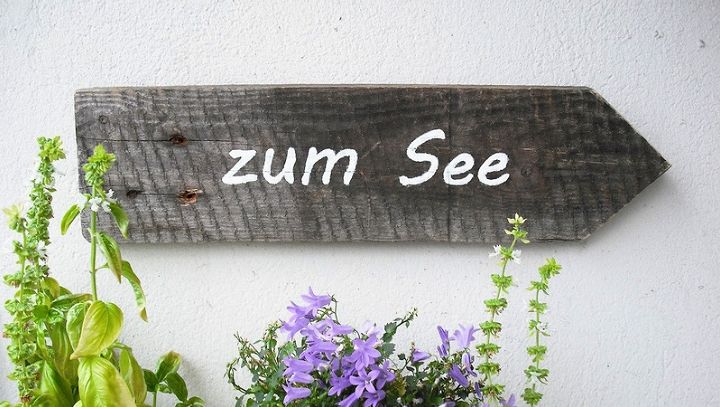 Are you ready to make this diy garden sign for your garden entrance or somewhere else? if the answer is yes then you must follow the project carefully. a complete detailed process is given here so that you can also make such a lovely sign like this. get started with this amazing mission and see where it goes. Tutorial
Conclusion:
These diy garden sign projects are all very attractive and helpful. If you are on a budget and still wants something fun for your garden and the space around it, these diy garden signs will definitely help you in this matter.