These 20 DIY Mason Jar Ideas That Are Creative are all very cool that you will definitely want to try. If you also have Mason Jars lying uselessly at home, you can make perfect use of them with the help of these diy projects here. All the crafts that you see here can be easily done using some easily available crafts and supplies. From planters to tinted mason jars and from picture frame mason jars to wall décor masterpieces, mason jars can be used for a variety of purposes.
If you have those typical and boring glass jars in your kitchens and you are bored with them, you can change their look with paint and some other crafts. Turn those boring glass jars into interesting ones. In some of the projects we see glitter involved in the Decoration of Mason jars. Besides this fairy lights are also used in combination with mason jars. You can also learn to paint mason jars from inside from one of the projects here.
1. Mason Jar Crafts for Bath & Beauty Lovers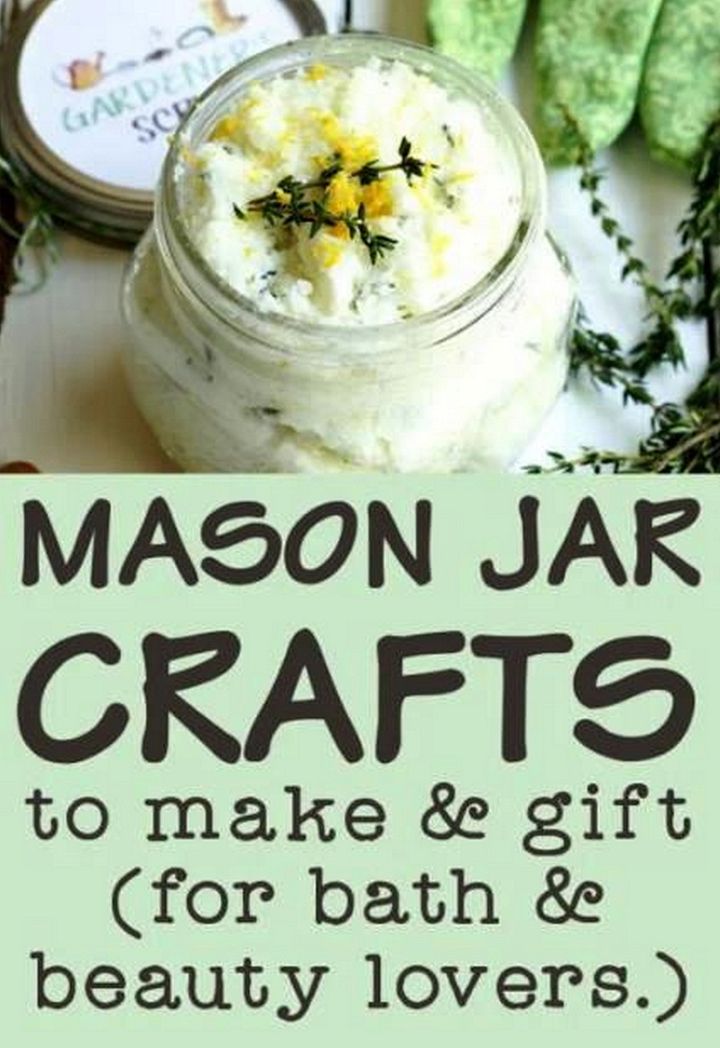 This diy Mason jar idea is for bath and beauty lovers. This seems to be a fun weekend project to try .mason jars are ecofriendly and contributes positively towards the environment. You will find a lemon and rosemary scrub filled into these mason jars and some other ideas too like a gardeners scrub, aloevers bath gel and much more. Tutorial
2. Mason Jar Craft Ideas – Jute-wrapped Succulent Favors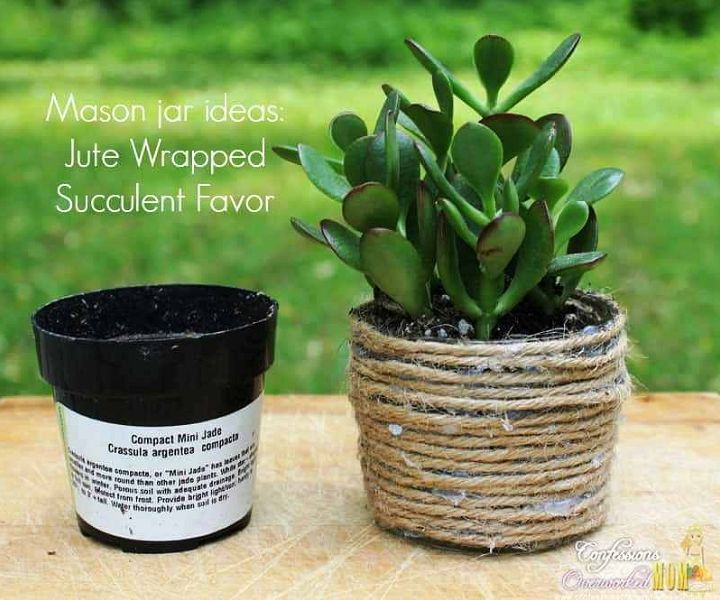 Try these jute wrapped succulent favors using old mason jars. The materials that are required here are half pint Mason jar, hot glue gun, jute twine, scissors, succulent, wood skewer and a scrap linen fabric. You will start off by removing the metal band and lid from the Mason jar. You will then place glue along the bottom edge. Repeat the step to cover the entire jar. Then plant your succulent in the jar and add the flag in the final steps. Tutorial
3. How to Paint Mason Jars – Tips and Tricks for Painted Mason Jars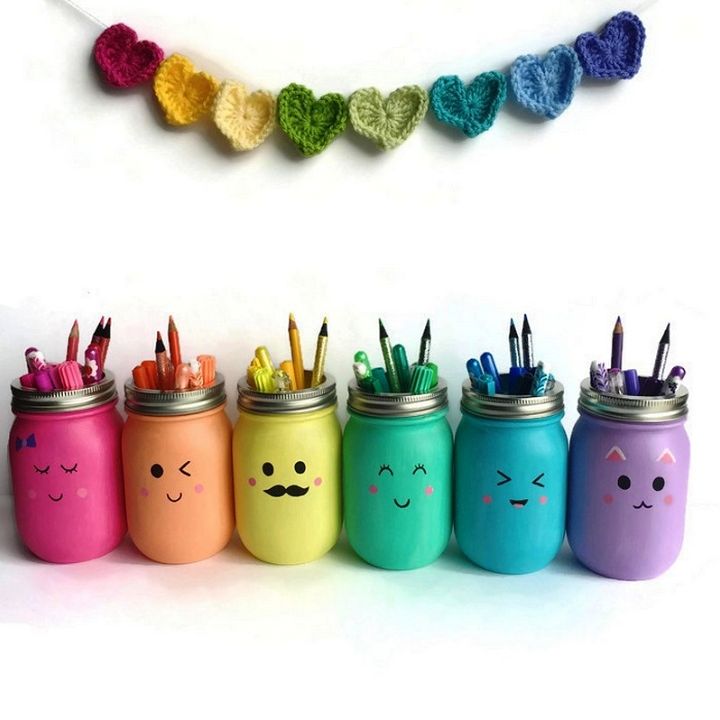 This project will guide you about painting mason jars. You will get some very useful tips and tricks for painting mason jars. You will need mason jars, spray paint, acrylic paint, foam paint brushes, paint markers, paint brush and sealant. Step by step instructions are given for painting mason jars in the correct way Tutorial
4. Fall Mason Jar Craft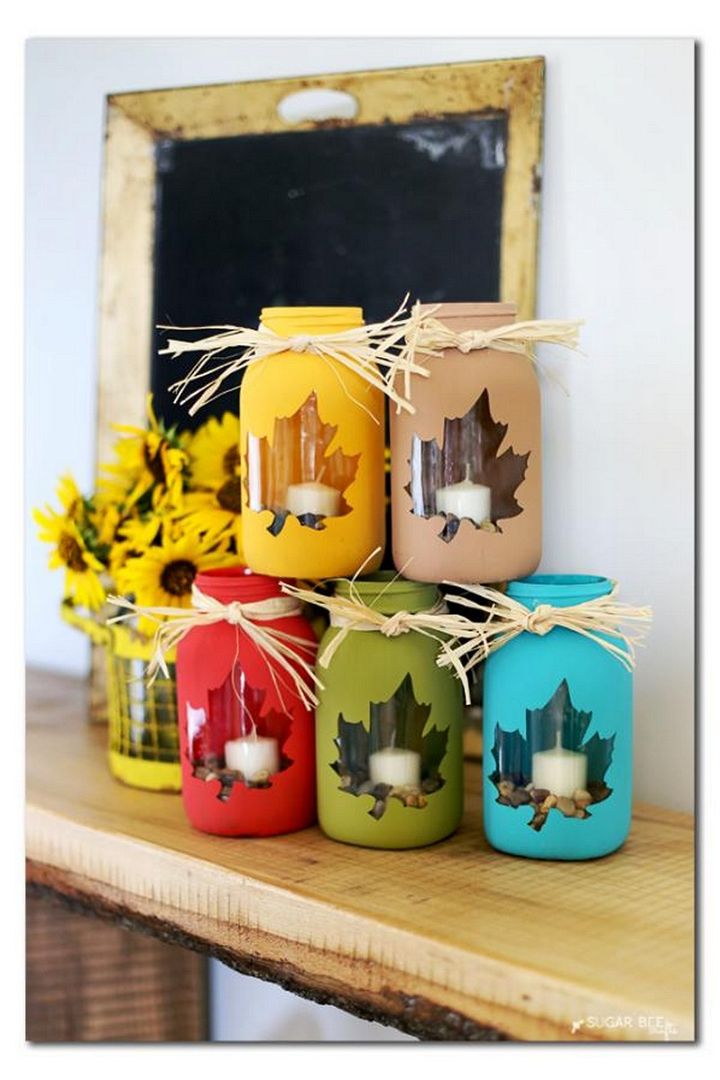 If you are busy making fall crafts, consider this Mason jar craft for fall too. You can easily make this craft with the help of this project. You will need mason jars, craft paint and contact paper. Make use of the tips and tricks and make this impressive fall craft using mason jars. Tutorial
5. DIY Scarecrow Mason Jar – Fall Mason Jar Crafts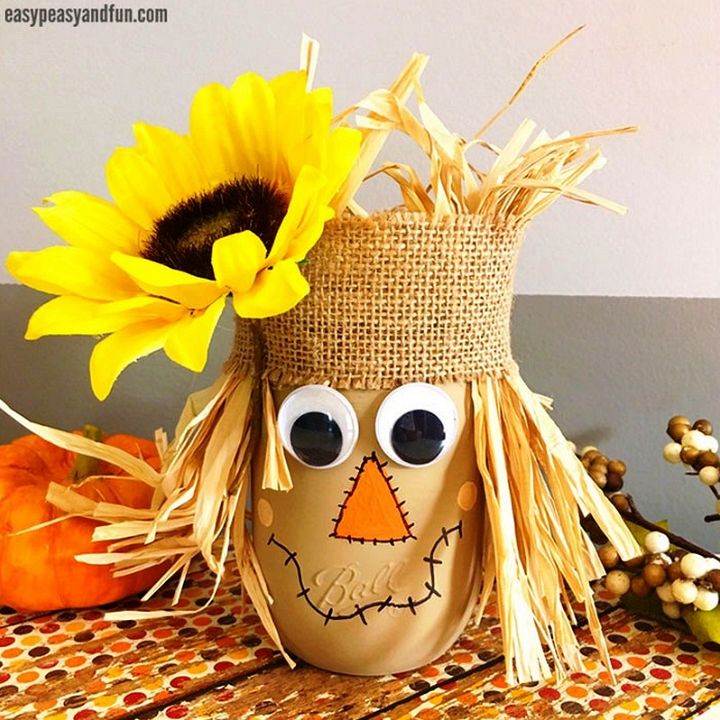 Look at this scare crow Mason jar plan and see how you can also make this all by yourself. The things that you need to do this interesting activity are Mason jar, acrylic craft paint, faux hay, burlap ribbon, large googly eyes, fake sunflower, black permanent marker, paint brushes, glue gun and scissors. Tutorial
6. Mason Jar Picture Frame Vase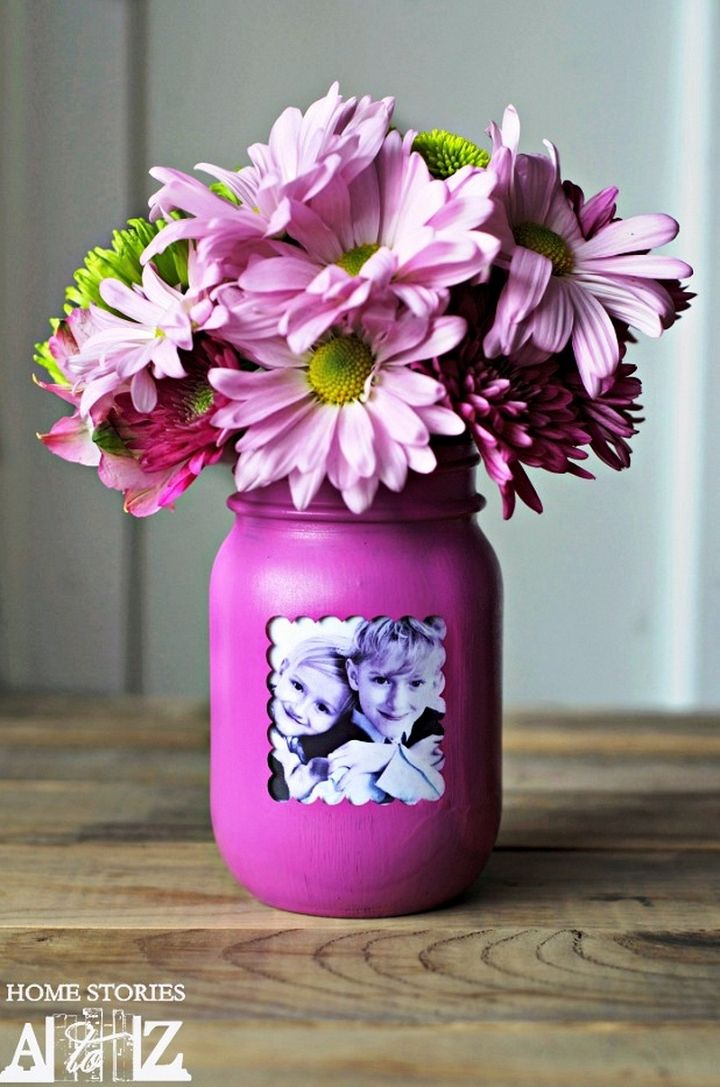 Let's make this Mason jar picture frame vase and impress everyone around. The supplies that you need to make this impressive craft are clean Mason jar, pantone radiant, paint brush, vinyl shape sticker or picture, painter's tape and clear spray paint. Tutorial
7. DIY Mason Jar Wall Decor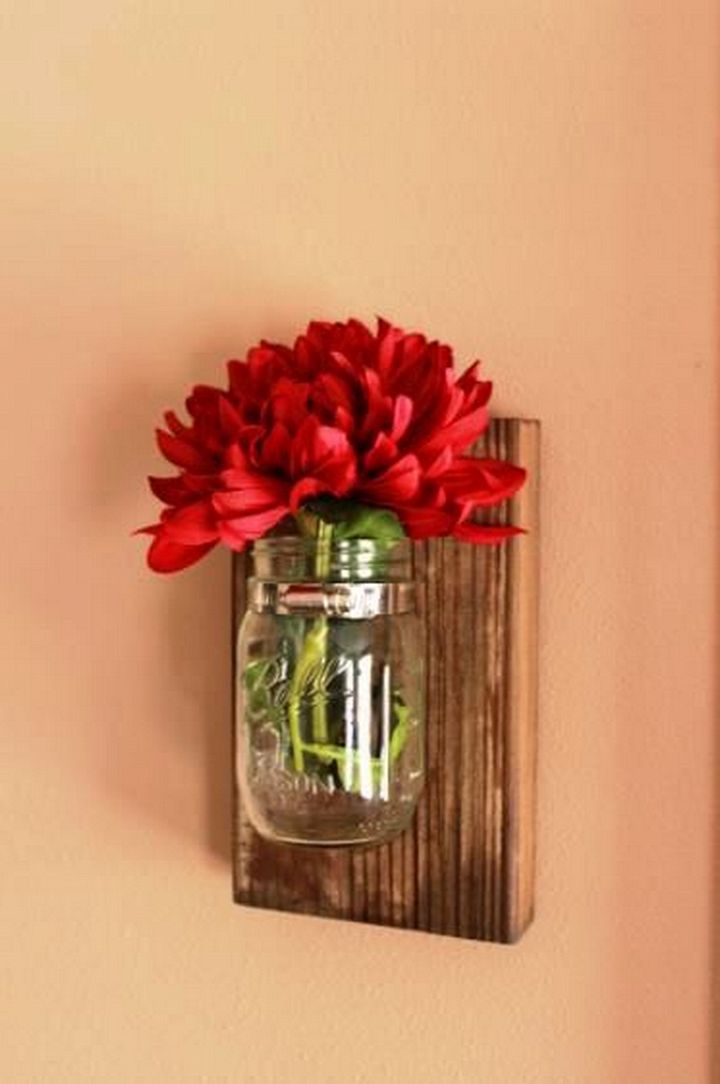 If you are thinking to decorate and fill any empty and boring wall in the house, try this Mason jar wall décor. The supplies that we need are wood, small mason jars, hose clamps, drill and screws. Complete detailed instructions are given here along with the tutorial so that you can easily get along. Tutorial
8. Fishnet Wrapped Mason Jar Craft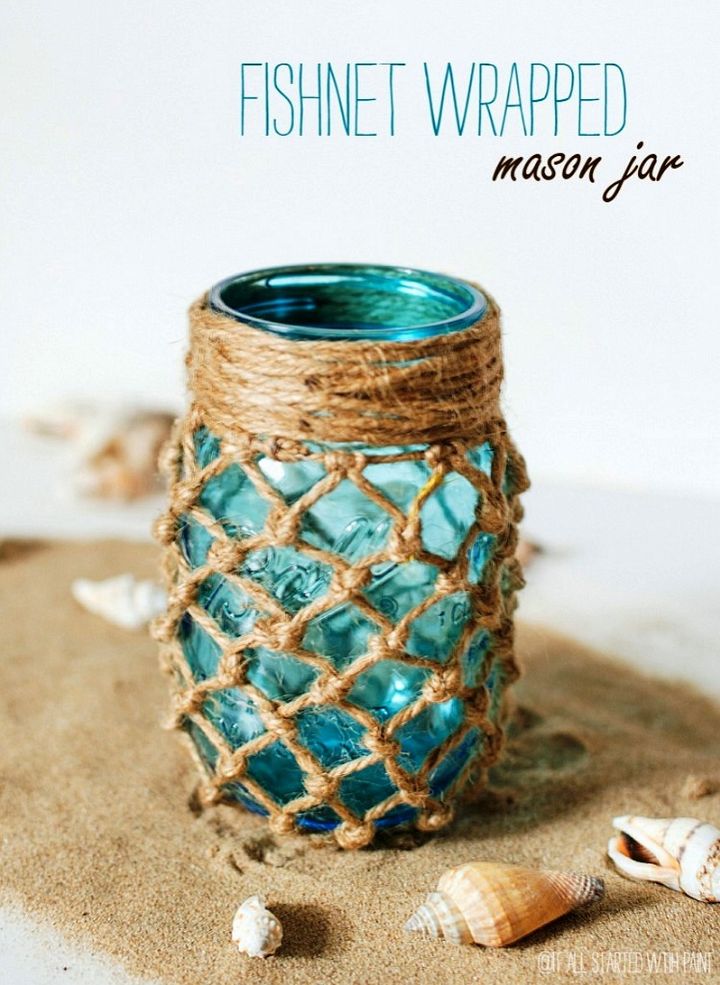 Fishnet is something that is used extensively in art and craft projects. This project shows how beautifully fishnet is used in combination with mason jars. Besides a mason jar you will need jute twine, scissors and sand and sea shells .gather the supplies before you start off and move on with the steps ahead. Tutorial
9. DIY Glitter Mason Jar Tutorial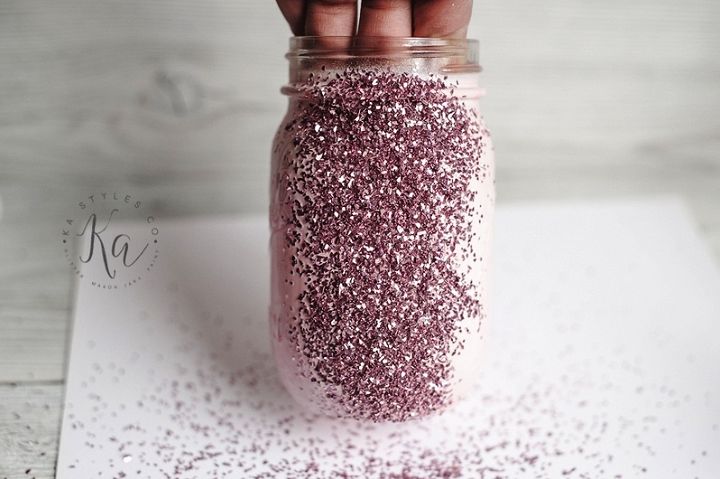 Have a look at this glitter Mason jar tutorial and see how you can also make use of old and useless mason jars. The materials that we need are jar, glitter, and paint brush, newspaper, and gloss top coat, container for glue, mod podge and spray paint. Use spray paint as a base in your choice of colors and move on with the rest of the steps. Tutorial
10. DIY Home Decor Crafts – Tinted Mason Jars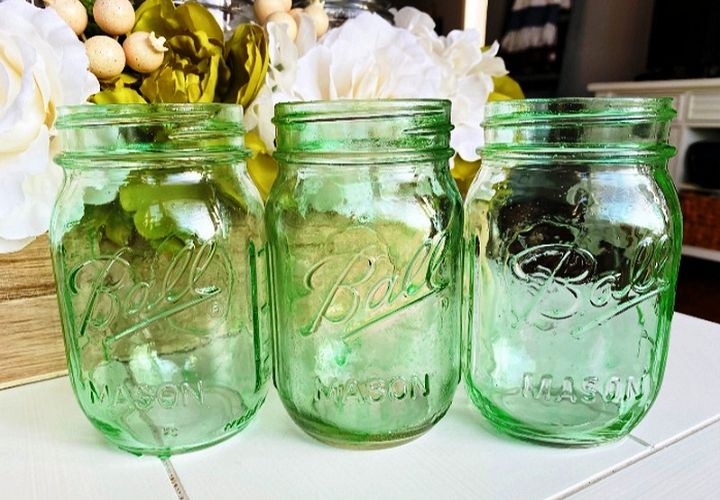 Are you interested in turning your old mason jars into tinted ones? If yes then give this a try. You will need mason jars, Elmer's glue, food coloring, paint brush, small bowl and scrap paper. This is surely an interesting project and you will enjoy this thoroughly. Before you start off you must gather the supplies so that you find it more easy and quick. Tutorial
11. Glass Bottle Decor Ideas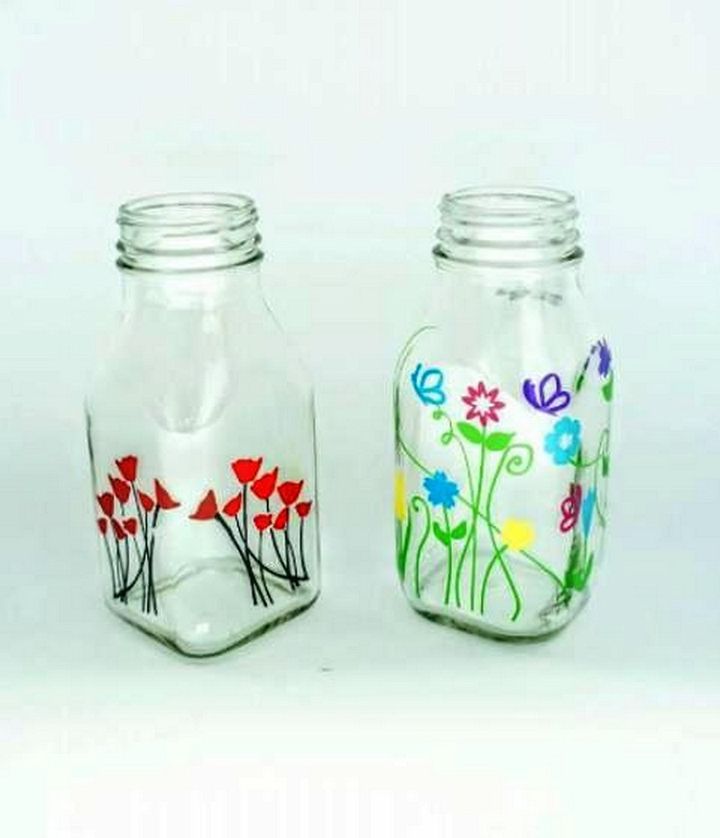 If you have been thinking to use your empty glass bottles since a long time, this project will be of great help. With the help of this project here you can easily decorate any glass bottles easily. Choose nice colors and paint lovely flowers over the bottles and use them for decoration. Tutorial
12. Easy Glass Jar decorating idea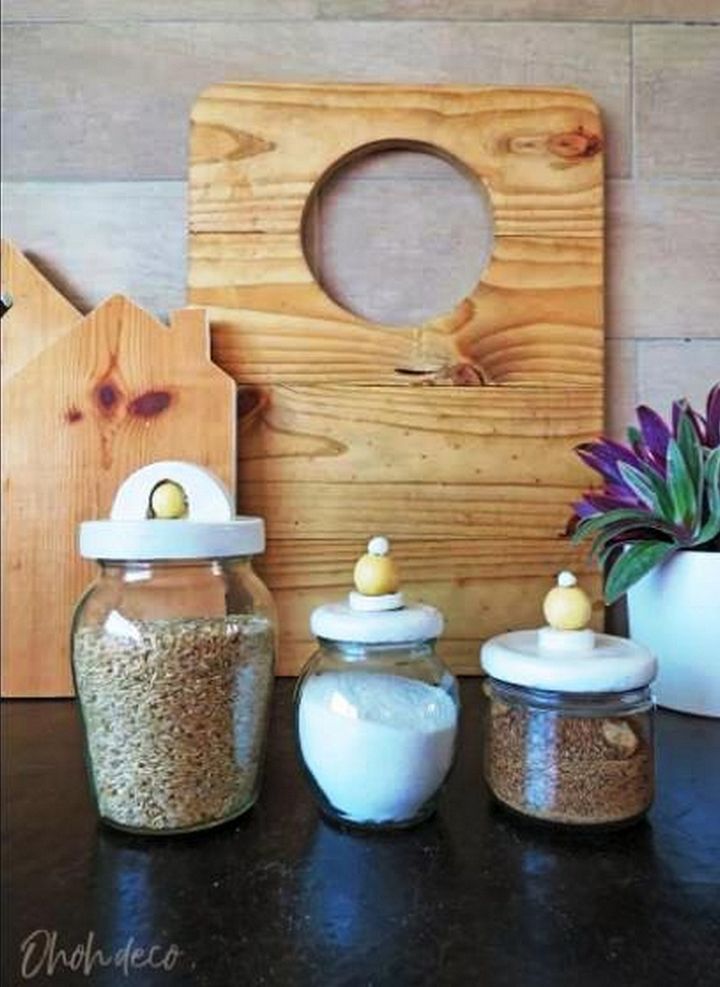 If you are also bored with your old plain and boring glass bottles and jars, try this method and you will be surprised. This project shows how you can decorate your glass jars and make them look impressive. You will need glass jars with lids, air clay, wooden beads, thin wire, rolling pin, sanding paper and acrylic varnish. Tutorial
13. DIY Mason Jar Fairy Lights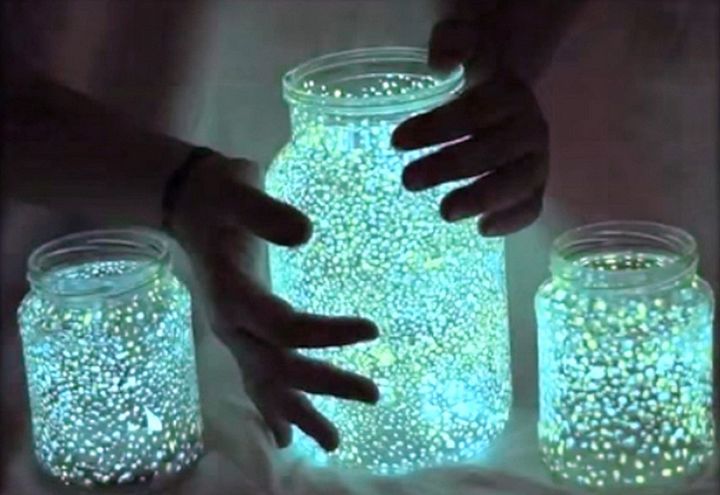 Have a look at this Mason jar fairy lights project and see how you can do this all by yourself for home décor. Fairy lights are always fun when it comes to making any space look better and attractive. This glow in the dark idea is best to do with kids as they will love this. Tutorial.
14. Firefly Mason Jar Lights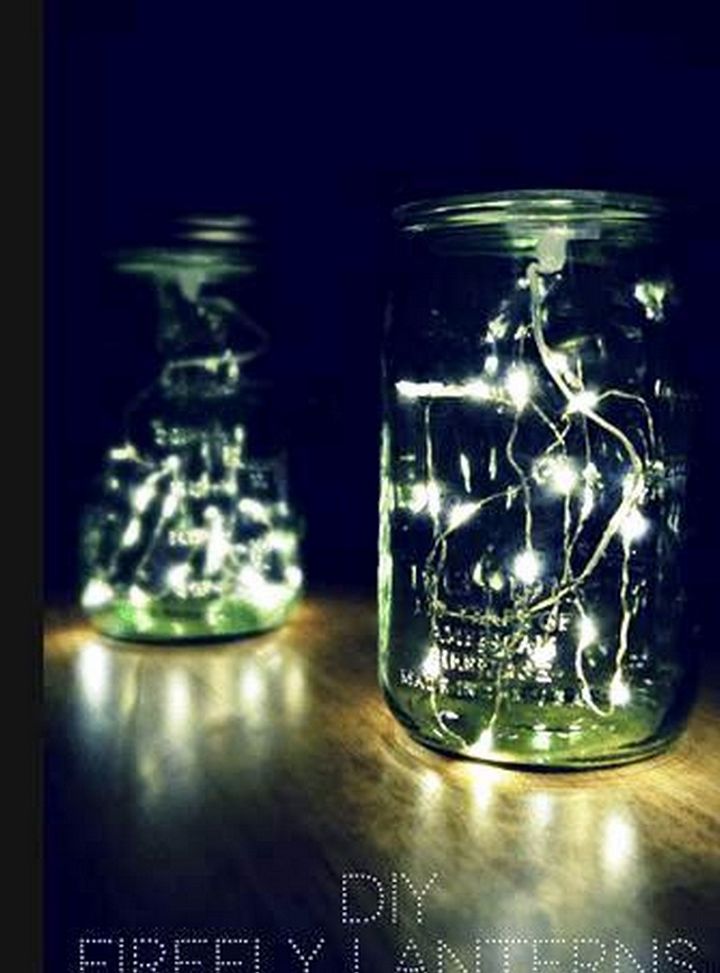 Have a look at this firefly Mason jar lights that you can also do with any old glass jar. You will need Mason jar for sure and besides this you will also need adhesive mounting dots, a string of miniature led lights and that's it. Check the end results that are very surprising and amazing. Tutorial
15. How To Paint Mason Jars From The Inside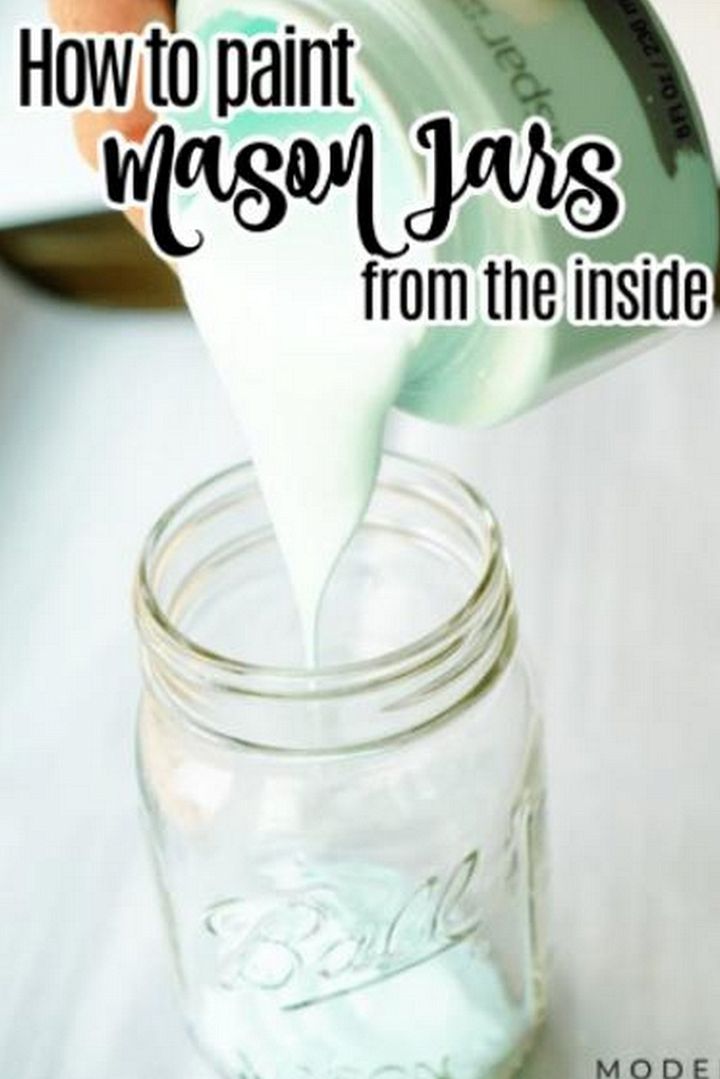 This diy project will show how we can paint mason jars from the inside. You will need Valspar color sample in any color, mason jars, and wax or parchment paper. You will start off by pouring the paint into mason jars. Then move the Mason jar in a circular position to cover completely with paint. Keep turning the jar so that the paint gets distributed. Place the jars upside down and let them dry overnight. Tutorial
16. How to Paint Mason Jars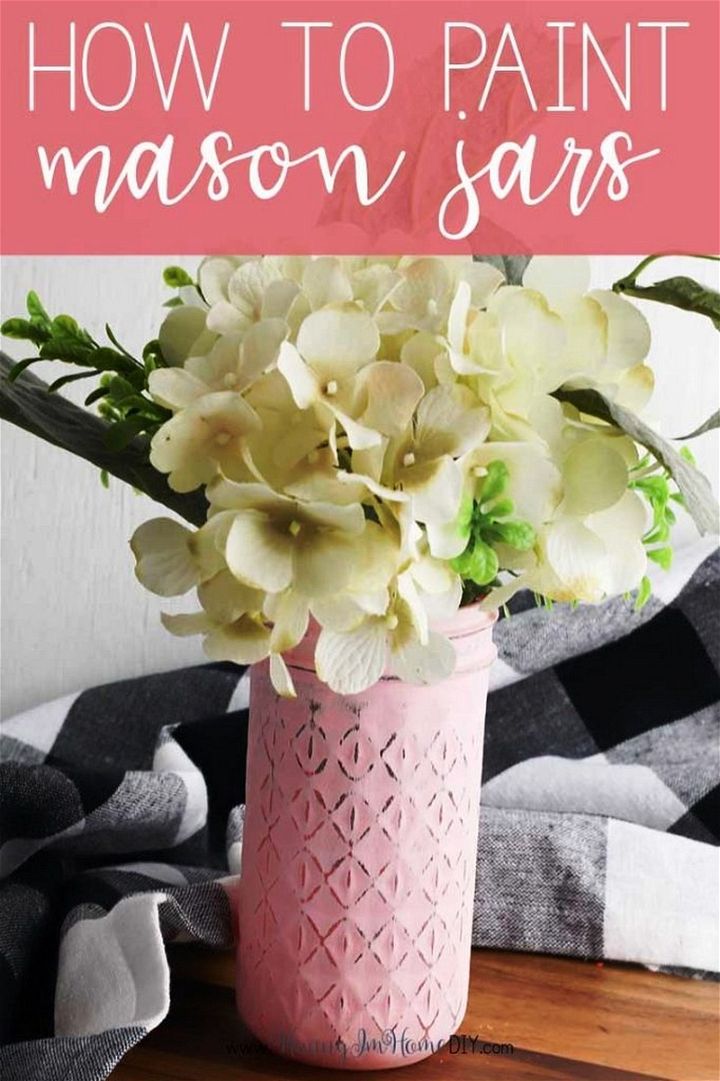 This diy project will show you everything about painting mason jars easily. These are perfect to add some farmhouse style to any room. You will need mason jars, chalk paint, paint brush and sanding block. Gather the supplies and get started with this interesting activity. Tutorial
17. DIY Fall Chalk Painted Mason Jar Ideas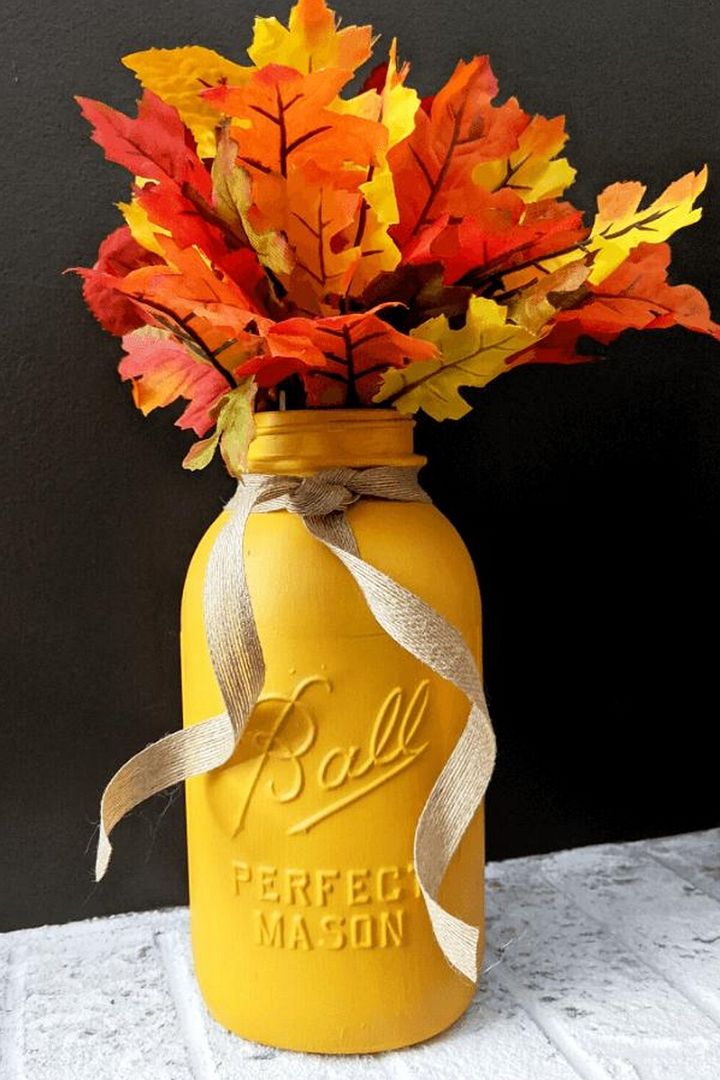 Have a look at this fall painted Mason jar idea here and see how you can also follow this. If you do not have any mason jars at home, you can buy them from any local or thrift store. The supplies that you need here are mason jars, fall colored chalk mineral paints, slick stick, painter's tape, paint brushes, google eyes and burlap ribbons. Tutorial
18. DIY Painted Mason Jars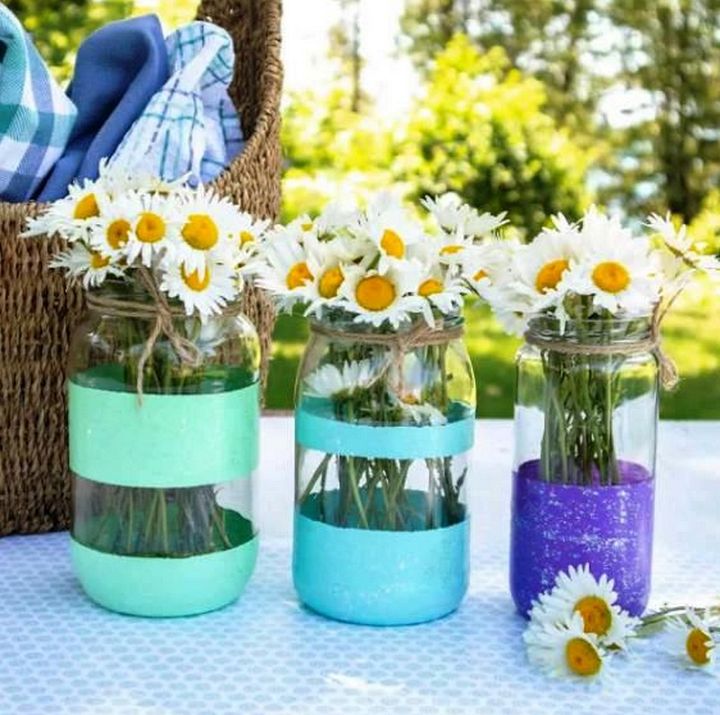 If you are also interested in painting mason jars lying uselessly at your home, this project will be of great help. You can use the painted jars as flower vases afterwards. The materials that we need are glass jars in varying size, multi surface paint, paint brush, decor art galaxy glitter and painter's tape Tutorial
19. How to Paint Mason Jars for Christmas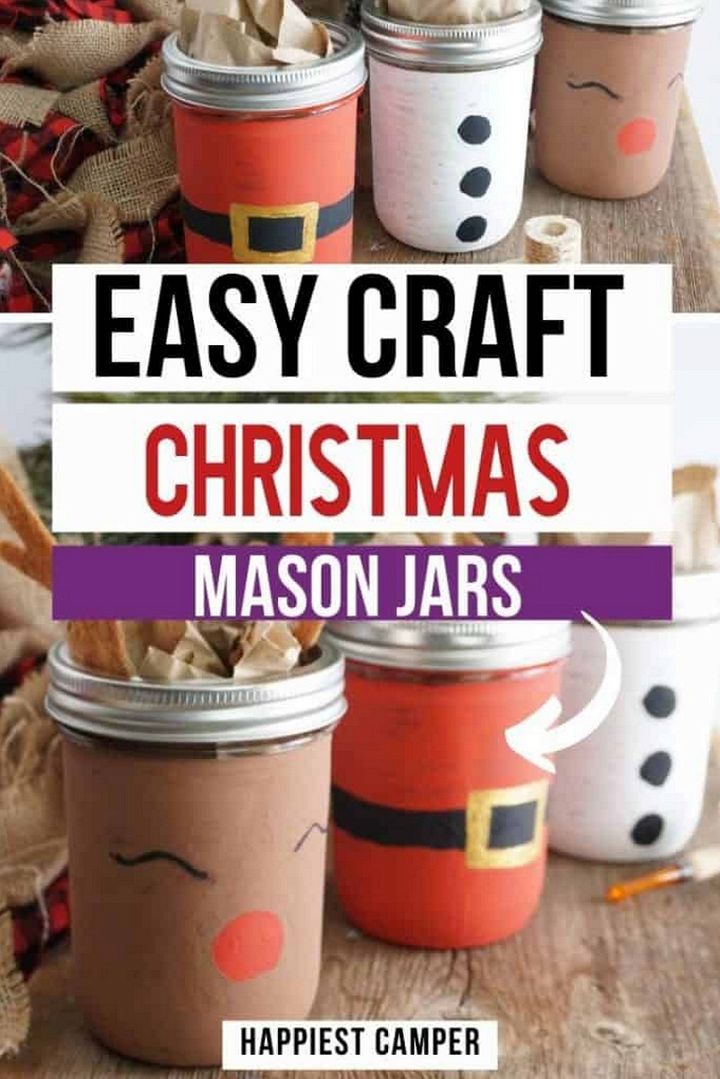 This project is special for Christmas and you can learn to paint the mason jars from this project here. The supplies that we need are mason jars, tempera paint, pencils, paint brushes, antler template, brown felt and mod podge. Remember to start with the clean mason jars. Tutorial
20. Romantic Evening Mason Jar Lanterns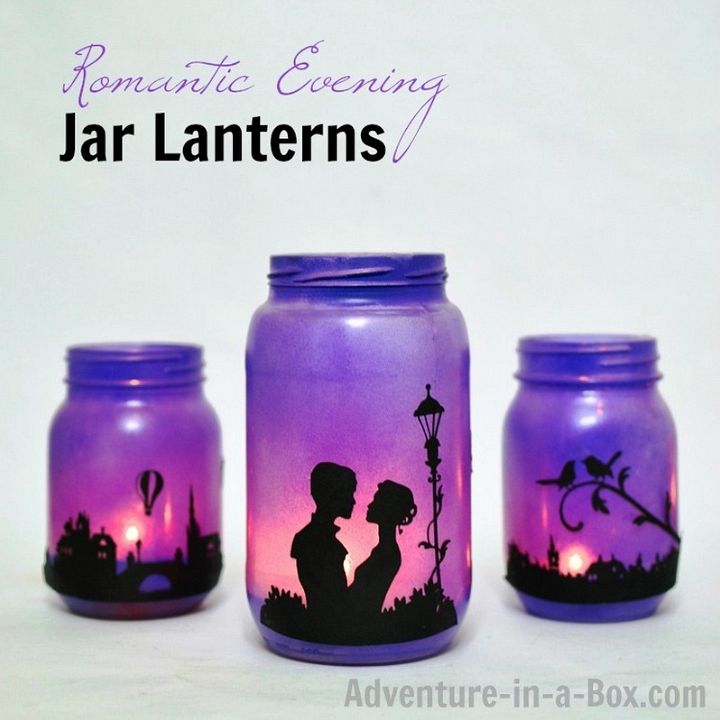 Have a look at these romantic evening Mason jar lantern here and see how you can make these too. Use some upcycle mason jars and turn them into a set of lanterns with romantic printable silhouettes. You will need a printable design, a selection of jars, spray paint, white glue, black acrylic paint and a thin round brush. Tutorial
Conclusion:
Pick and choose any of the Mason jar crafts here and try this all by yourself. We can also decorate mason jars for the upcoming fall season. Follow the instructions and you will be able to get the best and amazing results. All of the projects here are different from each other and unique in their own way.