Raised garden beds has a number of advantages that most of us don't realize at all. These Raised Garden Bed Ideas will help you make your backyard or garden areas all well maintained and good looking. You can be as much creative as you want while making your diy garden boxes. All these 37 DIY Garden Box Ideas For Plants are budget friendly and not very time consuming at all. These projects include protective measures for your garden beds and boxes from weeds, and animals like rabbits and deer.
Some of the garden boxes here are smaller in size and these small and adorable planters look absolutely eye catching and appealing. You can either keep those little planters in your gardens or at your house entrance to make the entrance of your house welcoming, warm and inviting for visitors. Besides this you can also grow vegetables in your garden boxes and protect them from weeds and animal with the help of metal wires, doors and fencing.
1. How To Build A Raised Garden Bed With Sleepers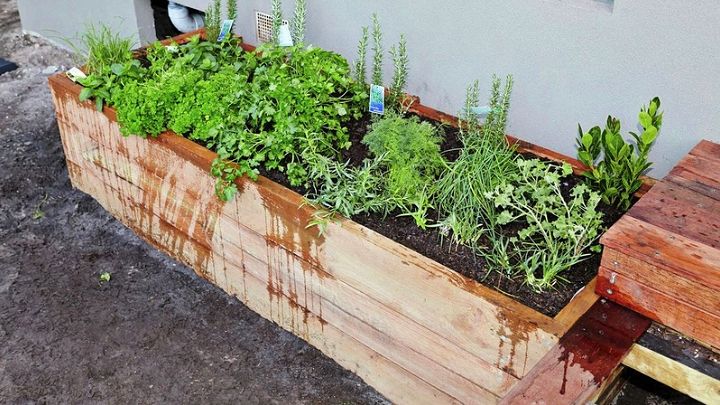 There are a number of benefits of a raised garden bed. This garden box that you see here will give you immense joy and pleasure once you will be done making it. You can keep any flowering planting this garden box just to make the entrance of your house special, warm and welcoming. For this project you need some materials such as cement mix, dyanabolts, screws, sleepers and black plastic board. Tutorial
2. How to Build Raised Garden Box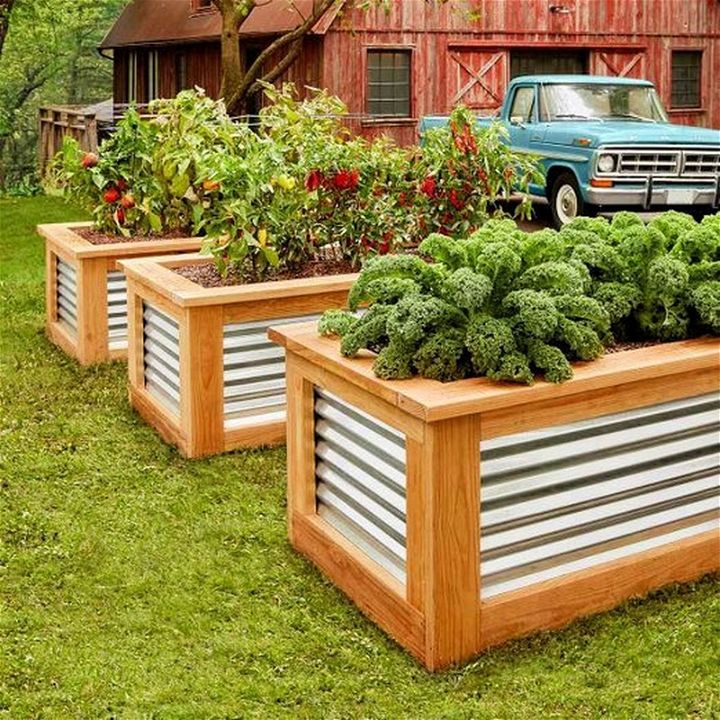 Enough of gardening in a regular traditional and typical garden. Try to bring some changes to your gardening routine and make this diy garden box raised form the existing level of soil that makes it very easy to maintain this garden and to take care of it without breaking your back. Tutorial
3. DIY Vegetable Garden box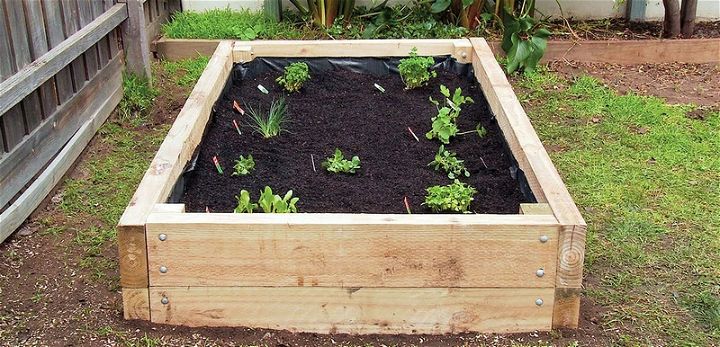 If you are looking forward to grow vegetables inside your garden, this raised garden bed idea is perfect for you. This raised garden box will protect your crops of vegetables and fruits from weeds, and wild animals. Make this vegetable box inside your garden to get some fresh home grown food. Tutorial
4. How To Garden In Planter Boxes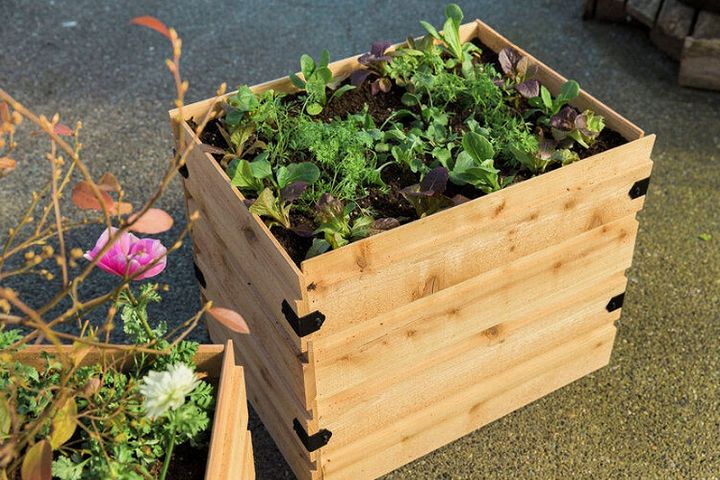 It's not possible for most of us to maintain a massive garden and to look after it. Therefore such garden boxes came into being. You can make this diy garden box very easily with the help of this project here and you will end up being proud of yourself for making these little gardens as they are easier to manage and look after. Tutorial
DIY Rock Garden Ideas – Below are 21 DIY rocks garden concepts that you can be inspired by. Mother Nature can bring us peace and tranquility in many ways. Here's another idea you can add to the list!
5. Our DIY Raised Garden Box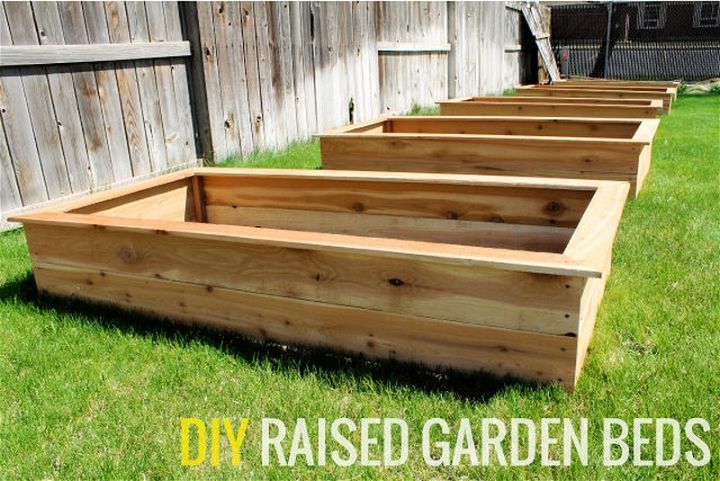 Before you build your garden beds, you must consider what amount of sun, shade and water your plants need. You can then decide the location for your garden boxes. These diy garden boxes not only are easier and convenient to manage and maintain but also gives major goals for your garden décor. Tutorial
6. How to Build a DIY Raised Garden Bed and Protect it With a Metal Fence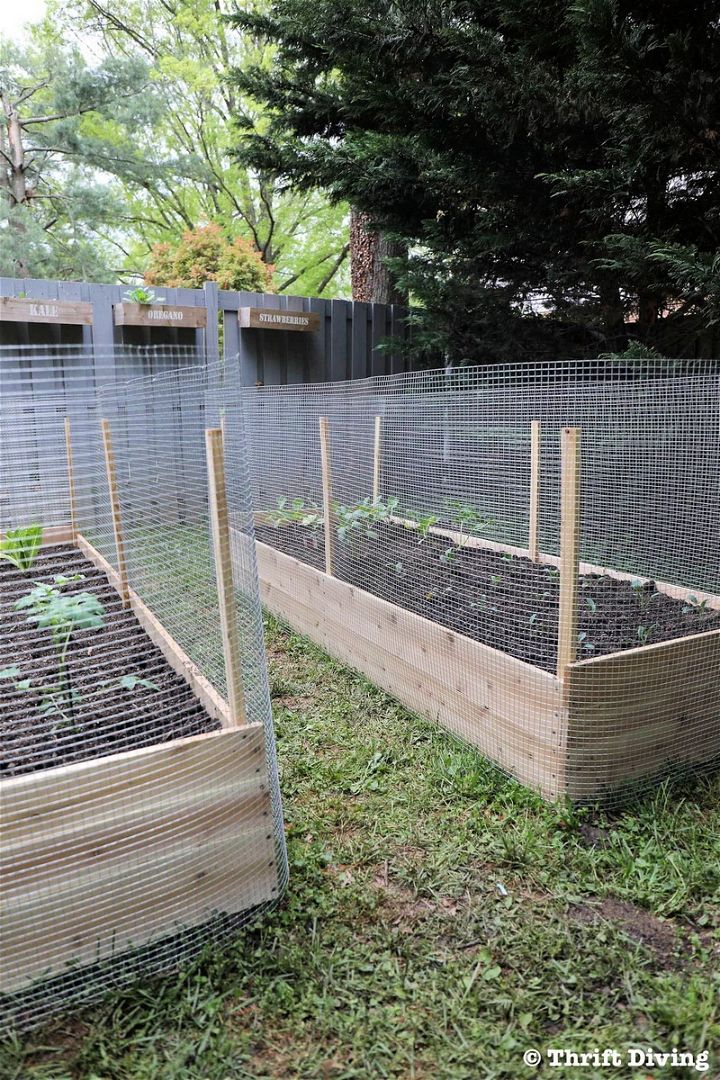 This project will not only teach you about the making of a garden box but will also give you enough information about how you can protect it from any sort of harm with metal wires. Get the details of this project and see how you can make your versions of diy garden boxes. Tutorial
7. How to Make a DIY Raised Planter Box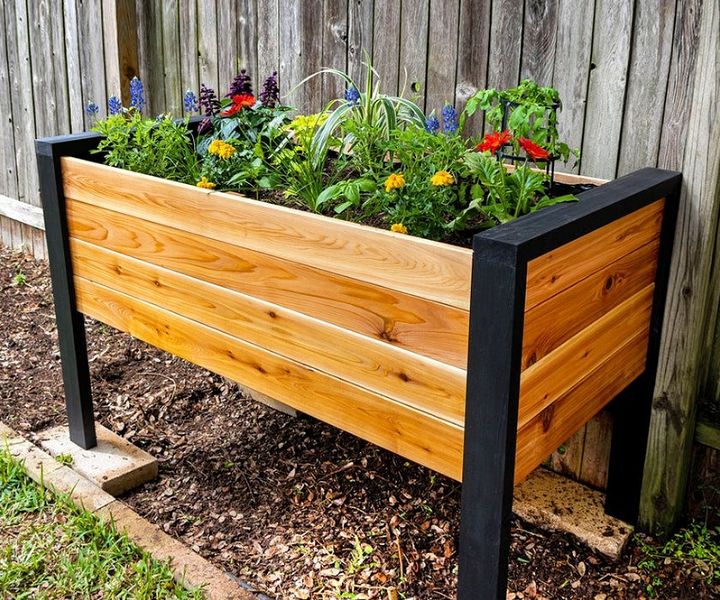 Planter boxes can either be smaller in height or tall with some defined legs like this one. This heighted planter is definitely something that can impress anyone who looks at it. This tall planter not only looks good and appealing but also is protected due to its height form all sorts of harm especially animals like rabbits. Tutorial
8. How to Build a DIY Planter Box on Wheels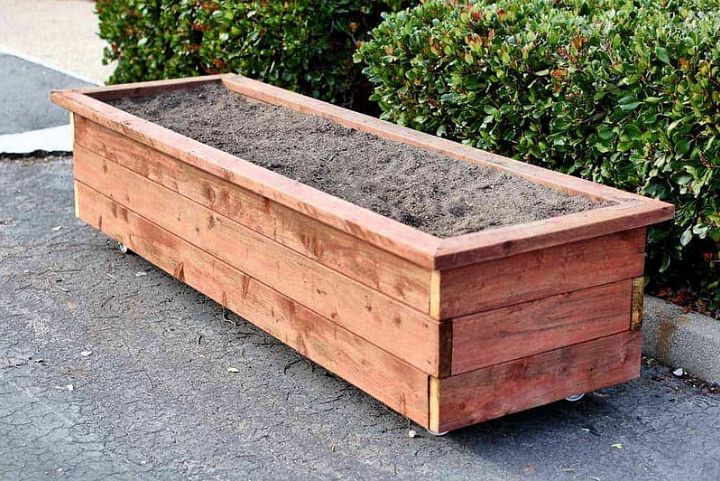 You can always bring modification to typical stuff and traditional styles. This is a simple and basic kind of a raised garden box except that it has wheels, with the presence of wheels, you can easily drag it anywhere you like and cleaning is also easier form the floor beneath with these wheels. Tutorial
9. How To DIY Raised Garden Box Cover To Protect Your Garden From Animals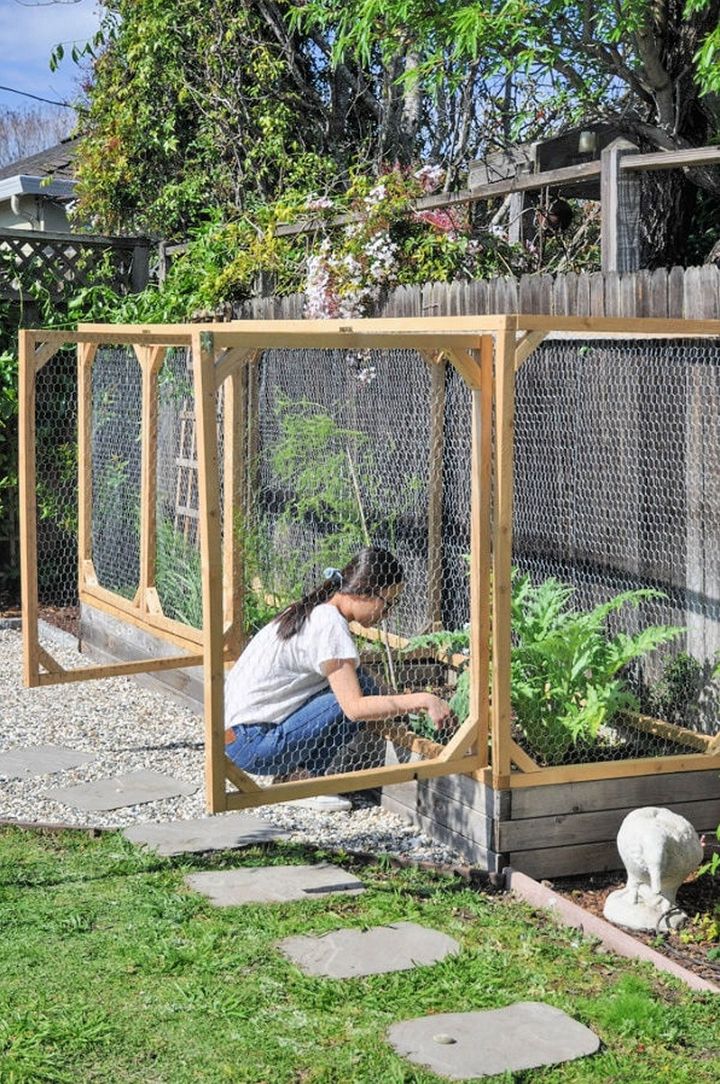 This diy garden box is different in its structure and style. The garden bed is protected with metal fencing. The fencing is supported with wooden frames. This way he garden is now safe form animals, weeds and any kind of harm that can destroy it. Gather your supplies a start making one for your backyard. Tutorial
DIY Garden Path Ideas – transform your garden into a mini paradise with this 15 top DIY walkway ideas which will also give you the safety of a walkway.
10. Building Raised Planter Boxes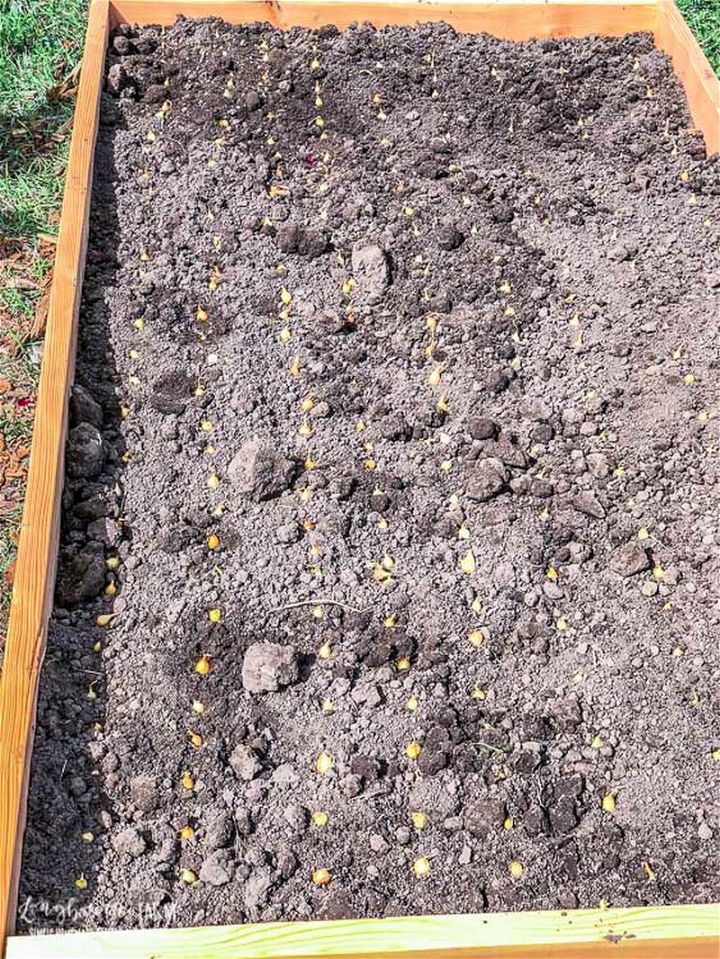 If raised garden planters are a new term for you, you do not have to worry at all because this project will guide you through everything. If you are a beginner, go through the project thoroughly so that you get every minor information and decide where and how to start. This raised garden planter idea will give a well-defined character to your entire backyard space and also will help you manage a garden easily without hurting your back Tutorial
11. Elevate Your Salad – Make a Raised Bed Lettuce Table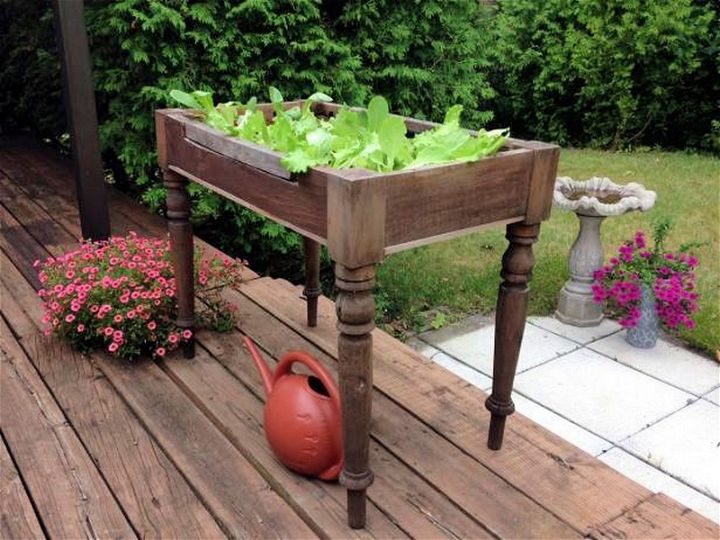 To up your salad game, you can literally elevate the height of your lettuce crop and make it look charming, impressive and stunning. This raised garden bed will protect your lettuce from getting spoiled due to various reasons. This heighted planter or raised garden bed also looks absolutely divine and stylish for any garden. Tutorial
12. Fast And Easy DIY Raised Garden Boxes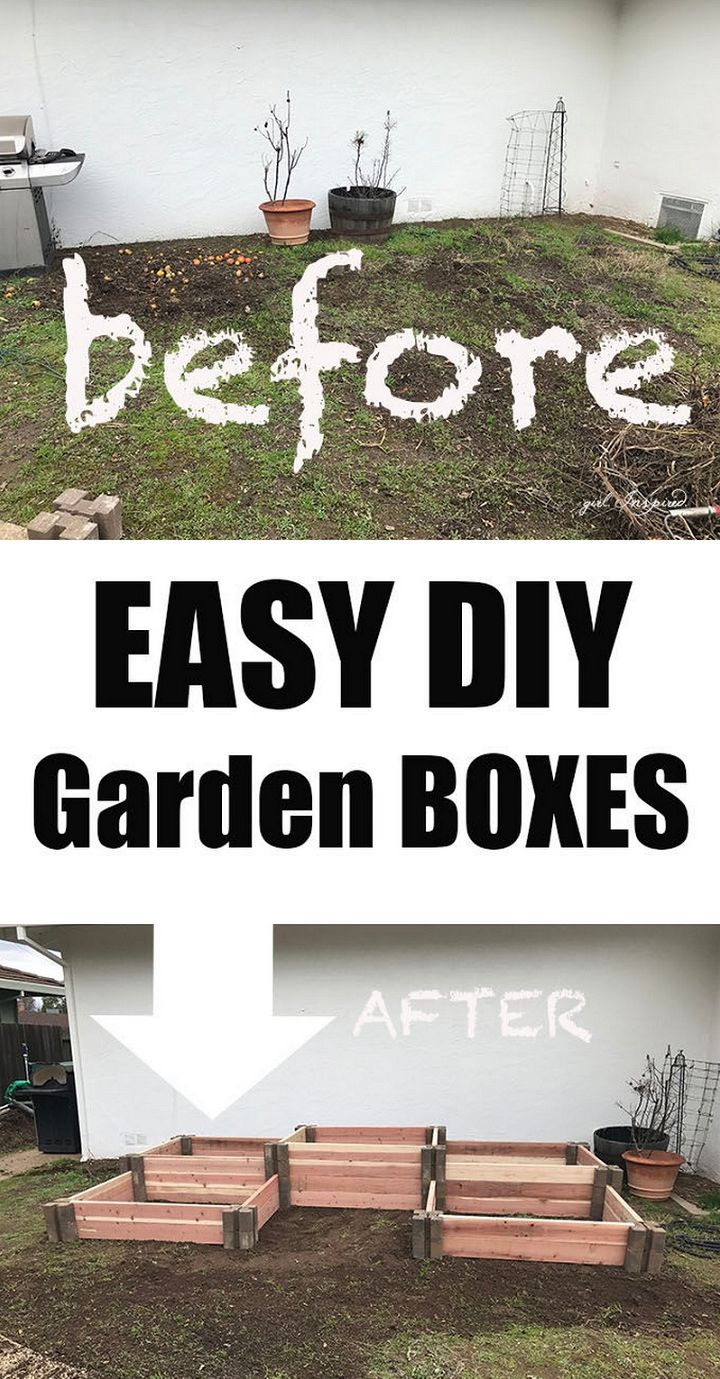 If you're looking for quicker and easier ideas about making raised garden beds, this projects definitely for you. Decide a location in your front or backyard, and get your hands on this interesting and productive activity of making raised garden bed. Get the details of this project and start your mission towards making of a trendy raised garden bed Tutorial
13. How to Build a Raised Garden Box Step-by-Step Guide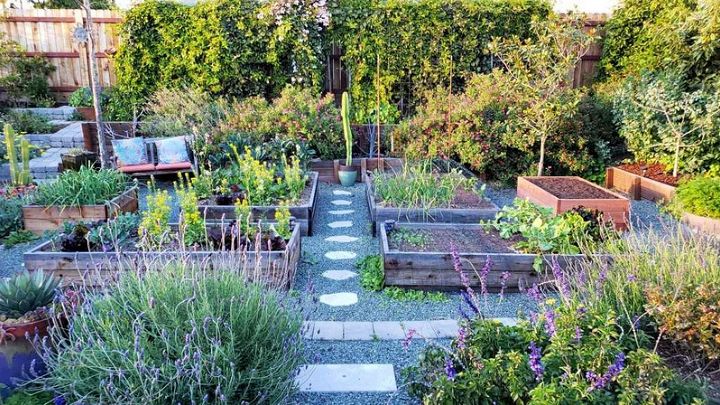 If you are a beginner into raised garden bed projects, you must take one step at a time. This is a step by step tutorial about making your own raised garden bed or boxes. You can grow vegetables in this raised garden box and consume some fresh food after a little effort. Tutorial
14. DIY Garden Enclosure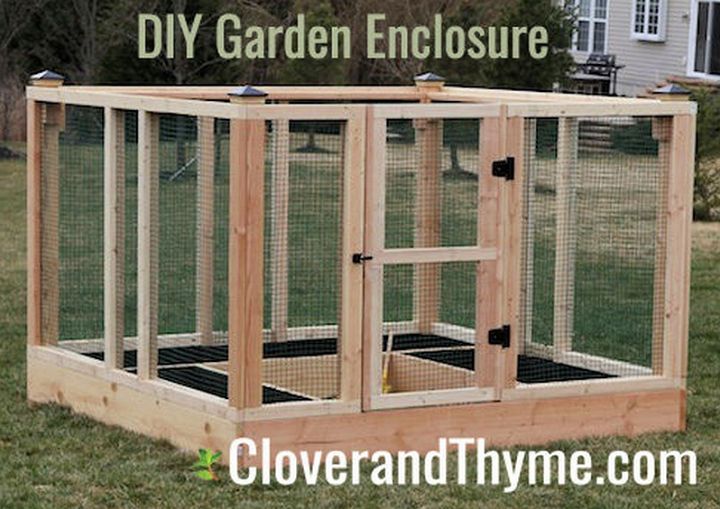 This is an entire plan to make a garden enclosure. In order to build this structure you need to be a little careful with the measurements and calculations so that the end results are accurate and just the way you want them to be. This is off course a lengthy project to work on but your efforts are worth it. Tutorial
15. How To Build A Modern DIY Garden Box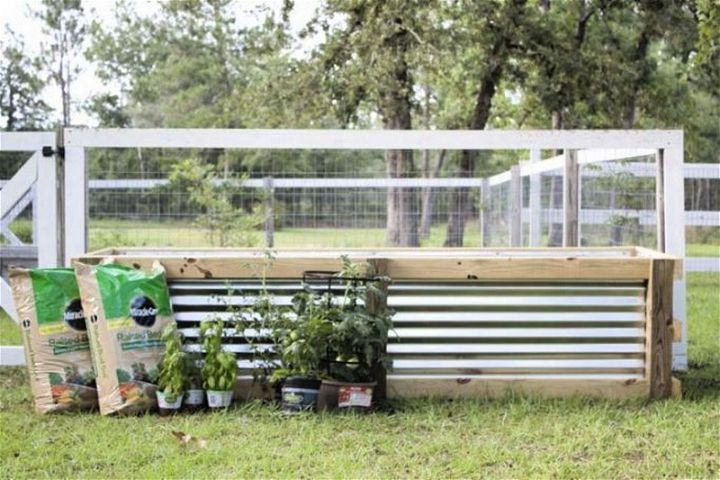 Building a diy garden box is easier but giving it a modern touch can be quite tricky and tough. With this project you will get the details on how you can make a simple garden box but with the trendy and modern style. Bring some modernity to the simplest things in life and be proud. Tutorial
16. How to Build a Raised Garden Box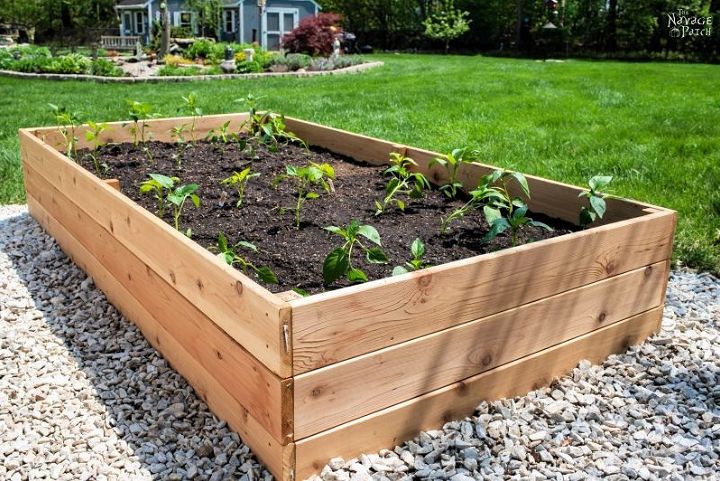 There are many benefits of building a raised garden box. Firstly they give your gardens a fairytale touch and trendy look and secondly they are easier to handle, maintain and manage as compared to the ones on the same level of the existing soil. Set your goals and make your garden box better than anyone else's' with this diy garden box project. Tutorial
17. Raised Bed Garden DIY – Trex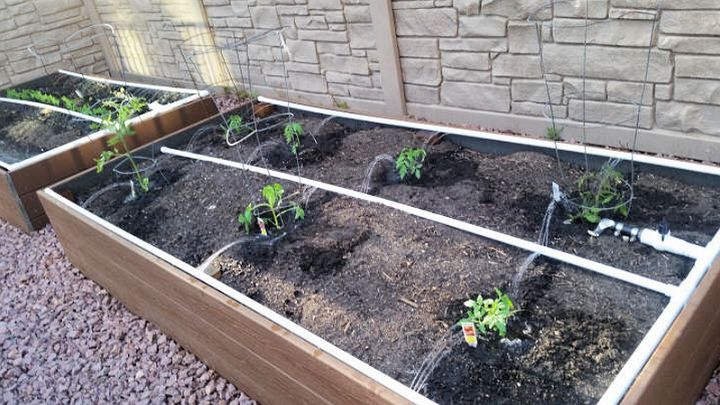 This diy garden box is made with trex boards and you will be amazed by the cost because this is cheap and highly affordable. This diy garden box is highly recommended as it has so many benefits. The process requires a lot of cutting, assembling, drilling and much more. Tutorial
18. Easy Raised Garden Bed – DIY Without Tools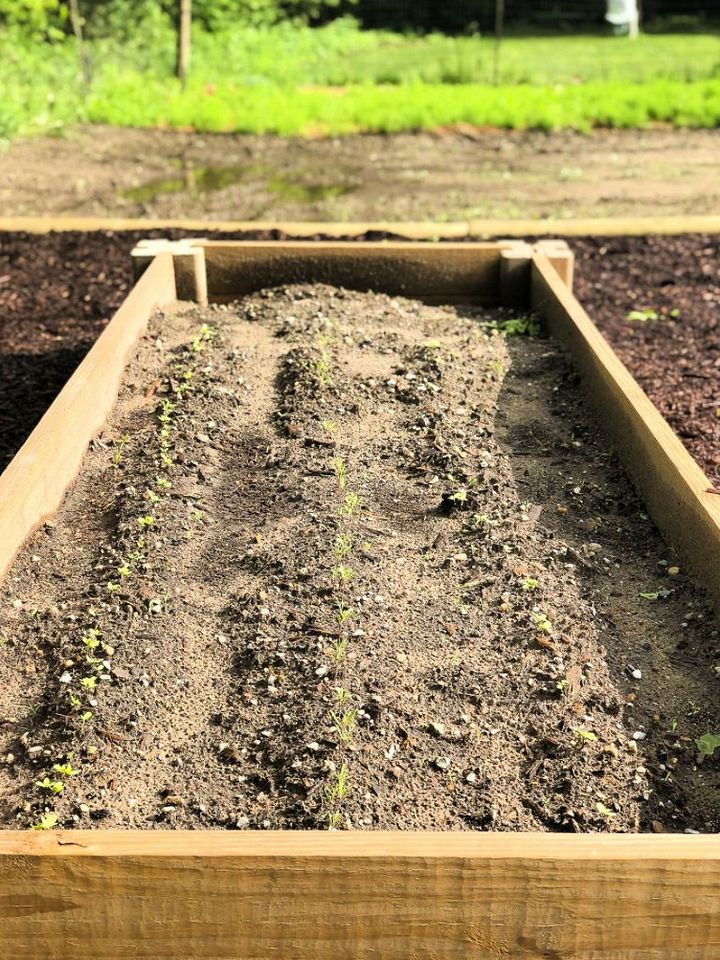 There are only a few projects of garden box that requires less effort and limited tools otherwise they are usually lengthy and material list is a bit long. This project of making a garden box requires very less amount of tools and that is the best part. However you need to know some basic of wood working and you are all done. Tutorial
DIY Plant Stand Plans – You can seek guidance and inspiration from these 35 no-cost DIY plant stand designs that include clear instructions as well as a list of materials.
19. Build a Raised Garden Box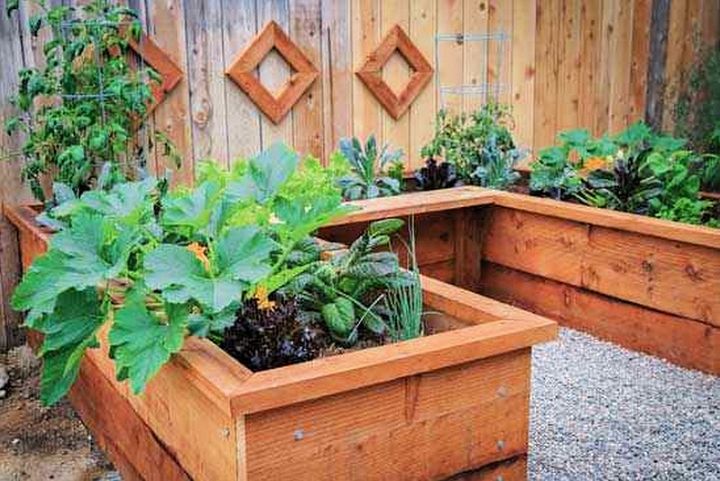 Raised garden boxes are not so easier to make but once you are done building them, it's very easy to manage everything. Unlike the regular gardens, there is no hurting your back in managing these garden boxes. Try to learn making a garden box from this project and make your own. Tutorial
20. DIY Raised Garden Box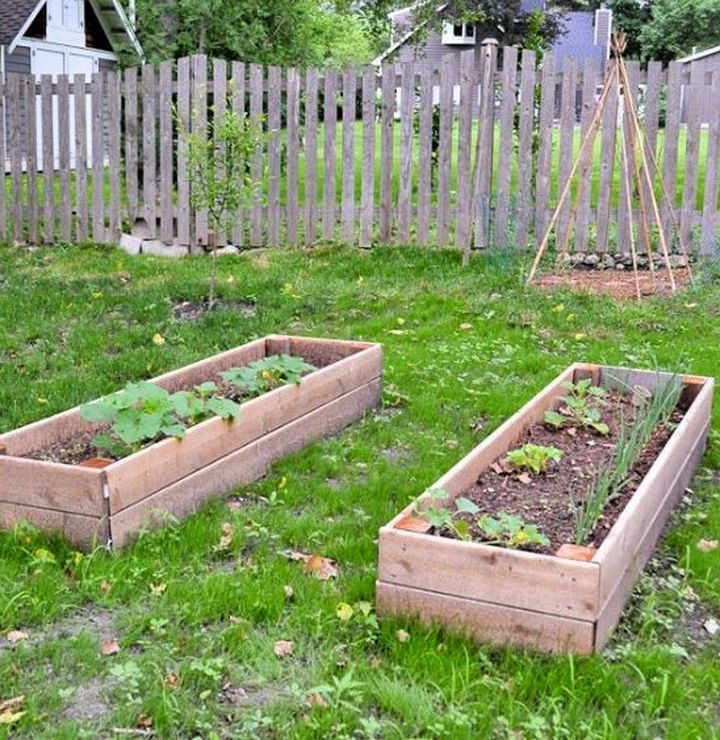 You can easily build more than one garden boxes if you have a large space. These garden boxes can definitely make your backyard look decorated and well maintained. Many of us have boring and typical backyards but these raised garden ideas will completely change their look. Tutorial
21. DIY Raised Garden Boxes With Corrugated Metal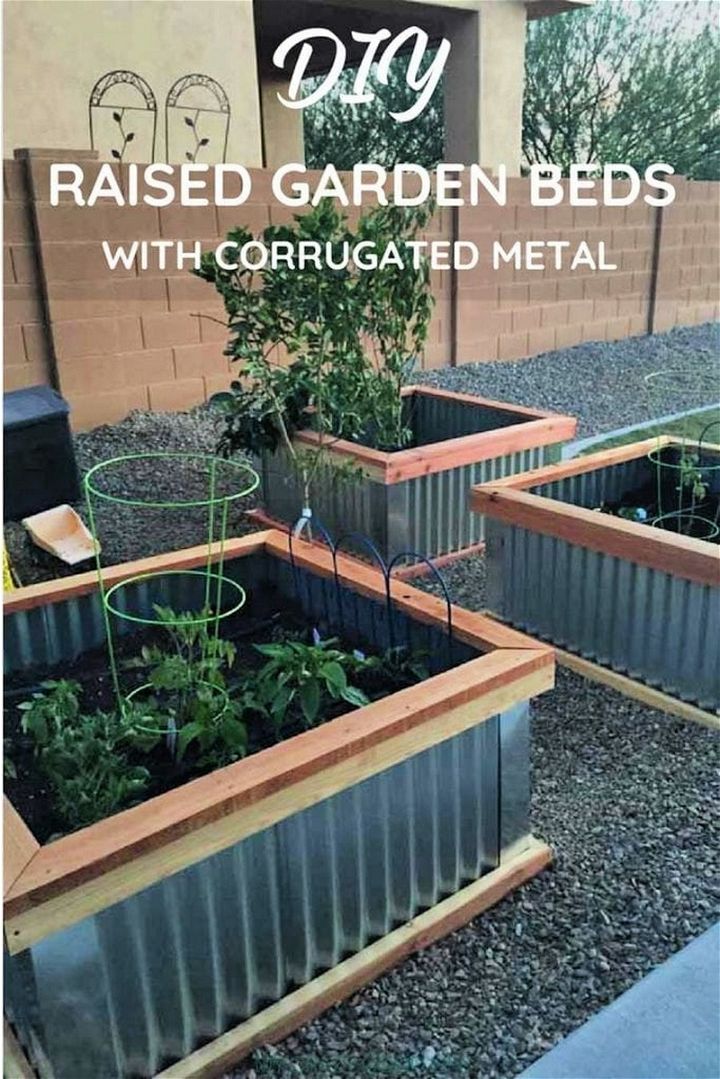 This raised garden is made with a lot of protective measures in order to protect the plant from all the harmful factors. This garden bed as you cans see is protected with corrugated metal that can easily prevent any harm that animals like rabbits can cause to this plant or crop. Weed protection is also ensured here in this diy garden box. Tutorial
22. DIY Gardening Box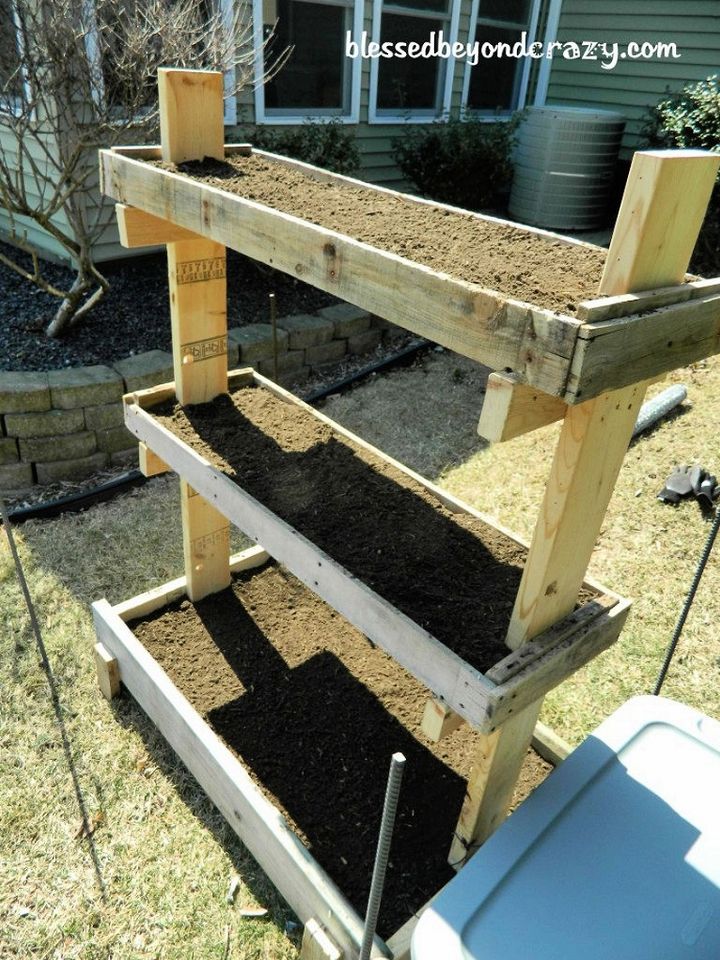 Have a look at this multi-story garden boxes. Go through the entire project thoroughly and see how this is built from scratch. If you're a beginner you can still catch up as this project is explained in detail through step by step tutorial. Follow the steps to be accurate towards the end and you will be surprised by the results. Tutorial
23. DIY Tiered Planter Box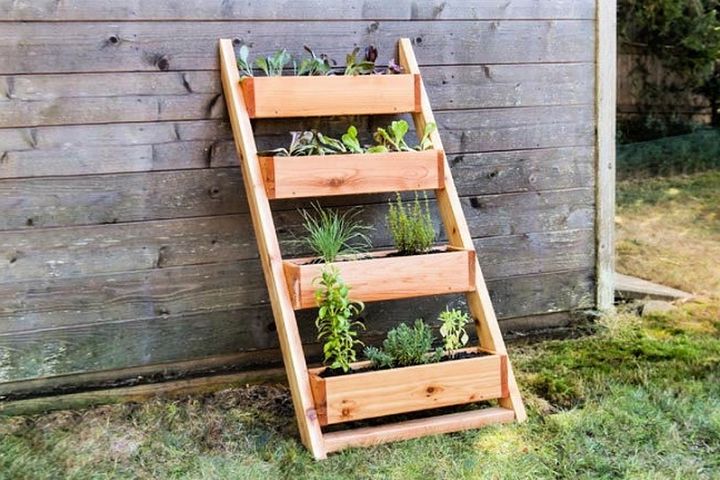 These planter boxes are made in a ladder style. Ladder shelves or planters are very much in fashion these days. Therefore this garden box idea is all about creating that trendy ladder look. With the help of this project you can make your kitchen garden with all herbs grown in there. Tutorial
24. DIY Garden Planter Box Tutorial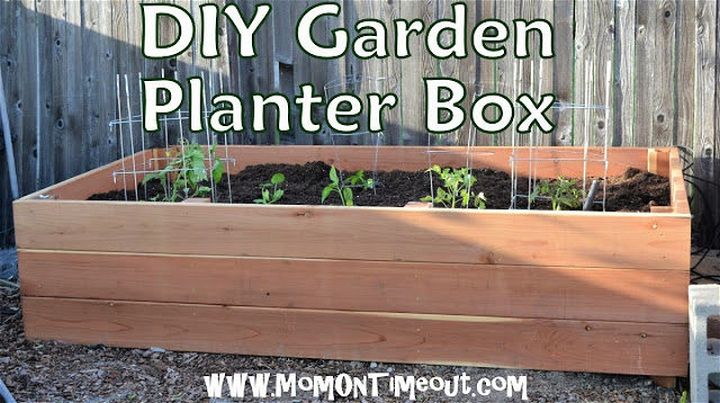 This tutorial is explained and described in detail about all the steps that you have to take for building a garden box for your own garden. This garden box will make your house entrance warm, welcoming and happening. This project is for you if you want to learn from scratch about the building of garden boxes. Tutorial
25. Simple DIY Raised Garden Box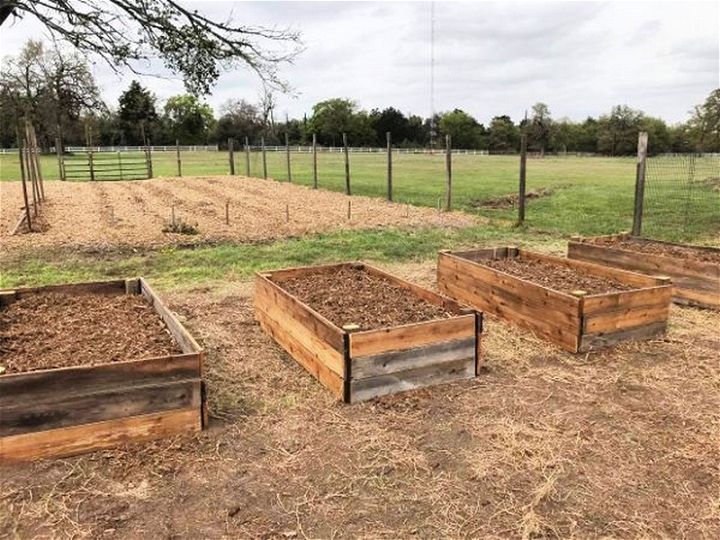 Simplicity is something that always appeals to eyes. Try making this simple yet eye catching diy garden box for your garden area. The maintenance is much easier as compared to the regular gardens. You do not have to bend so much for watering and taking care of the plants. Tutorial
26. How To Build A Raised Planter Box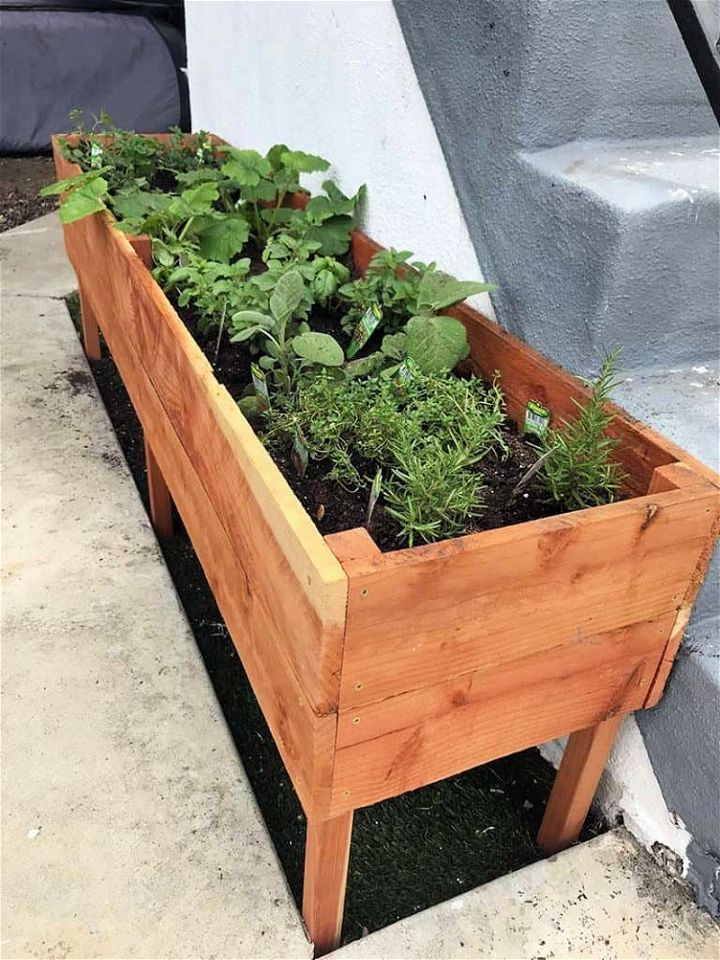 This raised planter box is attractive and its height adds to its beauty. For this project you first have to choose the location, make a plan, choose building material, assemble tools and materials, cut boars, assemble planter boards, install hardware cloth, add garden soil and finally have to plant your herbs. Tutorial
DIY Patio Ideas On A Budget – All of the 22 DIY patio Ideas on a Budget these are fantastic and must be checked each one by itself.
27. How to Build a Simple Rolling Planter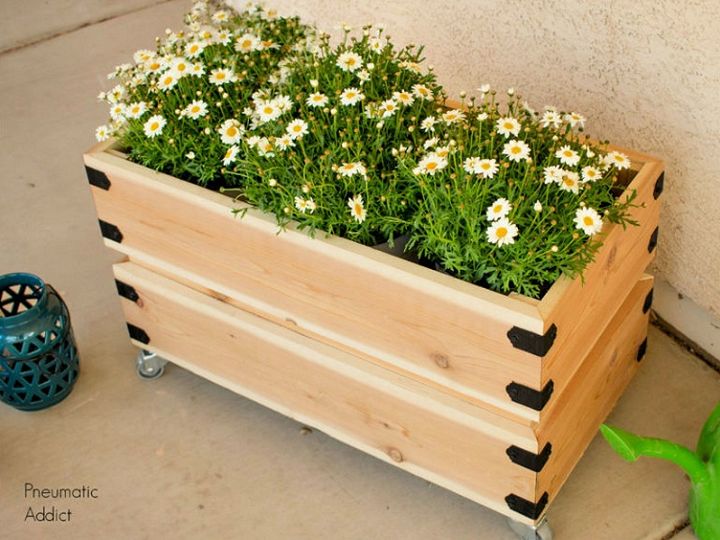 This is a simple, small and basic planter that you can make. The only twist in this simple planter is that it has wheels. Towards the end of this project you will realize the importance of the wheels that you will add to this planter as it becomes easier to drag it anywhere and everywhere. Tutorial
28. Building a Raised Planter Box with a Trellis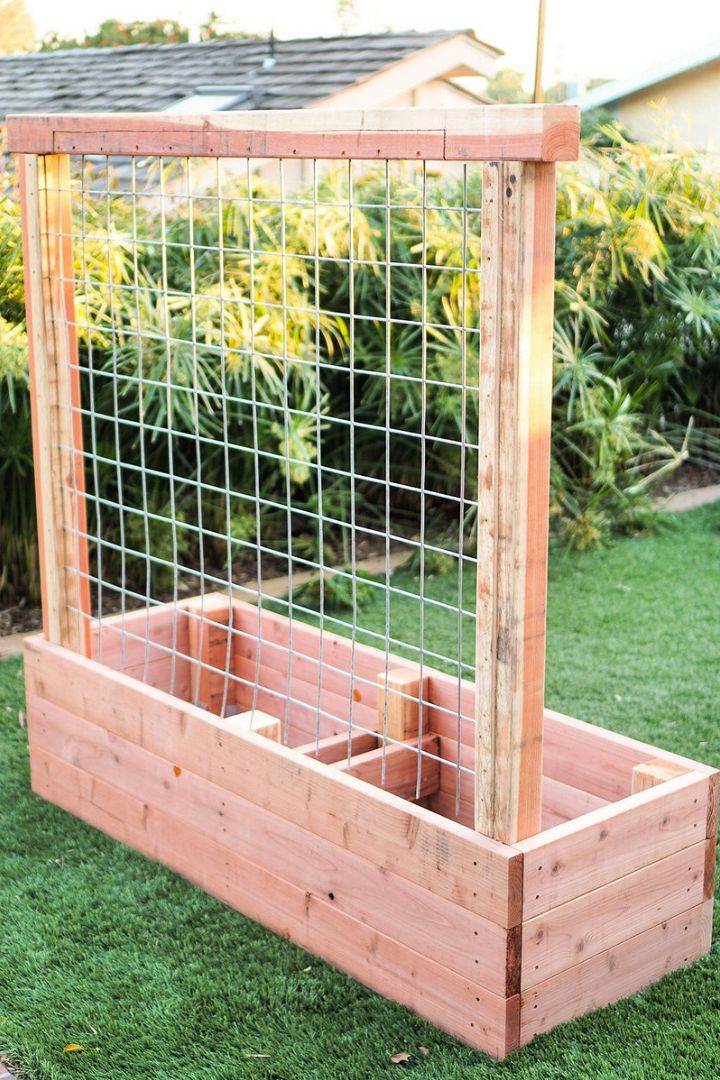 Building a planter box may have many benefits that you will realize once you are done with the making. This garden box with trellis seems to be difficult but its actually not. However the time for making this is a little bit long but the end results are surprising and astonishing. Tutorial
29. Raised Garden Planter Box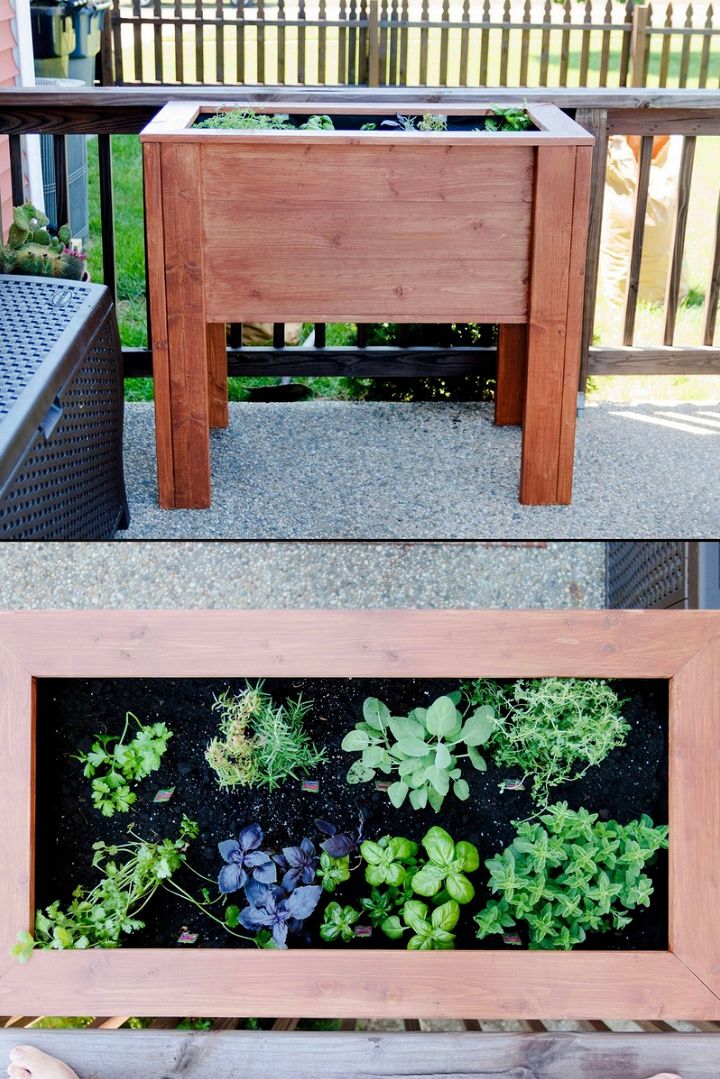 If you are also looking forward to grow some kitchen herbs in your garden and you need a separate space for them, this planter idea will blow your mind. You can grow different herbs in one planter together and see how beautiful and adorable they all look. Tutorial
30. Counter Height Garden Boxes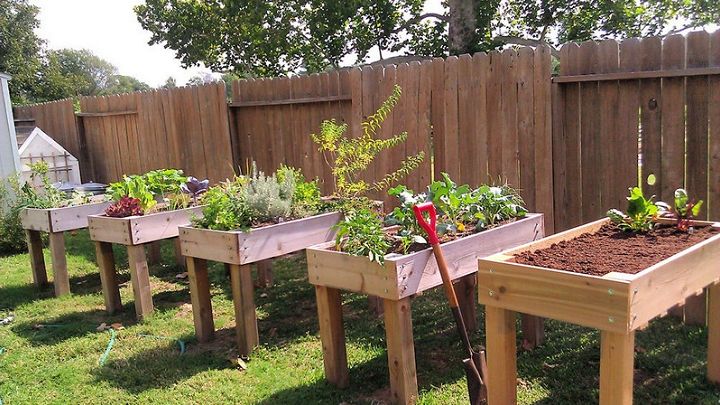 Have a look at this beautiful garden which looks mesmerizing due to these individual garden boxes. All the garden beds carry different flowering plants and creates a special ambiance. You can also turn your simple garden into a fairytale one with this diy garden beds idea. Tutorial
31. How to Build Your Own Garden Boxes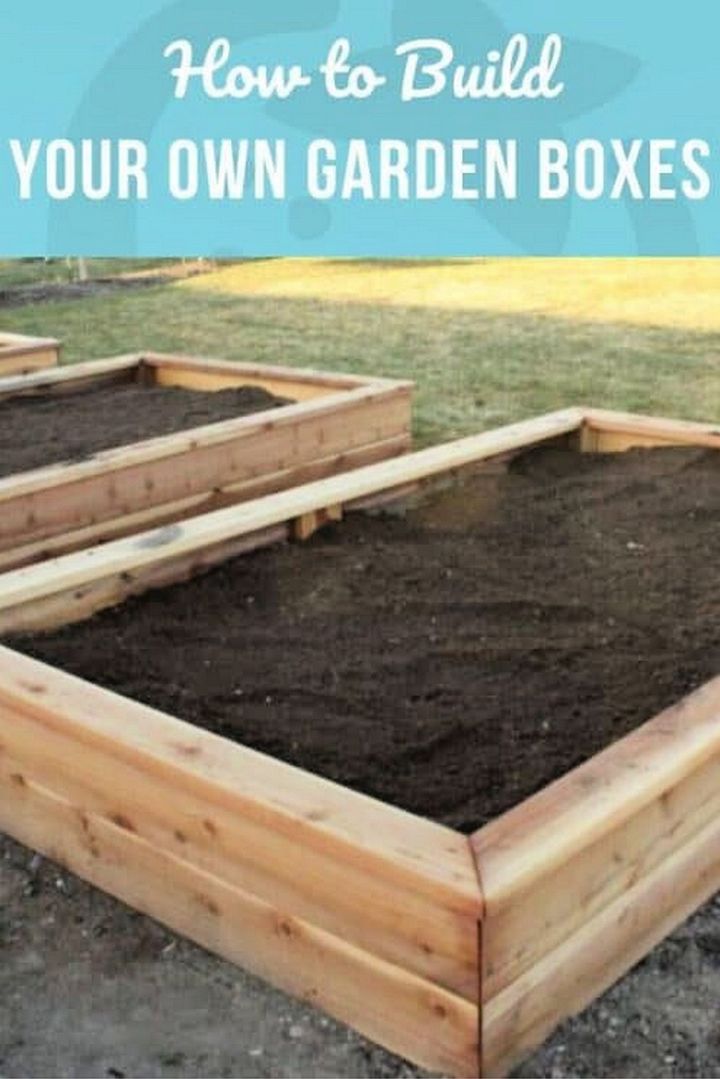 While building raised garden beds or garden boxes, you must make sure that you don't use any chemical, colorants and other harmful stuff. This diy garden bed has so many benefits such as it prevents lots of mess, save your back and avoid weeding or make it very less. All these benefits are useful so you must give this a try. Tutorial
32. How To Build & Plant A Low Maintenance Raised Garden Box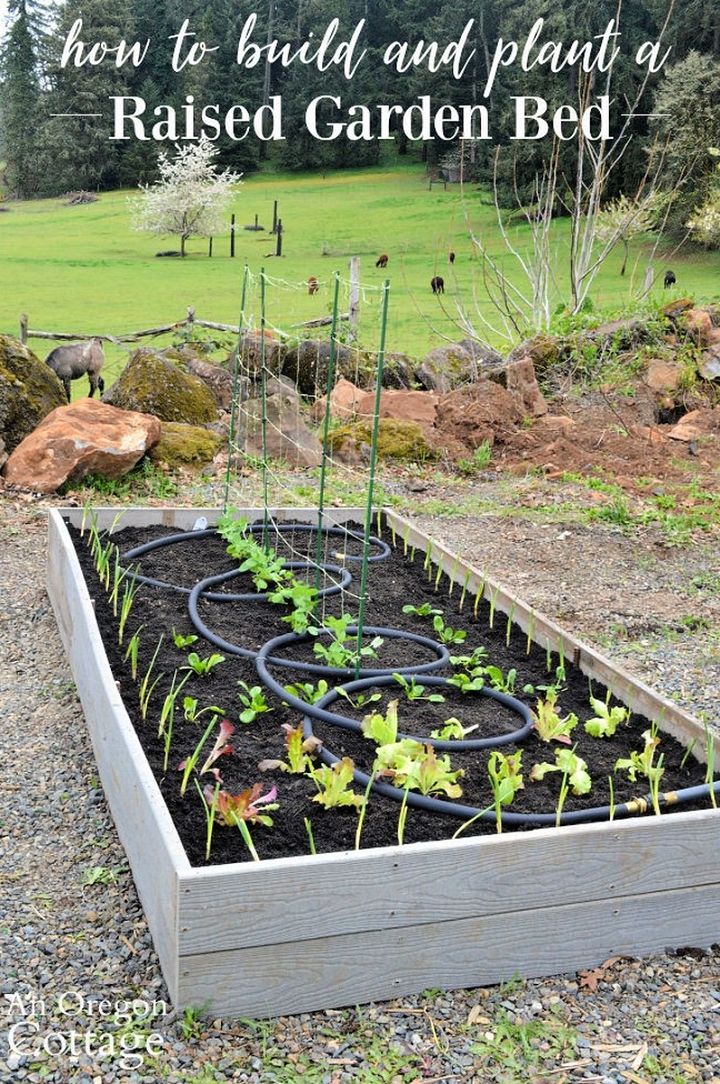 You must create spaces that requires low maintainnece. With this diy garden box project you will be able to create a garden space that is low maintenance and needs no special efforts every now and then. Build your own garden boxes and make yourself proud of your creativity and skills. Tutorial
33. Tall Raised Garden Boxes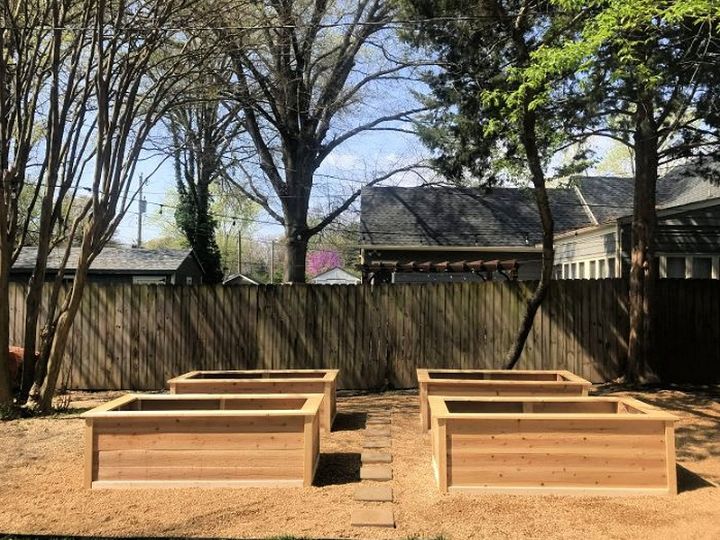 Before you start making these tall garden boxes, you must first decide the location. Choose the location after considering the amount of light, shade and attention they need. After setting up the location, it very important to try to make equal sized boxes as it look good that way Tutorial
DIY Garden Fence – We've provided you with 15 incredible fence ideas to enhance your yard or garden more appealing and keep it. Enjoy it!
34. Memorial Day Mini Project – DIY Garden Box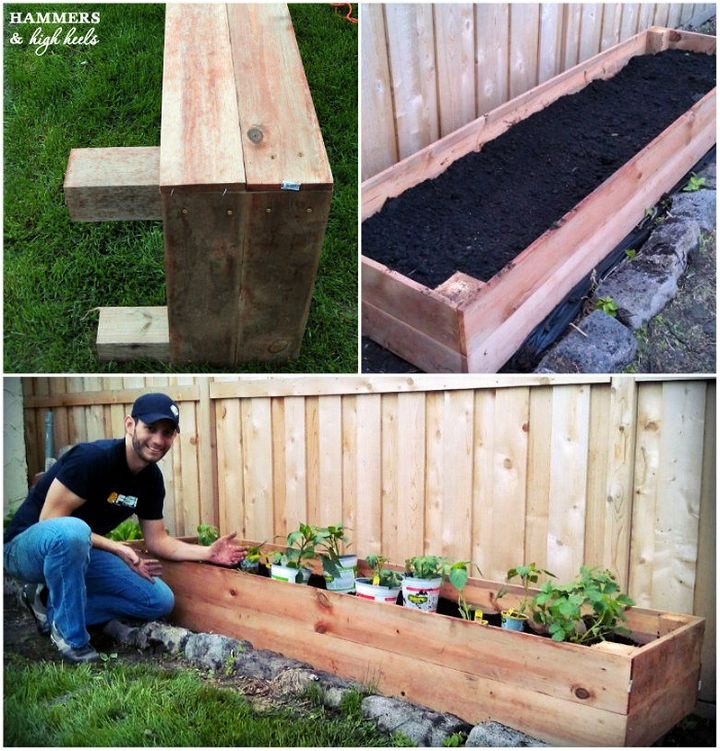 Some serious wood cutting skills along with some drilling, assembling, and screwing is require in a diy garden box project. Have a close look into this project and you will learn form scratch about how to make an amazing diy garden box easily and very conveniently. Tutorial
35. DIY Raised Herb Garden Planter Box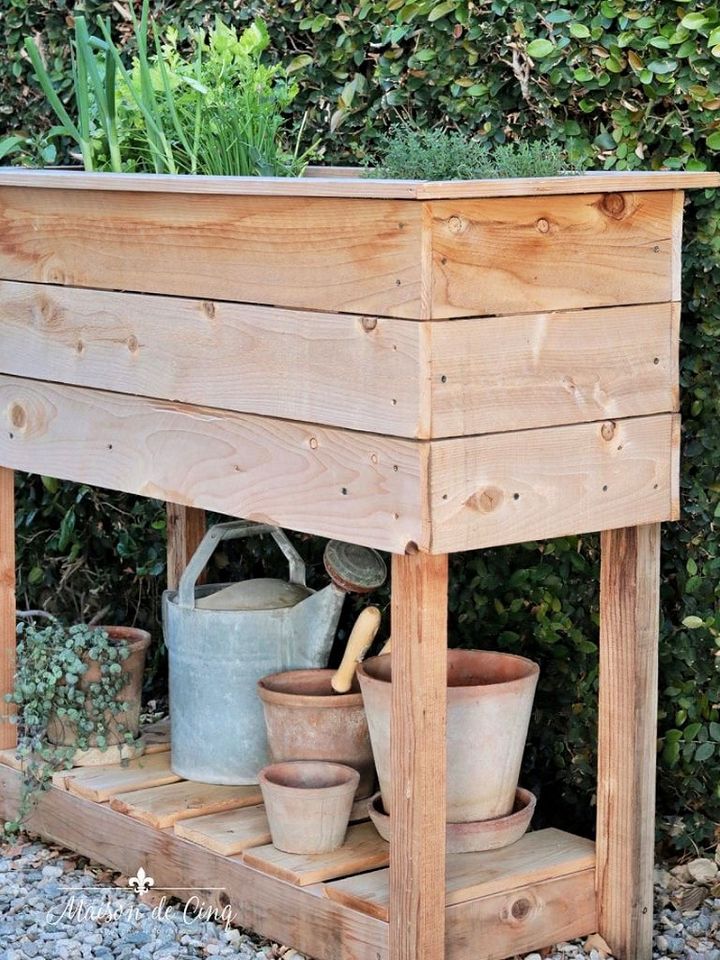 This is a very handy planter. The height of this planter box is tall and looks mesmerizing especially at the entrance of your house. Such planters can surely decorate any empty space easily. Try to make one for your backyards in order to bring some spark to those boring and typical spaces. Tutorial
36. How to Make An Easy DIY Cedar Planter Box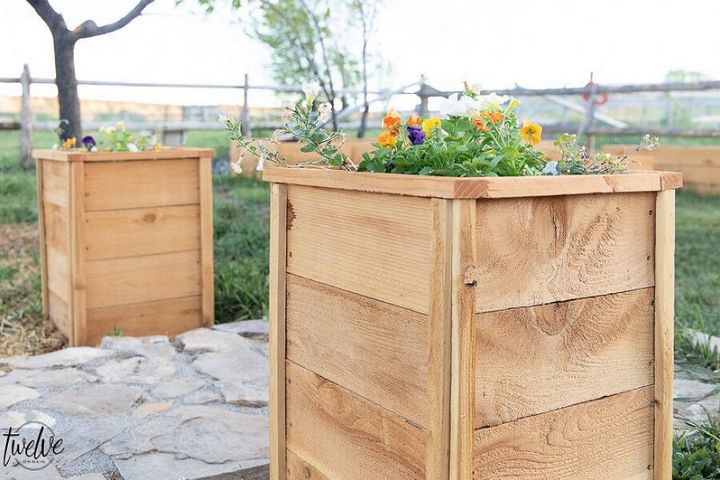 Cedar is loved by many people when it comes to diy wood projects. These are cedar raised garden boxes as you can see here. This is a quick process as compared to other garden box projects. You can also enjoy building this diy garden box with your family this weekend. Tutorial
Charming Garden Signs DIY – Discover ways to create your own garden signs by using these 12 creative and original homemade garden signs.
37. How To Build A DIY Raised Planter Box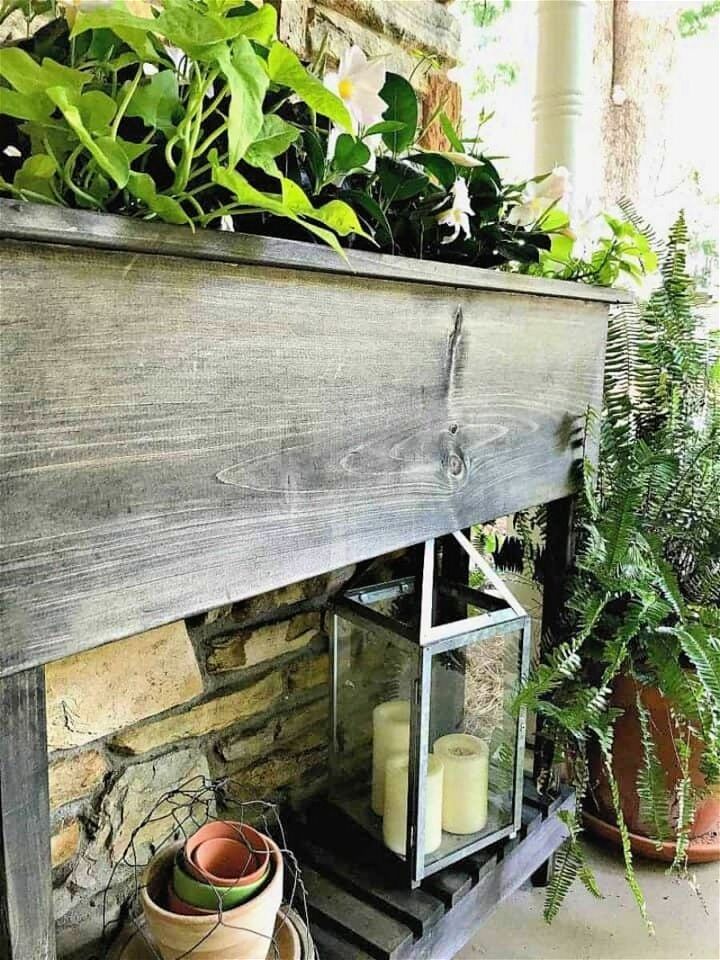 If you are new into building these diy garden boxes then this project is perfect for you as it tells us forms scratch how we can build our very own garden planters and see our garden blooming with beautiful and stunning flowers or maybe with the fresh fragrance of some vegetables. Tutorial
Conclusion:
Make your gardens or backyards more beautiful and attractive with these diy garden boxes. Many of us have empty and boring backyard areas but these projects will help in you all the ways to make the space look decorated and well maintained. You can make multiple number of garden boxes and consume home grown fresh vegetables very easily and conveniently.