Plants are surely something that creates a positive energy inside and outside of the house. Besides positivity they also contribute to the purification of air all around. You can keep plants near you and you will feel the difference in your health soon. These are 35 DIY Plant Stand Plans To Increase Greenery that teaches us how we can build stands for our dear plants and make them look even better in appearance. Almost all the projects that we see here are budget friendly and quick. You can easily make these stands with just a few supplies and told.
Go through all the projects that you see here and select your favorite plan according to your choice, space, and requirements. Many of like wooden stands for our plants so we can look for the projects that guides us through the making of wooden diy plant stands. Besides wood, copper is also something that you can make your plant stand with. We also have plants stand projects here with a cross leg design at the bottom, plants stands in pair, diy plant stands with wheels and much more.
1. DIY Carved Hexagon Planter With Plant Stand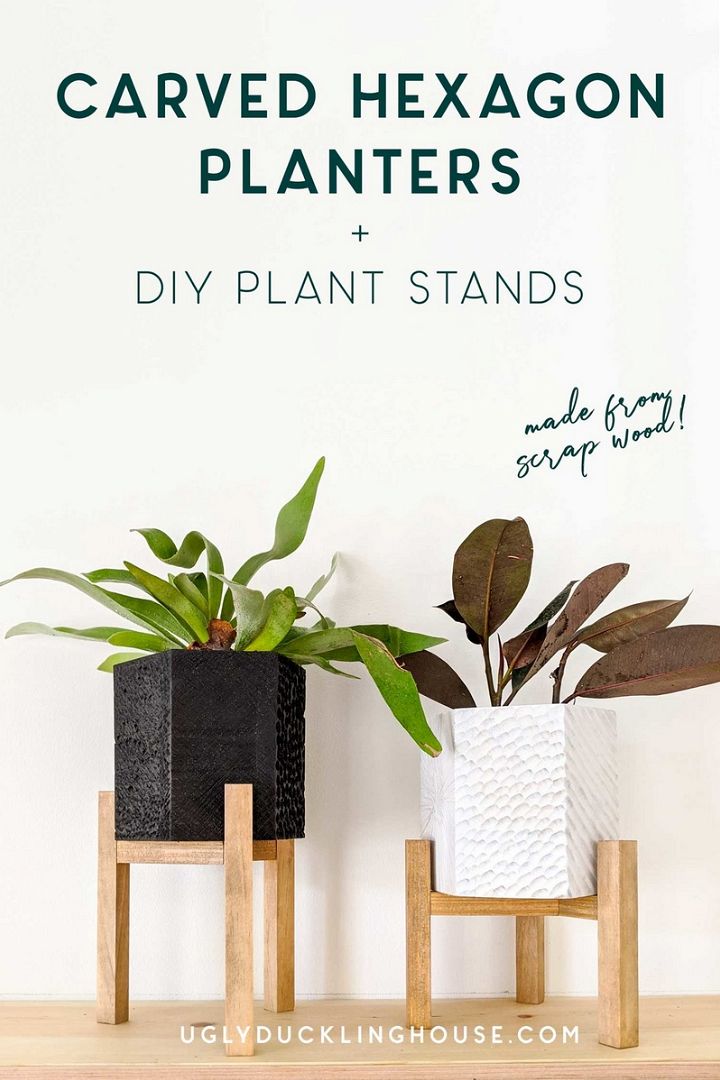 Plants look even more attractive when they are given a nice home. You must keep nice planters indoor as well as outdoor to enhance the beauty of the house. Have a look at this lovely hexagon carved planter with a stand made of wood. The carving on this planter is different and unique. Tutorial
2. DIY Wood Plant Stand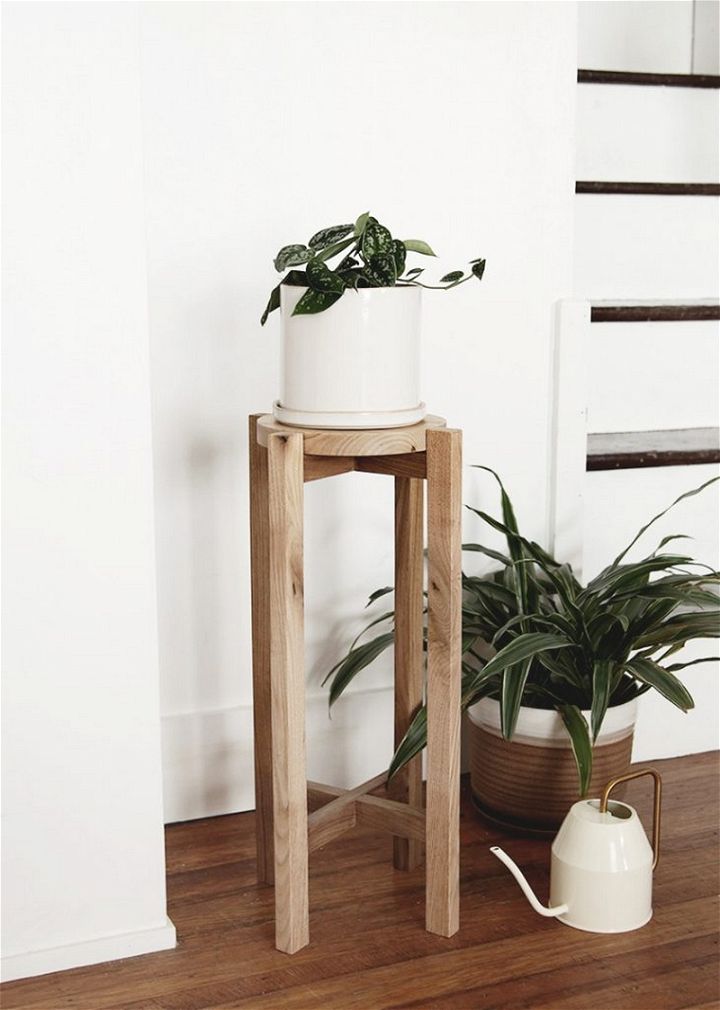 Wooden stand look cool for the plants as they really define the character and symmetry of that plant. A nice planter contributes a lot in the appearance of that plant. A beautiful plant may look dull and dim without a planter, but a simple plant might look attractive and appealing with a good looking planter. Tutorial
3. How To Build A Wooden Plant Stand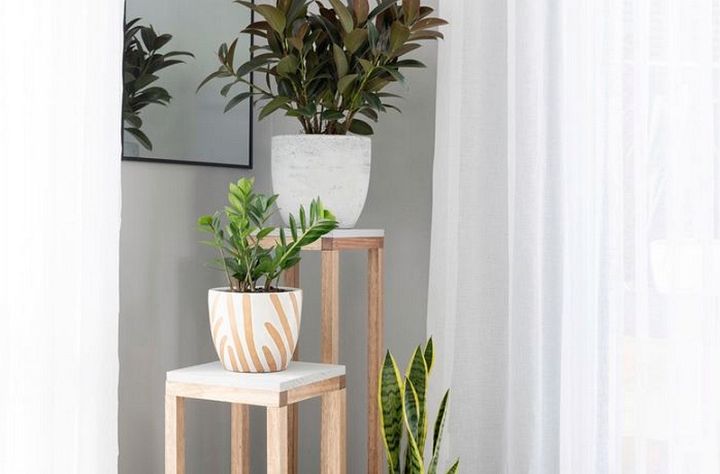 If you do not for any reason want to have a complicated design when it comes to planters or plant stands, go for a simple one like you can see in this project here. This is a very basic small wooden table yet look classy as a planter. You can keep this plant stand along with the plant in nay corner of the house to make it look important and an integral part of the house. Tutorial
4. DIY Modern Plant Stand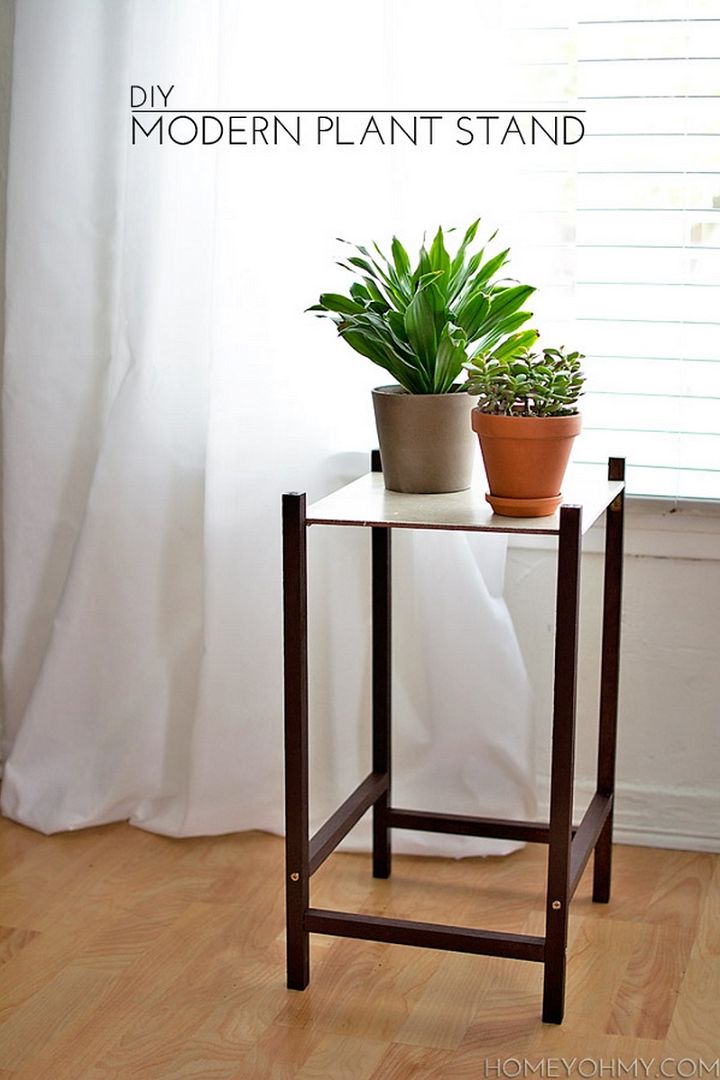 As we all know that modern furniture is more simple and compact. The modern world of furniture have no complicated designs or attributes. This diy plant stand here is very simple yet has a modern look in it and gives the plant a clear definition as you can see Tutorial
5. DIY Mini Plant Stands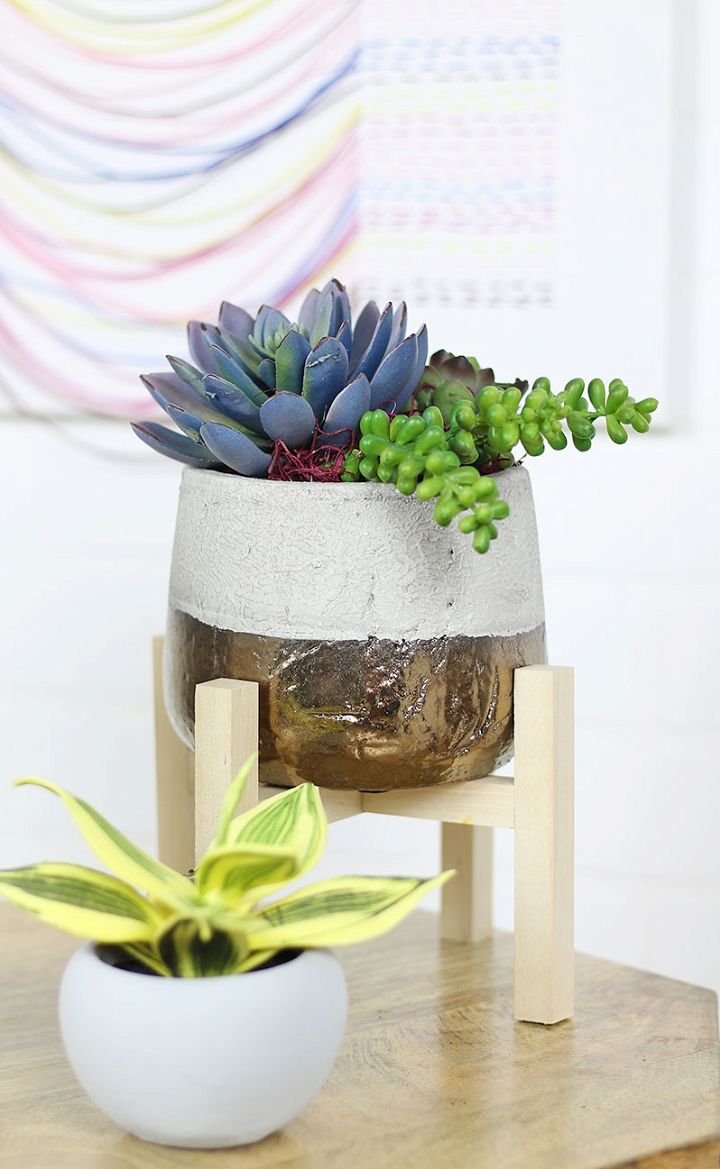 If you do not have a plan to keep biggest plants or planters at home, you can go for smaller ones to keep it simple and compact. This project will help you through making smaller stands for your plants. Gather the supplies that you need and see how it all goes. Tutorial
6. $5 DIY Concrete Plant Stand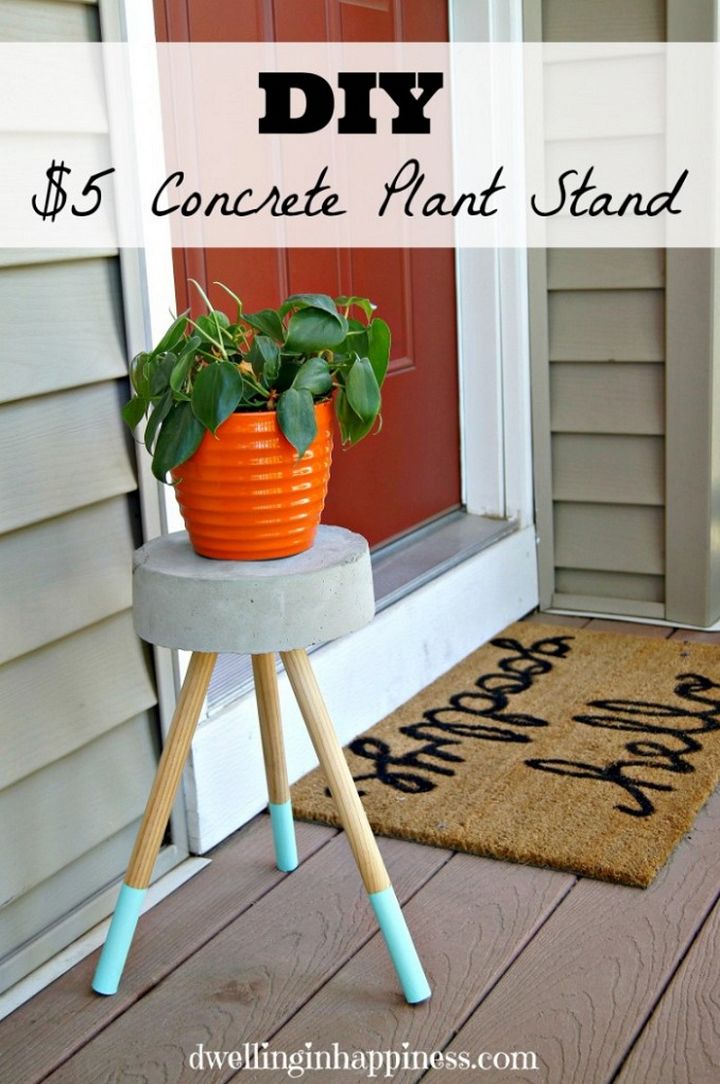 Instead of buying those traditional and boring plant stands form the market, you must go for making your own customized and special kind of a home for the plants you love. This is made of concrete and really makes the plant pop and stand out. Tutorial
7. Plant Stand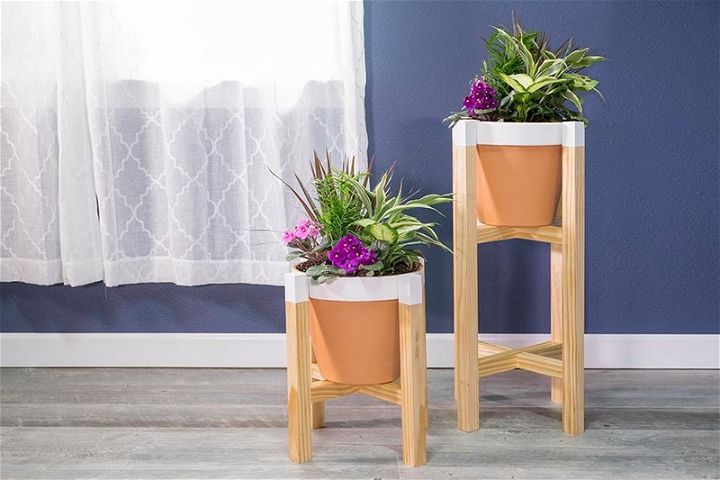 This diy plant stand has two versions which are lower and higher versions. Both the sizes can easily hold a 12 diameter pot as you can see in the details of the project. For this planter you need to have a low stand leg, low stand cross, low stand short cross, tall stand leg, tall stand cross, tall stand long cross and tall stand short cross. Tutorial
8. DIY Plant Stand Tutorials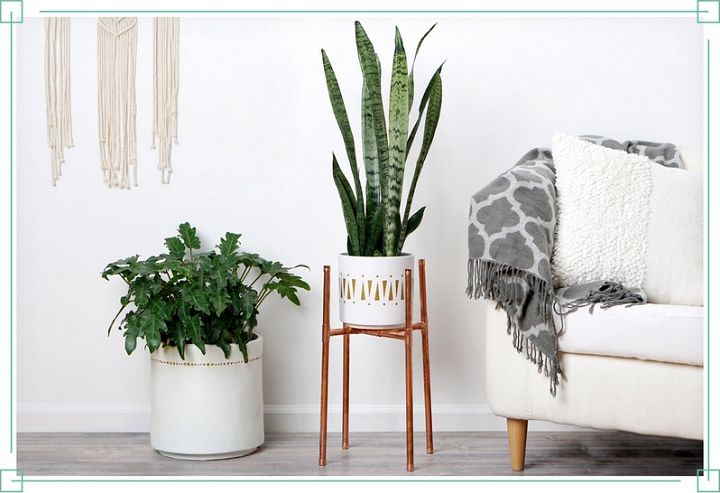 House plants definitely bring that positivity, and joy to the inside of our house. Besides this they also work for the air purification. The materials for this particular project can be easily found at any hardware store. The process of making these diy plant stand is very simple and needs only a few minutes to get completed. Tutorial
9. How to Build a Mid-Century Modern Plant Stand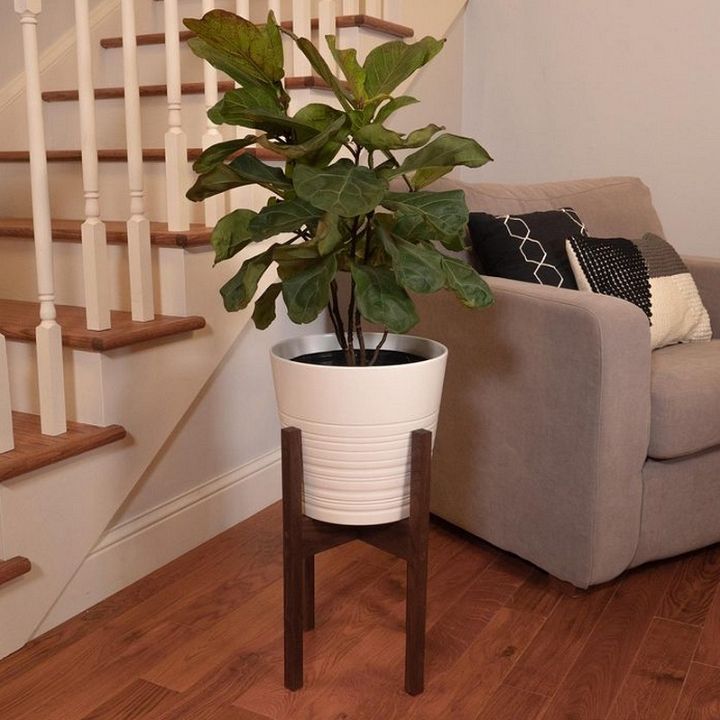 Have a look at this midcentury modern stand for a plant. You can also keep a stand like this under the stairs like you can see here in this project. This corner space is ideal for a stand like this. Plants spread some positive vibes and purification in the house so we better give them nice home to live. Tutorial
10. DIY Copper Plant Stands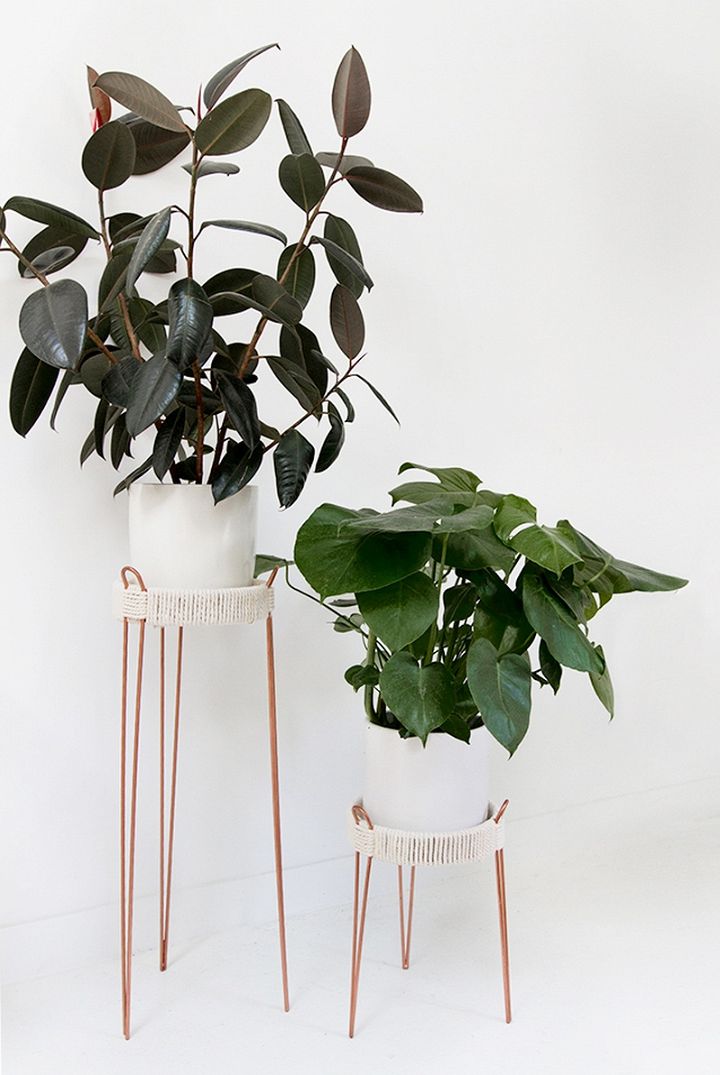 Have a look at these copper plant stands and see how they are made. This diy project will take you on a journey to make a beautiful plant stand for your indoor plants. Copper always feels good when incorporated inside the house through different furniture or decorative stuff. Try this out and see some amazing results in the ambiance of the house. Tutorial
11. DIY Woven Basket Plant Stands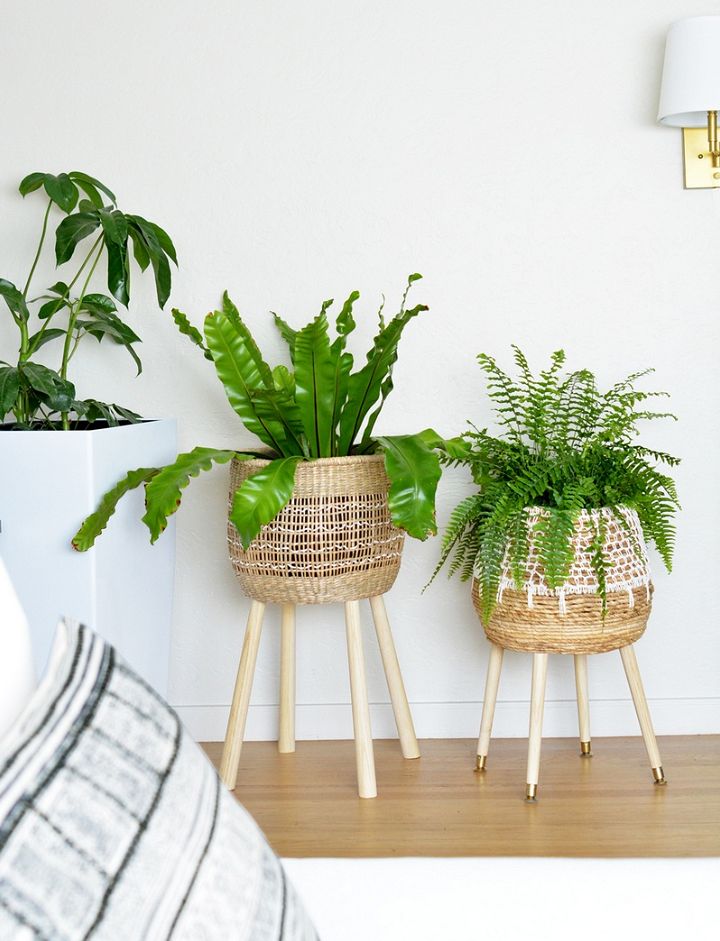 Woven baskets always have that amazing feel which no one can ever deny. Even if it's not a basket but a chair, or anything else, it always have that special touch in it. With this easy tutorial you will be able to make yourself a woven basket planter and see how that plant will stand out like never before. Tutorial
12. DIY Mid-Century Plant Stands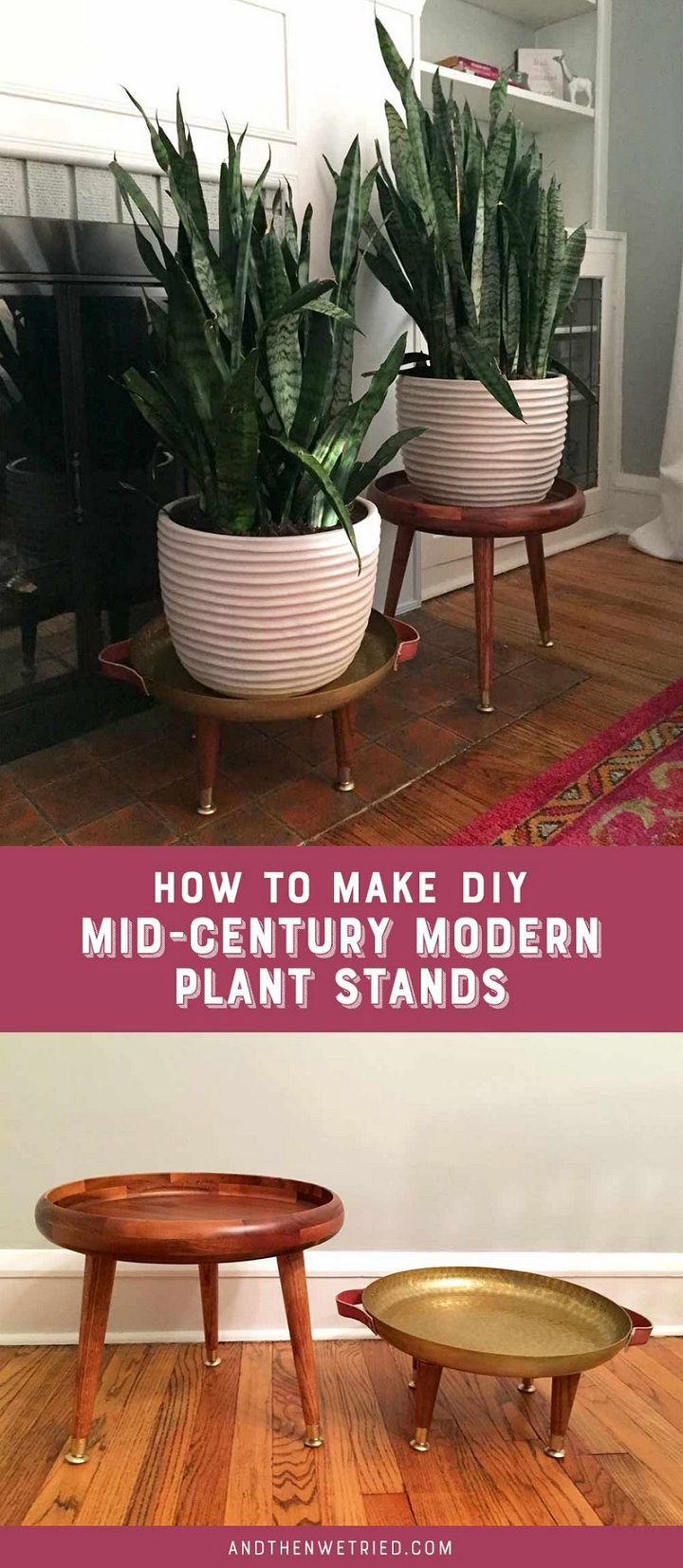 Have a look into the details of this diy plant stand project. This one is a simple yet have a modern look in it. Such planters can do great with a simple interior. Try to learn how this plant stand is made and see if you can also do it for your house plants. The details are given along with a tutorials for your conveniences and better understanding Tutorial
13. The Perfect DIY Plant Stand For Any Empty Corner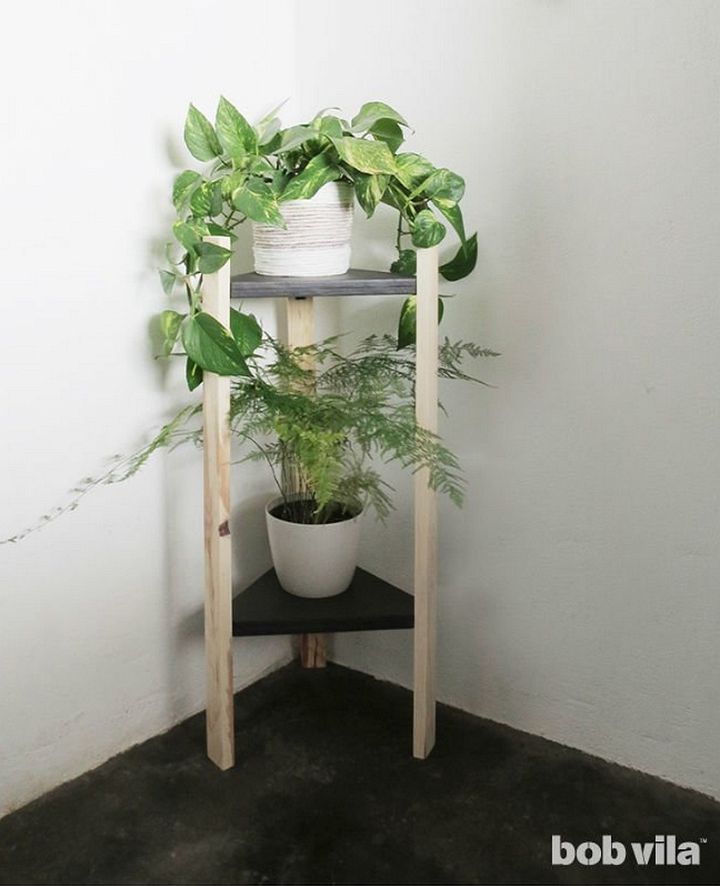 If you also have an empty corner in your house and you have no idea how you should decorate it , try to make this simple diy plant stand and keep your favorite plant over it and see some amazing change in the atmosphere due to both the plant as well as the stand. Tutorial
14. DIY Plant Stand With Wheels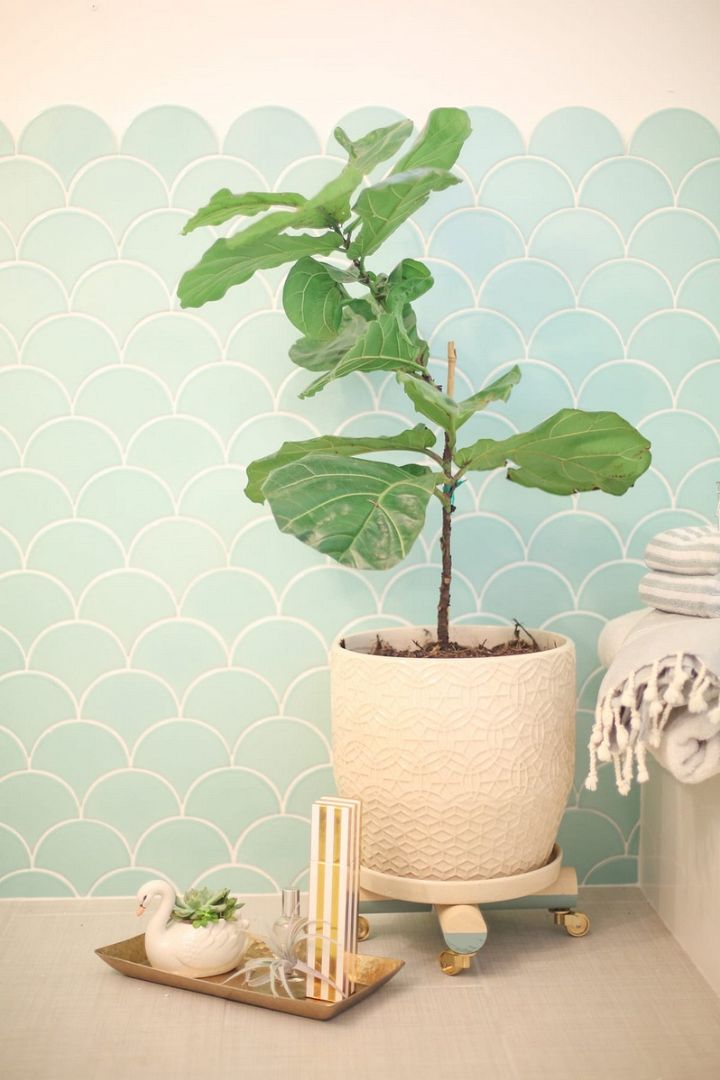 This is an amazing idea to have wheels under a plant stand so that we can drag it anywhere and everywhere. Its also easier to clean the space with the wheels under different objects like plant stands, furniture etc. learn to make this beautiful diy plant stand and make any corner of your house decorative and attractive. Tutorial
15. DIY Minimal Copper Pipe Plant Stand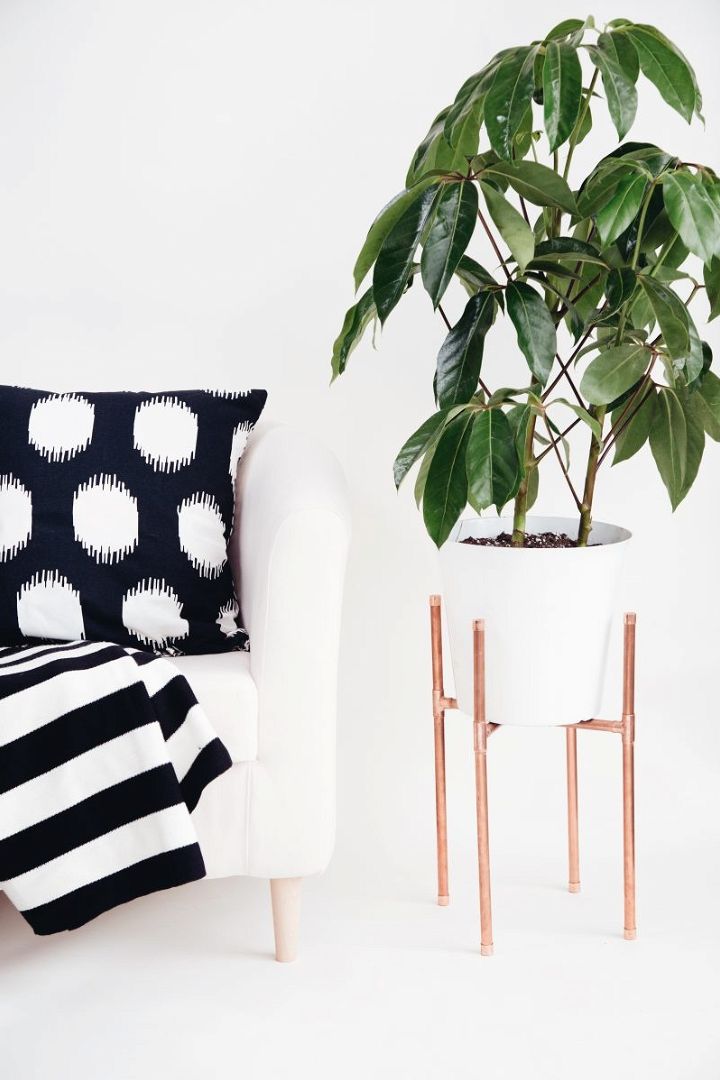 If you closely observe this diy plant stand here you will notice that it consumes very less of a material. This is made with copper pipe but not so much is used in it. You can also make such simple planters for your house plants in order to make them look good alongside the rest of the furniture in that room. Tutorial
16. DIY Rolling Plant Stand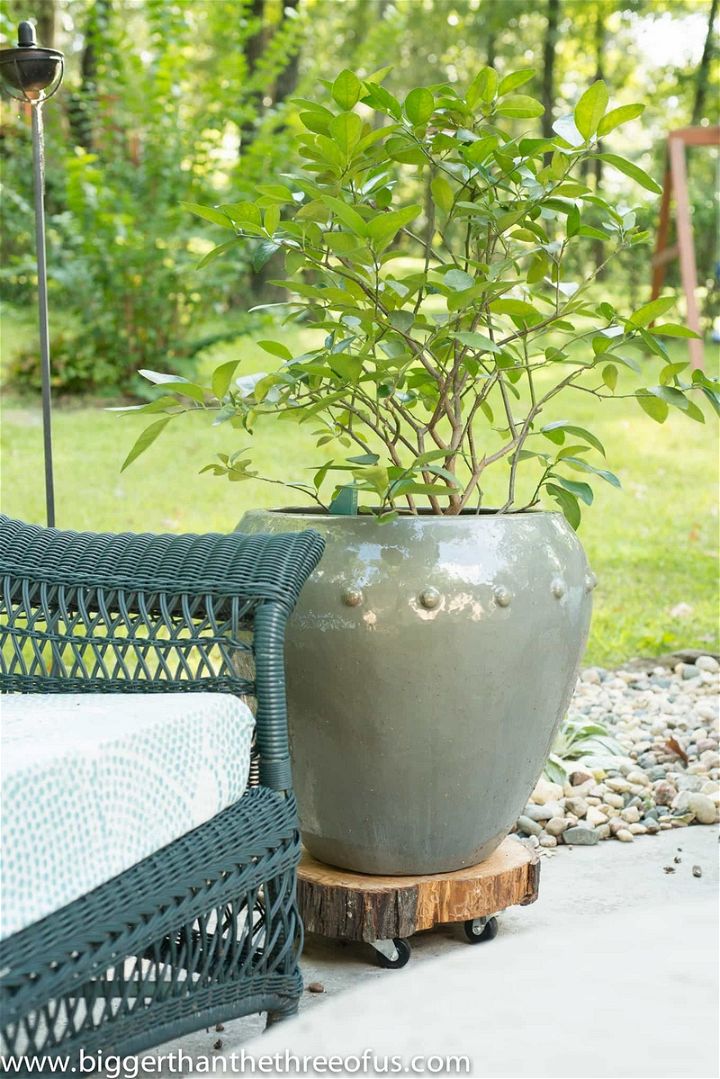 The objects that have wheels under them are easier to drag and hence the space can be easily cleaned and maintained. This rdiy rolling plant stand is goals for somebody who is looking for a plant stand for their indoor plants. With this rolling feature of the stand you can easily handle bigger and heavier plants. Tutorial
17. Easy DIY Plant Stand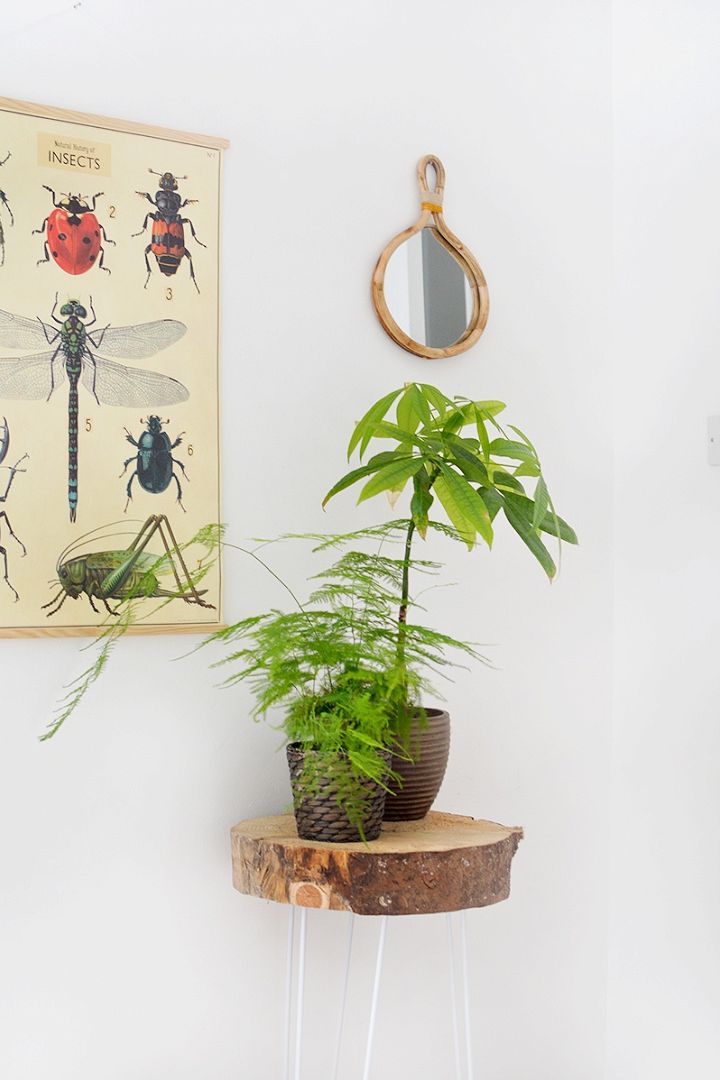 For some people the most favorite accessory in the house is their plants. This diy plant stand is a great combination of wood slice and hairpin legs. Have a look at the beautiful appearance of this stand that can make any corner of the house look eye catching and appealing. Try this stand for your favorite indoor plant as well. Tutorial
18. Simple DIY Plant Stand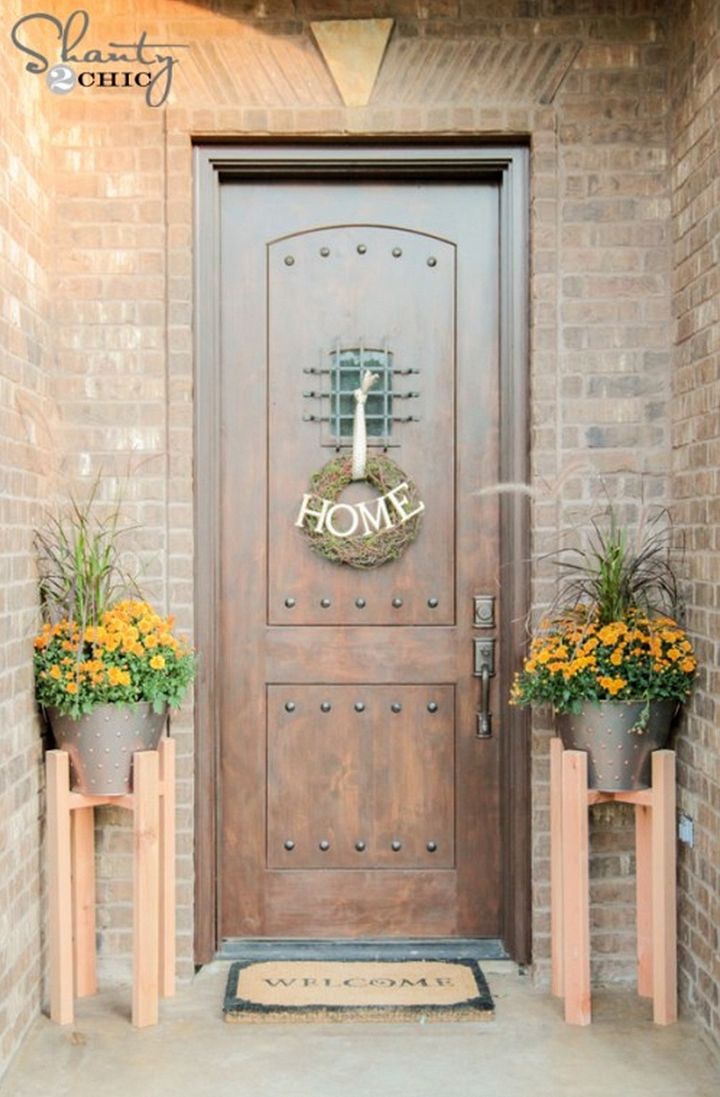 This pair of identical plant stand is surely what you need for the entrance of your house. This cross leg plant stand is made of wood and can easily hold bigger pots and heavier plants. Make these identical stands for two of your identical plants and keep them on the main entrance of the house to make the space look welcoming and warm Tutorial
19. Mid Century Plant Stand DIY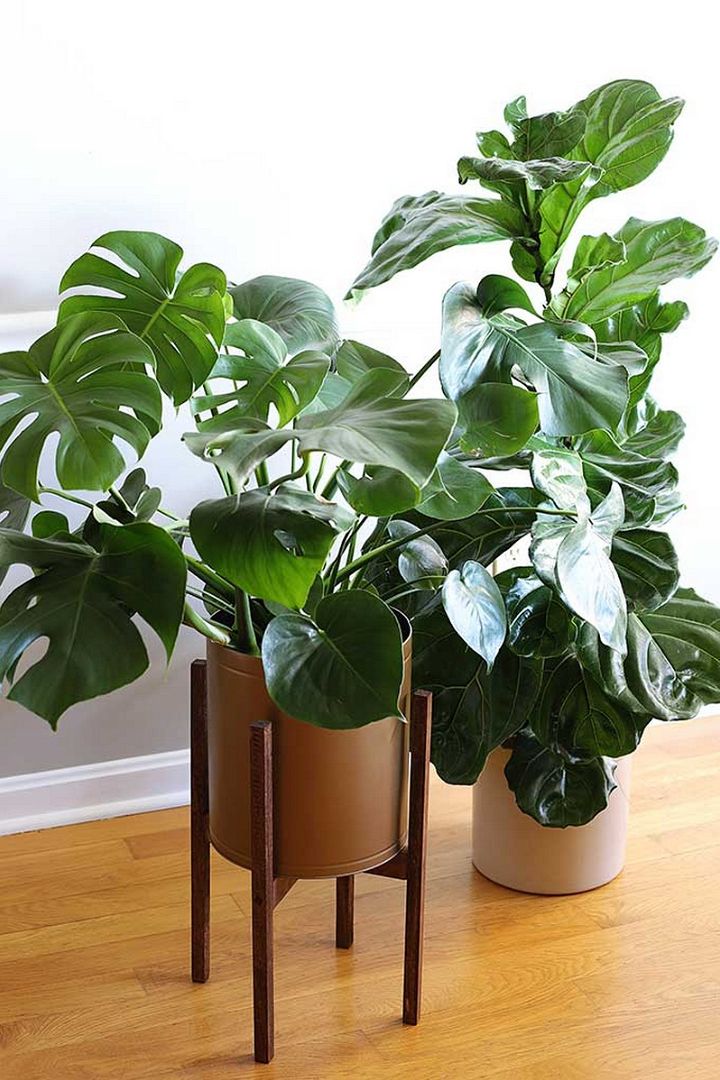 These midcentury plant stand designs are very inn these days and you must also go according to the fashion. Make these easy and budget friendly plant stands for your house plants and you will end up being proud of yourself. Grab the supplies for making these easy diy plant stands. Tutorial
20. DIY Basket Plant Stand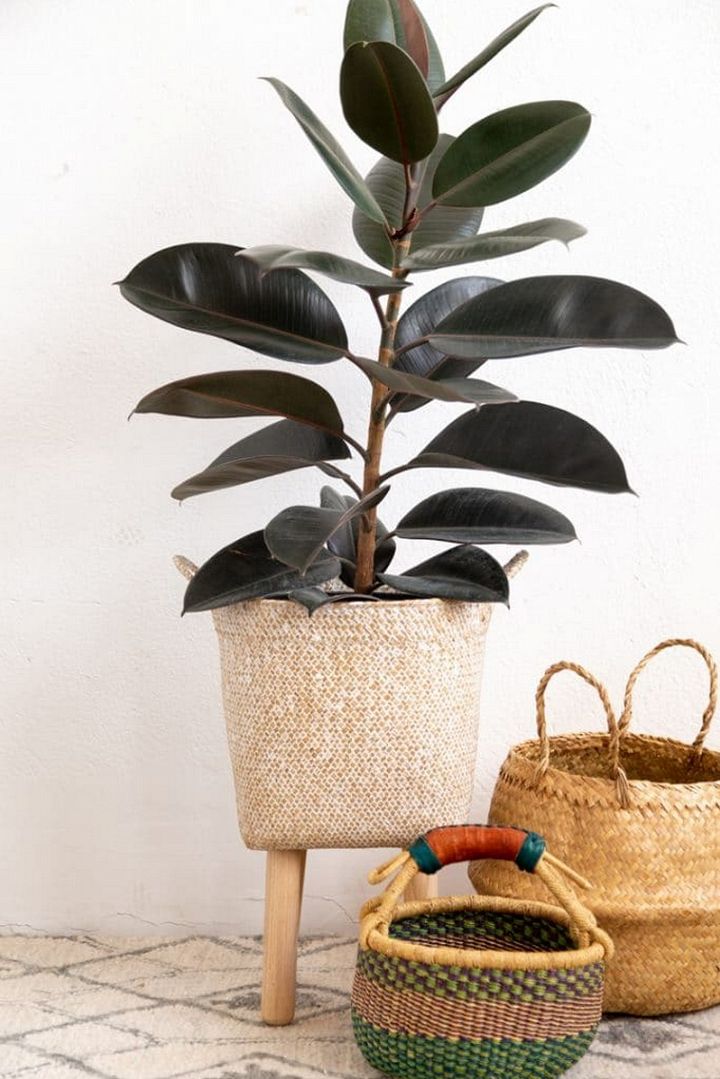 This is quite unique design for a plant stand. This stand has a basket to hold the plant as you can see here. This stand is surely for the indoors and more private spaces as the baskets are delicately designed and very fragile to handle. You must not drag these plants every now and then as it might ruin the basket so handle this carefully. Besides this you must keep a succulent in them that does not need frequent watering. Tutorial
21. DIY Flower Pot Stand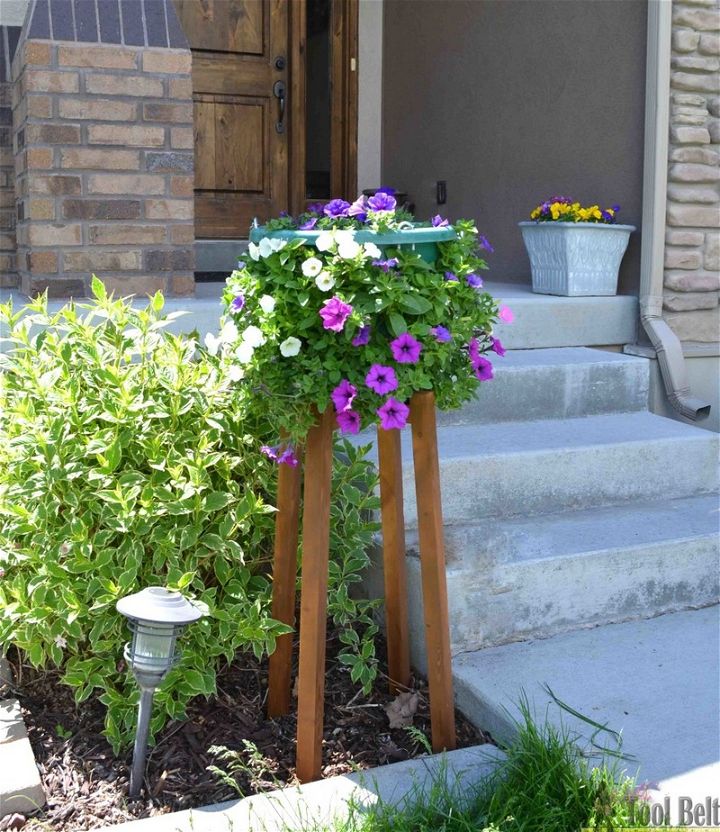 This flower pot stand project can be used for both your outdoor as well as indoors. If you have any of your favorite flowering pot in the garden outside, you can makes its appearance prominent by giving it a nice pot that ca hold it and both complement each other beautifully. Tutorial
22. DIY Copper Round Plant Stand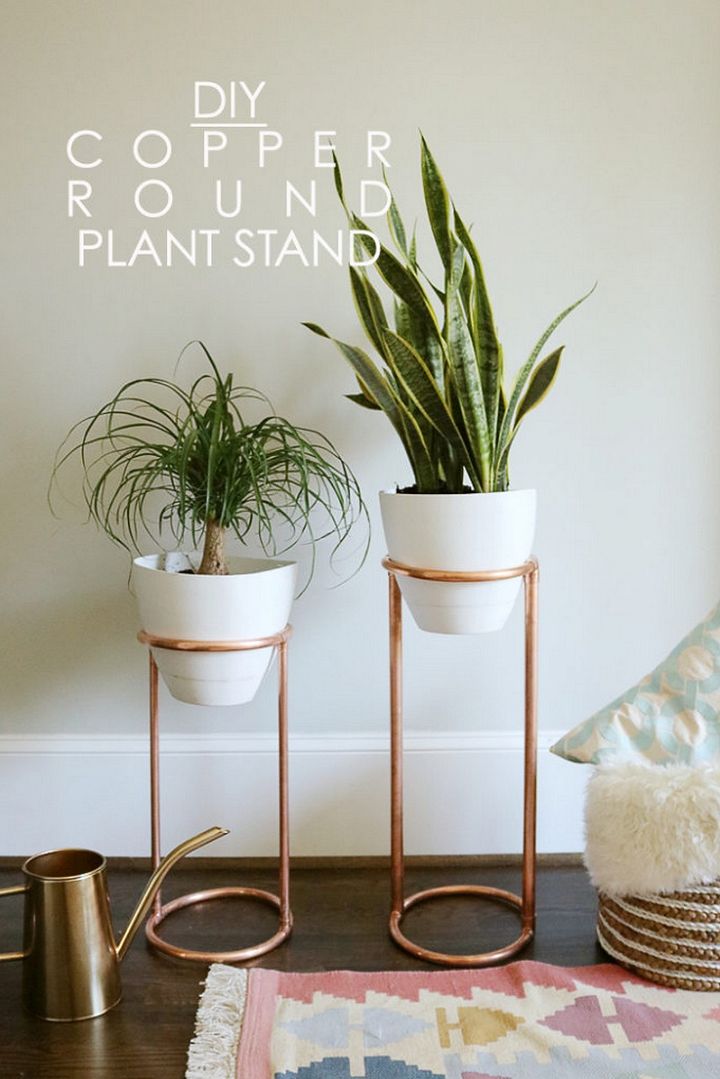 There can be various design that you can try with copper stands, this is a round bottom design in a copper plant stand. You can keep this planter in any empty space in the house. Copper always compliments the rest of the interior of that particular room and adjust with it quickly and beautifully. Tutorial
23. DIY A-Frame Folding Plant Stand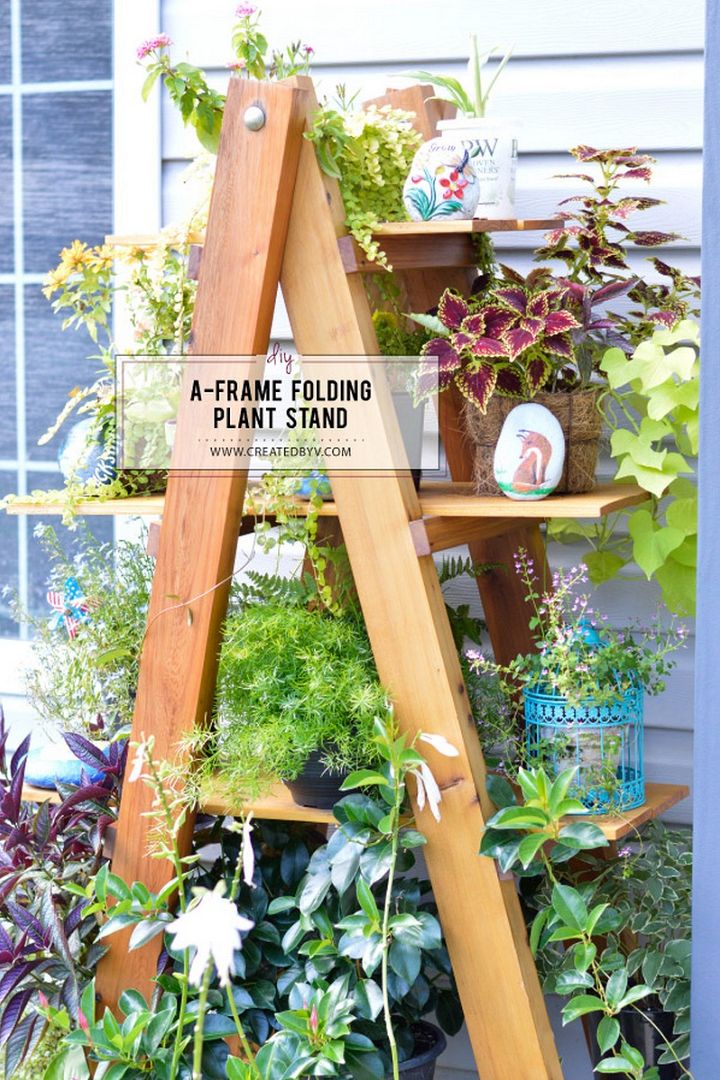 This diy plant stand here has a unique feature which is folding. You can fold this stand when required. You can keep this A shaped plant stand in your outdoor garden to make the plant stand out and the garden will look absolutely stunning with this addition. Tutorial
24. Drainage Pot With Plant Stand DIY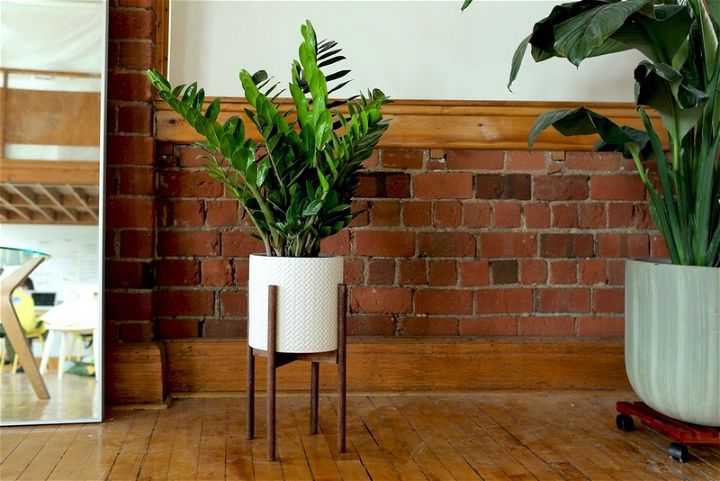 This is an amazing diy plant stand with a drainage pot. For a stand like this you need to first have a vertically straight pot rather than traditional ones. The legs here are kept tall and looks completely on point as it's a midcentury modern plant stand. Follow the complete tutorial and see how everything is done. Tutorial
25. DIY Plant Stands From Wood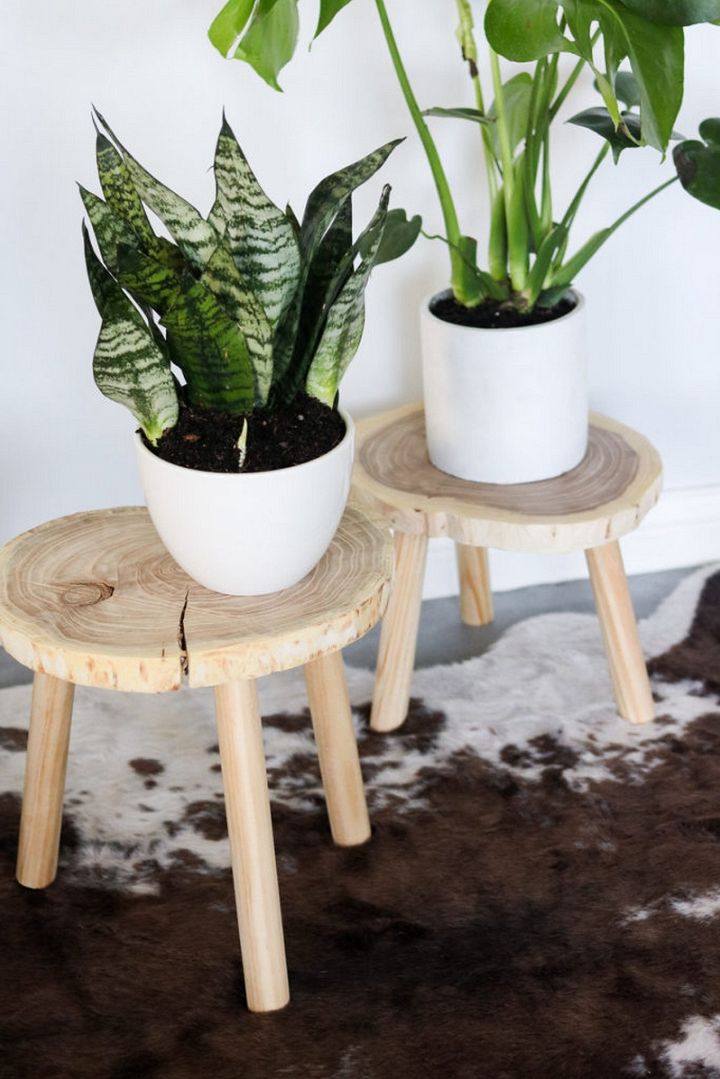 Wood plant stands are attractive and more beautiful plant stand with any other material. Try to follow some simple steps for the making of this absolutely phenomenal diy plant stand and see how it works for your house interior. Make your favorite plant sit in your diy wooden plant stand. Tutorial
26. Best DIY Plant Stands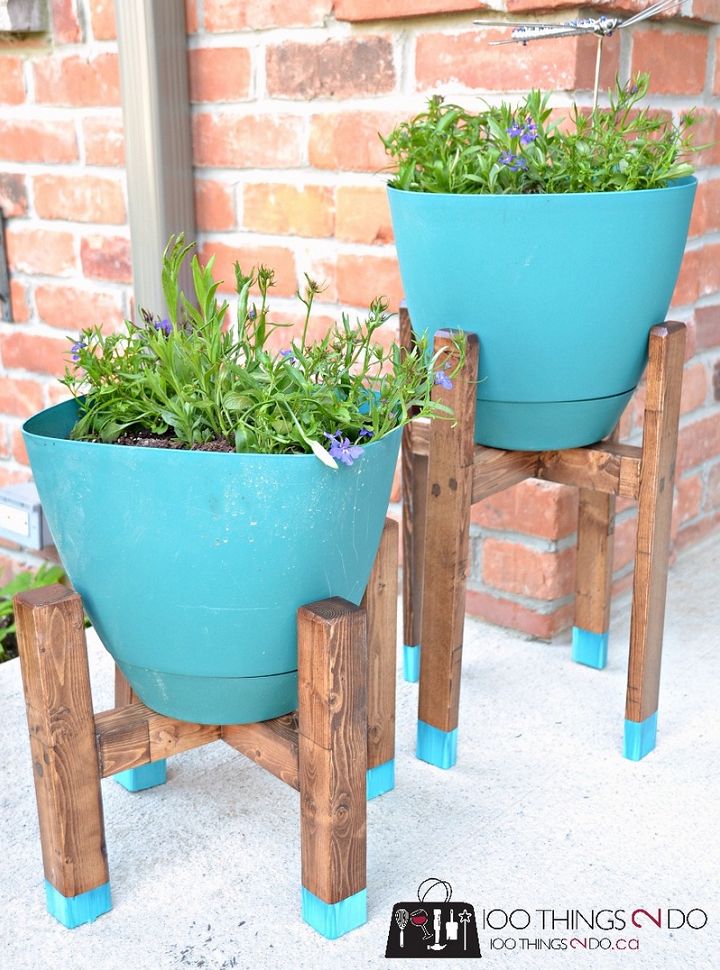 This pair of diy plant stand looks perfect together. The base is made with cross leg design and looks amazing. The stand on the whole is made of wood and can easily hold large pots. You can leave the wood in the original color instead of painting it .however you can paint the pot in any color you want and make a combination of wood and that color like you can see here. Tutorial
27. DIY Tomato Cage Plant Stands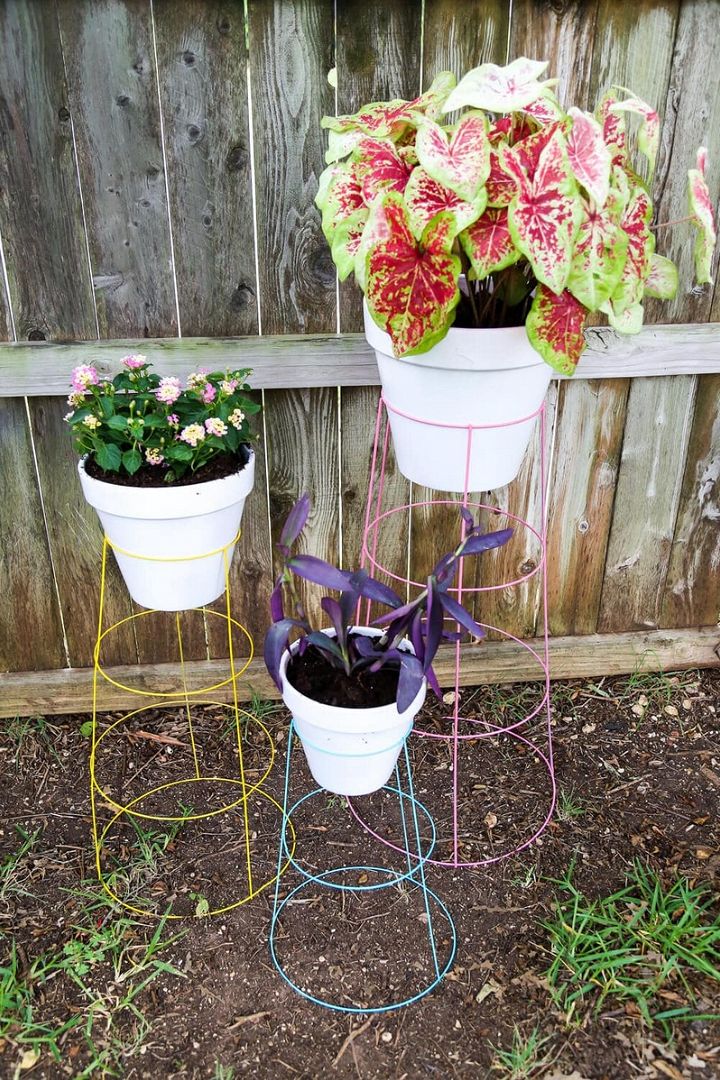 Have a look at this very easy and cheap plant stand that you can make it within minutes. For this project you need to have bolt cutters, metal file, spray paint, tomato cages and plants. All the directions are given here clearly along with the tutorial so that you can easily follow the trick. Tutorial
28. DIY Outdoor Plant Stand – Multiple Plants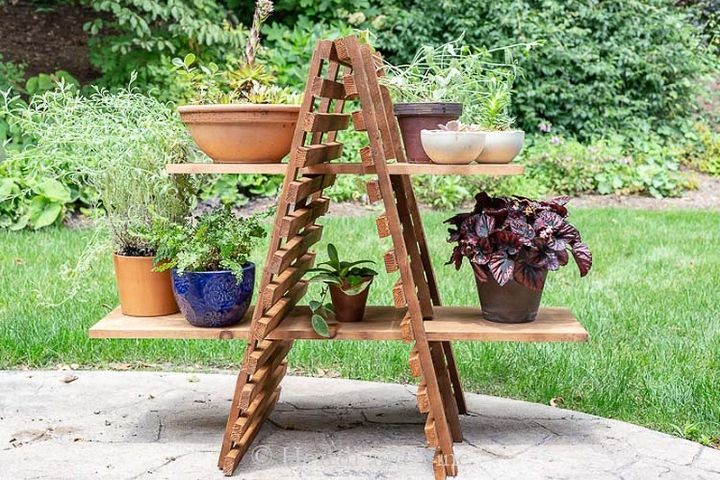 For an outdoor area, we might need a planter than can hold not one but multiple plants. This diy plant stand is stylish yet has enough space to hold at least 8 to 10 plants. You can pick your favorite plants or the one you want to display and make them presentable like this. Tutorial
29. Wood Plant Stand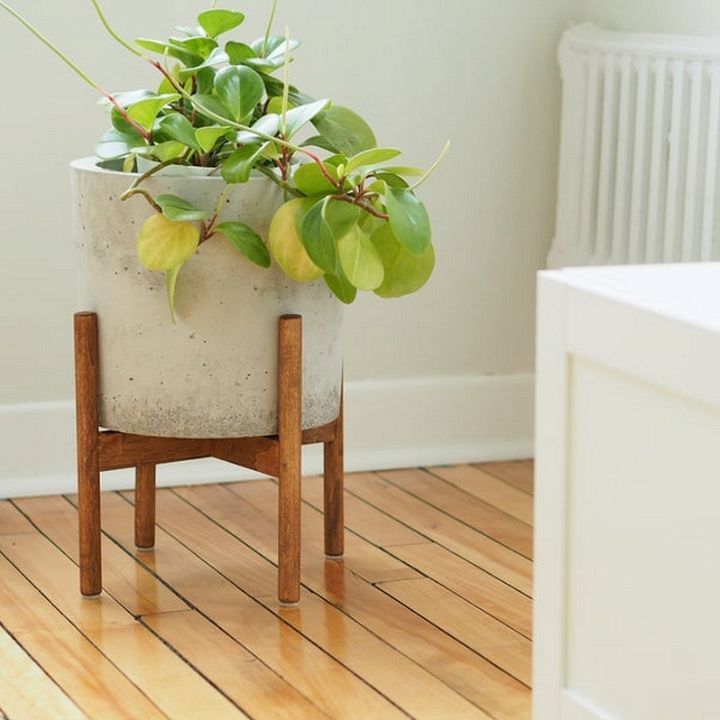 We often see plant stands with a cross leg design at the base. This design is typical for plant stands and look perfect. in this diy project you can see the same typical cross legs at the bottom and the entire stand is made of wood. Wood makes a great combination with a nice plant as you can clearly see here. Tutorial
30. Make A Simple DIY Copper Plant Stand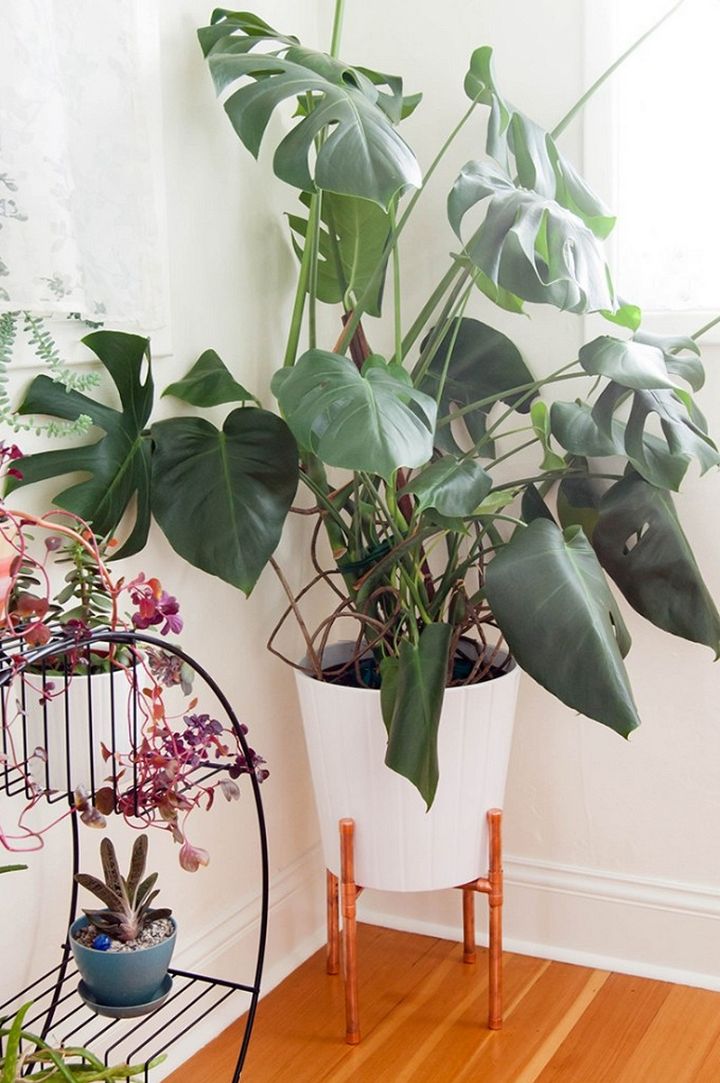 Copper makes a very nice combination with the interior of the house. Therefore you must try and make this beautiful diy copper plant stand for the indoor plants you have. Learn to make this stand with the help of a tutorial here and make yourself extremely proud Tutorial
31. DIY Wooden Plant Stand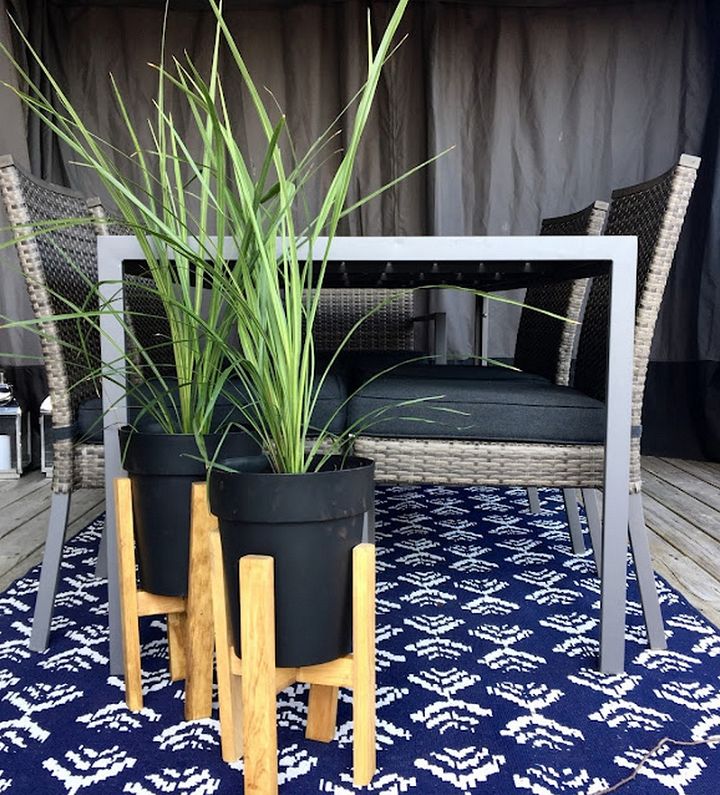 This pair of plant stands here is adorable. The size of the tow stand is different from each other and the base is made with the cross leg design as you can see. For this you need two piece of hobby pine, two black pots, gorilla glue, hand saw, hand sander, nails, hammer, minwax stain in golden oak, sealer and some plants. Tutorial
32. Pottery Barn Inspired DIY Planter & Plant Stand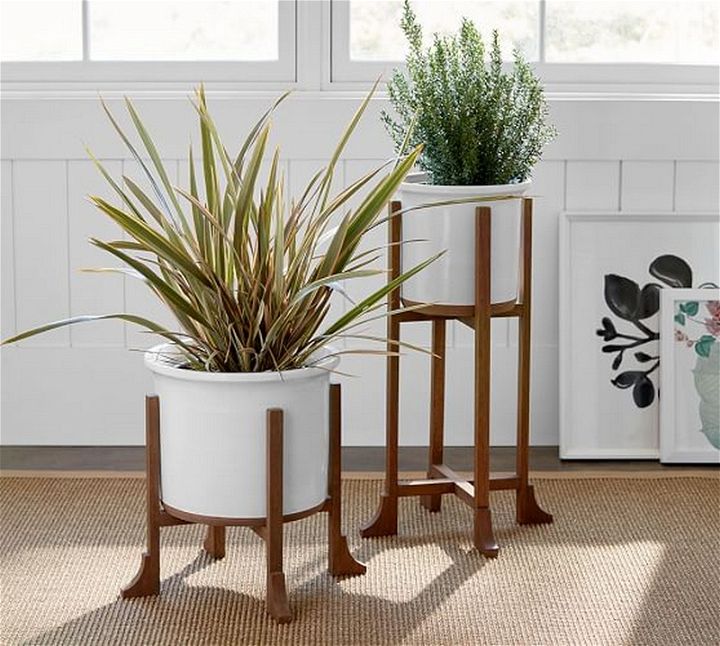 You can make diy plant stand with an inspiration too. this is a pottery barn inspired pair of stands. There is some level of hard work required to complete any project successfully so you should also put some effort in creating these good looking planters. Tutorial
33. DIY Plant Stand With Free Plans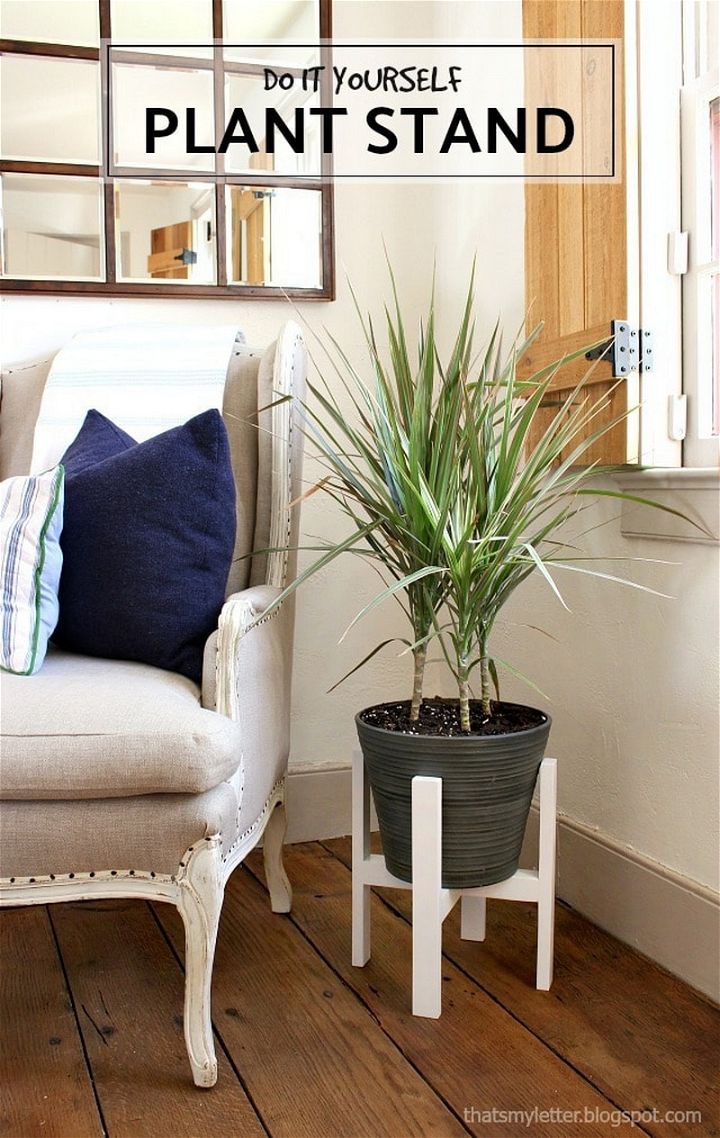 Have a look at this project here which comes with many other plans also that you can easily follow. Make stands for your indoor as well as outdoor plants so that they get a nice home and looks even better in their appearance. Gather the supplies that you need for the stand and start this mission right away. Tutorial
34. Easy DIY Plant Stand Tutorial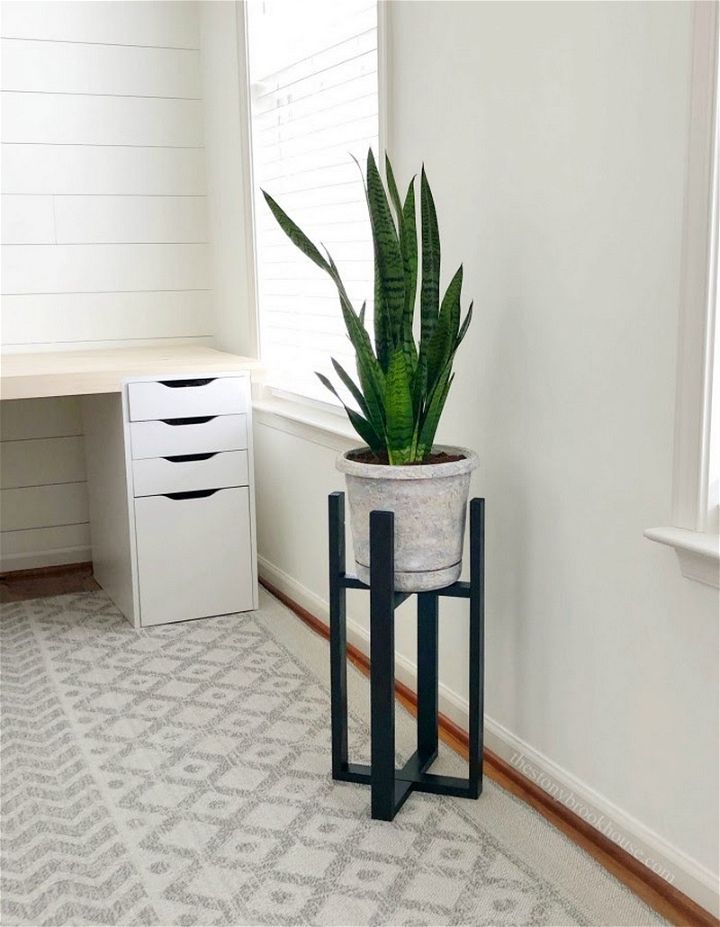 35. How to Make a DIY Indoor Plant Stand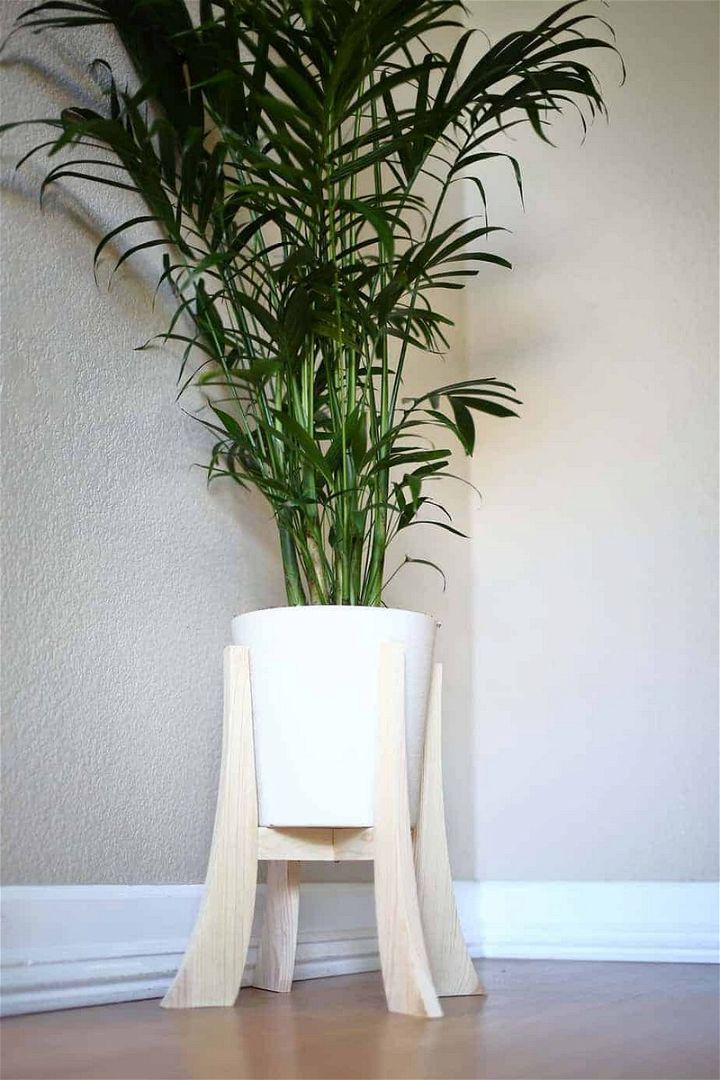 Indoor plants should be kept in such a manner that they can adjust and look good with the rest of the furniture of that room. The indoor plants should have a nice impact over the interior of the house. Therefore you must make some diy stands for plants like this one instead of buying expensive ones form stores Tutorial
Conclusion:
Go through these diy plant projects and you will see a clear difference in the appearance of your plants. You can make your plants look absolutely stunning and artistic with the stand that you will make for them. pick and choose your favorite project from here and start your mission this weekend.