You might have come across many patio furniture in stores. However most of that furniture is very costly and unaffordable. Instead of buying form stores, you can now make your own diy patio chairs, tables, floor cushions etc. besides this you can also make diy planters with some flowering plants in them to make your patio look happening and attractive. All the 22 Cheap DIY Patio Ideas On A Budget here are awesome and you must check them individually.
All the ideas here are easy but will give you astonishing and exciting results at the end. You can also put some great fashionable lights in your patio to complete the entire look. If you already have some extra furniture piece and you want to keep them in your patio, you must transform them with paint and keep them. As we know that festive season is juts round the corner so start decorating your patio before the eleventh hour. All these diy patio ideas includes bringing massive changes to your patio.
1. DIY Patio Area With Texas Lamp Posts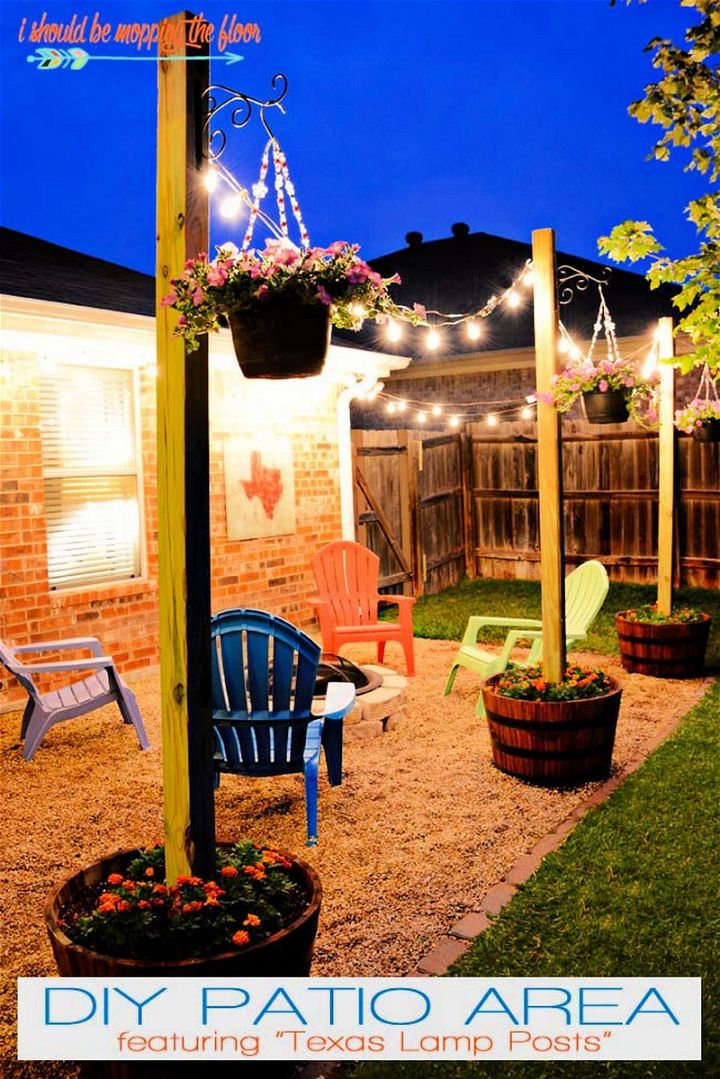 This patio is all about colors and lights that are really giving the vibe that we need in a patio. Patios should be such outdoor spaces where we find the same kind of peace and warmth that we get inside of our house. Have a look at the beauty and combinations here. The Texas light posts are honestly completing the entire look. Tutorial
2. DIY Modern Planter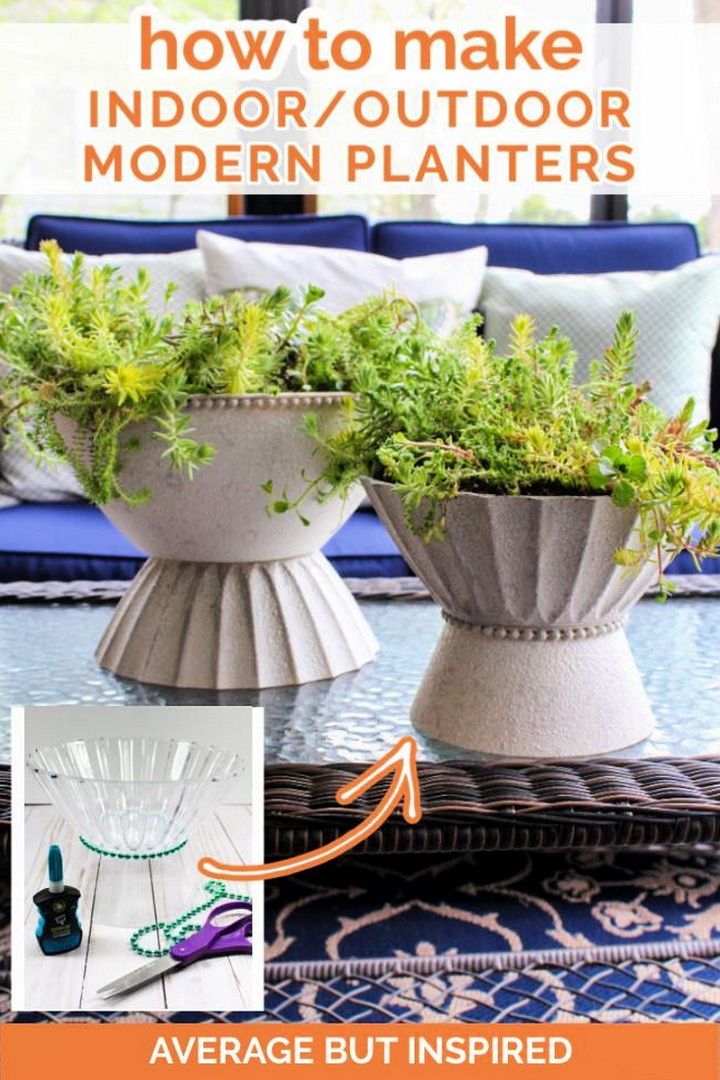 For a patio plants should always be a big YES. Look at these modern planters that can beautify any patio of any sort. The pure concrete look of a planer is preserved here and not coated with any other color and its loos perfect. the succulents inside the planter look just on point. Tutorial
3. How to Make a Succulent Log Planter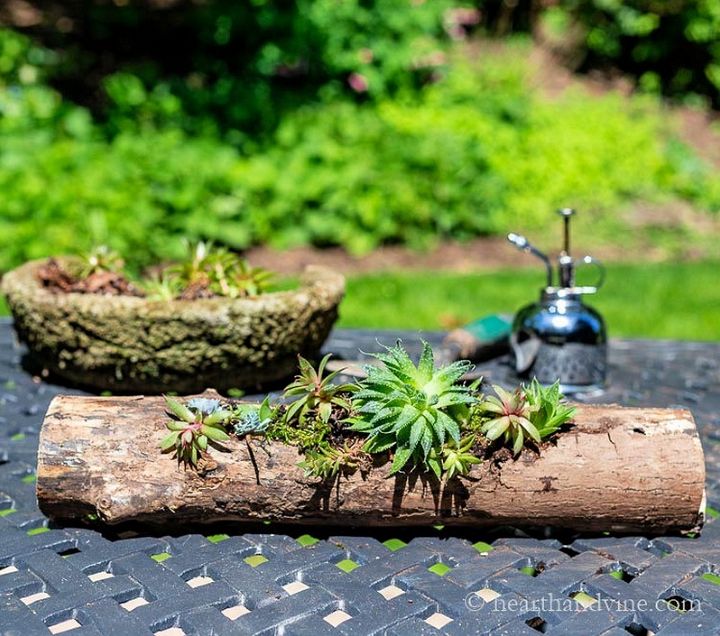 Many of us likes logs to keep in our garden area, or even inside of the house sometimes. But have you ever thought of turning a log into a beautiful home for a succulent? Try his out and you will definitely be amazed by the results. A log planter sound really interesting and catchy. Tutorial
4. Fire Pit Makeover – DIY Ombre Adirondack Chairs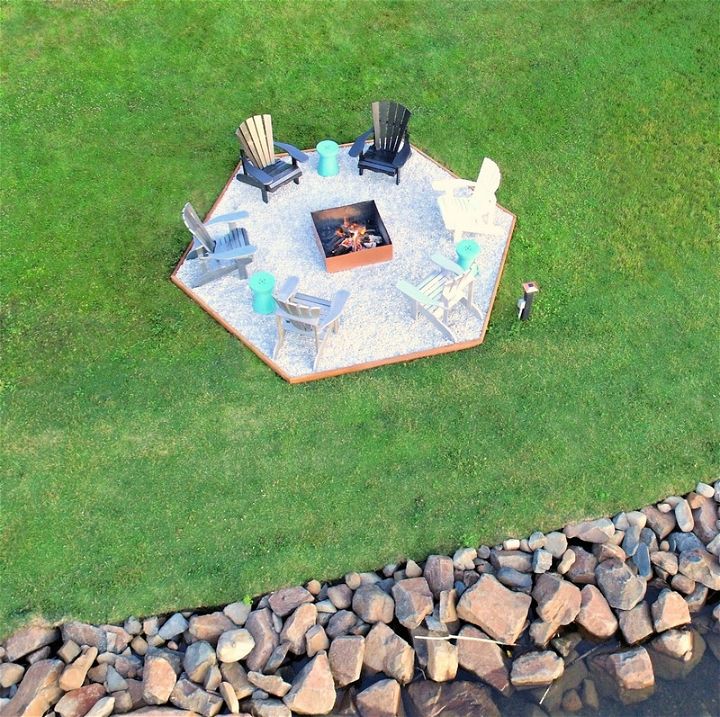 Fir pits always seems to be great in patios. Here you can find a fire pit make over which is absolutely magical and the transformation involves ombre Adirondack chairs. Once in while you must do makeovers of different objects, places and your fire pits. If you are also opting for a fire pit transformation then you must go through this project Tutorial
5. Giving Adirondack Chairs For Kids a Makeover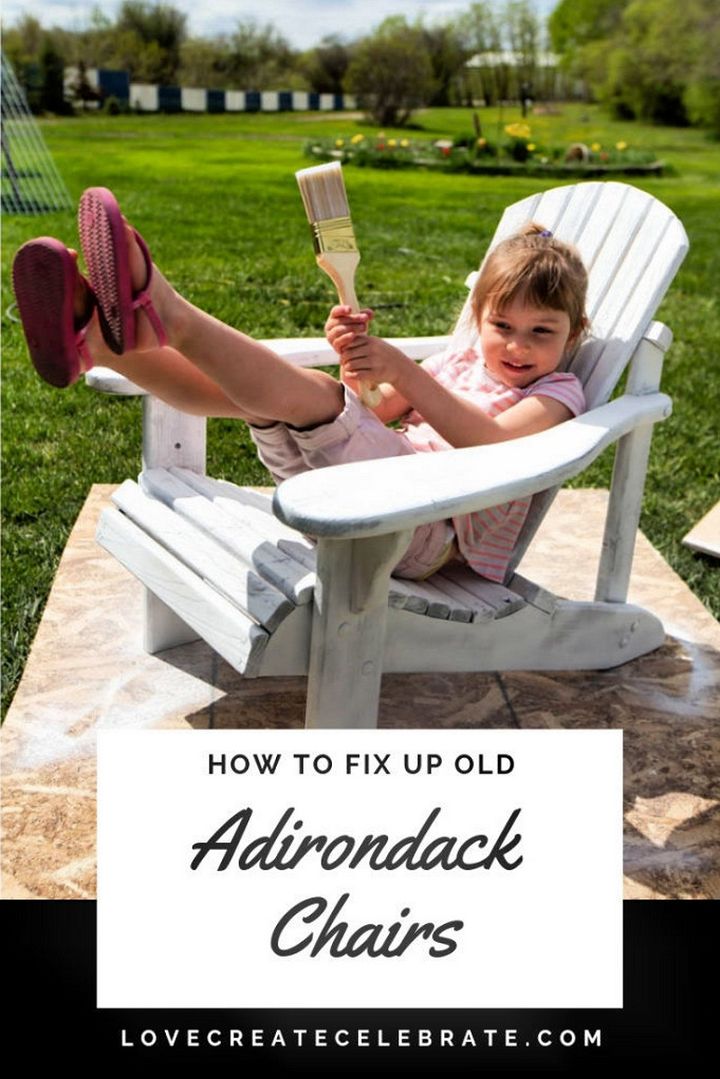 The Adirondack chairs are specifically a design of chairs for outside and for a patio they look absolutely perfect. However you can definitely change the look of these chairs for your children according to their choices. In this project some of these transformations have been discussed and shown. Tutorial
6. DIY Outdoor Rug With Spray Paint And Stencil Revolution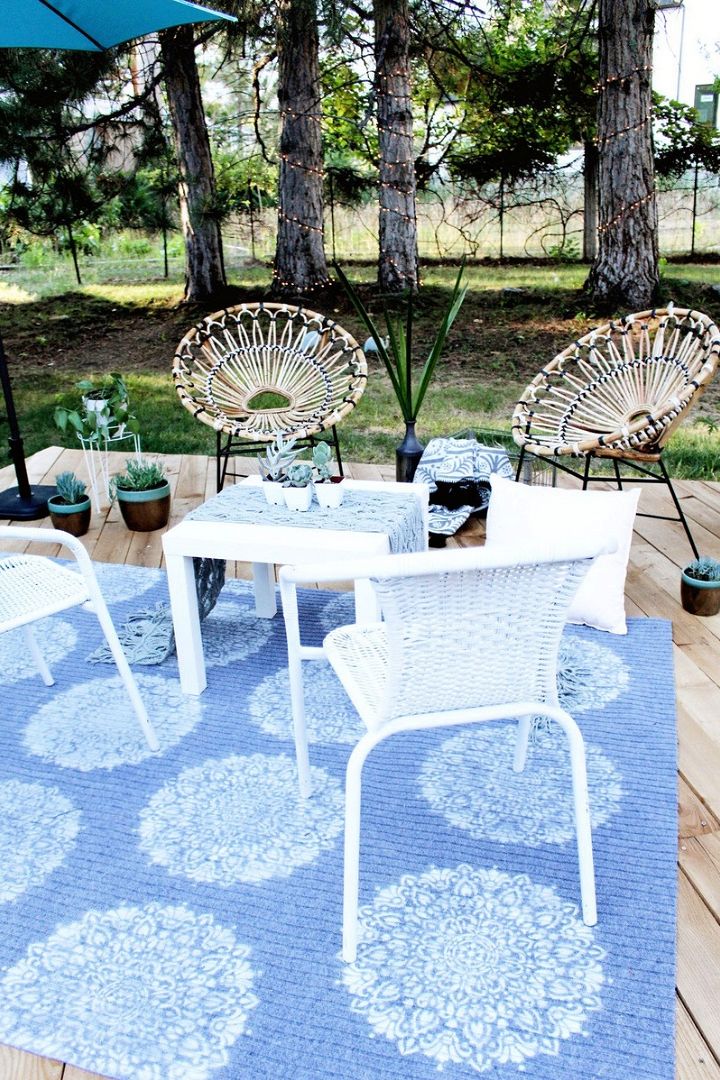 We must decorate our patios in a way that they give that warm vibe and feeling along with that peace of mind that we deserve. In this project some pretty rugs are transformed and decorated with spray paints and stencils to keep them in the patio. The end results of this project are truly inspiring and worth seeing. Tutorial
7. Easy DIY Solar Fountain in 1 Hour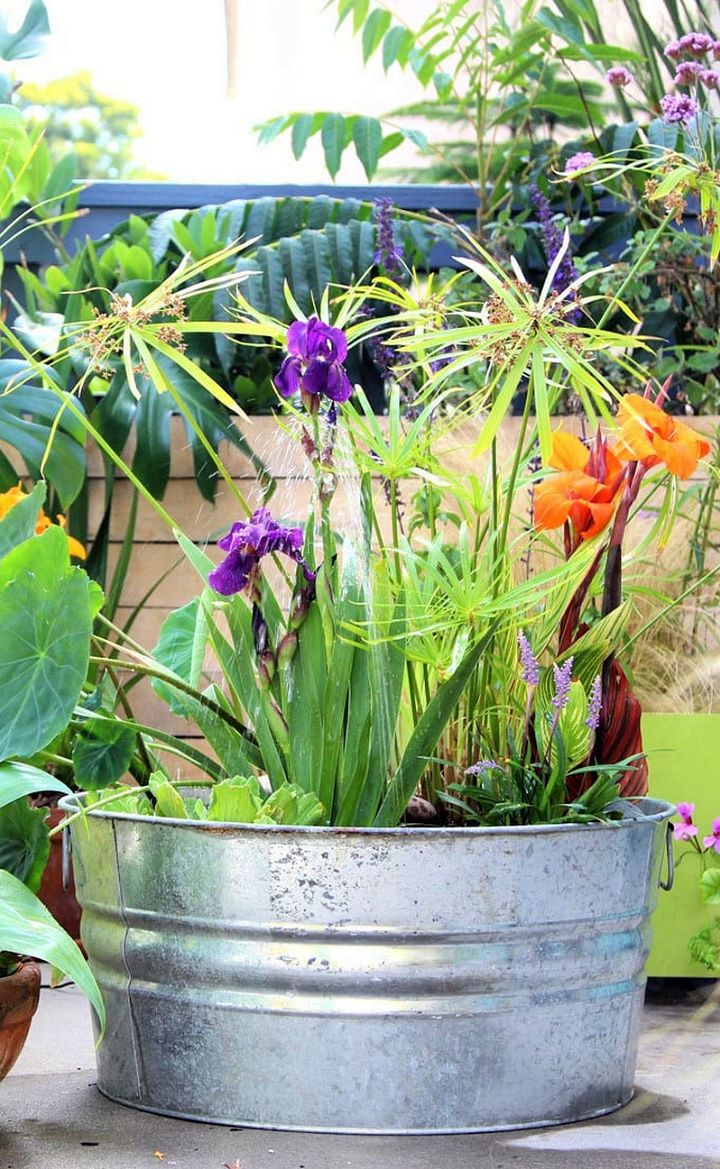 Not all of us can afford expensive fountains that look astonishing. Therefore we have this idea here which guides you through making the diy fountain and that too within an hour. Make this lovely fountain for your patio and your creativity will shout for itself. Tutorial
8. DIY Modern Outdoor Bench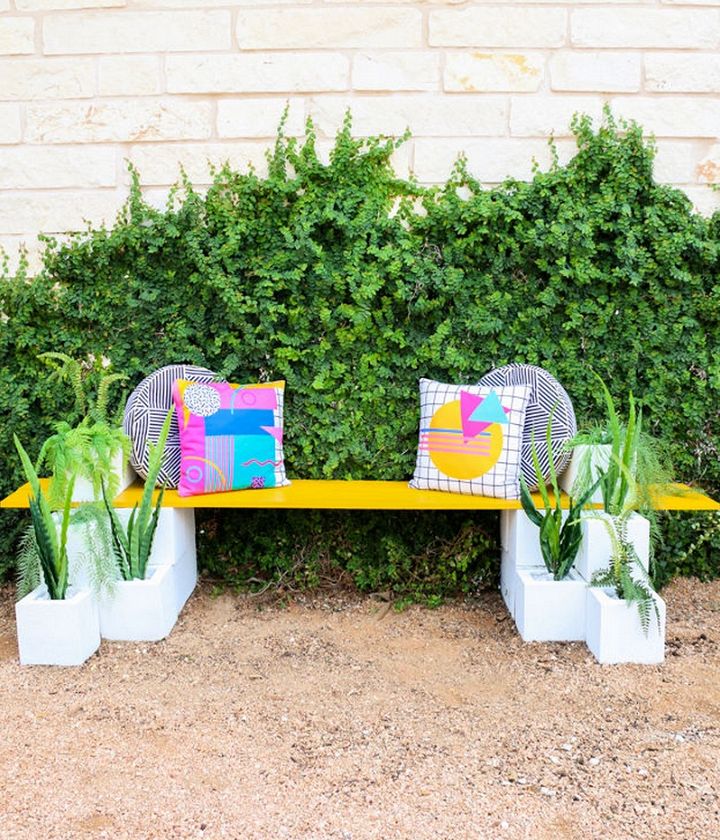 When we talk about patio, we all want it to be cozy and warm. This modern style bench is definitely worth keeping in a patio to make it look colorful and presentable. Try this out a sits simple and simplicity has its own powers. This outdoor bench here will enhance the patio for sure. Tutorial
9. DIY Patio Loungers With BEHR Paint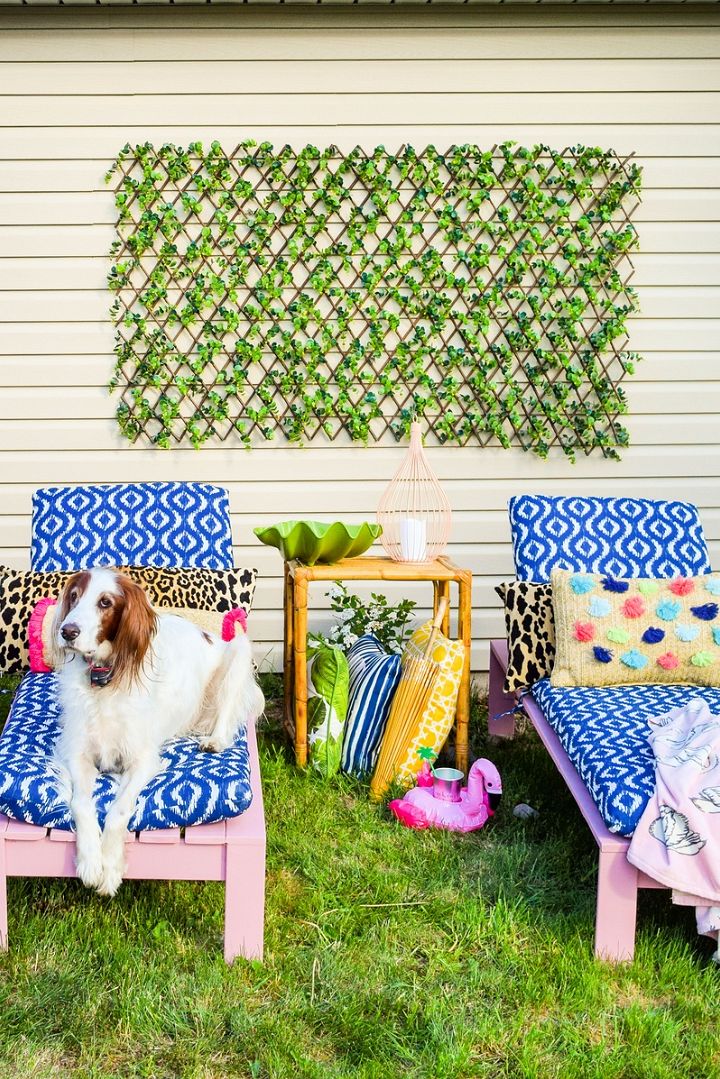 Patios are definitely there to give us comfort and peace of mind in open air with plants around us and having a little bit if chit chat with whoever gives us company. Look at these loungers that are so colorful and attractive. These loungers can make any place look like a small piece of heaven on earth. Tutorial
10. Patio Chair Makeover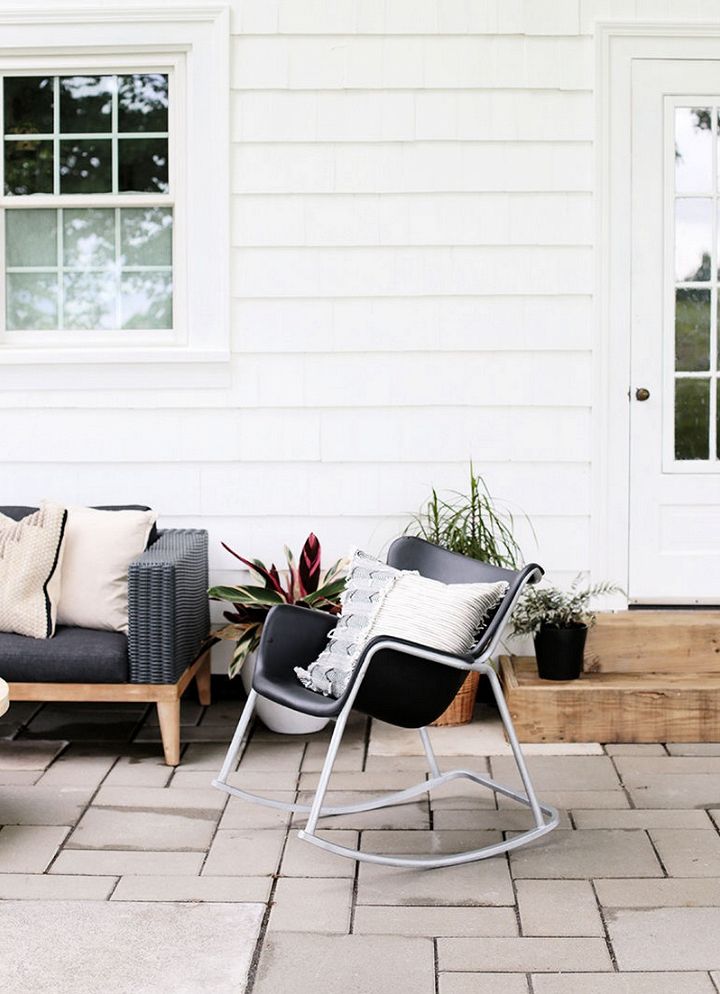 We must keep a nice, attractive appealing and cozy seating arrangements in our patios. It often happens that we have chairs at home but we don't find them attractive anymore. Here is the solution. This project will show you how you can do make over of an old chair and make it look modern and stylish. Tutorial
11. How To Paint Patio Tiles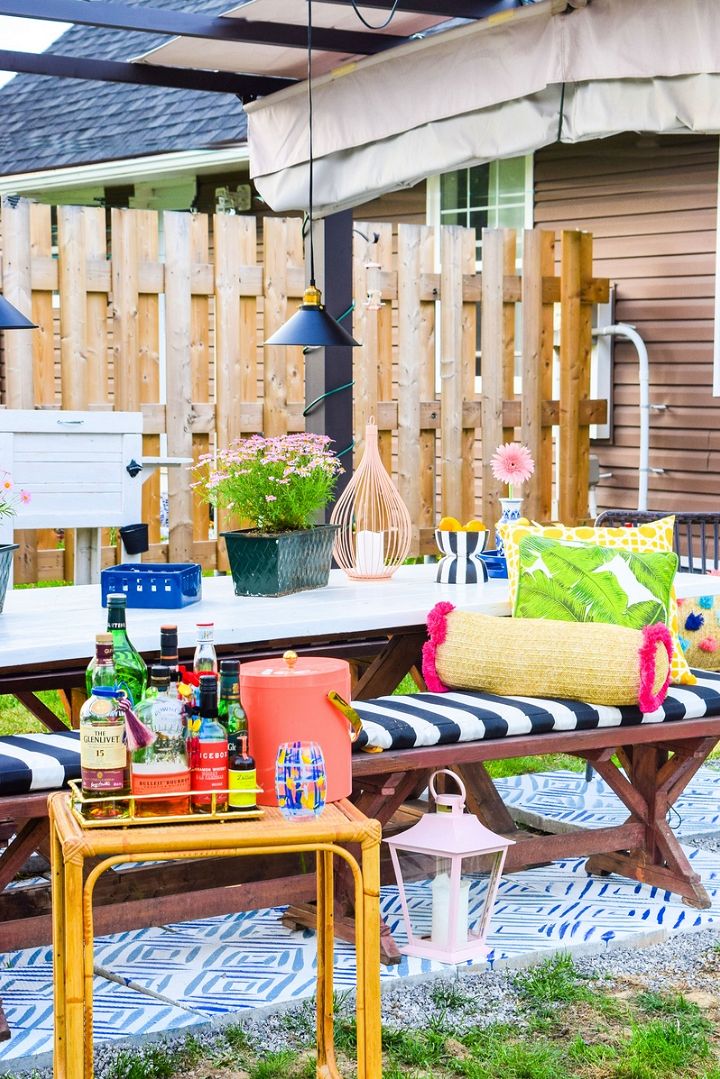 Painting furniture can be very tricky at times. This project here will make your learn how you can paint tiles in a patio and make everything pop up. You must learn this art here so that you can sue it anywhere you want. Try to follow the project accurately in order to get the accurate results. Tutorial
12. Sew It – A Patterned Outdoor Pouf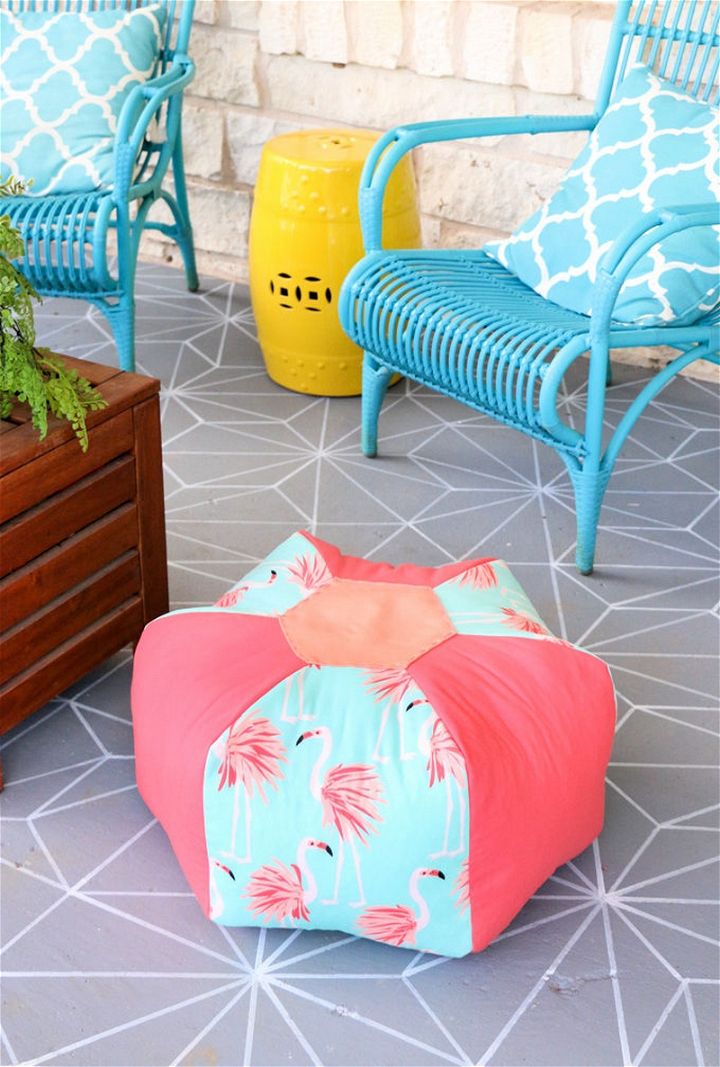 Kids always get attracted towards pout so you must know how you can make it yourself. This project is telling us how we can also make a nice pouf for our patio and make the arrangement even better with our creativity and skills. The step by step process is given here. Tutorial
13. DIY Spring to Summer Pansy Planters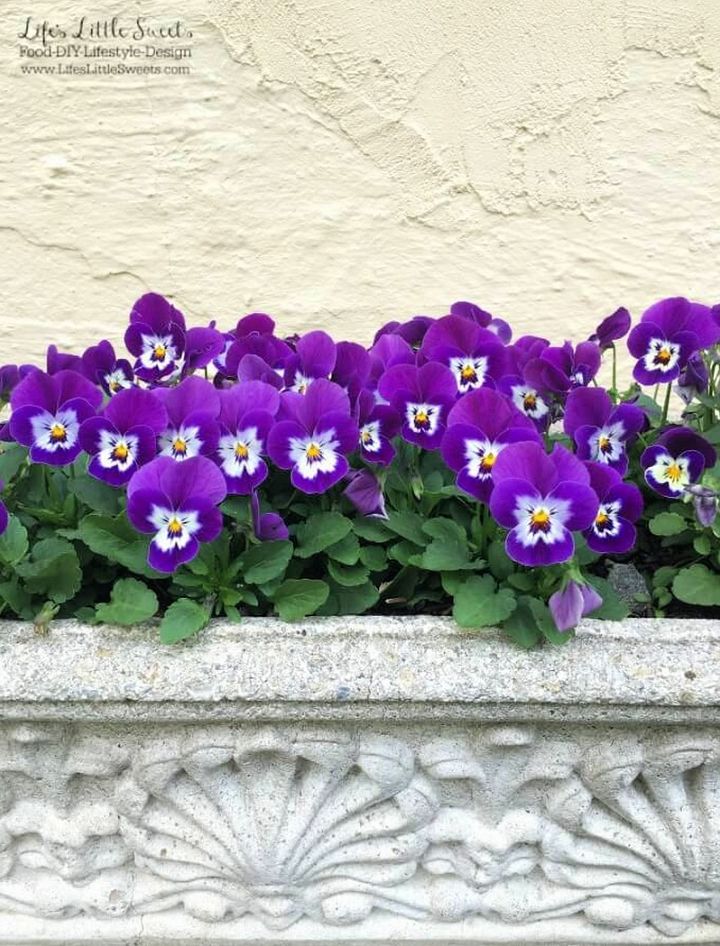 Planter are something that really creates a positive vibe besides oxygen. When we talk about patios, planters of different designs with beautiful flowering plants look amazing and great and enhances the environment. You must keep some nice planters in your patio like you can see here in this project Tutorial
14. DIY Patio Umbrella Stand Tutorial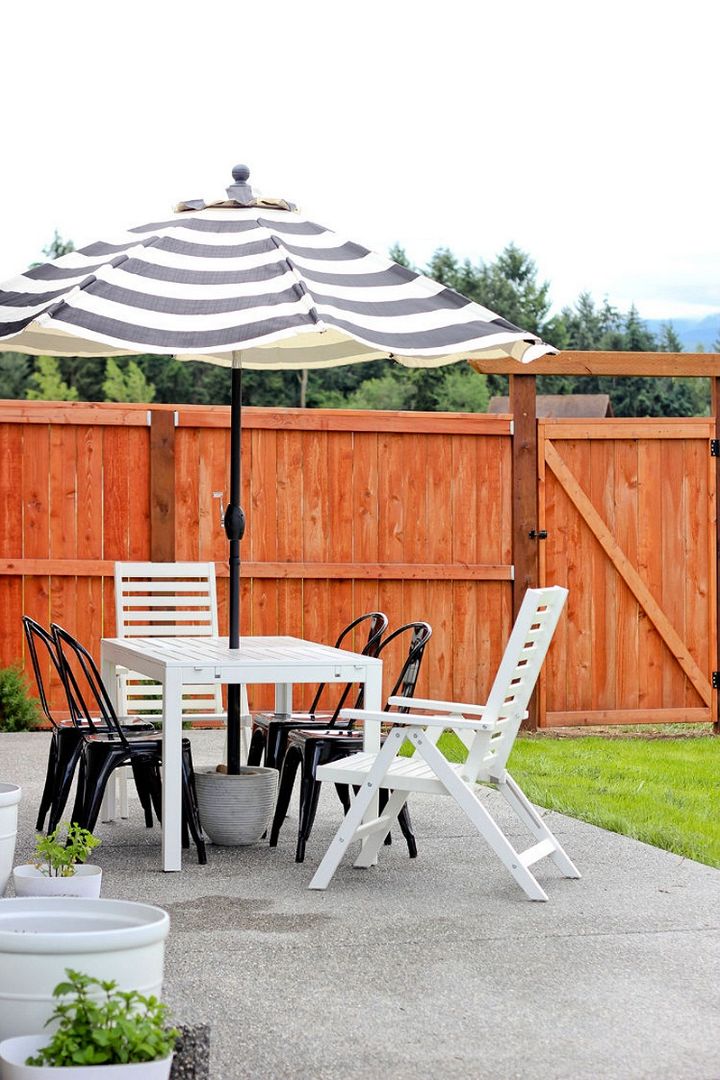 This tutorial here teaches us how we can decorate our patio with umbrella along with its stand. This umbrella along with its stand encourages us to hang out in our patio along with our friends and family. You will find peace in a well decorated and facilitated patio. The umbrella will protect us from sun exposure and look good too. Tutorial
15. Simple DIY Space Saving Patio Garden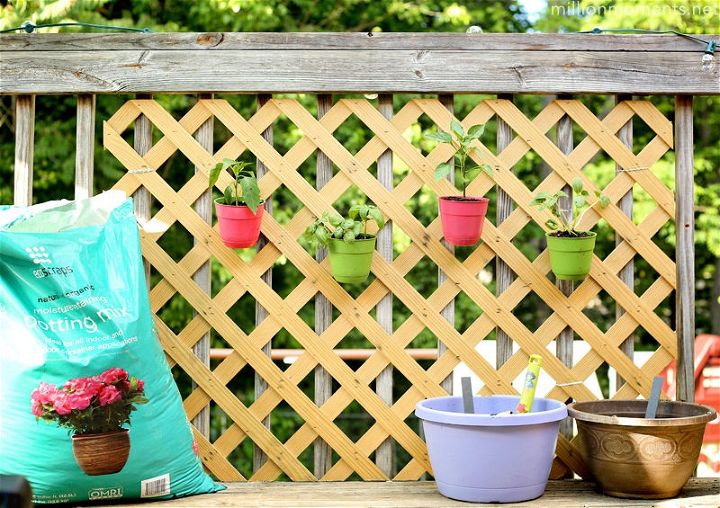 Not everyone has a huge space for patios therefore this great space saving idea if formulated. If you have a very small space, you can still have a patio, all you have to do is to manage everything in a smaller space. You can grow some plants too in your patio to make to more natural and attractive. Tutorial
16. Pinspired DIY Painted Concrete Patio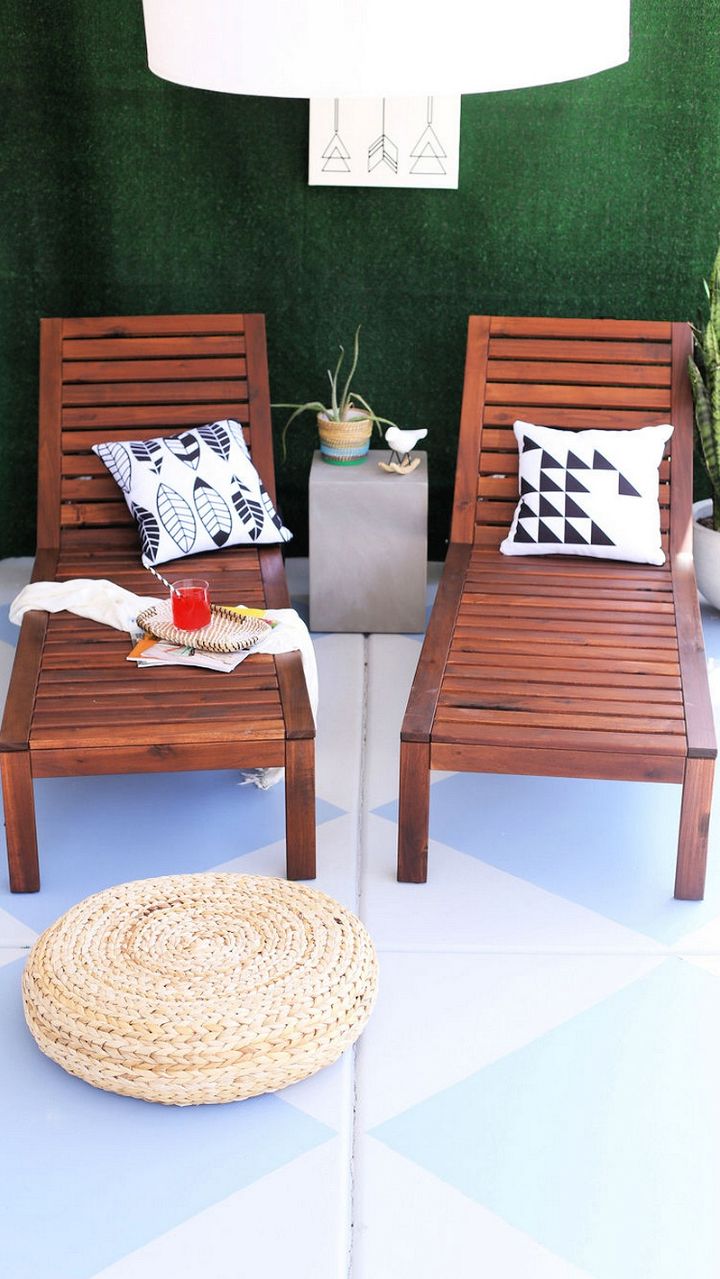 You can make your patio with any inspiration that you like. This particular patio here is inspired and is made with concrete. For this project you need some materials like a broom, bucket, soap and water, large sponge, measuring tape, paint, paint roller, paint liners and paint brushes. Tutorial
17. DIY Painted Pattern Patio Umbrella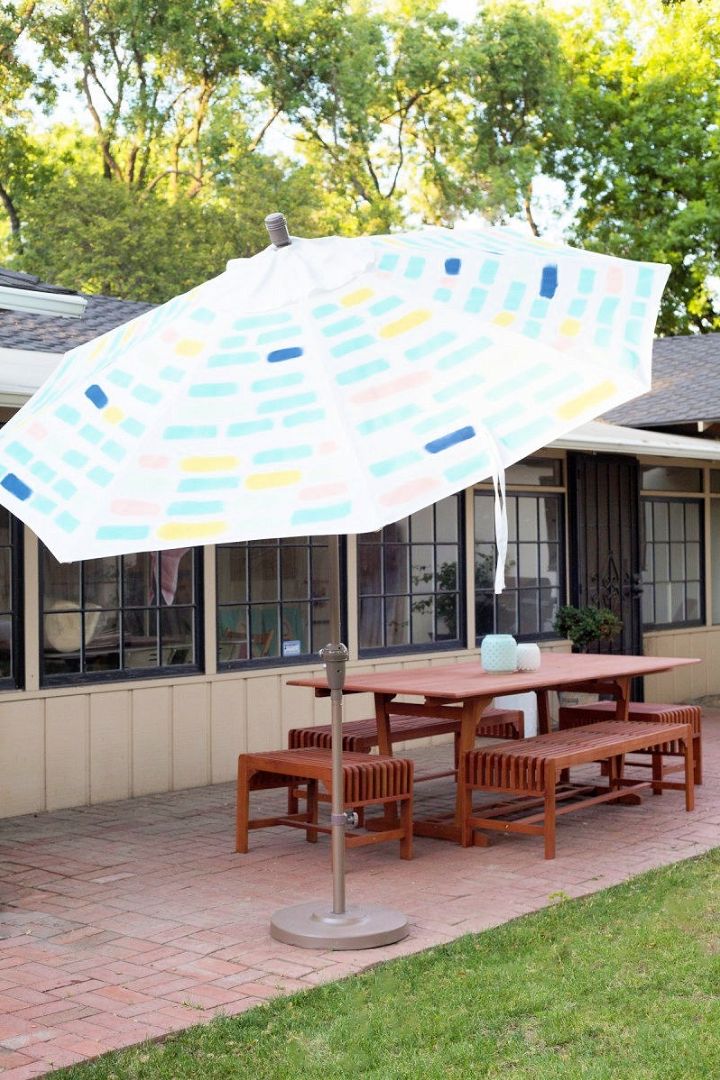 In this diy patio project here, a simple umbrella is painted and turned into a very artistic and attractive umbrella to make the patio look appealing. This umbrella is painted in a particular pattern. You have to be very creative while designing or decorating your patio as this can be your go to place every time you feel like hanging out and still wants to be home Tutorial
18. Cricut Patterned Iron On Monogram Pillows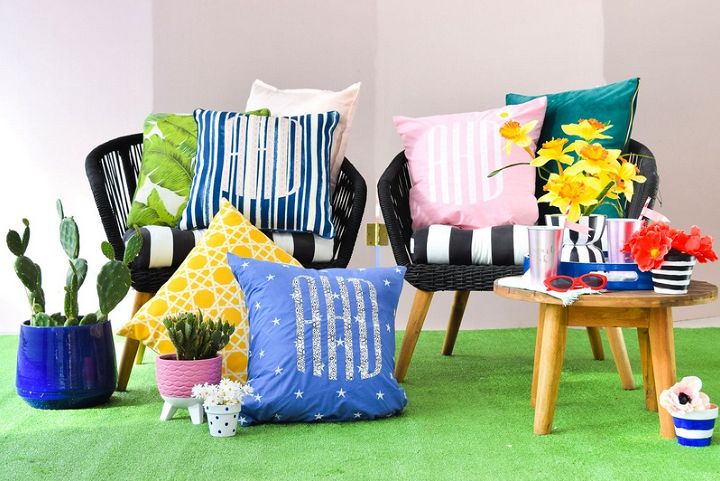 We all get bored with the old looks of many objects in our home. In order to transform or make your patio look great you have to do only a little bit changes or additions. Here you can see some very nice colorful cushions. These are monogram pillows that will make your patio colorful and lively and will change everyone's mood Tutorial
19. DIY Patio Serving Tray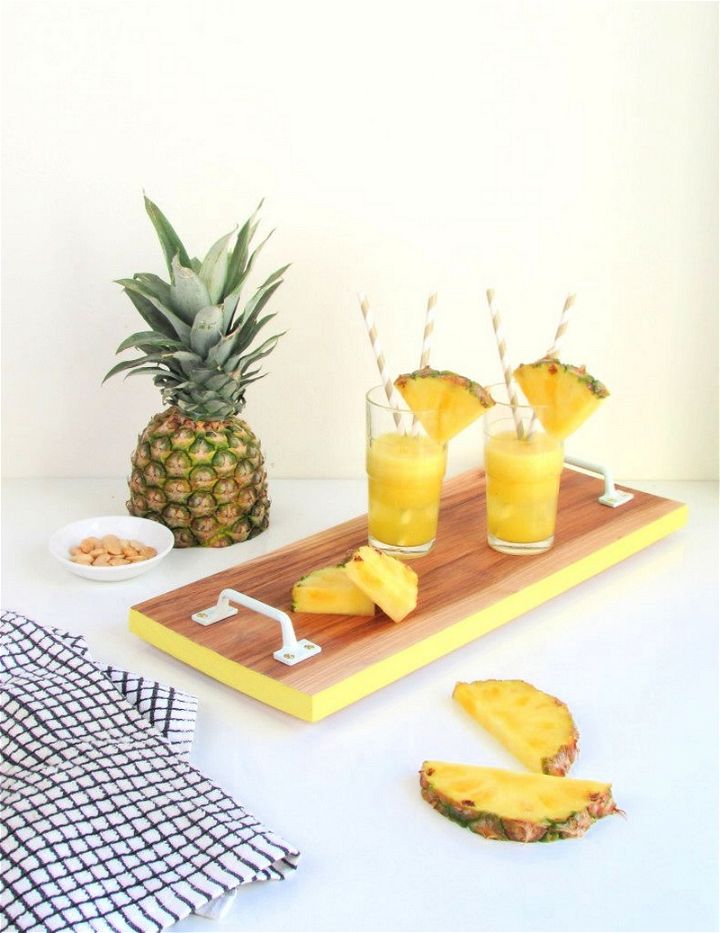 Patio at our house makes us feel out and about and we must enjoy to the fullest at this place. You can have your refreshments and snacks to spend some quality time in your patio. You can see a lovely looking serving tray here that you can easily make and use that while you sit in your patio and wants to have some tea or juice. Tutorial
20. DIY Painted Outdoor Ikea Chairs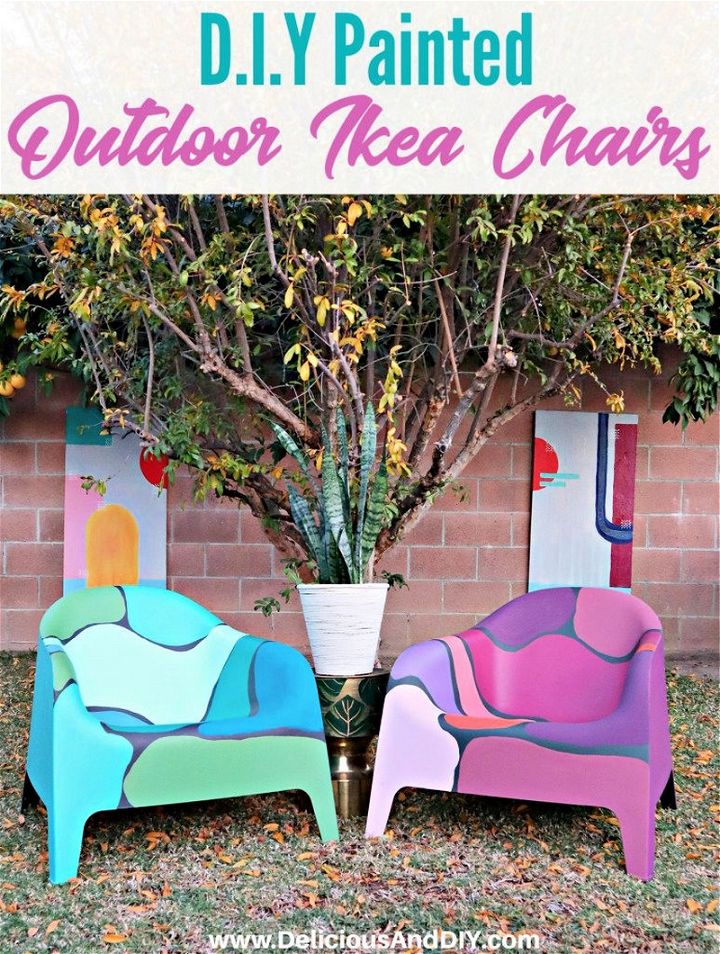 When you have a nice seating arrangement in your patio, it automatically attracts you every once in a while. A well decorated patio encourages you to spend some quality time in the patio. To make your patio look like a small piece of heaven on earth place some nice ikea chairs that you can paint and transform them into even better place to sit Tutorial
21. Create Your Very Own Miniature Garden Patio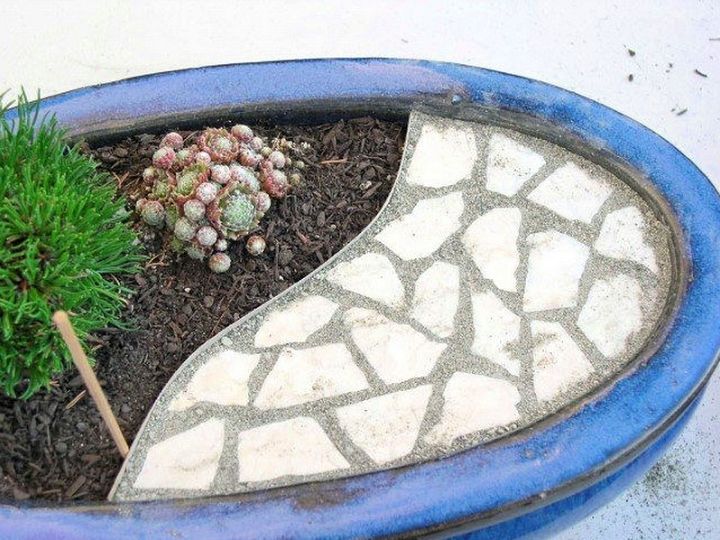 For patio decoration, plants plays a vital role. Plants not only contributes positively to the environment with its oxygen but also its presence makes us feel at peace and gives happiness. Miniature gardens look so cool and this project shows how you can make a miniature garden for your patio Tutorial
22. Make Your Own Reversible Patio Chair Cushions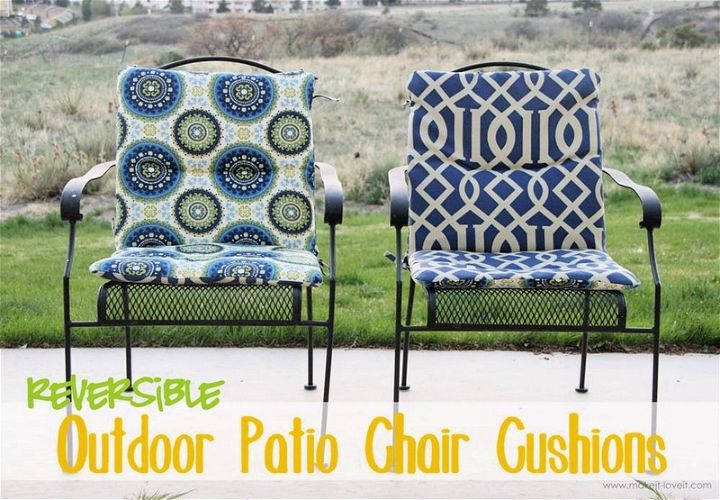 It's very important to make a comfortable sitting arrangement in your patio so that you can easily spend a lot of time. This project is all about making reversible cushion for your patio chairs. You can follow step by step procedure for making these cushions with this tutorial. Tutorial
Conclusion:
It's very important that you never ignore your patio and be as much creative as you can be with that place in your house. To make this place look beautiful here are some diy patio ideas for you that you can easily catch up with.