We all wait for the fall season for a number of reasons. These 32 Easy Fall Crafts That Are Perfect For Crafters are here to make the season more interesting this year like never before. Try these projects this weekend and you will be amazed by the results for sure. You can also engage your kids while doing the activities so that they may also learn how to create new art pieces and also about this magical season. you really don't have to spend a lot of time and money to get these projects done at home instead you only have to follow the instructions given in each project or whichever you are trying.
Among these diy fall craft ideas you will find many Home Décor Ideas along with some table decoration plans, Wall Hangings, banners, Wreaths, pillows, flower vases and much more. Besides this there are projects that involves Pumpkin Crafts as well. Make your fall awesome this year with these ideas. You can pick and choose any project depending on your personal choice and requirements. Not only you but your children will also love these diy fall projects to bits.
1. Scarecrow Mason Jar Fall Craft Idea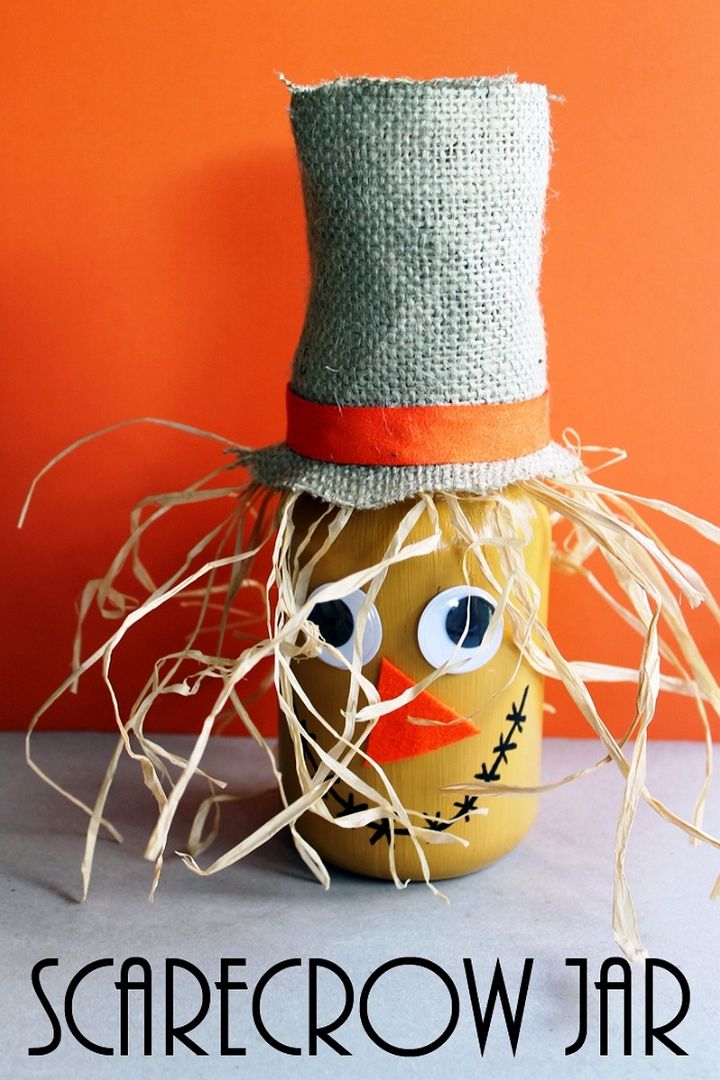 Mason jars are extensively used in many art and craft projects. This fall craft is all about making a scare crow using Mason jar. besides mason jar some other interesting supplies here are craft paint ,orange felt, googly eyes, black paint pen, burlap, scissors, hot glue gun, ribbon and raffia. Tutorial
2. Fall Mason Jars – Fall Crafts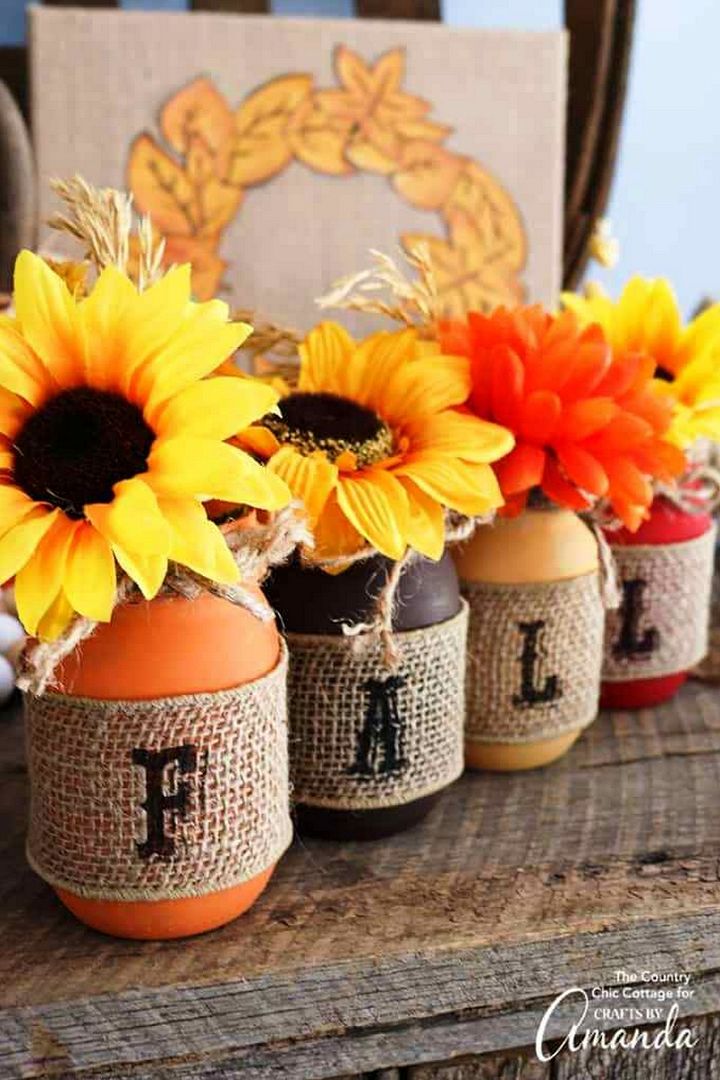 Fall Crafts: These are some fall mason jars made in an artistic way. You can also make these crafts and be proud of your own creativity. for the supplies you need pint size mason jars, twine, burlap ribbon, letter stencil, home décor chalk paint, scissors, paint brushes, hot glue gun and fall florals. Tutorial
3. Two Toddler Approved Fall Crafts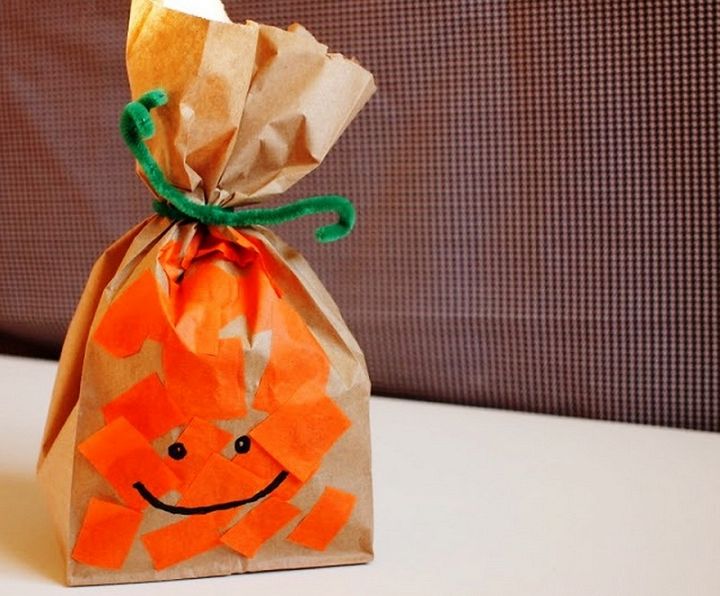 Toddlers are always interested when it comes to making crafts for a season. This fall craft is a toddler approved and it's surely awesome. You need a few supplies such as lunch bags, tissue paper squares, glue stick, marker, googly eyes, pipe cleaner and newspaper. Complete step by step directions are given so that you can easily catch up. Tutorial
4. Leaf Peepers – A Leaf People Craft for Kids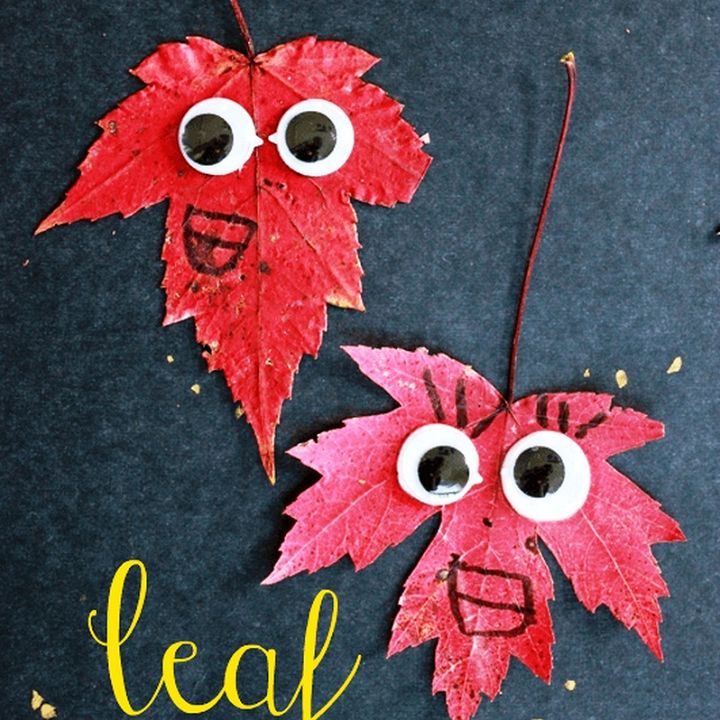 Have a look at this leaf peeper here and see how you are going to make this for the upcoming fall season. You need some dried and flattened autumn leaves, googly eyes, sharpie markers, bottle of glue, paper, glitter and a mat to protect your table from permanent markers. Tutorial
DIY Tin Can Ideas – Here are some fantastic Tin Can DIY Ideas for Gardens which you could create to open up the space inside your home. You can also recycle them in a smart way! Take a look at these really enjoyable and simple Tin Can Ideas for Garden that will allow you to add an interesting look to your garden without spending any money!
5. Fall Craft Ideas – Leaf Critters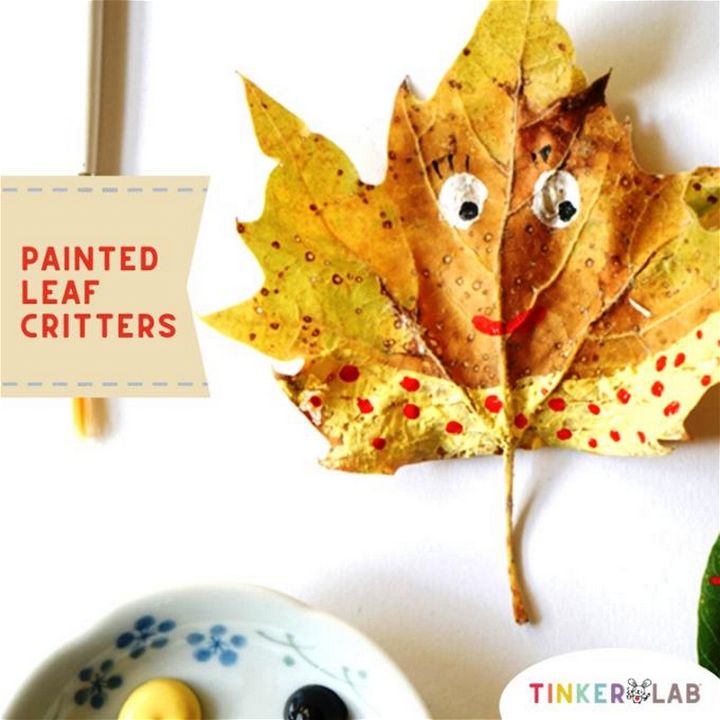 You can easily make these leaf critters for the fall season so get started. This diy project is simple and cheap for anyone to try out. Besides leaves you also need paint, paint brushes, white glue, bowl of water, marker, rag to dry brush and cardstock paper. Complete description for the process is given so that you do not miss out on the minor details. Tutorial
Needle Felting Ideas For Beginners – If you're looking for fun and cute Needle Felting Ideas, I have some great projects to share. So grab your felting needles and some wool wax, and let's get started.
6. DIY Suncatcher Terrarium – Adult Crafts for Seasonal Home Decor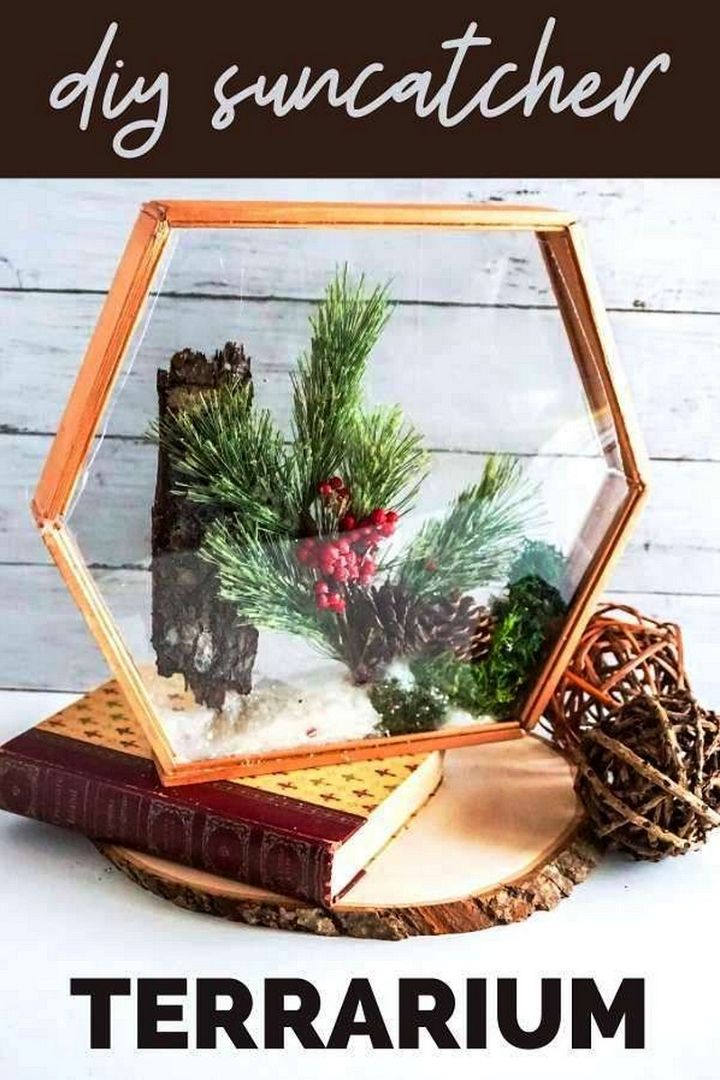 This seems to be an adult craft for the fall season so try this out with the help of the tutorial that this project provides with. This is a sun catcher terrarium that you see here so let's see how is made and how you can make your own version of this. You need craft wood, craft dowels, copper paint, acrylic sheets, winter or fall filler elements, small eye hook and fishing line. Tutorial
7. Dollar Store Fall Wreath – Fall Crafts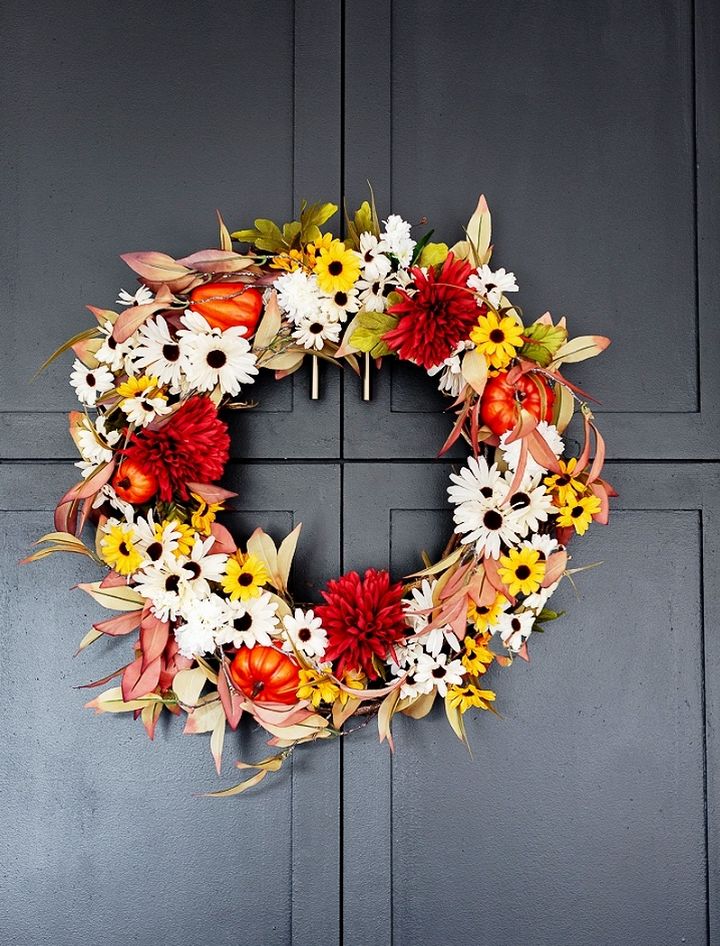 Have a look at this fall wreath here that simply looks stunning. This wreath is made suing the supplies bought form dollar store. This dollar store wreath is definitely saving you're a fortune because festive wreaths and other crafts are surely expensive at big stores so try this out. Tutorial
8. Fall Painted Pumpkin Wall Art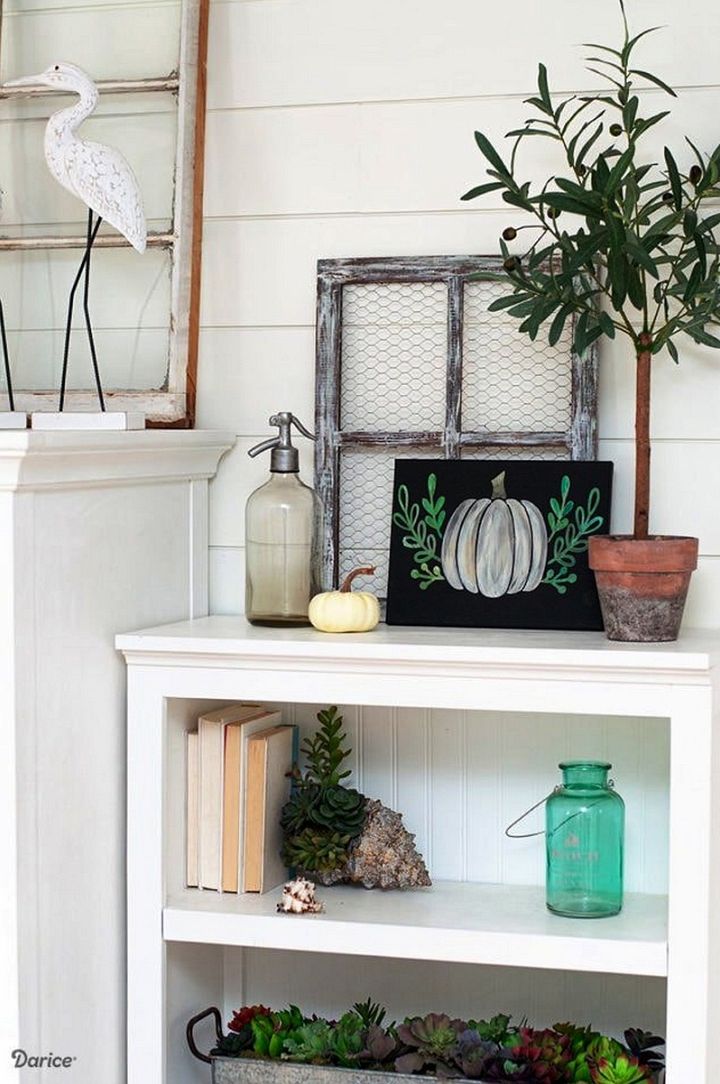 Pumpkin is definitely something that completes the fall vibes. Therefore it's important to incorporate pumpkin into the fall décor. This project shows how we can do pumpkin wall art easily without any extra efforts. To achieve the best results you must follow the process carefully. Tutorial
9. DIY Hello Fall Welcoming Sign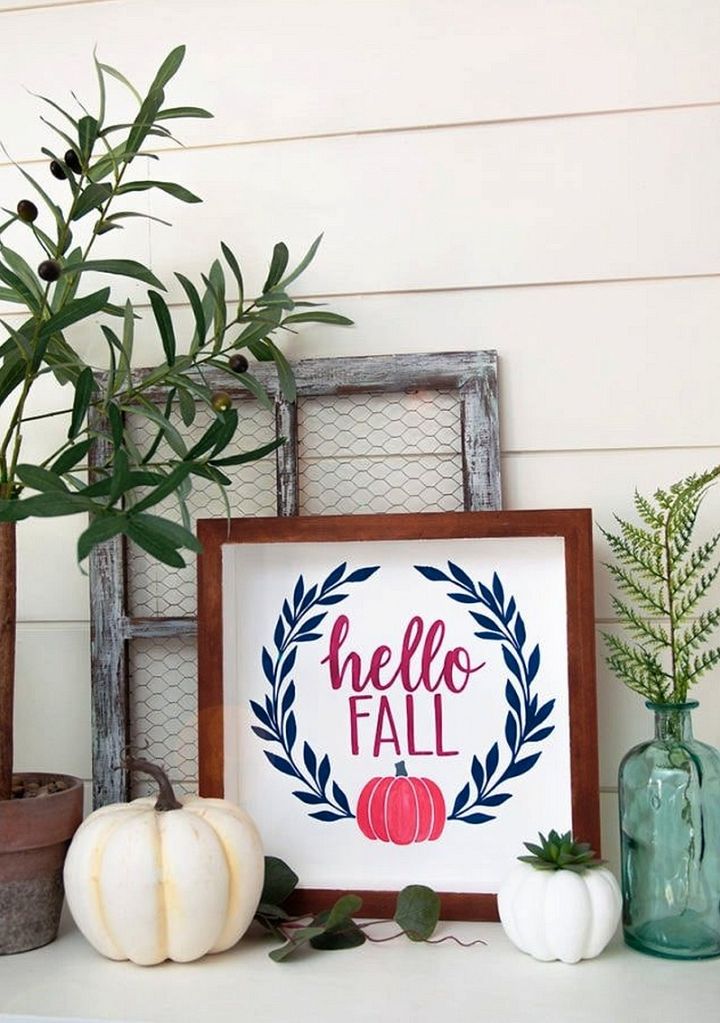 Fall Crafts: When we are welcoming any season, we must do something evident to make sure everyone is impressed by our creativity. The art piece that you see here in this project says hello fall and it's surely something that everyone will get attracted to the supplies include cameo, vinyl, transfer tape, paint and wood shadow box. So grab the supplies and get started. Tutorial
10. Bean Art Fall Houses – Fall Crafts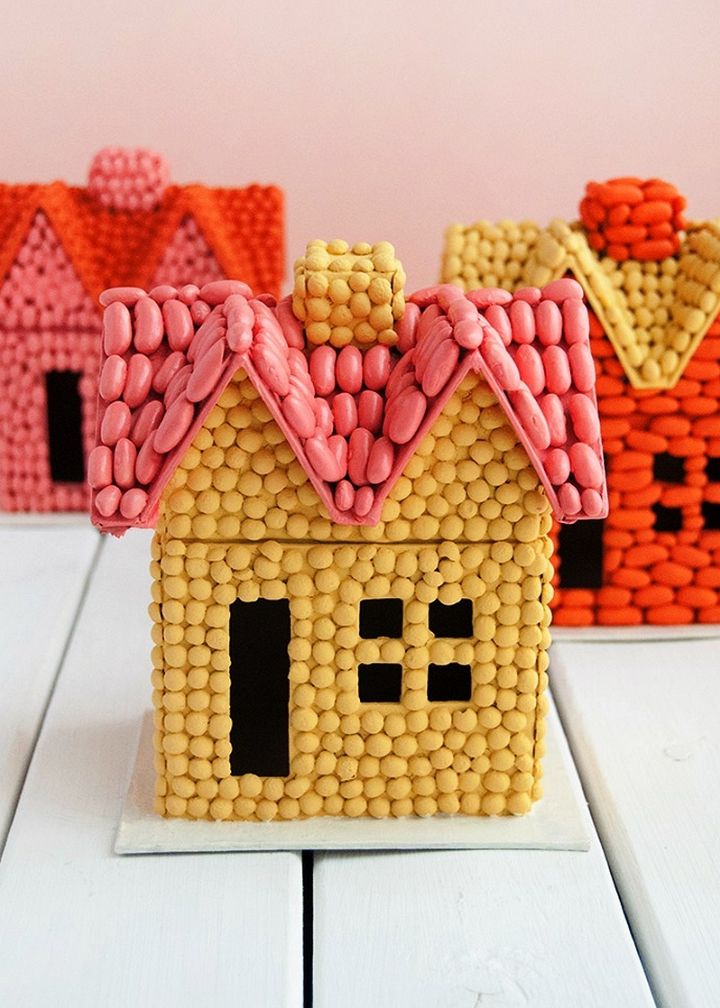 We can make many fall crafts depending on our personal likes and dislikes. This art and craft project is surely adorable. If you are also attracted towards this crat for fall, garb the supplies by looking into the list that includes folk art acrylic paint, paint brushes, mod podge, Kraft paper houses and beans, lentils or peas. Tutorial
11. Fall Soap Ideas – Creative Homemade Soap Recipes & DIY Ideas for Fall Soap Crafts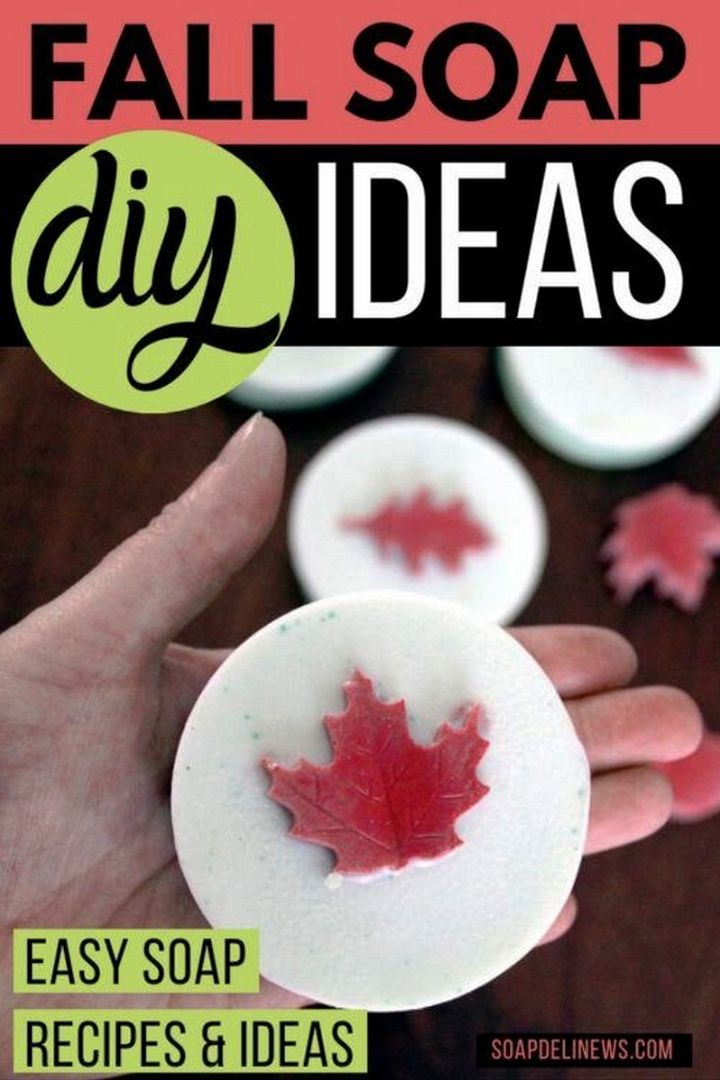 You can now make some soaps that are giving those fall vibes completely. To make this soap you only have to follow a certain recipe and then move on with it till you achieve the desired results. Soap making is surely fun. The ingredients involved here are white melt and pour soap base, honey apple champagne, fragrance oil, red orange or similar colorant, biodegradable glitter, jojoba beads and some more. While for the tools you need leaf and embed silicone mold, round soap mold, large glass Pyrex measuring cup, utensils for stirring, chef's knife or other sharp knife, spray bottle and digital scale. Tutorial
DIY Candle Ideas – Do you want to learn how to create candles? Perhaps you are an expert candle maker, but seeking inspiration? In this article, the Homemade Home Ideas website shares 30 different tutorials for making candles to help you! Click the 30 Amazing DIY Candle Ideas and tutorials link below to browse all the wonderful candle ideas.
12. Thanksgiving and Halloween Reversible Sign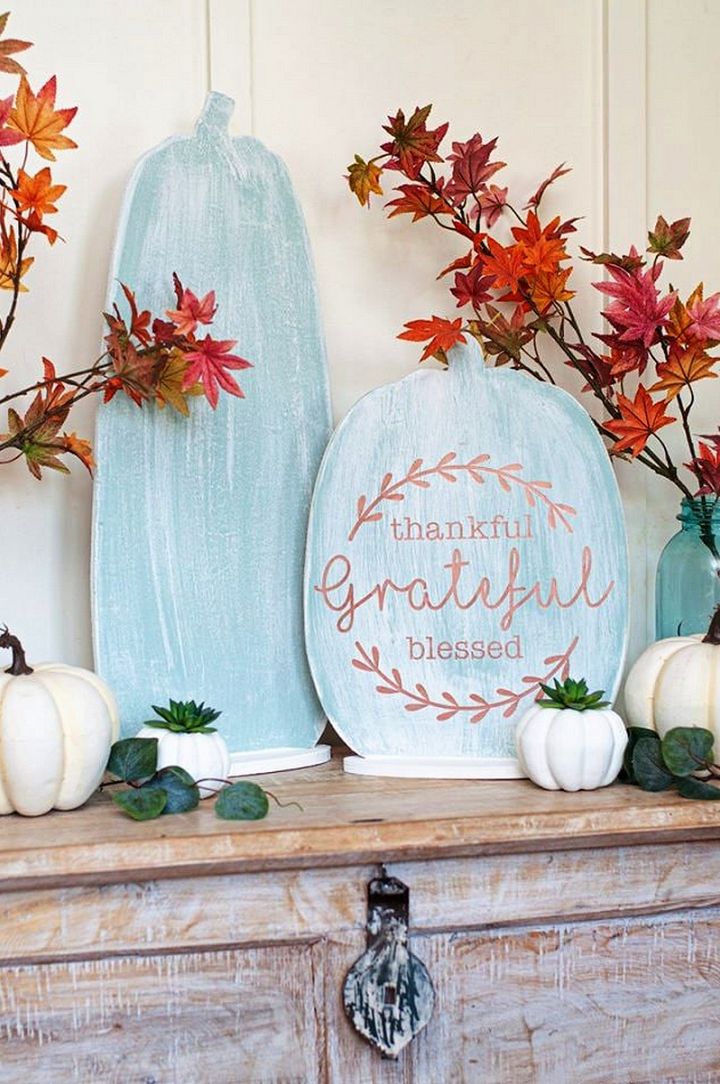 This reversible sign is especially made for thanksgiving and Halloween. You will have to make a little bit of effort to make this craft and you will soon end up being proud of yourself. This is a reversible sign hence making it more interesting. You will have to have to some supplies that are listed here so grab them and get started. Tutorial
13. DIY Beauty Fall Gift Basket – Pretty Homemade Pamper Hamper Idea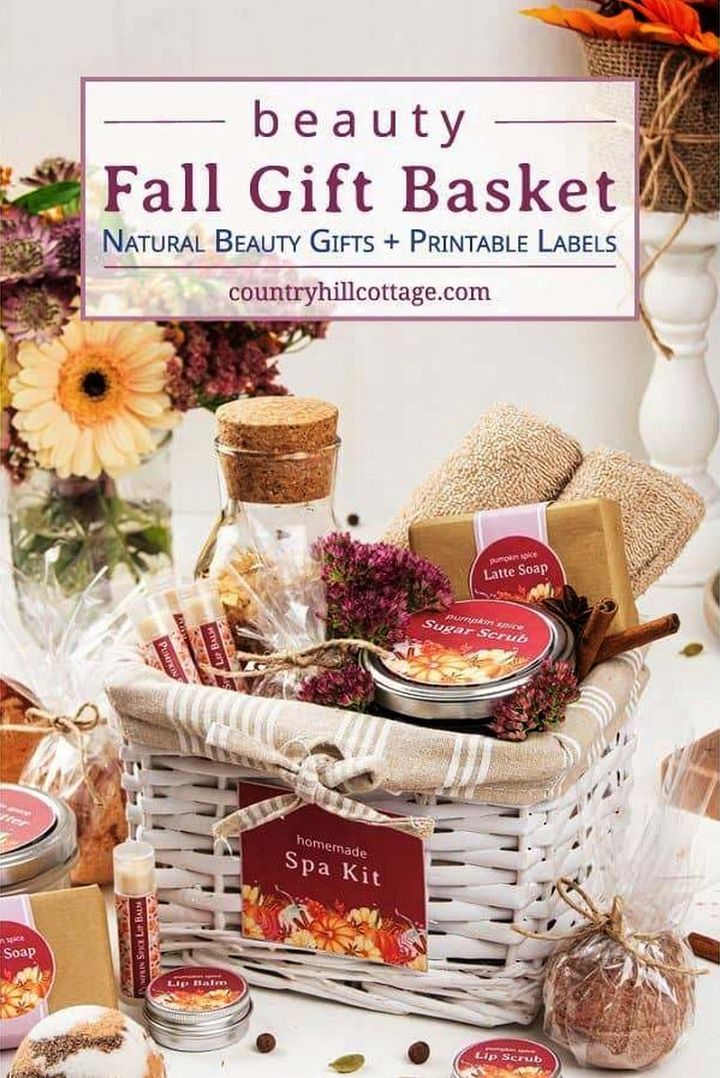 Fall Crafts: If you are thinking for gift idea for the fall season. , you must consider this one. A gift basket always makes people special and loved. This pamper hamper basket contains all the things that shows and express the love and bond you share with someone. You can make your own customized basket with items of your choice such as beauty products, bathing products and much more. Tutorial
Heishi Beads Bracelet Ideas – Looking for cool clay bead bracelet ideas? We have compiled a list of amazing projects that will surprise you!! These modern terracotta Bead Bracelet Ideas are popular items and great gifts. Not to mention, it's inexpensive and perfect for beginners.
14. DIY Fall Wax Melts With Soy Wax and Essential Oils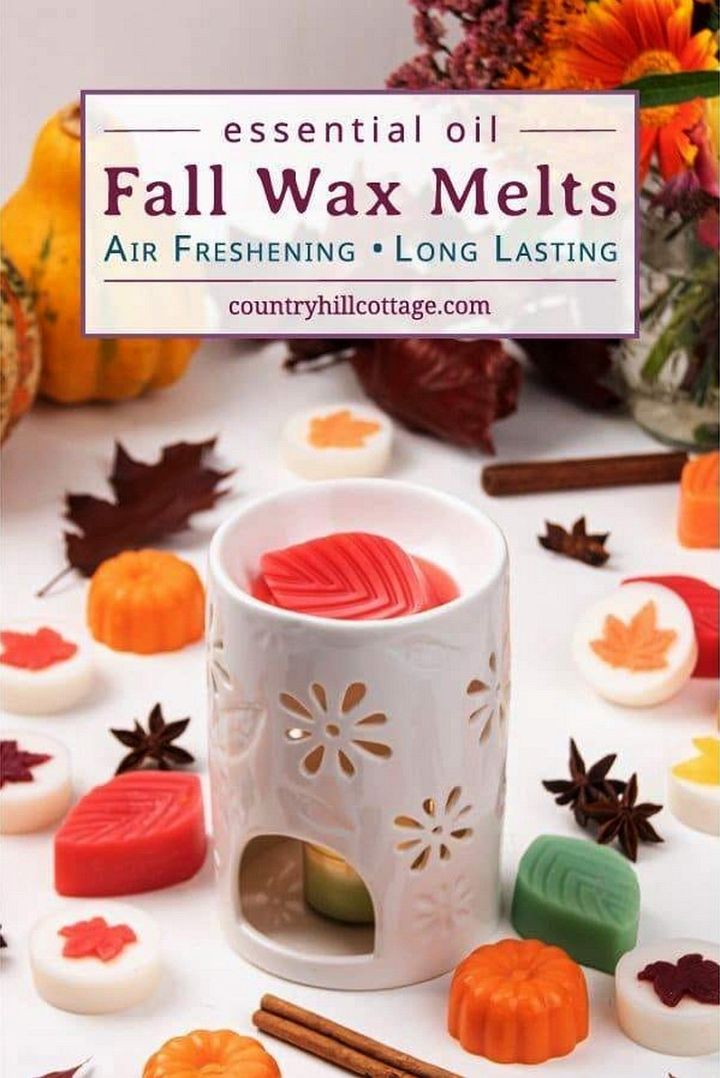 Have you ever wondered how soy wax and essential oils make a beautiful combination of wax melts? If you haven't then you must see this project in detail and make your own. For this project you need soy wax flakes, wax dye, essential oils and wax melt molds. You definitely have to be safe while doing this project. Tutorial
15. Fall Tiered Tray DIY – Made Easy with Thrift Store Finds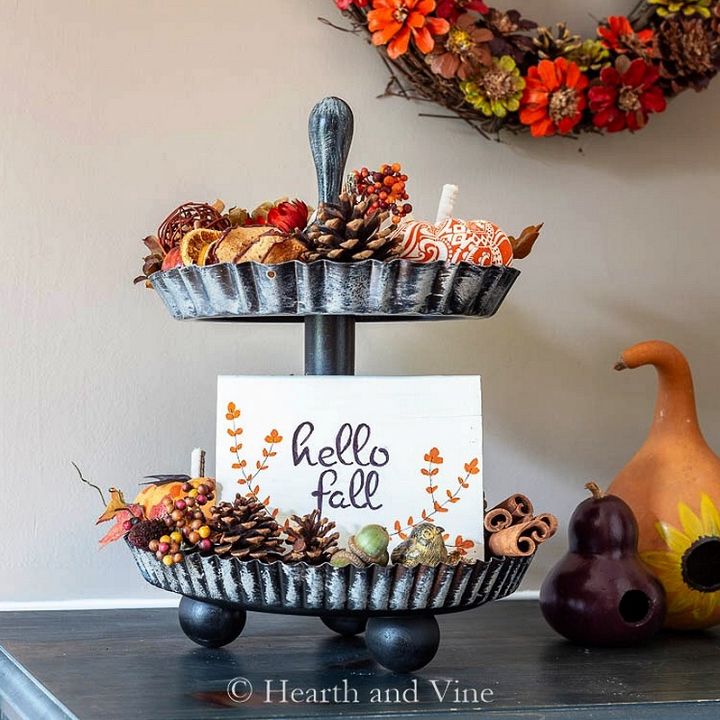 This tray has all those fall vibes in it if you see. Make this tray all by yourself with the help of his project over here. All the supplies and materials that are used in this craft are easily attainable from thrift or dollar stores. You can make your own version of this craft with the things you personally like about fall. Tutorial
16. Free Fall Coloring Pages – Fall Crafts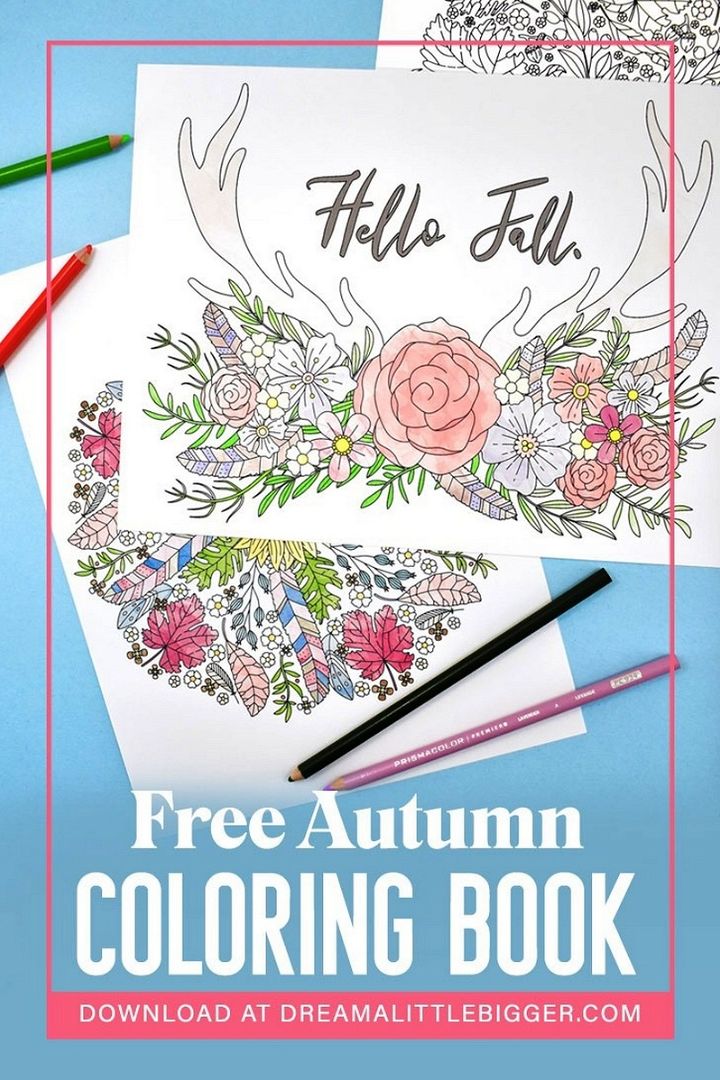 Have a look at these amazing and engaging free fall coloring pages. If you also enjoy coloring as an adult, this project will definitely excite you immediately. Now you can color anything and everything found in fall on these pages and color them according to your own choice and desire. Tutorial
Cardboard Crafts – We've certainly seen plenty of awesome craft projects and activities made from cardboard containers cereal boxes posters, and other materials!
Children are always searching for creative ways to entertain themselves and crafting with cardboard is the perfect way to use the excess energy! These simple and quick projects can keep your children entertained throughout the day. From cute animals made of cardboard to a unique macaroni box camera These projects are guaranteed to entertain your children for hours. Read More: Cardboard Crafts
17. Chalky Fall Leaf Garland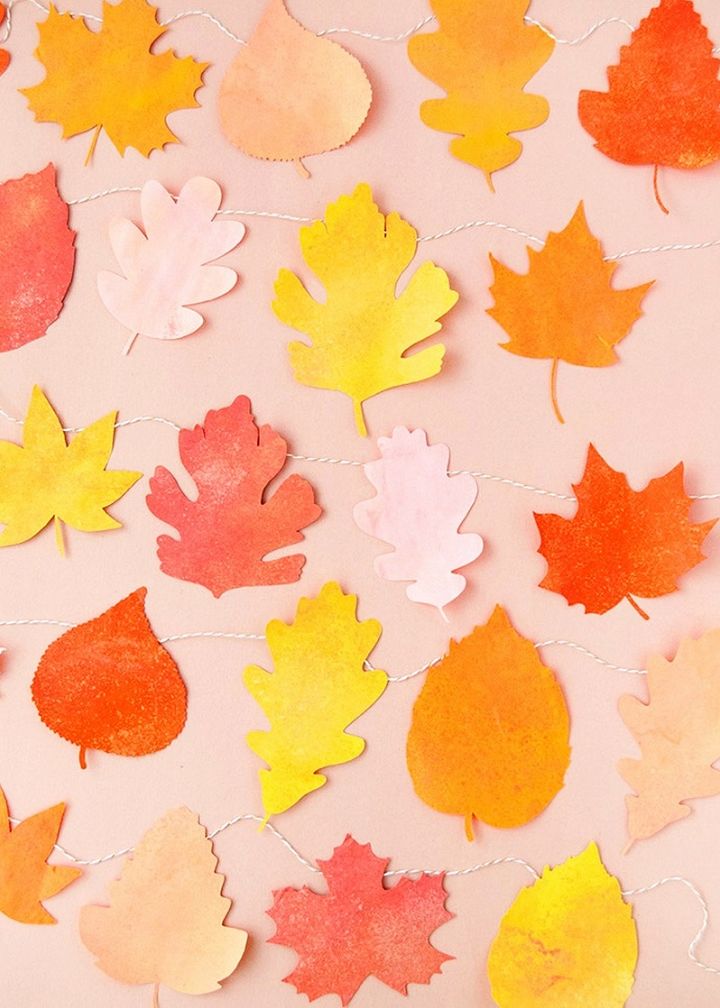 Fall Crafts: Have a look at this chalky fall leaf garland that is made effortlessly. As we know that fall is a season when leaves start to change color and that gives excitement to all of us. The things that you need for this project are construction paper, chalk, cheese grater, and cookie sheet, wire cooling rack, pencil, scissors and string. Tutorial
18. Fall Rake Craft For Kids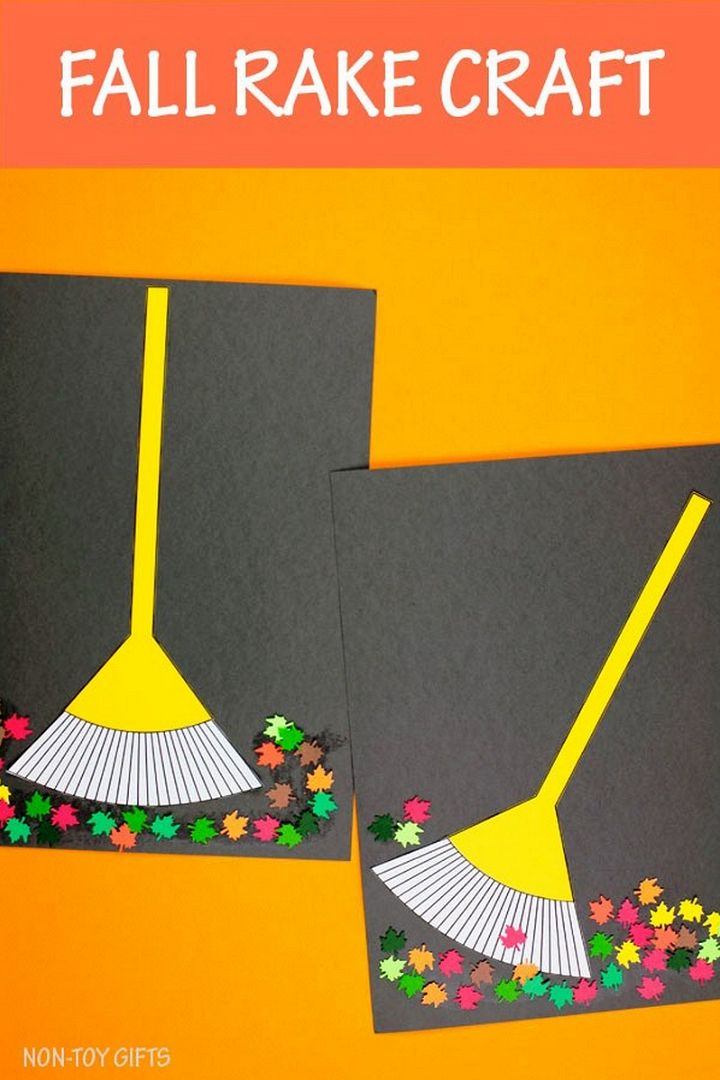 This is a fall rake craft for kids that you can also make along with your kids and enjoy. The best is you do this activity with preschoolers and kinder garden kids. While doing this project your children can learn about the four seasons and learn how to do cutting. You need a few supplies such as rake craft template, colored paper, gray cardstock paper, leaf paper punch, scissors and glue. Tutorial
19. DIY Fresh Pumpkin Vase for Fall Flowers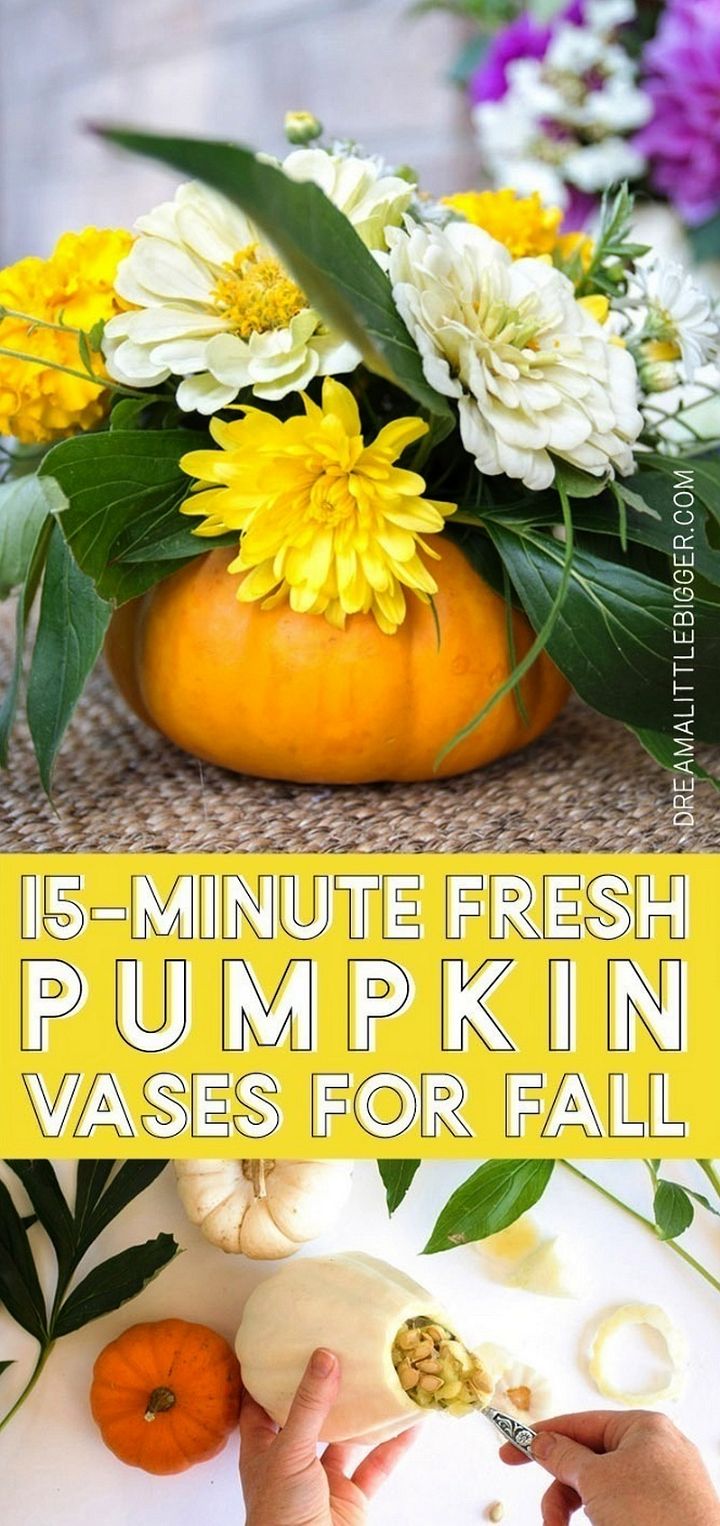 Fall Crafts: Here we have a pumpkin flower vase for fall flowers. You will hardly have to spend fifteen minutes to do this project so get started and enjoy. For this project you need a few materials such as fresh mini pumpkin, fresh cut flowers and greenery and paring knife. Tutorial
20. Fall Essential Oil Blends For Soaps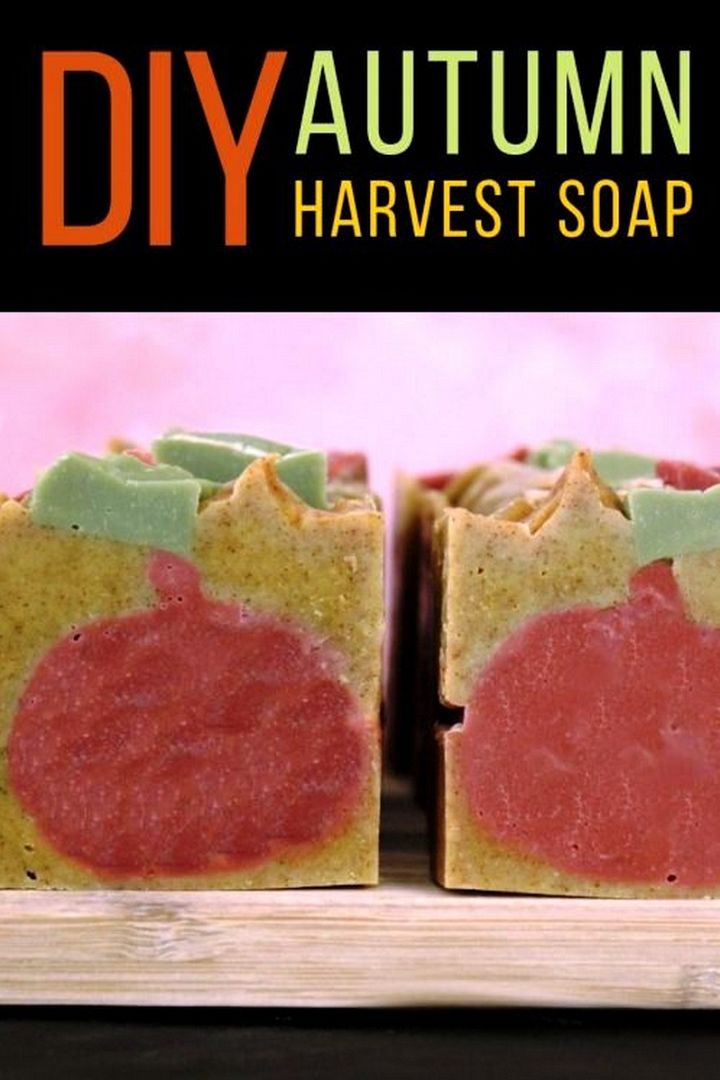 This plan is regarding fall essential oil blends for the fall season. If you see the ingredients in the recipe we have castor oil, coconut oil, cocoa butter, pomace olive oil, and distilled water, fall essential oil blend, apple green moss mica and few more. Make your fall season more exciting than ever with this amazing project Tutorial
21. How To Sew Letters Onto A Pillow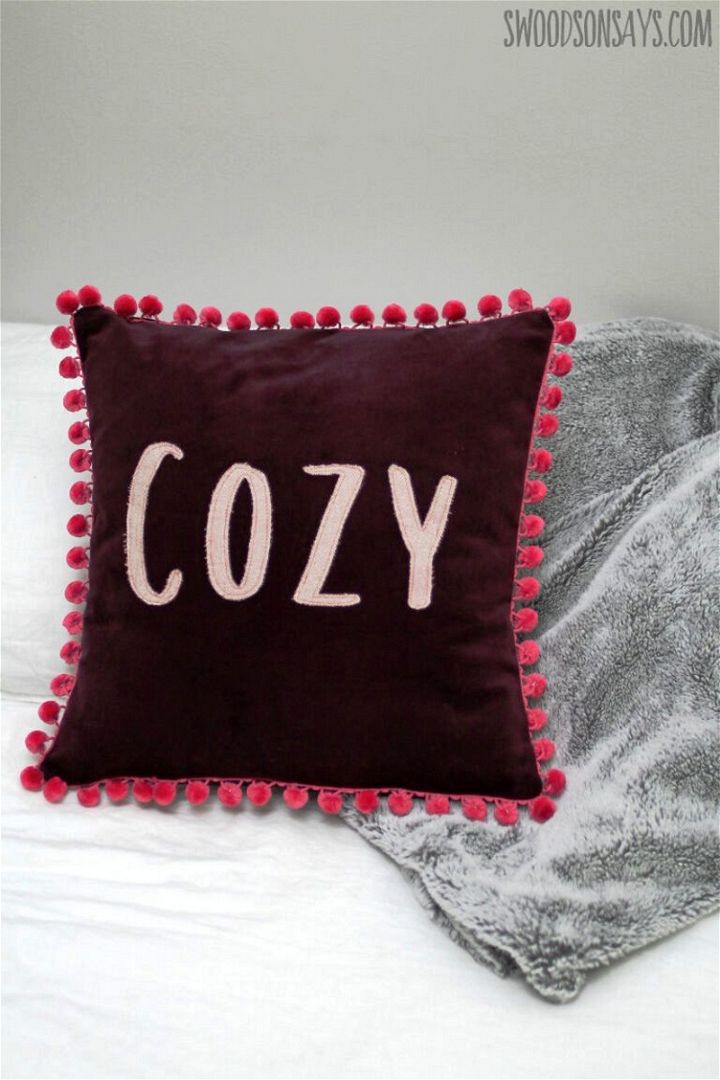 Sewing is fun for many people. This diy fall project is all about creating some vibes before the season arrives. You can now sew letters on to a pillow and make your house cozy with such things. There is a list of supplies that you need to complete this project and you can follow it easily. You need pinwale corduroy fabric, flannel fabric, pompom trim, hot hemmer, iron, sewing clips, lightweight fusible interfacing, acrylic ruler, rotary cutter and square pillow form. Tutorial
22. Modern Turquoise And Gold Thanksgiving Table Decor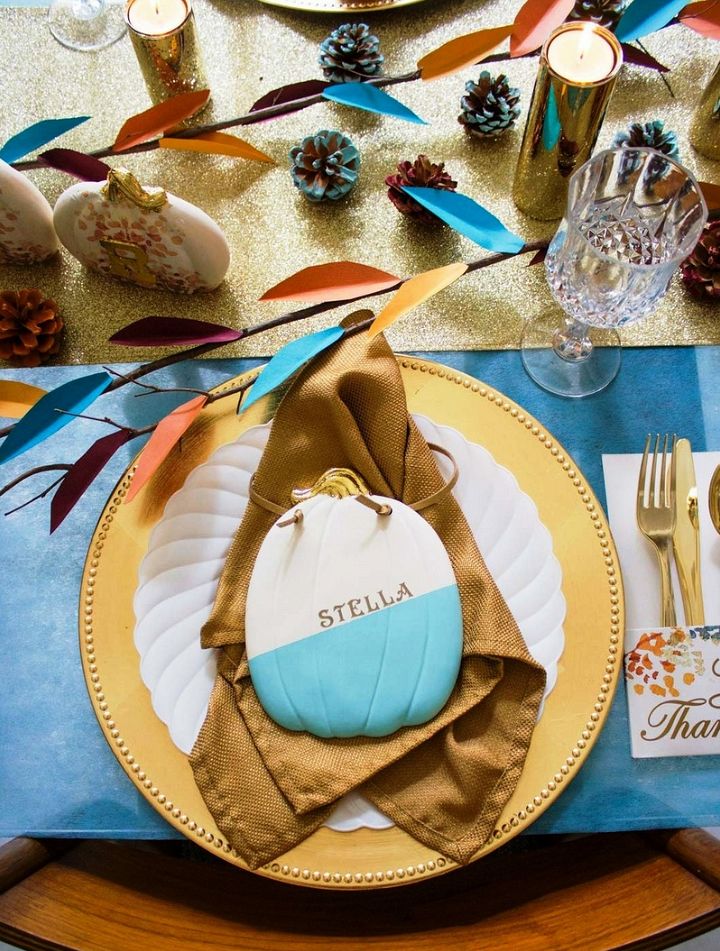 Fall Crafts: We all want to decorate our tables when it's time for any festival. This is an impressive table décor idea for thanks giving that you can also try at home. With the help of this project you will be able to make your table indulge into turquois and divine gold color and make it look more celebrated and decorated. Tutorial
23. Pumpkin With Balloon Centerpiece For Fall Entertaining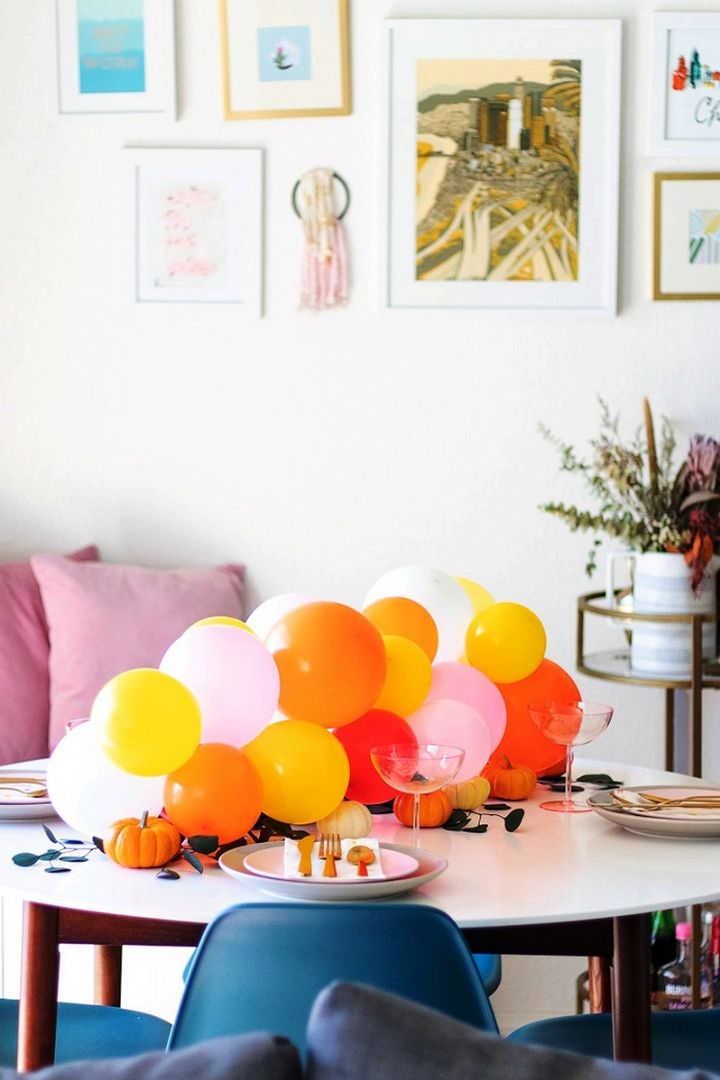 Festivals always demands for a nice table décor at home and this project is all about it. When fall approaches you can decorate your table with balloons along with pumpkin to impress everyone who comes over. Choose the balloons that matches with the pumpkin. Tutorial
Halloween Craft Ideas – It's Halloween! Bring out all the spiderwebs, bats, and witch costumes! If you're looking for some fun Halloween activities for kids you've come to the right spot. If you have children of any age You'll discover the perfect Halloween activity for your children right here. Take a look at these adorable yet creepy spiders, haunted house and black cats and many more! Check out Halloween Craft
24. Fall Room Spray with Printable Labels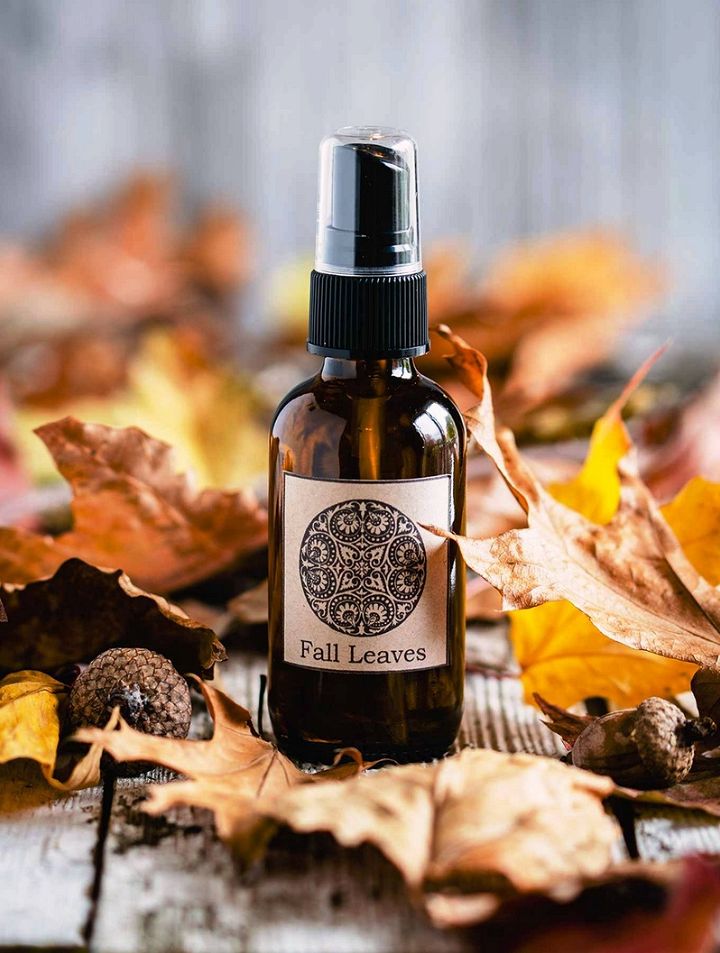 This diy spray over here is especially made for the fall season. The spray also has some eye catching printable labels. You can also make this room spray before the season comes over and enjoy the fall vibes. Try this recipe that includes the ingredients such as essential oils, witch hazel, distilled water, amber spray bottle and label paper. Tutorial
25. Affordable Fall Acorn Centerpiece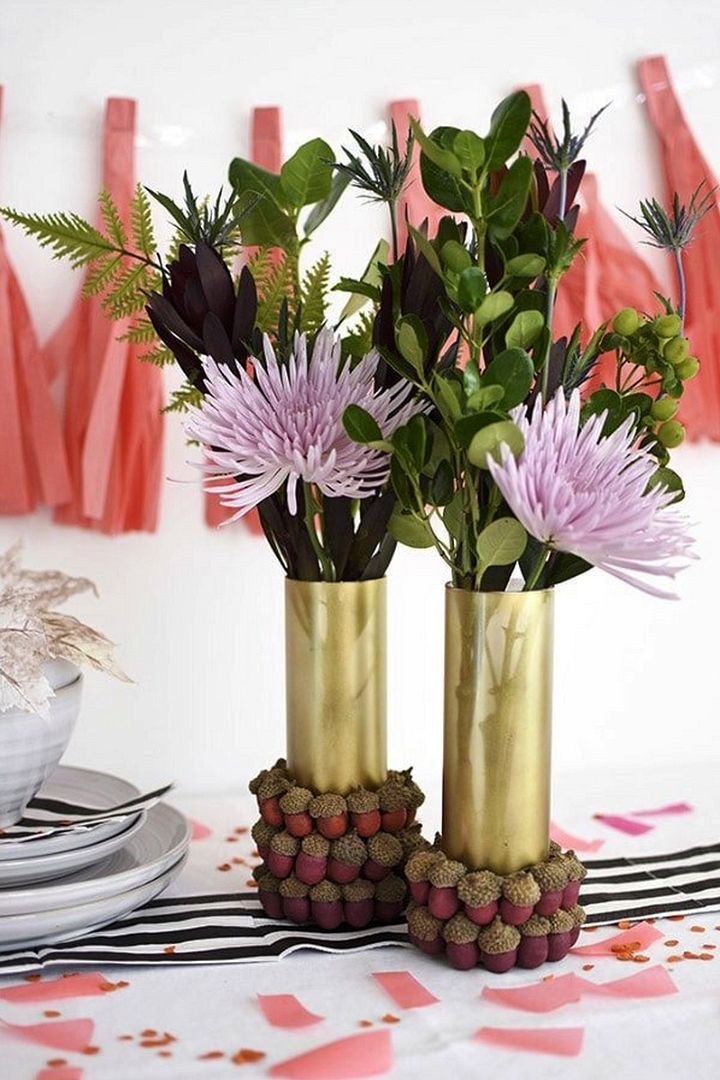 This is an affordable centerpiece that you can create all by yourself for the upcoming fall season. It's a fall acorn centerpiece that is gorgeous and creates the fall vibes really effortlessly. Follow the complete process carefully to achieve the desired and show results. Tutorial
26. DIY Fall Vinyl Decals – Fall Crafts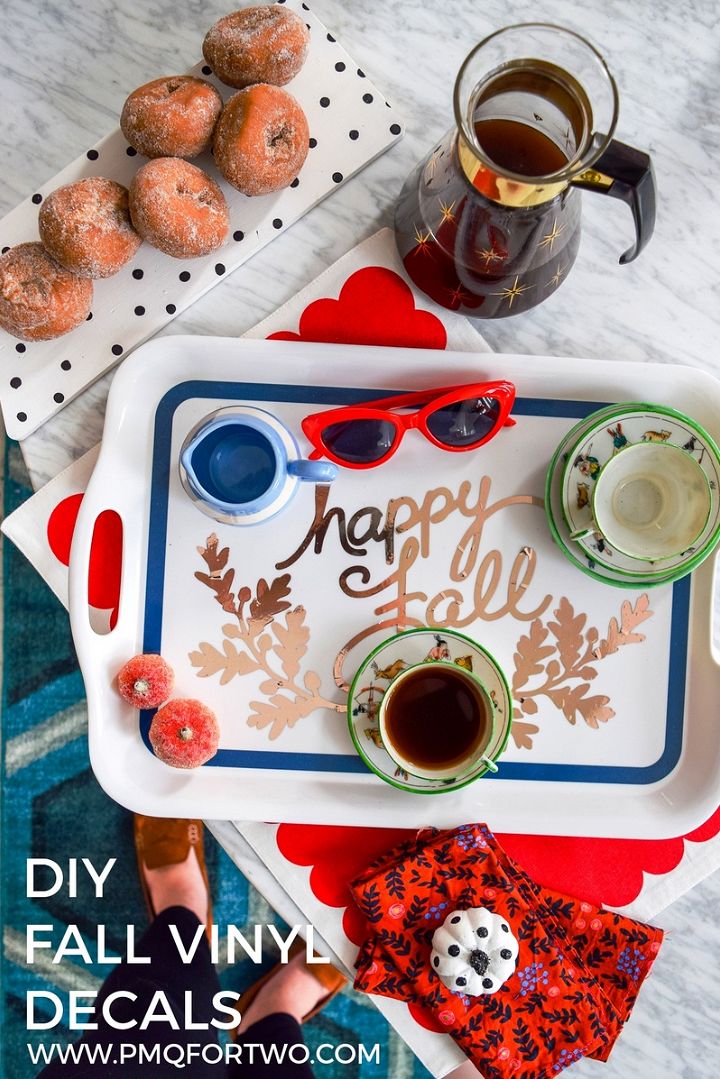 If you are also interested in fall vinyl decals this year, this diy project will be of great assistance and help for you. Get into the details of this project and also see the tutorial to see how everything is done. Once you have understood the entire process and the supplies and ingredients involved, you are all set to make some masterpiece. Tutorial
27. Free Knitting Pattern – Handmade Fall Knit Cozy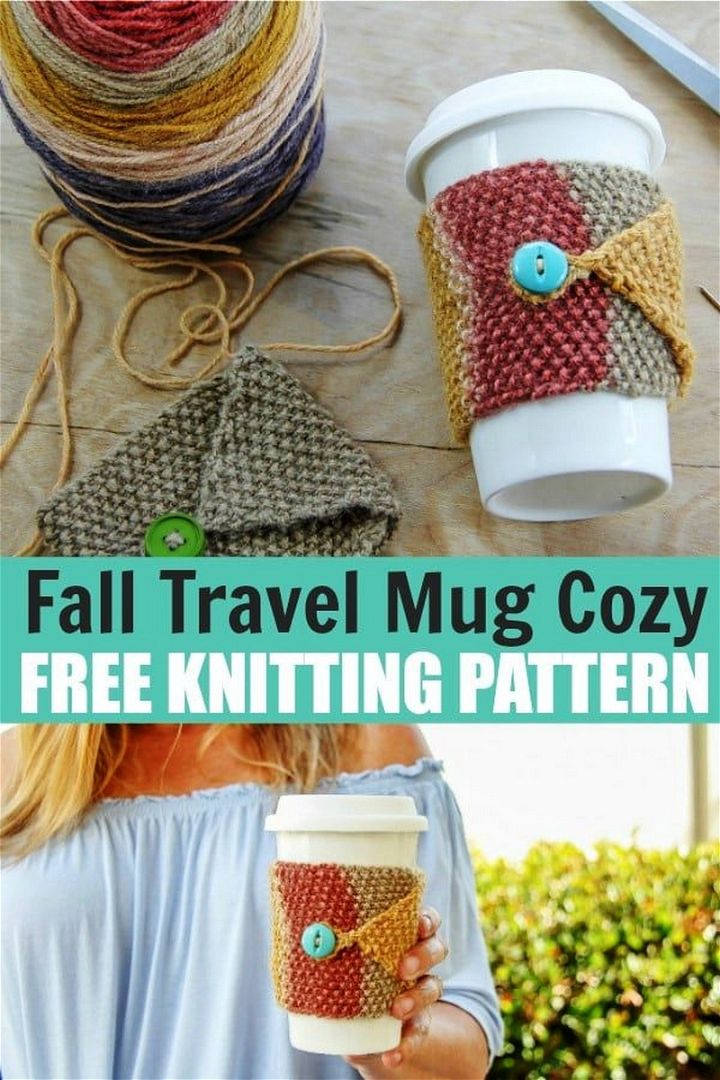 Fall Crafts: Let's make your fall cozier this year with this handmade cozy craft. Here in this project you will get a free knit pattern for this craft and for some more as well. You can make this not only for yourself, but also for gifting purpose. Make some of these before the season changes and the festive season comes. Tutorial
28. Hello Fall Home Décor Crocheted Banner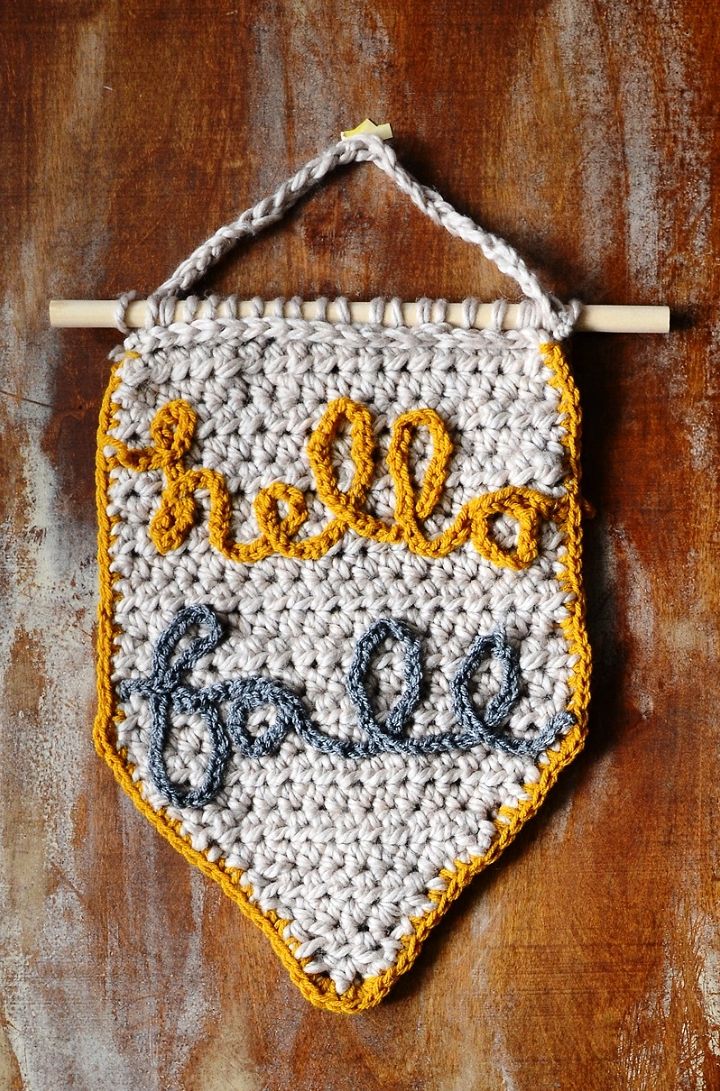 As fall approaches, people like to decorate their homes and make some nice wall hangings and everything that can create those festive and fall vibes. This diy wall hanging that you see here in this project is crocheted and made easily for nay wall in the house to make it look more celebrated and decorated. Tutorial
29. DIY Fall Unicorn Pumpkin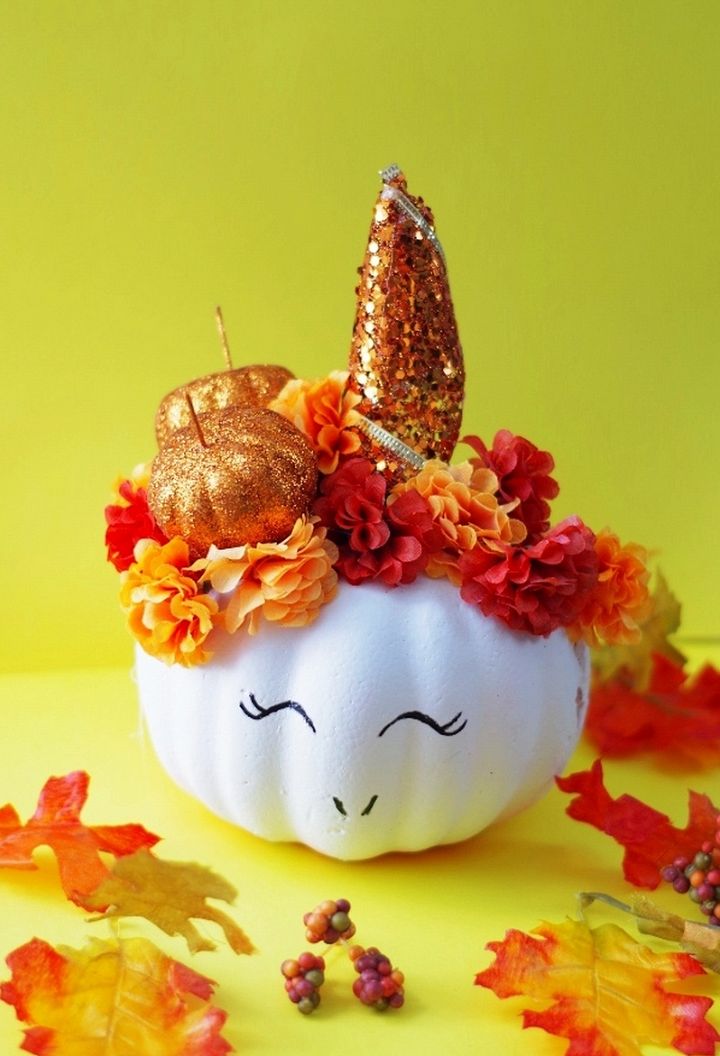 Have a look at this adorable fall unicorn pumpkin over here that really melts every heart. If you also wish to make some fall decorations and crafts, this project will excite you immediately. You need a fake or real pumpkin to decorate along with white paint, fall colored faux flowers, wire ribbon for the horn, mini faux sparkly pumpkins, black marker, paper or paint. Tutorial
30. Fun Fall Wreath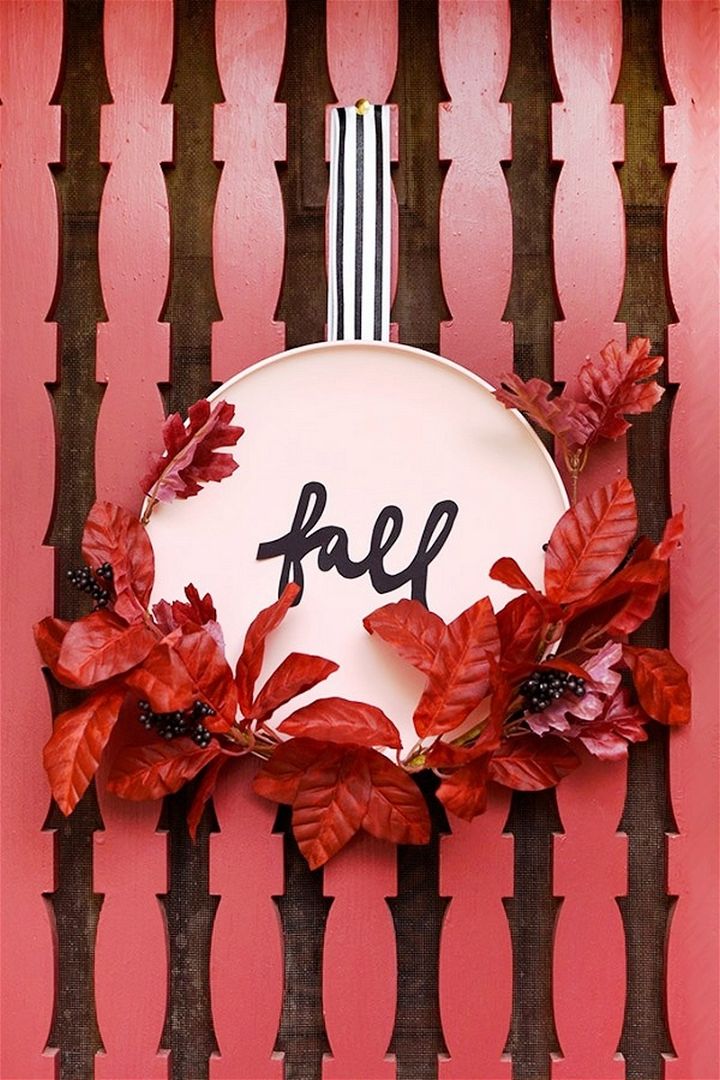 This is a wreath in a slightly different style. This wreath is made keeping in mind the changing colors of fall season. As we know that the leaves turned into some amazing colors during fall and look awesome therefore the wreath made with the fun fall theme also turns out to be super cool. Tutorial
31. Fall Barbie Dream House Wallpaper Downloads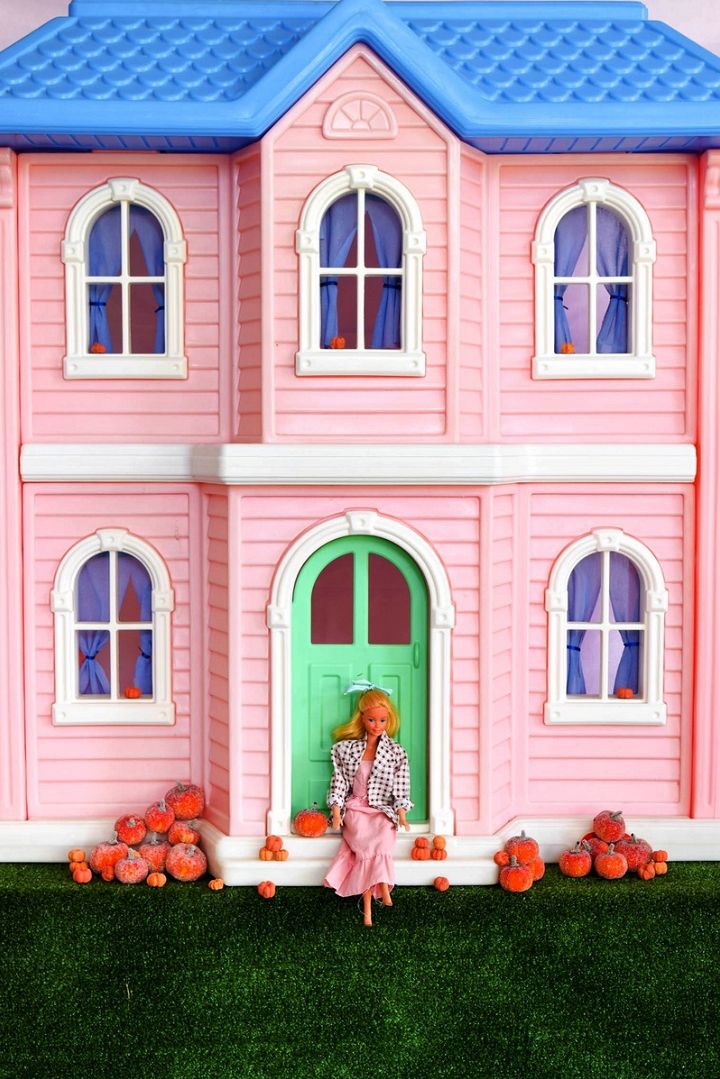 This is a fall phone wallpaper idea that we have here. You can also switch to this wall paper as the fall approaches in order to get those fall vibes. You must make some preparations beforehand so that when the season changes your house will he indulged in those fall vibes completely. Tutorial
Spring Crafts For Toddlers – Crafts for my toddler must be simple and fast since they don't have the time to go for lengthy durations without an automobile, train or plane in his pocket. Since Spring is coming (our blooms are beginning to bloom!) It is the perfect time to begin making our walls look brighter by putting together Spring Crafts.
32. The Most Delightful 10 Fall Essential Oil Diffuser Blends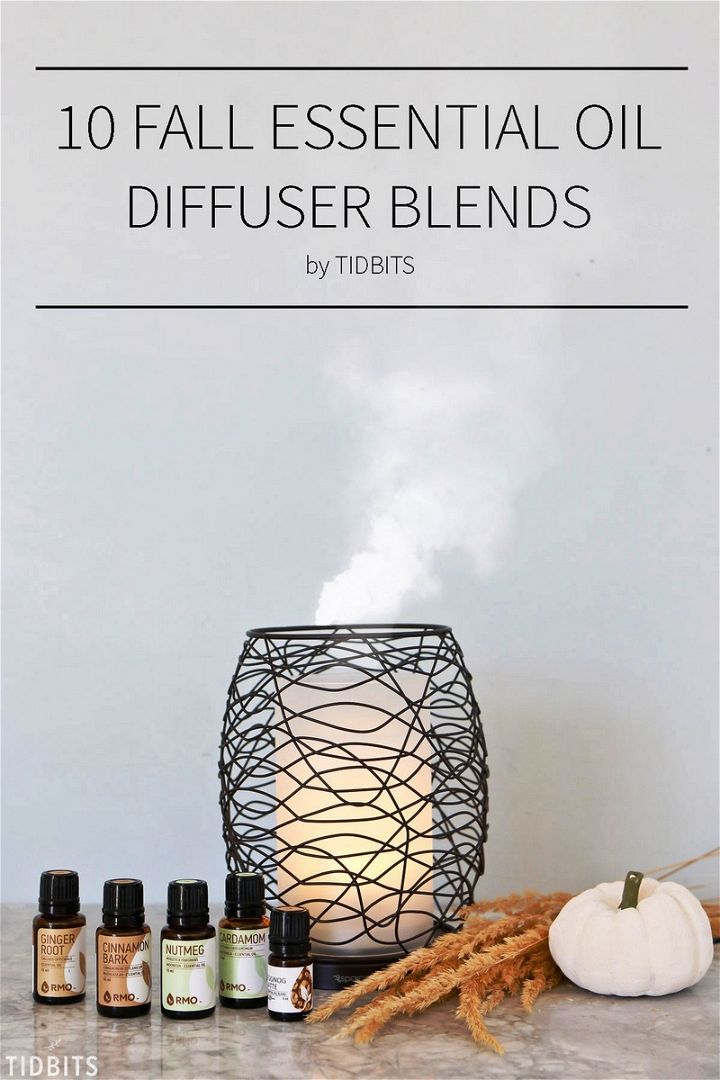 Fall is a season that must be celebrated and enjoyed in full spirit. This diy project is all about making everything more fun during the season. This project will teach you to make the most delightful essential oil blends of all time. Try this out and you will definitely be amazed by the results. Tutorial
Conclusion:
You will find not some traditional and some very modern diy fall projects over here that you can easily do and make your fall season more colorful and vibrant. While doing these projects you and your kids will together get a chance to enjoy and have fun o holidays so get started.