These 20 DIY Tin Can Ideas & Craft Tutorials will blow your mind at once. Useless and empty tin cans are found in almost every another household. If you also have those cans somewhere in your Kitchen, these ideas will definitely excite you. You do not have to spend much to do these projects in fact you only need to have some Creative and imaginative Skills in your head to get along with these. Get into the details of every individual project and see how everything is done.
As all of these diy tin can projects are using recycled materials therefore they are more appealing due to their contribution to the eco system in a positive way. Besides old tin cans you need a few more supplies here such as paint, jute rope and some other Decorative Stuff. Not only you as adults but kids will also love these amazing projects as they are engaging and interesting enough for them to invest their time on during the summer holidays that are coming up.
1. DIY Tin Can Organizers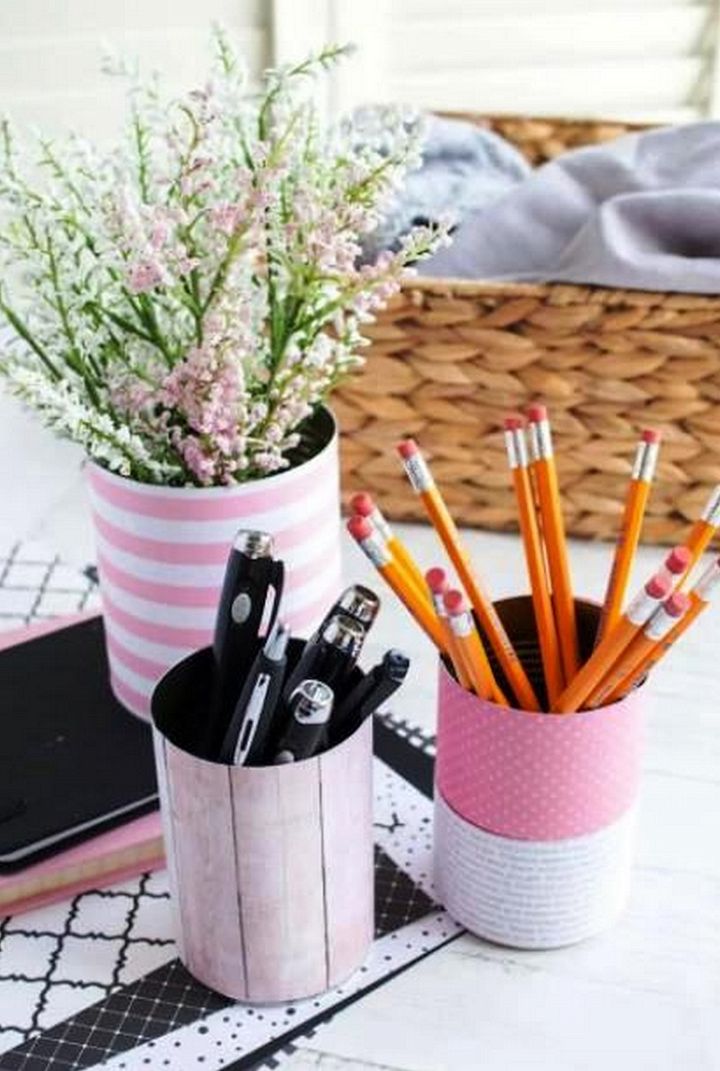 Don't new table and desk organizers always excites you? Because if they do, these diy desk organizers made with tin can ideas are here to make such people happy. These will keep your desk neat and tidy and off course organized. Besides tin cans in assorted sizes you will also need decorative scrap book paper, ruler, pencil, scissors or paper cutter, double sided tape and a metal file. Tutorial
2. DIY Tin Can Organizers – Tin Can Crafts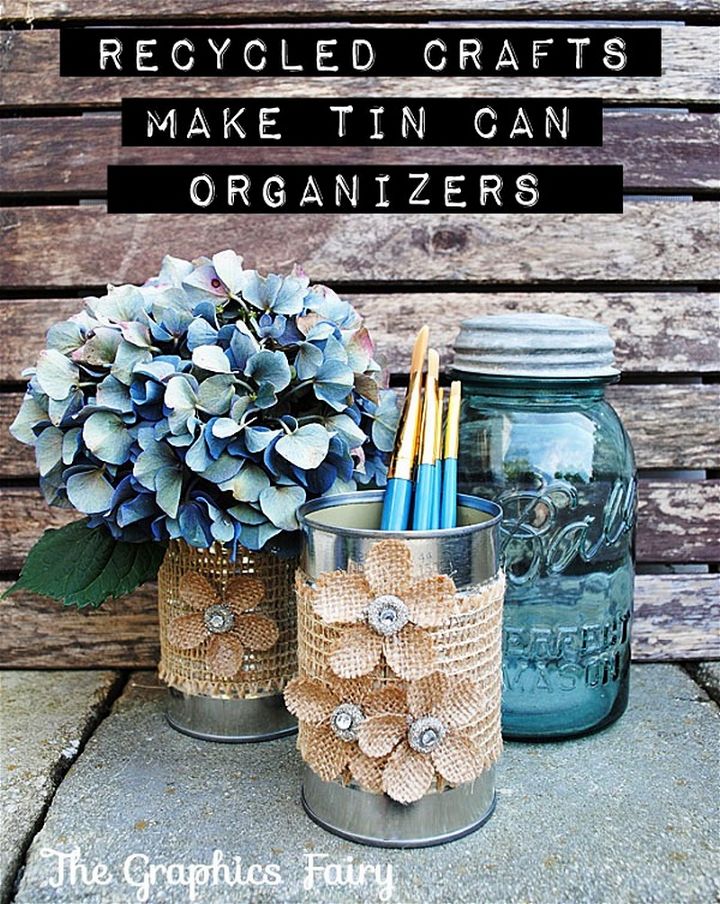 In this diy project you will learn to change tin cans into perfect organizer. Before using them organizers you must use all your creative skills and imaginations to make them look great in appearance. In this hack you will see that the cans are decorated with a burlap ribbon along with a few flowers on the sides and they all look great together. Tutorial
3. Mini Tin Can Drums Earth Day Craft
Have a look at these adorable mini tin can drums over here. In this project you can easily learn to make drums using mini tin cans and you can see that the end results are simply awesome. Besides small tin cans you need a few more supplies such as paint and paint brush, balloons, scissors, ribbons and craft glue. Tutorial
Pallet Garden Ideas – We've gathered 22 low-cost stunning and simple pallet garden ideas you can do at home with just a few materials. Pallet gardens are attractive enough that they can provide an additional space for growing within your outdoor area.
4. Easy and Inexpensive DIY Tin Can Decor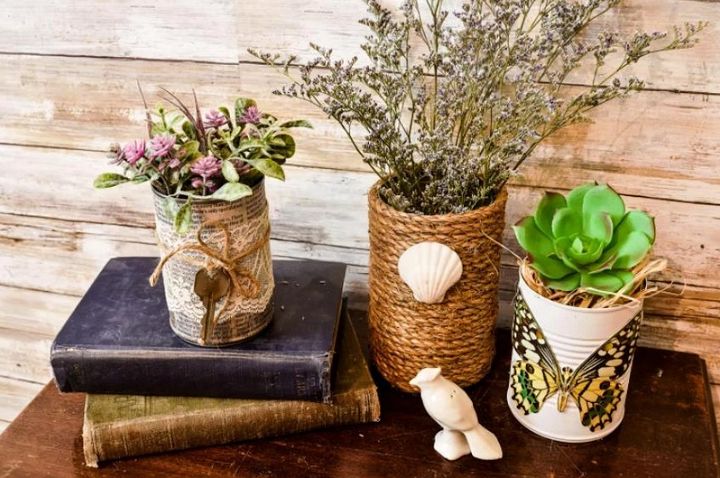 If you are also looking for an easy and inexpensive décor ideas, this diy project will be of great help. Here you will see some tin cans that are well decorated and made in a customized way. The items that you need here are newspaper, tin can, mod podge, scissors, paint brush, hot glue gun, lade ribbon, jute twine and old key. Tutorial
5. DIY Fall Tin Can Lantern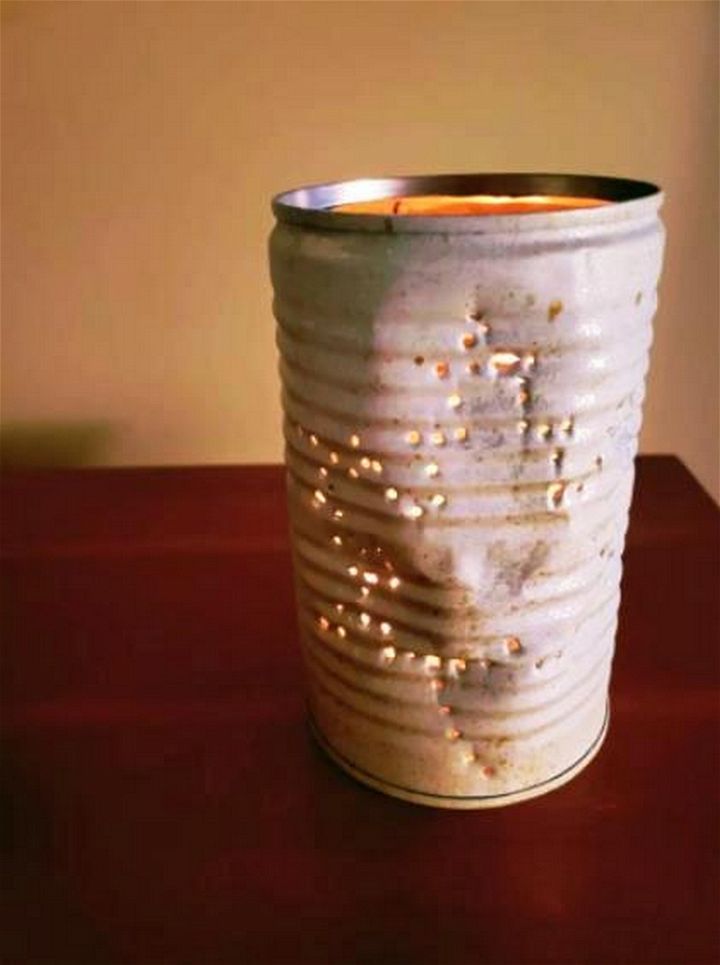 A lantern is something that most of us love and it's more exciting if we can create one all by ourselves. This diy tin can lantern is something that you would absolutely love and adore. You need to have a few supplies to make these lanterns and they are nail, tape, tin can, hammer, and spray paint and fall leaf clip art. Tutorial
6. How To Make A Recycled Tin Can Owl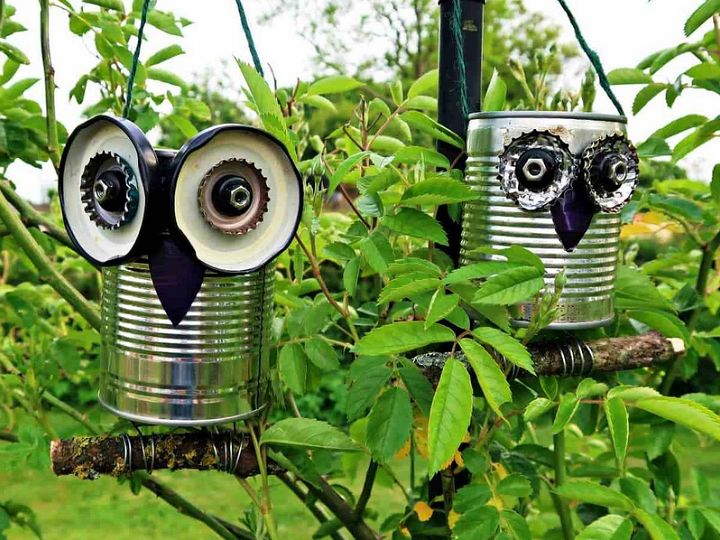 Empty tin cans are probably lying uselessly in every household but you must think twice before throwing them away. You can see some recycled tin can owls over here. to make this craft you need a few supplies such as empty tin cans with their labels removed , metal household scrap, wire, stick to make a perch, glue suitable for sticking material, gaffer tape and wire snip and scissors. Tutorial
7. Kids Craft – Recycled Tin Can Windsocks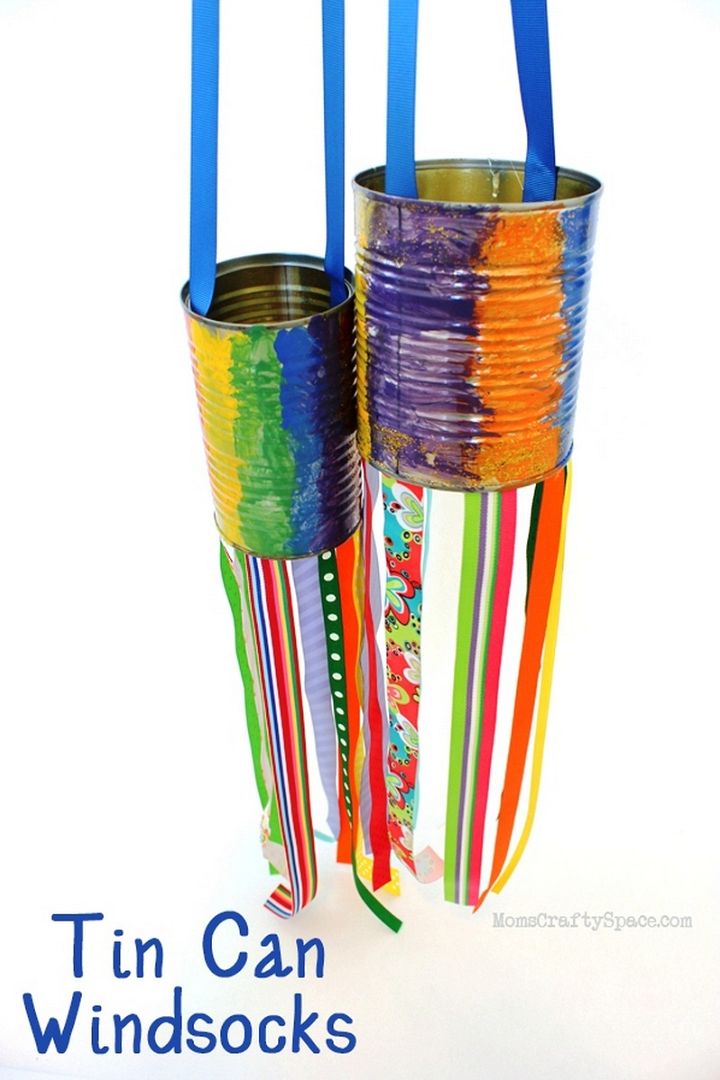 Have a look at this amazing recycling project done with tin cans. If you are also interested in making these wind socks with the help of this diy project over here then you must follow the instructions given here and grab the supplies that are needed. You need clean recycled can, acrylic paint, glue, assorted ribbons, some embellishments and masking tape. Tutorial
8. Colourful Tin Can Planters and Pallet Holder
To do this diy project with tin cans you will get a chance to play around colors. Here in this project we see some empty tin cans painted in beautiful colors and used as planters for your favorite herbs. You can collectively keep these little adorable platers inside of a pallet box like here you can see in this project over here. Tutorial
9. Tin Can Bat Craft For Kids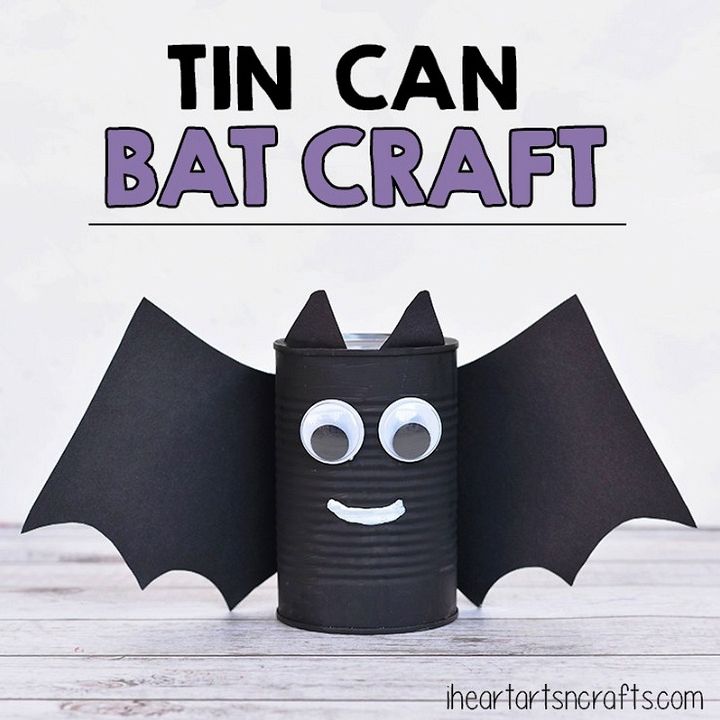 As we know that little kids like to enjoy activities where some cartoon characters, animals, and some other fun and interesting crafts are involved. This diy tin can craft is so amazing and will attract your kids as a bat is made out of an old tin can. You will primarily need black paint, and some black colored chart paper to make the wings of the bat. Besides this you will also need googly eyes for this craft. Tutorial
DIY Candle Ideas – The 30 candles in this collection can be given away, used for decorating the home or to create the perfect atmosphere for a romantic evening. Take a look at Candle Ideas!
10. Easy Tin Can Project that Upcycles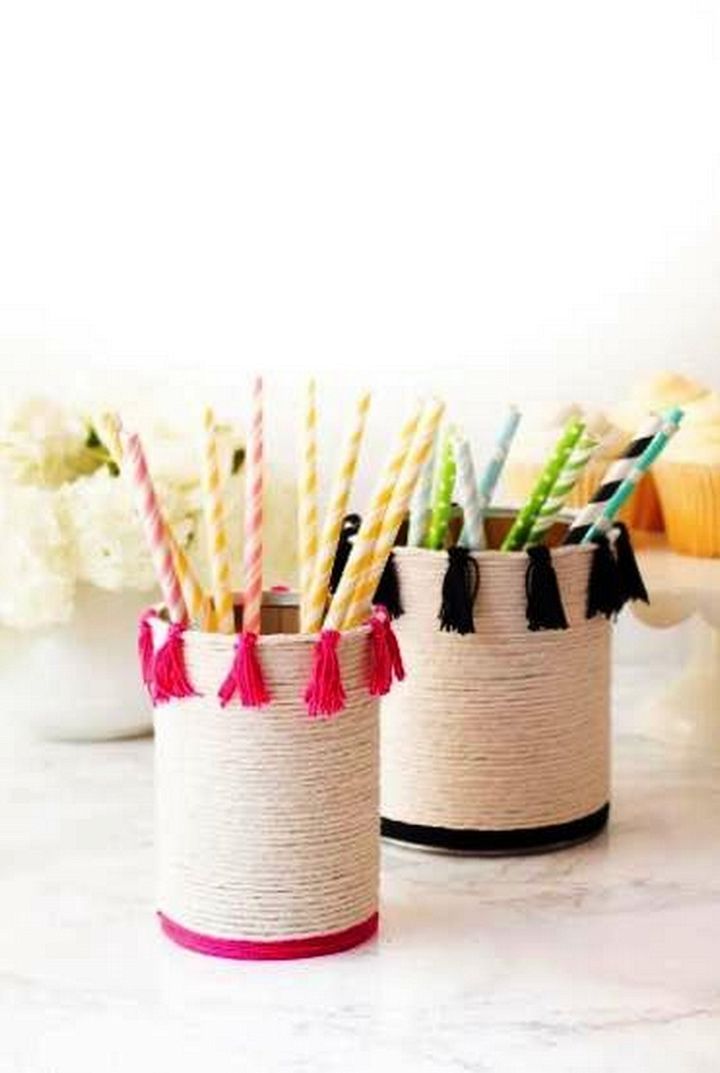 This seems to be the easiest recycling projects you have ever come across. Recycling is something that really gives inner satisfaction as it cuts the total cost of a project and also contributes positively to the eco system. All you need for this project are some old tin cans along with jute rope, and some colorful tassels like the ones you see here in this project. You can then use these decorated cans as organizers for your desks to keep stationary. Tutorial
11. Colorful Tin Can Owl Craft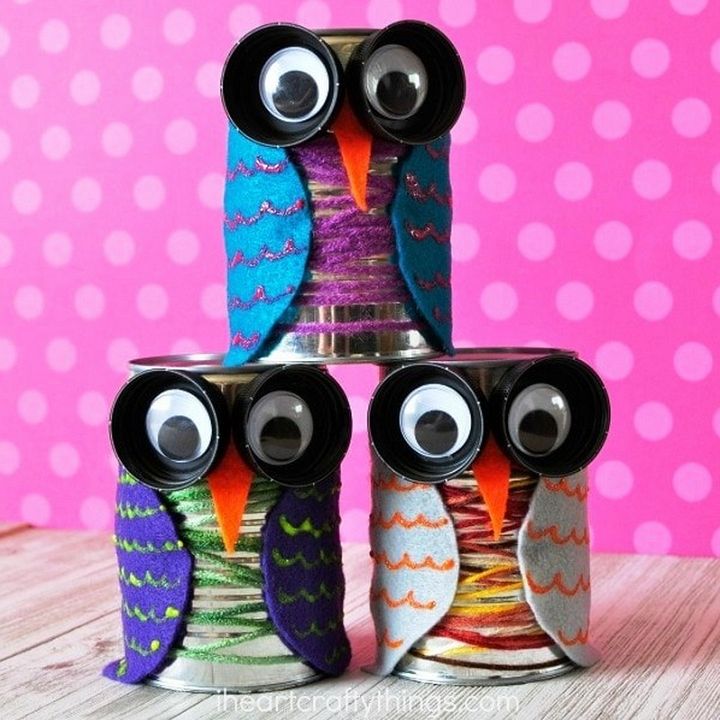 Have a look at these amazing tin can crafts over here. You can also try this activity during the summer holidays that are coming up soon. This diy project teaches us how empty and useless cans can be converted and transformed into something amazing like these owl crafts. The supplies that are involved here are felt sheets, googley eye, yarn string and some paint if you like. Tutorial
12. Simple & Pretty Homemade Wind Chimes Kids Can Make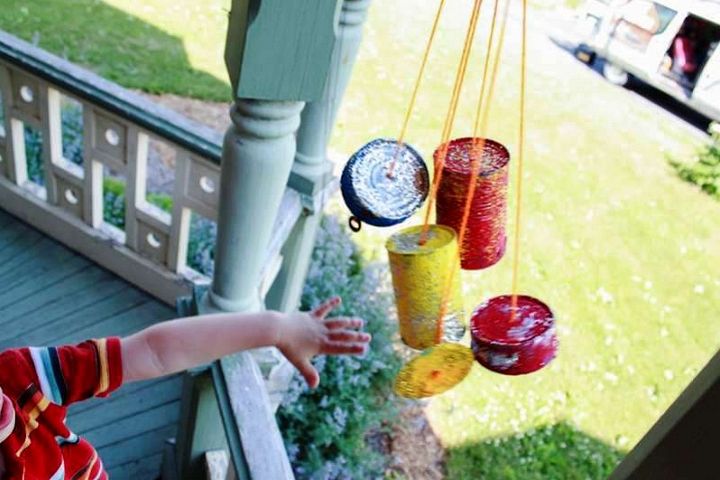 If you are also interested in making homemade wind chimes all by yourself, this project can be helpful for you. You can also engage your kids in the making of this cute and playful craft. Besides this you also have to have paint of your choice to make the tins more attractive instead of boring and simple Tutorial
13. Tin Can Upcycled Organizer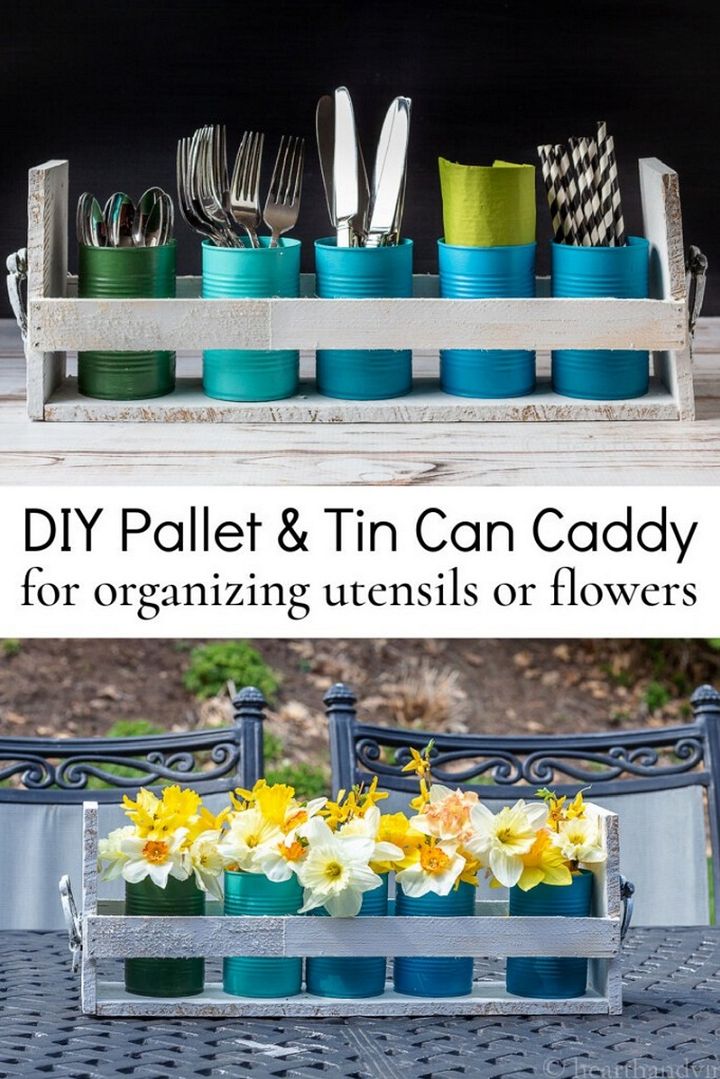 This upcycling project is exciting and amazing. In this project you will learn about making some pretty organizers using tin cans and they have surely turned out to be awesome. You can keep things of your choice in these little organizers such as utensils, stationary or anything else that you like. Besides this you can also make planters out of old tin cans Tutorial
14. DIY Colorful Tin Can Desk Organizer Craft Idea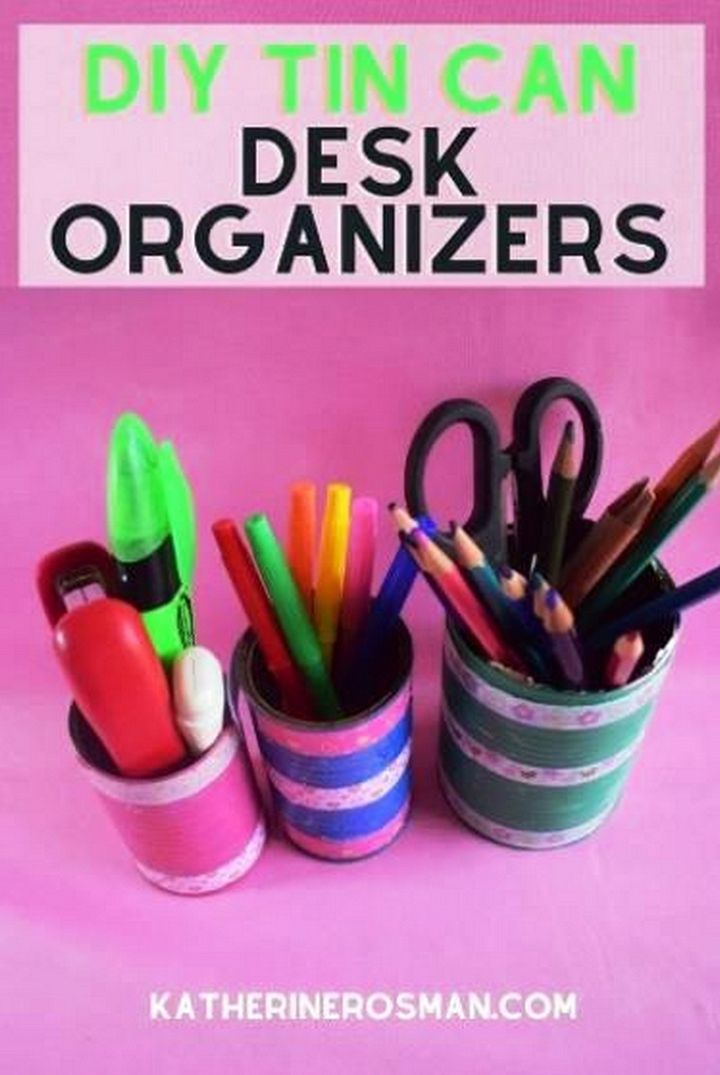 Desk organizers are something that keeps any desk neat and tidy and everything in its place. You can now make your desk organizers using empty tin cans like here you can see in this project. you first have to start off by decorating your tin cans either by paint, washi tape , ribbon etc. once you are done decorating your tin cans a little bit ,you can then keep things like stationary including pencils, scissors color pencils and everything you feel like. Tutorial
15. DIY Tin Can Wind Chimes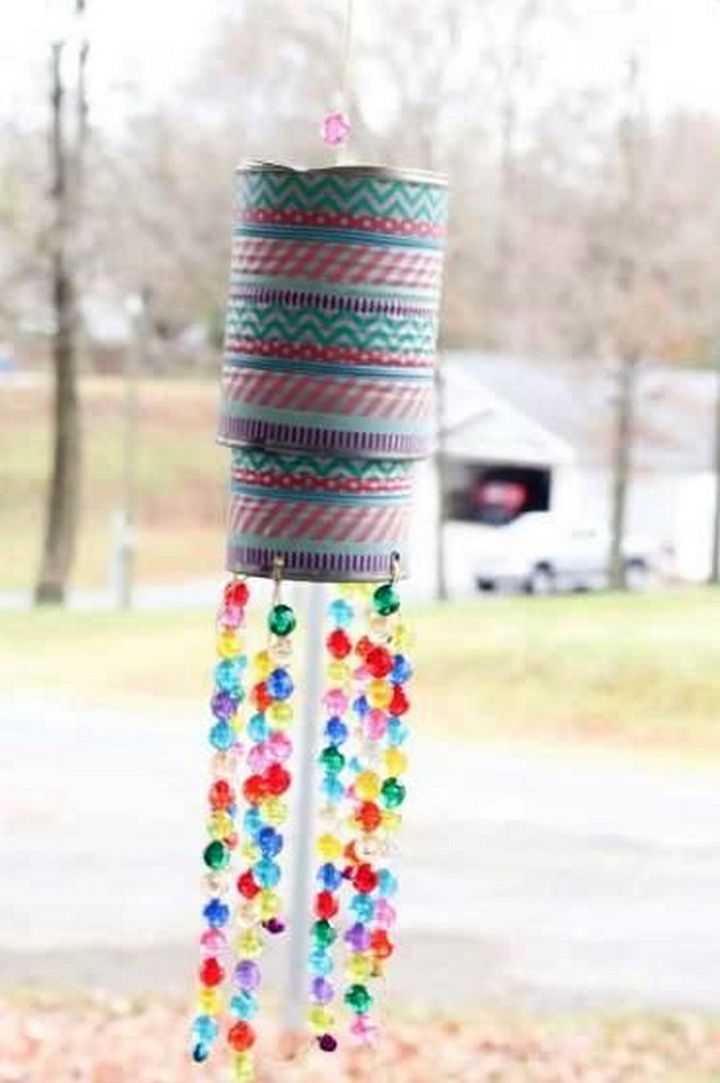 To make these wind chimes with tin cans you must first gather some crafts and accessories like beads, tassels and whatever you like. You have to drill holes with the help of drill at the bottom of the cans and insert some string of beads. You can cover your tin cans with either paint, colored paper, washi tape or anything that you feel like with the help of glue and hot glue gun. Tutorial
DIY Dream Catcher Ideas – If you believe in the spiritual advantages that dream catchers offer, one can deny that they look pretty! Dream catchers not only appear attractive and are beautiful, they're also easy to construct and come in a broad variety of designs, materials, and colors.
16. DIY Tin Can Flowers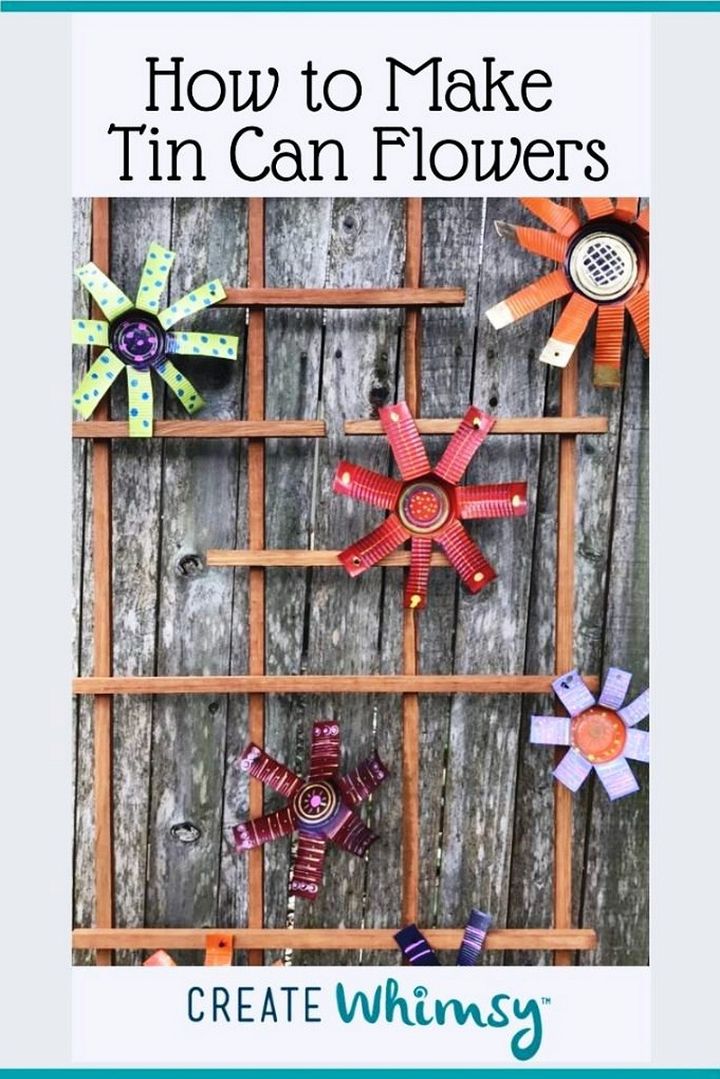 Besides keeping flowers in decorated tin cans, you can also make flowers out of these empty tin cans like here you can see in this project. For this project you need two materials and they are empty tin cans and acrylic paint. Whereas for the tools you need metal cutting shears, heavy gloves, box to contain spray paint and paint brushes. Tutorial
17. Easy DIY Desk Organizer Ideas With Tin Cans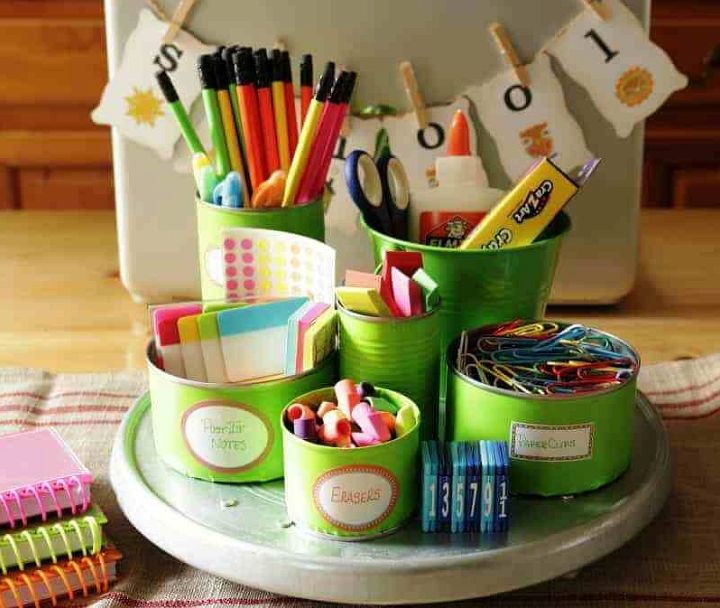 Desks look better when kept organized and neat. You can make many desk organizers using different tricks, tips and hacks however this might be the simplest one. here you will need some tin cans of assorted sizes and get started towards this amazing mission of organizing your desks in a better way. Tutorial
18. Painted Tin Can Planters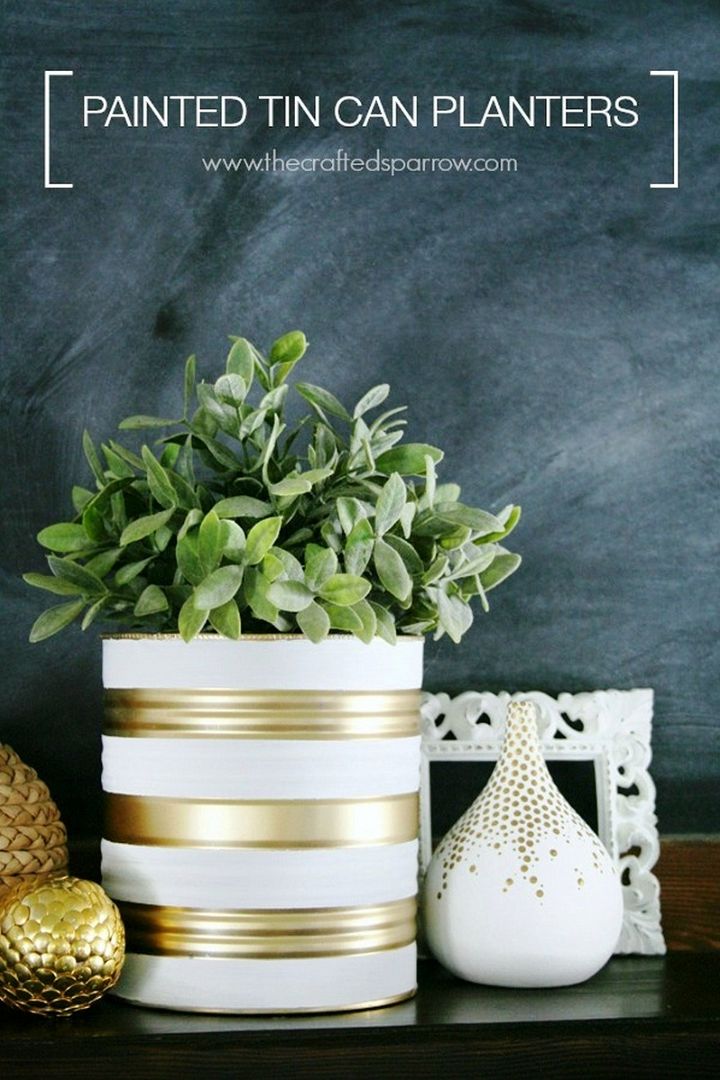 When you paint tin cans in a certain way with some elegant colors, they look absolutely stunning. Here in this project you will see how tin cans are converted into lovely looking planters which are perfect for decoration. For his recycling project you will need some tin cans, outdoor paint, foam brushes, painters tape and gold spray paint. Tutorial
DIY Playhouse Ideas – Learn to build an affordable playhouse using pallets. These 30 free pallet playhouse plans and suggestions that include simple instructions that will surely enhance your outdoor fun for your kids. They can improve the value of your property and can be complemented by adding slides, monkey bars and fun swings that will provide the endless enjoyment of children.
19. Upcycled Paper Covered Tin Cans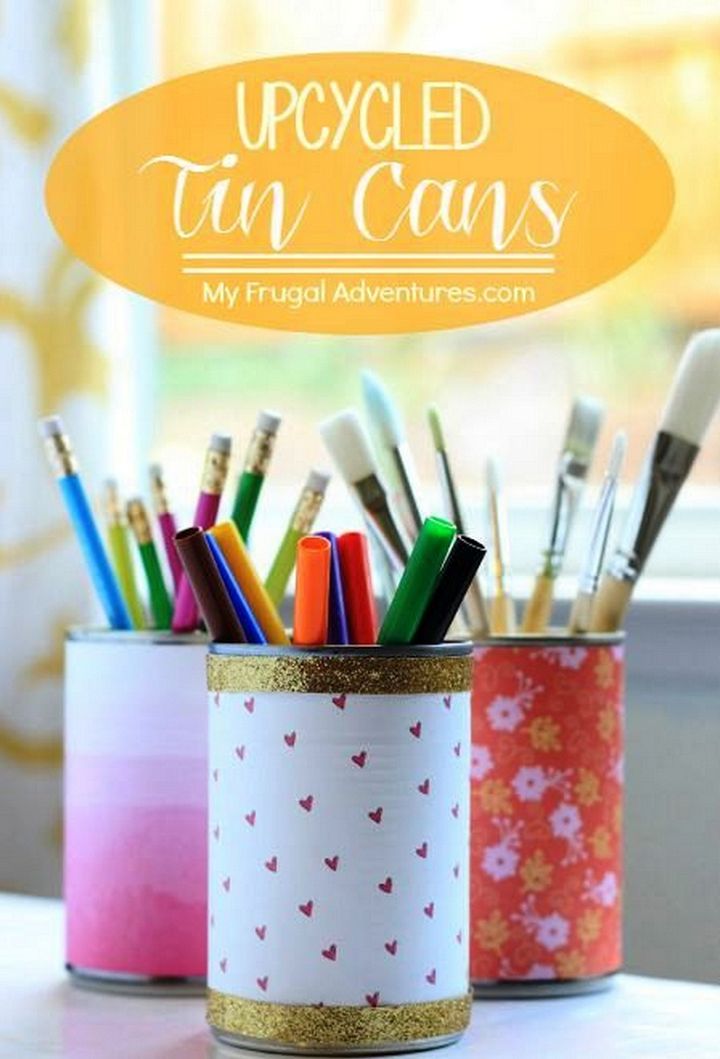 In this diy project you will see how simply some colored papers are used to cover the tin cans beautifully. This is a simple recycling project that you will absolutely love and adore. Try this out yourself to experience the fun and use those decorated tin cans to keep things like pencils, paint brushes and many other stationary items. To make these crafts you need supplies such as mod podge, scissors, tin can, scrap book paper and paint brush. Tutorial
20. Hand-Painted Tin Can Wedding Centerpieces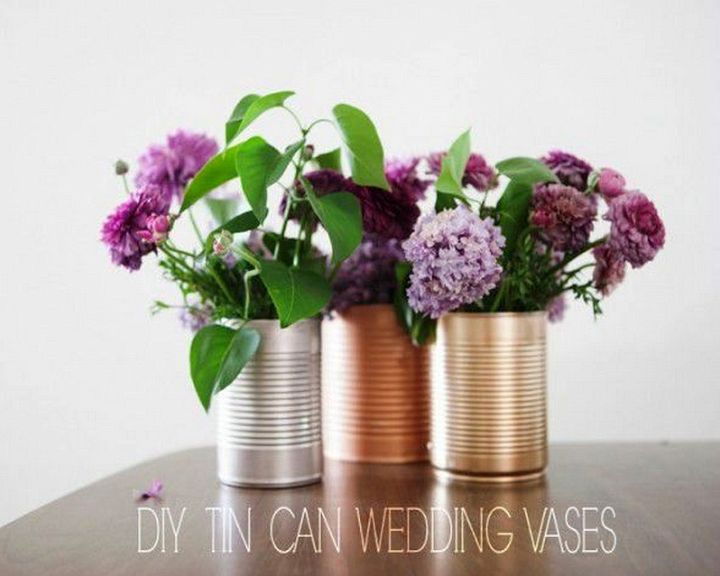 If you have a wedding in your family sometime soon, this centerpiece idea seems perfect. These centerpieces are made with old tin cans that are hand painted. You can put your favorite flowers to complete the look. Besides using these as wedding center pieces, you can also use these for decoration on some other occasions and festivals. Tutorial
Conclusion:
While making crafts with old and useless tin cans, you can play around different colors and materials to enjoy the process and make amazing stuff. Children of all ages will also love these exciting crafts and will surely learn to make new stuff out of old which is definitely a skill.