Kids learn better through interesting logic and Creative Activities. If you want to make them learn about anything in science, try these 30 Science Projects For Kids To Improve Mind Skills and see some surprising g changes in their behavior and level of understanding. They will enjoy themselves with you while having fun and will get a clearer picture of everything that they have studied theoretically.
Always make sure that you supervise your kids in these DIY science projects so that they may not harm themselves. The activities that we have here for the kids include different experiments, productive creativity, discoveries, some fun and exciting explosions using different easy-to-access materials, and much more. These science projects will not only teach the kids about chemistry science and physics but will also guide them about various theories that we have heard about but never experimented them in our lives practically.
1. Color Changing Chemistry Clock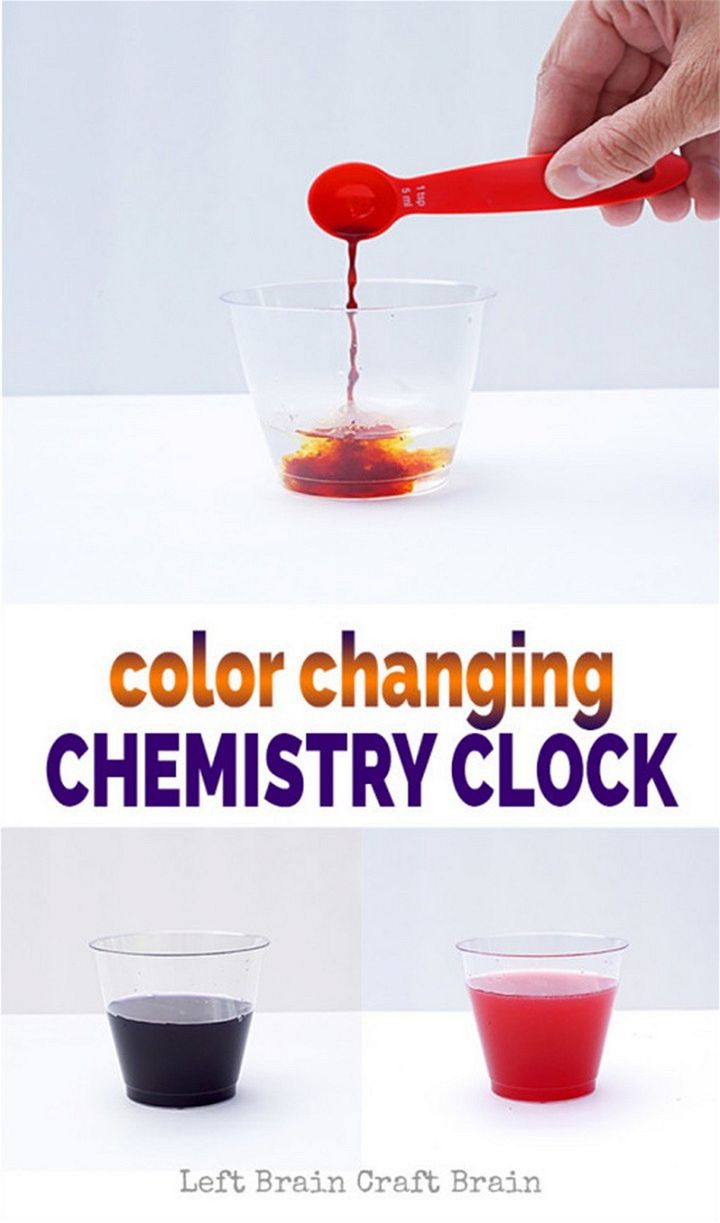 Kids get excited whenever the adults involve themselves in activities with them. This summer holiday you do not have to worry about engaging your kids in summer camps, instead, you can enjoy with them with some science projects. Therefore they can learn and have fun at the same time. This is a color-changing chemistry experiment that is super interesting. here!
2. Colorful Ice and Salt Experiment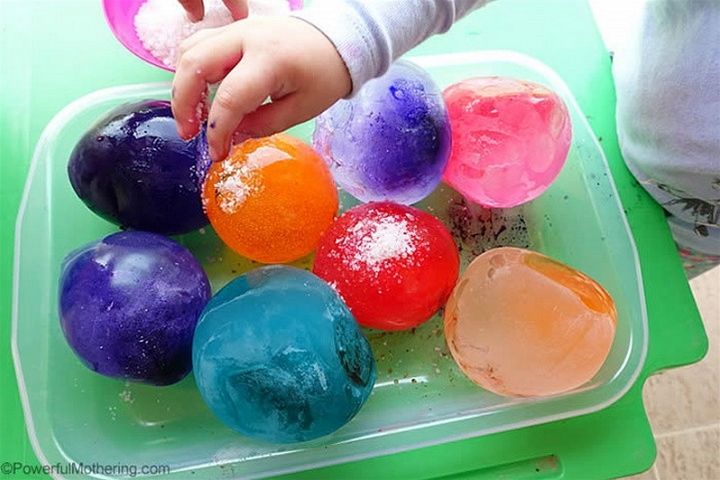 Have you ever done any experiments involving ice and salt? This one here will make your kids learn a whole new chemistry logic while having fun. Instead of using plane ice, make some colorful ice balls just to attract the kids and their attention as they love colors all around. Besides having fun make them understand the phenomena too. here!
3. Dancing Frankenworms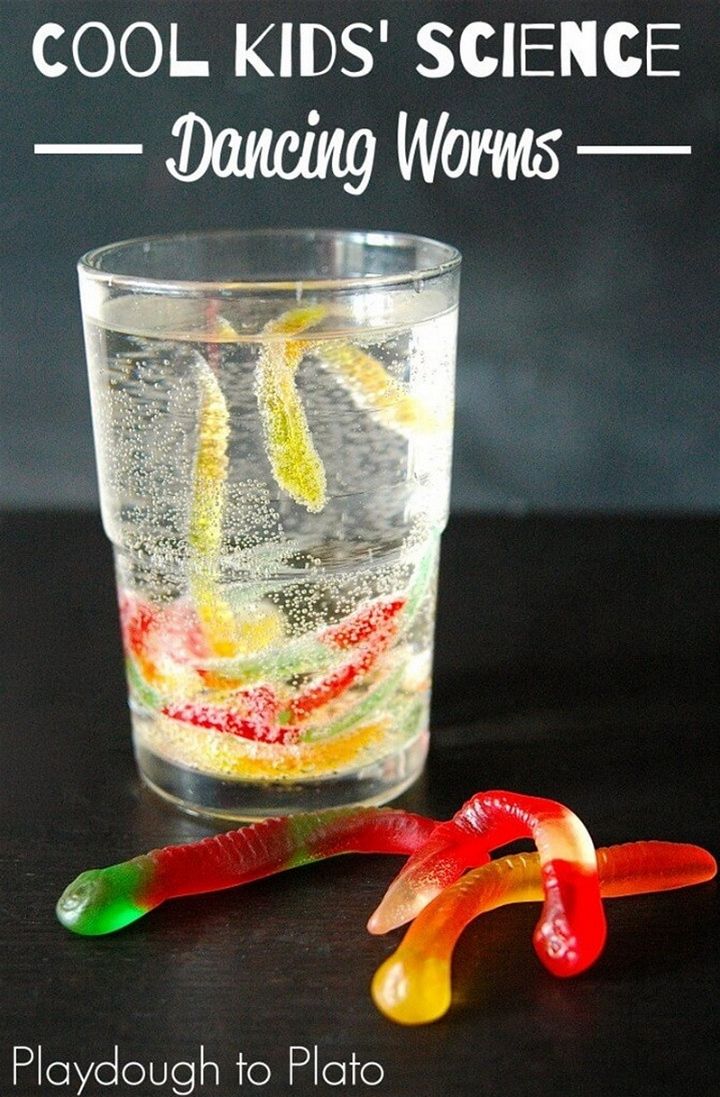 Some science projects and experiments involve candies and soda. Kids love to know how their favorite candies and fizzy drinks work together. try this experiment where gummy worms are dancing in baking soda and vinegar fizzy mixture. For this project, you will need gummy worms, baking soda, vinegar, a cutting board, a sharp knife, and two clear cups. here!
Spray Paint Ideas – These Useful Spray Paint Ideas are Very Common These days and can transform any object in a matter of minutes.
4. DIY iPhone Speaker To Learn About Sound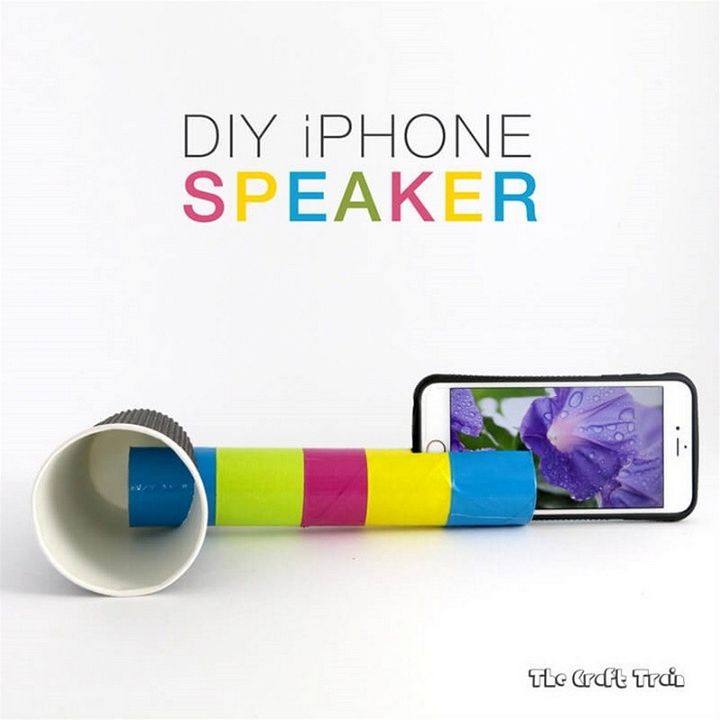 As we know kids these days are so involved with gadgets and the technical world. Kids by nature want to learn new things and understand new logic therefore they ask a hundred questions in a day. This is an iPhone speaker project that you can do with your kids to make them learn how sound works and how it is all connected to science and logic. here!
5. Elephant Toothpaste Experiment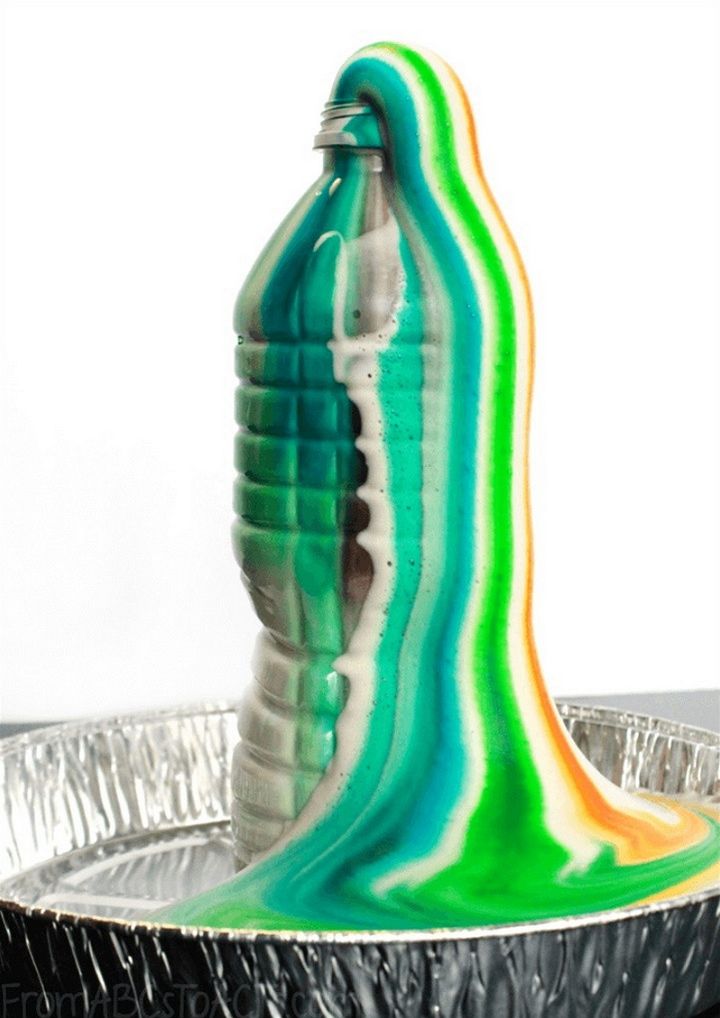 There are certain things that only science can explain. Let your kids have knowledge of how different things react to each other. This project involves a few ingredients that you already have at home and gives a foamy reaction when added together. Moreover, this project is safe for your kids if they try it themselves but it's better to always supervise them. here!
DIY Motorcycle Stand Ideas – We have the best DIY Motorcycle Stand Designs. These stands can extend the life of your motorcycle. and facilitate storage when not in use.
6. Exploding Paint Bombs Activity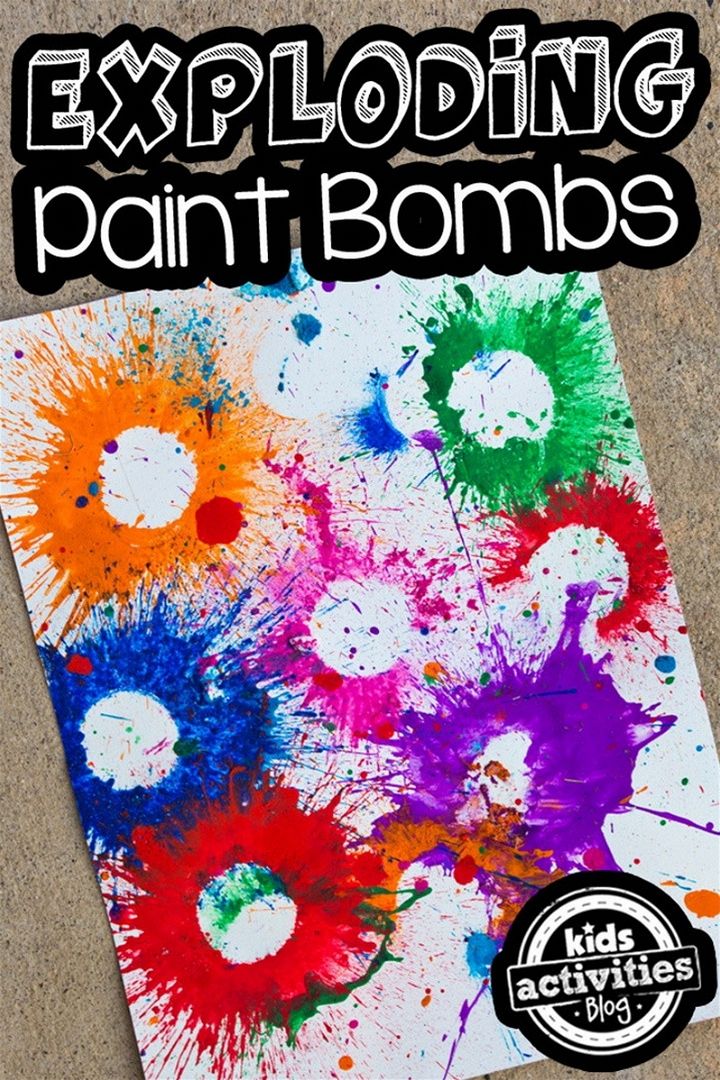 Paints are always kids' favorites and they love to play with different colors. This project is basically about exploring the paints and splashing colors all around with the help of some medicines from our home. However, we should keep in mind while doing this that it's an outdoor activity so better to be safe than sorry. here!
7. Exploring Sonography – Making Sun Prints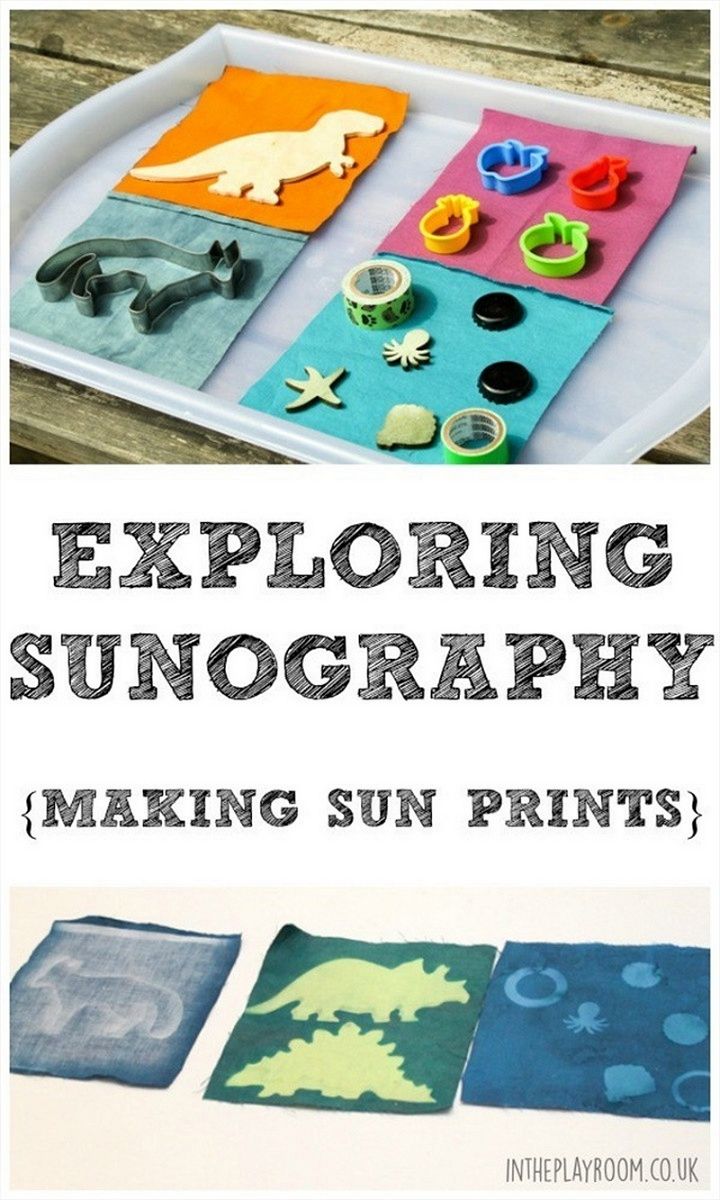 Summer holidays are a time when you must let your kids enjoy themselves to the fullest. Have a look at this sun print project idea that you and your kids must try. This is a perfect activity to do outdoors during the summer vacation that is just around the corner. Furthermore, with the experimentation process, your prints will improve as compared to previous ones. Try this out and enjoy. here!
Painted Flowers – Easy Painted Flowers in 30 Minutes These flowers add beauty and value to flowers. We can also paint flowers on objects for decoration and for our love of craft and art.
8. Five Minute Craft – Magnet Painting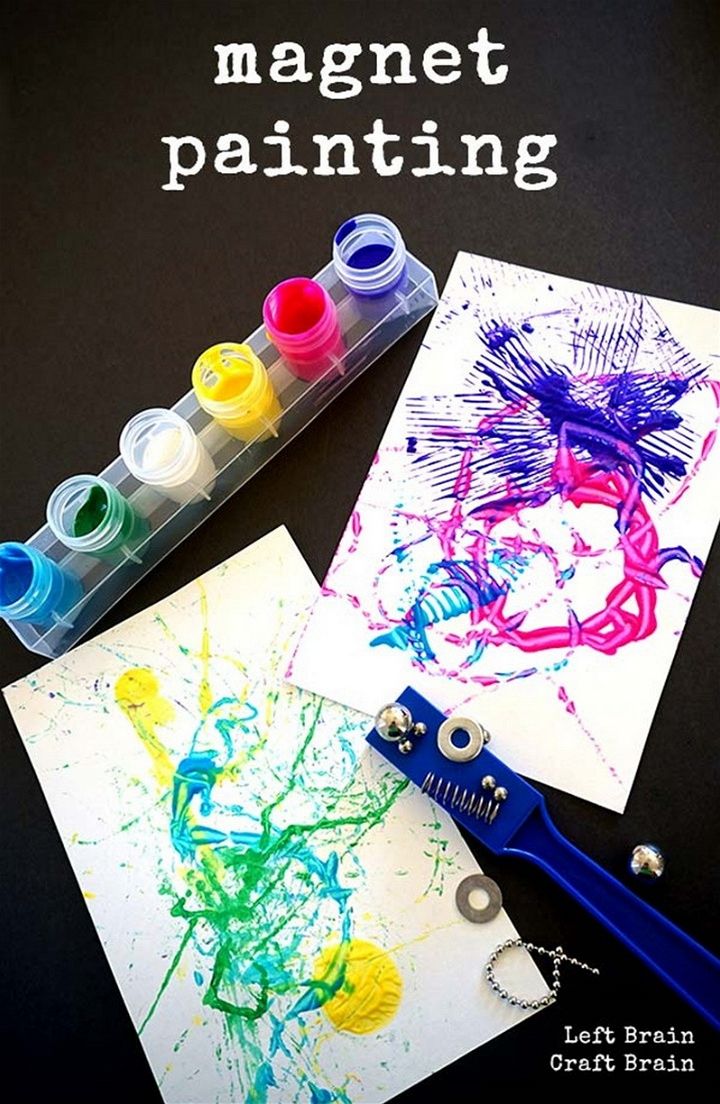 Not all the activities are time-consuming and long enough that they get difficult and boring. Instead, some are five-minute crafts and your kids will enjoy them the most. Similarly, this project is also a five-minute craft project that you see here that involves magnets and paints. Let your kids play with colors with complete freedom and no restrictions here!
9. Fizzy Cloud Dough Experiment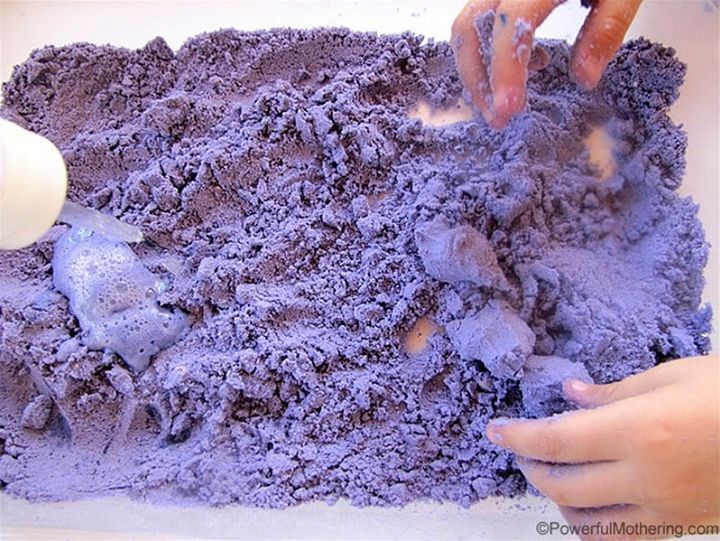 Children love to play with dough, clay slime, kinetic sand, and things of this sort. Keeping in mind the choices of our kids, this project is formulated. This dough molds and breaks apart like magic and seeing that is so satisfying. This fizzy cloud dough experiment will blow your mind and the kids are going to love this a lot. here!
10. Glowing Magic Milk Experiment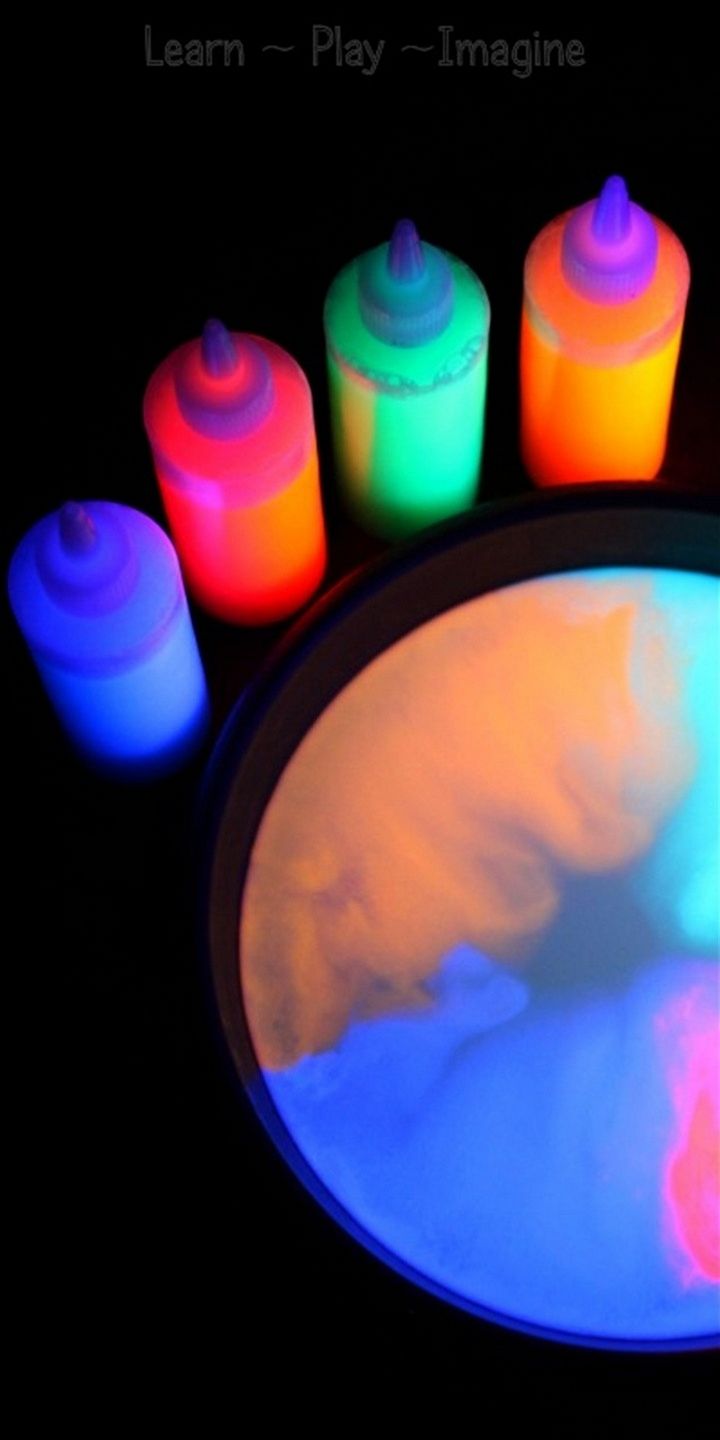 Among all the science experiments, glowing science is one of the kids' most favorite. Since this experiment works like magic hence it attracts the kids a lot along with some joyful adults. Here you will find a complete recipe to make this magical science experiment which is both fun and interesting. here!
11. Growing Gummy Bear Science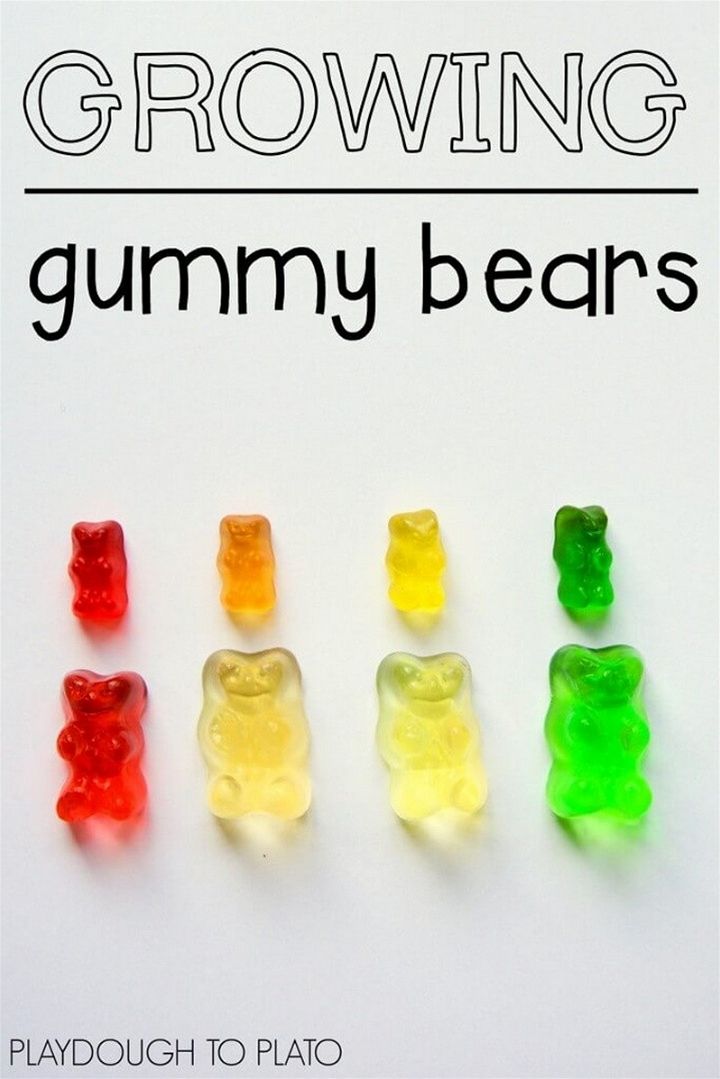 Kids like to understand everything that has some crystal clear knowledge behind it. Therefore they ask so many questions regarding everything. This is a growing gummy bear experiment that you see here. Make your kids learn while having a lot of fun so that learning doesn't seem to be a burden to them here!
DIY Monster Craft Ideas – Here Best DIY Monster Crafts for Kids. These can be done with children. These projects are great for toddlers, preschoolers, kindergarteners, and older children.
12. Homemade Bouncing Bubbles Recipe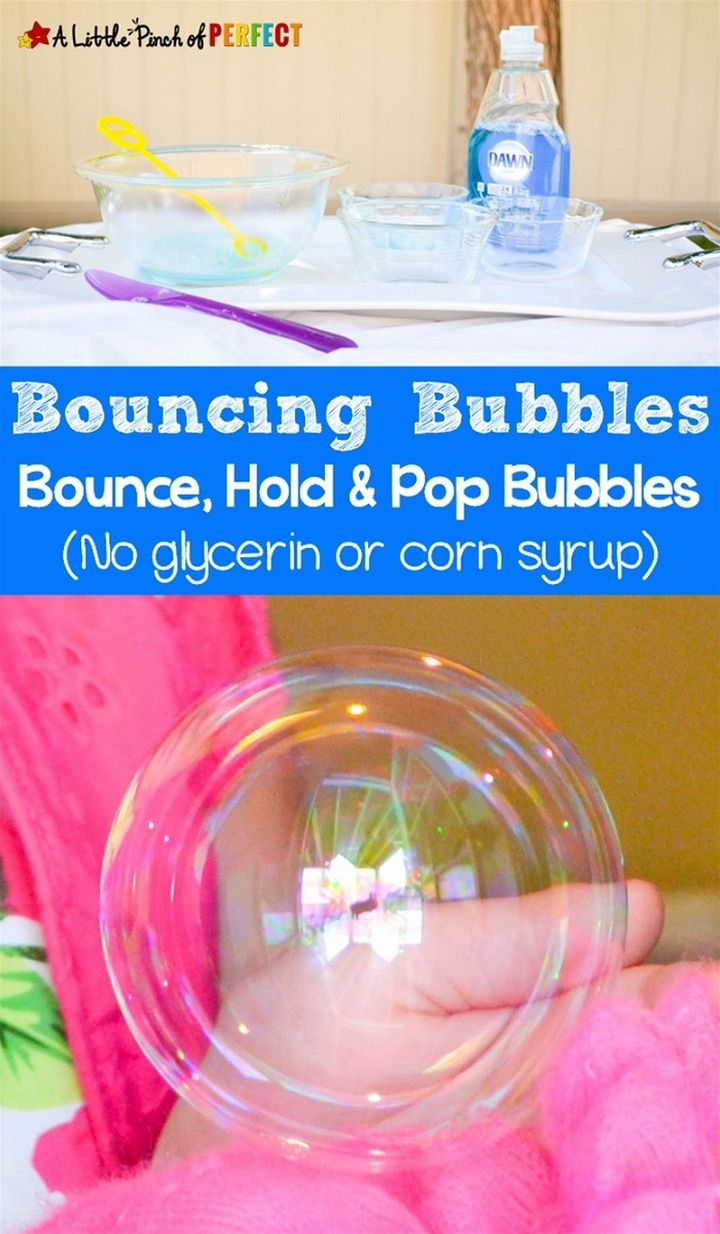 Have a look at this bouncing bubbles science experiment. Since kids are very intelligent these days so they learn everything that can be proved by a practical experiment. Check out this homemade bouncing bubble recipe that we have here and fill the little hearts of your kids with happiness. here!
13. Homemade Pan Flutes For Kids With Free Printable Recording Sheet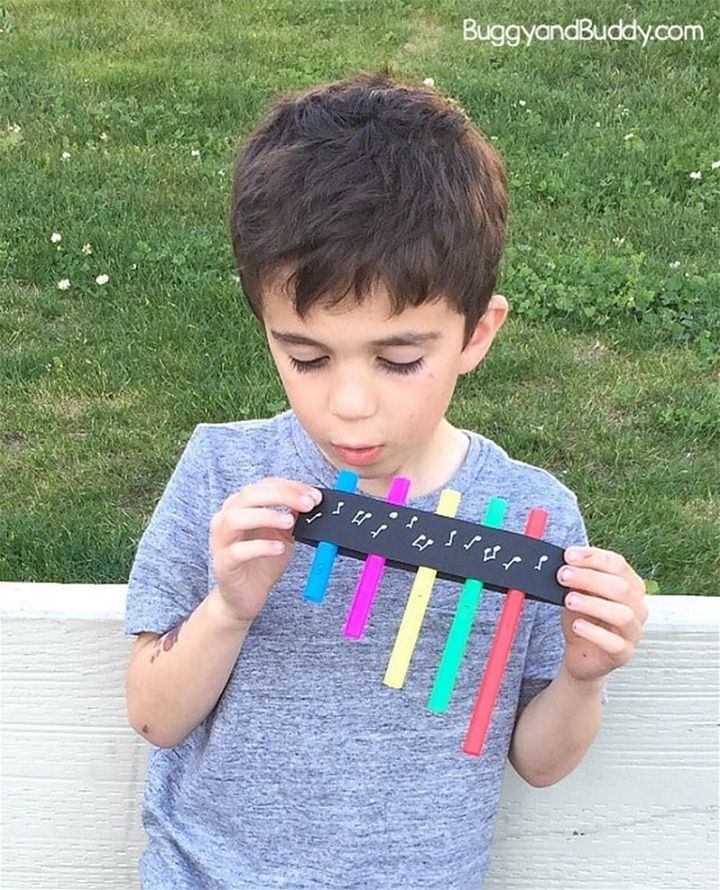 This is a unique kind of experiment or activity you can say. Make your kids learn how to play flute with this free printable recording sheet. This is a fun musical craft and science altogether in the same project. Once you and your kids are done making straw pan flutes you can now explore sound and make music. here!
DIY Rocket Stove Plans – DIY Rocket Stove Plans for making a rocket stove is incredible and well worth the effort.
14. How Are Germs Spread – Demonstrating The Importance Of Hand Washing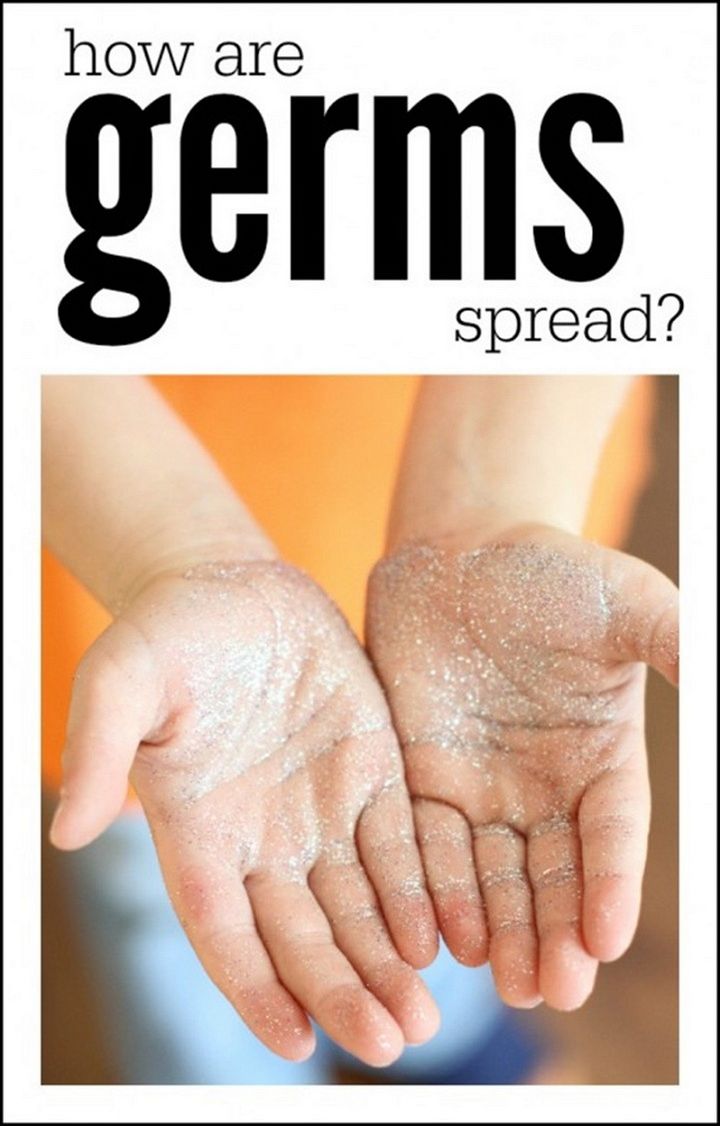 This is by far the most useful and necessary experiment to be done by you and your kids together. This project will help you explain the importance of handwashing which is vital these days. In this project, you can demonstrate to your kids how germs are spread. You can do this experiment involving some glitter and hand sanitizer. Gather your supplies and teach your kids the most important rule of today's times which is hand washing. here!
15. How To Get The Best Baking Soda And Vinegar Reaction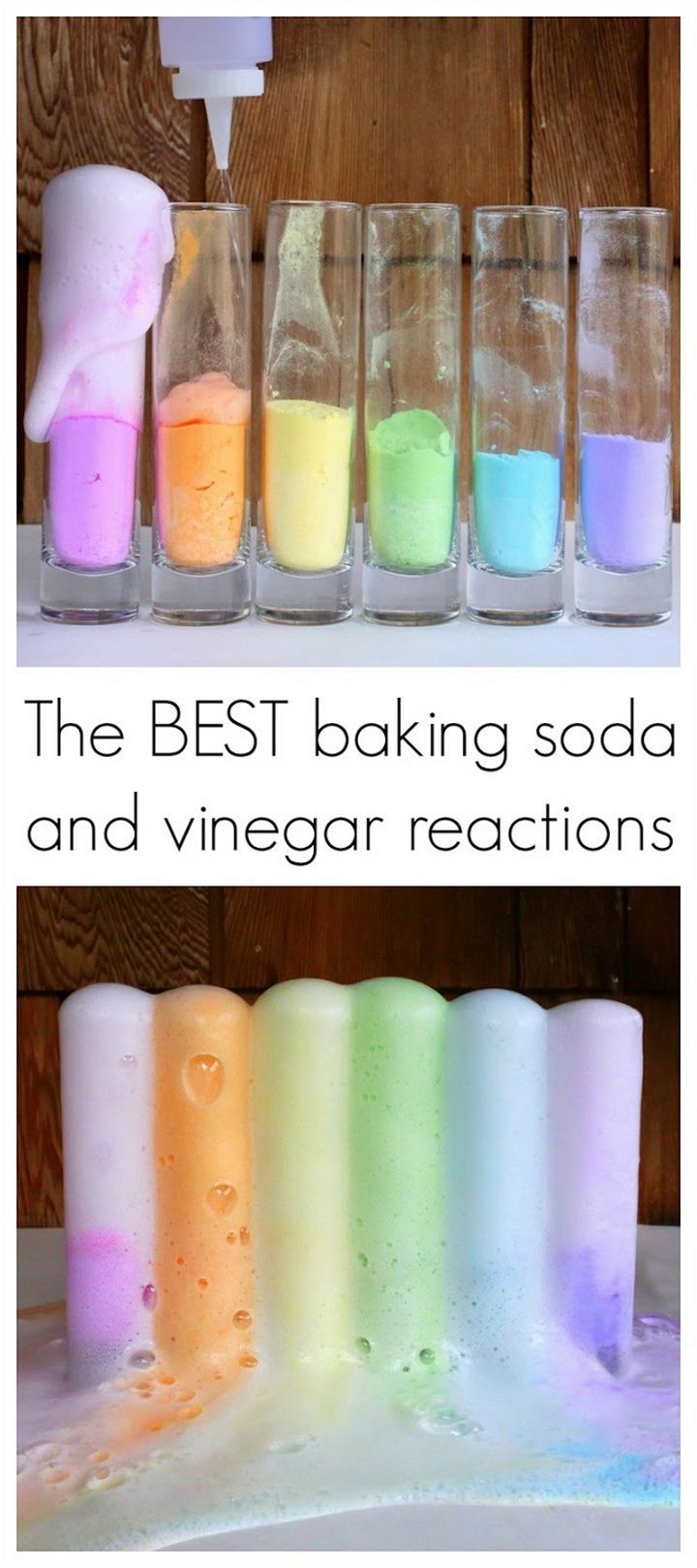 This experiment is all about the magical reaction using baking soda and vinegar. Similarly, baking soda and liquid soap also end up making foam like this. You can definitely engage your kids in this activity, however, it is vital to supervise and guide them throughout the project and make them learn through this fun experiment. here!
Lush Copycat Recipes – You will find amazing and original Lush Copycat Recipes – How to Make Lush Dupes here.
16. How to Make a Magnetic Field Sensory Bottle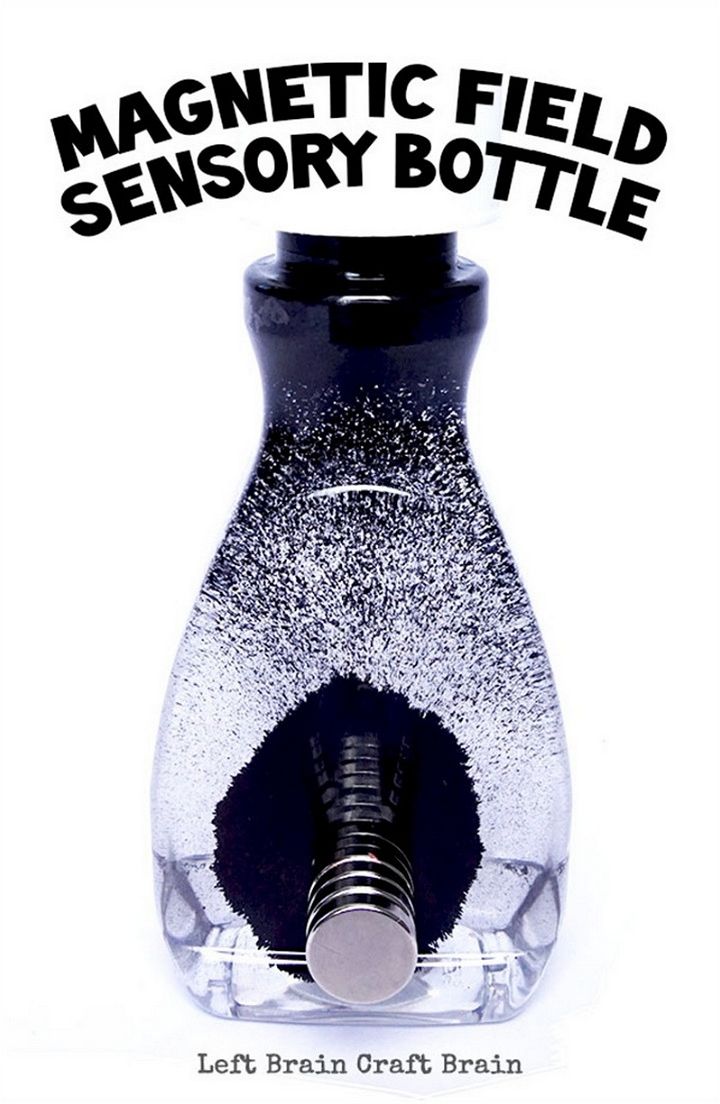 When it comes to science, it's always important to make the kids learn about magnetic fields. Kids usually find this science topic boring, therefore to make this exciting and interesting we have come up with this bottle magnetic field sensory project idea. This is not a very time-consuming project however you must have to invest a little bit of dedicated time to make it happen smoothly. here!
17. Indoor Soil Science & Engineering Challenges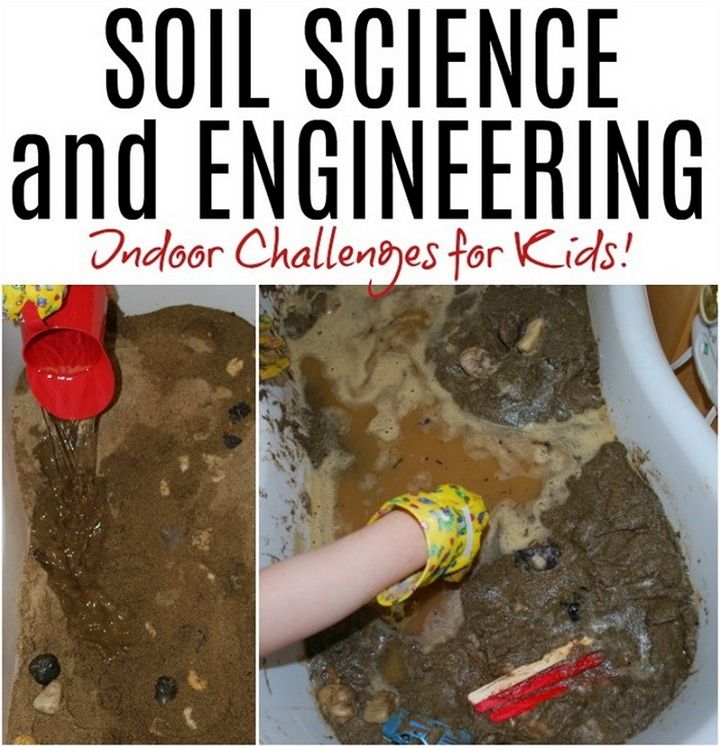 Playing with soil and learning the science along with it seems to be the perfect idea for kids this summer. We know this is all about dirt and mess but during the winter days when the kids are unable to do activities outside it's good to bring some fun and educational activities inside. Try this out with the kids and see them happier than ever. here!
18. Make A Giant Crystal Rainbow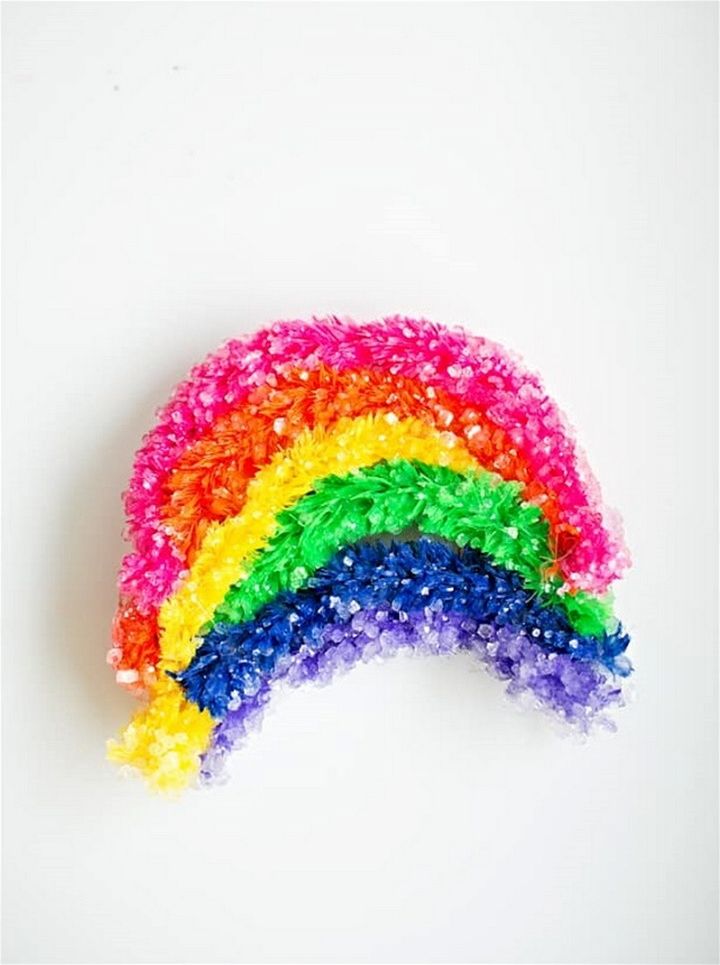 Have a look at this amazing project where borax is used to make crystals. For this super fun project, you are going to need borax, hot water, giant pipe cleaners, clear plastic thin string, a pencil or chopstick, and a large container to submerge the rainbow here!
DIY Side Table – These Decent DIY Table Plans for your Home will help you to create your DIY SideTables.
19. Mess-Free Magnetic Learning Center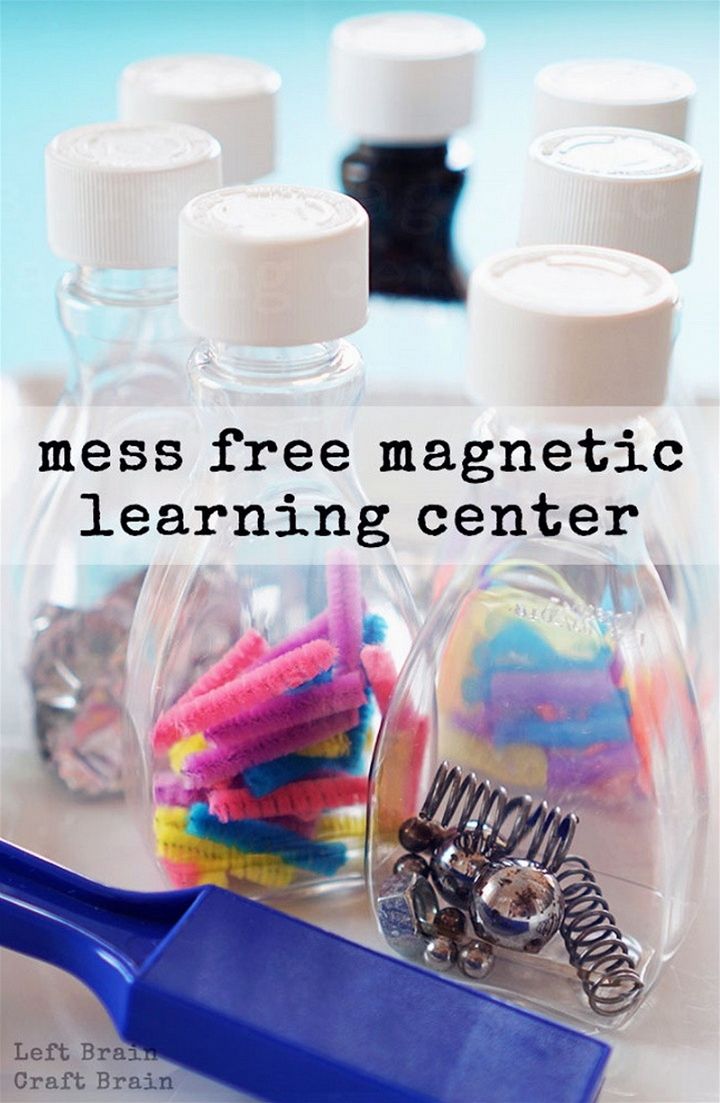 This project will definitely attract some adults who want their kids to learn the magnetic field without any mess. Therefore this project is named a mess-free magnetic center for kids. Engage your kids in this fun and productive activity this summer so that they can have the knowledge of how magnets work and with different materials. here!
20. Peeps Playdough And Heart Engineering Challenge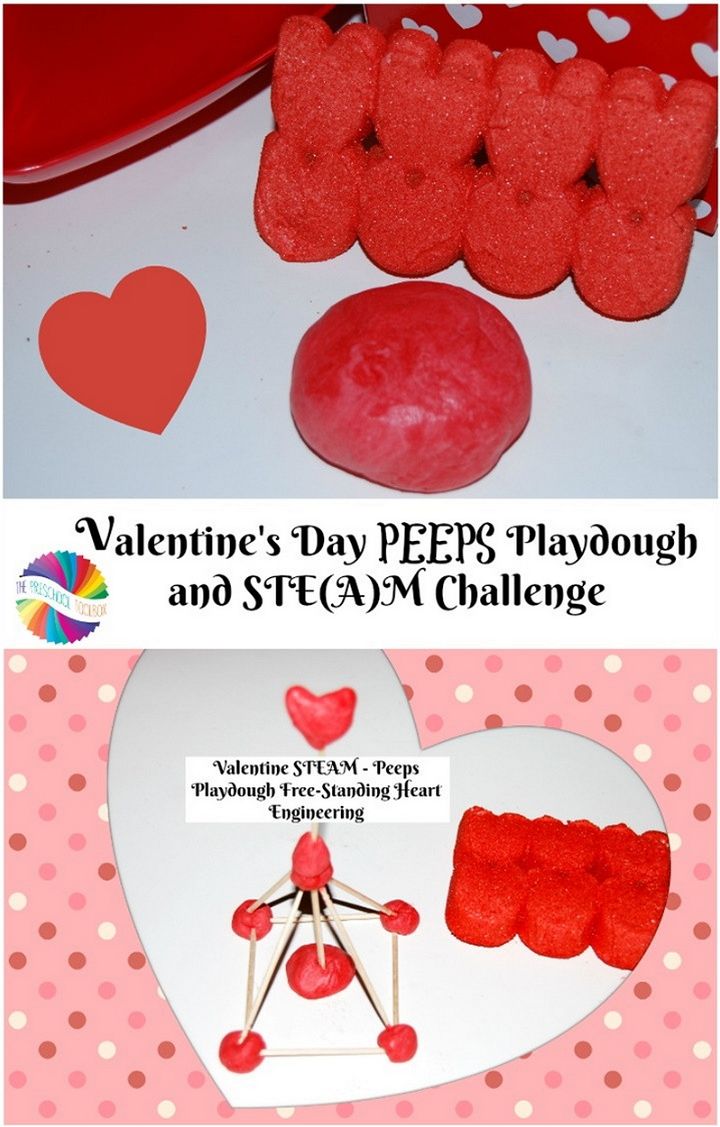 Kids these days like to learn things and logic that have a fantasizing element to them. This project is surely one of those which will give that feeling of fantasy to your kids and they will easily learn along with it. Try this peep's play dough and standing heart challenge with your kids this weekend. here!
21. Polka Dot Slime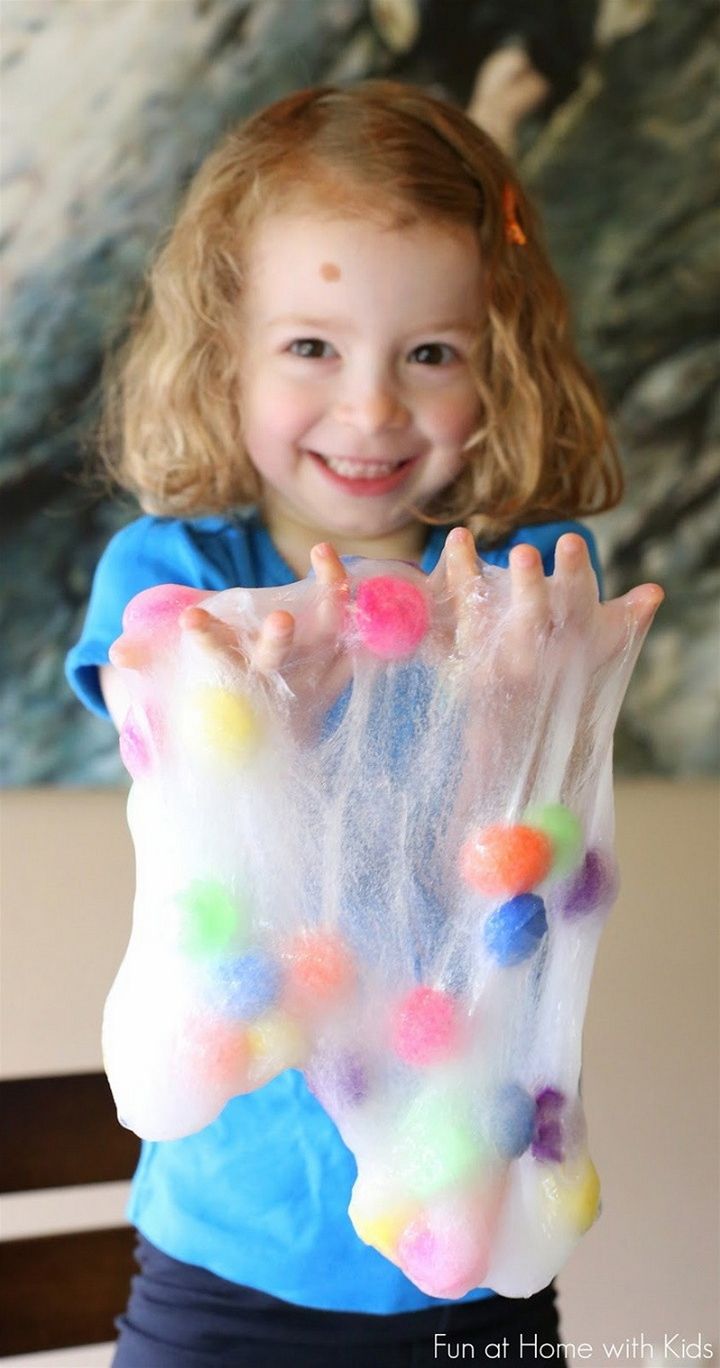 There are more than hundreds of slime recipes that most of us make these days. However, some slimes are easier to imagine but hard to actually create. Polka dot slimes have been tried by many people but most of them haven't succeeded in that. This is by far the perfect polka-dot09 slime recipe. This slime is made with clear school glue, liquid starch, and pom pom. Try this out with your adult kids who you know will not be taking this to their tummies. here!
DIY Faux Snowballs: When I was a kid, my mom always used to make handmade fake snowballs. It's pretty cunning so that's where I get it lol! I love this fake snowball project because there are so many different ways to decorate with it!
22. Portable Kids' Water Walls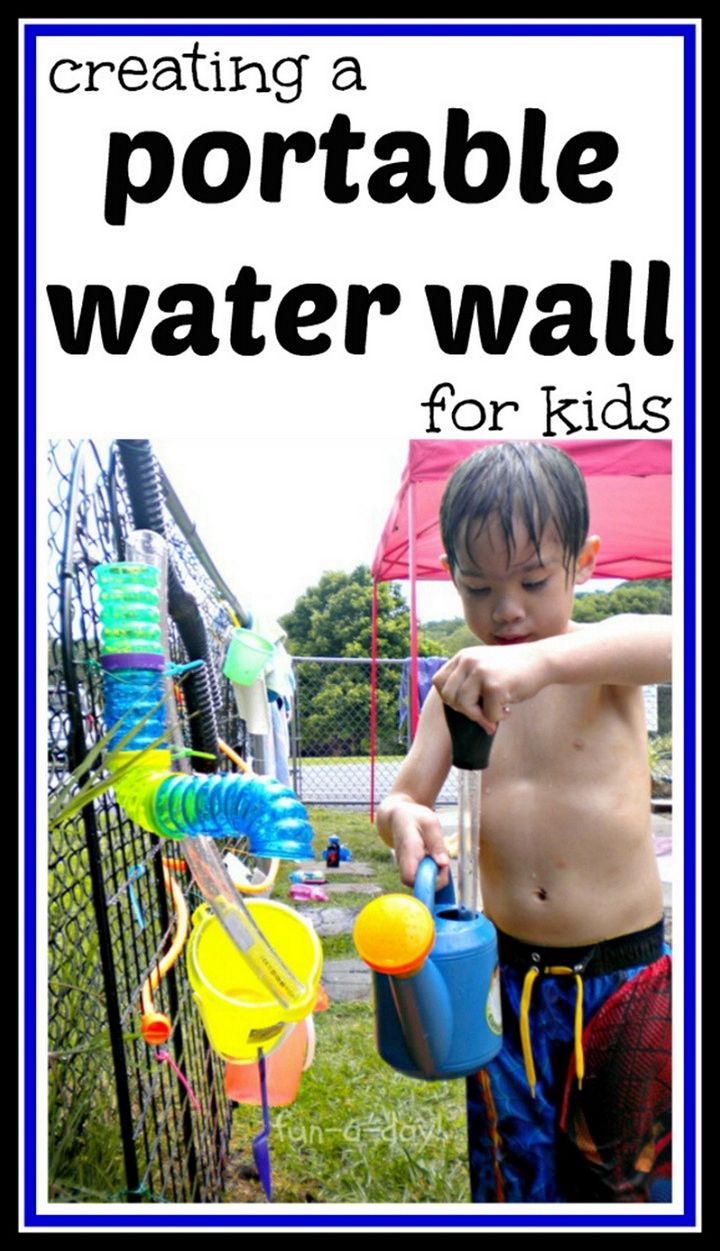 During summer kids like to have a fun time with lots of water around. Not every one of us can afford to daily take our kids to waterparks or send them swimming. However, this portable water wall idea will blow your mind and let your kids enjoy this summer season to the fullest here!
DIY Bird Feeder – These DIY Bird Feeder plans for Make A Good Day will allow you to feed wild birds.
23. PVC Pipe Physics For Kids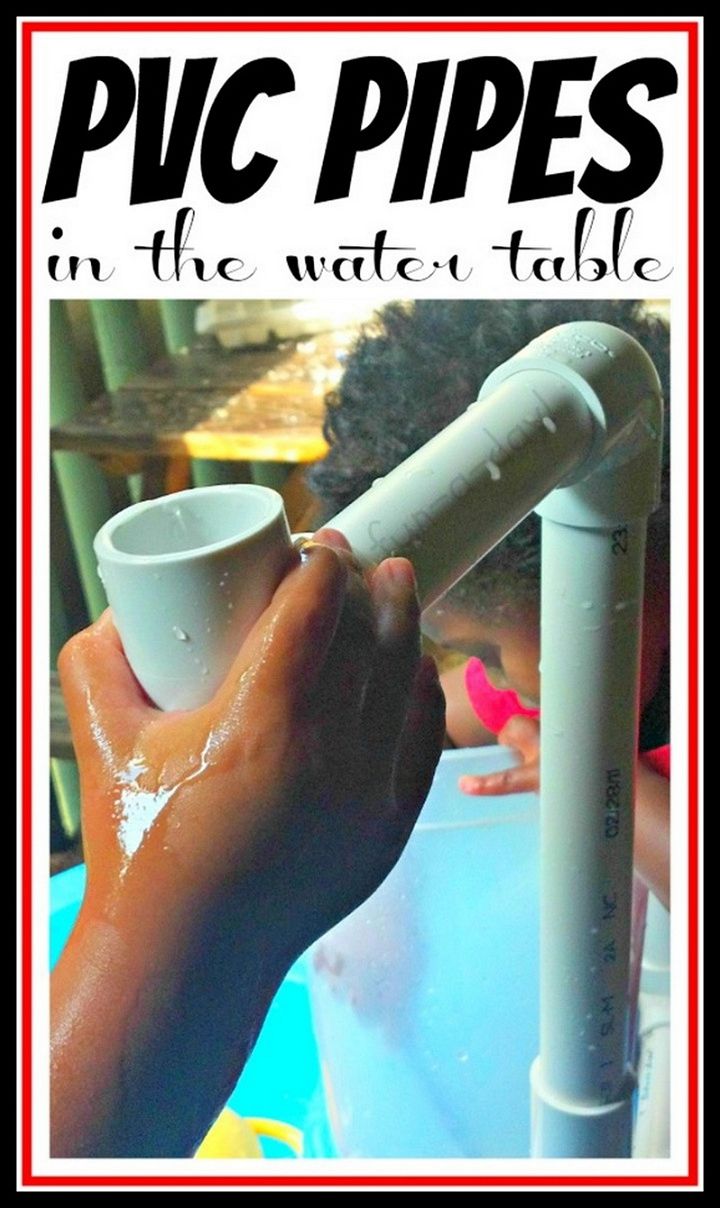 In this project, you will observe how kids can be so imaginative and productive when they are left alone. This project is meant to be done by your kids alone in order to explore the science with help of PVC pipes. While doing this project they will learn much about the physics of these pipes. You will surely be happy to see their happy faces while learning something through fun. here!
24. Rainbow Science For Kids – Homemade Spectroscope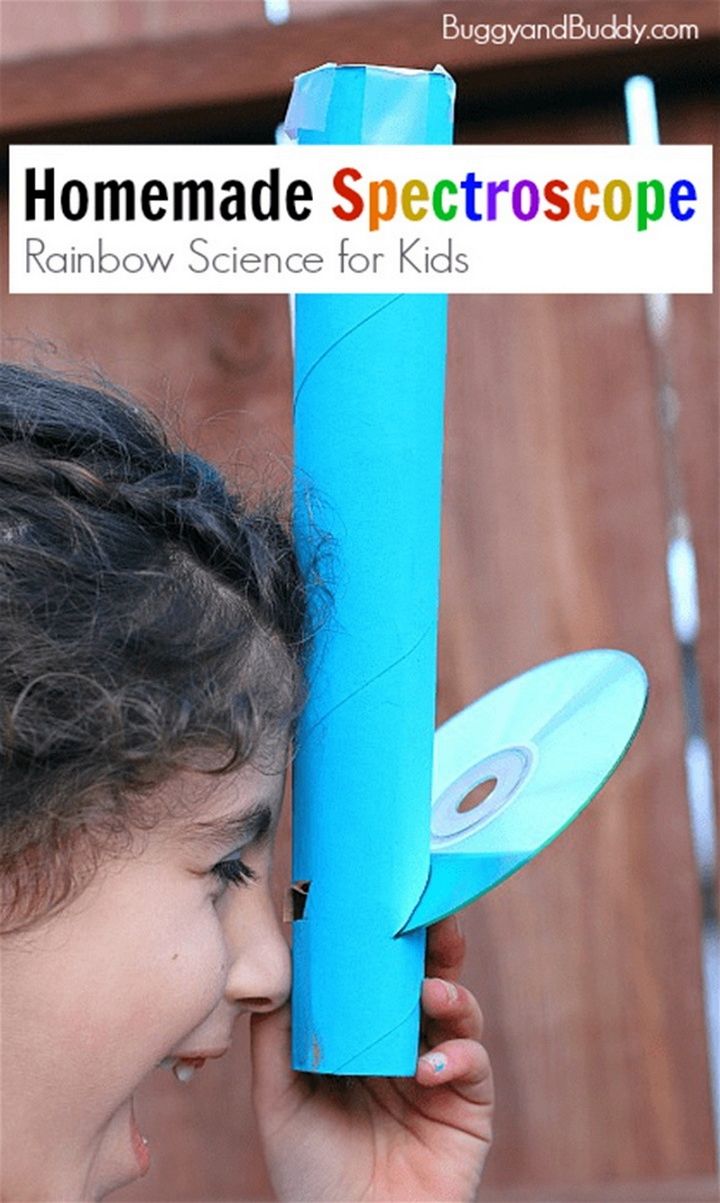 Rainbow is always something that attracts kids. The colors in the rainbow are always like a fantasy to everyone, especially to young minds. This project will let your kids have fun with a homemade spectroscope. They will learn about rainbow science and much more along with it. here!
25. Science & Design for Kids – Seed Bomb Necklaces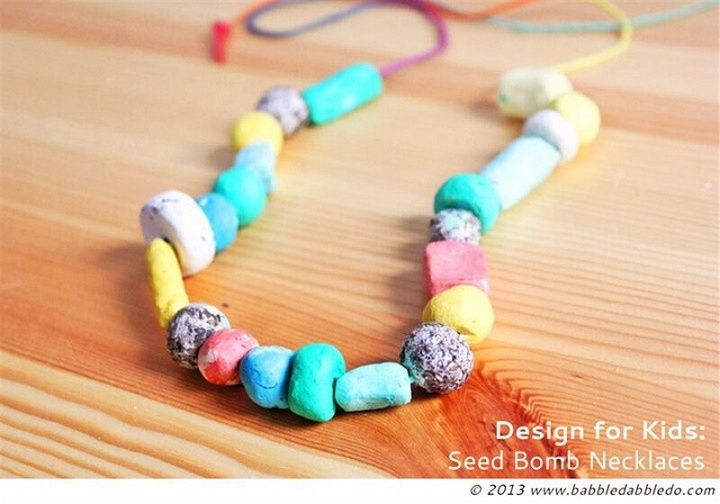 Have a sneak peek into this project where you and your kids will learn to make mini seed bombs into beads. Furthermore, you will learn to use these beads for DIY Necklaces and bracelets. for this project, you are going to need air dry clay, seeds, compost, a bowl, toothpicks, hemp twine, food coloring, paintbrushes, and glue. here!
26. Science Activities For Kids – Mirrors & Reflections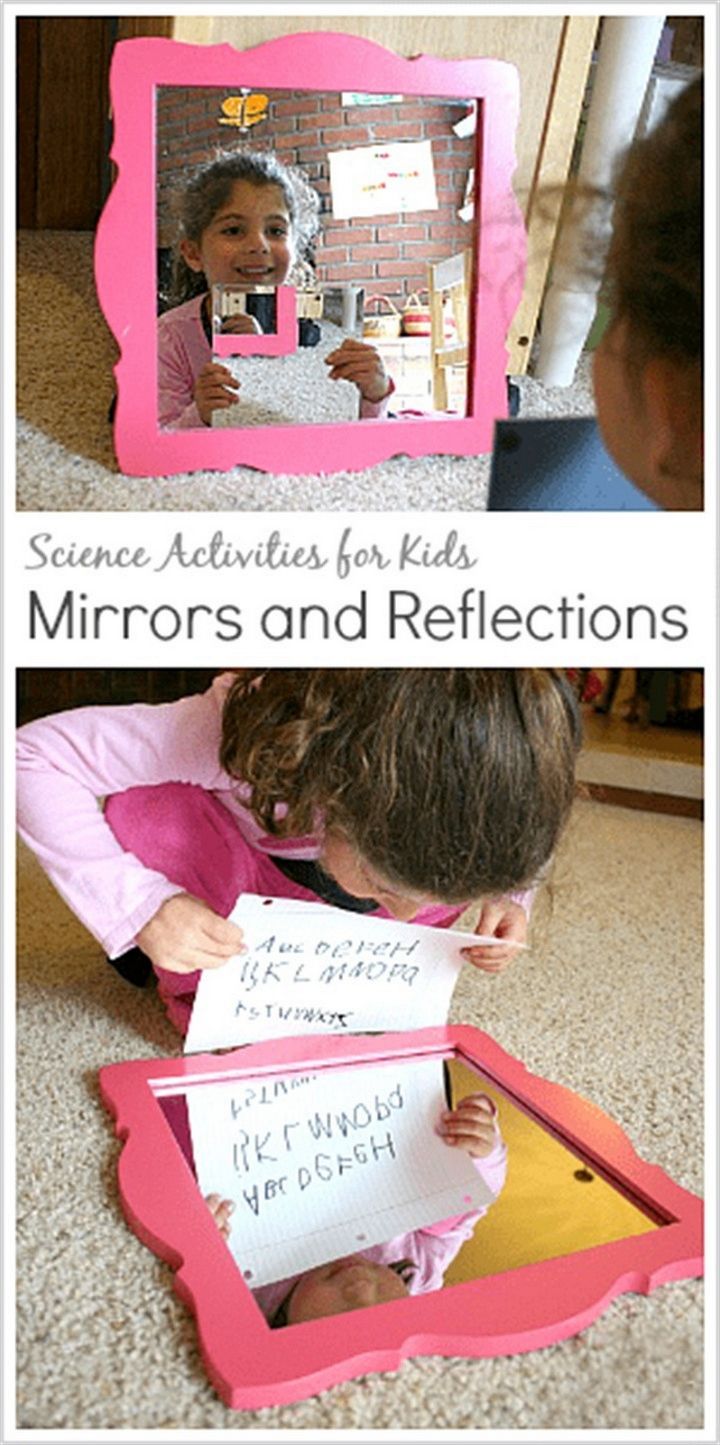 Kids are more interested in projects where they can see new things happening and surprise them. This is a project which is very easy and will give them a logic of how a mirror works and how their images and reflection are created. Make your kids learn all about mirrors which they never knew before and that too through some endless fun. here!
27. Science Projects For Kids – Easy Quicksand Density Experiments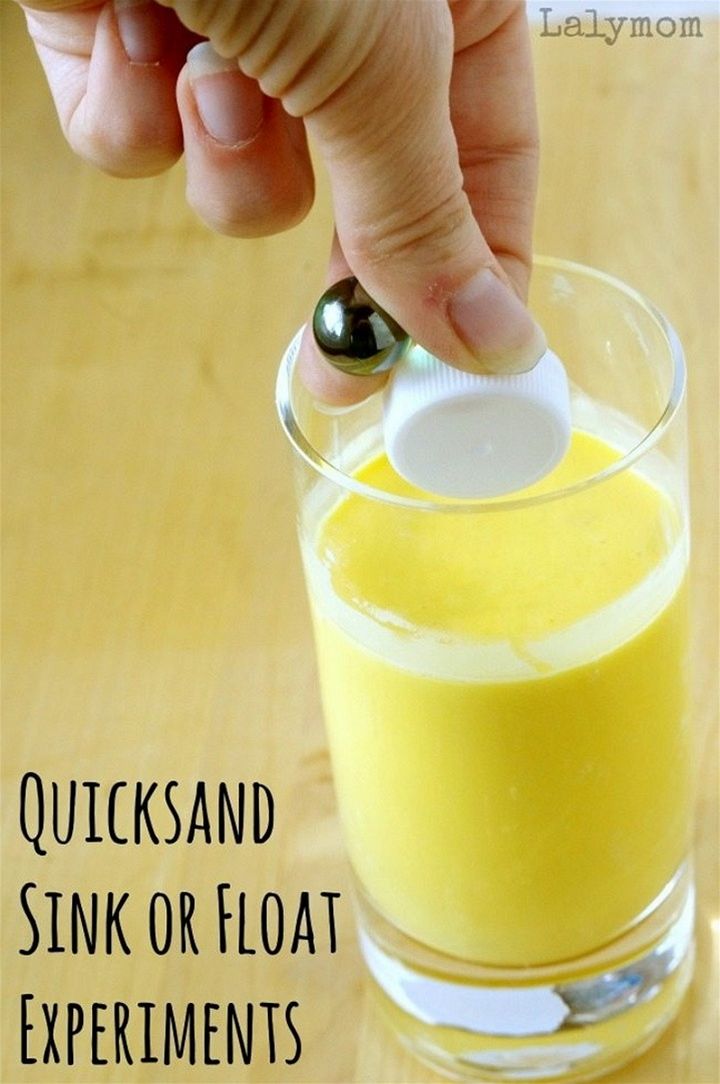 Science is not always fun as it sometimes gets too boring and typical. To make science projects exciting and tempting you have to put some fun elements into them. This is an afloat-and-sink experiment that your kids will find enticing and engaging. The materials you are going to need for this are corn starch, water, objects of different sizes, shapes, and weights, a mixing bowl, a clear narrow container, food coloring, and a place or a sink to wash hands. here!
Crafts & Projects For Kids – You will find lots of learning and fun in all the Outdoor Crafts & Projects for Kids you see. These creative ideas will help you engage your children in the outdoors.
28. Shopkins Surprise Eggs Science Activity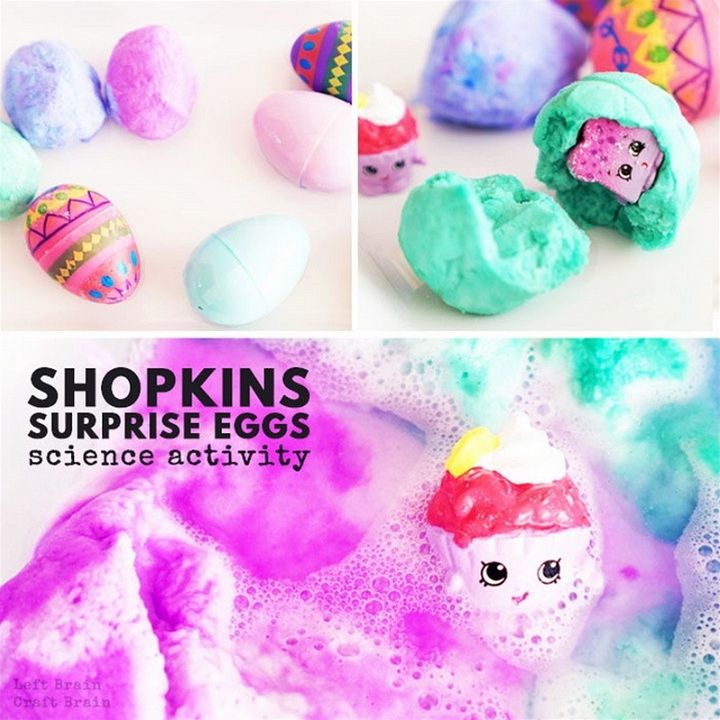 Kids are always in love with surprises and exciting phenomena. This is a perfect experiment for kids like those. Here you will learn how to make shopkins surprise eggs. This is the most adorable kind of experiment you would do with your kids and enjoy some surprises at the end. here!
29. Sprout House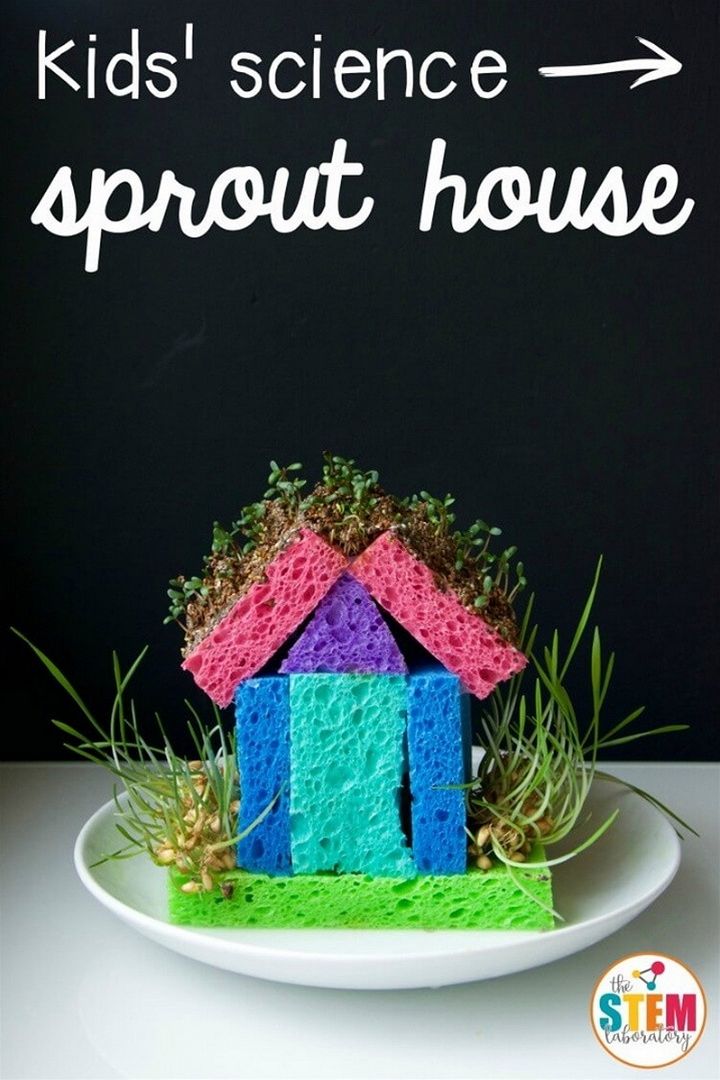 As we know summer vacations are just around the corner so grab your hands on some marvelous experiments to try with your kids. This is a sprout house that you and your kids can easily make and learn some fun facts about science. This project seems to combine physics and science together. For this sprout house, we will need, plain sponges, scissors, toothpicks, a hot glue gun, a plate, and seeds. here!
30. Two Color Oil And Water Discovery Bottles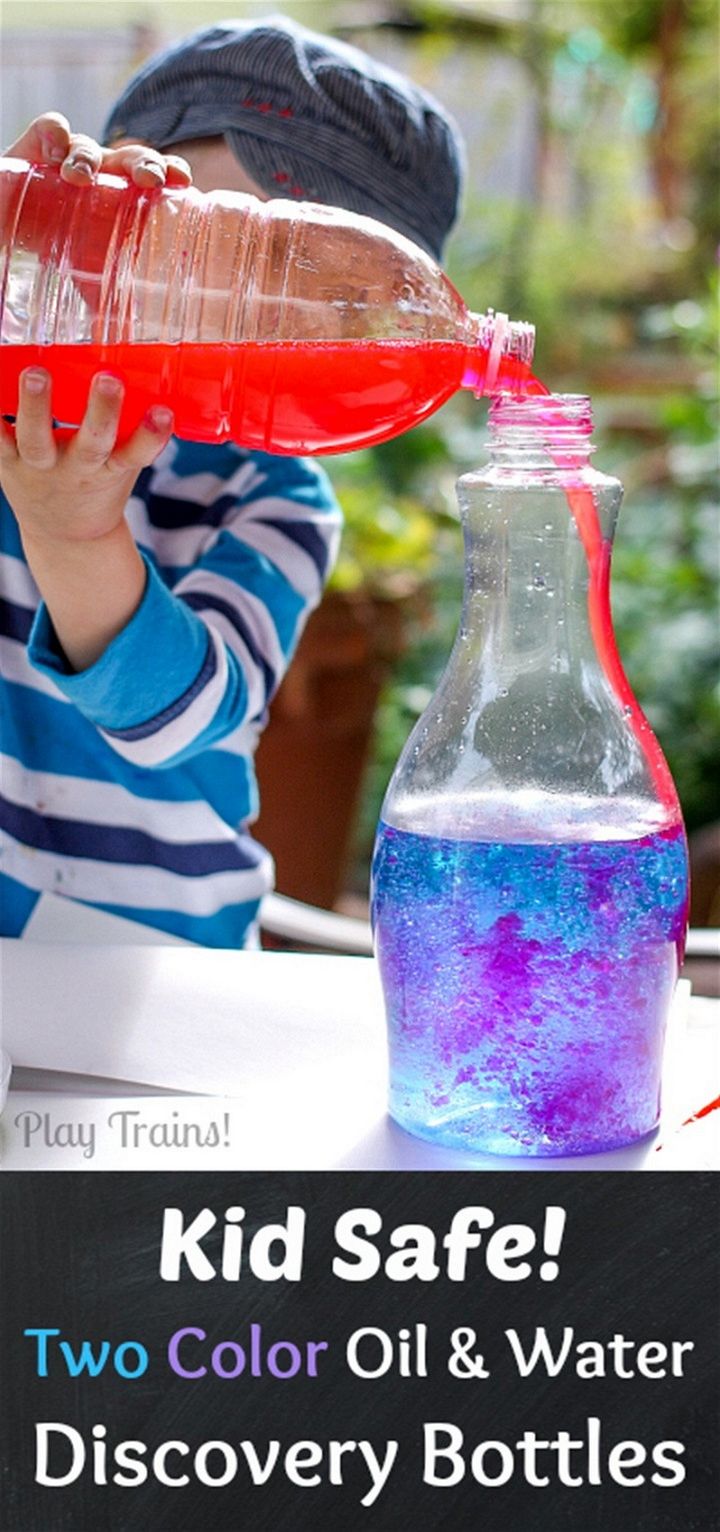 Young minds are always ready to explore new things and accept new logic. This is a two-color oil and water bottle experiment. This experiment is completely safe for the kids to try alone. For this experiment, you will need a plastic bottle, regular food coloring, and some other supplies that are listed here in the details. here!
Conclusion:
All the projects discussed here have a direct link to science subjects like chemistry, physics, and human science. You must make the kids understand basic science theories through these interesting experiments and practicals. Do not waste the upcoming holidays on anything else instead do one activity at a time and make your kids learn about it.