Here is what you gonna need for this Cool Kids' crafts project, Preschoolers who love monsters and even older children will enjoy these DIY fun crafts! It's even better for mom as there's not much cleaning involved! We have shared 15 Best DIY Monster Craft Ideas For Kids that you can create with your children! Preschoolers, toddlers, Kindergartners, and even older children will create their own unique spin on these exciting DIY projects!
If you have an excited toddler or an elementary child who is ready for an all-out monster celebration There are plenty of options to entertain you! The first thing to do is to create the Monster Party Invitations after that, once they are completed, you can begin to work with the other fantastic decorations for the party! Monsters were once a terrifying idea for children however, not so much nowadays. There are so many fun craft ideas for children nowadays, and you could even plan your entire event with monsters! These crazy DIY Monster Crafts for Kids will provide an absolute delight for all of you! Your children will be able to let loose their imaginations while you'll be able to enjoy your time crafting. Happy Crafting!
Crazy Monster Crafts For Kids
Monsters aren't seen in the real world. However, we tell many stories about them to make kids scared. They are genuinely scared, and when we tell them about monsters, they comply with our instructions. They are tricks that parents use to get their children to obey. Check out these fantastic monsters and let your children have fun playing with them. OMG!!! They Are Monsters!
1. Glue Monsters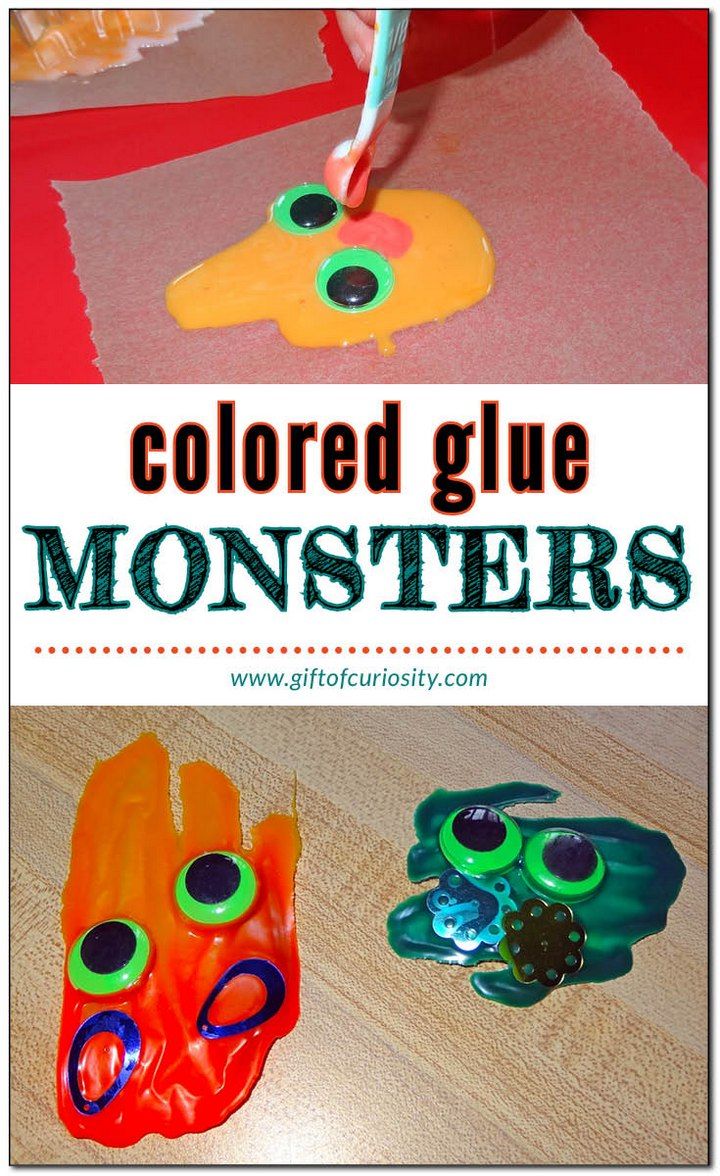 2. DIY Lil Love Monsters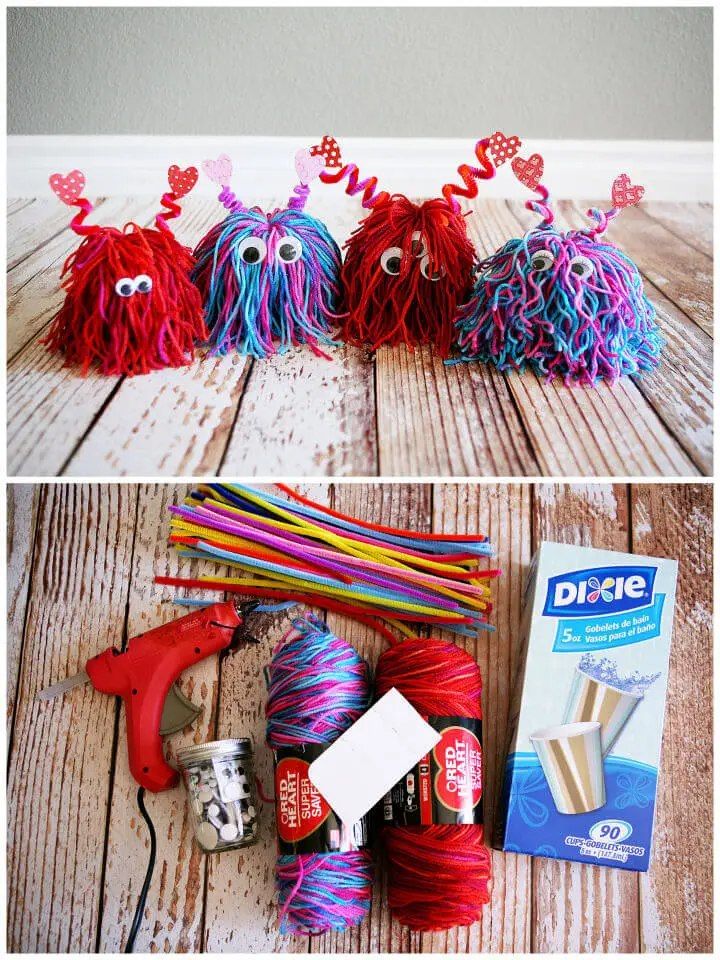 3. DIY Eyeball Photo Props – DIY Monster Craft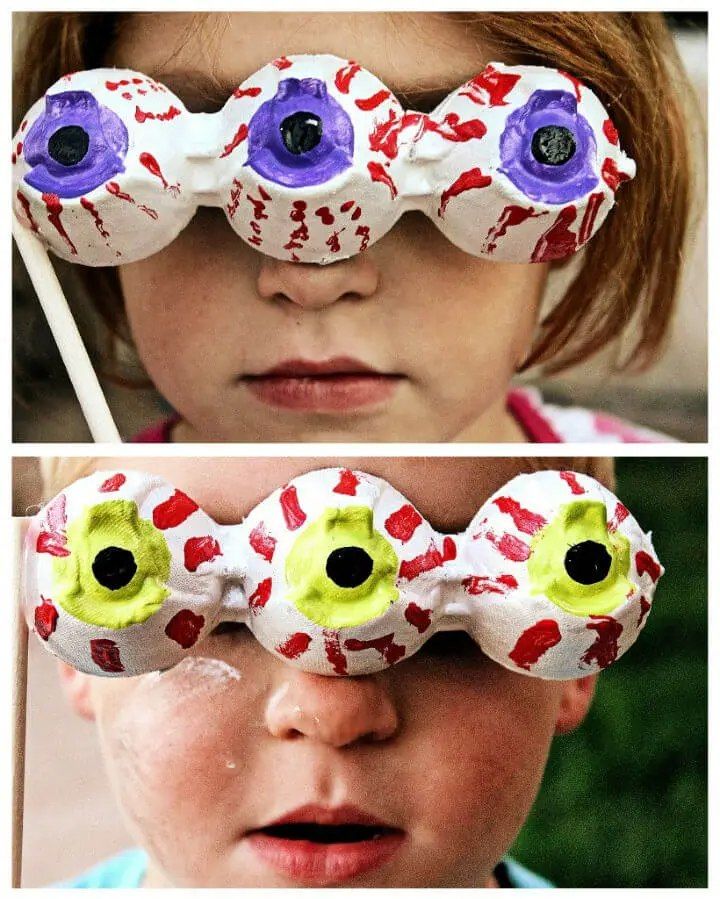 What a fun activity to enjoy with the kids. Eyeball props for photos are a great costume option for Halloween. It's fun and somewhat scary to see the eyes coming out. You'll need the egg dish. Cut the three egg portions. Paint the eyes black over it. Paint different colors on the sides of your eyes, creating an eerie look. Check out the tutorial here! Tutorial
4. DIY Painted Monster Rocks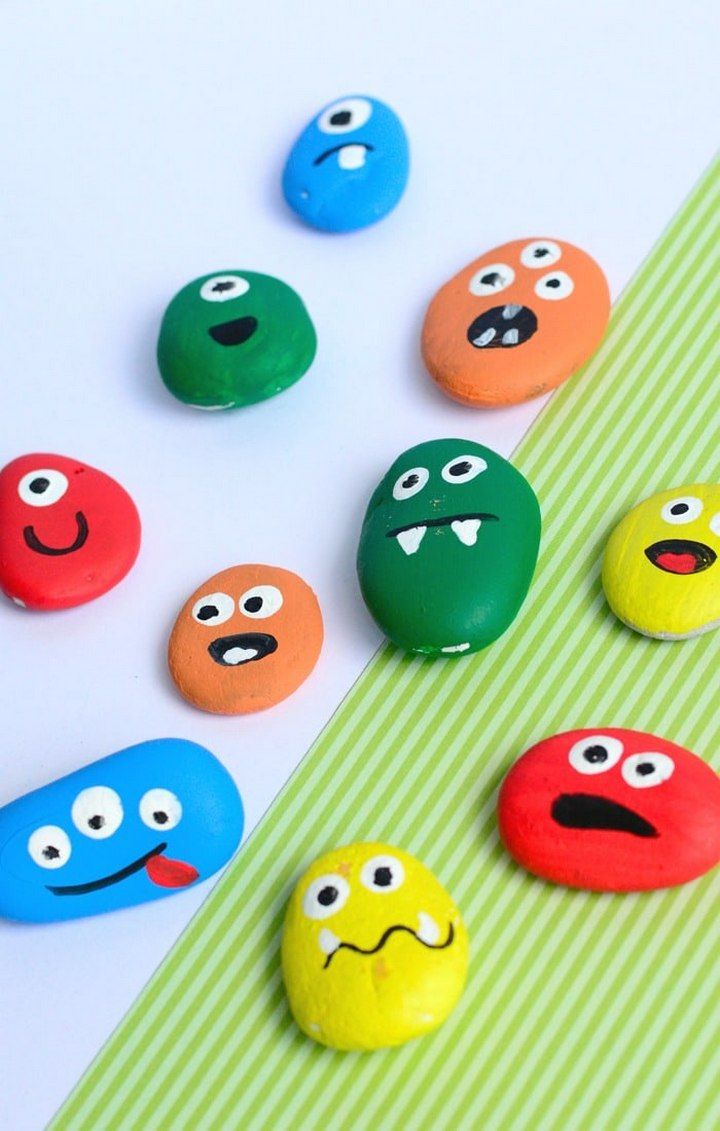 Do you have tiny pebbles or even rocks in your yard? Get your creative juices flowing and draw the creatures on the rocks. Engage your child in this DIY Monster crafts activity. They'll love it. Paint the bottom of the rock using only one color, then draw faces with the rock. Yes, it's easy. Have you got a lot of river stones, and are wondering what to do with the stones? A whole lot of painted monster rocks obviously, particularly now that Halloween is getting closer. The little guys are adorable when they are spread around your house. Tutorial
5. Tie Dye Coffee Filter Monster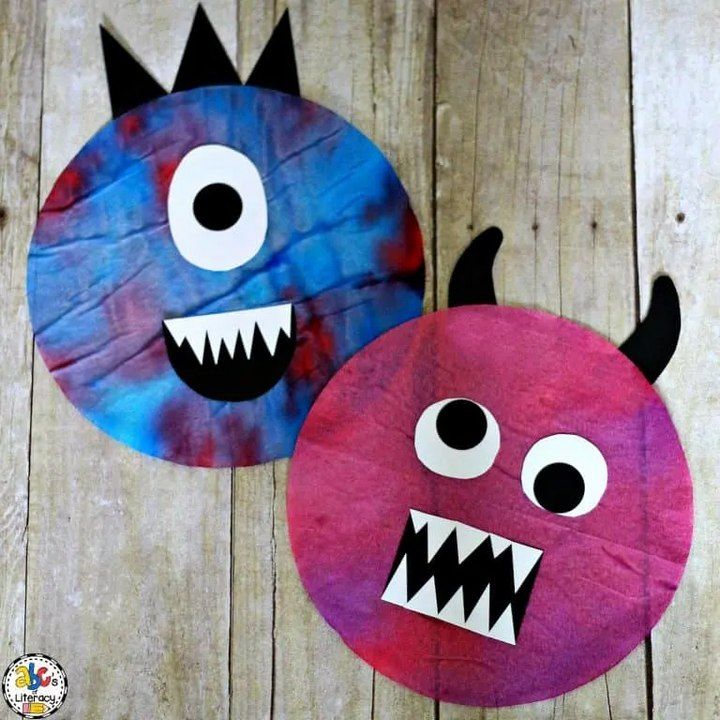 Prepare yourself to create an imaginative and colorful Halloween-themed craft! Making this tie Dye coffee filter monster is a great process art activity suitable for kids of all age groups. It's one of my favorites to create in a class or group of kids because no two monsters look identical. Filters for coffee are essential to have during winter. Create a monster from this filter by following a few simple steps. Color with washable markers the filters. Spray water onto the filters to cover them and allow them to dry. Make monsters on these dye and tie filters. Tutorial
6. DIY Yarn Wrapped Rock Monsters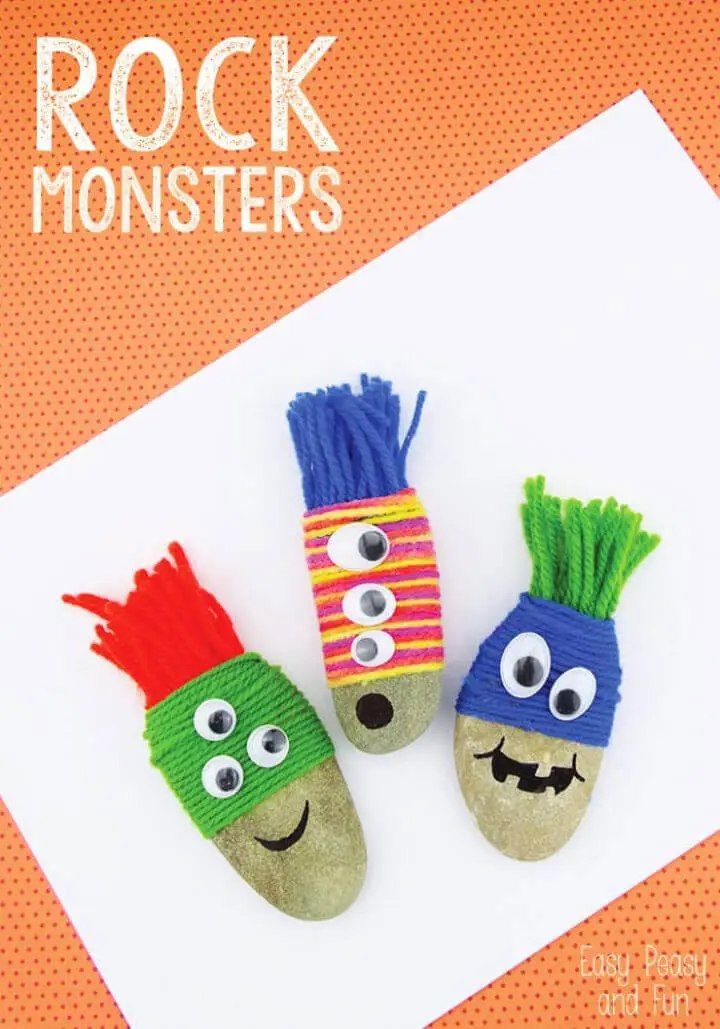 Love them all…Those are adorable! We are crazy about rocks and crafts here. It's amazing the number of cool possibilities you can create using something as basic as the rock. Yarn-wrapped rock monsters look super cool. You'll need yarn, rooks, or black paint and buttons. Create your monster's eyes using the button. Cover the edge of the stone in yarn and then make hair. Paint a face or a face design on the rock's bottom. Tutorial
7. DIY Paint Drip Monster Pots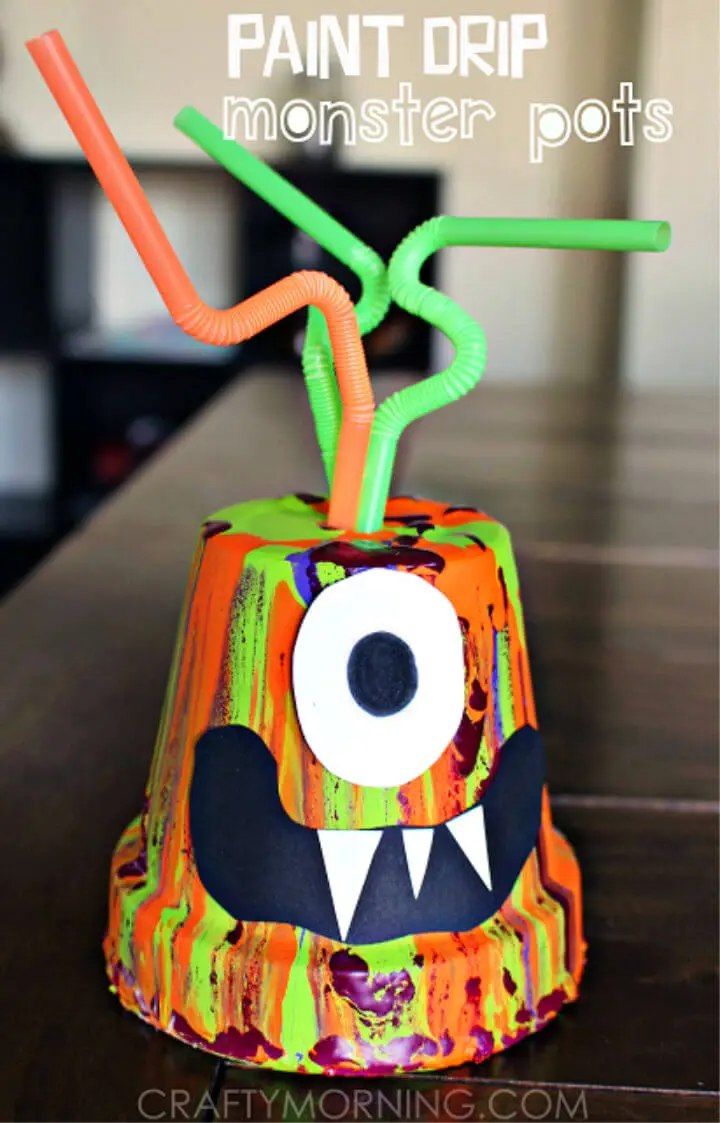 DIY Monster Craft: Ohhhh they look super cute. If you've got a used or broken planter Do not toss it away, instead paint an entire monster over it. Paint it with three or two different shades. Pour it over the top until it creates layers in the pot. Mix the paints to give an eerie look. Create your monster's face on the side of the pot. Can't wait to try out some drip paint art myself? Tutorial
8. DIY Paper Bag Monster Puppets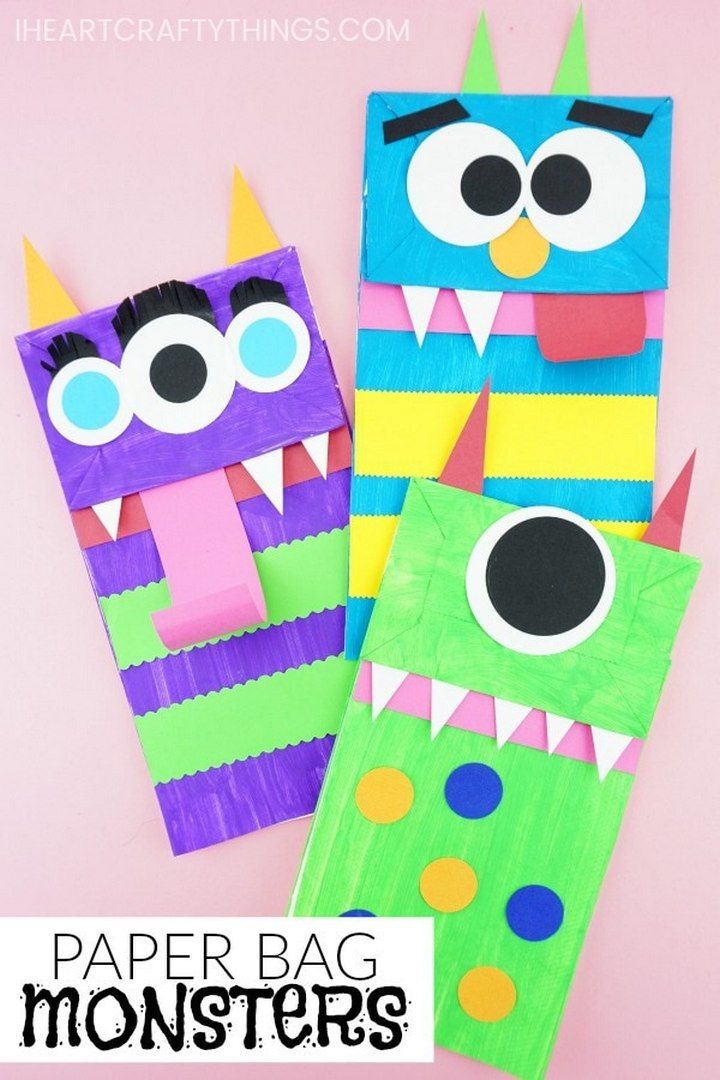 Oh My! These really are super cute…Bags of paper are utilized to transport diverse objects. They can also turn into monsters with ease. The lower portion of the bag, and create a two-dimensional. Paint the bag with paint as well as draw faces for the monster. Children can put this bag on their heads and play the role of a monster. Enjoy! Tutorial
9. DIY Inspired Potato Stamping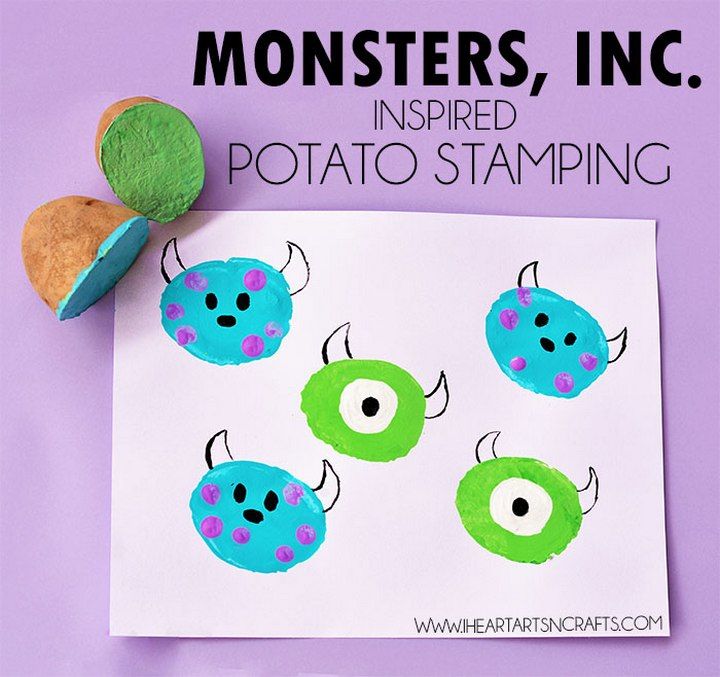 Potato stamping is a great game, particularly for toddlers. They'll enjoy this game and you can also teach them about colors. Cut the potato in half, then paint it with a color. Place it on the sheet and then draw a face of a monster on the potato shape. Who doesn't want to be Mike as well as Sulley from Monsters It's a very simple and enjoyable craft that can make use of those potatoes, and create some cute artwork for monsters! Tutorial
10. DIY Toilet Paper Roll Monsters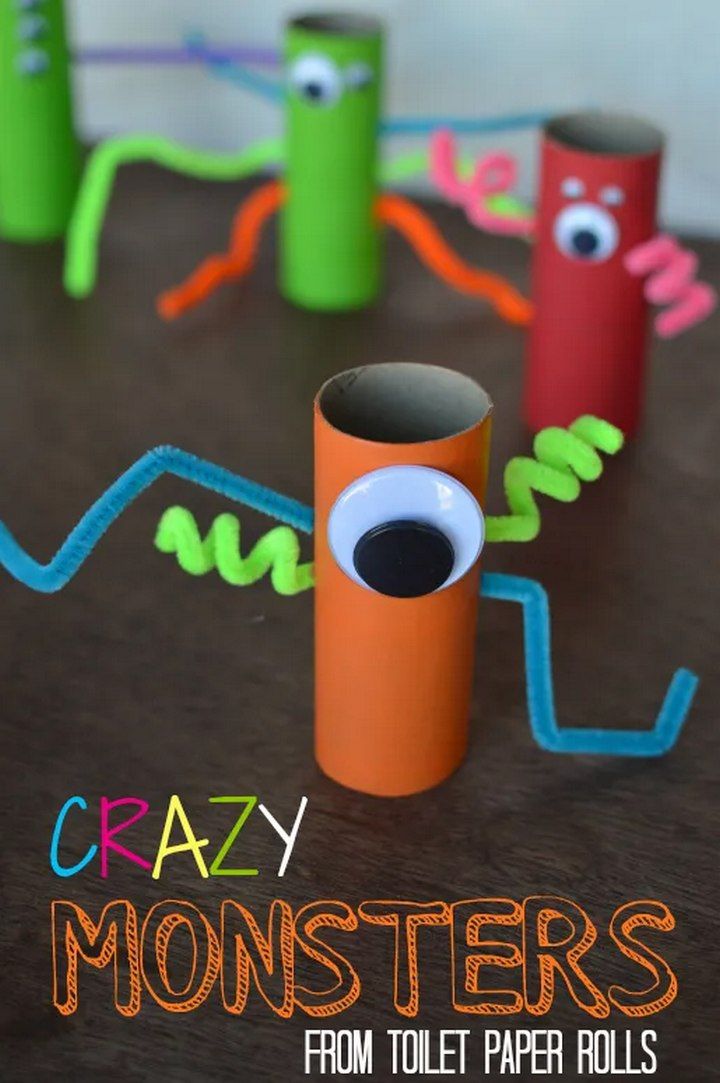 Oh my gosh! I love these! Sooooo cute! Pinned. These are just adorable! Love them! Super cute and fun! All kiddos would love doing this! Create all the different kinds of Toilet Paper Roll Monsters using crafting supplies including Toilet Paper Rolls and your child's imaginative thinking. Toilet paper rolls can be turned into a one-eyed monster. It looks terrifying and children will learn to make use of any extra materials. Paint the roll of toilet paper using one color and then put an eye on the top part of the roll. Create your monster's legs using straws that bend. Tutorial
11. Create a TP Roll Monsters – DIY Monster Craft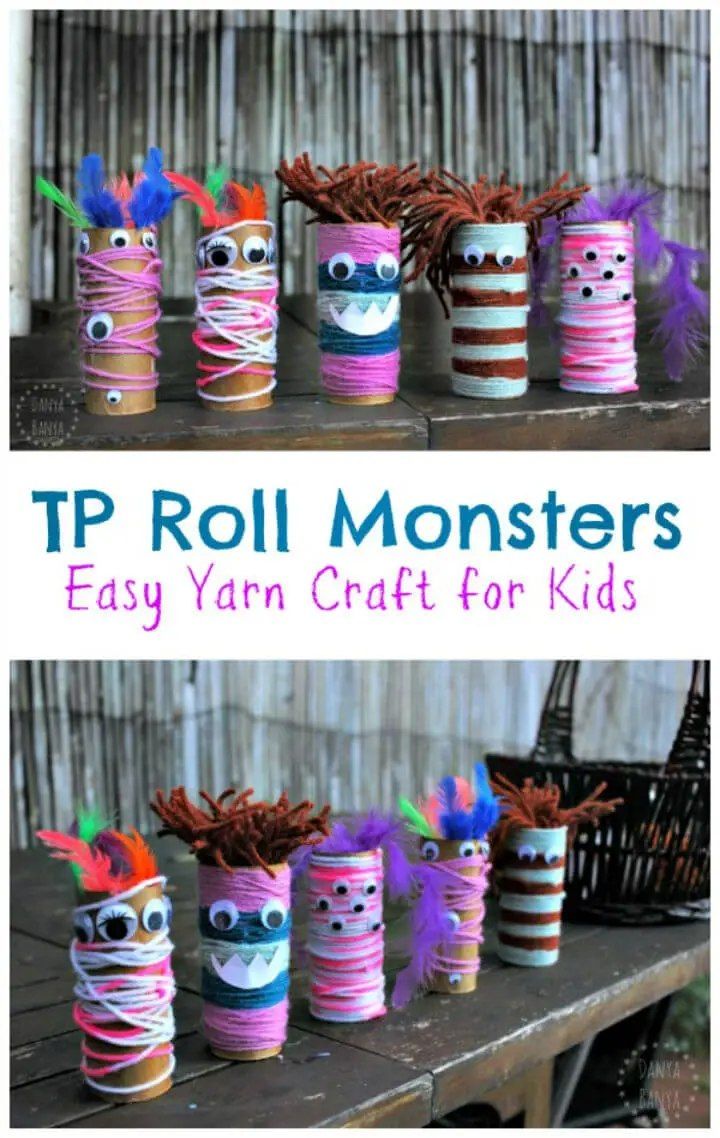 DIY Monster Craft: So cute! Fantastic Fun & Learning ways for learning kids. These toilet paper and yarn roll monsters are a great and simple craft for children. Ideal for themes like monsters as well as for Halloween. Aren't they adorable? They're the latest of the latest in our bathroom paper rolls-making obsession. (If you don't wish to make use of toilet rolls, you could utilize a kitchen paper towel roll or any other cardboard tube.) If the toilet paper is finished don't throw away the roll again. Create a frightening monster from the roll by making use of the yarn that was left! Cover the roll with yarn and then design the lips and eyes of the monster with buttons or paper. Make pom-poms out of yarn and use them to make hair for the monster. Tutorial
12. DIY Monster Mobile from Toilet Rolls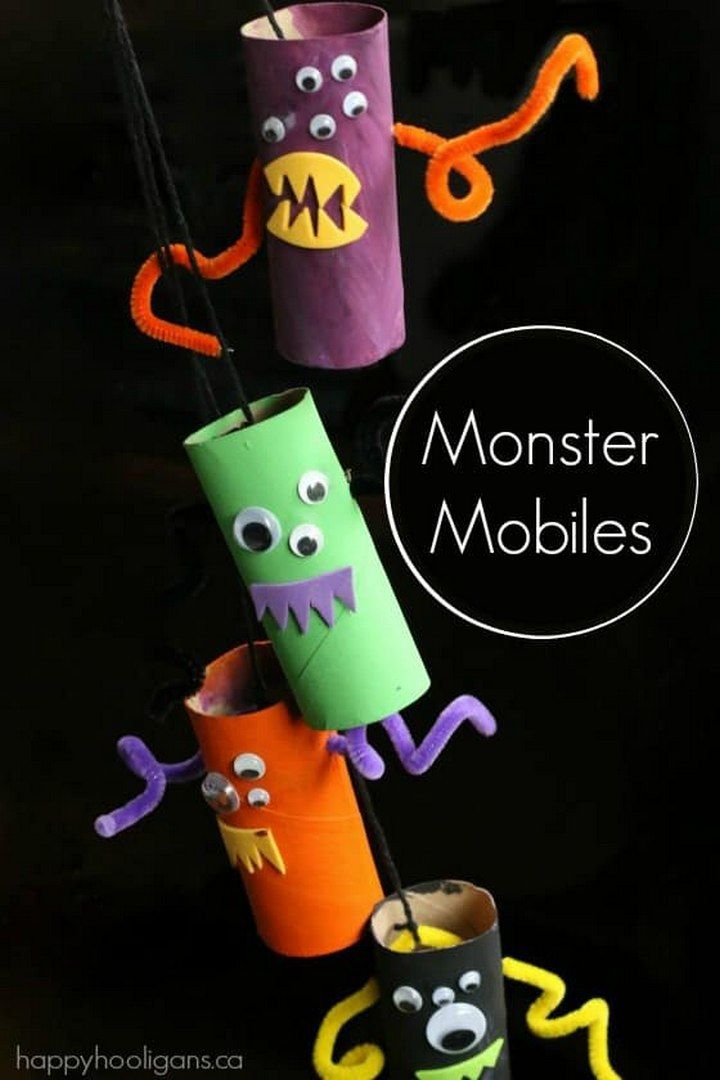 Ah, These monsters are so cute!! Just love this craft!! Collect all of those toilet rolls you've got from your house and make a giant mobile from them. Paint the toilet paper rolls using different colors, and draw face-like monsters with the roll. Then, attach the monsters with the string and make them fly through the air. Preschoolers will be thrilled to make this adorable, silly monster mobile to celebrate Halloween! This is a fantastic Halloween activity for home or daycare as well as a great method to make use of the cardboard rolls you have lying around. Yes, some monsters are terrifying however, the toilet roll creatures are hilarious as well as friendly and silly! The kids had a wonderful time coloring and decorating their creations using the basic materials for crafting that were in the home. Tutorial
13. DIY Paper Plate Monster Kids Craft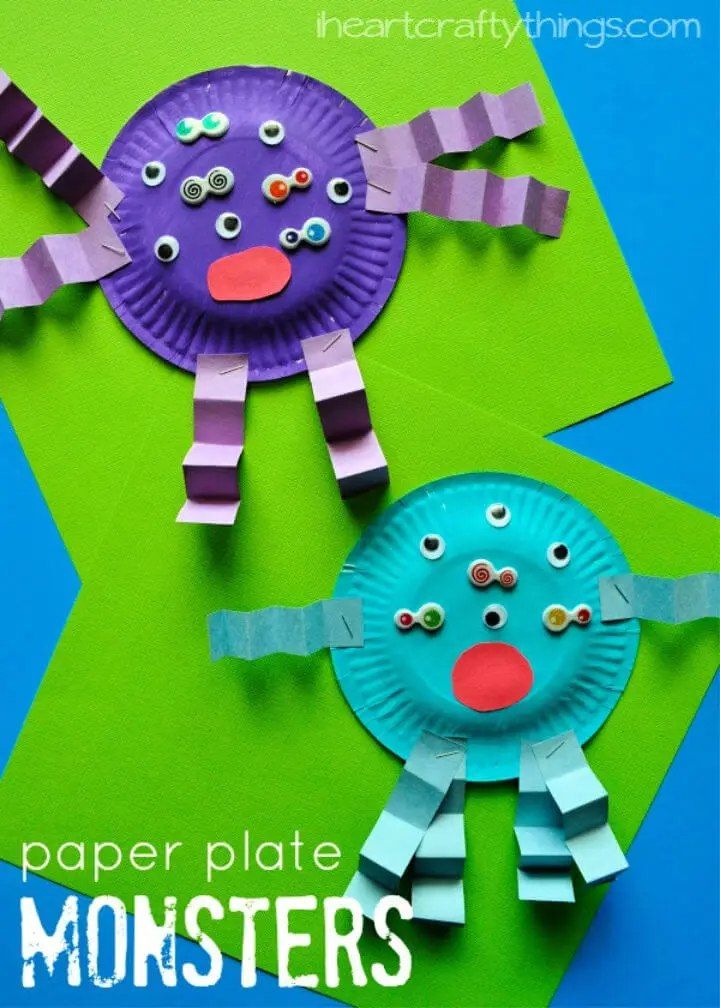 DIY Monster Craft: What fun! Monsters from paper plates are fascinating in the best way. The dimples of the plate, when transformed into monsters, create the impression of a terrifying. The process is simple. Paint the back of the plate using only one color! Make lots of eyes with the same color! Make legs for the monster using a piece of paper in a zig-zag fashion Then you're finished.
This vibrant paper Plate Monster Kids Craft is the perfect recipe for wiggly-eyed fun. This is the kind of evergreen project that can be enjoyed all year. It's great to use on a rainy day as well as for family nights or a playdate, or even for school. Tutorial
14. DIY Monster Headband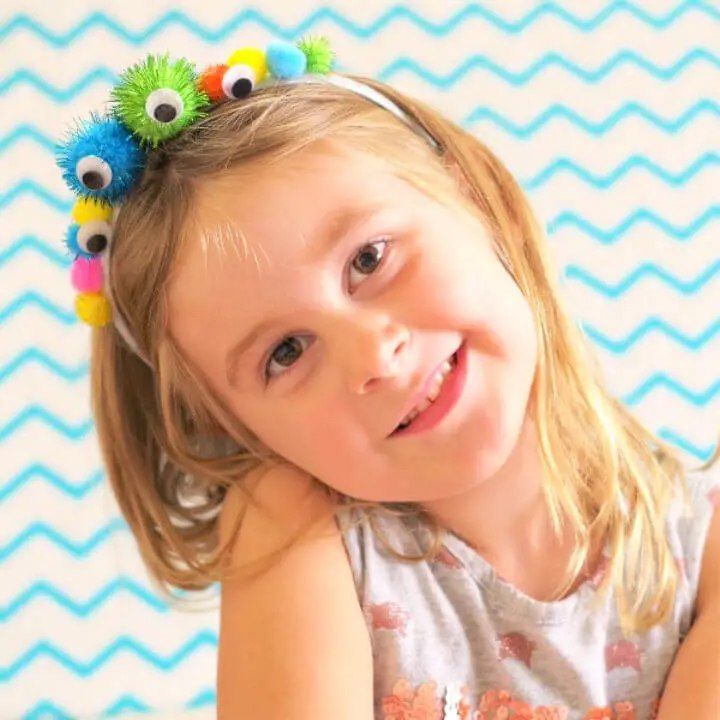 So fun! Isn't a little monster so scary? DIY monster headbands look terrifying and attractive in the same way. It's all you need is a simple headband with no extras. Create small furry creatures separately. Put them on the hairband using glue guns. Tutorial
15. DIY Monster Cards for St. Patrick's Day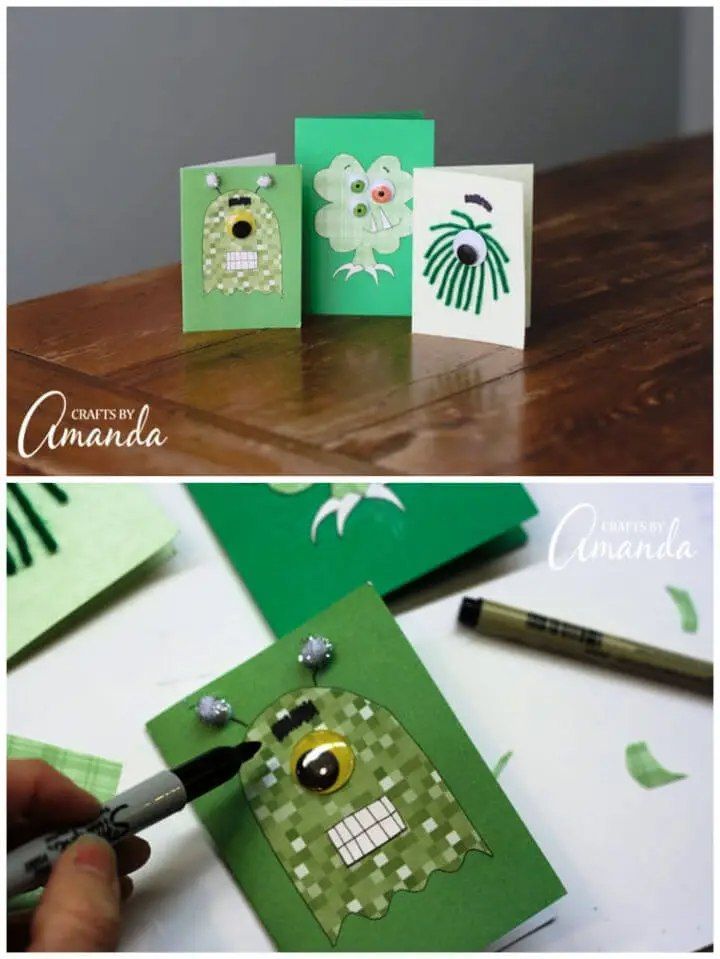 DIY Monster Craft: Are you considering making some fun cards to celebrate St. Patrick's Day? Make these cards. It's a completely different concept and nobody else would have attempted it in your circle. The cards you create will be different from other cards. Do you have monster-loving children? These fun St. Patrick's Day monster cards are the ideal children's craft for your kids! This an excellent way to wish your loved one fortune and allow their imagination to shine! Tutorial