These Thirty Homemade Easy DIY Playhouse Ideas made for the outdoors as well as for the indoors are all appealing and attractive. The best part about these plans is that they are all explained form scratch so that you can easily catch up with them. Kids Love to play games and do activities that let them explore new ideas, places and rooms in this case therefore these Easy DIY playhouses are all surely fun to them. To get along with these projects you need to follow the instructions carefully and see how everything is done.
All the projects that you see here are worth trying and only with a little bit of effort you will be able to achieve some desirable results. Some of these diy projects are done suing recycling items such as Cardboard. Make your kids happier this summer a let them play outside as much as they want in their new mini homes made all by yourself. You can make as many rooms inside of these house as you want so that the kids can have fun and be creative with their imagination.
1. How to Build a Classic Playhouse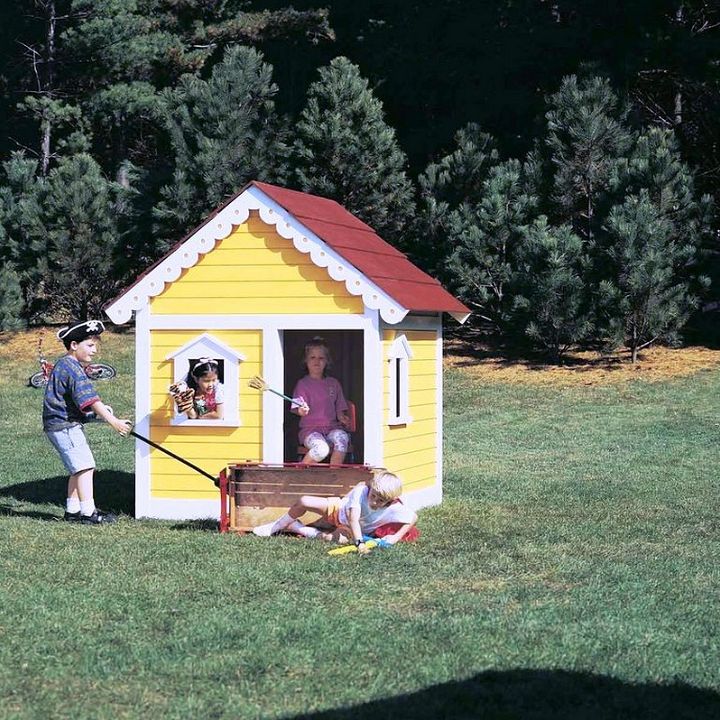 Have a look at this classic playhouse over here made with a lot of efforts but the results are worth it. You will start off by cutting your plywood first. Secondly comes the cutting of the wall in the same shape as plywood. You then have to carefully connect the walls. A lot of wood working is done here as you can see. Tutorial
2. Easy Kids Indoor Playhouse – Easy DIY Playhouse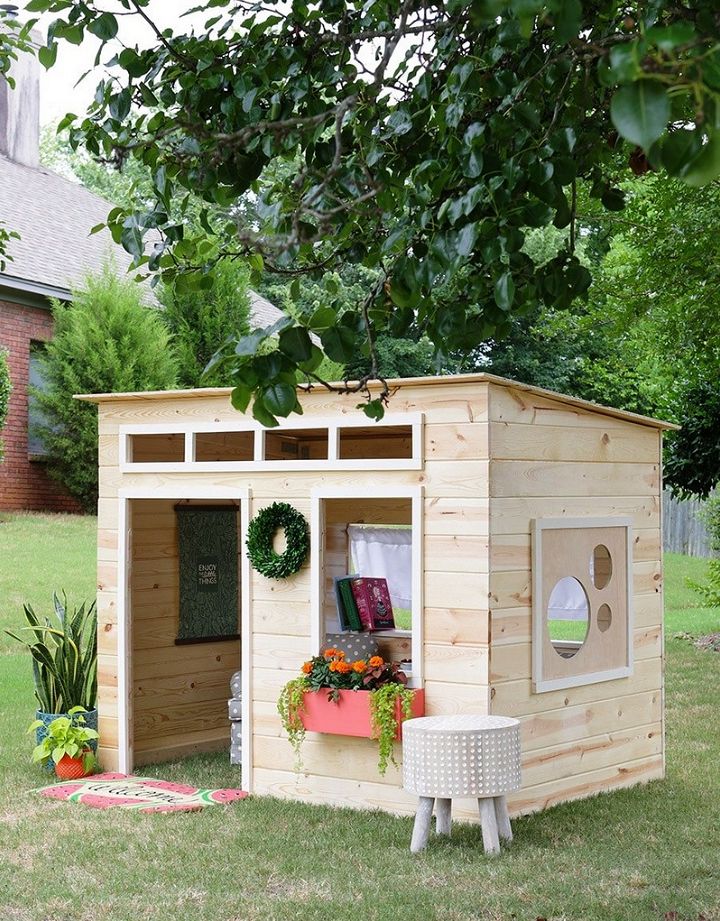 Easy DIY Playhouse: This lovely looking playhouse is something that you can also make all by yourself however some efforts are really needed here to achieve the desired results as shown. This diy playhouse is an indoor one and clearly has all features to keep it indoor. Carefully read and follow the instructions and see how it's all done. Tutorial
3. Operation Clubhouse – DIY Playhouse With Slide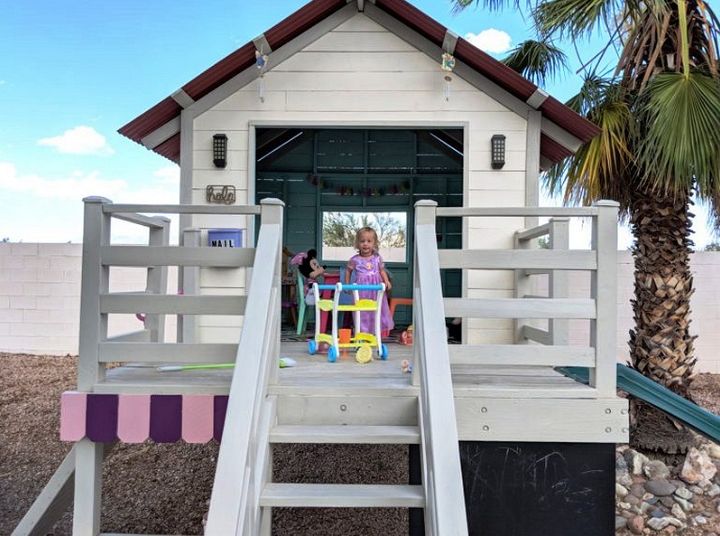 This diy giant playhouse for your children comes with a little playful side as it has slides in it too. This playhouse seems to be a perfect one for outdoor in your Backyards. There is now no need to take those little ones to summer camps as you have something that they can never get tired of. Tutorial
4. This is the Coolest Playhouse on the Block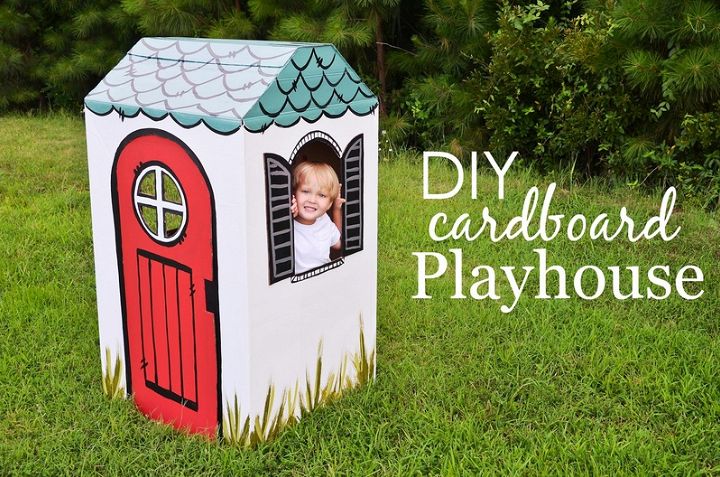 This might be the coolest playhouse you have ever seen. You can easily build this house in the outdoors and your children will surely love this. A complete set of instructions is given here so that you can easily catch up with it. This entire playhouse is made of cardboard as you can see and a lot of efforts will go after this. Tutorial
5. DIY PVC Pipe Playhouse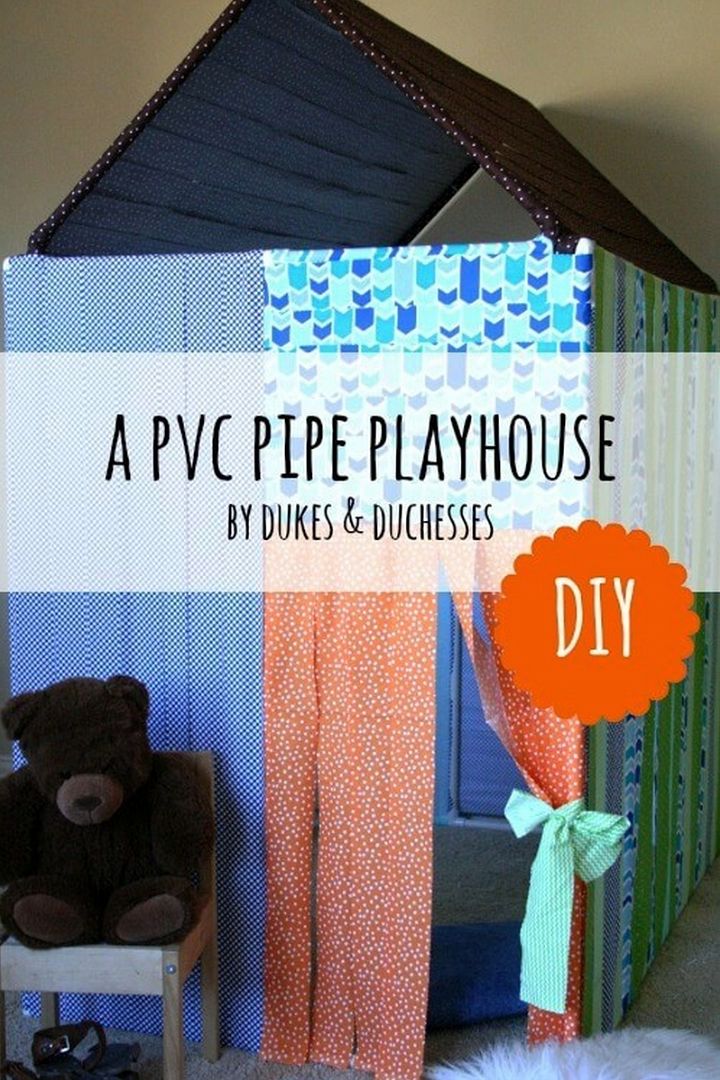 This diy playhouse is made with PVC pipes and it surely look amazing. besides pvc. pipes you will also need fabric of your choice. Every detail can be clearly seen in this playhouse like windows, rooms and everything a child would probably think of in their playhouse. kids will have a lot of fun inside of this house so make one for them along with them. Tutorial
DIY Crafting Table – A craft table can more than make a complete look for your space for crafting. To construct it yourself, check out these easy DIY craft table ideas with storage. They come with free plans and guidelines to build a simple crafting table for your crafting space.
6. The Princess Playhouse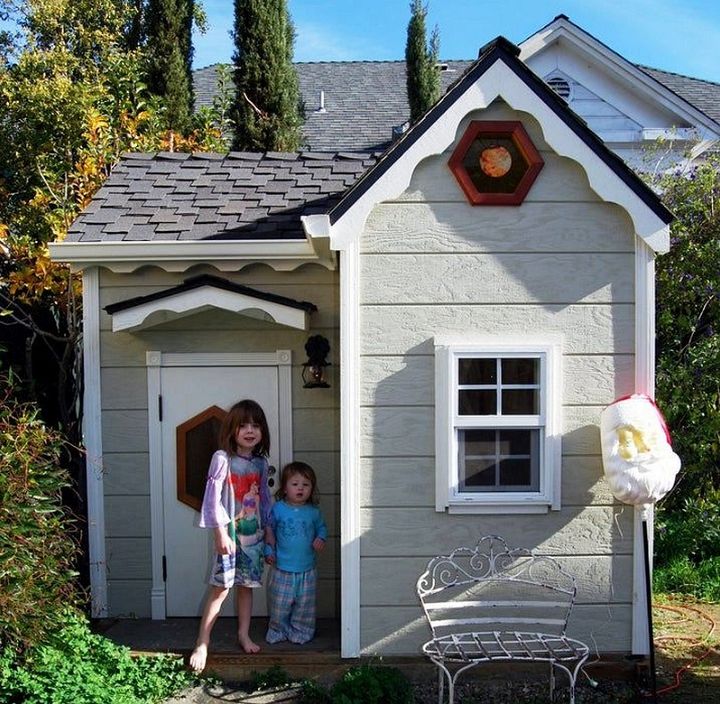 This diy playhouse idea is especially for the princess of the house. You would be surprised and shocked when you see the features that are made and built inside of this house as the list is quite long. You will start off by planning and framing. In the second step comes the roofing. In the third step you will do the electrical wiring and other detailing. Magic mirror and a complete sound system is also incorporated inside of this incredible house. Tutorial
7. Build a Log Cabin Playhouse For Under $300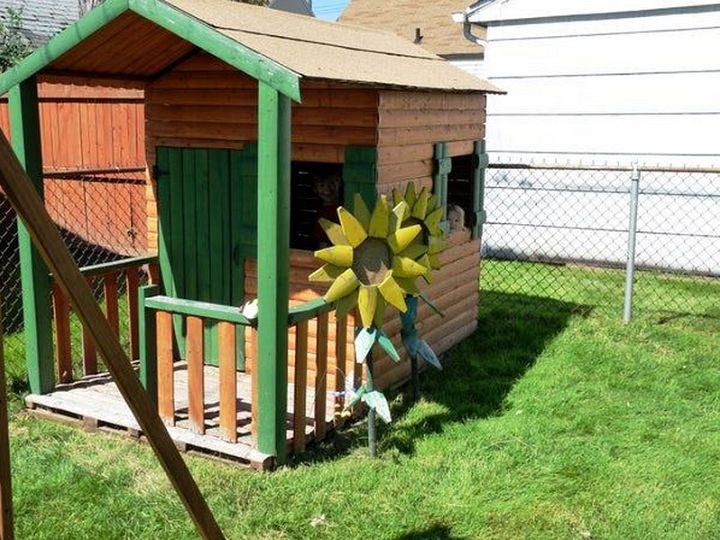 Easy DIY Playhouse: Have a look at this log cabin playhouse made with careful construction. A list of supplies and materials is also given here along with all the necessary steps. Get started and involve your kids in the making so that they may also learn and enjoy. The surprising part of this playhouse is that it is made in under 300 $ only. Tutorial
8. DIY Toddler Outdoor Playhouse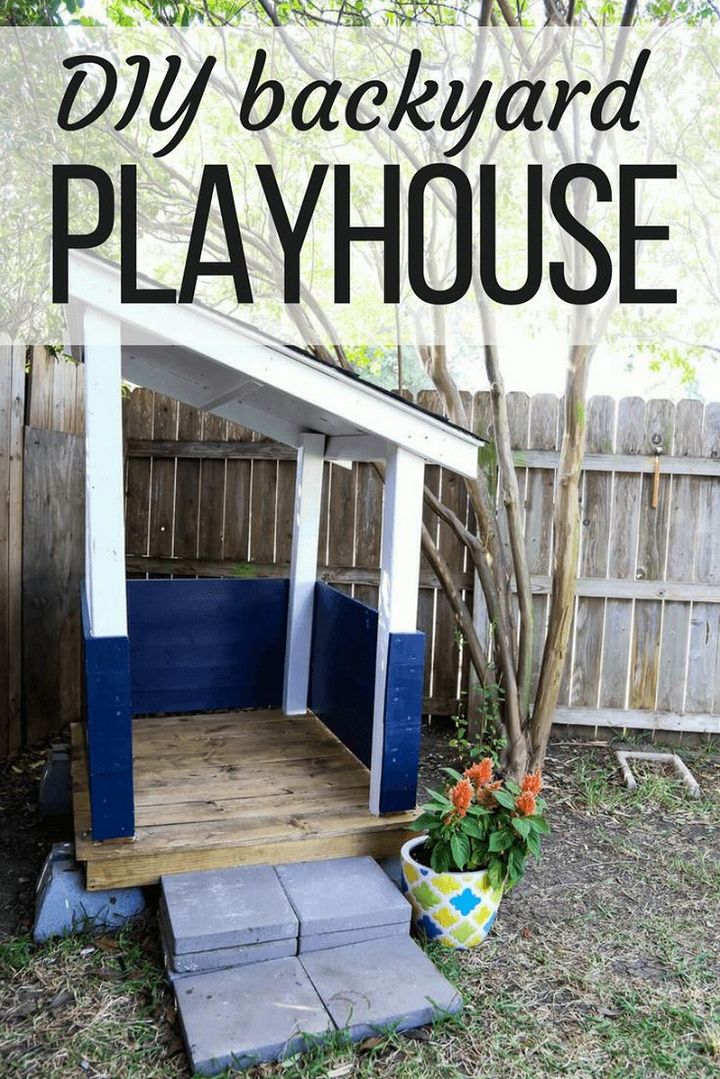 This diy playhouse is especially made for Toddlers and is an outdoor one. You will need some materials to build this which are foot boards, foot posts, foot pressure, plywood boards, concrete footings, paint, deck sealer, circular saw, power drill, level, tape measure and speed square. Tutorial
9. Built a Playhouse! DIY Workbook & Photos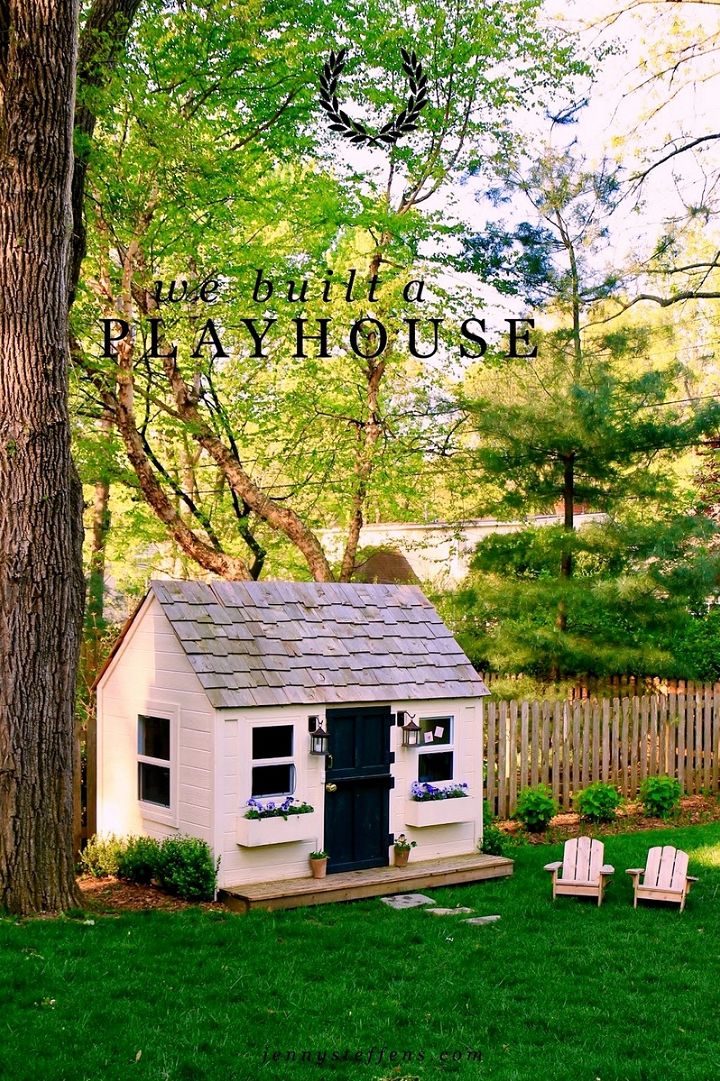 You can also playhouse with the help of this diy project and make your kids happier like never before during this summer holidays. This is truly a well decorated and stunning playhouse you would experience. You can get into the details of this project and see how everything happens and how things can work for you. Tutorial
10. How to Build an Easy Platform For a Playhouse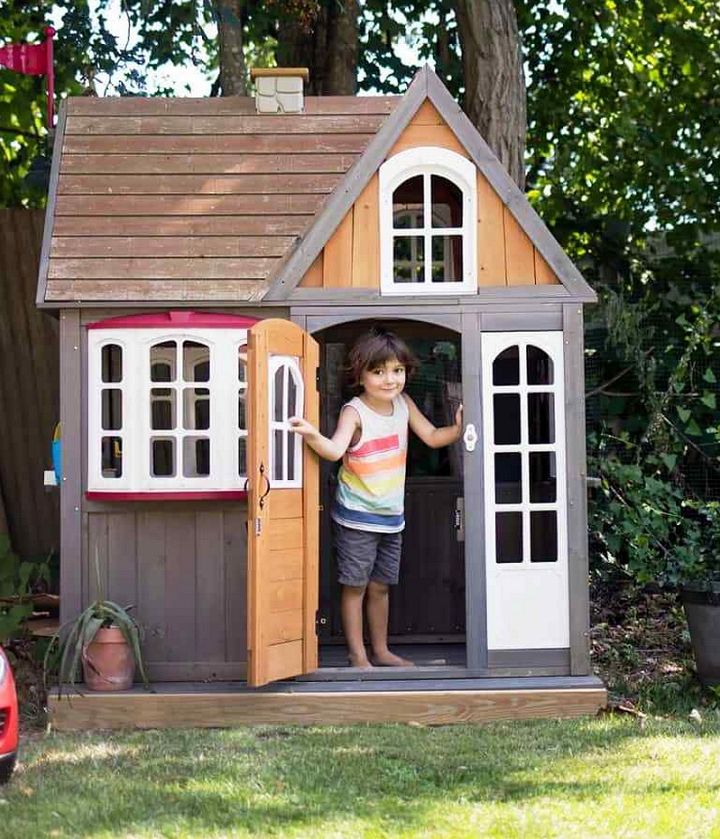 It's very important they your build a reliable and durable platform before you build a playhouse. Cedar is a durable outdoor wood and it is used here in the construction of this playhouse. Besides this some tools and supplies are also used in the making. Get into the details of this project and see how this is made because your kids are surely going to love this. Tutorial
11. Turn a Plain Cardboard Box Into a Super Cool Playhouse With this Easy DIY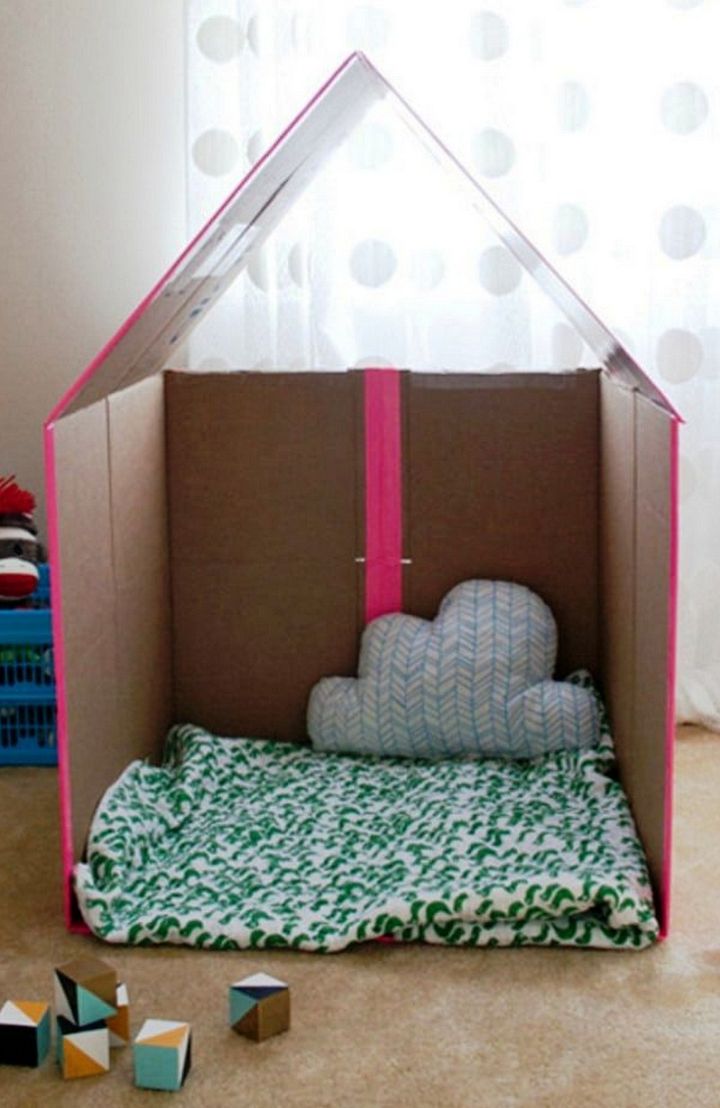 Easy DIY Playhouse: You will surely be amazed to see this project as they are transforming a plain cardboard into an amazing playhouse that you have probably never seen before. After a little bit of hard work you will be able to achieve some extra ordinary results. You will start off with an empty cardboard and then move on with the steps that are taught here. Activities like these will improve your kid's imaginations and creativity. Tutorial
12. Building a DIY Backyard Playhouse With Fort Magic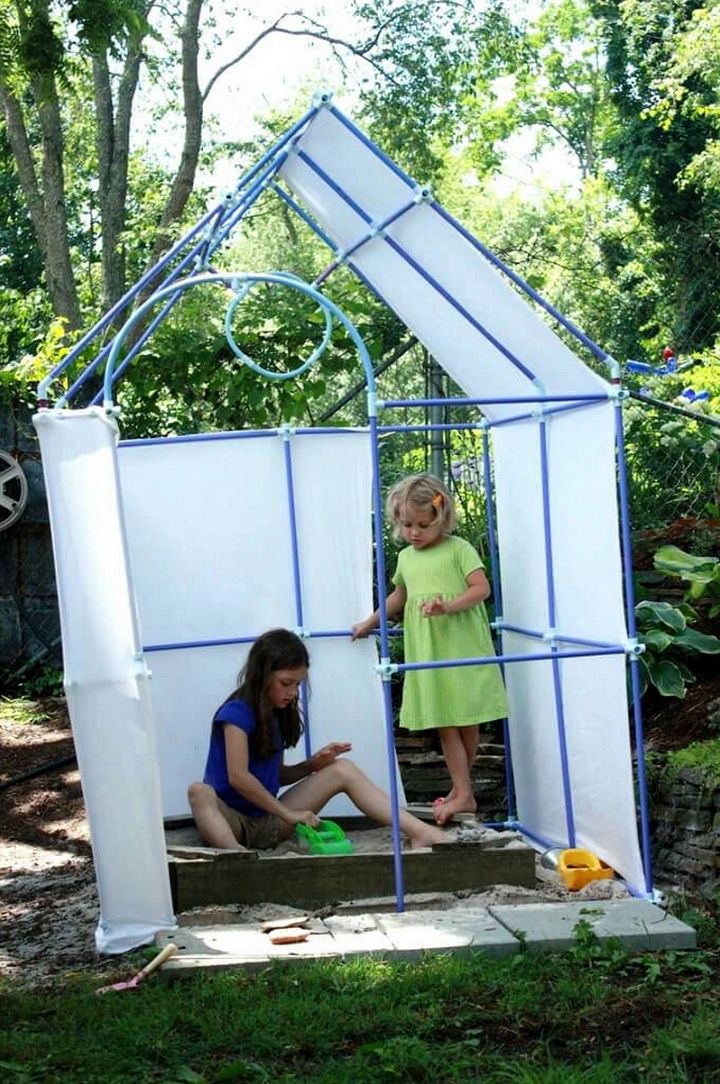 Here in this project you will learn to make a backyard playhouse with fort magic. Children will absolutely love this project and you will see them enjoying the making of this too. All of this is done with a help of fort magic construction kit. You will also love this kit and will want to use it to make a play house in your own backyards so get started. Tutorial
13. DIY Fabric Playhouse – Easy DIY Playhouse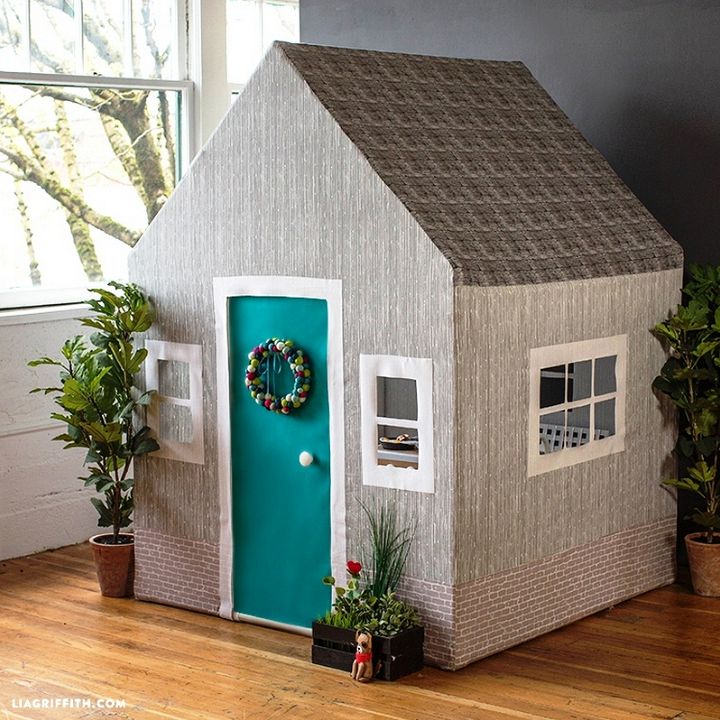 Have a look at this fabric playhouse over here. You can also make this house if you follow some of the instructions carefully. The supplies that you need to make this playhouse are sewing machine, serger, rotatory cutter, ruler, small scissors, hand saw, fabric, and pvc. pipe, thread, Velcro, erasing fabric pen, fray check and a wooden door knob. Tutorial
DIY Stained Glass Ideas – The following 35 easy DIY stained Glass Ideas that are Outstanding can lead you to creating inexpensive and affordable stained glass windows and stained glasses.
14. Recycled Cardboard Box Playhouse For Pretend Play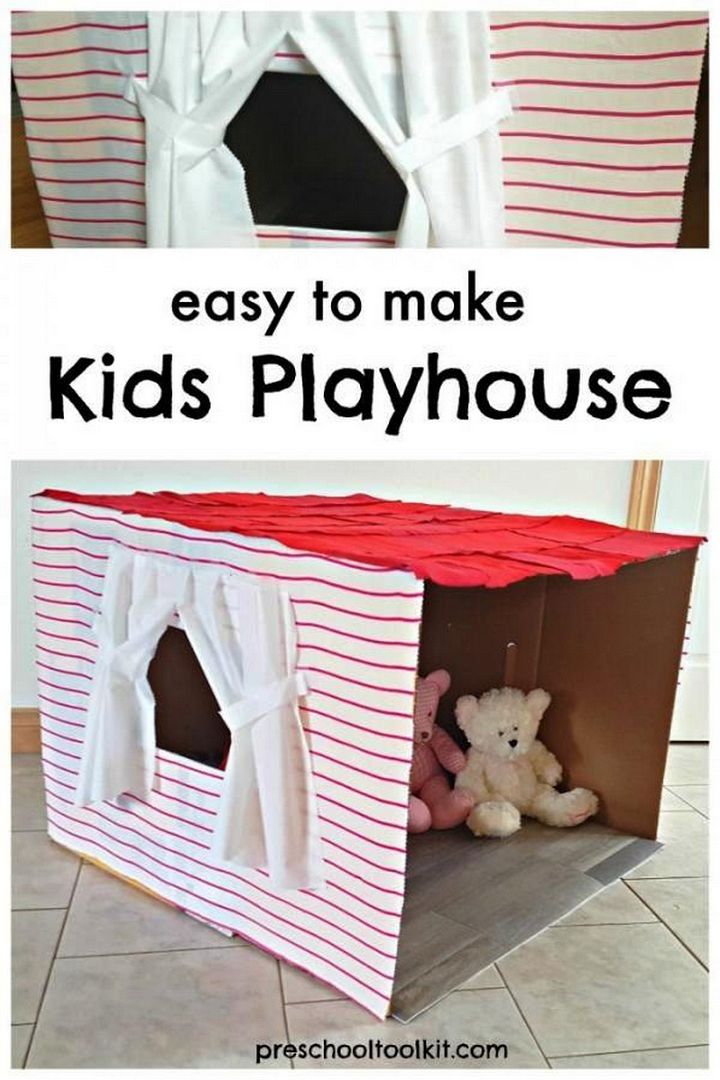 This is an incredible cardboard playhouse that you can easily and very conveniently make all by yourself. You need some fabric scraps to make this. Besides this you will also need packing tape, scissors and glue stick. A complete set of instructions is given here so that you can easily catch up with this. Tutorial
15. A-Frame Playhouse DIY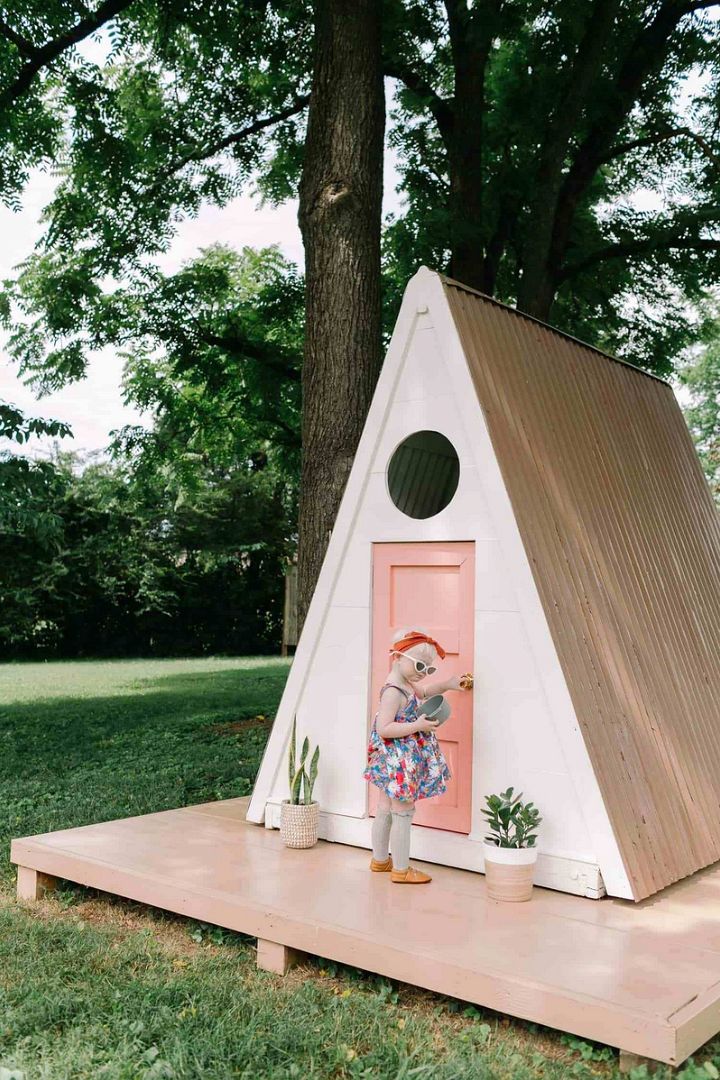 This amazing and amazingly stunning playhouse is a product of only a little bit of effort. You can also learn to make this if you wish to. Grab the supplies that are needed and get started. Besides plywood, hinges, drilling screws and some other materials and tools you will also need some paint of your choice to make the house look attractive and appealing. Tutorial
16. DIY Wooden Playhouse For Kids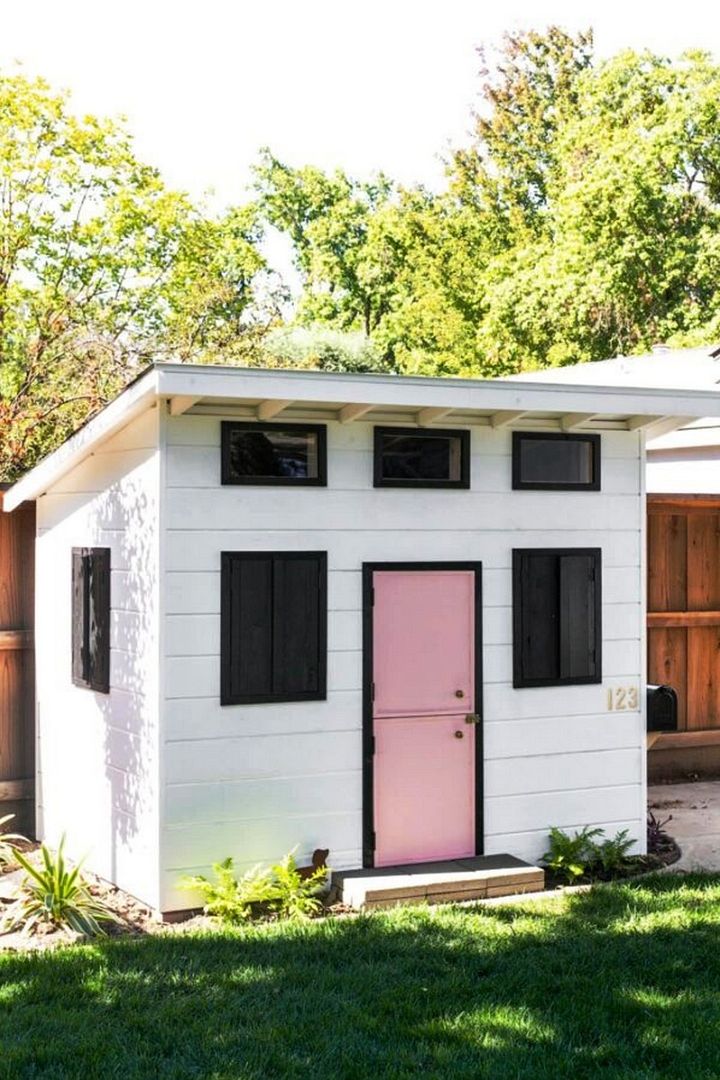 Easy DIY Playhouse: Have a look at this wooden playhouse here made easily within a few steps. You can easily complete this mission over a weekend. A lot of wood work is done here so you must prepare yourself for quite a lot of wood working jobs here. Besides this you will have to do drilling, cutting, assembling and much more to achieve the desired results. Tutorial
17. DIY Backyard Playhouse with Slide – Our Handmade Hideaway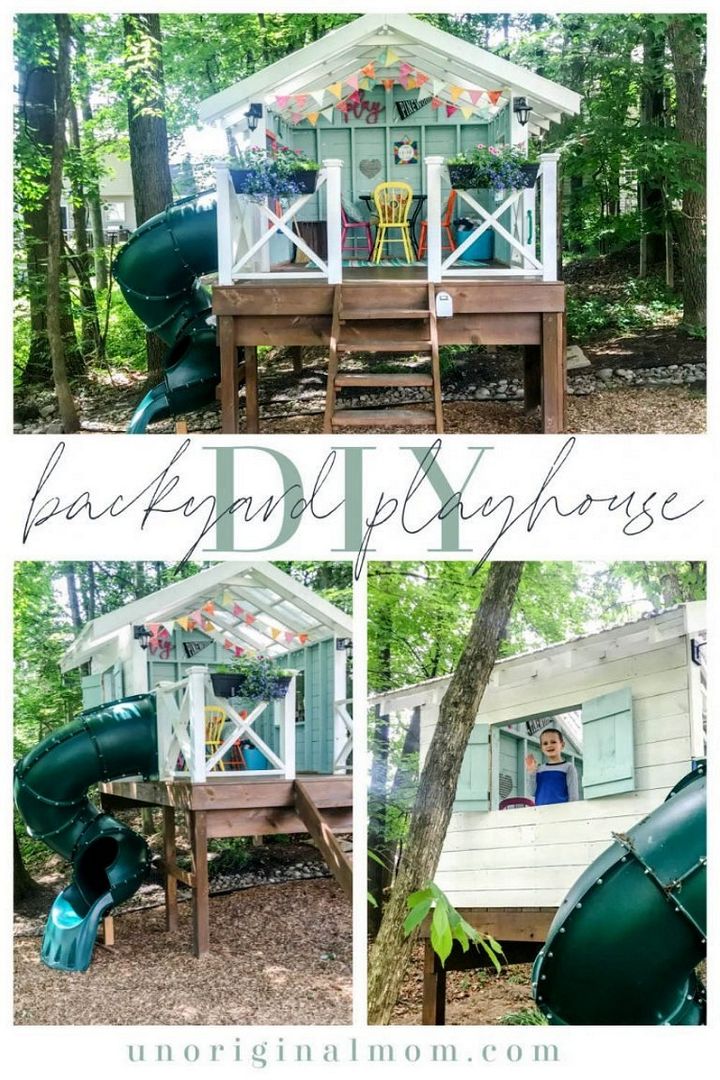 This playhouse not only is a house but comes with a slide so that the kids can enjoy more than just a little house. As we know that the spring season is almost here and this seems to be a perfect time to build this house. The supplies that you need here are tube slide, rock wall grips and handles, window boxes, hardware and roof. Tutorial
18. Our DIY Playhouse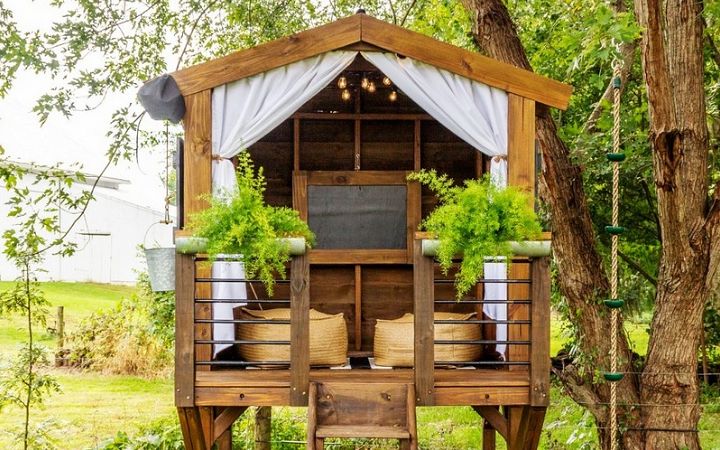 A diy playhouse can be something that you will be proud of once you are done making it due to the fact that it's a massive project not only an ordinary diy. Kids especially girls love to play in play houses and they can literally play for hours in there. This particular play house is made on a height and it looks really cool. A durable kind of wood is used for the making tom make it more appropriate for outdoors. Tutorial
19. DIY Farmhouse Style Outdoor Kids Playhouse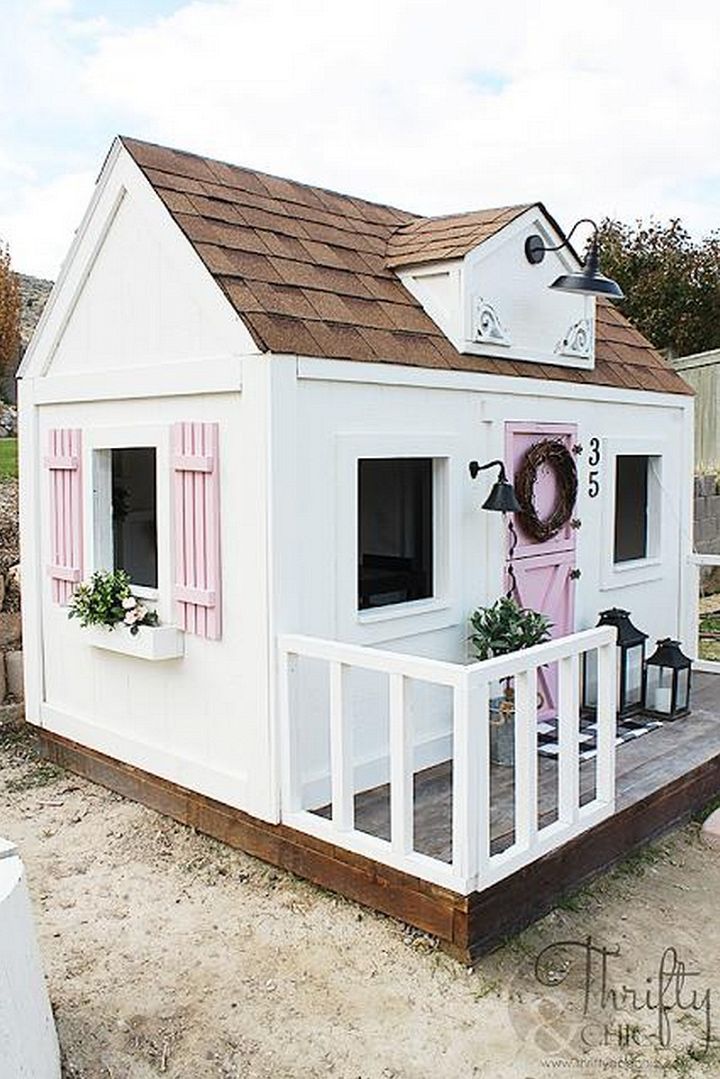 Easy DIY Playhouse: This is definitely not an ordinary playhouse but is made in a farmhouse style and looks absolutely phenomenal. It's so lovely to see from your window, a little white little house sitting in your backyards. A complete set of instructions is given here that teaches us how we can easily and very conveniently construct a playhouse in the outdoor space. Tutorial
Father Day Crafts To Make At Home – Few things can say that"I love you" more during Father's Day than a thoughtful hand-crafted gift from your loved one. We've put together this collection of 20+ awesome Father's Day crafts for children to create just right in time for this special day.
20. Easy DIY Playhouse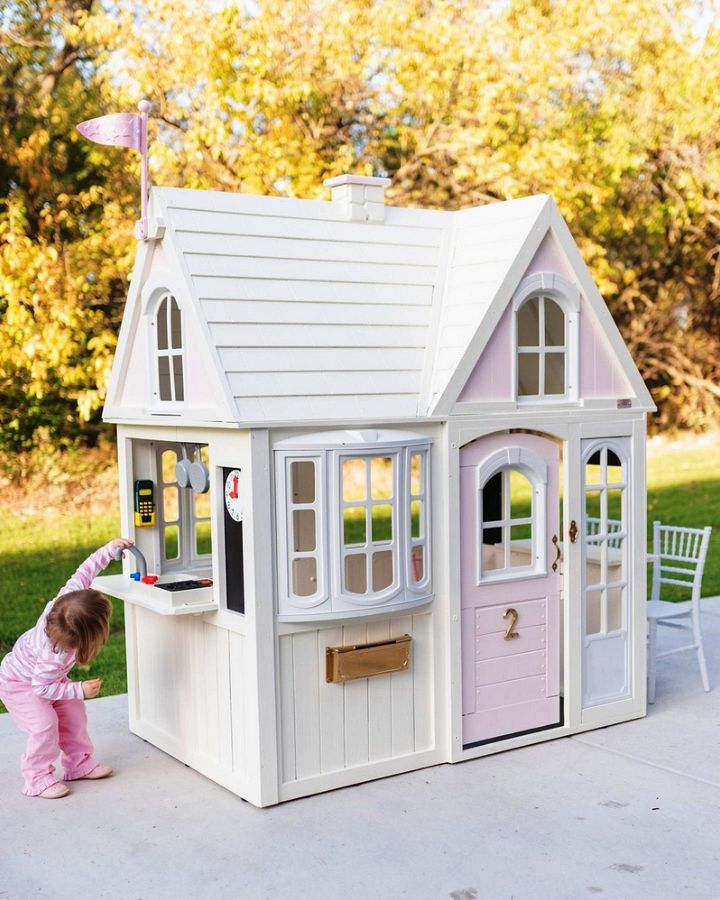 This diy playhouse is not only easy to create but looks absolutely enticing and stunning. Kids love to play outside especially in the summers, therefore there must be some kind of excitement for them in that space which they can enjoy and have fun with. You must have a drill to build this lovely house. Paint and primer are also needed here. Tutorial
21. Build a DIY Playhouse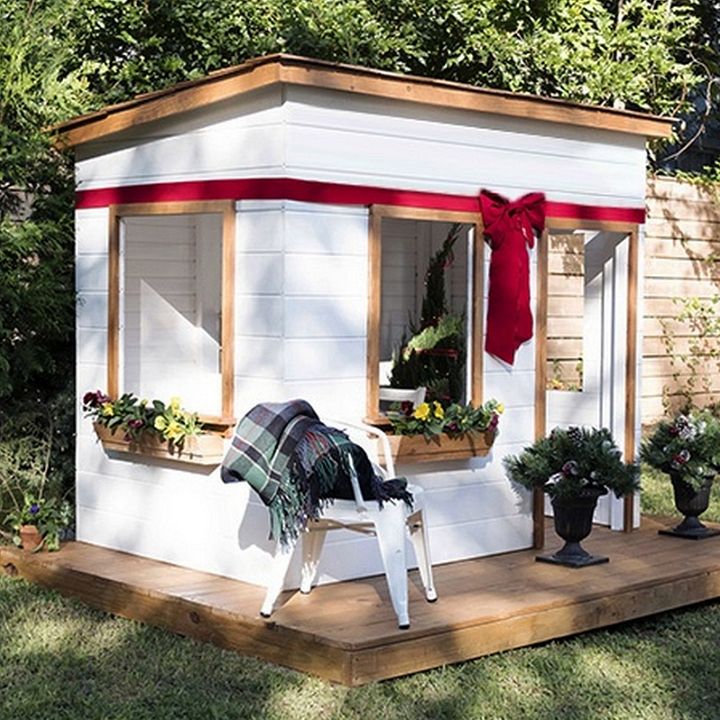 Building a playhouse for your kids will give you immense pleasure and satisfaction. Try this idea and you will not regret the efforts that you have made for this. Base floor, front, back and sides are all constructed separately. The tools you need are drill, kreg pocket hole jig, air nailer, jigsaw, carpenters square and tape measure. Tutorial
22. How to Build an Indoor Playhouse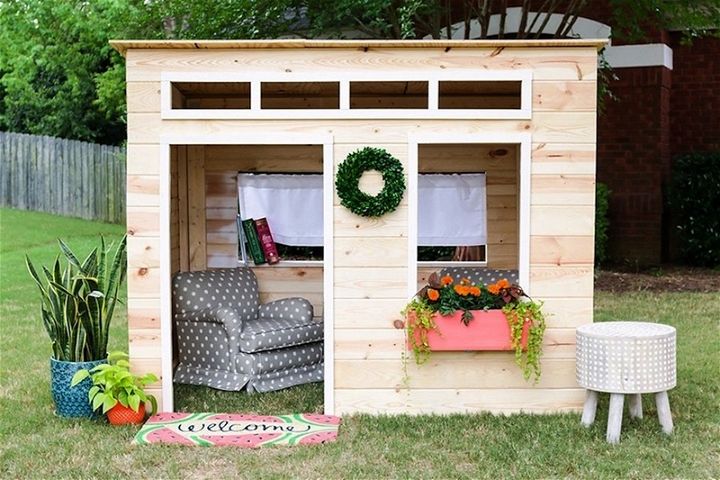 Here in this diy project you will see how an indoor playhouse is built conveniently. As summers are almost here and there must be some playful ideas and plans lined up for the kids so that they can have a full enjoyment time in a complete swing during their holidays. With this diy playhouse, your kids will be able to make their own childhood memories and cherish them one day when they get older so give them such a chance. Tutorial
23. DIY A-Frame Play House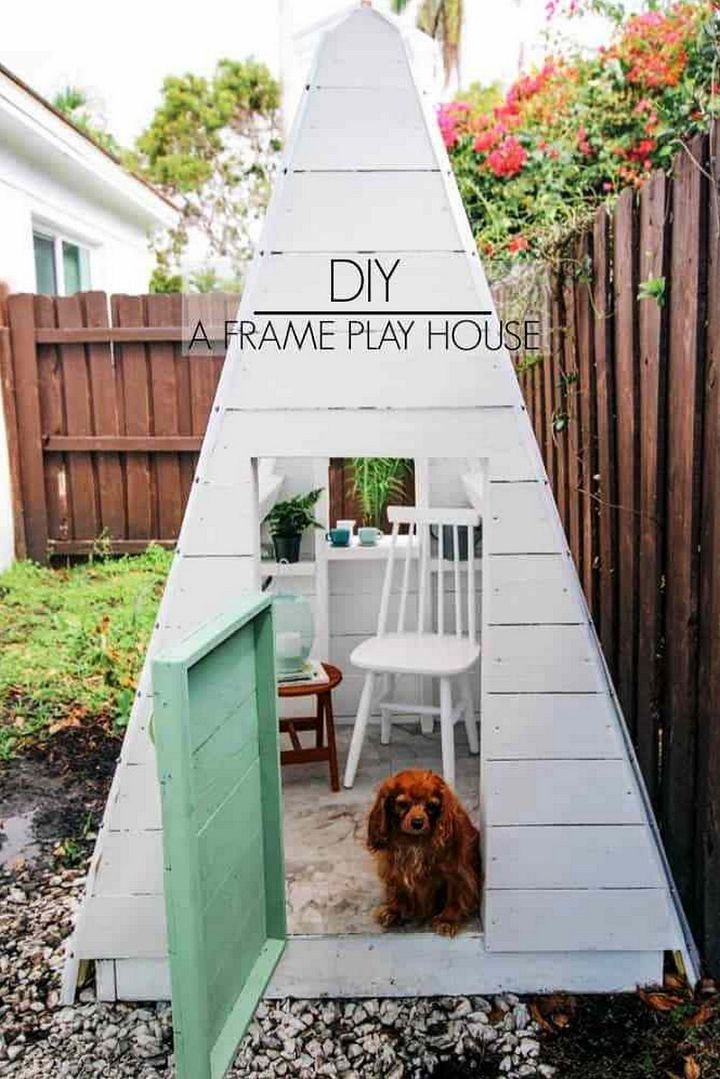 This diy a frame playhouse is comparatively smaller however they are super comfy and looks adorable in any garden. This is an easy structure to build. This can be an inexpensive project for you to do and make your children happier during their play time more than ever before. Lumber, screws, panels and a lot more is needed here to build this fabulous thing so get started. Tutorial
24. DIY Playhouse Makeover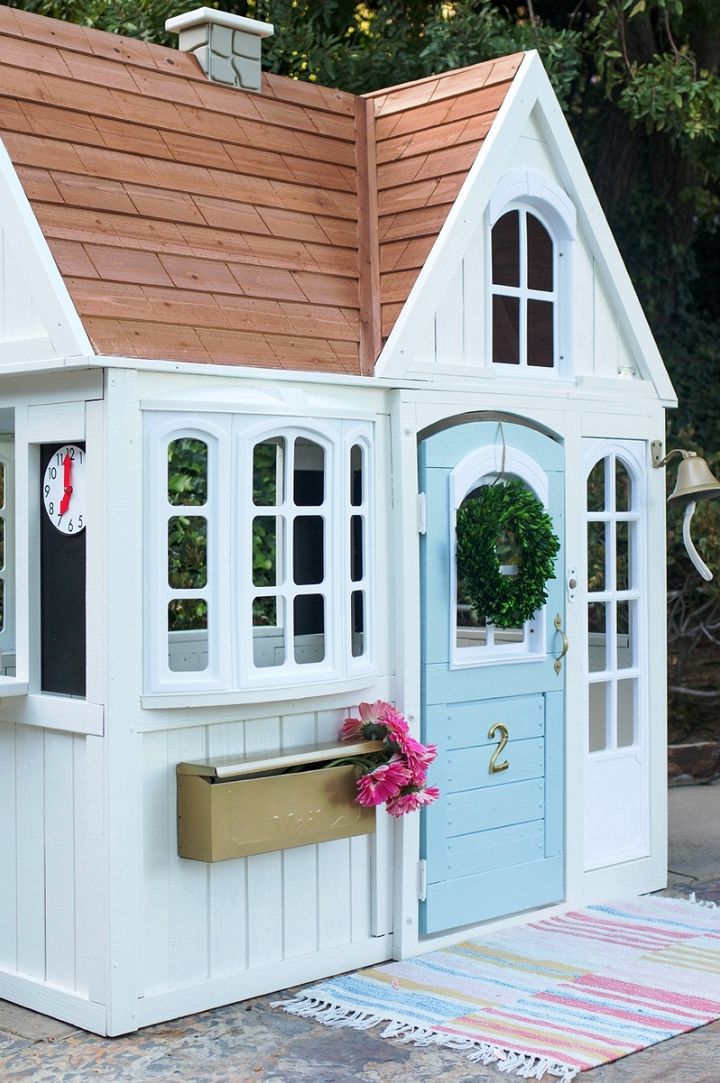 Easy DIY Playhouse: This playhouse makeover is an interesting activity that you can do during the spring break. Designing a mini home like this one can be so much fun for sure. This make over is done in very affordable price range and anyone can do this easily. Go grab your supplies and do this dream playhouse make over this holiday season. Tutorial
25. DIY Cardboard Camper Playhouse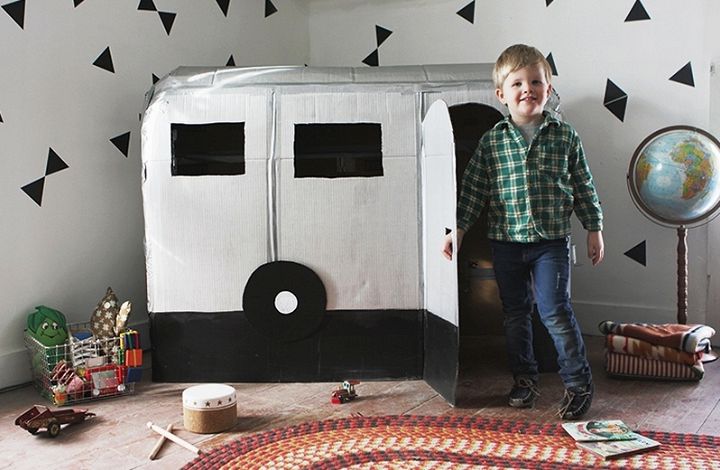 This is a recycling project that you see here. In this diy playhouse project a very nice and attractive playhouse is made using cardboard. Besides cardboard you also need box cutter, duct tape, paint and paint brush as your main tools. Once you are done with it, you will see your children getting obsesses with this camper playhouse. Tutorial
26. Little Tikes Home Makeover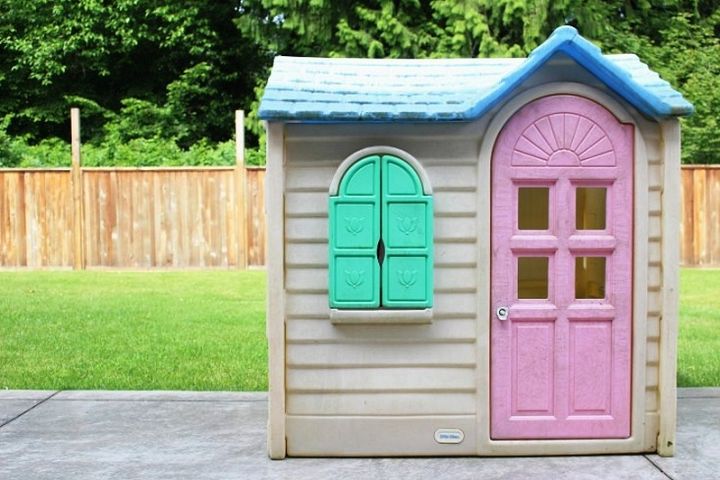 Have a look at this most adorable little tikes playhouse make over. This can be your dream project for your kids so get started today. Your children will love to play outside in the garden more than ever and that too in front of your eyes. They can pretend play on this playhouse which is an all time for all the kids. Tutorial
27. DIY Farmhouse Gardenshed Inspired Playhouse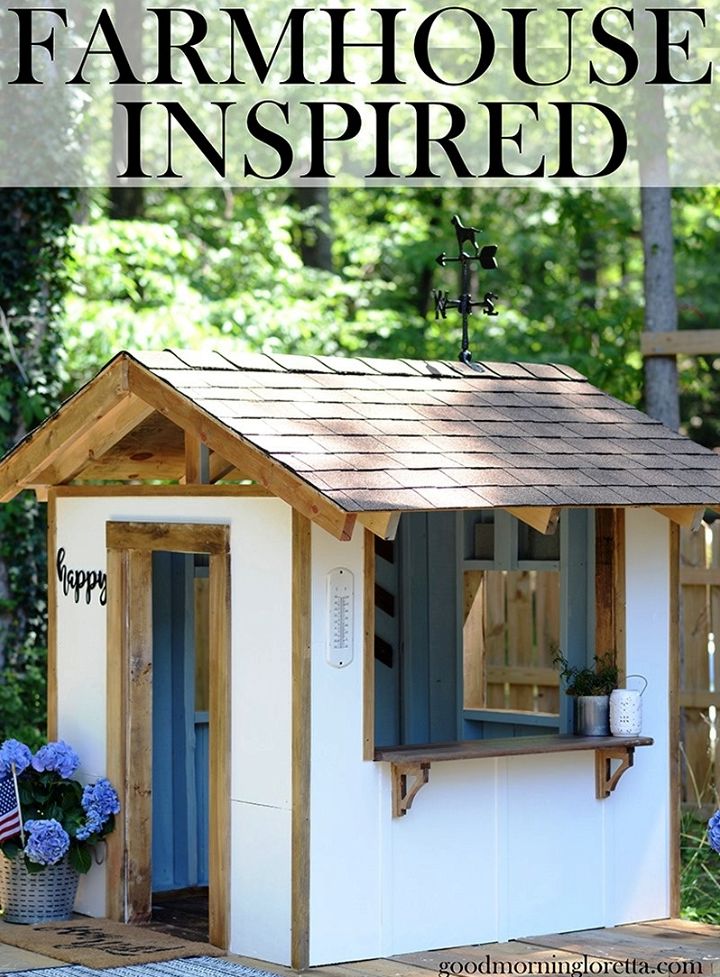 This playhouse is built with an inspiration from farmhouse garden shed. You need to follow the process of construction and you will be able to catch up with the project. our definitely need to have some wood working skills for this project as there is a lot of cutting, drilling and assembling. See the tutorial also so that you do not miss out on the minor detailing. Tutorial
Popsicle Stick Crafts – Take a look at these 35 Easy Popsicle Stick Activities for Kids to make and play with – Keep the Popsicle and Ice cream Sticks or craft sticks and enjoy!
28. How To Paint a Plastic Playhouse Like a Pro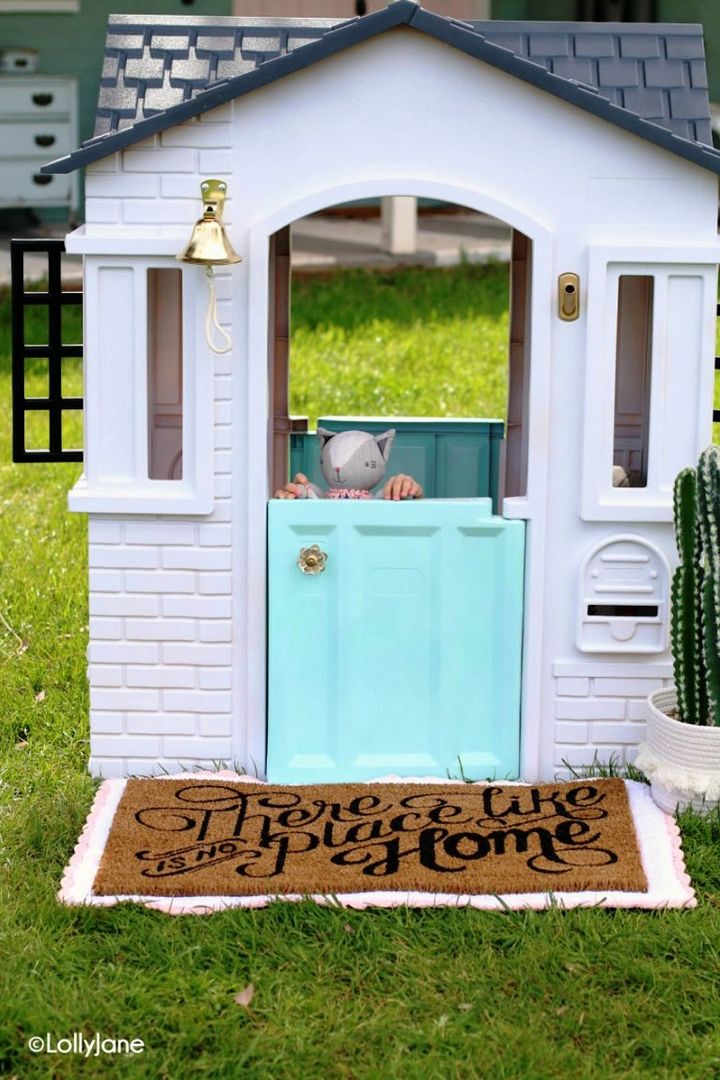 In this diy project you will learn to paint a playhouse. See how everything is done over here and how an amazing mini home is easily painted to just to look more appealing and inspiring. You will need primer and paints that are listed here. Besides this you will also need a spray sealer Tutorial
29. Easy DIY Playhouse Makeover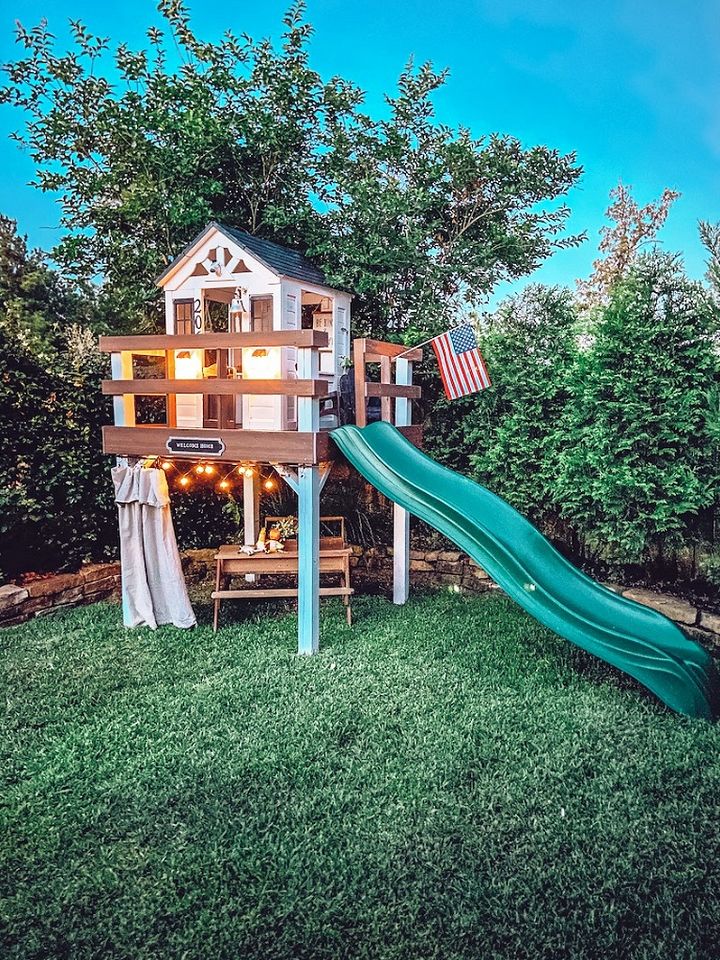 Easy DIY Playhouse: Have you ever thought of such an easy make over for a playhouse? If not then follow this project to see how everything is done accurately and appropriately. You will need a pressure washer, exterior paint, roller, paint brush and rust oleum painters touch for this project. Tutorial
30. DIY Cardboard Playhouse From A Box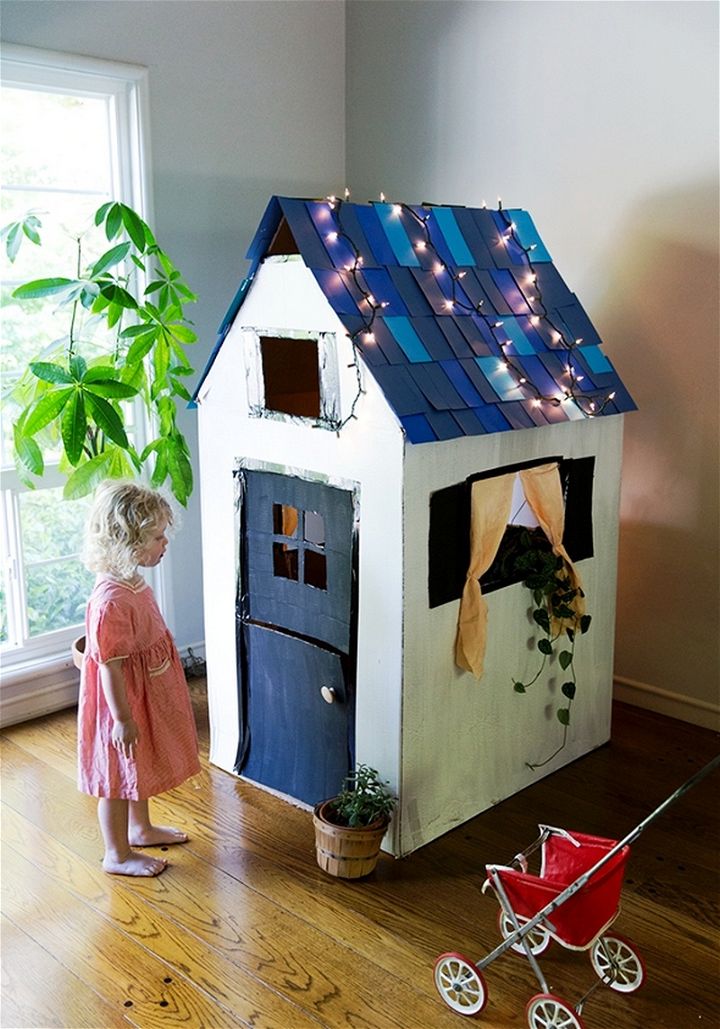 This diy playhouse is made using plain cardboard. You will have to start off with two large cardboard boxes. Box cutter is used to make cardboard. The entire house is painted with white poster paints using a large brush. Besides this a small brush and a roller is used to paint. Once the house is done, twinkle lights are used to make the house look more appealing and attractive. Tutorial
Conclusion:
All of the ideas that you see here are affordable and easily manageable. If you have any of your children birthdays coming up, this diy play house can be an ultimate gift for their special days so get started and learn to make these mini structures with the help of the instructions given in any of your favorite project.