As we all know that Father's Day is just round the corner therefore some we all should think of ideas to make this day special for the fathers in our lives. Not only for your father but you must also make some special celebration and gifts for the father of your kids. Besides this you can also give father's day gifts and greeting cards to your brothers who are also father to your nephews and nieces. These 25 Father Day Crafts To Make At Home gift and greeting card ideas are all handmade and hence shows pure love and affection.
Homemade presents always tends to show the pure intentions behind them as there is a lot of time spent in such activities and one will only invest time and effort into something that is really close to their heart. All these ideas are floated keeping in mind what fathers may like. You can see some very imaginative and innovative ideas here that you can easily catch up with. You might have all those basic stationary and supplies already lying on your work desk for making these father's day crafts so get started.
1. Father's Day Printable Bottle Tags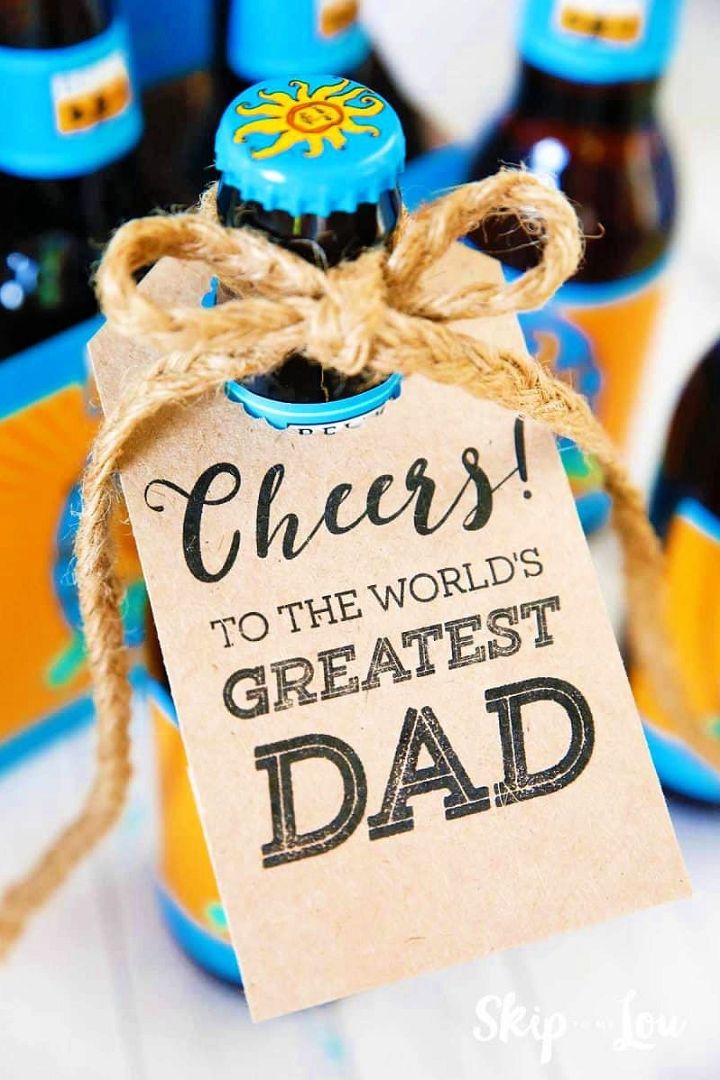 As we know that father's day is approaching soon therefore we must do some preparations beforehand. For all the father figures in your life, think about some special gifts on this father's day. This diy father's day project is all about making printable bottle tags for fathers. You have to gather free father's day bottle tag printable for this project. Besides this you will also need printer, Kraft colored cardstock, circle punch, scissors and his favorite bottled drinks. Tutorial
2. Father's Day T-Shirt Free Cutting File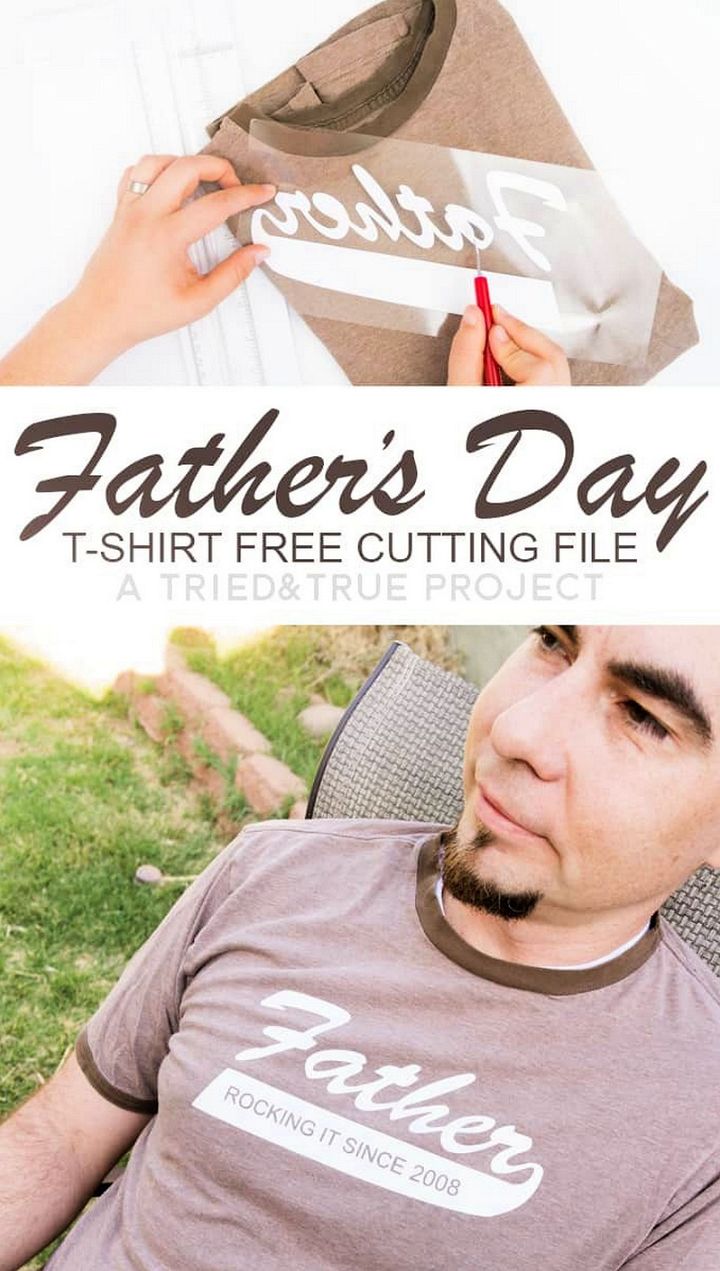 Now you can create your own fathers day t shirts with the help of this diy plan here. you will need some limited supplies over here like t shirt, cutting machine, stretch heat transfer vinyl, and fathers day free t shirt cutting file. Grab these supplies and get started with this amazing project. Tutorial
3. Popsicle Stick Greeting Card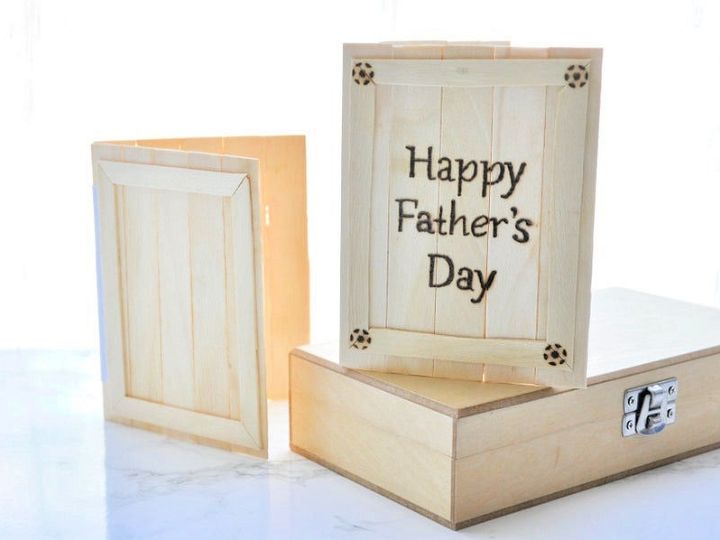 Any celebration is all about Decorations and Gifts and similar is the case with fathers day. We all want to give our fathers special gifts and prefrebly handmade greeting cards that shows immense love and affection. This diy project is also about making a fathers day card using popsicle sticks and it looks more than perfect. Tutorial
4. Pop-out Father's Day Card Shape Tutorial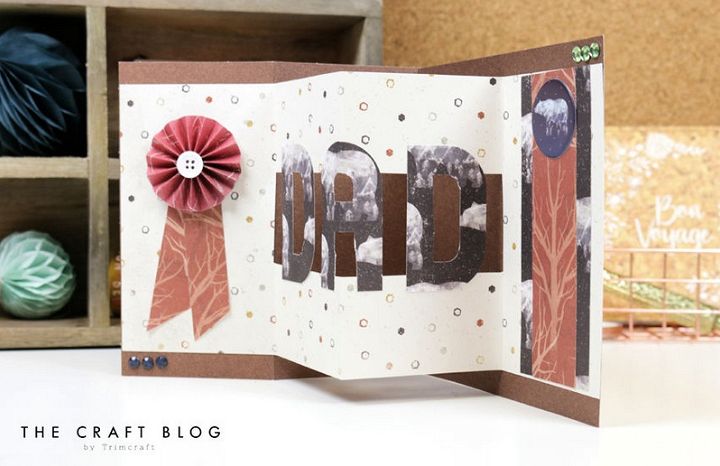 This diy father's day greeting card will surely make your fathers happier than ever before. As we know that the father's day event is just round the corner, so we must think about making some beautiful cards for him. Take out time to spend ono strengthening the bond that you share with your father through these diy greeting cards. Tutorial
Easy Watercolor Ideas – Need inspiration for your watercolor painting? We've got plenty of ideas for watercolor painting that will inspire you and spark your imagination! Here is a collection of simple watercolor art techniques to try for those who are new to the art of painting.
5. Father's Day Twizzlers Cake Topper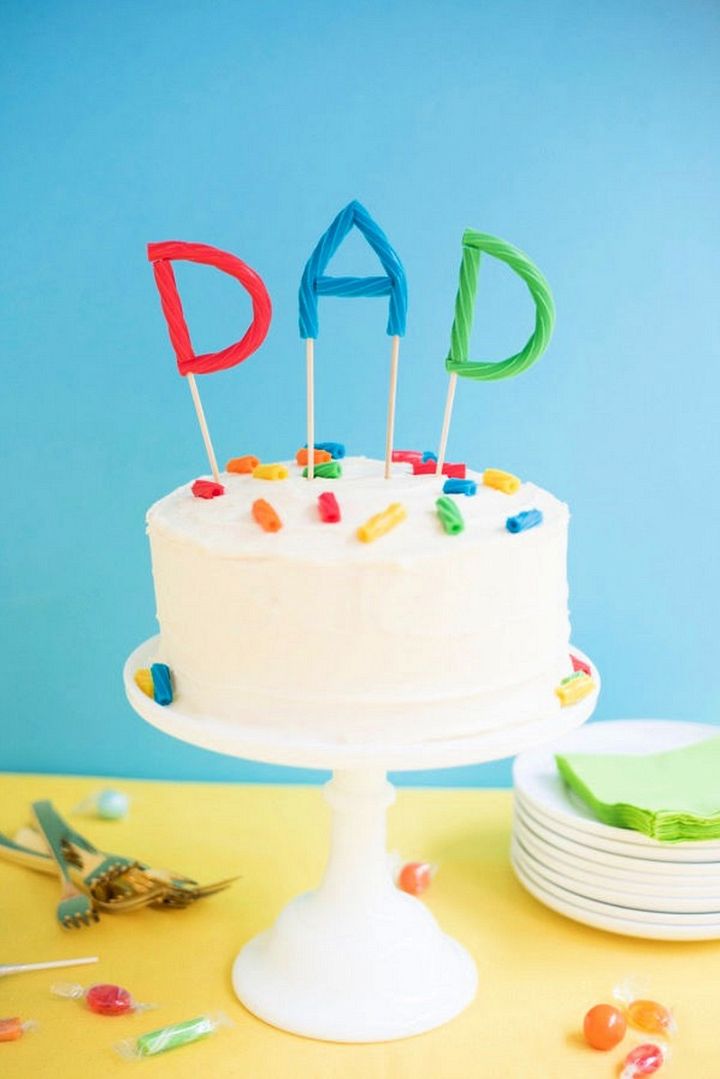 If you are also ready to make your father's day cake more decorative then you must try this diy project. These twizzlers cake topper are all you need for making your father's day cake even special. Note down what you need to make these cake toppers. The materials that you need here are twizzlers, candy straws, kitchen shears, bamboo skewers and toothpick. Tutorial
6. DIY Origami Shirt Card For Father's Day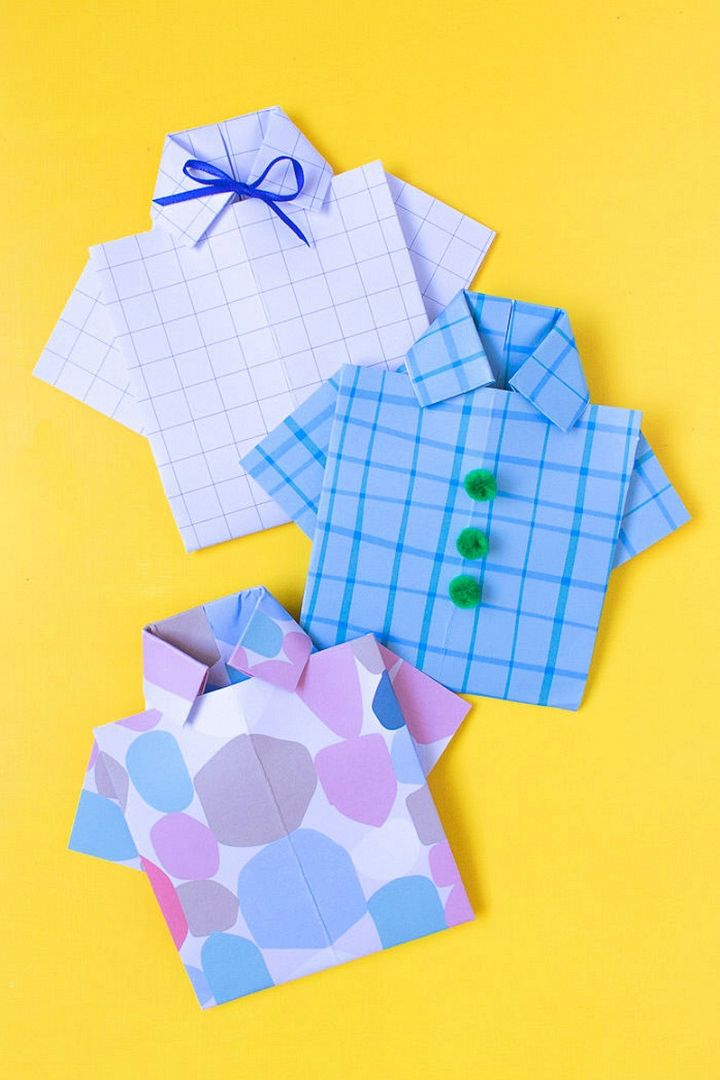 For father's day decoration and celebrations, we must think of crafts that reminds us of our father. These origami fathers paper shirt idea seems perfect and easy at the same time. Grab the supplies that you need and get started with the mission. All you need for this project are patterned cardstock, solid cardstock, scissors, glue and embellishments. Tutorial
7. Drawer Sachets From Shirt Pockets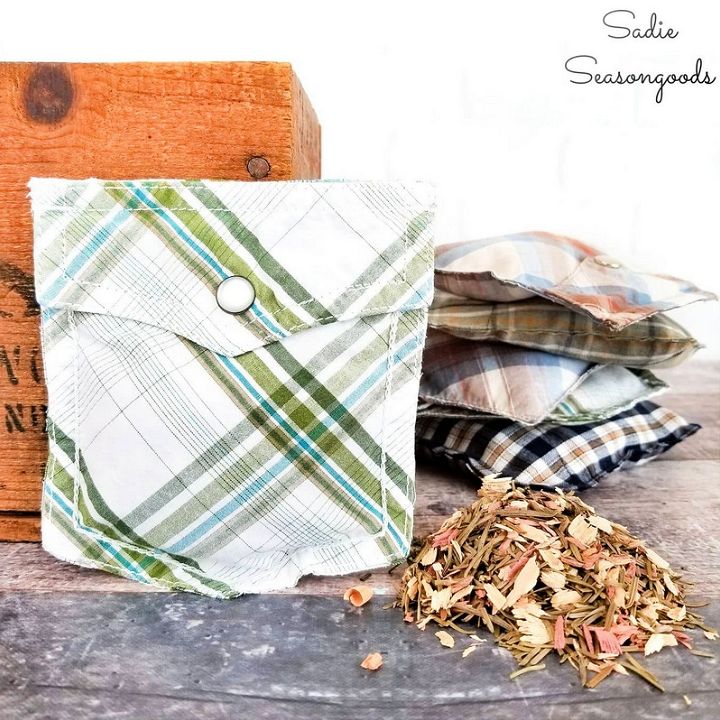 This fathers day consider making crafts with recycled materials and have fun, this diy fathers day project is about making drawer sachet from old shirts and look how cute and intelligent this seems to be. All you need for this project are old shirts, scissors, and your good old sewing machines. Tutorial
Fruit Decoration Ideas – Fruit is a refreshment in the heat and humidity outside. You can create fresh fruit flowers to suit any occasion and you can also use chocolate as a decoration for bananas and strawberries. Check out here
8. How To Make Stenciled Ties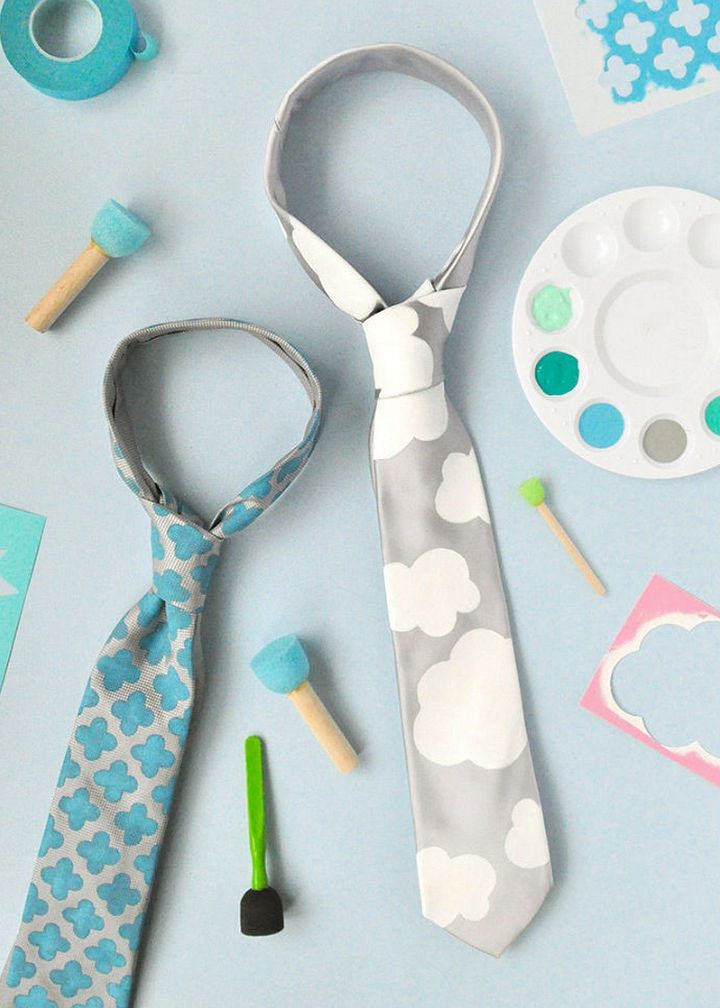 This fathers day consider making crafts with recycled materials and have fun, this diy fathers day project is about making drawer sachet from old shirts and look how cute and intelligent this seems to be. All you need for this project are old shirts, scissors, and your good old sewing machines. Tutorial
9. Father's Day Gift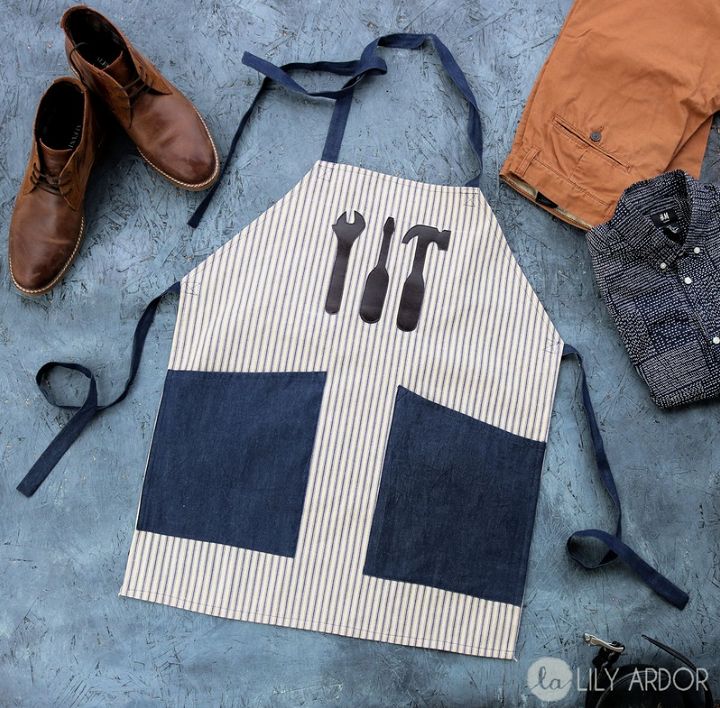 A father's day gift can be literally anything that reminds your father of his importance in your life. The gifts must be preferably handmade so that he can feel the love and warmth that you have in your heart for him. These diy aprons made out of recycled materials. You will need fabric, spray adhesive, navy thread, ribbon, threads, printable, tissue paper, cheap tape, iron, yard stick and pen. Tutorial
10. Incredi-ball Father's Day Gift Idea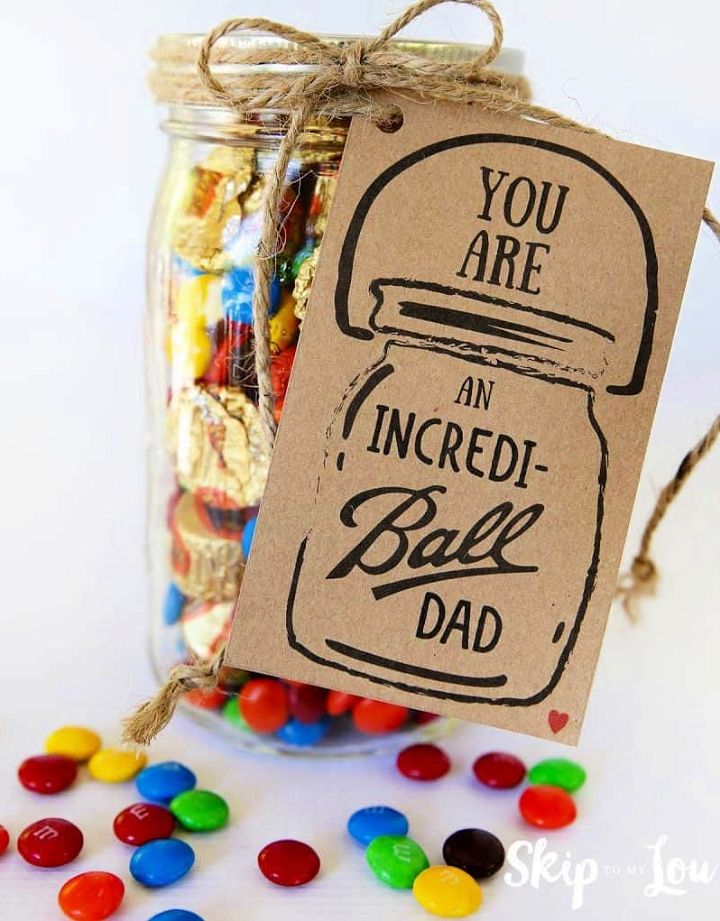 Fathers day is the best time of the year to remind your fathers about how special they are and the special place they hold in our hearts. This is a diy fathers day candy jar gift that you see here. this gift will surely bring a smile on his face and you will be satisfied. You need a few things to make this gift such as free printable, ball canning jar, twine, paper, kraft colored cardstock, scissors or paper cutters, hole punch and his favorite treats. Tutorial
11. Free Hand Lettered Father's Day Printable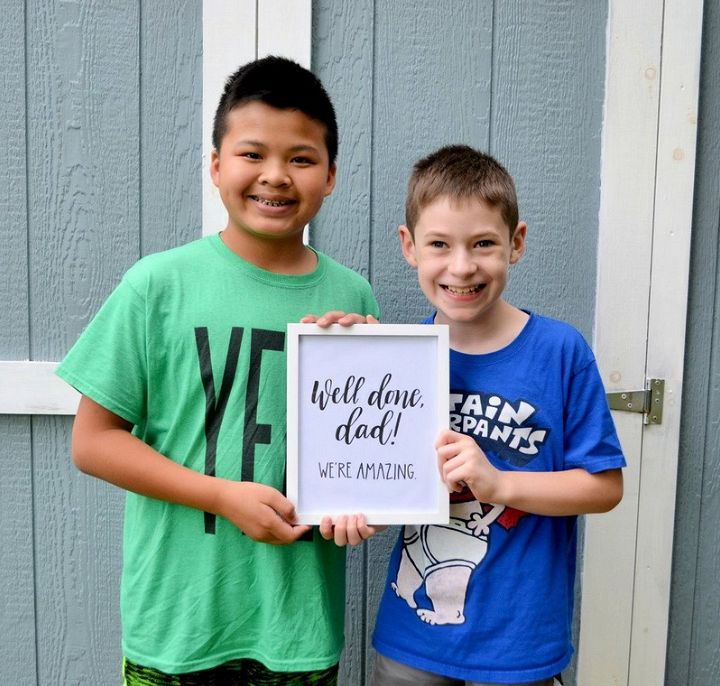 This hand lettered father's day printable is something adorable and you can try for this father's day. Kids can easily make their dad proud and happy with this diy father's day greeting and gift. Before the event actually arrives its better that you do all your preparations so that you don't have to rush at the eleventh hour. Tutorial
12. Crochet Scarf For Men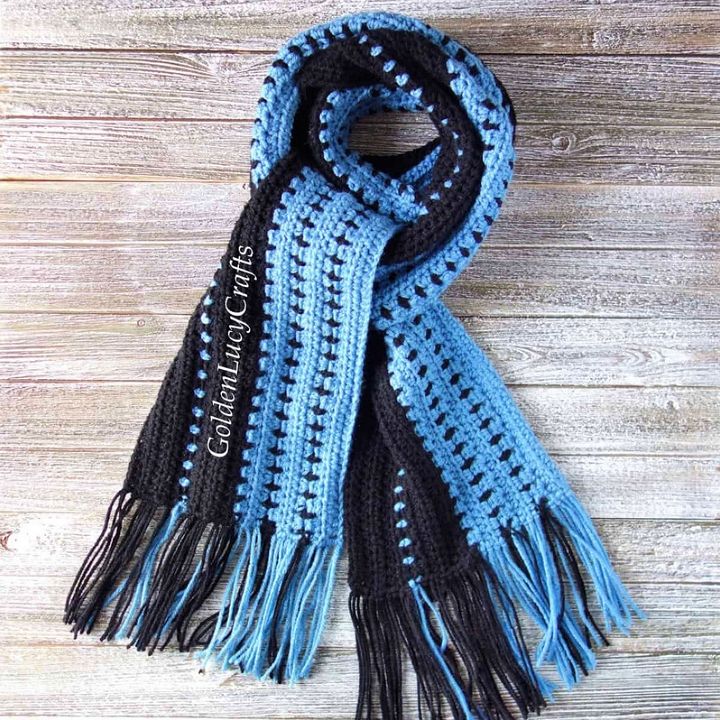 For father's day this year you can make diy gifts so that he can feels special and loved by the handmade gifts you make. If you make a little bit of effort you can make a very nice crochet scarf for men with the help of this diy crochet scarf tutorial and detailed instructions given here. Tutorial
DIY Valentine's Day Crafts – Pick something romantic or cute to show your affection and love with handcrafted Valentine's Day gifts this year. From simple home projects and DIY Valentine's Day cards, these gifts are guaranteed to let your loved ones know how much you cherish them.
13. Hand Lettered Acrylic Keychains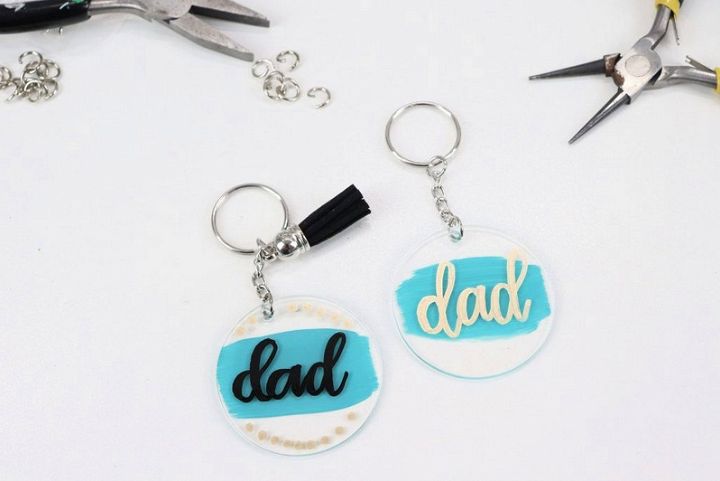 Keychains are something that really are considered to be sweet and simple gifts on different occasions. For the father's day this year you can make these handmade keychains and make your father happy about the bond you share with him. These are hand lettered acrylic keychains and you can make customized ones with your own choice of letters on them. Tutorial
14. Father's Day Party Ideas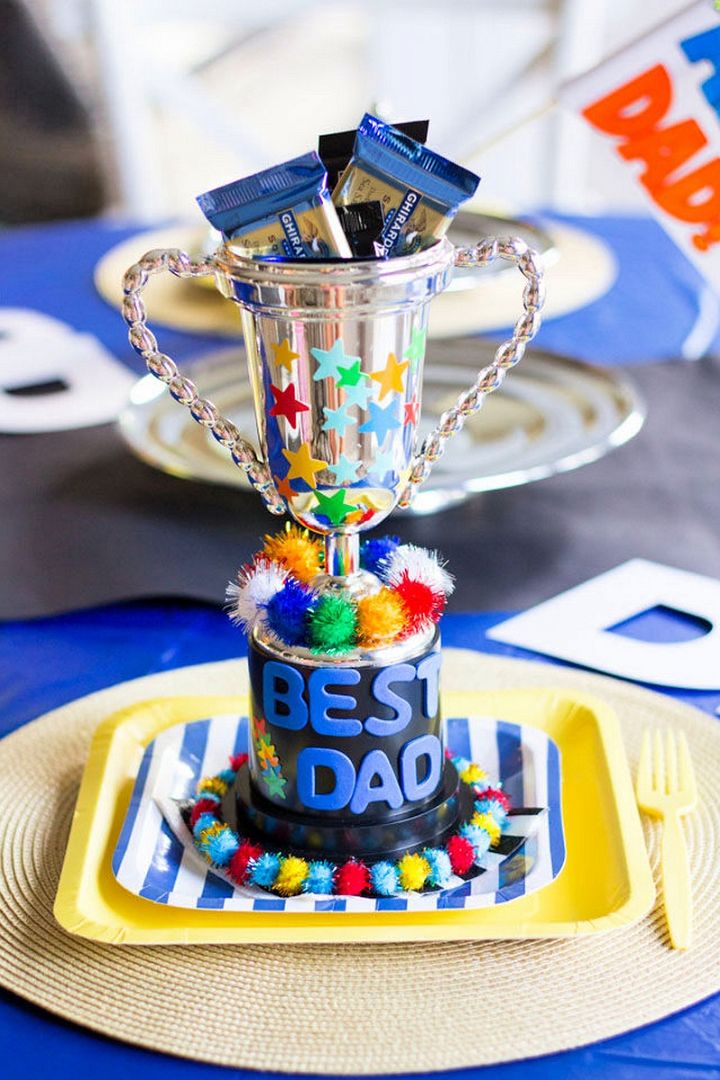 As we know that father's day is just round the corner therefore we must make some preparations beforehand for the party. This is a perfect party idea for father's day and will make the party more fun and full of spark. Get into the details of this project here and see how you can also make your father's day fun and more interesting. Tutorial
15. Surprise Dad With A Cute Necktie Father's Day Card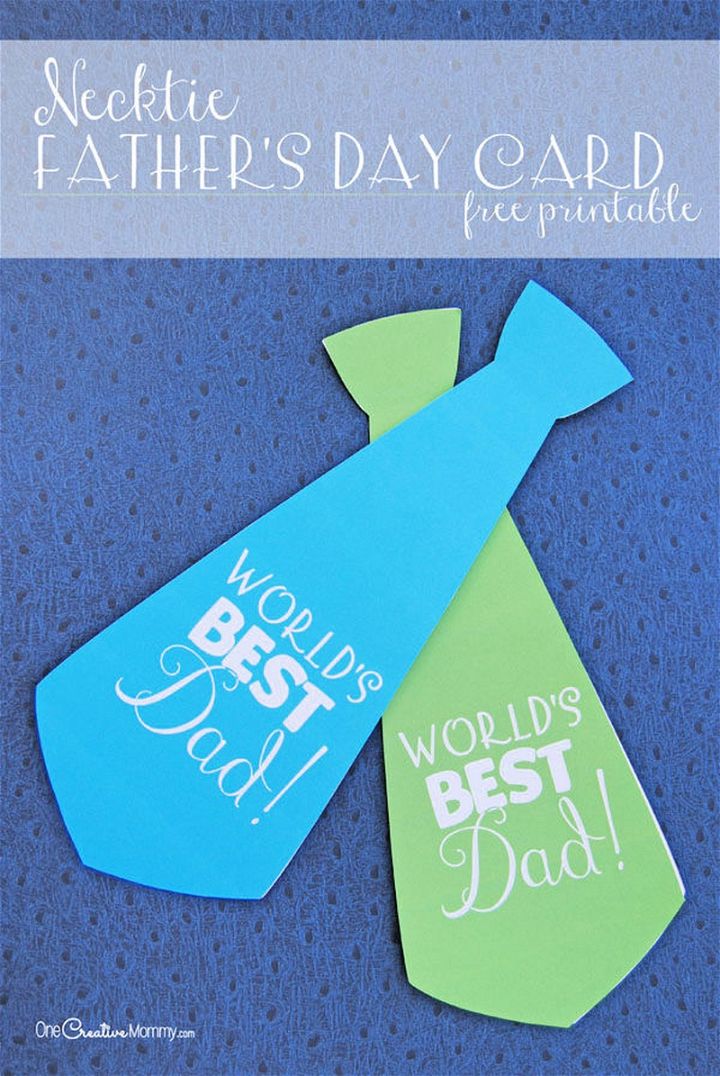 Have a look at these neckties father's day card. While making gifts and card for any event you can be as much creative as you want so go ahead with this creative project. To make these father's day neck ties for your fathers you only need a few supplies and crafts that are easily available. Tutorial
16. Father's Day Memory Box DIY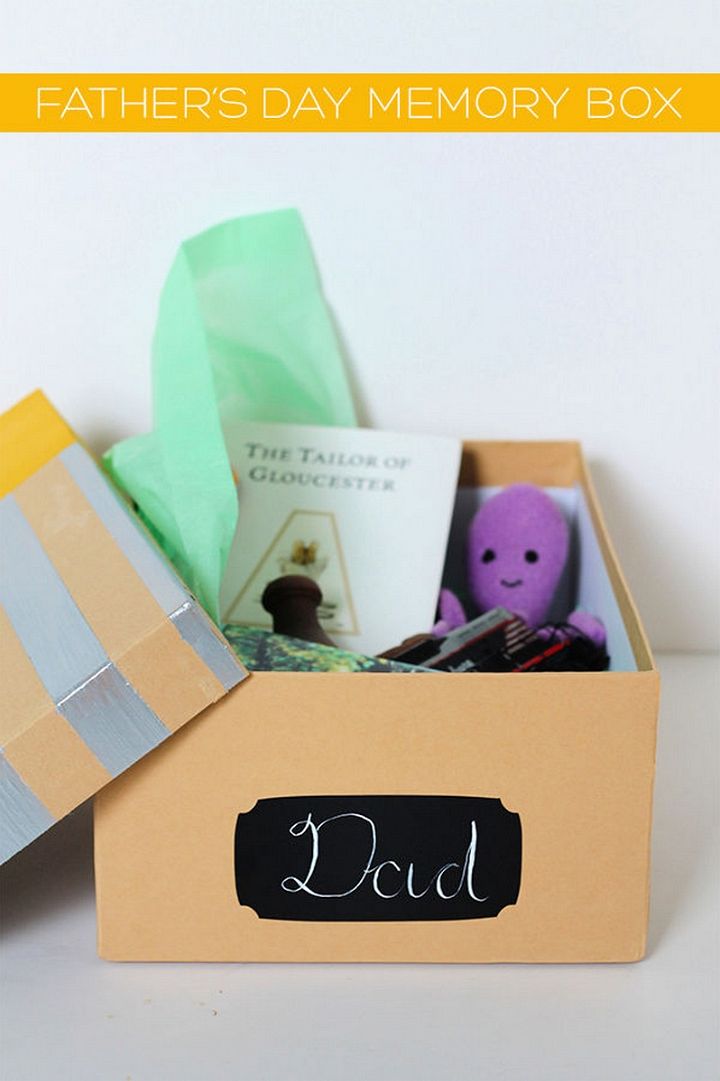 Memories are always special and you must cherish them. Consider making a memory box this father's day for your father so that he can cherish the moments spent with you and his family. This memory box can include books you read together, toys he gave you, souvenir form places he travelled, a menu from a favorite restaurant from your childhood and photos Tutorial
DIY Anniversary Gifts For Him – You've decided to make your own gifts , check out these 15 DIY anniversary presents to get ideas and ideas! Some of the top 9 homemade anniversary gifts are sure to impress you.
17. Make Dad Smile This Father's Day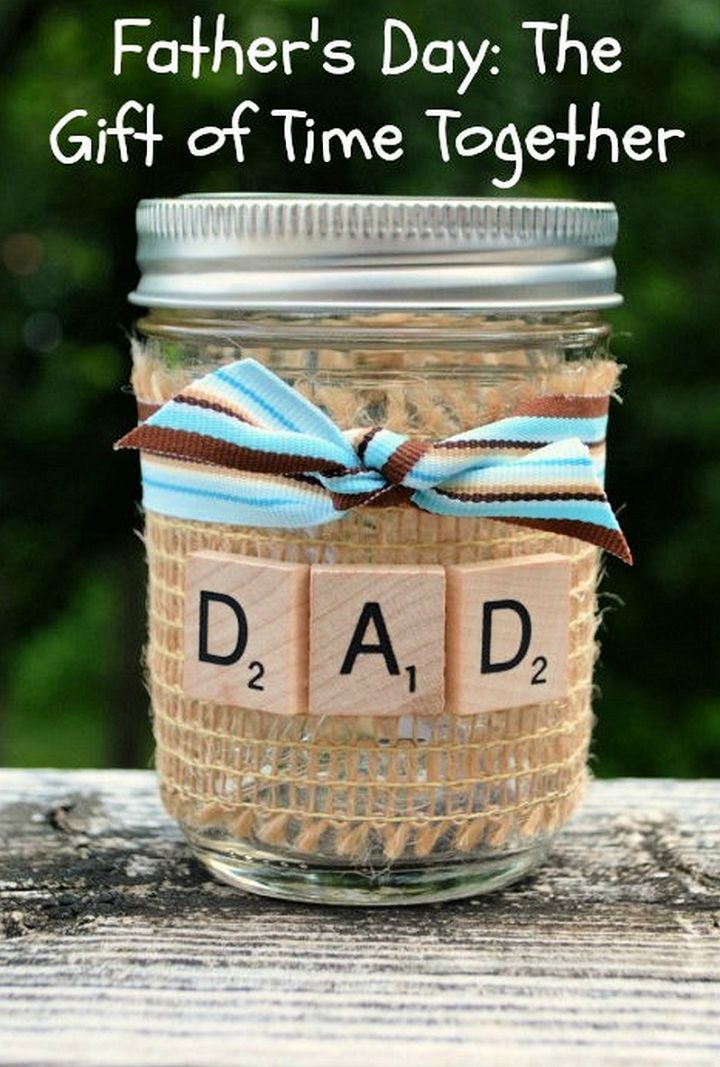 If you really want to do something special for your father on this father's day, you can surely follow this project. With the help of these easy steps you can also create some memories on this father's day with you gather and make him feel loved. This diy father's day project include small glass jar, strip of burlap, wooden letter tiles, ribbon, hot glue gun and glue, paper and marker. Tutorial
18. DIY Wood Burned Father's Day Card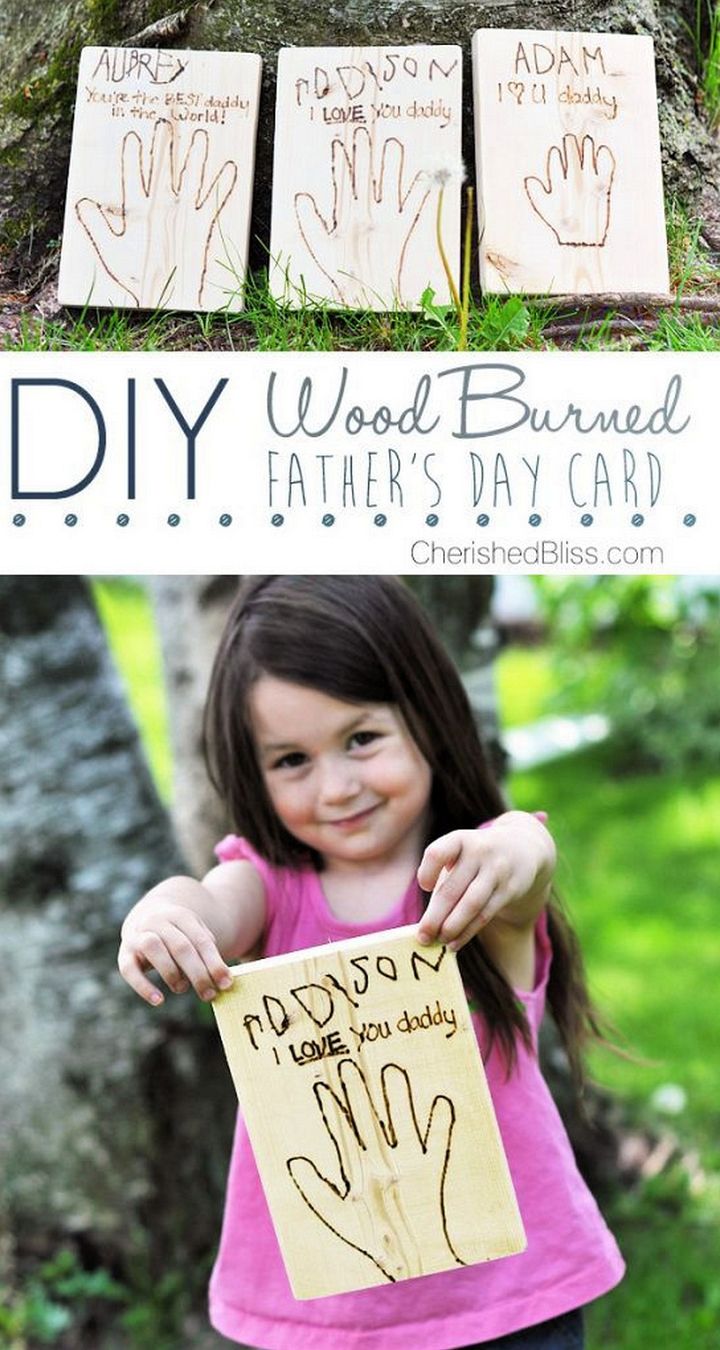 This is one of kind unique father's day project that you can try this year. This is a wood burned card that you can make for your fathers and make them smile like never before. For this you need wood burning tool and that's it. A tutorial will guide you step by step bit do not forget to take the precautions. Tutorial
19. Sandpaper Father's Day Tags
You can make many different kinds of tags for father's day and this is one of those ideas. These are sandpaper tags that you can make for your fathers. All you need to make these tags are and paper, a circle punch, washers, a hole punch, glue and some leather cording and twine. Tutorial
Crochet Gift Ideas – Modern crochet gifts are all available with just five dollars so you can gift present ideas that's thoughtful fashionable and easy on the wallet. Win, win, win! Let's look over 22 of my most-loved last-minute crochet gifts! All of them are simple crochet projects which don't require much time to complete.
20. Father's Day Shirt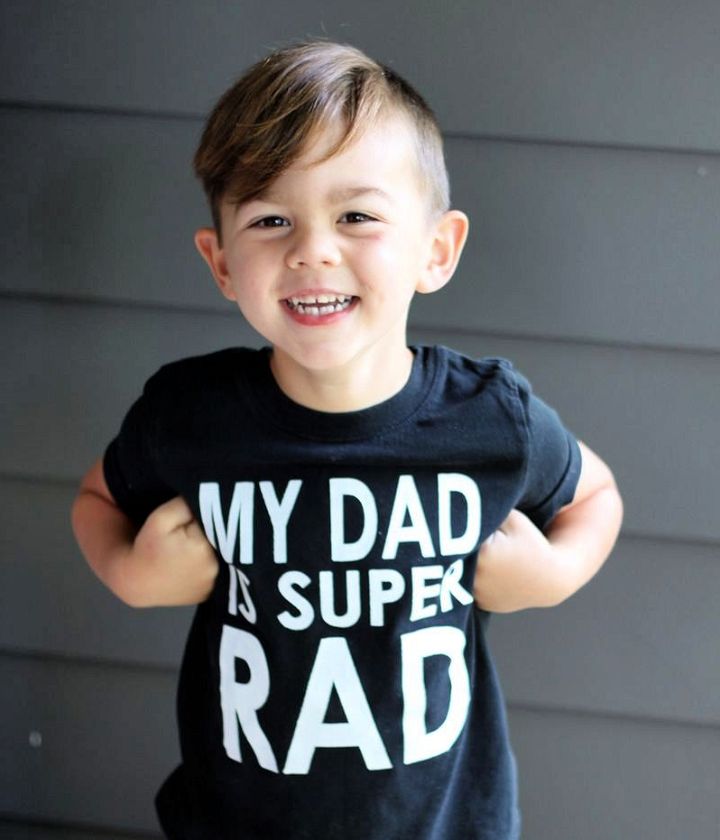 T shirts for any events seems to be the best idea since forever. This diy gathers day project teaches us how we can make some lovely t shirts for father's day like the one you see here in this picture. A complete tutorial is here for your assistance so that you do not miss any minor details of the project. Tutorial
21. Fabric Resist Art Pillows – Awesome Mother's And Father's Day Gift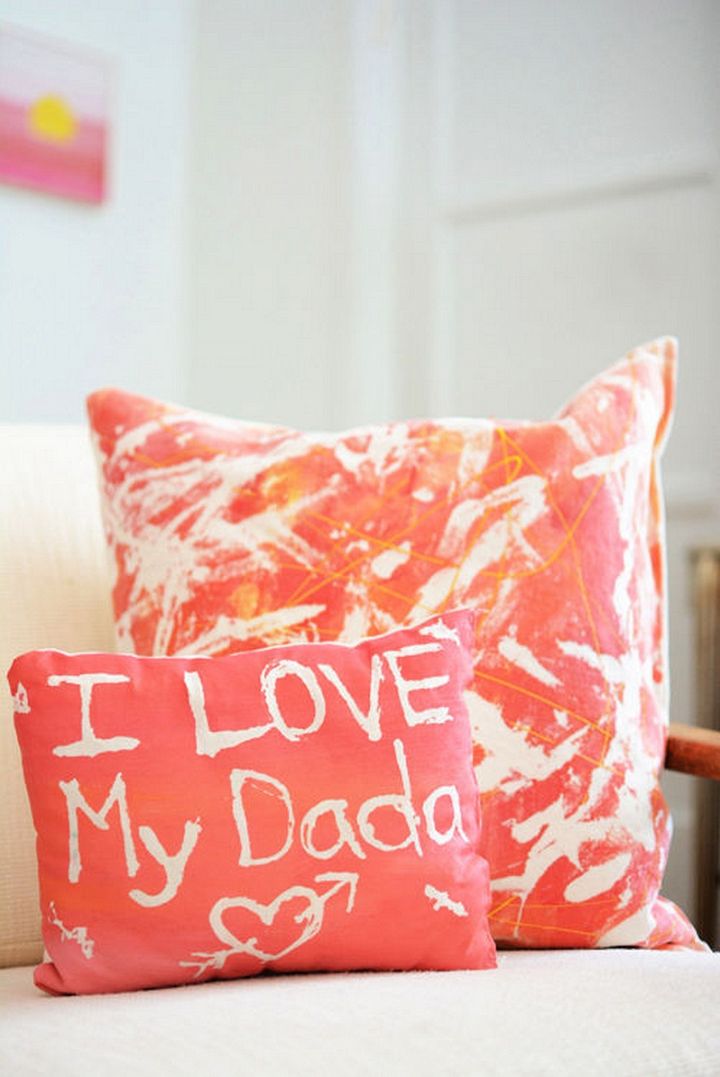 This fabric resist pillow is something that you can make for fathers day or mothers day. This unique gift for fathers day can be easily made with the help of this project. glue along with paint is also used in the project to make those special effects that you see here so get started with this interesting mission which is all about creativity. Tutorial
22. Rice Krispies Lawn Mowers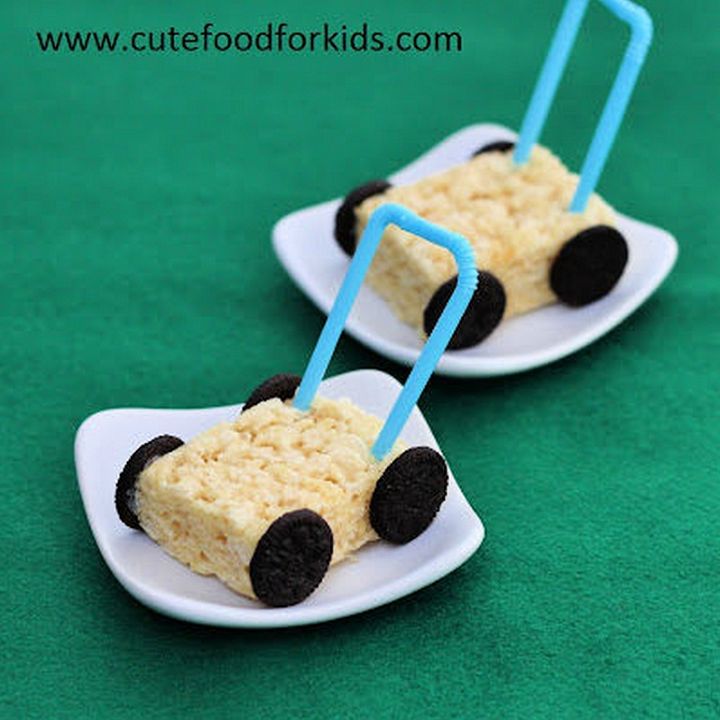 Have you ever wondered how a meal can be presented in such a creative way? This diy project is all about presenting rice crispies in a way that they look exactly like lawn mowers. Follow the project and see how you can make this very easily. To make this amazing presentation you need a few items such as rice crispies, mini oreos and juice box straws. Tutorial
Graduation Gift Ideas DIY – Make a unique present using these 16 best DIY graduation Presents! Clever handmade graduation gifts that your graduate will appreciate! The Best Graduation Gifts to Giveguide can provide you with more gift ideas.
23. DIY Pennant Flag Cookies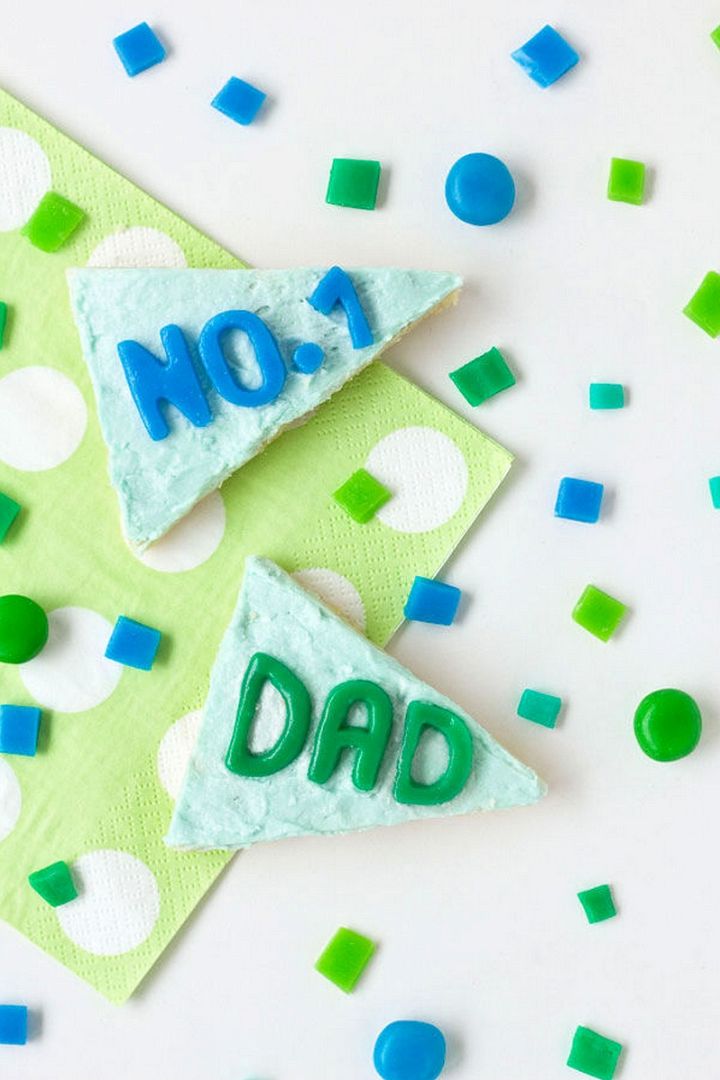 This diy project is all about creativity and making use of budget friendly supplies and crafts. This craft is perfect to give on fathers day as its approaching soon. To make these you need airheads, small letter cookie cutters and sugar cookies. Grab the supplies and get started so that you can make your fathers happier on this fathers day. Tutorial
24. DIY Father's Day Gift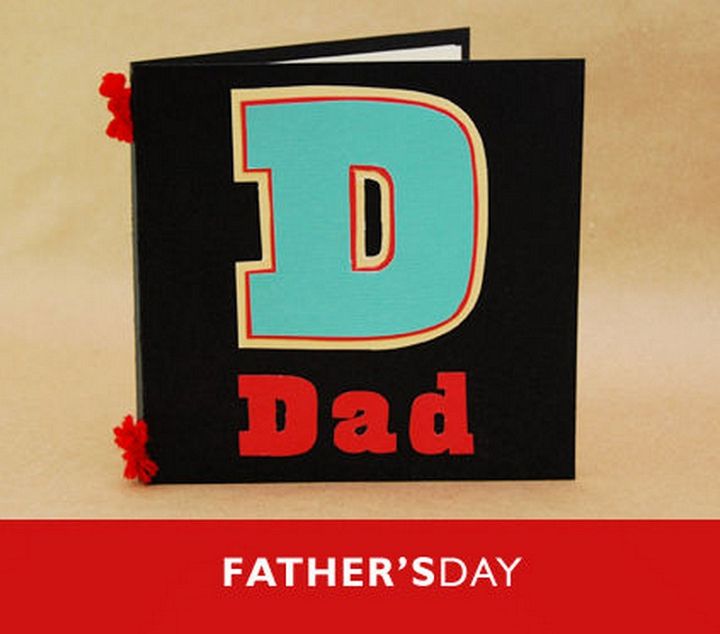 If you are also out of ideas about giving presents to your father on fathers day, enjoy this amazing and interesting idea presented here. for this project you need left over construction and printer paper. Most of the things that you need here for this project would be already available in your house. This gift will contain a lot of emotions in it for your father to just make his day. Tutorial
25. Fathers Day Craft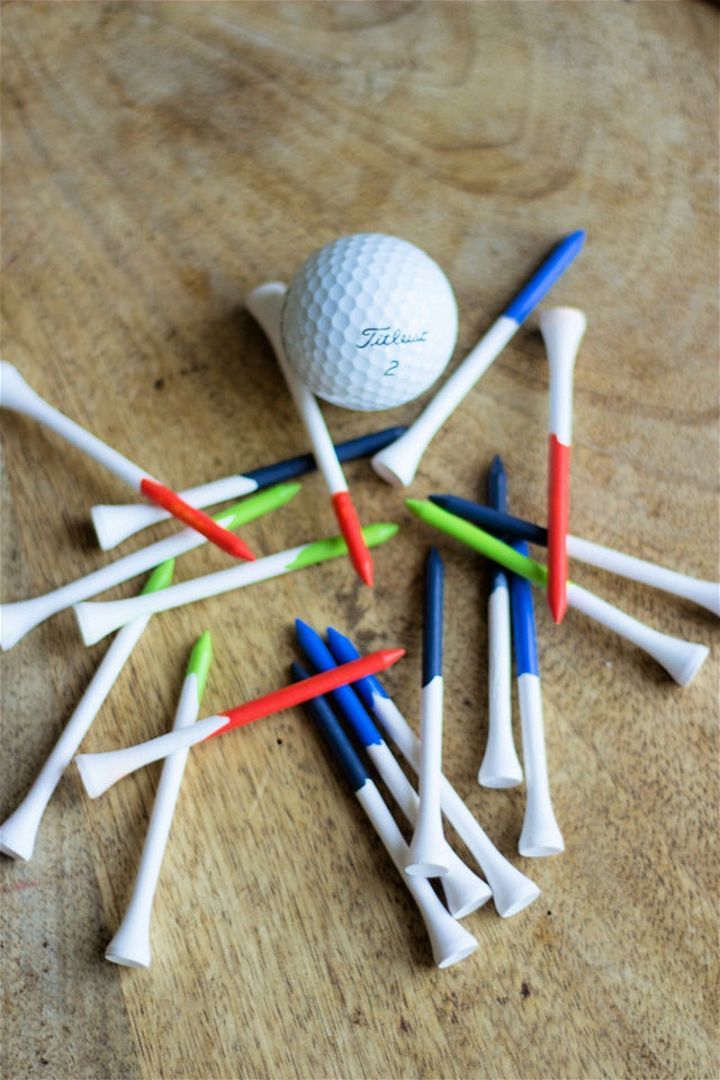 A fathers day craft must be such that it immediately makes your fathers think about the special bond that they share with you. These paint dipped golf tees are all you need to make your golf lover father happier than ever before. fathers day is surely a special day for you and your father therefore you both deserves the pleasure equally. Tutorial
Conclusion:
All the diy father's day gift ideas are so perfect that it might be difficult for you to choose and select the one that you like the most. Pick and choose according to the choice of your fathers. The best ones here include the memory boxes that contains all those childhood memory glimpses that you and your father would love to cherish together.