Working conditions matter a lot in the efficiency of your work. We should always work in a comfortable and motivating environment. The work tables or craft tables are very important therefore 18 DIY Crafting Table Plans For Your Facility suggest you to make a diy craft table according to your own requirements, space and choice. You must go through all the projects thoroughly to be accurate with the results. The tricks and tips given in the projects here are very important and useful to make your work time relaxing and comfortable.
Al the projects that you see here are budget friendly and easy .Some of the projects are comparatively lengthy and it will take a little bit longer to complete them. You can select your favorite project among these and make for yourself a nice diy craft table that you can easily work on. You can maximize the storage space by adding drawers, shelves and racks in your diy craft tables.
You May Also Like:
1. Easy DIY Crafting Table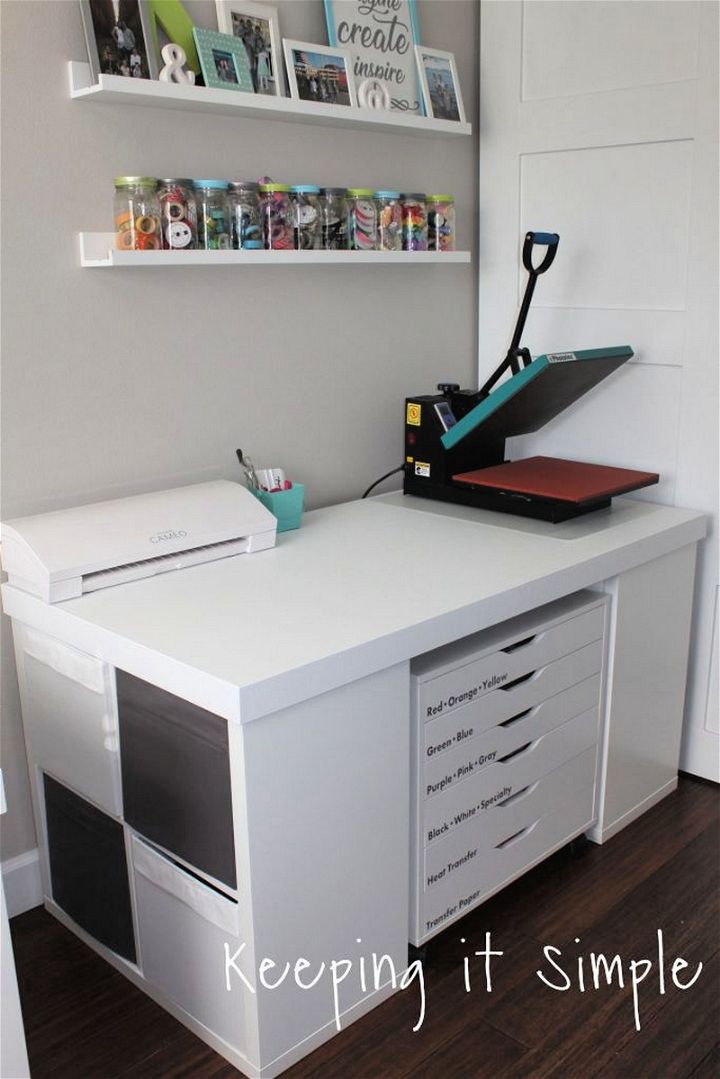 Working environment is as important as the work itself. The environment motivates us and let us set our targets and keeps our mind at peace. A comfortable and tidy surrounding will help do your work without getting exhausted. This diy crafting table is all you need while working as it has enough drawer and space to keep your stuff. Learn to make this for your work at home. Tutorial
2. How to Make a Custom Craft Table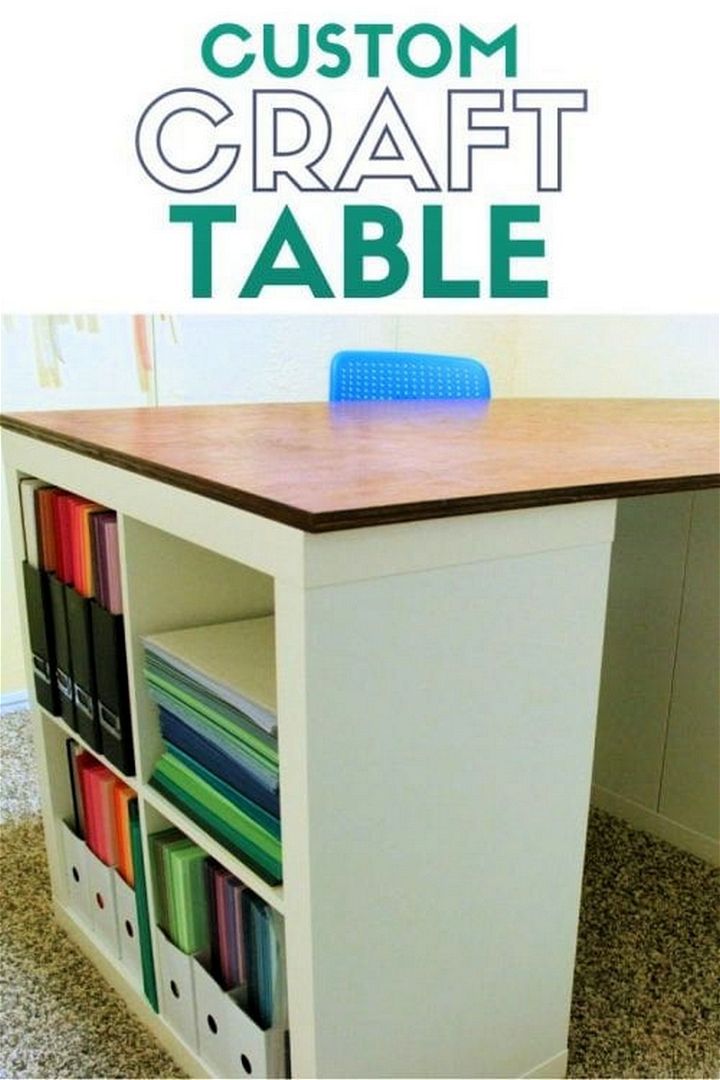 When you are building something all by yourself you have the advantage of customizing it according to your needs and desires. When you buy a ready to use furniture from stores, you have to adjust your needs according to it while creating a diy furniture piece like this one, you can adjust the mesuremenmst and everything else according to the space you have and your requirements Tutorial
3. Large Craft Table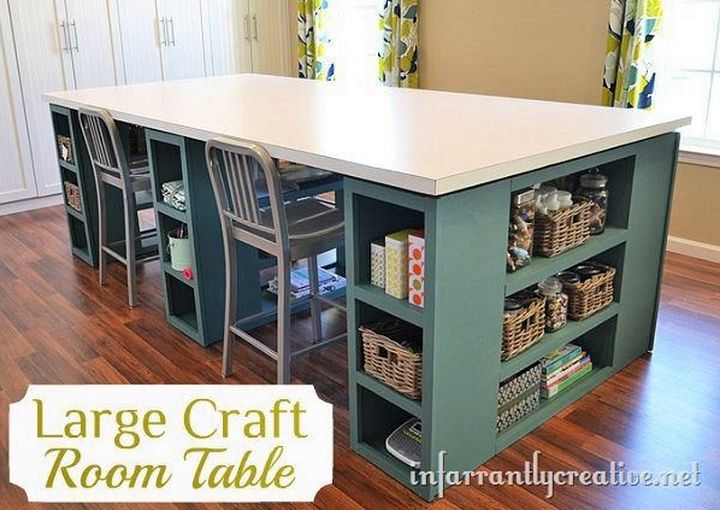 A craft table should have enough storage space that you can keep everything that we need while working. This diy table can accommodate all the supplies and crafts easily. Besides crafts you can also keep your stationary, books, files, baskets, jars and some snacks too. Try to make this diy crafting table according to the tips and tricks given in this tutorial here. Tutorial
4. Modern Craft Table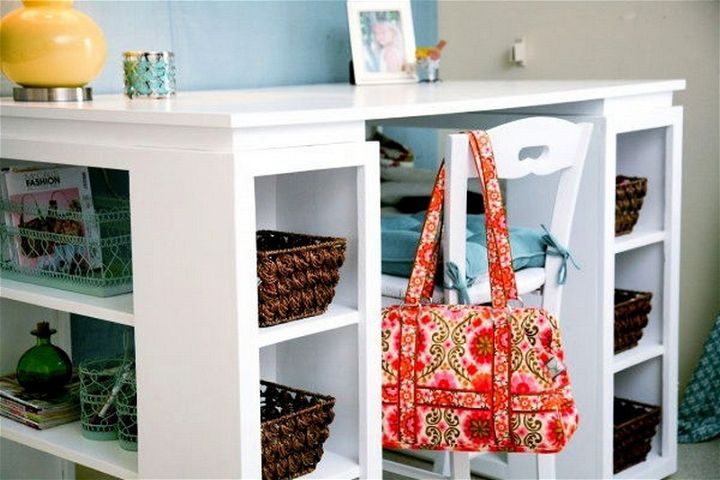 This diy crafting table is all you need according to the modern trends and fashion. You can easily find such table at any branded furniture store but it would be highly expensive and unaffordable. Therefore making this diy crating table yourself would be a great and intelligent idea. Tutorial
DIY End Table Ideas – These free plans for a table will guide you through each step of making an end table that can put in any room of your home. These super-helpful tutorials will provide you with the motivation you need to start!
5. A Simple Construction Craft Table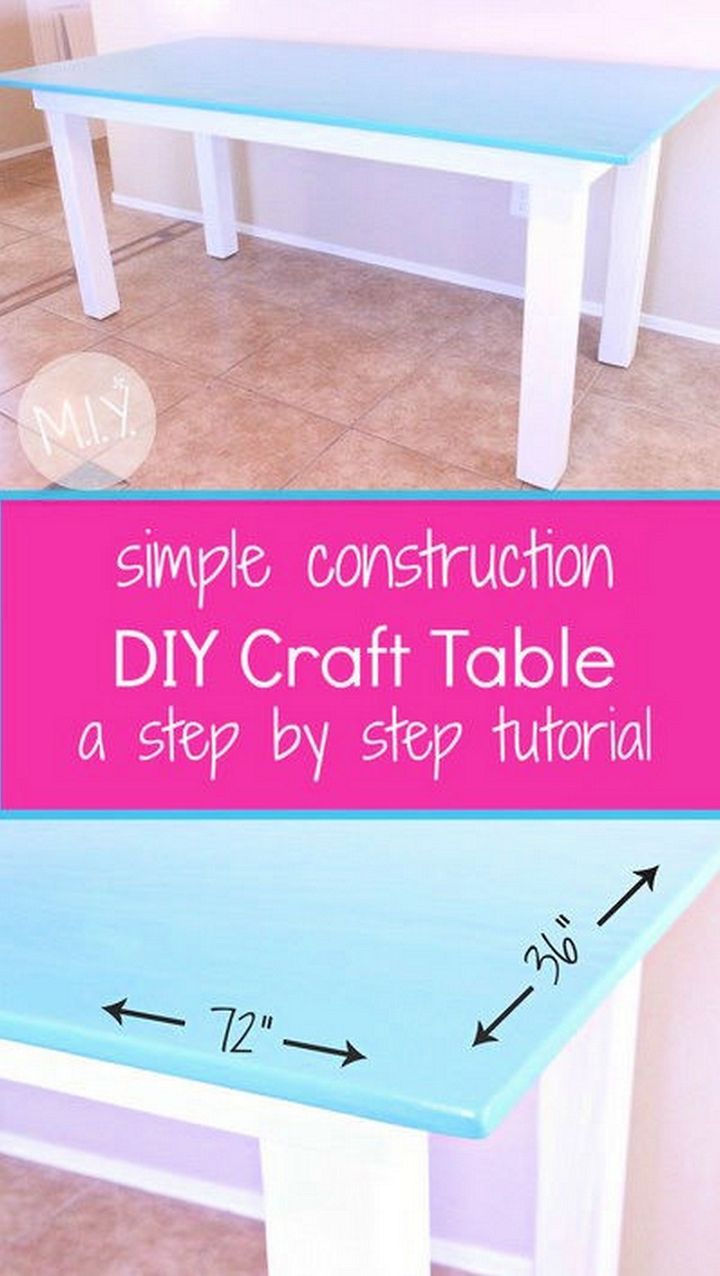 A craft table can either be very simple or have a few drawers an s storage space depending on the needs of an individuals and space that they have. This diy craft table is modern yet very simple and basic. It has non drawer therefore it is very easy to construct. maintain and move wherever you want. Make this craft table for yourself if you think you need only a basic table for your work routine. Tutorial
6. DIY Craft Table With Storage – My Ikea Hack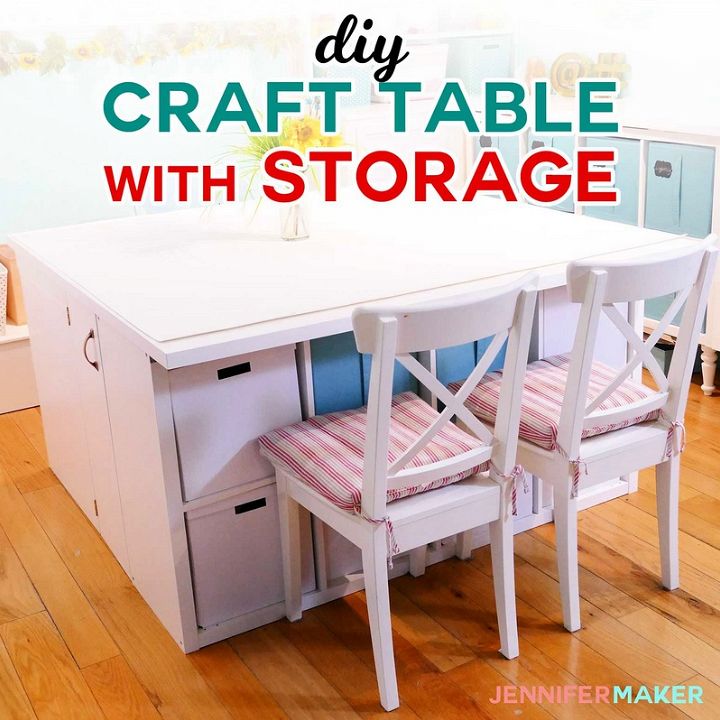 This is a little complicated design hence it will table a little longer to construct it. This diy table has many drawers for storage purposes. Besides drawers it also has shelves to keep stuff related to your work. If you have to have a lot of supplies around you while you are working , this crafting table project is all you need. Tutorial
7. Simple DIY Craft Table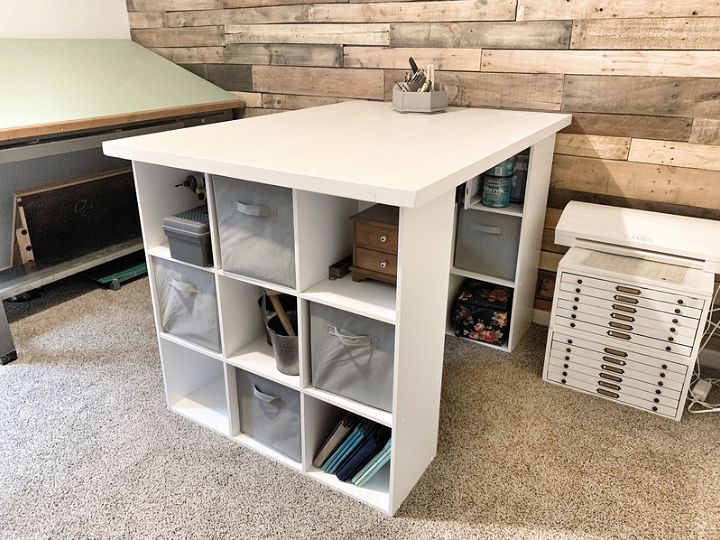 Crafting table can of various deigns but you can choose to make the one that suits your needs. This diy crafting table has square shaped racks and shelves that can be used for keeping different stuff in different sections separately. Keeping your stuff in different sections will help you find the items in time and easily. Tutorial
8. How to Build a Custom Craft Desk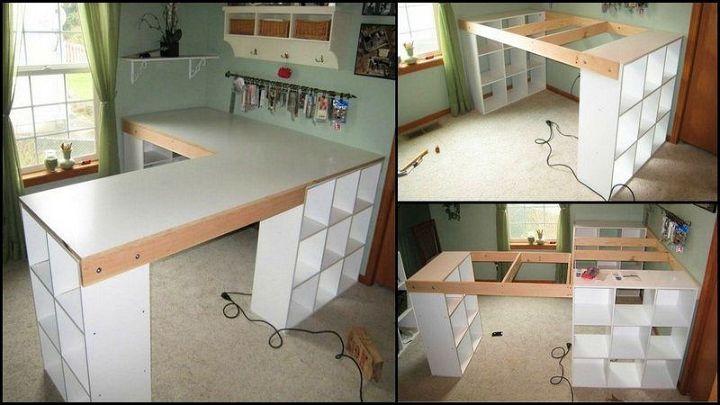 It always gives you pleasure when you create something new and if it also works for you. This diy crafting table is for sure a little lengthy project but you will get some amazing and surprising results at the end. This crafting table is white in color and looks classy and elegant due to not only its color but also due to the design and storage space it has. Tutorial
DIY Vanity Table – These diy vanity table ideas are fun, fascinating inexpensive, and, the most important aspect is that it looks stunning and gorgeous. It is easy to set all the cosmetics and accessories, and other items women love to put at her table.
9. DIY Craft Room Island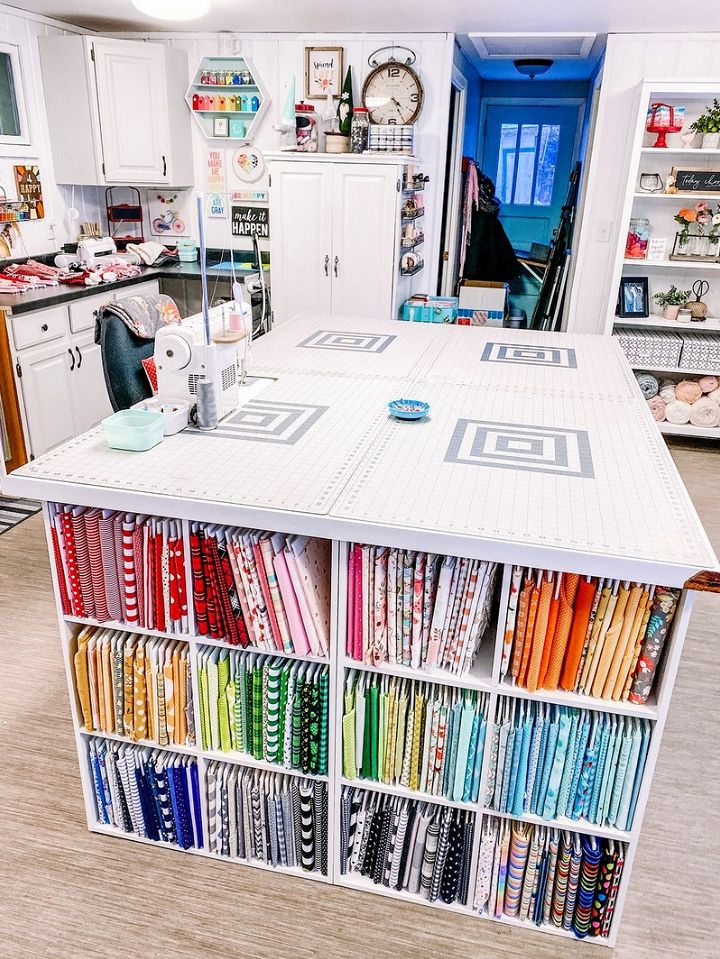 As the name suggest, this project seems to be a craft room island that anyone who want to have a nice working environment will love. This mesmerizing view of a diy crafting table can be al yours with just a few steps that you have to take towards making of this dreamland. The table that you see here has enough storage space for keeping all your stuff. The top part of then table is reserved for sewing and stitching purposes. The table is useful especially if you are into the business of fabric. Tutorial
10. DIY Custom Craft Desk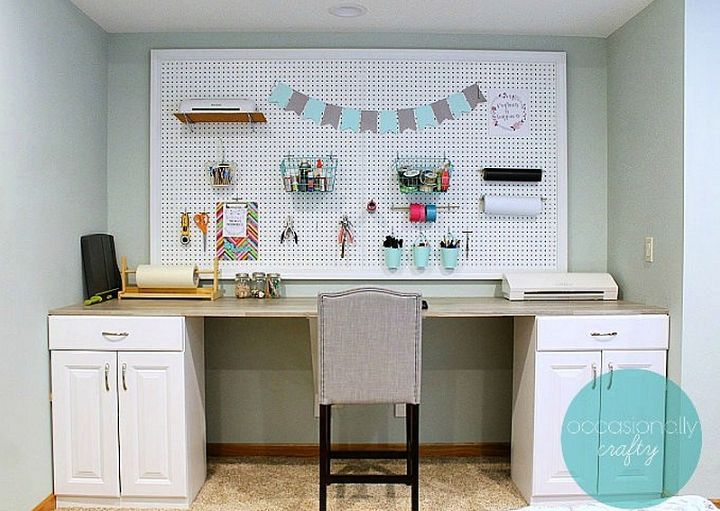 This is truly a dream craft table that anyone would love to have at their home. See the complete tutorial in detail and you will figure out how this is going to happen and work for you. Look into the details of this project and you will see some amazing facts, tricks and tips. With the help of this project you will be able to create a similar crafting table for you to work in a peaceful and healthy environment Tutorial
11. Craft Room Desk Tutorial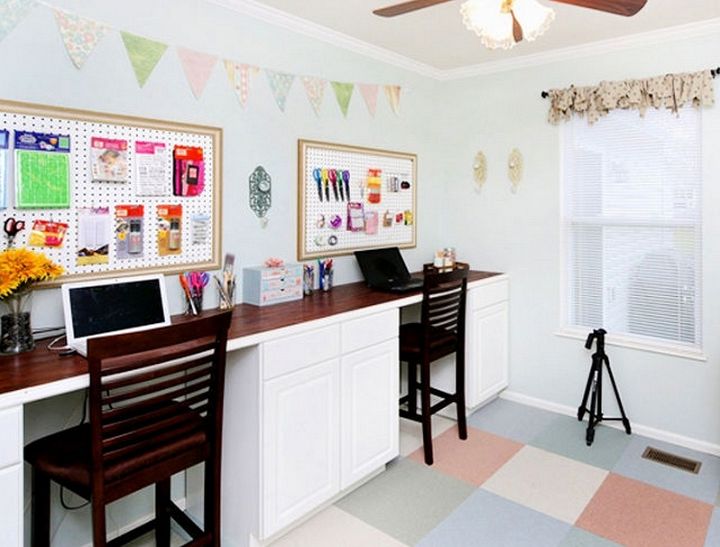 This diy crafting desk can accommodate two people at the same time along with their working supplies and desktop. This table is long enough to have space for all the accessories, stationary, books and soft board and that too for two people. Get the details of this project and see how you can make your version of this table. Tutorial
12. DIY Craft Table – IKEA Hack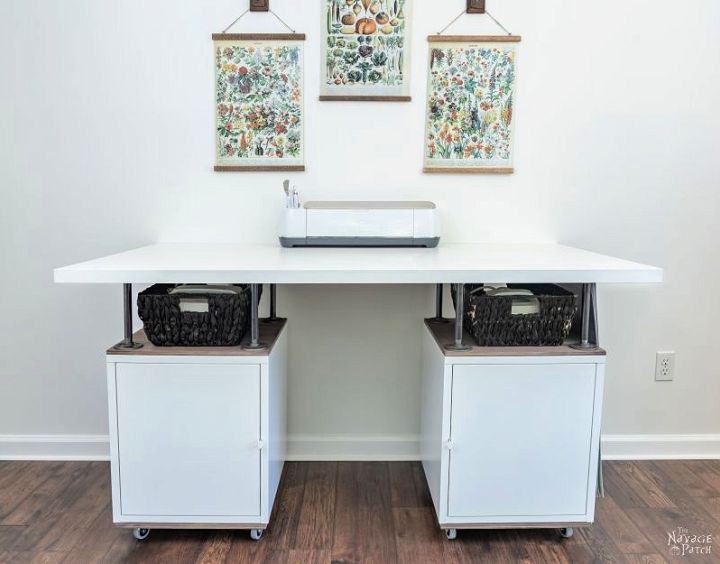 The crafting table that you see here in this diy project is made with ikea hack. Have a look at the beauty and elegance of this crafting table and you will love the end product after the efforts you will put into it. Get the details of the project from the tutorial and the written instructions and get your work started. Tutorial
13. Build A Large Sewing & Crafting Table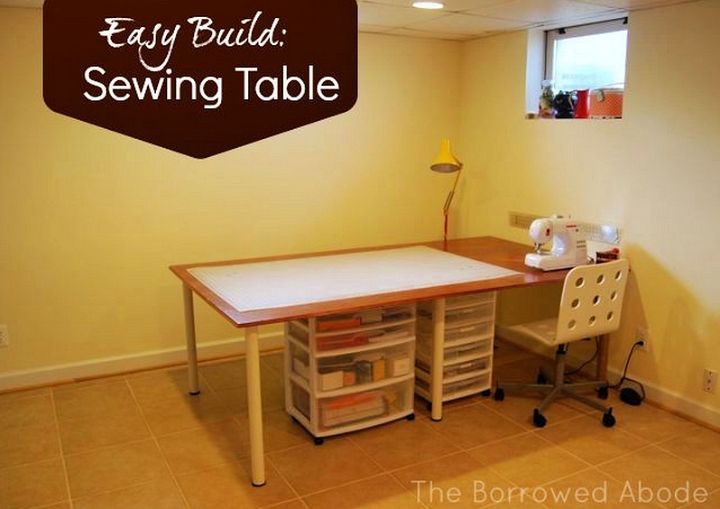 Sewing and crafting are definitely art. Both these jobs require peace of mind and peaceful environment to work it. This diy table and the whole set up is such that you will love working in it and can make the most of your time. gather the supplies that you need to construct this table and make your work time your dream time. Tutorial
14. Ikea Craft Table For a Small Space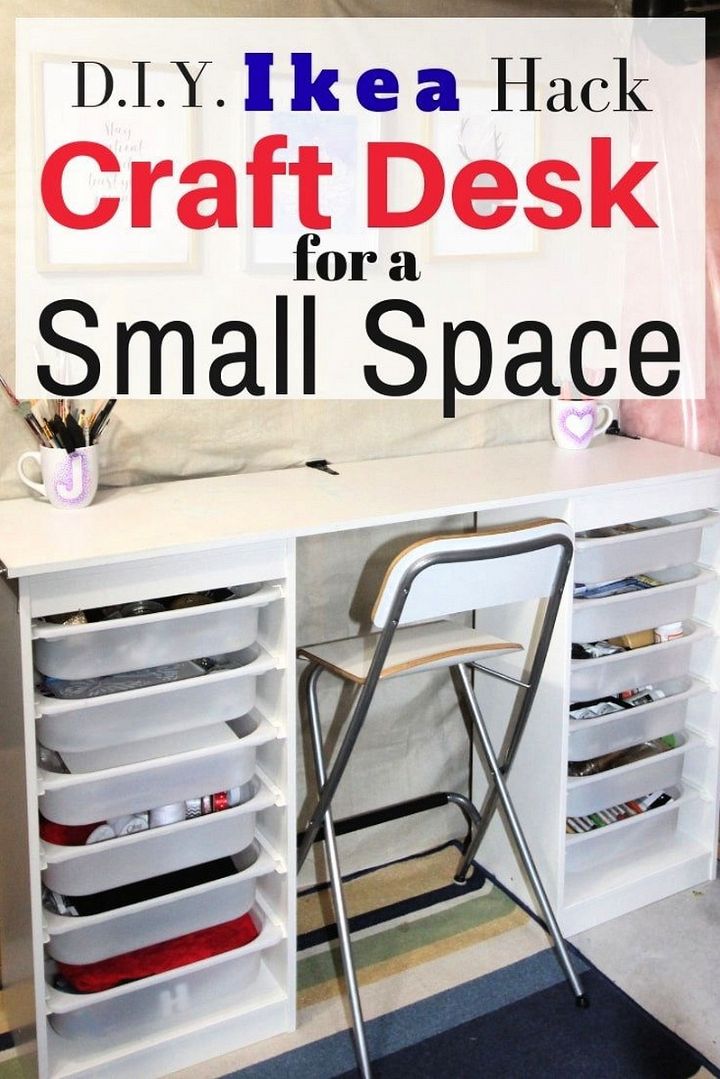 It's always a challenge to build furniture pieces for smaller spaces. This diy project will address problems regarding small spaces and will help you create idea craft table for such spaces in your house. This will definitely effect your working from home in a positive way and will help you achieve better results than ever. Tutorial
Dessert Table Ideas – Let's take a look at these 30 dessert table ideas on a budget for wedding receptions. The ideas you will see are different from one another and are distinctive in their own way.
15. DIY Crafting Table Tutorial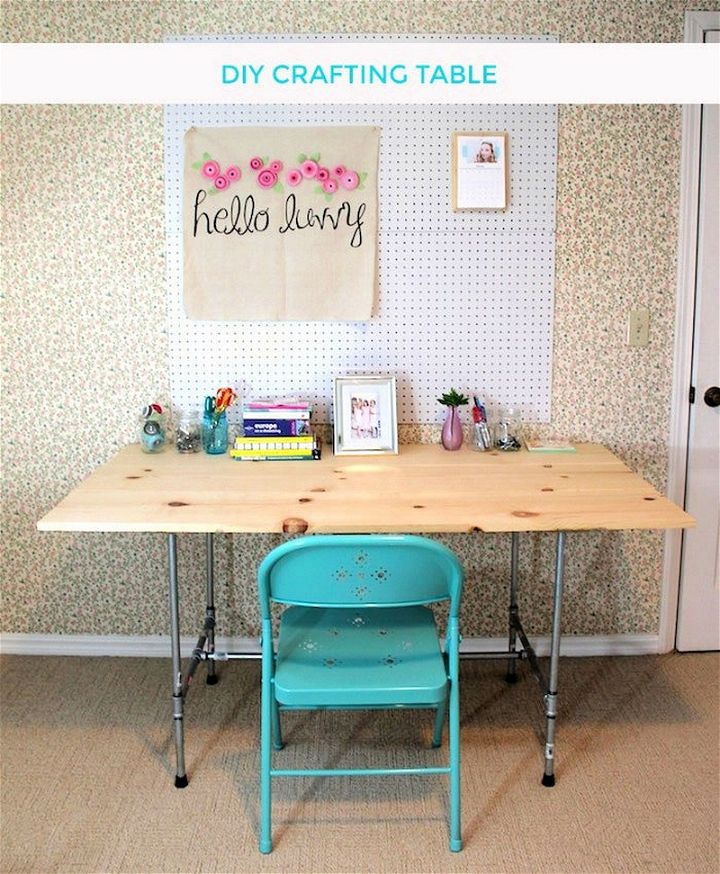 Crafting tables can be of many types and designs and you can choose according to your needs, requirements and the space you have in your room. This tutorial will teach us from scratch about how to build a crafting table and have storage spaces alongside. You can keep all your stuff organized with such work station. Tutorial
16. How to Make a Sewing Table – Craft Table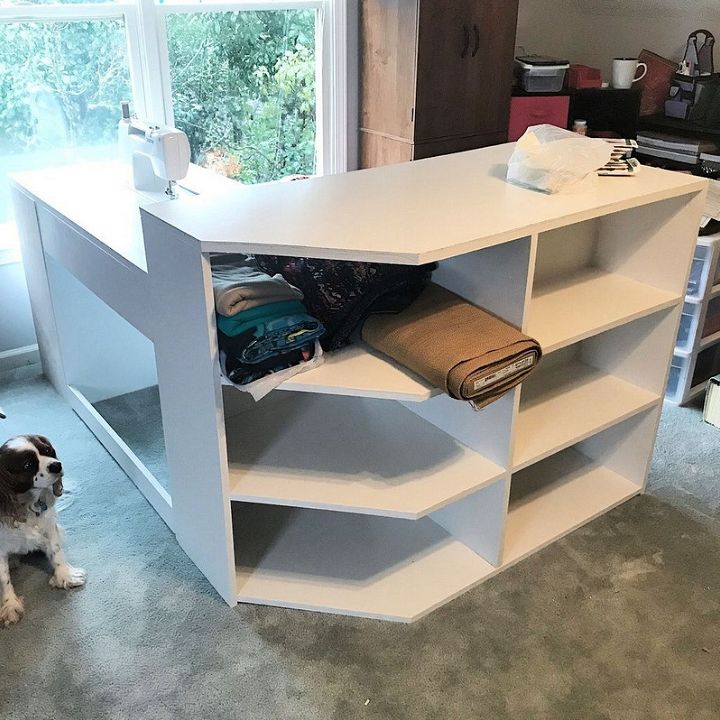 If you are into sewing and crafting and your business is all about fabric and stitching this craft table is perfect for your requirement. You must have this table in your house in order to work efficiently and more appropriately. This table will not only give you enough space to work but also enough storage space such as racks, shelves and boxes to store fabric, stitching supplies, accessories like beads and buttons and what not. Tutorial
17. DIY Minecraft Crafting Table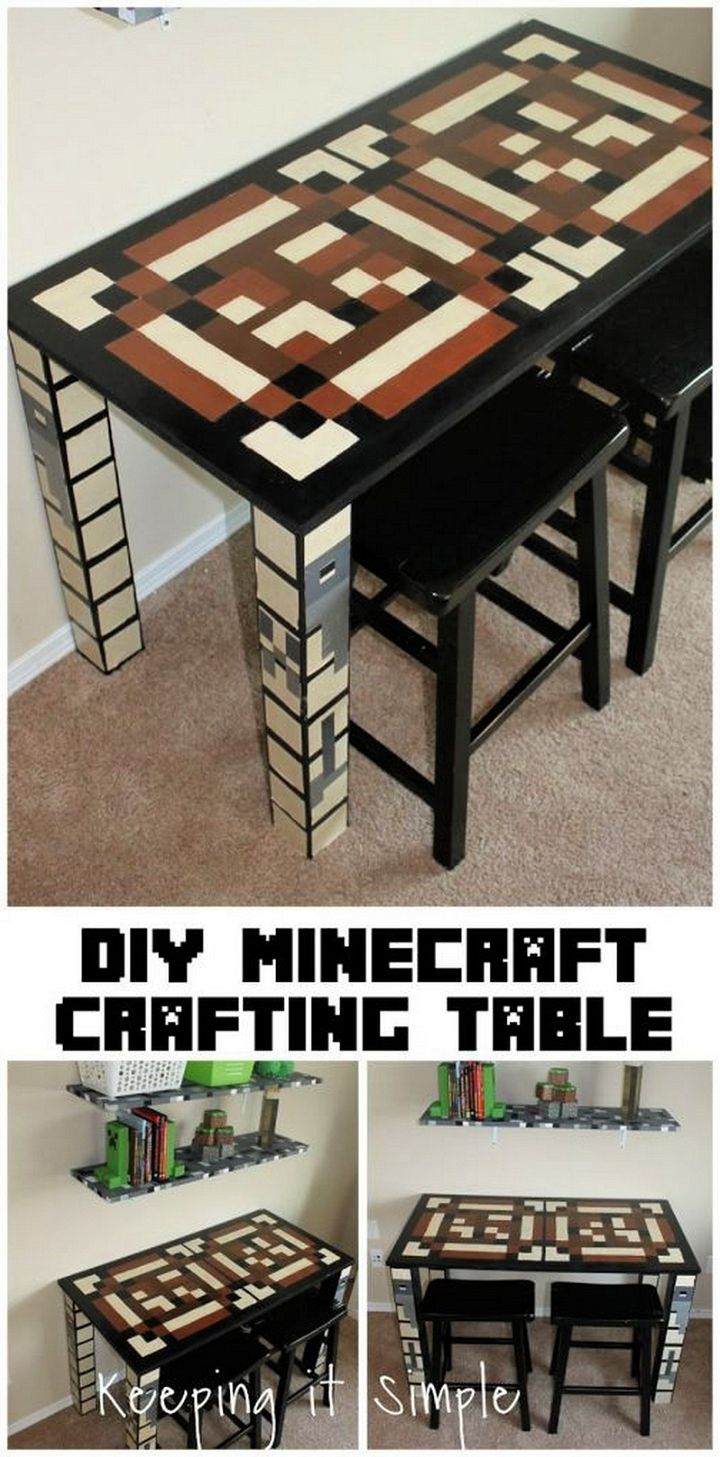 This project is for the mine craft lovers be it kids or adults. This Minecraft table will enable to work in your favorite gaming environment. You can easily and very conveniently build this diy crafting table for your kids and ensure their better working skills. You will definitely see improvements in your work with such favorite working table of yours so try this out Tutorial
DIY Bed Frame Ideas – Here are 30 DIY bed frame ideas to make an outlet for your imagination and abilities to help you design the bed of your preference.
18. How To Make A Crafting Table – Saw Horse Type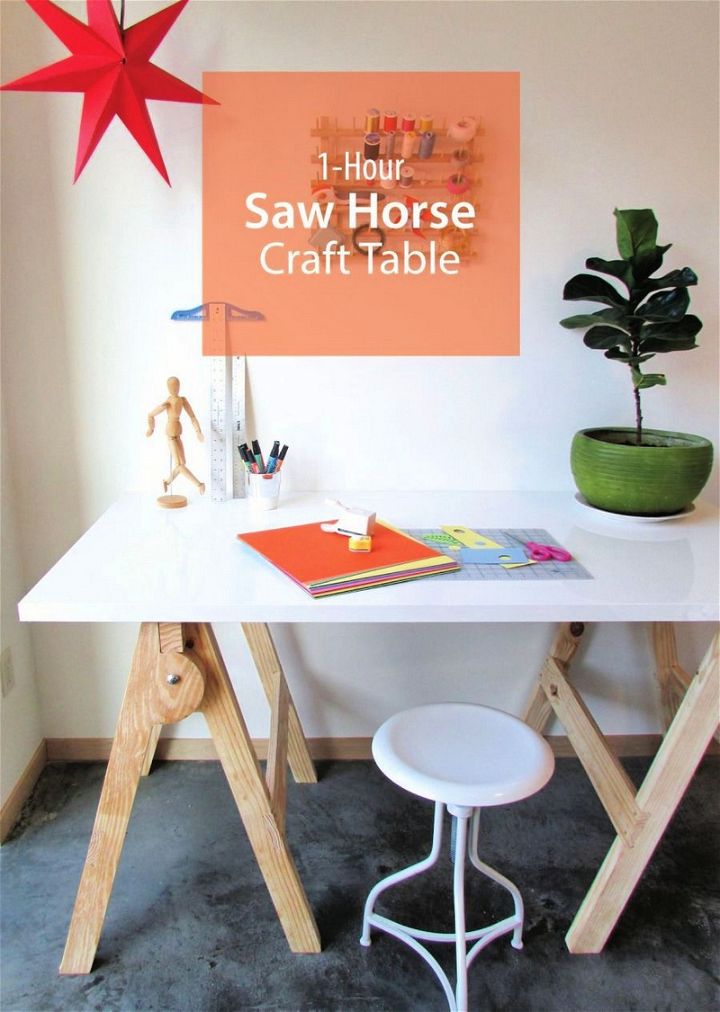 Have a close look at the base of this crafting table here. This is a saw horse craft table that you can just complete in an hour. This table has an attractive appearance and will definitely enhance the look and beauty of your room. Try making this diy craft table for yourself and bring improvements in your work. Tutorial
Conclusion:
You must go through the diy craft table projects here especially if you are into some business. There are various designs for making craft tables for sewing and stitching. You can work more efficiently with an amazing table to work on. Keep your supplies and crafts handy on this table and work in a better environment than before.