Stained glass is liked and loved by most of us but they are expensive and not easy to afford at all. These 35 DIY Stained Glass Ideas That Are Outstanding will lead you towards making inexpensive and cheap stained glasses and windows. You can now decorate your windows with multi colors and enjoy some sun catchers at home. There are many windows that needs to be blocked due to scorching sun and with these projects you will easily cover them and make your house look decorated at the same time.
Most of the projects here are kids friendly and they can easily handle them. You must supervise your kids while doing these projects and make them explore their inner talent and skills. Let your kids play with lots and lots of colors. You can now let your kids have fun while painting. They can now spend their holidays in a productive and learning projects. With these projects they can learn to paint, and handle different supplies and crafts in a correct manner.
1. DIY Stained Glass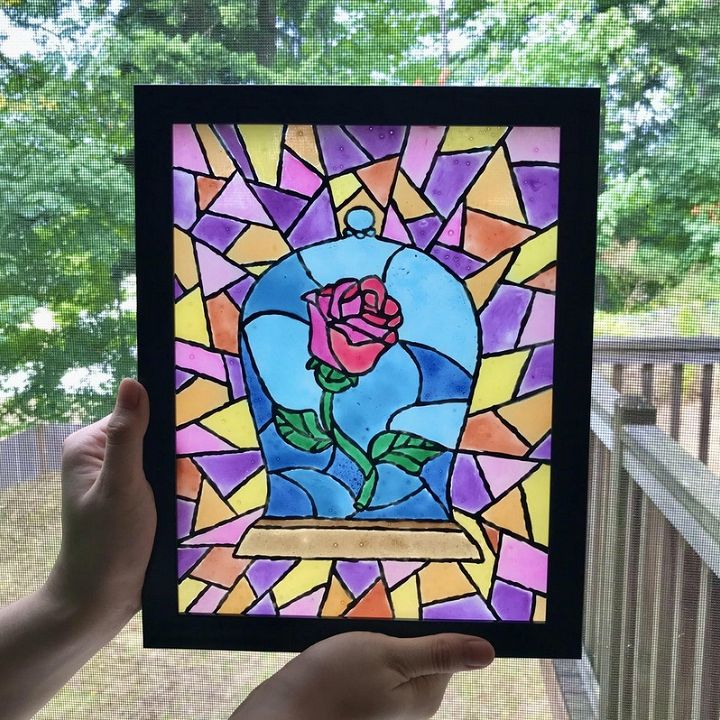 This diy stained glass project will teach you in detail how you can make a stained glass within a limited budget. If you already have glue at home, this project will be cheaper than you imagine. For this project you need some materials like picture frame with a glass pane, clear glue, white glue, black acrylic paint, other colors of acrylic, Popsicle sticks, paint brush, reference sheet and glossy mod podge is optional. here!
2. DIY Faux Stained Glass Window Tutorial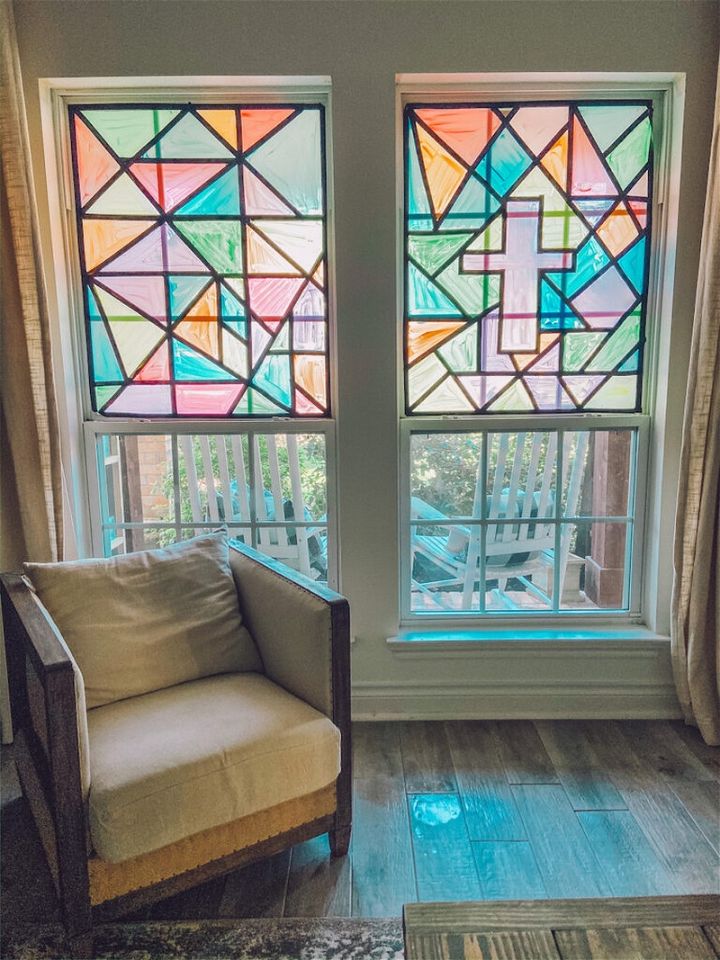 This is a faux stained glass tutorial that you can easily catch up and try for your own windows. You can either use washable paints for this purpose or you can use basic acrylic paints and add dish soap for them to be washed off easily. have a look at these clear windows being transformed dramatically with multi colors. here!
3. Easy DIY Faux Stained Glass Suncatcher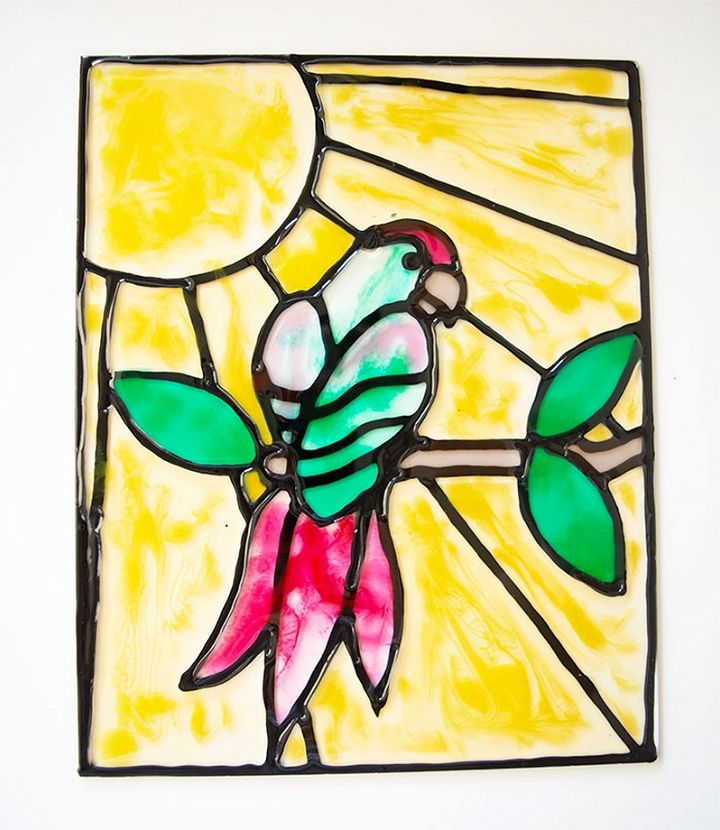 This diy faux stained glass is something that you will love to try as soon as you will see the details as its super easy. Have a look beautiful sun catcher with stunning colors incorporated in it. Gather the details from this tutorial and start you mission towards making beautiful stained glasses. here!
4. DIY Faux Stained Glass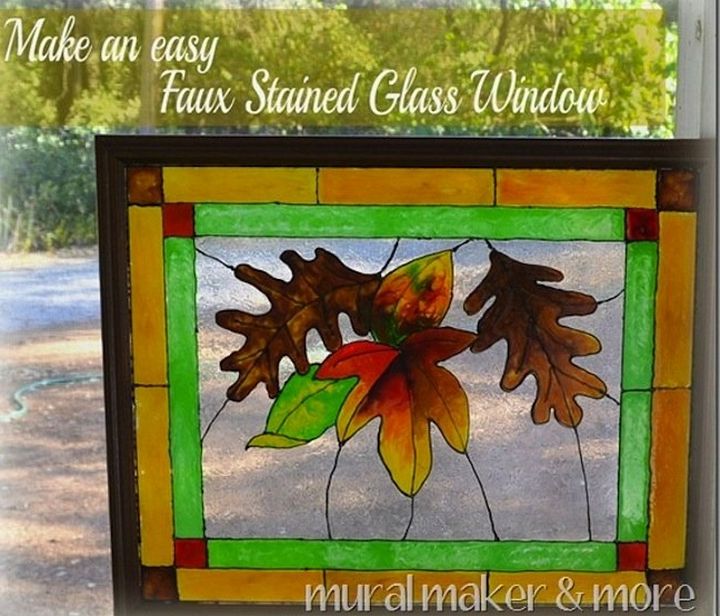 There are some hobbies that you can adapt for the sake of utilizing you time in a better way and also to make things of house décor or for other useful purposes. If you are a beginner in making stained glass, you can take help from here and make your own masterpieces easily and very conveniently. here!
5. Glass Stained Suncatchers DIY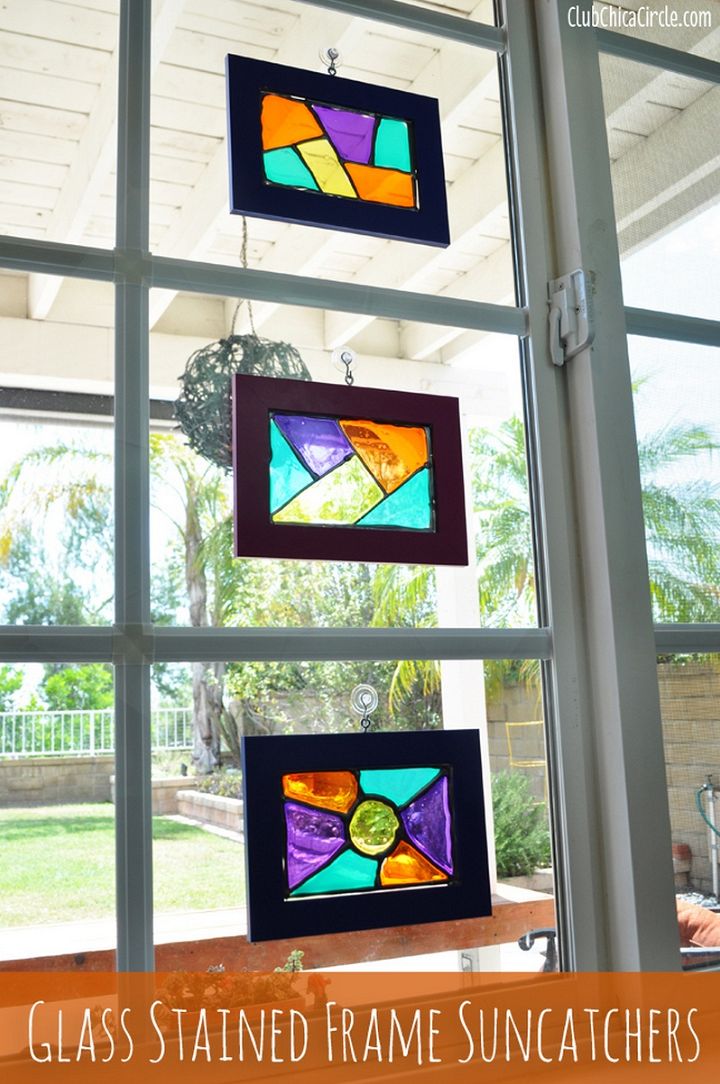 These are beautiful sun catchers that are made easily with a tutorial. You can also be an artist if you adopt this as a hobby and do it often as everything demands practice. Have a look at the designs and patterns they have chosen to make these sun catchers. Gather the supplies and start making your own stained glass and sun catchers. here!
DIY Chandelier Plans – Lighting is crucial when it comes to decorating your home since without knowing the right lighting effects, we can change the style of the space and enhance the mood of the person. Chek out here
6. Faux Stained Glass Beauty & the Beast Rose Tutorial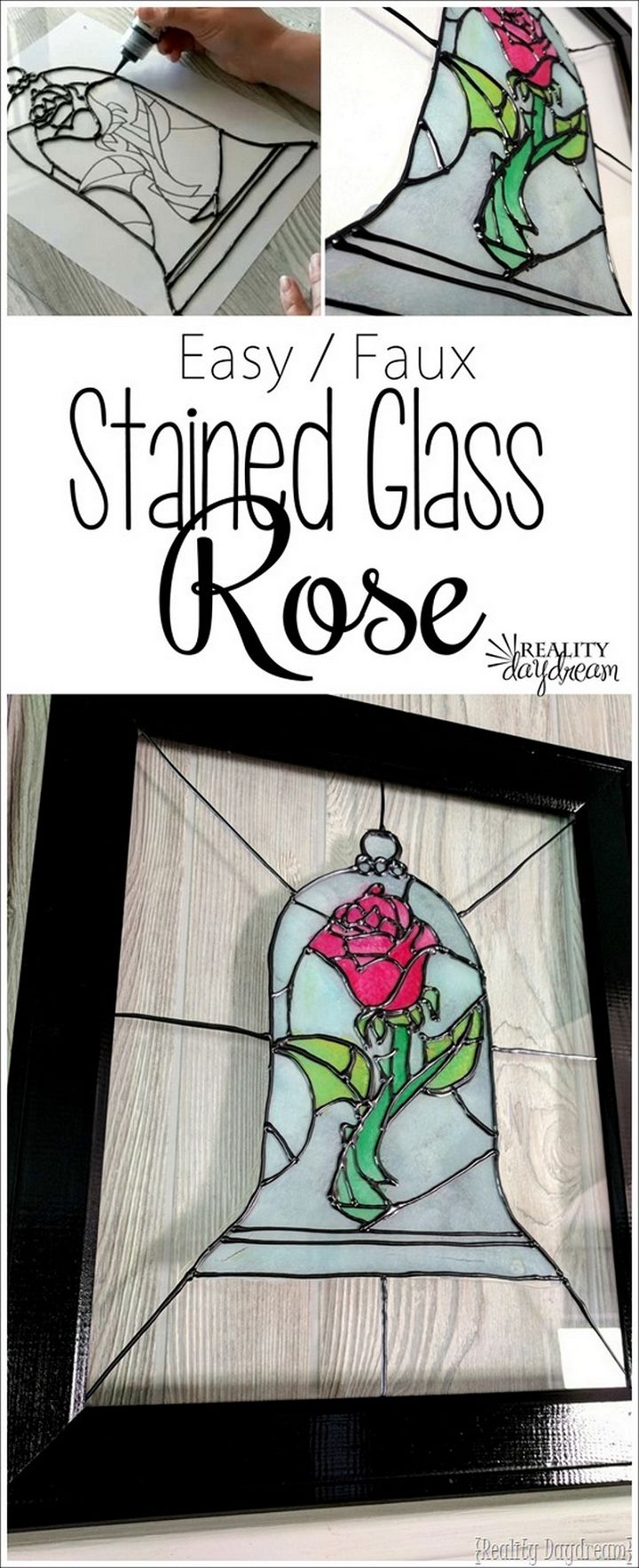 Its very important to choose an appealing, attractive and unique design for stained glass projects. Have a look at this project especially the design which is a rose from beauty and the beast. Be careful while choosing the colors and applying them on the glass separately. You can start your painting now if you have all the supplies ready. here!
7. Make Faux Stained Glass With Mod Podge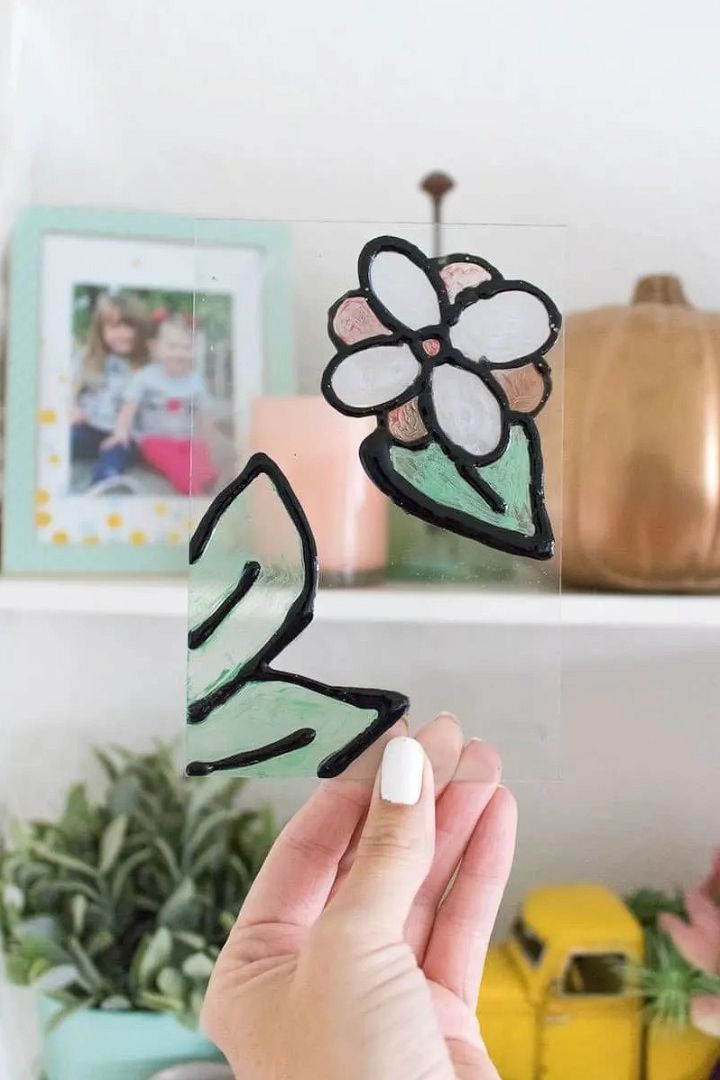 Mod podge is definitely an amazing product to work with especially while working on diy projects. This faux stained glass project is all about the magic of mod podge. For this project you need to have a piece of glass of any size, mod podge gloss, black acrylic paint, glass paint with low opacity, squeeze bottle, disposable bowl and paint brushes. here!
8. DIY Stained Glass Mosaic Table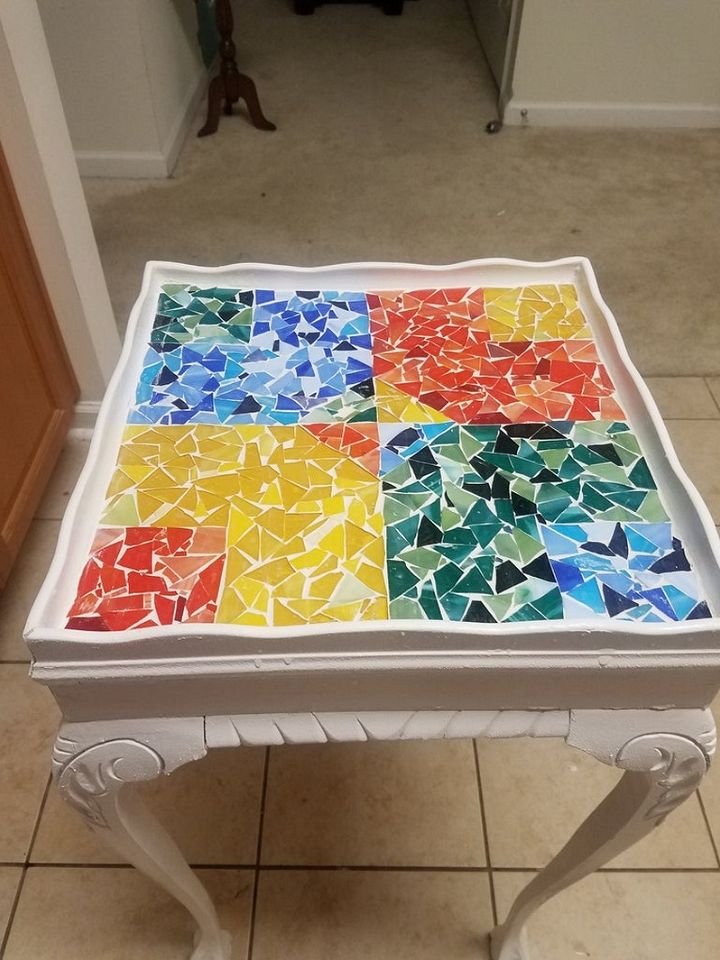 Have you ever thought o faming a table with a stained glass technique? If not then you must give this a try. Have a look at this beautiful stained glass mosaic table in this project. Make some effort for making this table for your house and the results of your efforts will blow your mind for sure. here!
DIY Phone Stand Ideas – You may not understand the benefits of a Phone Stand if you've never used one before. from home with just a few materials and tools.
9. How To Make A Sun Catcher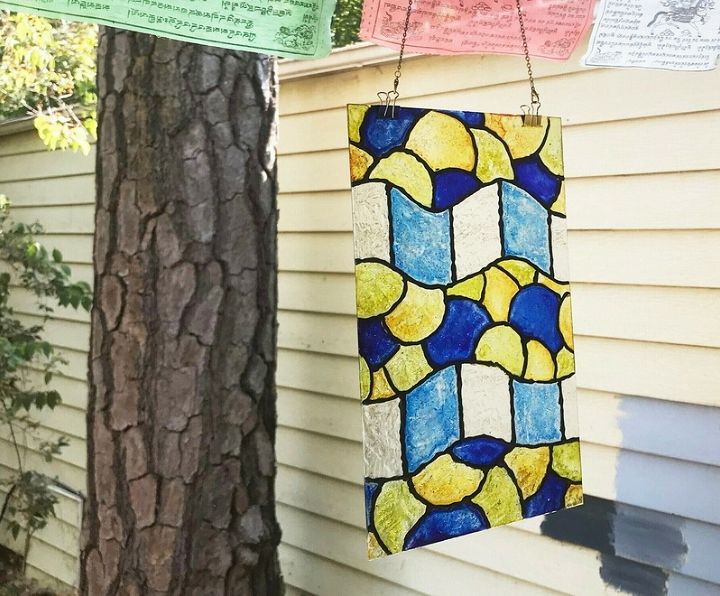 You can make different sorts of sun catchers but tis tutorial here will provide you with the easiest techniques regarding sun catchers. Take your guidelines from this project here and you will be amazed with your own creativity and skills. This is for sure the most satisfying stained glass project. here!
10. Dollar Store Stained Glass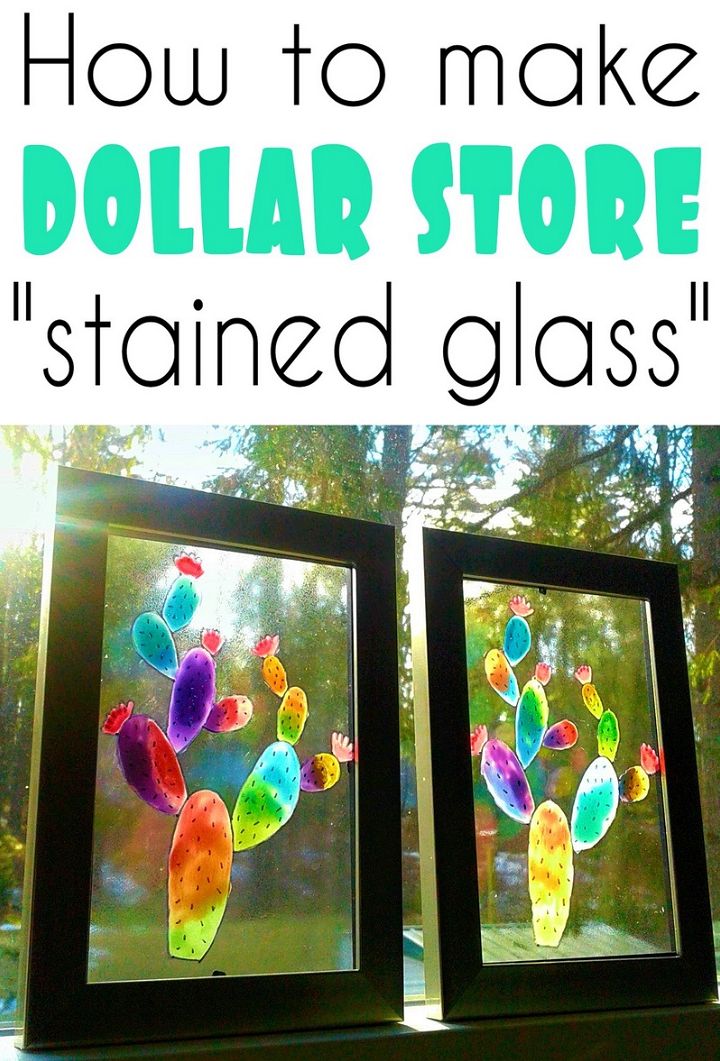 You must have seen huge stained glass windows at churches or anywhere and think this can never be incorporated in your house. However with this diy stained glass project you will easily be able to make your windows stained very conveniently. For this your need picture frames, printed picture, permanent marker, glue, acrylic paints, paint brush and paint sealer. here!
11. Faux Stained Glass DIY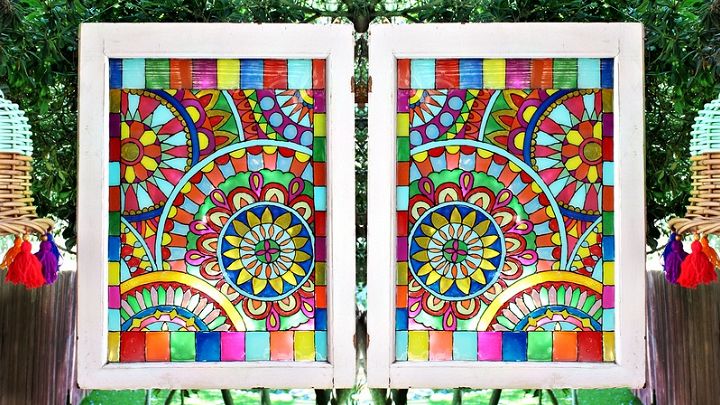 There are many things that despite of our liking we tend to avoid as we cannot afford them. One of such things are stained glasses. With the help of this diy stained glass project you will be able to create your own stained glass and satisfy yourself with one of your liked items created by you. here!
DIY Movie Night Ideas at Home – Here these are here are 28 fun Movie night DIY ideas to help you enjoy a memorable movie evening at home, without breaking the budget!
12. Beauty 3 Tissue Stained Glass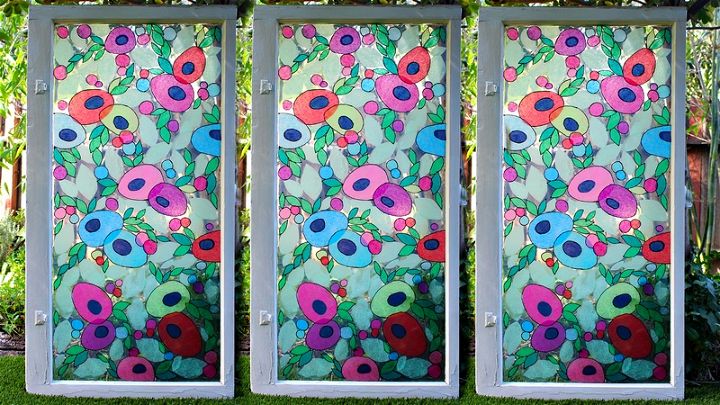 Some talents and skills are hidden within us and we can only explore them with a practical. Try making these three tissue stained glasses and explore your inner and hidden talent. You cane easily follow the tricks and tips with the help of this tutorial here. Grab the supplies that you need and start this creative project right away. here!
13. DIY Faux Stained Glass Window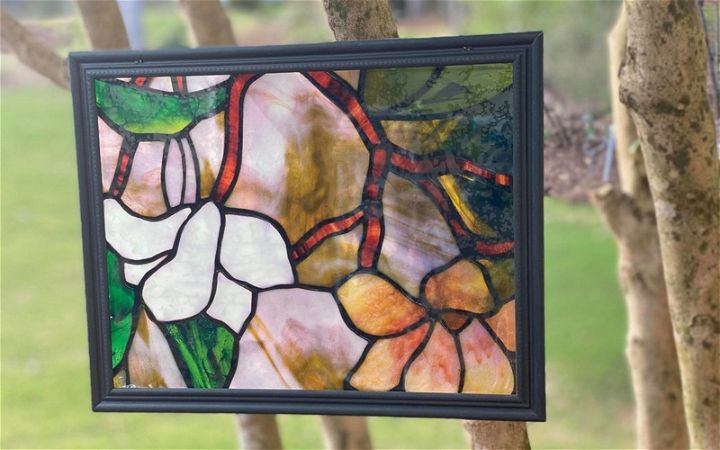 Not everyone can buy a house with already stained glass windows. Therefore such diy projects are always there to help. Take your guidelines from this project over here and live your dream of having stained glass windows. The main supply of this project will be a decorative film window. The process is easy and you just have to be accurate with drying the paint and then with the attachment of the film to the glass. here!
14. Stained Glass Ornaments For Kids to Make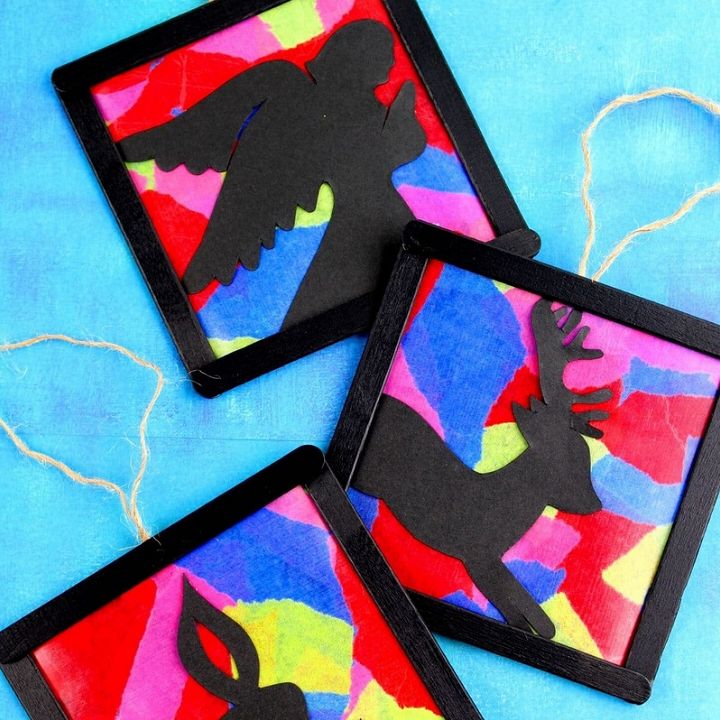 We often think of ideas in which we can engage our kids for them to have fun especially during holidays. These diy stained glass projects are for kids. You can also use these stained glass ornaments for your Christmas celebrations and decorations. For this project you need scissors, tissue paper, glue, paint brush, black paint, Popsicle, twine, black cardstock and contact paper. here!
15. DIY Stained Glass Candle Holder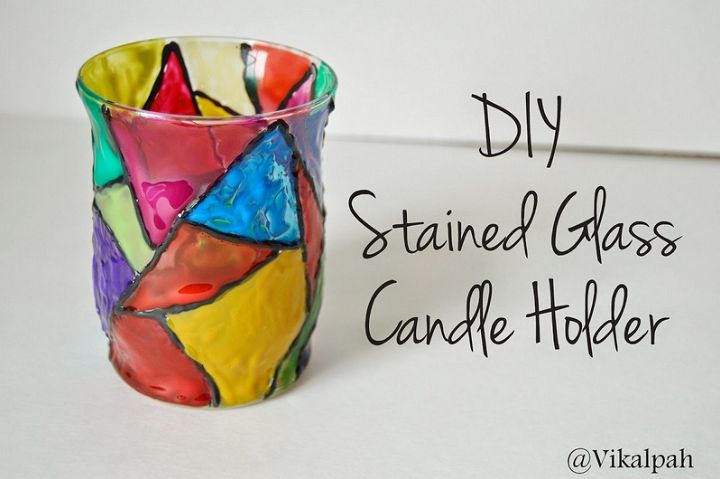 Have a look at this beautiful stained glass candle holder. With this project you can realize and observe that we can make a lot of stuff with the stained glass ideas. This candle holder is multicolored, unique, eye catching and attractive at the same time. Gather your supplies and make this beautiful candle holder now. here!
16. Easy to Make Rainbow Stained Glass Window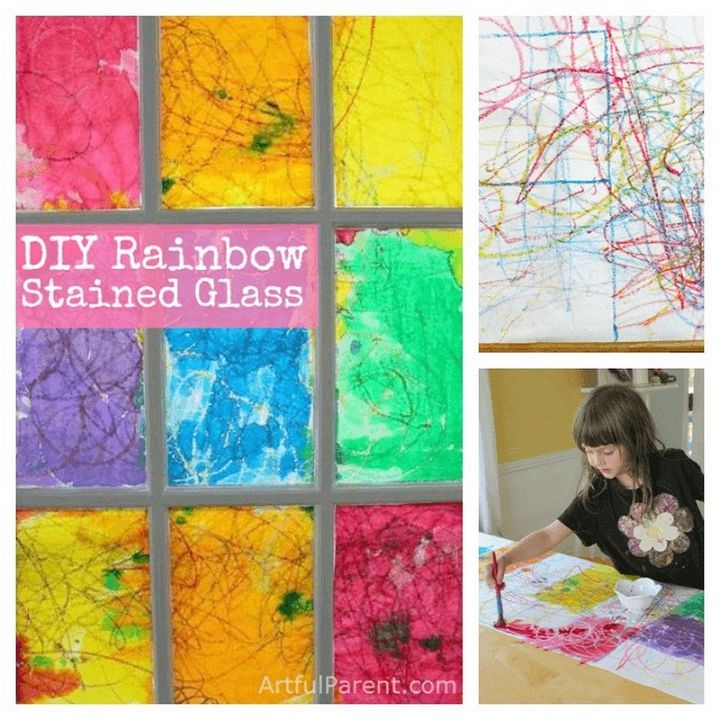 This project is something that you and your kids will love doing together on a weekend. This is a rainbow stained glass project. For those who love rainbow colors, this project looks exciting and tempting. Use all your skills and creativity into this project and you will see some amazing results at the end. here!
17. Faux Stained Glass Art For Kids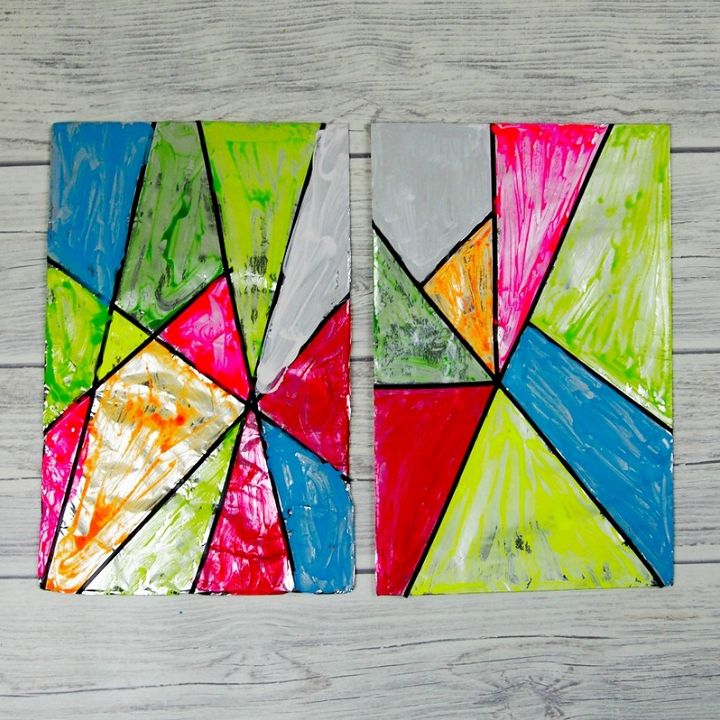 As we know and can observe that kids love colors and playing around them. Let them be free to play all around different colors with this diy stained glass project especially designed for kids of all ages. Always remember to supervise your kids and don't let them handle everything on their own as almost all diy projects requires handling. here!
18. How to Make a Faux Stained Glass Window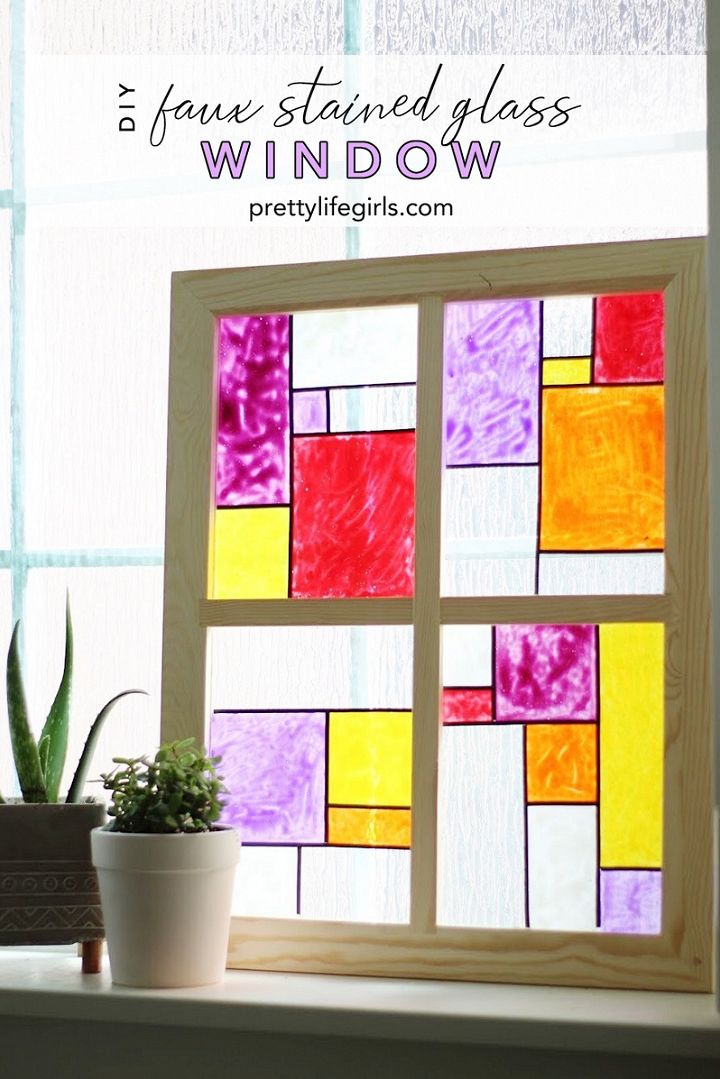 Not every one of us have houses where they already have stained glass windows. We can still manage to have stained windows at home with this diy stained glass window project. For this you need a glass panel, glass form an unused picture frame, glass paint, craft paper, marker, sharp blade and scissors. here!
19. How to Make Faux Stained Glass Window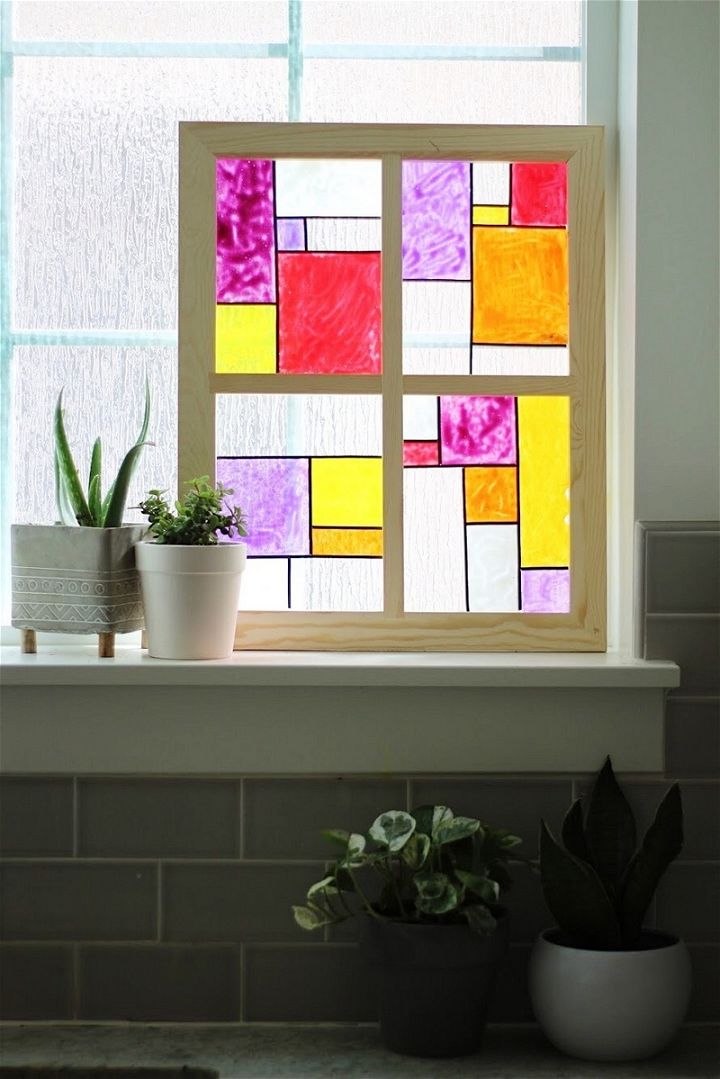 We all have those boring, traditional and typical windows at our home but we can definitely transform them to make them look attractive and appealing. With this stained glass project you will easily and very conveniently be able to change the entire look of your windows and load them with colors. here!
20. DIY Faux Stained Glass Suncatcher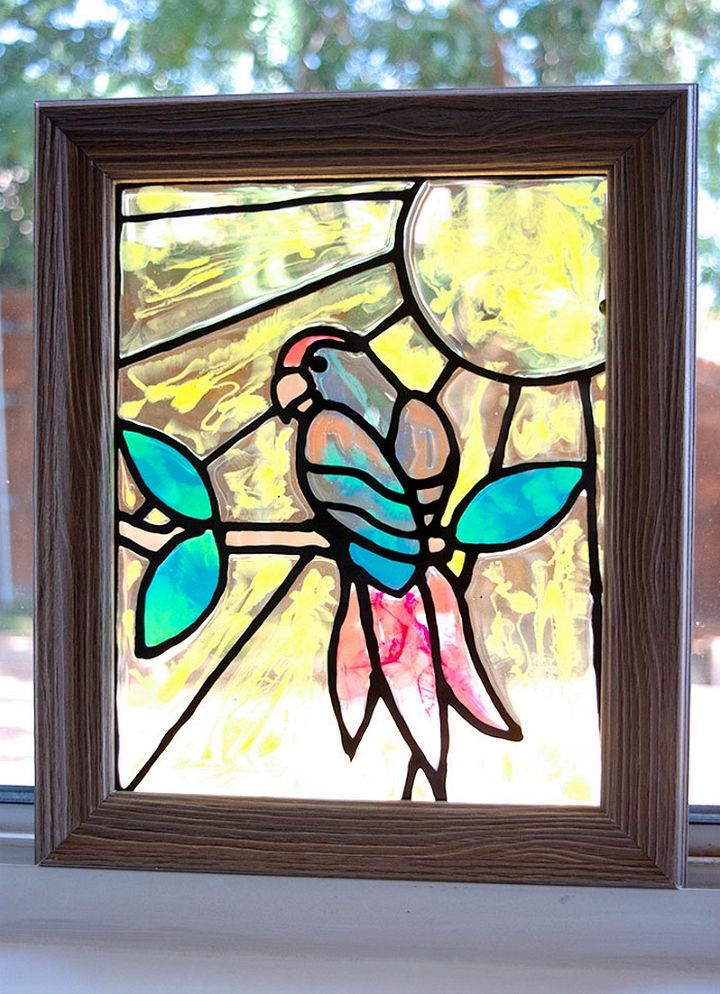 This faux stained glass sun catcher is all you as your activity for this weekend. You can also engage your kids while making these diy faux stained glasses and sun catchers. It often happens that we look for sun catchers but they either don't match with our home décor or they are very pricey. here!
DIY Dollar Store Crafts – You can find tons of great materials for your crafts without breaking the bank. And with these 20 easy wood crafts, you'll have all the inspiration you need to create an amazing DIY Dollar Store Crafts budget project.
21. Faux Stained Glass Suncatcher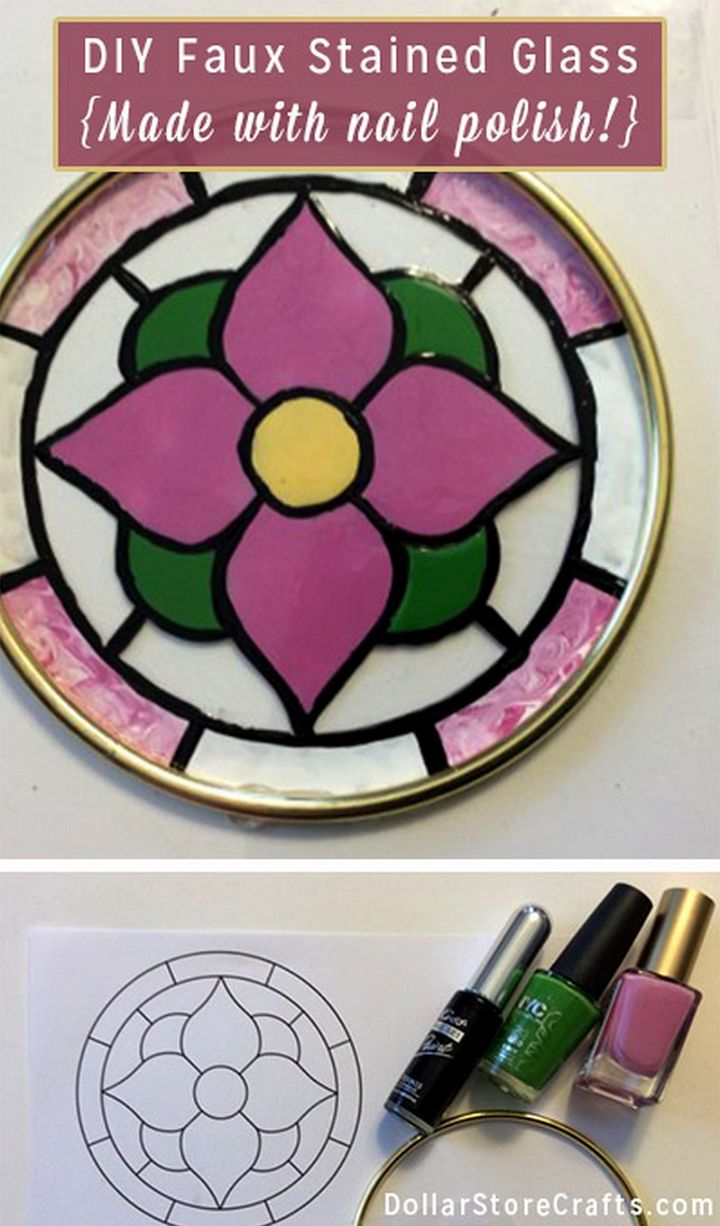 Have you ever thought of making a sun catcher with nail paints instead of acrylic or any other type of paint? We all have nail colors that are not so favorite of ours, use them for making this stained glass sun catcher and you will be amazed by the creativity that you basic nail colors can do instead of coloring your nails. here!
DIY Dog Kennel Ideas – These 14 free dog home plans will ensure that your pet has refuge from the elements, and you'll be proud in the fact that you designed it for your dog.
22. Stained Glass Art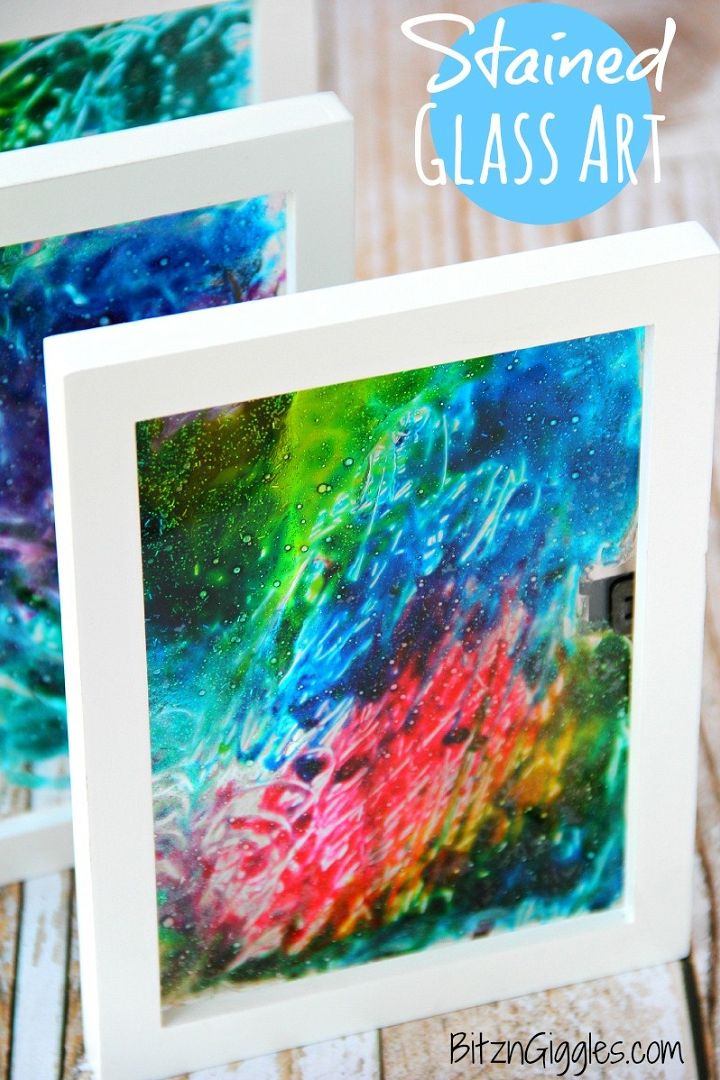 After going through this project over here you will realize that staining the glass is an art. You can also learn this art with the help of this tutorial even if you are a beginner and don't know how to do glass staining. Gather the supplies that are listed here and start your creativity right away. here!
23. DIY Faux Stained Glass Candle Holders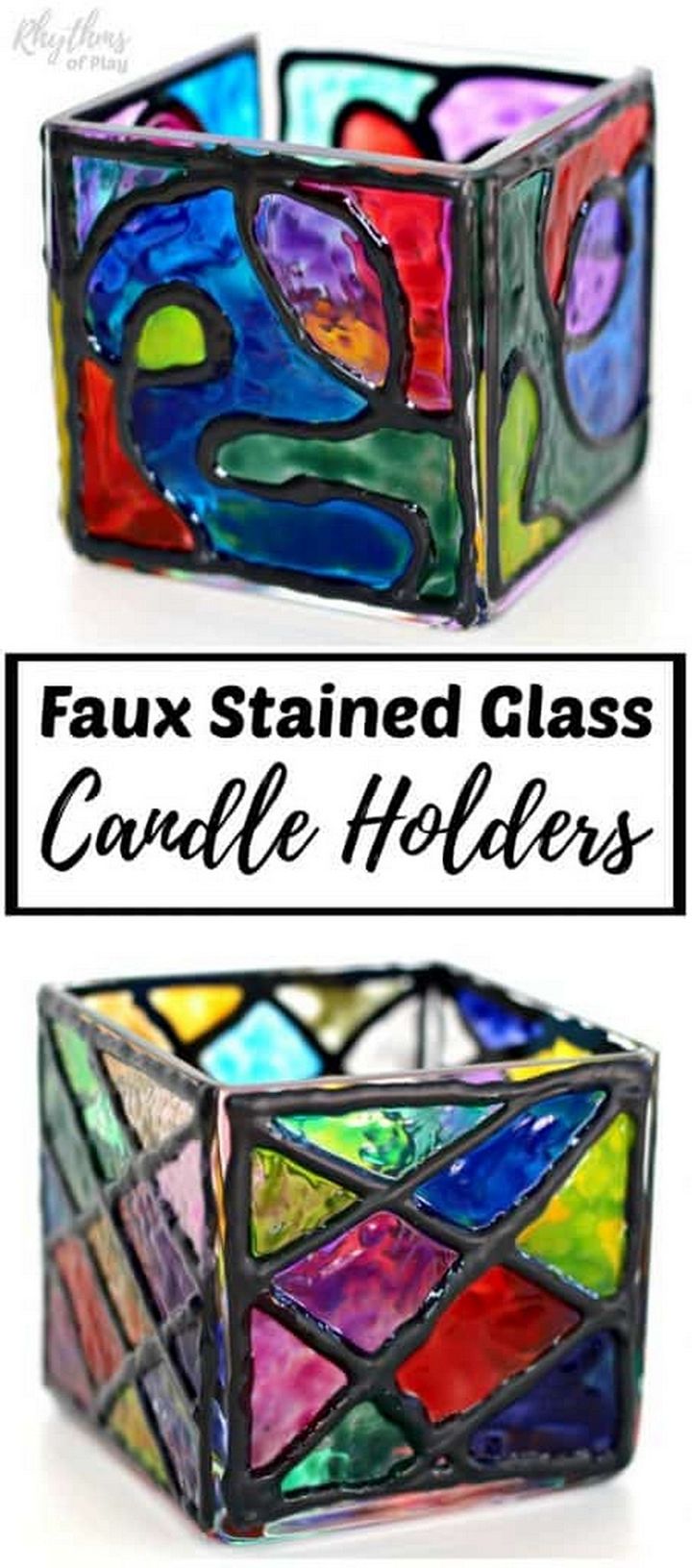 Candles are beautiful and crates an ambiance but they look even better with a nice holder. Instead of making or buying some traditional or typical candle holders, make a stained glass holder for your candles and make them look amazing and unique. here!
24. DIY Stained Glass Christmas Ornament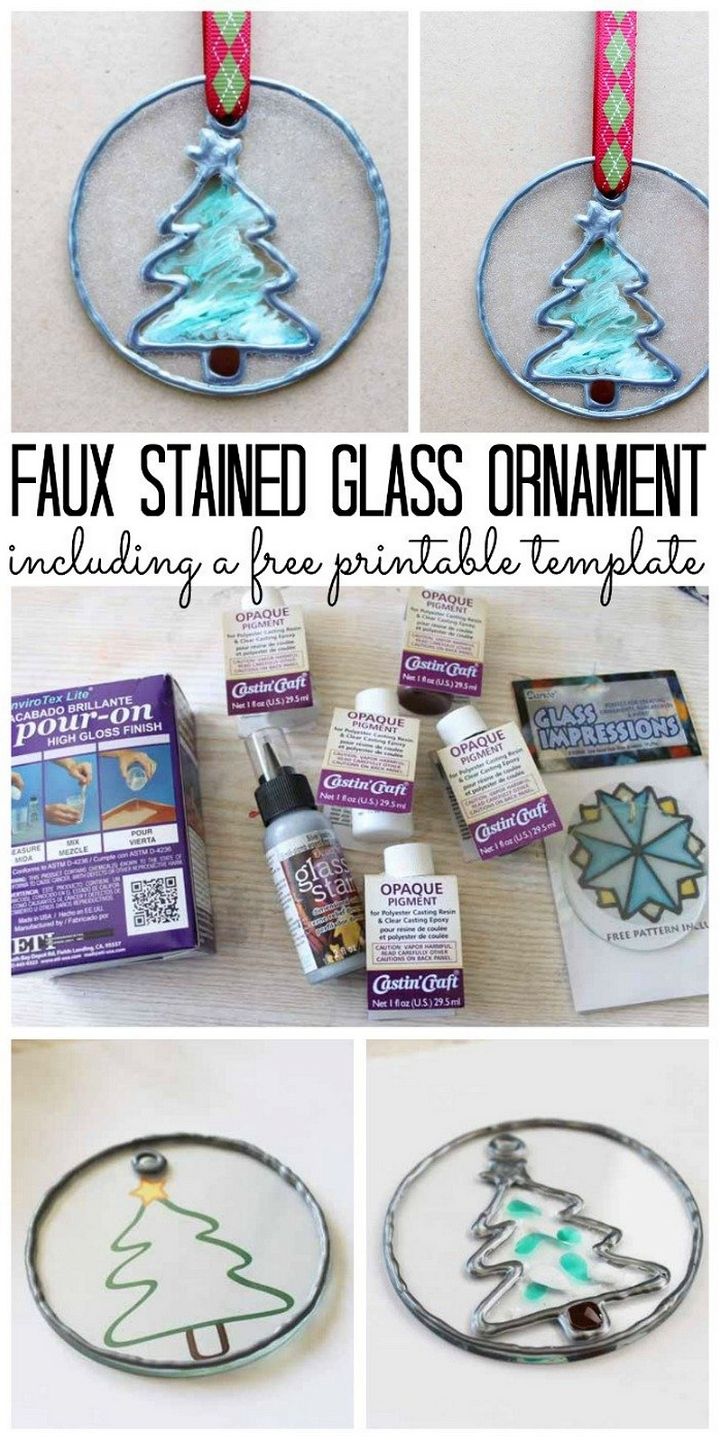 Christmas is all about celebrations, decorations and creative stuff all around. This project will lead you towards the making of a diy stained glass Christmas ornament. This Christmas you will definitely have a unique Christmas ornament and everybody will surely be impressed. here!
25. DIY Stained Glass Suncatcher With Cellophane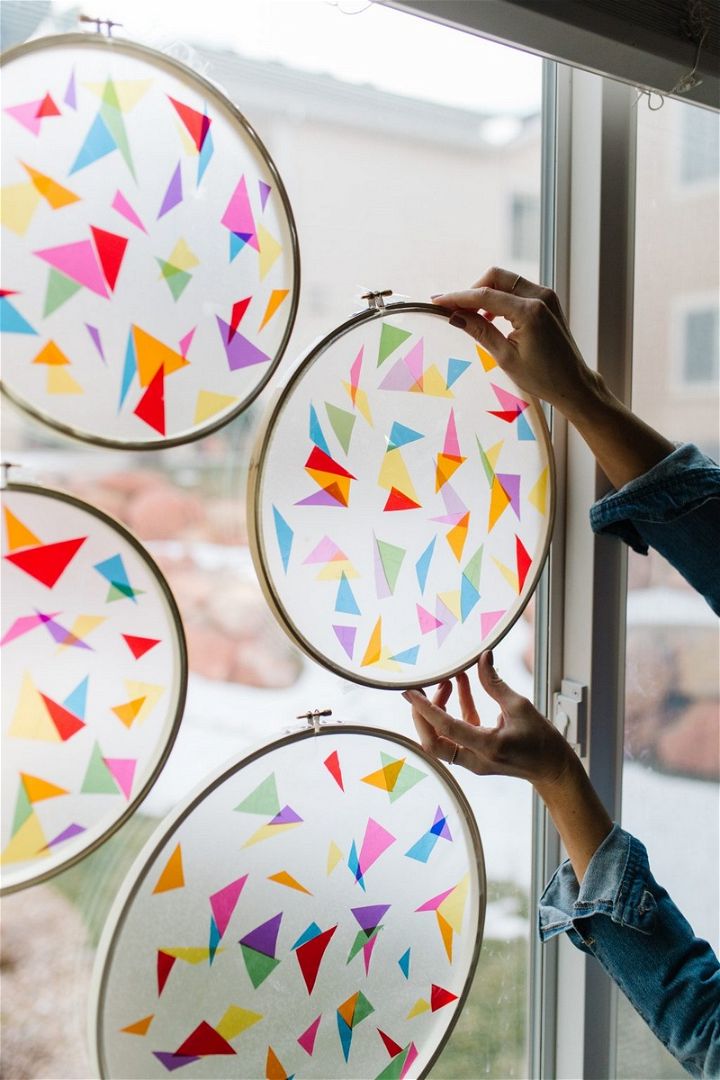 here!
26. How To Make DIY Stained Glass Windows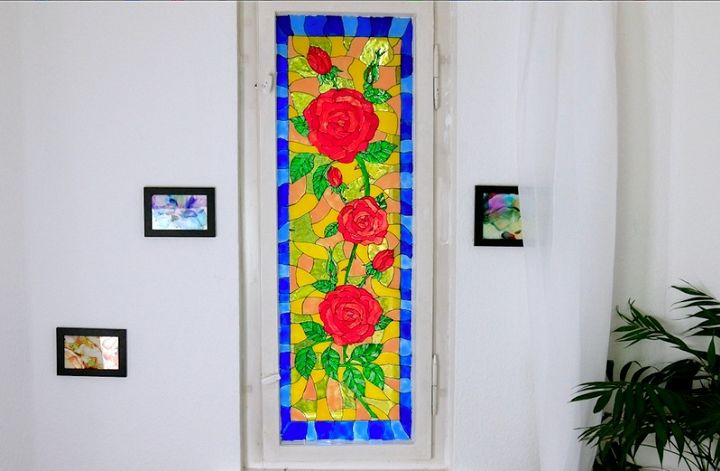 Stained windows look spectacular but they are surely not very easy to create. You can surely turn simple windows into stained glass windows but with a little effort and love for creativity. The process is not very short in fact a little bit lengthy but you will be amazed by the results. here!
27. Easy DIY Faux Stained Glass Window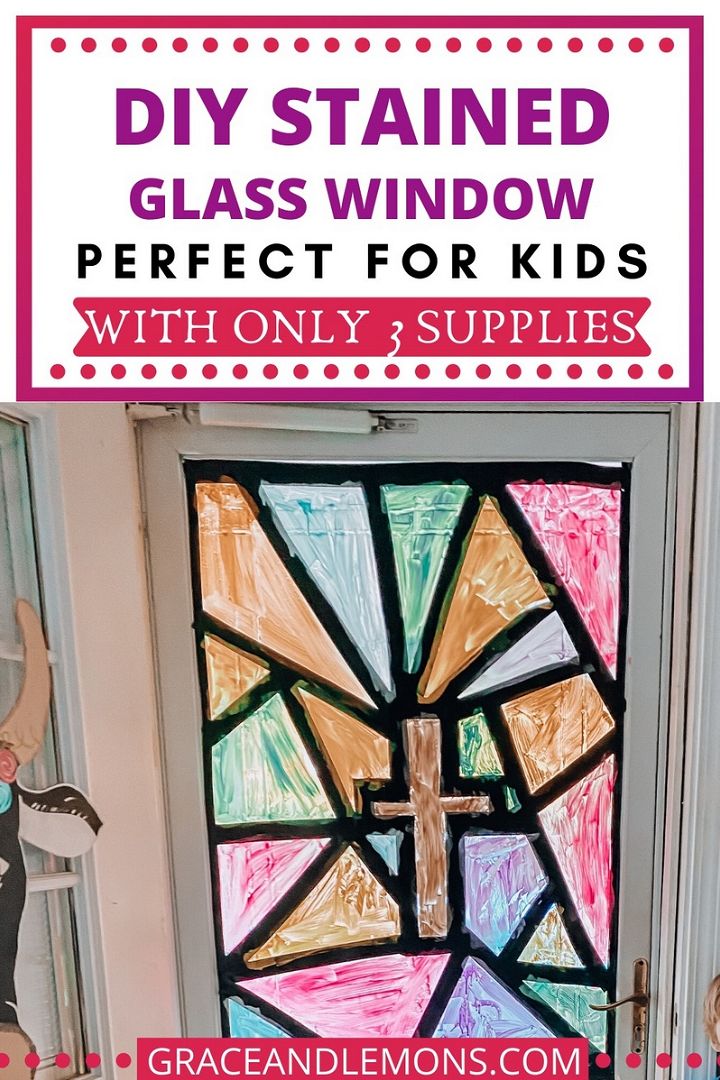 When you are choosing project for your kids for as their holiday activity, try to pick a project with few supplies. This stained glass project is simple and has only three supplies so it seems perfect for kids. Let them be free, play around colors and explore their talent and skills. here!
Fun Shrinky Dink Ideas For Crafters – Take a look at this list of modern, craft ideas that are shrinky.
28. Faux DIY Stained Glass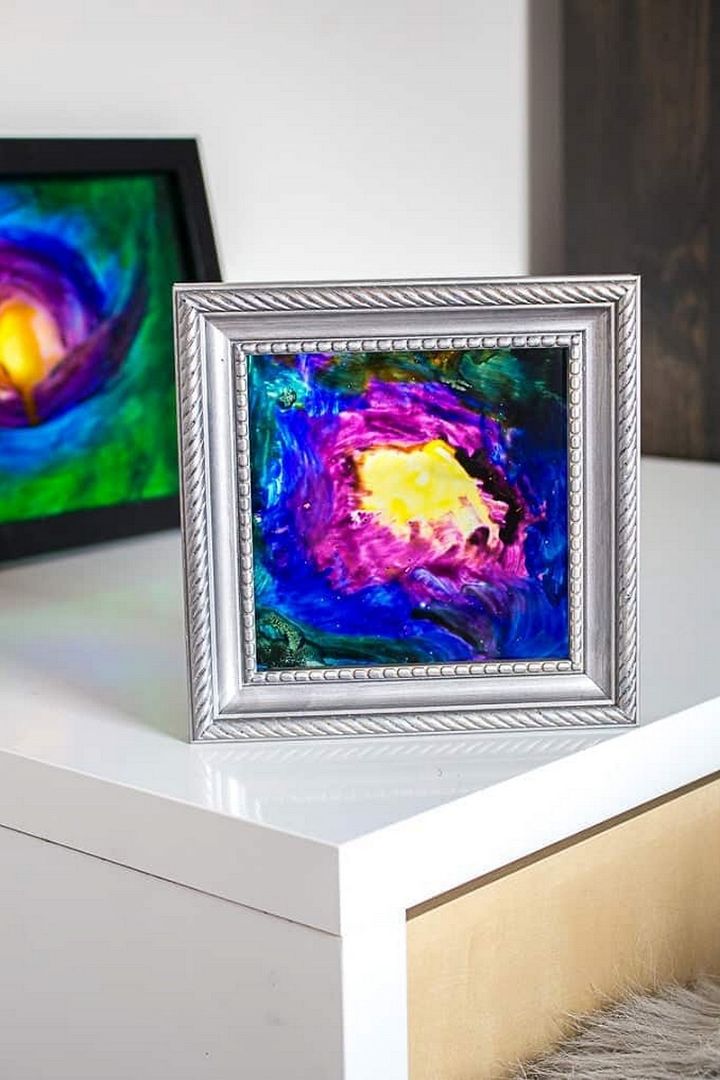 Not only for windows, but you can also do diy stained glass projects just for display inside frames like this one here. the colors that you choose for this project should be vibrant and attractive so that they look great in frame. Choose a frame that is appealing to eyes so that you can easily make a nice decoration item for your home here!
29. Heart Faux Stained Glass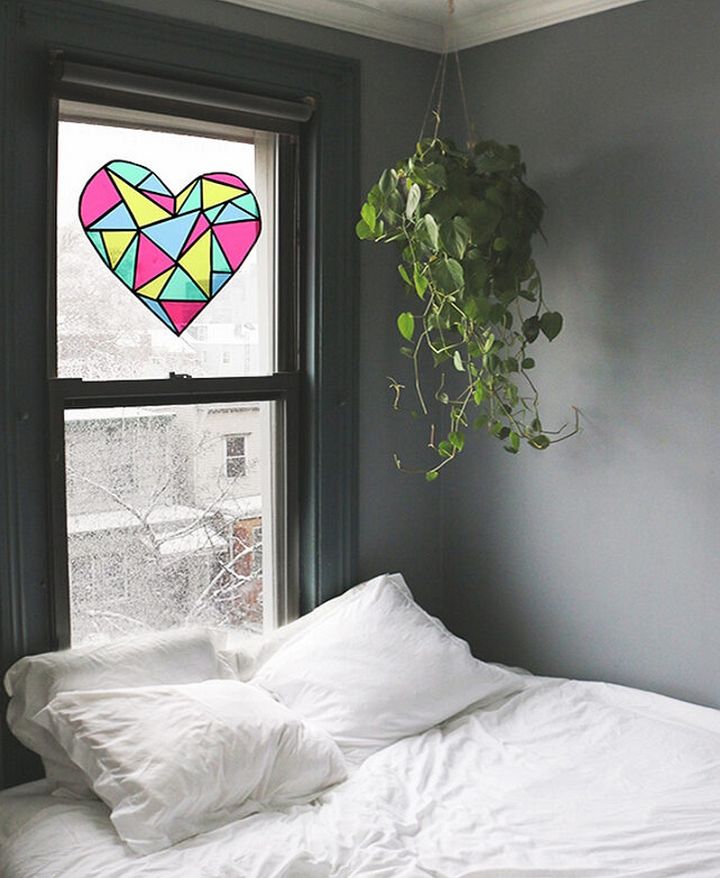 If you are looking for stained glass ideas, look closely into the details of this project here. This stained glass project shows how you can make a nice heart with this technique and make our windows look attractive and appealing like never before here!
30. Faux Tiffany Lamp With Paint And Glue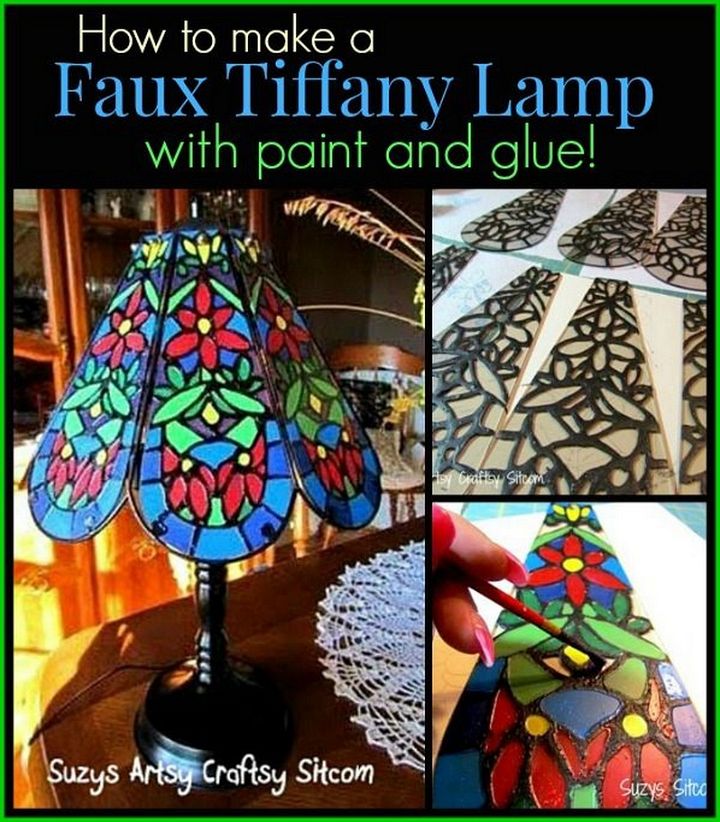 Are you tired of the old looks of lamps at your home? Try this faux tiffany lamp with only paint and glue. The process is really very simple yet can very conveniently transform the entire look of your simple and basic lamp. Grab some glue and acrylic paints and start your project right away. here!
31. Stained Glass Hearts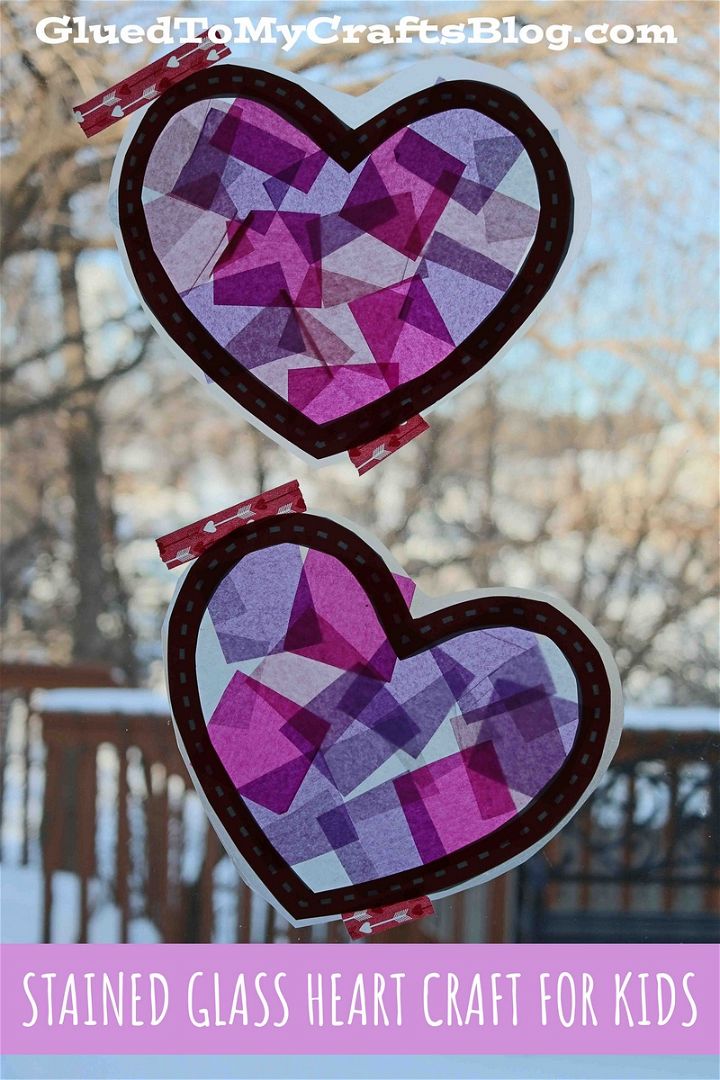 Kids always desperately want to try the same thing that the adults do in their family. If you like to do stained glass projects, your kids will also want to try this therefore this diy project is especially formulated and designed for kids. This project tells us how we can make stained glass hearts. here!
32. DIY Stained Glass Windows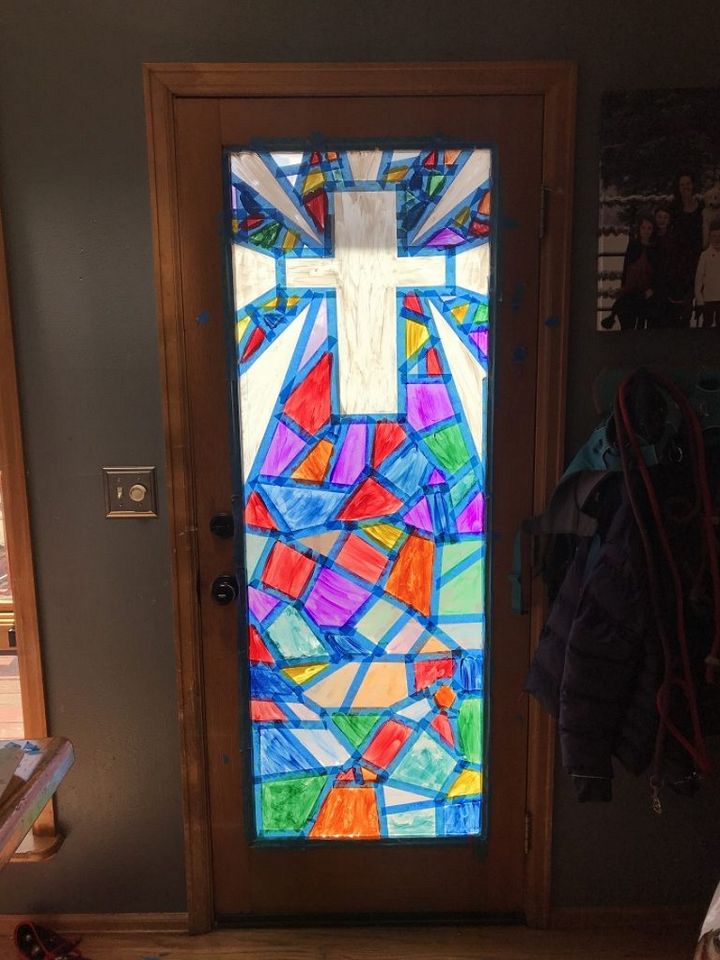 There are many windows at our house that we like to cover due to various reason such as to block the direct heat from sun, block the view if its not pleasant and much more. With this simple diy stained glass project you will be able to achieve your goals and serve the purposes. Stained glass project are a bit lengthy as they include delicate painting process but the end results will make your proud. here!
Melt And Pour Soap Recipes – Recipes for melt and pour soap are abundant However, finding natural, safe, with moisturizing soap recipe can be more difficult. We have 40 of the most popular melting and pour soap recipe to help get you to get started.
33. Faux Stained Glass Greenhouse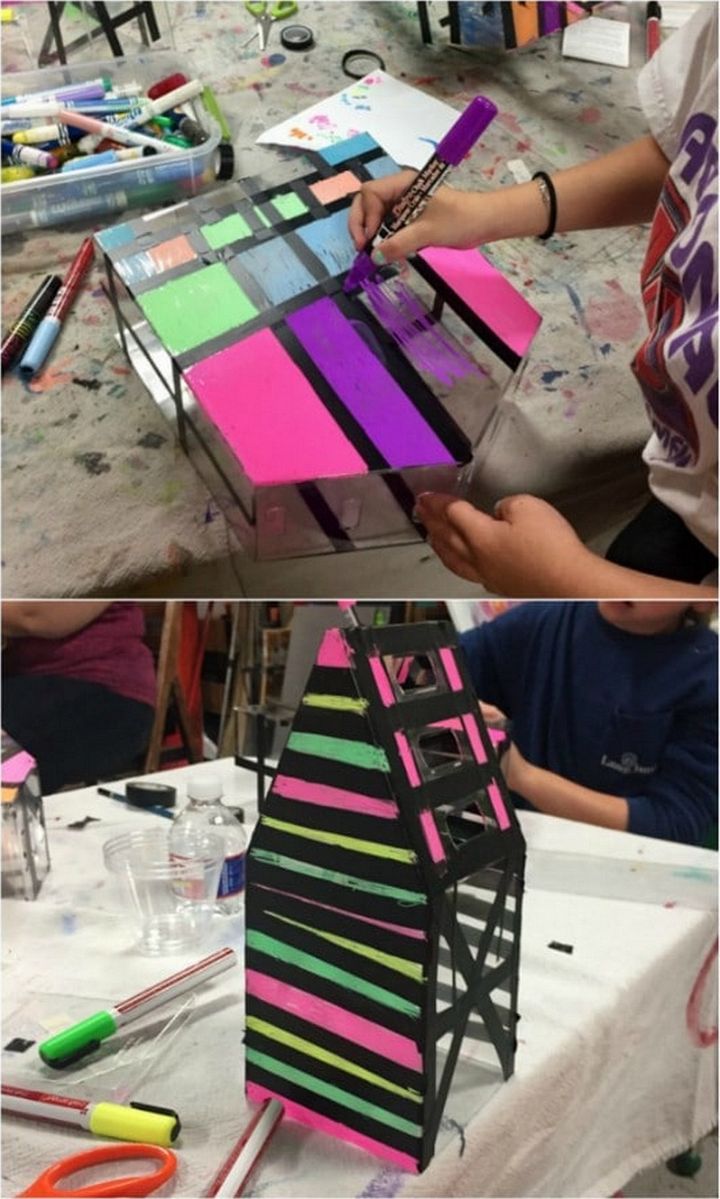 This is a faux stained glass green house that you can easily follow with the help of this tutorial. Go through the entire project to know the complete details and to be accurate about the end results. Follow the steps carefully and you will create some masterpieces like this one here!
34. Melted Bead Stained Glass Art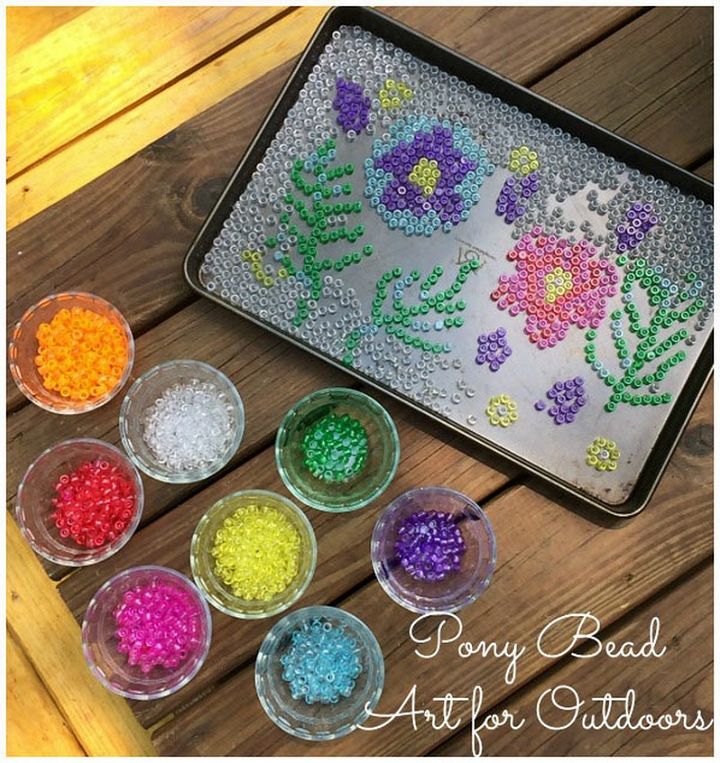 This artwork here is so impressive that you really want to try it out. The project include bead work and stained glass art work. This piece of art will definitely blow your mind and will make you try more and more of such projects. Spend your weekends in this interesting and fun activity. here!
35. DIY Faux Stained Glass Window For Kids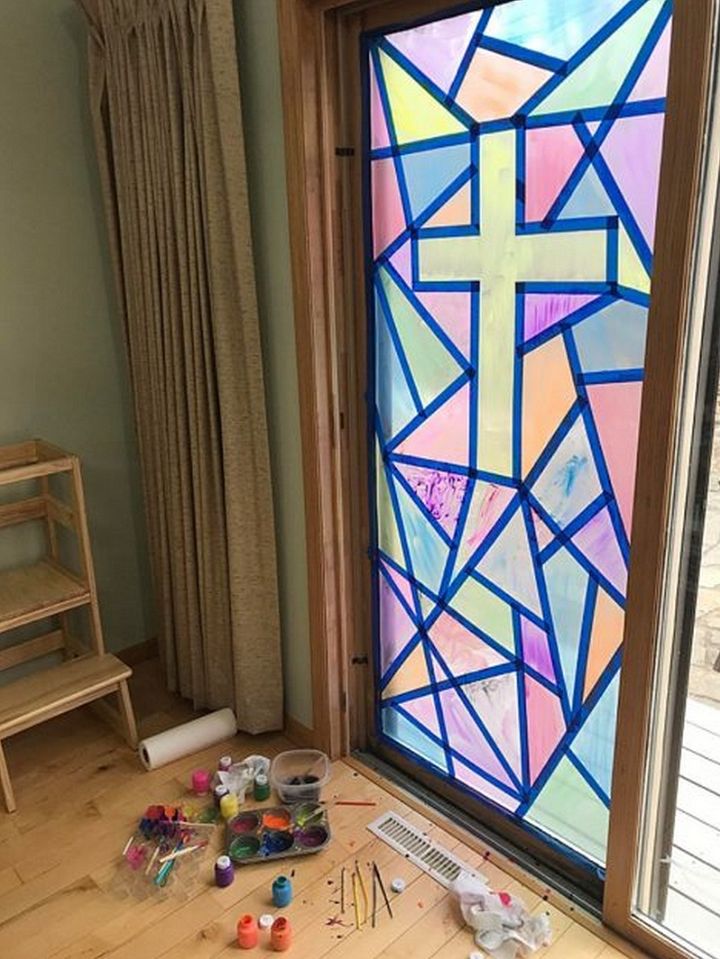 This diy stained glass project will teach you ow you can engage your kids in a wonderful activity of painting, coloring, playing and exploring their talents all at the same time. Let them enjoy and out their hearts out in this playful and joyful activity and see them being happiest. here!
Conclusion:
Stained glass projects are a bit time taking and you have to make a little bit of efforts to achieve goals however you can see some surprising and amazing results coming up as a consequence of your efforts and creativity. Use your painting skills and even if you don have them you can always try to learn.