Have you ever realized that making phone holders can be so much fun especially when you do it with friends or kids? There are 20 DIY Phone Stand Ideas Safe Your Mobile that you are going to explore here and you will surely be amazed by the tricks and techniques that you will discover here. There can be hundreds of ways to make DIY phone holders. You can choose to either involve many materials for your phone holder or you can just wish to work with a few supplies and make simple ones.
Among these DIY phone holders, you may find holders with fabric, wood, clay, and many other materials. With the air-drying clay, you can make carved phone holders that look phenomenal. Wooden holders can be the best when it comes to reliability and durability. Fabric phone holders can be very cozy when you are in bed and need your phone to be stable all by itself. Whereas if you are at a dining table you can choose to have a wooden, plastic, or acrylic DIY phone holder for balancing your phone.
1. How To Make A Phone Holder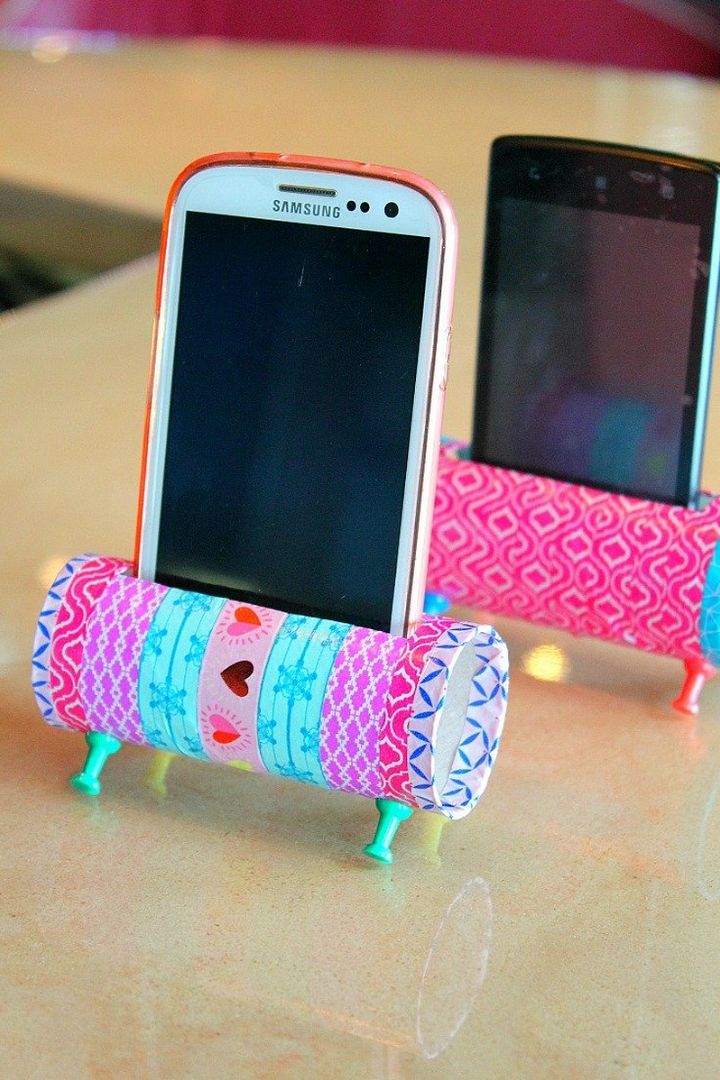 It's about time that you create a phone stand for your phone to spend some time relaxing and watching videos or movies without having to worry about where to put your phone at. This phone holder is made with recycled material which is an empty toilet paper roll. You can use colors and play around with different designs to make them look pretty and attractive. Tutorial
2. Easy DIY Phone Stand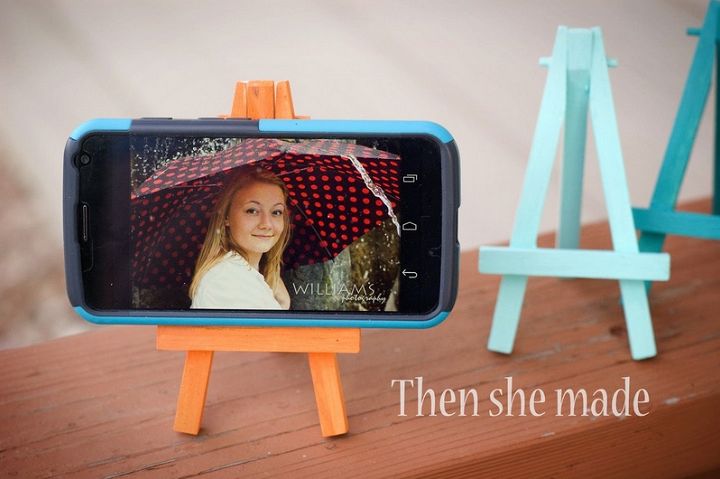 Have a look at this adorable DIY phone stand here which is not only good in appearance but will also hold your phone in a firm position and help you watch movies in a relaxing way. These easels are available in stores but all you have to do is to paint them in your favorite color and use them. Tutorial
3. Whale Phone Holder Craft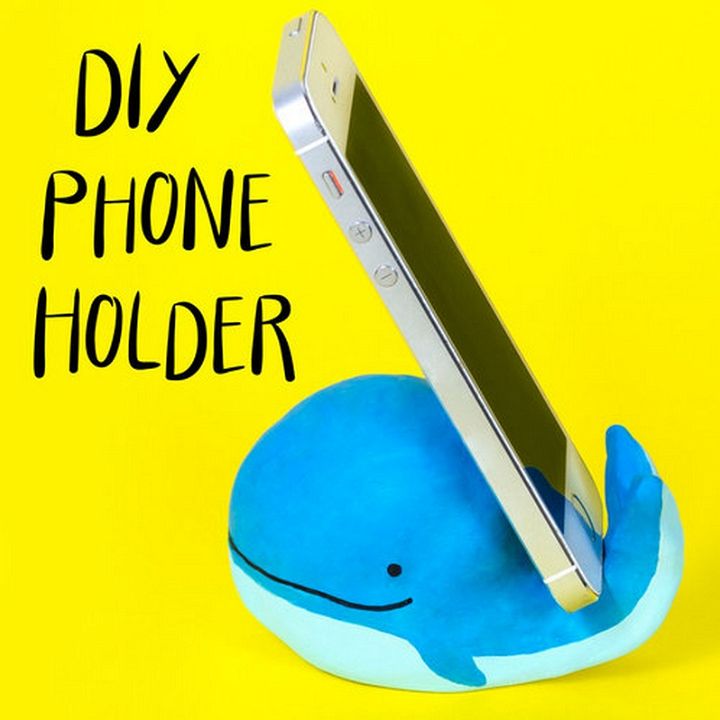 This whale phone holder craft might seem to be a little difficult but it's easier than it looks. Try to make life creative and happier with new art and craft activities every day. You must look for new and innovative ideas so that your mind gets fresh and you can enjoy every moment. This DIY phone holder is made with air dry clay and some colors of your choice. Tutorial
4. DIY Acrylic Travel Phone Stand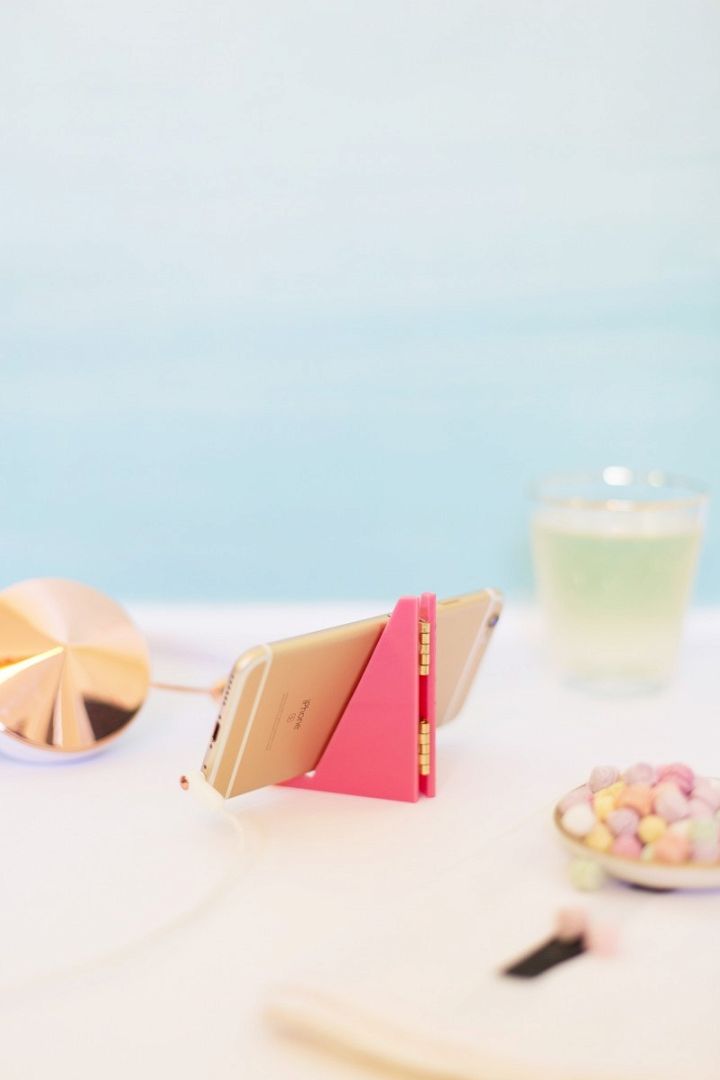 This DIY phone stand is made with acrylic sheets and is perfect to carry when you are traveling. We often find it difficult to keep our phone somewhere, look at it and eat at the same time but all of this is possible now. For this, you need a printable template, cast acrylic sheet, safety clamps, mini hinges, safety goggles, gloves, pen pencil, and scissors. Tutorial
5. DIY Phone Stand For Desk – Using Scrap Wood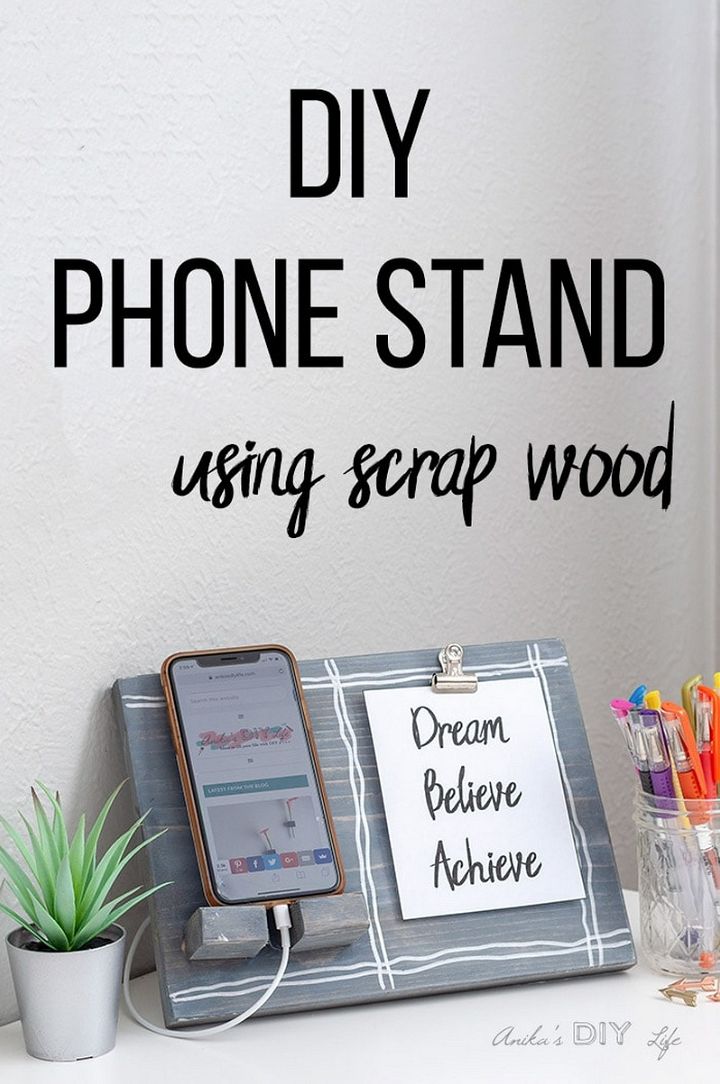 Have a look at this DIY phone stand made with scrap wood. You can very easily and conveniently make this phone stand and be proud of yourself when you will see the end results. This process is not very time taking or demanding. You just have to have that love for creativity and art and craft to complete this mission. Tutorial
6. DIY Cell Phone Stand And Accessory Holder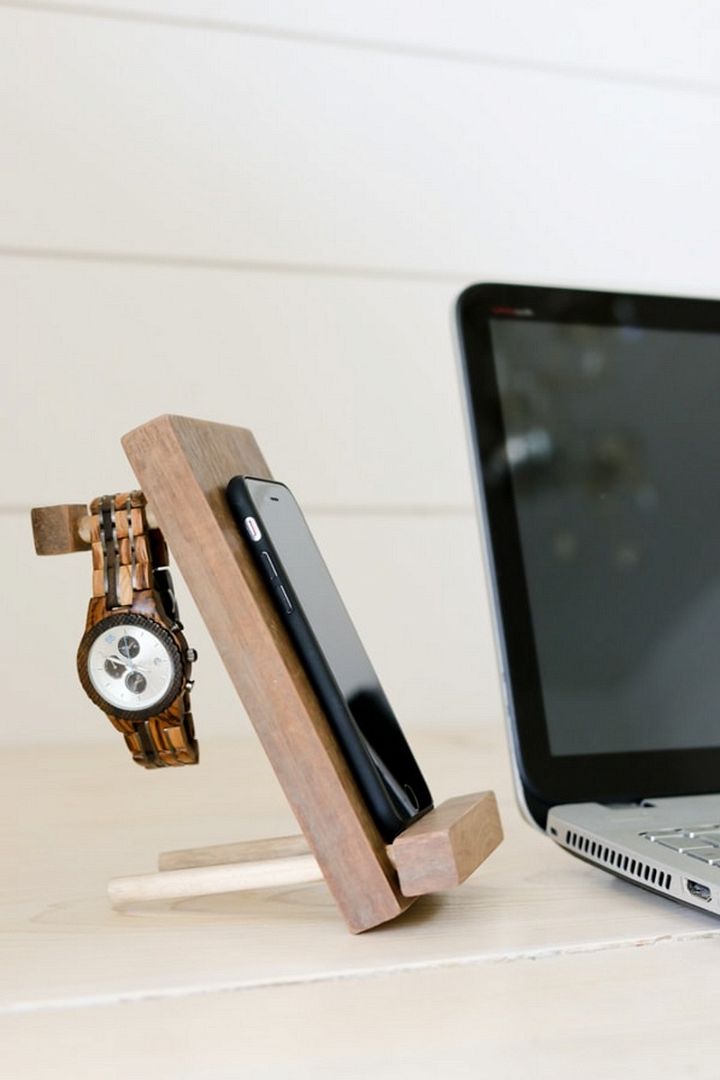 This is not only a cell phone stand but can also carry other accessories alongside. We often find it difficult to keep everything in a separate place so here with the help of this DIY phone stand you will be able to just put your phone, wallet, watch, and pens in one place and you will find them easily the next time. Learn to make this stand with the help of the tutorial given here. Tutorial
7. Phone Stand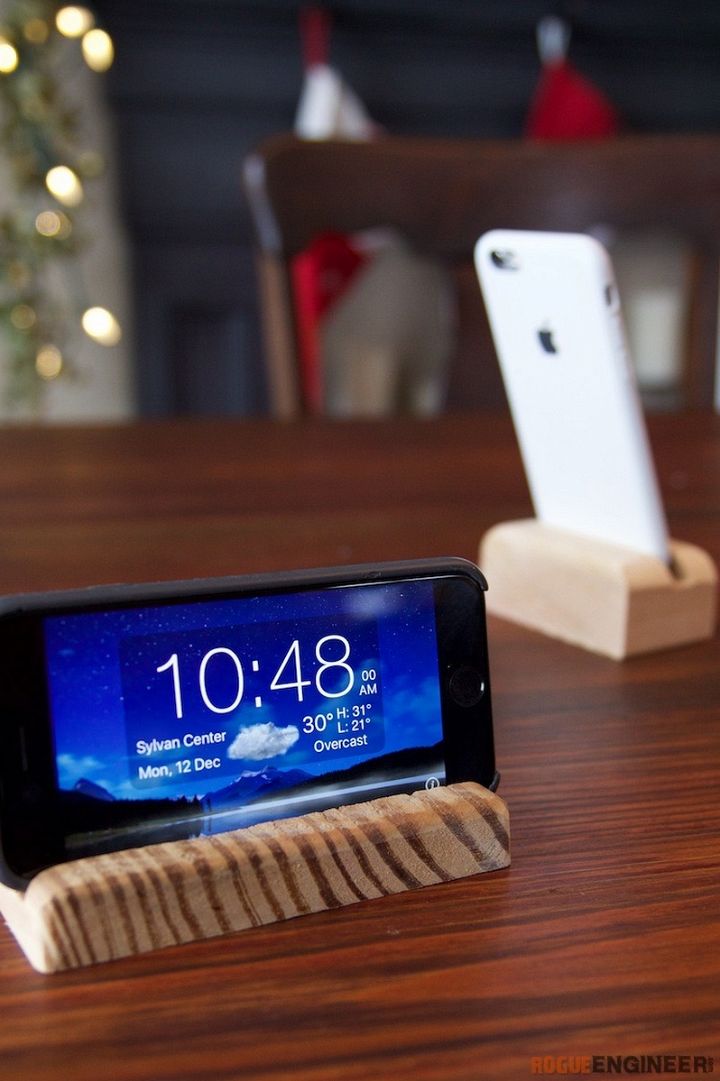 If you do not wish to have a complicated style of phone holder or if a lot of colors distract you, you can make this simplest DIY phone holder for your phone. This is a small wooden piece converted stylishly into a thing that can easily hold your phone in place and you can easily and conveniently have your dinner while having a video call with your friends or family. Tutorial
8. DIY Phone Pillow Stand – Holder Tutorial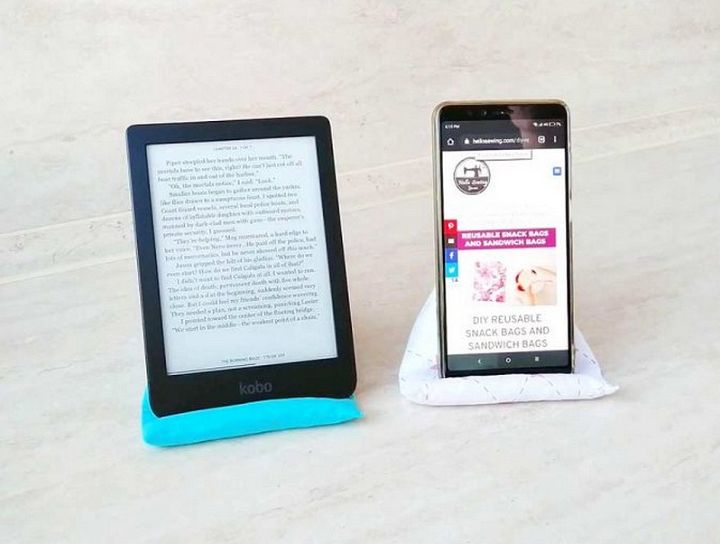 Give your phone a very soft and adorable stand to sit on. You can easily make this DIY phone stand with the help of this project here. go through the details and you will see how it can be done Make your own version of a DIY pillow stand for phones Tutorial
9. DIY Cell Phone Stand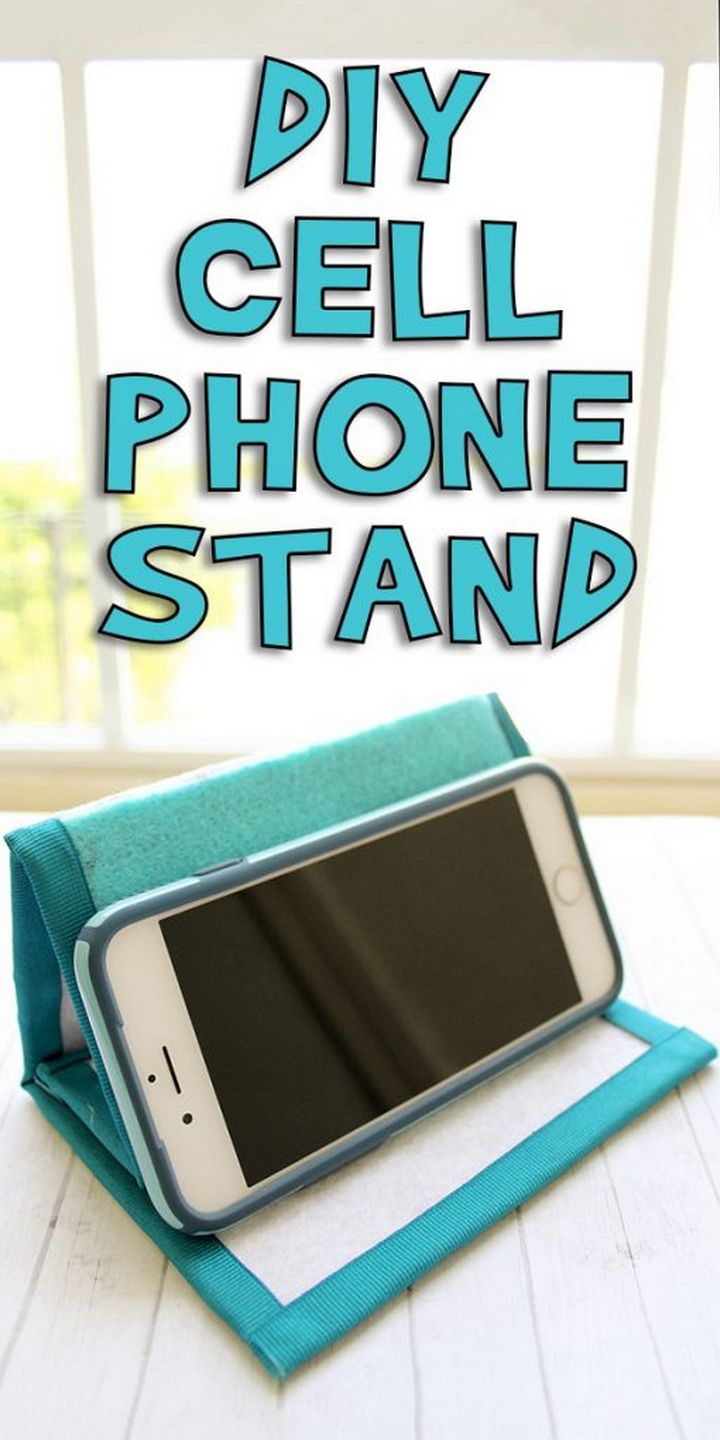 It often happens that we want to have our meal and be on a call with someone or watch something on the phone while having a meal. In such cases, we all need a stand to keep our phone sit on it while we do our multitasking. This DIY stand for phones is made in a very professional style. Make an effort to create this masterpiece for your ease and comfort. Tutorial
10. Shark Cell Phone Stand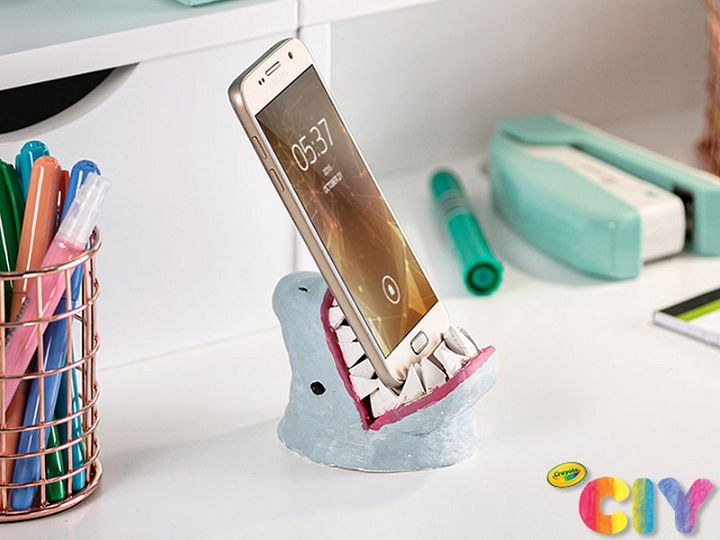 This is the height of creativity that you can see in this DIY phone stand here. this is a shark made with air dry clay. Besides clay, you are going to need scissors, paints, brushes, water, a disposable plate, a disposable cup, and string. This stand is made in such a way that when you will keep the phone over it will look as if the shark is holding the phone in its jaws which is funny. Tutorial
11. DIY Minimal Clay Phone Stand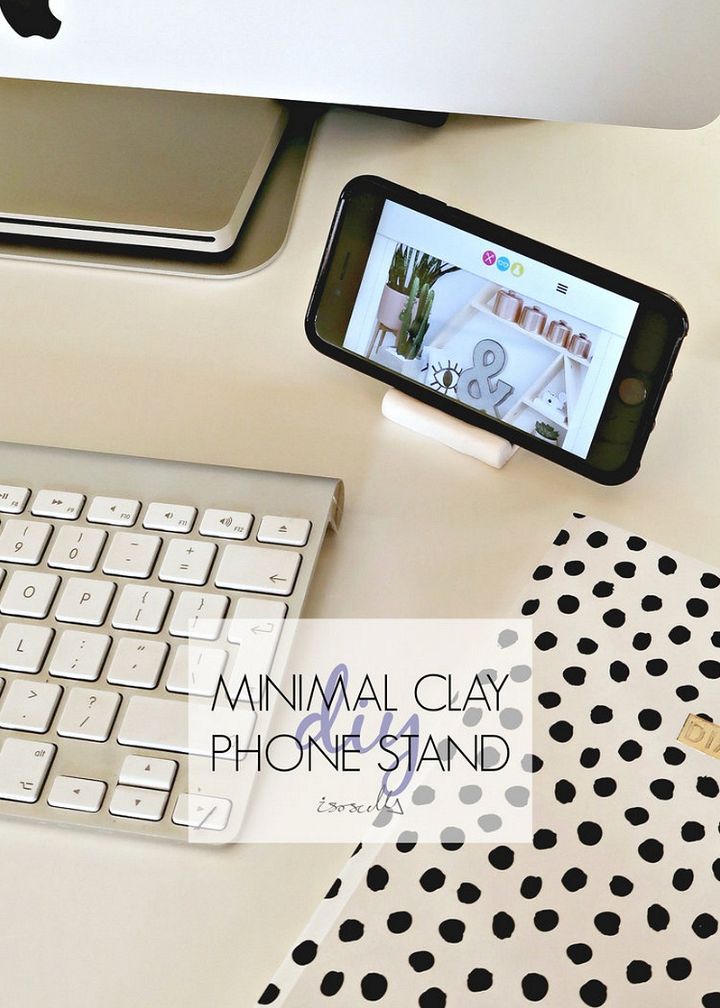 For people with a minimalistic approach, this DIY phone stand can be perfect. this stand is made with clay. The stand is really very small and is only made in such a size to hold a phone in its place and that's it. You can see no waste of material in this DIY phone stand here. Tutorial
12. How To Make Phone Holder From Toilet Paper Rolls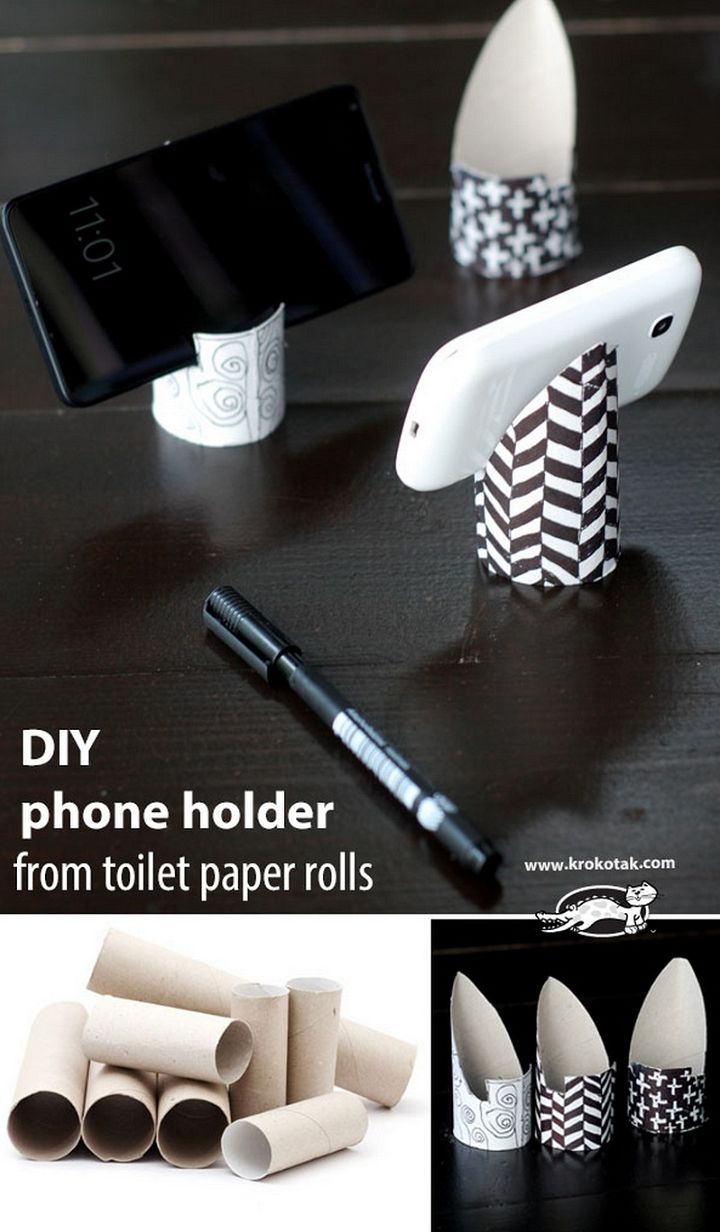 Using recycled materials and making upcycled products can be very satisfying for your inner peace. While doing an upcycled project you know that you are not only saving money but the environment too. Recycling is healthy and very important in fact vital to the ecosystem. Tutorial
13. Amazing Homemade Cell Phone Holder DIYs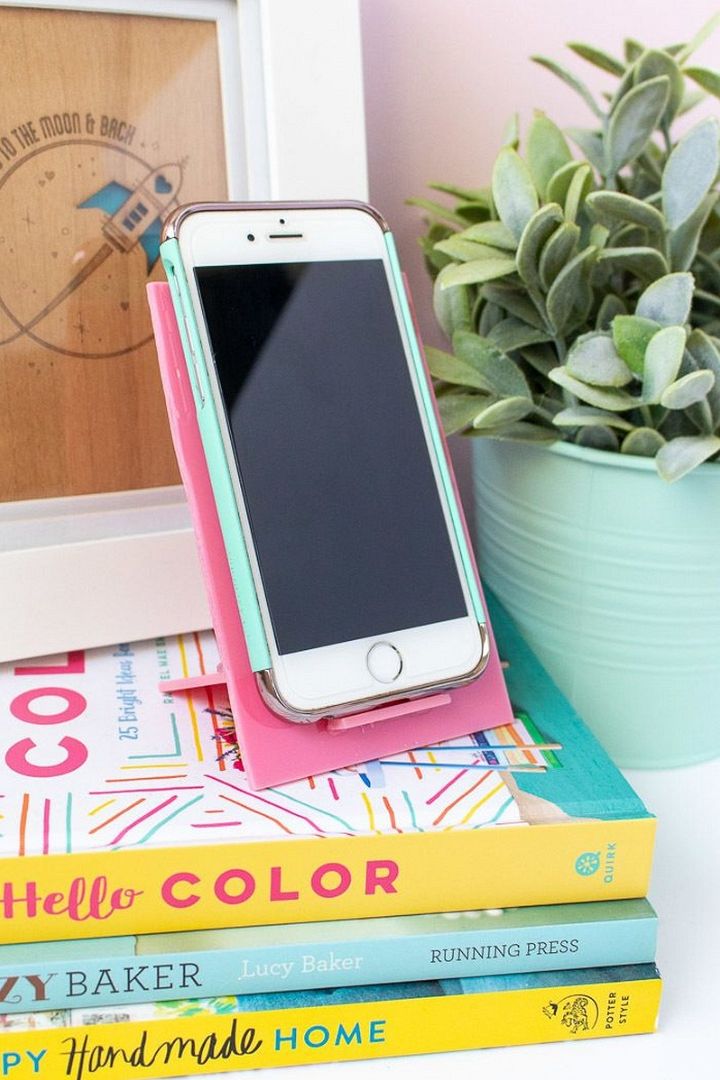 This homemade phone holder is something that even the kids can follow and imitate. Put a little bit of your effort into this art and craft project and you will end up being super proud of yourself. You can make this stand in any color you want. You can find many phone stands in stores that are just ready to use but we must always try to make such things ourselves so that we can save money and explore our own creativity. Tutorial
14. DIY Wooden Cell Phone Stand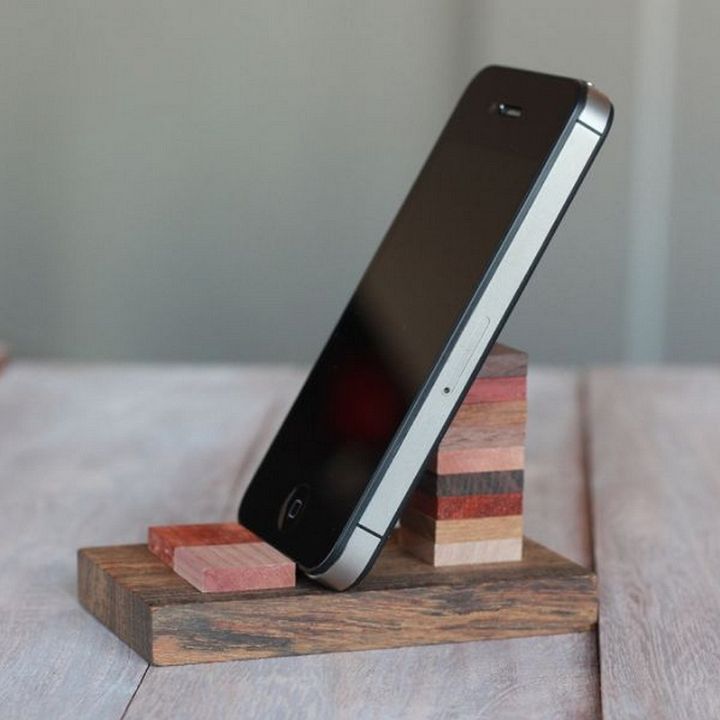 Wood never fails to impress when it comes to making either furniture or crafts with it. This mini DIY phone stand made with wood is definitely the cutest thing we have seen on the internet today. Make this ridiculously easy DIY phone stand and let your meals get finished while you watch some fun videos. Tutorial
15. iPhone – iPad Stand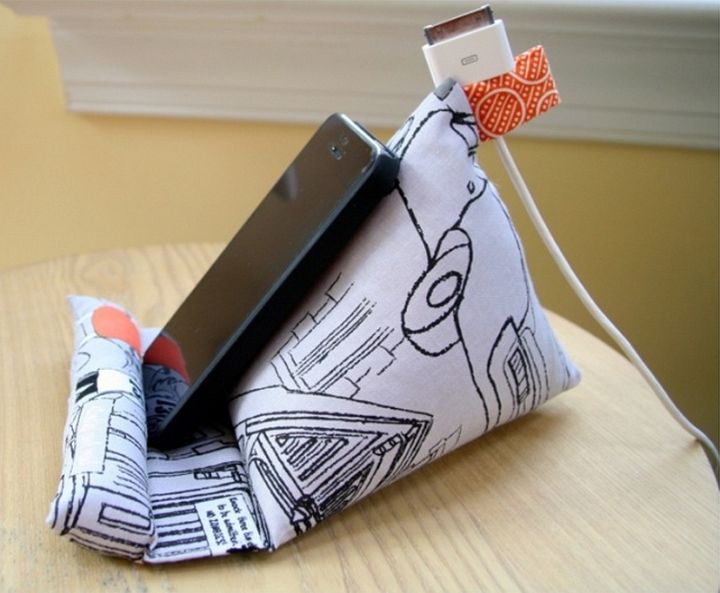 This phone stand is made with soft fabric and cushion. As you can see proper spacing and cuts have been made in order to balance the phone. You can also make such fun and interesting DIY phone holders with the help of tutorials and descriptions here. you do not have to be very complicated when it comes to making phone holders. Make simple and adorable ones like in the projects you see here Tutorial
16. DIY Mobile Phone Holders out of Clay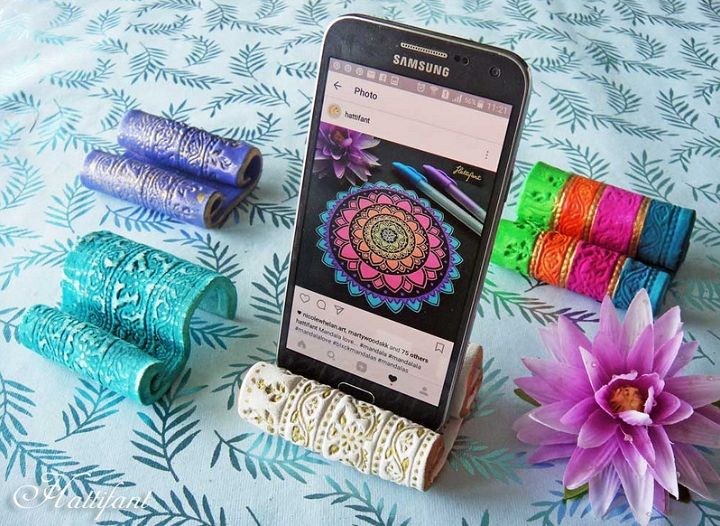 Have a look at this super attractive phone holder made out of clay. This is a simple holder with a very attractive carving done on clay. You need air-drying clay, texture stamps, and some other tools for this project .you can use all sorts of materials for coloring like sharpies, watercolors, gel pens, spray paint, and glitters. Tutorial
17. DIY Teen Gift Idea – Wooden Phone Stand Tutorial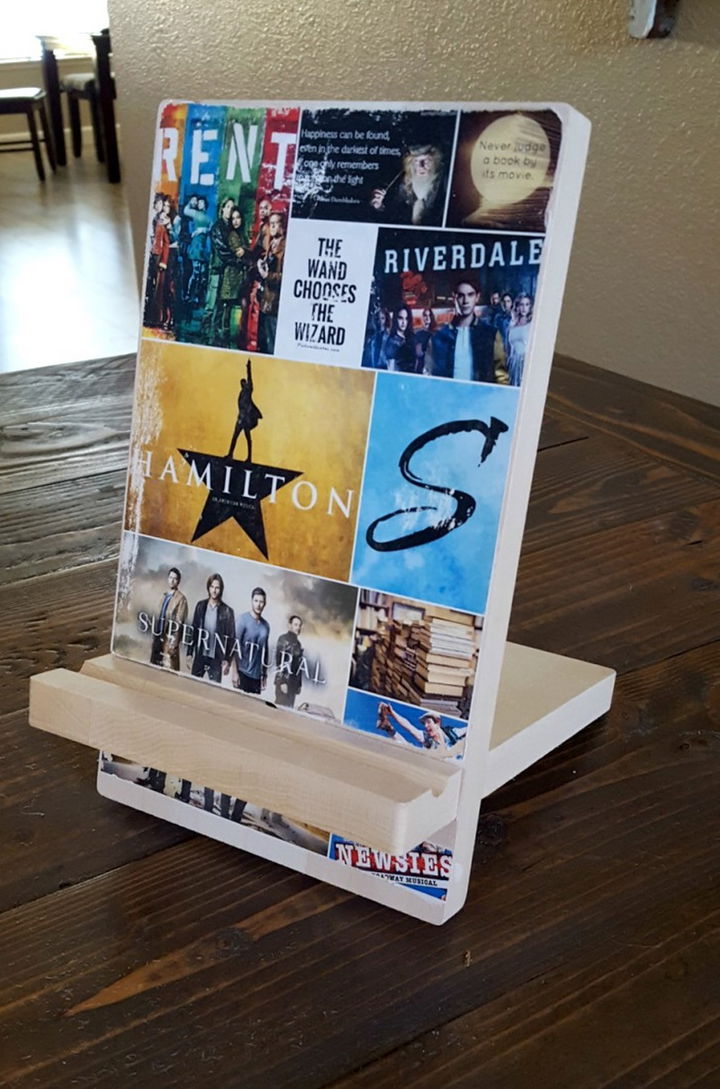 This DIY phone stand can be a very nice gift for your friend if you are in your teens. This stand is made of wood. Go through the tutorial to know about the complete details of this project as it seems to be a very personalized kind of phone stand. You can also get the details in written descriptions. All the materials used here are easily available at any craft store so you do not have to struggle to find the materials and supplies. Tutorial
18. Easy DIY Phone Charger Holder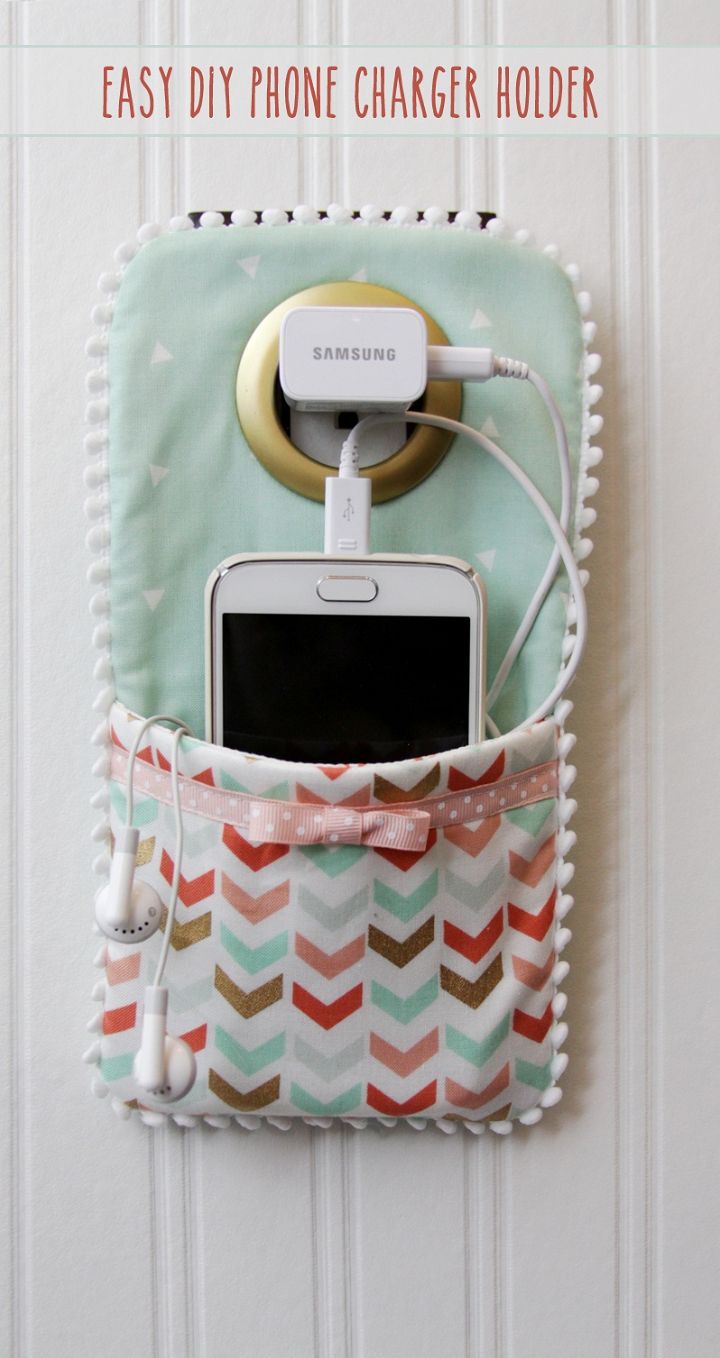 While making a DIY phone holder, you can add a very nice and important feature which is a little space for the charger. If one phone holder carries a phone and its charger within it, then it's a treat. Try to make this cute little fabric phone holder made with easy supplies and materials. This project is perfect for those who often forget to carry their phone chargers with them Tutorial
19. DIY Recycled Phone Stand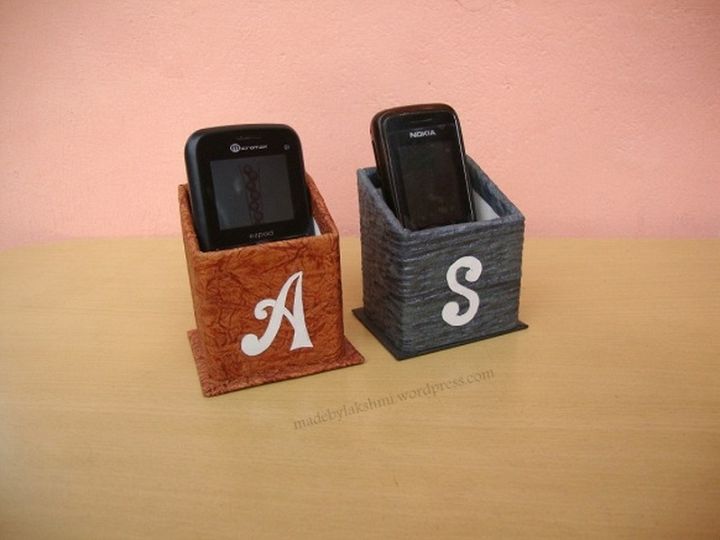 While doing any DIY project you must incorporate recycling materials as this will save the environment and will be easy on your budget. These DIY phone stands that you see here are rather a product of recycling and look at their beauty and dignity. Go through the details to know more about the project that can balance and hold your phone firm. Tutorial
20. DIY Mobile Phone Stand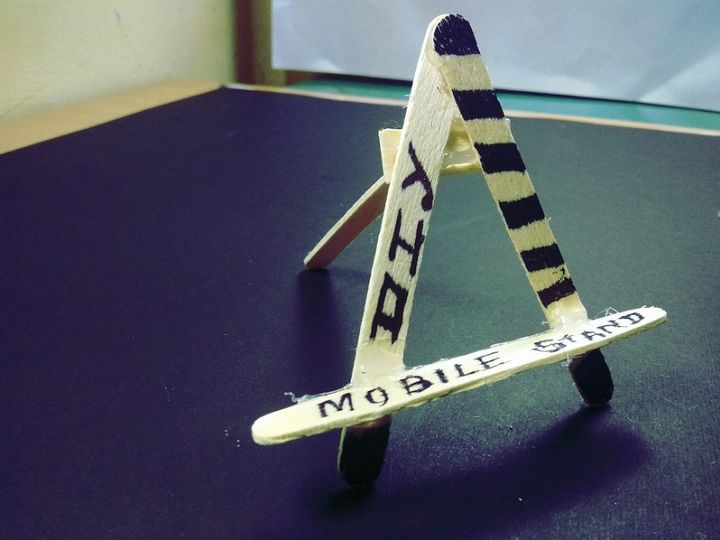 Have a look at this very cute crafting stick phone stand. Engage your kids in the making process of this DIY phone stand. Kids will enjoy making a DIY phone stand all by themselves under your supervision. You only need some basic kind of materials for this DIY project. Tutorial
Conclusion:
All the projects that you see here are very interesting and do require not much of your time and money. If you are an art and craft lover, you will love all the projects and will surely try to make your own versions of these DIY phone holders. There are many times when we want our phone to be balanced on its own so that we can do multitask and still watch our phone. Sometimes we want to watch a video and make any DIY project accordingly and for that period of time, the phone stand plays a vital role.