Wreaths are the must-haves for any occasion as they are the first things to bring beauty and vibes to an event of the special day. The wreaths you buy from the stores are gorgeous but they take a huge toll on your budget. So save yourself a lot of time and money and that too without compromising the beauty and charm of the wreaths and this is because of this round of 20 DIY Winter Wreath Ideas That Looks Welcoming.
These handmade wreaths are super fun and easy to make with the frugal list of supplies and turn out just so refreshingly gorgeous. The wreaths for the spring and summer reflect some pretty greens appeal with the green leaves and vines along with the combination of some adorable and colorful flowers. The fall and holiday wreaths look beautiful with decorations like burlap bows, pine cones, acorns, and dry wooden branches. All of these seasonal and the occasional wreaths along with the thematic wreaths for your parties have been included in this amazing bunch of DIY wreath ideas.
Also, these handmade wreaths are going to boost your crafty attitude and develop your creative skills. Let your kids indulge in the wreath making so that they not only get some creative push but also learn the value and worth of the events and occasions with you. Each of these DIY wreath ideas comes with detailed tutorials and instructions for an easy and fun follow-up.
1. Endlessly Riff-able Wreath Recipe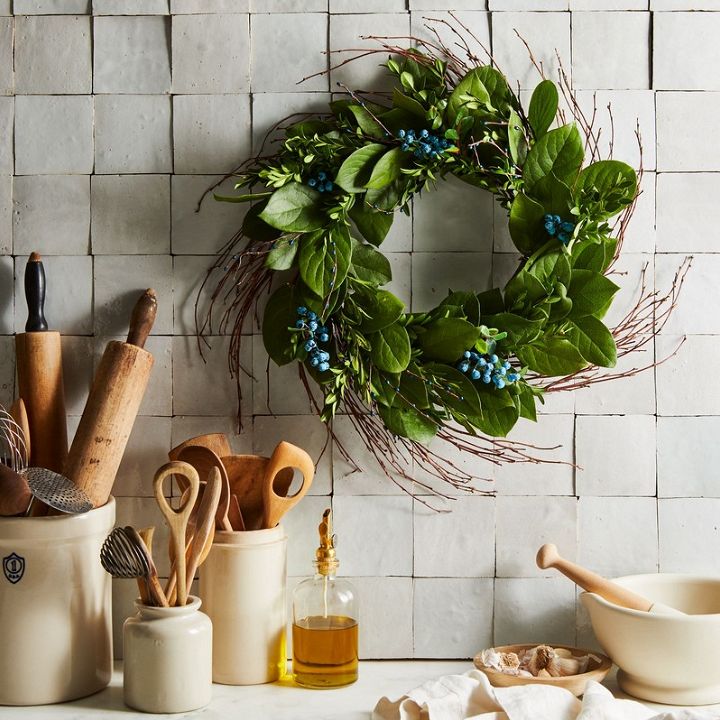 Save yourself from the frequent splurges of the event decor for your home with this endlessly riff-able wreath recipe. Making this lovely wreath is super easy and frugal with a few things on hand. So, get your hands on things like a metal ring, multiple types of green leaves and foliage, shears, gauge wire, and the ribbon. Check out the details here!
2. How to Make a Wreath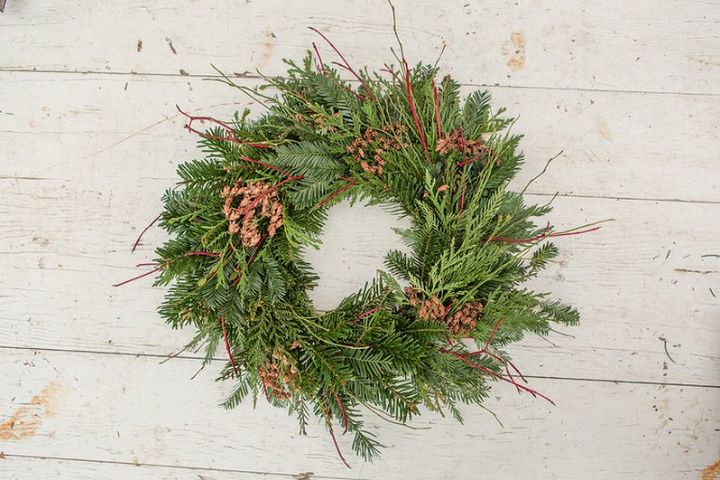 Begin your holiday season in the most exquisite and fresh way with this handmade wreath. Choosing your favorite foliage and the greens would leave you with a totally custom and cute wreath. Get your hands on a few things like the pruner, roll of paddle wire, wire snips, wire wreath frame, and your choice of the foliage. Check out the complete tutorial here!
3. DIY Summer Wreath For Your Front Porch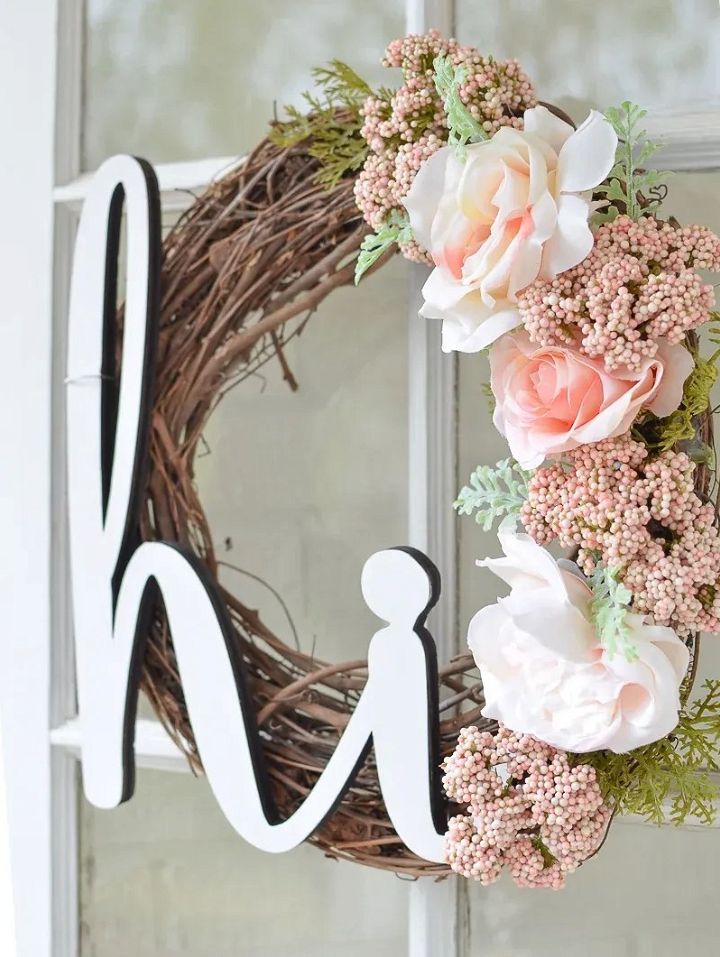 Make your front doors super welcoming with the cutest greeting gesture with this DIY summer wreath for your porch. Along with the gorgeous combination of flowers, foliage, and ribbons this summer wreath says Hi letting it come out so cherishable and cute to welcome the guests. Get your hands on the Hi-cut out, grapevine wreath, floral stems, and DIY tools. Details here!
4. How to Make a Gorgeous Holiday Wreath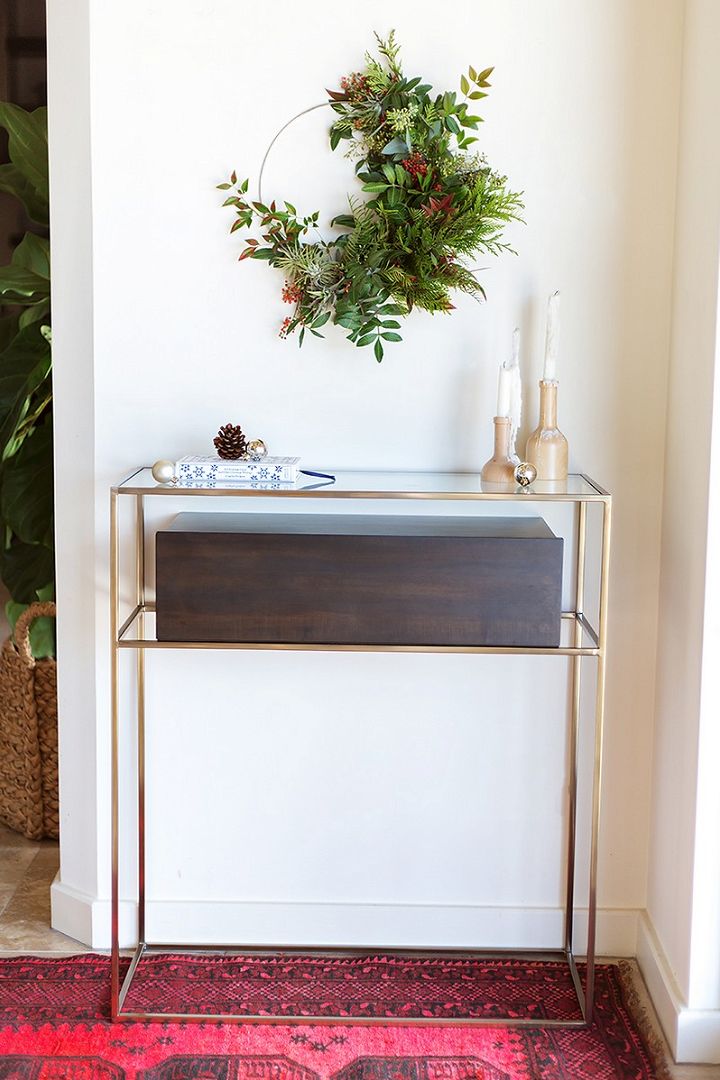 Here is this gorgeous holiday wreath to decorate the inside of your home with. Yes, this super adorable holiday wreath is going to bring oodles of charm to your holiday home and a complete uplift to your mood as well. Using the wreath hoop, floral wire, cutters and the greeneries with berries you can easily create this gorgeous holiday wreath. Follow the tutorial here!
5. Early Fall Wreath DIY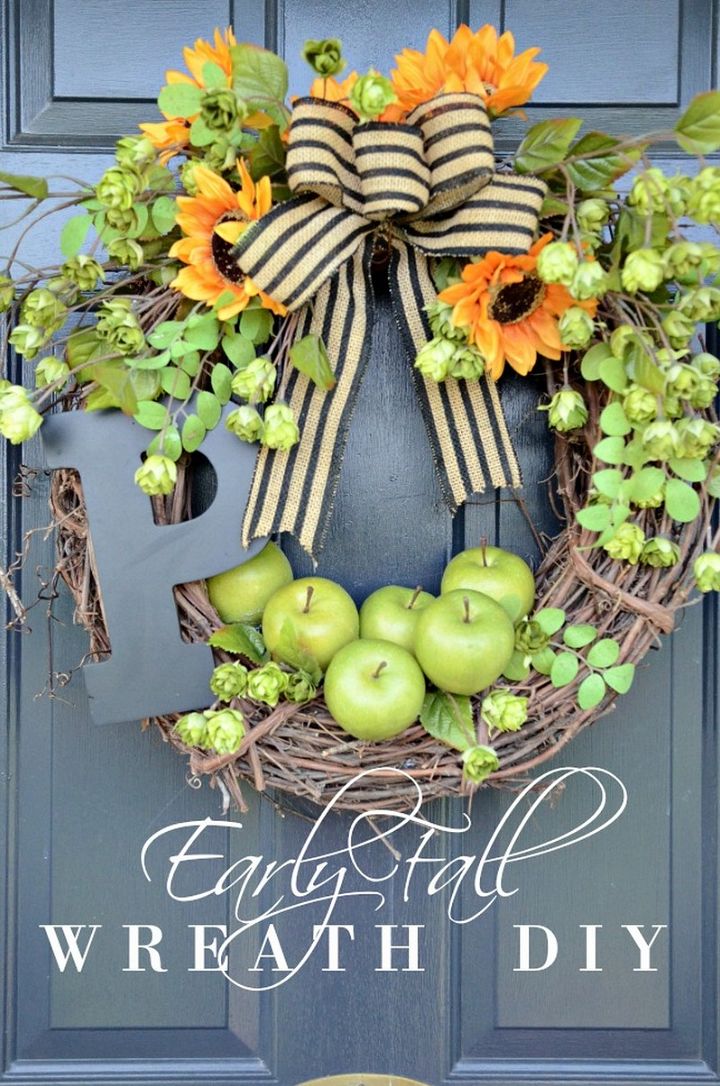 Your mood is going to be over the moon whenever you are going to your home because this gorgeous fall wreath is going to catch your glance every time. The wreath is loaded with green leaves, stems, sunflowers, and the most interesting green apples to your utter awe. That lined burlap bow is also adding a complete fall touch to it. Details here!
6. DIY Summer Wreath Idea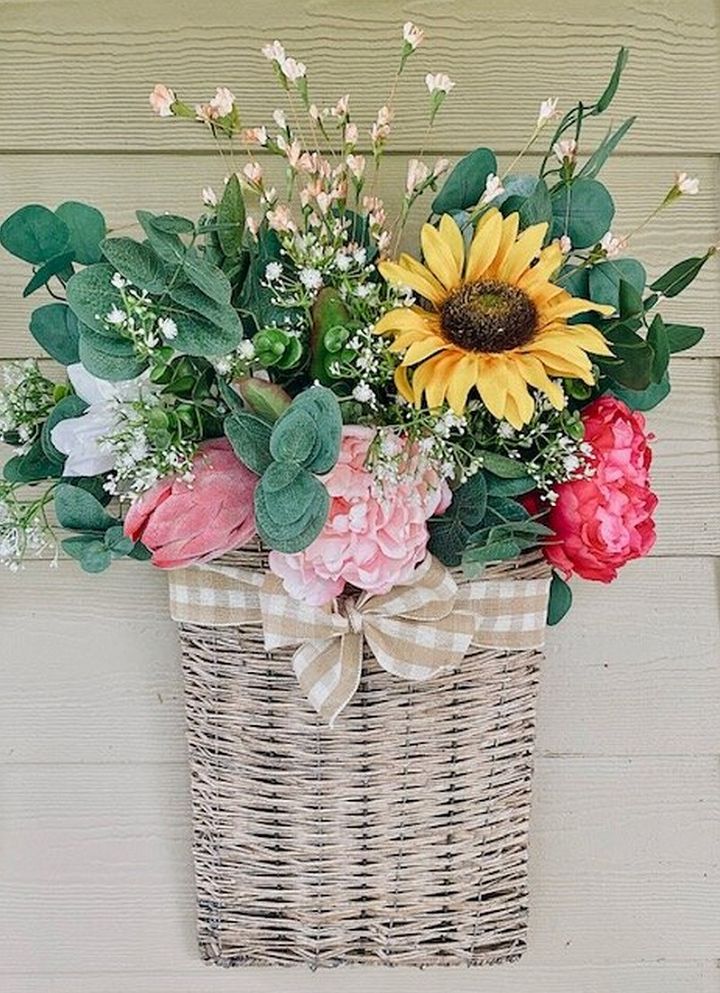 Summers bring us bright sunny days and gorgeous and fresh flowers to adore. Here is this DIY summer wreath project to enjoy the fresh green and colorful flowers to their fullest. This wreath is a little unique and that is because the wreath ring here has been replaced with the vine basket and which is too loaded with flowers and greens. Details here!
7. How To Make Wreaths With Real Flowers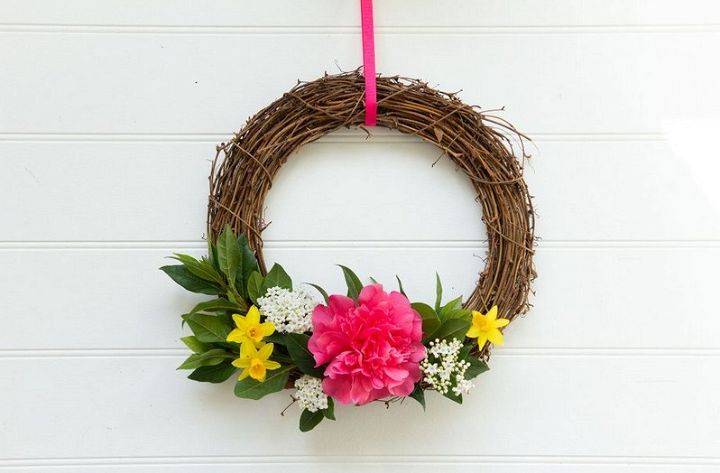 Get your home Easter ready with this lovely DIY wreath that you can easily make at home and that too with the fresh and real flowers from your garden. There are a few things you need to grab to make this adorable wreath in just minutes. So get garden shears, rattan wreaths, green foliage, spring florals, and the ribbon, and make this pretty and cheap wreath. Details here!
8. How to Make a DIY Holiday Wreath With Little Effort & High Reward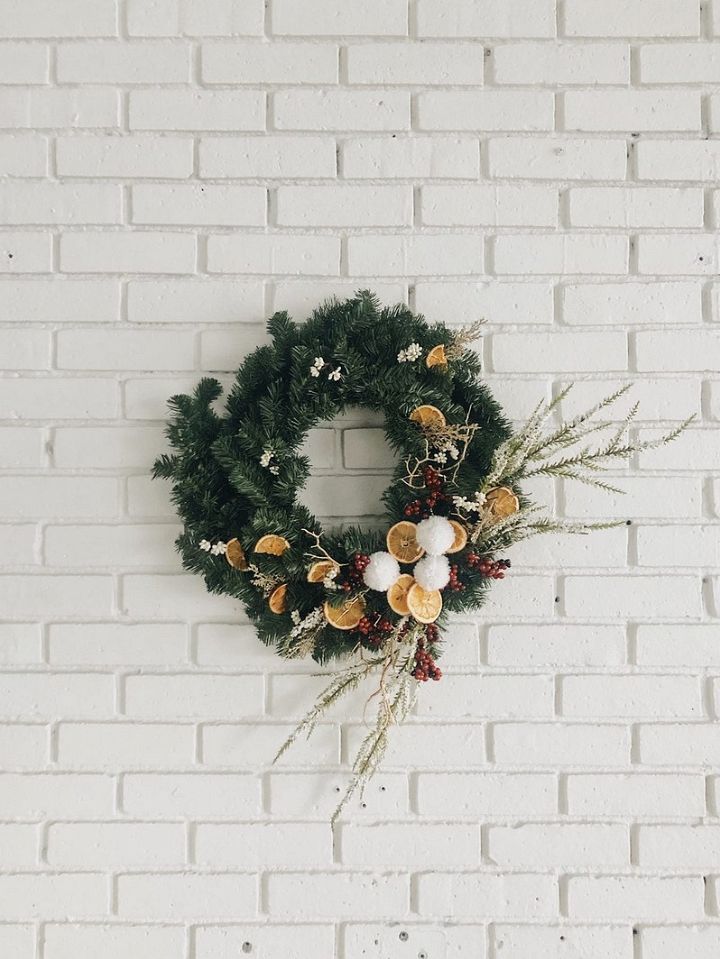 Make your empty walls look the prettiest with this DIY holiday wreath that requires little effort but high reward with its matchless beauty and charm. The fresh smell of oranges, the freshness of green foliates and the cuteness of the berries and flowers is going to add a lot of beauty to this handmade gorgeous wreath. Get the details of the idea here!
9. How To DIY Fresh Wreath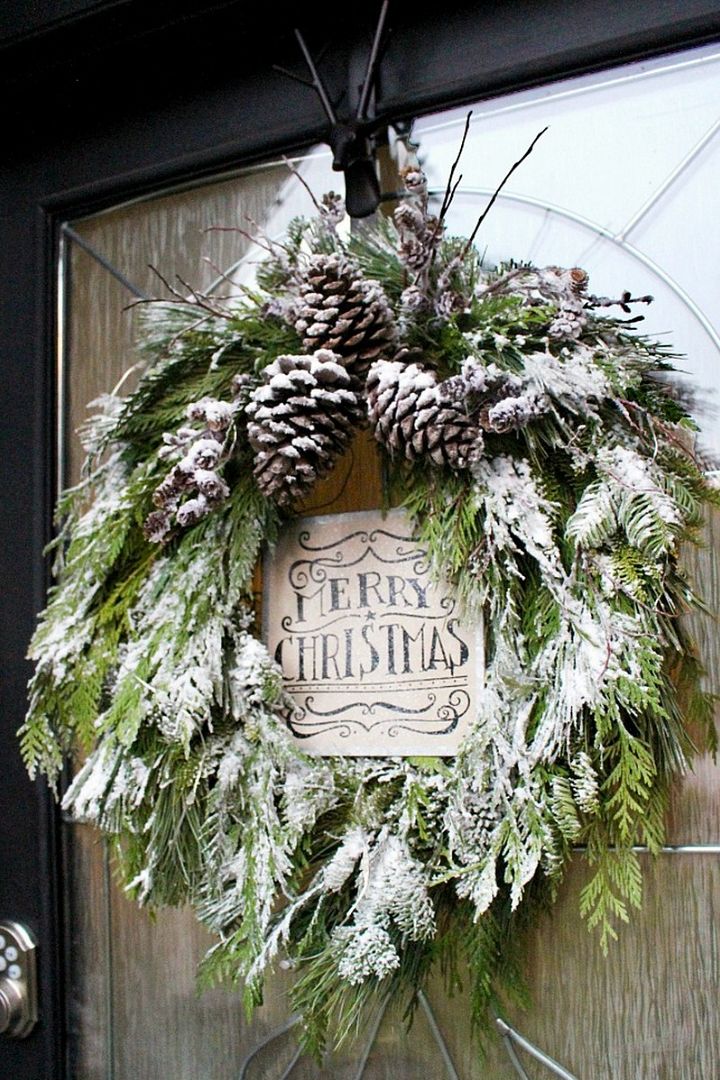 Get your home Christmas and winter-ready with this DIY fresh wreath that is super easy quick and so much fun to make on your own. The main things needed for the projects are the metal wreath, green floral wire, fresh greenery, moss, and wire cutters. You can spruce up the wreath with additional items like berries, twigs, and flocking. Check out the details here!
10. DIY Mini Book Page Wreath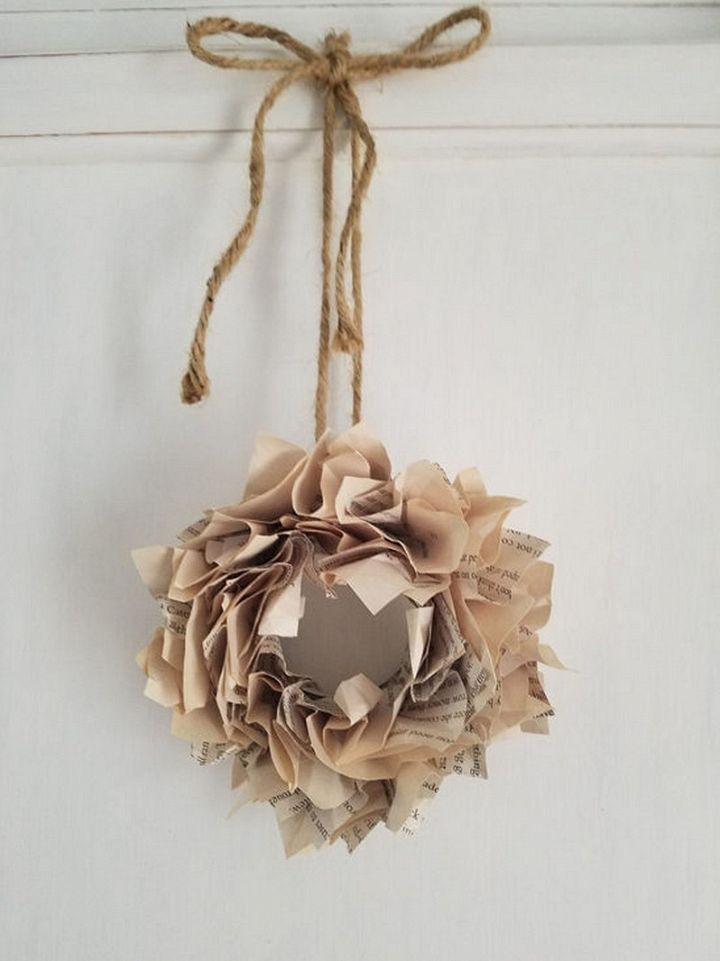 Either you need to decorate a library in the house or you want to make the most of your old books this mini-book page wreath is the perfect way to do either of these. All you need is a burlap twine and old book pages to make flowers out of. Learn to make this super adorable, quirky, and quick wreath with all the needed details here!
11. DIY Evergreen Wreath For Those Of Us Who Can't Make Stuff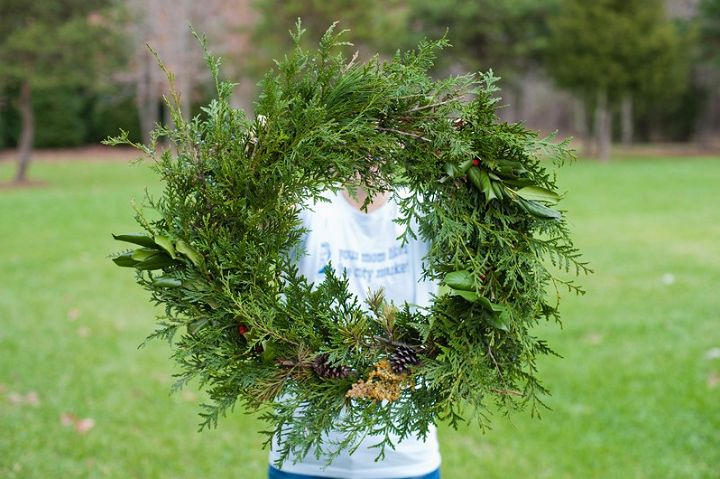 Even if you are not a pro crafter you can still enjoy making a wreath on your own. Here is this DIY evergreen wreath for those who can't make stuff. There are only a few things you need to grab and also a few tips to follow to work on the easiest, cutest, and all-green wreath. So get your hands on the wire wreath frame, shears, wire, thick gloves, and clippings to work it up. Step-by-step details here!
12. DIY Braided Nautical Rope Wreath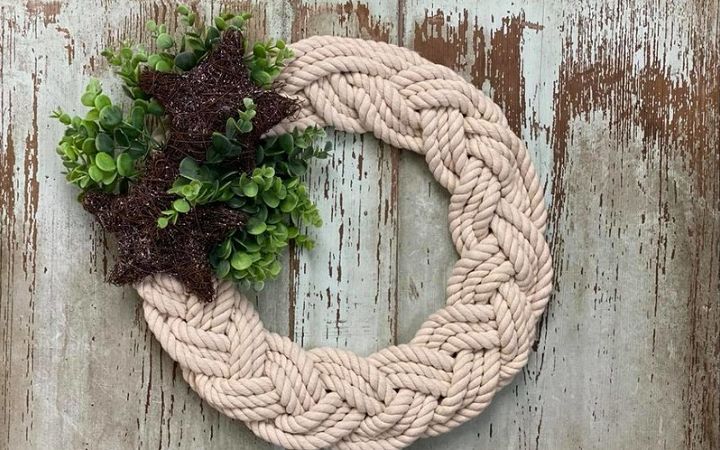 If you are a fan of nautical theme decor then making this DIY braided nautical rope wreath is the best thing to bring in your summer home and grace up the walls with. The wreath ring is made out of nautical wire rope and other things you need are some DIY tools and the pretty green tools to make it. Check out the details here!
13. Nautical Summer Cottage Wreath
Here is this lovely nautical summer cottage wreath to be a part of your summer wall beauty and art. The lovely and chic wreath has been decorated with old jeans, white and blue ribbons, wooden beads, burlap ribbon, and a cute little boat. The wreath is going to be a lovely addition to your summer walls. Check out the details here!
14. DIY Summer Wreath Idea With Instructions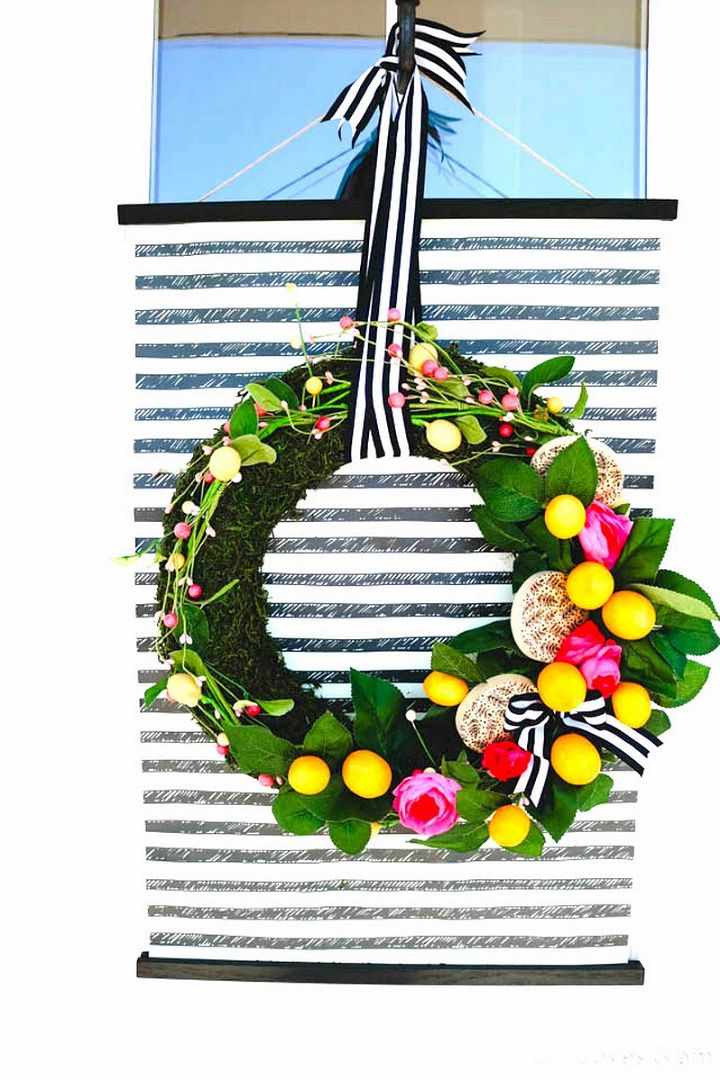 This gorgeous DIY summer wreath is going to be a complete treat to your eyes for being so full of fresh green beauty, bright colors and the nautical vibes too. The wreath is made out of the foam wreath, moss, small garlands and the freshly yellow lemons. The nautical black and white lines add the cherry on the top. Check out the details of the idea here!
15. DIY Summer Wreath With Lemons and Hydrangeas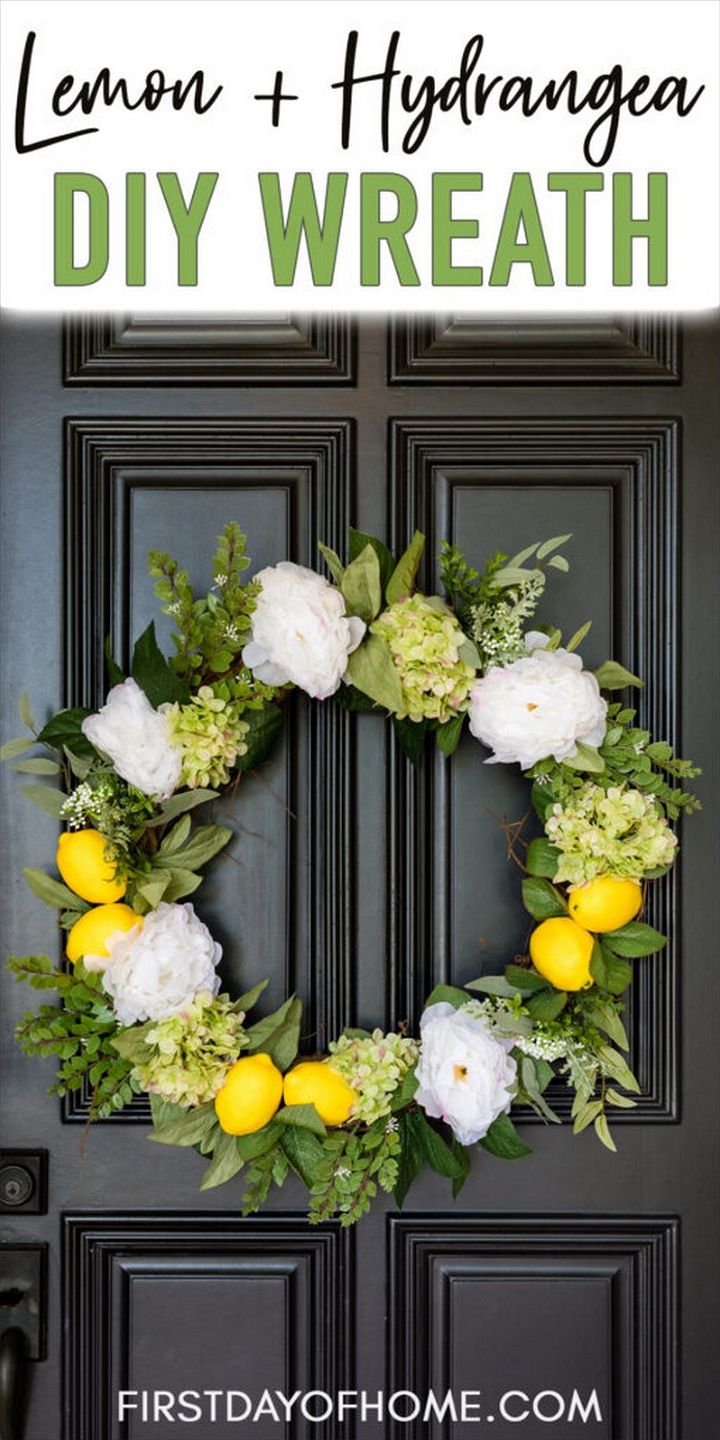 Here is this DIY summer wreath with the lemons and the hydrangeas to bring a perfect summer freshness and beauty to your spaces. The white peonies, pretty hydrangeas, and the bright yellow lemons along with the greenery are combing so beautifully with each other. Check out the details of the idea here!
16. DIY Summer Welcome Wreath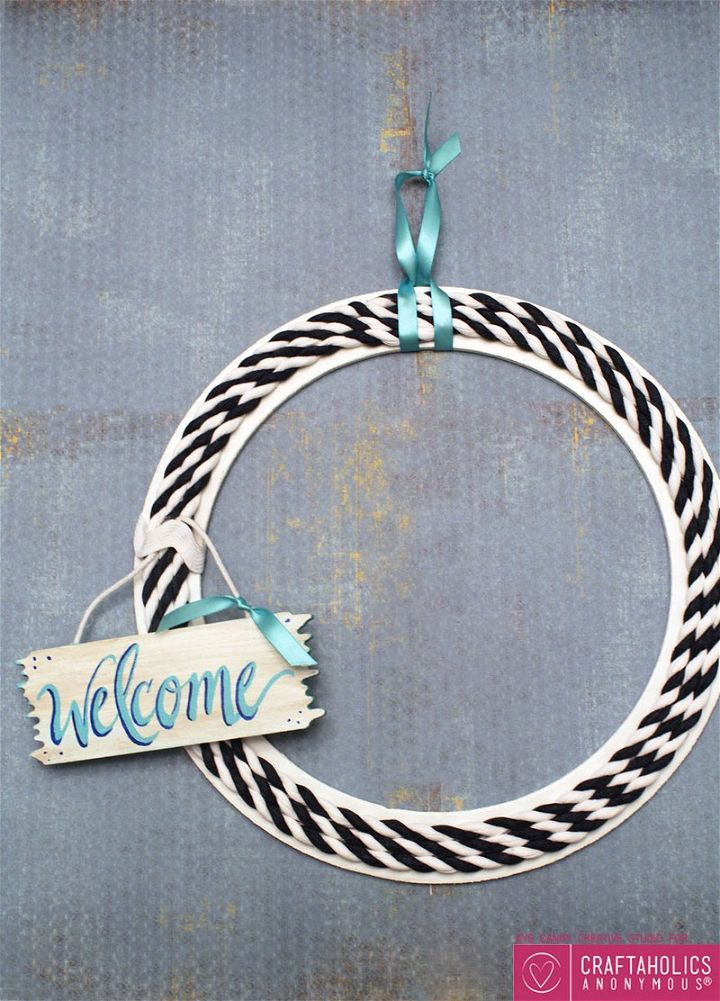 This simple and super cute DIY summer welcome wreath can be a part of any of your celebrations. The simple and perfectly crafty wreath is super easy and fun to make with easy-to-grab crafty supplies from your nearby stores. So get your hands on a simple wreath form, nautical rope, ribbon, and the paint with a brush set to work it up so nice and easily. Check out the details here!
17. DIY Summer Wreath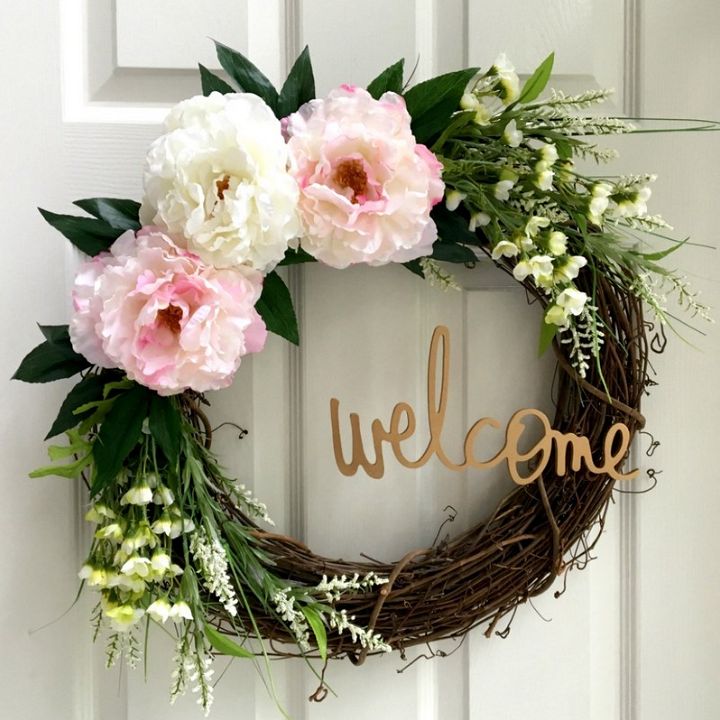 There is so much charm, beauty and elegance about this DIY summer wreath that is quite easy and cheap to make on your own. You need a grapevine wreath, a bunch of flowers of your choice, hot glue, wire cutters, and the wooden lettering saying Welcome. Check out the details of the idea here!
18. DIY Summer Bucket List Wreath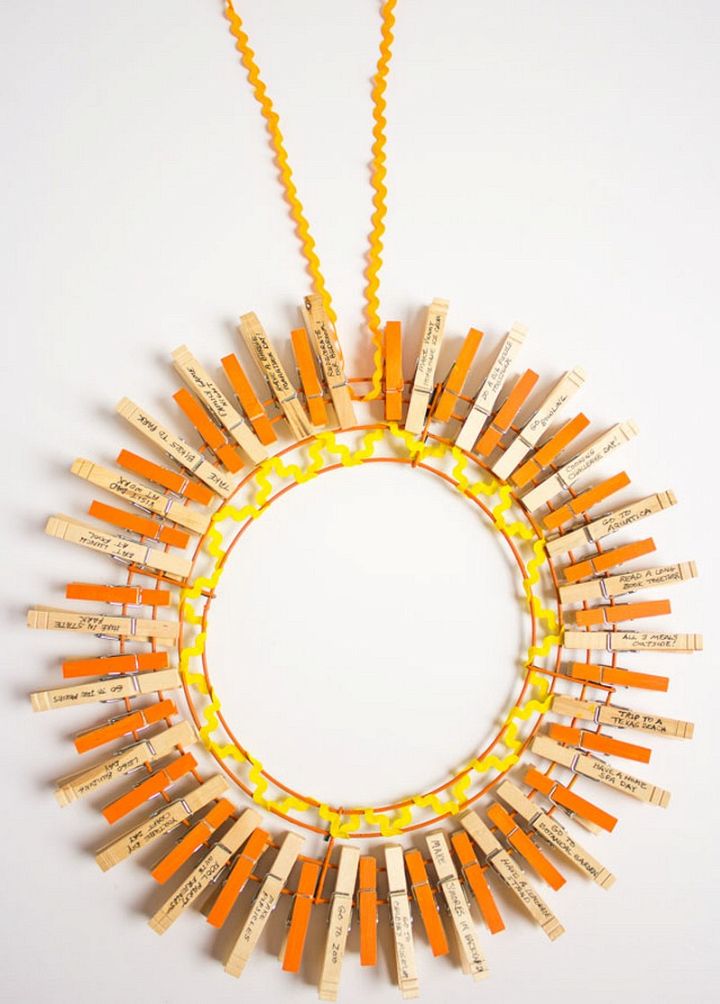 Do you love doing fun crafty projects that you and adorn around your spaces as well? If yes then working up this DIY summer bucket list wreath is the best thing to start your summers with. The wreath is made with a wreath ring and the cloth pins with the summer to do things written on each. Check it out all here with details and instructions. designimprovised
19. Easy DIY Spring Hoop Wreath Tutorial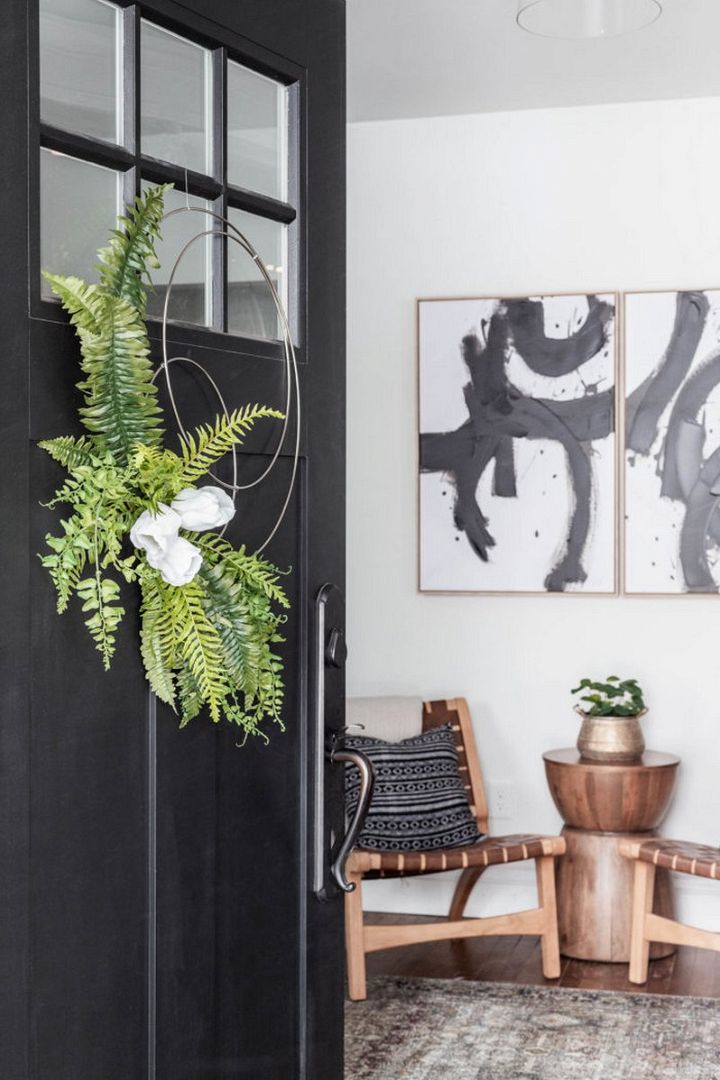 There are so many of us who are deeply in love with minimalist crafts. So if you are looking for a minimal kind of wreath to bring in your spring home then here is the perfect one to get started with. This lovely DIY spring hoop wreath is just so chic and stylish with a few things on its material list. Just get your hands on metal rings of 19", 16", and 10 " along with your favorite green stems. Details of the idea here!
20. Simple And Quick Farmhouse Wreath DIY Tutorial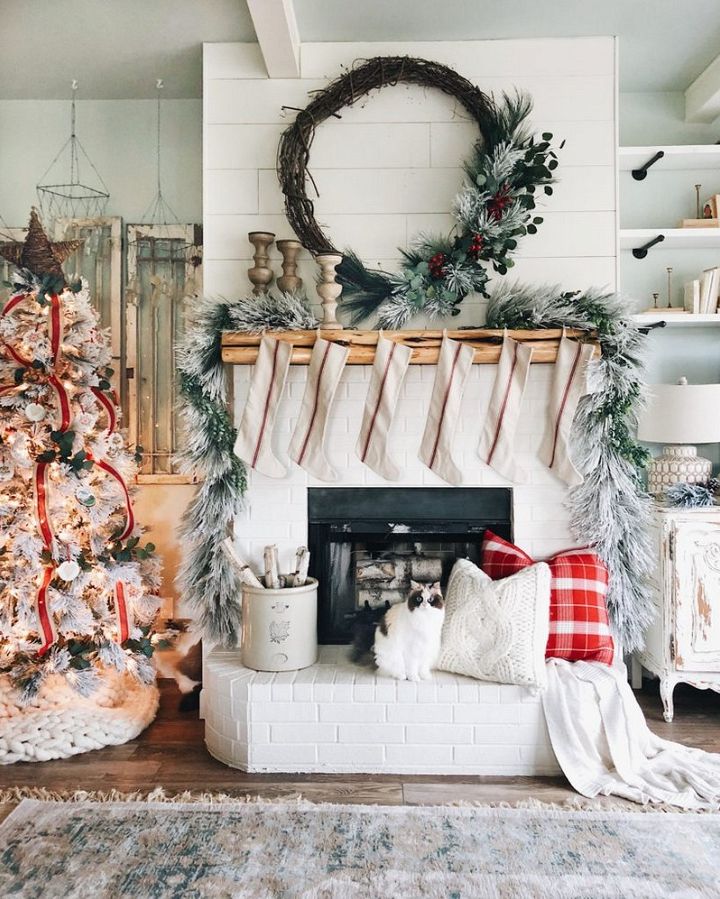 Are you going to work upon the farmhouse theme for your winter home decor to celebrate Christmas? The pretty and cheap wreath is the best thing to get your hands on with a grapevine wreath ring, berries, green stems, eucalyptus stems and the mini pomegranate stems. Check out the details here!