Flowers have that quality and tendency to attract attention and most of us like flowers. However, our liking for flowers is different regarding Specific Flowers. Sunflowers are loved by many people. For the sake of that love and natural beauty of sunflowers, 17 Beautiful Sunflower Painting Ideas are formulated so that people can easily paint sunflowers beautifully. As we know that standard color for sunflowers is sunny yellow blooms however, annual production is bred in such a way that it ranges from golden yellow, orange, and ruby red, to bronze and even white. All these are beautiful colors for sure.
In these projects, we see sunflower Paintings For Beginners, canvas sunflowers painting, fabric sunflower paintings, sunflower paintings with stamps, using different brushes, and much more. You can also use recycled materials for the sake of both saving money and keeping the environment clean and healthy. Recycled materials include empty toilet paper rolls. You can use these rolls for making a beautiful sunflower as you can see here in one of the projects.
1. How To Paint a Sunflower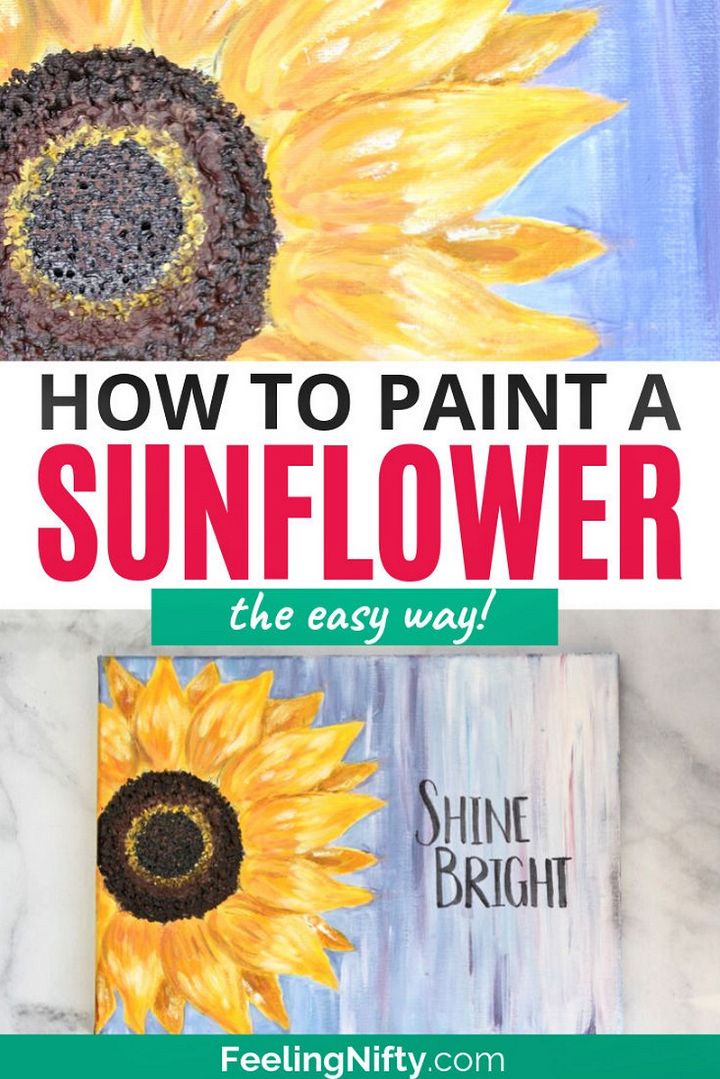 Sunflowers can be painted in hundreds of ways and here is one of them. Here is a complete tutorial on how you can paint a sunflower easily. For this project, you need to take water and a flat brush as your basic tools. However, the rest of the materials include free printable sunflower stencil, cadmium yellow color, burnt umber, cadmium red, mars black, titanium white, canvas, and some more. Try this out and you will be able to paint a beautiful sunflower here!
2. How To Paint Sunflowers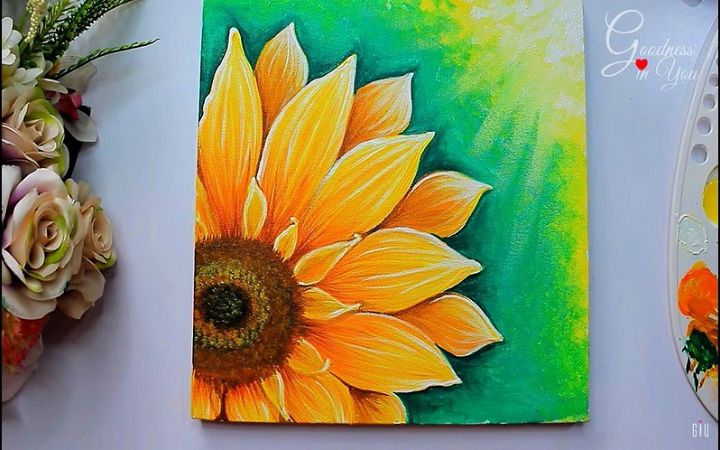 Sunflowers look amazing on canvas when painted accurately. Here you will find an accurate and correct way to paint a sunflower on canvas with beautiful colors and bright shades. This painting has been made with acrylic colors but you can use many different methods for painting sunflowers like watercolors, oil paints, or just with a sketching pencil. here!
3. How To DIY Paint A Sunflower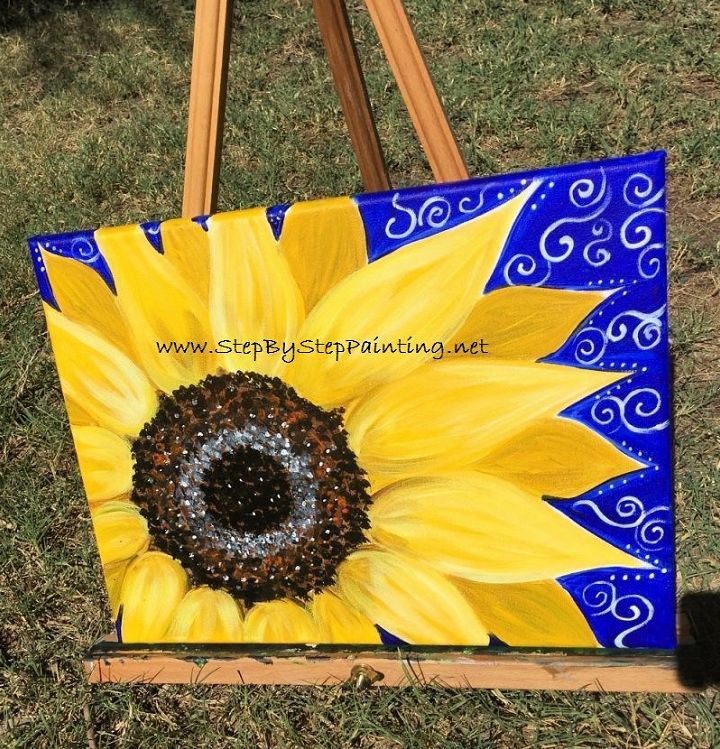 Sunflower Painting Ideas: Have a look at this beautiful sunflower painting which is representing the bright and vibrant natural colors of sunflower. Sunflowers are all about happiness and bright days so you have to add these elements while Painting a Sunflower. Play with the brightest colors to make a perfect masterpiece. here!
4. Easy to Paint Sunflower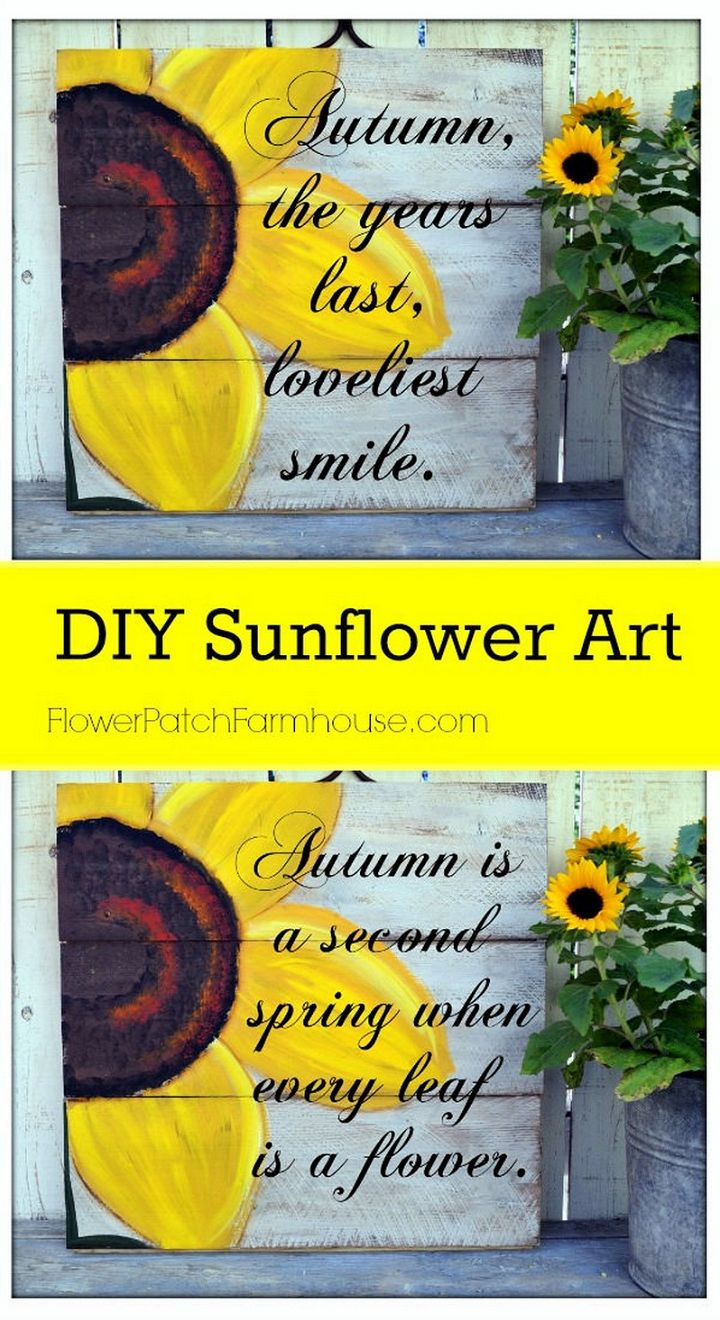 This is comparatively an easy way to paint a sunflower on canvas with some basic colors. This simple painting effortlessly represents the beautiful natural colors of a sunflower as you can see. You do not have to put any extra effort into this project as sunflowers are naturally very beautiful and a basic nice painting will do great. here!
5. How to Paint Sunflowers For Beginners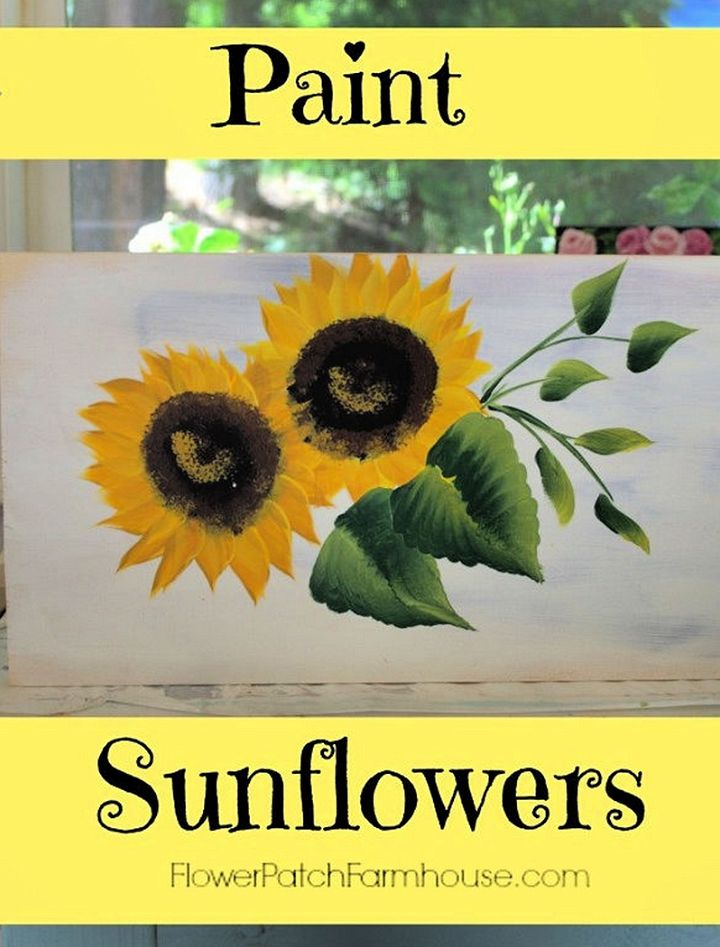 This is a sunflower painting idea for beginners. You don't have to be extra careful while doing this as some basic supplies, and a little bit of passion for painting will do the job. Look into the project carefully to see how it's done. It's a step-by-step instruction along with a tutorial to show how beginners can make this beautiful sunflower. here!
6. How To Draw Sunflowers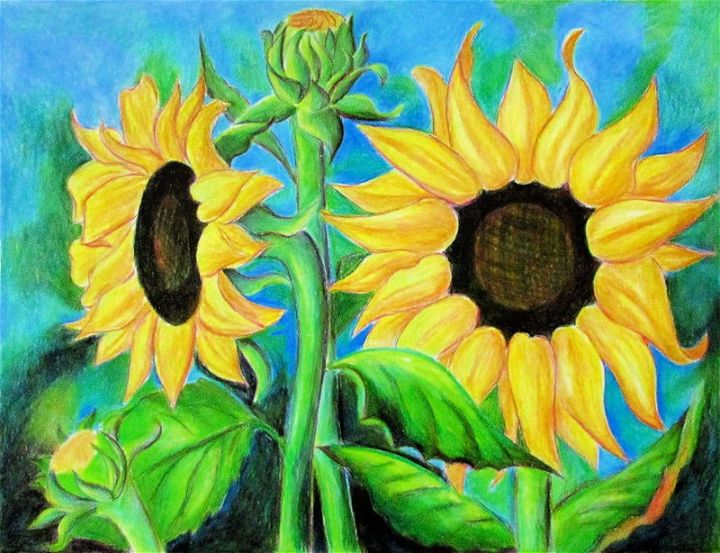 This particular sunflower drawing will take a while to complete as it has so much detailing as you can see. Acrylic paints are used for this painting along with colored pencils, oil pastels, regular pastels, crayon markers, ink, and watercolor paints. Put some extra effort into this painting and you will see some amazing results coming out on canvas. here!
7. Sunflower T-Shirt Painting Ideas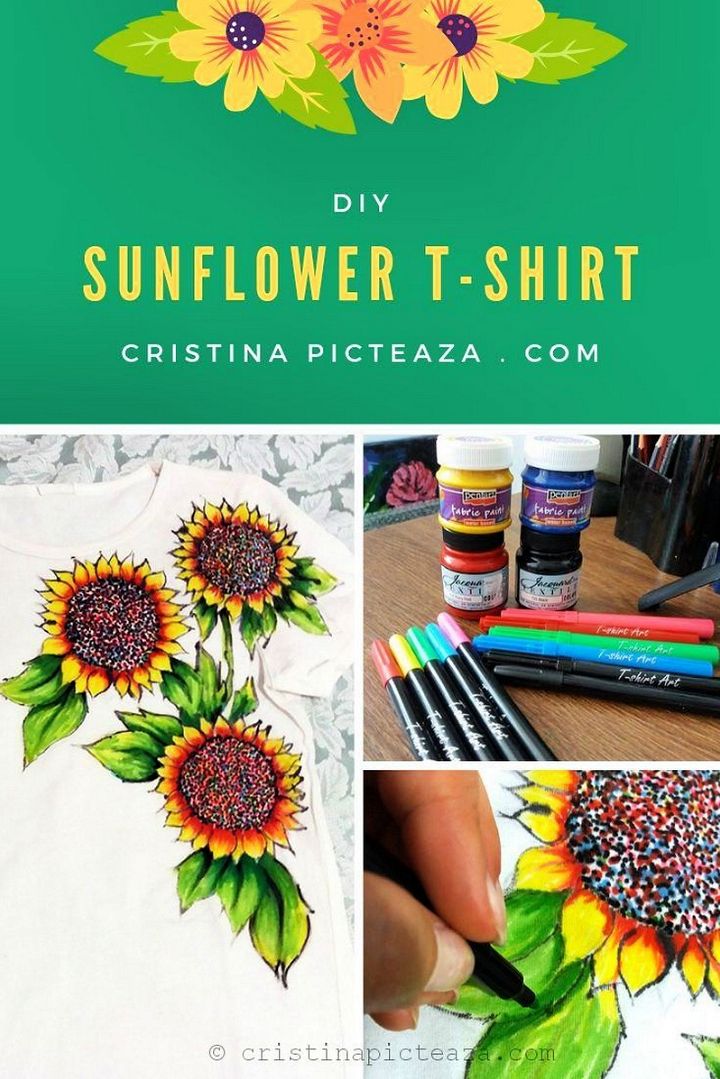 Sunflowers look amazing whether they are painted on canvas or fabric. This is a sunflower t-shirt idea that you see here. You can learn this with a complete tutorial and make paint your own shirt with a sunflower easily and conveniently. Gather the supplies that are needed for this project and show your inner creativity on the fabric of your choice. here!
8. Van Gogh's Sunflower Painting With Spices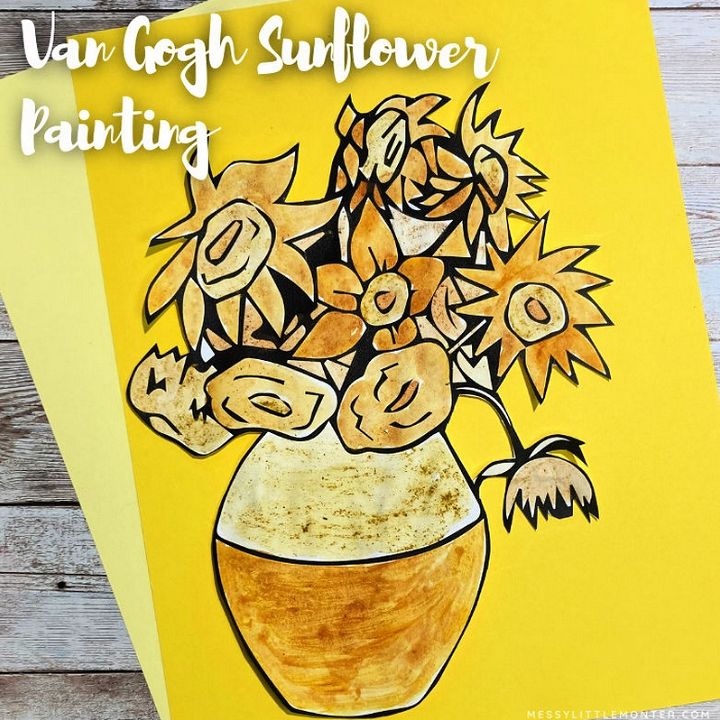 This is a van Gogh sunflower painting that you see here in this project. Sunflowers always represent happiness, brightness, colors, and freshness. Engage your kids in this wonderful activity and you will see some happy faces around you. This is a unique kind of painting as it is done with spices. For this project, you need spices, water, bowls, scissors, cardstock, glue, or tape. here!
9. Sunflower Painting Art With Easy DIY Sunflower Stamp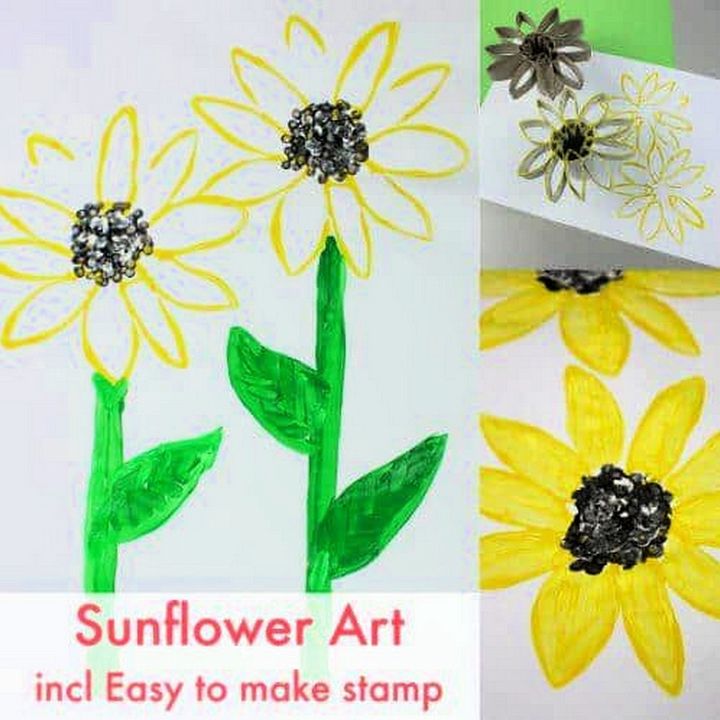 Sunflower Painting Ideas: This painting of a sunflower is especially for beginners, this painting has been made with a sunflower stamp. Take a sunflower to shape cutter, and dip it into the paint of your choice whether oil paint, watercolor, or acrylic if you are doing it on canvas. Once you are done making the flower, fill it with beautiful colors to wind it up here!
10. Toilet Paper Roll Sunflower Paintings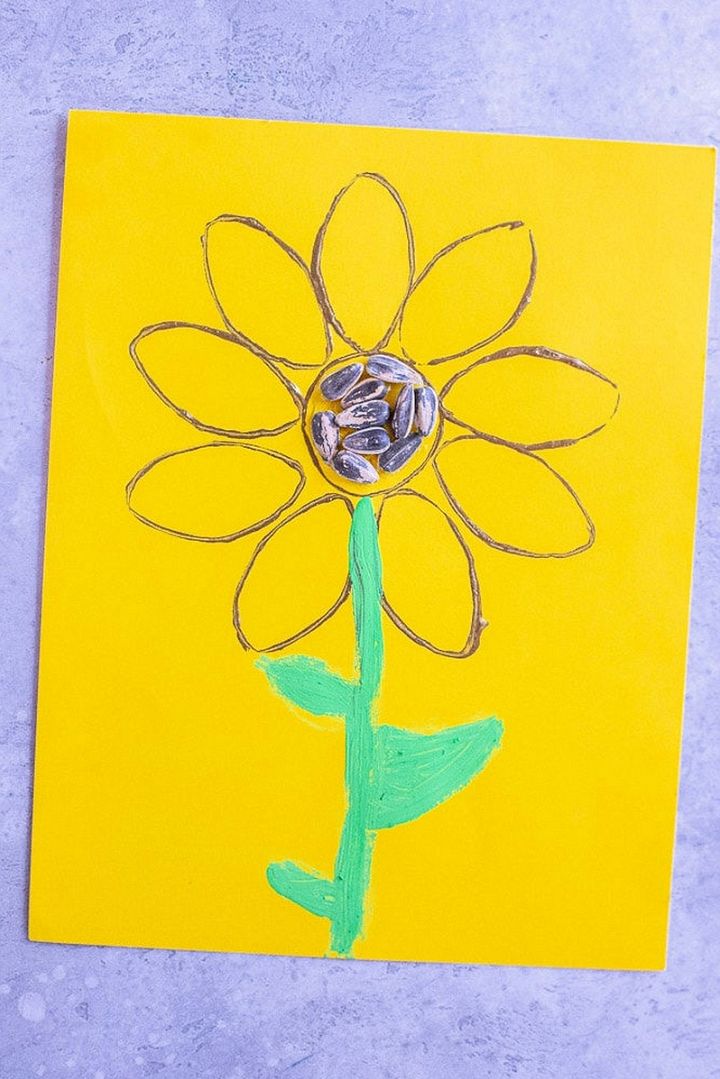 The empty toilet paper rolls can be used creatively for many projects. Dip the empty rolls in the required colors and then stamp them up on paper. Make the leaves and stems and fill in bright colors. For the center part, you can paste some real sunflower seeds to make your painting more enhanced and close to reality here!
11. Painting Sunflowers Art Project For Children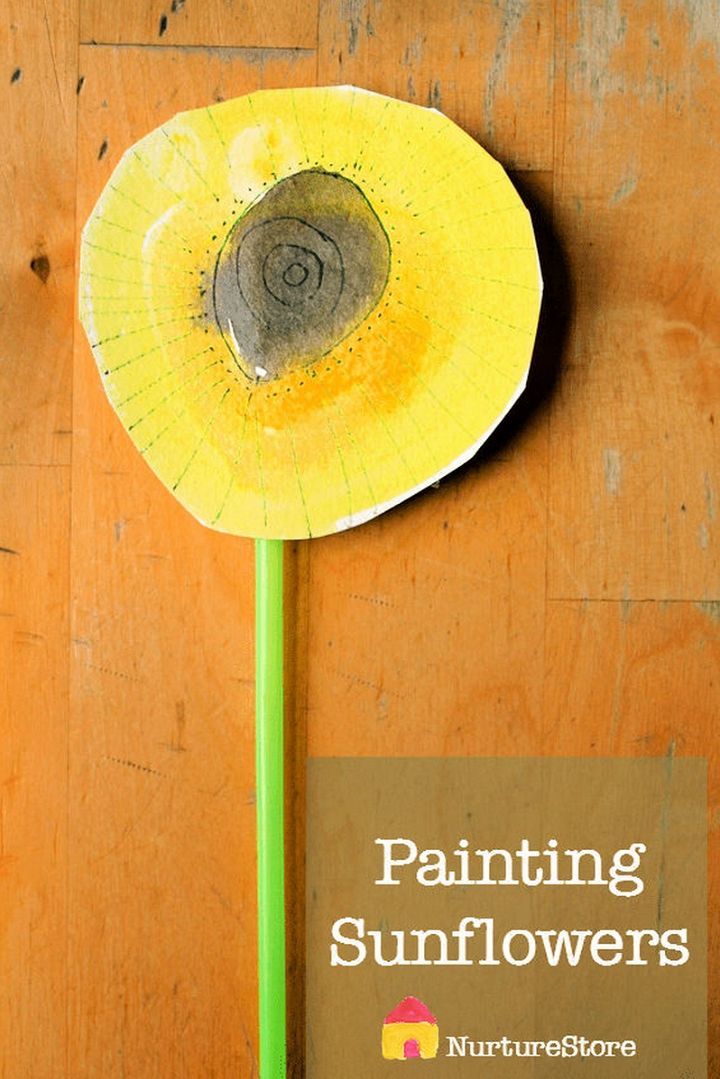 Kids love painting, colors, splashing, brushing, and whatnot. Try this fun activity with your kids and you will see them happy like never before. This is a fun activity to do with your kids. Make them paint sunflowers with the easiest techniques given here in this project. Look for more fun and adventurous ideas while making sunflowers and painting them. here!
12. Beautiful Chalk Pastel Sunflowers – Art Project For Kids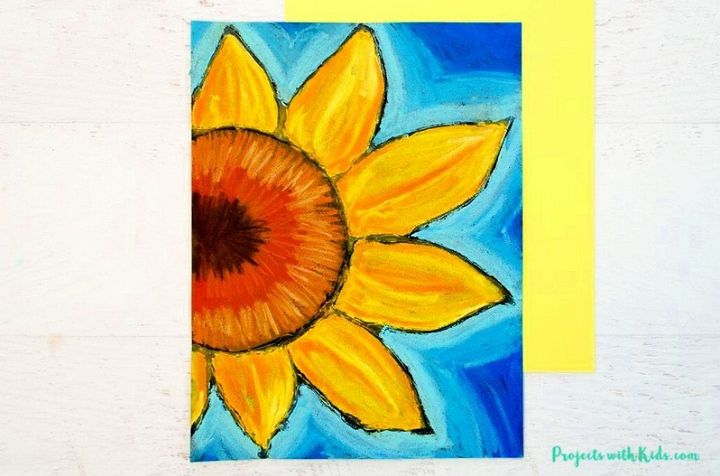 This is a chalk painting sunflower project for kids. As we know that the school holidays are just coming over. List down some fun activities for your kids before the holiday season starts. This is an engaging and productive activity to do with your kids. Make them paint sunflowers with you and play with colors freely. here!
13. How To Paint Sunflowers Using Acrylic Paints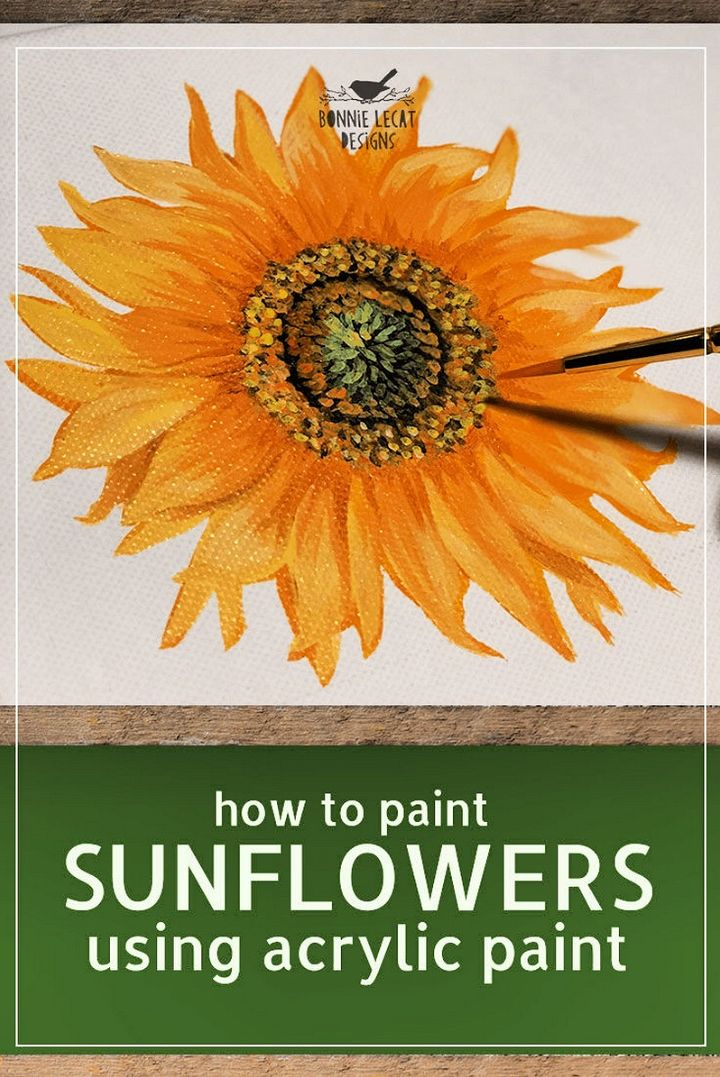 It's not very easy to handle paints on canvas. This project will teach you how to handle acrylic paints on canvas and paint a beautiful sunflower. Polish your artistic skills and bring out your inner talent and love for paint colors and nature. Sunflower is naturally a very beautiful flower and you can play with colors while painting it. here!
14. Paint a Sunflower Easy DIY with One Brush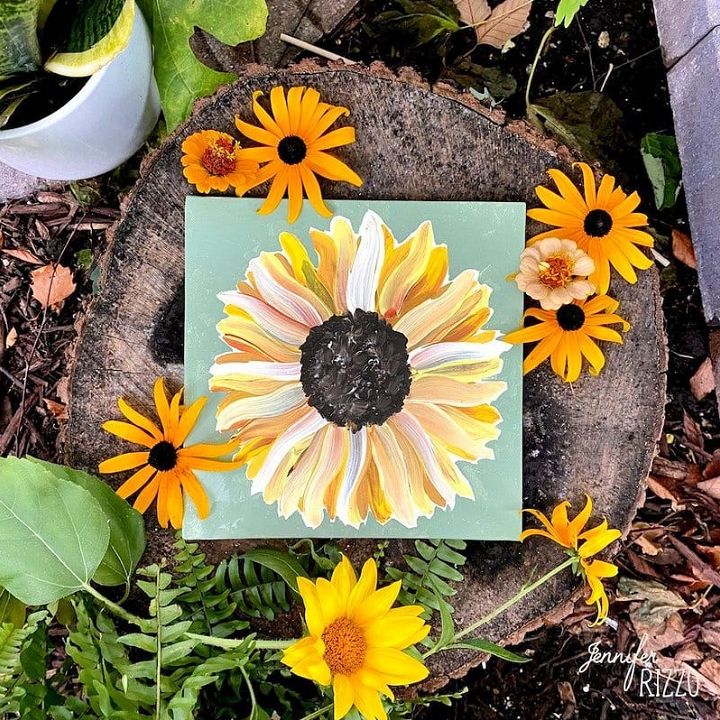 Sunflower is nature's way of showing love and art. Polish your artistic skills with this one-brush sunflower painting that you see here. There can be hundreds of ways to draw and paint sunflowers and this is one of them. This painting that you see here is made with only one brush and look at the shades that are highlighted here. here!
15. How to Paint a Sunflower For Beginners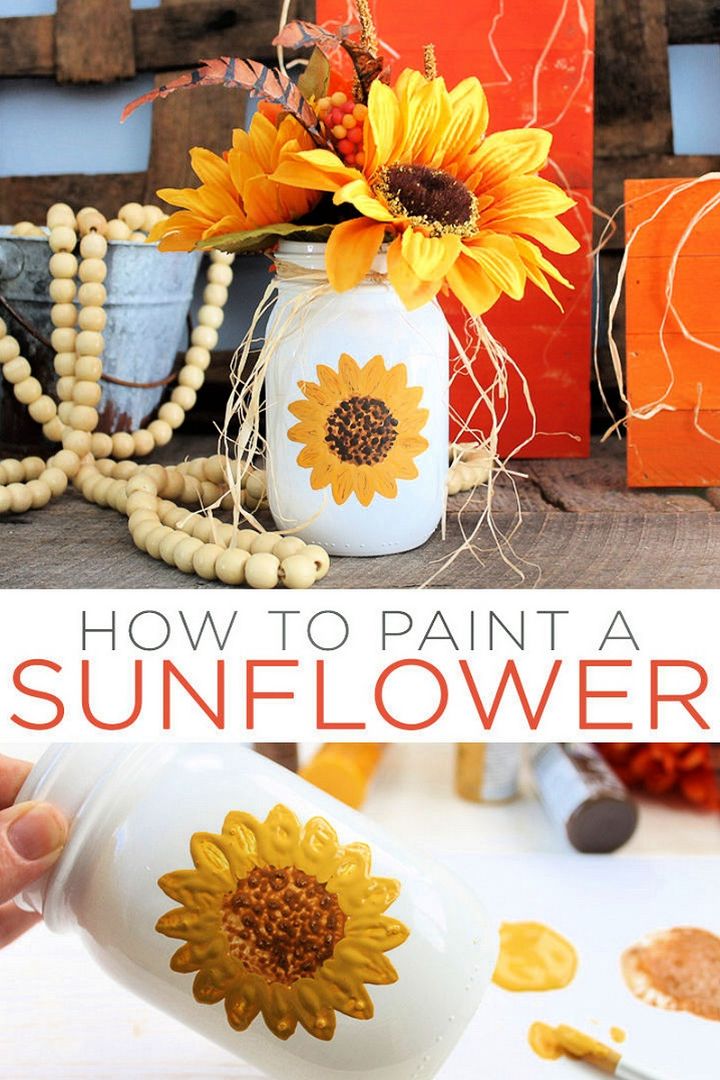 If you are looking for some fun activities to do with your kids, you are at the right place. This is an involving and fun activity that your kids will surely enjoy. Make them paint a sunflower with a simple step-by-step procedure. This complete tutorial will show you how you can make a sunflower that is close to the real one made by nature. here!
16. Paint A Sunflower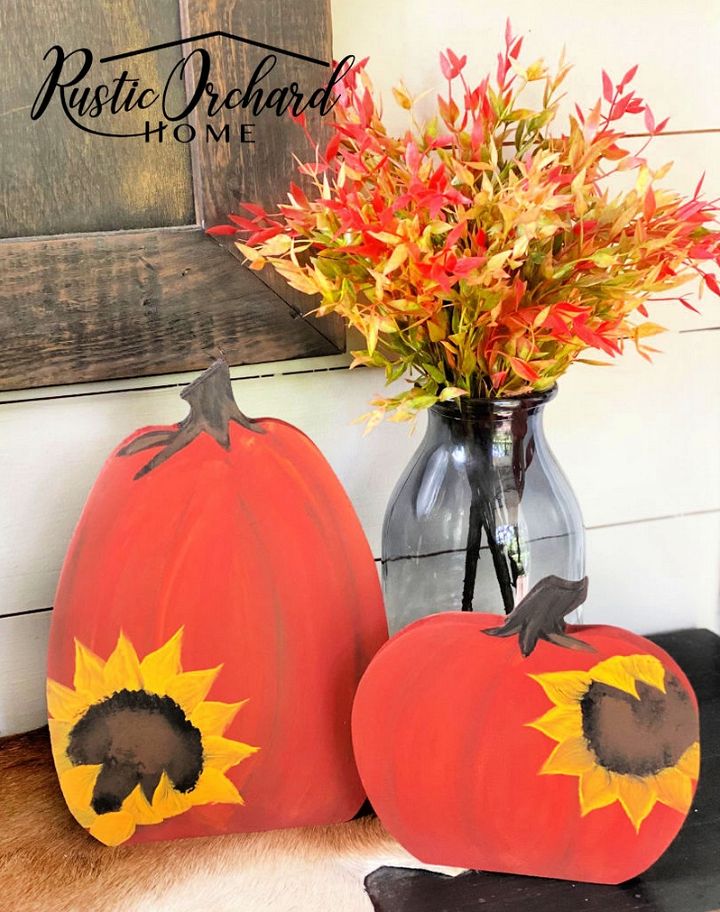 This is a sunflower painted on pumpkin cutouts. It's a simple painting that everyone can do easily. See the complete tutorial to know how you can also flawlessly paint a sunflower. Learn the steps and instructions if you are a beginner. Gather your supplies that are listed here and start this project right away. here!
17. How To Make A Charming Sunflower Banner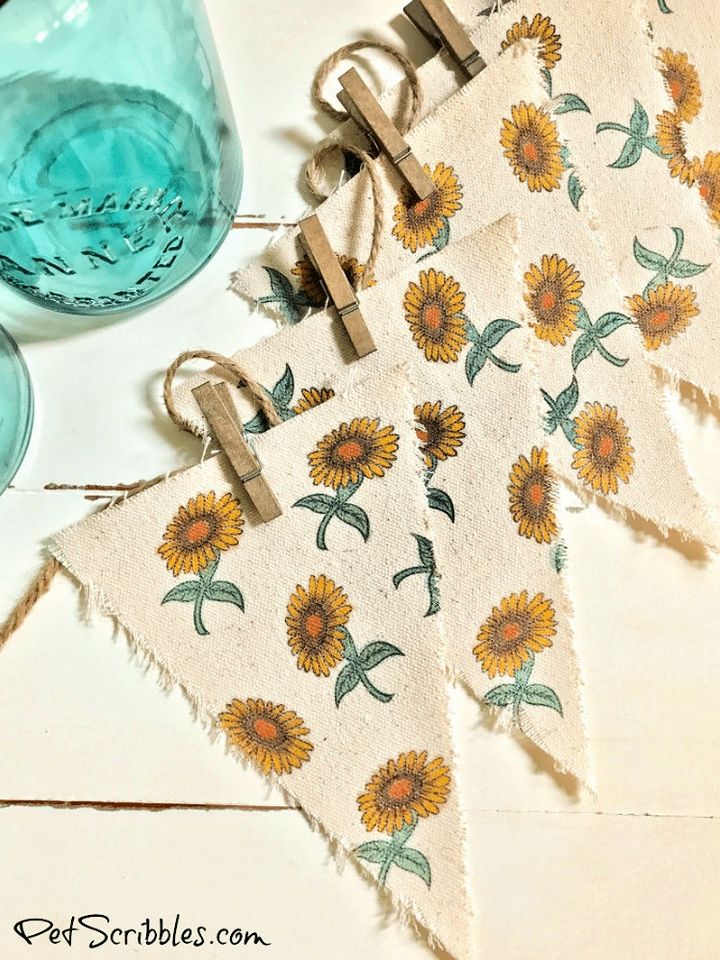 Sunflower Painting Ideas: This is probably the most adorable sunflower project you have ever seen. This is a DIY charming sunflower banner. For this project, the fabric is used along with some basic tools such as a sunflower stamp, ink, and markers. You can hang this fabric banner in your living room to make the walls look decorated. here!
Conclusion:
Sunflowers are naturally very beautiful hence painting these flowers can be so much fun and joy. Use different shades to paint sunflowers and also different objects to paint on. Use these ideas according to your choice and desire and make your own masterpieces.