Roses have the ability and potential to make some amazing crafts and decorative items for the fall season. If you have also been looking for ideas that includes roses during this holiday season of fall, you must look into the details of these 20 DIY Fall Rose Decor Ideas – Room Decoration. While gatherings at your home, you will be able to impress people coming over with your creative and innovative skills. With the help of these Room Decoration, you will be able to not only decorate your home but will also be able to bring some spark and beauty to your dinner tables with decorated meals.
Many of these diy fall rose décor includes pumpkin as it's a vital part of fall and fall décor. Some of the projects includes wreath, floral arrangements, paper flowers, shadow boxes and much more. Wreaths are also an integral part of festive décor and celebrations therefore these diy fall rose décor includes some popular and trendy wreath ideas made using different sorts of supplies and materials. Besides this you will also see some fall décor crafts involving burlap which is not only easy to find but a cheap material to be used in diy projects.
1. DIY Felt Flower Wreath For Fall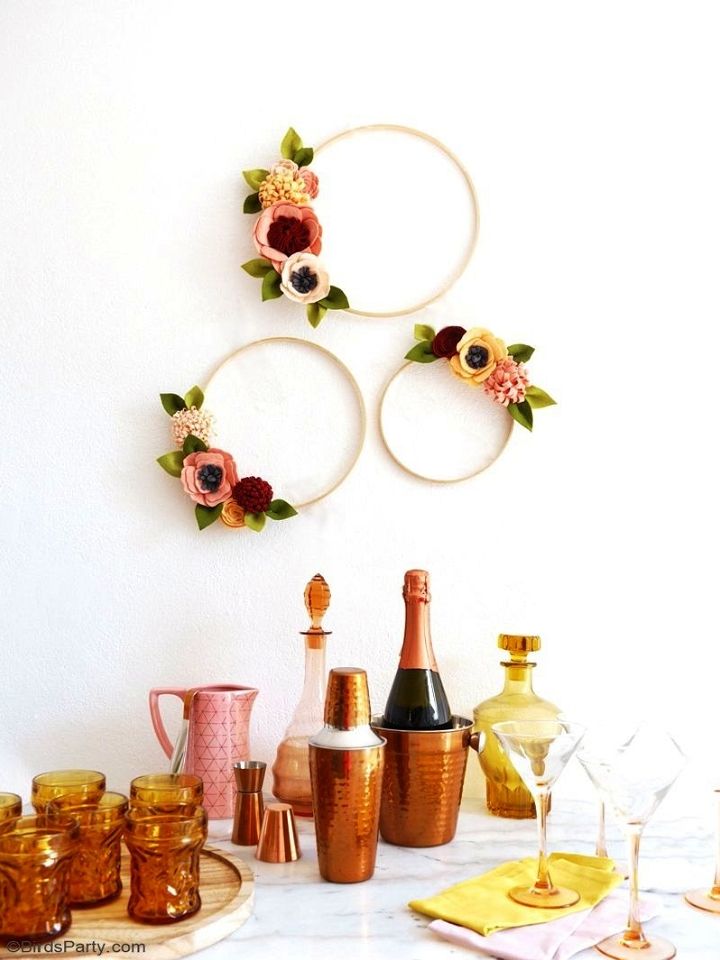 Wreaths are something that can immediately set the mood especially at times of festivals all over the year. They always add to the beauty of any wedding venue. This fall rose décor is a must if you also have any bug day coming up. The supplies that you need are felt, scissors, petal and leaves template, hot glue gun and embroidery hoops. Tutorial
2. Romantic DIY Fall Grapevine Wreath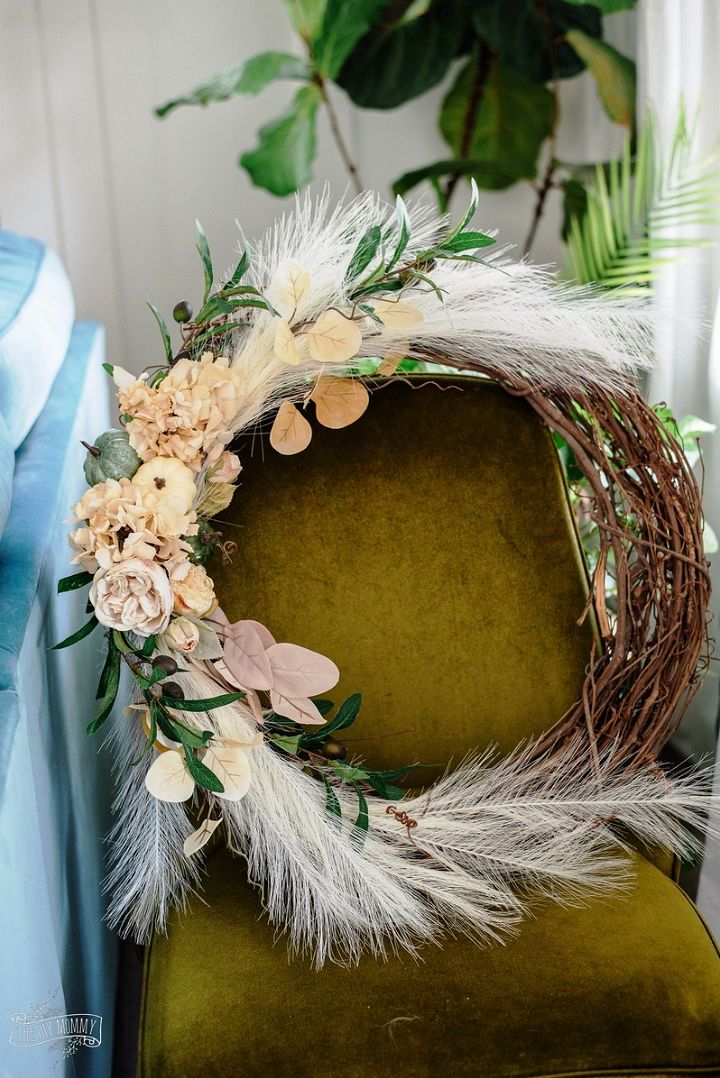 Have a look at this romantic fall grapevine wreath and see how you can make your own décor for the upcoming season of fall. Here neutral colors are used and you can see the beauty in those colors. The materials that you need for this craft are grapevine wreath base, faux pampas stems, faux neutral florals, faux pumpkins and faux olive branches. Whereas the tools include hot glue gun. Tutorial
3. DIY Fall Wreath with Mixed Metallic Paper Leaves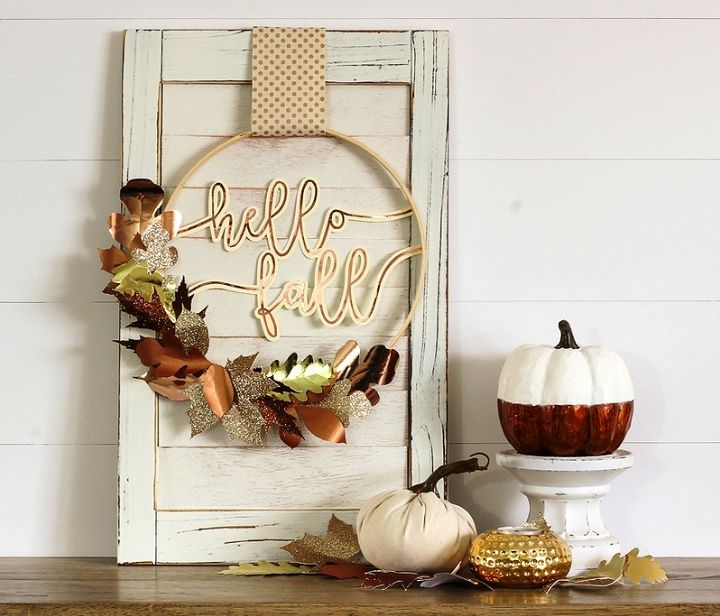 With the help of this project you will be able to create a mesmerizing craft where a wreath is made with metallic paper leaves. the materials that are required to make this wreath are wooden embroidery hoop, silhouette cutting machine, rose gold craft vinyl, transfer tape, metallic and glitter scrapbook papers in gold, bronze and other metallic colors, ribbon and hot glue gun. Tutorial
4. DIY Paper Flower Fall Wreath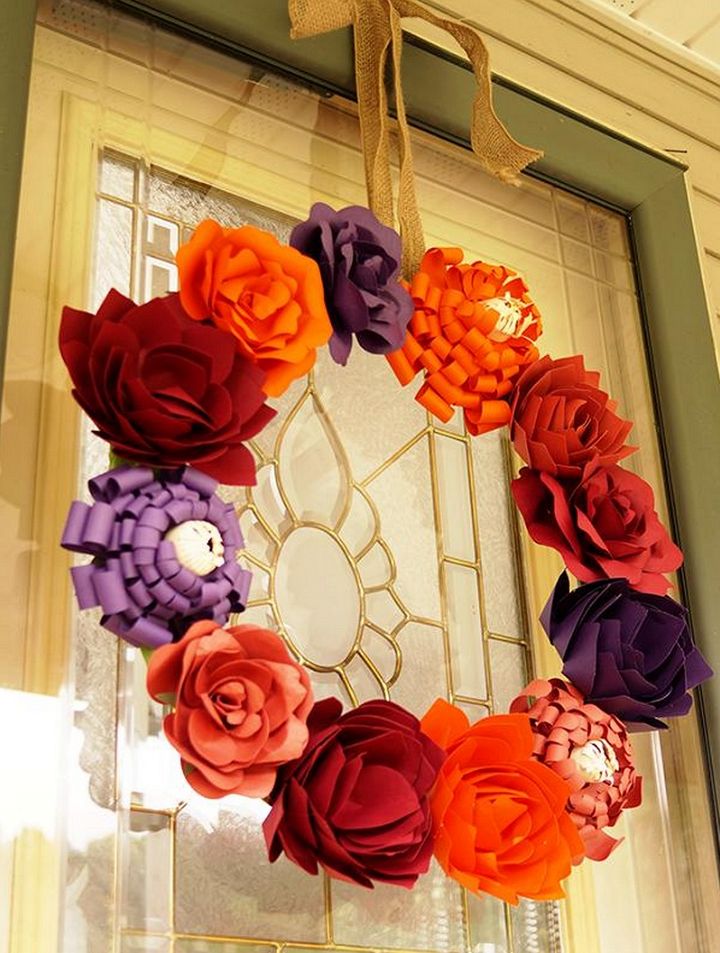 Have a look at this paper flower fall wreath and try to make your own. Lotus, zinnia and roses are made with paper for this wreath in different colors. For the base of the wreath cardboard is used. A step by step construction process is given here so that you can easily get along. With a little effort a magical experience is done here. Tutorial
DIY Balloon Decor Ideas – Each the 40 Balloon DIY Decoration Ideas for exciting Parties and the plans you will find here are designed to make your events more fun, vibrant and memorable more than they have ever been.
5. DIY Fall Glam Candle Wreaths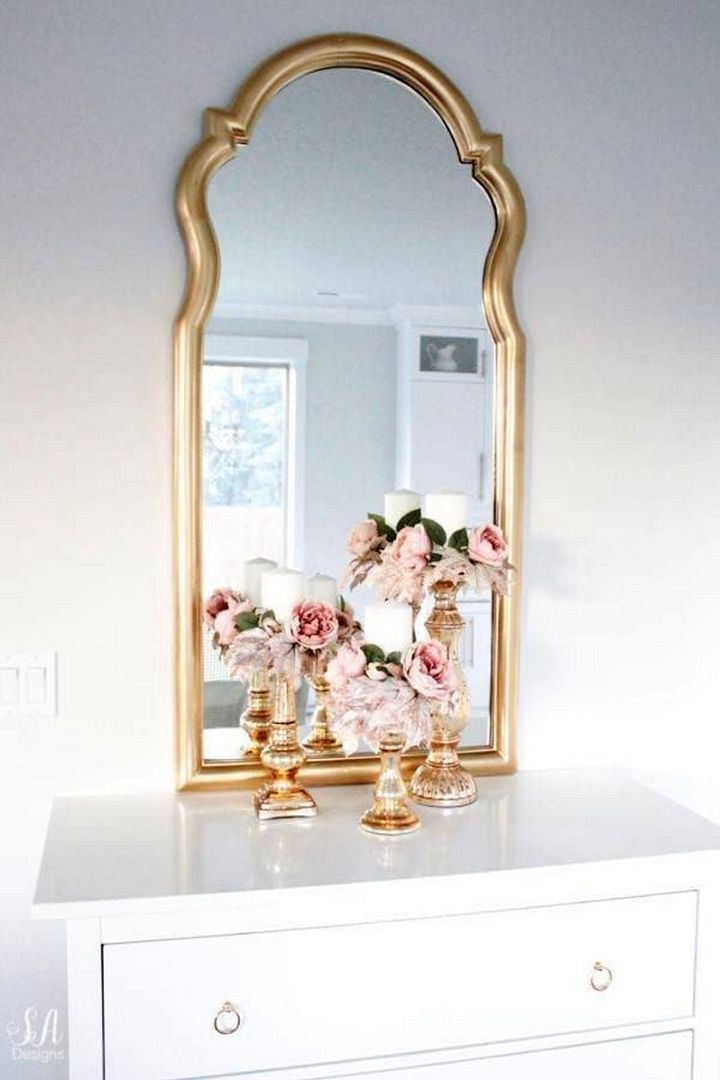 Here we have fall glam candle wreath that you can also easily make with a help of this project here. It's not always necessary that you incorporate and use only oranges and browns for the fall décor. Instead you can choose any colors that you like and get started with the decoration of fall season in and around your house. Tutorial
6. How To Make DIY Fall Paper Flower Pumpkin Decor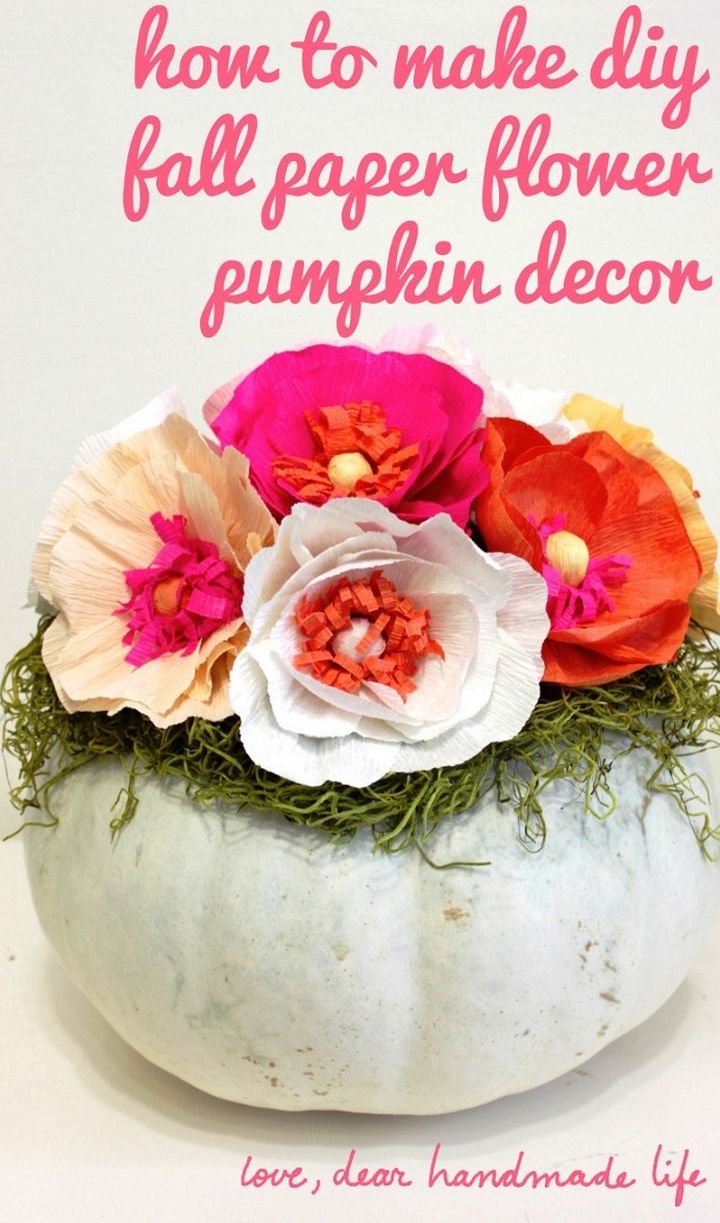 Pumpkins are always included in the fall decor and this project is also about making fall paper pumpkin décor. If you are also interested in this fall decor, you must grab a few things such as pumpkin, moss, crepe paper, round beads, floral wire, floral tape, hot glue gun, craft glue and scissors. Tutorial
DIY Floral Embroidery Patterns – Welcome spring with Floral Embroidery! These fun and simple drawings will add some floral charm to your project. From traditional colors to abstract geometric patterns. Styles for everyone, let's sew and decorate your world!
7. DIY Mini Pumpkin Vase for Your Fall Decor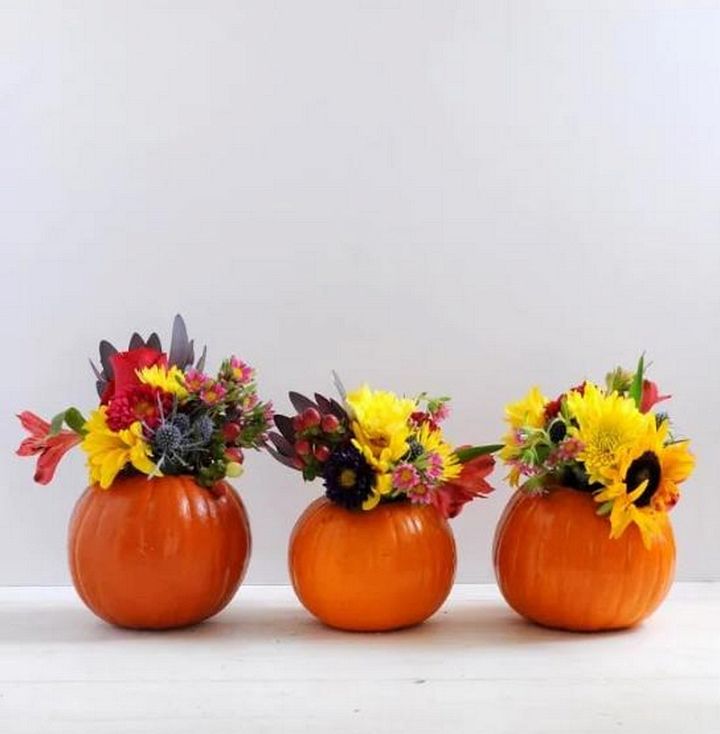 Have a look at this mini pumpkin vase for fall décor. You will start off by gathering supplies that are mini pumpkin, bouquet of flowers, votive candle holder, wet style floral foam, pumpkin carver and Vaseline. The first step here would be cutting circle around the stem of the pumpkin and pop out the stems pieces. Move on with the rest of the steps and you will be surprised by the end of this task. Tutorial
8. How to Make a DIY Rose Shadow Box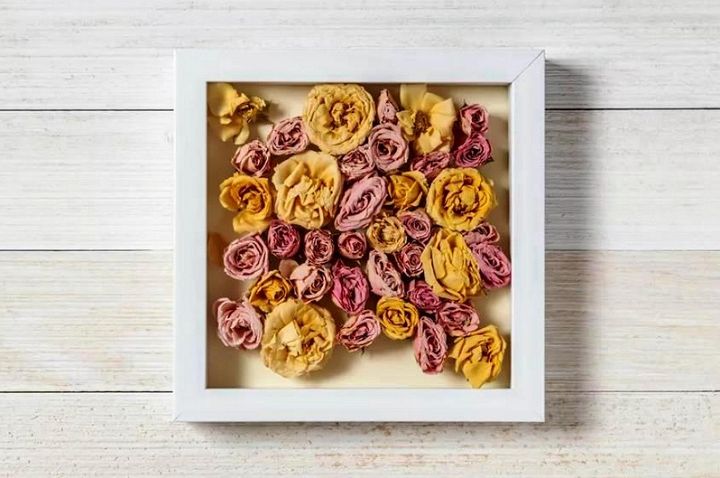 Let's make this rose shadow box here that can be your ultimate rose décor for fall. This is the most meaningful way to display the collection of flowers. The equipment's and tools that we need are hot glue gun, scissors, pencils, ruler, double sided tape, shadow box, roses and cardstock. Tutorial
DIY Chandelier Plans – If you are a fan for decoration, then this will make you smile. This DIY chandelier comes in a variety of dimensions and shapes. There are various materials you can use to make it. There are many choices that will suit your style.
9. Fall DIY Series – Week 1 Fall Hoop Wreath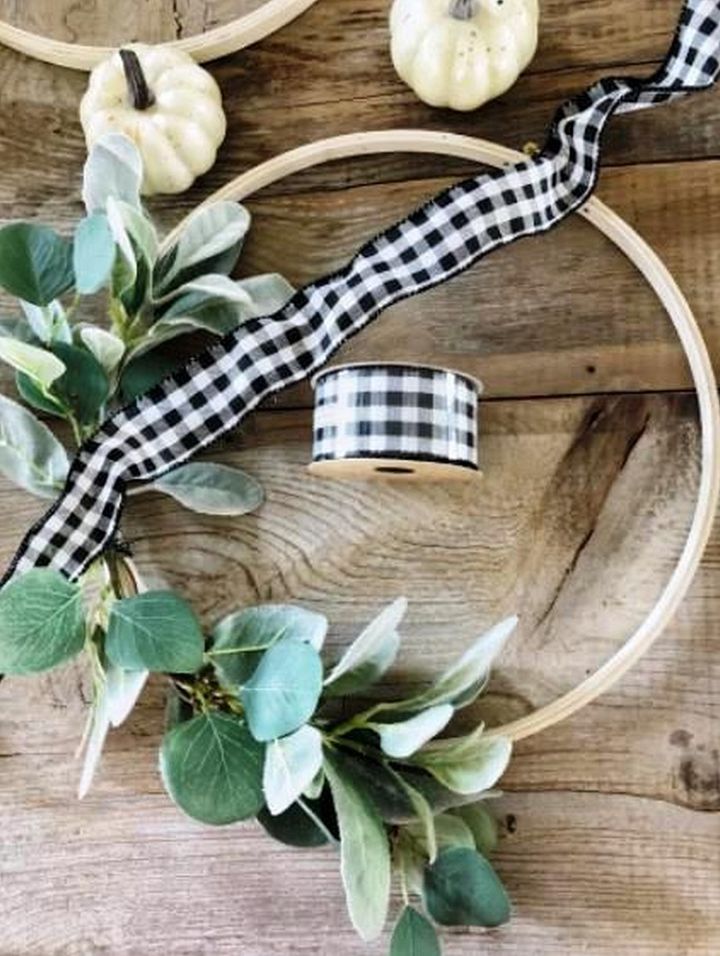 As we know that the fall season is round the corner and this décor seems perfect for the welcome of this season. Fall décor makes the entire house look warm and cozy. to make this beautiful fall hoop wreath you need a few things such as mini pumpkins and pinecones, embroidery hoop, stems, floral wire, hot glue gun, craft paper, sharpie, white paint pen, chalk paint, buffalo check wired ribbon and scissors. Tutorial
10. DIY Fall Flowers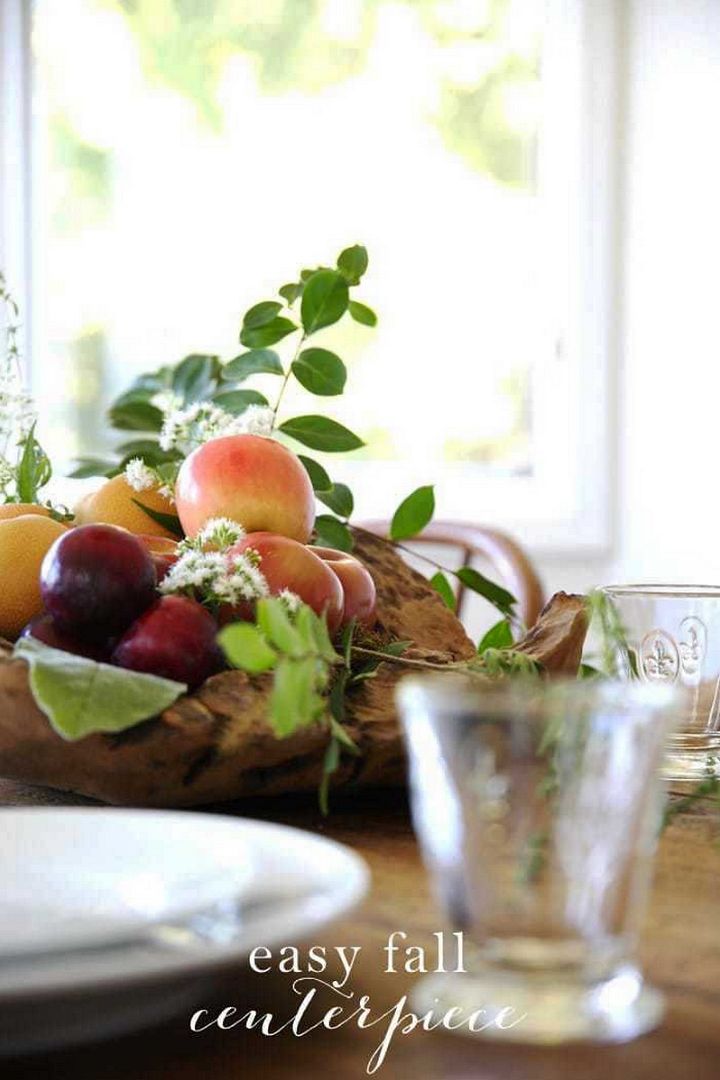 These fall flowers are easy and can be arranged within a few minutes. You can make this craft with backyard blooms and grocery store fruits. To make this mesmerizing and attractive décor for fall you need things like large bowl, moss, variety of fruits, vines, small flowers, leaves, wispy flowers and some more. Tutorial
11. An Easy DIY White Rose and Pine Winter Centerpiece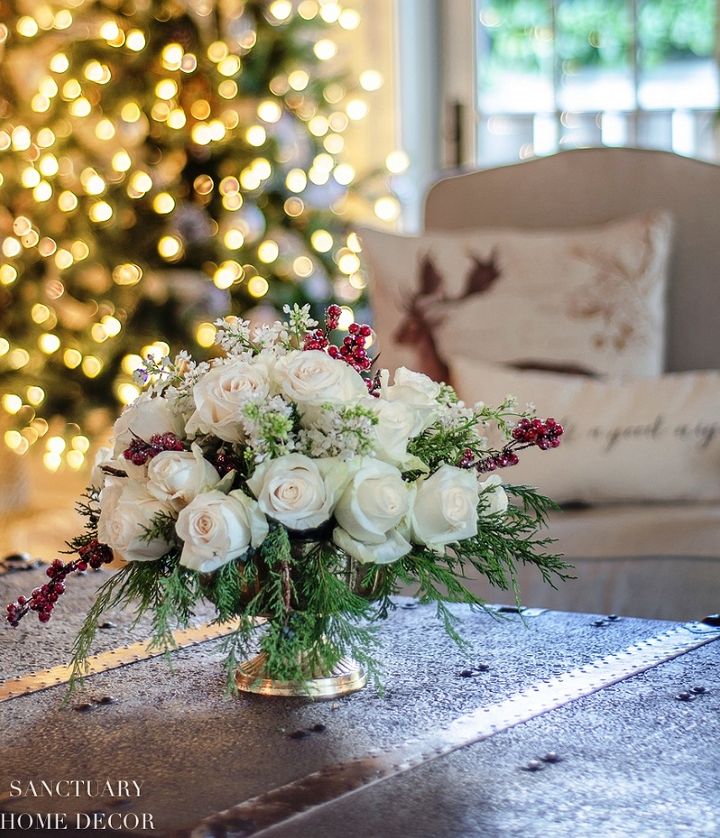 Are you ready to make this white rose and pine water center piece? If yes then you must get into the details of this project and make this craft for fall. You will need a shallow footed bowl or vase, chicken wire and clear floral tape, white roses and accent flowers. Tutorial
12. DIY Fall Floral Wall Art and Centerpieces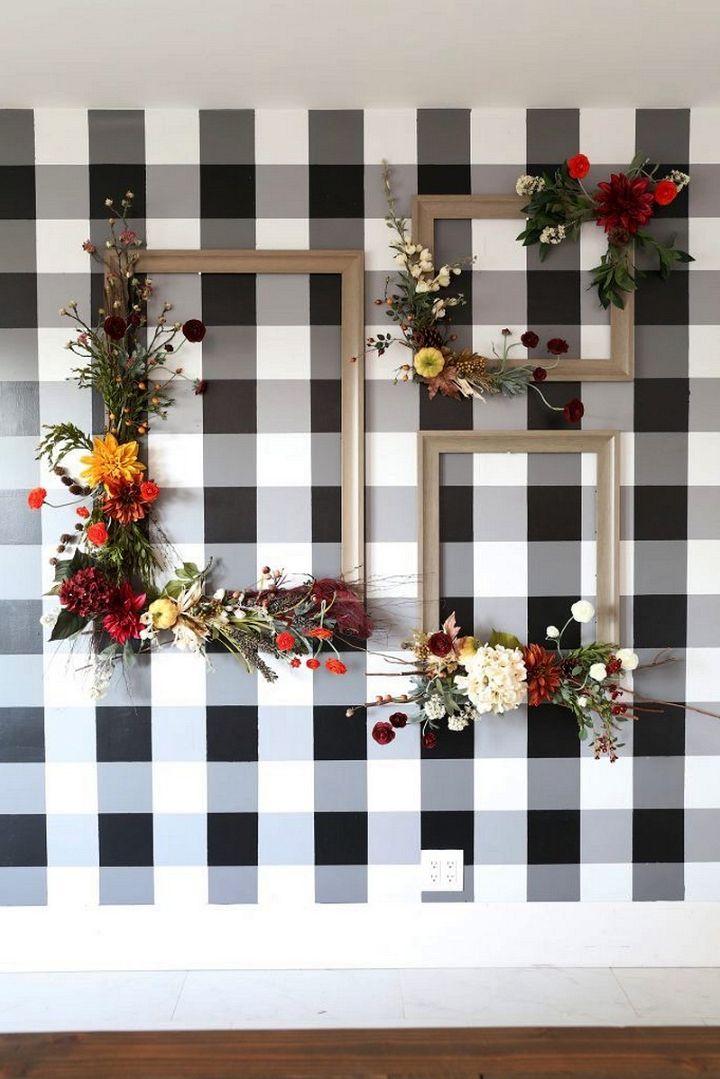 If you are also interested in impressing people coming over your house with your home décor during the fall seasons, this project is perfect for you. You will need a few things such as wall and poster frames, assorted floral stems, pinecones, floral cutters, wire, wire cutters, hot glue gun and hot glue. Tutorial
13. DIY Fall Burlap Floral Centerpiece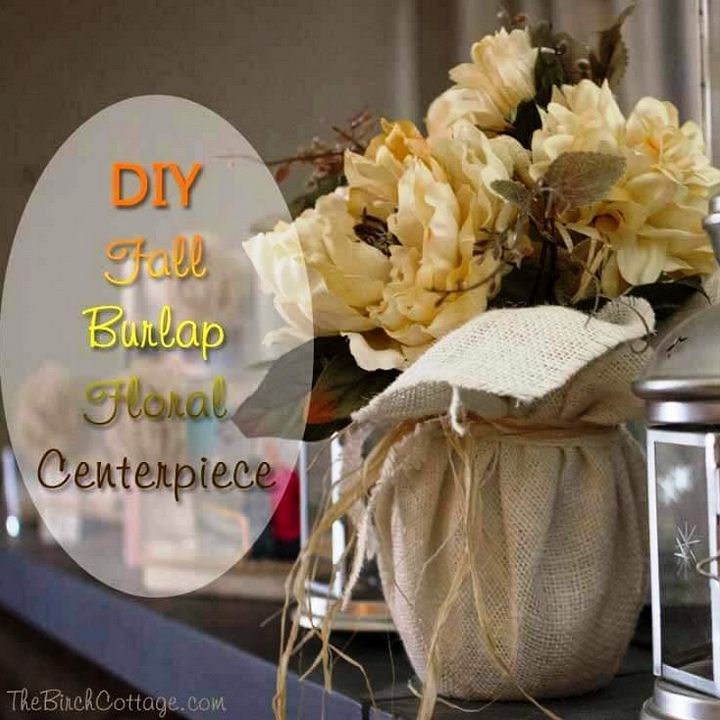 Burlap is always appealing when it comes to art and craft and fall decoration at home. This fall décor is also done using burlap along with flowers to make a nice centerpiece. Learn to make this craft with the steps taught here and see how everything is done in the process. Tutorial
DIY Home Coffee Bar Ideas – Get your day started in with the best possible way by enjoying the perfect cup of coffee with these incredible homemade coffee stations! If you prefer a portable alternative or prefer taking your time with a french press, something you use every day must be done with class.
14. Fall Decor Idea – A DIY Mini Pumpkin Floral Vase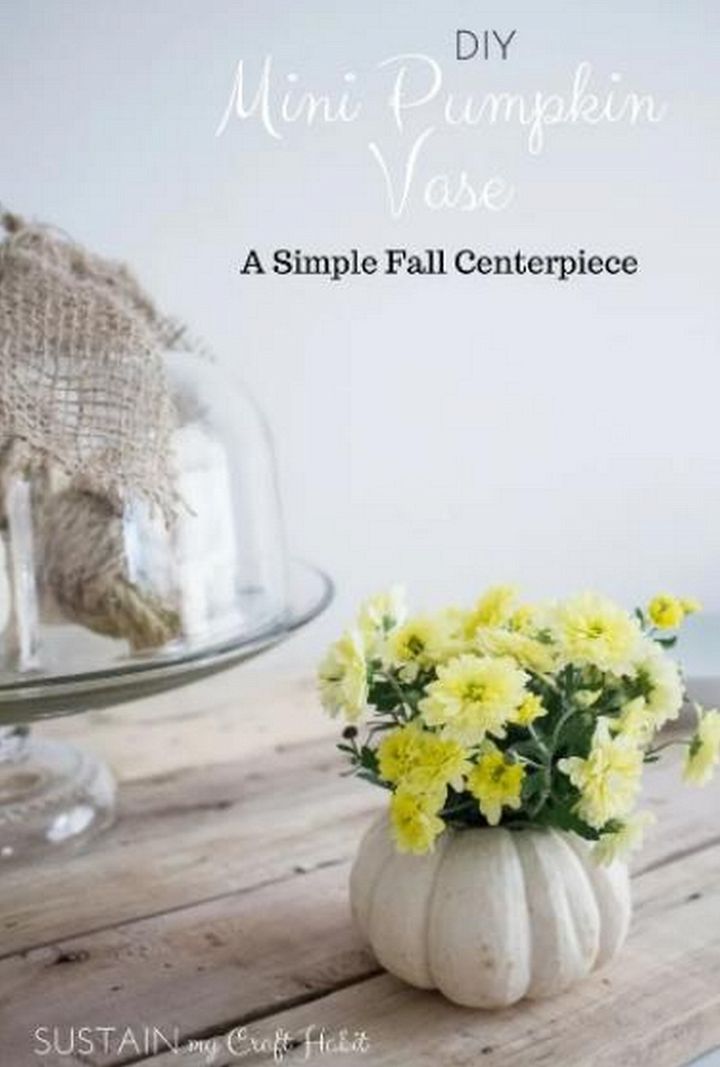 Have a look at this mini pumpkin flora vase here and impress everyone coming over during the season. This beautiful combination of pumpkin and flowers is all you need to welcome the season of fall this year. This fall floral arrangement seems perfect. You need to pick a pack of mini white pumpkins from a grocery store. Arrange the pumpkins in the glass container. Besides this you also need paring knife, spoon and fresh cut flowers. Tutorial
15. DIY Fall Floral Arrangement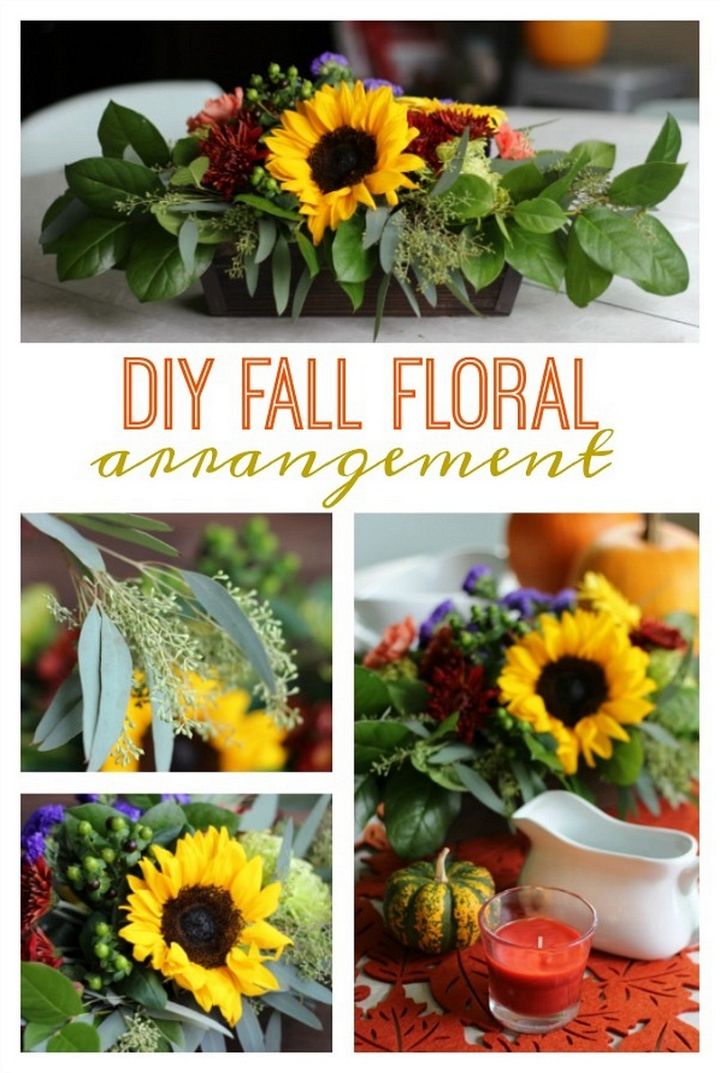 This diy floral arrangement of flowers that we see here is especially done for the fall season. You can also make this craft and prepare your house to welcome the holiday season. It's always better that we do things beforehand for the special occasions coming up. Decorating the house for fall is a things that many of us do therefore we must also learn some tricks and tips from here. Tutorial
16. DIY Falling Rose Petal Decoration from Beauty and the Beast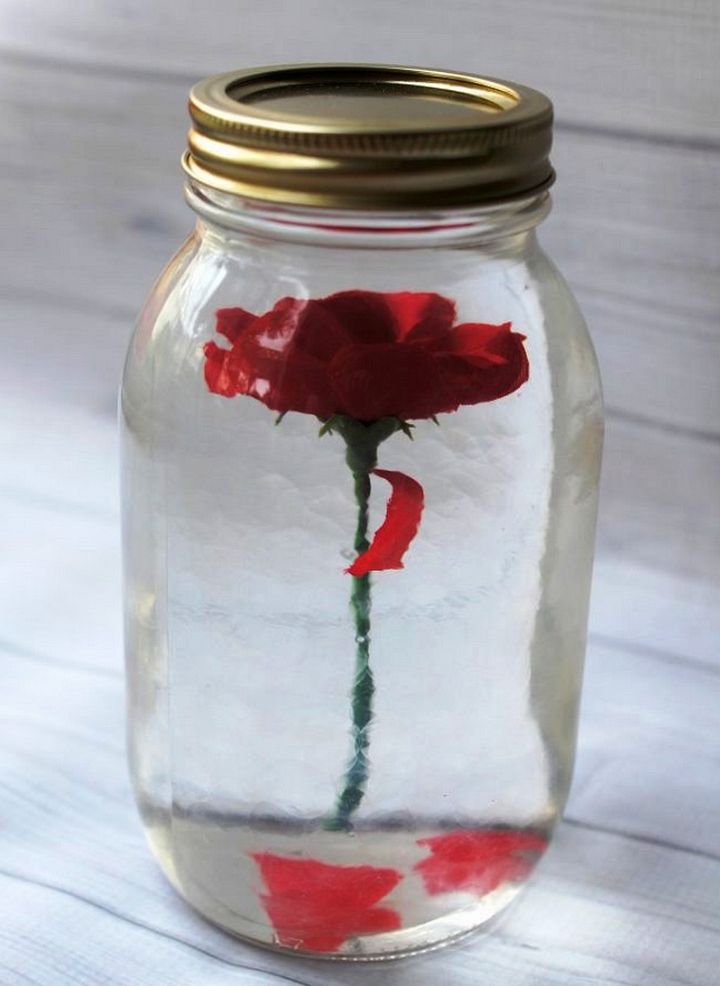 Roses have a beautiful connection and combination with the season of fall. This is a falling rose petal decoration inspired by beauty and the beast. The supplies that we need to make this amazing craft are water beads, large Mason jar, artificial roses, straw or chopstick and water. Follow the directions and get started with this interesting fall activity. Tutorial
17. DIY Fall Decor – Wooden Box Centerpiece With Pumpkins And Eucalyptus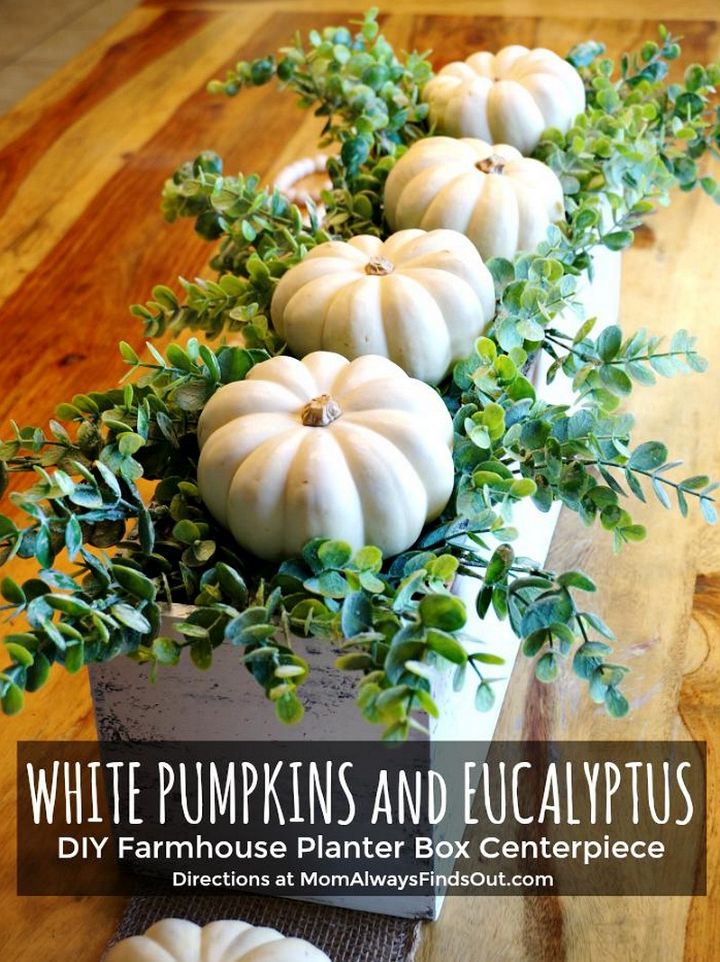 As we know that pumpkin is the most popular thing about fall therefore this project also involved pumpkin and is a wooden box centerpiece with eucalyptus and pumpkin. The supplies and crafts that you need are unfinished wooden planter box, chalk paint brush, chalk paint, faux eucalyptus stem and white pumpkins. Tutorial
DIY Home Decor On A Budget – You'll definitely find happiness and peace when designing your home using these 30 best DIY home Decor Ideas on a Budget.
18. How to Make a Fall Vignette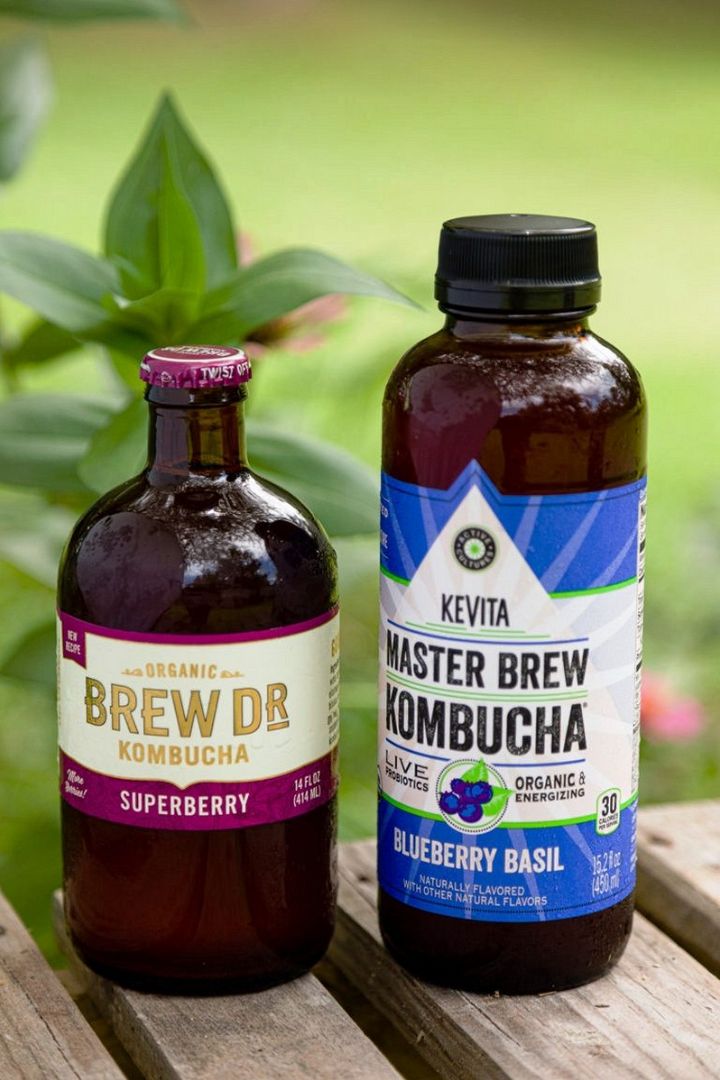 As the season is just round the corner, we all must think about welcoming the season in a true spirit. here we need quite a few supplies which are recycle bottles, galvanized tray, wicker tray, tree floral, twine, dewalt wire cutters, scissors, pinecones and wood bead garland. Tutorial
19. DIY Mason Jar Fall Decor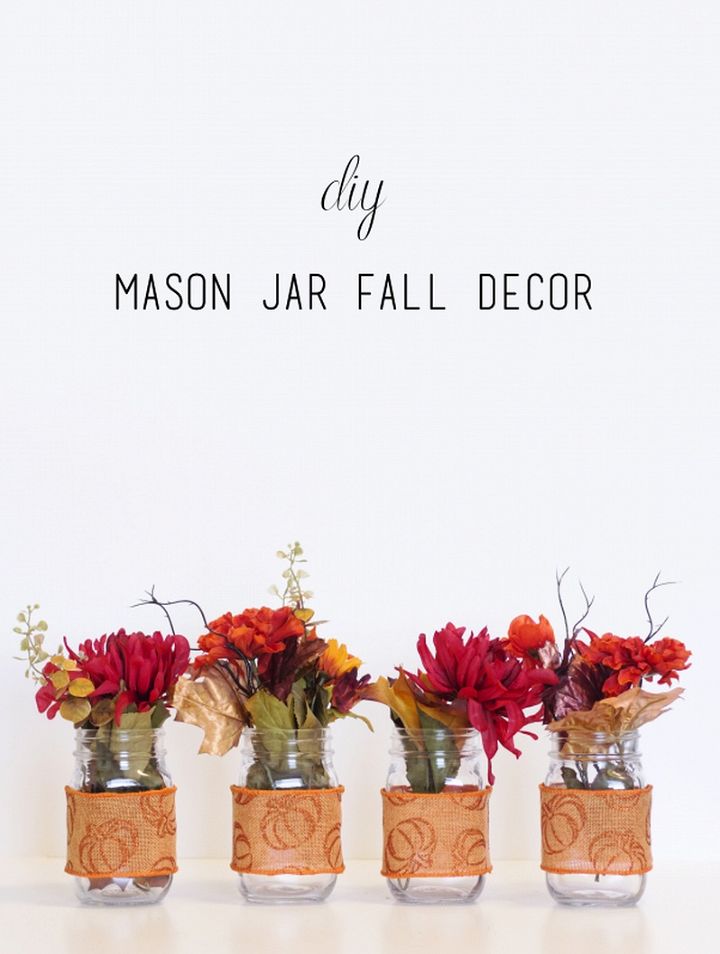 Mason jars are very popular when it comes to art and craft. This diy fall décor is made using multiple mason jars and you must also try this craft at home this year for the fall season. You will need mason jars, ribbons, glue, flowers and sharpie or foam letters. Tutorial
20. DIY – How To Make Apple Roses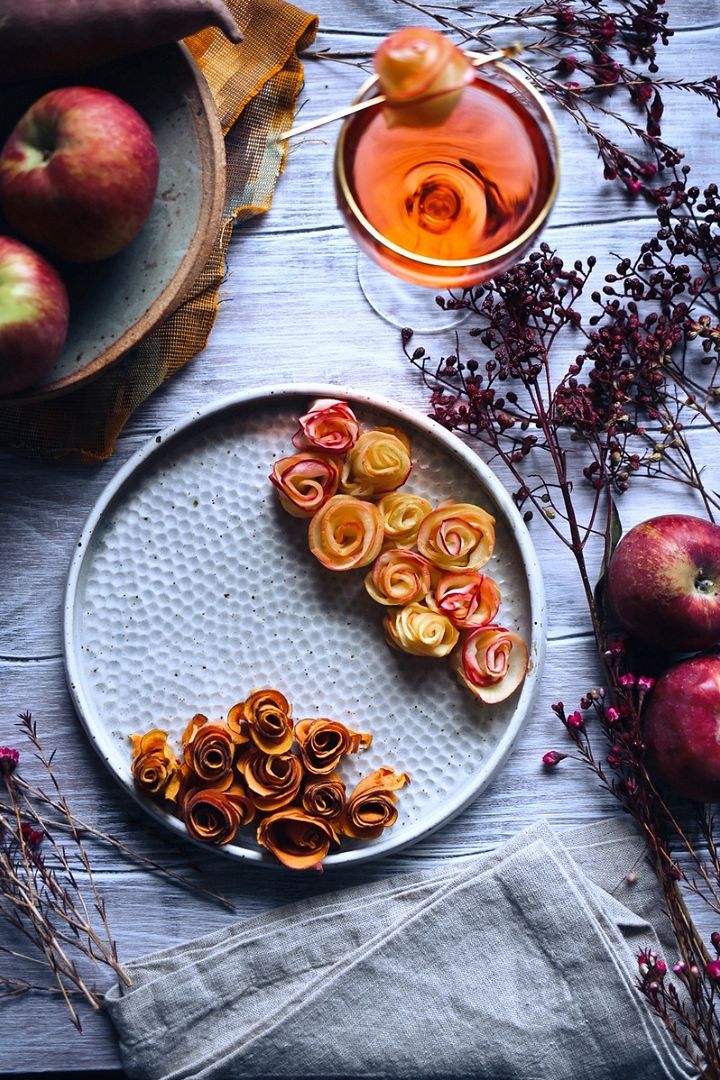 Let's make some apple roses for the fall décor this season. This is that time of the year when you can play around with food and make crafts for your meal time with food items. These edible roses are so adorable and attractive that you will definitely want to make these to impress everyone coming over for dinners during the holiday season. Tutorial
Conclusion:
Pick and choose your favorite among these diy fall rose décor ideas and make your holiday's season more colorful, floral and impressive than ever before. People coming over your house will definitely be impressed by your sense of home décor that you can do with the help of these projects here.