Paper is something that can be sued very creatively in many DIY Projects and people love it. People who love art and craft and do it as their hobby make a variety of crafts with paper as they are easy and cheap to make . These 30 DIY Paper Crafts To Spend Your Time are all very easy and inexpensive. You can easily select the project that you love the most and try it over this weekend. Almost all of the projects that you see here are not time consuming at all and you can also engage your kids along with you so that they can also learn and have fun while working with you.
These DIY Paper Craft projects includes origami also as you can see. Besides this these projects do give us an insight on how we can make some very pretty home organizing and decoration pieces with only using paper and some basic stationary. If you are also planning to spend your summer vacation with kids doing some creative stuff, try these projects and you will be amazed by your own creativity and imaginative mind.
1. DIY Geometric Bowls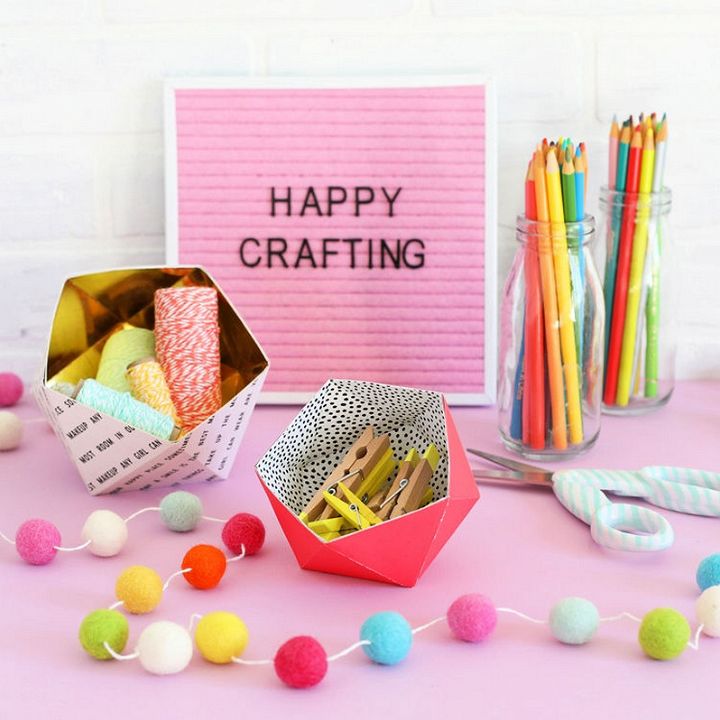 Paper can be very creatively used in different diy projects. This diy paper craft is all about making paper geometric bowls to keep on your study table and put small items inside. You can keep small paper clips in these small origami paper dishes over here. to make these adorable dishes from paper you need paper form scrap book, scissors , glue and folding template that you can look for on the internet. Tutorial
2. DIY Paper Chain Rainbow Wall Hanging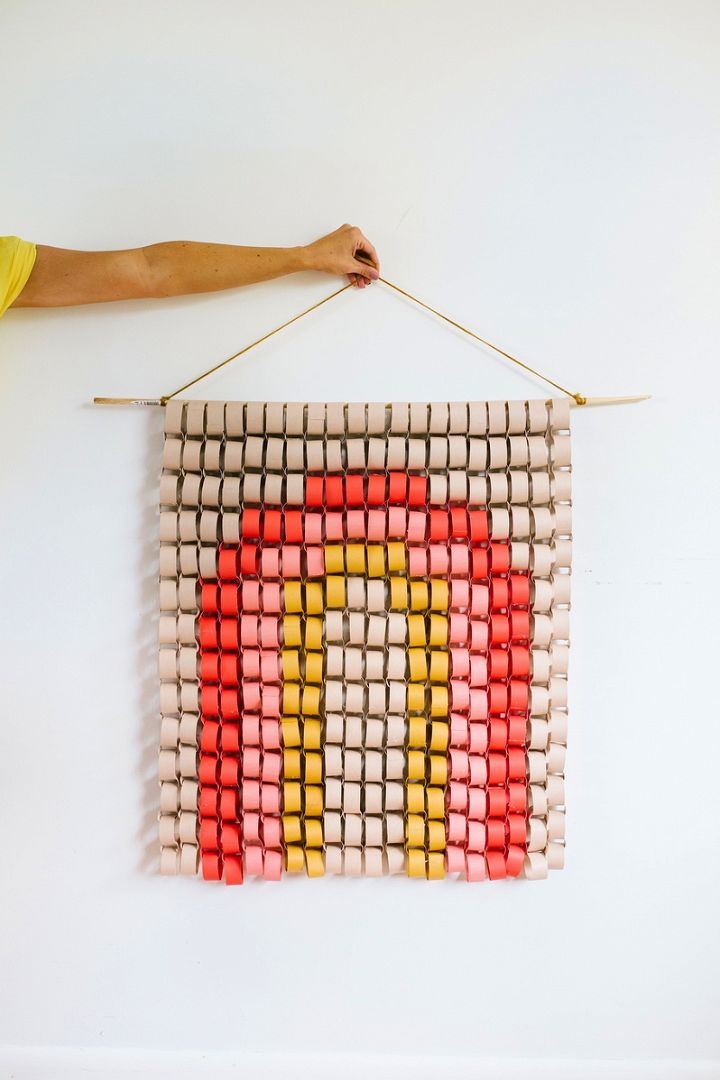 This is a beautiful paper chain wall hanging over here that you can make in rainbow style using colors of rainbow. To make this stunning masterpiece you need supplies such as rainbow template, cardstock ,paper scissors, hot glue gun, dowel and string for hanging. Tutorial
3. Framed Papercut Toucan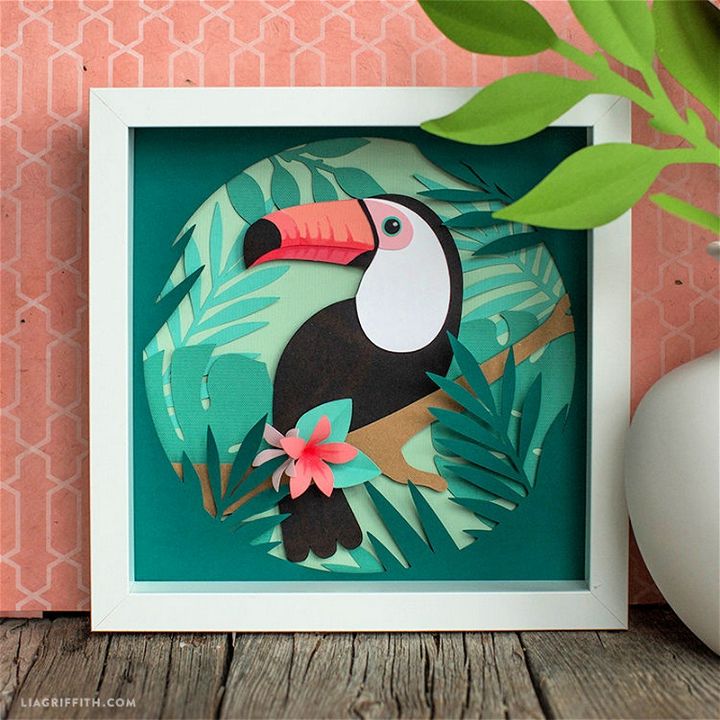 Have a look at this framed paper cut toucan made fantastically using creativity and imaginative ideas. To make this you need circuit explore air or craft scissors. Besides this you will also need low tem hot glue gun, cardstock, art marker, white colored pencil, glue dot roller, foam adhesive squares and square frame. Tutorial
4. Butterfly Template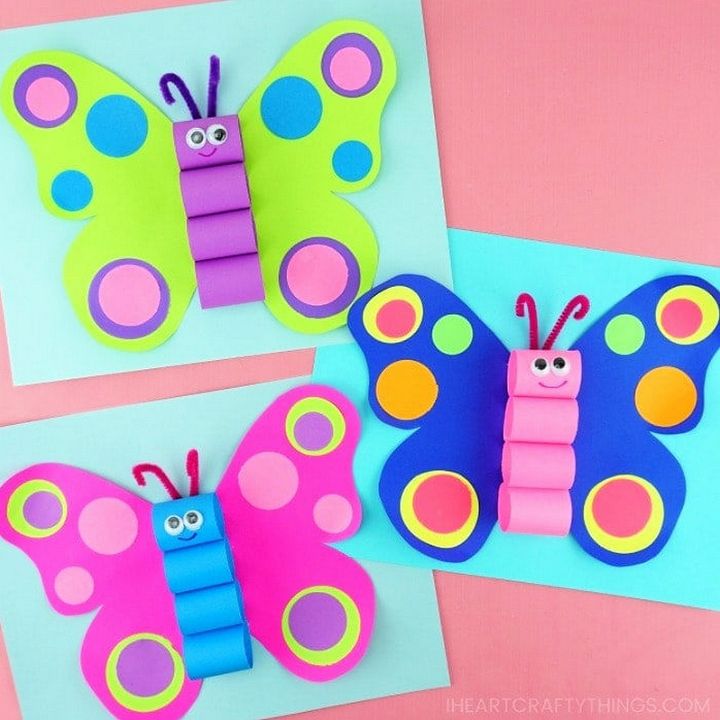 Have a look at this beautiful butterfly template here that you can also make with the help of this project. Get into the details of the project and get started with this interesting fun project. Once you have learned how t make these beautiful paper butterflies, you will begin to enjoy the activity a lot. You will need printable butterfly template, blue cardstock paper, colored paper, pipe cleaner, googly eyes, markers, tape, scissors and glue stick. Tutorial
Things To Do With Washi Tape – An assortment of brightly colored washi tape is essential for anyone who crafts, as washi tape is a great way to embellish everything from office supplies to gift wrap to hair accessories and manicure. Read on to discover 34 of our most-loved washi tape projects and ideas There are some brilliant ideas here!
5. Billy Button Paper Flower Tutorial And Free Template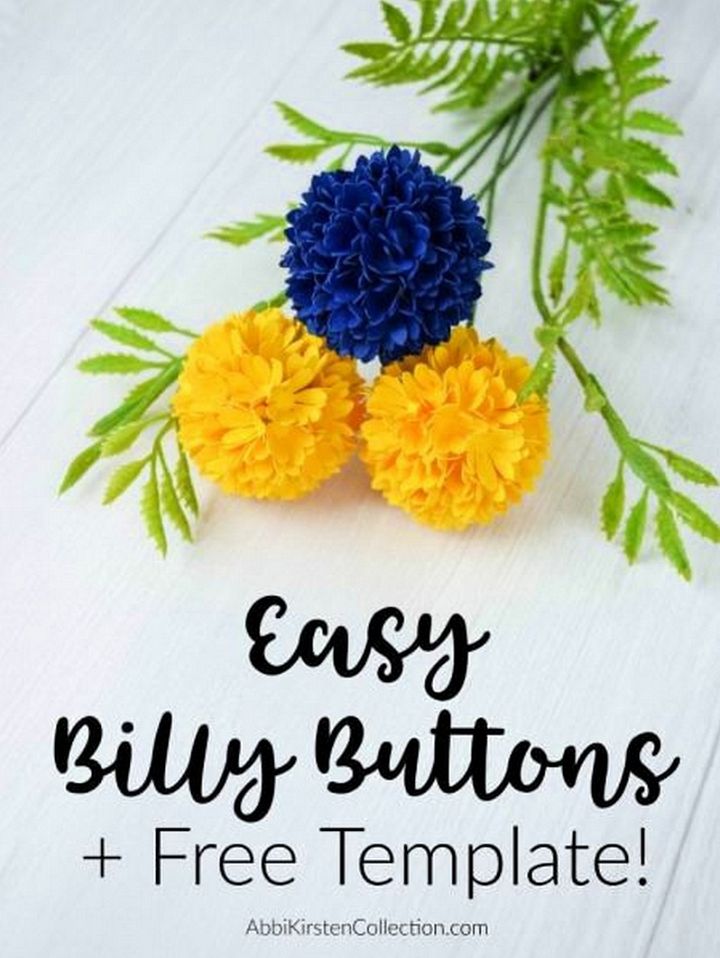 Paper can be used creatively in many creative art and craft and diy projects. This projects shows how you can make billy button paper flowers easily by following some simple steps. You will need some basic tools and supplies here that you need for almost any other paper craft activity. Tutorial
6. Paper Roll Ghost Craft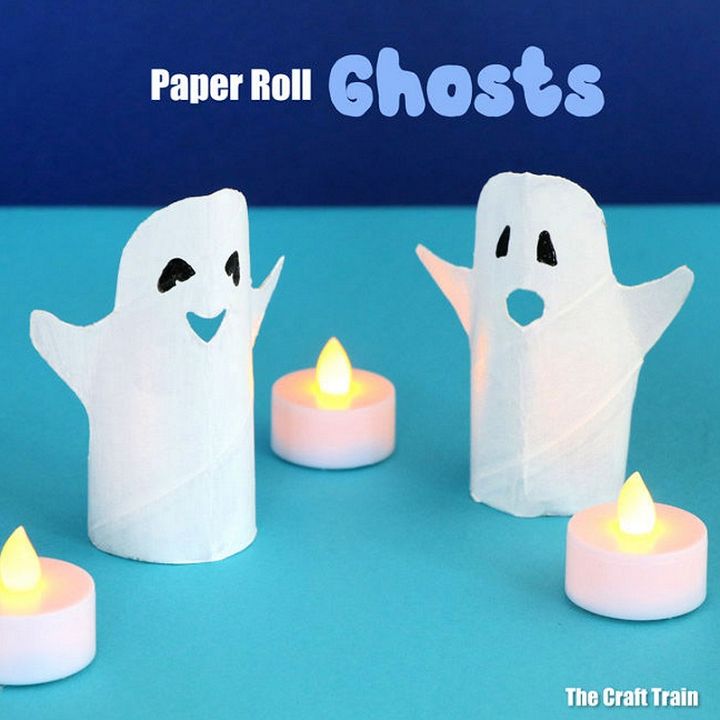 Are you ready to make these ghost crafts for a themed party at your home this time? If yes then you can follow the steps taught in this diy project here. this project will show in detail how you can make paper roll ghost craft. You can engage your kids in this activity along with you so that they can also enjoy and have fun with you this weekend. Tutorial
7. Craft Stick Pencil Bookmarks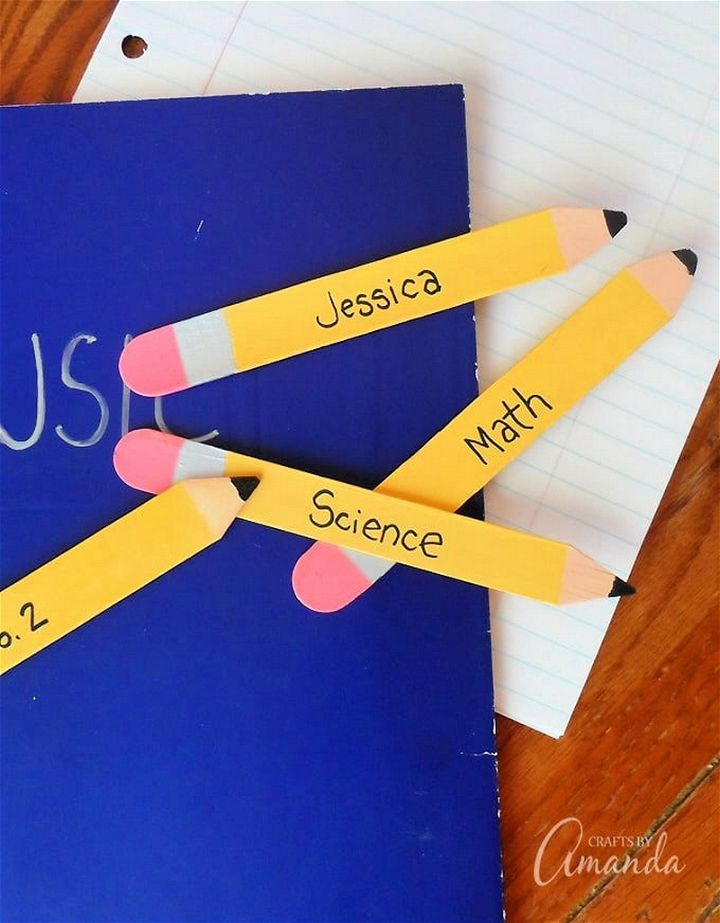 Have a look at these adorable pencil shaped bookmarks made with craft sticks. You only need a few supplies and crafts for this project which are all easily available in any stationary store. the main supplies used here are only paint and craft sticks. Tutorial
8. How to Make Paper Daisy Flowers Step By Step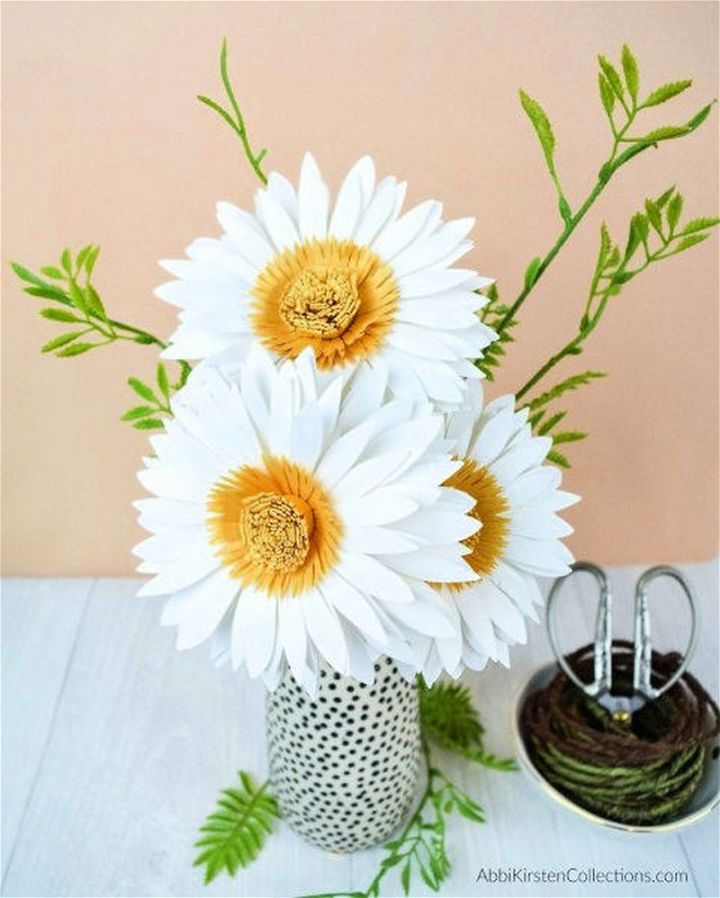 This diy paper craft project will teach us how we can make paper daisy flowers step by step and have fun. Daisy is a favorite flower for many so we and making it with paper will only make it more interesting and fun so get started with this very happening activity along with the kids at home. Tutorial
Easy Paper Crafts – I have compiled some of my favorite posts. Just like my favorite paper craft blogger. Hope you find inspiration! Here are 20 Creative Paper Crafts for Adults. I'm sure you will like these ideas!
9. Hand And Heart Love Tokens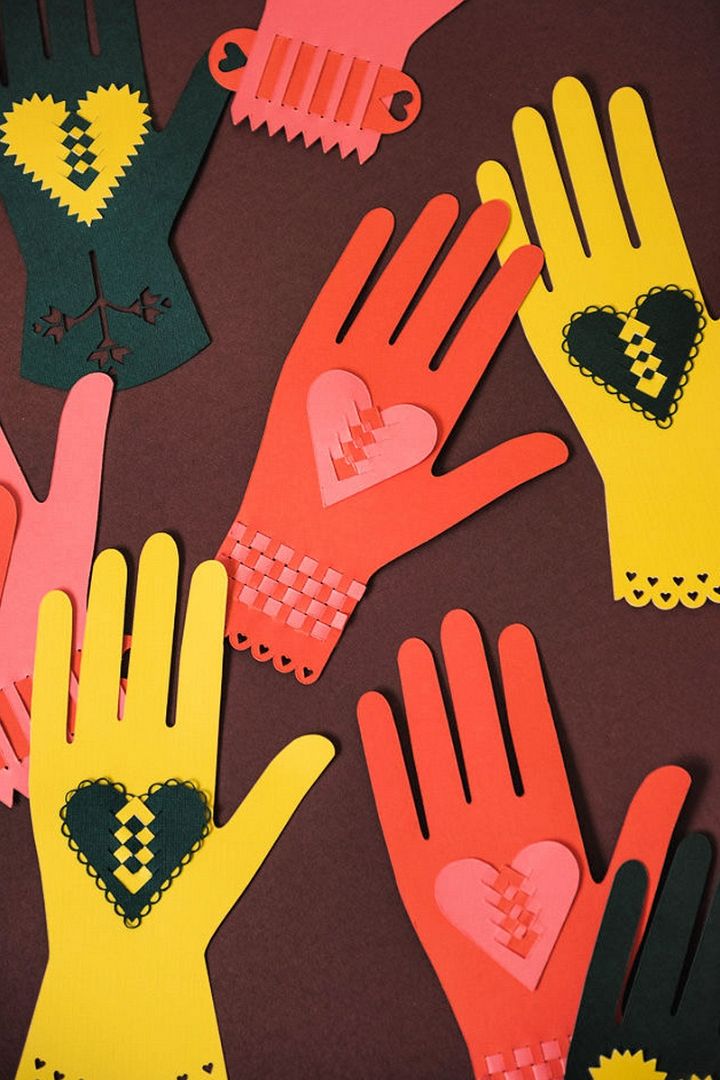 Have a look at these hand and heart tokens of love here made easily and very creatively with paper only. You need some colored papers for this activity and then all you have to do is to follow the steps taught here and see how imaginative and innovative your minds can be in such diy projects. For this project you need hand and heart love token template, colored cardstock of various colors, circuit maker, craft knife, and a self-healing cutting mat Tutorial
DIY Stained Glass Ideas – We've put together 18 fake stained glass projects that you can play with. Take the time to look!
10. Origami Stocking – Santa Boot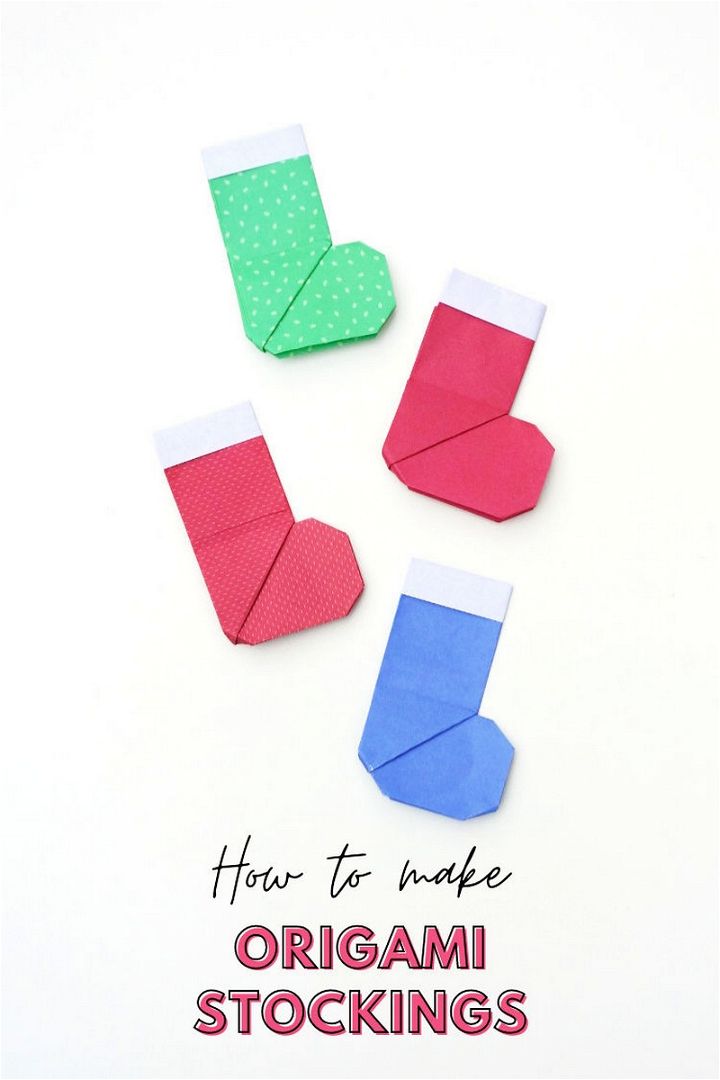 In this diy paper craft project you will learn to make origami stocking santa boot for Christmas. As we know that Christmas is all about celebrations and decorations. For this project you will need printed paper, magazines, maps, coloring book pages, vellum, old books and newspapers. Tutorial
11. Make Your Own Art With Nail Polish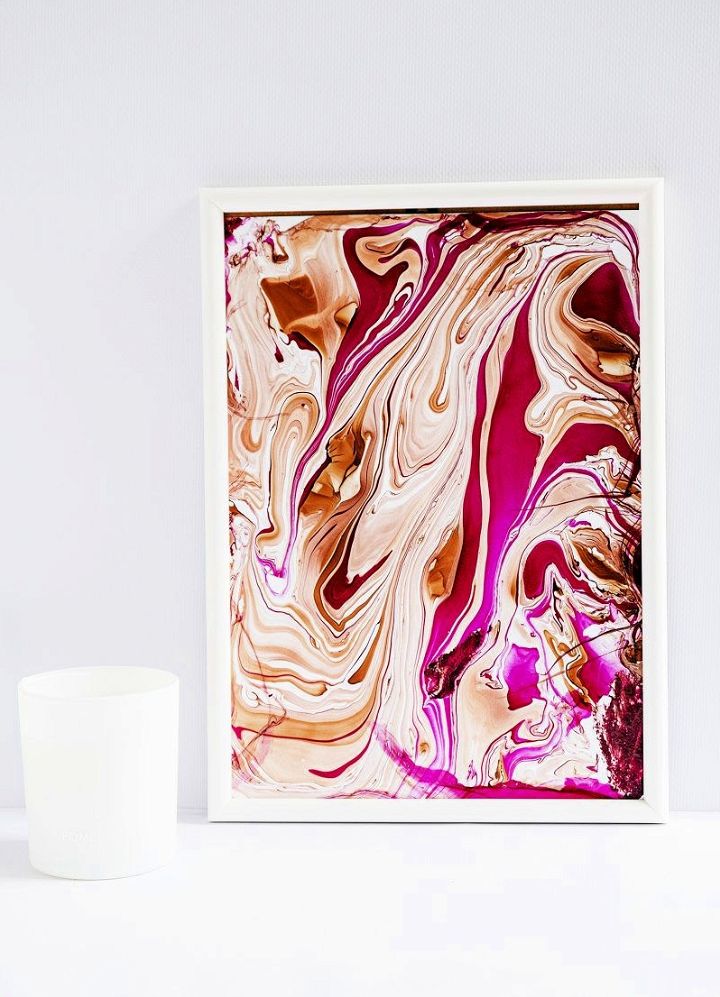 Here in this di project you will see how nail color can create masterpieces when it comes to art and craft. You will do this activity on paper with the help of this project and the steps taught here. besides this you can also watch a tutorial so that you can easily catch up with this project. Tutorial
12. Watercolor Making Flowers To Give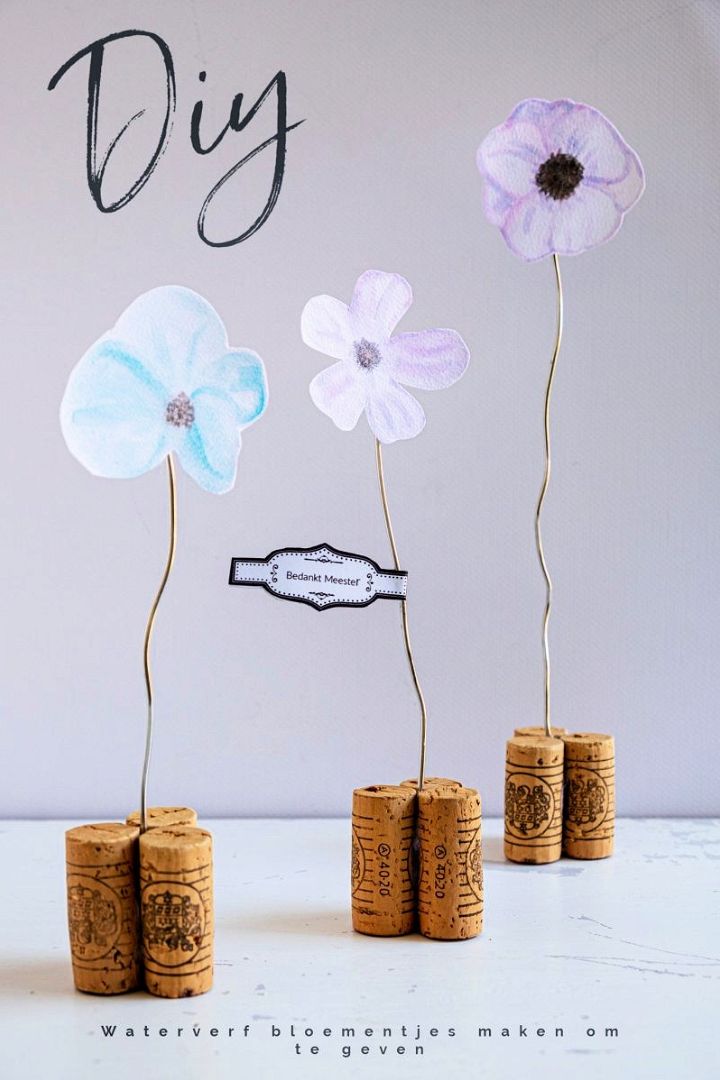 Watercolors are something that can literally create some masterpieces. Together paper and watercolors can surely do wonders. A complete process along with a tutorial is given here along with this project so that everyone can easily learn how to don this in no time. you can do this project over a weekend along with your kids so that they can also learn and enjoy. Tutorial
13. Upcycle Craft – Protein Powder Tub Planter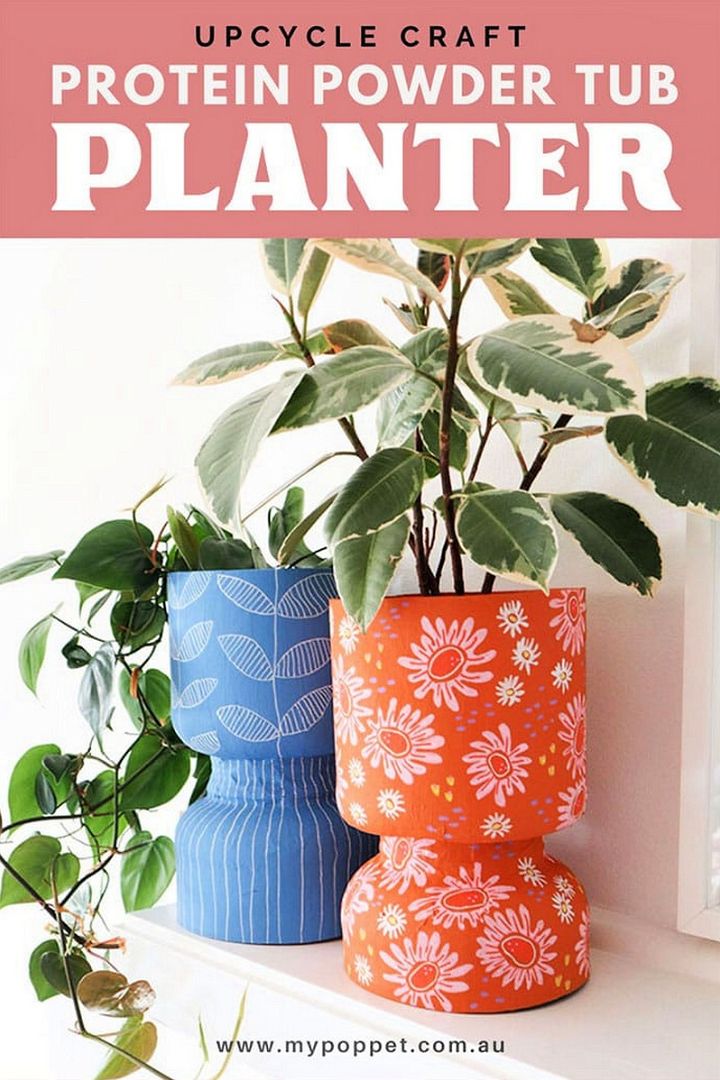 This diy paper project is one of its kind unique and interesting project. You will have to start it off by first gathering the supplies and materials. Fr this project you need empty protein powder tub, torn strips of paper, pva glue, ruler, marker, cutting tool, duct tape, sponge brush, paint and paint brushes. Enjoy this paper craft activity along with your kids over this weekend. Tutorial
14. Birthday Rosette Badge Free Printables – DIY Paper Buttons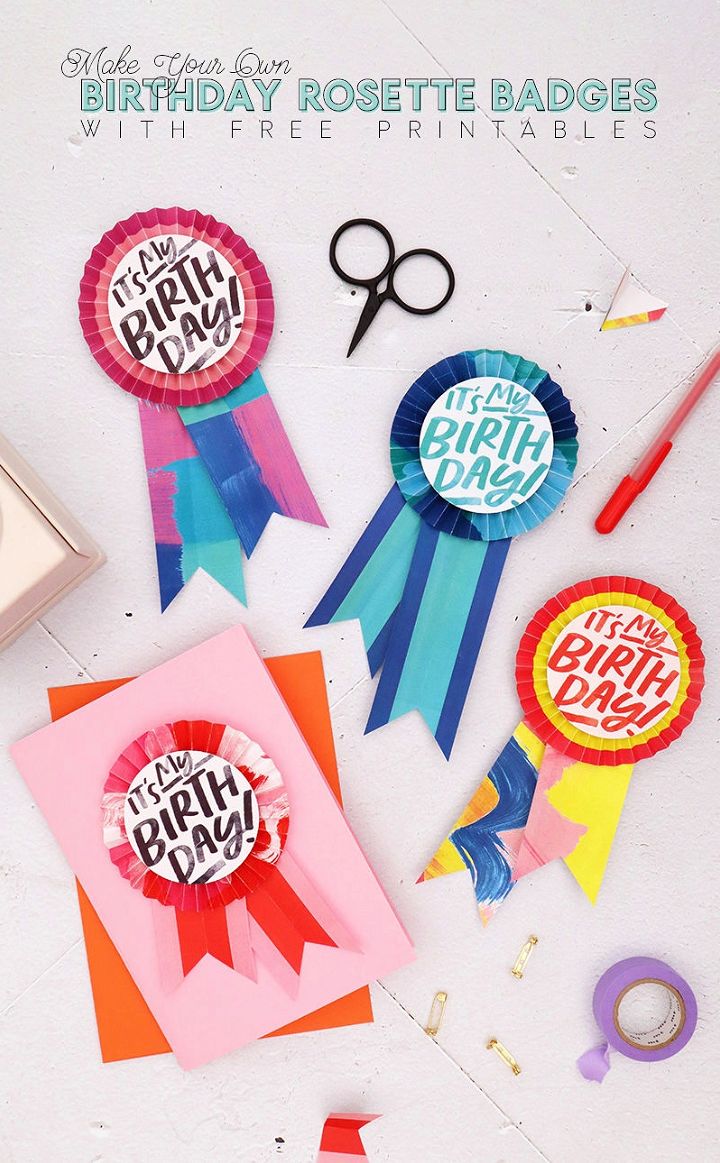 For the next birthday party at home, you can make these diy birthday badges with the help of this project over here. the supplies that you need for this project are copy paper and white card stock. Color printer, paper trimmer, circle punch, scoring board, glue pen, scissors and hot glue gun. Tutorial
15. DIY Oster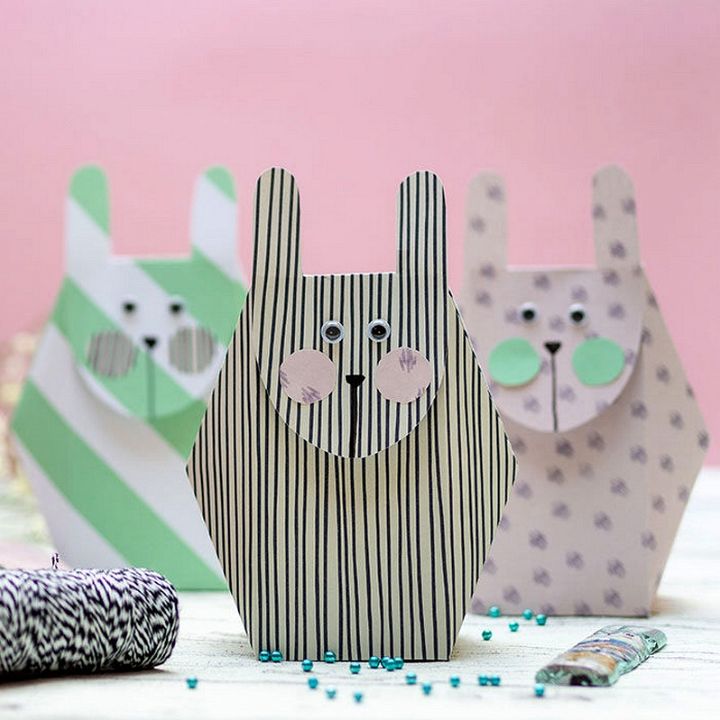 This diy oyster project is so much fun to do and will let you learn a lot. A complete list of supplies and materials is given here so that you start it off by first gathering the materials. The materials include washi tape and some other like ruler , scissors and glue. Tutorial
Summer Camp Crafts for Kids – We've got some of the most popular summer camp-themed crafts for children to keep the kids entertained throughout summer. These easy camp crafts provide the perfect source of entertainment.
16. Wise Men Neighbor Gift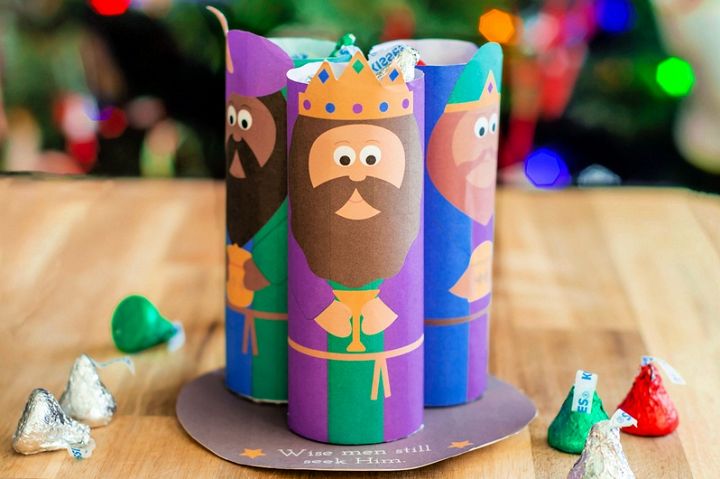 Have a look at this beautiful and exciting paper craft here, the project is labelled as wise men neighbour gift. The materials include 3 toilet paper rolls, base printable, wide men printables, paper plate, glue sticks, scissors, hot glue and candy to fill. This activity will also let the kids enjoy and have fun so get started with it over this weekend. Tutorial
17. Handmade Thank You Gifts For The Holidays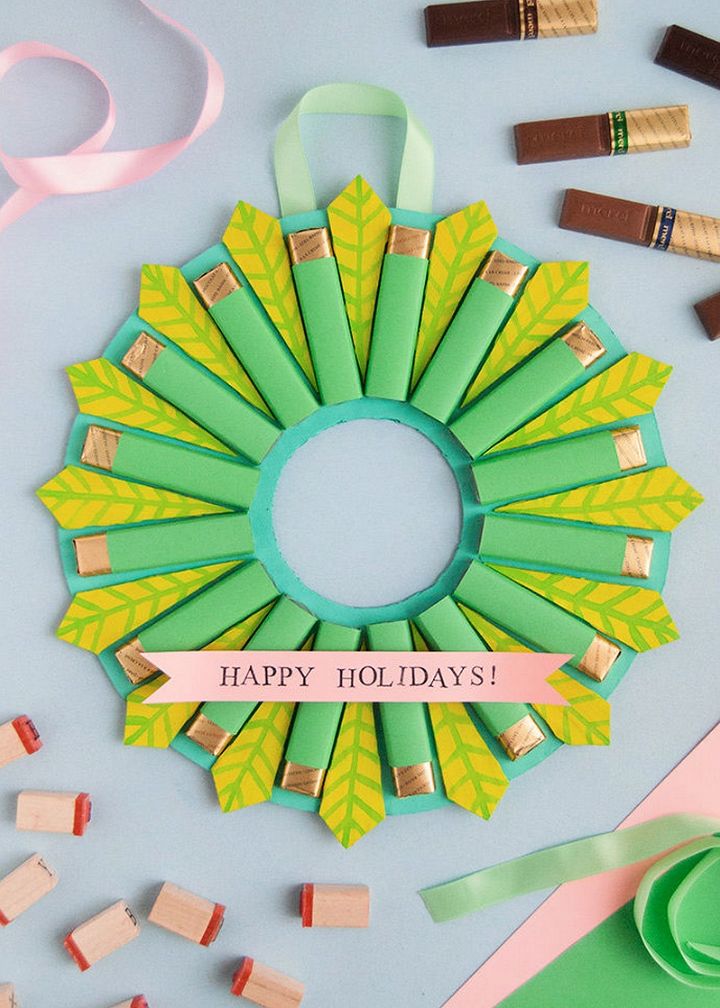 There are times when we run out of ideas when it comes to giving gifts to people around us. This diy project will help you make some innovative and very creative gift for special people in your life that you can give them on any holiday this year. To make this special holiday gift you need supplies such as box of chocolates, craft knife, corrugated cardboard, paint, paint brushes, white cardstock, pencil and hot glue or double sided tape Tutorial
18. DIY Advent Calendar – Row of Houses Made of Packaging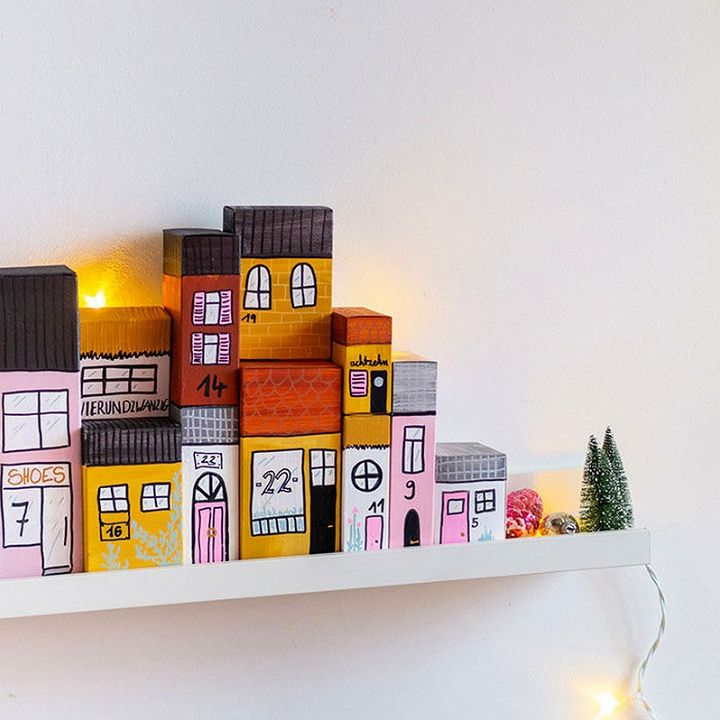 This diy project will probably the most liked and lovable on the internet today. This diy paper project shows how we can make a row of house with the help of paper packages. The entire project looks absolutely phenomenal and flawless. You can engage your kids while doing this fun project. Tutorial
19. DIY Giant Amaryllis Paper Flowers – Templates and Tutorial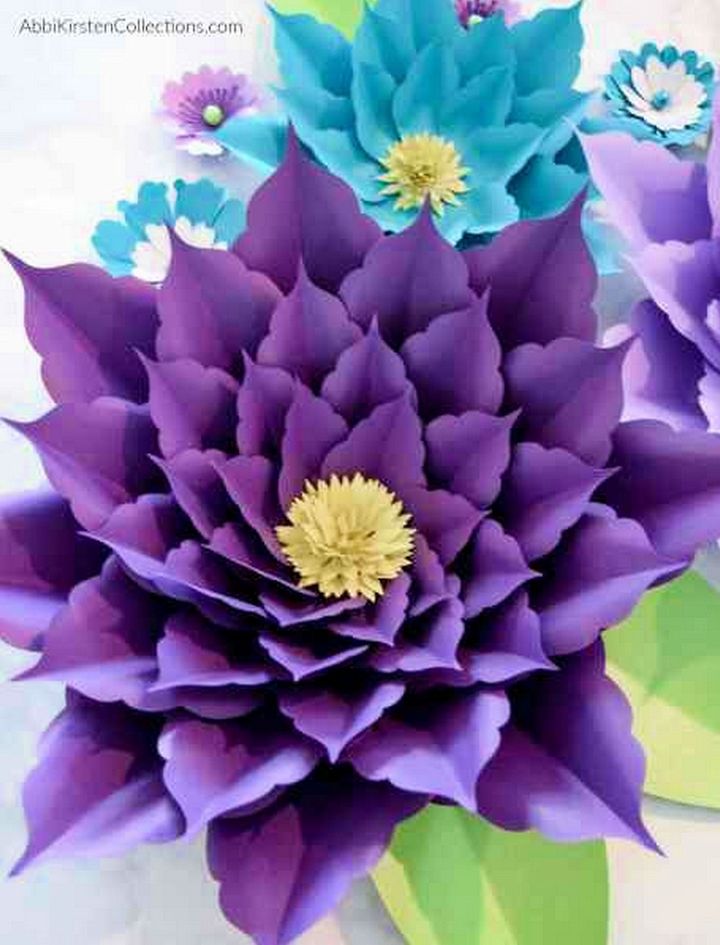 A tutorial along with this diy project over here will help you out in making these giant paper flowers. The supply list here includes materials like cardstock, pan pastels, ink sponges, wood dowel, glue gun, scissors, circuit maker and giant amaryllis template. Tutorial
20. Toilet Paper Roll Butterfly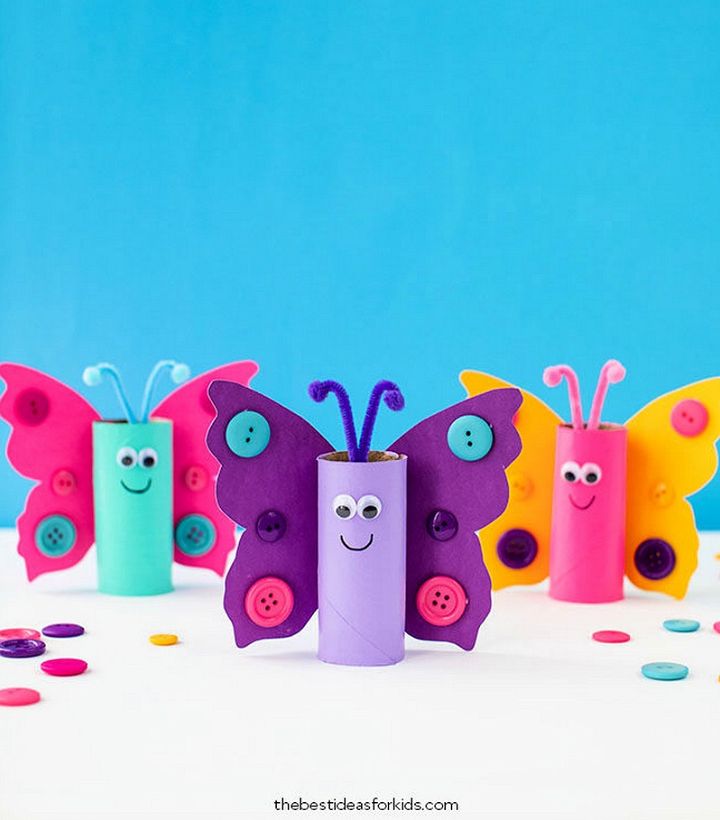 Have you ever tried making butterflies using the toilet paper rolls. While doing this project you can use your innovative ideas and make different design. Engage your kids in this fun activity and make their holidays more special than ever before. the supplies that you are going to need here are toilet paper rolls, small googly eyes, colored buttons, cardstock, acrylic paint, pipe cleaner, small pom pom, black sharpie and butterfly wing template. Tutorial
21. Painted Paper Lanterns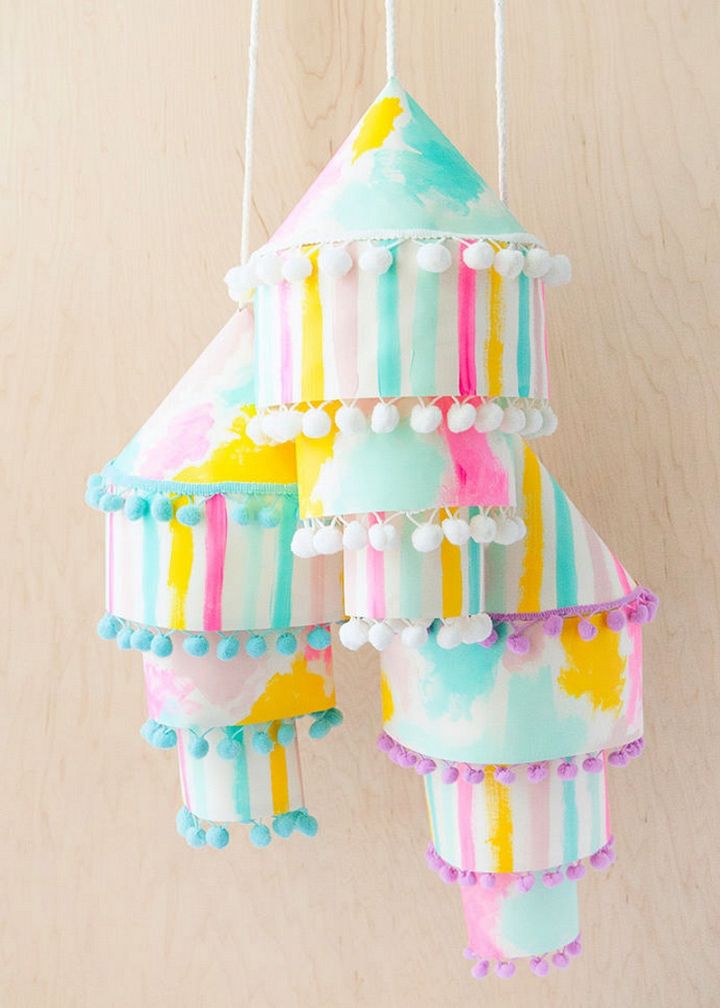 Get ready to make these colorful and amazing paper lantern painted beautifully. Handmade paper lanterns seems to be the most loved paper crafts. If you are also willing to make these paper lanterns, follow the process. The supply list here includes acrylic paint, paintbrushes, wooden embroidery hoops, pipe cleaners, roll of white paper, hot glue gun, double sided paper, pom pom trip, scissors, pencil and rope. Tutorial
DIY Crafting Table Plan – We found 18 easy-to-build DIY crafting tables that you're bound be looking to build for your home. If you are a crafter and need a designated space for it This is the DIY collection you should look over.
22. How To Make Floral Cocktail Glasses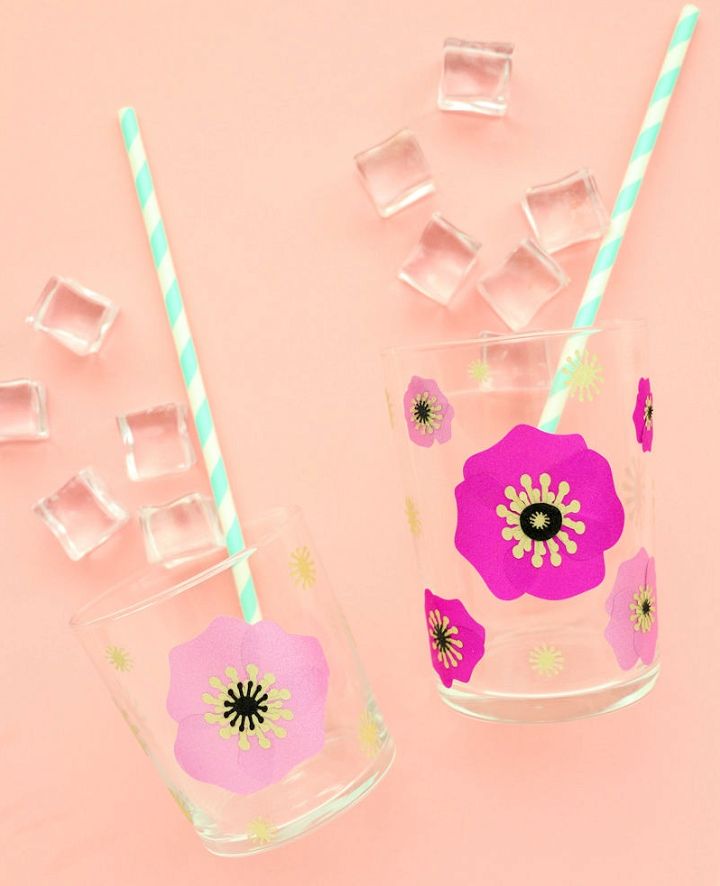 This diy project is all about enjoying the summer vacations and making craft related to summer with fruity vibes. Here they have made floral cocktail glasses that looks super exciting and cool. To make these glasses you need circuit wild rose bundle, shimmer vinyl, cocktail glasses and flower templates. Tutorial
23. DIY Tropical Paper Leaf Table Runner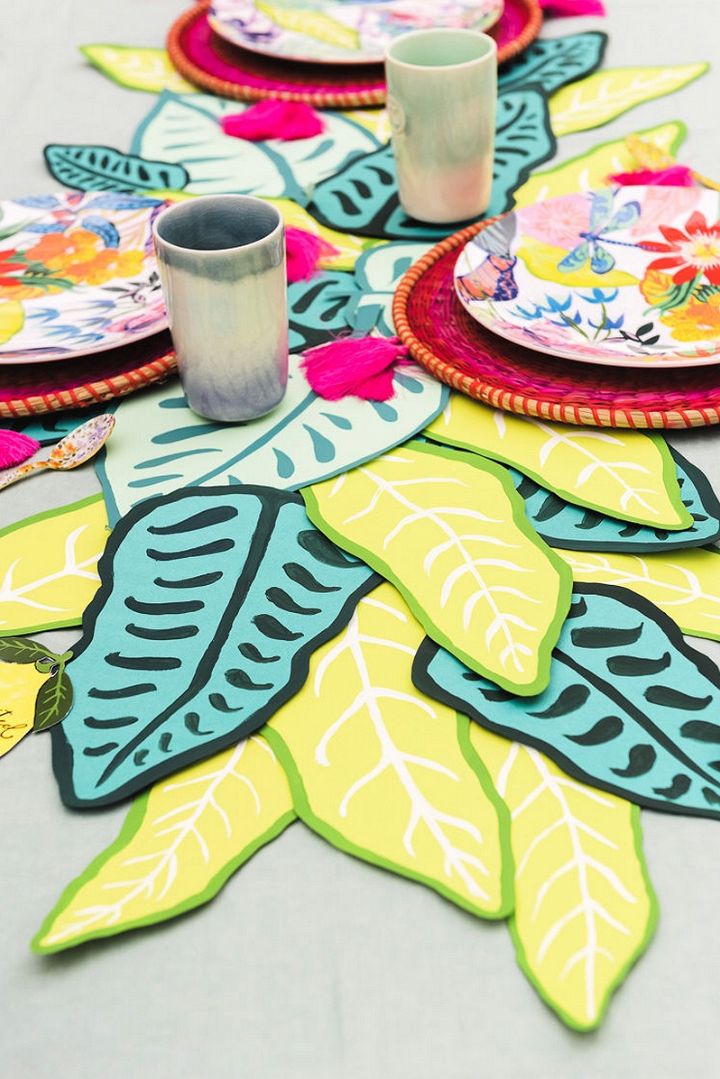 This summer holiday, make this super exciting and fun table top using paper crafts, you can also make this tropical paper leaf table runner for a table in your garden on even inside the house. You need only a handful of supplies like cardstock in greens and teals, acrylic paints, paint brushes and templates. Tutorial
24. Paper Bag Pants Pattern – Dressing With Comfort Made So Easy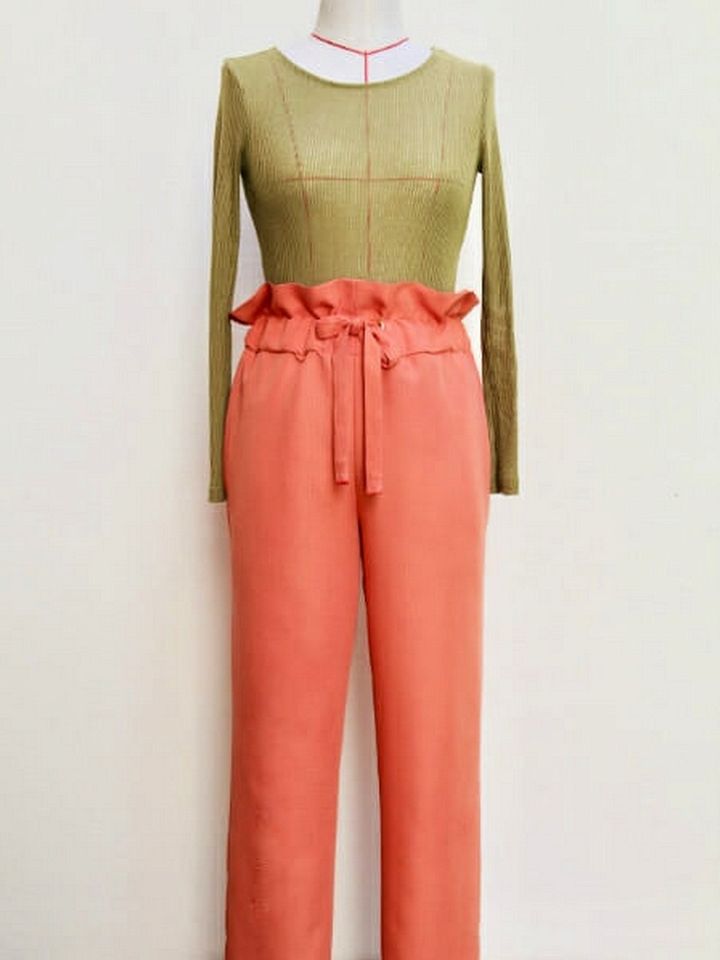 These paper bag pant pattern is easy to learn and try. Get started with this interesting mission and you will surely enjoy this to bits. You will need yard of cotton, thread to match, wide elastic, grommets, fusible interfacing and yard of satin. For the tools you need serger, rotatory cutter, needle size, cutting mat and kam tool. Tutorial
25. Paper Face Boxes with Astrobrights and Giveaway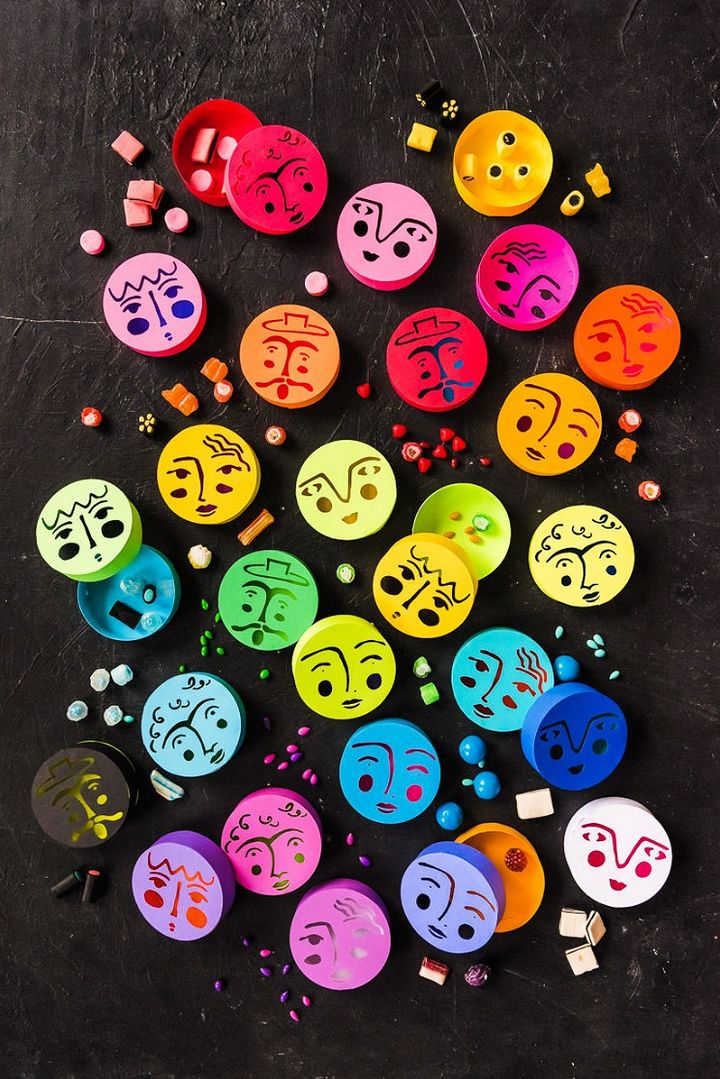 Get yourself ready for these paper fox boxes. To make these wonderful and amazing paper crafts you need astrobrights paper, template and craft cutting machine with a fine blade or craft knife. besides the supply list ,a list of complete instructions is also given here so that you can easily catch up with the project. Tutorial
26. How To Make Butterflies From Coloured Drawing Paper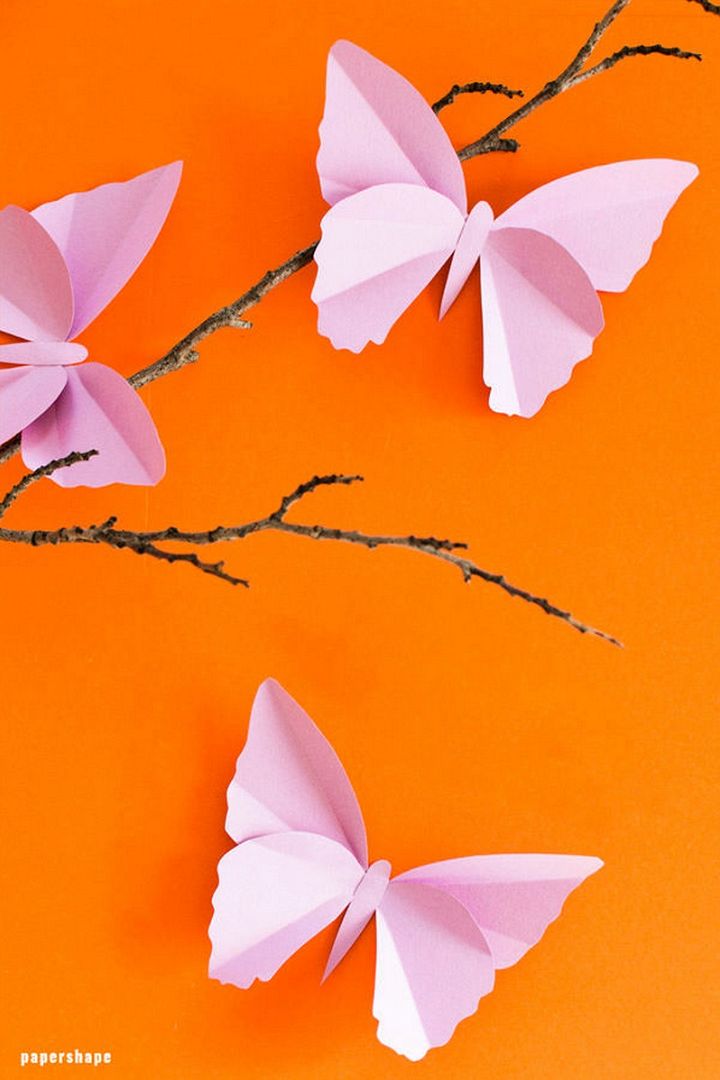 With paper you can make some of the most amazing and creative art pieces. This diy project is also about making very nice colorful paper butterflies. To make these beautiful butterflies you will need colored drawing paper, glue or double sided tape, scissors, ruler, bonefolder and cutting mat. Tutorial
DIY Backyard Playground Ideas For Kids – If you begin with a playset that you've already made or build a backyard play space from scratch, you'll soon be well on the way to having the most child-friendly yard around.
27. Kids Craft – Colour Bleed Art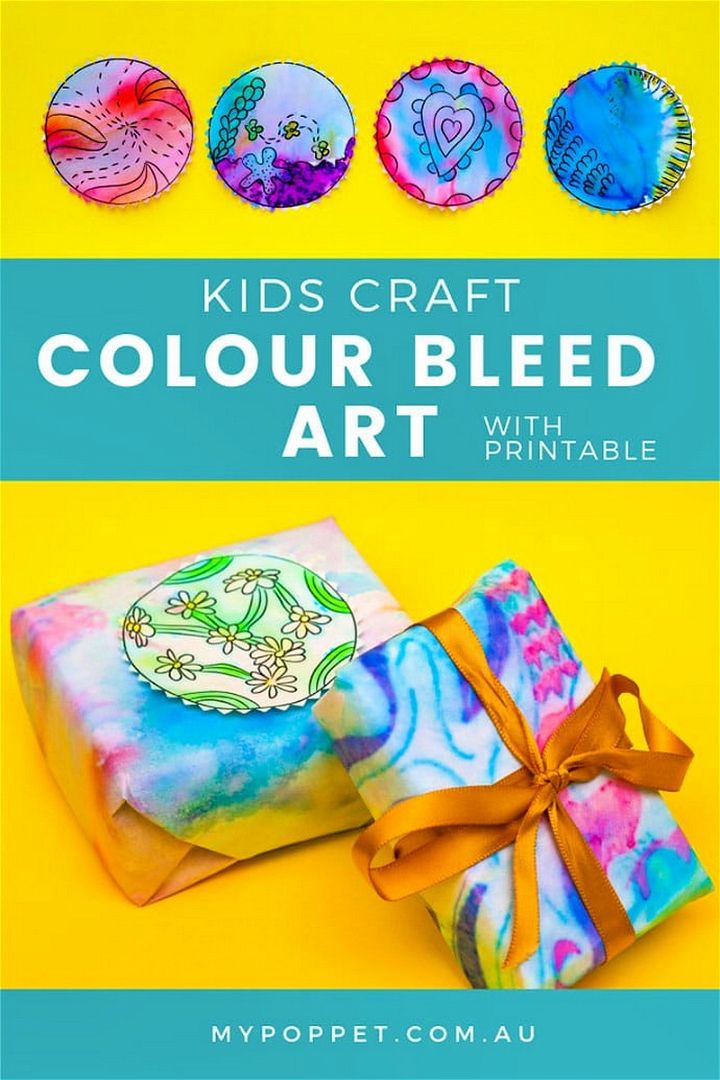 This combination of water and paint can create masterpieces. If you also are planning to do art and craft work this weekend you can consider this project. A complete tutorial and detailed instructions are given here so that you can easily catch up on it. The supplies that you need are printer papers, water based felt tip marker pens, water spray bottle filled with water, paper towel, iron and ironing board and printer. Tutorial
28. Painted Rainbow Fries Favors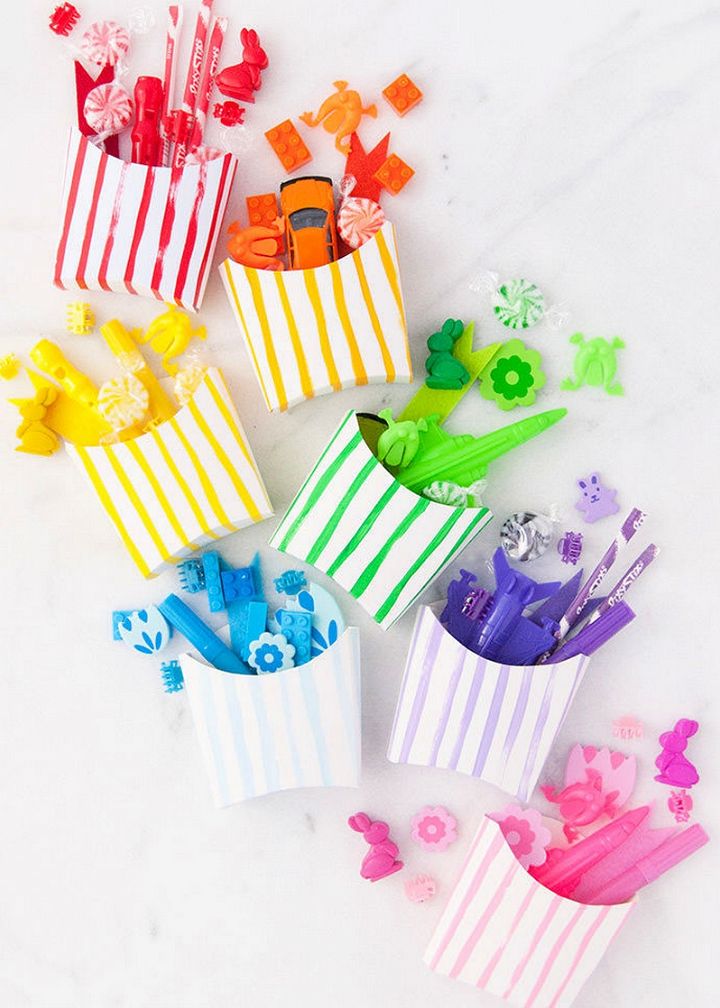 To make these diy painted rainbow fries favors you need to follow this diy project so that you along with your kids can enjoy this weekend to the fullest. To make these crafts you need acrylic paints, paint brush, white cardstock, empty fried container, scissors, double sided tape, ruler, pencil and bone folder. You must follow the step by step process so that you can also create this piece of art. Tutorial
DIY Bar Cart Ideas – Bar carts don't need to cost you a fortune, neither. Wood bar carts made from wood are an excellent option and the majority can be constructed with under $100. Look through these 30 DIY Bar Cart Ideas.
29. How to Make a Paper House Lantern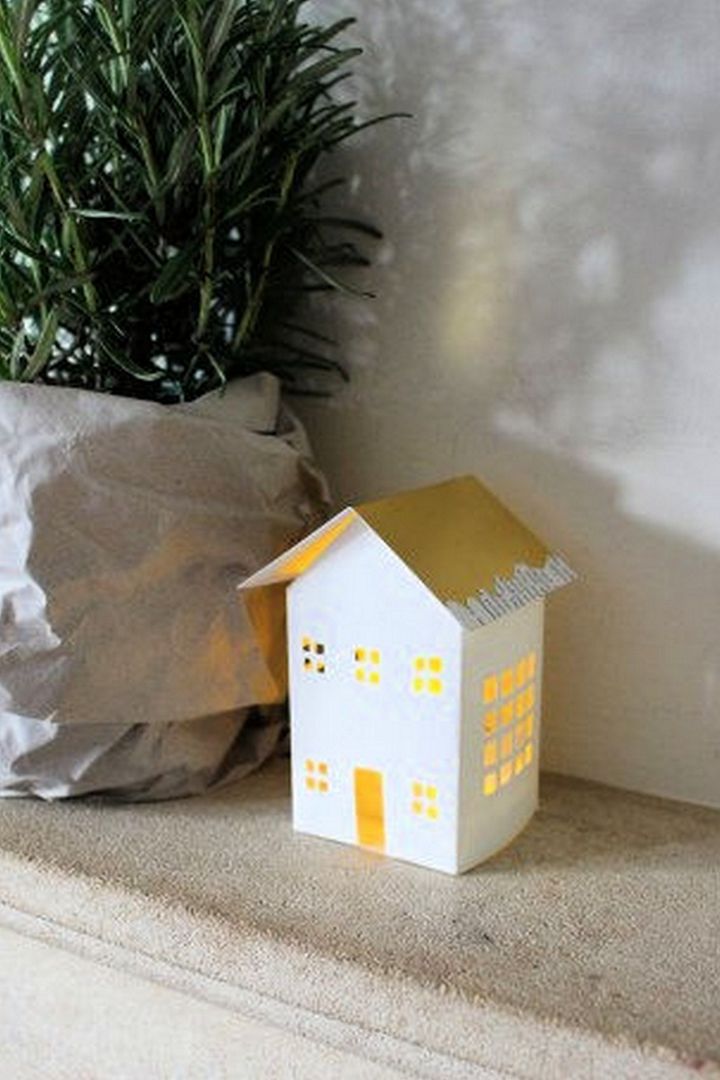 While thinking of making paper crafts , you can consider this diy project here as its creative and innovative. The supply list here includes things like cardboard, pencil, ruler, right angel, scissors, sharp knife, glue , paper clips and any embellishments. Grab the supplies and get started with this interesting project. Tutorial
30. DIY Paper Snowflake Puppets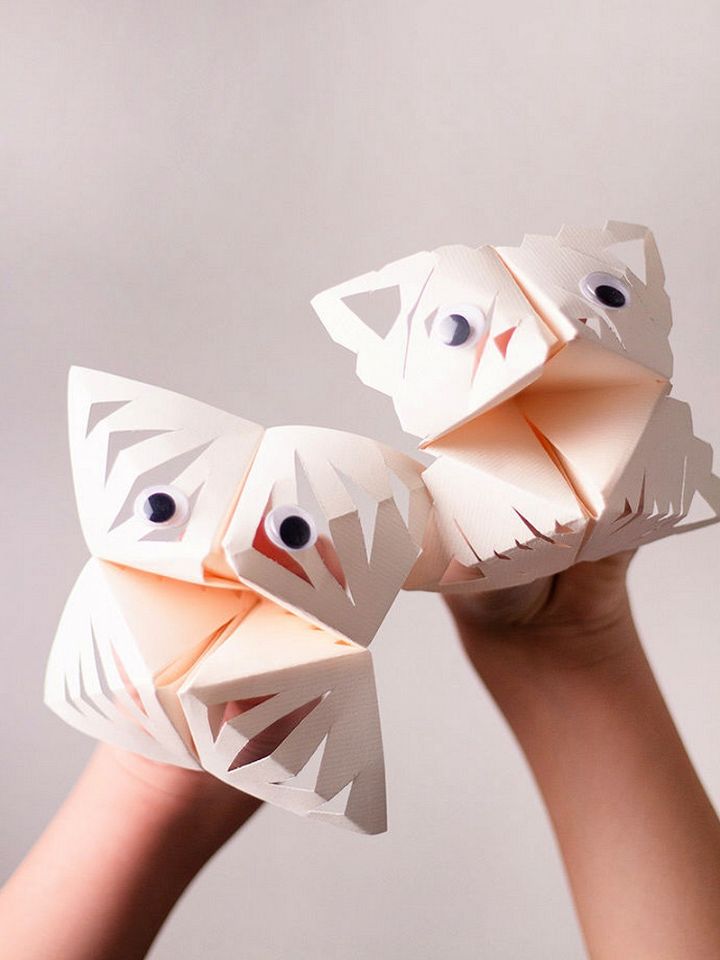 Have a look at this diy snowflake puppets which are made easily through a very interesting and creative process taught here. get into the details of this project and see how you can also make your own version of this amazing paper craft. With a little bit of effort you will be able to achieve some desirable results that will make you proud of your creativity. Tutorial
Conclusion:
Kids learn the most through practical demonstrations of creative activities and ideas. You can also make your kids learn some amazing craft activities using paper and stationary that is already lying on our work desks. Make your vacations more happening with these diy paper craft ideas.