Hello, my lovely ladies! Are you up for some DIY projects? Here are super chic DIY Tassel Earrings For Stylish Girls. Earrings can make a statement. Earrings can bring color and style to a boring outfit. You don't have to spend a lot on expensive earrings. Instead, make your own earrings. To make these DIY Earrings, you will need to have some creativity and a bit of time. These earrings are very chic and easy to make. Have fun!
DIY Tassel Earrings
Tassels can be worn on a belt, from a bag, or even from your ears. They are our favorite accessory category alongside the exuberant pom-pom. These simple, yet elegant tassel earrings are very customizable. Make unique tassel earrings to make for your own use or as a gift. These are some of the best DIY tassel earrings ideas. We have selected the best choices so be sure to see them all. There are many styles and colors to choose from, so you can spice up your look with a pair of tassel earrings. To give the brightest tassel a pop, we love to pair them with neutral outfits. Or to bring out summer's bubbly vibes, we love to wear them with a brightly colored dress.
Tassel earrings aren't just for warm weather. To add elegance, you can take tassel earrings back to their original form and make a beaded tassel with muted colors, lace, or cocktail wear. For a fashion-forward statement that is always on trend, try out unexpected textures like leather, macrame, and feathers for your tassels.
1. DIY Stacked Tassel Earrings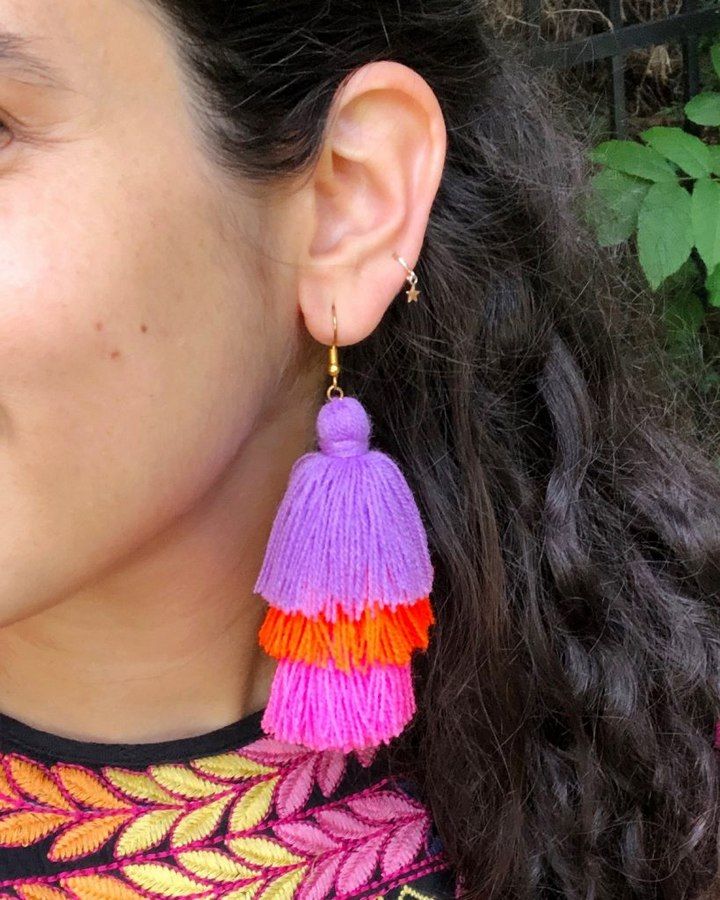 Our list of favorite tassel projects may be long, but stacked tassel earrings are certainly near the top — maybe even top five?! They're quick to DIY (especially if you've already mastered the tassel), make great gifts for birthdays and holidays alike, and add a ton of flair to any outfit. If you're already a pom pom earring aficionado, this is basically Level 2 of your accessory-creating skills. Tutorial
2. Gorgeous Tassel Earring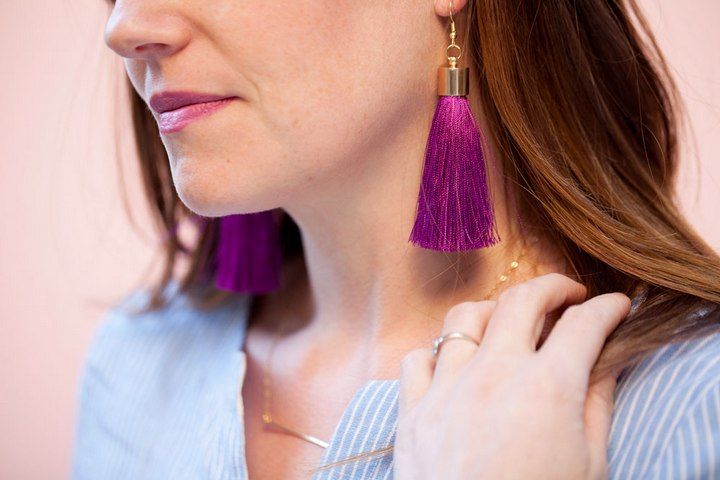 DIY Tassel Earrings: You will make a lot of these DIY Tassel earrings. You can trust me. These DIY tassel earrings make a great statement and are fun to make. You can play with more than one other color. Tutorial
3. 5 Minutes Tassel Earrings

These DIY tassel earrings can be made in just 5 minutes! These earrings are easy to make and look adorable. A great gift idea! Learn how to make tassel earrings featuring this trendy color! Tutorial
4. Colorful DIY Tassel Earrings – Three Colors Earrings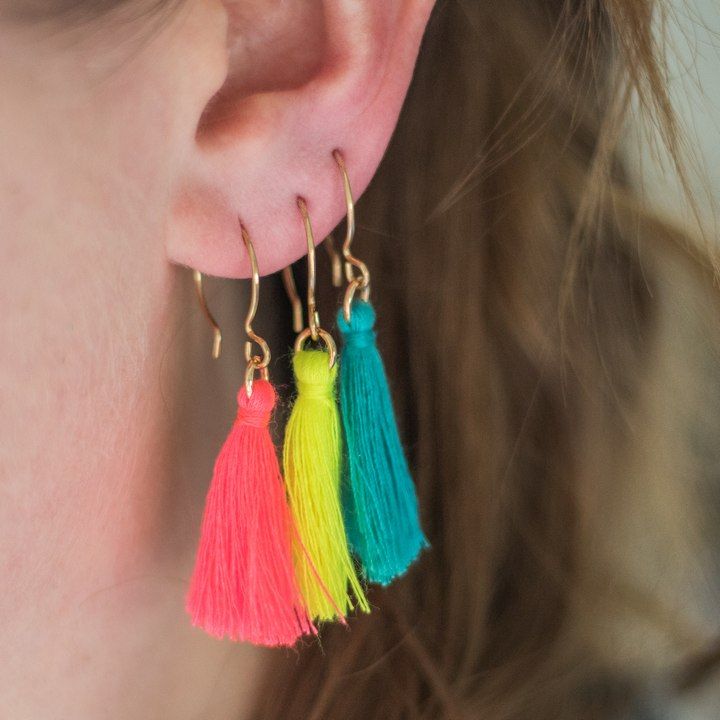 DIY Tassel Earrings: This tutorial will show you how to make simple DIY boho-tassel earrings using your basic hoops. These tassel earrings take very little time to make. This is a wonderful gift idea for someone who enjoys jewelry! Tutorial
5. Ombre Tassel Earrings – Two Colors Tassel Earrings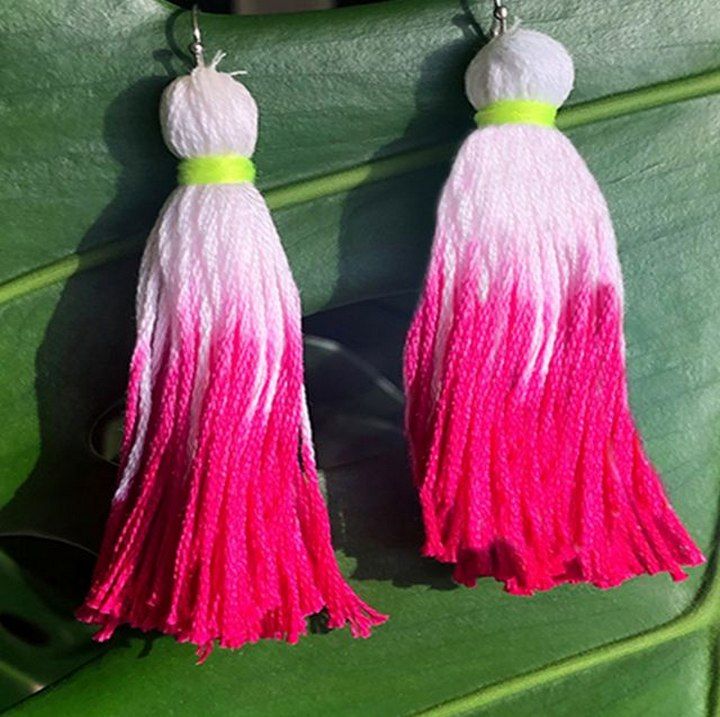 You combine two of the most popular DIY summer trends in earrings. You get some rocking ombre DIY tassel jewelry! These DIY ombre stacked earrings with tassels are a great way to wear tassels differently. Tutorial
6. How to Make Tassel Earrings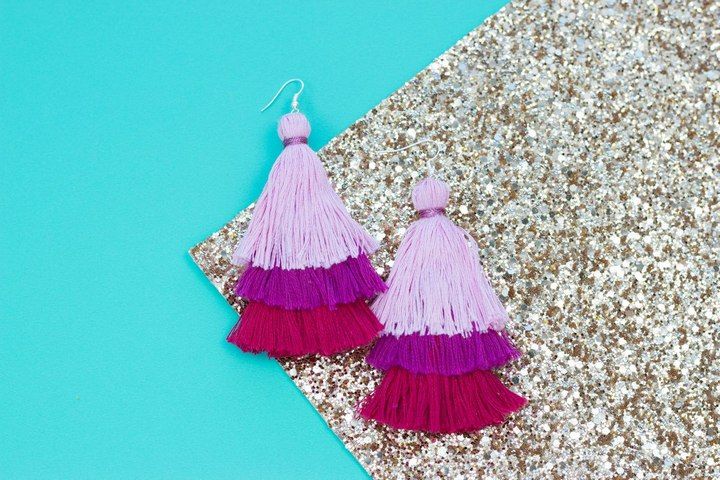 This tutorial will show you how to make adorable DIY tassel earrings. You can make your own earrings with just a few supplie. These DIY Tassel Earrings are my absolute favorite. These earrings are super cute and easy to make. These tassel earrings are easy to make. All you need is some embroidery floss and some embroidery thread. Tutorial
7. Tiny Tassel Earrings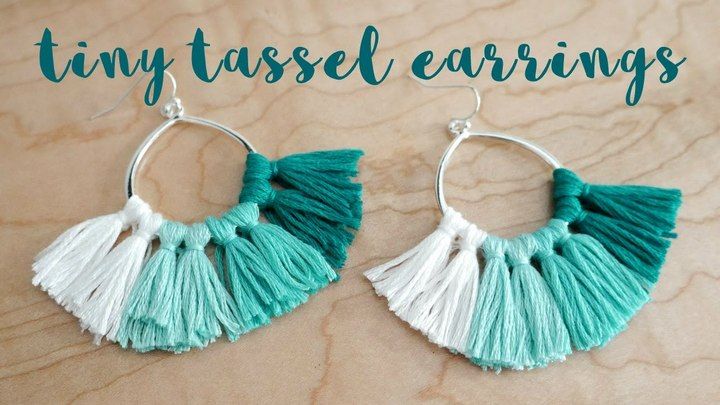 This tutorial will show you how to make adorable DIY tassel earrings. You can make your own earrings with just a few supplies. These DIY Tassel Earrings are my absolute favorite. These earrings are super cute and easy to make. These tassel earrings are easy to make. All you need is some embroidery floss and some embroidery thread. Tutorial
8. Women's Rainbow Tassel Earrings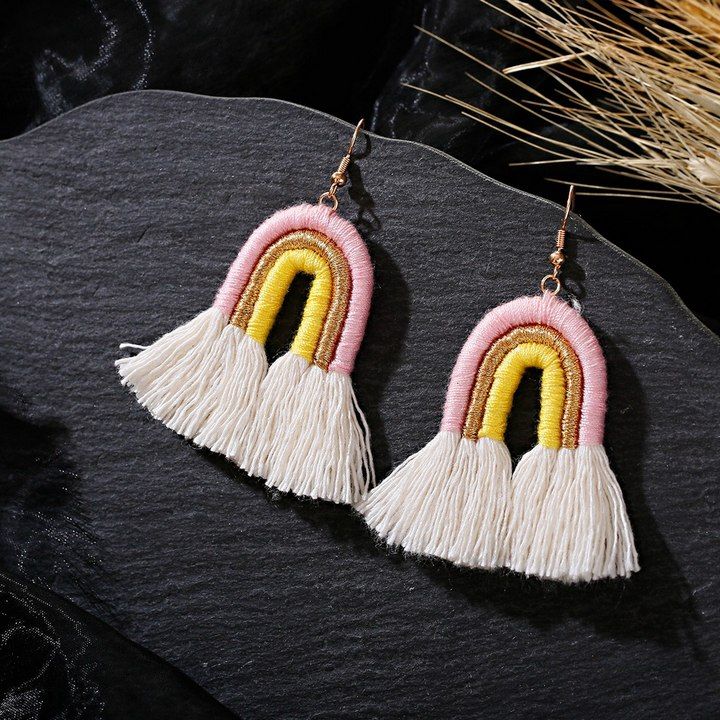 Tassel earrings are so easy to make, really fun, and you can make them in any and every color combination! The possibilities are literally endless! Most tassel earrings are really big—which is really fun, but not so much my style anymore. Tutorial
9. Yarn Tassel Earrings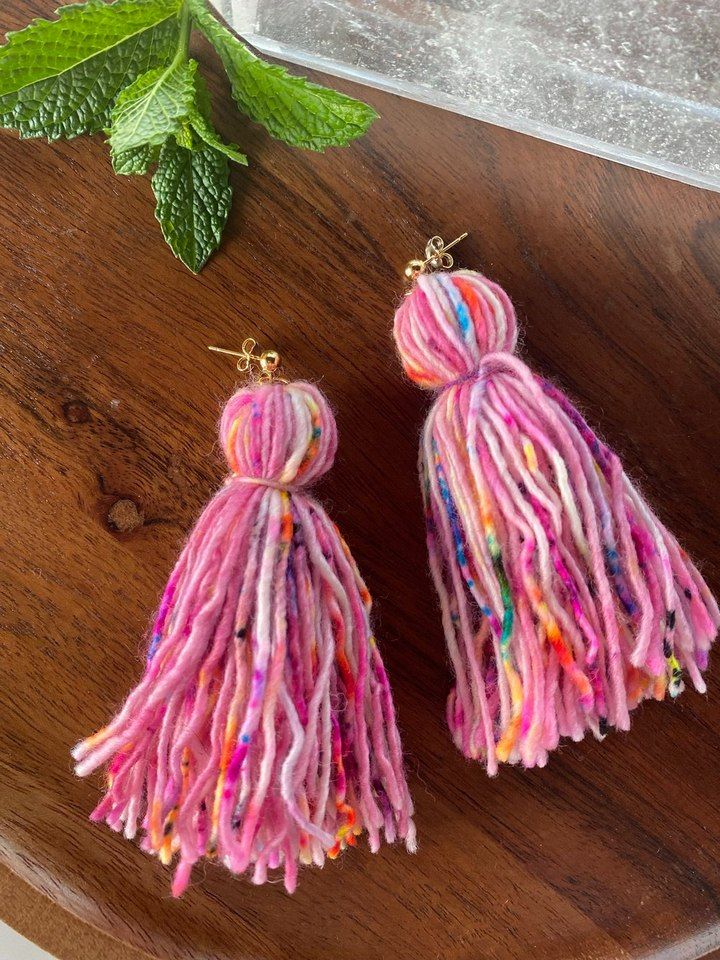 These tassel earrings are trendy and cute. They cost only a dollar per pair. You can make these tassels in any color you like. These tassels were made by my sister for Christmas gifts. Perhaps you should too. This project is great for beginners in DIY jewelry making. The tutorial is very easy. Tutorial
10. DIY Brass Fringe Earrings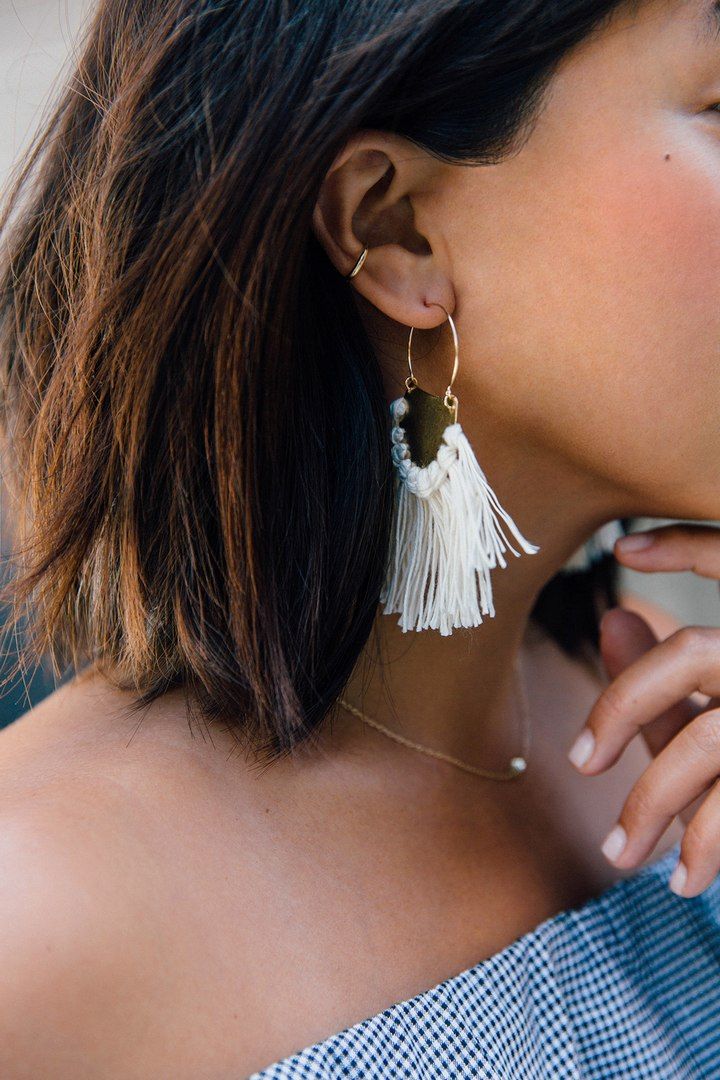 These handmade tassel earrings celebrate the beauty and versatility of yarn! These tassel earrings are made with special superwash and wool blend yarns. A pair of shoulder-grazing tassel earrings will make your look boho and stylish! Statement earrings are a great way to incorporate fringe into your look. Tutorial
11. Easy Boho Tassel Earrings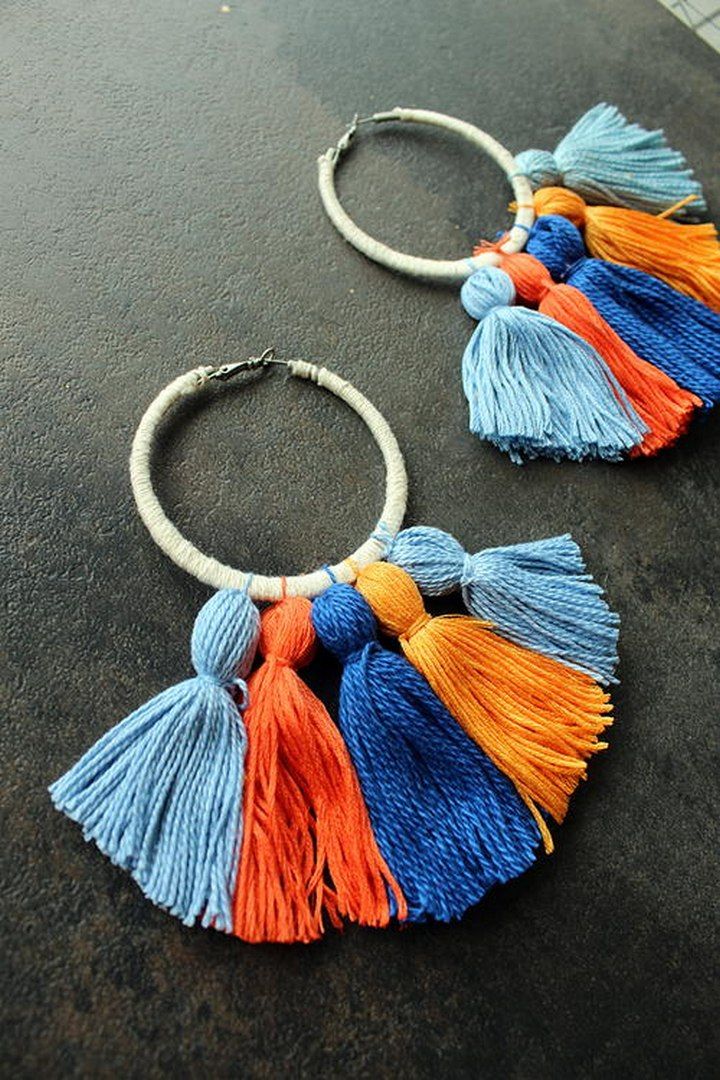 DIY Tassel Earrings: These handmade tassel earrings are super versatile thanks to their color scheme. These fringe earrings will suit any look, no matter if it's red, pink, or neutral. There are many styles and colors to choose from, so you can spice up your look with a pair of tassel earrings. To give the brightest tassel a pop, we love to pair them with neutral outfits. Or to bring out summer's bubbly vibes, we love to wear them with brightly colored dresses. Tutorial
12. Trendy DIY Tassel Earrings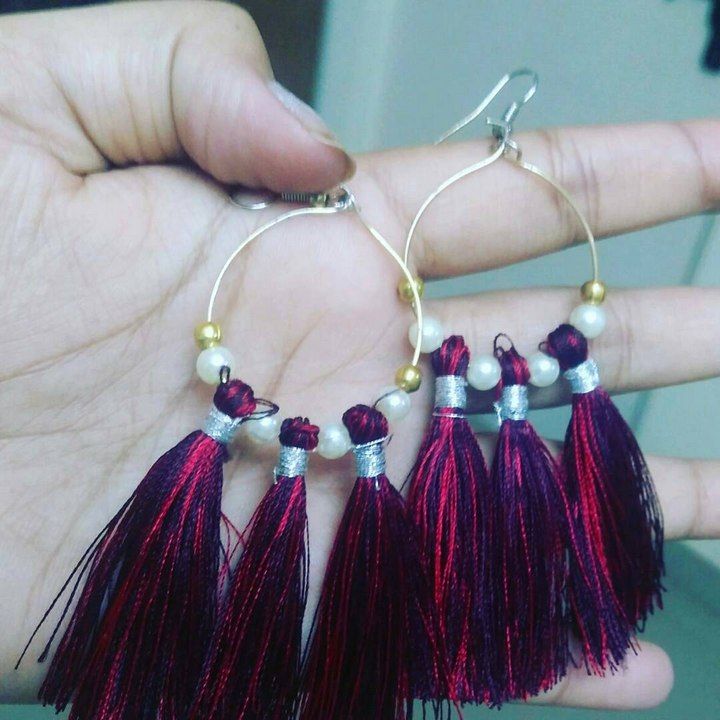 It was fun and relaxing. It is a simple project to make jewelry. To make the tassels, you only need some scissors and some glue. The only jewelry-making skills that you will need are how to use jump rings as well as how to use needle nose pliers for opening earring hooks. These are both very simple and can be done in the steps outlined in this post. Tutorial
13. Amazing Tassel Earrings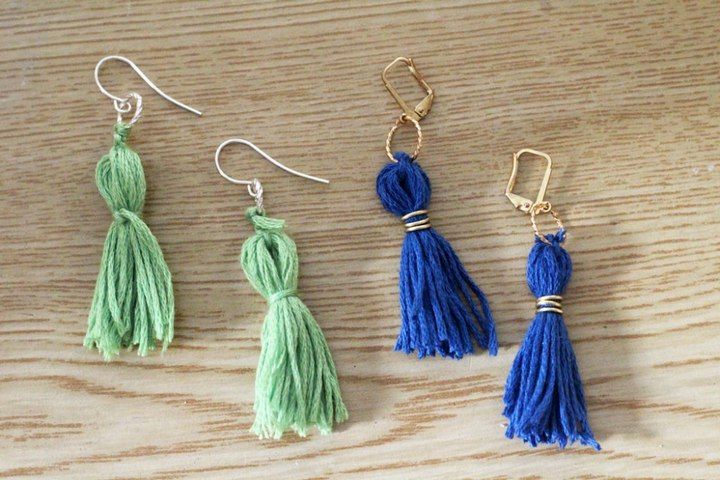 These DIY tassel earrings make a great jewelry-making craft for teens, teens, and teens at heart. We are huge fans of unusual jewelry made from unconventional materials. You'll find them here. There are so many tutorials to help you do this. n Moms & Crafters. These tassel earrings look classic but are still fun. You can make it in any color you like, or for your friends. It's easy, cheap, and addictive. Tutorial
14. DIY Tassel Earrings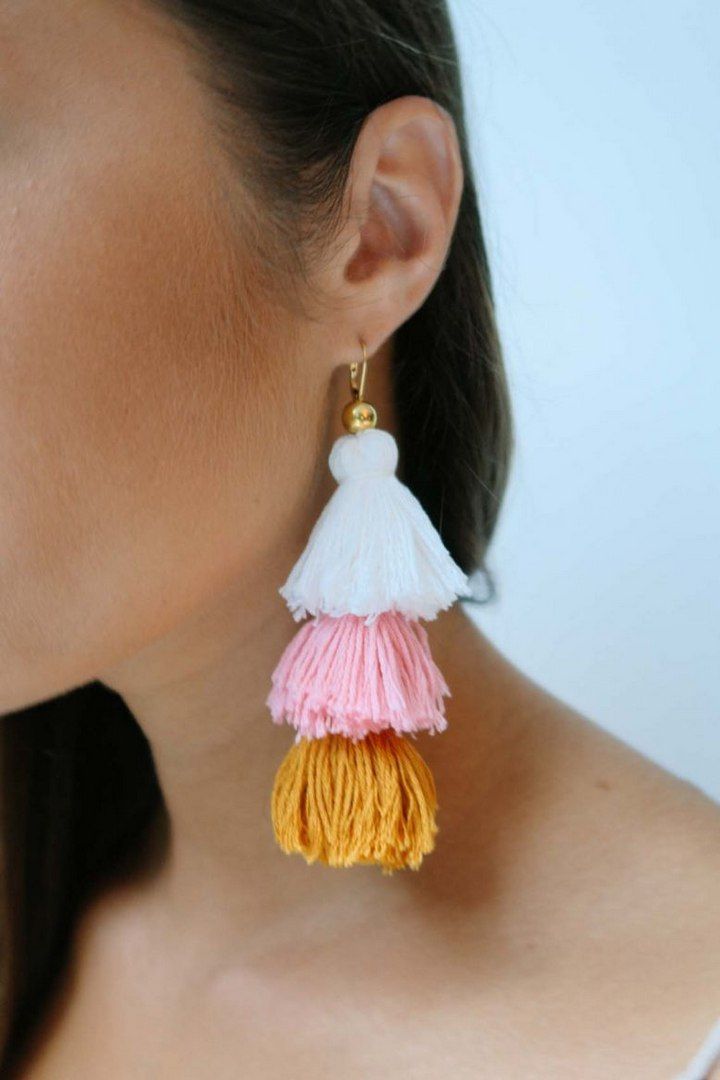 Are you looking to add color to your outfits? These three layers of tassel earrings are easy to make. For each tassel, you will need one bundle of embroidery floss. They are usually standard lengths so you can use them all to make your tassels. Tutorial
15. Different Colors Tassel Earrings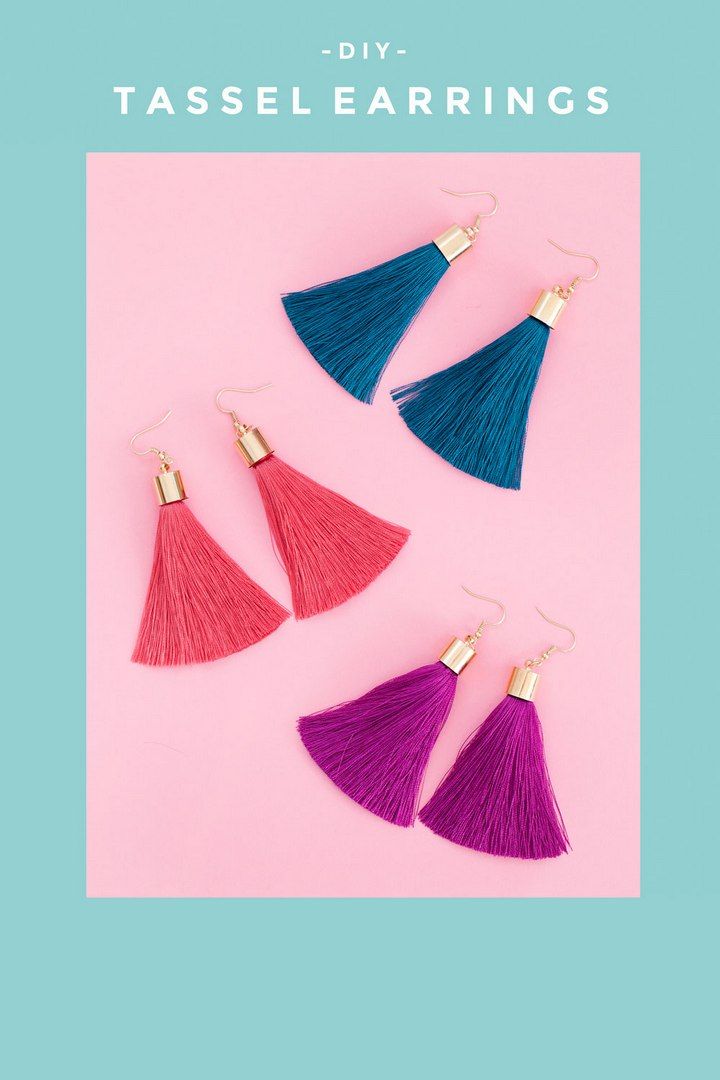 These tassel earrings are trendy and cute. They cost only a dollar per pair. You can make these tassels in any color you like. This project is great for beginners in DIY jewelry making. The tutorial is very simple. Tutorial
16. Quick & Easy DIY Embroidery Floss Earrings Tutorial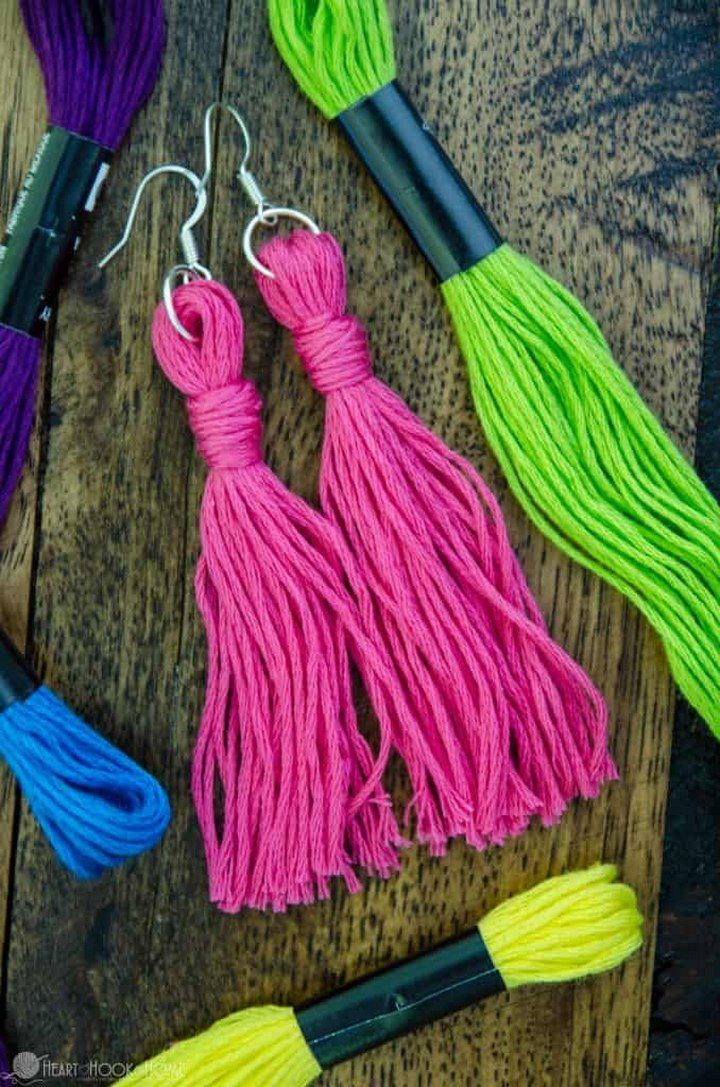 This is the perfect way to update your wardrobe in a flash! This fun tutorial will show you how to make these Embroidery floss earrings. These embroidery floss earrings are perfect for this quick tutorial because they have many qualities. These easy embroidery floss earrings make a great gift for little ones who just had their ears pierced. What's the best part? For each pair of earrings, you only need one skein of floss! Check out the instruction link! Tutorial
17. Tassel Earrings You Must Love – DIY Statement Earrings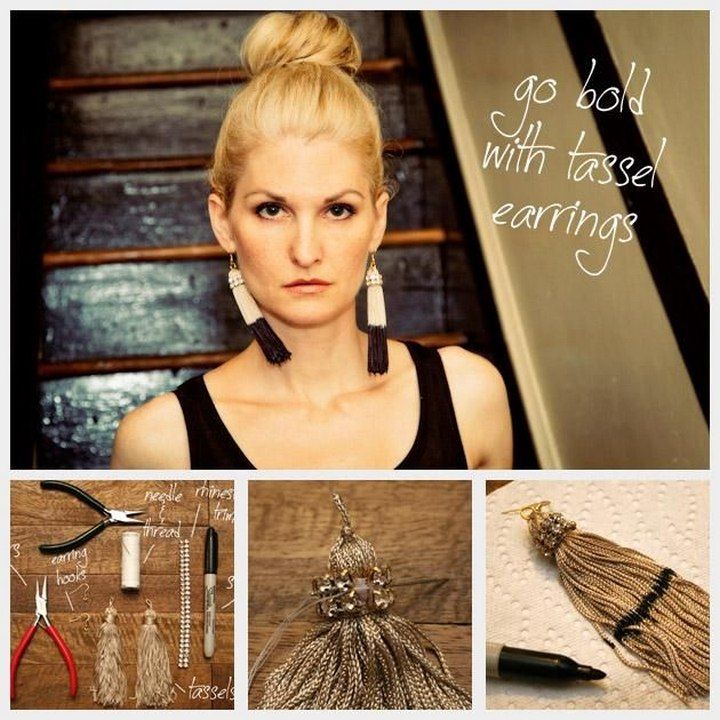 DIY Tassel Earrings: Statement earrings in gold tassel earrings will add glitz and glamour to your look. These tassel earrings are a refined and sparkly alternative to the traditional tassel design. These picks are perfect for special occasions, such as a wedding or night out. Tutorial
18. DIY Tassel Earrings – Step by Step Instructions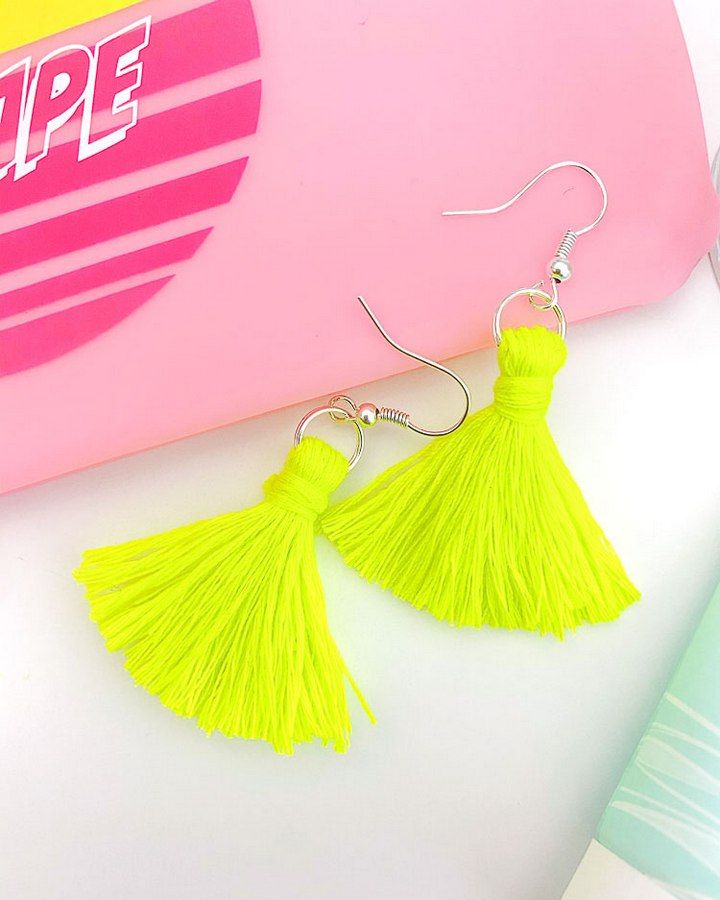 Tassel earrings are easy to make! These earrings are trendy and fun! They can also be customized in any color you like. Continue reading for a list of supplies and my step-by-step tutorial on how to make tassel earrings. What color will you choose? Check out the tutorial here! Tutorial
19. DIY Tassel Earrings Tutorial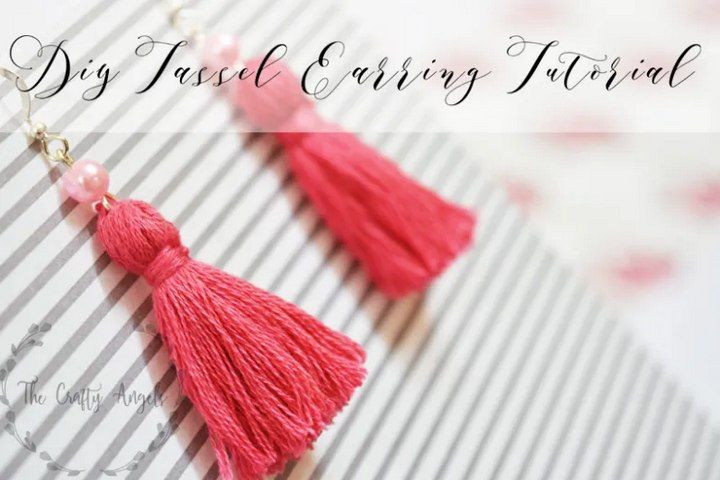 Tassels can be worn in so many places! These tassel earrings made with embroidery threads will give you that spring boho look! These boho pink tassel earrings will make you festival-ready. Add them to a messy bun for a party-ready look. It's like magic! Tutorial
20. Fun and Easy Tassel Earrings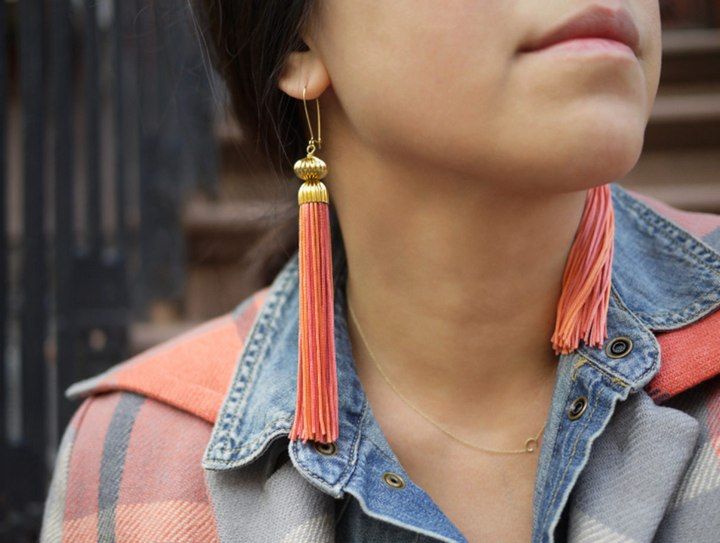 These trendy earrings are easy to make! Step by Step Trendy Boho Long Dangle Suede Fringe Earrings Simple tutorial to help you make your next fashion statement. Are you looking for that unique gift? You might be looking for that unique gift. These are the steps to make them. The links here will take you to where you can get the materials. Tutorial