Most of us have accessories all scattered in either drawers, cupboards or bathroom areas. With these 20 DIY Jewelry Organizer Ideas Easy Steps, you will be able to organize and manage everything in a better way. Among these projects you will find wall a variety of organizers such as wall mounted, cork board organizers, travel organizers with placement mats, wooden jewelry organizers and much more. With every project you will find tutorial, list of supplies and complete details so that you can easily get along.
Whether you have rings, necklaces, or earrings, these DIY Jewelry Ideas are perfect to keep your accessories safe, untangled and intact. If you also have nice collection of accessories, you must keep it carefully in any of these perfect organizers. With every project the list of supplies will guide and assists you in a wat that you will be able to easily catch up with them and make your own organizers all by yourself. Besides this you will also see tutorials that will explain you the entire process step by step.
1. An Easy Wall-Mounted DIY Jewelry Organizer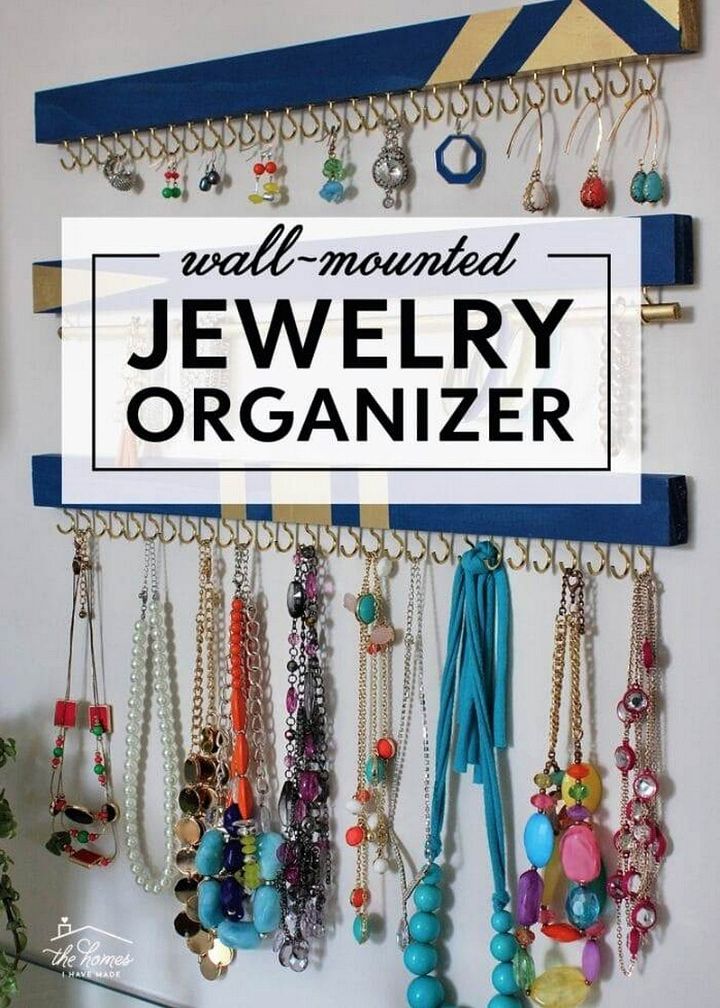 Have you ever wondered how your jewelry might look on the wall? If not then this project can give you an insight into this thought. Here we have a diy wall mounted jewelry organizer that you can easily make all by yourself. You will need plywood along with cup hooks, wooden dowel, paint and some other tools like painter's tape, ruler, pencil, drill, sanding block and command strips. Tutorial
2. DIY Easy Jewelry Organizer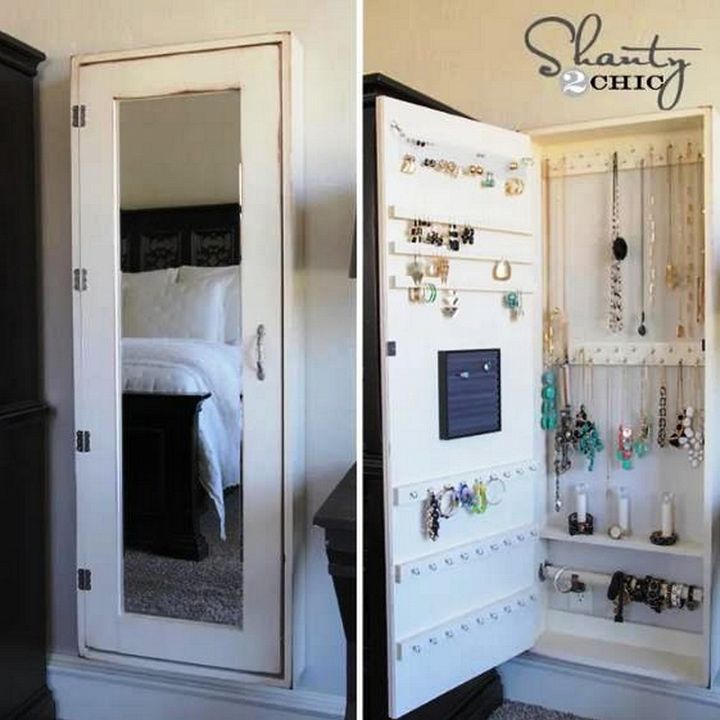 Have a look at this easy jewelry organizer here and see how you can make this all by yourself. This process is very easy. You will need a few supplies like ring tray, closet rod hanger, bass wood strips, dowel rod, plywood piece and a few more. Besides this you will also need frameless beveled mirror from target. Tutorial
3. Travel Hack – DIY Jewelry Organizer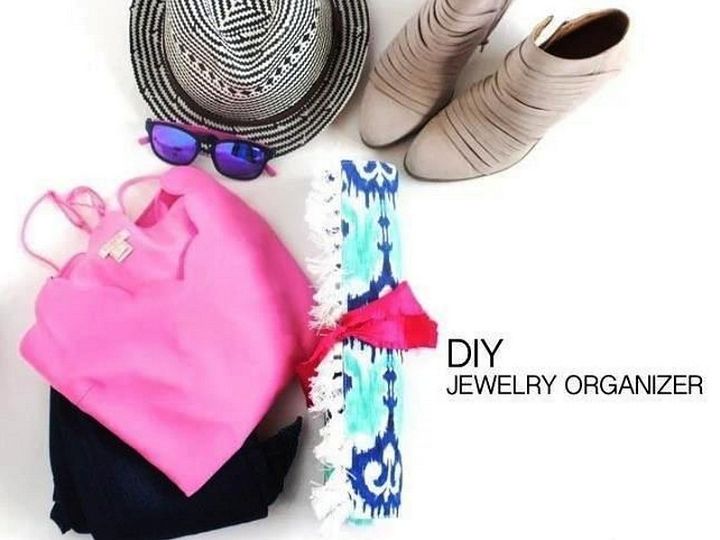 If you are also so much into travelling, you will surely love this hack about jewelry organizing. You will need to have a sink mat, placement, jewelry, small pouch and a circle hand punch. Follow the step by step instructions and you will be able to easily get along with this process. Tutorial
4. DIY Amazing Jewelry Organizer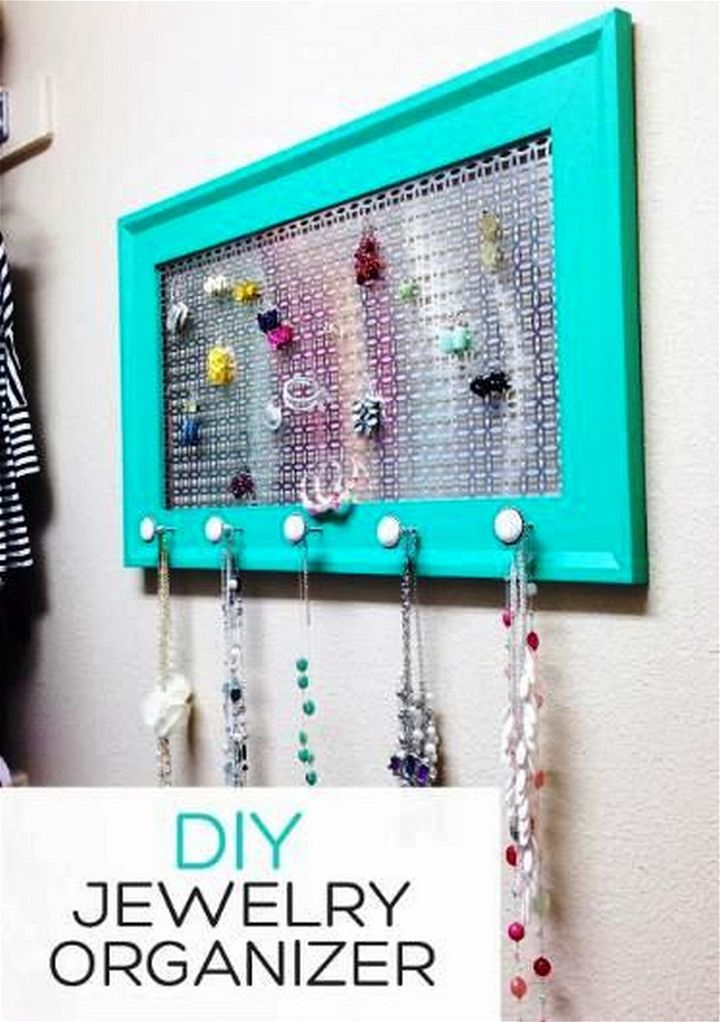 This is definitely an amazing jewelry organizer idea that we have here. For this project you need a few things such as decorative metal sheets, a picture frame, decorative knobs, primer and paint and glazier points. Grab the supplies and make this easy organizer. Tutorial
Perler Bead Patterns – To make some enjoyable crafting, take a look at for these 20 top and free Perler pattern for beads concepts, designs and ideas that are truly imaginative and creative.
5. DIY Jewelry Organizer – Free Plans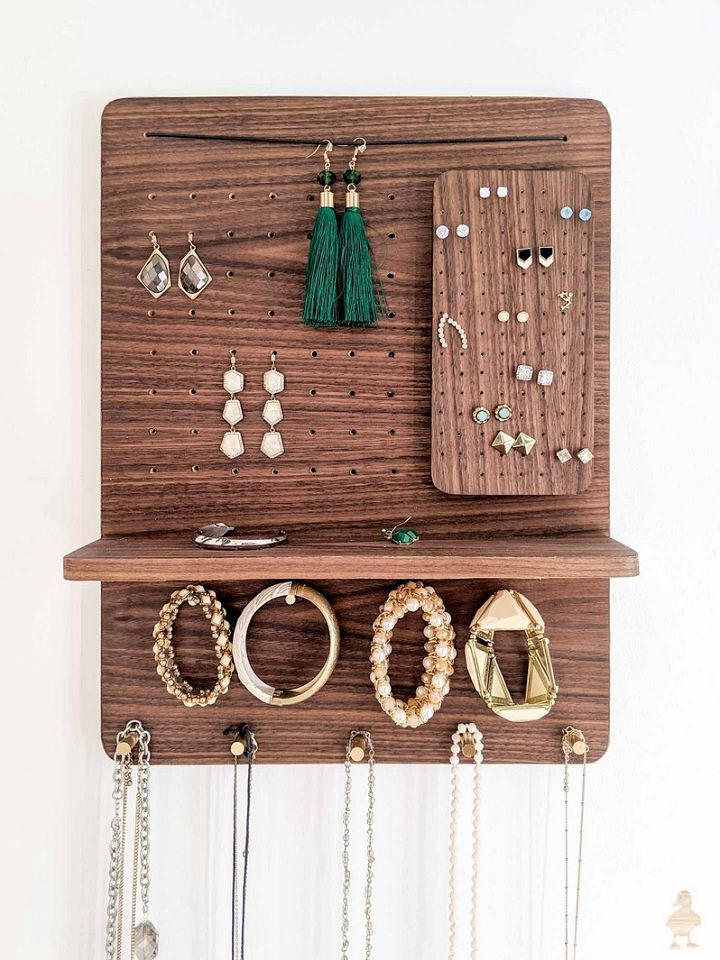 This free plan is all about making a jewelry organizer that can hold all your jewelry easily and the display style is also very cool. This organizer will easily manage your larger earrings and studs. You will need walnut plywood, scrap wood, assorted brass rod, walnut edge banding, super glue, wood glue, pencil, mint tin, double sided tape, black stretch cord, wooden dowel, mini magnets, maker brand and monkey hooks and some basic tools. Tutorial
6. Easy DIY Jewelry Holder To Organize Necklaces Tangle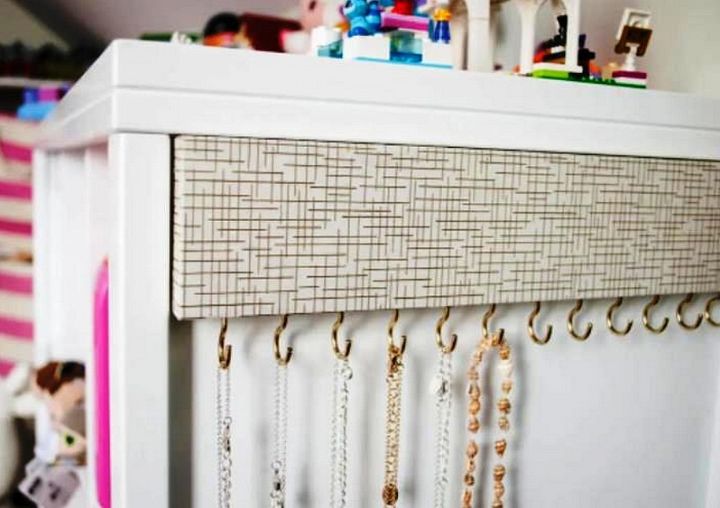 If you are also looking forward to organize your necklaces, this diy project will be of great help. With this diy jewelry organizer your necklaces will not get tangled anymore. The display style in this organizer is also very cool. Grab the supplies and craft in order to achieve the best results. Tutorial
7. DIY Travel Jewelry Organizer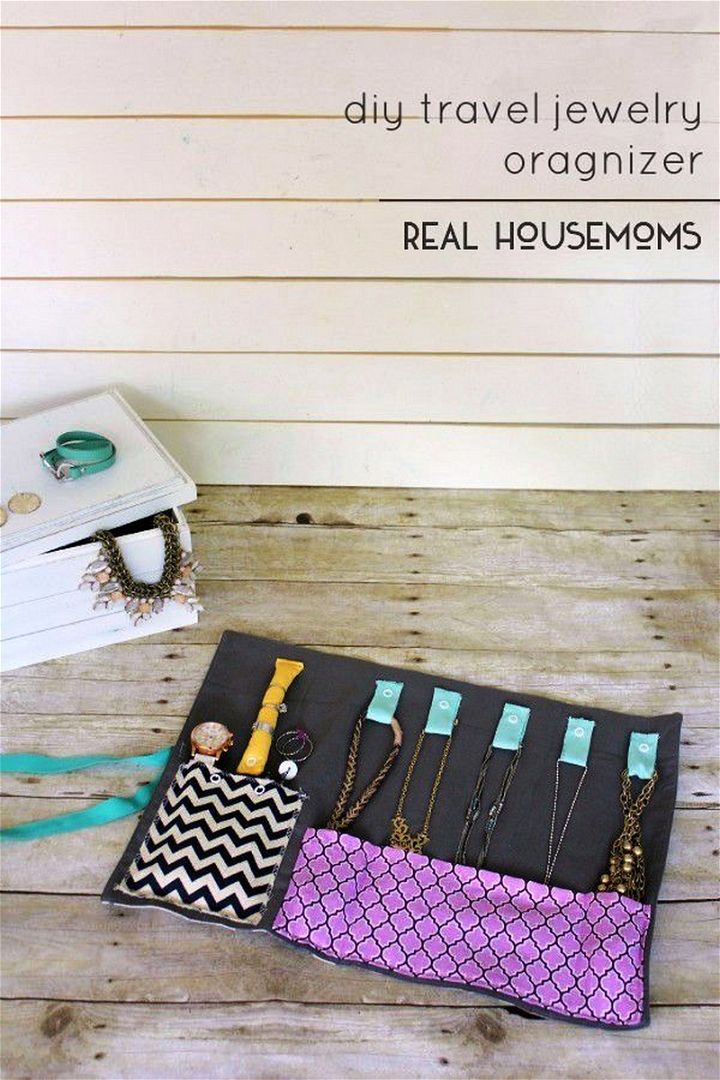 Have a look at this diy travel jewelry organizer here and see how some of the amazing results comes in towards the end. You will need a placement mat along with scrap fabric, snaps, snap setter, ribbon and Polly fill. You will start off by cutting the fabric first. Tutorial
DIY Fashion Ideas – In the summer we can add accessories such as headbands, accessories, glasses and colorful sandals. because the thick outer clothing will peel off So the whole project is worth considering. Do you need a headband to do your hair or do you need custom slippers? This review has it all. You can see it Here:
8. DIY Jewelry Organizer (Storage Ideas)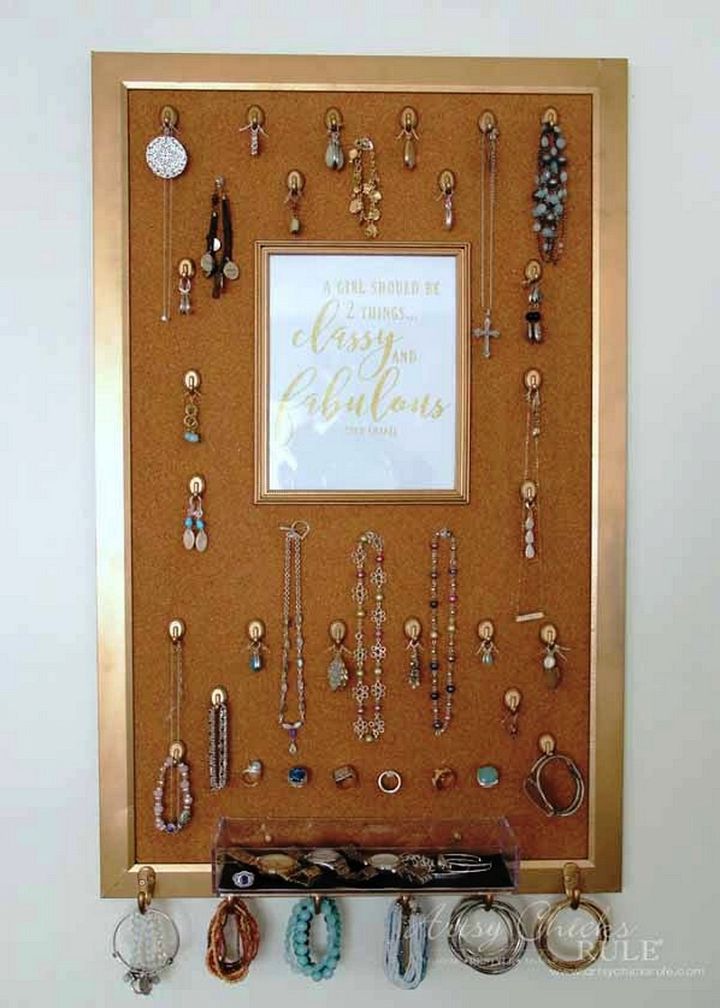 If you are thinking about storing your jewelry pieces in an organized way, you will definitely find this project very helpful. You will need supplies such as hook push pins, robe hooks, vanity organizer, gold spray paint and any size of corkboard. grab your supplies and get started with this amazing mission. Tutorial
9. How To Make A Jewelry Oraganizer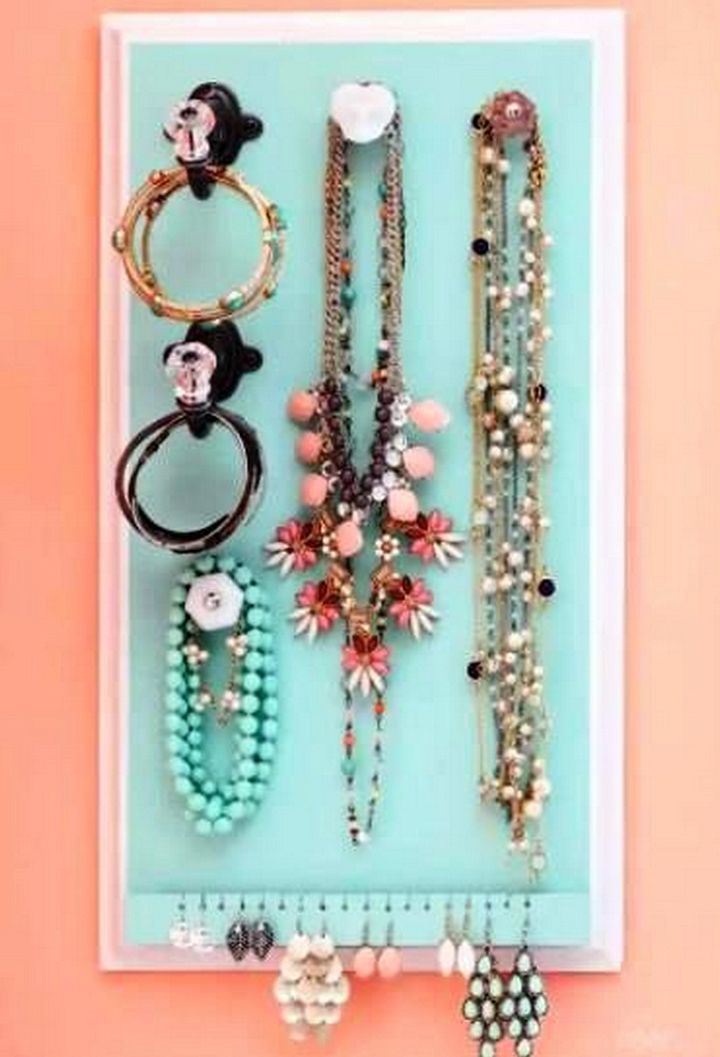 This seems to be the simplest jewelry organizer of all times. You can also create this jewelry box and keep your accessories arranged in a better way. This jewelry organizer seems perfect for bathrooms and will help you tidy the windows of the bathrooms. Gather the supplies and with a little bit of effort you will be able to see some amazing results coming up. Tutorial
10. DIY Jewelry Organizer – Free Sewing Pattern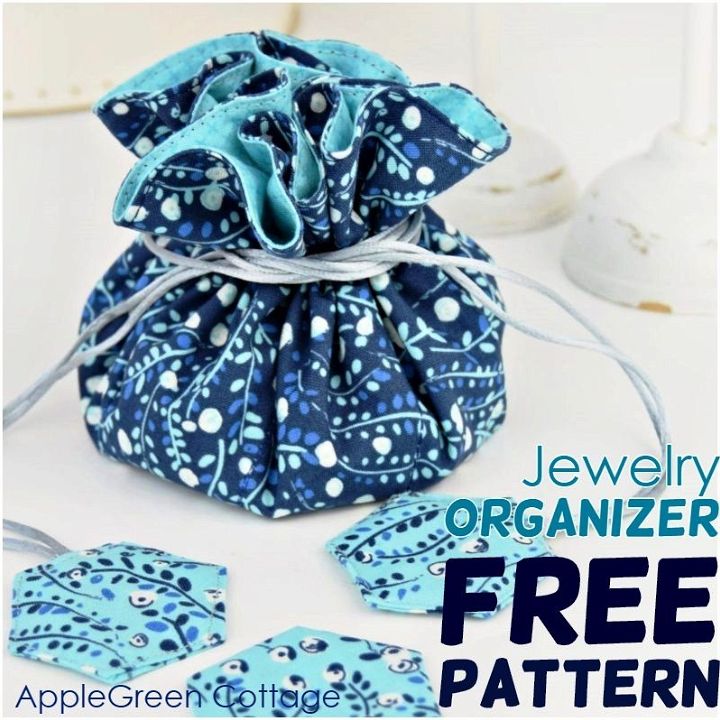 In this project you will learn to make an organizer with a free sewing pattern. If your accessories and jewelry items are also kept in an unorganized way somewhere in your drawers, this organizer for jewelry will help you arrange everything in order. This diy jewelry organizer will keep your stuff safe and intact for a longer time. Tutorial
Heishi Beads Bracelet Ideas – No matter how old you are, no one can stop loving Bracelets! The most elegant and seductive beaded bracelet will brighten up your day a little. Create a small symbol of hope, love and style. Whether it's for yourself or for your gang of girls.
11. Easy DIY Jewelry Organizer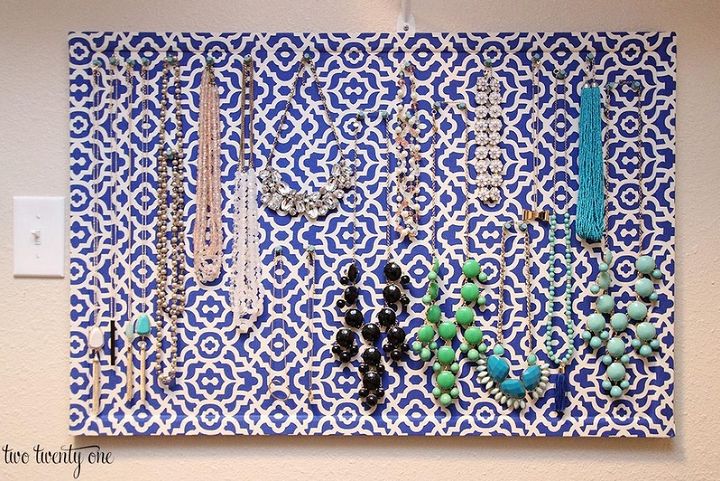 This might be the easiest way to keep your jewelry organized and arranged in a better way than ever before. You will need fabric along with some basic tools such as glue gun, chalk paint, spray adhesive, scissors and cork board. You can now make the collection of your accessories more presentable and displayable like never before so get started. Tutorial
DIY T-Shirt Makeovers – It's actually not that difficult and many of the t-shirt transform tutorials here take between minutes to seconds! Let's begin refashioning them into fashionable, trendy and trendy designs that you and your loved ones are sure to love! Here's some suggestions for how! Check out
12. DIY Geometric Wall Jewelry Organizer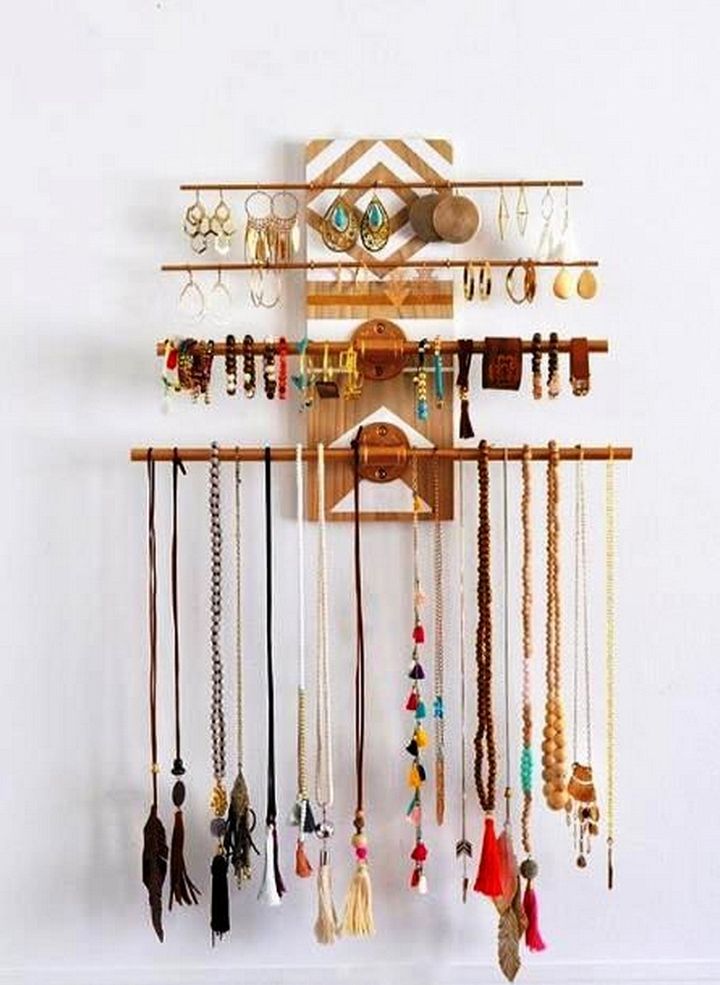 Geometric wall decoration crafts are very popular these days. this project will show you not only about making a geometric wall art piece but will also teach how you can use that craft as a jewelry organizer. Take out all your accessories from everywhere in the house and display them on any wall in your room like this and you will surely be amazed by your own skills and creativity. Tutorial
13. Create A DIY Jewelry Organizer Using A Cheap Sewing Thread Rack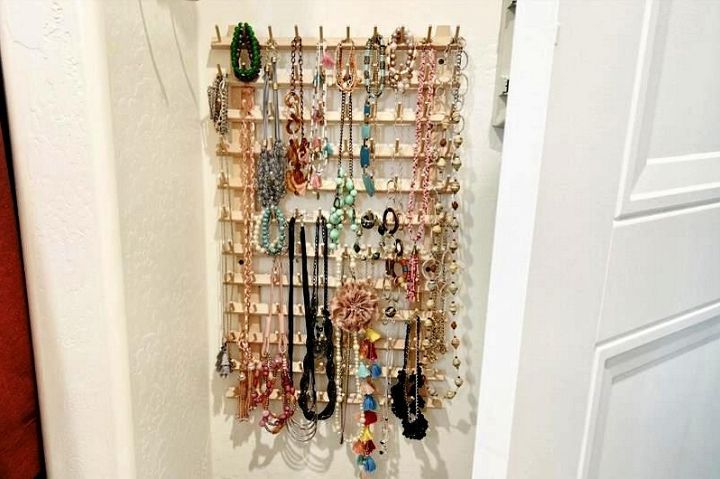 This is basically a sewing thread rack over here turned into a jewelry organizer. You can also make this organizer with the help of this project. You can hang all your necklaces over this rack and they all will look great and will remain smoothly untangled Tutorial
14. Best DIY Jewelry Organizer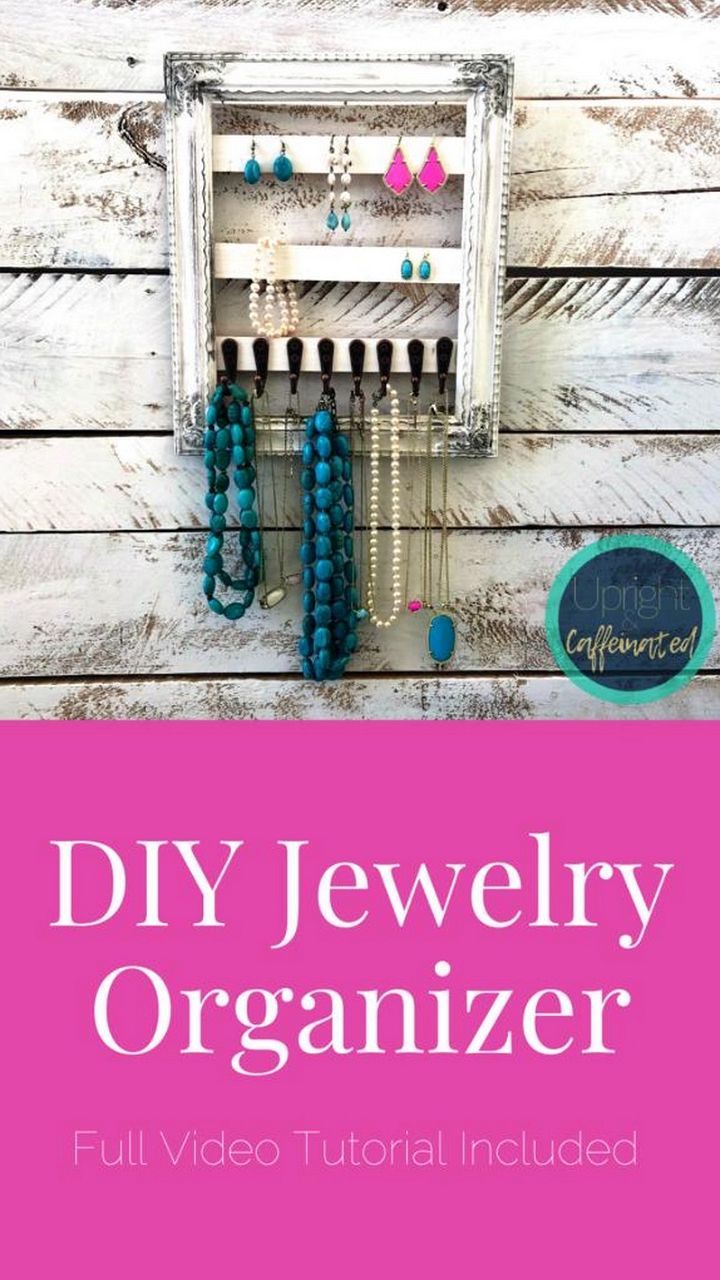 This might be the best jewelry organizer that you have ever seen. You will also find jewelry boxes and organizers in stores but they are all very expensive and not completely according to our choice. You can now make your customized jewelry organizer in a much lower cost and that too very easily. Tutorial
15. Tidy Up Your Trinkets With A DIY Wall Jewelry Organizer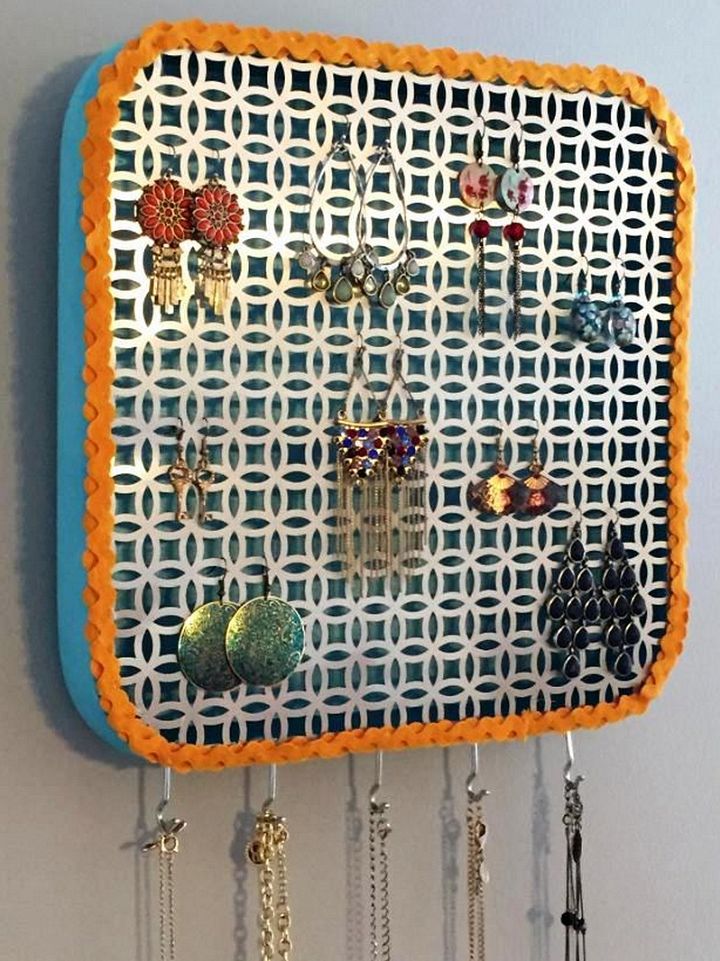 This diy jewelry organizer is made suing a wooden tray and it looks absolutely amazing. Besides this a decorative aluminum sheet is also used. You can now keep your jewelry safe in style with the help of this project. Follow the steps and you will be able to easily get along with the process. Tutorial
16. DIY Corkboard Jewelry Organizer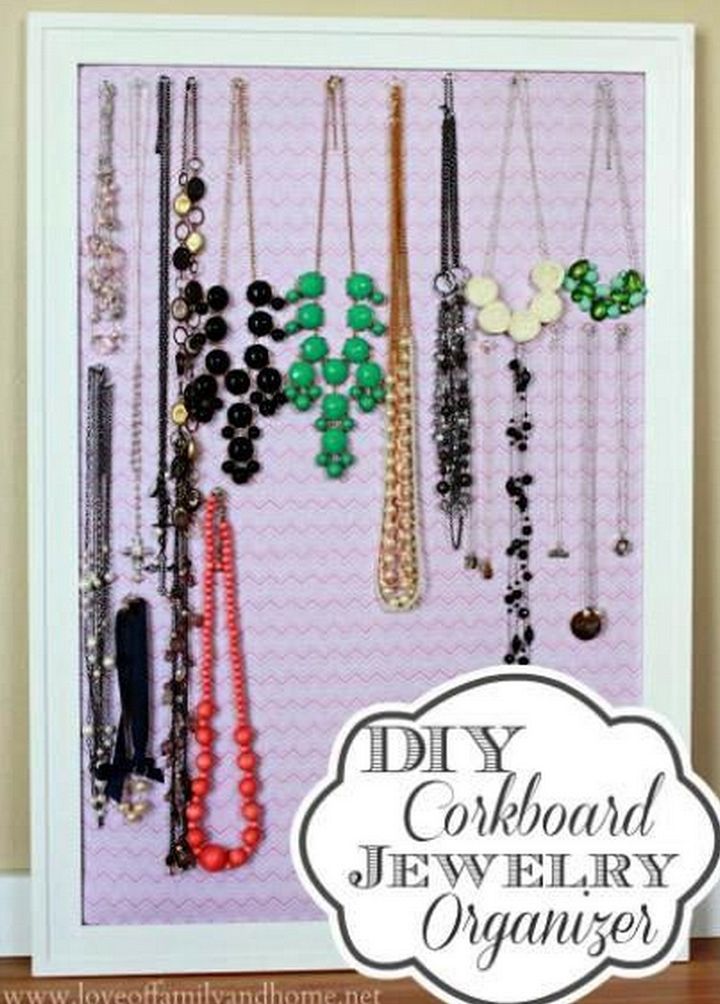 Here in this diy project you will be able to learn to turn a corkboard into a jewelry organizer. Your jewelry will now be more safe and that too in style with this craft. You can now manage your jewelry in a better way than ever before. Grab the supplies that are needed here to make this craft and get started. Tutorial
17. How To Make A Rattan Jewelry Organizer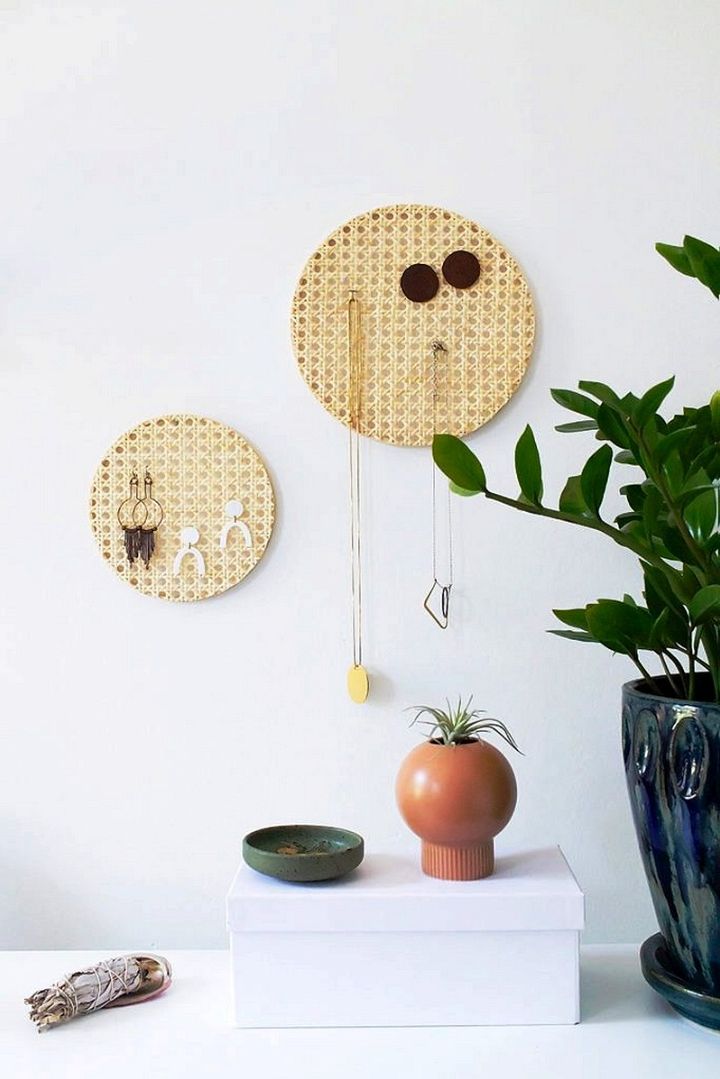 This is a rattan jewelry organizer idea that we have here. You can also organize your jewelry in a better way now with this craft. The materials that we need here are cane webbing, embroidery loop, strong clear glue, scissors and heavy objects to weigh down the rattan. Besides this t pins and super glue are optional Tutorial
Beaded Necklace Ideas – Check out these 33 Necklace Ideas for Beaded Jewelry Simple Designs that you can create by yourself.
18. How To Make A DIY Jewelry Organizer From A Common Thrift Store Find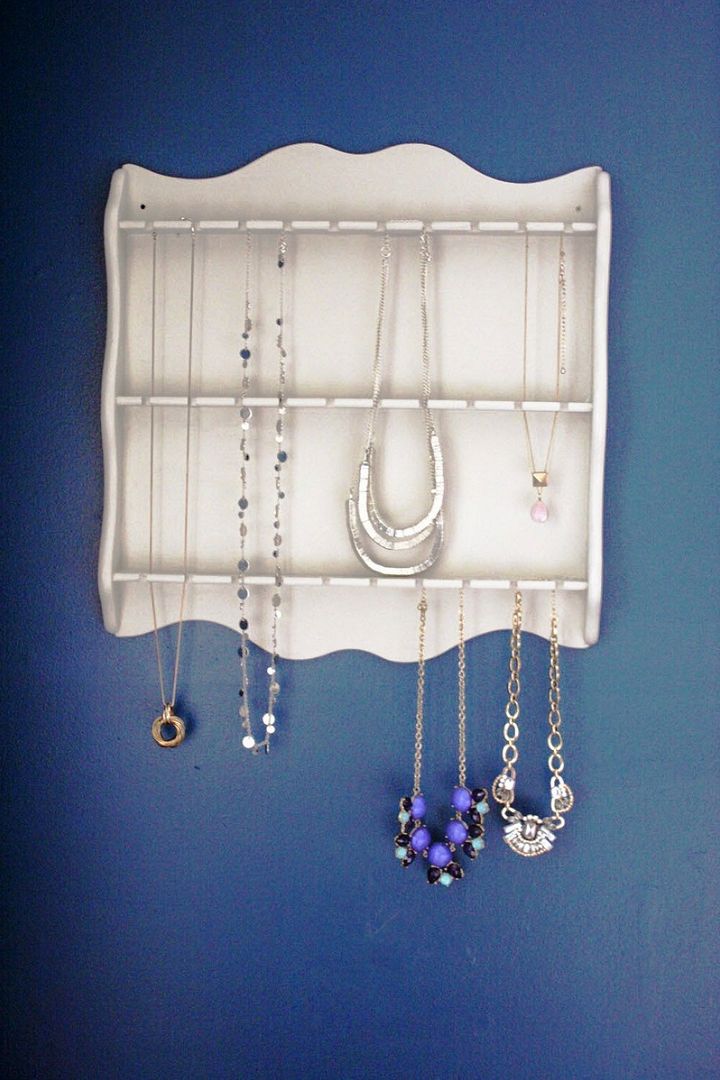 The supplies that you need to make this diy jewelry organizer are easily available at any thrift store easily. This project really seems to be an inexpensive way to organize your jewelry and manage it in a better way. This craft will not only organize your jewelry but will also look decorative over any wall. Tutorial
19. How To Make A Easy DIY Jewelry Organizer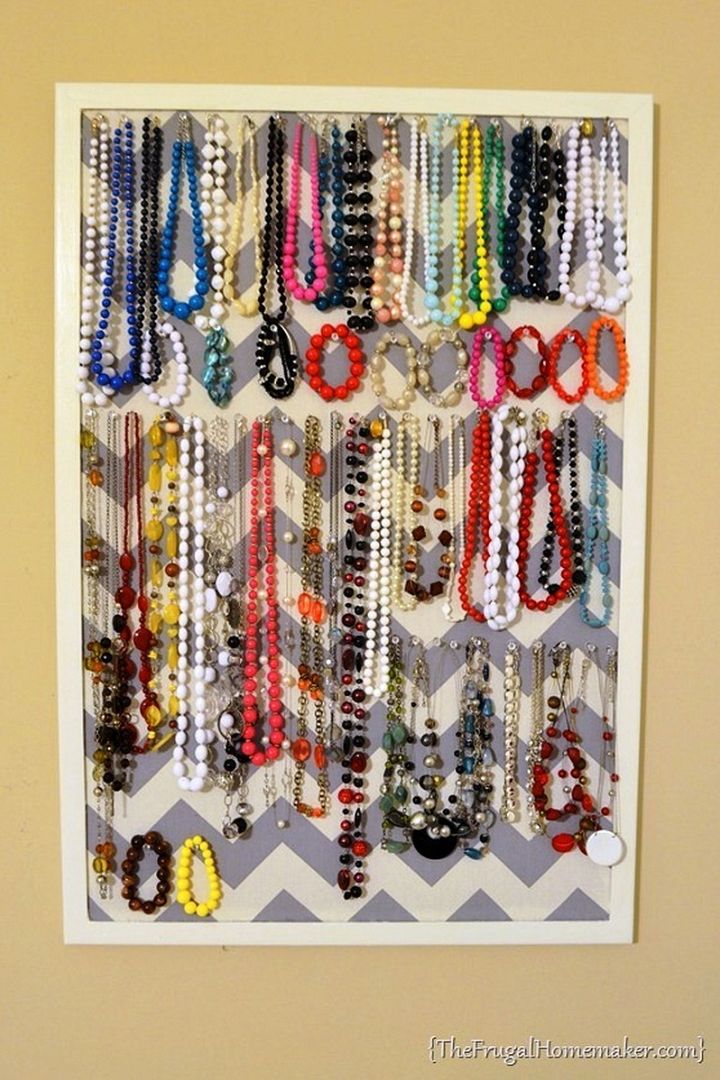 This project will guide you through the process of making a very nice jewelry organizer for all of your accessories. This is an inspirational project and you can also follow this through this step by step process. You do not need to leave your jewelry tangled up from now because you can arrange them all in a nice way and display in a beautiful style. Tutorial
20. DIY Ring And Earring Jewelry Organizer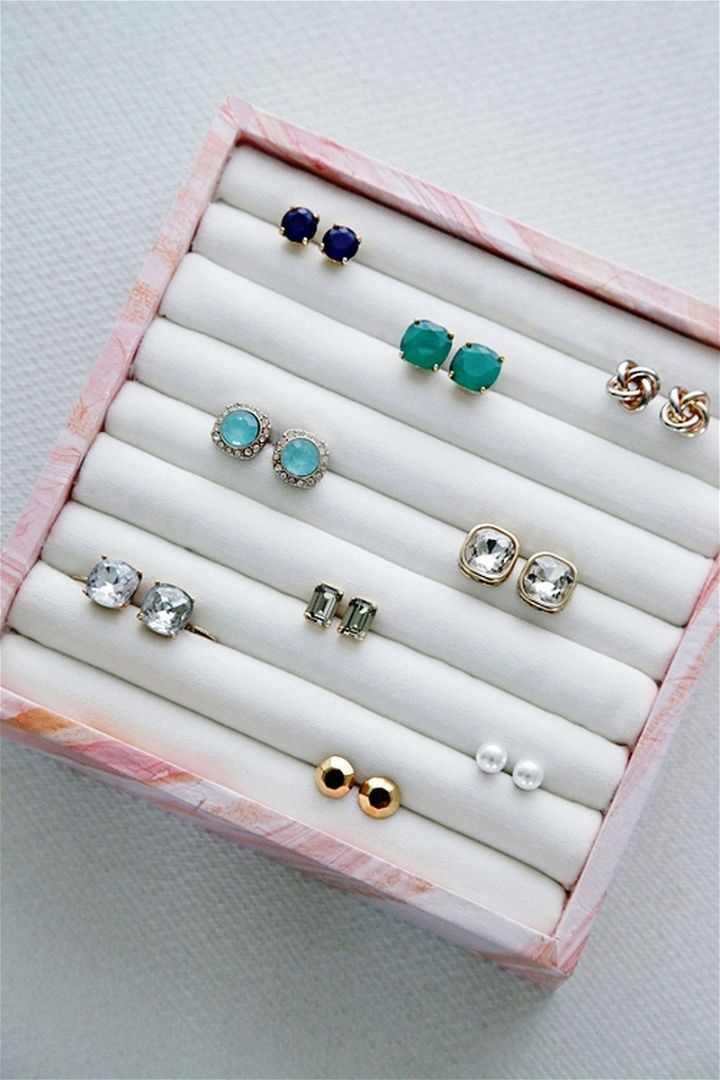 It happens a lot of times that our rings get lost anywhere in the jewelry section and it gets difficult to find them. However with this diy project you will be able to create a ring organizer all by yourself. Now you can keep all your rings safe and managed in a better way than ever before. For this you need to have supplies such as dowels, felt, unfinished wood box, gift wrap and fabric Tutorial
Conclusion:
Accessories are mostly expensive and we can't afford to destroy them just because of the way of keeping them. Pick and choose any of your favorite projects from here and see how you can work on them to achieve the best and desired results.