Necklaces are an accessory that is loved by most of us especially when it comes to events like Weddings and formal gatherings. In addition to that, some informal gatherings are also such that we can wear some casual and funky necklaces. Try these 33 Beaded Necklace Ideas Easy Patterns that you can easily make all by yourself. Grab the supplies that you need for making beaded necklaces and start this mission right away. Make your jewelry collection fancier with these beaded necklaces.
Pick your favorite ideas from here and do this activity full-heartedly so that you will have Necklaces for every occasion. You can add beads with different colors so that they can match your outfits. Some of the supplies like wires, tassels, fabric, and some more will add to the beauty of these necklaces. Some colors like royal blue stand out when it comes to jewelry and accessories. Besides this nail paints can also play a great role in creating these statement pieces.
1. How To Make An Easy Beaded Necklace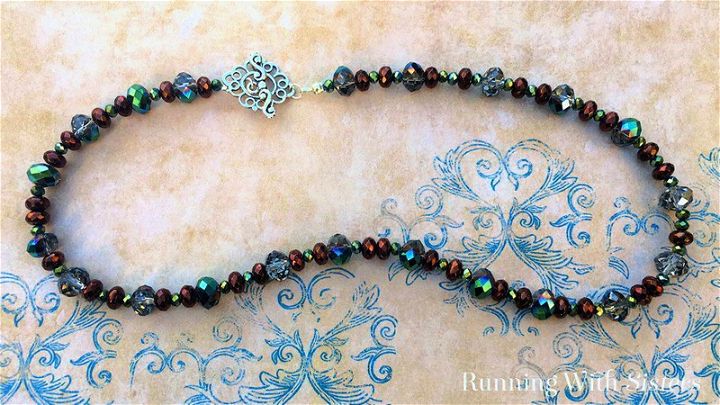 Sometimes we look at a strand of beautiful beads but don't know what to do with it. You will have all the answers to the questions that appear in your mind while you are at a craft store and thinking of making something out of beads. Here is a complete tutorial that shows how you can make a Beautiful Beaded Necklace. here!
2. DIY Color Blocked Disk Beaded Necklaces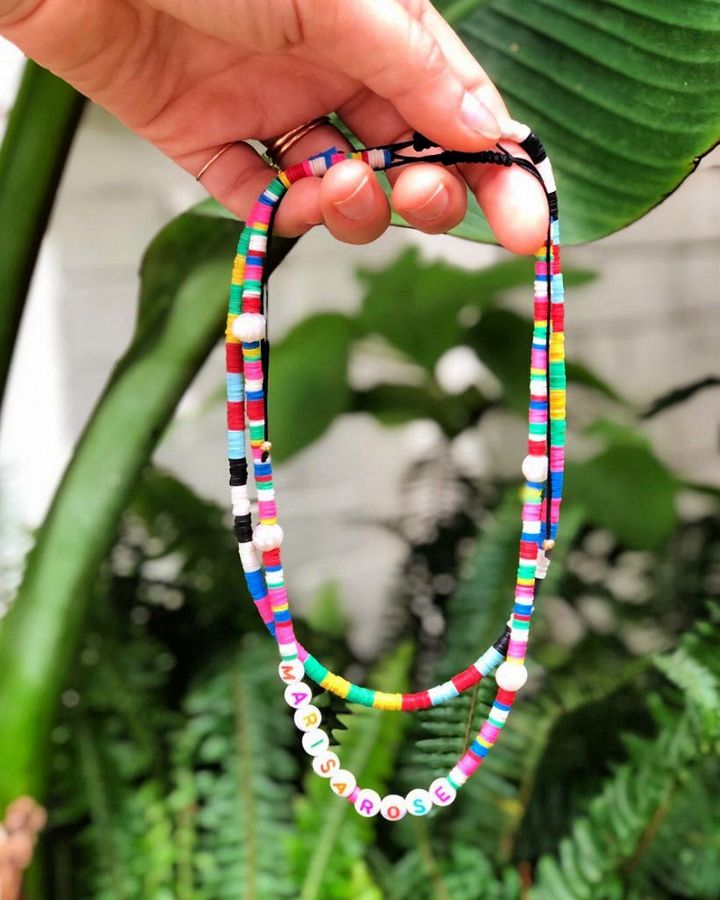 Beaded Necklace Ideas: For this amazing creation, you need to have quite a few supplies. Besides basic tools, you need African vinyl disk beads, knotting cords, spacer beads, beading necklace, needle threader, tapestry needles, lighter, washi tape, bead board, or trey. All the efforts of collecting these supplies and crafts and putting them together to make a beautiful color-block beaded necklace are worth it. here!
3. DIY a Simple Royal Blue Beaded Necklace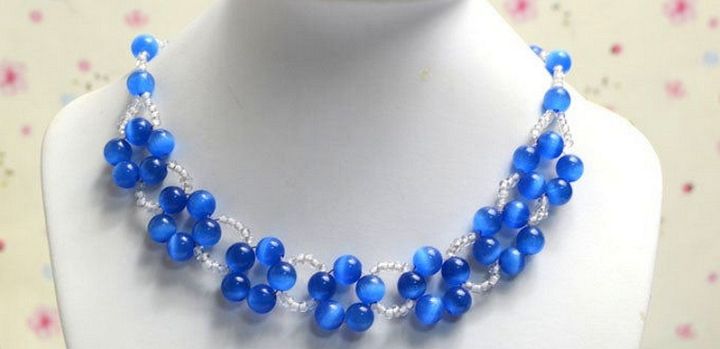 This is a simple kind of necklace with a beautiful color. It's a DIY royal blue colored beaded necklace that you can easily make with some beads that you can buy from a craft store.. It's an elegant and classy necklace for your beautiful neck. here!
4. Beaded Seashell Necklaces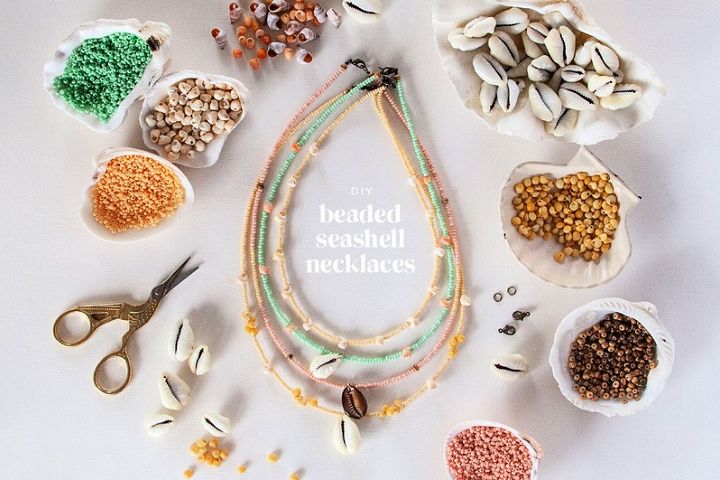 Seas shells have been exclusively used in jewelry making. Here is his DIY beaded necklace. they have used a small quantity of shells only in the middle. The rest of the necklace is all about beads as you can see. You can find these shells from any craft store and make use of them intelligently. here!
5. How to Make a Multi-Strand Beaded Bib Necklace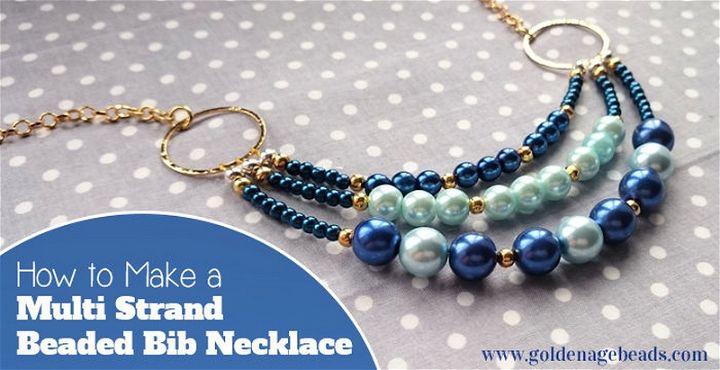 This is a multi-stranded beaded necklace that you see here. This necklace looks stunning with both western and eastern outfits. You can add and lessen the number of strands here but this three-layered necklace definitely has a class. Select two of your favorite colors for this project and make an amazing combination. here!
6. Beaded Necklace Instructions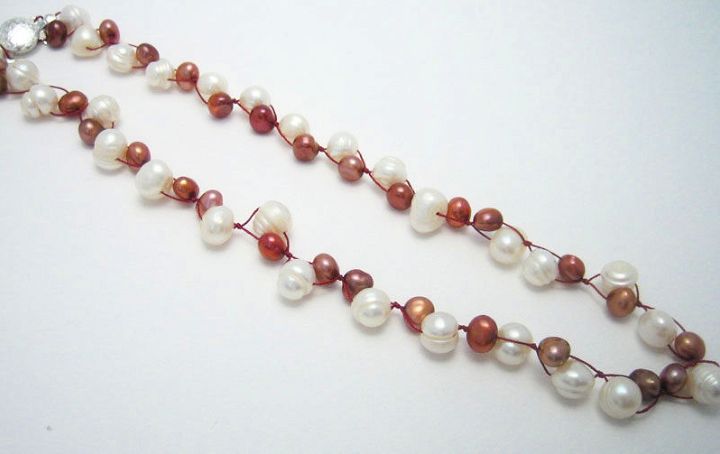 This is a step-by-step instructive tutorial for making a DIY necklace. Follow the steps carefully and you will achieve some outstanding results in the form of this masterpiece. It's a simple necklace with some basic ideas provided to you so that if you are a beginner you can learn easily through simple steps. here!
7. Handmade Gifts – Beaded Necklace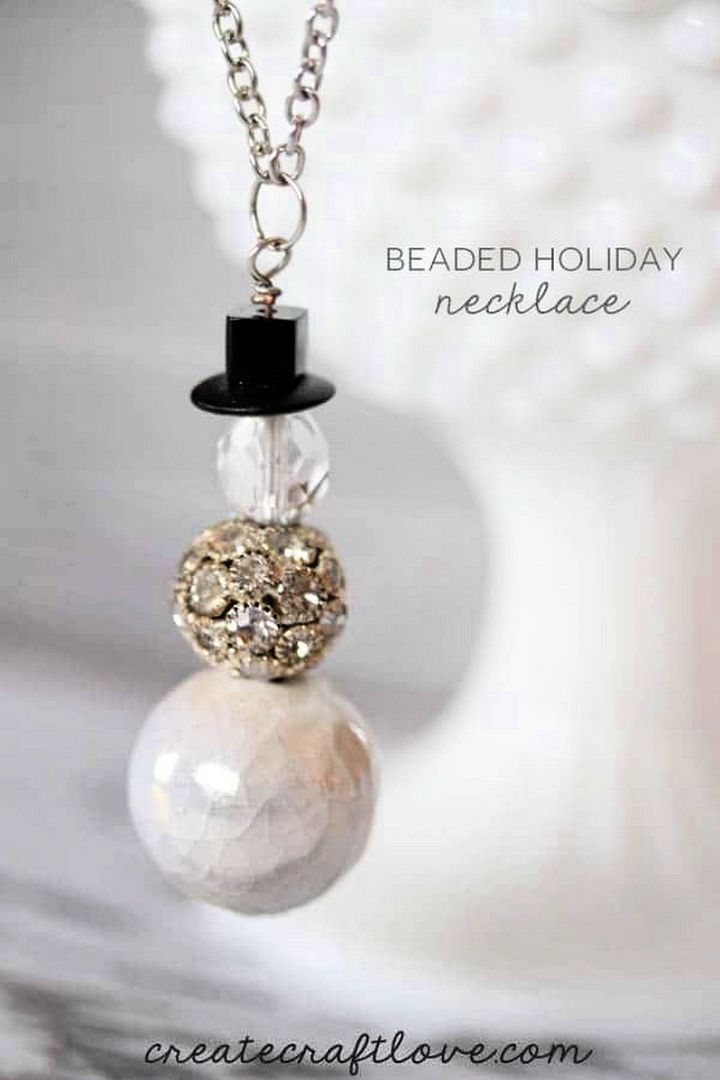 Beaded Necklace Ideas: This DIY necklace is perfect for giving as a gift, especially to a teenage girl. Handmade things are always special and thoughtful. If you are giving someone a handmade necklace, it's definitely showing an immense amount of love for them. Show your affection with this special gift. here!
8. DIY Enamel Candy Disc Necklace Tutorial by Honestly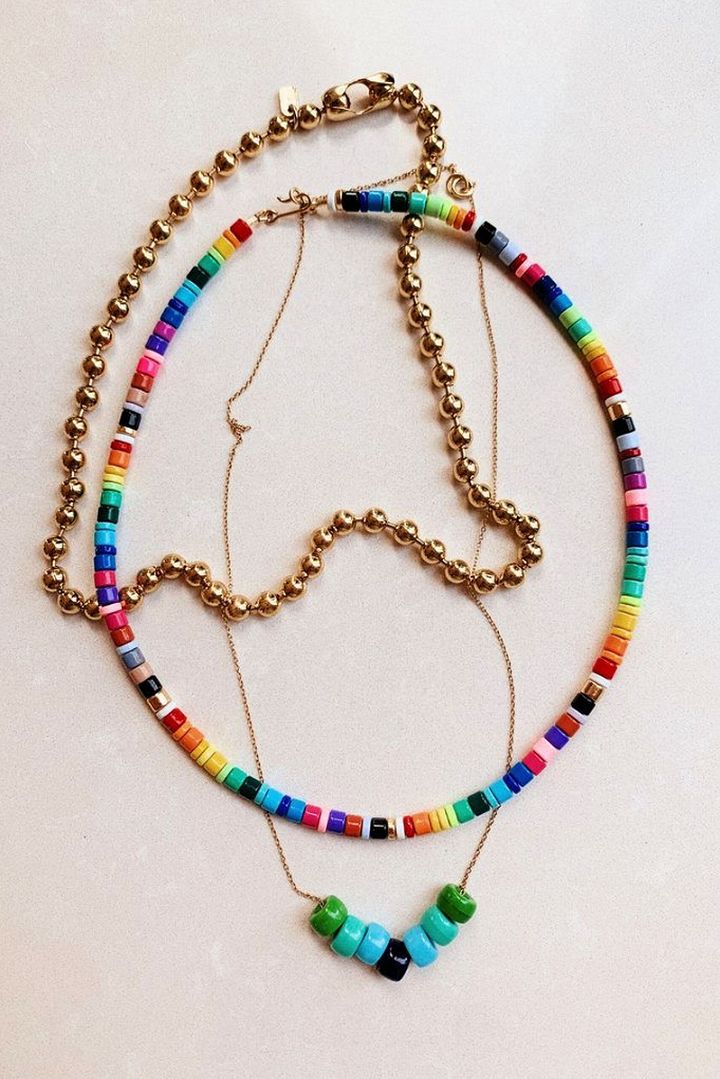 This is an enamel candy necklace that you see here. This DIY necklace is specially designed for little girls. Young girls do like to wear multicolored and funky jewelry to different occasions. This necklace is a perfect go-to jewelry item for such princesses. Grab the supplies that you need for this and make your little girl happier than ever. here!
9. Beaded Daisy Necklace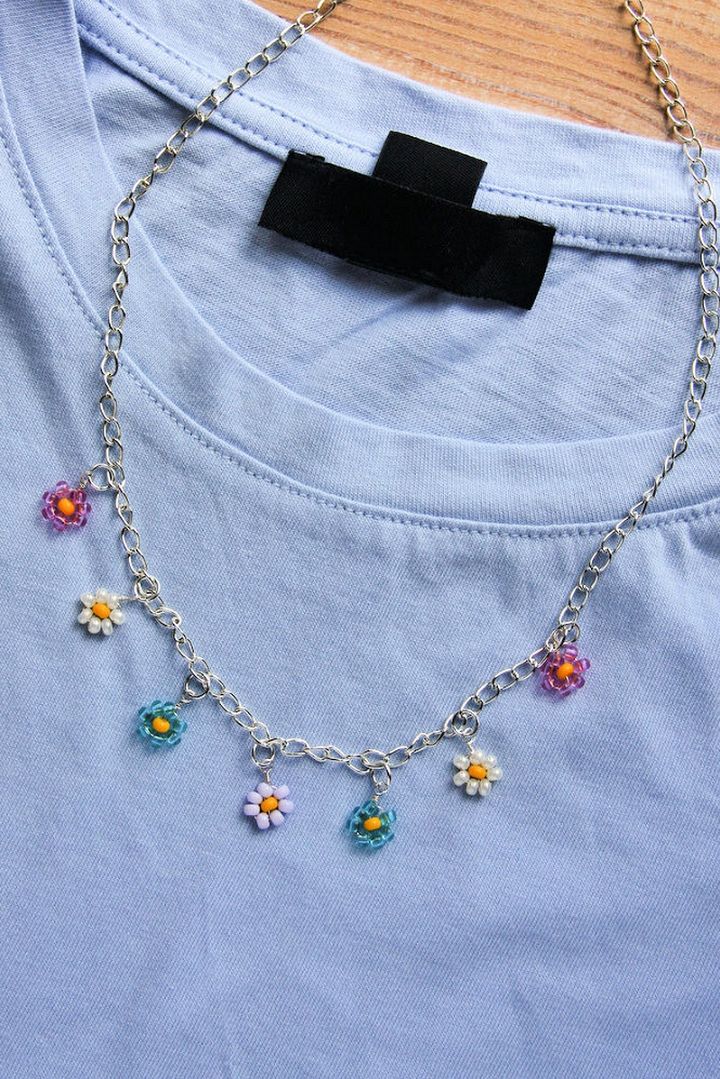 Have a look at these little cute daisy flowers made with beads only. You can learn the technique here of how to make these daisy flowers. There are so many daisy flowers in one necklace as you can see. It's a multi-colored necklace and you can wear this to a beach party and other occasions like birthdays. here!
10. Fabric Covered Bead Necklace – DIY Tutorial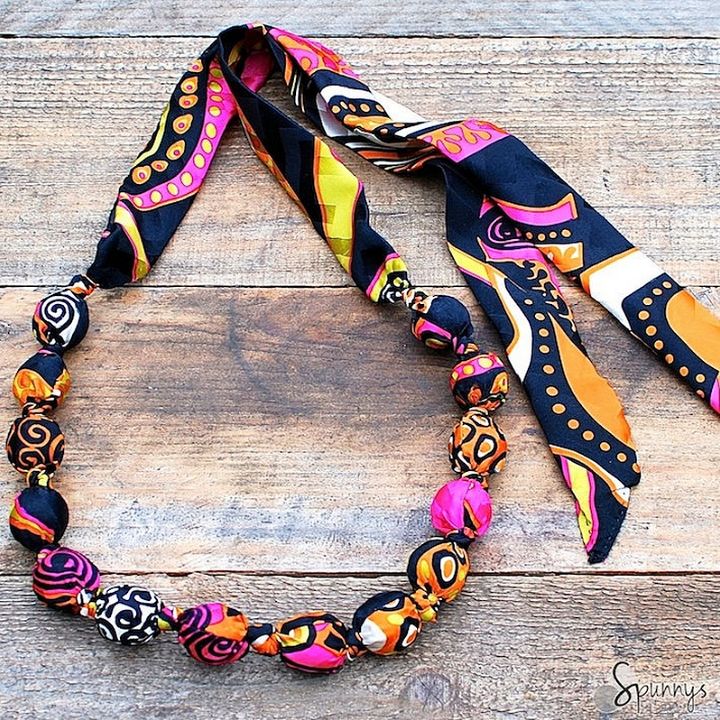 This is a DIY fabric-covered necklace. The select fabric of your choice depends on the occasion that you want to wear it. First, you have to make a simple beaded necklace with just any beads, afterward cover them up with a satin fabric with a cute print and your amazing masterpiece is ready. here!
11. DIY Bead Necklace Using Nail Polish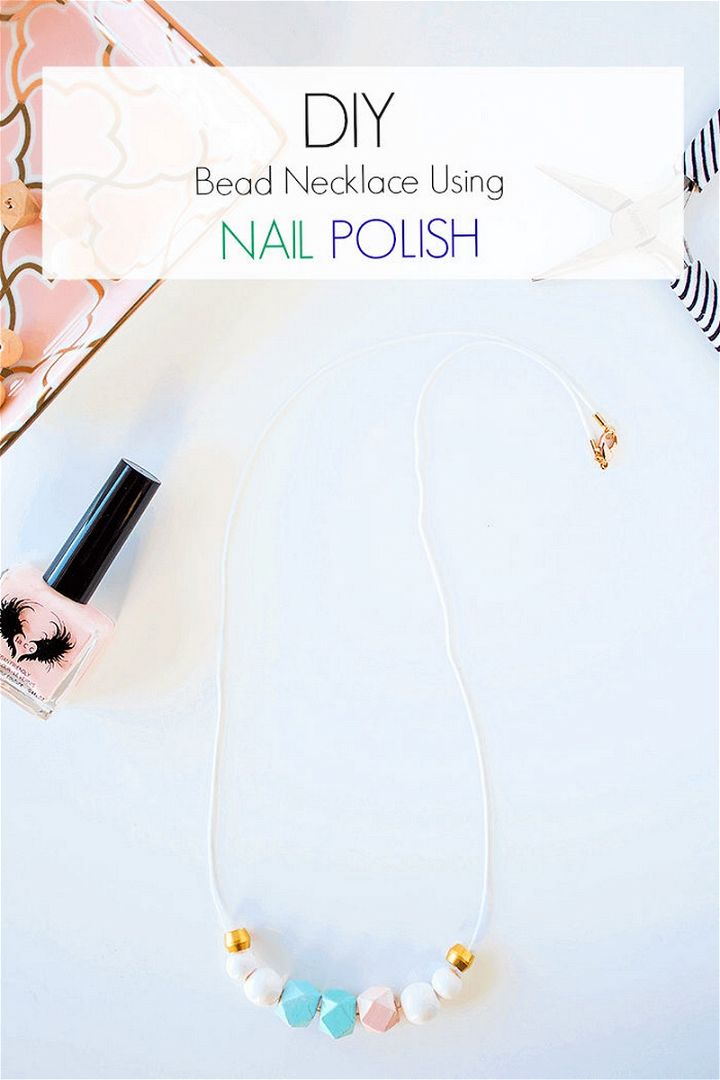 For this project, you need to take some very basic beads in any color or just transparent. You can paint these beads with a nail color easily and match this with your outfit. Grab your favorite colored nail polish and try this out now. A little effort will give you so much satisfaction and an entirely new necklace. here!
12. DIY Seed Bead Necklace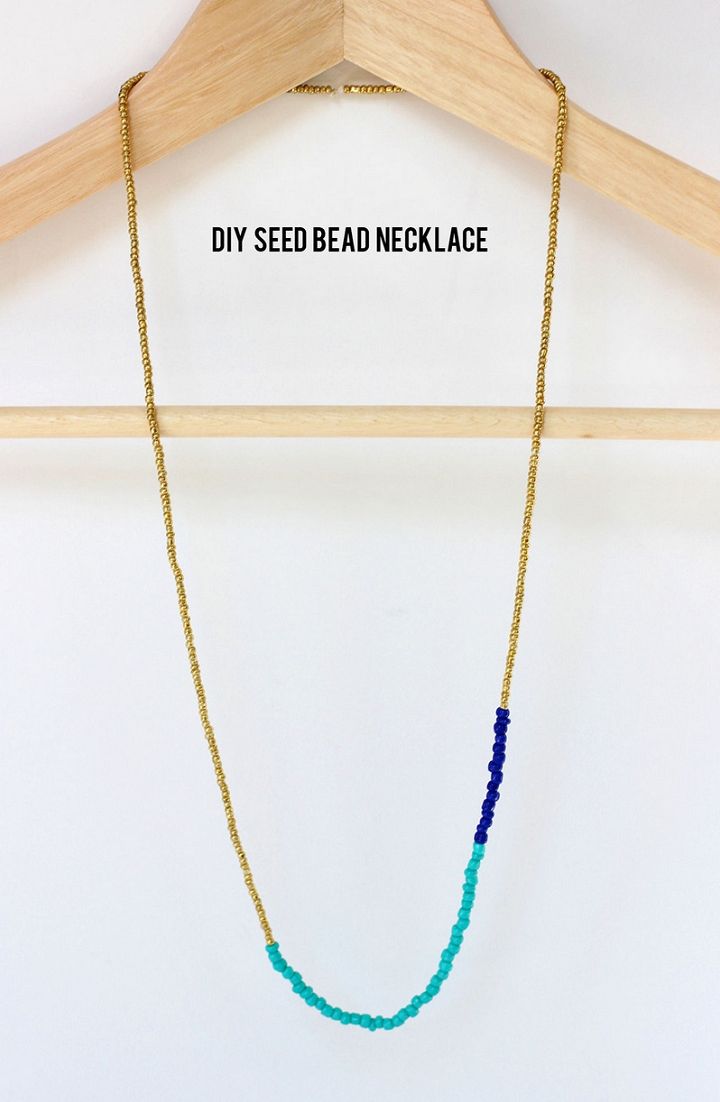 Beaded Necklace Ideas: You can see many different kinds of beads in a craft store. beads different in size shape colors designs, type, and much more. These are seed beads because they are so small in size. You can make a beautiful necklace with these seed beads and wear it with your funky outfit to any party. here!
13. Basic Beaded Jewelry-Making Techniques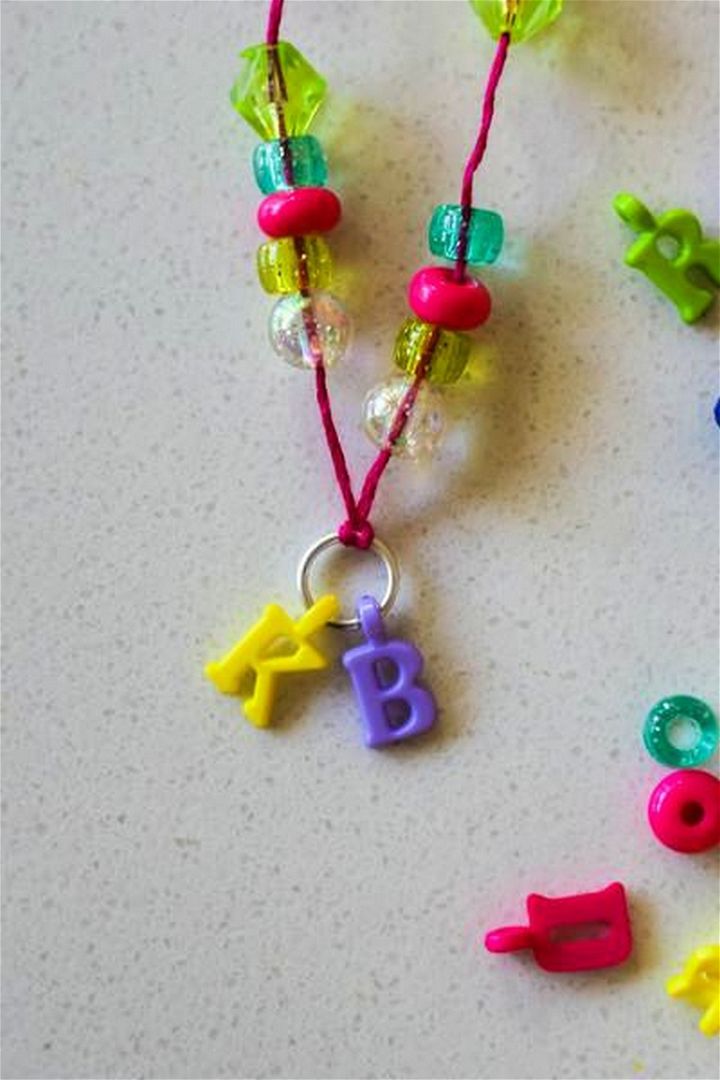 In this tutorial, you can see in detail how to make a stunning neckpiece. Follow the instructions that are given here and start making this necklace for your upcoming occasions. As we know that the festive season is coming and we must make some preparations beforehand like making DIY jewelry. here!
14. DIY Bead and Tassel Necklace For Children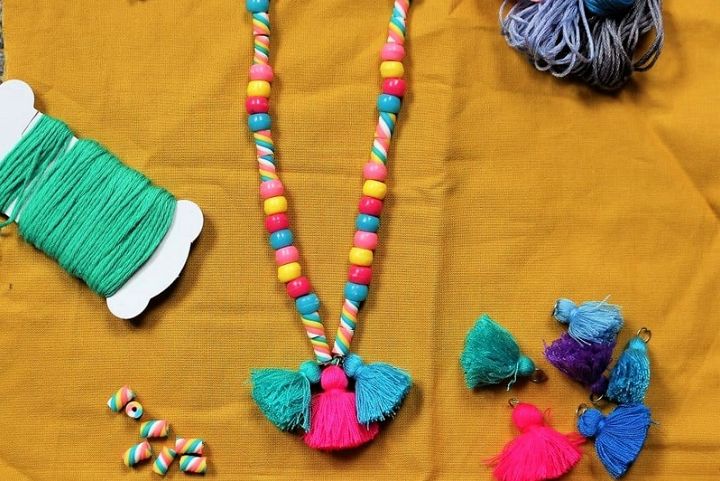 Here in this DIY necklace along with the beads, some tassels are also used. These tassels look beautiful and attractive in the middle of the necklace. You can use tassels in colors of your own choice and multicolored beads to make it look symmetrical. here!
15. DIY Fabric & Wood Bead Necklace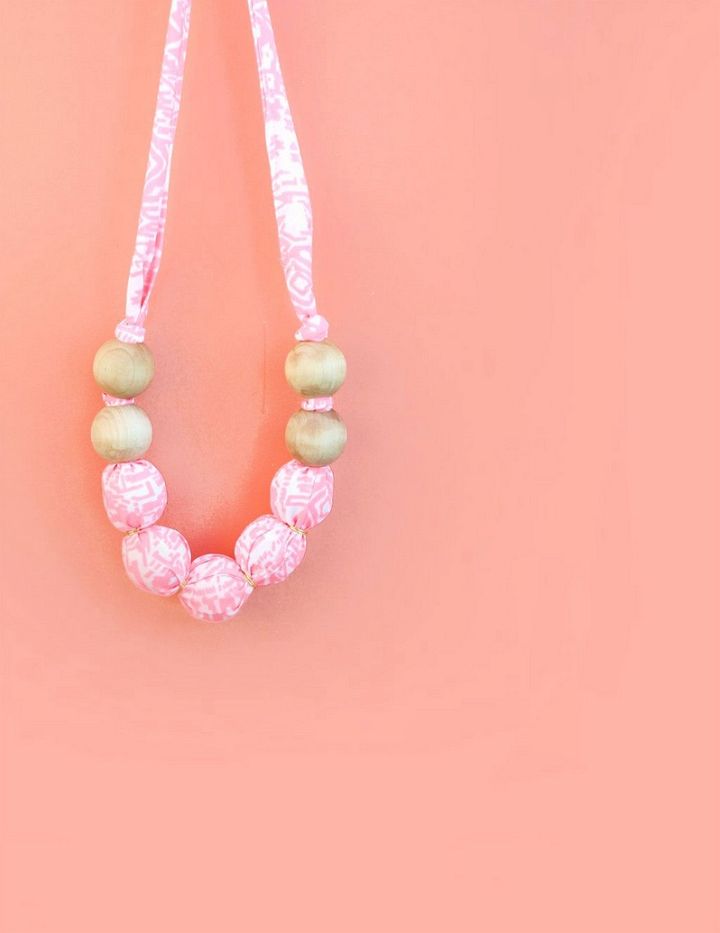 This DIY necklace is definitely trending as it looks so classy and appealing to the eyes. This necklace is made of fabric along with wooden beads. You can make an amazing combination of these two supplies. Both of these things can be easily found at any craft store. As you can see here some beads are covered while others are not with fabric and this makes it special here!
16. DIY Beaded Tassel Necklace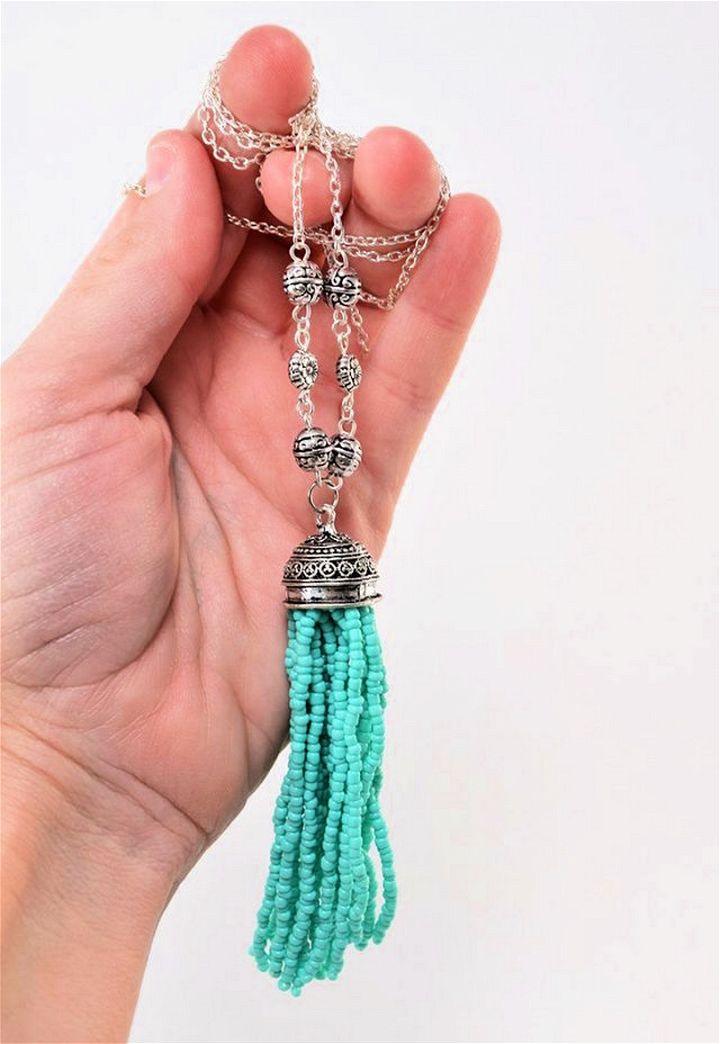 This is a DIY beaded necklace with lovely tassels alongside it. The beads that are used here are silver in color and a turquoise-colored tassel is used in the middle. This particular necklace will look amazing with denim and shirts. Wear them to any occasion and you will be the center of attention on the occasion. here!
17. DIY Beaded Toy Necklaces For Kids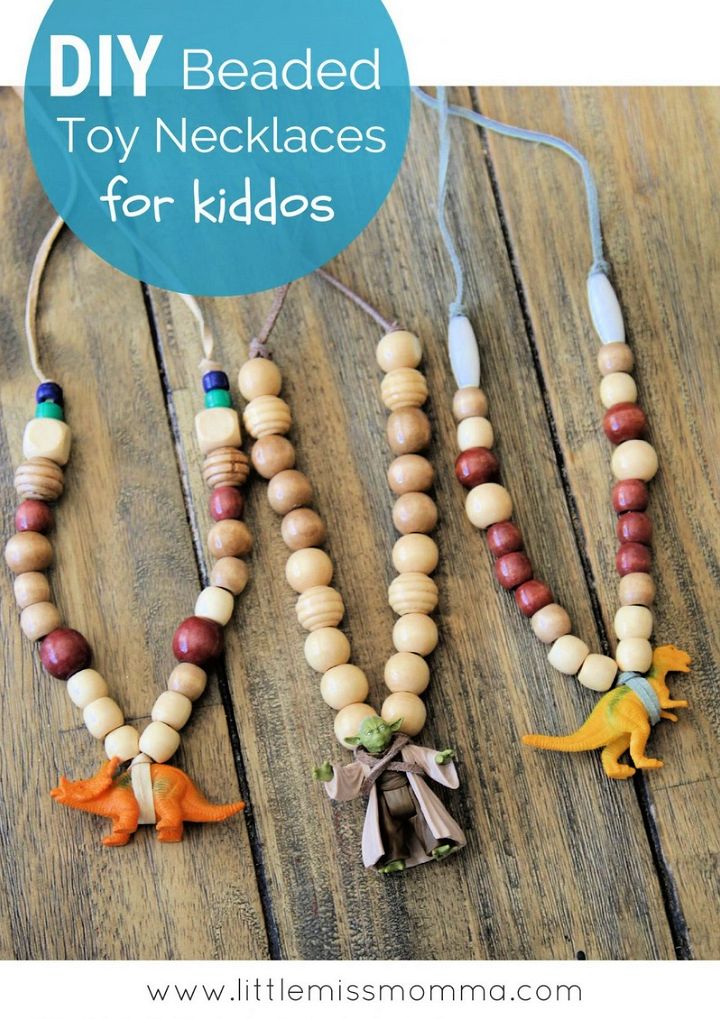 Beaded Necklace Ideas: This necklace is especially for little girls. In this DIY necklace, small animals are added to make it funky and attractive. Along with some simple wooden beads, animals are used. Kids can wear these necklaces to any occasion like birthdays, school parties, picnics, etc. here!
18. DIY Beaded Seahawks Necklace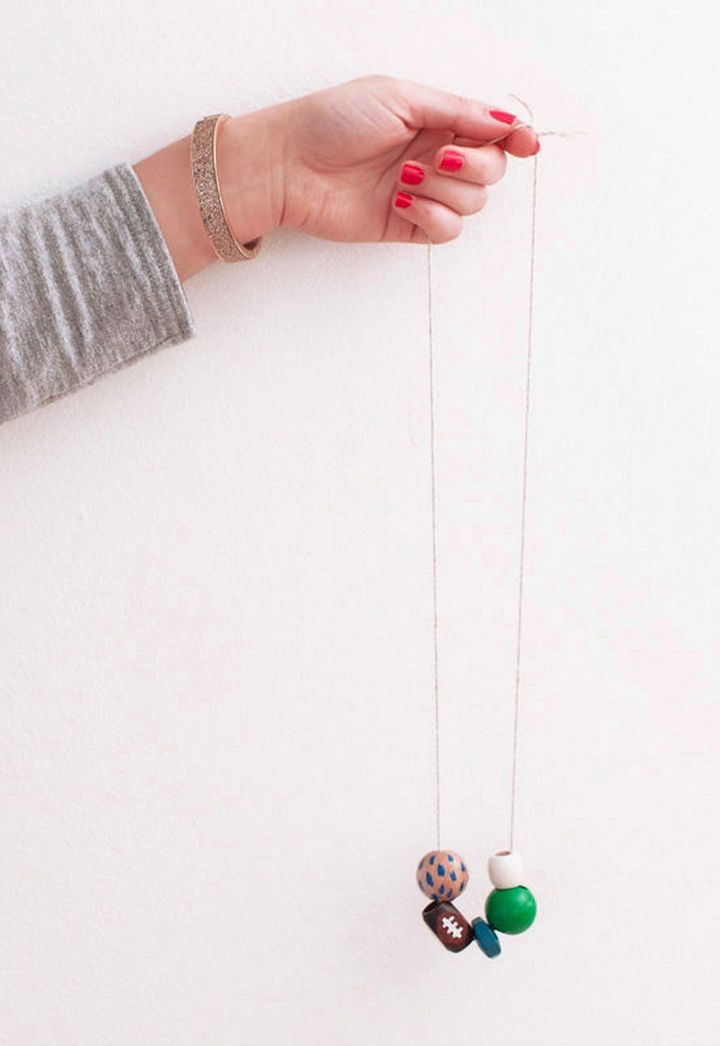 This is a beaded sea hawk's necklace that you see here. Wear this with casual outfits to pop them out. You can wear this DIY beaded necklace to a beach party, summer parties, etc. it's a simple and basic kind of necklace and can be easily made with very basic supplies. here!
19. How to Wire Wrap a Bead & Make Pendant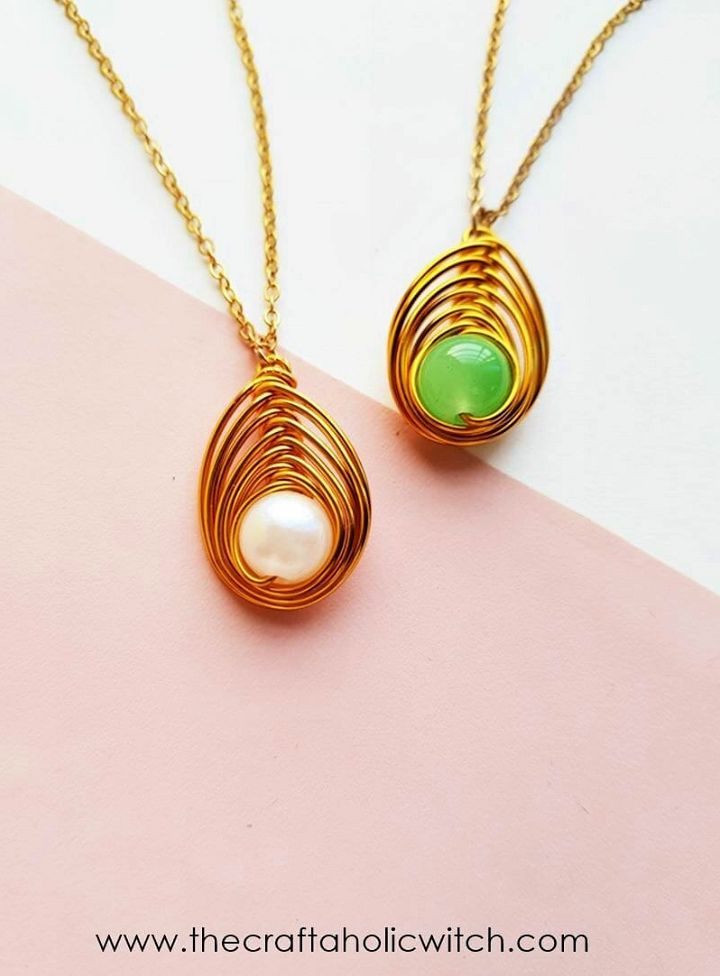 This is a unique kind of necklace that we have here. It's a bead that is wrapped with wire and hence becomes a pendant. Look into the minor details of this DIY necklace and you can easily make this masterpiece. After a little effort, you will see that you have created a statement piece for formal occasions. here!
20. DIY Beaded Tassel Necklace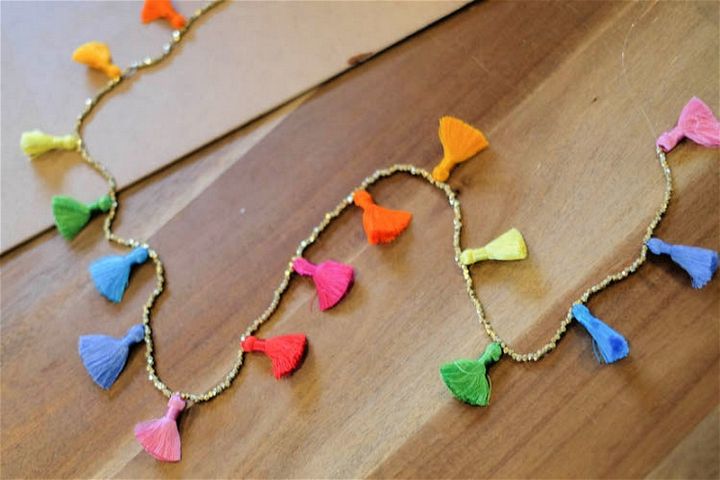 In this necklace, small beads are used along with small tassels. The beads and the tassels are used alternatively in this necklace. This necklace will look great with casual outfits and casual events as it's not that formal. This can be your go-to jewelry piece every time you step out of the house and you want to wear something. here!
21. Beaded Bead Necklace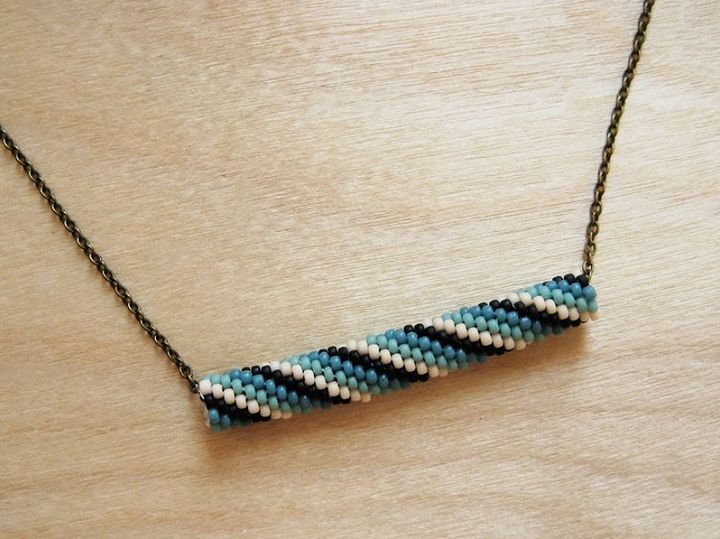 In this necklace, the center part is made in such a way that it is loaded with beads. This center part is made in a cylindrical shape with combination of two colors. The rest of the necklace is only beads as you can see. Grab some beads of your choice and try this out here!
22. DIY Simple Clay Bead Necklace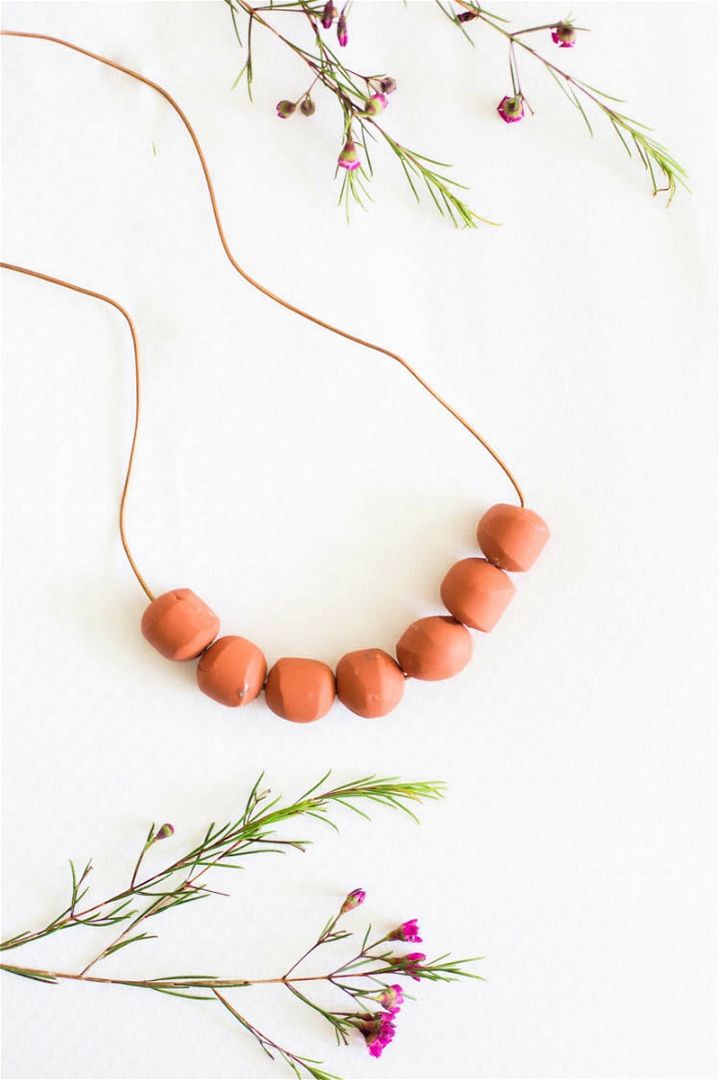 Beaded Necklace Ideas: This is a simple clay bead necklace that you see here. The beads in this necklace are made with clay and you can see how subtle and beautiful they look. The rest of the necklace is just a simple wire and nothing else has been used there to keep this neckpiece simple yet classy. here!
23. DIY Beaded Fabric Necklace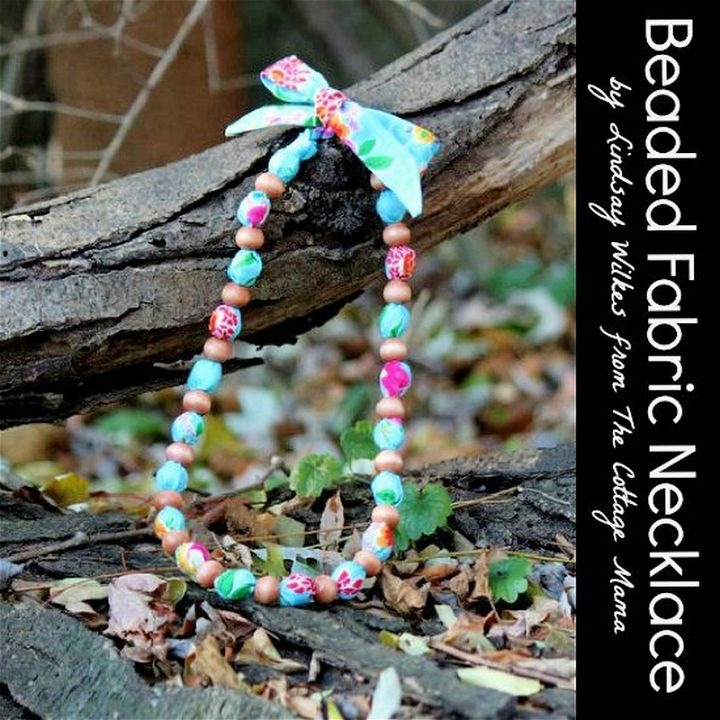 This necklace is made with two things and they are beads and fabric as you can see. Both of these things make a great combination together and complement each other so well. Select the fabric of your choice and according to the event that you are planning to wear it to. here!
24. Beaded Collar Necklace DIY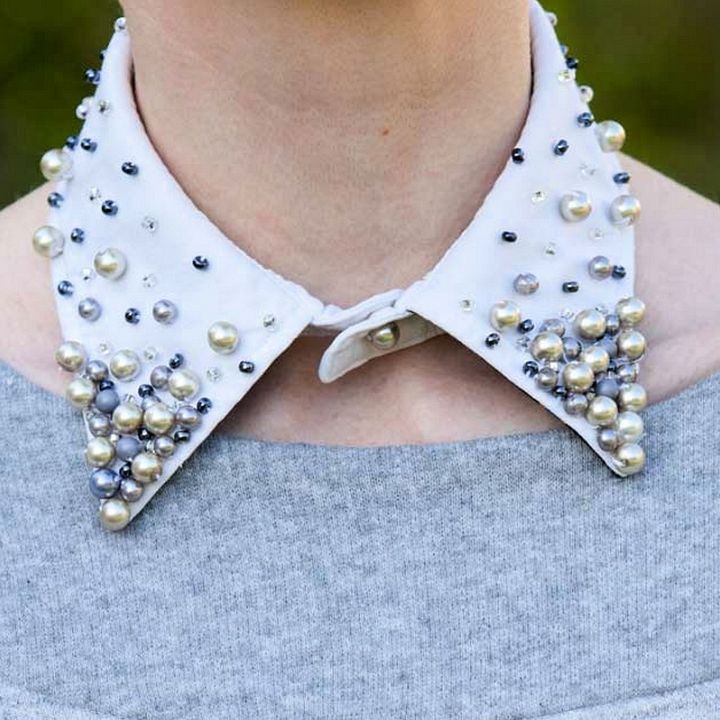 This is surely a unique neckpiece and you probably have not made it yourself before. This neckpiece is loaded with beads of different sizes and colors. This beaded neckpiece will perfectly with a simple outfit or shirt. This is an embellished necklace that you will be proud of making at the end when you will see the end product. Try this out now. here!
25. Best DIY Chunky Beaded Statement Necklace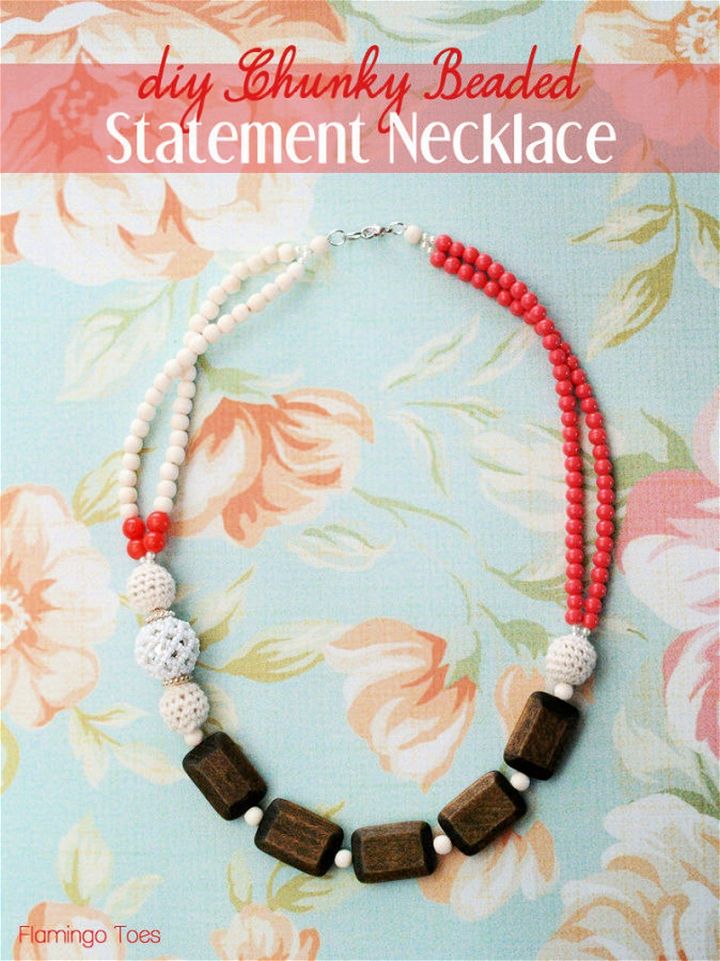 This is a chunky beaded necklace that you see here. You definitely do not have to make a lot of effort for this piece as this is so easily made. Learn the technique here in this project and make this before you have an upcoming occasion or party. here!
26. DIY Bead Cluster Web Necklace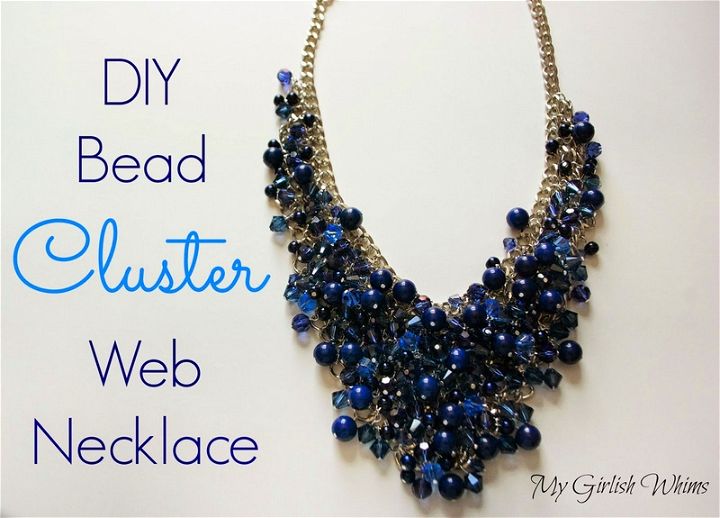 This is probably the heaviest neckpiece you will make for yourself. This is a cluster web necklace that you see here. Match it with your outfit hence pick the color of the beads accordingly. The look of the necklace is so formal that you can wear it to any formal occasion with some matching rings alongside. here!
27. Easy DIY Beaded Necklace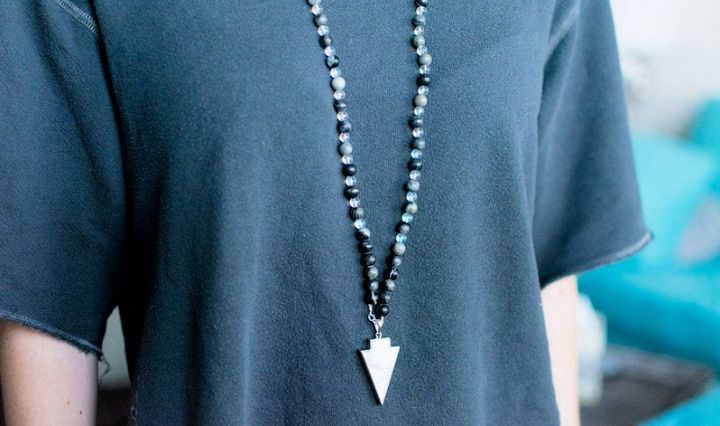 Beaded Necklace Ideas: If you are looking for easier options for making beaded necklaces, this project is for you. This DIY beaded necklace is easier than it seems. Buy some colorful beads from any craft store and make some amazing jewelry pieces for yourself as well as for your friends. here!
28. DIY Beaded Necklace Craft Gift Idea For Mom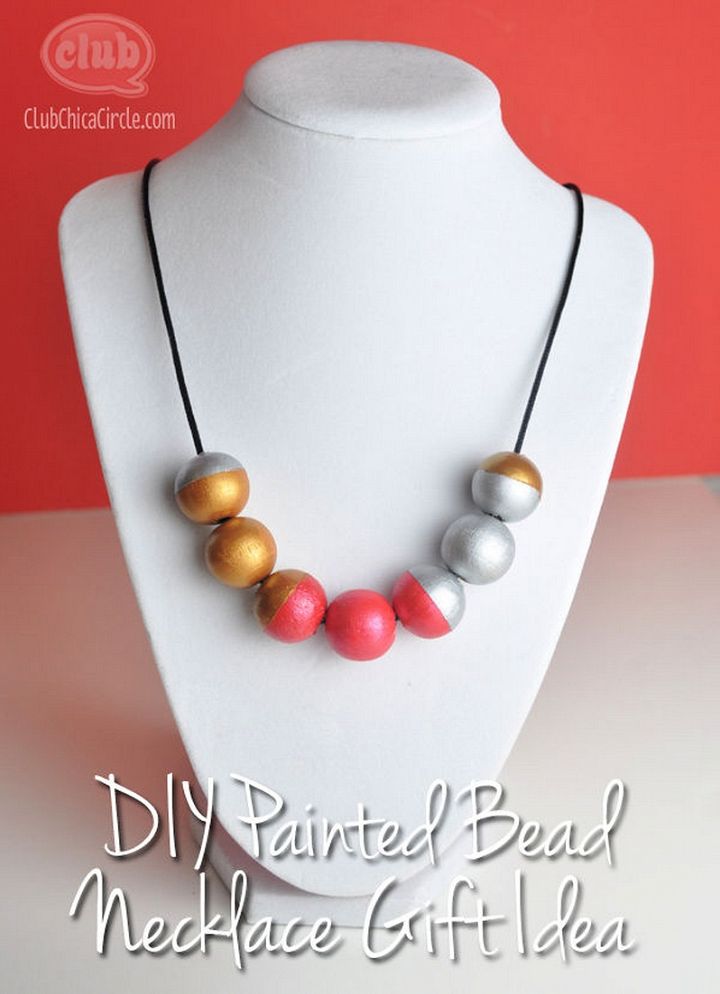 All moms are special and deserve to be treated that way. They deserve some special gifts like a handmade necklace full of classy beads and strings. Make this necklace for your mom for mother's day or just any day to make her feel special and celebrated. here!
29. DIY Beautiful Beaded Pendant Necklace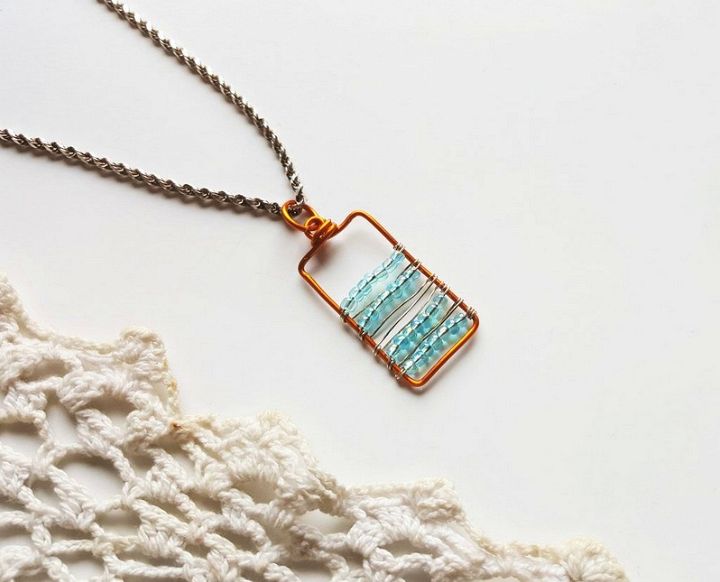 This is surely a unique idea that we have here. it's a beaded pendant that you can easily make only if you have lots of beads and some wire pieces alongside. This DIY beaded necklace looks so interesting that it will catch everyone's attention for sure. here!
30. Seed Bead Necklace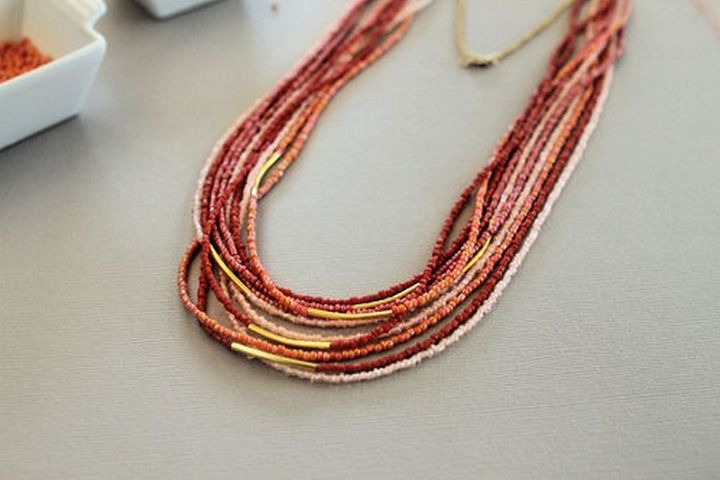 This is a seed bead necklace that you can create for yourself. Take some strings and some seed beads and once you are done with loading all the strings with beads, repeat the same steps again. This way you will have lots of loaded strings with seed beads, join the strings together from both ends and you have an amazing beaded necklace ready within minutes. here!
31. DIY Necklace Ideas How To Make A String Bead Necklace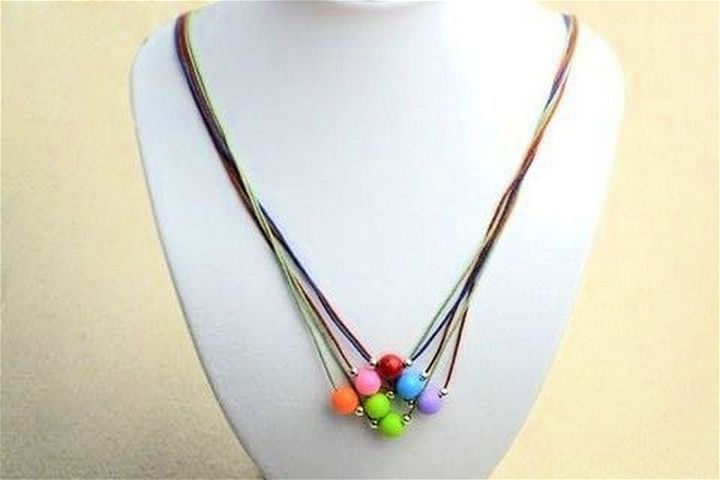 This is surely a classy necklace and it's easier than it seems. Buy some multicolor beads along with necklace strings and make this simple yet classy necklace for your next date. This will surely catch attention as it looks appealing to the eyes. here!
32. How to Make Super Trendy Seed Bead Bracelets in Minutes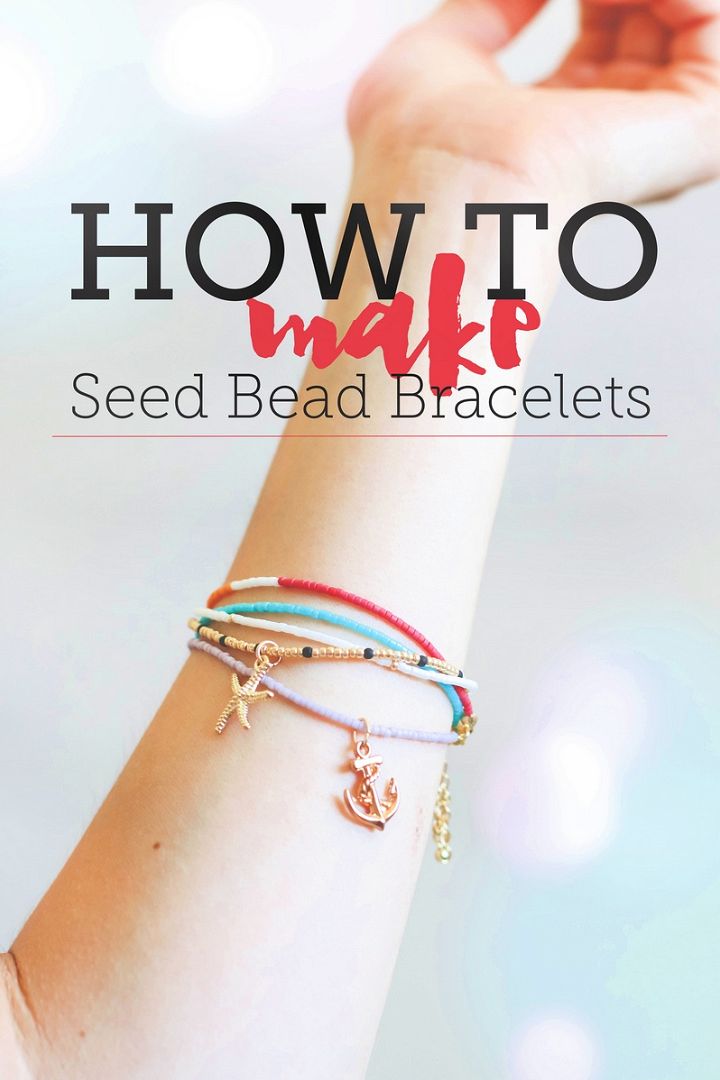 If you do not have much time to invest in DIY projects, this project is perfect for you. Grab some supplies that are listed here and start this project before any special occasion comes your way. This DIY Bracelet is so easy to make that you only have to spend minutes on it. here!
33. DIY Emoji Beaded Necklace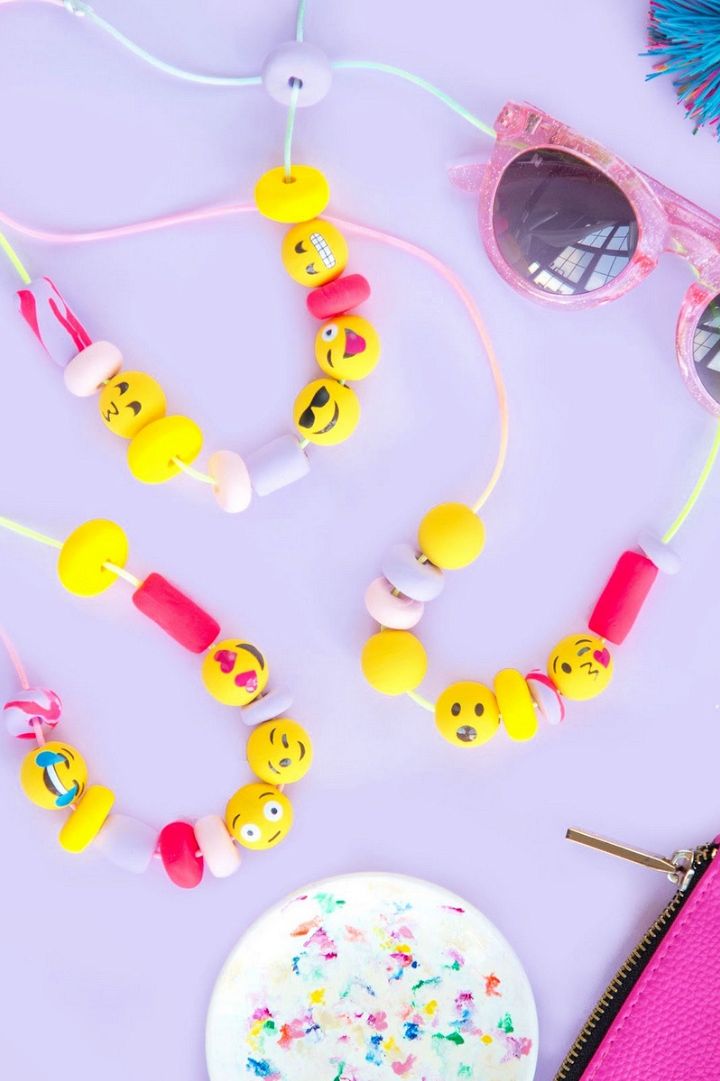 Beaded Necklace Ideas: As we know that emojis are trending these days and they have become so popular. The same is the case with jewelry. People like to wear jewelry pieces with emojis. Here is an emoji necklace along with beads used in it. Emojis and beads will together make a super funky and funny DIY beaded necklace so try this out now. here!
Conclusion:
From basic necklaces to a little bit fancy and triple-stranded ones, all these projects are mesmerizing and mind-blowing for sure. Be it birthday parties or festivals, from formal gatherings to informal meet-ups, you can now have a necklace for all of these events and impress everyone with your creativity and talent.