It's very important that we keep our precious and expensive jewelry safe in a lovely-looking box. You can make DIY jewelry boxes easily and very conveniently with these 19 DIY Jewelry Box Ideas That Are Perfect. You can make these boxes with several different kinds of materials depending on your choice, liking, and the type of jewelry you want to make a box for. It's very much appreciated if you use recycled and reusable boxes for this purpose. For re-using boxes and turning them into jewelry boxes you can use various tips and tricks like wrapping them up, Painting Them, and much more.
You can either make a simple box to keep your jewelry or you can build a box with drawers in it in order to hold small items like rings etc. among these DIY Jewelry Box projects, magnetic jewelry display is unique and different. You can also try using small little bowls to keep your jewelry items separated and organized inside your drawer. Similarly, you can also make small and adorable paper boxes for the same purpose. Have a look at some of the earring holders also made with simple frames and used as something completely different.
1. Pretty Trinket Ring Box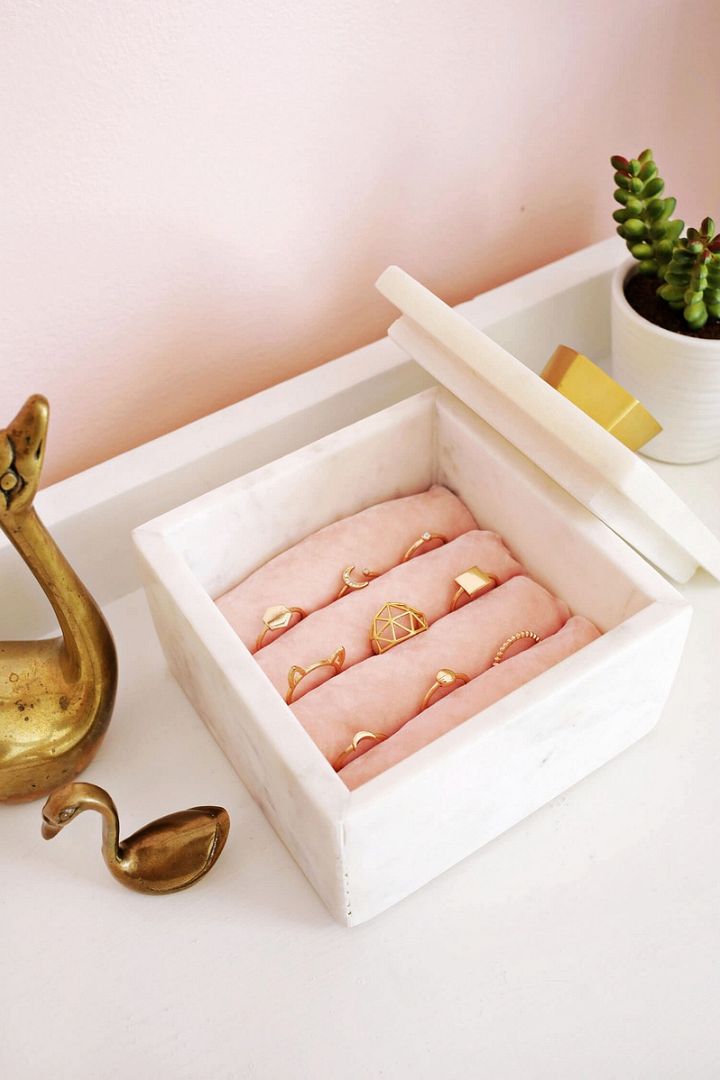 For those who love to have beautiful boxes around, this project is perfect. This is a beautiful DIY jewelry box idea that we have here. You can easily make this box only if you gather the correct supplies that are needed. For this, you need a decorative box with a lid, velvet fabric, straight pins, a sewing machine, a hot glue gun, fabric glue, cotton batting, fabric scissors, a cutting mat, a rotary cutter, and a ruler. here!
2. DIY Jewelry Box Tutorial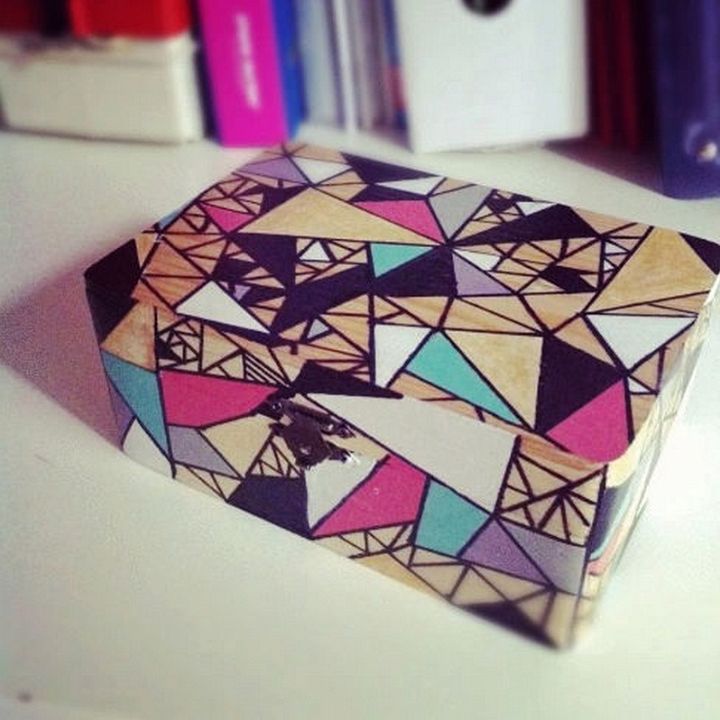 This is a very simple and basic kind of wooden box that is turned into a beautiful jewelry box. This is a simple wooden box painted beautifully in multi-color. This box is painted in geometric design hence looking really beautiful and unique. here!
3. Make a Crystal-Topped Jewelry Box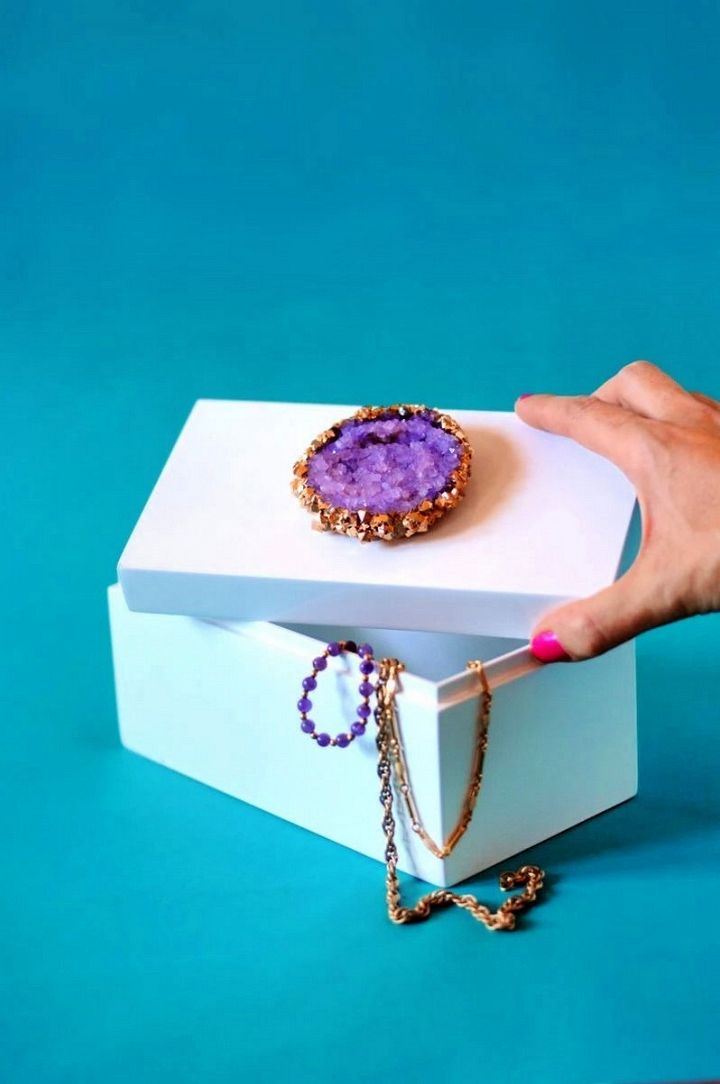 When you think of making a DIY jewelry box, remember that you can use literally any box for this purpose. A complete process of making a DIY crystal is given here and with that, you can easily make a crystal top DIY jewelry box. You can be as much creative as you want in making such DIY boxes for your jewelry. Gather your supplies and keep your jewelry safe. here!
4. Easy Wooden Jewelry Box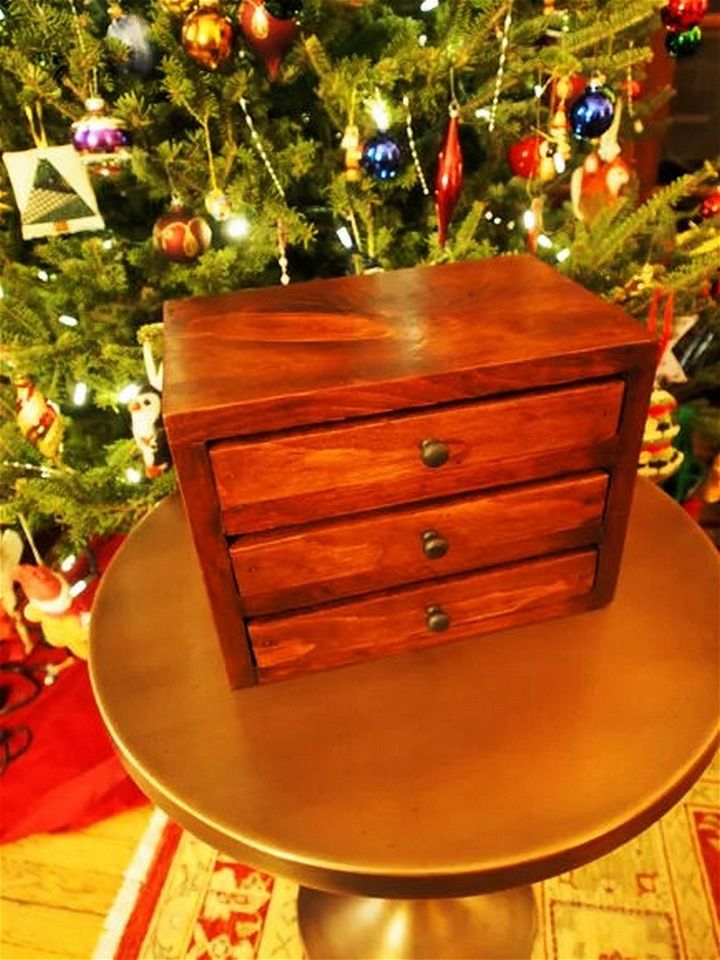 This is literally the cutest wooden organizer for your jewelry. You can make this box if you just know basic woodcutting skills and wood polishing. This DIY little box also has a few drawers that can keep your small jewelry items safe and organized. Whether they are rings or small earrings, you will not lose any of them with this box of yours. here!
5. Magnetic Jewelry Display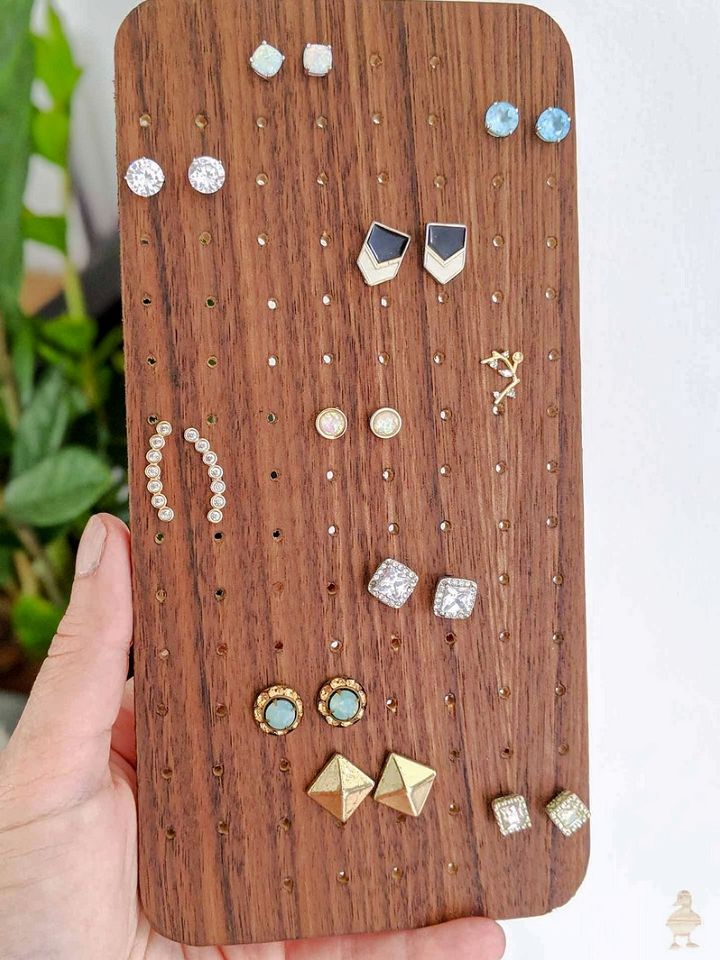 In this project, a little few elements are involved other than some basic items but the end results are surely amazing and unique. The things you need include walnut plywood and scrap wood as your main supplies. Some particular and specific measurements are required here that you have to take care of. This project has been popular among people who are looking forward to making an extra special organizer for their large earrings, tops, and more. here!
6. Super Jewelry Organization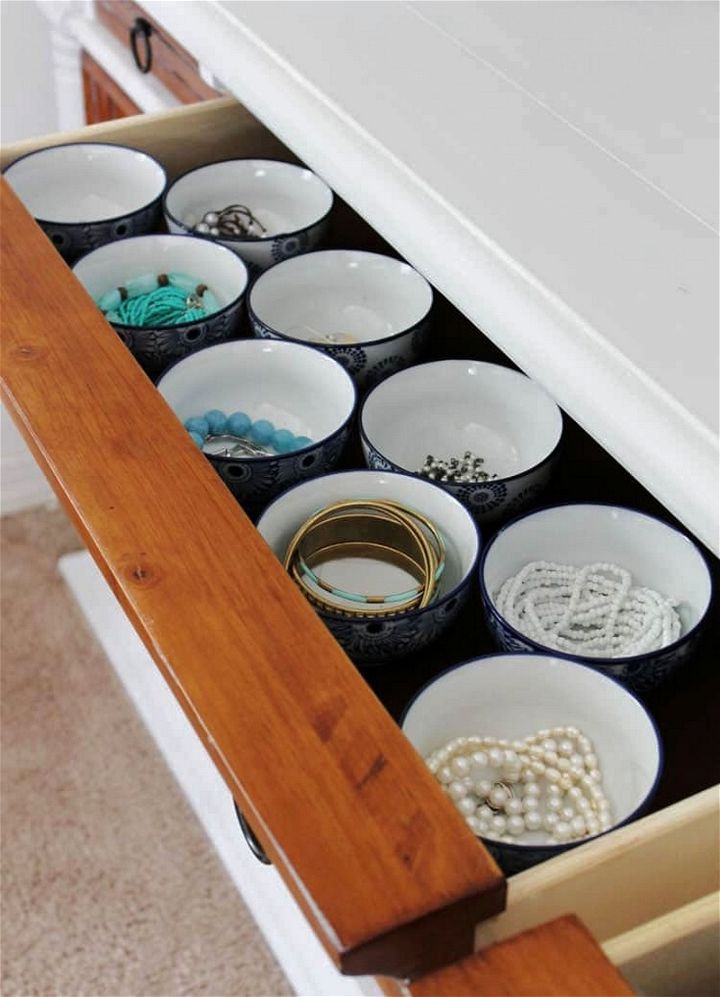 This project is surely super simple when it comes to jewelry organizing. This is not a box rather it's a simple idea of keeping small little pots in your drawer and keeping small jewelry items in there. As you can see the drawer is no messier with the jewelry and everything is organized and arranged. here!
7. Mini Paper Mache Trinket Boxes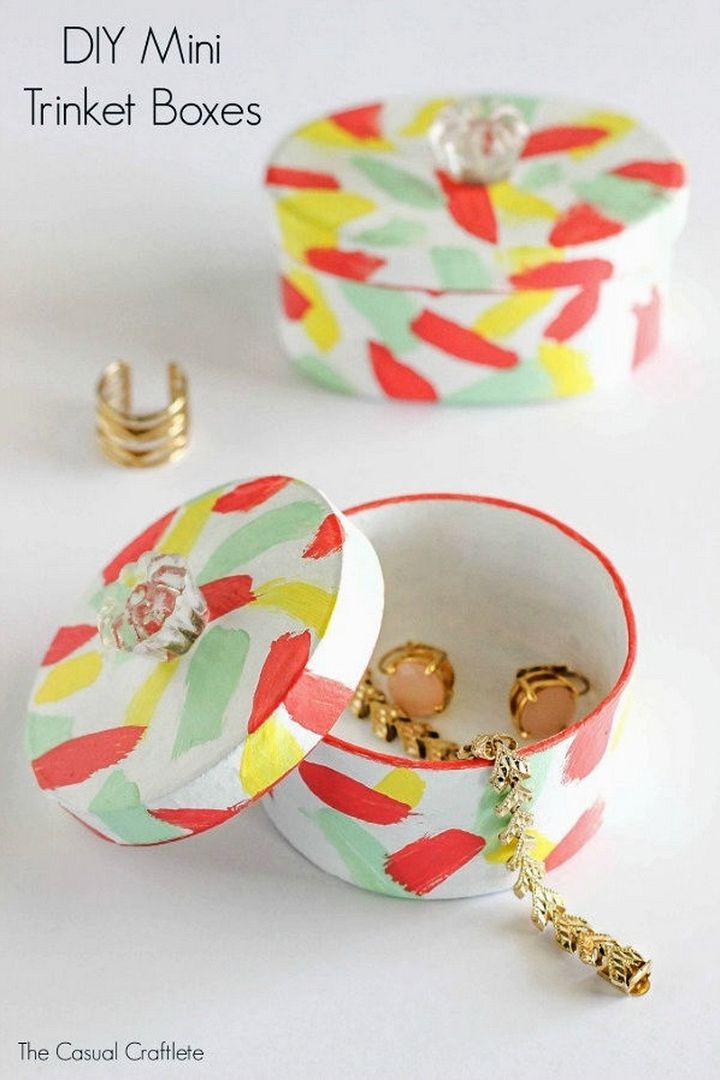 These are mini paper Mache trinket boxes. For this project, you need mini paper Mache boxes, clear glass flower knobs, paintbrushes, and a specific kind of paint that is mentioned here. You can keep some small jewelry pieces inside this small little box. Once you are done painting these boxes, they will look awesome and really attractive. here!
8. DIY Jewelry Box Idea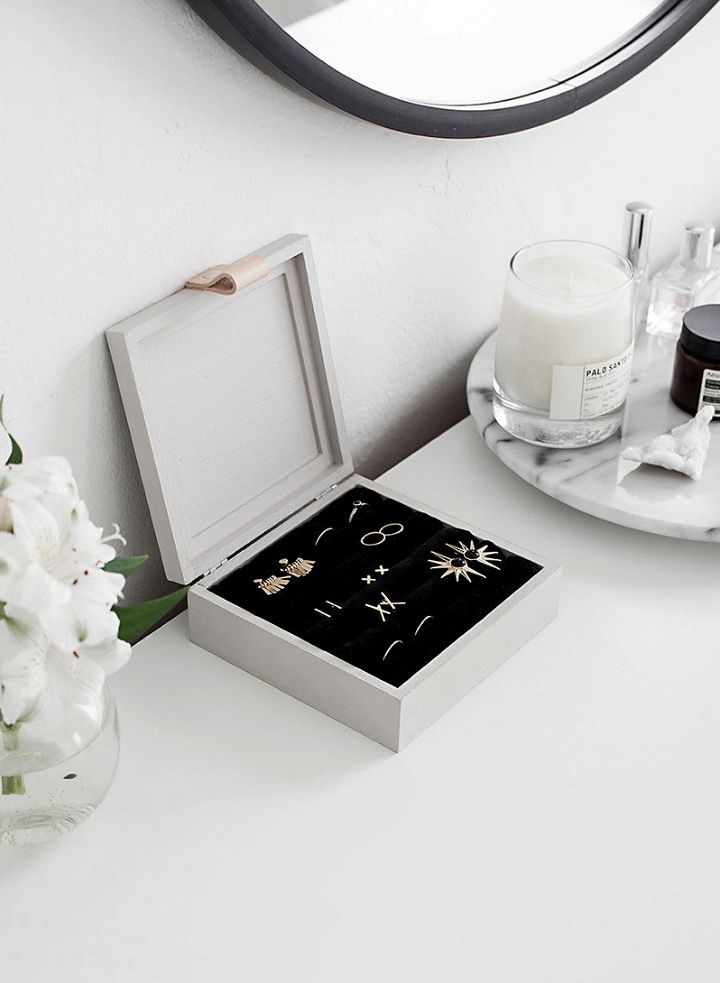 You can use a sweet or a chocolate box for making a jewelry box as you can see here. Place a piece of foam inside this box and make a few cuts on the foam in order to place fix your rings in them. Any box can work for this purpose. Place this box on your dressing table and display your jewelry proudly there. here!
9. DIY Jewelry Organization Board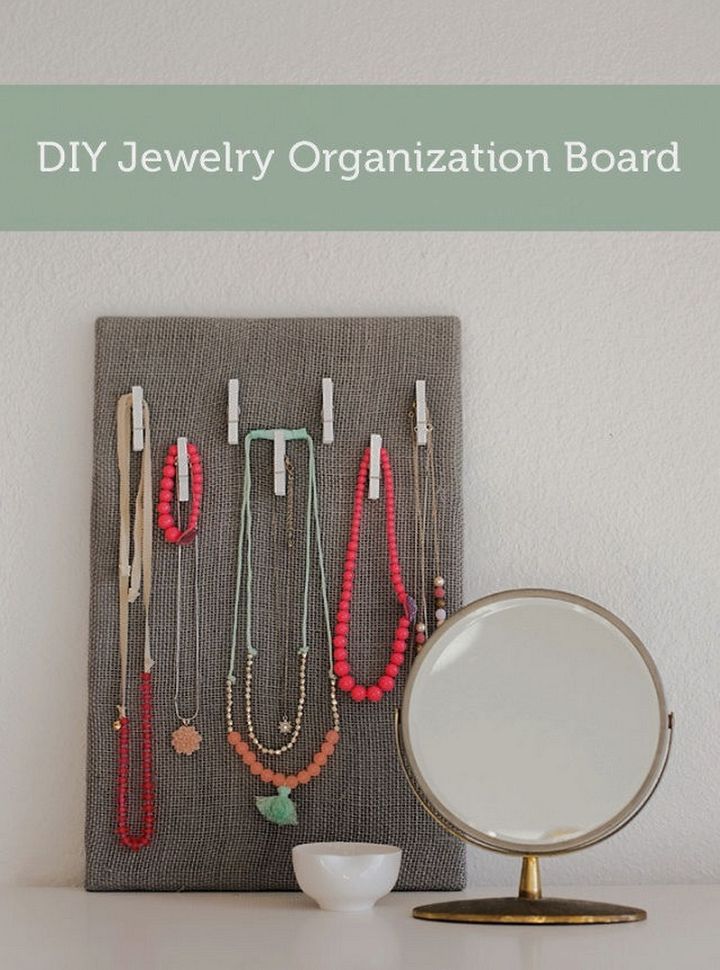 For jewelry organizing purposes, you can also use a canvas and paste a fabric onto it to make it look more appropriate for the required purpose. You can use jute over the canvas so that the purpose is easily served. On to the fabric, you must attach some clips and then place your chains and necklaces with the help of these clips. here!
10. DIY Earring Holder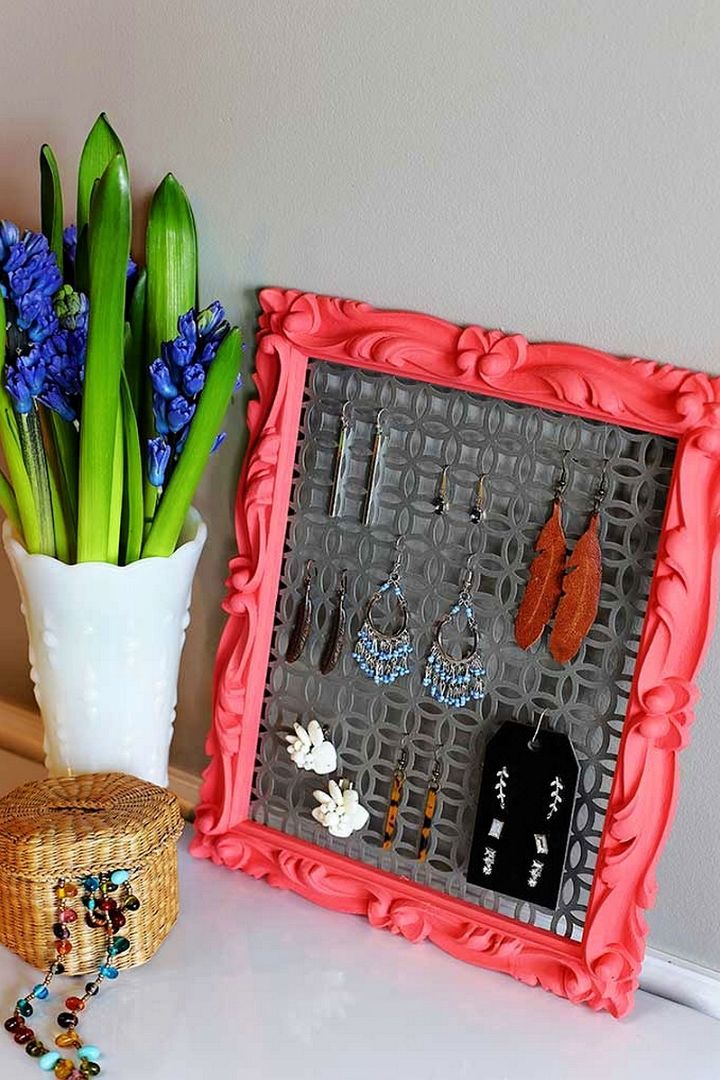 Here they have created a frame in such a way that it can hold all your earrings. Have a look at this end product here and you can see this unique idea has turned out beautifully well and successfully. You can paint the frame in your favorite color. here!
11. DIY Bracelet Display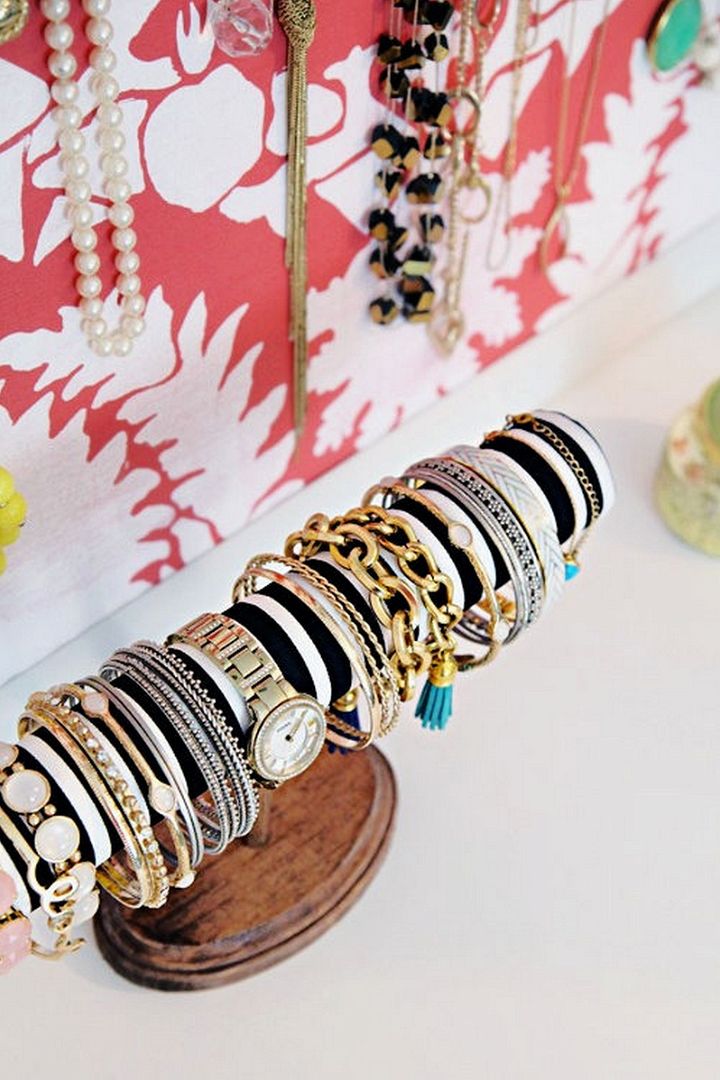 People who love jewelry definitely want it all to be well organized and arranged. For those who have a lot of bracelets, this is a perfect idea for organizing all your bangles and bracelets. Focus on the supplies and crafts you are going to need for this project. You must also learn the technique carefully with help of the tutorial given along with the project here!
12. Simple Wooden Jewelry Box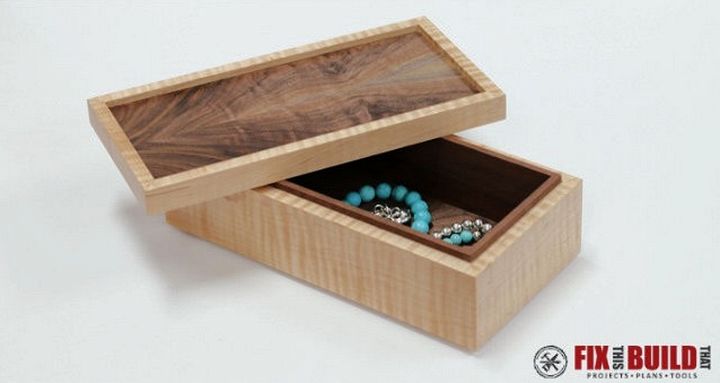 This is a small wooden container for your jewelry that you can easily make. Take small wooden pieces and turn them into a box by working on them. Although you can use any box for a jewelry organizer wooden boxes always look cool and stylish. Make small boxes so that you can carry them in your bags if you want. here!
13. DIY Leather Handles on Boxes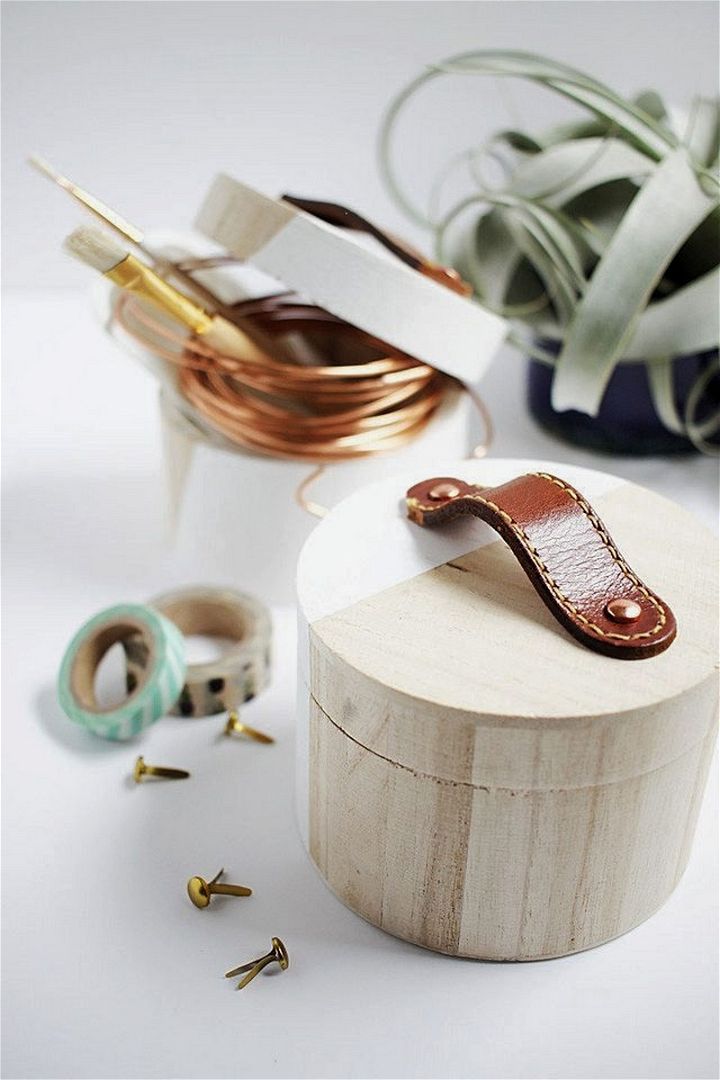 It's easy to find some scrap leather pieces in your art and craft or supply boxes. Take a small leather piece and make a handle out of it for a jewelry box to make it look more special and handy. You can very easily make these small little leather loops for boxes of any kind here!
14. Walnut Jewelry Box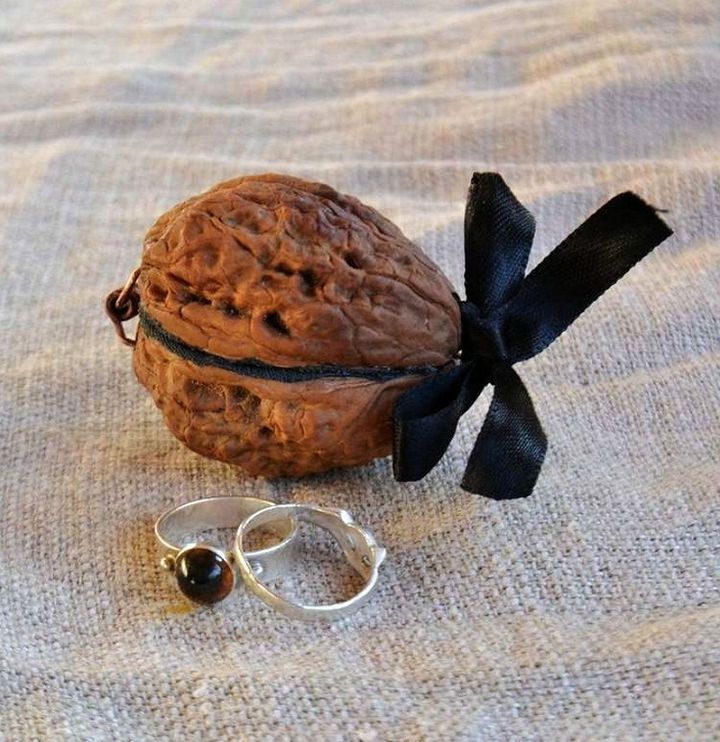 This is probably the most unique kind of jewelry box that you have seen. Here a huge walnut is used as a jewelry box by using some tools and crafts alongside. For this project, you need to have a big walnut, scrap thin cotton fabric, satin ribbon, pliers, scissors, brush, wood glue, knife, and rotary tool. Empty the walnut and start this project to see amazing results here!
15. A Jewelry Box For Someone Special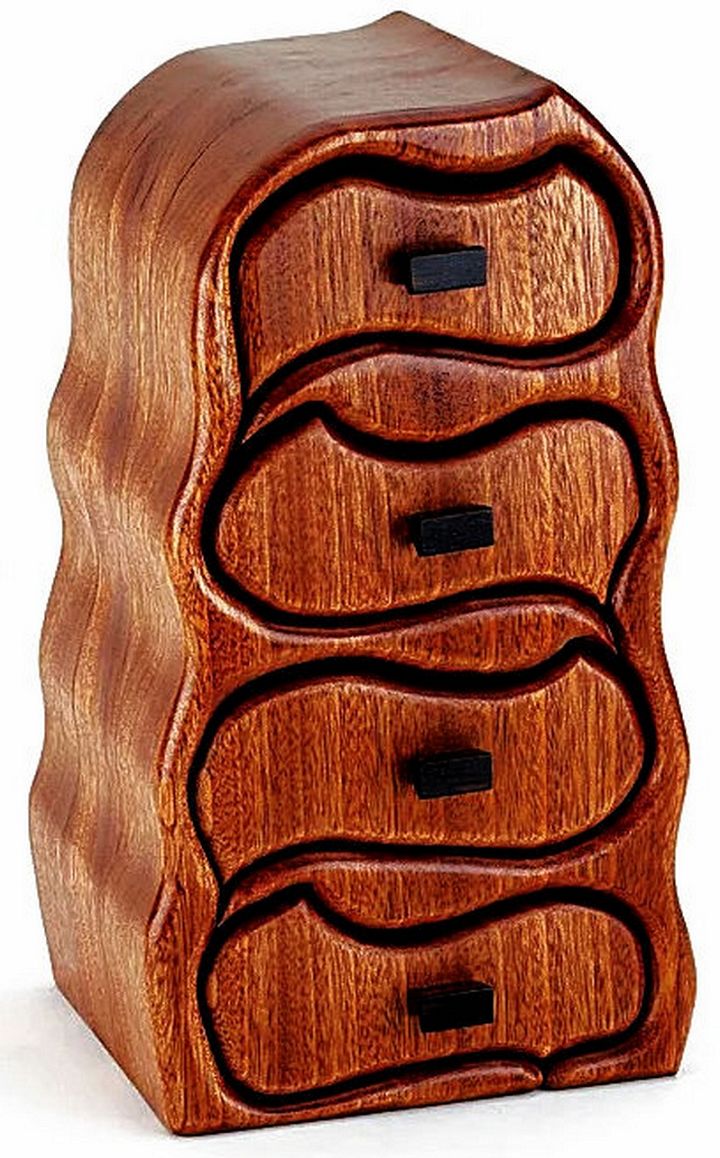 This is a DIY jewelry box that you can make for someone really special. When it comes to giving gifts to someone who is fond of jewelry, you can make this DIY jewelry box with a little effort and lots of love for them. The person who will receive this as a gift will surely love it as it is made out of pure love and affection. It's a small wooden jewelry organizer here!
16. Watercolors And Driftwood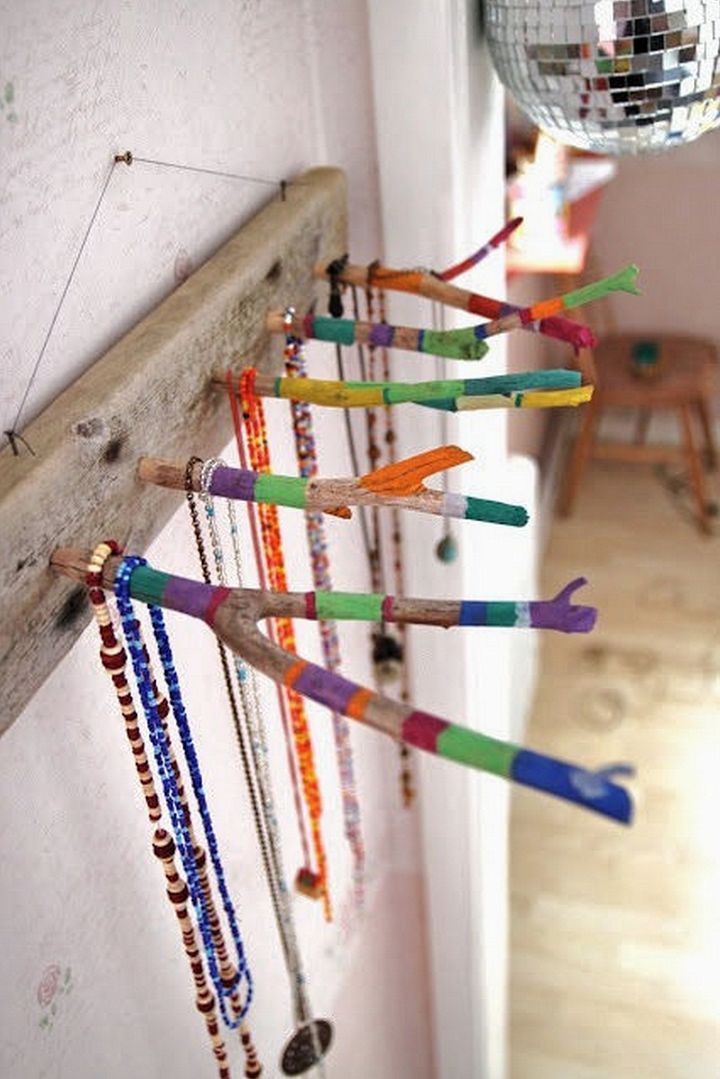 Have a look at this jewelry organizer or display rack made with a touch of nature and its beauty. In this project driftwood along with some watercolors have been used. The end results of the project are so amazing that you will really look forward to having this kind of jewelry display in your room or dressing area. here!
17. Antique Book Jewelry Box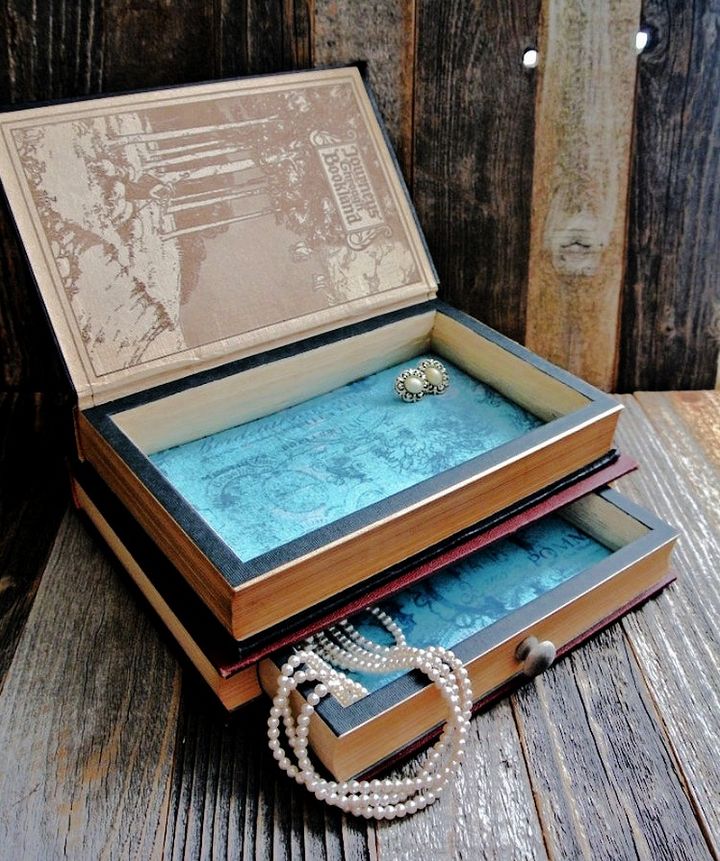 You can think of hundreds of ideas when it comes to jewelry organizing. This is an antique book jewelry box that you see here. For this project, you need an old thick book to turn into a box for your jewelry. This may not be your favorite option but surely is unique and exciting to look at. here!
18. CNC Jewelry Box Idea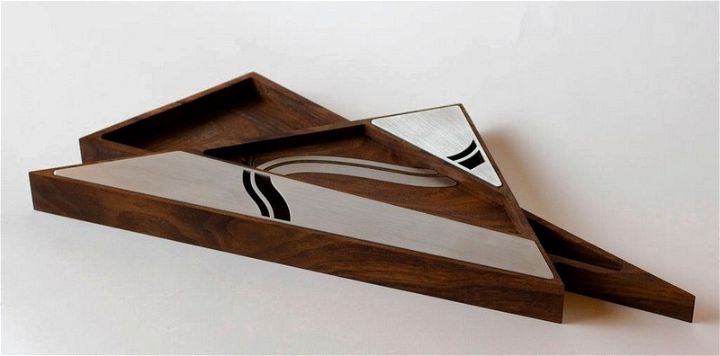 Jewelry boxes can be of many types using some supplies that are already available to you at home. This is also a simple yet classy jewelry box. This is a DIY CNC router jewelry keeper that you see here. Look into the minor details of the project carefully and see how you can make it with help of tutorials and instructions. You can place this box in your drawer also like it's small and handy. here!
19. Jewelry Blocks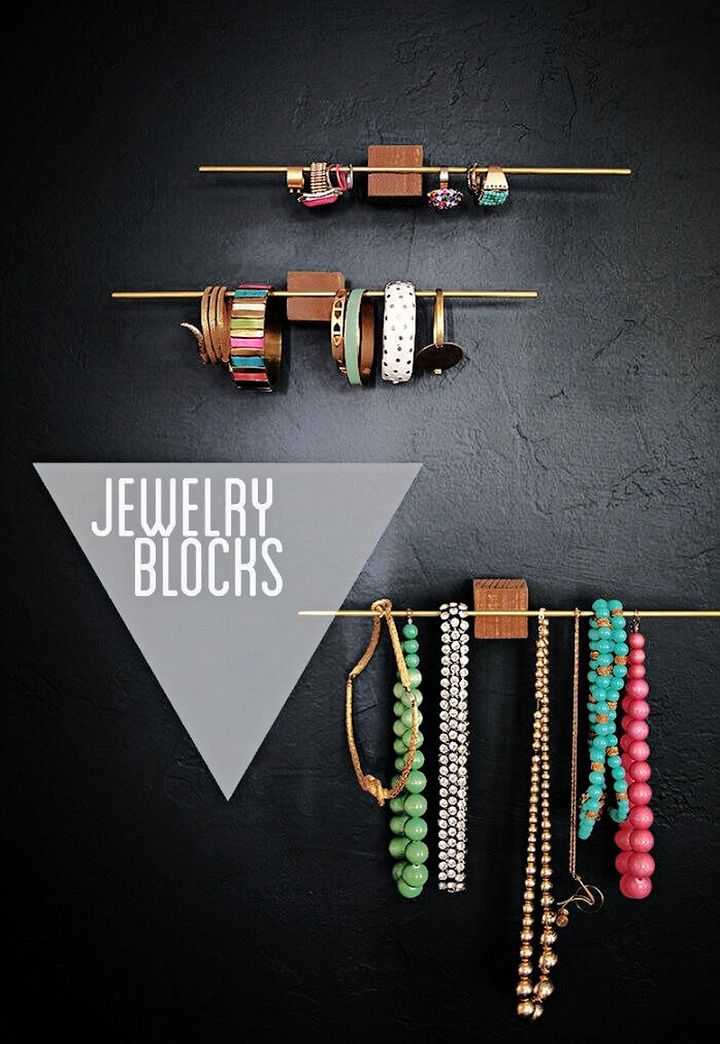 Make some cute jewelry blocks for displaying your jewelry. This is no doubt an intelligent idea as it does not require much of your time or money. All your bracelets, chains, bangles, and DIY necklaces can now be displayed beautifully instead of just messing around the drawer. here!
Conclusion:
It is not enough to have a nice jewelry collection, instead, you must have a nice home for that collection also. Instead of looking for jewelry boxes in stores, make your own with some old boxes that you probably throw away once emptied. Make use of already available crafts and supplies and buy some if you need to make some amazing and attractive boxes.