Wardrobe personalization and make over can really make a difference. If you are also a little bit bored with your wardrobe and those boring typical outfits that you have been tired of wearing, try these 18 DIY T-Shirt Makeovers That's Look Pretty. All of these diy projects are really different from each other so pick and choose the one you like the most. You do not have to spend money over these projects instead you just have to use some basic sewing supplies and any of your old t shirts.
We all have some old t shirts in our wardrobe and we must make some effort to bring some changes and spark in the wardrobe and also we can choose to move on with the current Fashion and Style. Fashion changes with time and we all must move accordingly. These projects will guide you in the best way about styling and refashioning. Many of these projects have almost similar supplies and all are easily and already available at home.
1. DIY T-Shirt Bag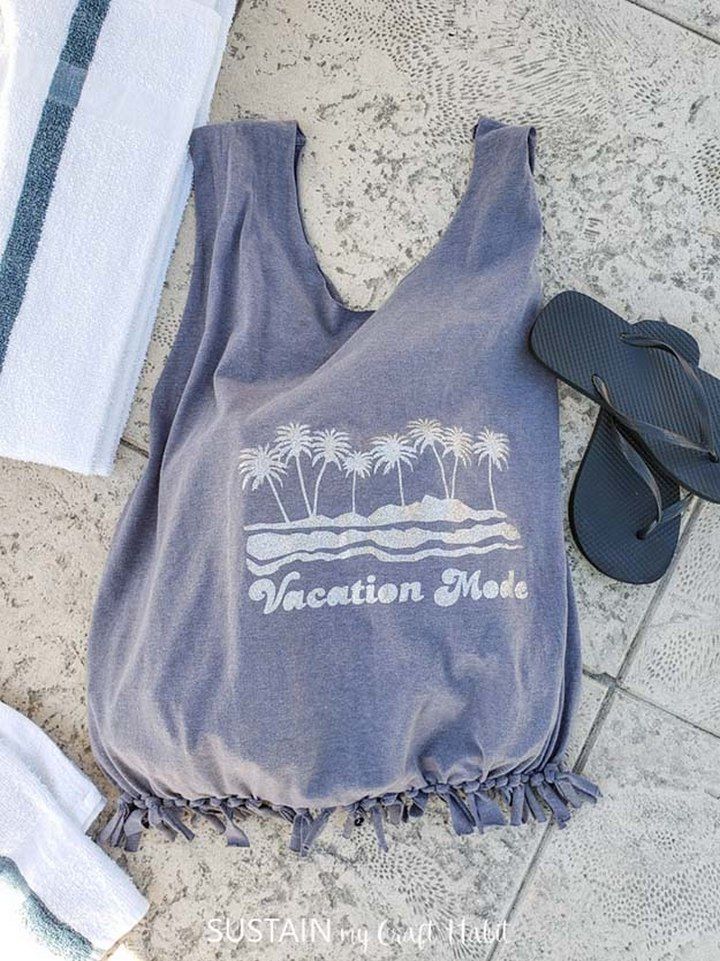 This t shirt bag will definitely make you realize that any old t shirt should never be thrown away instead it should be used for any other intelligent purpose like this. This diy project shows how an amazing bag can be made with an old t shirt that you no longer want to wear. Tutorial
2. Linen T-Shirt Makeover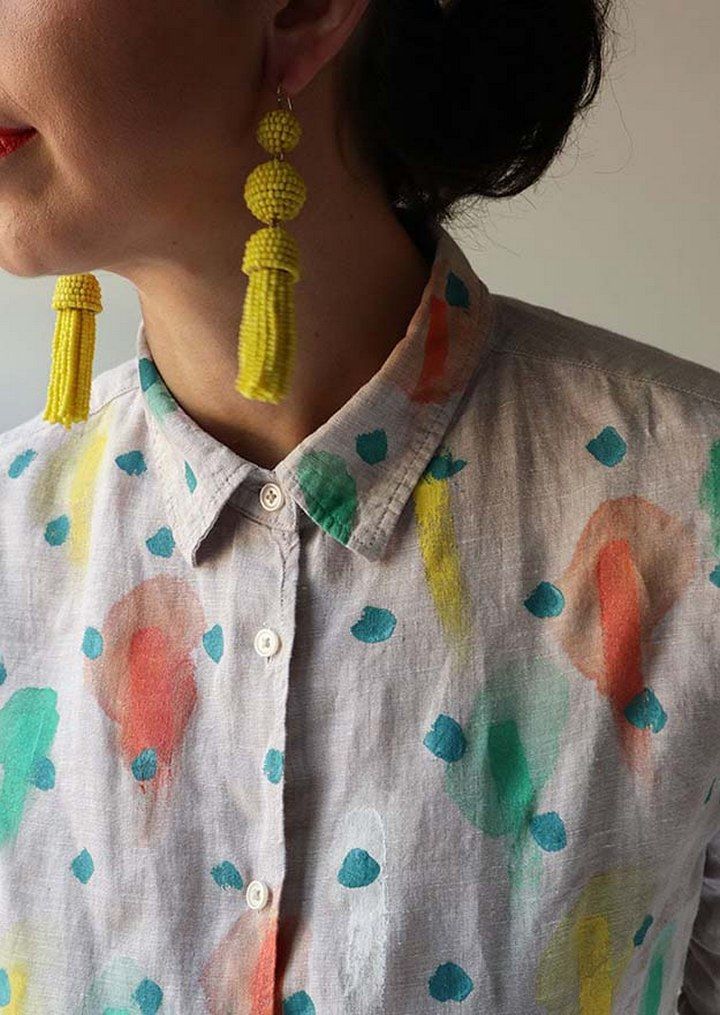 DIY T-Shirt Makeovers: In this project you can see how a linen t shirt is transformed and given a makeover. You can see the details and learn how you can also do this all by yourself. If you also have a boring t shirt in your wardrobe grab it and take a few supplies such as fabric paint, paint brush, paper plate, water , large piece of cardboard and iron. Tutorial
3. Denim T-Shirt Refashion – DIY T-Shirt Makeovers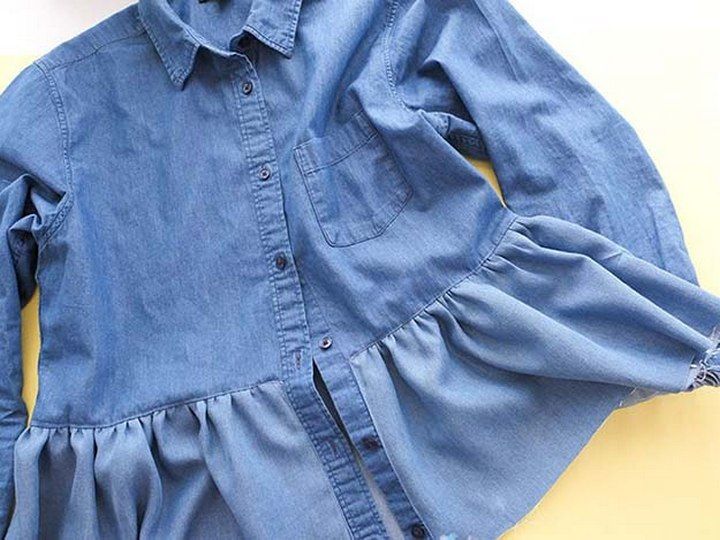 As we all know that fashion changes with time and so do clothing styles. This project shows how an old fashioned t shirt can be re fashioned and changed to match the current fashion and style. This denim shirt is cut form the bottom and stitched again with a complete new style and the results are amazing. Tutorial
4. DIY Ruffle Shirt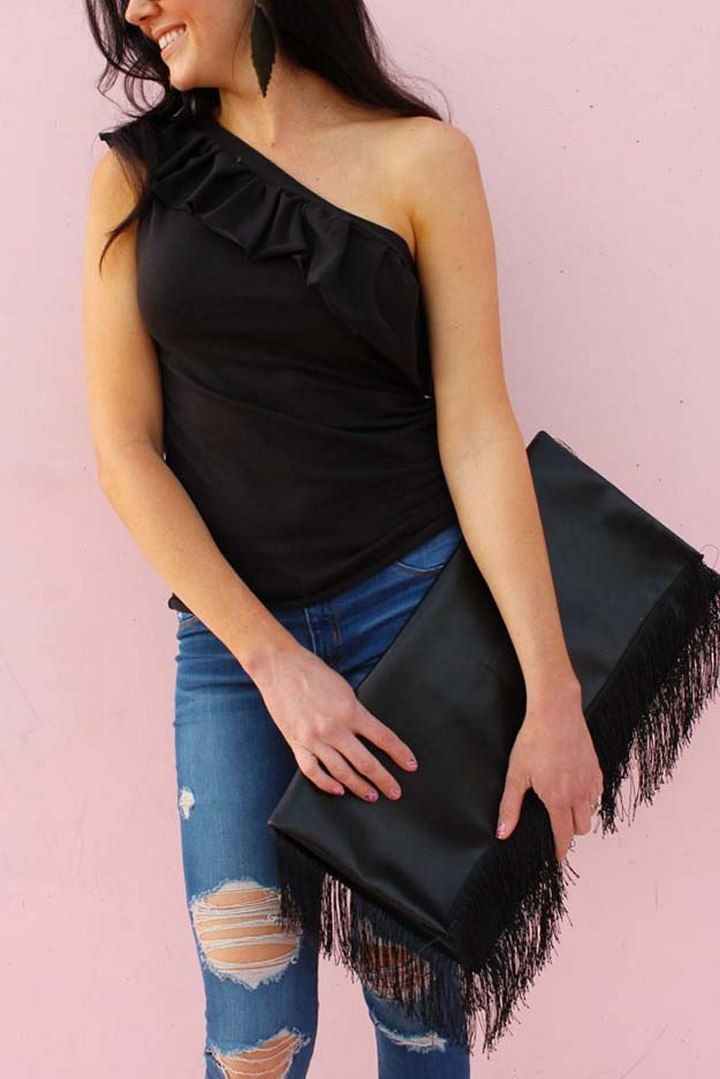 Have a look at this ruffle shirt and see how you can also make this all by yourself with the help of this tutorial here. The supplies that are needed here are a men's black t shirt along with basis sewing machine, grid ruler, fabric shears, fold over elastic and hand needle thread. Tutorial
DIY Jewelry Ideas – If you're looking for additional accessories to spice up your outfit but aren't able to buy costly jewelry then creating your own jewelry at home is an excellent option! Here are 15 ideas to help you get going, complete with step-by guideline pictures and instructions to guide you on your route:) DIY Jewelry Ideas
5. Low Cut T-Shirt Upcycle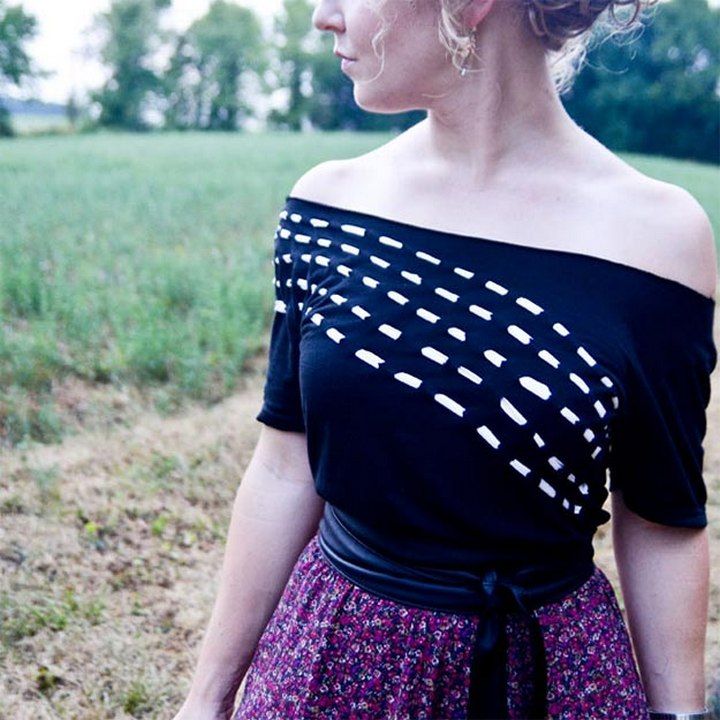 For this upcycling project you need to have two t shirts in contrasting colors. Besides this you will also need scissors, needles and thread. You will start off by cutting the top part of the t shirt. Once you have marked the lines you can now weave in the strips of your t shirt. You will also have to cut the holes along with the lines. Similarly you need to follow the instructions given here and you will see some amazing results coming your way. Tutorial
6. Hand Printed Open Back Crop Top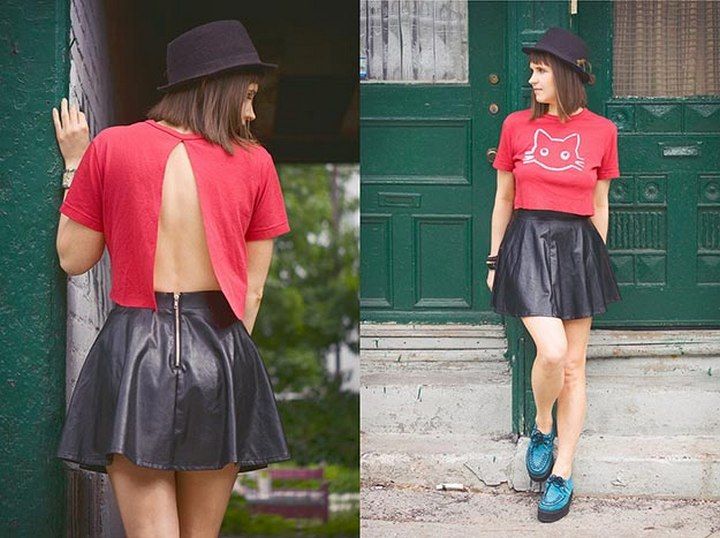 Are you ready to make this hand printed crop top all by yourself? If yes then this project will be of great help. You can use a second hand t shirt and some basic sewing supplies. The supplies that you need here are oversized tee scissors and a measuring tape. Tutorial
7. Workout T-Shirt Refashion – DIY T-Shirt Makeovers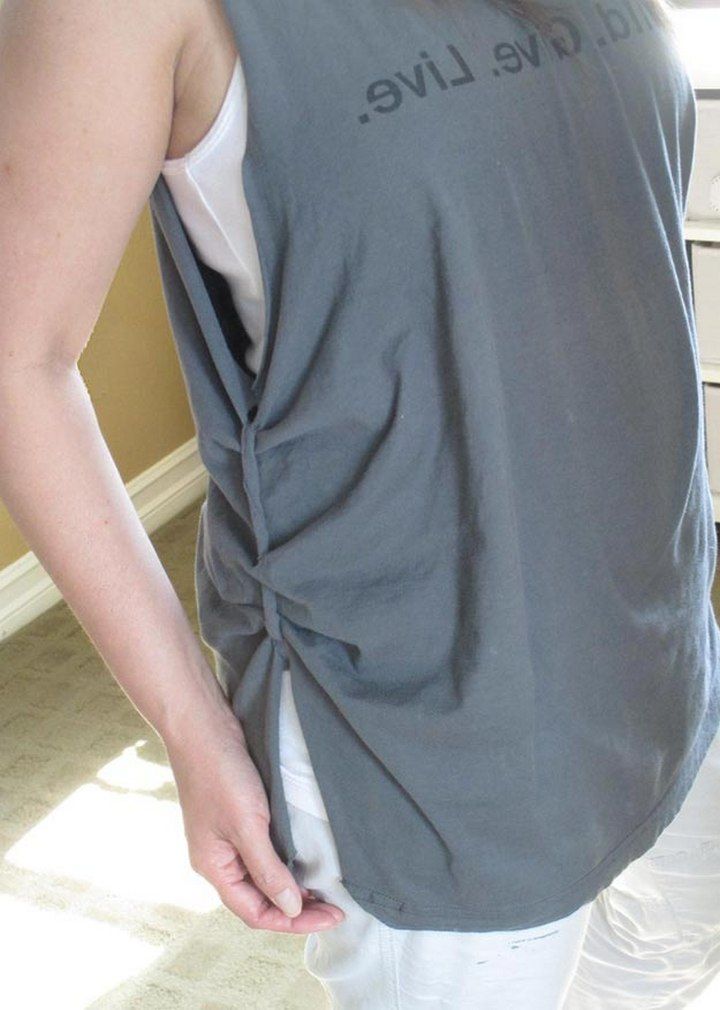 Have a look at this workout shirt refashion project and see how you can also transform your own workout t shirt. Follow the project and see how everything works. With a little bit of effort you can easily be able to make this wonderful addition to your wardrobe. Tutorial
8. DIY Fringed Top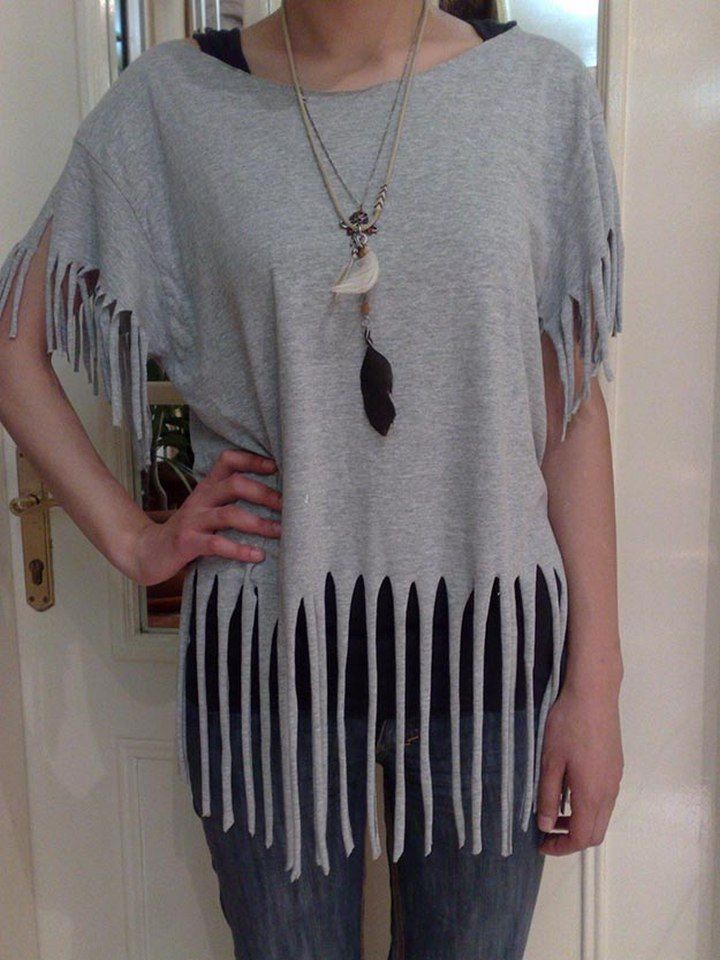 If you are also interested in this diy fringed t shirt. This process consists of eight steps and will only take a few minutes of yours. You will start off by cutting the neckline. Cutting the bottom hem will be your second step. Measurement is very important in this process in order to achieve the desired results. Tutorial
9. DIY Fabric Gift Wrap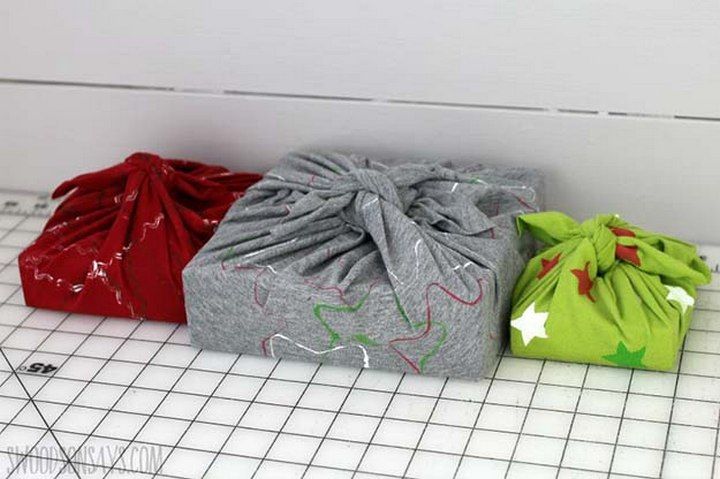 If you are about to pack a gift for someone but you have run out of a wrapping sheet, you do not have to worry. This diy project is all about using old shirts for wrapping gifts. The supplies that you will need for this project are old t shirts, fabric paint, scissors, stencil, paint brushes, acrylic ruler and rotary cutter. Tutorial
DIY Earrings – Look at you, trendsetter! Learn ways to design earrings with charms, beads, tassels and light stones. DIY Earrings
10. DIY Easy Choker T-Shirt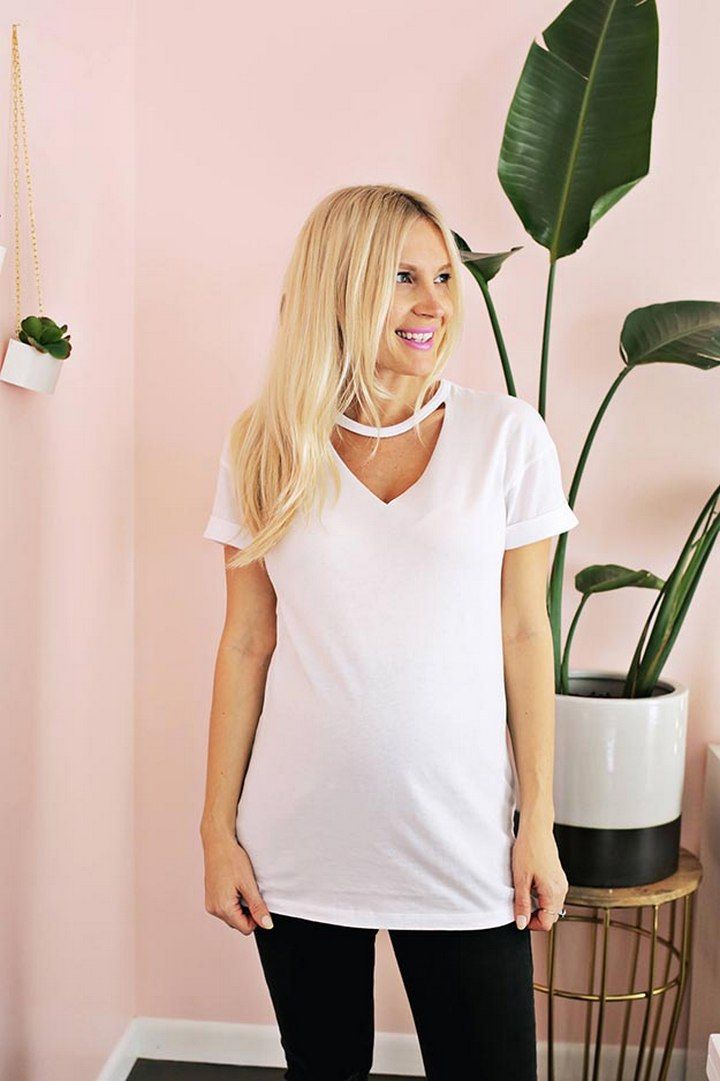 Have a look at this easy diy choker t shirt and see if you can also make this all by yourself. You will need a few supplies only such as fabric scissors, craft paper, pen or an iron erasable pen, curve rulers and straight pins. Grab the supplies and get started with this interesting mission for your personal wardrobe. Tutorial
11. DIY Bow T-Shirt Refashion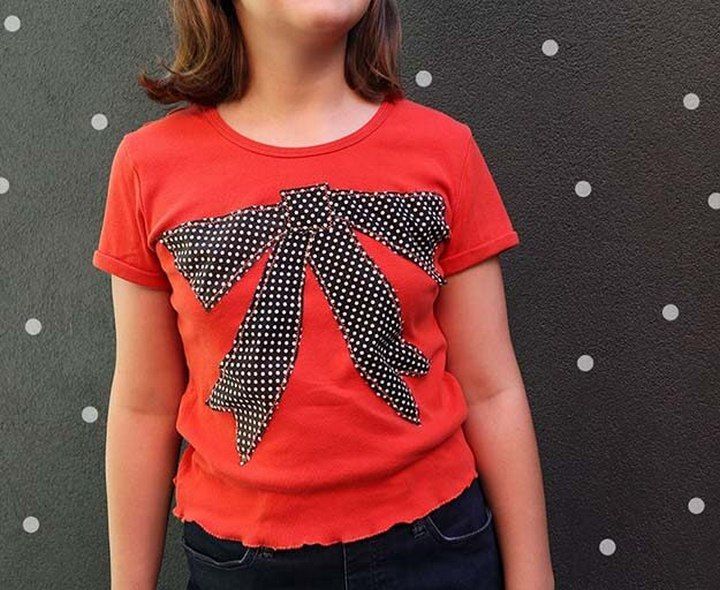 DIY T-Shirt Makeovers: Refashioning is definitely an art when you try to don it with your personal wardrobe. This bow refashion t shirt is maybe all you need to start your summers with. From this you need to have an unwanted long sleeve t shirt along with fabric scraps, paper and pencil, scissors, pins, tailors chalk, sewing machine, iron and general sewing supplies. Tutorial
12. DIY Twist-Back Top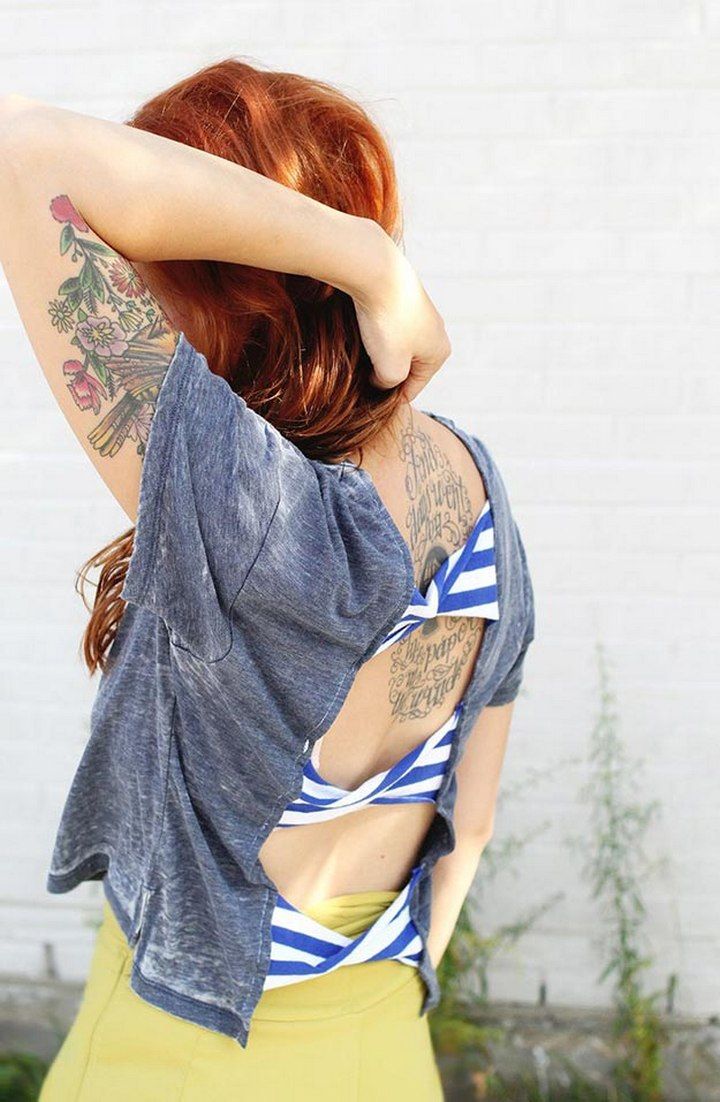 Are you interested in making a twist back top like this one in this project? If yes then you must follow this project with all the instructions accurately in order to achieve the best results. The supplies that are needed include old t shirt, scissors, extra jersey fabric and sewing machine. Tutorial
13. DIY Off Shoulder Tee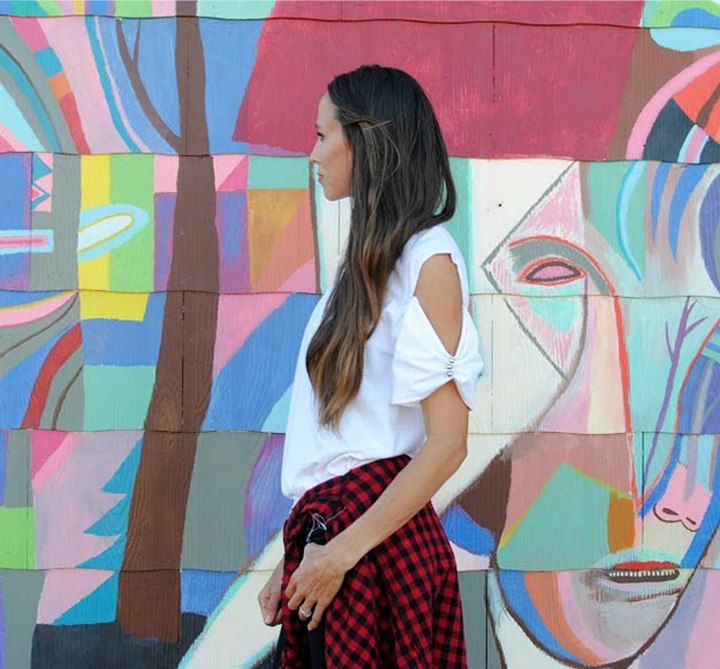 DIY T-Shirt Makeovers: This is an off shoulder tee that you can also make all by yourself and some spark ton your personal wardrobe. With a little bit of effort you will be able to create a super fashionable top and make your summers better than ever before. Grab this supplies that are listed here and get started. Tutorial
14. Potato Stamp Watermelon Top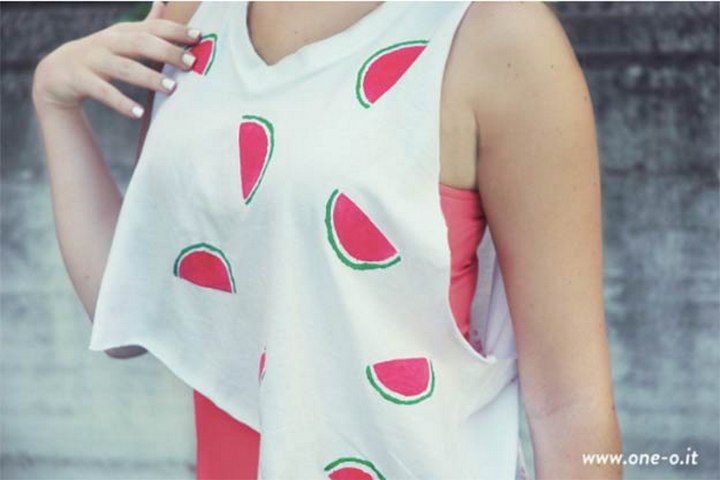 Fabric painting is surely so much fun and you can personalize and make some amazing outfits with this technique. Here in this project you will see some watermelon print on a t shirt done using potato and it turns out to be super attractive and filled with summer vibes. Besides this you will also need to have thin brushes for detailing. Tutorial
15. Embroidered Sweatshirt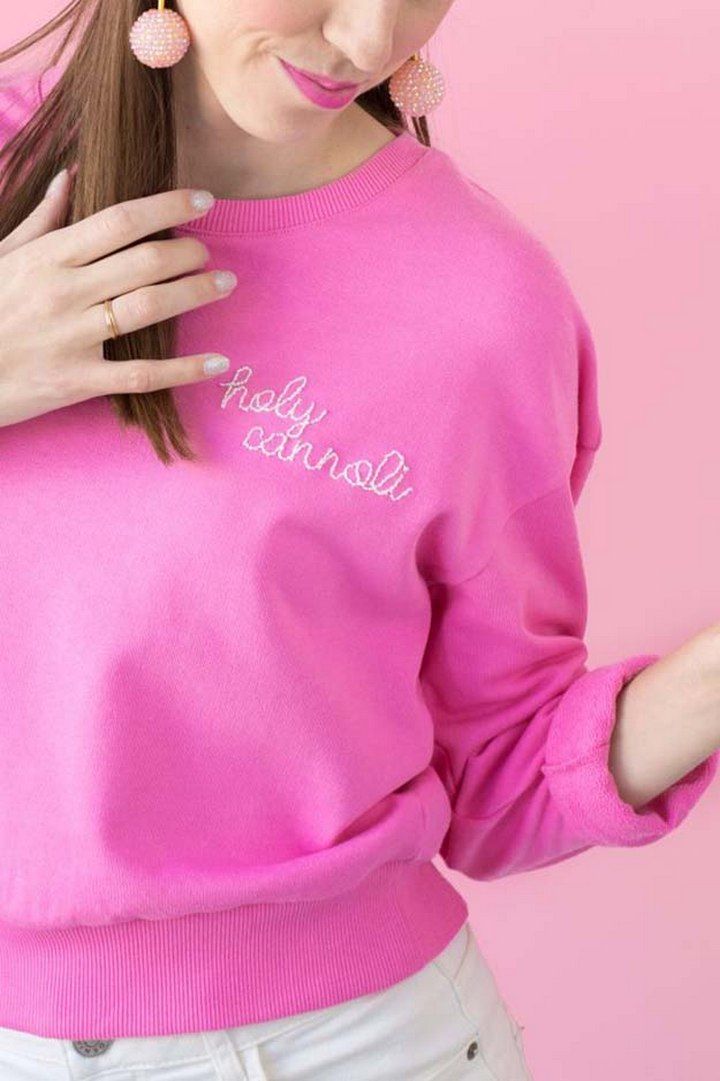 You can add some beauty and spark in your wardrobe with this embroidered sweat shirt easily. See the details of this project and consider doing it just according to the instructions in order to achieve the best results towards the end. The materials include sweatshirt, embroidery thread, embroidery needle, freezer paper, iron, colored pencil, computer and printer. Tutorial
16. DIY Patchwork Tee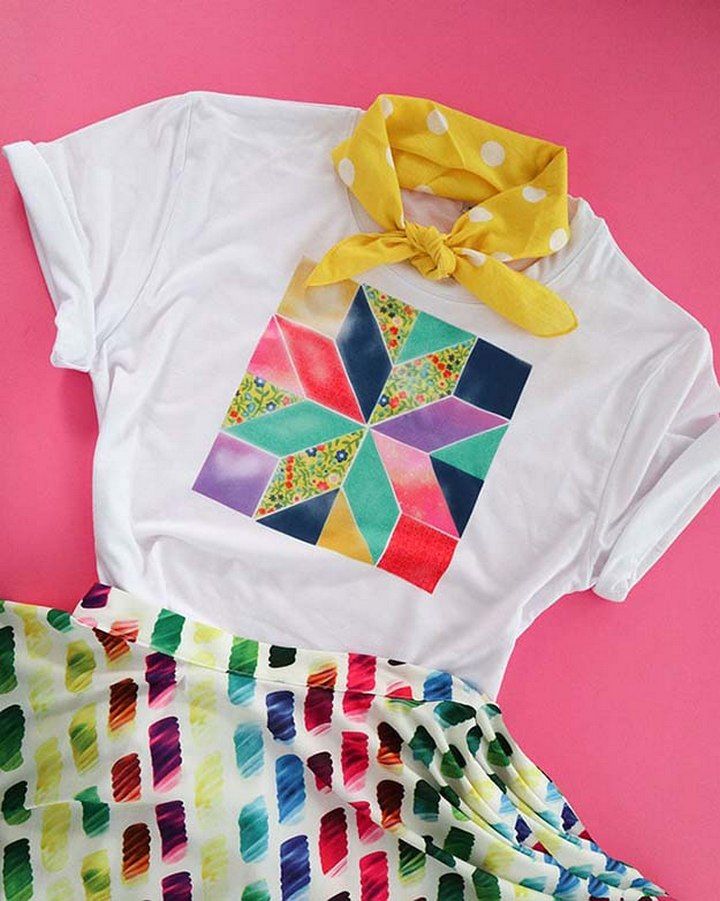 Everyone can make this super simple yet stylish patchwork tee with the help of this project over here. Quite a lot of materials are included here so note them down. Follow the procedure accurately in order to achieve the desirable results like the one you see here. This piece will add some spark in your wardrobe. Tutorial
17. Braided Dog Toys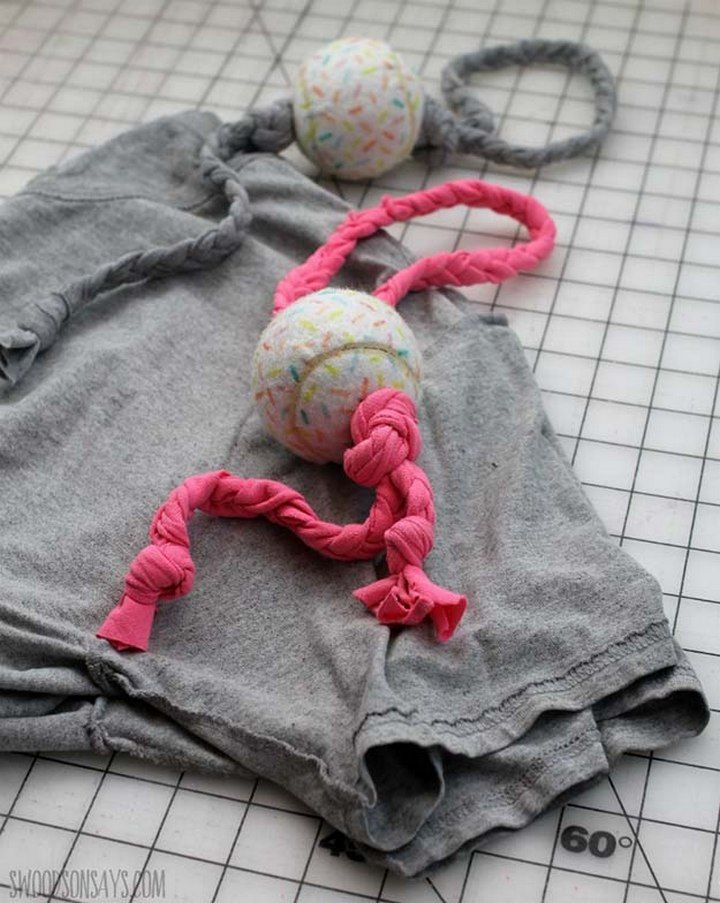 DIY T-Shirt Makeovers: If you also have a pet at home, you must have realized how they want things to play with. You can use any of your old t shirts to make a braided toy for your dog pets. See how this toy is made and make one for your furry friend too .instead of spending money on expensive toys, use the recycling process and save money while being creative. Tutorial
Beaded Necklace Ideas – You're probably already familiar with beaded jewelry because it's among the easiest to create by yourself. If your jewelry collection could benefit from some new and exciting pieces, look for the inspiration in these 33 DIY necklaces with beads!
18. Graphic Initial Sweatshirts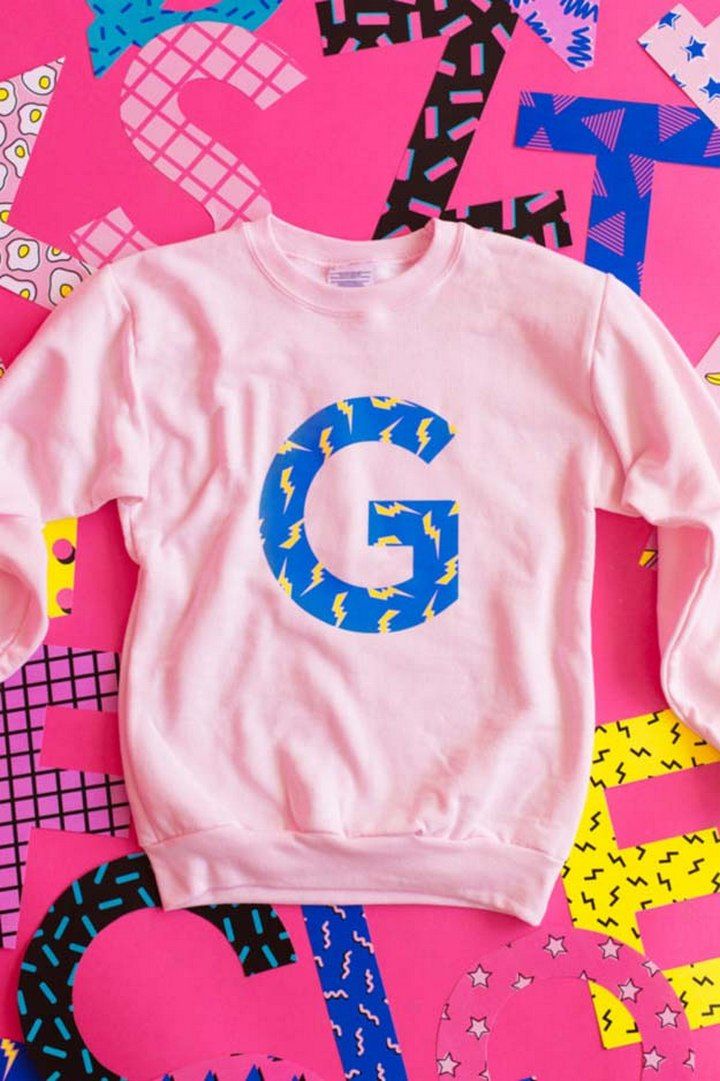 Personalized outfits and t shirts always look cool. You can also a customized look ton your wardrobe with the help of this project. You can also make a sweatshirt with initials on it and impress everyone with your creativity and innovations. Grab the supplies such as free printable letters, iron on transfer paper, dark fabrics, iron and scissors. Tutorial
Conclusion:
It's about time that you do make some efforts to do make over of your t shirts and impress everyone around you. Not only you can refashion your t shirts but you can also use your old t shirts for some other purposes such as wrapping gifts etc.