These 30 DIY Pom Pom Ideas & Crafts That Are Perfect are so amazing that you will definitely want to try these for the next holiday's season along with your Kids. As all kids want to have some fun during vacations and these diy crafts will make them happy and will also engage them in a better and constructive way. All of these ideas are different from each other and you can choose the one that you like the most. These plans not only include decorative items but also some accessories.
These pompom craft projects not only include pompom crafts but also includes, idea, tricks and tips about making pompoms. These ideas also include some very fun and interesting crafts for kids such as angry bird crafts, turkey, eagle's hedgehog, rainbow, frogs, monsters and much more. You will have to choose the yarn in the relevant colors in accordance with the craft and project. With these projects you will realize how a variety of things can be made with simple and colorful pompoms.
1. How to Make a Pom Pom – DIY Pom Pom Ideas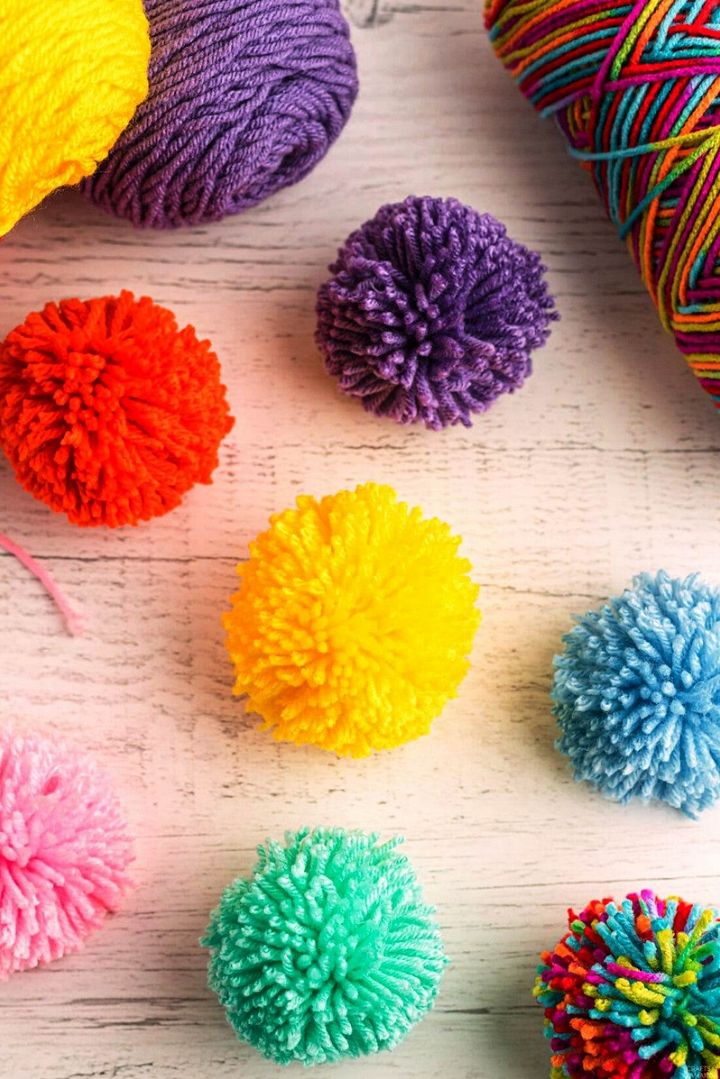 This diy project is all about making pompom so that you can use to for various projects afterwards. You will need yarn in any colors of your choice and get started. You will start off by wrapping the yarn on your two fingers. Take a piece of yarn around the center of your yarn loop and tie a knot. You will now have to use scissors to cut the ends of the loops and carry on until you have a nice fluffy pompom ready in your hands. Tutorial
2. Easy DIY Crafts – Pom Pom Frame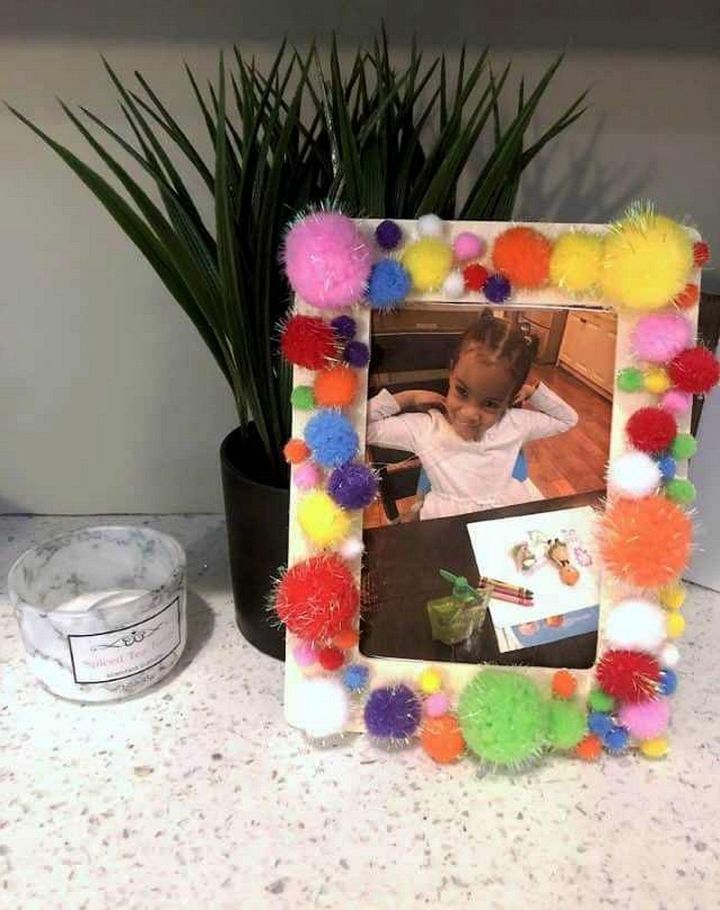 Here in this diy pompom project a simple frame has been transformed into a funky one with colorful pompom all around and over it. You will need a regular glue for this project along with a bag of pompoms. You can do this project with a wooden craft frame from any store. Tutorial
3. Cute Pom Pom Craft – My Pet Bee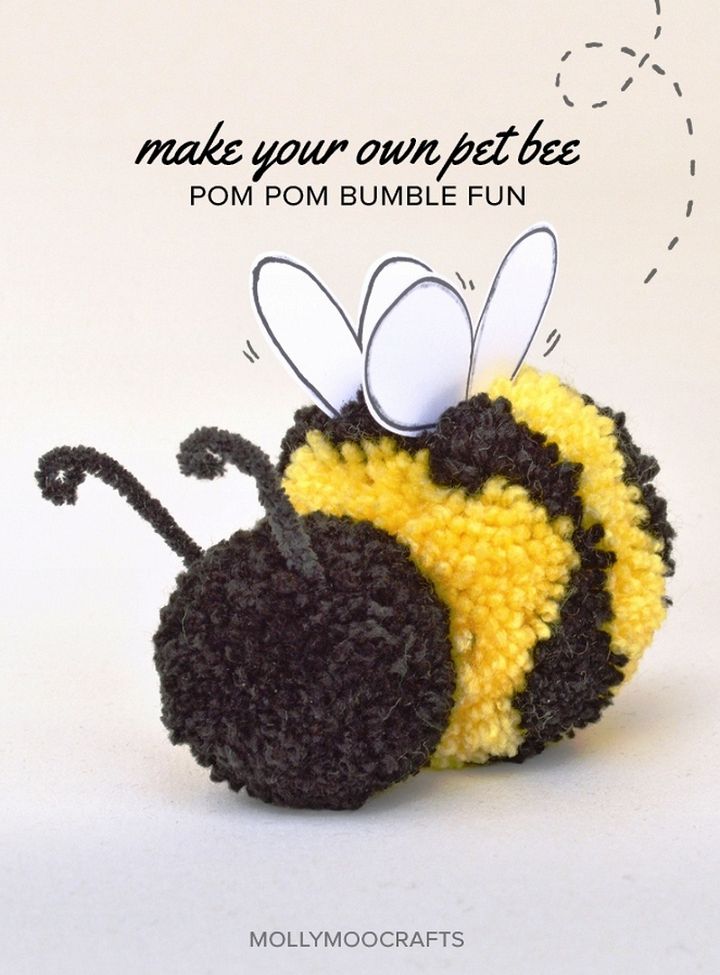 While using pompom you can make many crafts that you will love to play with. Here we have a pompom pet bee made with relevant colors of pompom and it looks absolutely amazing. Follow the project if you are interested in this adorable craft and the making. Tutorial
4. DIY Cardboard Pom Pom Maker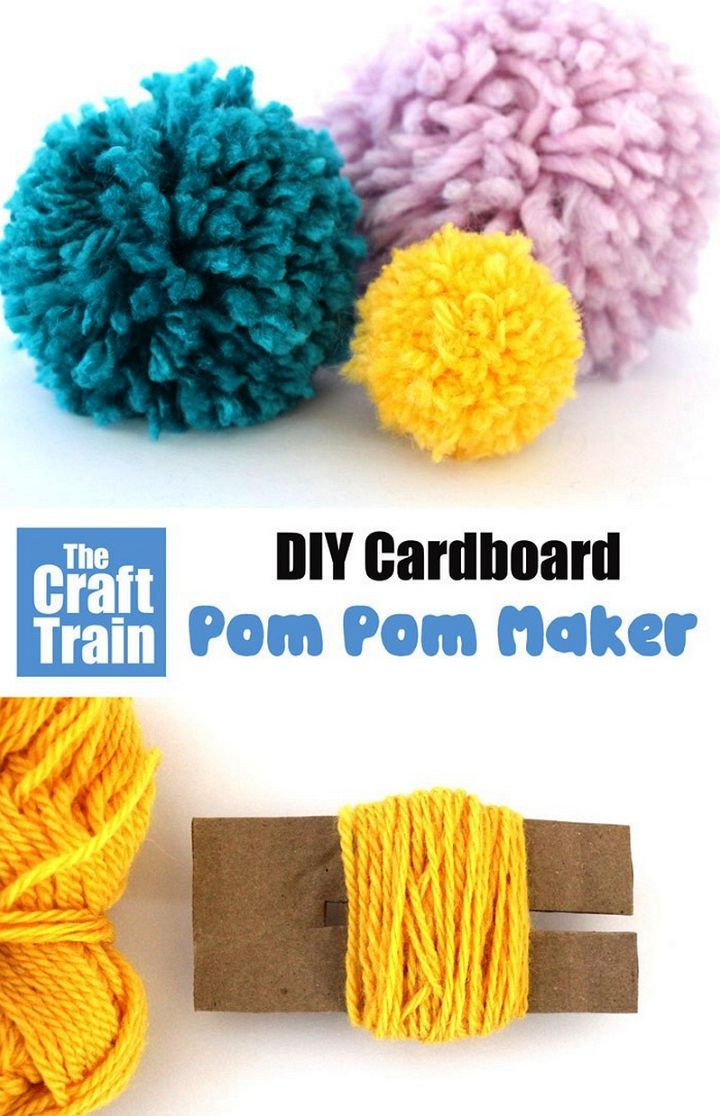 Besides using fingers to make pompoms, you can also use many other objects to make them accurately. Here we have an idea where you can use cardboard to make pompoms and you can see how it is all done in the details of the project. For this you need scrap cardboard, yarn, scissors and pompom maker template. Tutorial
Perler Bead Patterns – Perler beads are an innovative way to create interesting designs such as jewelry, trinkets key chains, and much more! Look at these perler bead animals. Check out more
5. DIY Pom Pom Coaster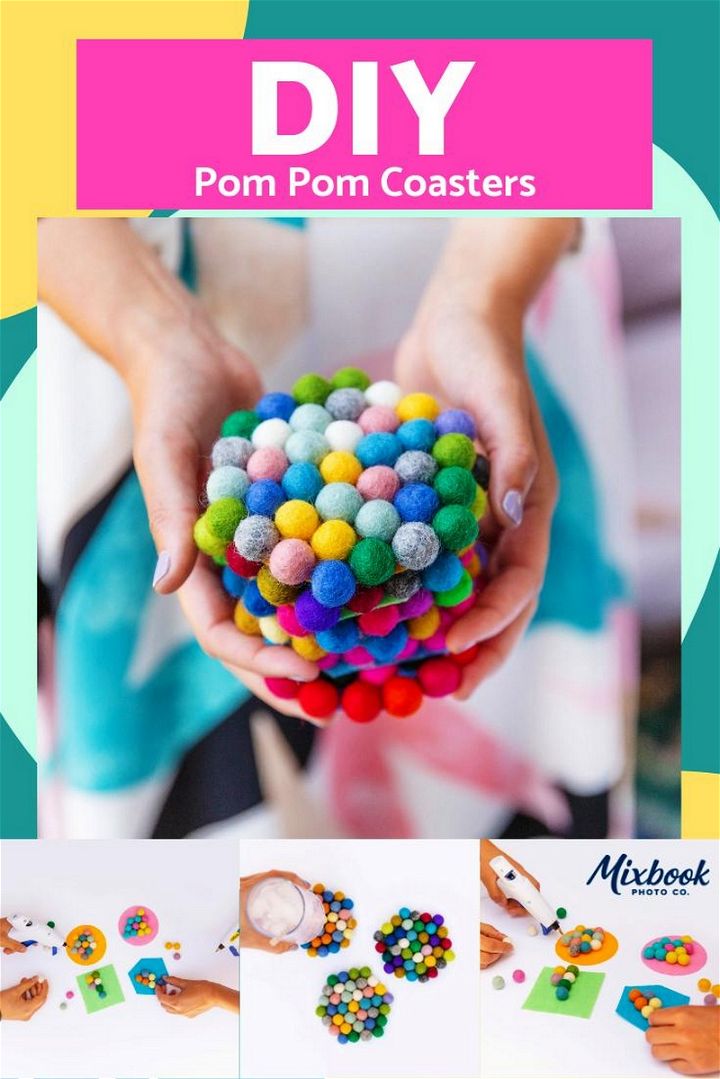 Have a look at this diy pompom coaster and see how you can also make this with a few simple steps. You will need pompoms in a 1cm size along with felt fabric squares, glue gun and scissors for this project. Grab the supplies and get started with this interesting activity. Tutorial
6. The Easiest DIY Pom-Pom Headbands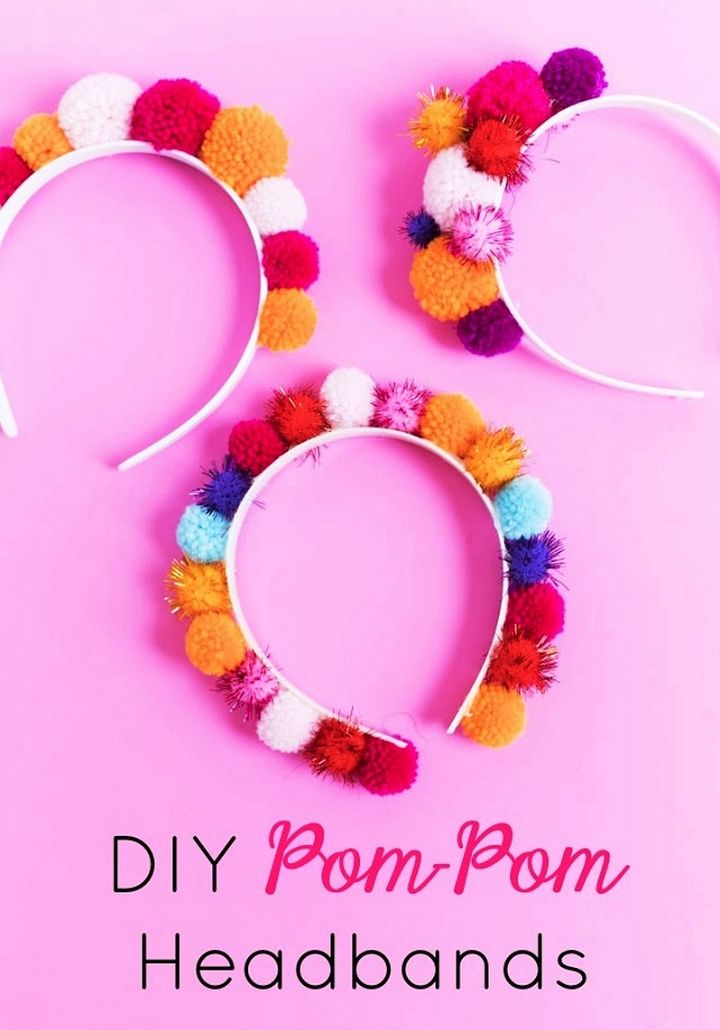 This might be the easiest pompom craft you have ever seen. You can also make this diy pompom headband easily with the help of this project. You will need pre made yarn pompom for this project along with glitter pompoms, plastic headbands and hot glue. Grab these items and get started. Tutorial
7. How To Make Rainbow DIY Pom-Pom Flowers Decoration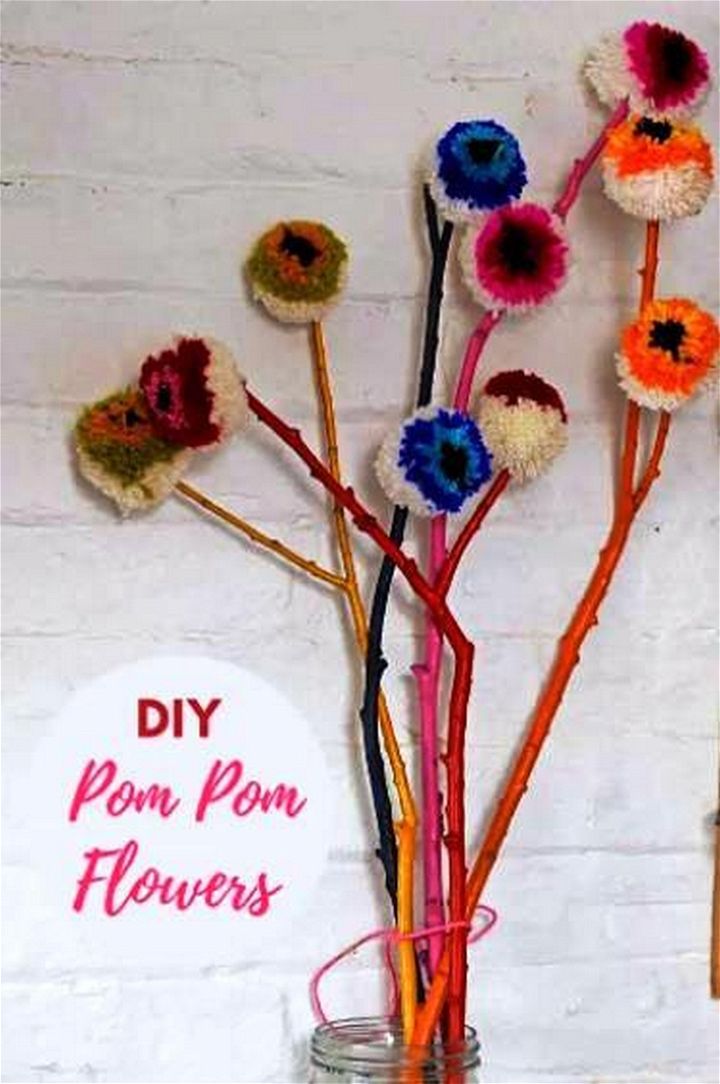 These are some rainbow pompom flower decoration that you can also learn with the help of this project here and make for yourself. For this you will need yarn in various colors along with larger ball of yarn in a cream off white color, sticks, spray paint and hot glue gun. Tutorial
DIY Ice Cream Crafts – Check out 7 adorable Ice Cream-themed Crafts and crafts perfect for fun ice cream lovers. even if you don't like to eat
8. DIY Pom Pom Keychain Bag Charm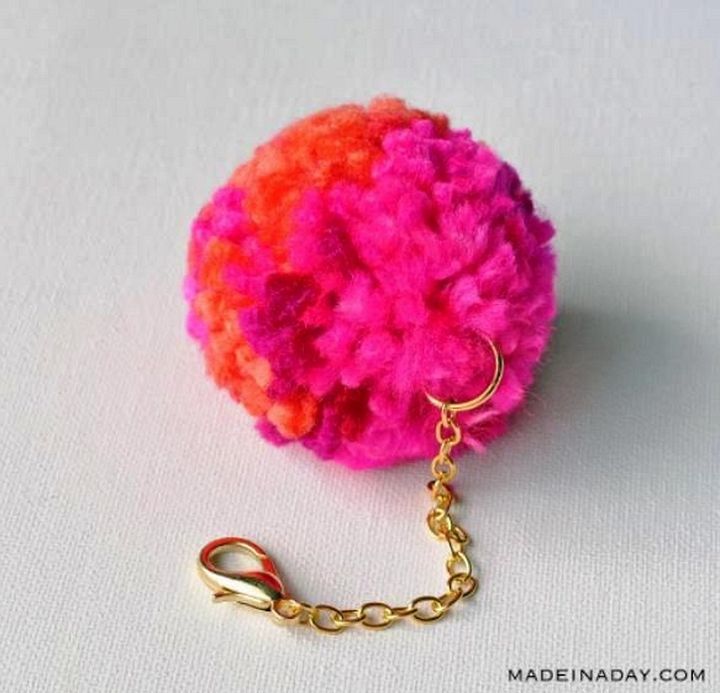 This seems to be the cutest keychains of all times and you must also try this. This is a pompom keychain and you can easily make this. These keychains are trending everywhere. You will have to grab yarn in your desired colors along with clover large pompom maker, clover small pompom maker, sharp scissors, gold chain, gold lobster claw clasps, large gold jump rings and flat head jewelry pliers. Tutorial
9. How to Make Pom Poms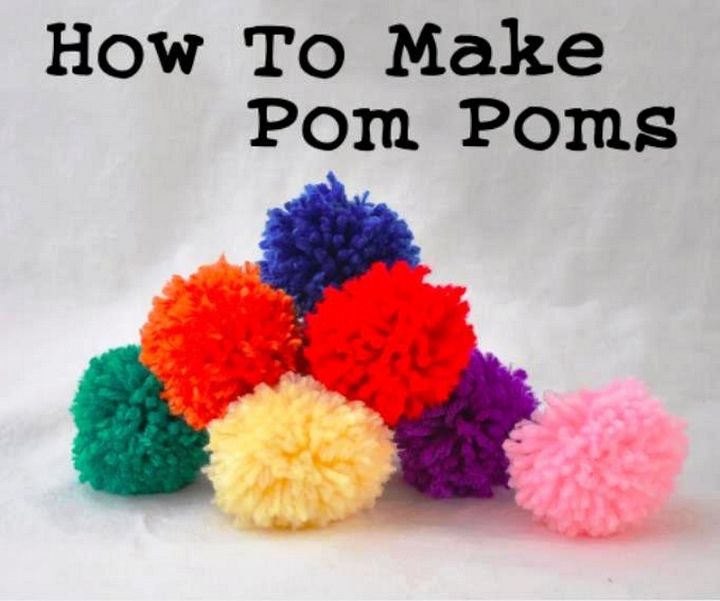 In this diy pompom project you will learn to make pompoms and you can then use it them to make any craft that you feel like. You will need yarn of your choice along with cardboard, scissors, pencil and circle objects to trace. Grab the supplies and get started with your mission of making unlimited pompoms. Tutorial
10. How To Make A DIY Pom Pom Wall Hanging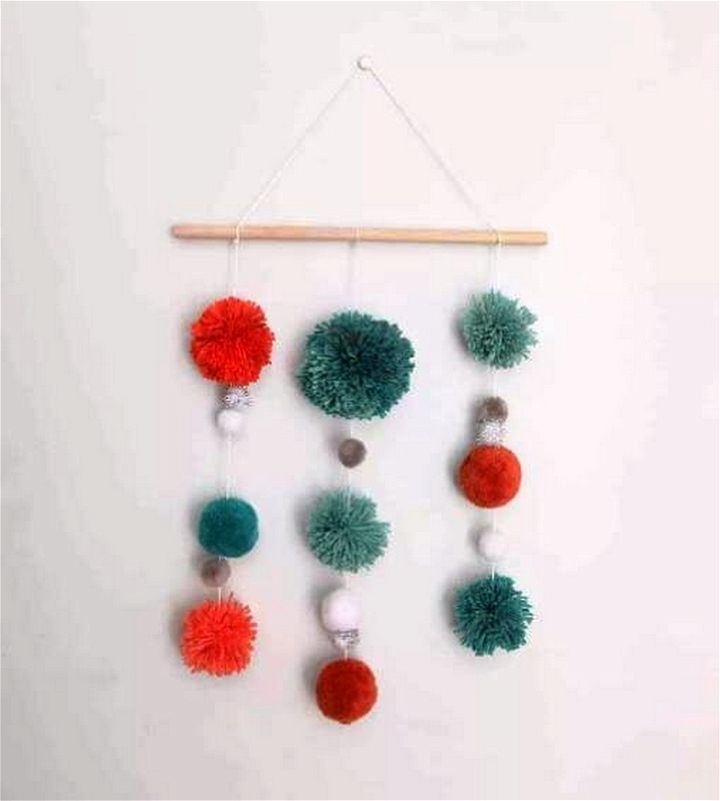 Have you ever wondered how pompoms can help you decorate the empty and boring walls in your house? This diy project will explain in detail how you can make a diy pompom wall hanging in a simple way. The list of supplies include a dowel rod, thick string, needle, and yarn in different colors, pompom tool, sharp scissors and pre made pompoms. Tutorial
DIY Scrubby Yarn Ideas – Are you ready for a quick crochet project?? This is a fast knit Dish/Face Cloth Free pattern that you can make in 30-minutes or so! Utilizing two threads of cotton yarn, This Thick & Quick Bumpy Scrubby is simple to make and can be available to use or to give to a friend or family member within the same day.
11. Angry Birds Pom Pom Craft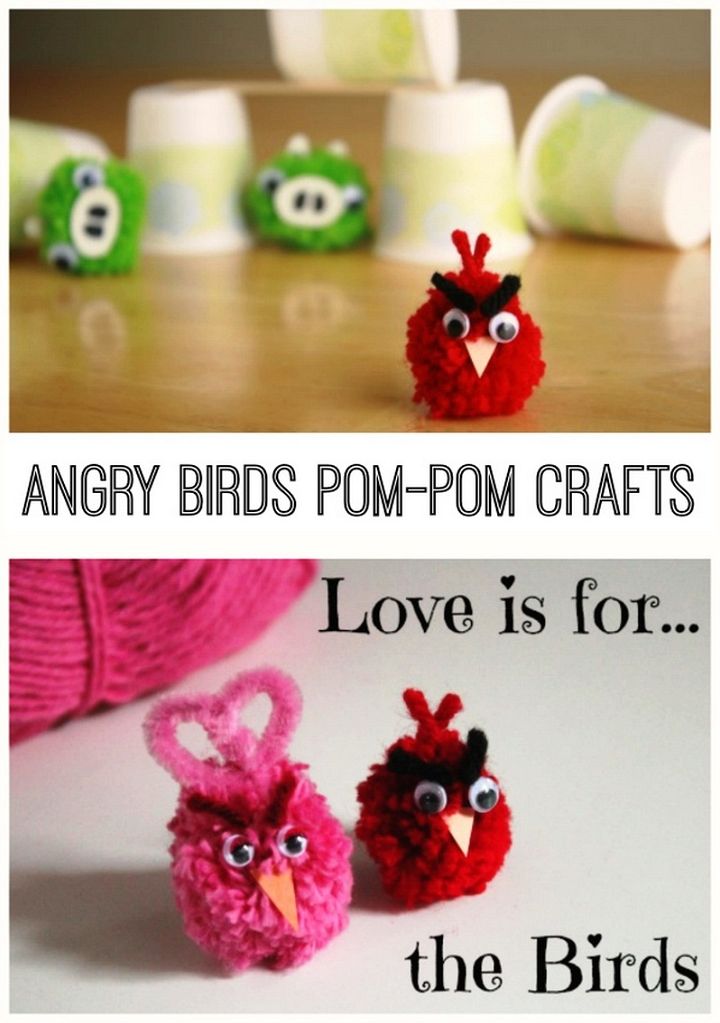 DIY Pom Pom Ideas: This project shows how we can make some diy pompom angry bird crafts and enjoy. A complete process is described here in detail and a list of supplies is also given here which includes yarn, scissors, craft glue, googly eyes, craft paper and stacking cups. Tutorial
12. Easy Pom Pom Shooter Craft for a Fantastic Indoor Kids Activity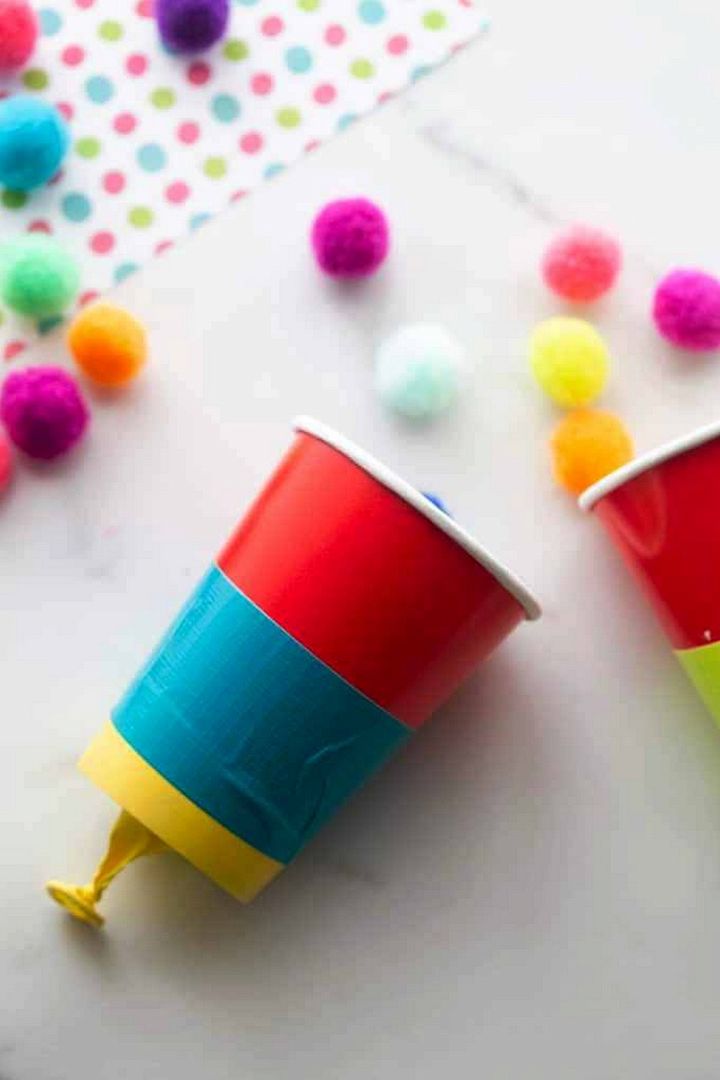 This DIY Kids Activity shows how we can make pompom shooter craft that your kids can enjoy. The supplies that you need to make this craft are paper cups or toilet paper rolls, balloons, pompoms, duct tape, construction scrapbook paper, scissors, ruler and craft knife. Grab these supplies and make this for your kid's indoor enjoyment. Tutorial
13. Easy DIY Pom Pom Hedgehog Kid's Fall Craft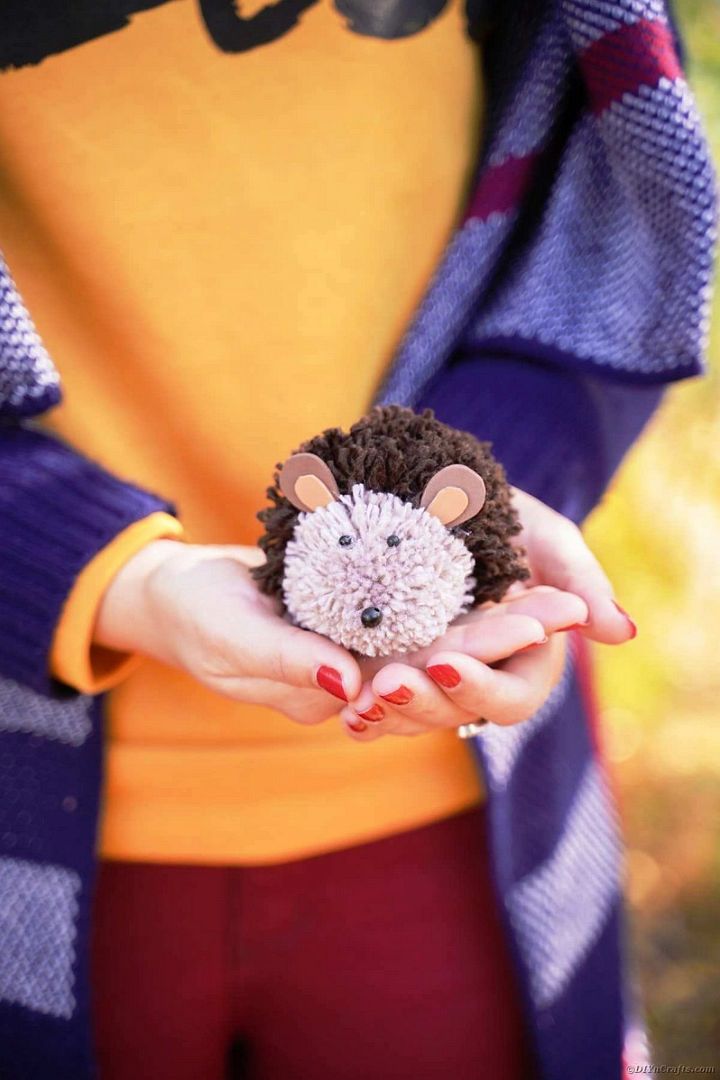 As we know that fall is just round the corner therefore make this hedgehog craft with pompom for your kids. If you are interested in this diy craft then you must follow the process. You need yarn in relevant colors along with small and large beads, scissors, hot glue gun and glue sticks. Tutorial
14. DIY Pom Pom Rainbow Idea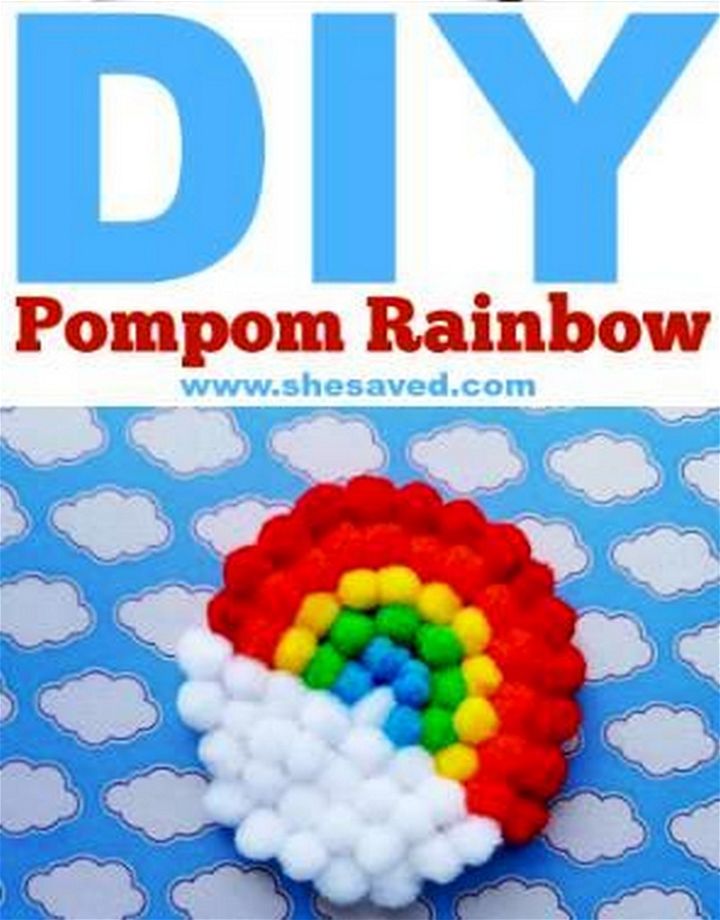 DIY Pom Pom Ideas: Have a look at this diy rainbow pompom idea and make one for you. If you also love to craft then you will be attracted to this project for sure. The supplies that are needed includes colorful pompoms, craft foam sheet, knife or scissors, pencil and hot glue gun. Tutorial
15. Pom Pom Frog – Pom Pom Crafts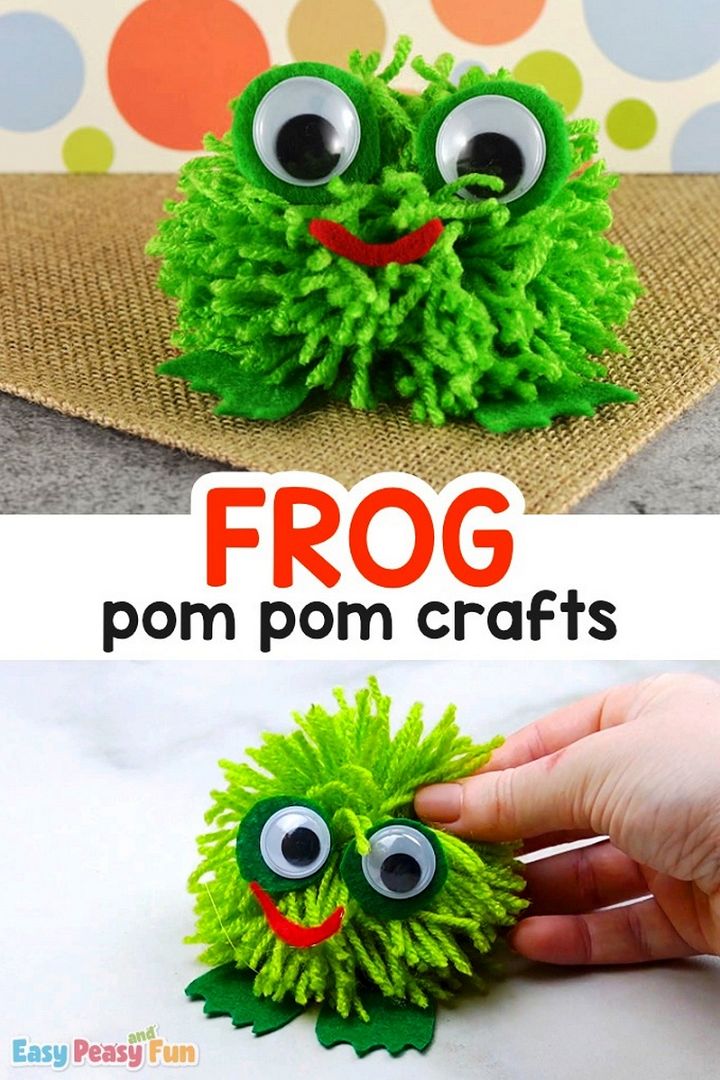 This diy frog pompom craft seems attractive and appealing so try this all by yourself. Besides yarn you will also need felt for this project. You will also need a few supplies such as scissors, hot glue, googly eyes and pompom maker which is optional. Tutorial
16. DIY Pom Pom Blue Bird Craft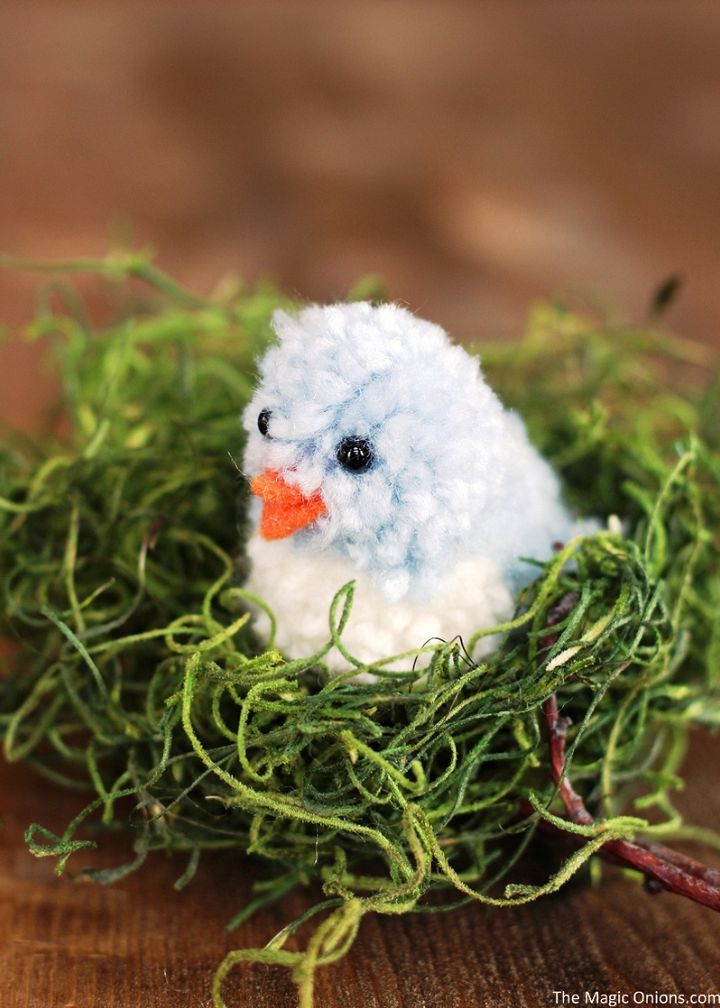 This is a pompom blue bird craft that you can also make easily with the help of this project over here. This craft is just a matter of few minutes so get started. the materials that you need for this craft are yarn in the relevant colors, embroidery floss and thread, hand sewing needle, black beads for eyes, craft felt, fabric glue, scissors , cardboard and table fork. Tutorial
17. DIY Nature Pom Poms Using Grass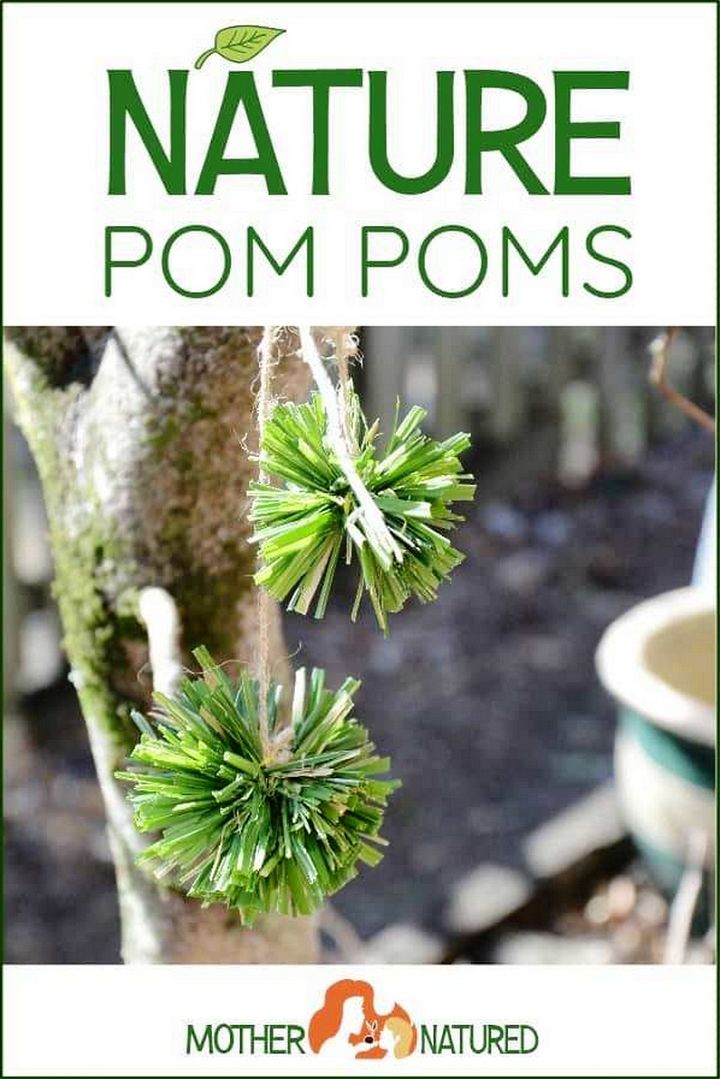 Are you interested in making this nature pompoms using grass? If yes then you must get started and see how everything can be done easily. The materials that we need for this diy craft are long grass, cardboard, fishing line, string and scissors. You do not need any pompom template for this craft. Tutorial
DIY Gift's for Men – Let's admit it: It isn't easy to find good homemade gifts for men. Today, I've collected 14 of my most-loved ideas for amazing gifts made by hand for men. This includes suggestions for campers, cooks golfers, couch potato as well as bookworms and others. There's bound to be something that is perfect for the particular guy on your list! So, Check it out
18. Felted Pom Pom Acorn Craft for Kids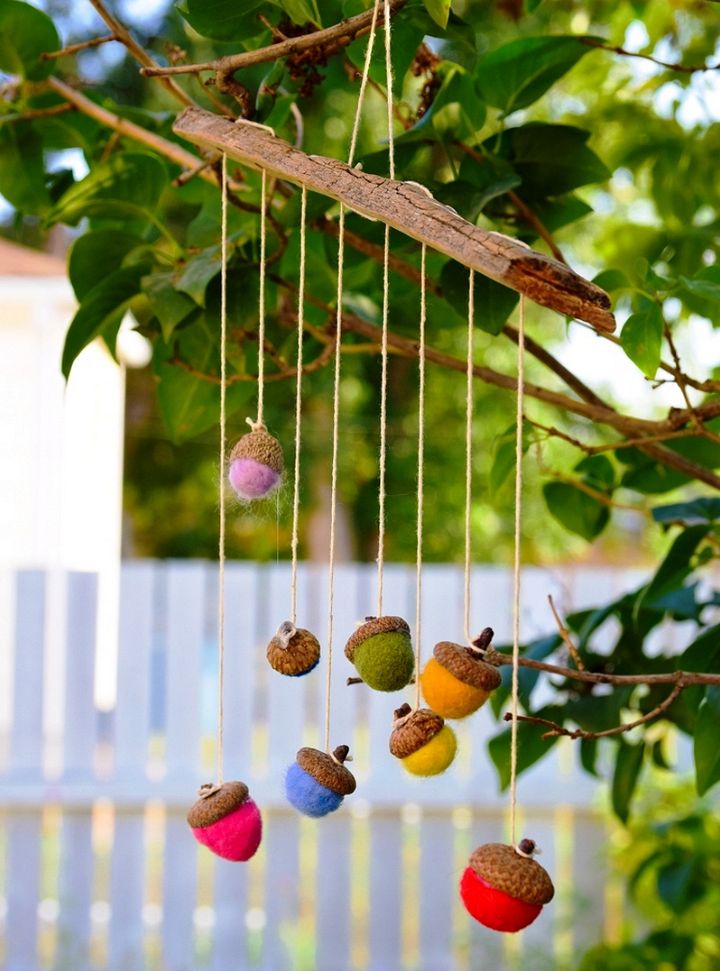 These are felted pompom acorns that anyone and everyone can make easily. With the help of this project you will be able to do this easily. You will pompoms, acorn caps hot glue gun and white glue. A complete tutorial is here to assist you so that you can easily catch up. Tutorial
19. Pom Pom Bald Eagles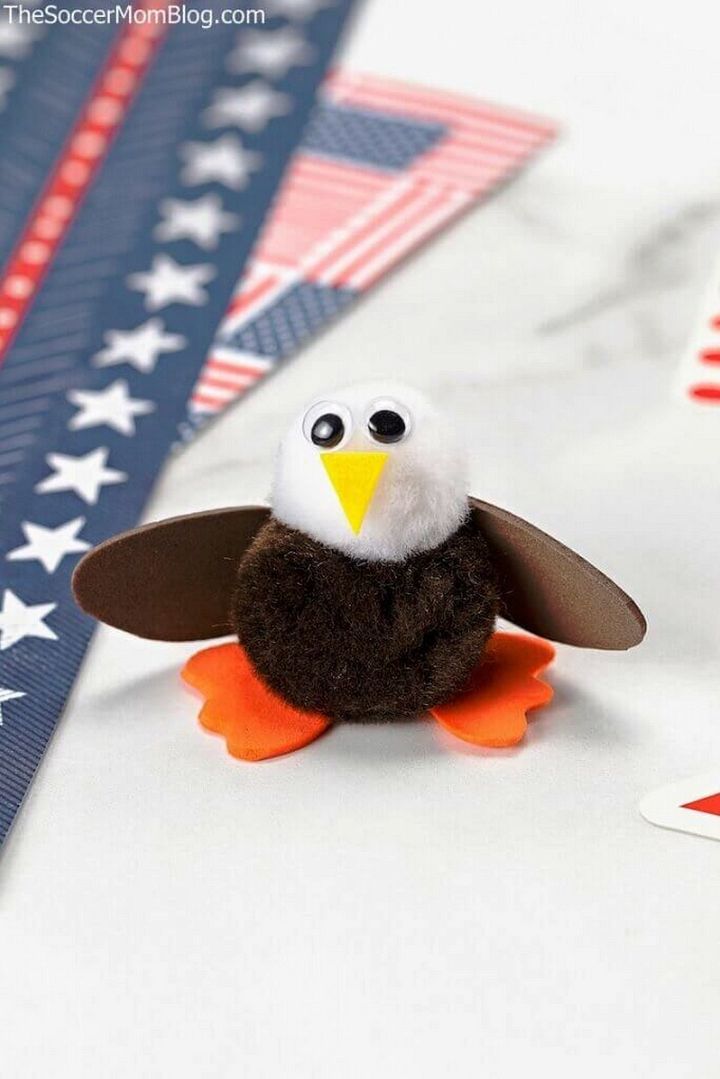 DIY Pom Pom Ideas: This is probably the most adorable pompom craft we have ever seen. You can also make these bald eagles using pompoms. Choose the yarn in relevant colors along with a few supplies and get started. You will need craft foam sheets, large pompoms, hot glue gun and googly eyes. Tutorial
20. How To Make Pom Pom Monsters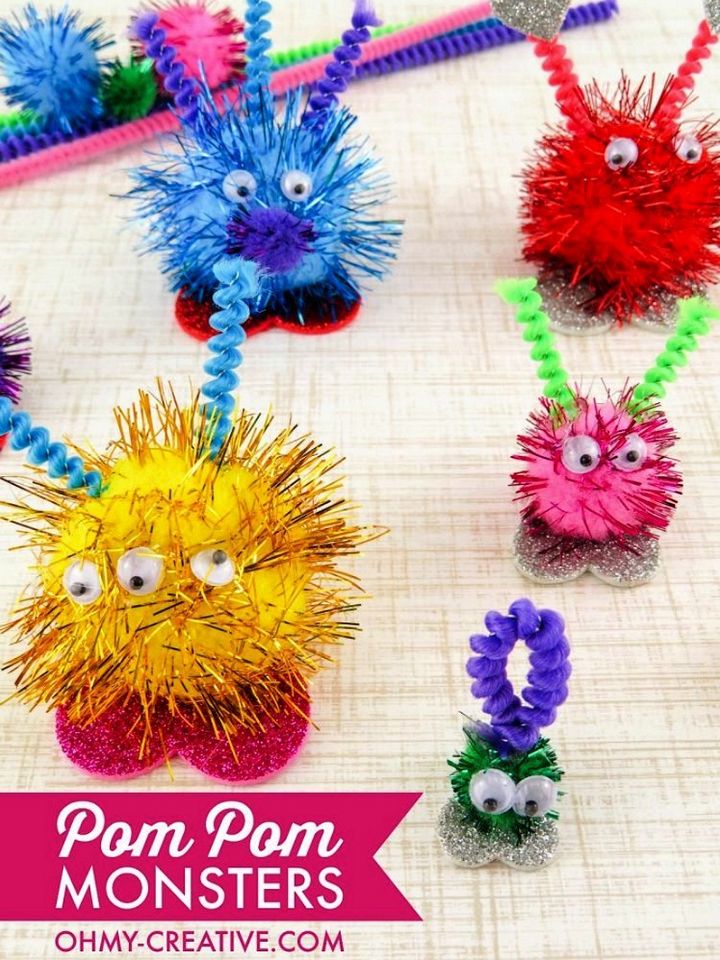 These pompom monsters are so cute that you will definitely want to make this. As we know that summer holidays are approaching soon therefore we must make some arrangements to engage our kids and let them enjoy their vacations with these interesting crafts Tutorial
21. Pom Pom Flower Craft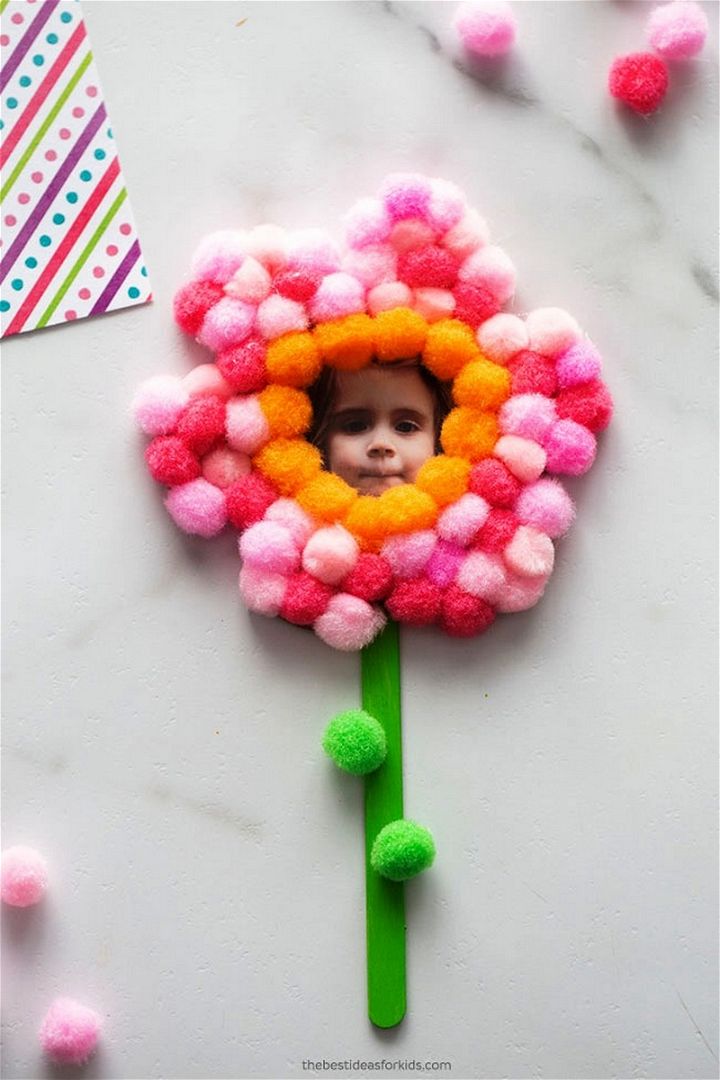 This pompom flower craft that you see here is very interesting and engaging. You can try this diy pompom craft with your preschoolers and see them enjoying so much. Some supplies that we need here are pompoms, cardboard, white glue, Popsicle sticks, green paint, adhesive magnets, scissors and flower templates. Tutorial
22. Turkey Pom Pom Thanksgiving Craft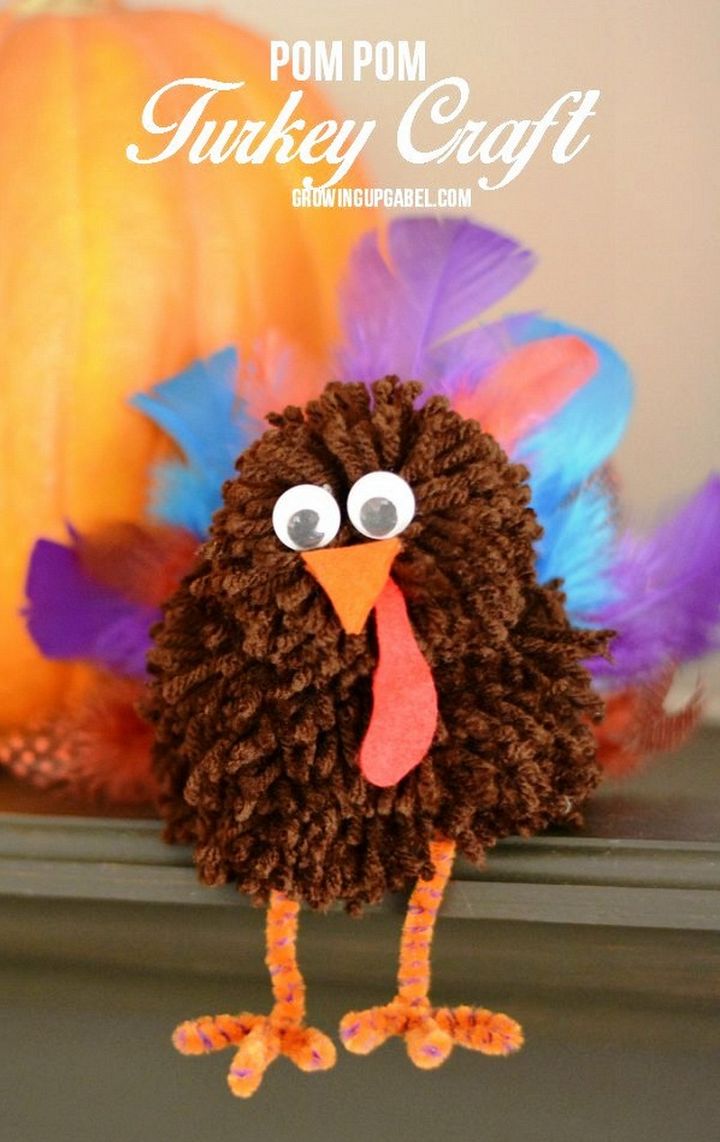 DIY Pom Pom Ideas: You can also make this turkey pompom as your thanksgiving craft. You can make your holidays engaging and interesting more than ever. Your kids will surely love this craft and you can make them learn a lot of things while making this craft. You will need yarn, feathers, felt, googly eyes, scrap cardboard, book, scissors, bowl or glass for circle template and hot glue. Tutorial
23. Pom Pom Tree Christmas Craft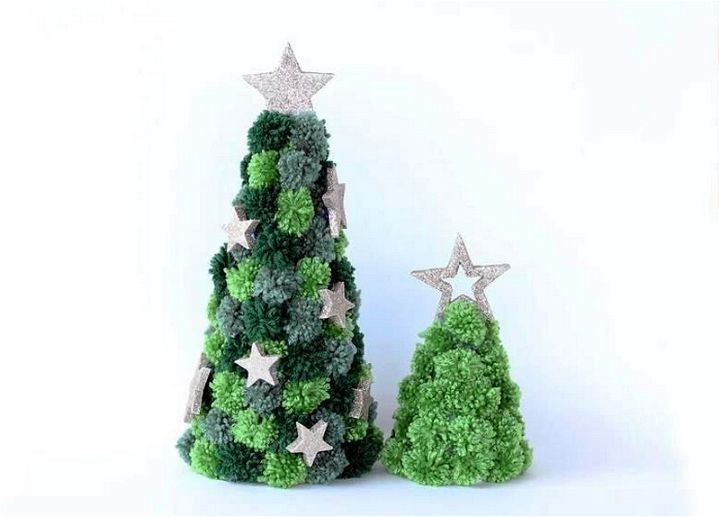 Have a look at this Christmas tree craft made using pompoms. You can also make this craft is not only easy to make but is also for cute for the upcoming festival. Kids will also love this craft as it is completely fun. You will need yarn and glittery stars. For the tools you need to have pompom maker, hot glue gun, glue sticks, scissors, polystyrene cones in various sizes. Tutorial
DIY Fairy Garden Ideas – Take a look at these 29 adorable diy fairy Garden Ideas, including accessories for fairy gardens, container ideas for fairy gardens and fairy garden homes for indoor use and ideas.
24. Pom Pom Spider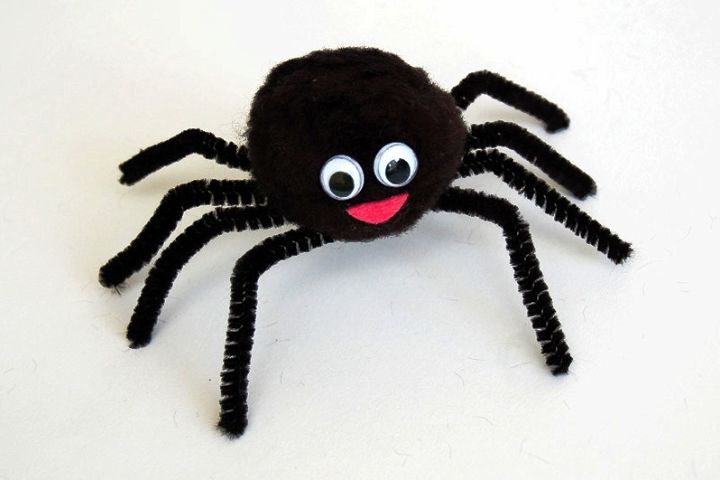 If you haven planned anything so far for the holidays season for your kids, consider this interesting activity, try to make a spider with pompoms and kids will surely love this. You will need large black pompoms, pipe cleaners, scissors, white glue, wiggle eyes and felt or paper scraps. Tutorial
25. How to Make an Easy Pom Pom Garland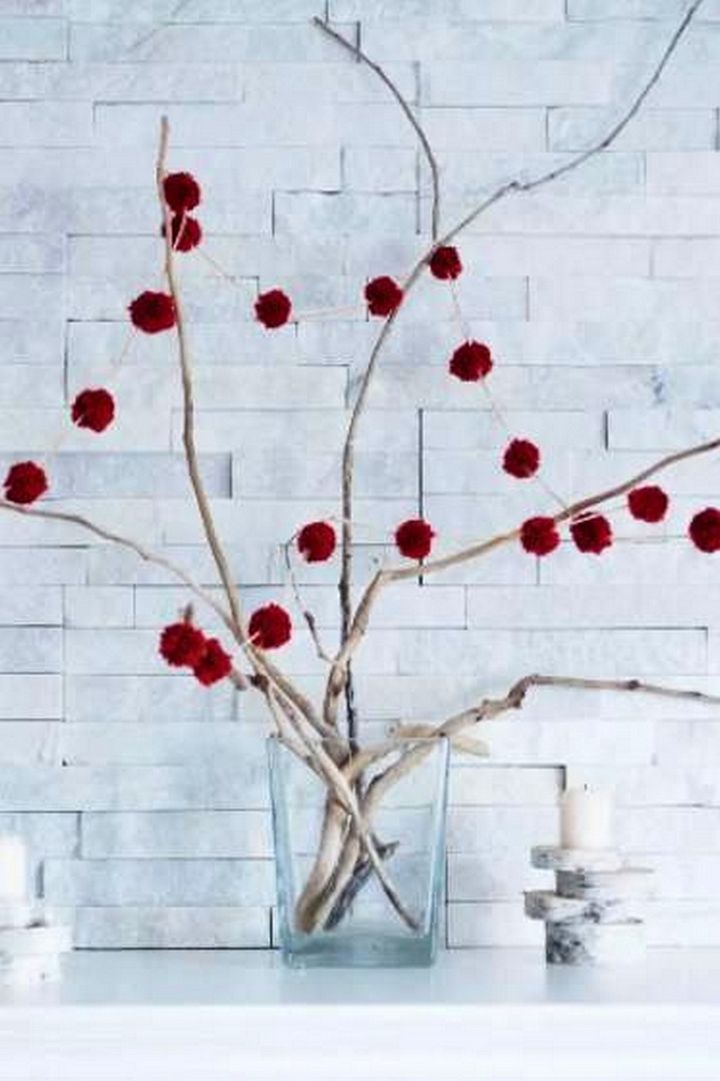 Have you ever tried to make a garland using pompoms? If not then you can try it now. This is a pompom garland that can help you decorate any wall with. You will need fork, scissors, white fine gauge single ply yarn and acrylic yarn. This can be a perfect art and craft work for the holidays that are coming up. Tutorial
26. DIY Pom-pom Elmo& Cookie Monster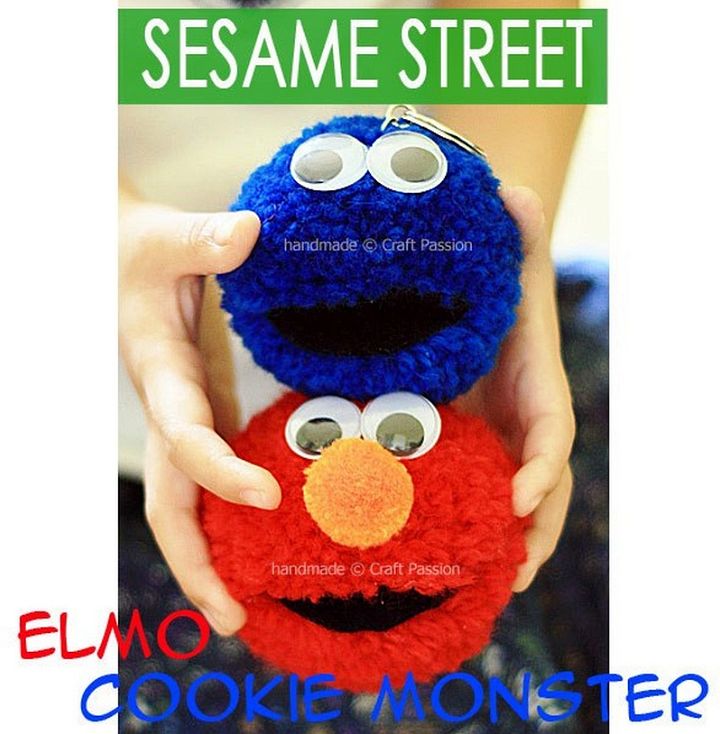 Pompom is used very creatively to make this Elmo and cookie monster. You can also be as much creative as you want while working for any art and craft. Pompoms can be very helpful in making interesting crafts like the one you see here. You need pompom, wiggle eyes, felt and fabric glue. Tutorial
27. How To Make Your Pom Pom Caterpillar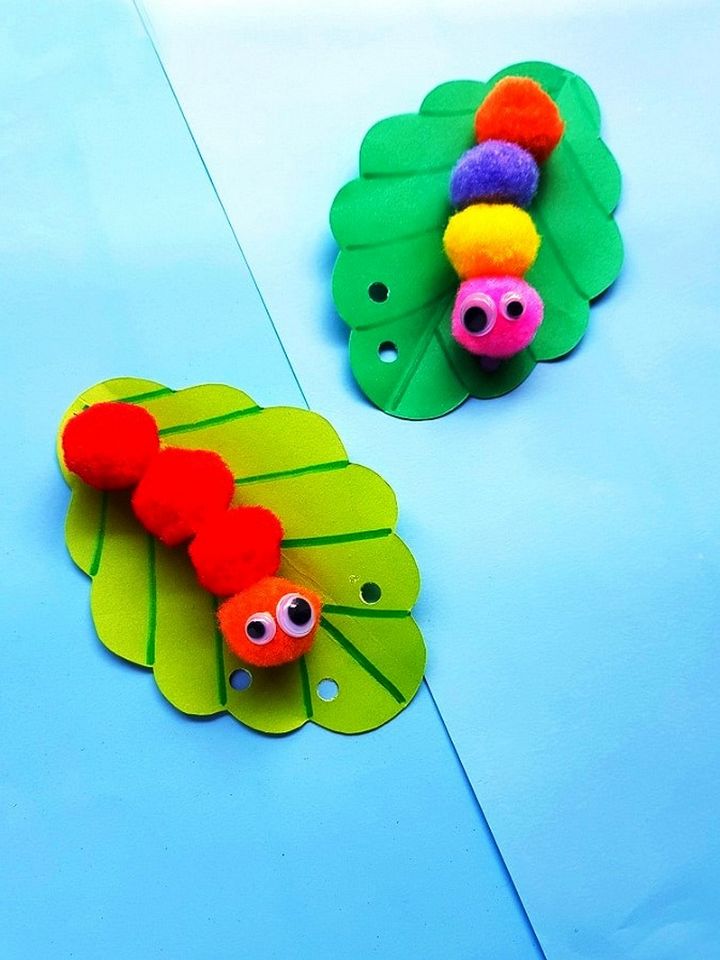 Pompom can be very helpful in making interesting art and craft pieces. In this project you can learn to make a pompom caterpillar. With a little bit of effort you will be able to make an amazing craft. You will need a colored craft paper along with large pompoms, small googly eyes, scissors, glue, whole punch, free pompom caterpillar craft template. Tutorial
28. DIY Pom Pom Christmas Tree Craft – Dollar Tree Hack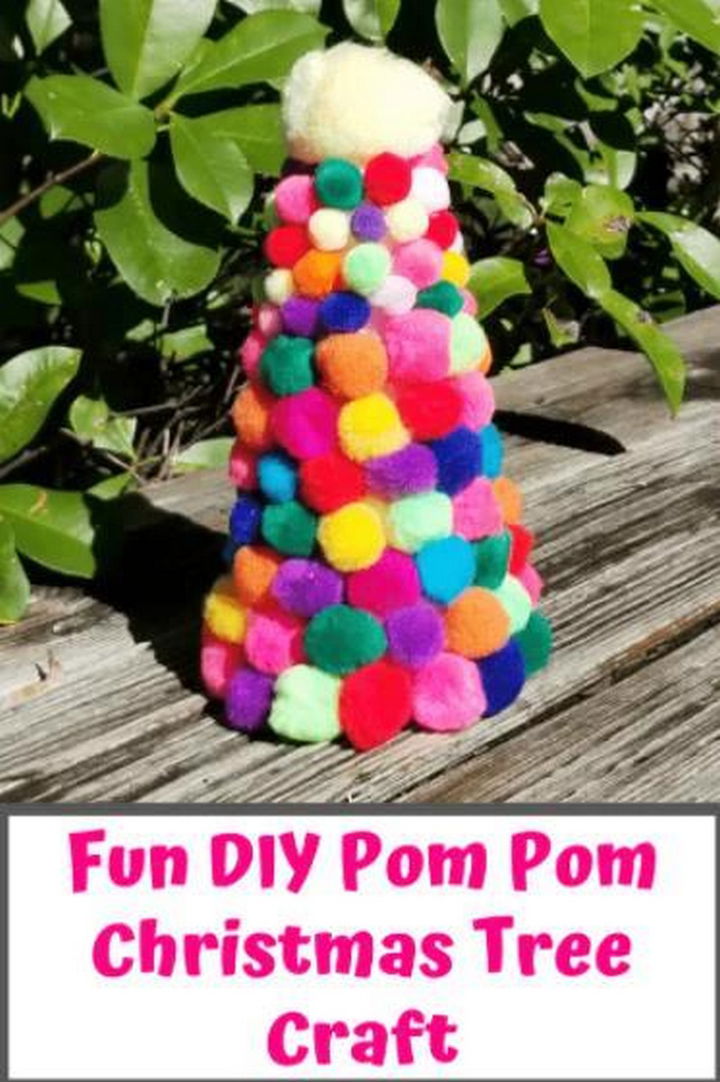 When Christmas is around we all want to make amazing crafts that are attractive. Here in this project you will see how a pompom Christmas tree can be made. You will need a Styrofoam cone of desired size, pompoms, hot glue gun and glue. Grab the supplies and get started with this interesting and festive related activity. Tutorial
Wall Art Ideas – A collection with 40 most popular home decor tips, as well as instructions and tricks to achieve the look with ease and achieve the look of a designer at a fraction of the cost.
29. DIY Pom Pom Letters for MOM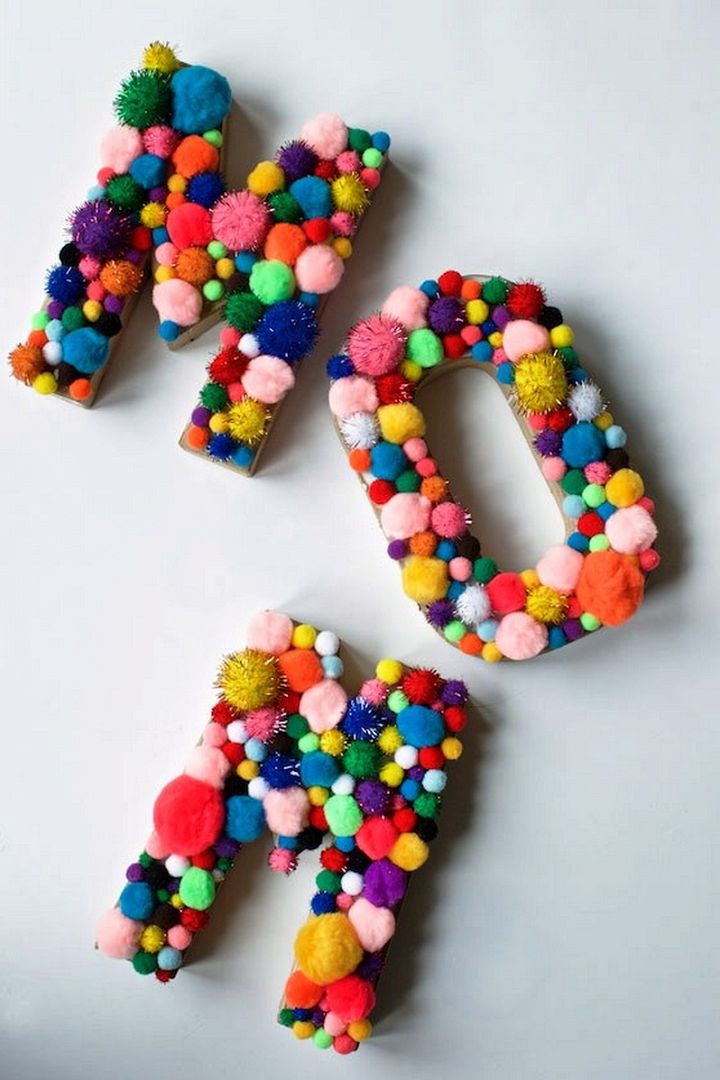 This diy craft can be made for mothers on mother's day and its super easy. These are pompom letters that says mom. Besides pompom you will need some basic crafts and supplies. Scissors, glue and pompom are the three main supplies that we need here. Make these for your mothers to make them happy Tutorial
30. Galaxy Butterfly Pom Pom Craft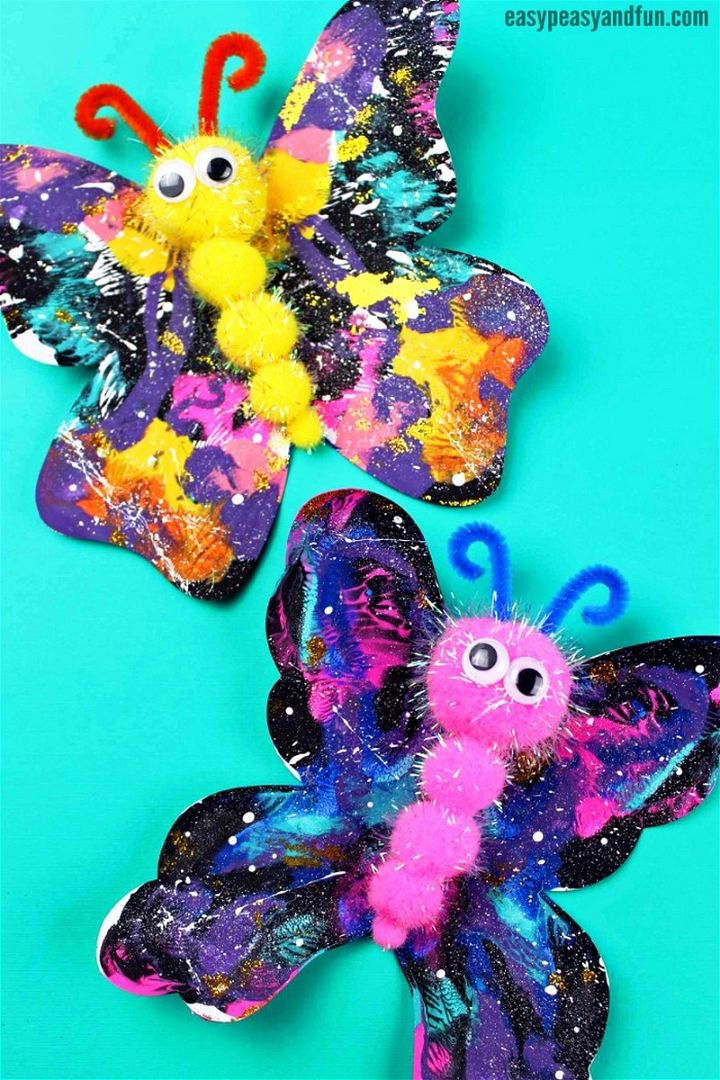 With pompoms you can make this amazing and attractive butterfly craft easily with the help of this diy project over here. The supplies that we need for this project are cardstock, paint, pipe cleaners, pompoms, googly eyes, scissors, glue, paint brush, marker and bio degradable glitter. Tutorial
Conclusion:
Pick and choose the pompom project that you like the most, grab the supplies that are needed for that project and get started over this weekend. While doing these diy pompom projects you will be playing around lots of colors and some engaging tricks and tips.