Some walls are literally craving for décor and some art and craft in order to have some impact on the entire house. Among all these 40 Wall Art Ideas That You Can DIY At Home you will see some wood projects, feather crafts, canvas masterpieces and textured art pieces. You will find some artistic ideas, tips and tricks for decorating walls in the house. Once you are done decorating the walls in the house, you will some major changes in the Home Décor in general. You will get your guidelines from the tutorials and detailed descriptions.
All of the diy wall art projects that you see here are precious, cheap and simple. Get your guidelines and details for any of the project that you like the mots among these and start decorating any of the wall with that idea. These projects will teach you how a decorated wall brings an impact on the entire house and bring some positive vibes too. The ambiance of any room also depends on the Wall Decoration done on the walls of that room.
1. DIY Wall Art From Wood Shims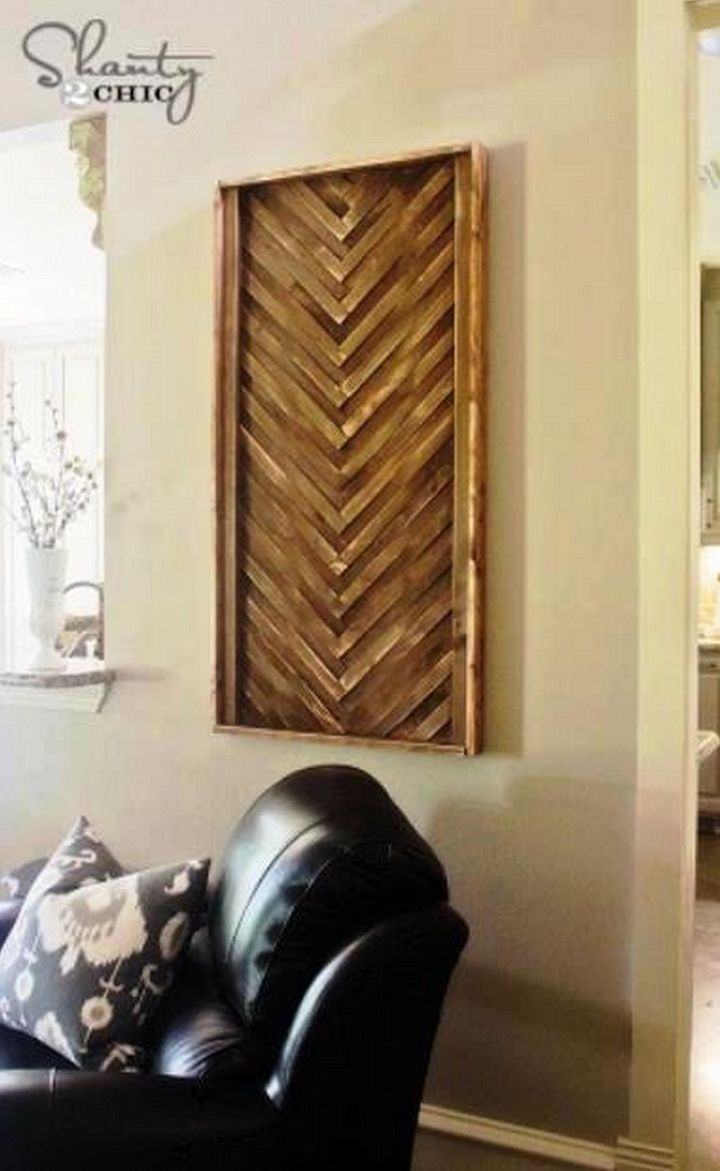 if you are also one of those who look forward to some budget friendly ideas for home décor, you would definitely love this project to bits. this diy wall art is done with wood shims and it simply looks great. try this simple Wall Décor and you would never regret the efforts made for this. Tutorial
2. DIY Canvas Art with Drywall Mud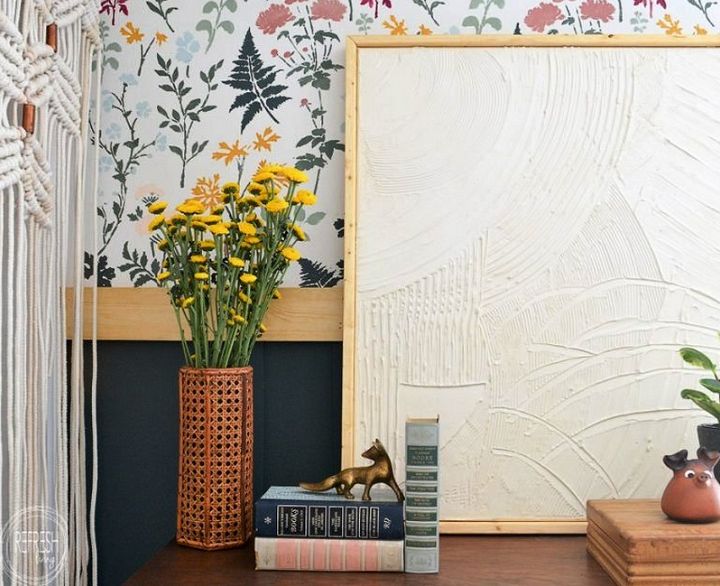 This simple wall art plan is definitely for those on budget. You can decorate any wall in the house with this absolutely amazing canvas art done using wall mud. You need a gallery wrapped canvas, joint compound, trowels, spray paint and wood. Grab the supplies and get started with this interesting mission. Tutorial
3. DIY Beautiful Large Wall Art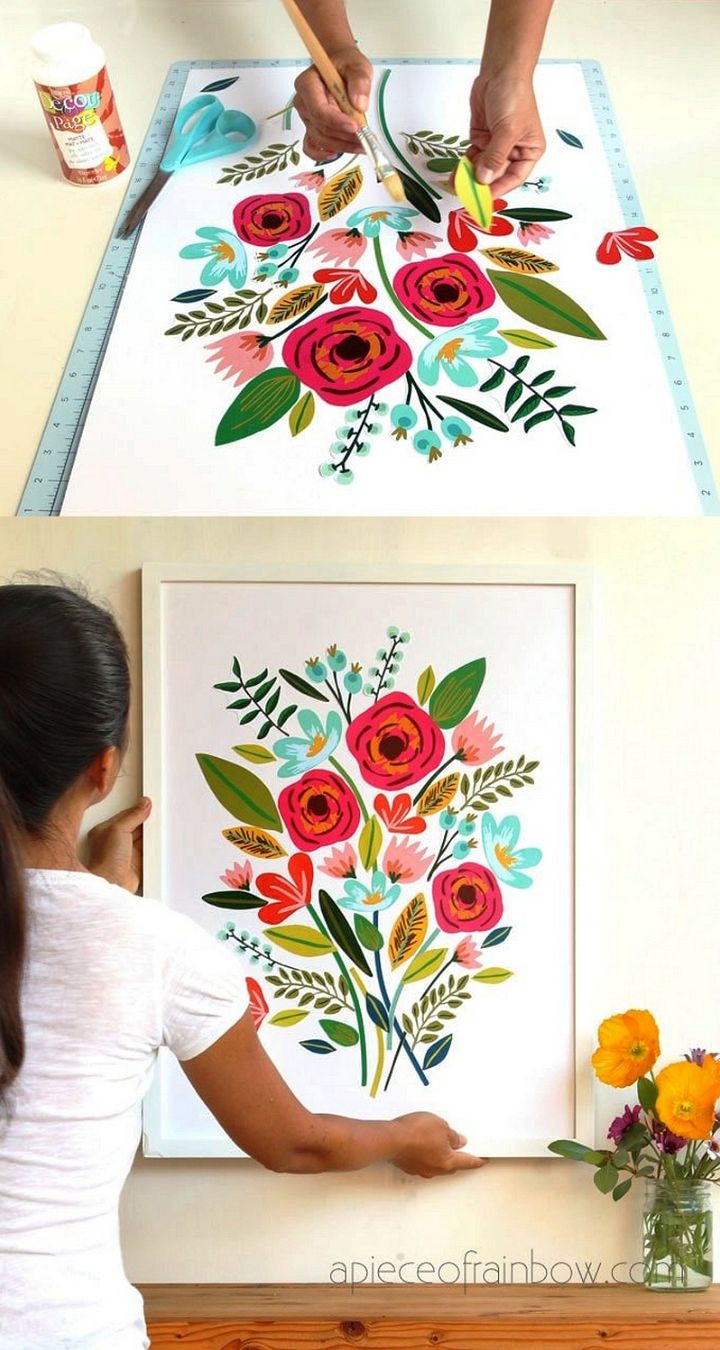 For this beautiful and stunning wall art you need a few supplies such as cardstock, large poster boards, frame and glue. You can play around different colors to make this masterpiece. You will start off by finding a large frame. In the second step you will print and cut flowers and leaves. In the third step you will have to create a large flower wall art print. Follow the steps and you will be amazed by the results. Tutorial
4. Easy DIY Canvas Art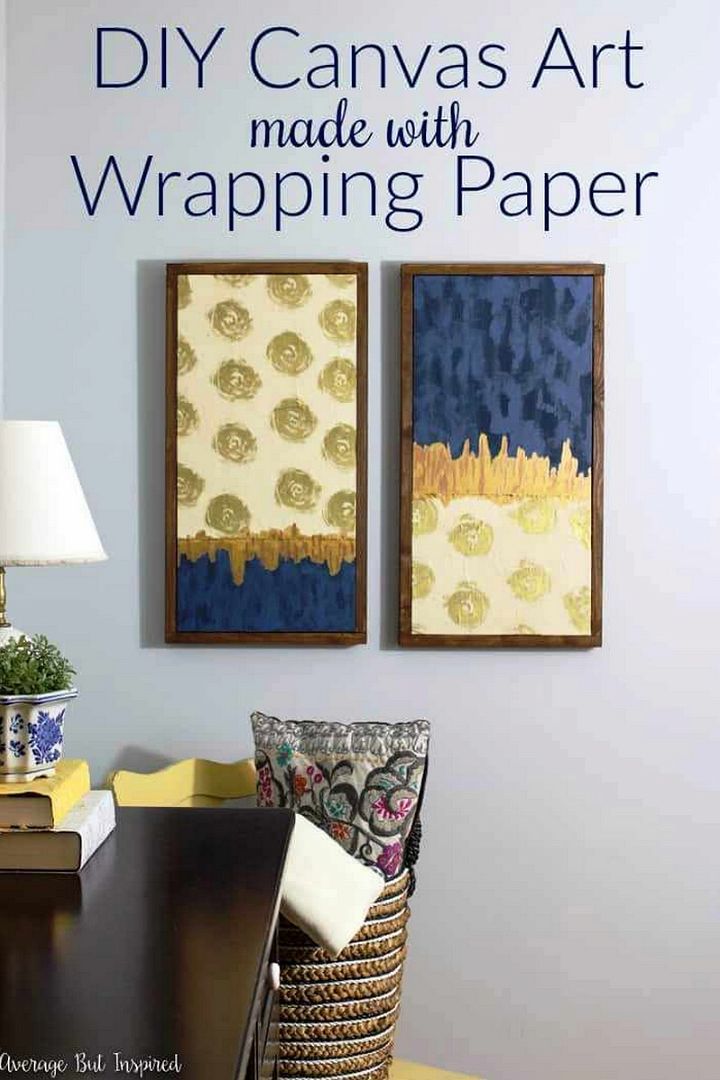 Have a look at this diy canvas wall art and you will see some surprising results coming up. The supplies and materials that are needed for this project are canvas panels, luxe wrapping paper, mod podge, foam brushes, brayer, scissors, acrylic paint, liquid gold leaf, paint brushes, double sided permanent paper, lumber and hand saw. Tutorial
5. DIY Wall Art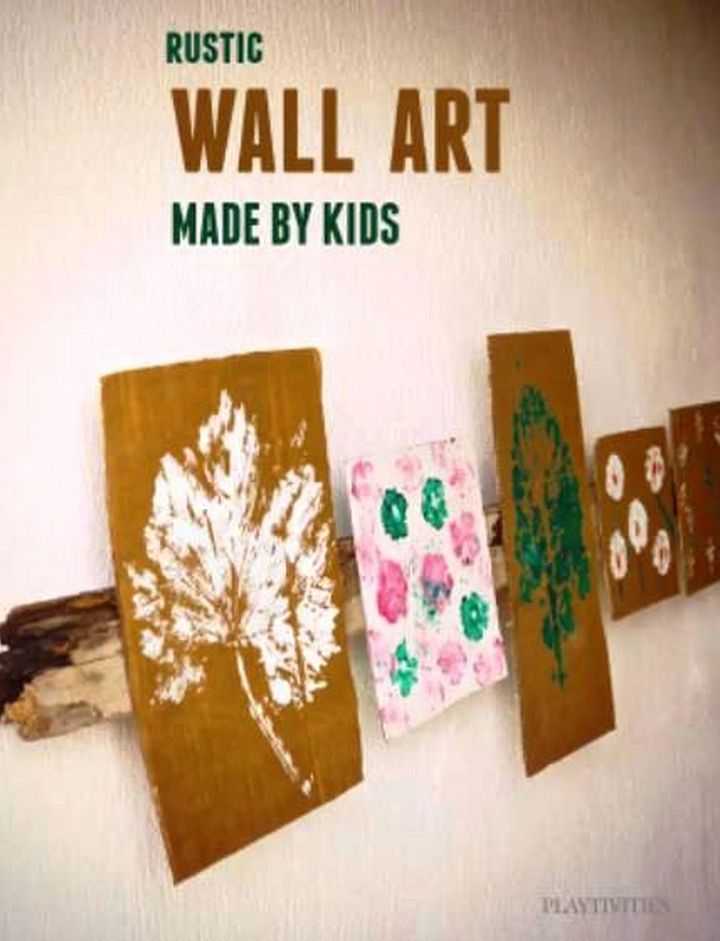 DIY projects for home décor are always amazing as they are not only wallet friendly but are also fun to do. You will start off by gathering the materials which are different shapes of leaves, paint and canvas. This is simple wall art that even the kids can do under your supervision. Tutorial
DIY Welcome Mats – It's fun to add an element of personality and charm to the exterior of your home and a bright front door with a doormat is a great method to achieve that. You can purchase a unique door mat, or it's simple to create your own. There are tons of exciting alternatives available, and today I've brought together 30 different door mats you can make by yourself!
6. How to Make Gorgeous Oversized Wall Art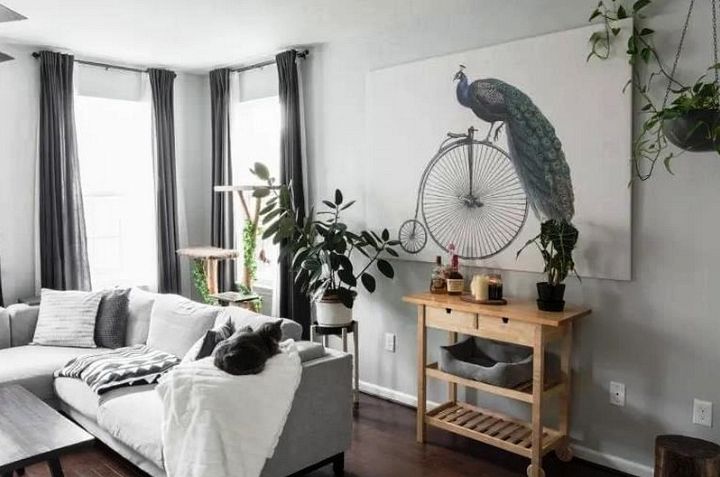 This stunning oversized diy wall art is all you need to decorate any room in the house in a gorgeous way. For this you need peacock high wheel bicycle tapestry, clean and canvas drop cloth, drill and screws, hand held staple gun and lumber. Grab the materials and get started. Tutorial
7. DIY Framed Wall Mura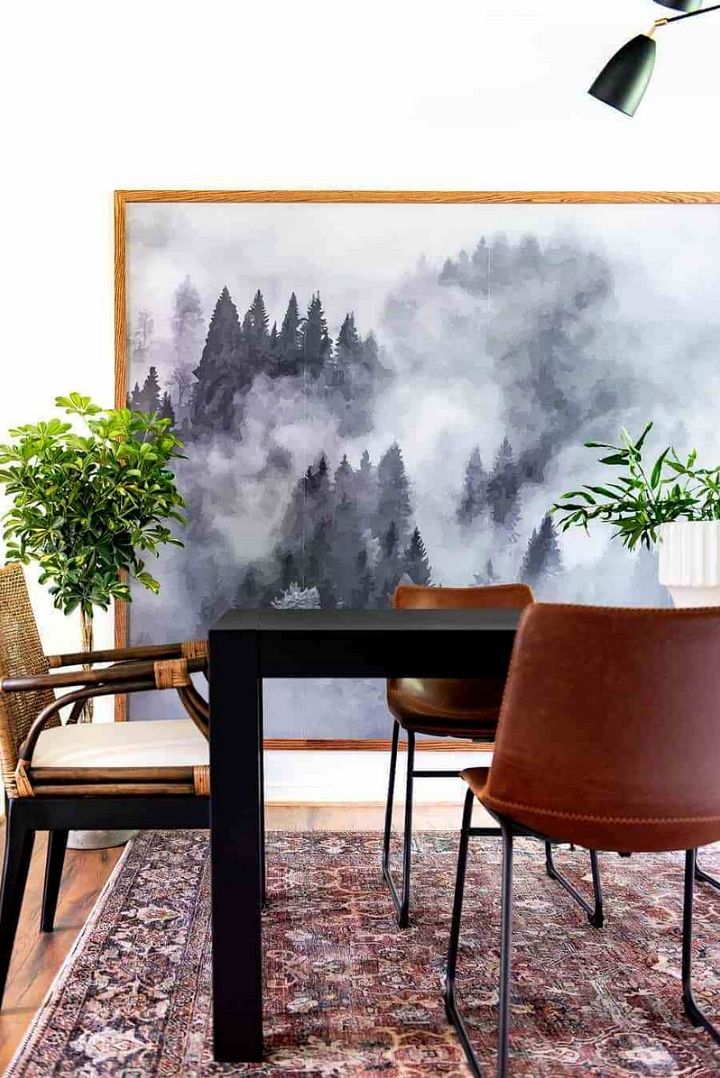 This framed wall Mura is easy simple quick and cheap. You can do this wall art for a dining room to make it look dramatic and eye catching. This wall art will create a complete new vibe to the room. If you are also up to some renovation in your house, consider this project and add it in the list of your choices once the renovations is done. Tutorial
DIY Wall Decor Ideas – Most DIY Wall Hanging structures are simple. but also full of life, suitable for almost every home
8. Super Easy DIY Wall Art Tutorial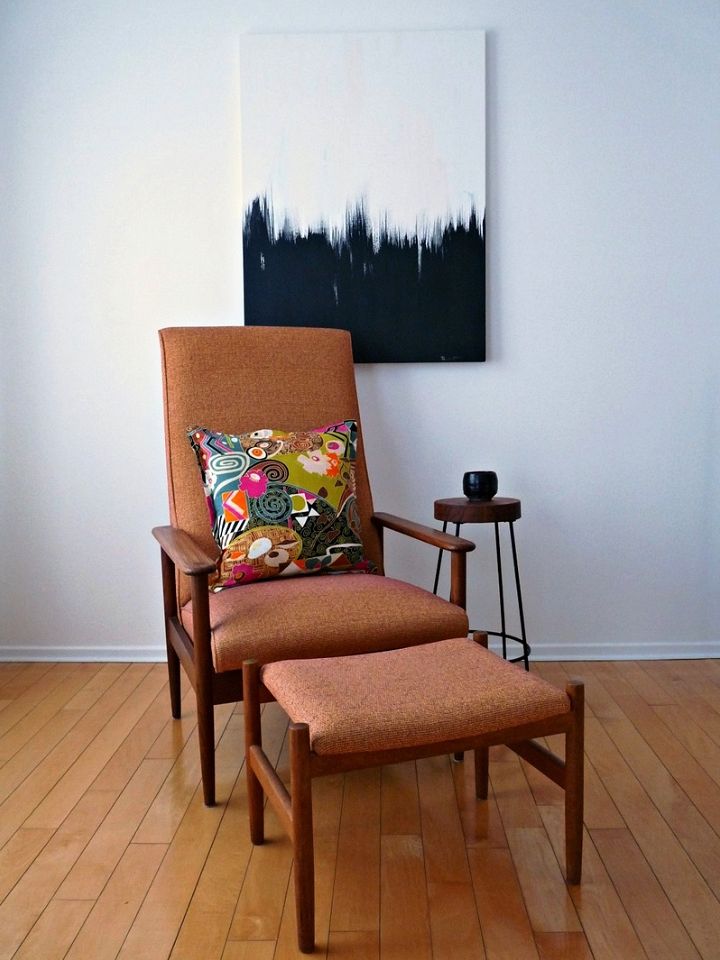 Many of us go for some easy diy ideas to decorate our home and if you are also one of them, this project will be perfect for you. The supplies that we need for this easy diy wall art are blank canvas, black acrylic paint and wide paint brush. Follow that tutorial accurately so that you can achieve the desired results. Tutorial
9. DIY Threaded Heart Wall Art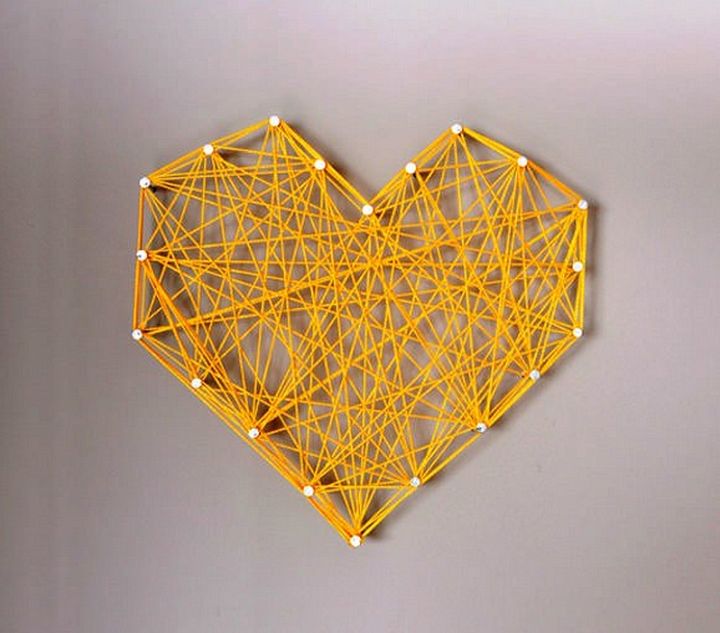 Have you ever heard of threaded wall art like the one you see here? If not then this is the time when you really have to decorate your house walls with this absolutely amazing art. Try making this adorable threaded heart wall art and give your walls a new and decorated look. Tutorial
10. DIY Scrabble Tile Wall Art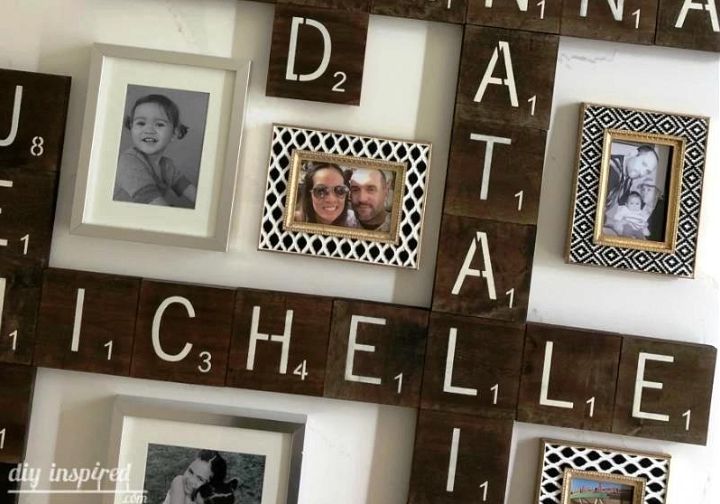 Are you ready to decorate the walls in your house with some amazing and stunning art? If yes then this project will be of great help. the supply list includes birch wood plank, square edge common board, straight edge, pencil, wood stain, brush for stain, miter saw, hand saw, sand paper, wet wipes, plastic gloves, tarp, painters tape, scrabble tile stencils, acrylic paint, spencer brush, wood glue and polyurethane spray. Tutorial
11. DIY Wall Art- Rustic Pinecone Wall Hanging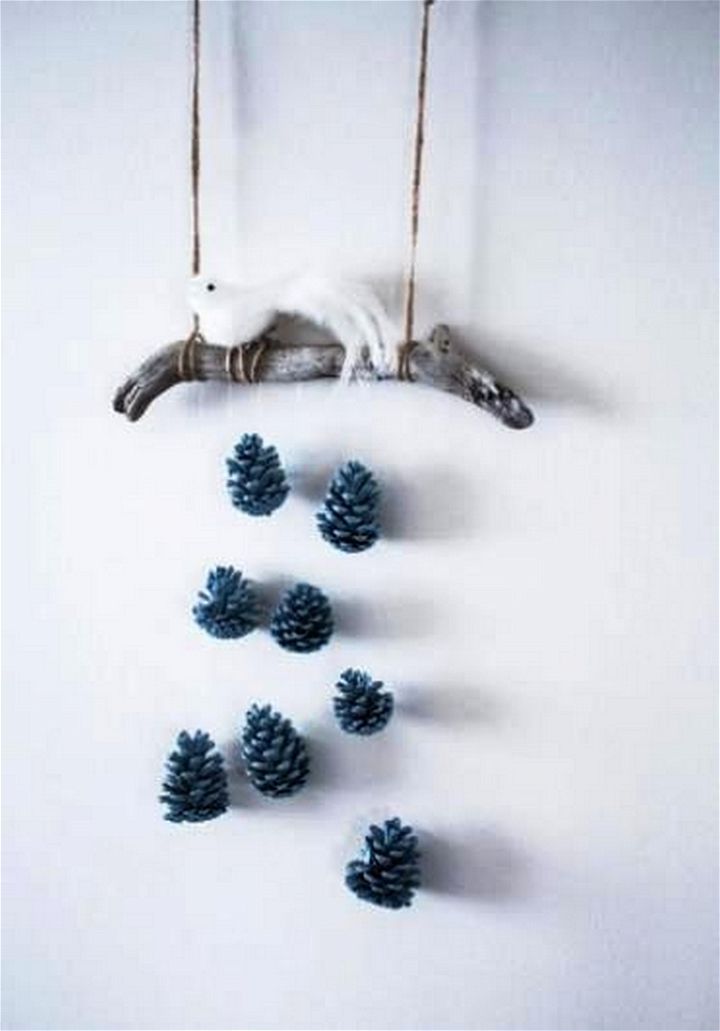 Have a look at this rustic pinecone wall hanging and consider decorating any wall in your house with this masterpiece. The supplies for this project are pinecones, paint and paintbrushes, twine, fishing line, branch, clip on bird ornament and scissors. Tutorial
12. DIY Modern Tassel Wall Hanging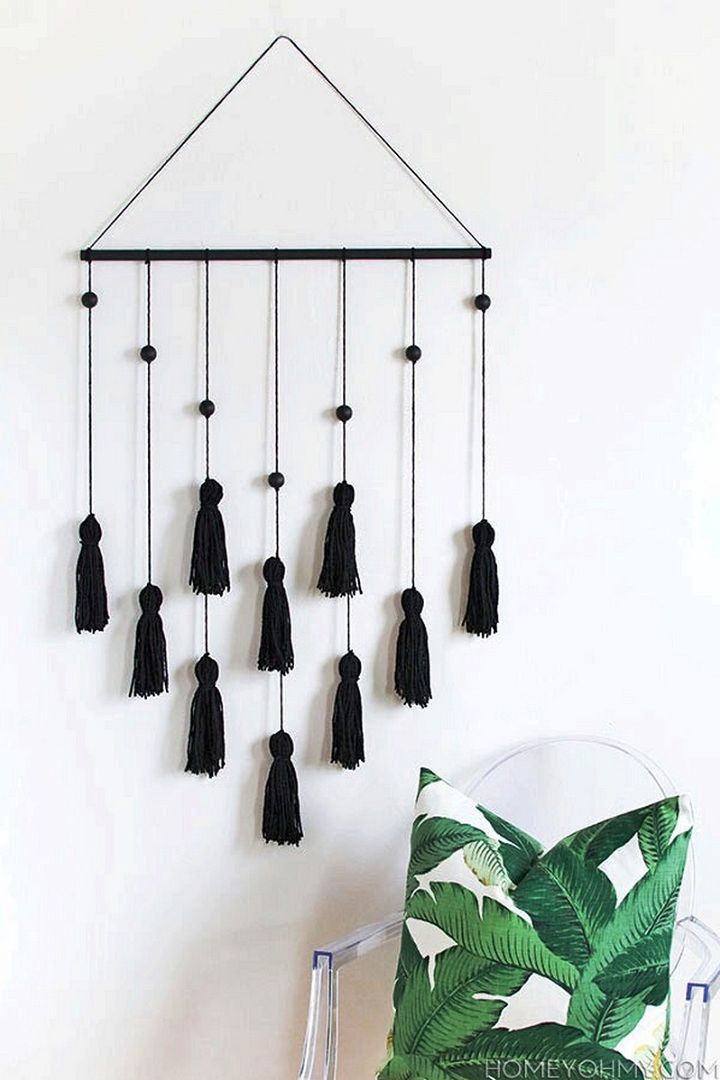 This modern tassel wall hanging is something you would love to decorate your house walls with. A complete set of instructions is given here so that you can easily get along with. A complete list of materials is also here which includes wood dowel, wood beads, black acrylic paint, foam brush, bamboo skewers, washi tape, hard cover, yarn, super glue and scissors. Tutorial
13. Easy DIY Modern Wall Art Acrylic Paintings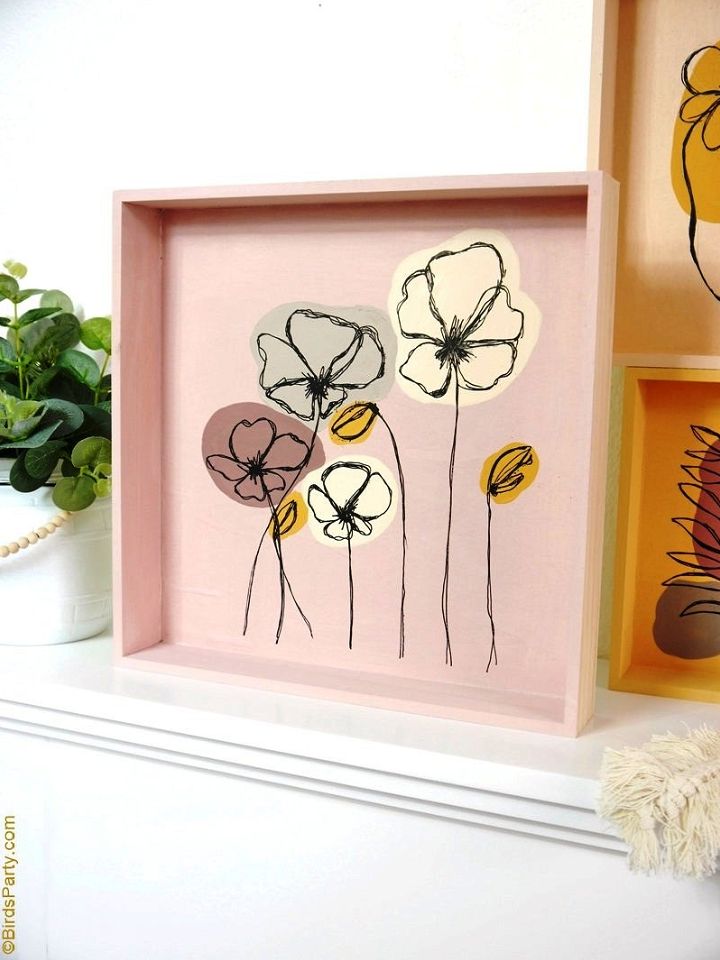 Brace yourself for this modern wall art acrylic painting to give your house a decorated look. You can choose any wall in the house to make it look celebrated for the upcoming festivals. You definitely have to be a little creative to make such masterpiece. Use your imaginative skills and you will end up being super proud of yourself. Tutorial
14. DIY Geometric Wood Wall Art Tutorial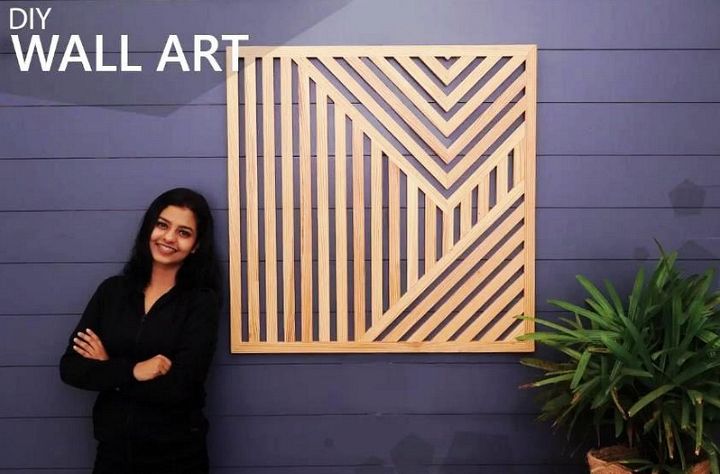 Geometric art pieces are always attractive. Here we have a geometric all art made of wood. The materials that you need are furring strips, brad nails, wood glue and varathane. Whereas the tools include orbital sander, miter saw, nail gun, wood clamps, measuring tape and planer. A complete plan is given here so that you can easily catch up with it. Tutorial
15. You Won't Believe How Quick and Easy This Wall Hanging DIY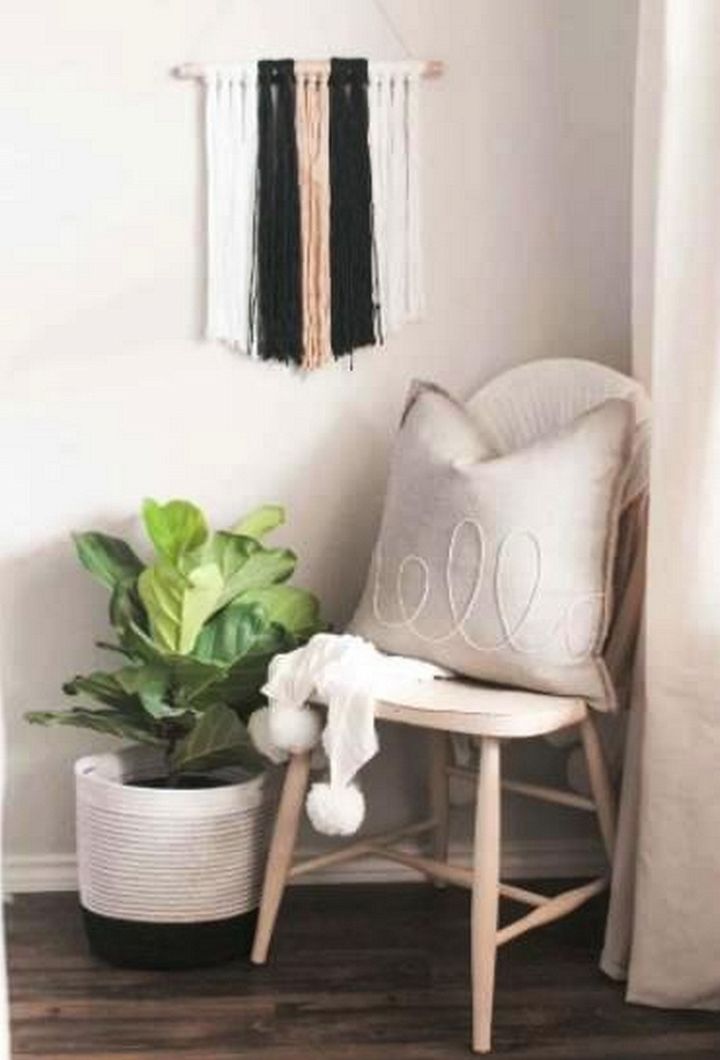 This is probably the easiest kind of wall art that you are seeing here in this project. The materials include yarn of your choice and some stick or dowel rod. A complete detailed set of instructions as well as a tutorial is also here to assist and guide you in a better way. Tutorial
DIY Chandelier Plans – I am delighted to provide you with 36 stunning crystal chandeliers made from DIY that can be made at inside your own home. All you have to do is find crystals that are beautiful and create something unique.
16. DIY Acrylic Paint Pouring Wall Art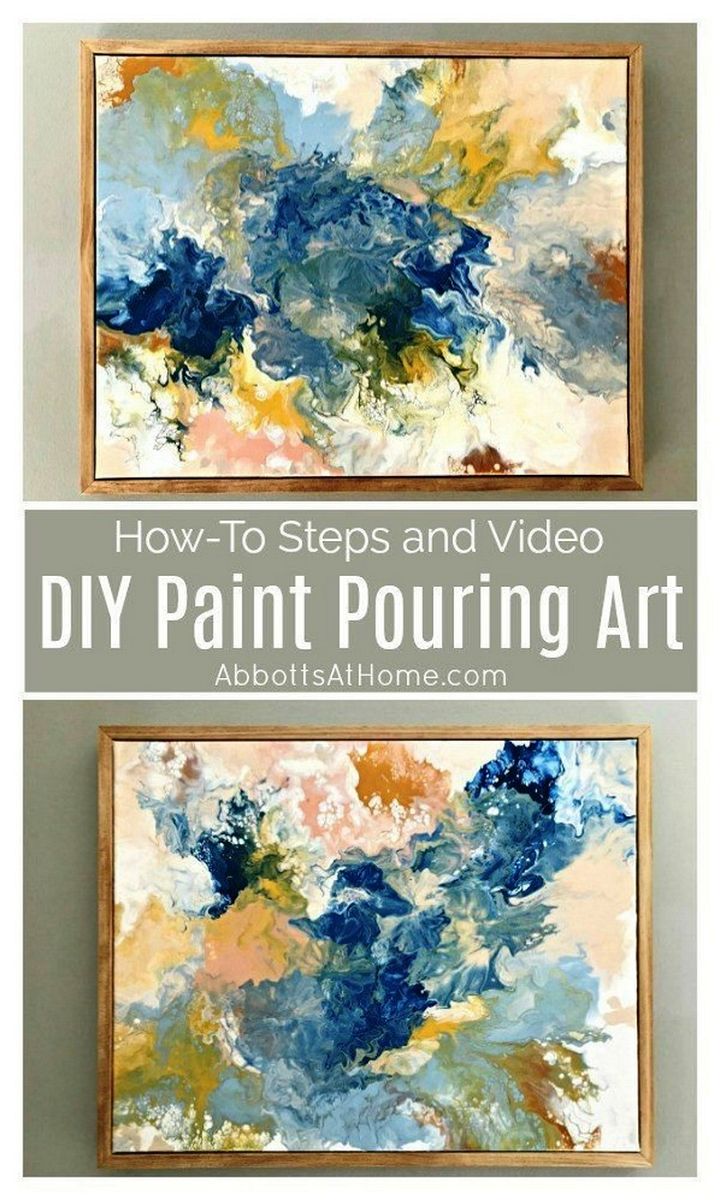 if you are into decorating walls in the house to bring some changes in the interior of the entire house, this project will guide you a lot. the materials that we need to make this wall art are acrylic paints, art canvas, some cups and craft sticks for mixing, drop cloth, water , blow dryer and matt mod podge. Tutorial
17. DIY Paint Drip Wall Art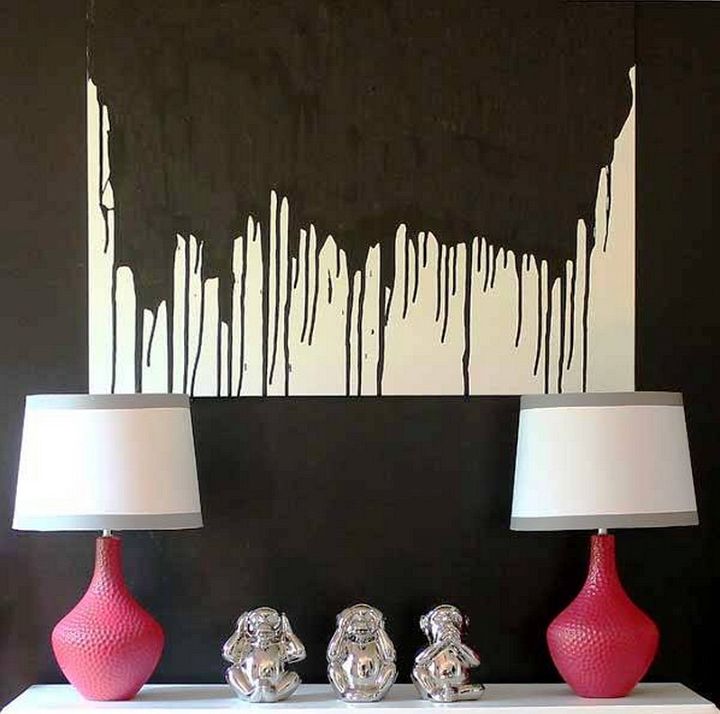 A paint drip art is truly something when it comes to framing and displaying it. This is a simple wall art however it seems dramatic. You can make this masterpiece effortlessly but this will turn out to be an amazing masterpiece. Limited supplies are required here and you will have to start off by first gathering the materials. Tutorial
18. How To Make A Rainbow Wall Hanging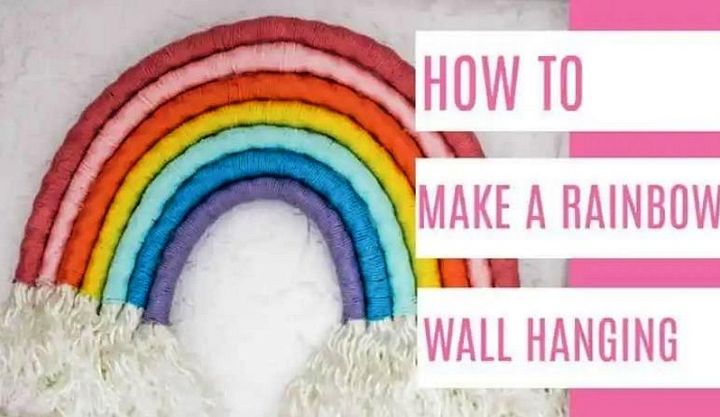 Rainbow never fails to appeal the eyes and attract. This is a diy rainbow wall art that you see here. You need a twisted nylon polyester rope, yarn, floral wire, fabric scissors, hot glue gun, painters tape and scotch tape. You will begin by laying the rope in rainbow shape and then move on. Tutorial
19. Abstract Wooden Wall Art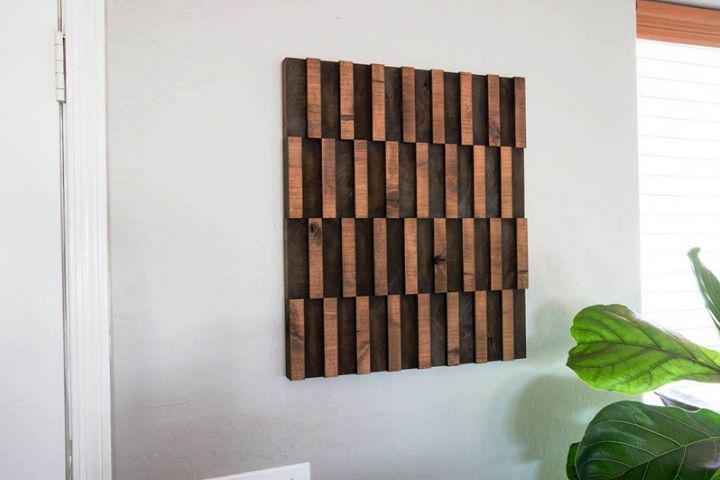 An abstract art is something that the art lovers always appreciate. Here we have a wooden wall art in abstract form and it turns out to be amazing. This is a simple project however it's important that you learn the process and follow it holistically. Decorate any wall in your house with this amazing wall art and you will be proud of yourself. Tutorial
20. How To Make An Easy DIY Wall Hanging With Yarn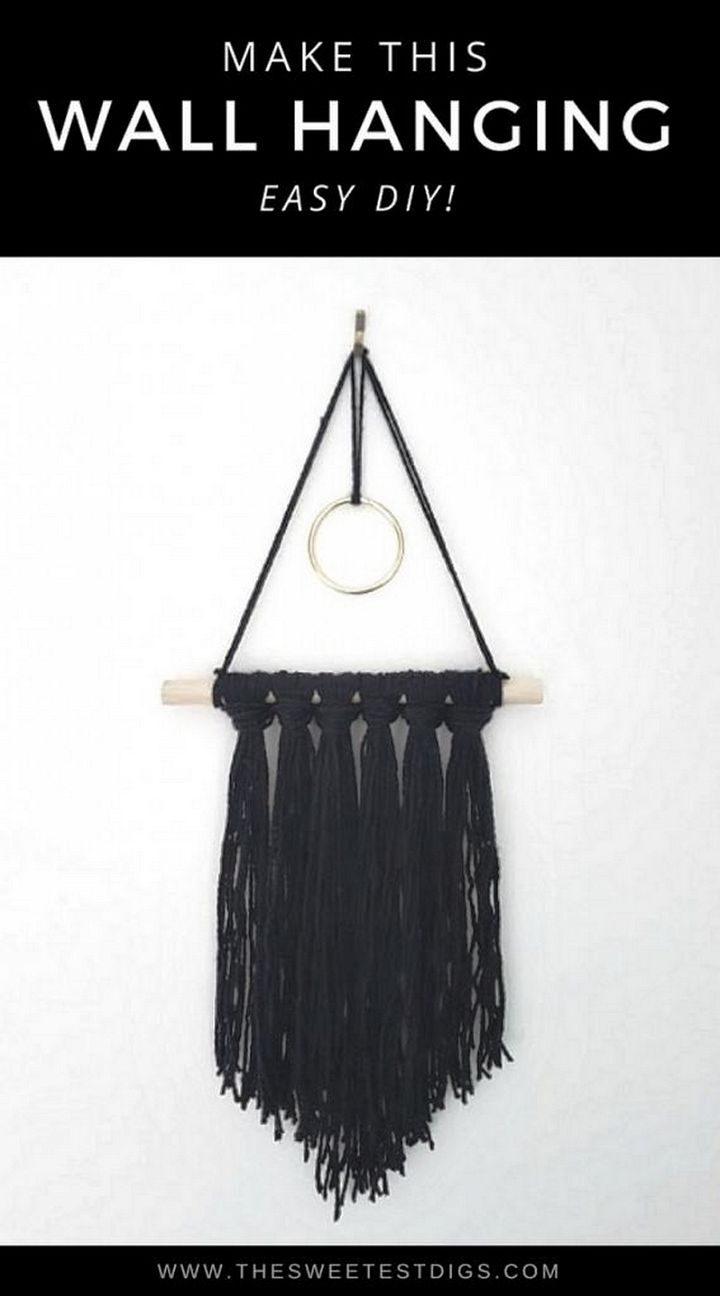 Are you ready to make this diy wall hanging with yarn? If yes then start it over the weekend. It's very important that we decorate our walls with an artistic masterpiece in order to bring some beauty to the entire room and to create some positive energy with the art. This simplest form of wall art is easy quick and cheap and try this out. Tutorial
21. DIY Woven Wall Hanging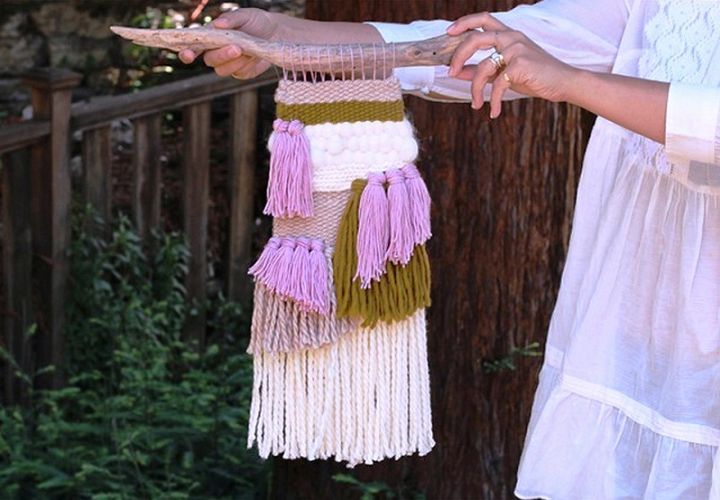 This is a super creative and amazing woven wall art that we have here. The supplies that you need for this project are an assortment of yarn, cotton wrap twine, wool roving, tapestry needle, open back frame, thin wooden dowel, metal tube, scissors and fork. Grab the supplies and get started with this interesting art project. Tutorial
22. DIY Colorful Poured Resin Wall Art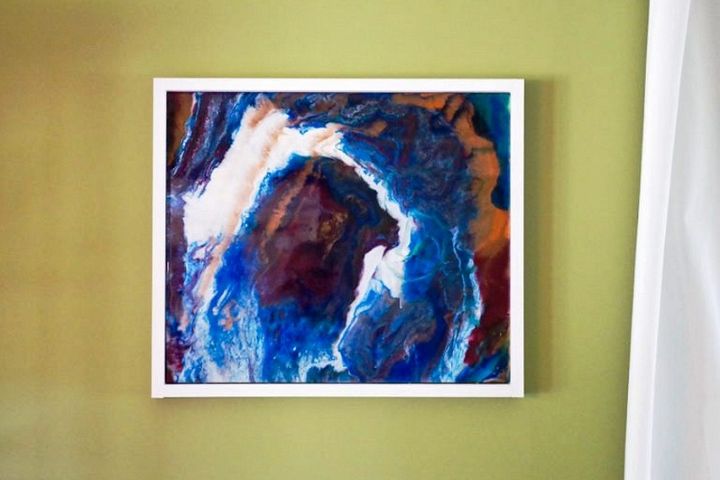 Large pieces of plywood is used in this project. Resin have always proven to be great in art projects. The supplies that you need for this project are resin along with transparent dyes, canvas, stir sticks, disposable cups, disposable gloves, paper towel, box or tray and torch. Tutorial
23. How to Make Large DIY Framed Canvas Art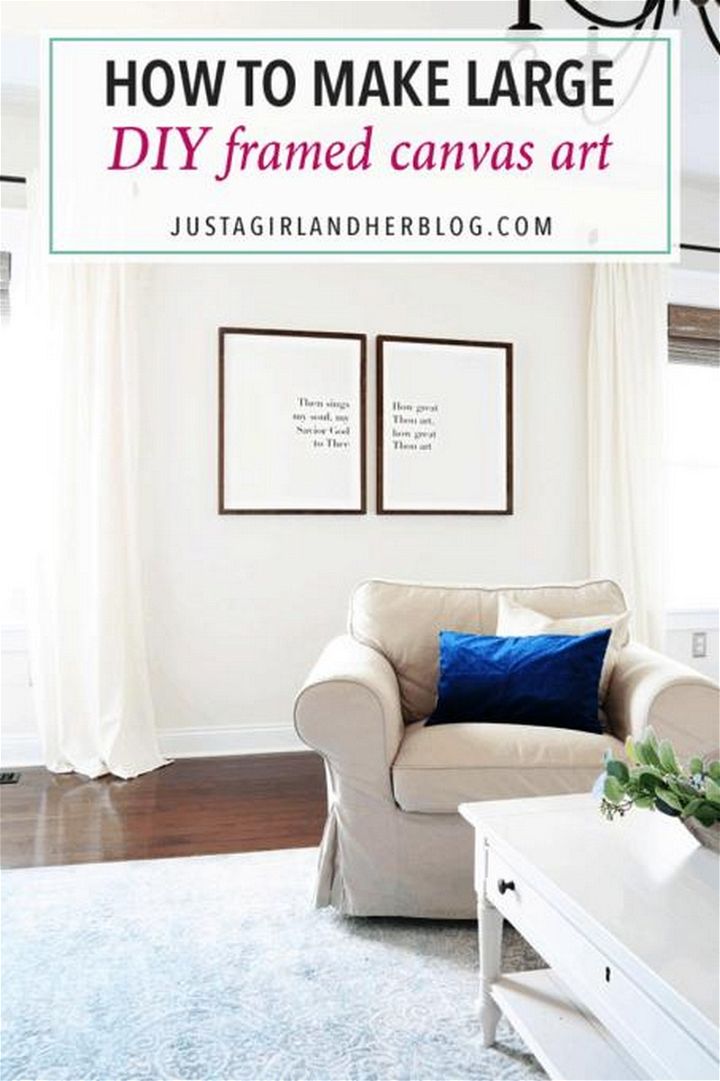 have a look at this large framed canvas wall art and try to make your own. you need a few things such as canvases, white paint, paint brush, adhesive vinyl, silhouette vinyl, transfer paper, scraper tool, spray adhesive, miter saw, stain, nail gun and wood glue. Tutorial
DIY Home Decorating – If you're looking for a way to bring an easy upgrade to your home You'll love these easy decorating your home! It's easy for novices with a tight budget.
24. Yarn Wall Hanging on a Budget in a Few Easy Steps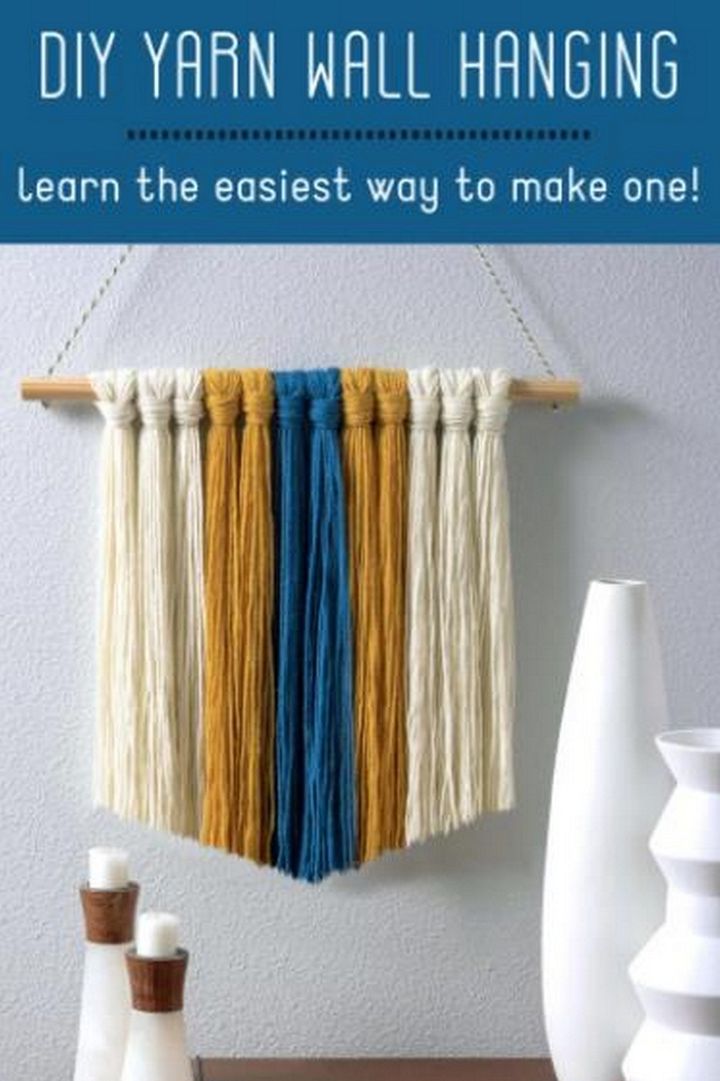 A yarn wall hanging can be perfectly made within a limited budget with the help of this art and craft project. If you also have walls in your house begging and craving for some attention, this project will be of great help. The supplies that are needed are dowel rod, piece of wood or cardboard, skeins of yarn, scissors, drill and saw. Tutorial
25. DIY Framed Plaster Wall Art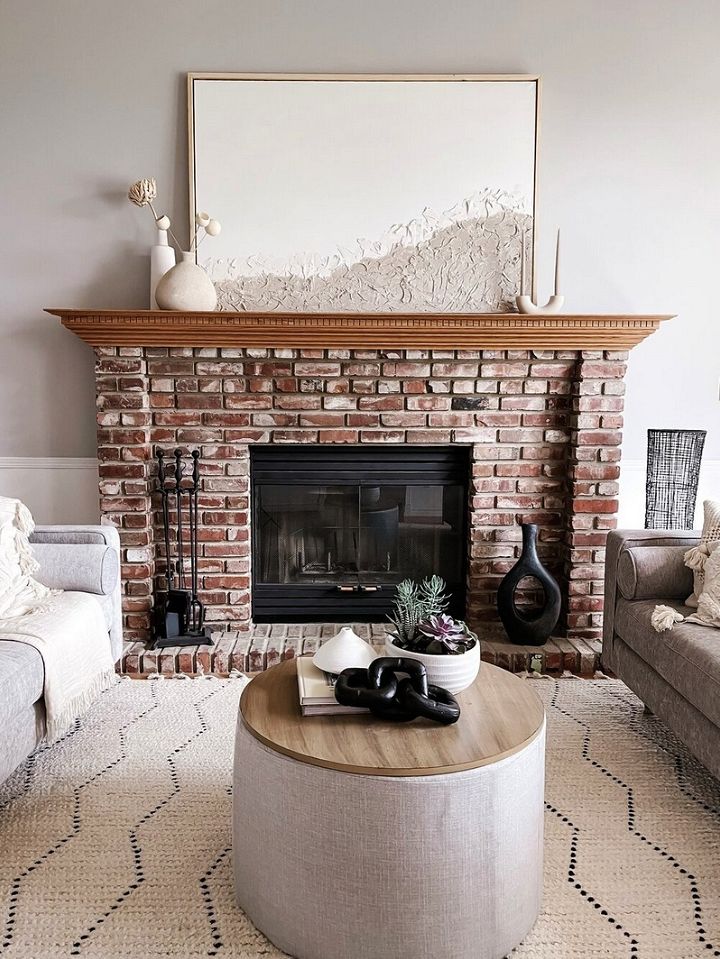 if you have been looking for a unique kind of wall art for any wall in your house, this project will guide you through it. this is a framed plaster wall art that you can also try all by yourself. a complete set of instruction is given so that you can easily get along. Tutorial
26. DIY Basket Wall Art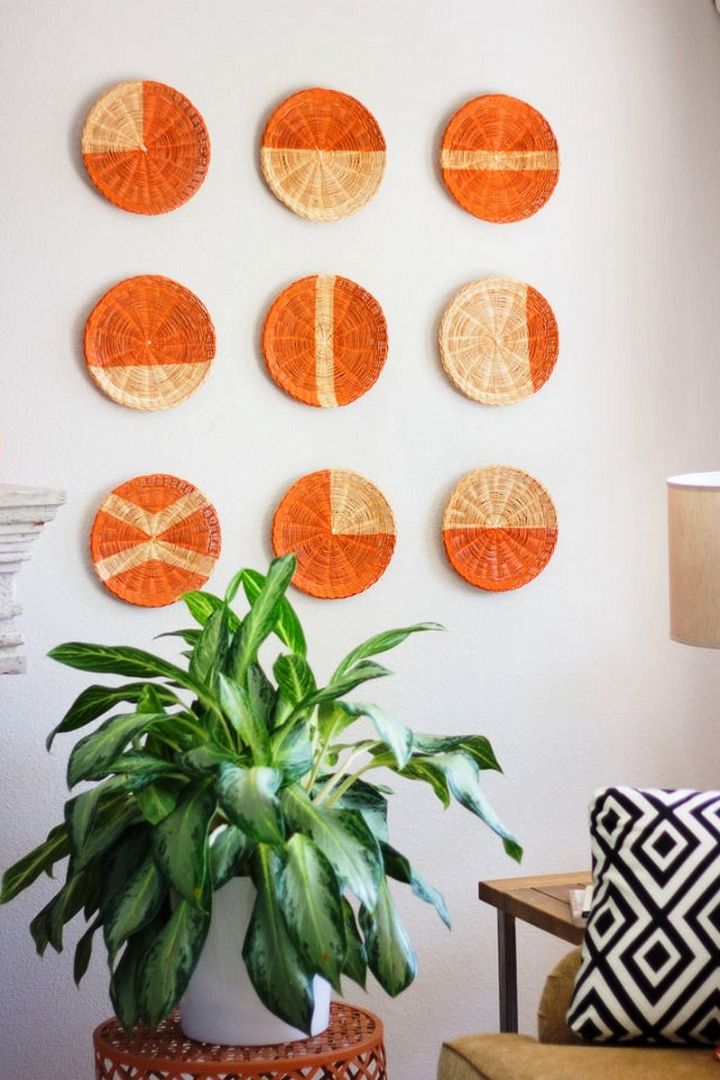 You can decorate an entire wall with baskets and it will turn out to be something really eye catching like here in this project. You need rattan paper pate holders, spray paint and painters tape. Grab the supplies that are listed and get started. A step by step tutorial is here to help you out. Tutorial
27. DIY Wall Art- Beach Stone Home Decor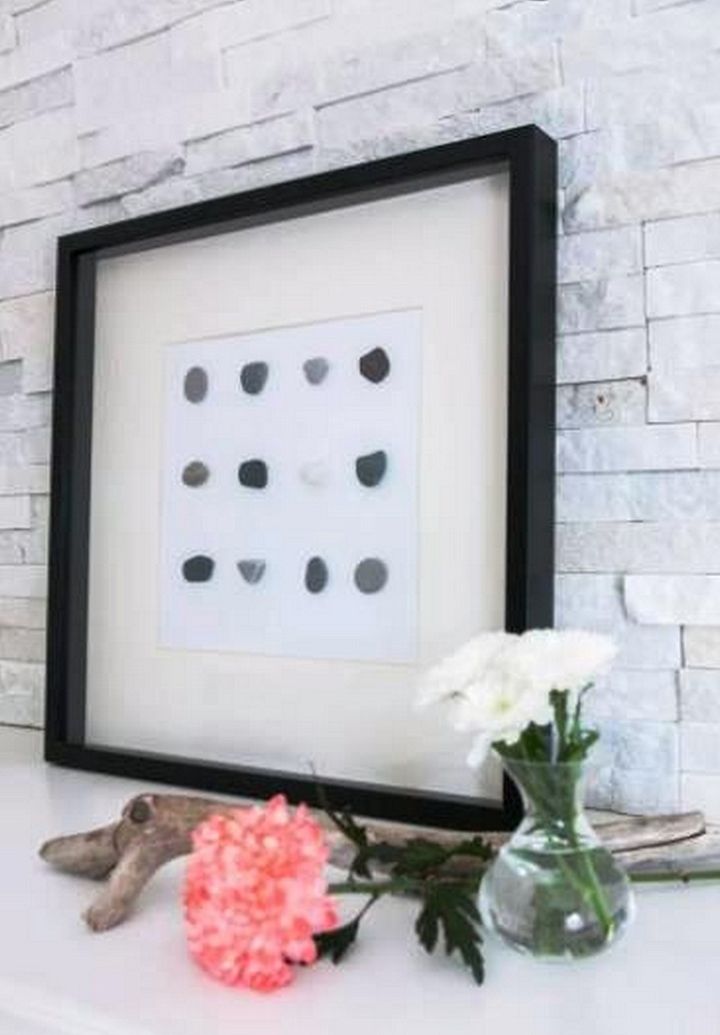 This wall art is made using beach stones and they turned out to be perfect. This simplest and highly affordable wall art will take you towards decorating your walls nicely and creating a positive and welcoming vibes to your home. People coming over your house will definitely be impressed by your creativity and skills. Tutorial
28. DIY Wall Art – How to Create Personalized Decor with Inspirational Quotes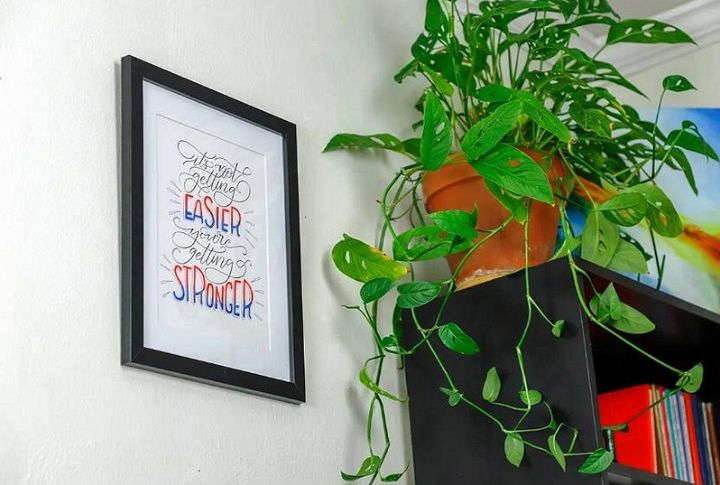 Have a look at this personalized wall art piece that you can also create all by yourself. This wall art has been created with inspirational quotes and this seems perfect. A complete detailed tutorial along with description has been given so that you can easily catch up with the project. Besides this list of supplies is also given here to guide you in a better way. Tutorial
29. Geometric Heart DIY Wall Art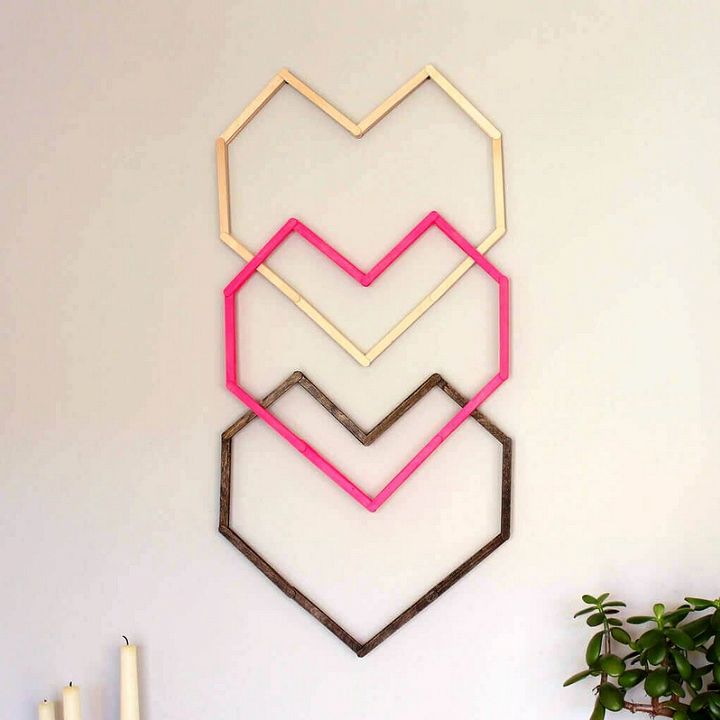 Geometric art piece are always attractive and never fail to impress. To create this wall art you need a few supplies such as Popsicle sticks, wood stain, acrylic paint, paint brushes, rag, tacky glue and toothpick. Grab the supplies ad get started with this amazing and interesting project. Tutorial
30. DIY Textured Wall Art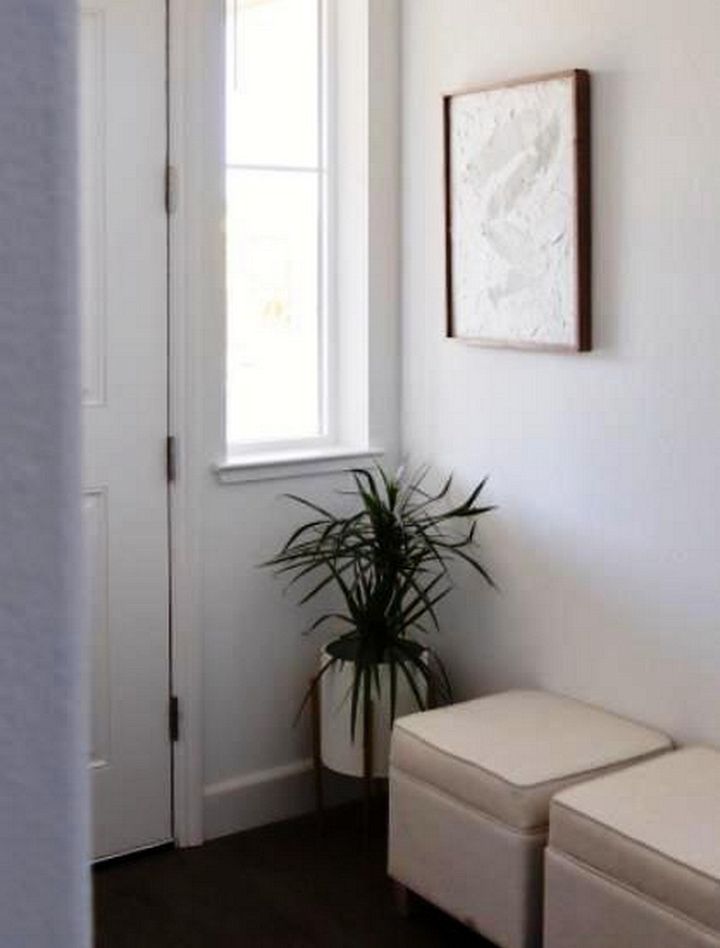 A textured wall art will contribute perfectly to the entire décor of the room. If you want to do this in the easiest way you can take a framed canvas piece and painting over the existing artwork. The materials that are involved here are framed art piece, painters tape, and joint compound, taping knife, hair comb, white paint and paint brushes. Tutorial
31. How to Make Pressed Flower Wall Art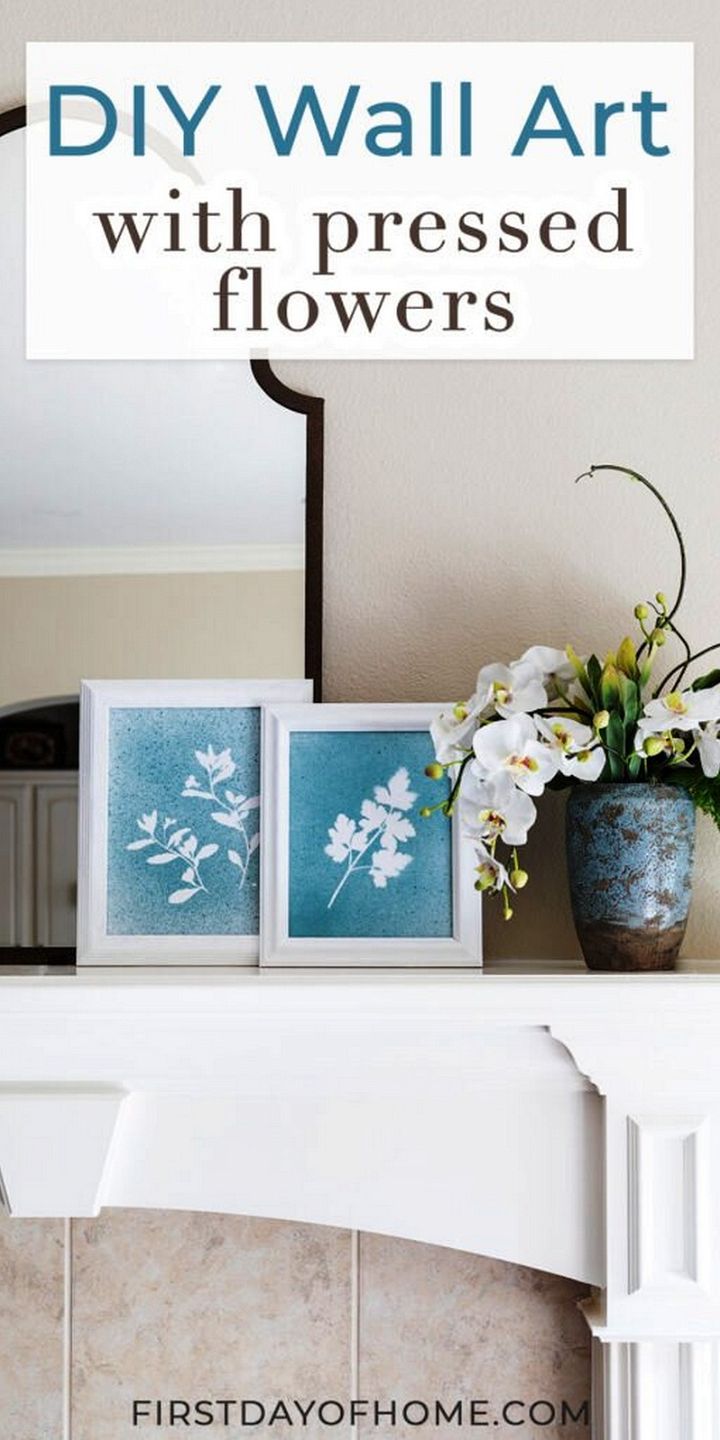 The art pieces made with pressed flowers have a different kind of vibe and that vibe is simply magical. This diy wall art is made with the pressed flowers and the walls decorated with such art pieces will look great to be honest. The supplies that you need are fresh flowers or herbs, flower press, scrapbook paper, spray paint and frame. Tutorial
32. Easy Weaving -10-minute Wall Hanging DIY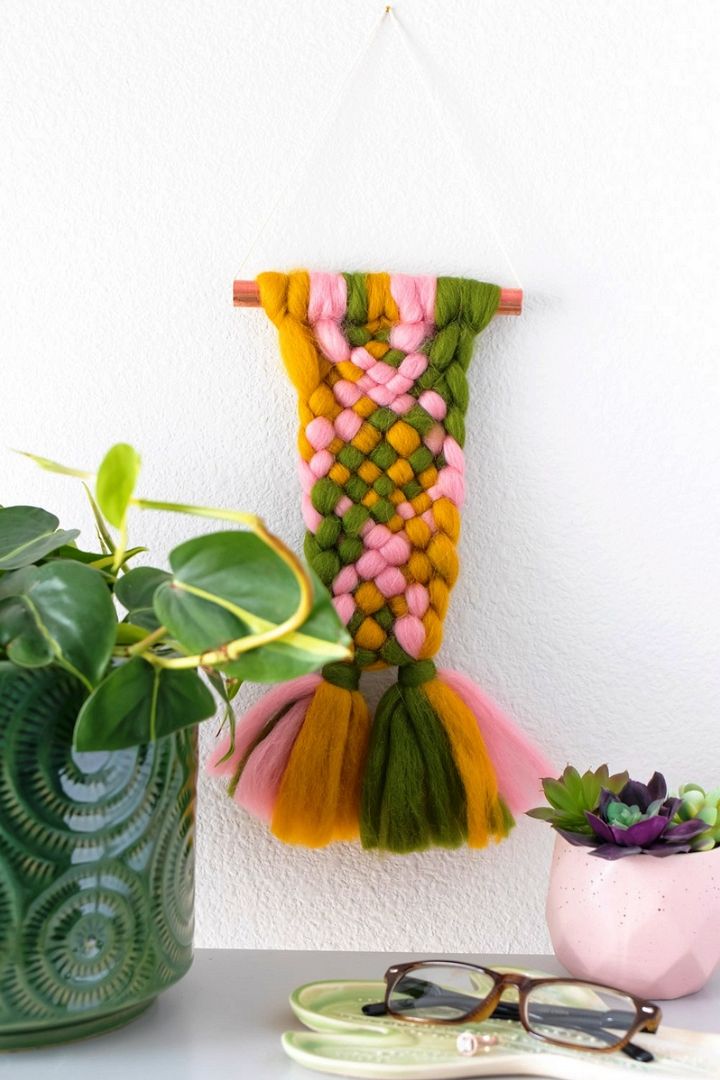 To make this fun wall hanging you need to do some easy weaving. With this simple form of art you can very easily decorate any wall in the house. The impact of a decorated wall is really something that makes a difference. You hardly have to spend ten minutes over this project and you are all done. Tutorial
33. How To Make A Painted Rustic Heart Decoration With Wood Slices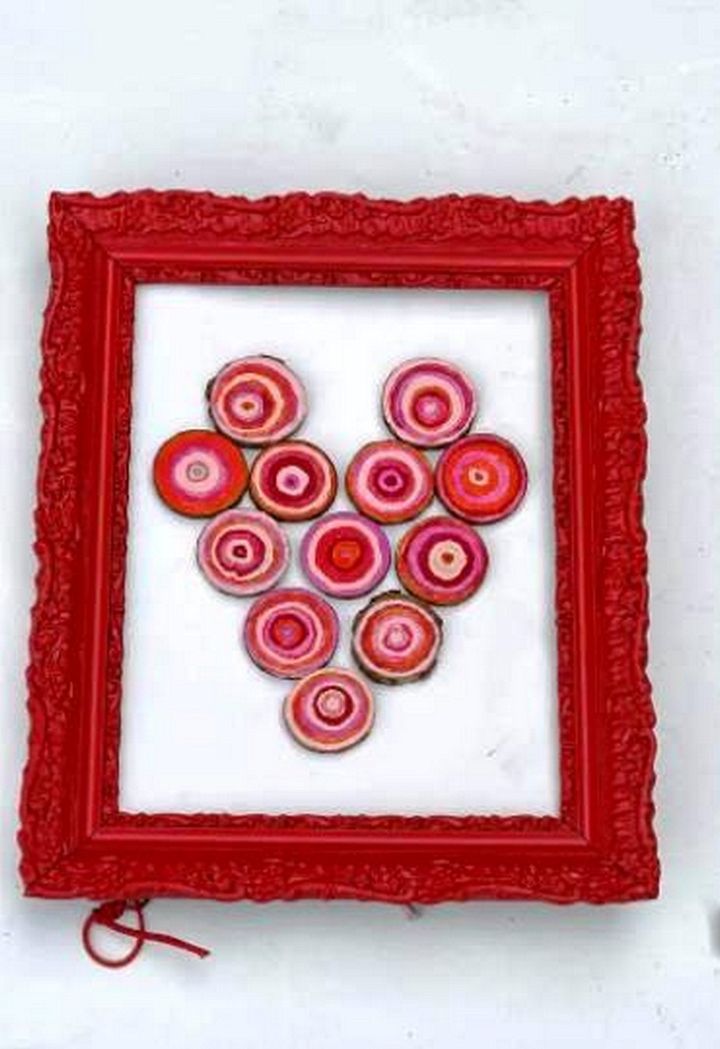 Have a look at this rustic heart decoration done with wood slices. You need some wood slices along with old picture frame for upcycling, acrylic paint, fine paint brushes, tape squares, red spray paint and white card. Follow the step by step process and see some amazing results coming up. Tutorial
34. DIY Pom Pom Tassel Heart Wall Hanging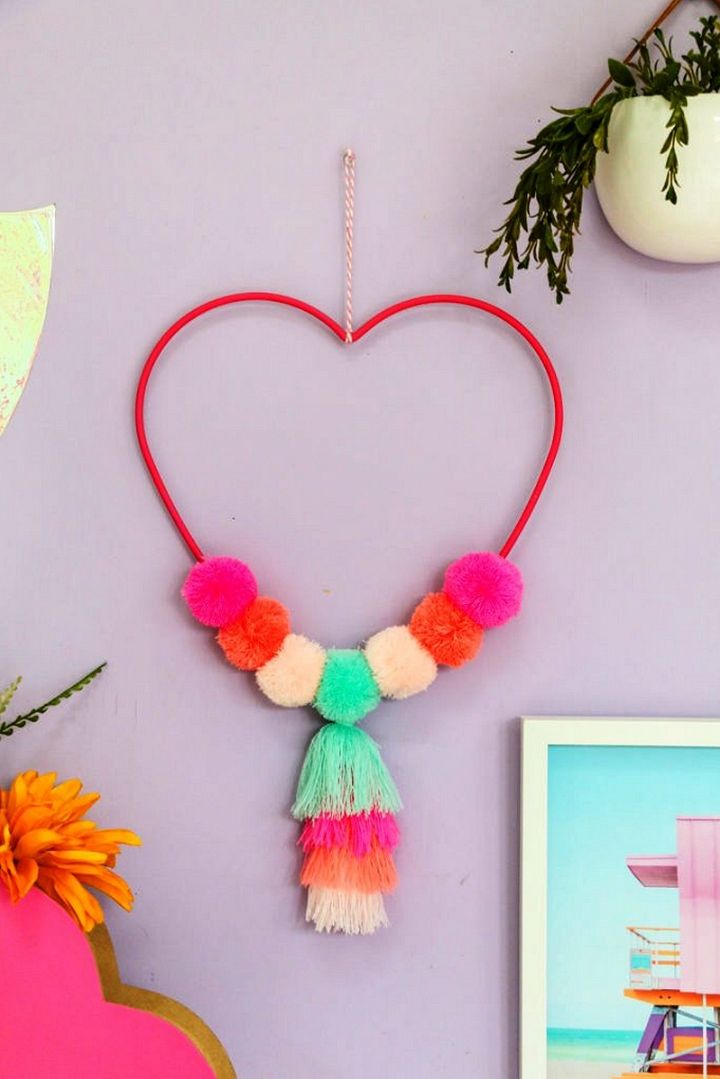 pompom never fails to impress when it comes to art and craft and decorative crafts. this diy project is also about pompom tassel wall hanging. you need to follow the project to the core and you will end up being proud of your own creative skills and innovations. get started with this cute wall hanging over this weekend. Tutorial
Anniversary Decoration Ideas Homemade – If you're planning to host an event for a birthday it's likely that you'll want to decorate your home to ensure that everyone feels the joy. We have some great ideas suggestions that can be implemented from the convenience of your own home. Explore these 15 suggestions!
35. How to Make Embroidery On Canvas Wall Art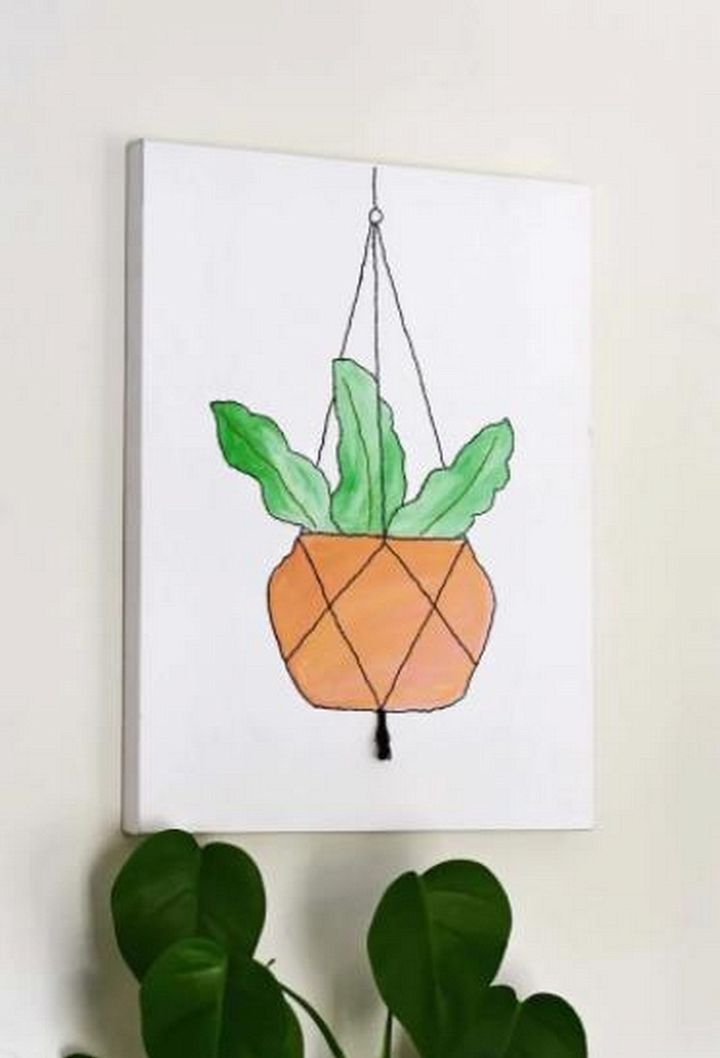 Canvas embroidery really makes a difference in home décor. Besides stretched canvas you also need plain paper as large canvas, masking tape, black marker pen, embroidery thread and needles, watercolor paint and a raise pushpin that you can easily grip. It's a simple hanging plant design that you can easily create. Tutorial
36. DIY Faux Latch Hook Heart Wall Hanging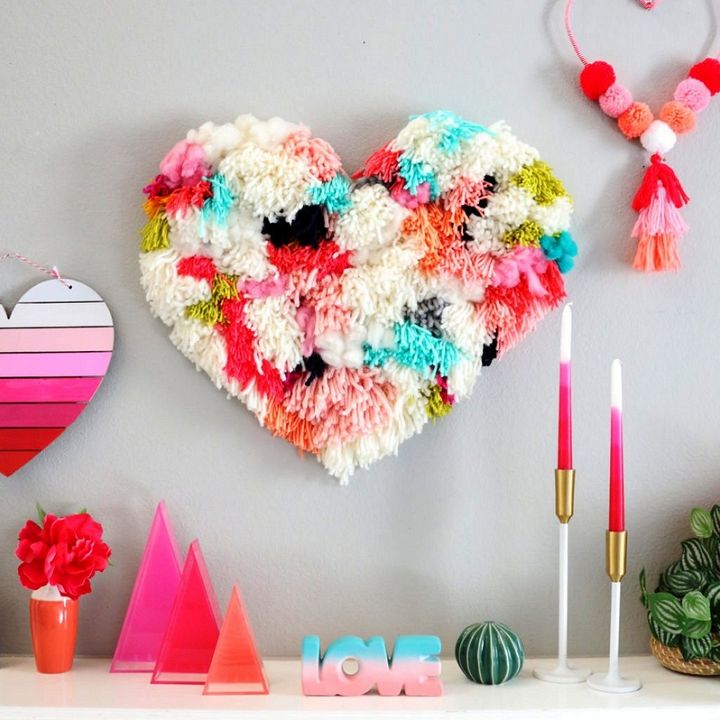 This faux latch hook heart wall hanging that can simple decorate any wall in the house. You need two skeins of white roving yarn along with foam core board, craft blade, hot glue gun and scissors. Grab the supplies and get started with this simplest craft for wall decoration. Tutorial
37. Stencilled Succulent Hoop Art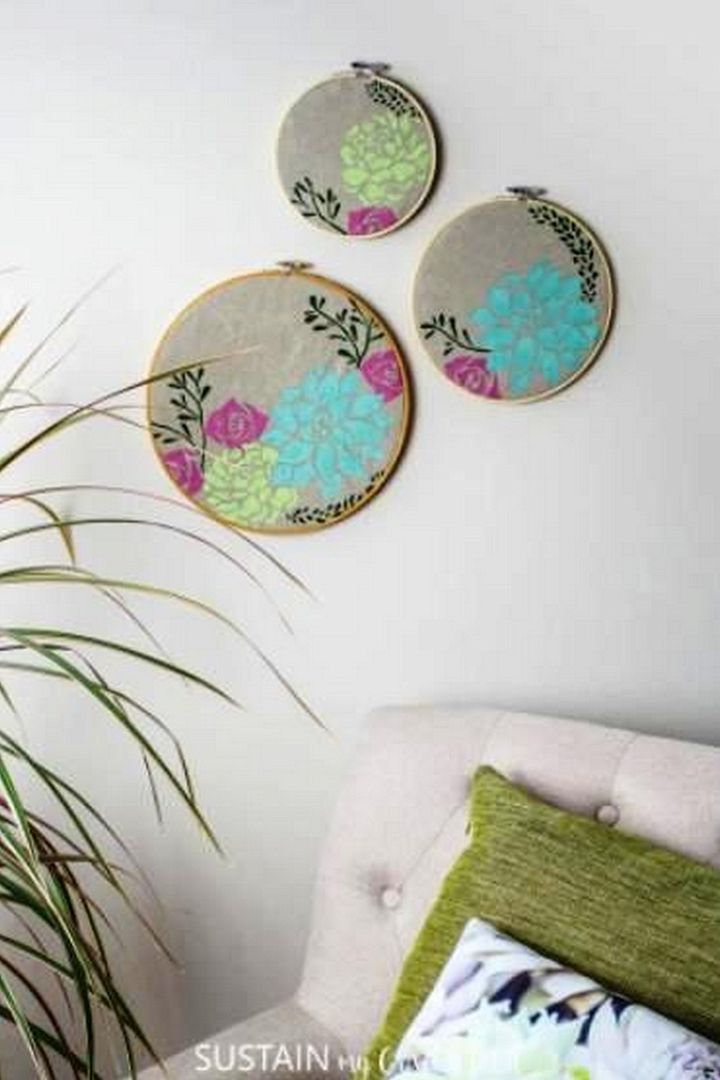 Succulents are naturally very beautiful and enhances the beauty of the entire surrounding. This stenciled succulent hoop art is easy to create and affordable too. The supplies that we need are wooden embroidery hoops, linen art canvas, fabric scissors, acrylics, décor succulent's stencil, pencil and hot glue gun. Tutorial
38. The Prettiest DIY Feather Wall Decor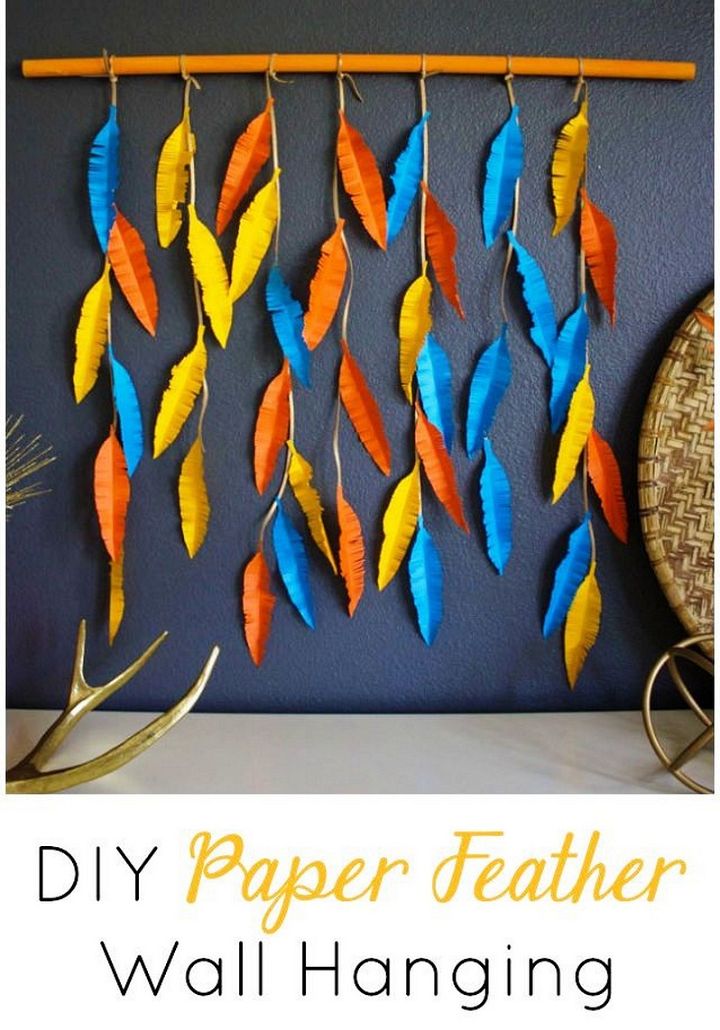 Feathers are an easy craft to decorate any space. This diy wall art is incorporating colorful feathers into it and it will surely turn any wall into a decorated and celebrated one. For the supplies you will need paper, fringe scissors, some leather cording and a wood dowel. Tutorial
39. Papercut Oak Leaf Framed Art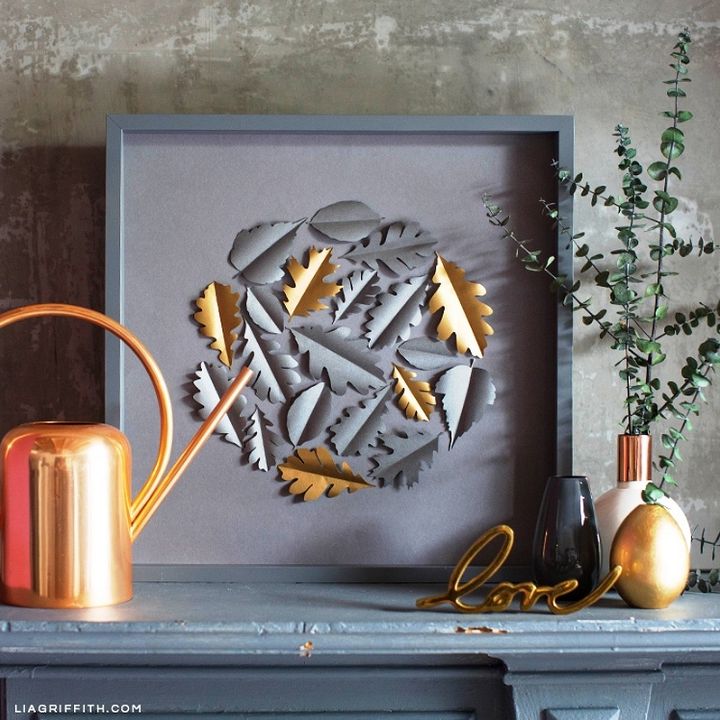 Have you ever tried making an art piece using paper cut oak leaf framed art? This diy wall art project is all about creating a masterpiece for may wall in the house. Silver and golden colors are used here to make this art piece. Once you are done with making this, frame this art work and hang it on any wall. Tutorial
Best Ideas With String Lights – The design you pick will be determined by the ideas you have for your decor. Perhaps you're looking to light up your home with string lights but you aren't sure how to do with the lights. It is possible to hang them from corner-to-corner within your space. Although it's fine however, this simple arrangement isn't striking enough. Be assured, here are 20 creative ideas to aid you in making your decision.
40. Weaving Loom Basics – Fun Projects Using Yarn and Other Threads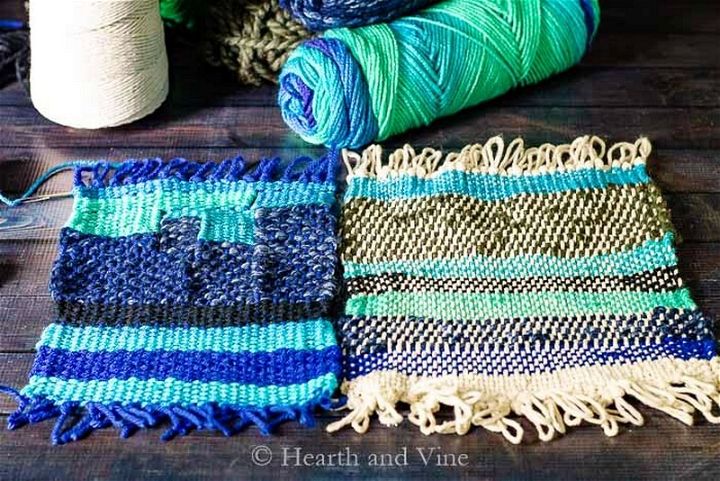 This wall hanging is made using thread and yarn. This project will teach you some basic weaving loom basics. Once you are done learning the skill that is used here you will be able to create an amazing masterpiece. With a little bit of effort you will see some amazing results coming up. Tutorial
Conclusion:
If you are also into home décor you will definitely love the diy wall art projects. These ideas are so perfect and unique to try for any empty and boring walls in the house. Grab the supplies that are listed here and get started with the interesting missions for home décor.