String lights are truly magical especially when it's about decorating any space. When festivals are around the easiest type of décor can be done using string lights or Fairy lights. These 20 Best Ideas With String Lights That's Fantastic are all so cool and mesmerizing that you will definitely want to try them. Here in these projects, the string lights are used in combination with many different objects to glorify the effects and also to make everything look celebrated and decorated.
The best part about string lights are not only affordable but also easily available at any craft or thrift store so it's much easier to work with them as compared to any other sort of lights that you might need to find from specific places. The DIY fairy light projects show us a completely different and beautiful side of string lights and how they can be incorporated into our Festival Décor for the entire home. You can choose the one that you like the most from among these projects and see how you can work with string lights.
1. Dixie Cup String Lights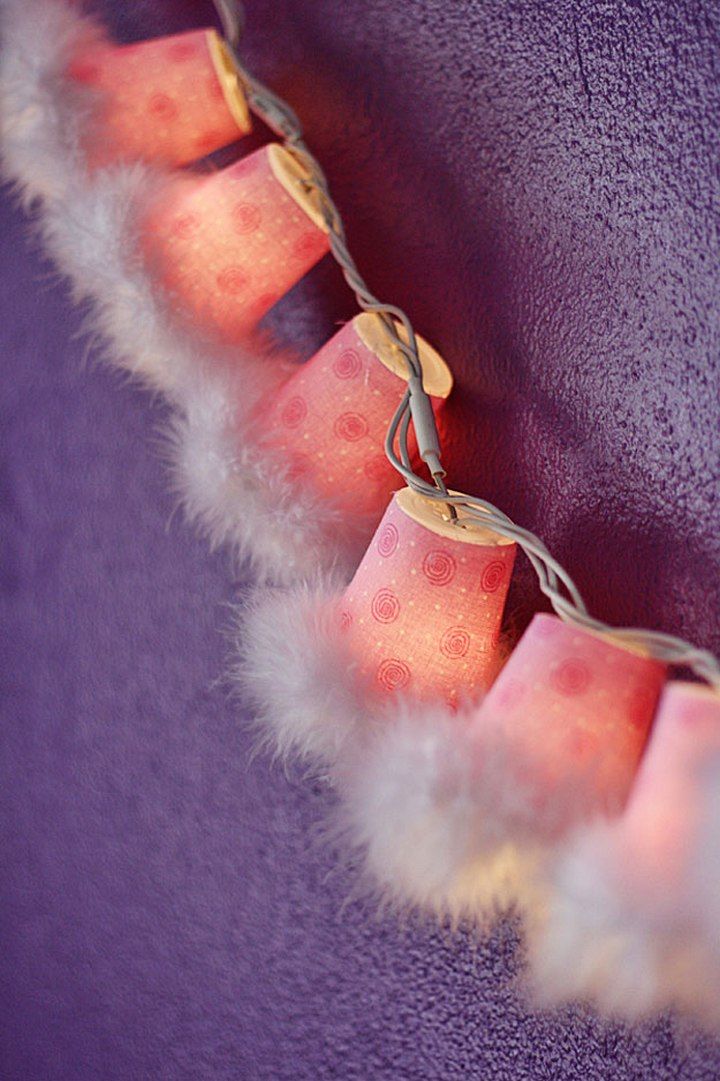 String lights are amazing whenever it comes to decoration. This diy project shows how you can make a nice combination of string lights with dixy cups. As holiday season is coming over and this seems to be the most relevant craft to make. you will need a set of white led string lights along with small plastic cups, fabric or scrap book paper, scissors, clear shipping tape, piece of paper to make template, feather boa and hot glue gun. Tutorial
2. Daisy String Lights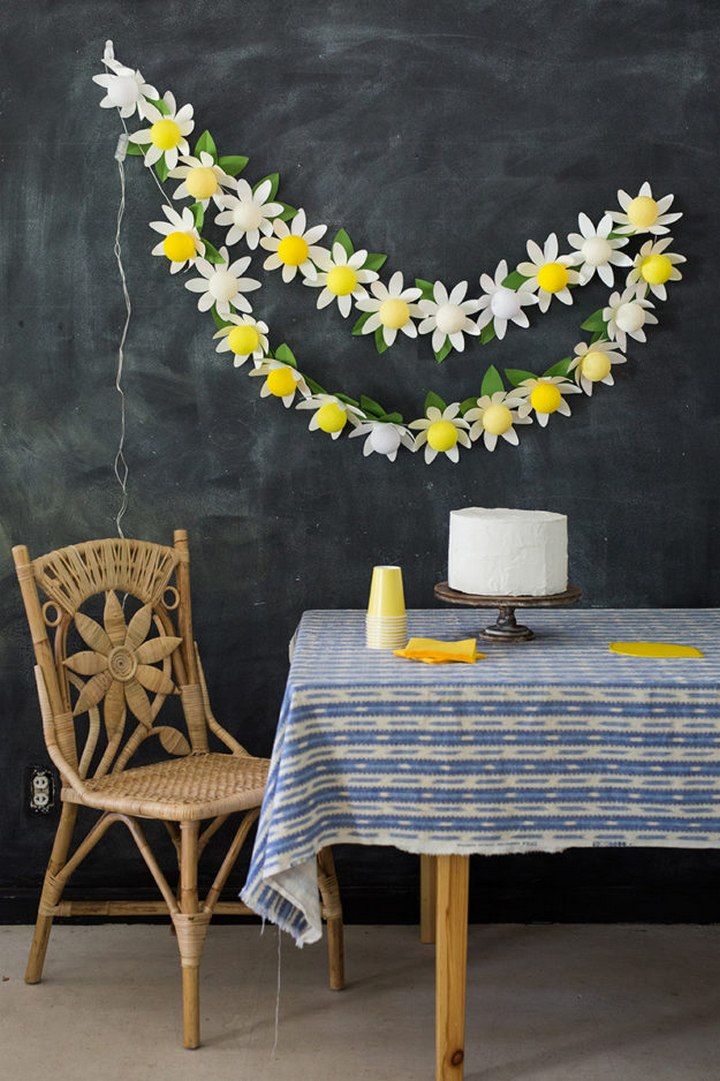 Have a look at these daisy string lights and to make these you will be assisted in a perfect way. The supplies that you need are bright lab lights, white and yellow green cardstock, craft cutter or scissors, templates and glue gun. Grab the supplies and get started with this amazing mission. Tutorial
3. DIY LED Leaf Garland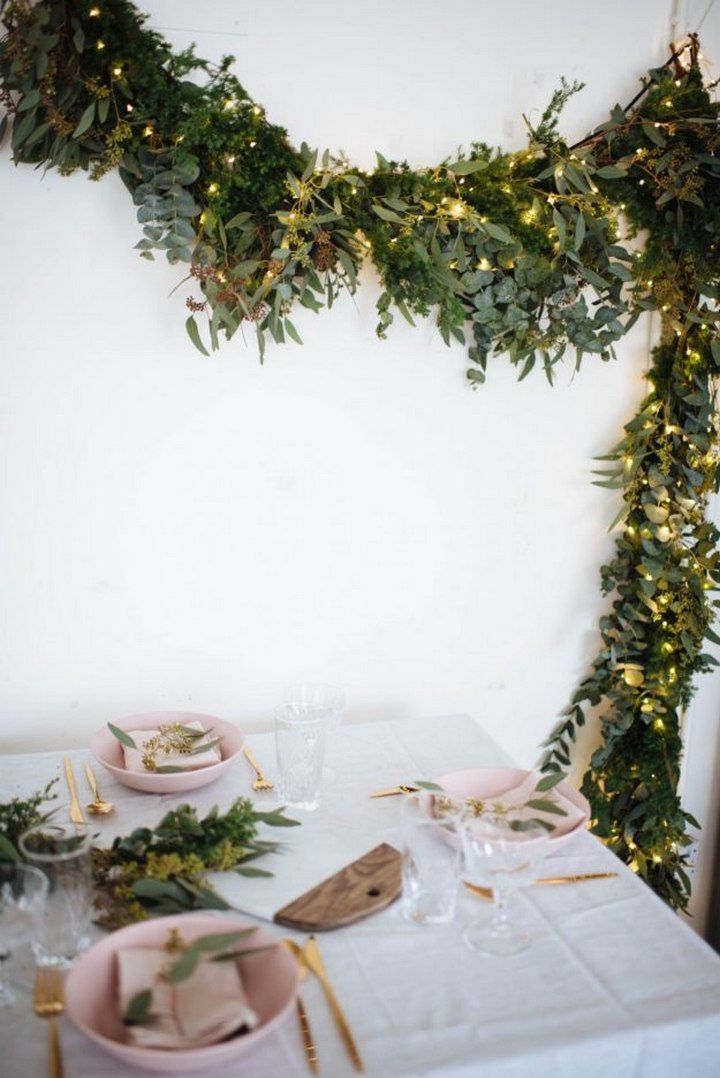 This is a led leaf garland that will surely prove to be the best and unique décor craft for this holiday season. A combination of leaves and string lights is surely very appealing and enticing. You can use this decoration for festivals to make your home look decorated and celebrated Tutorial
4. Spring String Light Garland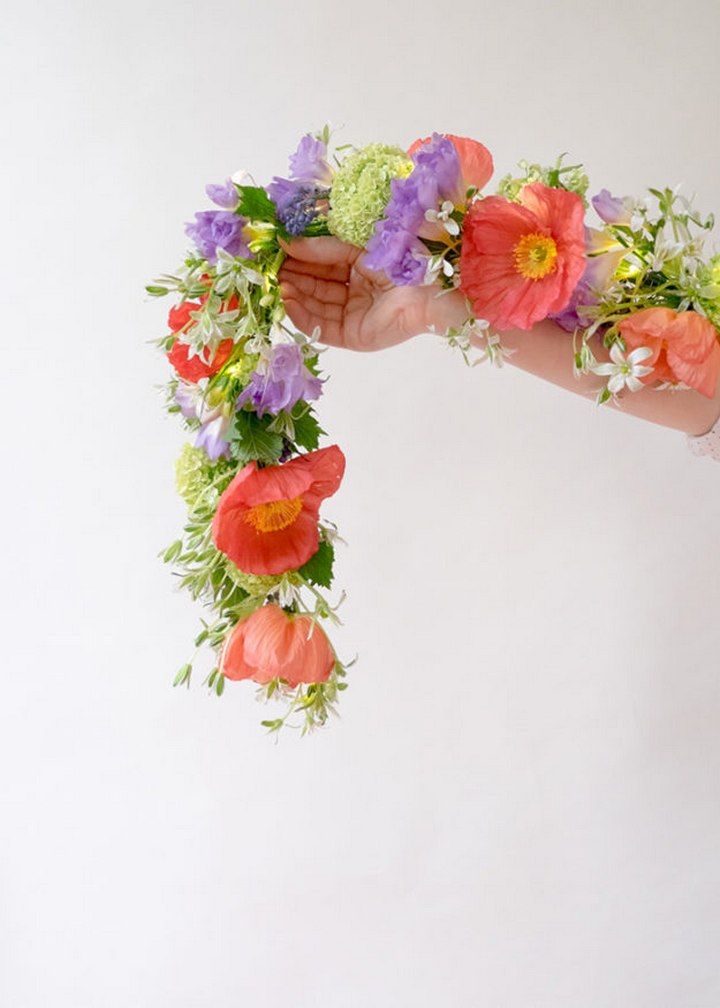 When spring is around we all want our houses to look more celebrated with the festive vibes. This diy project is also about making something special and different for upcoming spring season. This string light project is giving us those feeling of excitement for spring and we can all do this craft easily. Tutorial
5. Rainbow Paper Lanterns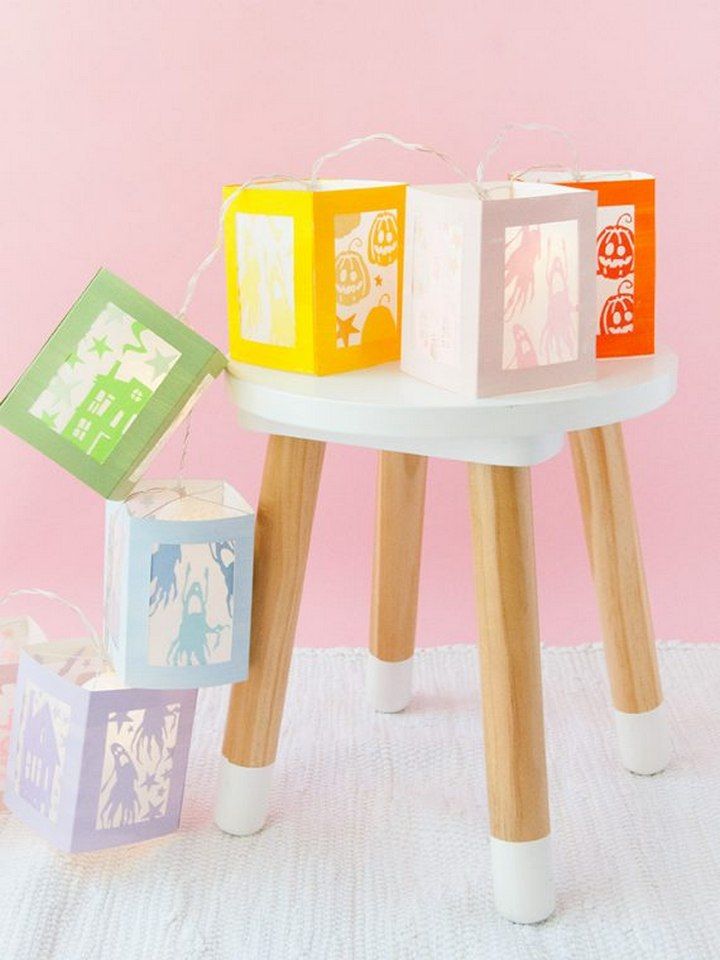 Have a look at this diy rainbow paper lanterns and see how you can make these effortlessly. For this lantern you will need quite a few supplies such as a shot starter kit, string lights, die sets, colored paper, white tissue paper, clear contact paper, double stick tape, hot glue gun, scissors, craft knife, pencil, acrylic paint, paintbrush, wire and printable template. Tutorial
6. Paper Folded Light Strands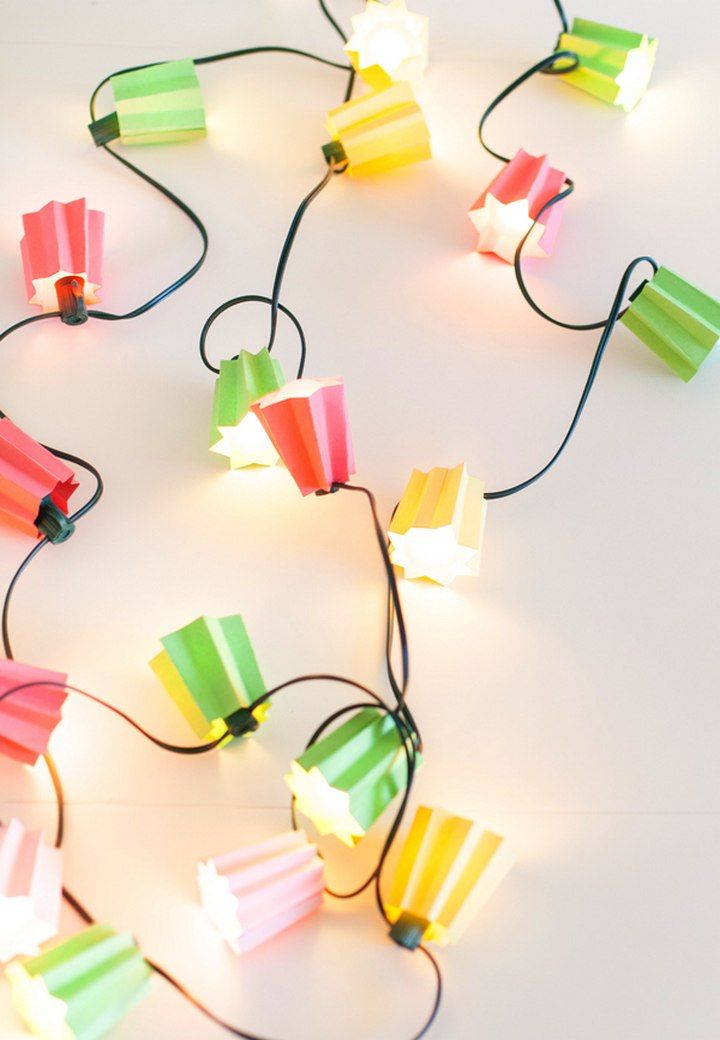 These paper folded light stands are simple and easy to make so try to make these. This seems to be the best craft for summers. You can play around colors while doing this project. Make these for any place that you like to decorate and light up. Grab the supplies and get started with this interesting mission. Tutorial
7. Faux Floral Lights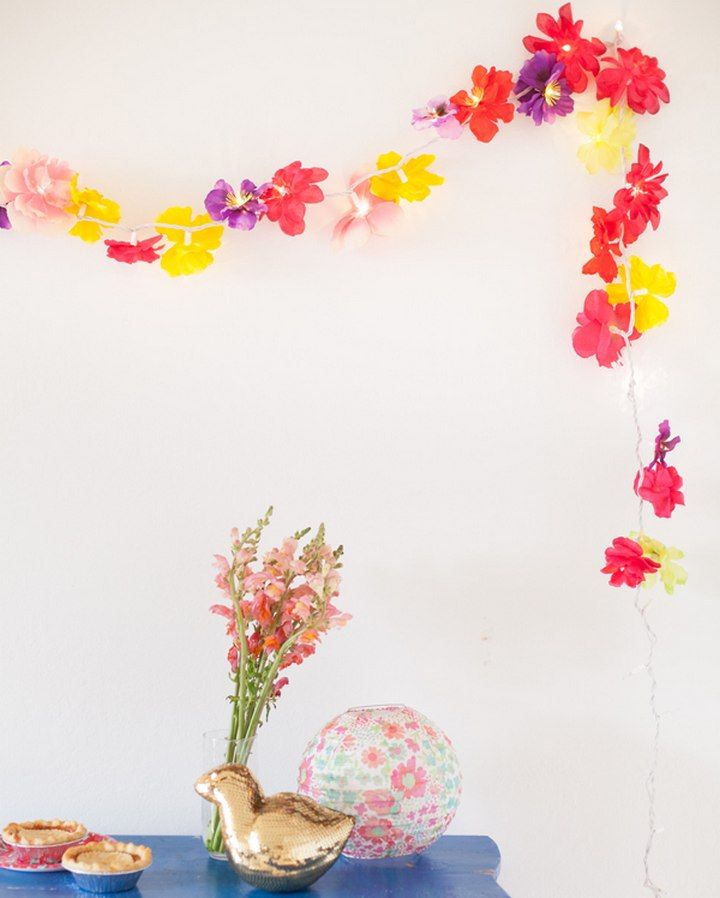 If you are also willing to decorate your space for festive season, this project will be helpful to you. These faux floral lights will help you decorate any space with beauty, colors and lights. You will need to have some colorful artificial flowers for this project. You can also use led lights. Tutorial
8. Greenery Globe Light Garland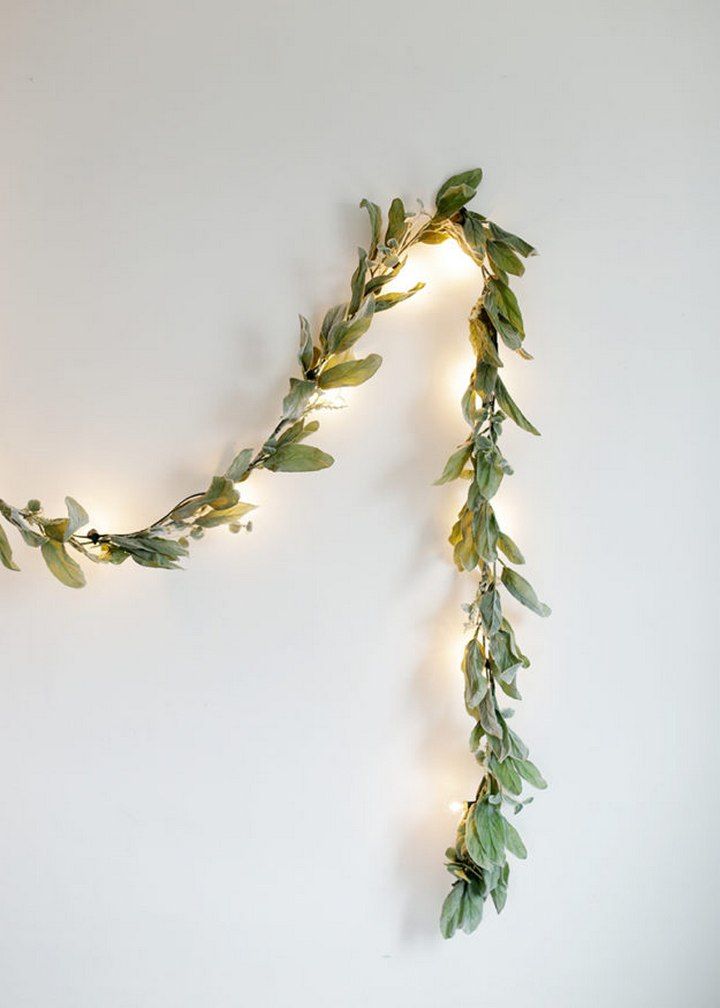 Have a look at this diy greenery globe light garland and try to make this with the help of the complete set of instructions. You will need to have assorted greenery lights and florals, wire cutters, floral wire, hot glue gun and globe light strand. Grab the supplies and get started. Tutorial
9. Ping Pong Ball Lights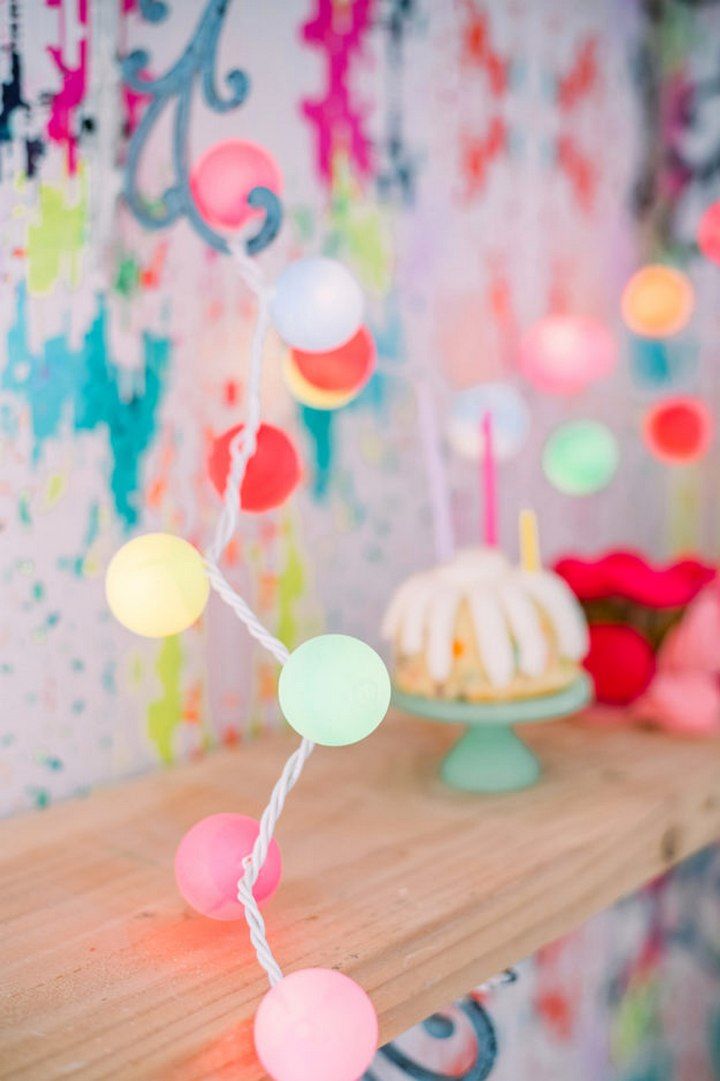 These ping pong ball lights are something that will definitely be decorating any space like nothing else. You can also make this craft for the festivals coming up this year. You will need colorful ping pong balls, string of lights and scissors. Grab the supplies and see how your own version can be made with the help of this project. Tutorial
10. Flower String Lights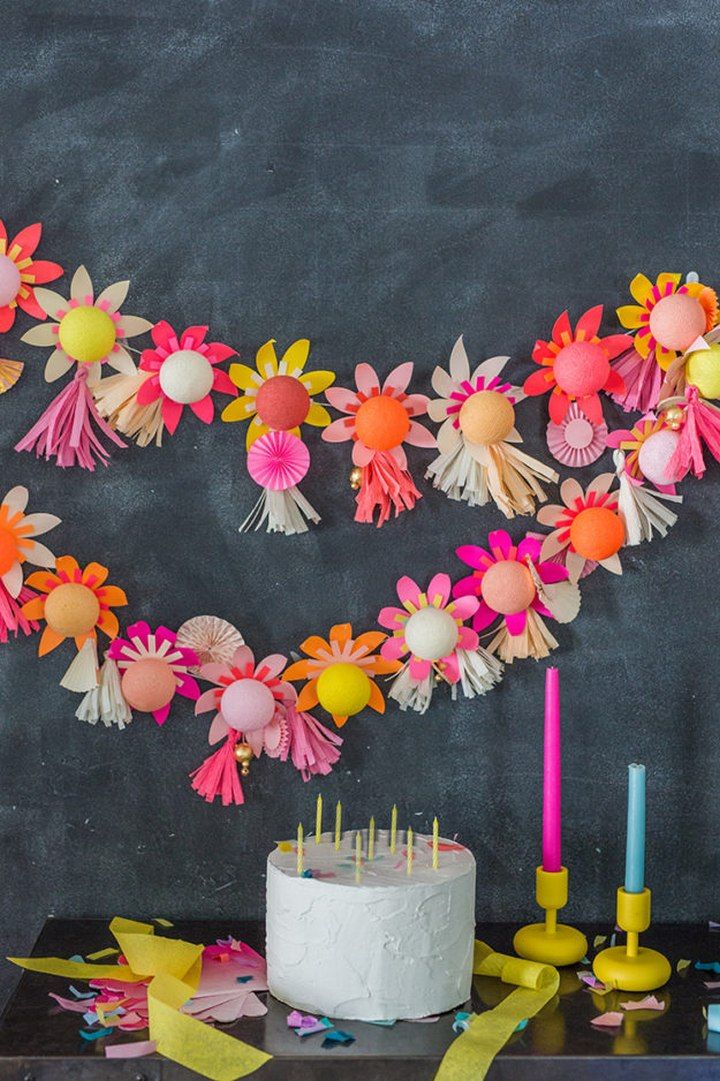 These flower lights can be more than perfect for a birthday decoration and celebration. Besides birthdays you can also make these for any other special occasion as well. the materials that you will need are bright lab lights, papers in the colors of your choice, craft cutters or scissors, templates, wooden beads and discs, string, crepe paper and glue gun. Tutorial
11. Instax String Light Hang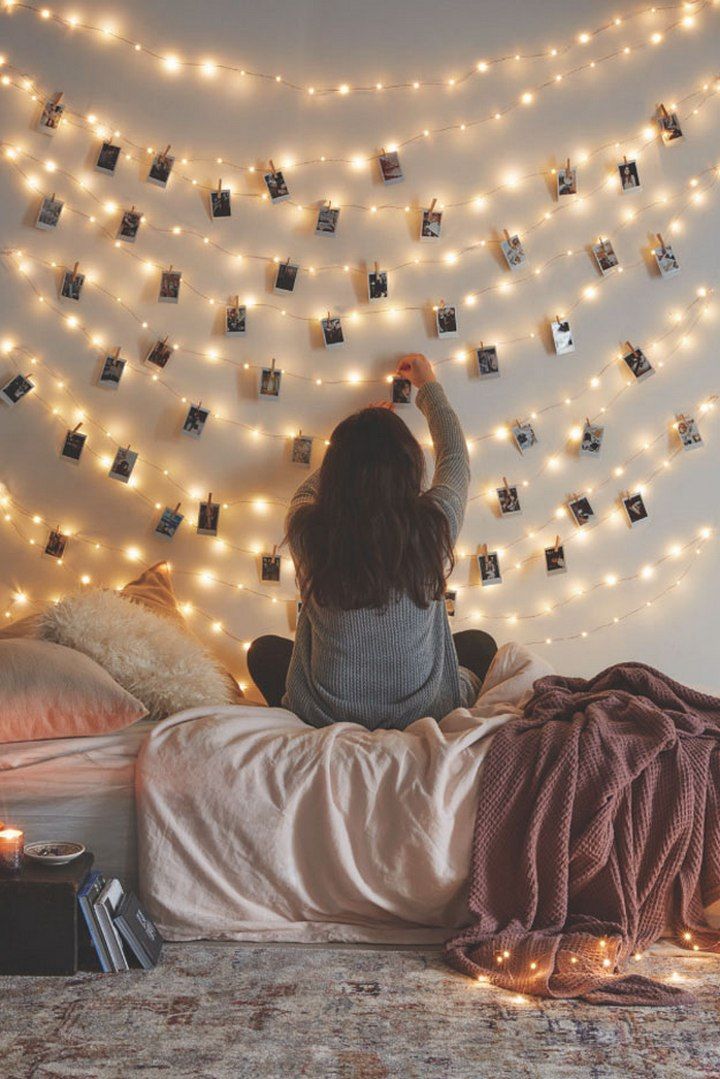 Have a look at these instax string light hangs and you will definitely be mesmerized. You can also make and decorate these lights in your room to make it look more stunning than ever. If you are also into home décor, you will surely love this plan. Tutorial
12. Flameless Fire Pit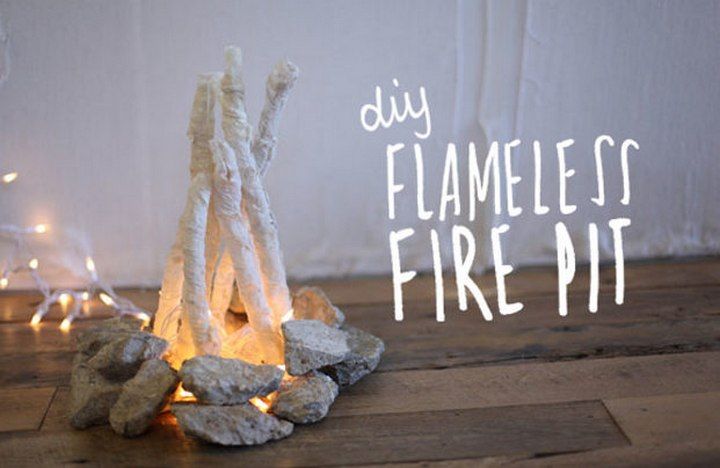 A flameless fire pit is something that people who like interior decorating will love. You can easily learn to do this and see an amazing and very attractive addition to your house. You will need lace strips, tree branches, aluminum foil, fabric stiffener or school glue, paint brush, string lights and rocks. Tutorial
13. Pineapple String Lights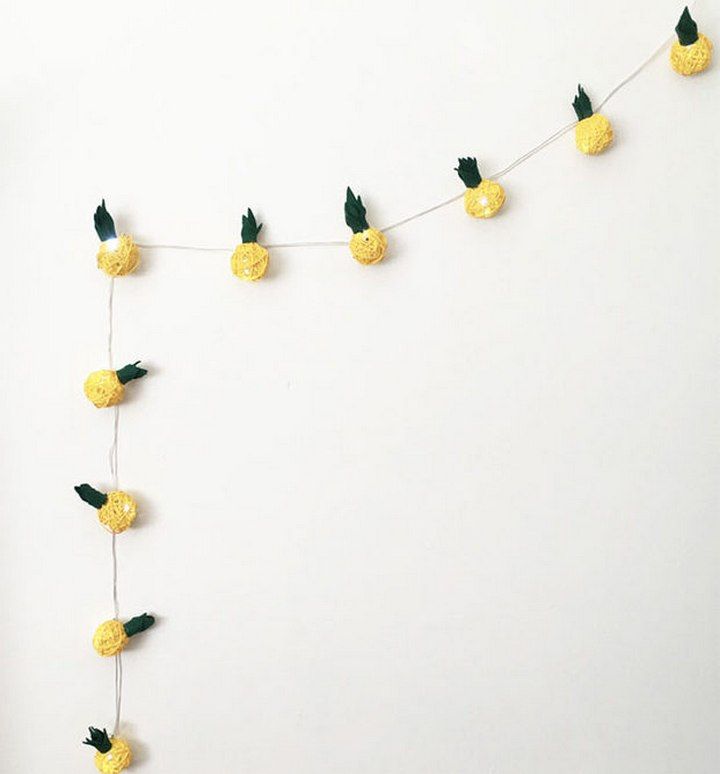 These pineapple string lights are so cool that you will love this. Get into the details of this project and see how you can do this all by yourself. When these adorable little pineapples will light up a complete different and mesmerizing ambiance will be created. See the details and tutorial given here and get started. Tutorial
14. Summer String Lights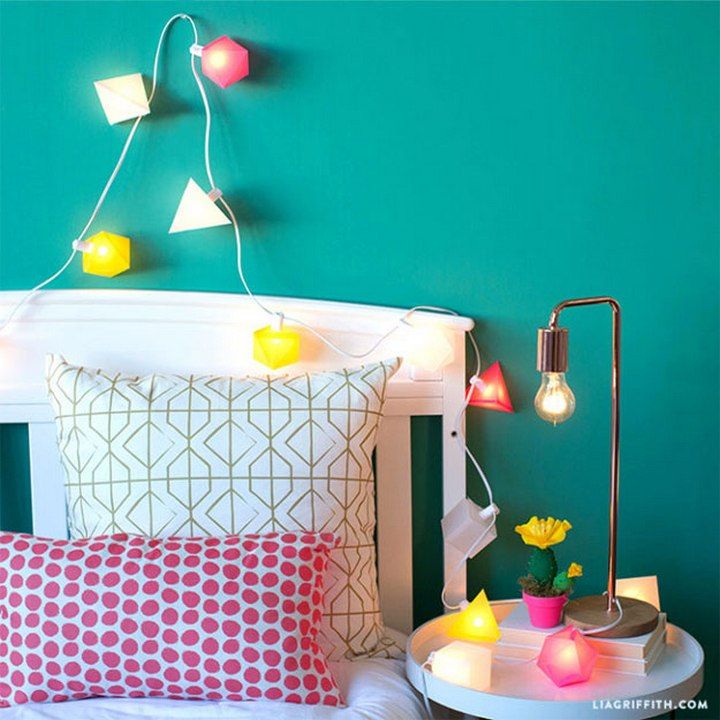 These summer string lights are so cool that any space can be completely transformed with all the summer vibes around. You can play around colors while doing this project. Summers are all about different cool colors and here you can see lots of eye soothing colors combined with string lights. Tutorial
15. Hamburger String Lights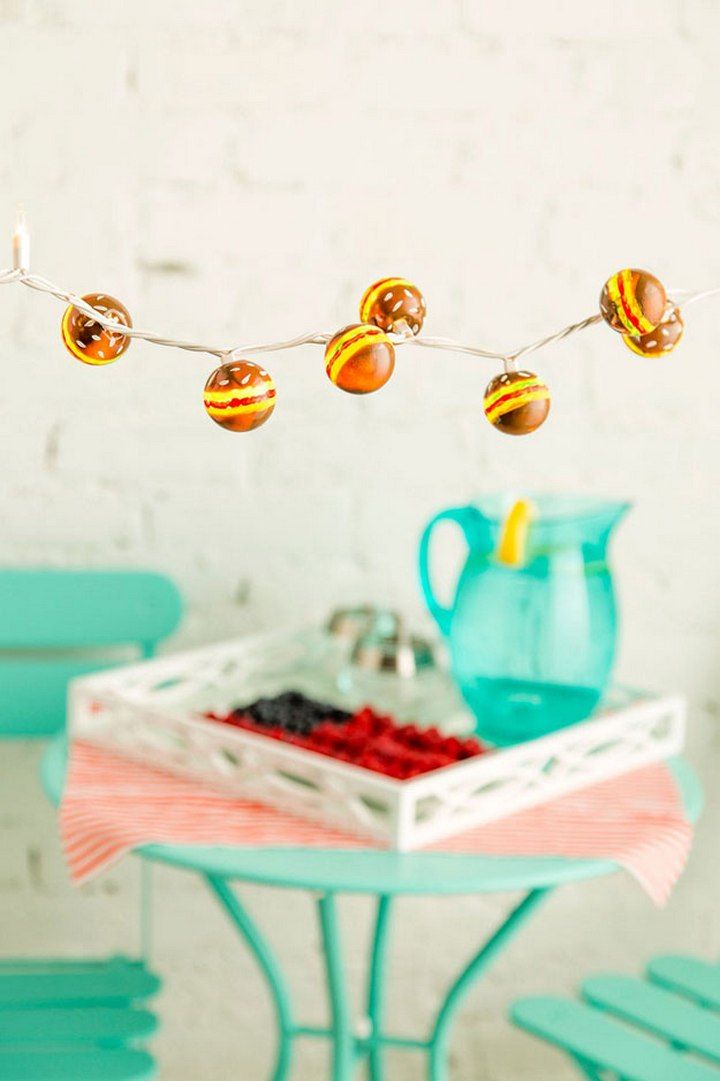 Are you ready to make these hamburger string lights for your home décor? If yes then follow this project and see how you can do this all by yourself and make this amazing addition to your home for the festive season. As we know its summer season and we will spend most of the time outside therefore such décor is very appreciated by many of us. you will need ping pong balls, Christmas lights, brown spray paint, acrylic paint, double sided tape, paint brush and xacto knife. Tutorial
16. Tasseled String Light Garland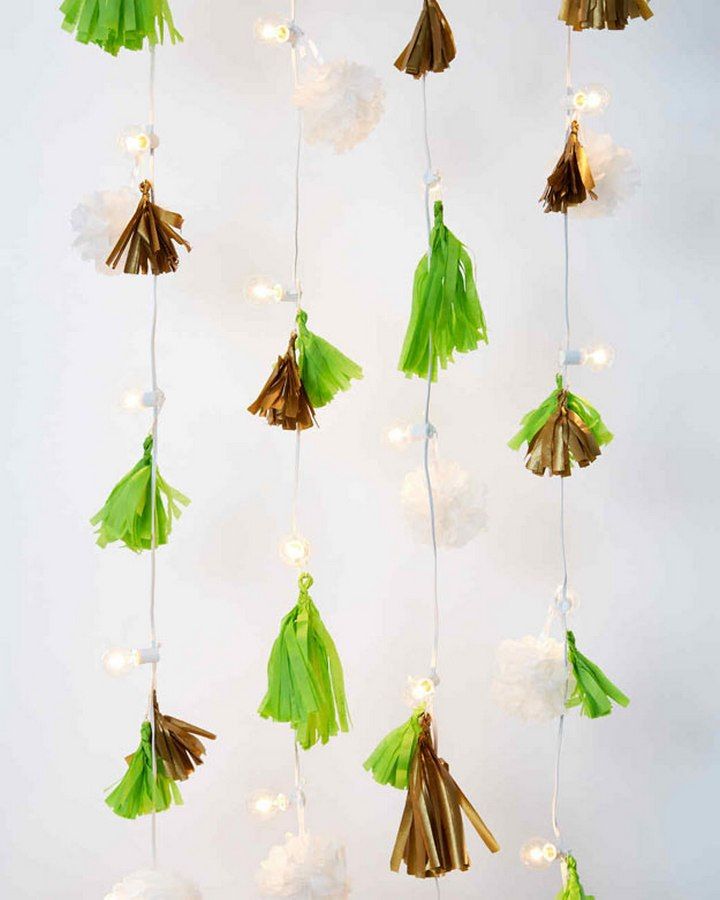 When summers are around we all become excited for home décor as well as for those festive vibes in the house. This beautiful combination of string lights and tassels is all you need to light up your house and bring some extra ordinary beauty inside. Follow the project and see how this is done. Tutorial
17. Shuttlecock Lights Garland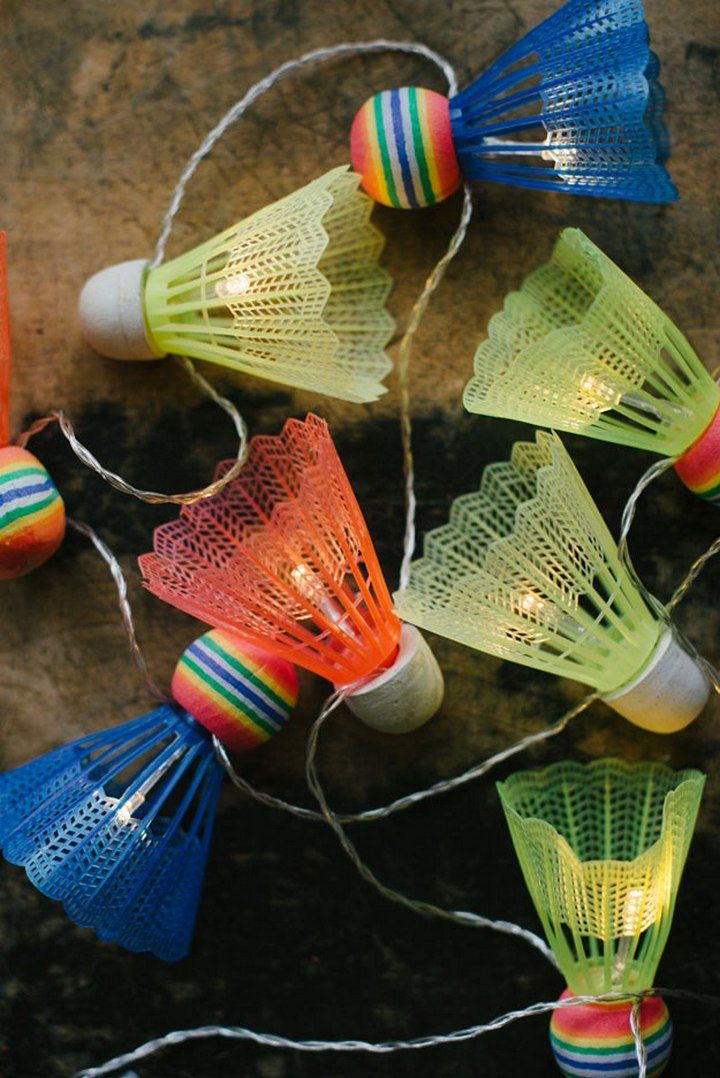 You can also try this amazing and creative combination of shuttlecock and string lights to make a nice garland. This craft can be very helpful to you in decorating your space. You can make decorate both your outdoor and indoor spaces with this craft and see the magic. Tutorial
18. Snow-Inspired Party Lights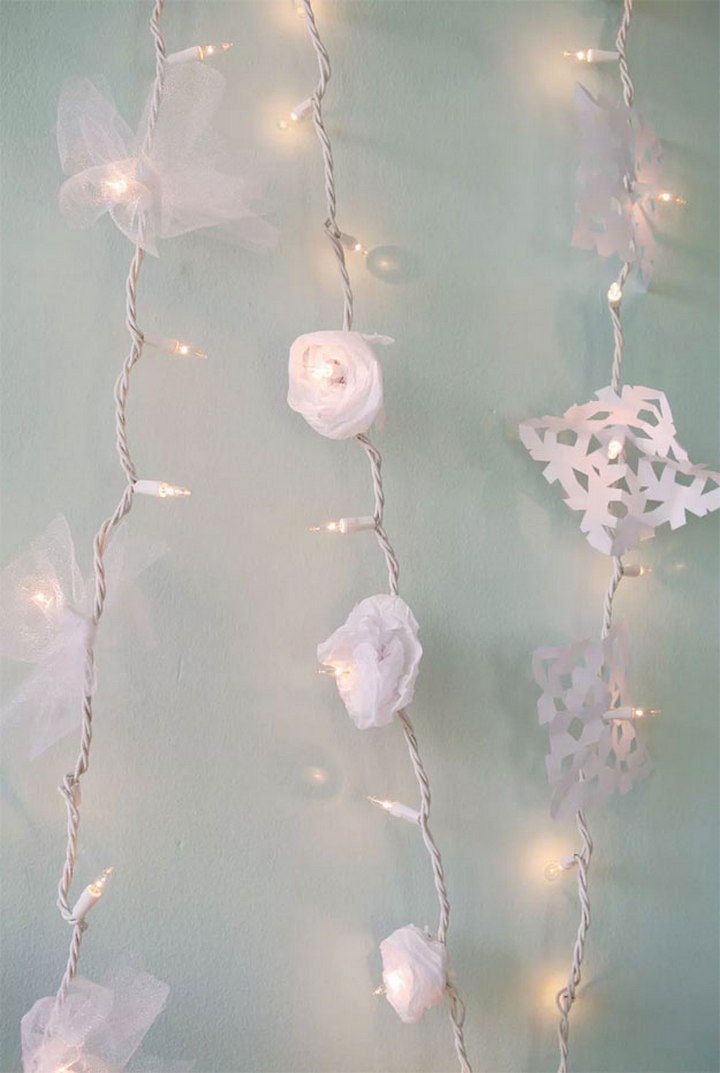 This diy string lights project shows how we can make some snow inspired party lights very easily and conveniently. The materials you need are white paper, white tissue paper, white tulle, strand lights and yarn. Whereas the tools include include only scissors. Tutorial
19. Foliage String Light Sign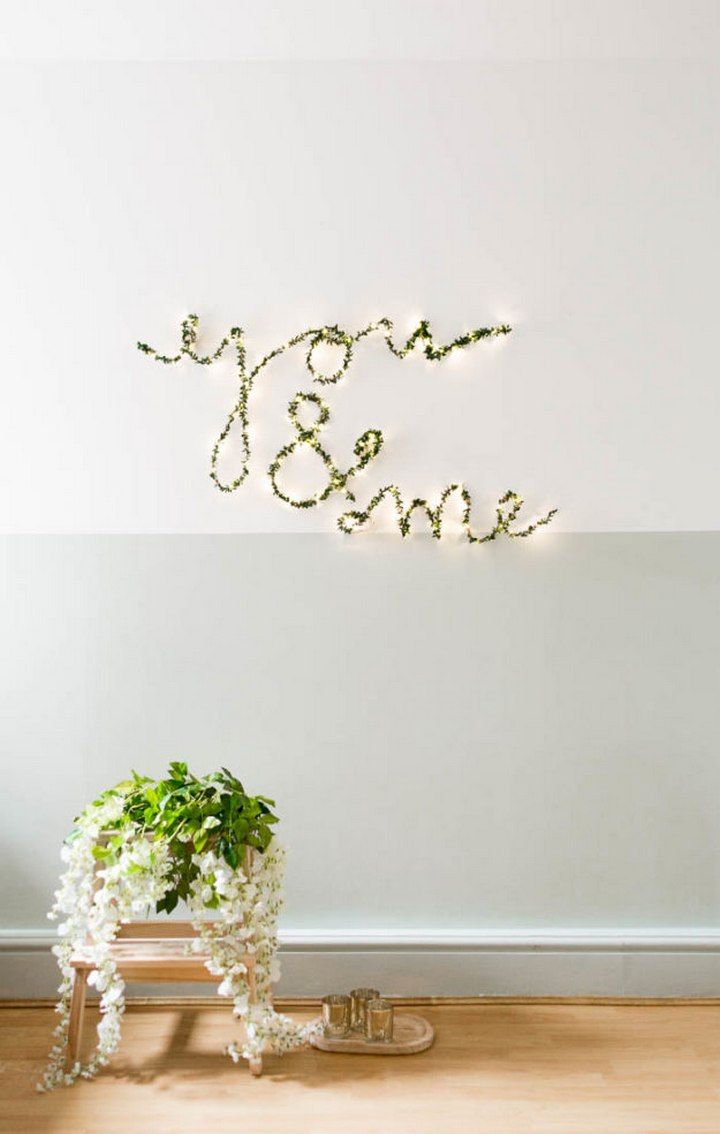 This is a foliage string light sign here that you can also try easily with the help of this project here. This craft can be very popular in houses where there is a wedding occasion. Besides foliage string lights you will need aluminum wire cutters and masking tape. Tutorial
20. Fairy Light Watering Can
Have a look at this mesmerizing craft done using string lights. You will need watering cans with removable shower heads, fairy lights, Shepard's hook, a screwdriver, and a few more. Grab the supplies and you will see how some amazing results will come your way. Tutorial
Conclusion:
String lights have that soothing aura and make any environment feel and look cozy. you can decorate your rooms with either just string lights or make some beautiful combinations of string lights with a variety of objects to bring more and more beauty out of these magical lights.