Wooden pallets are always fun to work with in art and Craft Projects. These 30 Easy Beginner DIY Pallet Projects are all amazing and inspiring. All of the projects that you see here are easy to get along with as they are especially designed for the beginners. In all of these projects very basic tools and supplies are used except only a few special ones that are used for some unique ones. With the help of wooden pallets you can easily be able to decorate your home, walls, outdoor spaces, Gardens and bedrooms only within a few steps taught here.
If you are a plant lover, you will also surely love these DIY Pallet Projects for beginners. Besides this Coffee Lovers will also get attracted towards these amazing and enticing ideas of how to use wooden pallets and pallet boxes for the coffee corners. Not only can this but you also use pallets to make your outdoor cinemas even if you are a beginner in projects like these. Wooden pallets are so magical and easy to work with that they can even contribute in making of ottomans in your home like here in one of these projects. There is also something for your dogs that you can make using wooden pallets.
1. Simple DIY Pallet Pool Storage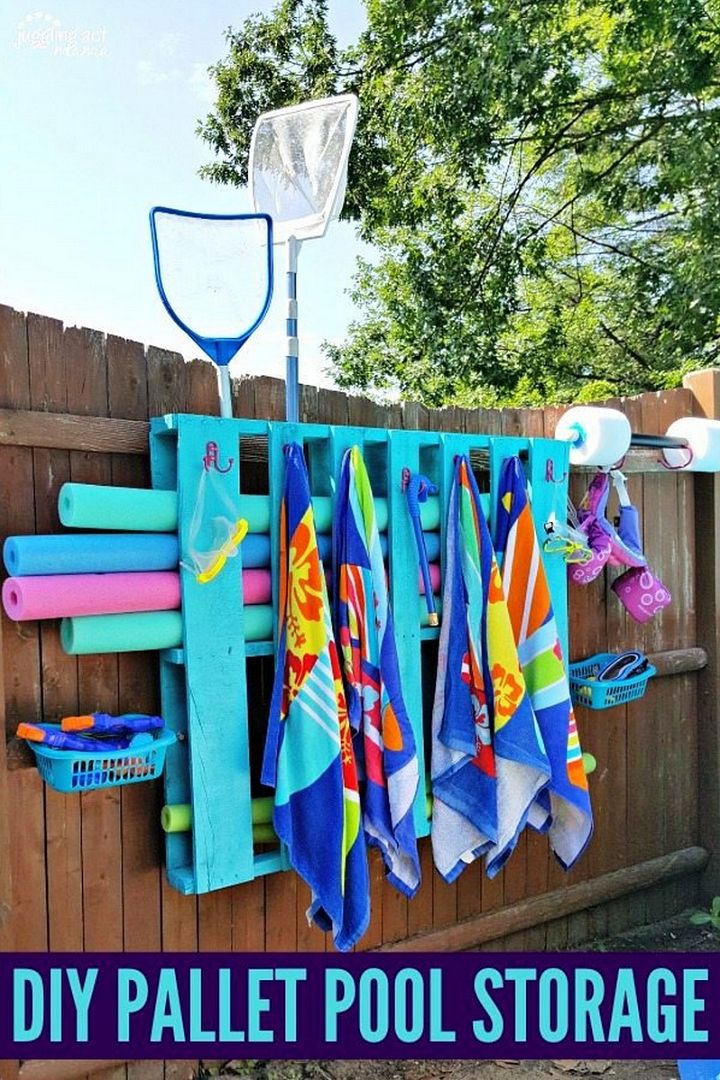 This is an outdoor pallet project for beginners and you will absolutely love this. This project will help you store and hang items on the pool side. You can easily keep and store your pool side stuff on these pallets. To make this pallet project you need to have basic wood working skills along with the materials that are listed. Tutorial
1. DIY Mini Pallet Coasters – Quick & Easy Project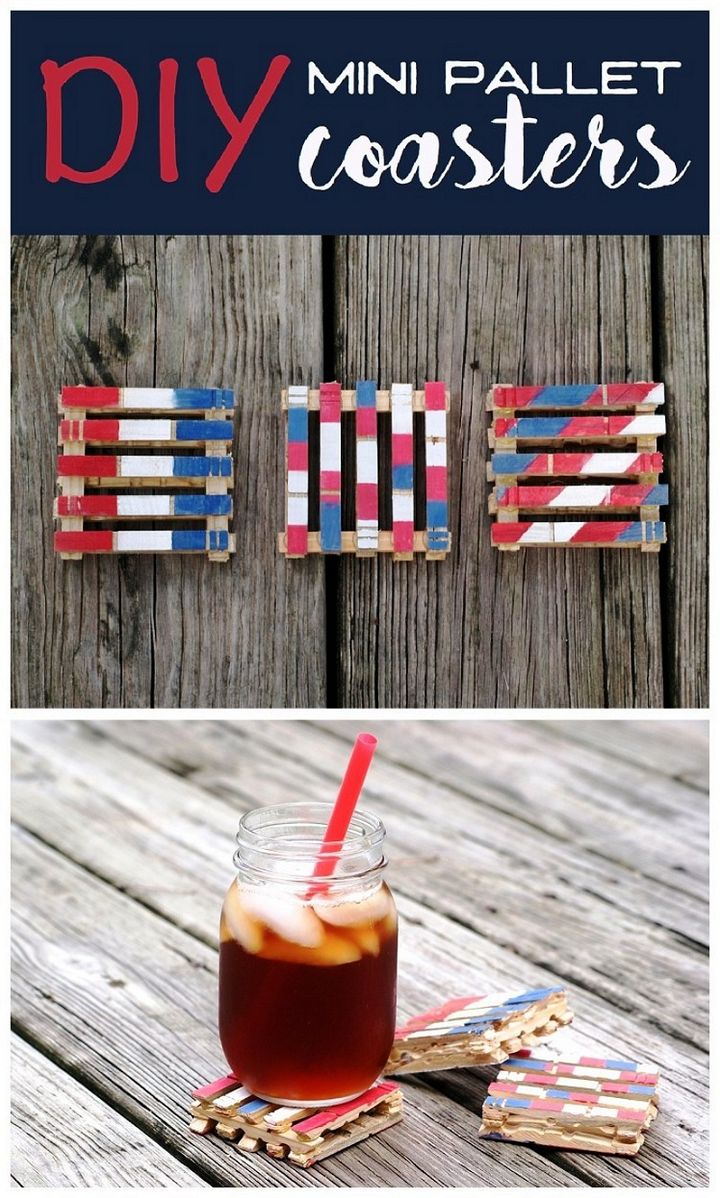 Have a look at these mini pallet coasters here that are simple and easy to create using pallets. A few simple things that you need to make these coasters are clothespin, hot glue gun and acrylic paint. Grab your supplies and get started with this interesting craft of pallets especially designed for beginners. Tutorial
3. DIY Pallet Laundry Shelf – DIY Pallet Projects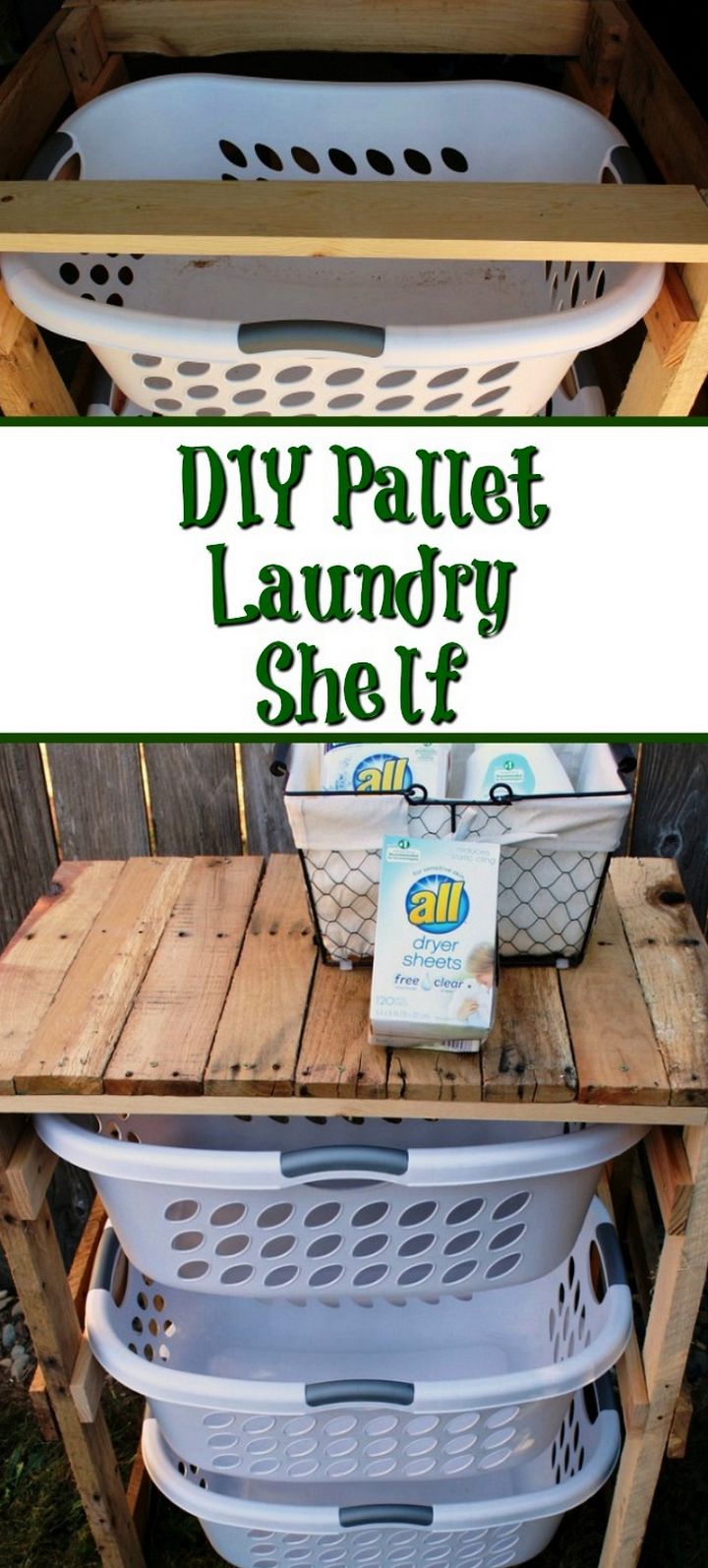 DIY Pallet Projects: This diy project teaches us how we can make a pallet laundry shelf out of pallets. A simple step by step process is given here so that you can easily catch up with this and make your own laundry shelf. List of supplies is given here which includes charged drill, wood screws, pallets, hammer, miter saw, pencil, tape measure and three hip laundry baskets. Tutorial
4. DIY Pallet Reading Bed For The Nursery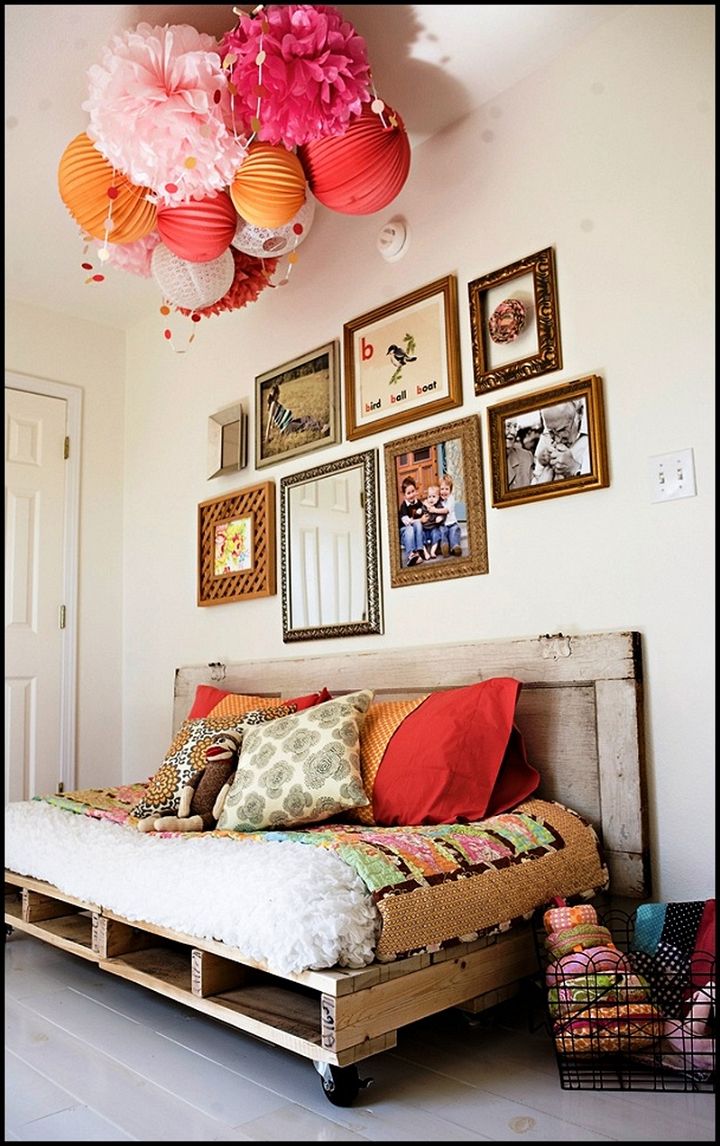 This reading bed seems to be perfect to keep around the books in order to make the reading time more interesting and fascinating than ever. The bed is made using pallets. The pallet that are used here are untreated. Besides pallets you also need palm sanders, grit sandpaper, caster wheels, hinges and thick foam for the mattress. Tutorial
DIY Pallet Walkway Ideas – The art of creating custom artwork doesn't have to cost you a fortune in decorating. With just a few craft supplies and a bit of creative thinking, you'll be able to design your own high-end wall artwork within a matter of minutes! And the best part is that each of these art projects is actually very inexpensive. Check out
5. DIY Patio Bar Made Out Of Wood Pallets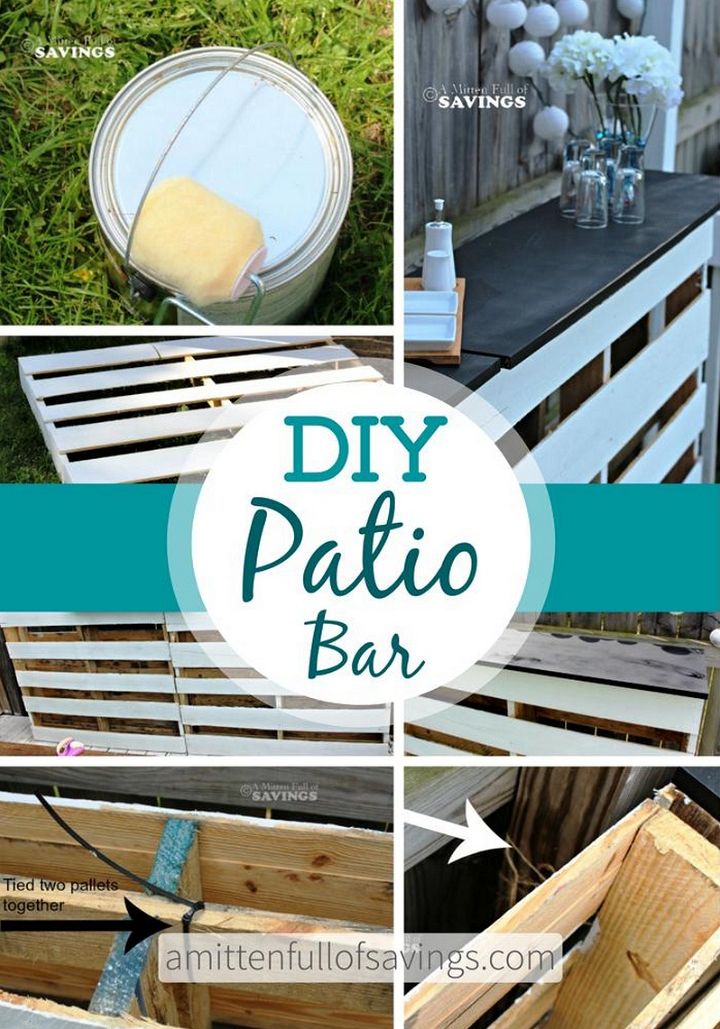 If you are also interested in making a bar for your patio, this project will be of great help. This bar is made using pallets and is easy enough that even the beginners can try this very easily and conveniently. To make this you need four wood pallets, wood screws, counter top and paint or stain. Tutorial
6. Wooden Pallet Chillout Lounge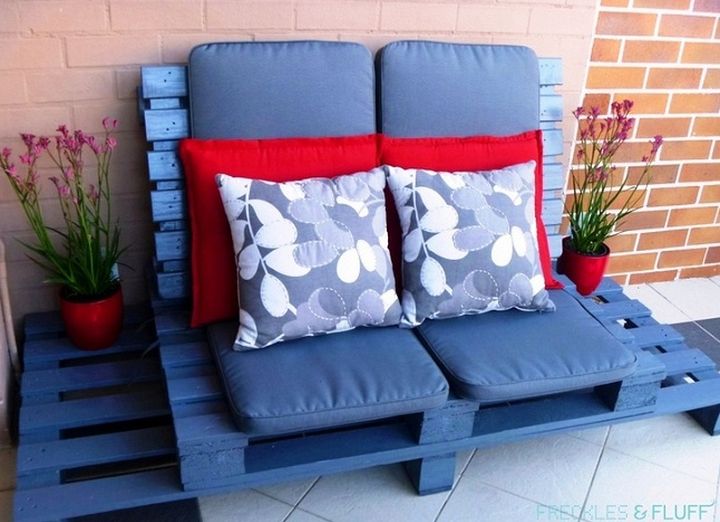 Have a look at this wooden pallet chill out lounge here that is super simple and cheap to make. DIY Pallet Projects are so popular right now therefore this project is also worth trying as it also involves working a lot of with pallets. This chill out lounge set is all you need for your outdoors so get started. Tutorial
7. DIY Pallet Sandbox-A Simple Upcycling Project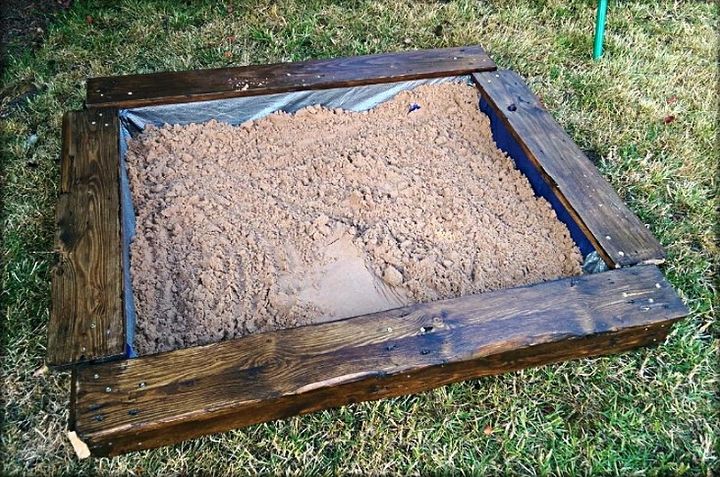 This pallet sand box is a simple upcycling project that even the beginners can easily try. With the help of this simple process over here you will be able to get the desired results just as you wanted. A crowbar or a hammer is used here to disassemble the pallets. For the finishing you need a finishing sander and sand paper. Whereas to stain the wood you need to use seal sealing wood stain in gloss rustic oak. Tutorial
8. Pallet Flower Pot Hanger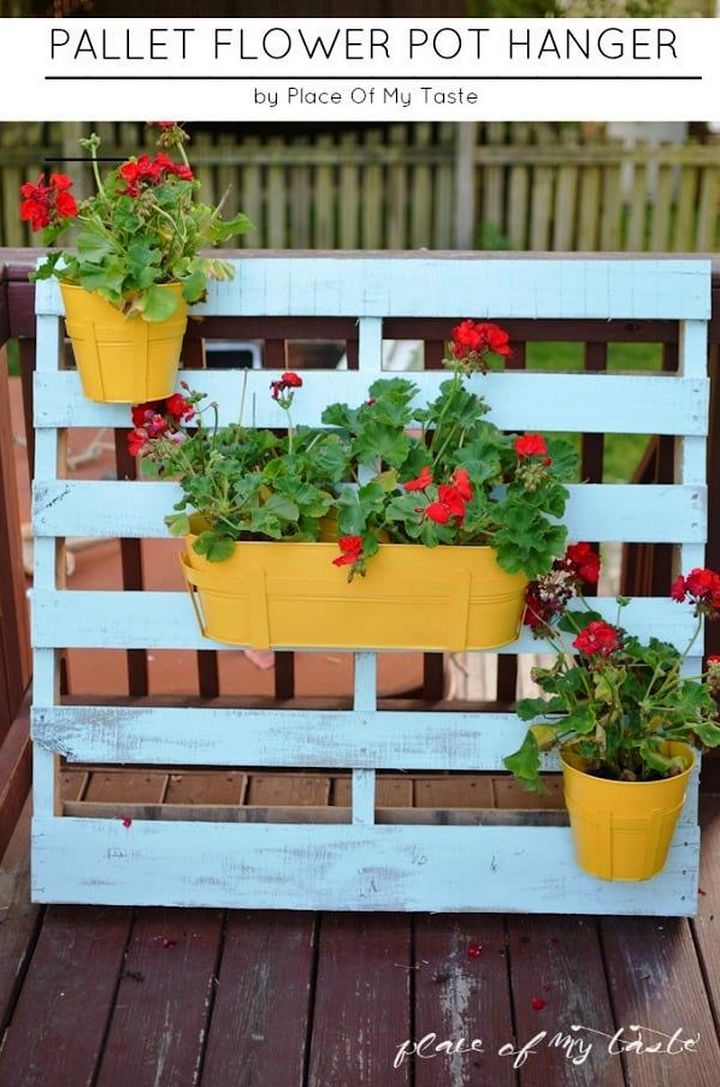 DIY Pallet Projects: A flower pot hanger looks really cool and amazing in the outdoors. In this diy project you can see a flower pot hanger made using pallets and it turned out to be simply awesome. This can be your perfect summer craft fir the outdoors. This is a quick process provided you follow the steps carefully. Tutorial
9. How to Build a Pallet Wall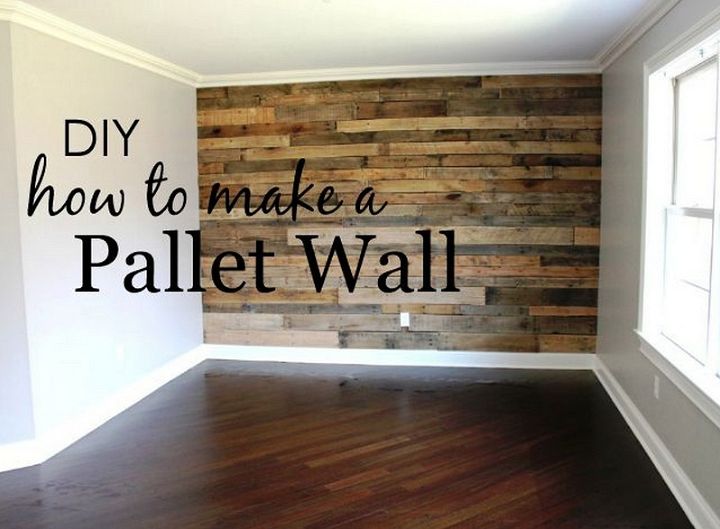 This entire wall is made using pallets and looks awesome. With a few simple steps you can also create this pallet wall very easily. This is an easy and simple diy project that will give you some outstanding results for sure towards the end. Staining the plywood behind the seams will fill any random gaps due to the unevenness of pallets woods. Tutorial
DIY Pallet Coffee Cup Holder Ideas – This time , we're offering a complete diy pallet-based tutorial for an holder for coffee cups which is necessary in any kitchen. This coffee cup holder is constructed using the fourth half of a large one-pallet board, which was found in an old pile of scraps around the house.
10. DIY Ladder Herb Shelf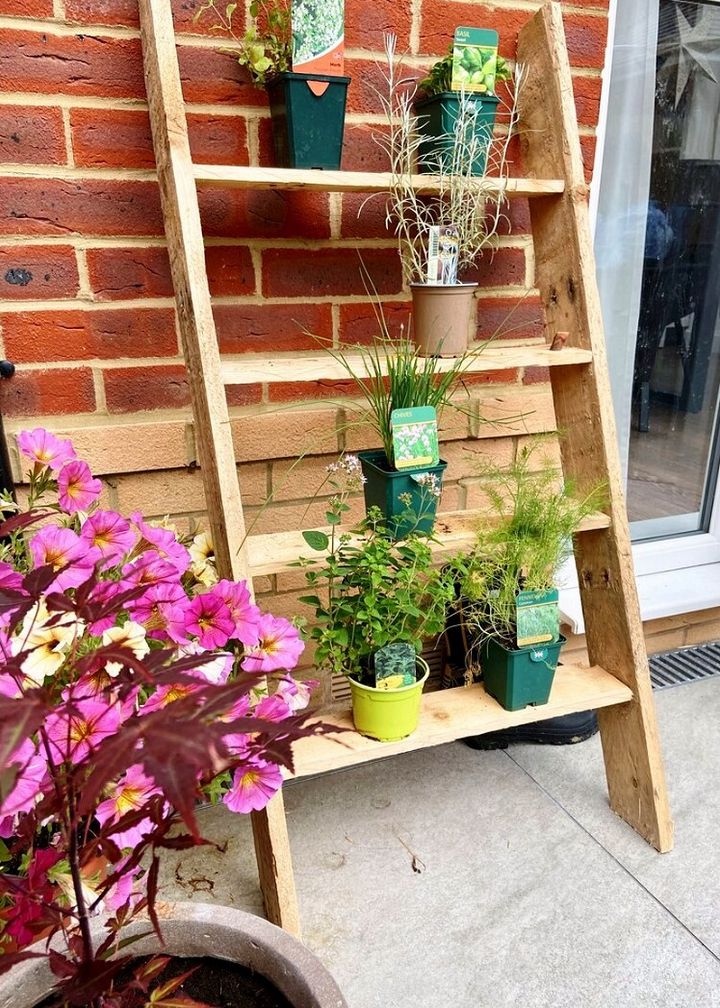 Ladder shelves have been very popular these days. This diy project also teaches us how we can create a ladder stand for all the herbs we have grown. You need to have some basic wood working skills if you are interested in this project. A careful step by step instruction is given here so that you can easily catch up with it and get along. Tutorial
11. Tin Can Upcycled Organizer With Pallet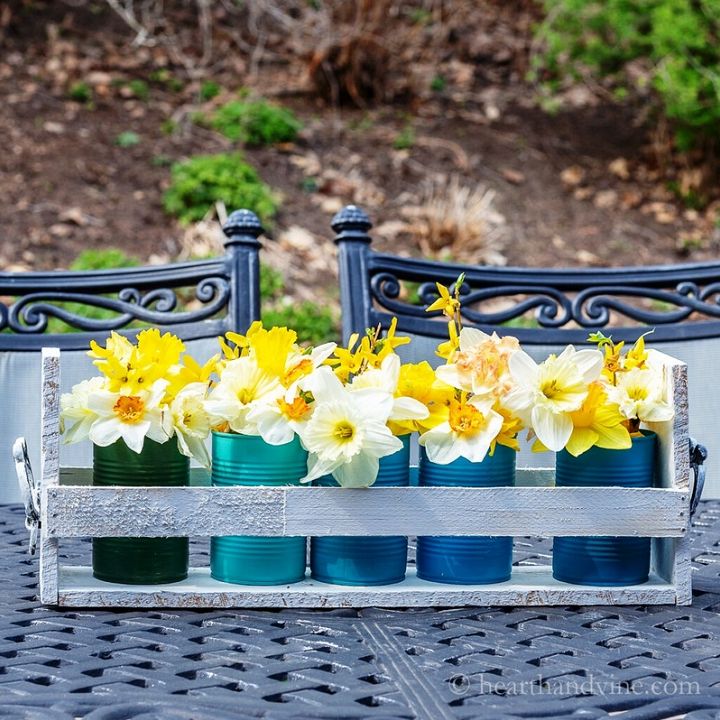 Have a look at this upcycling project where tin cans are combined with pallets and together they look nothing but awesome. You can grab old tin cans and paint them according to your choice, place them inside of a pallet box that you made and you are all done. This can be a perfect earth day project as it involves recycling. This can be perfect for summer entertainment outside. Tutorial
12. How To Make A Balloon Arch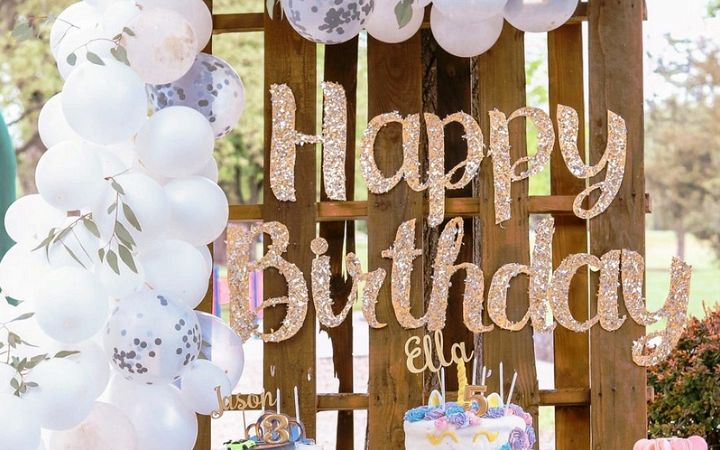 Have a look at this upcycling project where tin cans are combined with pallets and together they look nothing but awesome. You can grab old tin cans and paint them according to your choice, place them inside of a pallet box that you made and you are all done. This can be a perfect earth day project as it involves recycling. This can be perfect for summer entertainment outside. Tutorial
13. DIY Coffee Bar – DIY Pallet Projects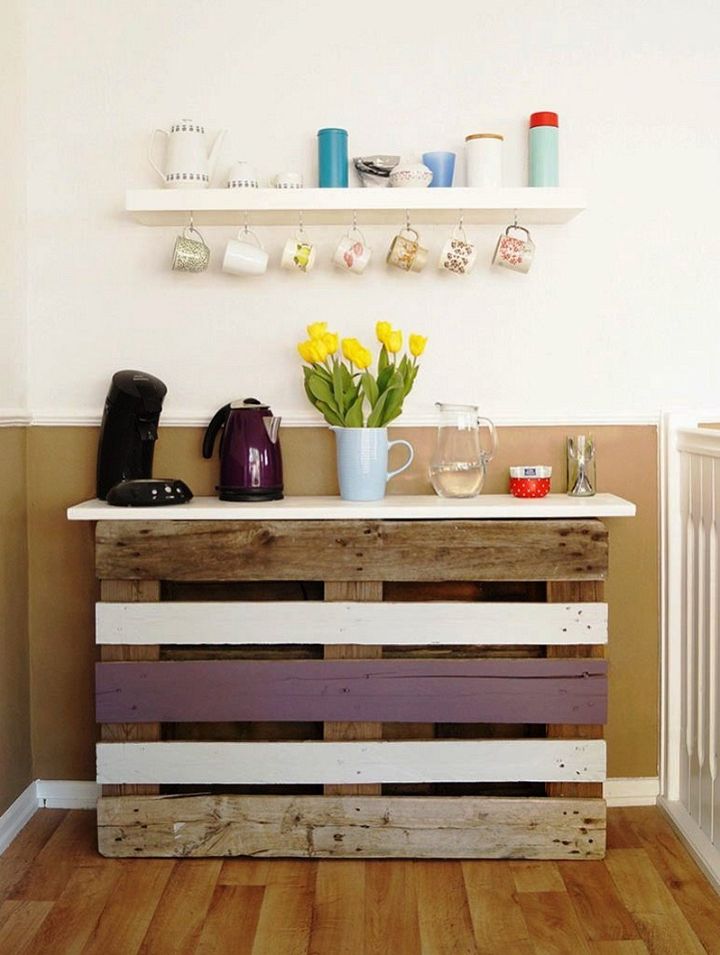 DIY Pallet Projects: If you are also interested in creating a coffee corner in your house, this project will be of great help. You can make this coffee bar using wooden pallets. This seems to be the cutest coffee bar and is also cheaper than any other coffee bar set up. To make it pop little bit only a few of front pallets are painted and see how amazing they look Tutorial
14. Summer Vibes Wood Pallet Sign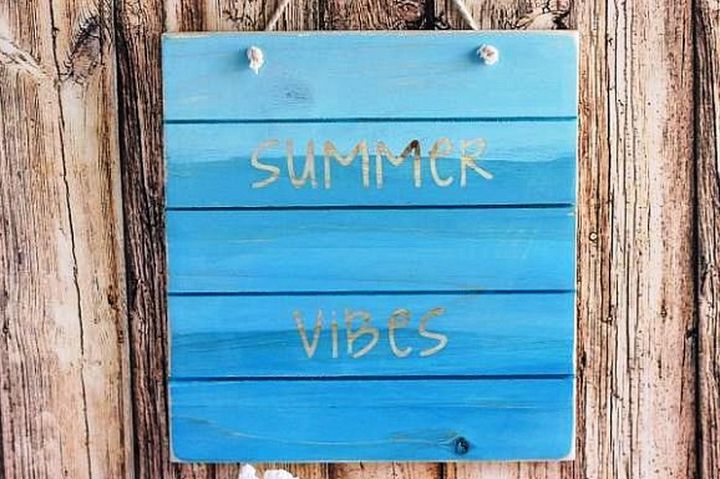 This wooden pallet says summer vibes and is literally giving all those vibes of summers. You will have to start off by first gathering the supplies. Next with the help of stencil you can start painting your pallets. An ombre technique is used here in the making. Tutorial
15. Thanksgiving Pallet Art & A Pallet Canvas Giveaway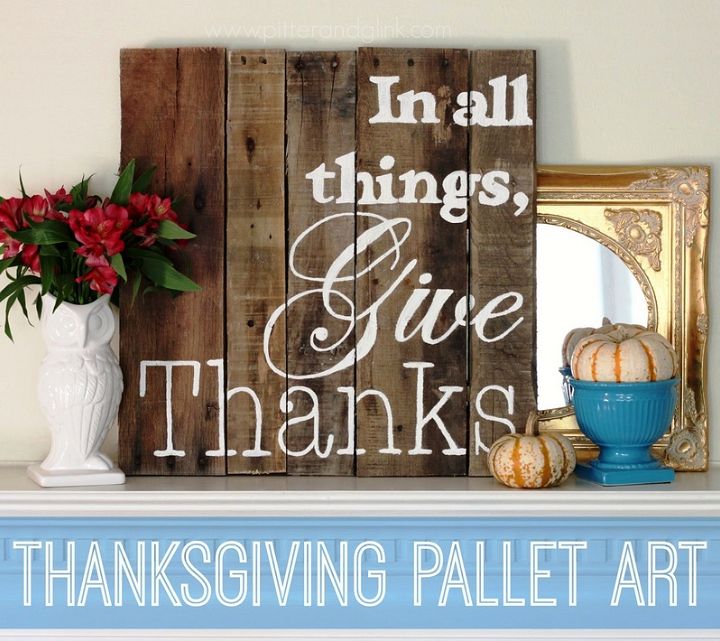 You can give pallet art pieces as gift to special people around you. This thanks giving pallet art is also such that can be gifted to anyone as give away on occasions. This can be a perfect addition to your thanks giving décor so get started. This pallet canvas is something that you will absolutely enjoy making as a teenager Tutorial
16. DIY Rustic Barn Wood Corner Gallery Wall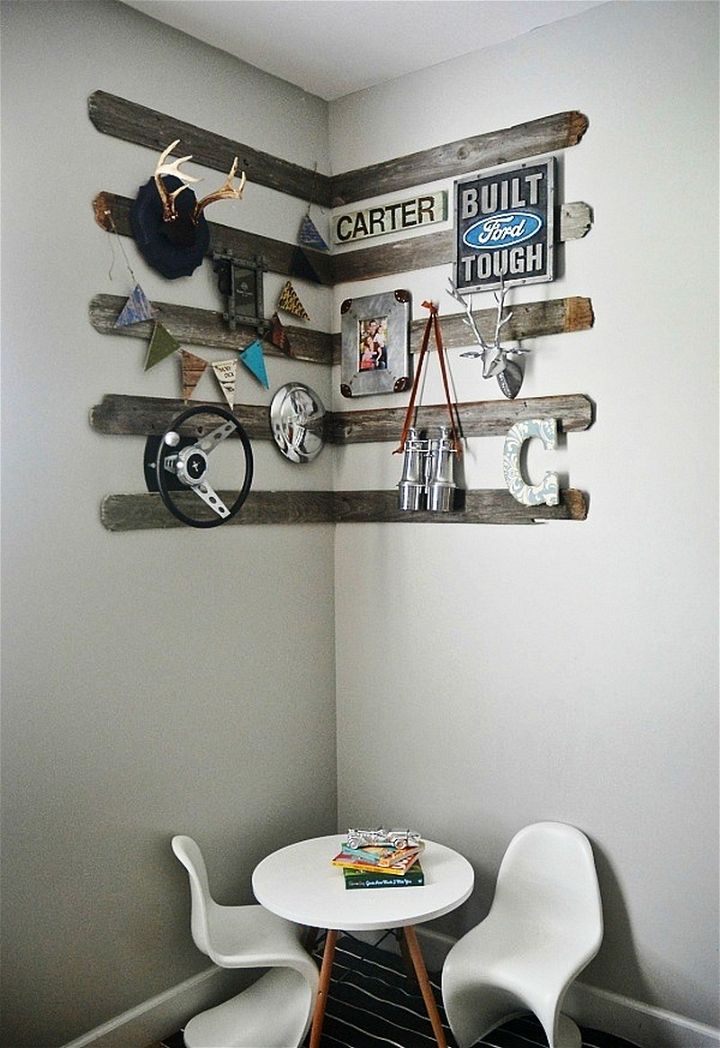 This rustic barn wood corner is a must need in every household where decoration matters. You can also create this beautiful and stunning corner in your house with a few simple steps that are taught here. People who are so much into home décor truly loved this project to bits. Tutorial
DIY Pallet Signs – If you're looking to add your living area a vintage or rustic style, you can try one of these fabulous homemade pallet-based signs. This list offers diy pallet signs that can be used in every space in your home from the kitchen to the laundry room and even the master bedroom. There are ideas for outdoor spaces too!
17. DIY Wooden Pallet Sign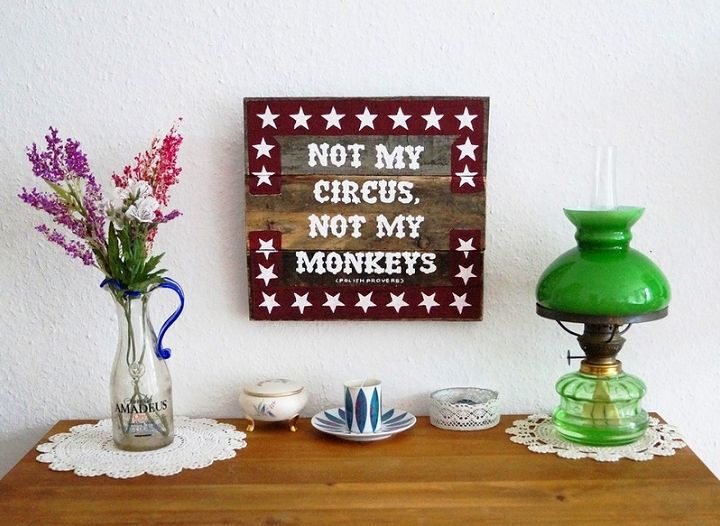 Wooden pallets signs are so popular these days and people are adding them in their home décor. A complete set of instruction is given so that everyone can easily catch up with it and experience it all by themselves. Grab the materials that are listed here. This is a simple and cheap project that you can do over a weekend Tutorial
18. Outdoor Pallet Table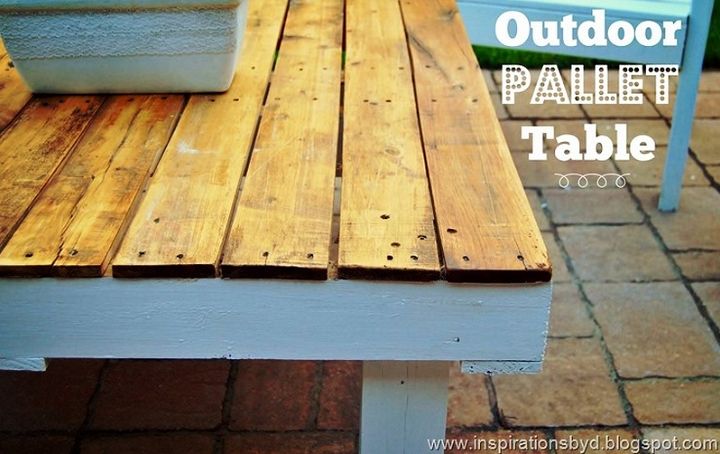 DIY Pallet Projects: We often run of ideas when it comes to outdoor furniture. This diy project is all about making a wooden pallet outdoor table. This table has a rough look in it and can be easily used on a daily basis in your front or backyard. You need pallet boards, electric sander, white paint, paint brush, sponge, nails or screws, drill or hammer and wood furniture wax. Tutorial
19. Pallet Coffee Table And Bench – Easy DIY Outdoor Pallet Furniture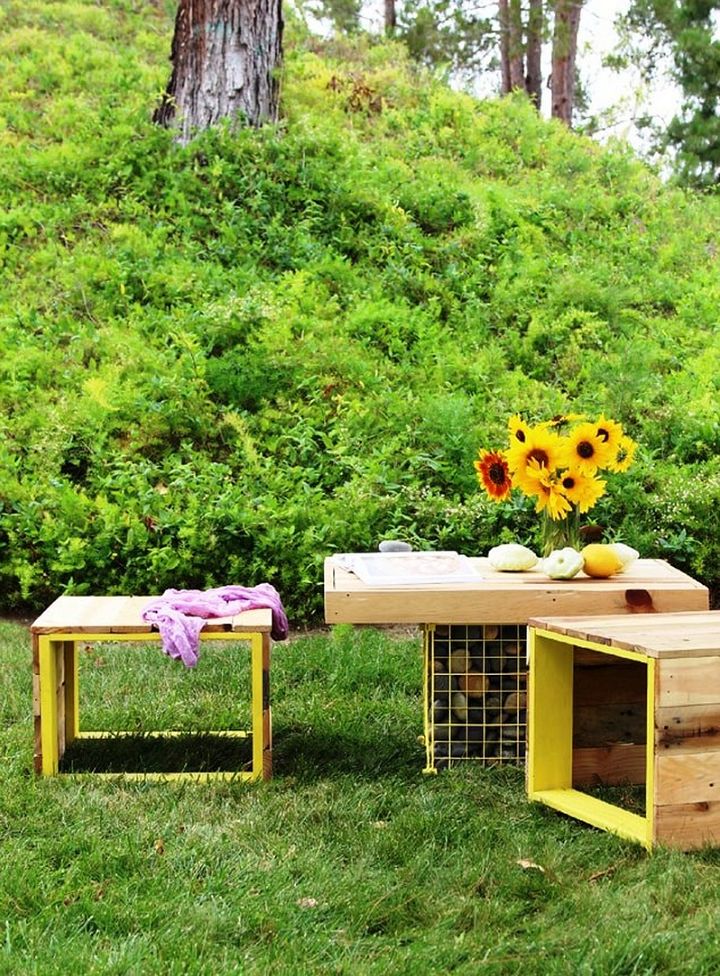 Have a look at this pallet coffee table and bench idea that you can also do all by yourself. Get into the details of this project and see how everything happens and how this magic is done. This pallet bench and table will look awesome in your gardens over the grass. Besides wooden pallet you will also need circular saw and jigsaw, sanding paper and acrylic paint. Tutorial
20. The Pallet Cinema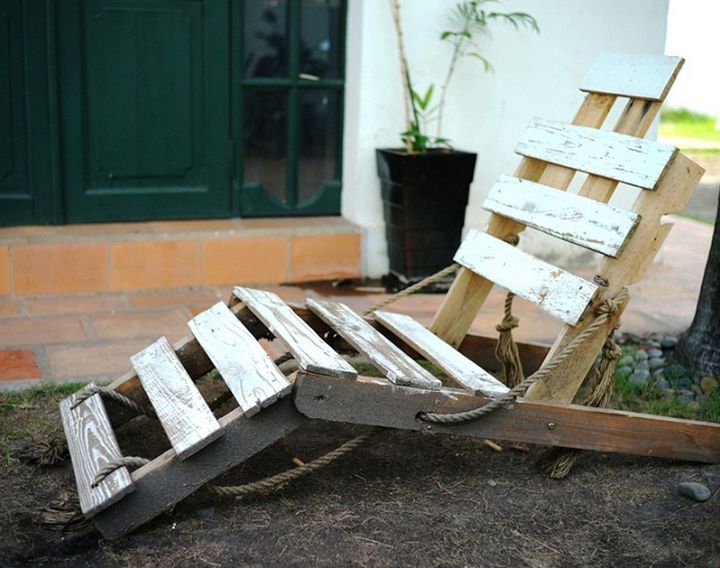 This is quite a lengthy project and you can follow it through a process and guidelines given here. If you are ready for a massive project like this, get started with the help of this diy project. Once you are done making your own cinema using pallets, you will definitely feel proud of yourself. Tutorial
21. DIY Pallet Board Serving Tray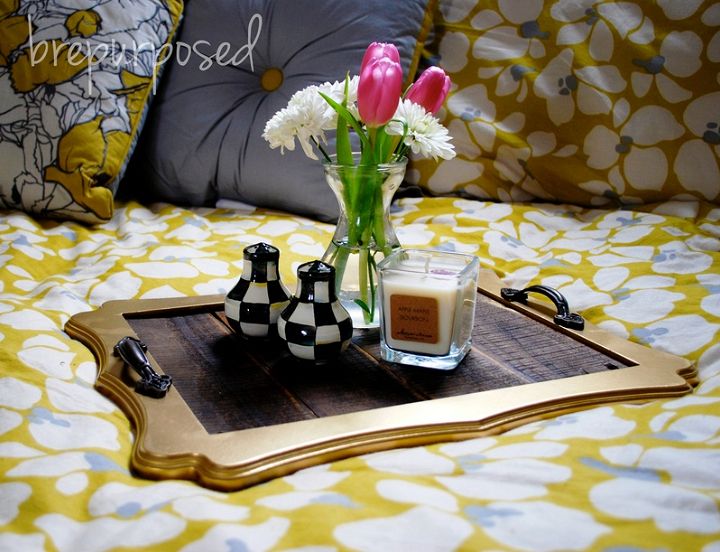 DIY Pallet Projects: You might have not seen such a unique and stylish wooden pallet serving tray as in this diy project. To make this beautiful try you need pieces of scrap wood, empty frame, wood glue, sandpaper, and stain in your choice of color, polyurethane and hardware as optional. Tutorial
22. Reclaimed Wood Lamp With Himmeli Shade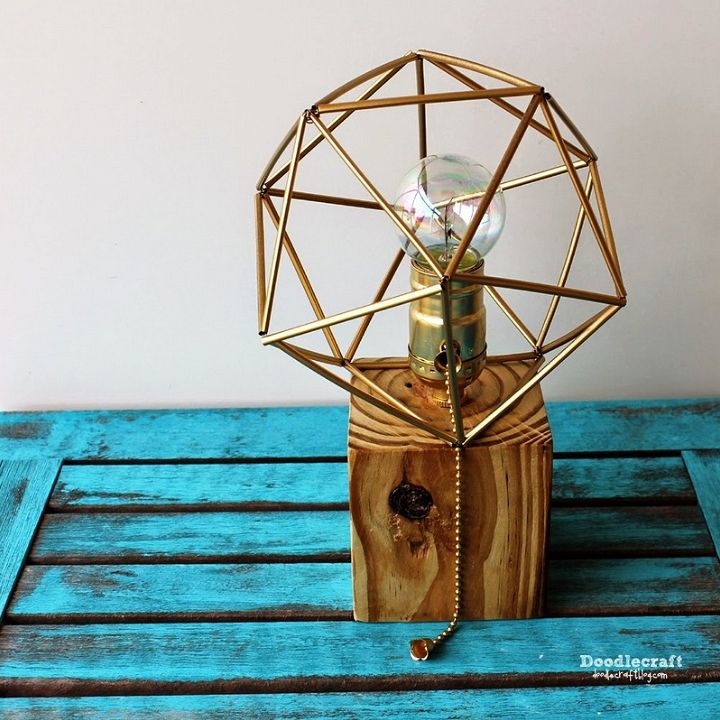 this reclaimed wood lamp is probably the easiest and its also reclaimed so this makes it better. you need to have a few supplies to make this amazing lamp and they are wood block, drill and drill bit, bottle lamp kit, coffee stirrer straws, wire, pliers, gold spray paint and wax or stain. Tutorial
23. Submerged Color DIY Wall Art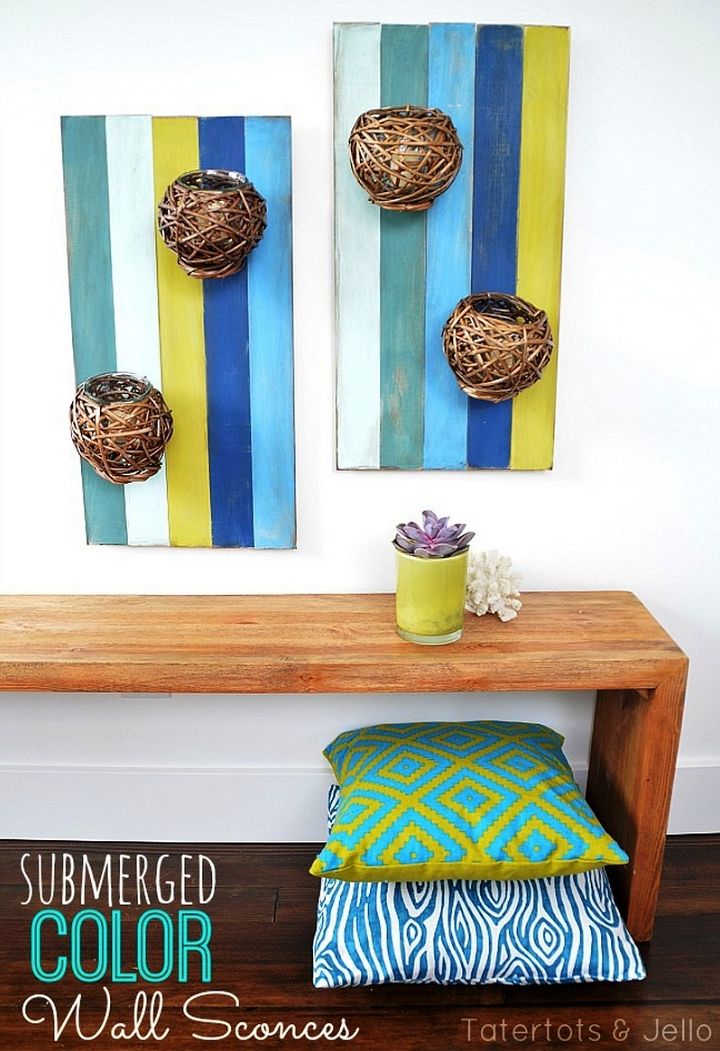 have a look at this submerged color wall art over here, this diy wall art is done using wooden pallets so get started and experience this fun all by yourself. You can also play around different colors in order to make it more interesting. A complete process is given here so that you can also get along with it. Tutorial
24. Mini Pallet Displays & Fall Printable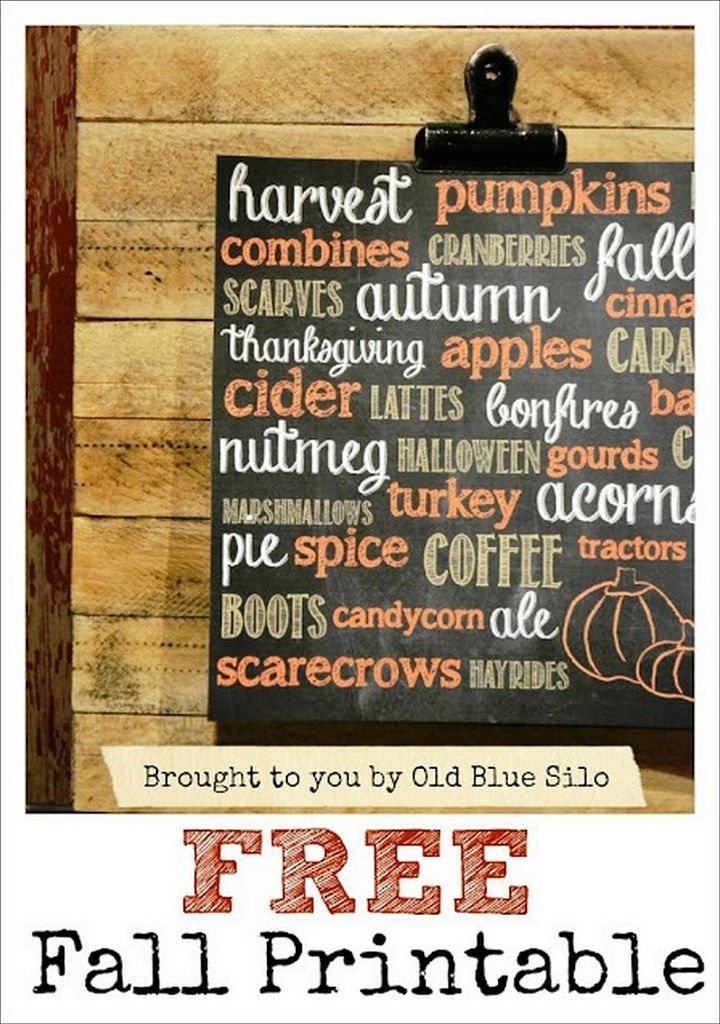 These are mini pallet displays that you can also try out yourself. If you are also fond of wall décor in your house, this project will be of great help to you and you can change your boring and empty walls into interesting and fascinating ones. Pallets are something that are playing the most important role here. Besides pallets you will also need paint to write down your favorite phrases or words over the pallets. Tutorial
25. Pallet Ottoman – DIY Pallet Projects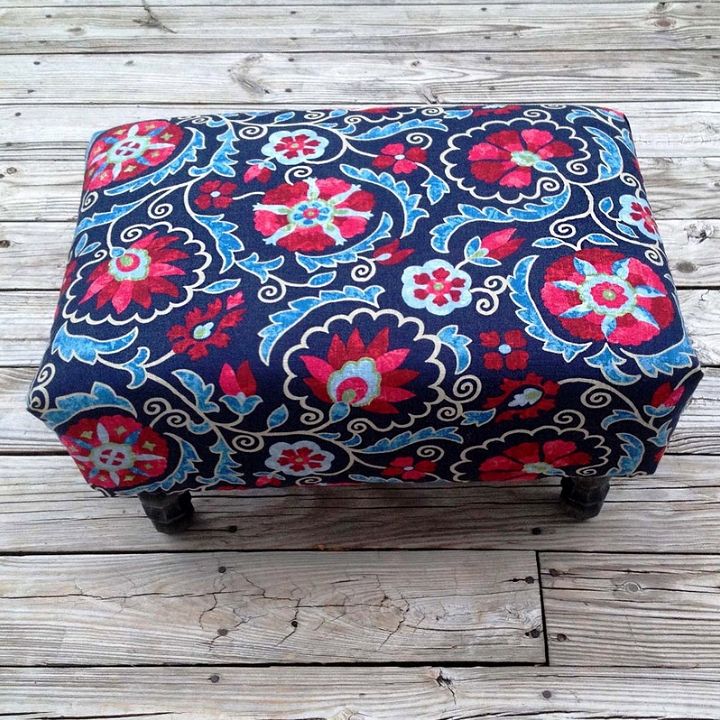 DIY Pallet Projects: Ottoman have been a tradition since ages however they are too pricey and unaffordable most of the time. Here in this diy project you will learn to make pallet ottomans all by yourself. Making an ottoman all by yourself will cut your cost and make this project more affordable for you. Besides pallets you will also have to have a nice fabric of your choice for the seat. Some basic wood working skills are required here to make this ottoman and for that you obviously need hammer, nails and some other basic tools. Tutorial
DIY Pallet Chair Ideas – Get these free plans for pallet chairs which will show you different methods and steps to transform wooden pallets into chairs that are custom made. Check out
26. DIY Shipping Pallet Dog Bed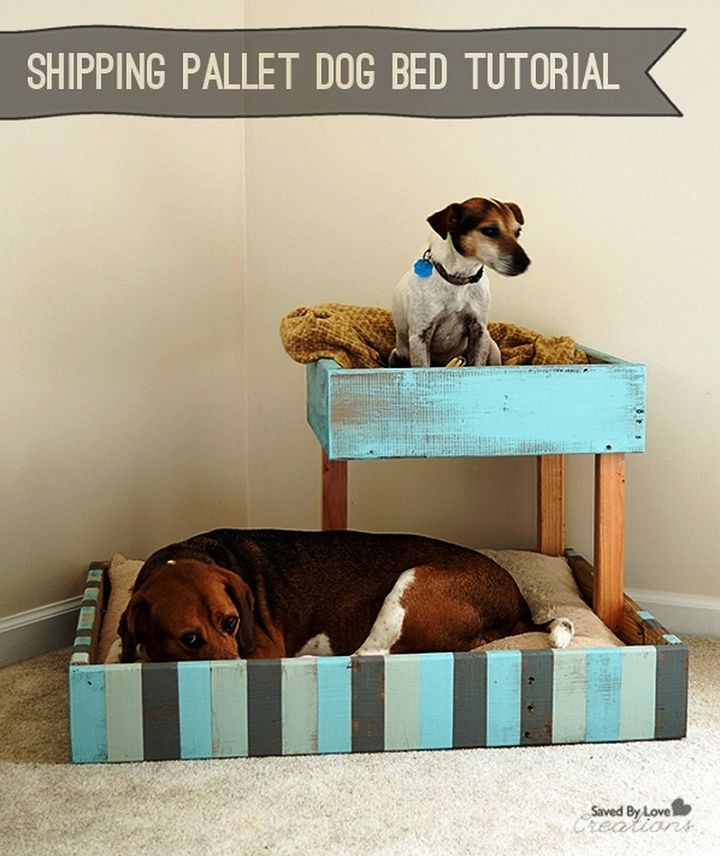 Have a look at this shipping pallet dog bed here which can be an awesome new home for your dog too. Grab your supplies and gets started towards giving your dog more comfy and homey environment than ever before. This home is created using pallets as you can see. Two different sizes of pallet boxes are used here to make a bigger house. Besides this wooden legs are also used to give the look of bunk bed and maximize space. Tutorial
27. DIY Rustic Industrial Sunburst Mirror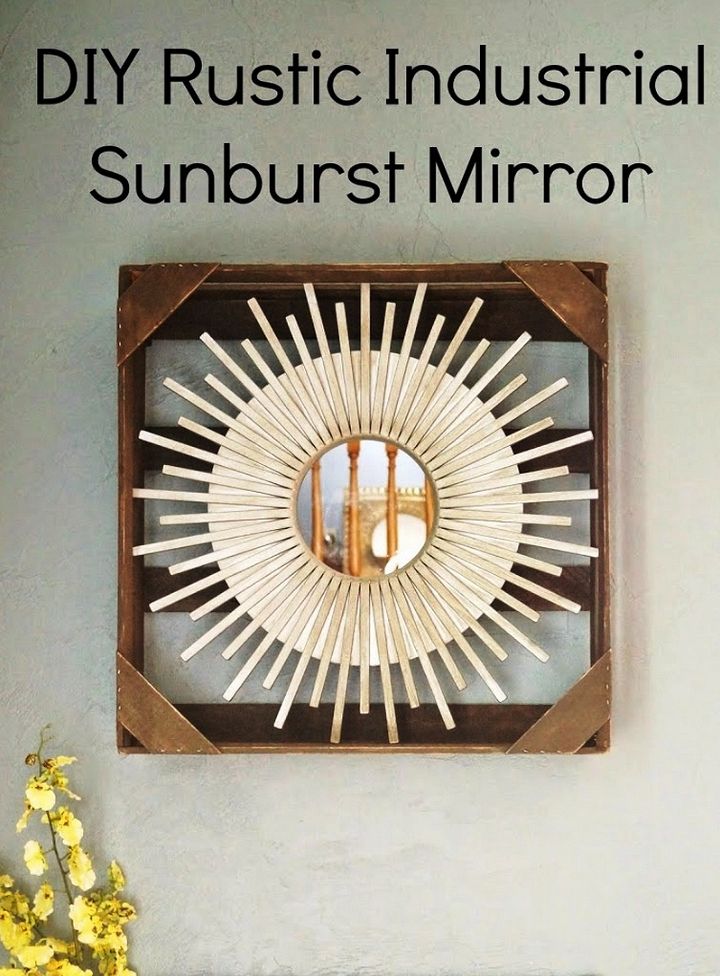 A sun burst mirror style is in fashion these days so you must also create one in your home. This is an industrial style mirror that can create magic on any of the wall in your house with its beauty. If you also like rustic themes, you will love this, the best part of this mirror is that it is decorated on the wall inside of a pallet box as you can see and this makes it more interesting. Tutorial
28. Make a Pallet Shelf Charging Station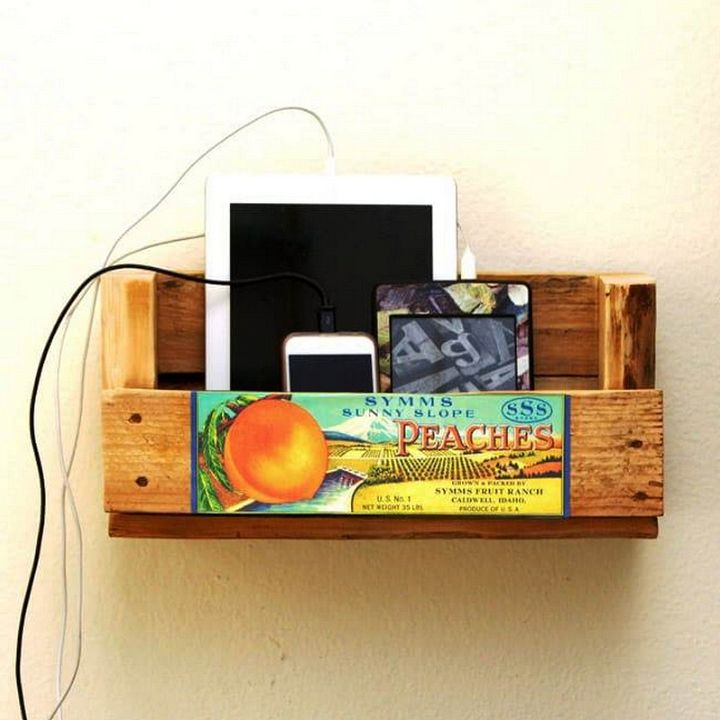 A self-charging station for mobile phones is something that many people are fond of. However it's not easy to look for ideas about how to create one. This diy charging station is made using wooden pallets. You can keep not one but multiple devices in there. Some basic tools involves here includes nails, hammer, wooden pallets, glue and a picture to display on the front of the box. Tutorial
29. How to Make a Lollipop Pallet Tray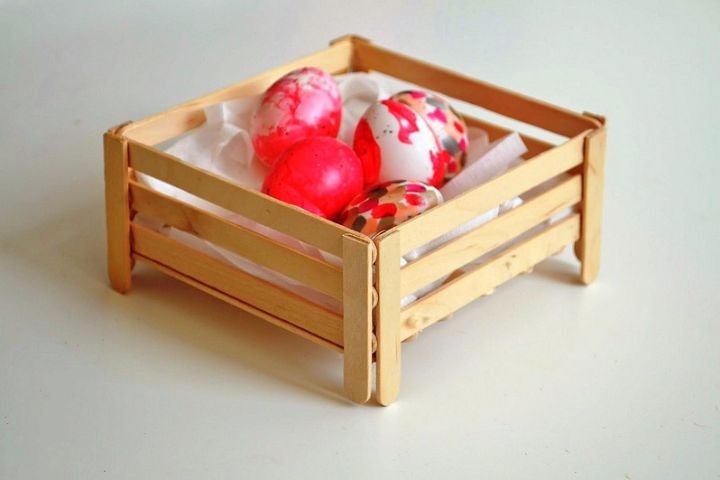 This is probably the cutest and most adorable pallet tray that you might have ever seen. This pallet box or tray is made using Popsicle sticks hence it's a mini one. You can keep small decorative items inside of this pallet box depending in your choice, besides Popsicle sticks you also need hot glue gun to make this mini version of a pallet box. Tutorial
DIY Rock Garden Ideas – There are numerous ways to design your rock landscape that you can apply to beautify areas in your yard that aren't than traditional garden designs. It's the best method to enhance curb appeal and address issues caused by drainage issues, soil erosion and sandy soil all at once.
30. DIY Upcycled Pallet Crate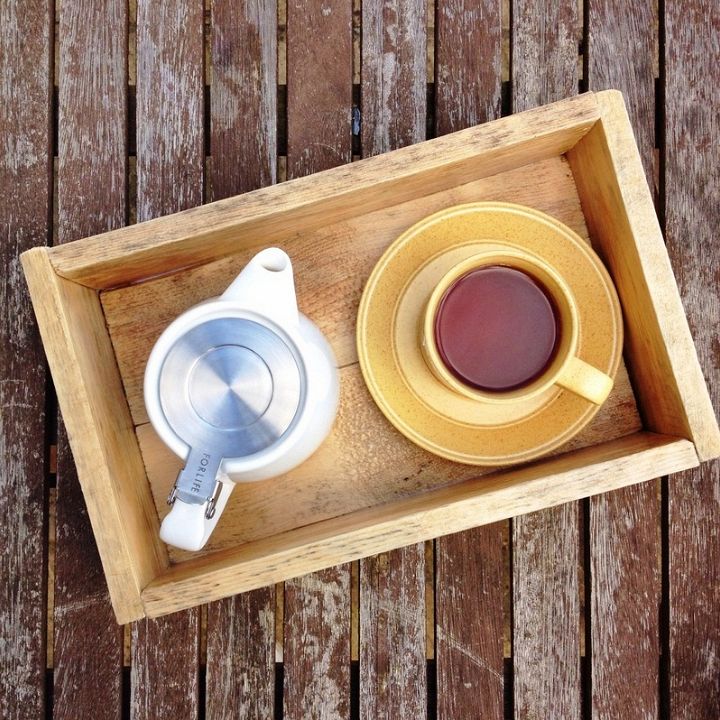 This is an upcycled project and the end result of this is simply stunning. Here you can see a pallet crate turned into a serving tray for outdoors. such style of serving trays are very popular yet a little bit expensive in stores but now you can make your own with the help of this project over here. This upcycled project can be thoroughly enjoyed in gardens for the tea time. Tutorial
Conclusion:
Anyone who has a little bit of interest in creating something new and exciting for their home, kitchens, pets, gardens, plants and more, will love and adore these diy pallet projects even if they are beginners. These projects are formulated in a way that even beginners can get along and learn within a few steps that are taught here.