There are some crafts that can never go out of the fashion in the Home Decor world and DIY Signboards are one of them. There is a kind of intimacy and artistic charm about the signboards making them the ever-green beauties for your home decor and wall art. Now you can enjoy making your custom cute and personalized sign boards with these 20 DIY Sign Board Ideas For Your Home.
These gorgeous sign boards are fun to make for so many reasons and even without a reason too. You can make them welcome the new season be it fall, spring, summer, or the snowy winters. The best thing about making these DIY sings is adding your favorite letters, quotes, messages, and saying which touches your heart and soul the most. The sign boards are mostly made out of wood to get the perfect natural warmth and rustic appeal from the sign boards. So, you can choose to use some fresh wood for the purpose or repurpose some old wood lying around too.
Also, there is a variety of ways shown to write up your favorite words on the sign boards. Stenciling, painting, and adding wooden letters are pretty choices for you to add your messages to the sign board. From small sign boards to be mounted upon your walls or held on your mantles to the bigger ones rocking your door and porch areas, these 20 DIY sign board ideas include everything to inspire you at your best.
1. Golden Acorns Gather Sign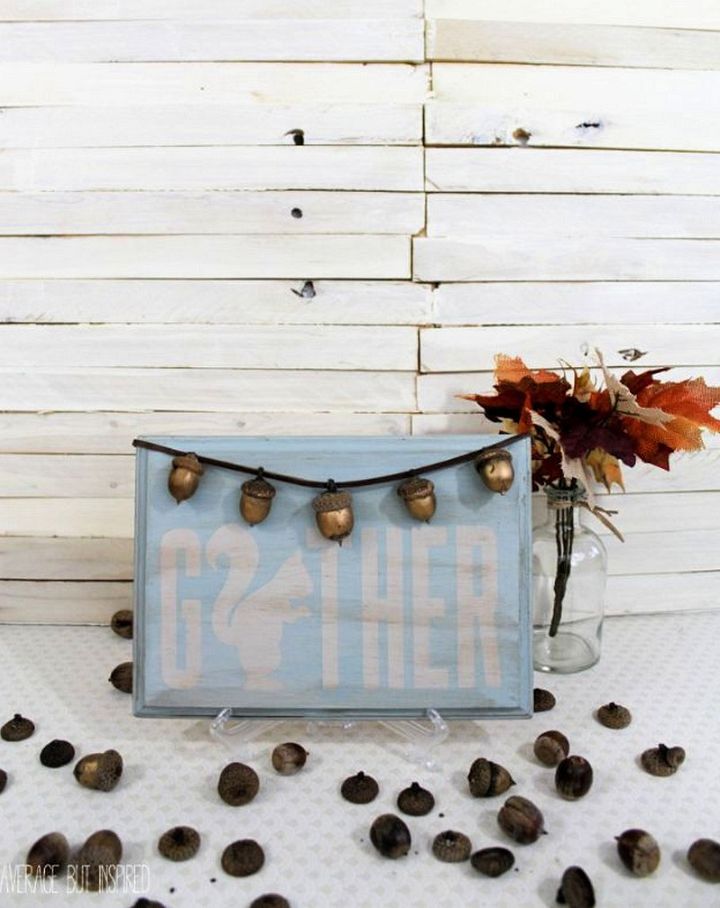 Bring the perfect fall beauty to your foyer spaces with this beautiful and ethereal handmade golden acorn Gather signboard to be a part of your entry table décor. The things needed for this project are the acorns, a plain board, paint hues, brushes, stencil letters, and leather cording. Follow the details of the idea right here to make it yours. averageinspired
2. Howdy Porch Sign Idea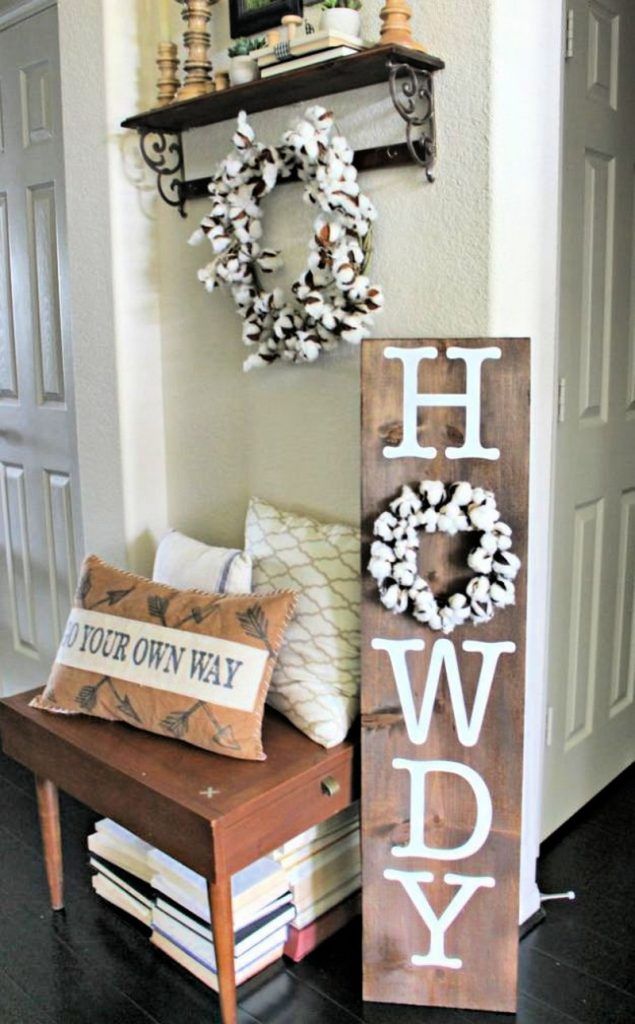 Make your porch party ready for the fall events with this gorgeous Howdy porch sign idea. Get a wooden board and write the word Howdy on it using the white vinyl letters cut out of the machine. The quirky factor about this porch sign is that O of the Howdy is formed with a cool snowy fall wreath to make it look more welcoming. Check out the details here!
3. Home Heart Sign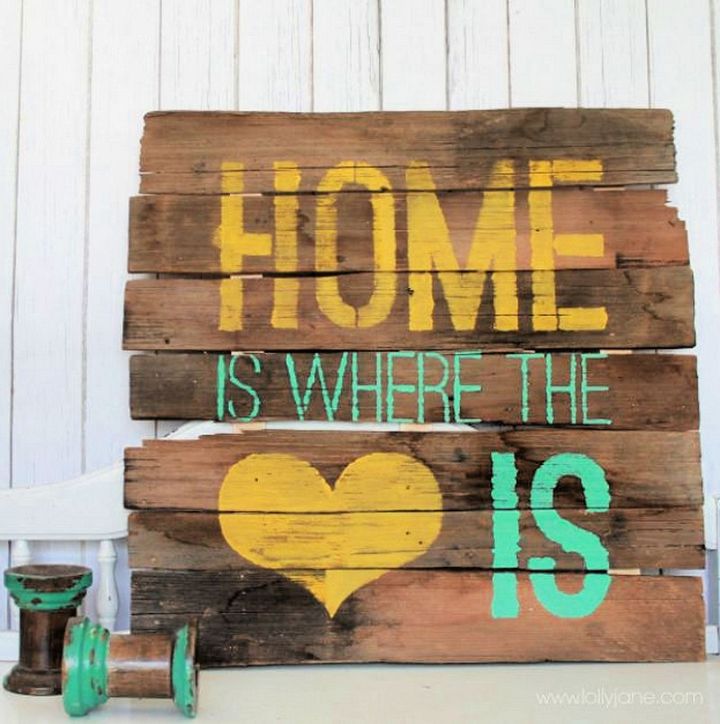 Bring to your porch or foyer this home heart sign to make it look just pretty and lend out some warm homey vibes. Get yourself a wooden pallet or barn board and stencil out with the quote Home is where Heart is using the stencil layout. The paint colors used are cadmium yellow and sea mint to look just so perfect and cute. lollyjane
4. DIY Sign With GPS Coordinates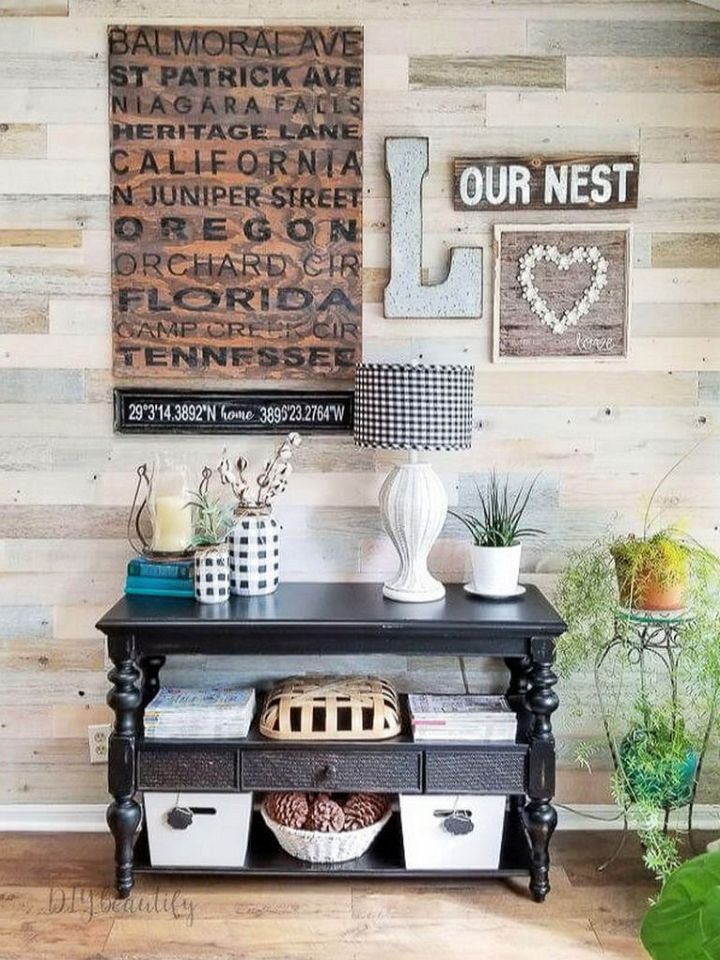 If you are creating a gallery wall in your living room then here is the idea of creating this DIY sign with GPS coordinates. This lovely wooden sign is going to bring a lot of personality and charm to your wall gallery. The list includes things like a wooden board, paint, silhouette machine, craft paper, and vinyl transfer. Check out the detailed tutorial here!
5. Hand Lettered Signs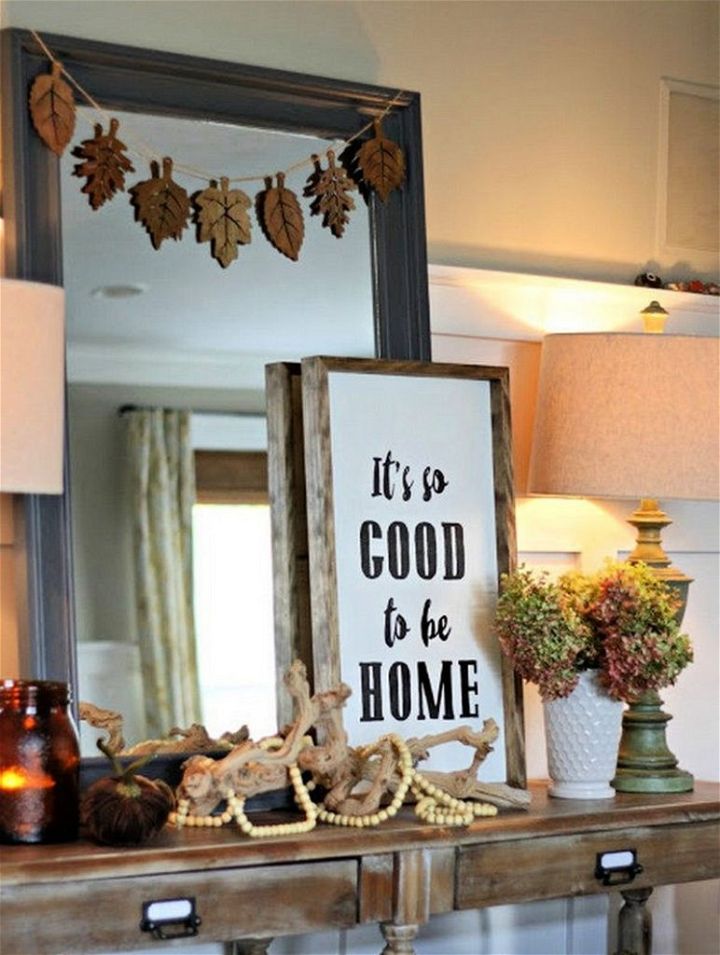 It's time to get your hands on the wooden boards lying around and turn them into decorative pieces just like these hand-lettered signs for your walls. Using the stencil cutouts saying It's so good to be home have been transferred to the wooden board. Hang this sign over your walls or place it with other decorative objects over your mantle. Details here!
6. Pallet Wood Home Sign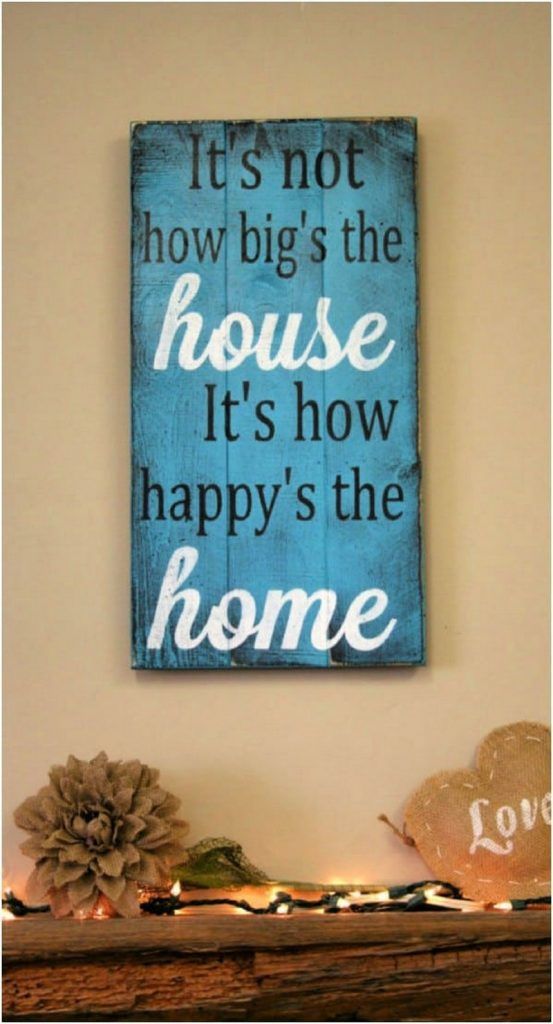 Make the most of the pallet wood around you by making this super cute pallet wood home sign. The gorgeous wooden signs come with a blue-hued base and a lovely home quote saying It's not how big the house is but how happy the home is. You can hang it anywhere around your spaces like a foyer, over the mantle, or in the living. Details here!
Are you planning to buy a coat rack? If yes then you are going to change your mind once you see the amazingly cool group of DIY Wood Coat Rack ids.
7. How To Build A Fall Hanging Planter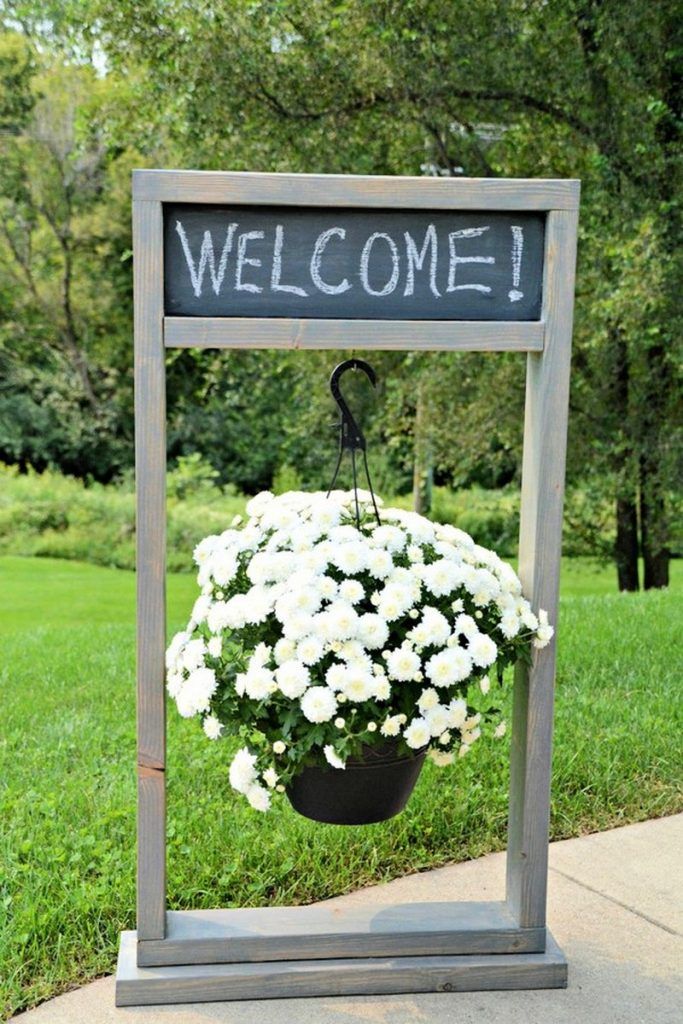 Here is this two-one home decor project to get your hands on. This is the prettiest fall-hanging planter to accommodate your foyer spaces with. The lovely planter with fall flowers hangs on a wooden frame planter which has a chalkboard section on top saying Welcome. Place it near the main gate of the house to greet your guests in the warmest way. Details here!
8. DIY Large Wood Sign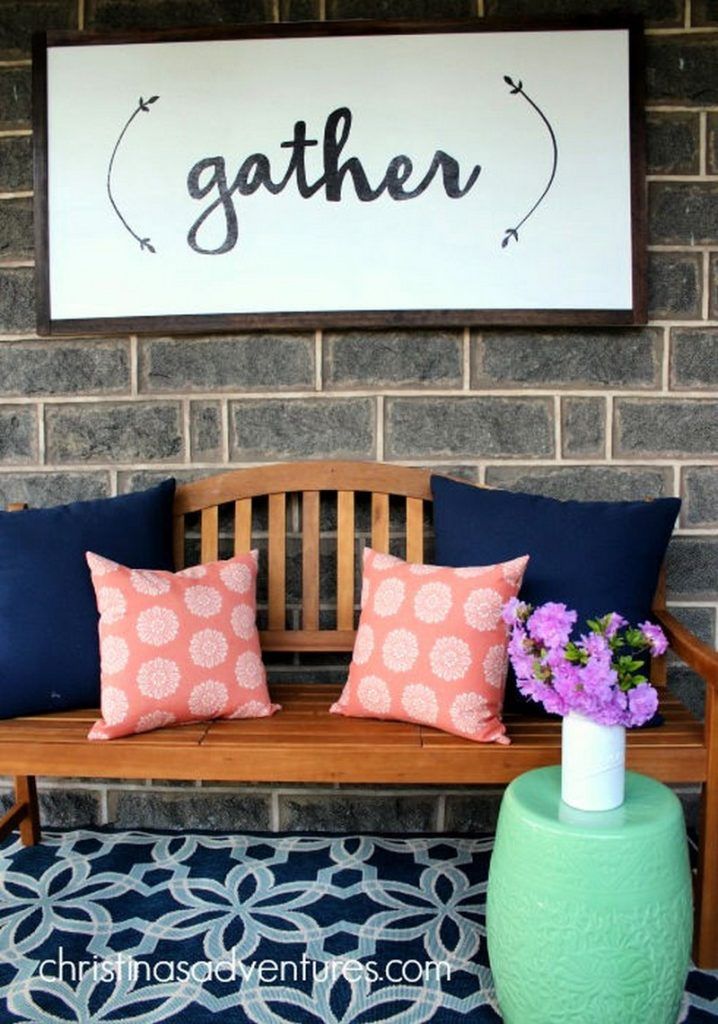 Outdoors are the best places to arrange family and friends get to gather and have so much fun there. So making this DIY large wood sign with the lettering "gathering" is all you need to characterize your outdoor spaces with some perfect embellishment. Details of the idea are here to make it easy on your own! porch
9. Vintage Farmhouse Style Sign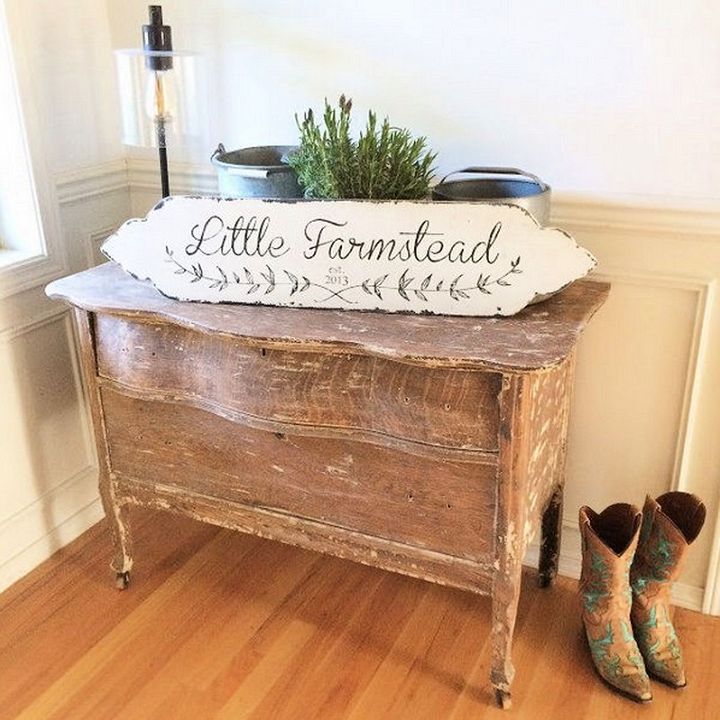 Wooden signs are all the rage these days and this vintage farmhouse-style sign is going to bring so much charm and personality to your spaces. The sign is made so easily at home with a wooden board and white and black paint. The design of the wooden board, the font size and style, and the paint all go so well with the vintage theme. Check out the details here!
10. Wooden Picture Hanger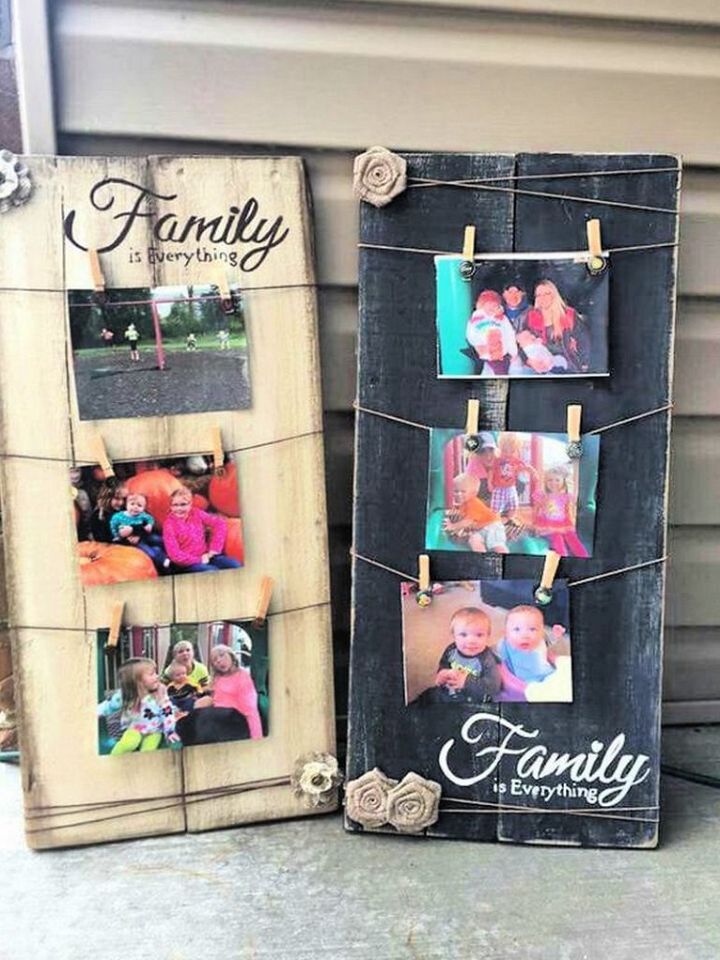 We love hanging pictures on the walls as they bring so many memories and warmth to a happy mom. This wooden picture hanger is a quirky way to hang your picture around. So get a wooden board, your favorite family photos, some twine, and the cloth pins to bring to create this pretty and cute wooden picture hanger. The detailed plan is here!
11. DIY Large Sign Board Idea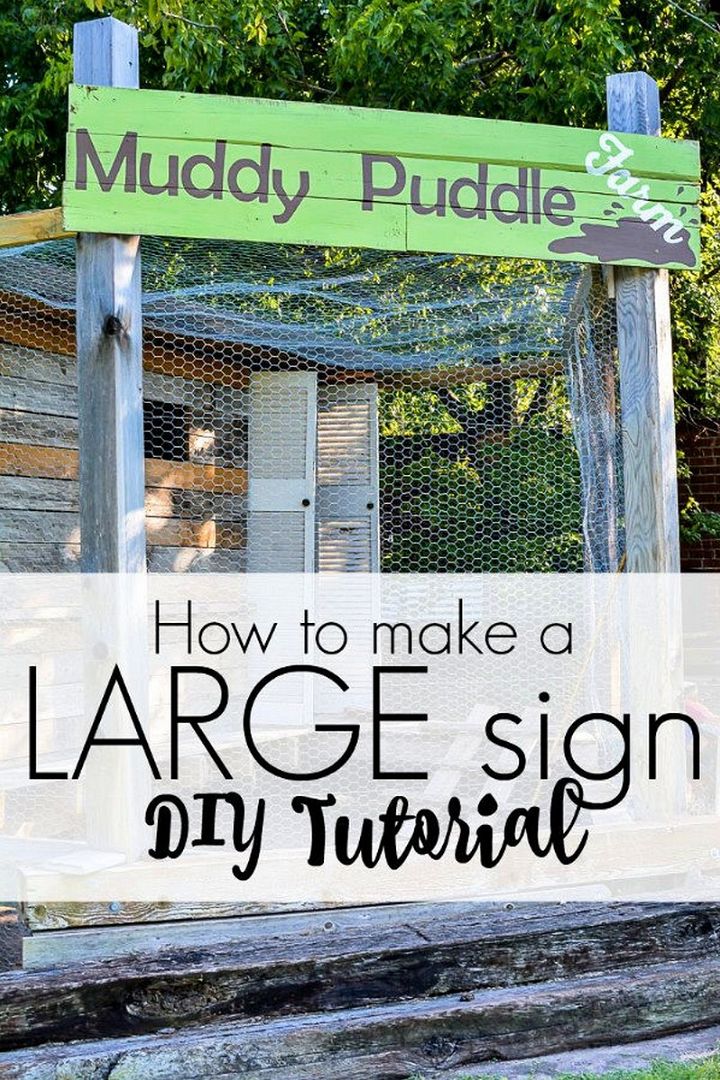 Not only for your indoor home beauty you can make signboards for any of your spaces. Here is this DIY muddy puddle to create a fun muddy space for your little ones to have so much fun in. This large wooden muddy puddle is the best thing to get your hands on. Check out the details of the idea right here!
DIY Unique Kitchen Hood Vent Ideas – The kitchen is the quietest part of the house for people who like to cook and feed their families.
12. Fancy Love Sign Board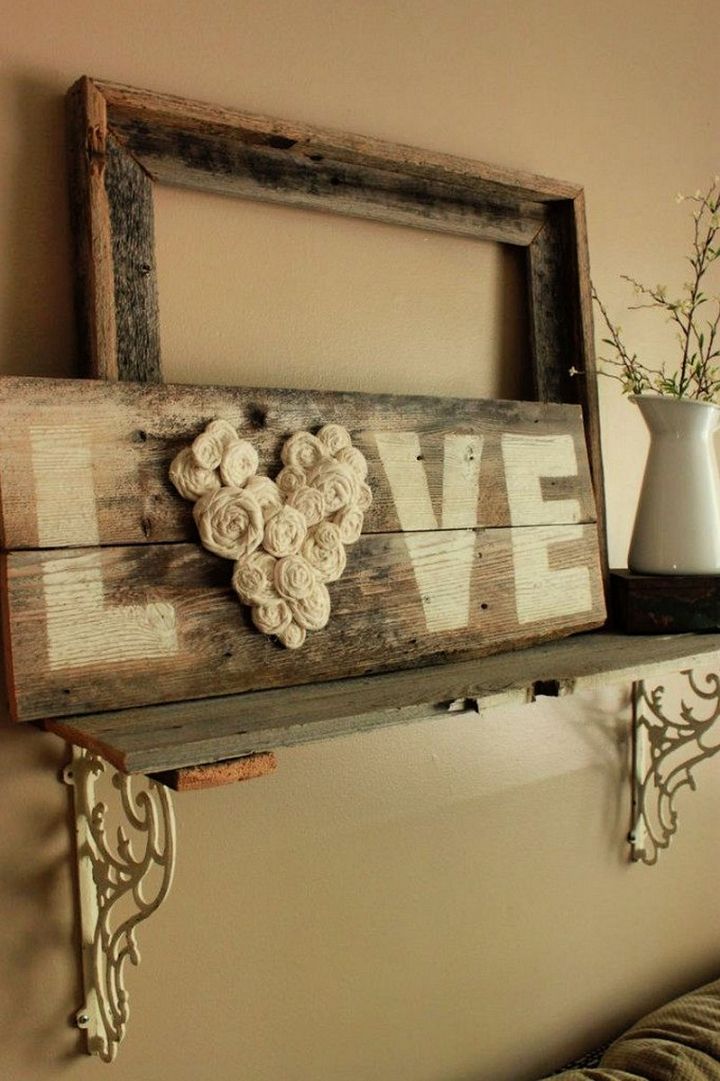 This gorgeous fancy love signboard is the best thing to bring to your vintage home for being full of vintage beauty and vibes. A gorgeous piece of wooden board says LOVE with painted stencil letters. The O in the love comes in the form of a white heart made out of yarn rolls. Follow the details of an utterly gorgeous love fancy signboard right here!
13. Welcome to Our Porch" Sign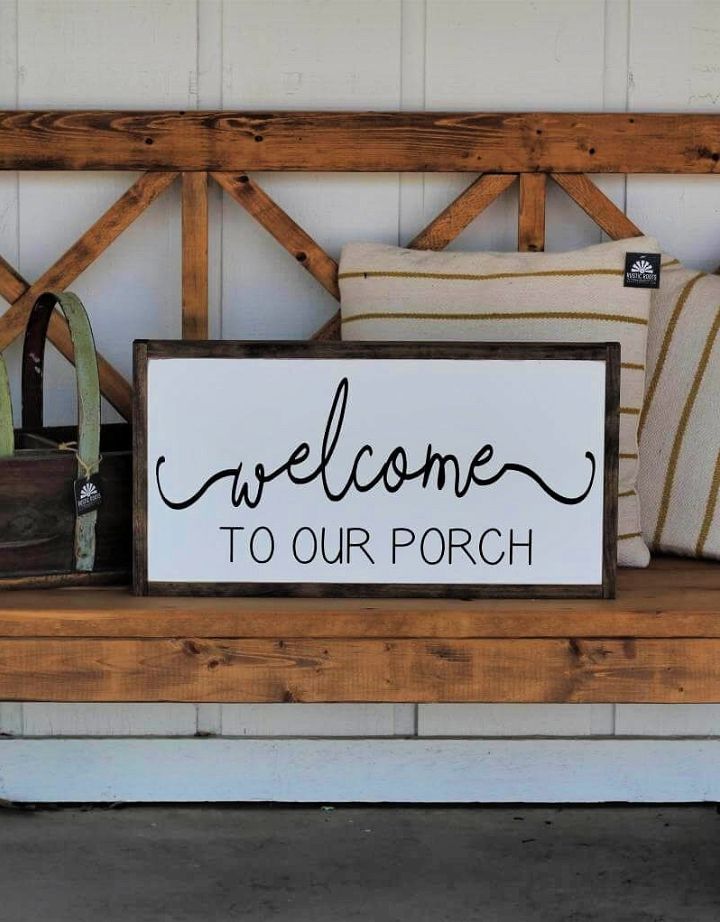 Do you get so many events and parties arranged on your porch? If yes then here is the idea of spicing up the spaces more with this lovely ''welcome to our porch'' sign. The design and vibes that this porch sign comes with are totally modern chic and stylish to perfectly fit in your modern porch area. Catch the complete details of the idea right on the link here!
14. Modern Custom Framed Address Sign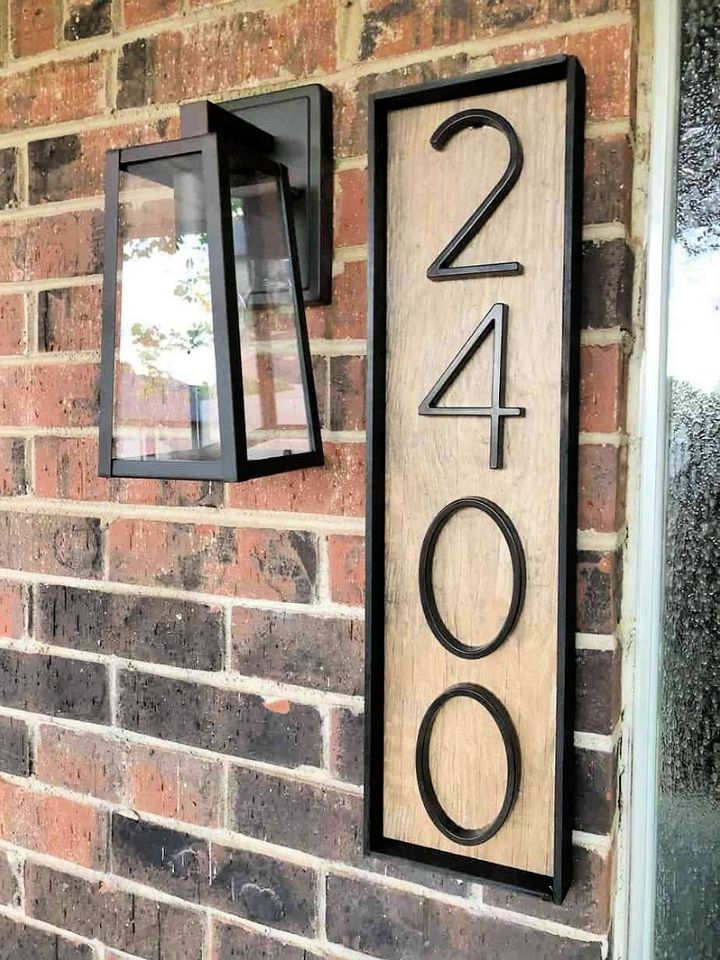 Need to add an address to your home for easy access? Then do it decoratively and stylishly with this modern custom-framed address sign. So you need a wooden board to turn into the lovely sign and the house number in metal or iron to place them over the wooden sign. Check out the details of the idea right on the link here!
DIY Shoe Rack Plans If the examples of traveling on shoes are increasing in your home, then it is time to focus on smart and functional storage solutions.
15. Scroll DIY Sign Board Idea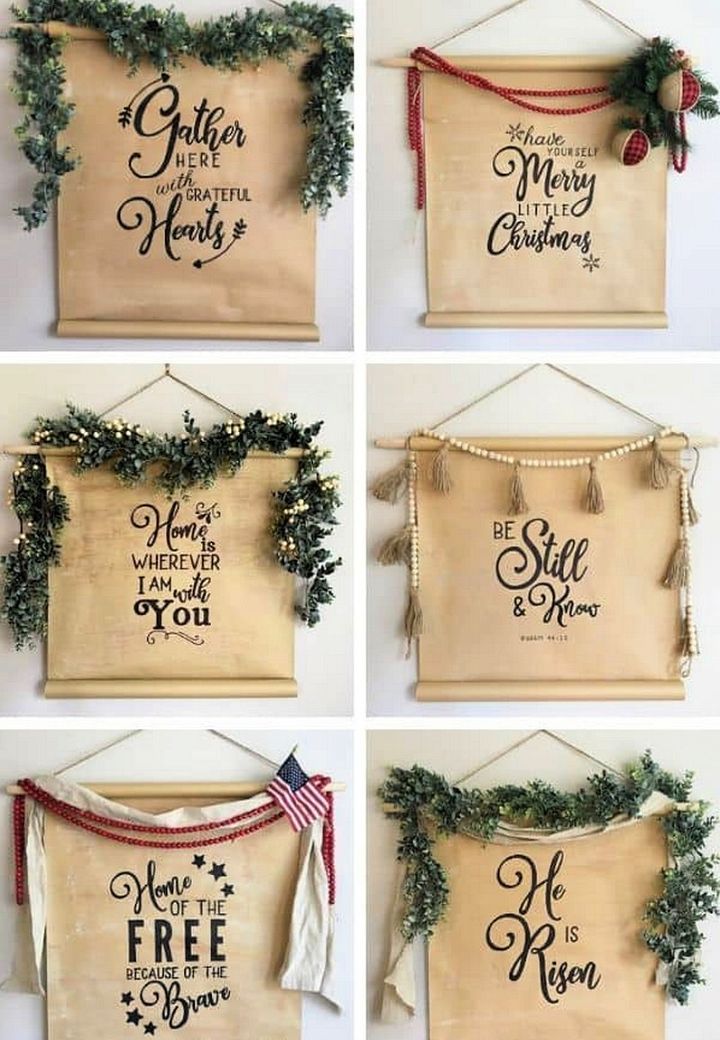 Here are these pretty scroll DIY signboard ideas to get some weekend craft fun with your family. With only three things on your hand, you can make these pretty and housewarming scroll DIY signboard ideas. So get your hands on the black sharpie, printer and printer paper, and the underlayment board. Follow the tutorial here!
16. A Room Board Sign DIY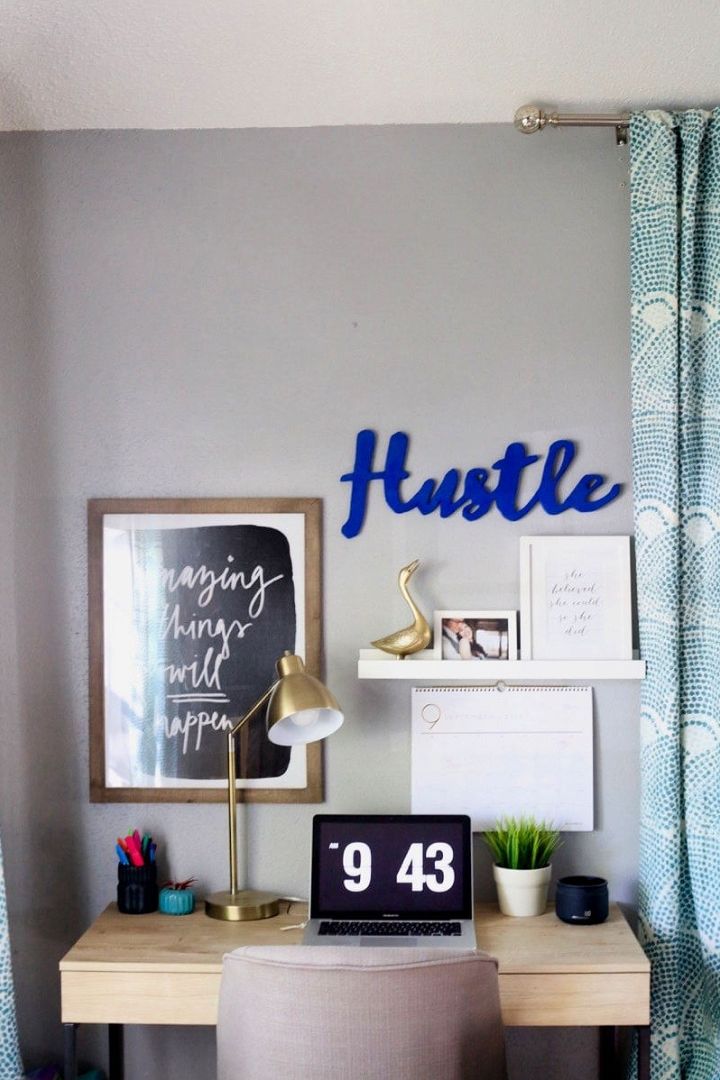 Make your desk walls look more fancy and full of chic personality with this lovely room board sign DIY. The gorgeous blue-painted Hustle sign is adding so cool and catchy vibes to the desk spaces. You can easily cut your favorite letters out of the plywood using the printer, or jigsaw, and then lastly paint it down. Check out the tutorial here!
17. Fun DIY Fall Directional Sign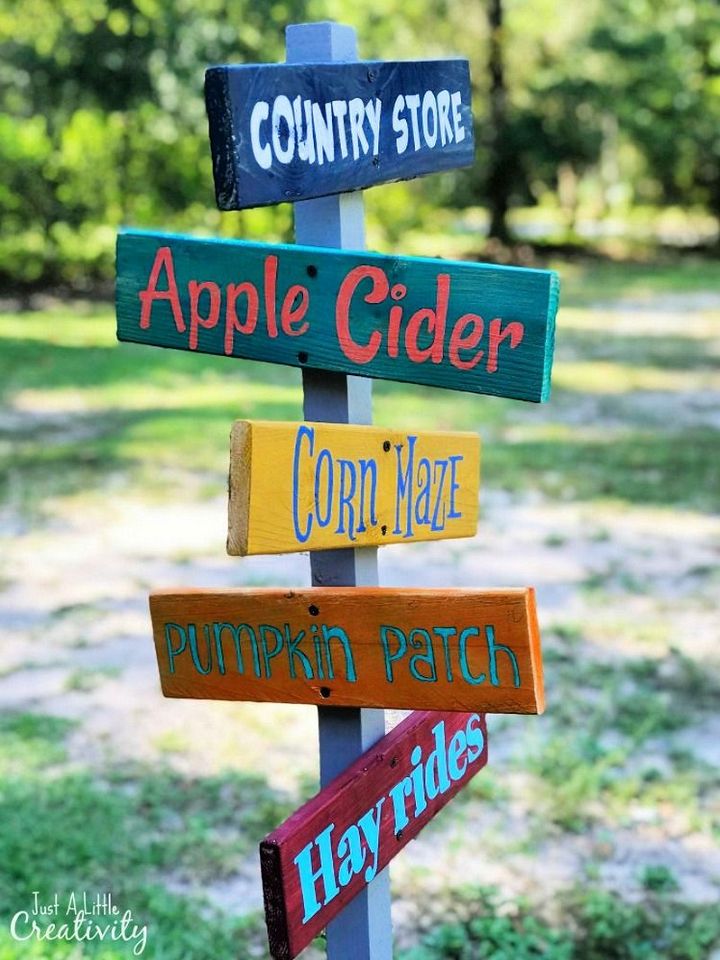 Bring cute colors and fancy decor to your garden spaces with this DIY fun fall directional sign. The colorful wooden signs direct toward your hand-grown vegetables and fruits. You need a wooden post and some small wooden pieces to be painted differently in colors and written off with the names of vegetables. Check out the details here!
DIY Desk Footrest – When we work for hours at home or the office and then come down to the desk, it is often tiring.
18. Cabin Resort Sign Board Idea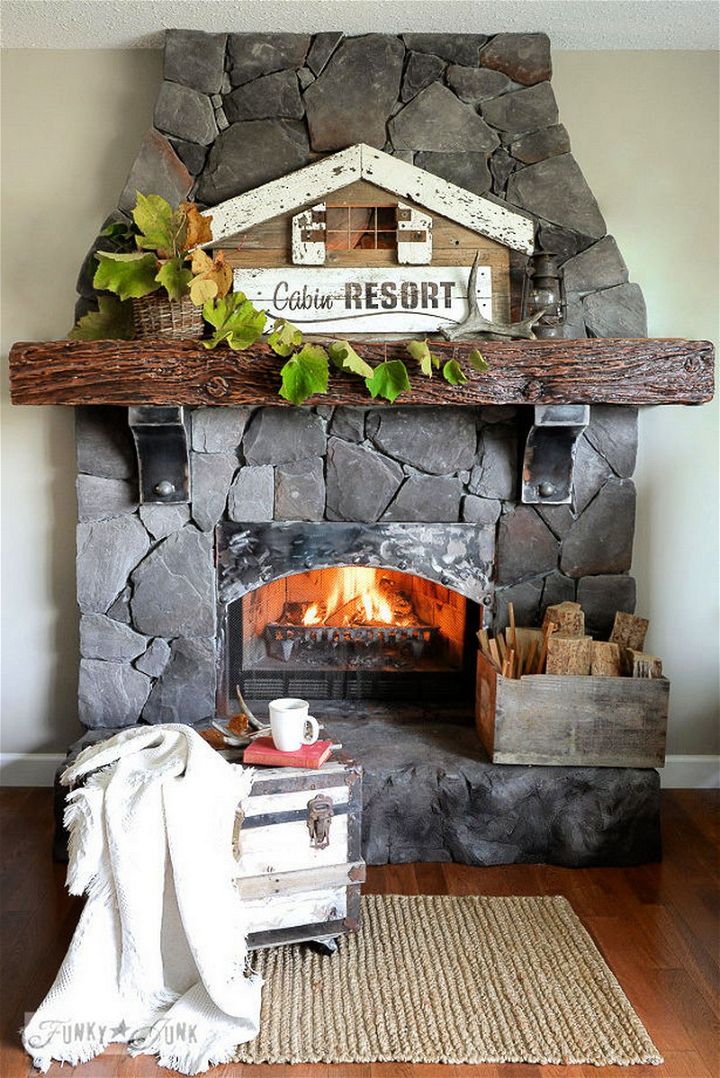 It's time to go creative with your mantle decor with the idea of this cabin resort signboard. This cabin resort wooden signboard on the mantle would make your home fall-ready. The things you need to shape up this cabin resort sign are stencils, wooden boards, and paint. Check out the rest of the details of the idea here!
19. DIY Love Hand & Foot Print Sign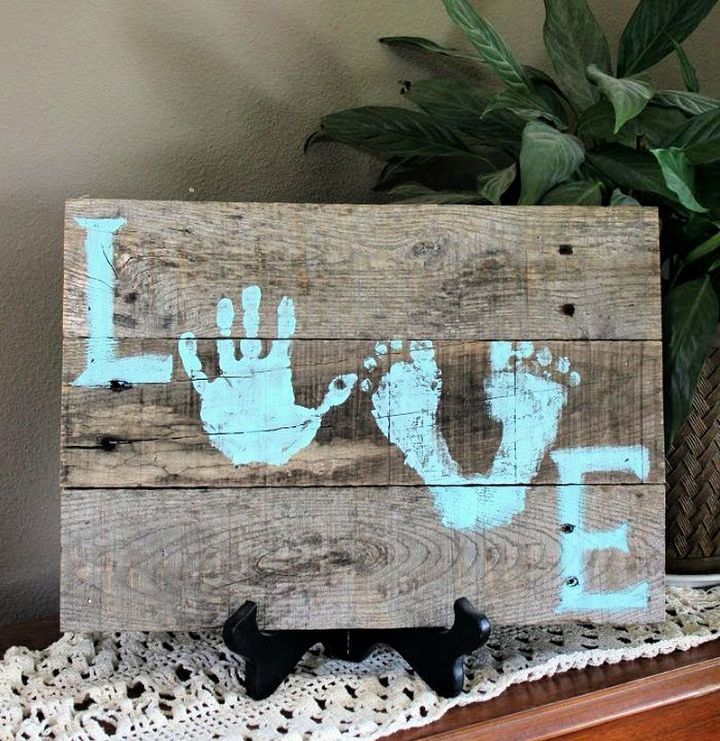 Make the perfect DIY love and hand footprint sign to create the cutest and the most heartwarming wooden sign for your spaces. Using the paint you can create the LOVE sign on the wooden board with an O being formed with the hands and a V with the feet. Check out the complete details of the idea right on the link here!
Now you can learn to make 20 DIY Stool Ideas – easy stool projects with these projects.
20. Fall Sign Board For Welcome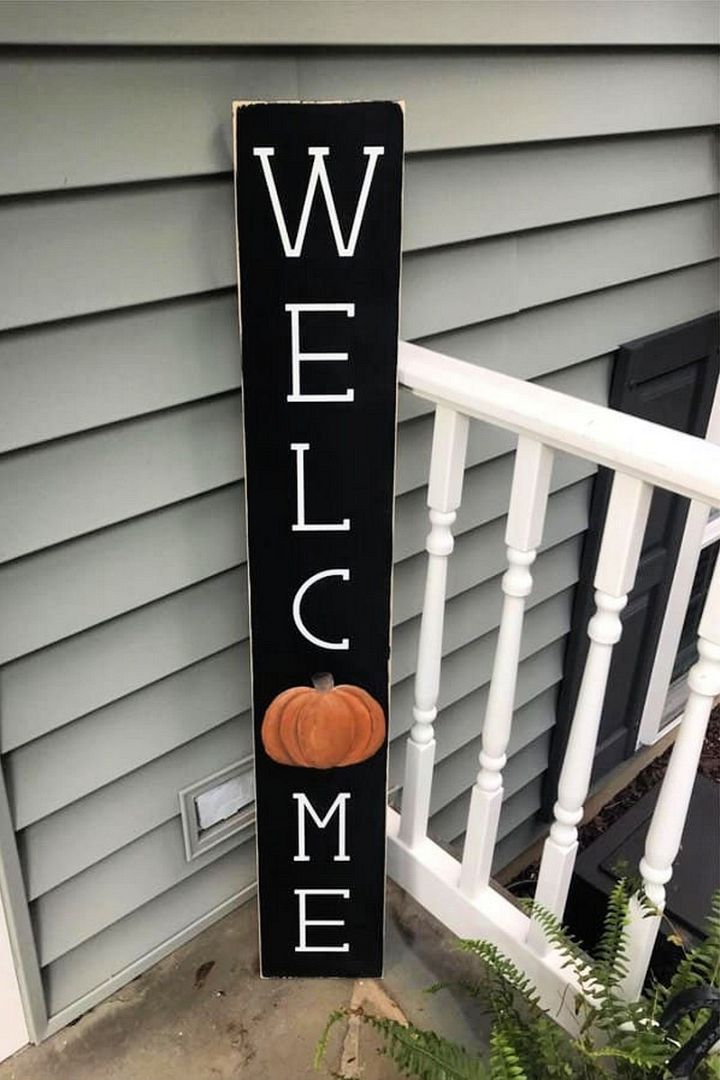 Need to get your home ready for the fall? If yes then making this adorable fall signboard for welcome is the best thing to get your hands on. The quirky thing about this welcome sign is that the O of the welcome is a cute pumpkin adding the perfect fall touch to the sign. Follow the detailed plan of the idea here!