All of these 20 Top DIY Projects With Lace You'll Must Try are not only simple and affordable but they have that special beauty of handmade products. You can easily and very conveniently learn to make crafts with lace with the help of these and you will never regret the efforts that you are going to make for them. From jewelry to centerpieces and from curtains to wall décor items you can make some very pretty lace crafts. The details of these projects include tutorials along with supplies so that you can easily get along.
DIY Projects With Lace: You can pick any one or more from these diy lace projects and make crafts for this holiday's season. Laces are more commonly used in clothes however in all of these project some very pretty, attractive and colorful laces are used to make some unique crafts which will amaze and surprise you once you are done making them. Besides laces some basic supplies are also used in almost all of the projects such as scissors, hot glue, mod podge, tape measure, tape, pen, marker, sponge, rolling pin and a few more.
1. Simple To Make DIY Lace Earrings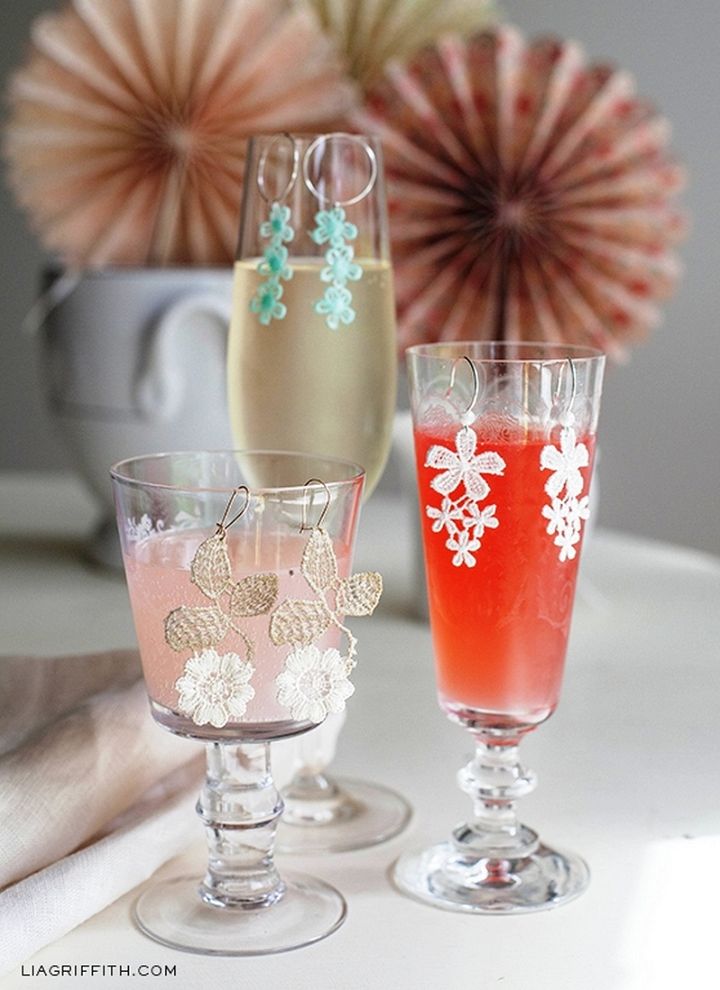 DIY Projects With Lace: This diy project here will truly enhance the beauty of any simple lace. These are probably the world's simplest earrings that we have and they are made with basic type of laces easily available in shops. Besides pretty lace you will need scissors, jewelry pliers, earrings, craft paint, fabric decoupage, spray paint and paint brush. Tutorial
2. DIY Lace Doily Bowl – DIY Projects With Lace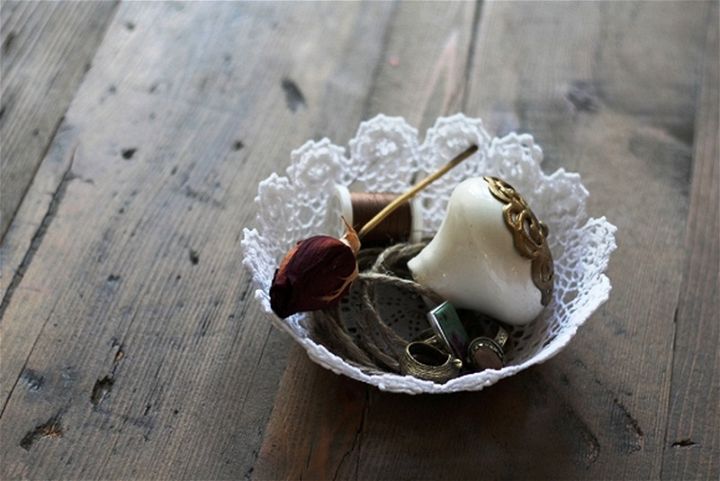 Have a look at this lace doily here that ultimately converted into a pretty bowl. You can also make this super simple and amazing bowl with the supplies that are listed here in the details of this project. The supplies include doilies, fabric stiffener and a bowl. Tutorial
3. Mod Podge Lace Vases Tutorial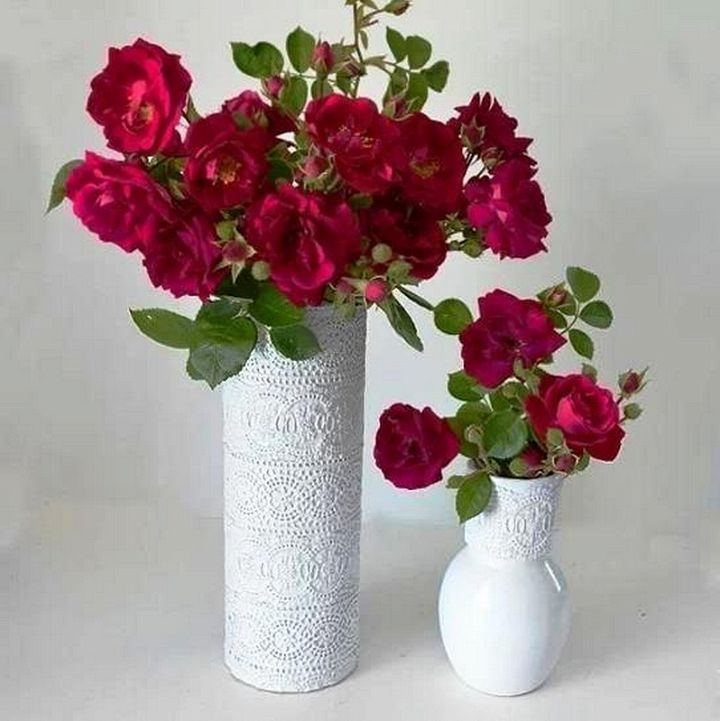 In this diy lace project, mod podge is definitely playing an important role. If you are also obsessed with laces, you will surely love this project. The supplies for this project includes various vases, various lace, mod podge matte, brush and spray paint. Grab the supplies and get started with this interesting activity. Tutorial
4. DIY Lace Curtains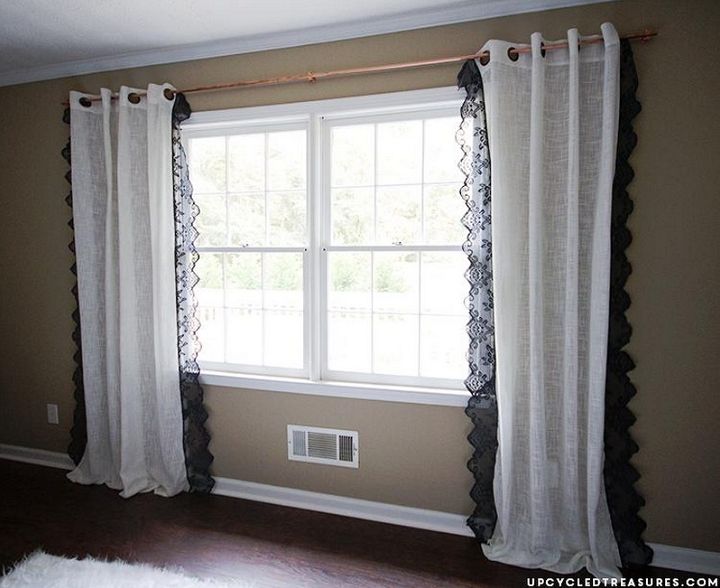 DIY Projects With Lace: If you are looking forward to buy curtains for your house, you can count on this diy lace curtain project and you won't regret this. These are beautiful and stunning lace curtains made easily within a few steps only. You can use the lace in a contrasting color with your curtains just like here in this project. Tutorial
DIY Dining Room Tables – There are a variety of designs of dining table plans available here. If you're seeking a rustic look, make sure to check out this collection of free farmhouse table plans. These plans are easy to build and give you a timeless yet stylish appearance.
5. Lace Bunny Canvas Easter Craft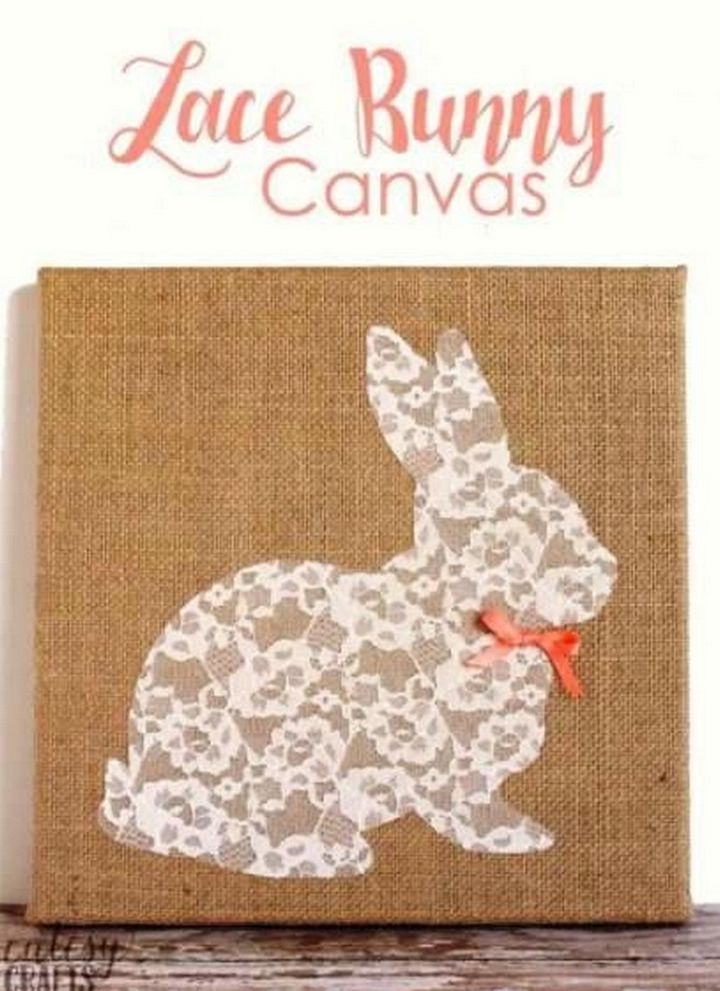 When festivals are around, we all look for pretty crafts to decorate our home. This bunny craft here is made with lace and on to the canvas and it looks surprisingly amazing and appealing. With only a few supplies you will be able to create this beautiful Easter craft. The list of supplies include bunny pattern, burlap canvas, lace, parchment paper, ribbon, hot glue gun, scissors, iron and pen. Tutorial
6. DIY Drop Cloth And Lace No Sew Curtains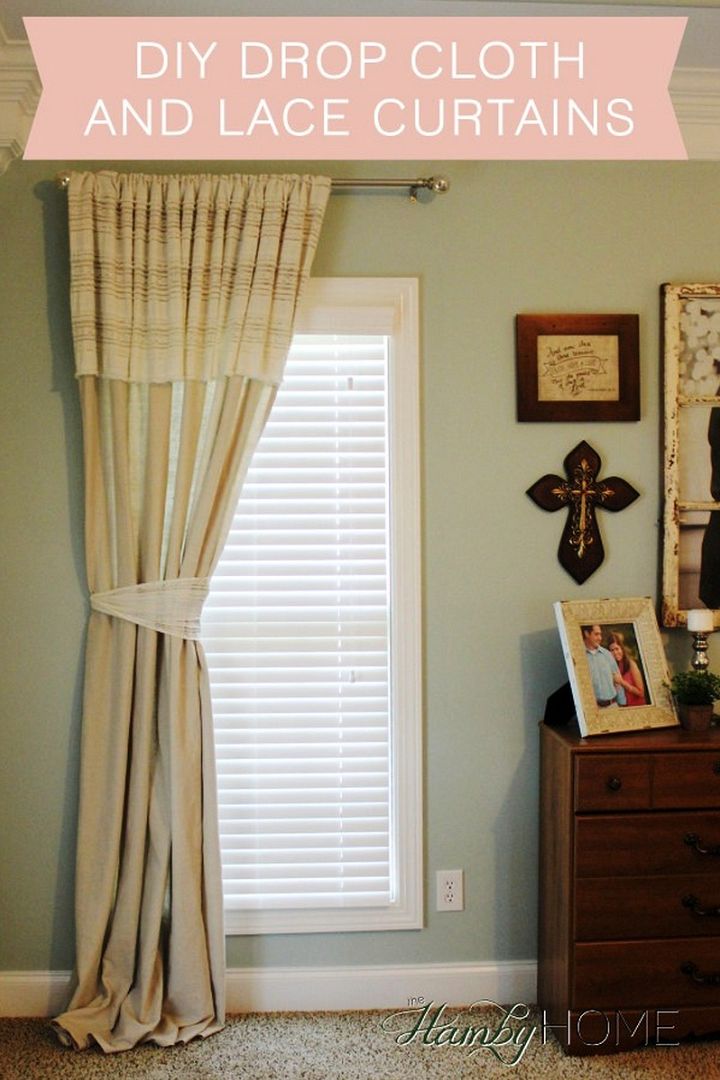 In this amazing diy project you can see how a drop cloth and lace are used in combination and they look amazing together. These are no sew curtains and they are easy to make. If you are beginner in such crafts you can take all the help from the tutorial attached with it. The supplies include drop cloth, ace fabric and fabric tape. Tutorial
7. Lace DIY Window Film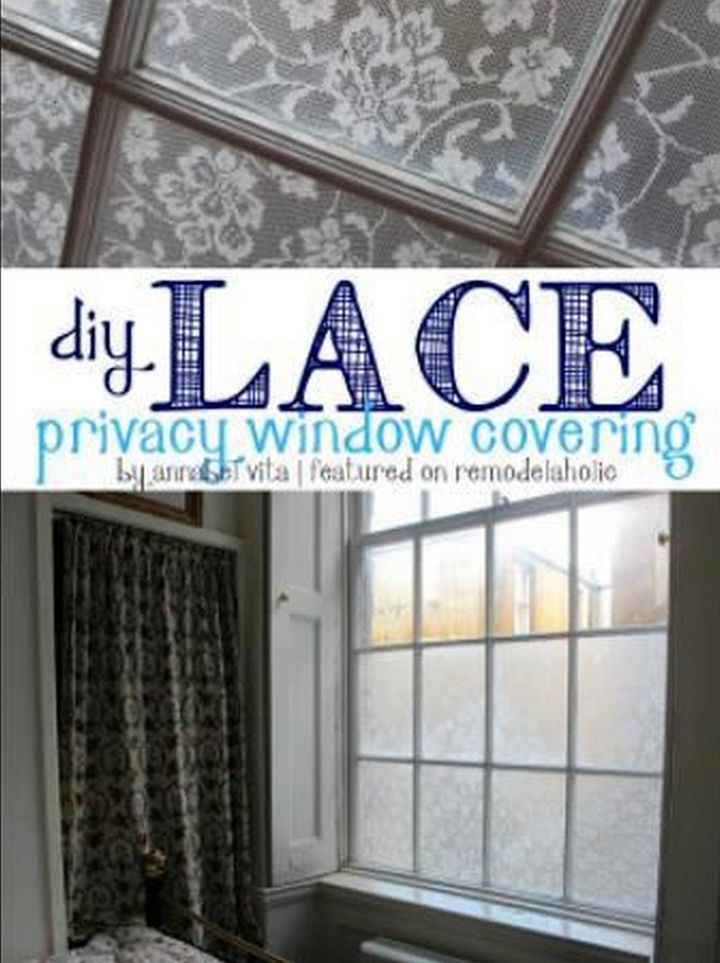 From this project we can learn how to cover window film with pretty lace within a few simple steps. You will start off by making template of your window panes. The next step includes making of a starch jelly. In the third step you will be applying the jelly on the window. Put lace in the window afterwards and brush on more jelly. Let it dry in the final steps and you are all set. Tutorial
8. How To Make Paper Lace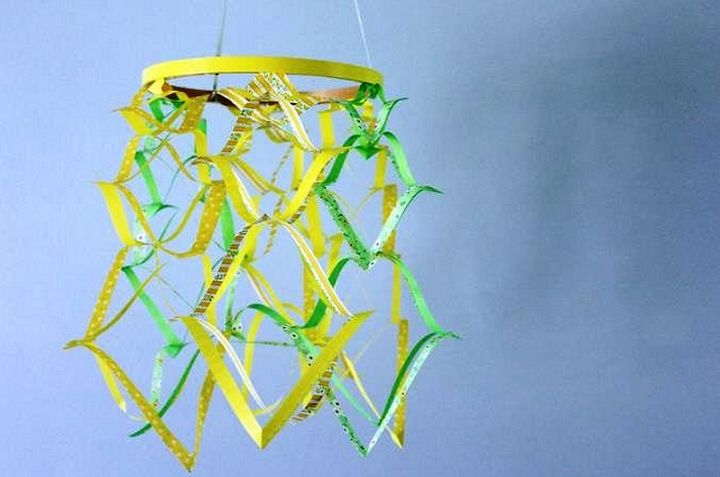 DIY Projects With Lace: If you wonder how a paper lace is made, you can learn from this project here. For the paper lace you will need templates or origami paper along with scissors. For the mobile you will need embroidery hoop, tape, string or ribbon and colored tape. Grab the supplies and make this super amazing craft along with your kids so that they can also explore and learn about new and innovative ideas. Tutorial
9. Lace Choker DIY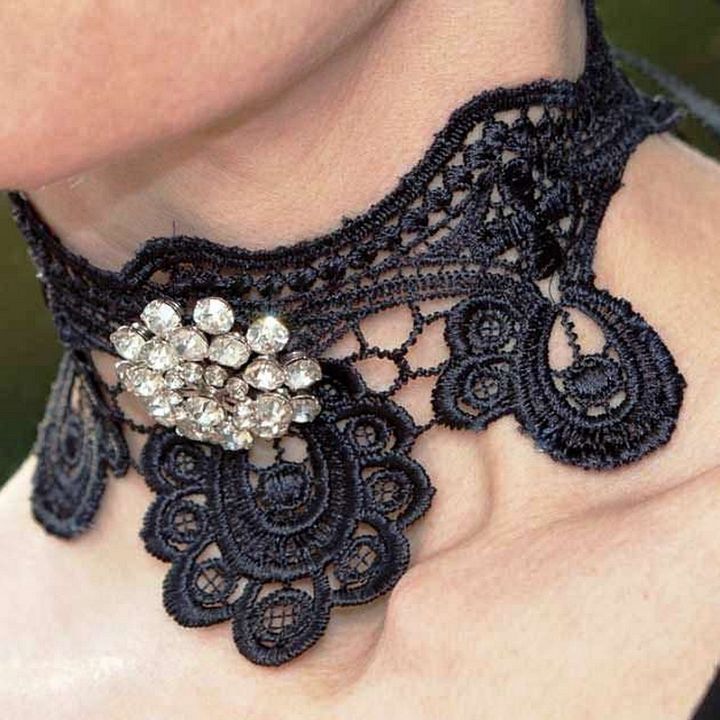 If you are also fond of chokers when it comes to accessories, then you will love this project for sure. Here we have a plan of making lace chokers and they turned out to be very pretty. Make your own statement pieces with the help of this project and you will be amazed by the stunning results Tutorial
10. Make Your Own Lace Pottery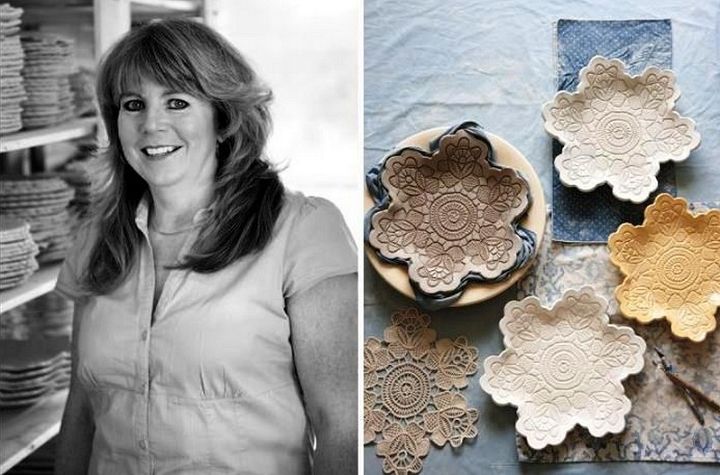 Lace pottery is definitely a new trend when it comes to art and craft. You can also make some pottery and that too with pretty laces with the help of this diy lace pottery project. Here you will have to use porcelain clay along with rolling pin to start it off. Doily is also used here in this project. A wet sponge is also used towards the end. Besides this fabric is also used in this project. Tutorial
11. DIY Lace Insert Tee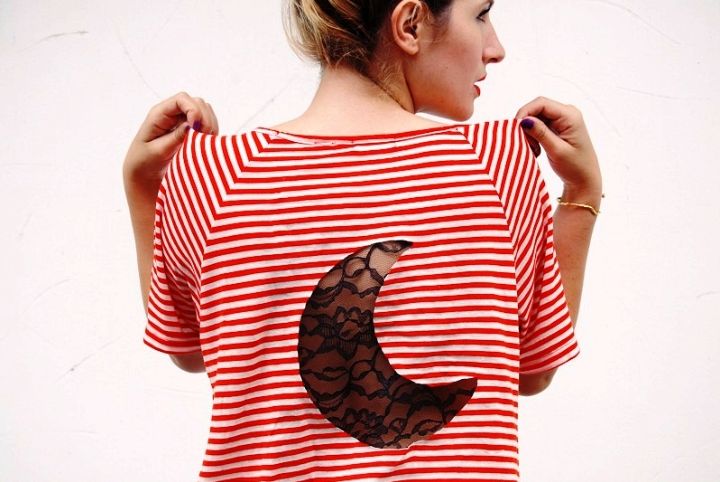 Have a look at this diy lace insert tee and you will surely want to add this beauty in your wardrobe. You will need to shirt, lace, stitch witchery, scissors, and iron, printed picture of a crescent moon or any other shape and pen. You can select any shirt from your wardrobe and make it more appealing and exciting than before. Tutorial
DIY Balloon Decor Ideas – Balloons are an excellent option to make your decor pop. It's also less expensive than other decor items. You can save some money and add your own personal touch to the event. Whatever event you're in you can always count on these incredible balloons.
12. DIY Lace Tambourine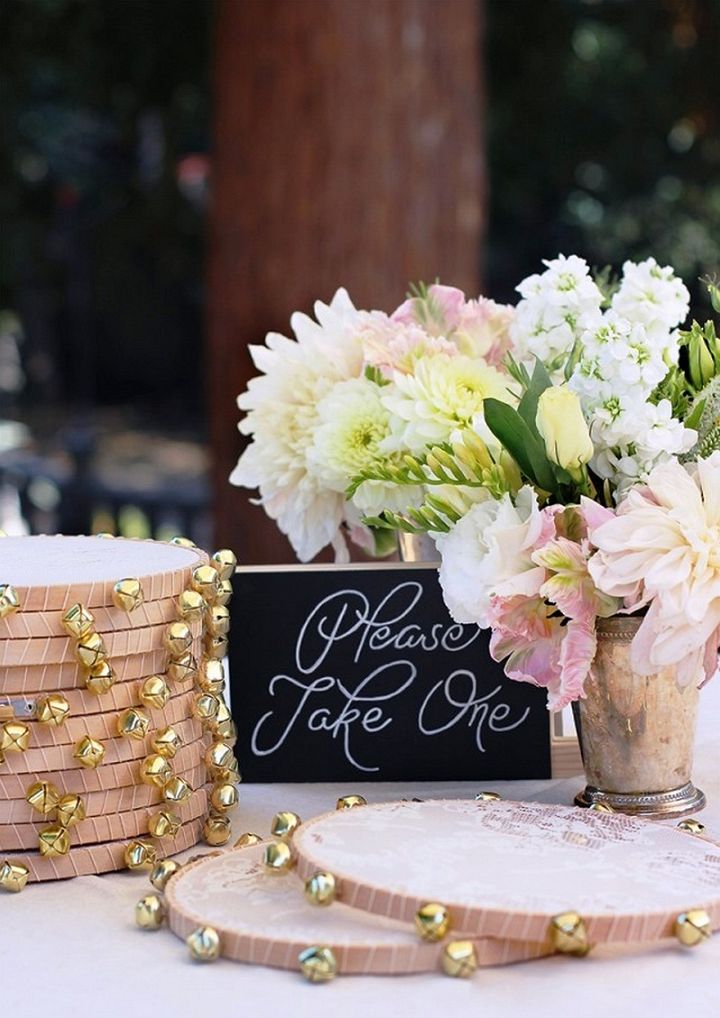 Have a look at this lace tambourine here and see how you can also make this with the help of the step by step construction process here. Besides a wooden embroidery hoop you will also need brass jingle bells, lace fabric, thick string, hot glue gun and pencil. Tutorial
13. Lace Jeans DIY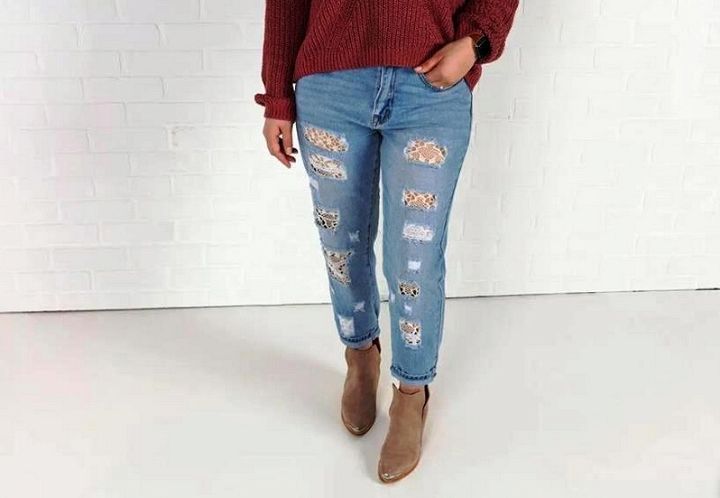 DIY Projects With Lace: Have a look at this lace jeans over here and you can analyze how trendy and classy this looks. You can also add this beauty in your wardrobe by altering your own jeans and combining it with pretty lace of your own choice. You will need a super fabric adhesive for achieving best results. Besides this you will also need ripped jeans, ace swatches, and scissors, cardboard or heavy cardstock. Tutorial
14. DIY Lace & Burlap Covered Books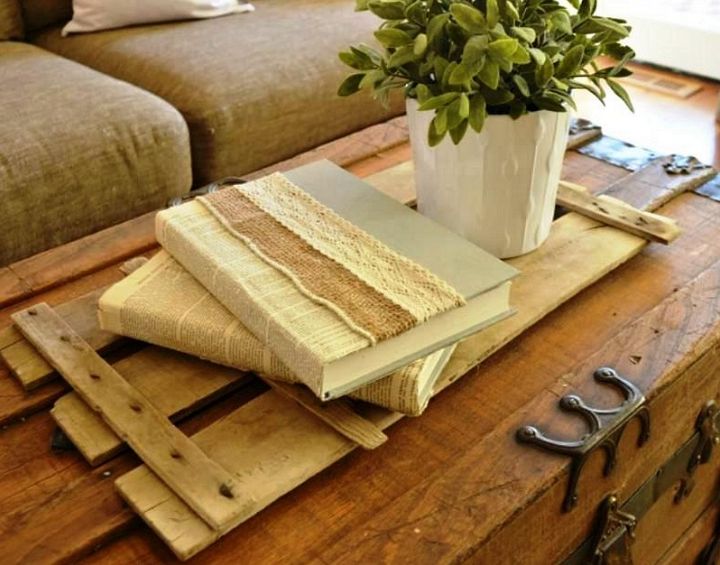 Are you interested in these lace and burlap covered books project? If yes then you must follow the step by step process and you will be able to get along with it. This project is super easy and affordable so get started. The list of supplies include hardcover books, paint, hot glue gun, scissors, book pages and burlap and lace. Tutorial
15. Basics Of Bobbin Lace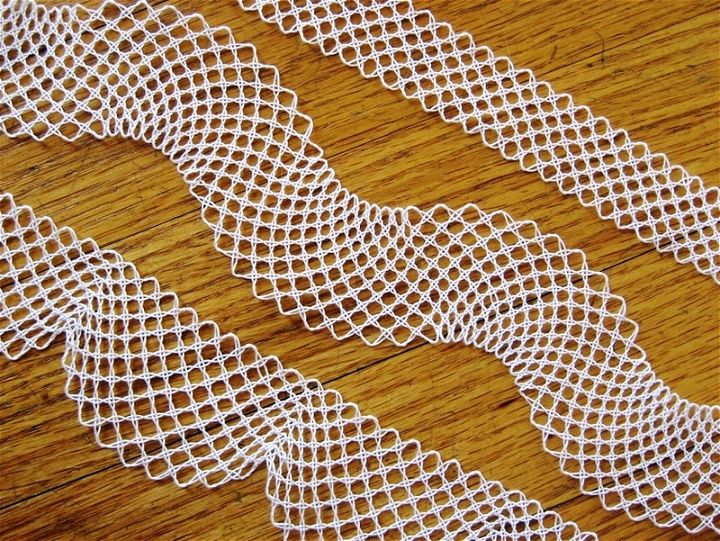 A very nice and easy hand lace making is described here in detail and you can also learn it to make your own laces. These are some basic of bobbin lace that are taught here therefore take your notes. When it comes to thread natural fibers are the best thread. Instead of using bobbins, you can use an ordinary clothespin to reduce the cost of your project. Other than these some other supplies and are also used which are listed in the details. Tutorial
16. Paper Lace Heart Bunting Valentine's Day Banner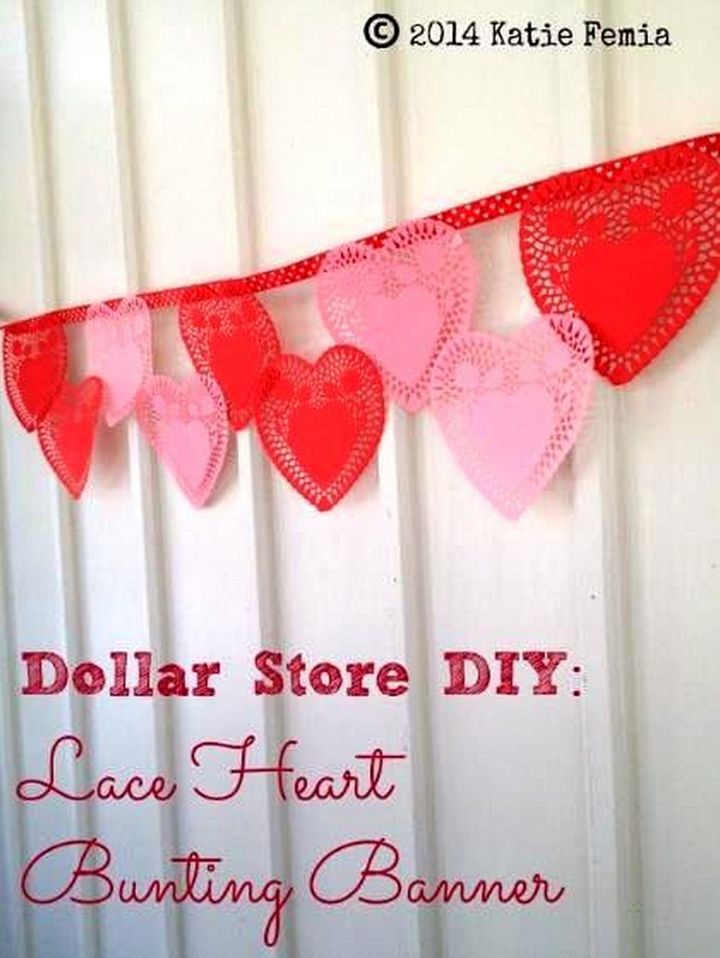 These are paper lace hearts bunting banner that is explained here and you can also get along with this easily. To make this beautiful banner you need a few supplies such as paper heart doilies along with red or pink ribbon, scissors and glue. Grab the supplies and make your own beautiful banner with the lace of your choice. Tutorial
17. How To Make A Beautiful Lace DIY Ceiling Medallion On A Budget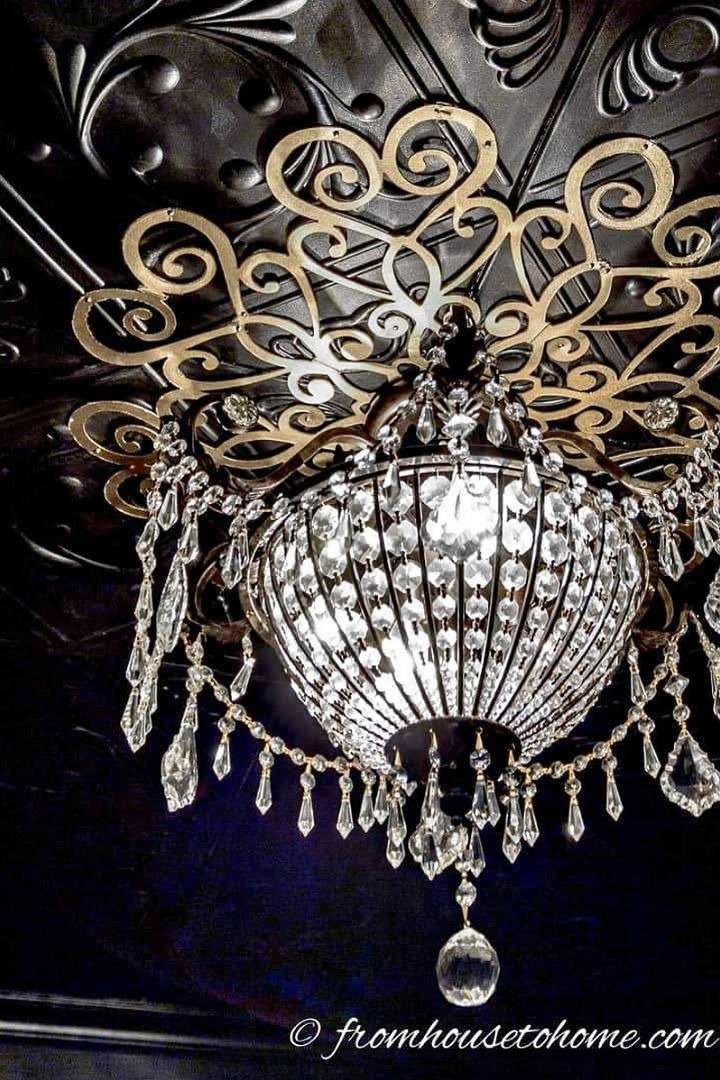 DIY Projects With Lace: This beautiful lace ceiling is made easily with a simple process and you can easily catch up with the process. If you also like to decorate the ceilings, you can count on this project and see some amazing results coming your way. For this you need a pattern to cut the ceiling medallion along with mat board, gold spray paint, brass nails and scotch tape. You will also need mat board cutter and hammer as your basic tools Tutorial
18. How To Make Lace Flowers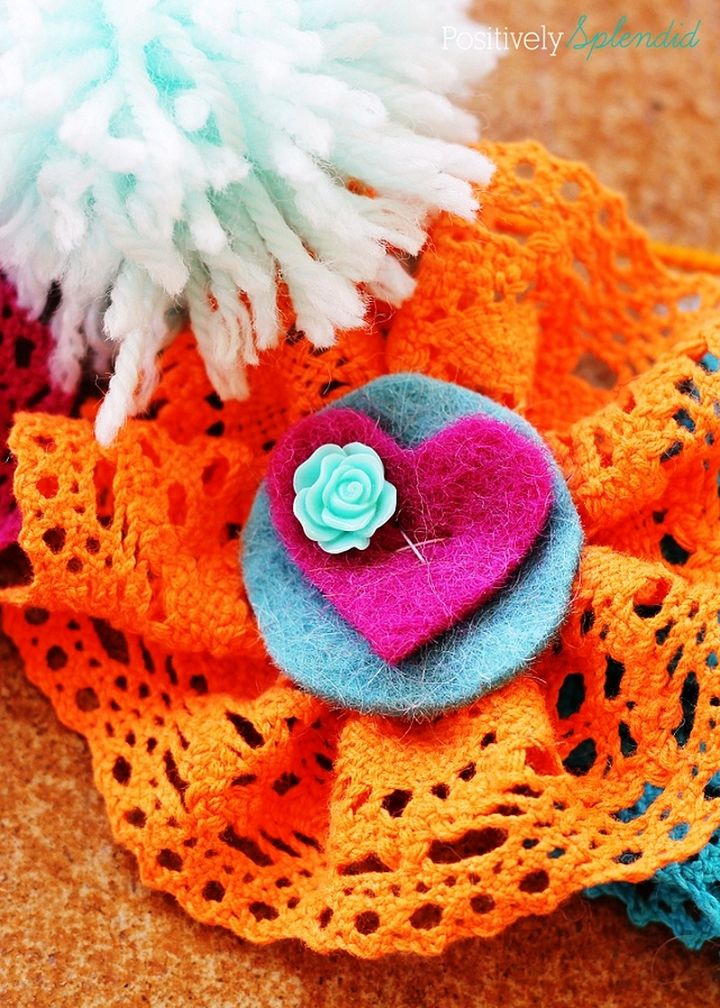 This step by step process will teach you a lot about making lace flowers in beautiful colors. You will start off by taking a crocheted lace. Besides this you will also need fray check, shears, sewing needles, various items for flower centers and hot glue gun. With the little embellishments you can more and more beauty to these handmade flowers. Tutorial
DIY Chandelier Plans – Certain of them are cheaper than buying a fresh chandelier. In some cases, they're all you need to brighten up a living or room space. Perhaps some of these ideas might spark an idea for you as well. Check out
19. 10 Minute DIY Lace Planters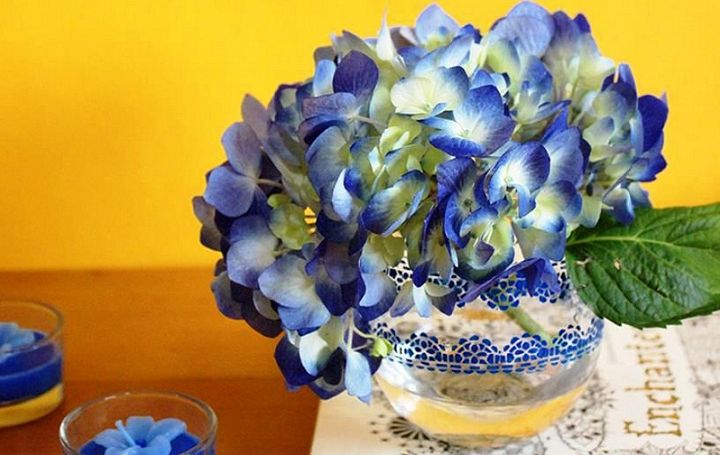 You will hardly have to spend 10 minutes over this diy lace planters. DIY Projects With Lace: This is a low budget project and you can easily do this as a beginner as it's simpler than it seems. The materials that are involved are glass tumblers, paint, paint brush and washi tape. Besides this you will also have to use acrylic paints. Tutorial
20. DIY Tote Bag With Lace Applique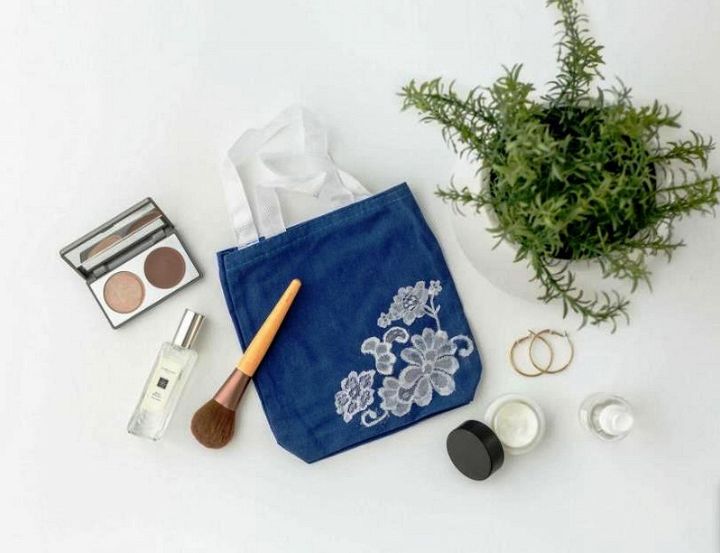 DIY Projects With Lace: next time when you are about to make a tote bag for you all by yourself, do consider giving a touch of doing a lace applique too. You will start off by cutting the pieces from rolls of lace. Afterwards you will have to move on with the rest of the steps taught here. Tutorial
Conclusion:
All of these lace projects are teaching us how we can make something out of simple and budget friendly objects. Get to the details of the project that you wish to do and get started with the help of instructions given. In some of the projects you have to be careful with the measurements to achieve the best and desired results.