Most of us keep a lot of our stuff inside of our garages. It depends upon us whether we want to leave our garage messy or keep it organized. These 30 Garage Shelving Ideas DIY For Storage will guide you through a process so that you can build shelves for your garage to keep your stuff in it. There are a lot of things that we keep in our garage such as machineries, tools, different equipment's, discarded materials , scrap and what not. Build shelves that can accommodate everything separately so that it doesn't get difficult for you to find anything.
With these diy garage shelving ideas and tips, you can get a lot of free and empty space inside your garage. Garage shelves can be made in a lot of different styles and types depending on your choice and requirements. There are ideas that teaches you how to make mobile shelves so that you can grab them wherever you need and work like a pro. Wall mounted garage shelves have their own advantages. Besides this, floating shelves can be a perfect solution for smaller spaces. Use material that are easily available to you and is not very expensive.
1. How to Build Garage Storage Shelves On The Cheap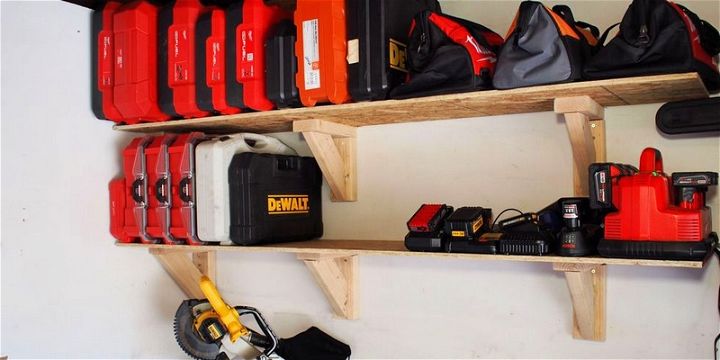 Garage is a place where we can keep all the stuff used in construction, drilling, cutting, assembling, welding, and much more. This is a diy garage shelf idea that you can also try in your garage. This will save the space and will help you organize your tools easily. here!
2. How To Build DIY Garage Storage Shelves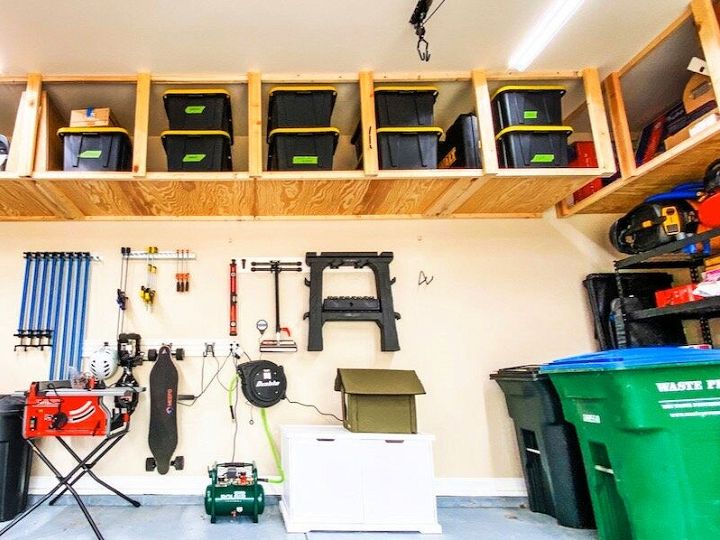 If you are thinking of creating storage spaces in your garage, try to build your own diy garage shelves as they will save you a lot of money. Have a look at the perfect and organized shelves here that not only looks good but can hold much of your stuff in place. You can make this garage shelf from scrap without spending much here!
3. How to Build Rolling Garage Storage Shelves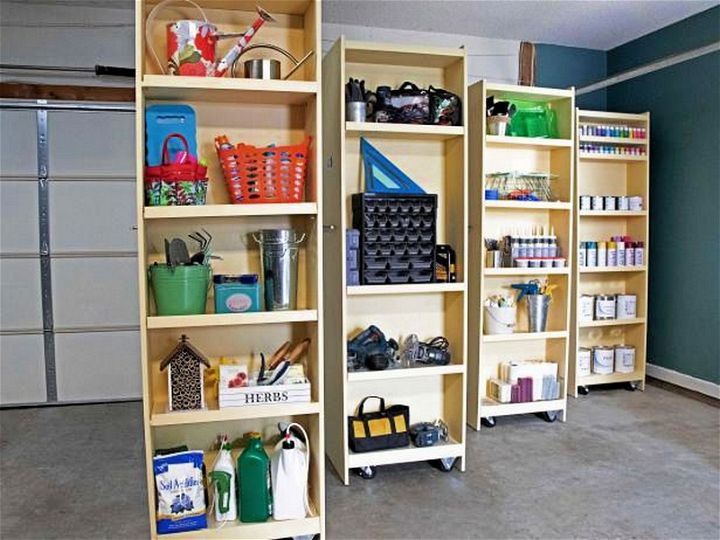 Movable furniture and other items are always good as they are easily and readily accessible anywhere anytime. These garage shelves are on wheels and hence they can be moved easily at a place where you need them. These are rolling shelves as you can see. Get your supplies ready to make this easy to handle garage shelve here!
4. How To Build DIY Garage Shelves – An In-Depth Guide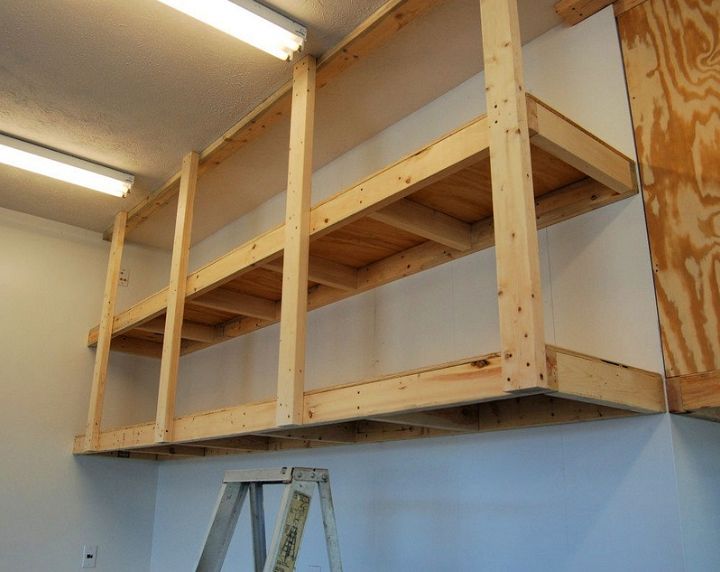 There are a whole lot of things that you we want to keep in our garage. From tools to drills and from scrap to machinery, we should everything organized inside the garage so that it do not look messy. This project will give you an insight on how you can build these wall mounted shelves all in a row to keep almost everything you have regarding the above mentioned items. here!
5. Easy DIY Garage Shelves With FREE PLANS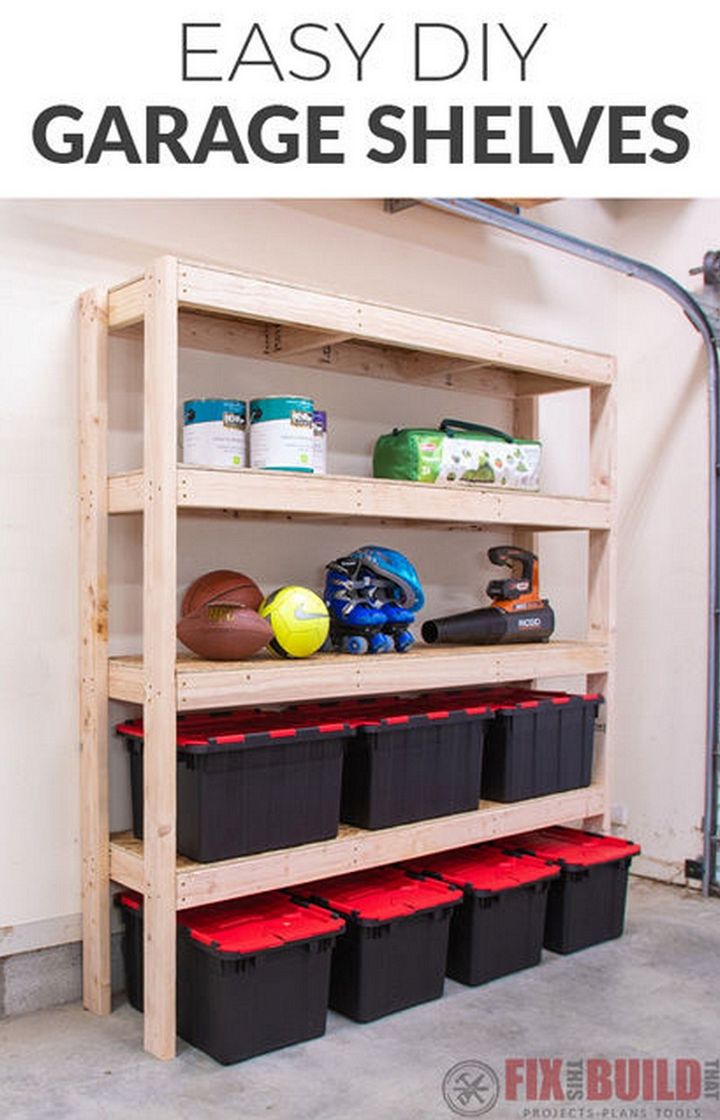 There are storage shelves available in stores for garage but they are costly. Instead of buying them form stores, you can make your very own diy garage shelves in no time and within your budget. You can also look for free plans available here for making these shelves. here!
6. DIY Garage Shelves – Freestanding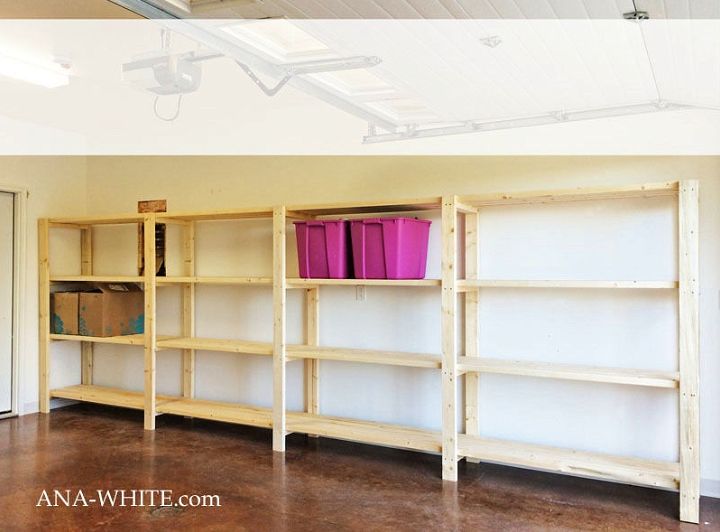 This is a free standing wooden structure for your garage. You can very easily make this garage standing shelf to keep all your stuff organized. We cannot keep everything inside the house such as tools, drills, welding machines and much more. Therefore garage shelving plays a vital role in keeping not really inside the house but within reach. here!
7. Easy DIY Garage Shelves From 2x4s For $40 In Lumber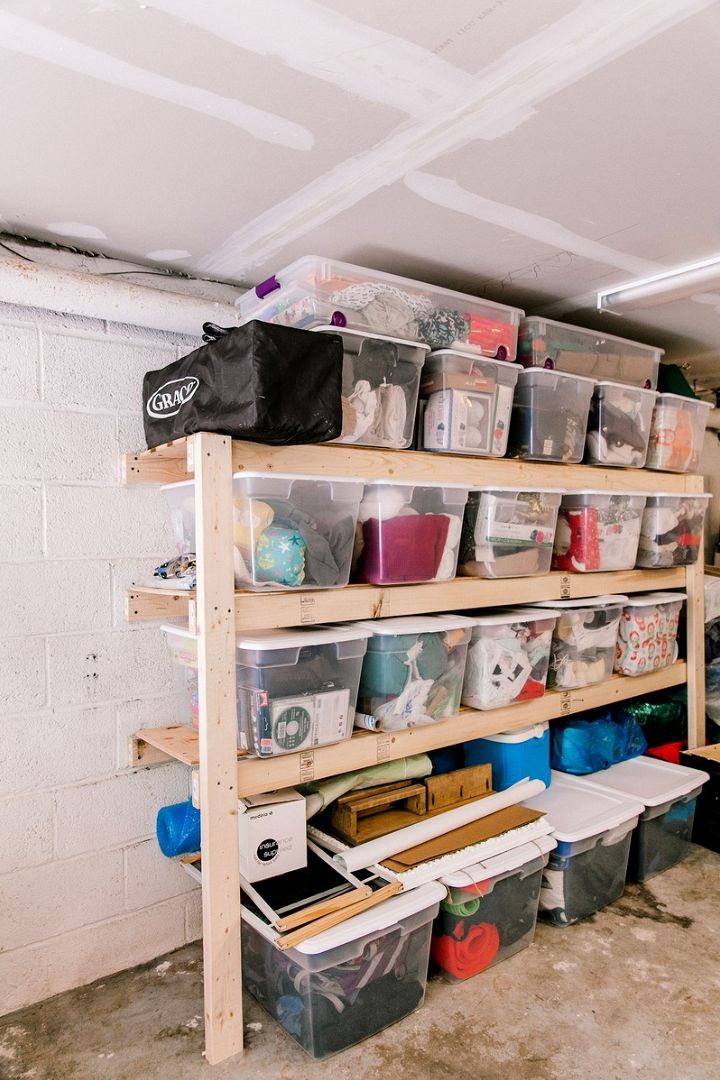 Not everyone has a huge space in their garage to make giant shelves. Here we have an idea about how we can make garage shelves for a smaller spaces like the one you see here. although the shelving is jam packed and looks over loaded but still we can organize our stuff easily and separately here!
8. How To Build Easy DIY Storage Shelves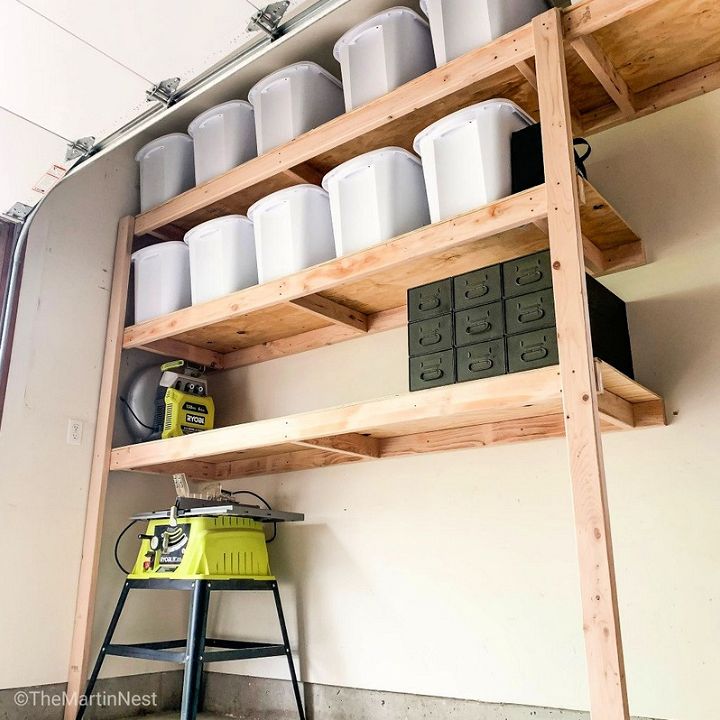 Once you are done with making some storage space into your garage, you will find it very useful and surprising. We cannot keep everything inside the cabinets of our kitchen. Therefore to keep some basic tools along with the scrap wood and other materials we must build diy garage shelves. here!
9. Super Easy DIY Garage Shelves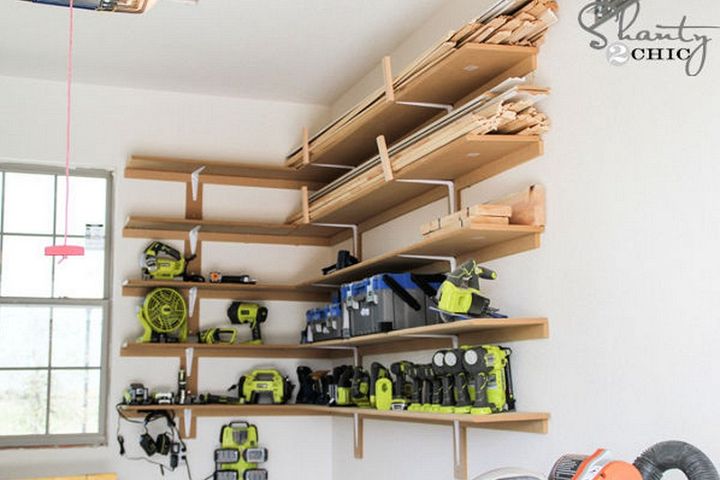 When you are creating something by yourself, look for easier options and the ones that are quick. Since time is money, we should never waste it. This garage shelving can be done in a limited time and with a limited budget. The shelves are made with step by step convenient process that you can easily find here. here!
10. How to Build DIY Garage Storage Shelves For Under $60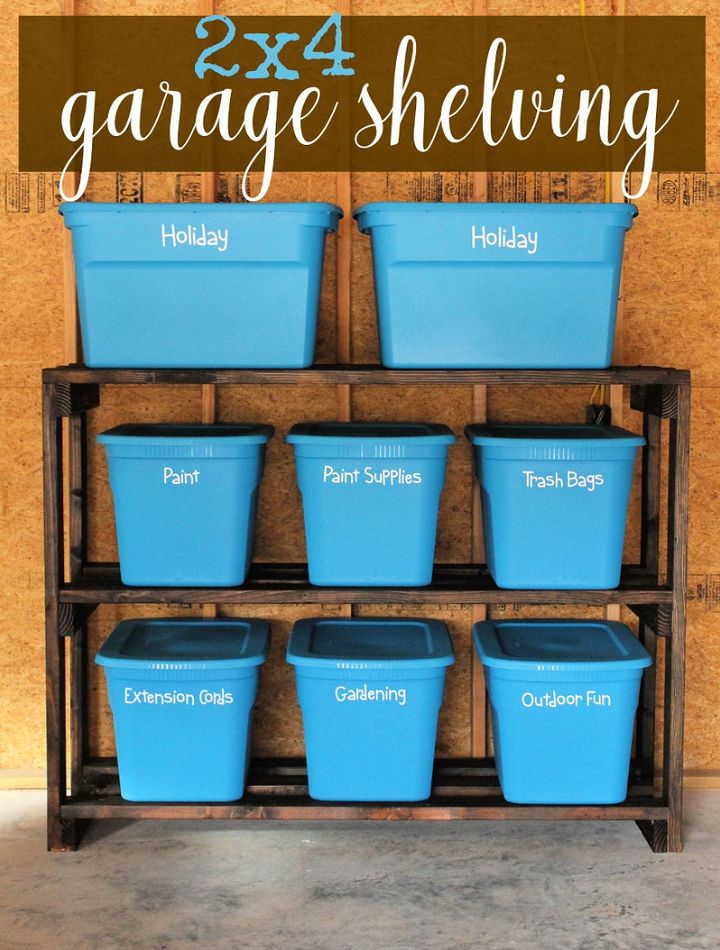 If you follow this project closely and accurately you will save a lot of money. Bu some massive buckets like these. The places where you can find these buckets are mentioned in the project. Make a simple wooden triple story rack or shelf. Place the buckets along with the labels and make your life easy. here!
11. DIY Corner Shelves For Garage or Pole Barn Storage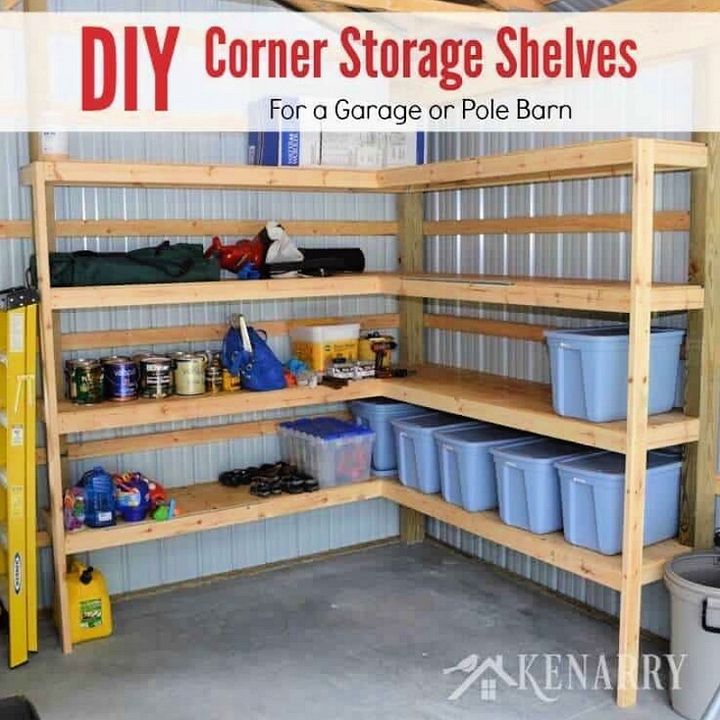 Do not worry if you are only left with a corner in your garage. This project will give you a clear idea about making a corner shelf inside your garage. You can keep a lot of stuff in these shelves. There are hundreds of items that you need for construction, electrical issues and plumbing problems and this garage shelf can store everything within them. here!
12. Cheap & Easy DIY Garage Shelves – Building Plans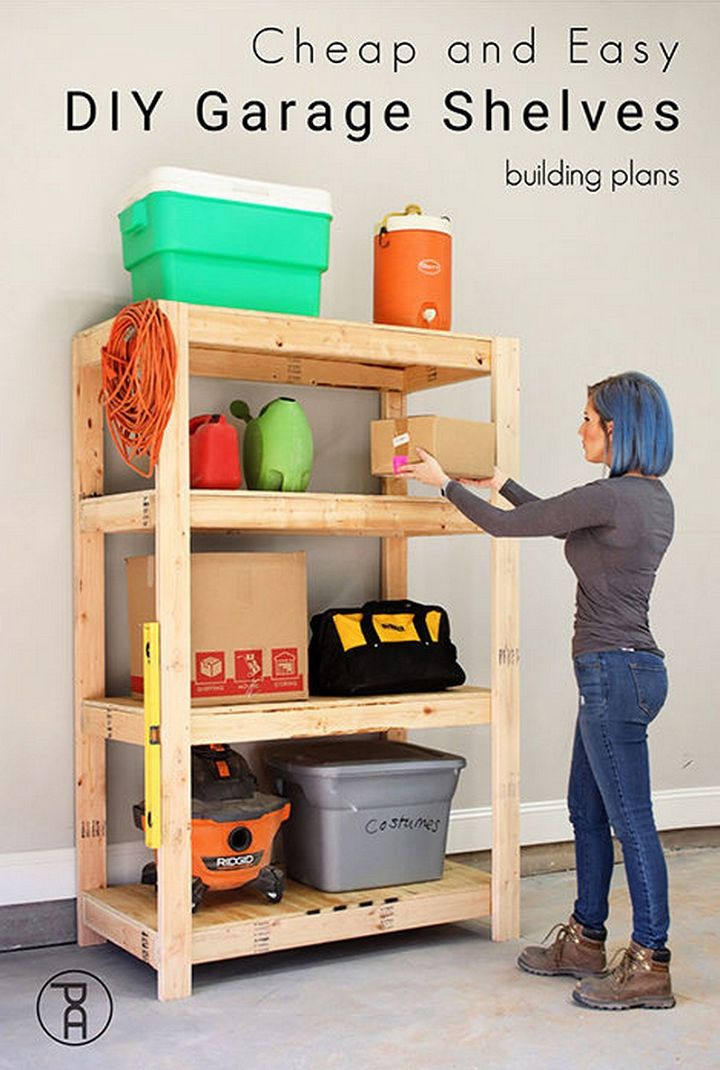 There are many free plans for building garage storage shelves are available on the internet today. Find some good and useful plans and start your project in order to be more organized than ever. If you are on a budget, this shelving idea will not be a struggle for you. here!
13. Making Sliding Storage Shelves In One Weekend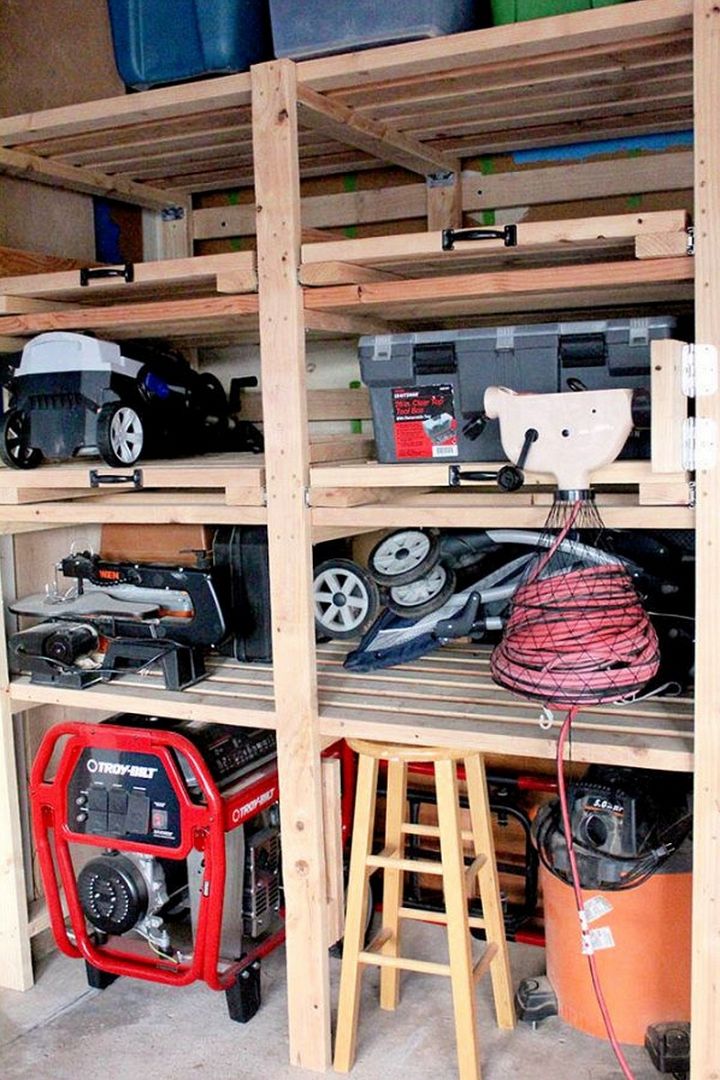 There are many ideas for making diy garage shelves. However you have to look for storage ideas that can maximize the storage space. This diy garage wooden shelf is as wonderful as it has sliding racks within racks. This is surprising and unique and maximizes storage in an efficient way. here!
14. Building Garage Shelves – Cantilevered Shelf Brackets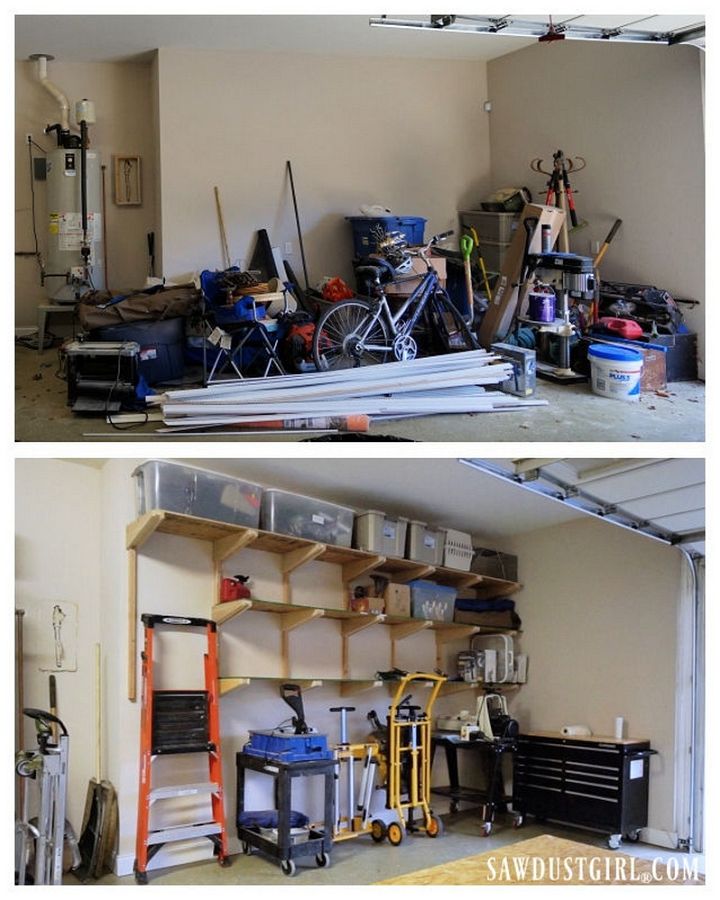 There are hundreds of items that you cannot keep inside the house but you need them every now and then. Such things may include tools, machineries, scrap, materials like wood, and other items that may temporarily seem unnecessary but can be used sometime in any diy projects. For all such items you can build this diy garage shelves so that you can be more organized with your stuff. here!
15. How to Install Garage Shelving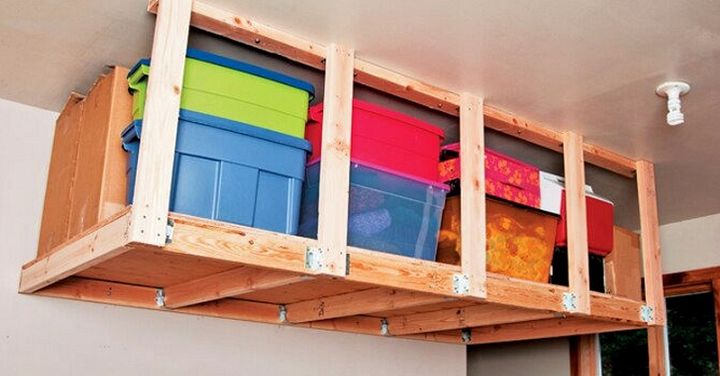 Its not necessary to build garage shelves on floor. You can also install this diy shelving in floating position attached to the wall. Look at these amazing storage shelves created just for the garage area and can be of so much use. Gather the material with which you can build these shelves and see some amazing results coming your way. here!
16. Garage Storage Shelves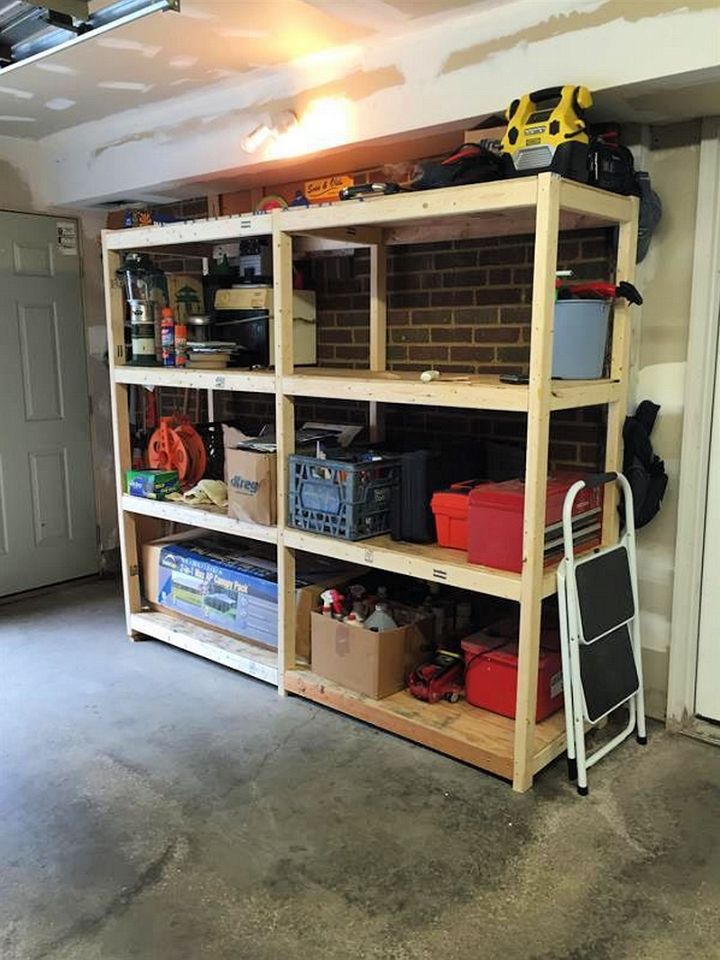 Garage is a place where we like to find things when needed immediately. Therefore such diy shelve idea are so popular these days that you cannot even imagine a garage without these. Instead of installing expensive shelves inside the garage, make your own diy shelving in order to save some money and work according to your own requirement. here!
17. Four Ways We Added Storage & Function To My Beloved Shed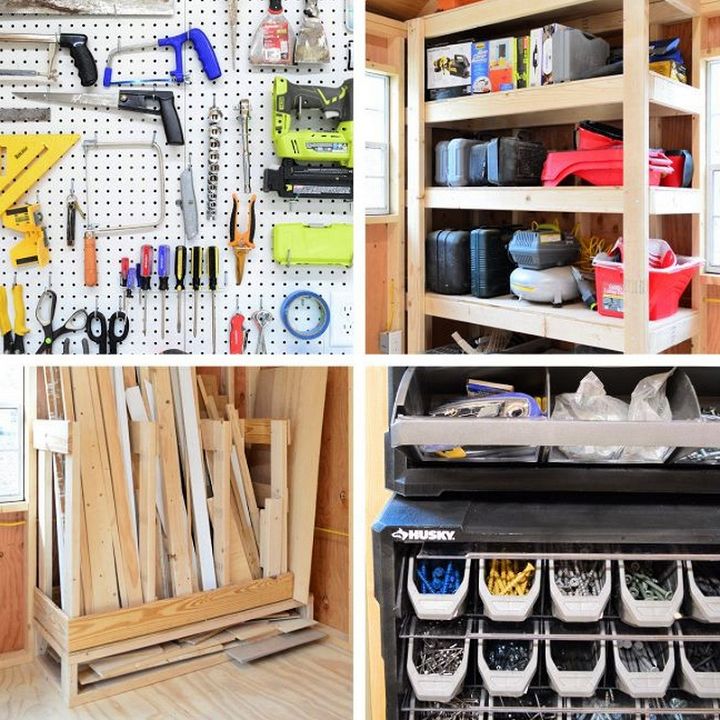 Different kinds of tools should be organized in separately as you can see over here. This particular project invites you to an opportunity where you can learn an easy process to organize your tools, welding machines, screws, saws, axes, different sized nails, drills and much more. Try this organizing hack in your garage and see some outstanding results coming up. here!
18. DIY 2×4 Shelving For Garage Or Basement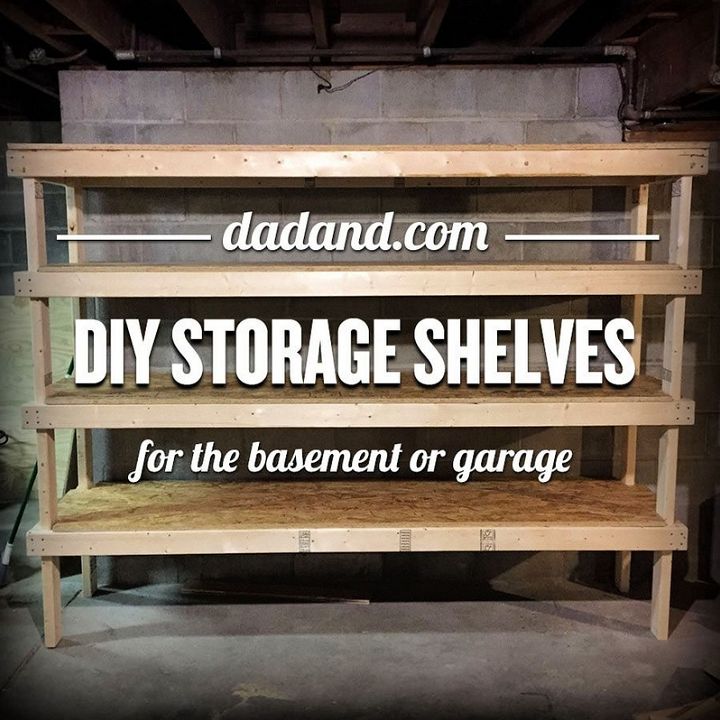 Just like garages, basements can also be utilized for storing heavy and useful materials all together. You can make some easy wooden shelves for your basement in order to keep your stuff organized and always in place. Although there are shelves available in stores but they are sometimes unaffordable and out of reach. Therefore try to make your own shelves with the help of this tutorial. here!
19. How To Build Garage Shelves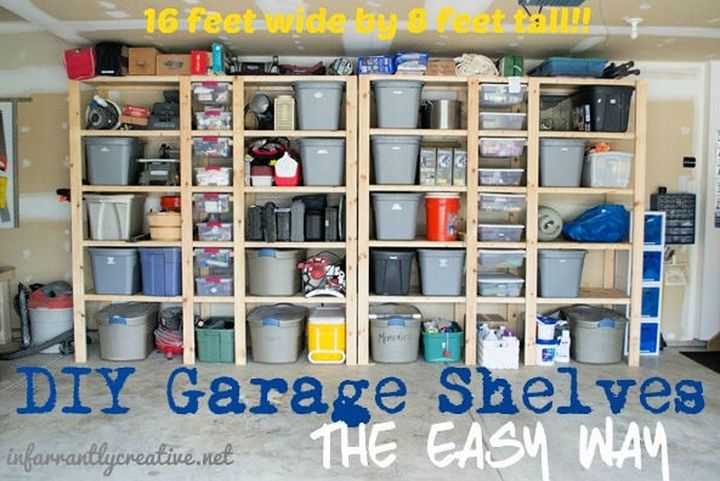 It's not necessary hat you make shelves for keeping stiff in garage. You can sue this idea here which shows that you can also build wooden structure with different sections and put buckets of different kinds for storage purpose. This is a proper budget friendly projects as you can see. Since no extra expense is used for this diy garage shelving idea, you can spend money over buying some cheap and inexpensive baskets like these to achieve this result here!
20. Portable Garage Storage Shelves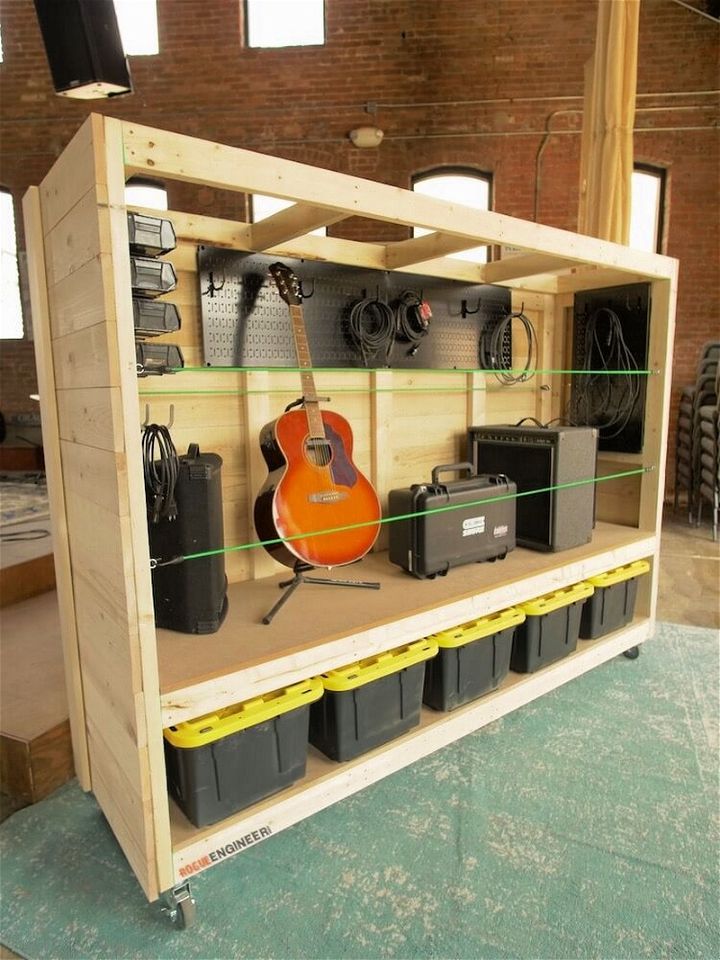 Portable things are always easy to use therefore this project gives you a great idea for storage inside your garage. This is a movable wooden rack as you can see made easily with basic wood working skills using some basic tools. These shelves will help you organize everything in place and easy to find. Due to the wheels at the bottom you can drag the shelves anywhere out of the garage to complete your tasks whether constructions, electrical jobs or anything else. here!
21. Best DIY Garage Shelves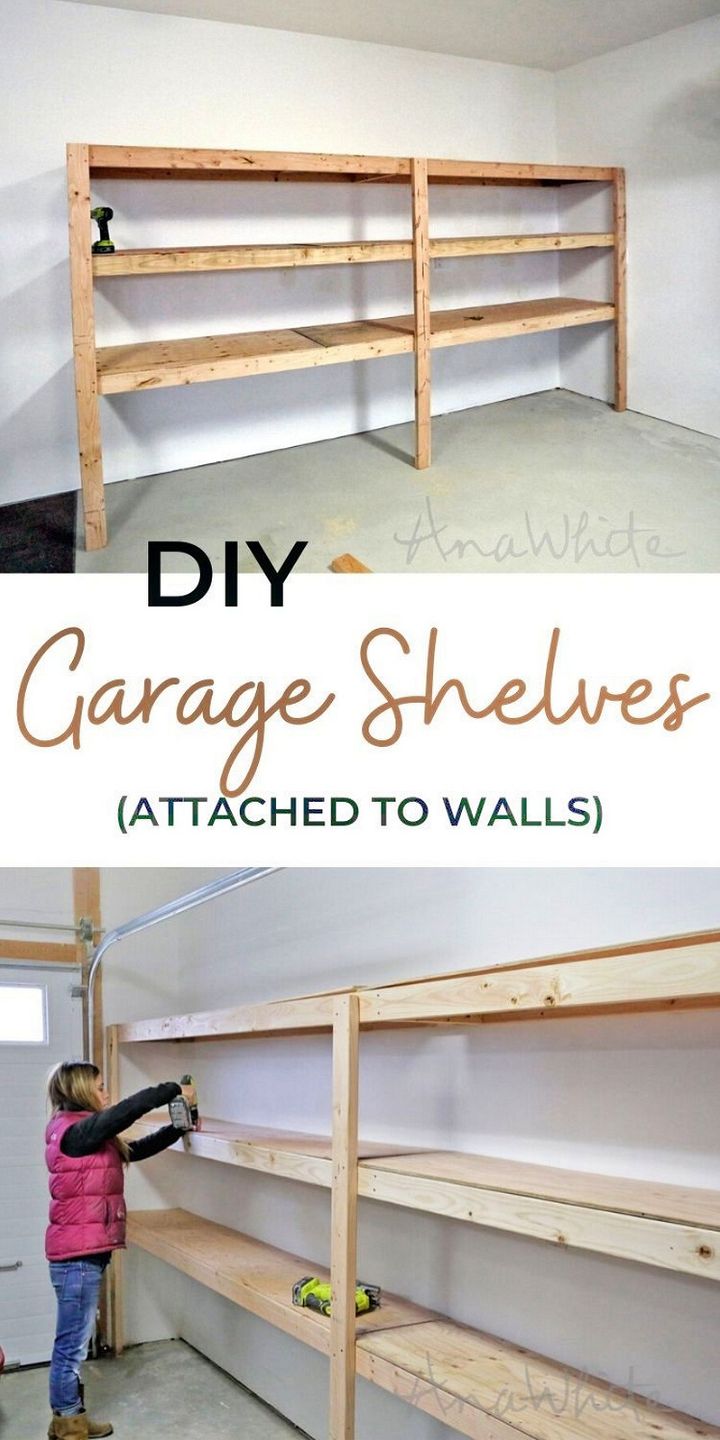 This diy garage shelf idea will help you greatly in works like construction, drilling, cutting, assembling and tasks of this sort in future. This massive shelf will organize and keep in place all your tools and machineries so that when you need them you just get them right away. here!
22. DIY 2×4 Garage Shelving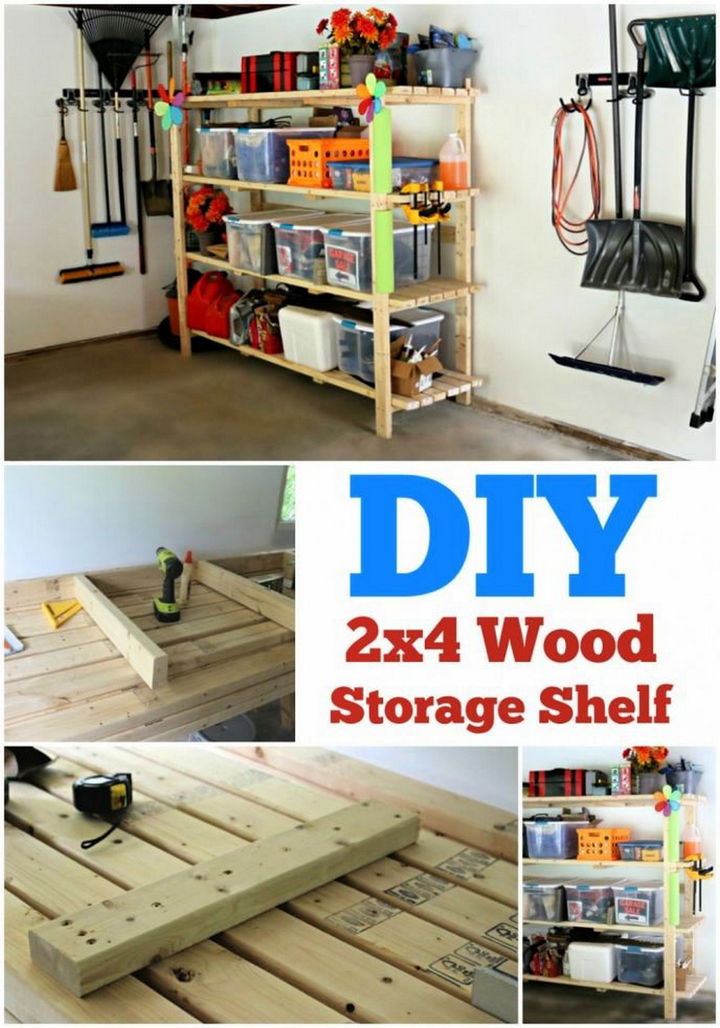 When you are about to build something by yourself, try to be more accurate with the measurements and calculations according to your requirements. With this diy project you can easily build a wooden shelf for your garage that can hold all your important tools, drills and other machineries of that sort. here!
23. Super Easy DIY 2×4 Garage Shelving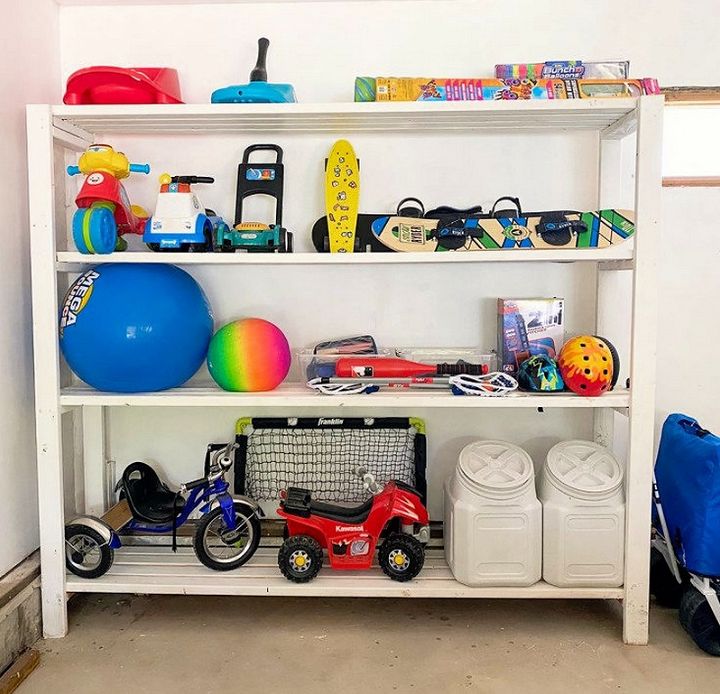 When you are trying to build something by yourself, go for easier options so that you don't have to work very hard to achieve your goals. This is an easy diy project to build a garage shelf. Gather your supplies to create this masterpiece and you will be amazed with your own creation. here!
24. DIY Garage Shelving With Reclaimed Wood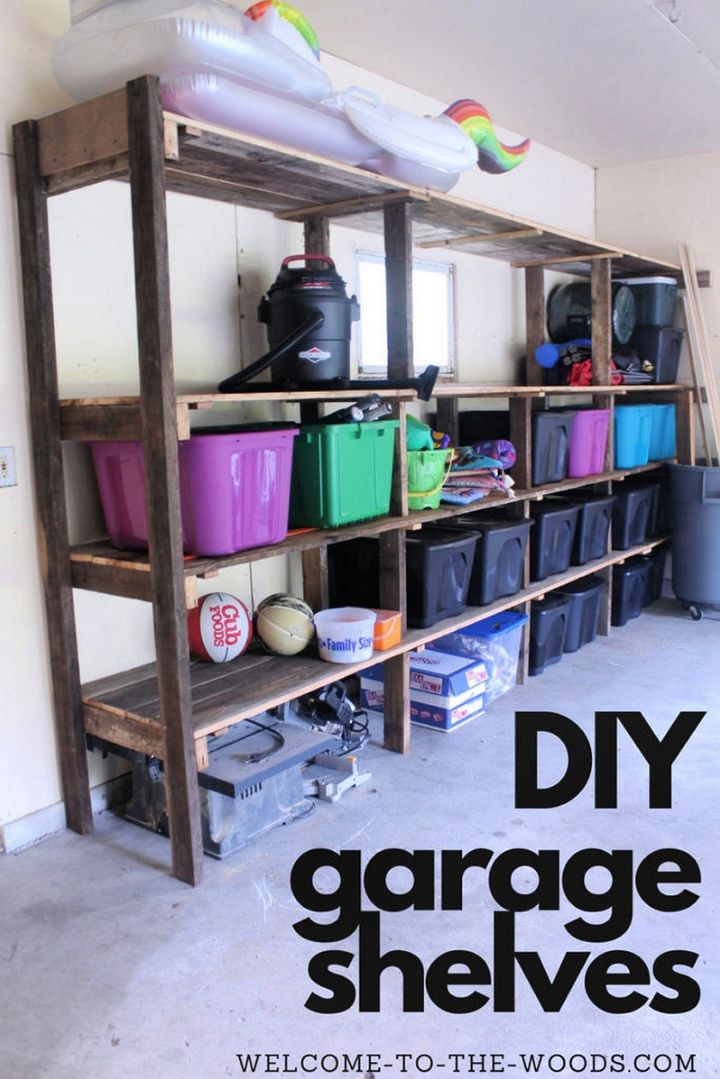 This garage shelf is made with reclaimed wood as you can see. Look into the project carefully so that you do not miss out on the minor details of this project. Here a complete tutorial is given for you along with the step by step instructions so that you can build your very own garage shelf to keep your stuff organized. here!
25. Best Garage Shelves – Using Ikea Bror Shelving for Garage Organization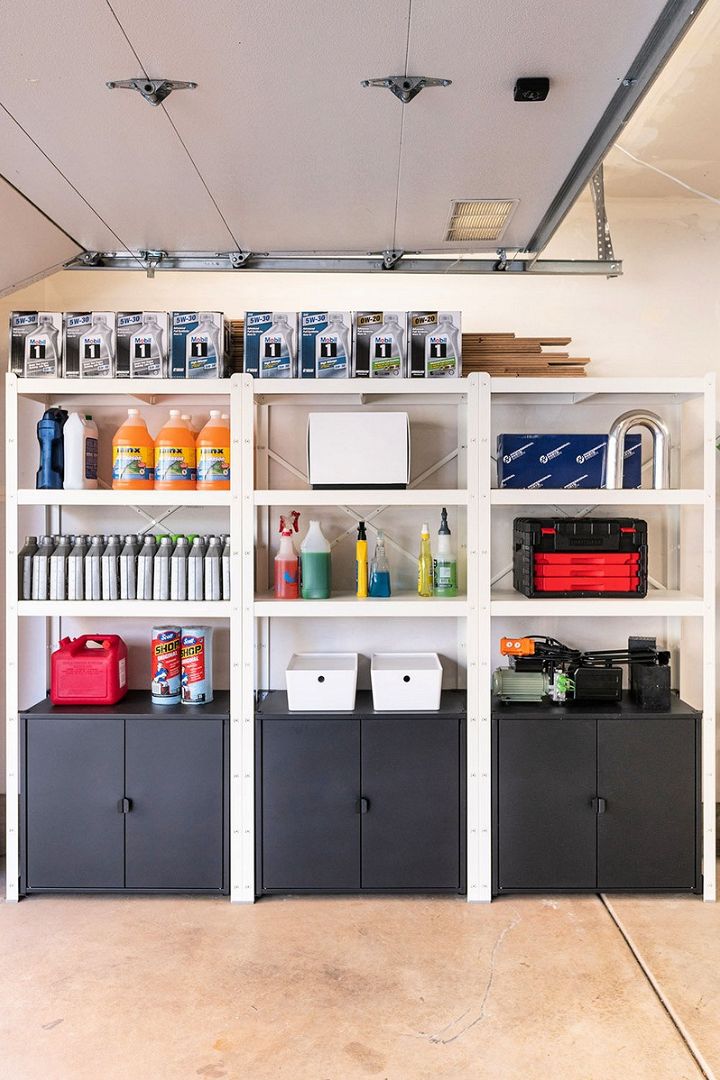 Although this garage shelf idea is not very cost effective but still highly useful. You can now well maintain your tools and machineries regarding constructions, mending, welding, wood working and much more. Make your own diy garage shelf right now to make your life more organized and settled. here!
26. Overhead Garage Storage Shelf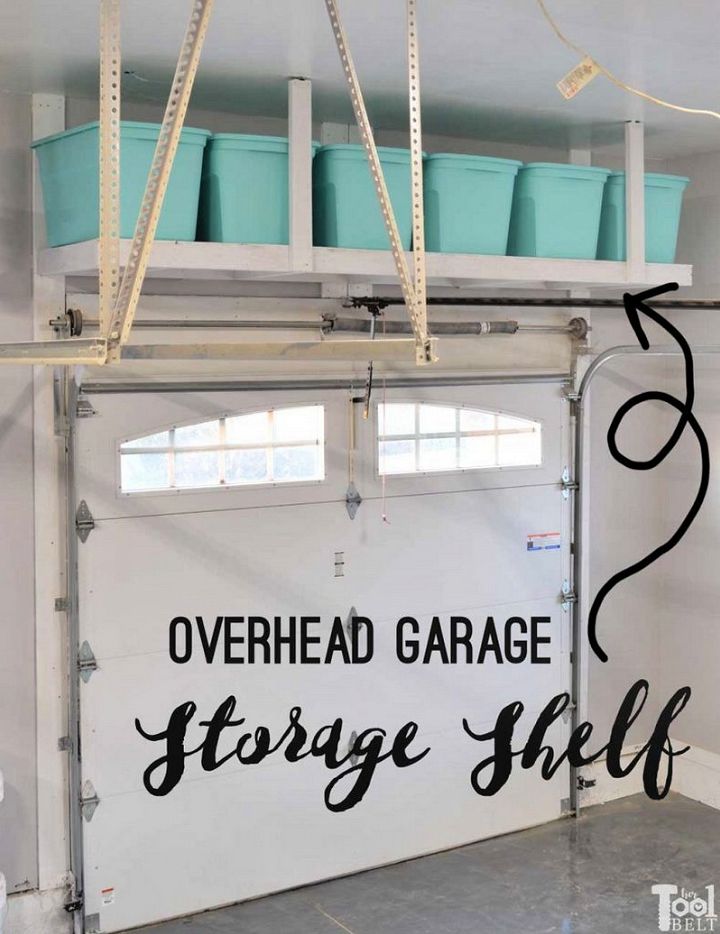 This is an overhead garage shelf which is not only interesting to make but can hold a lot of items within itself. Since this is an overhead shelf, it will save am lot of space inside the garage and can help you organize everything in place. Try to imitate this plan so that you can reach your organizing goals. here!
27. Gargantuan Basement or Garage Shelving Unit For $36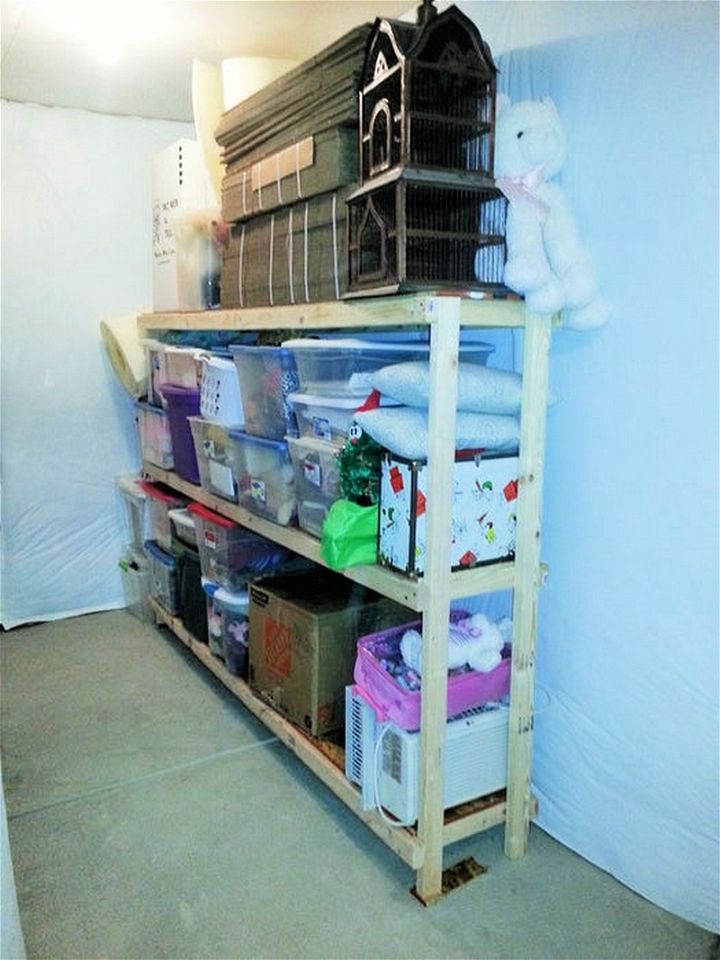 Basements are usually places where we can keep a lot of stuff that is not manageable inside the house. Obviously you cannot keep everything inside the house due to shortage of space and storage areas. Basements and garages are perfect places for keeping things like tools, and related to them. here!
28. Building Storage Shelves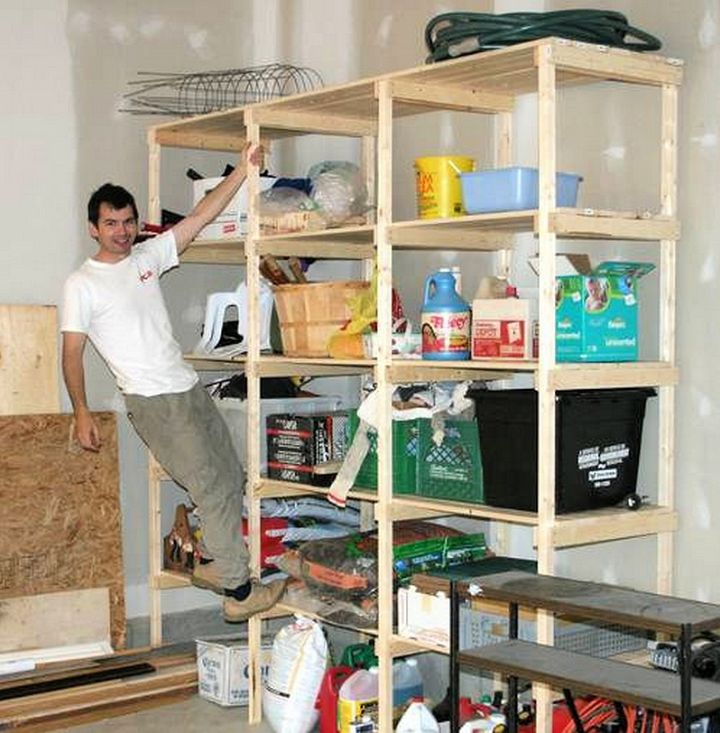 Storage shelf building inside a garage can be easier for you if you closely follow this procedure given here. Take the wood to make a structure and use some basic wood cutting and working skills to complete the entire thing. You can use large size baskets to keep stuff as you can see here in this project. here!
29. How To Install Overhead Garage Shelving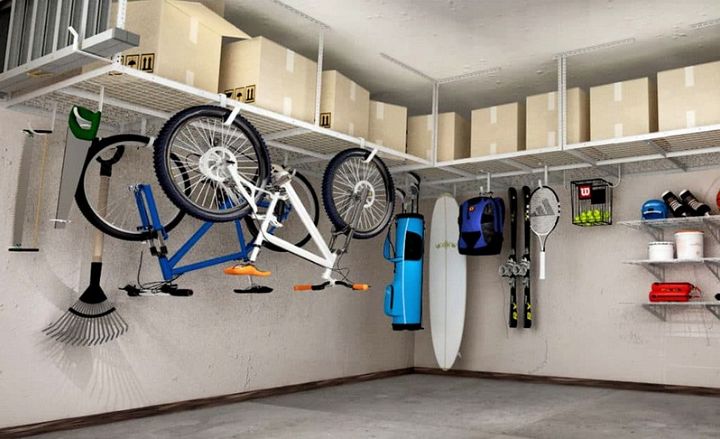 An overhead garage shelving idea is useful in many ways. This diy overhead shelving will save the space inside the garage, your stuff can be more organized, and storage can be maximized. Try this out and you will end up being keeping everything that you need in the correct places. here!
30. Easy DIY Storage Shelving For Less Than $70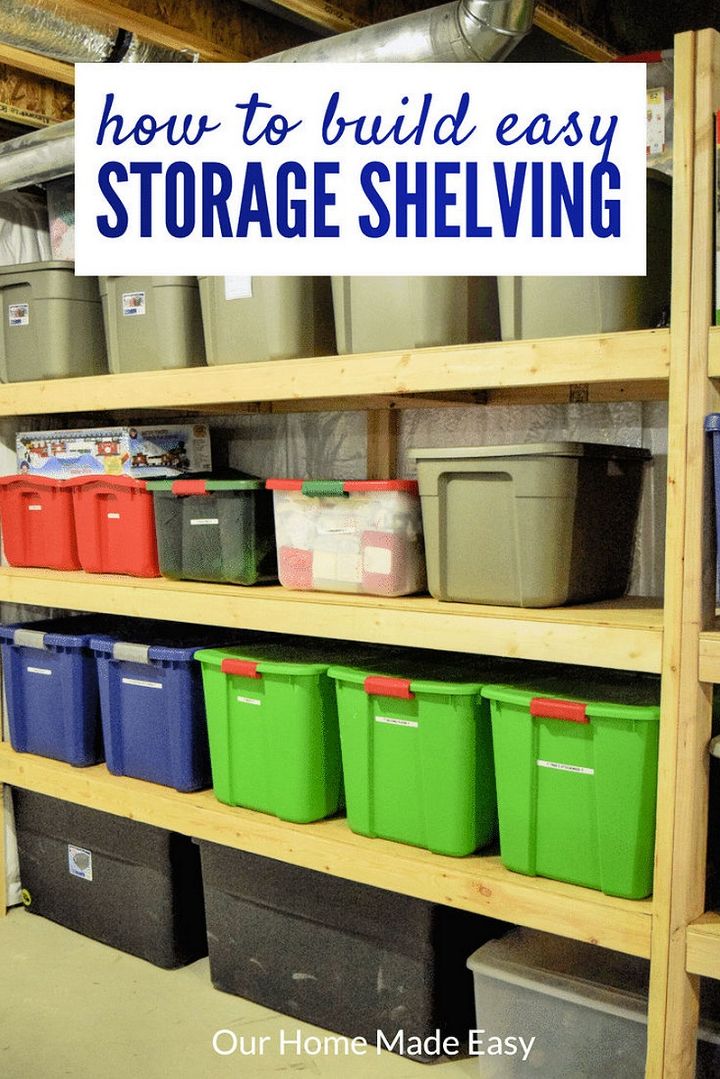 While making any diy project possible budget is very important and plays a key role. Besides budget, time taken for the project is the next thing to consider. This project is perfect regarding both the key points discussed here. This diy garage shelving can be done under 70 $. You can never find any shelving idea or readymade shelves within this price range so try this out now. here!
Conclusion:
Shelves have a lot of significance when it comes to organizing and managing stuff. Do not leave your garages messy and your precious machinery lying anywhere and everywhere. Make these amazing and easy garage shelves in order to make your garages look spacious and tidy.