All these 25 DIY Hall Tree Projects That Are Useful that we see here are not only beautiful and simple but also budget-friendly. These plans are economical due to the fact that they all use recycled materials and repurposed Furniture Pieces. All the pieces are quite sleek and stylish with hooks and drawers to keep your belongings when you step inside the house or step out. Some of the hall trees here are made in a modern style while the rest of them are made in a traditional style with an antique look.
With the help of these DIY hall tree ideas, you will learn how to use old doors, windows, Dressers, and much more. Besides this, you will also see a schoolhouse door hall tree idea here. One of the hall tree projects here uses solid wood and looks absolutely amazing and durable. You can alter things in your hall tree projects according to your needs and requirements. See the detailed tutorial as well as the written instructions in order to achieve the best and desired results.
1. DIY Modern Farmhouse Hall Tree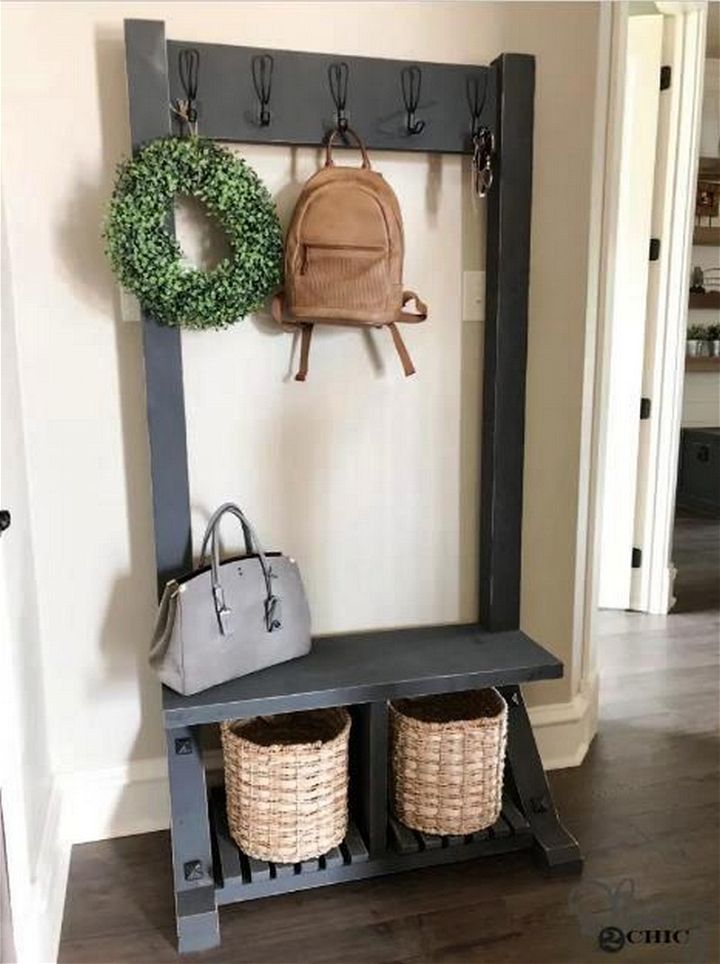 This diy hall tree is made with a farmhouse theme and it looks absolutely amazing and stylish. If you are also a fan of farmhouse theme, you will love this project. This can be a perfect extra storage spot in your house so let's try this out. A lot of wood cutting, assembling, attaching and gluing is required in the making so follow the instructions carefully. Tutorial
2. DIY Shiplap Hall Tree With Bench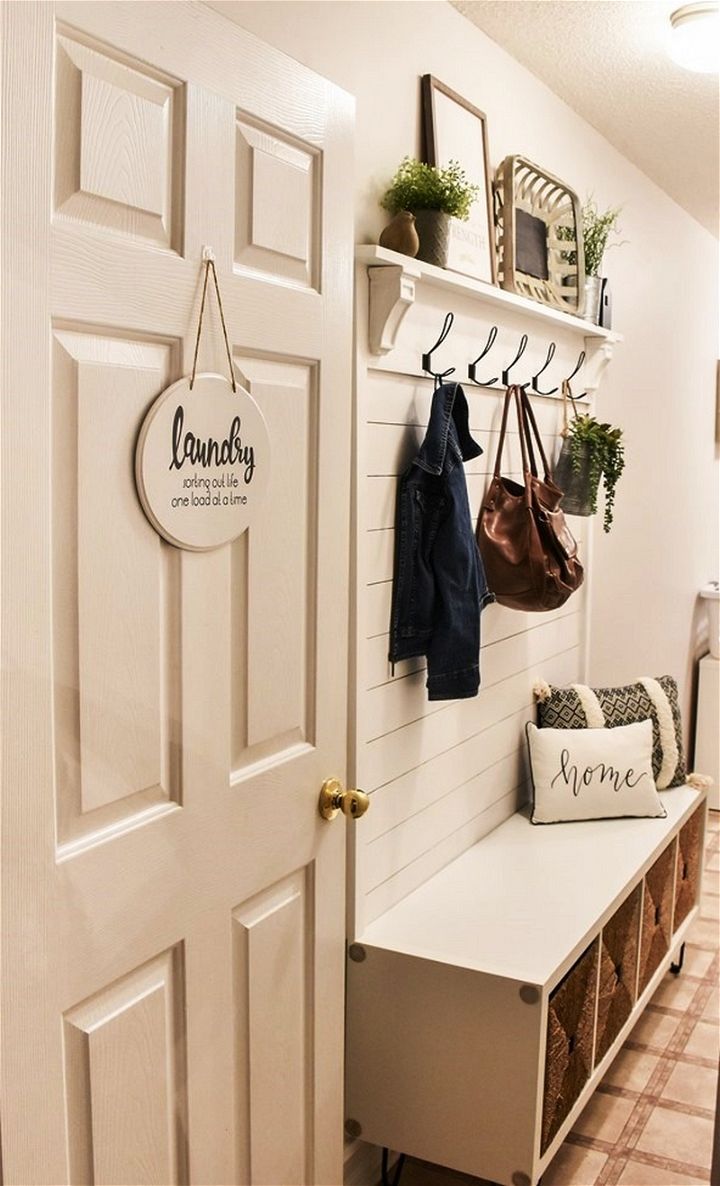 This is a shiplap hall tree made with a bench and it looks awesome. Once you are done building this, you will love the spot in your house the most. The bench that you see here is completely mobile and can be easily removed from the room when needed. Tutorial
3. Modern Shiplap Hall Tree Bench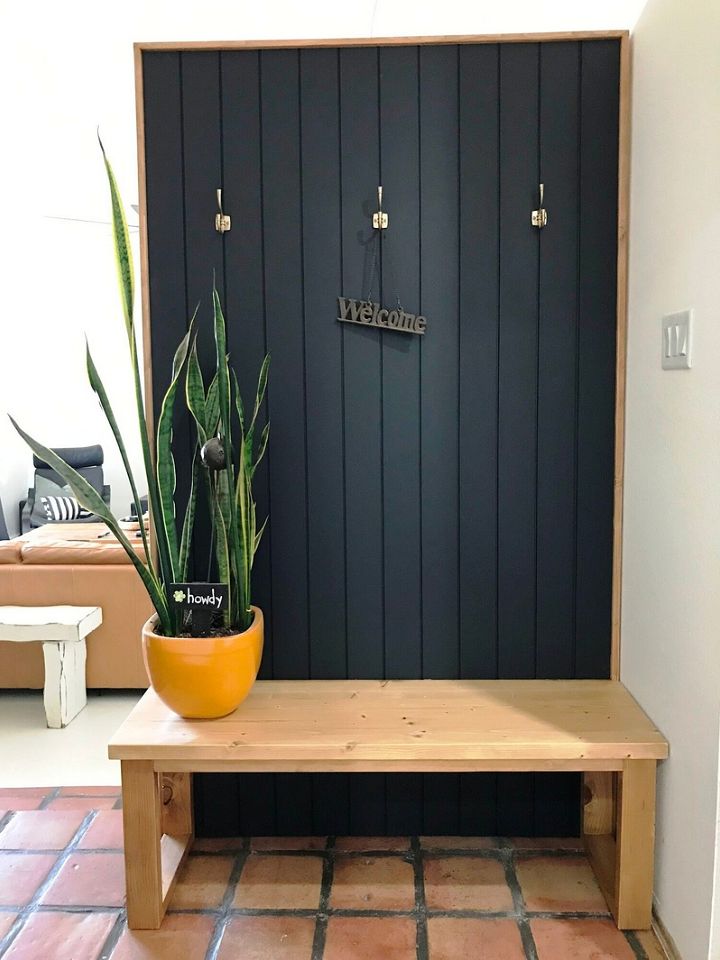 If you are also someone who is always into decorating the house on a budget, this project will of great help and interest. This modern shiplap hall tree bench that you see here will surely become your most favorite spot in the house. Besides the complete process you will also find some amazing tips and tricks regarding your future wood working projects so try this out. Tutorial
4. How To Build A Hall Tree With A Chalk Board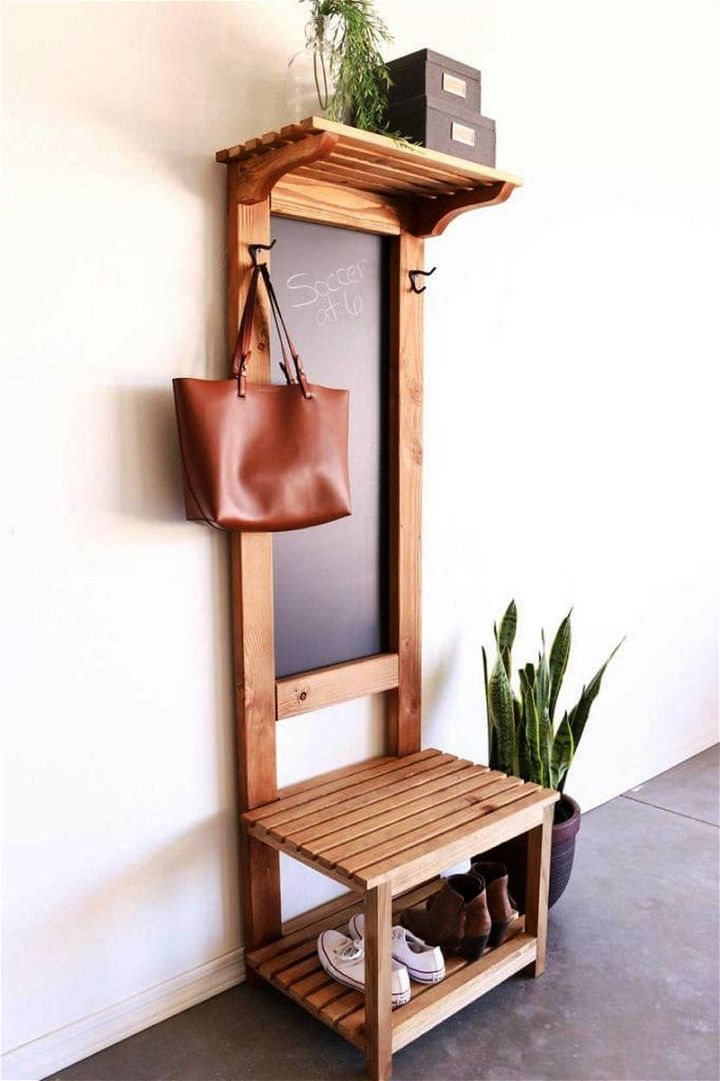 This diy project will tell you how you can build a hall tree with a chalkboard and be proud of your own creation. The hall tree will help you keep your belongings in one place and the chalkboard will enable you to write reminders and not forget things that are important for you in the daily life and you're routine. Tutorial
5. DIY Hall Tree Project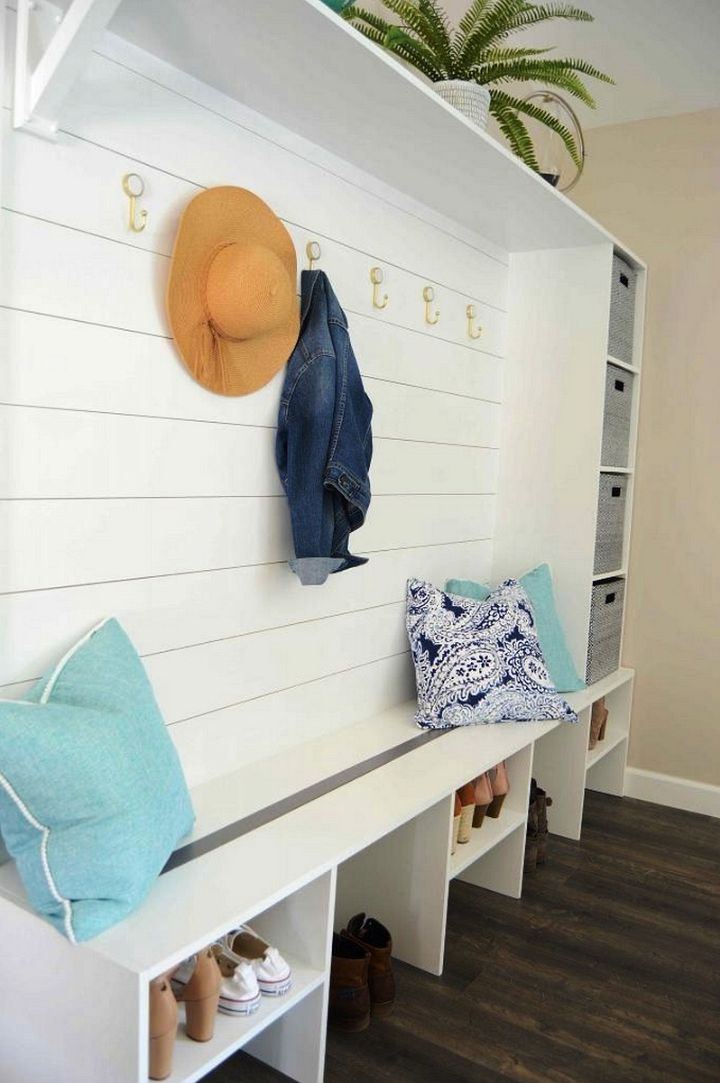 Let's see how this diy hall tree is built and will eventually make the house look different and well decorated. You will need a shiplap popular plywood cut down, hooks, bench, places for shoes and tall boots and shiplap. You will thoroughly enjoy the entire process and will love to try this out all by yourself. Tutorial
6. Wood & Industrial Pipe Hall Tree DIY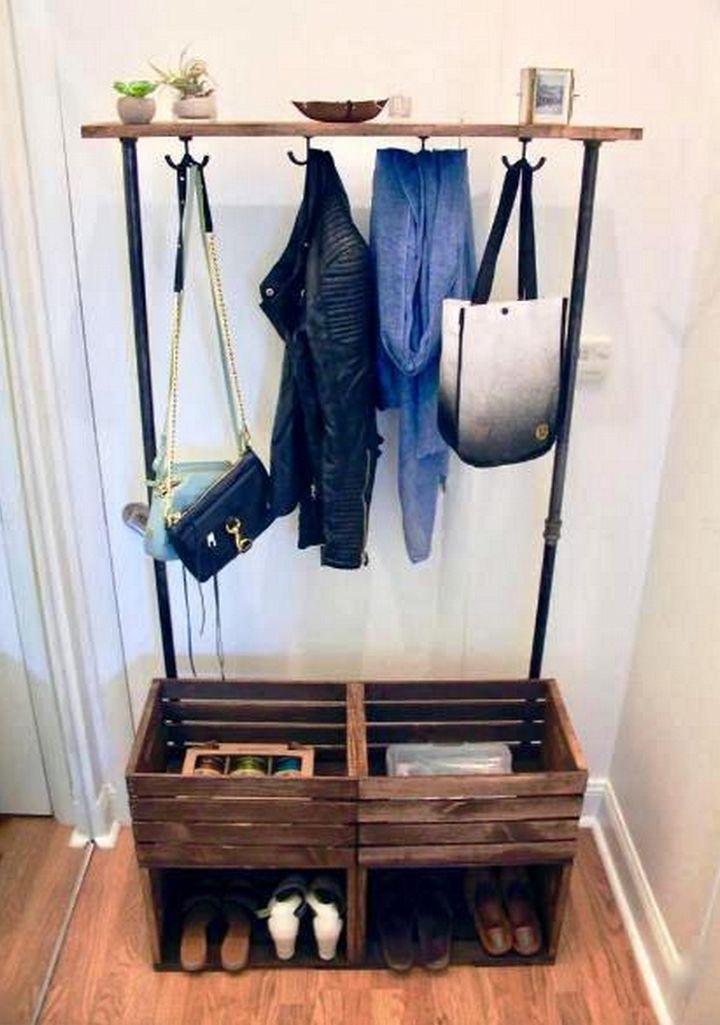 This diy hall tree is a combination of wood and industrial pipes. This beautiful and budget friendly combination will eventually let you make something inspirational for your home. If you go to buy a hall tree from any interior store, you will find them to be highly expensive therefore you must build one of your own. Tutorial
7. Easy DIY Modern Farmhouse Hall Tree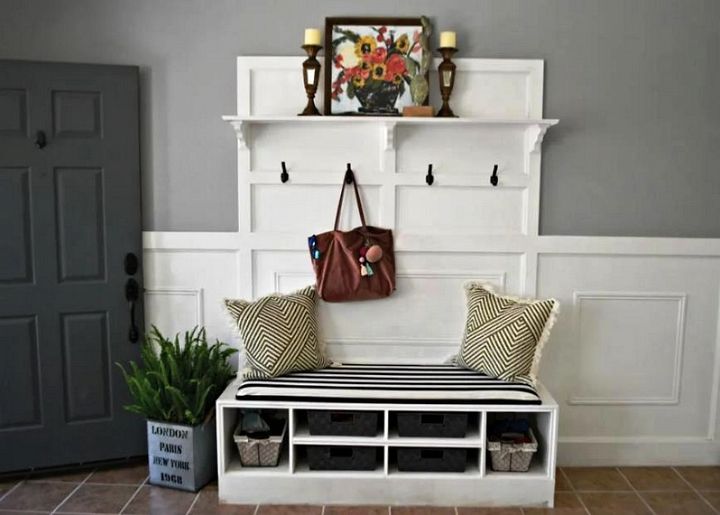 Have you seen such amazing and inspirational hall tree ever? If not then you must get into the details of this project and see how a farmhouse style modern hall tree can be easily built at home. This diy hall tree is surely attractive and will impress everyone walking into your home. Tutorial
DIY Shadow Box Ideas – These Shadow boxes can actually make any wall look attractive and not boring anymore.
8. Entryway Hall Tree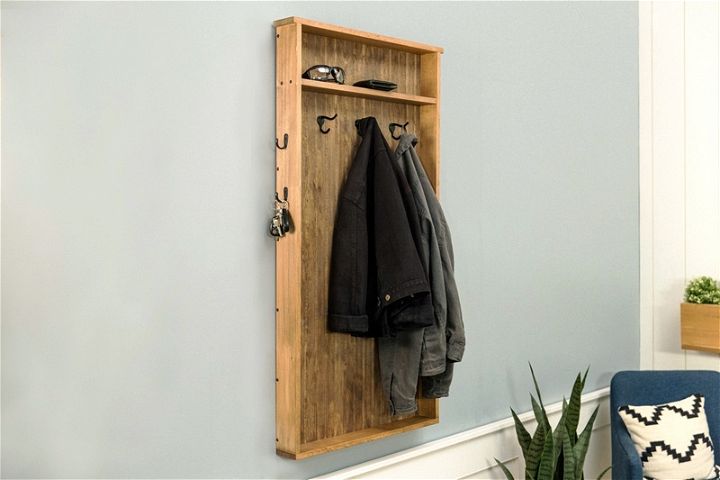 The entry way of any house should be so impressive that it leaves a great impression on anyone walking in. you will need a few materials such as beaded plywood, wood glue, wood stain, polyurethane finish, pocket whole screws, coat hooks and tack cloth. The tools that are involved here are circular saw, clamps, scrap wood, drill, drill bit, sanding sponge and kreg jig. Tutorial
9. How to Build a DIY Hall Tree Bench with a Drawer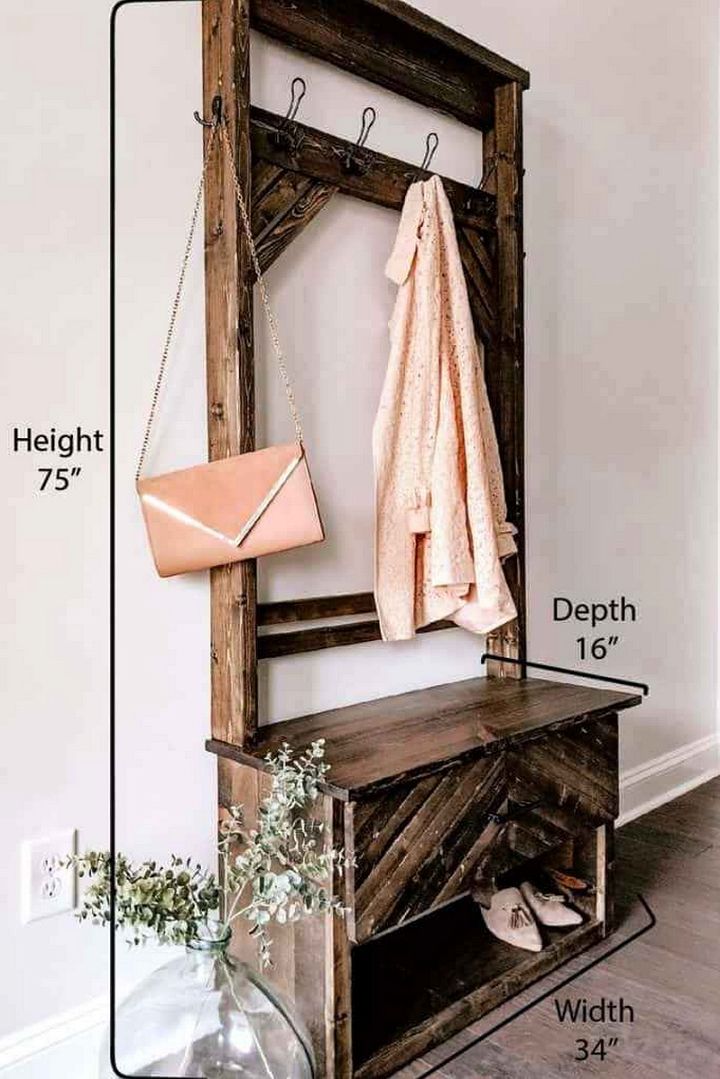 This diy hall tree is made with a drawer and it looks truly amazing. To build this hall tree you need a few tools such as kreg jig, drill, miter saw, measuring tape and clamps. Besides this you also need materials like boards in a specific measurement, pocket screws, drawer hardware, grit sandpaper, stainable wood putty, stain, sealer and hooks for coat and keys. Tutorial
10. Simple DIY Farmhouse Hall Tree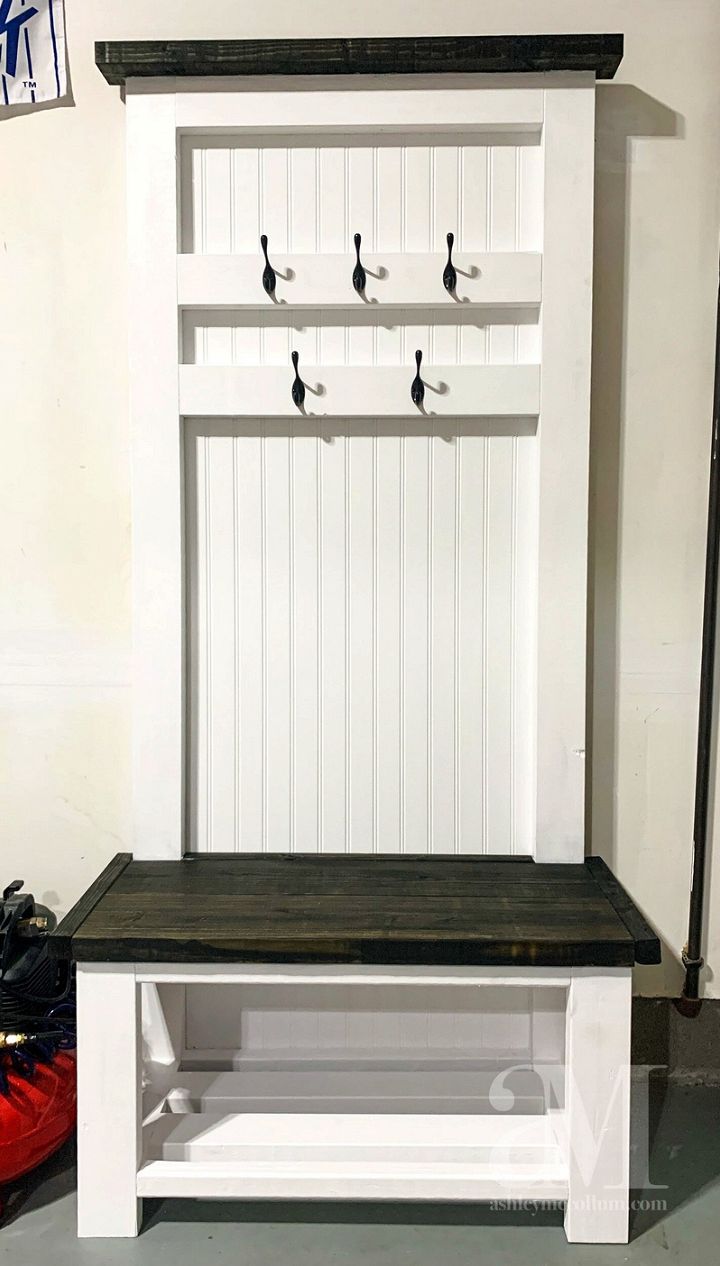 This is a simple farmhouse hall tree that you can also make for your own home. You can add hooks here so that anyone walking inside of the home can hang their coats and other stuff over the hooks and then move inside. Besides this you can also use the bench in the hall tree to sit and out of your shoes. Tutorial
11. DIY Hall Tree From A Schoolhouse Door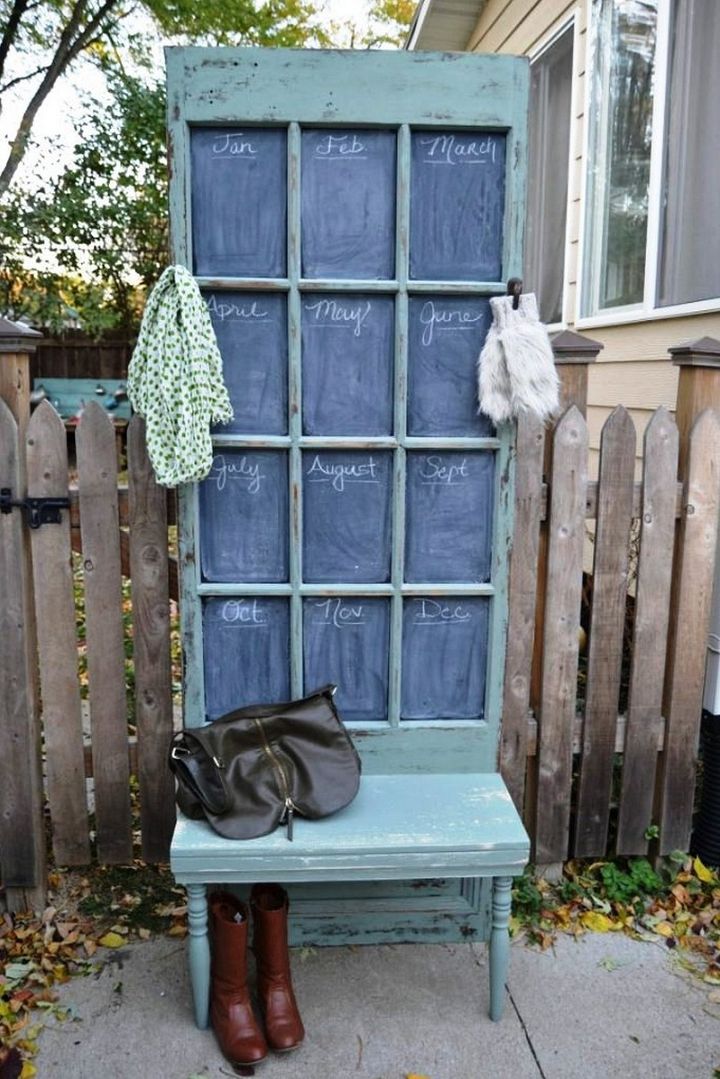 Have you ever realized that you can build a hall tree easily with some recycled materials like a school house door here? This diy hall tree will save you a lot of money for sure. This hall tree surely looks trendy and eye catching. If you are also one of those who appreciates recycling and using innovative ideas, this project will be of great help. Tutorial
12. DIY Solid Wood Hall Tree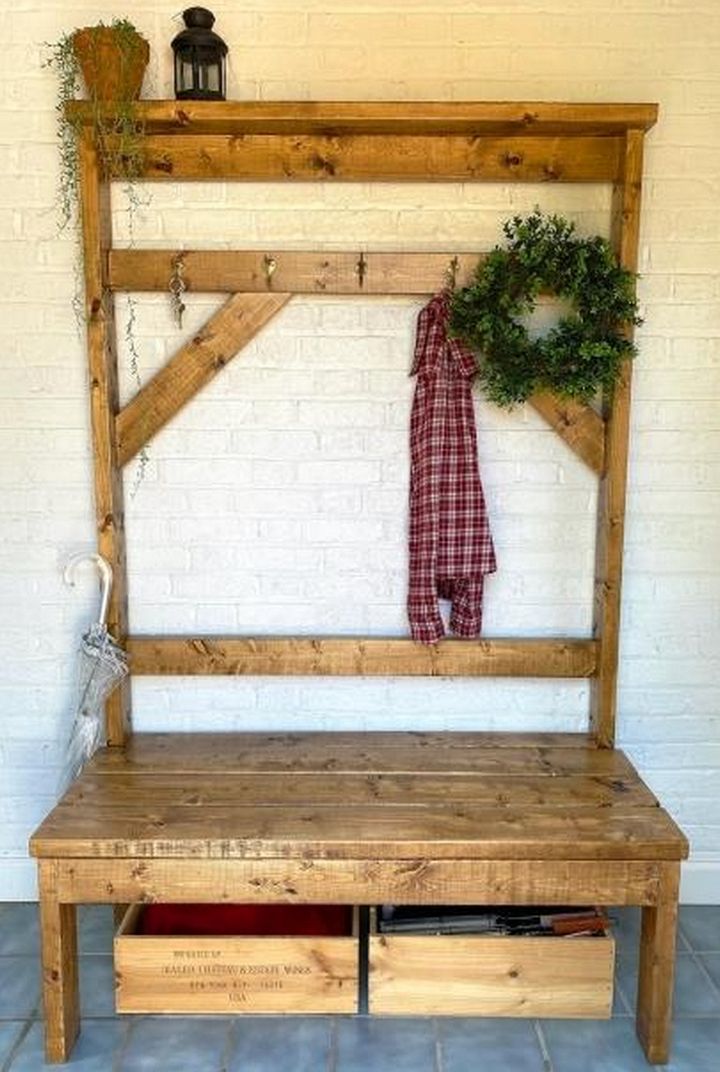 This diy hall tree is made with solid wood and looks absolutely classy. Hall tree is something that makes any house look more impressive than ever therefore you must look into this project to make yours too. As this piece is made with solid wood therefore it's much reliable and durable than any other kind of hall tree. Tutorial
13. Industrial Coat Rack Bench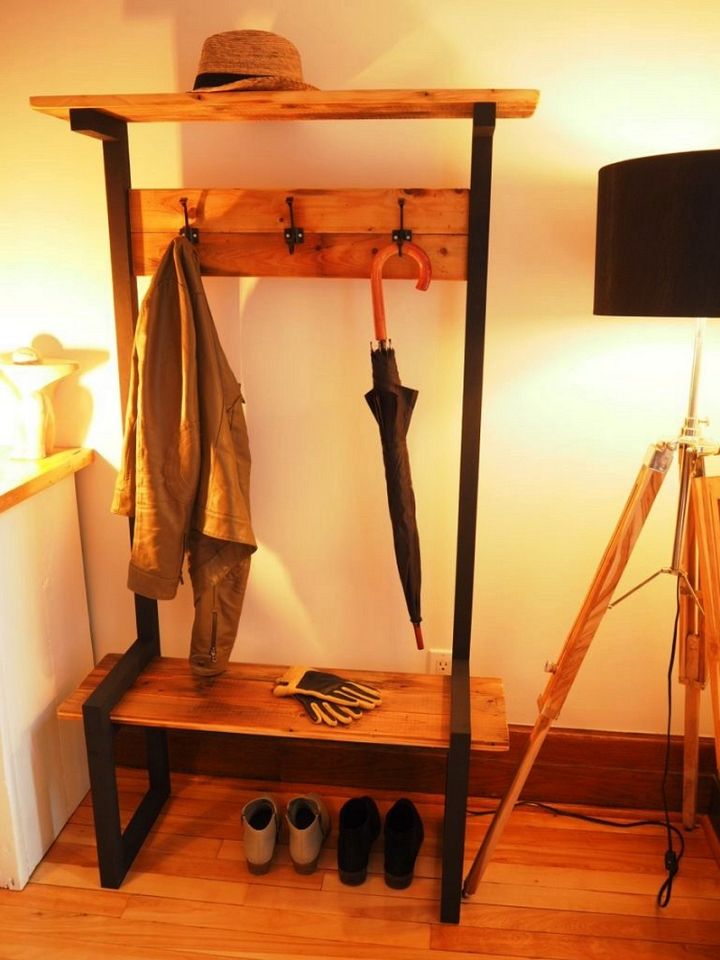 You can see some industrial pipes used here to amk a coat rack and bench. If you are also concerned about making the entry of your house perfect and eye catching, you must see this project here and get it done. You can see how this simple structure looks classy and stylish. See the detailed description and the tutorial to know about this plan completely. Tutorial
14. DIY Hall Tree With Bench For Garage organization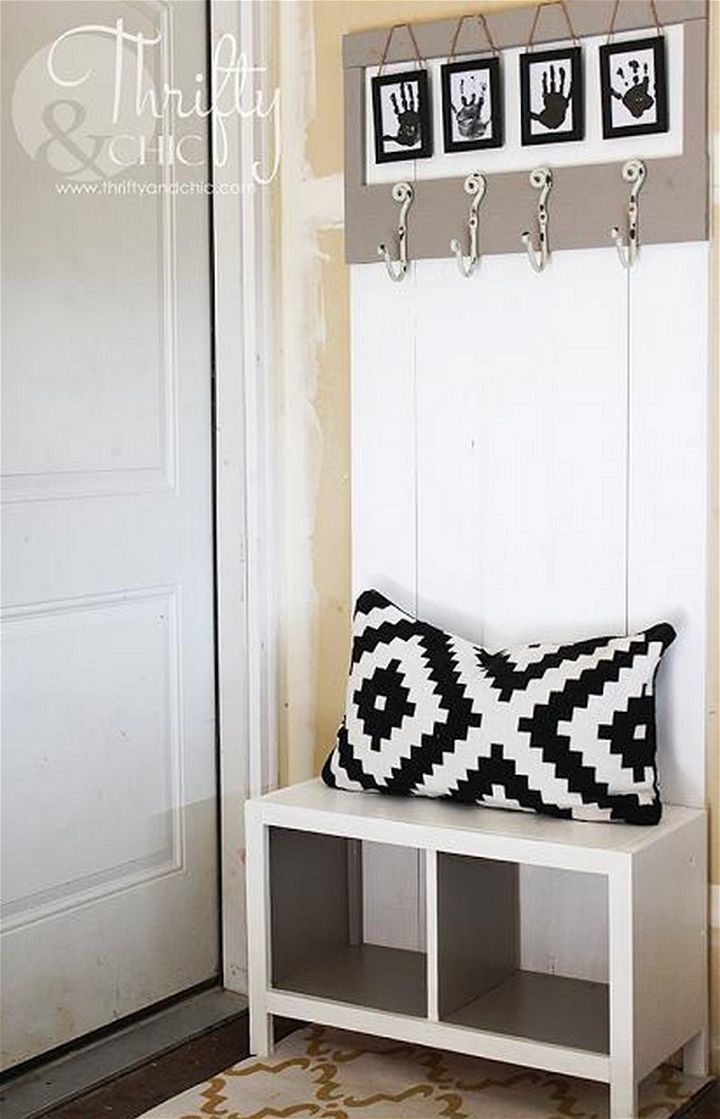 This diy hall tree is all about making your garage more organized and mess free. The hall tree that you see here is built with a bench and looks perfect. The list of supplies that are involved here include hooks, frames, wood glue, finishing nails and some more. Tutorial
15. DIY Hall Tree Coat Rack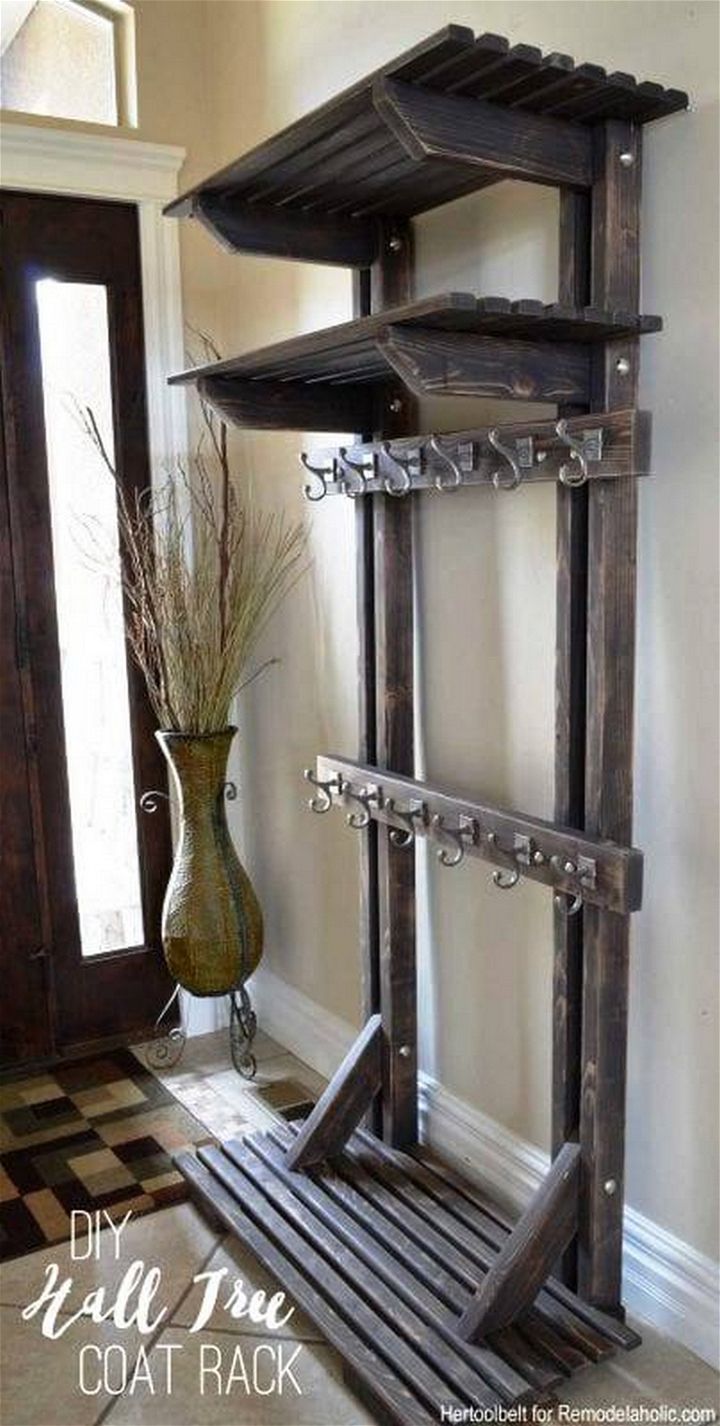 We often find it difficult to find a suitable place for hanging our coats whenever we walks inside of our home. This diy hall tree with a coat hanging space will solve all your problems regarding the discussed issue. As we know that the winters is juts about to come, therefore this project will be of great help. Tutorial
16. Entryway Hall Tree Bench DIY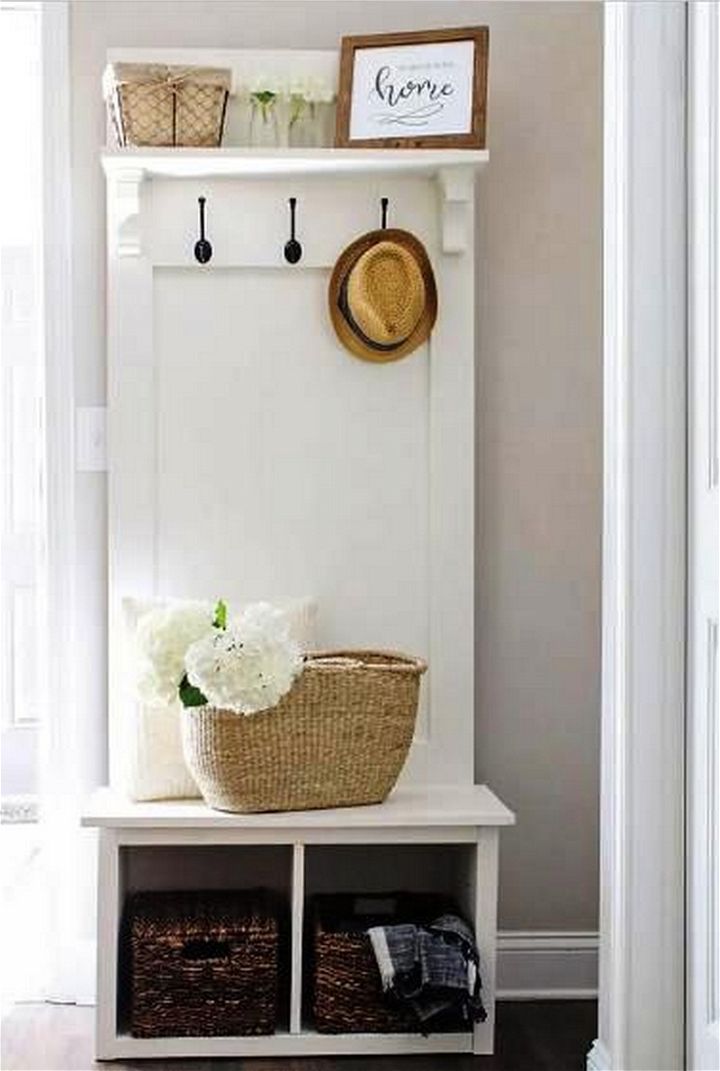 A complete diy project that you see here is all about building an entry way hall tree. When it comes to hall tree, they are highly expensive however if you build your own hall tree, it will save you money. The tools that are involved here are kreg jig, drill, miter saw, circular saw, clamps and brad nailer. Tutorial
17. Modern Hall Tree Bench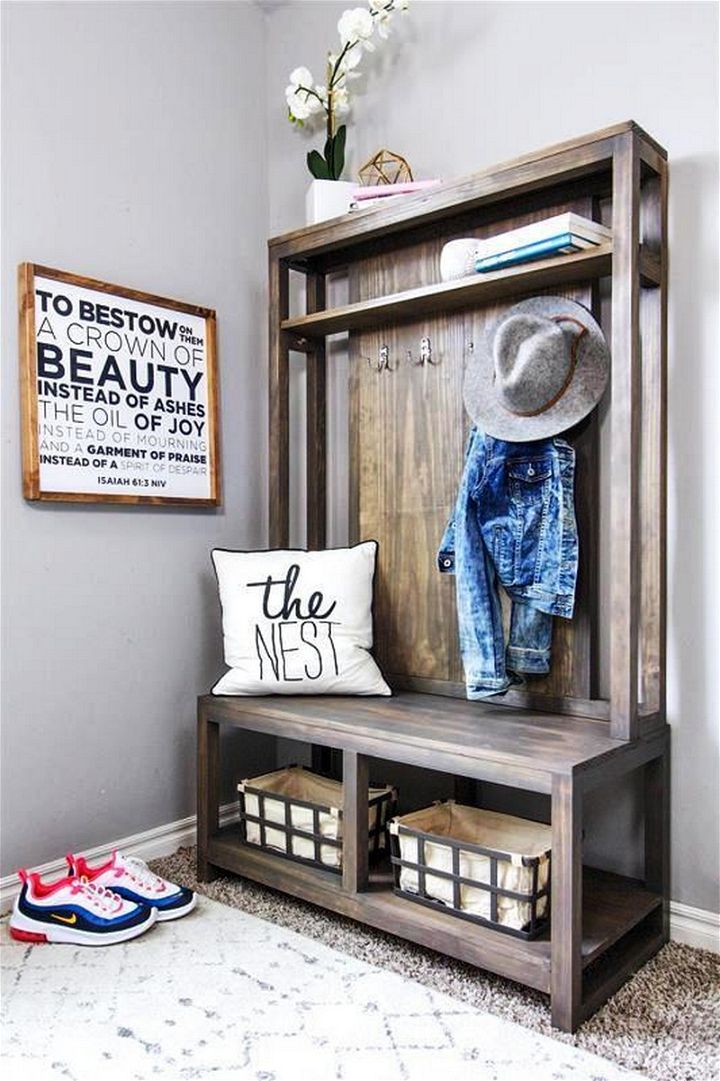 Let's make a modern hall tree bench with the help of this diy project here. A step by step process is given here so that you can easily get along. This hall tree will not only make your house look impressive but will also help you hang and keep your belongings when you walk inside of the house. Tutorial
18. DIY Hall Tree Bench Step-By-Step Tutorial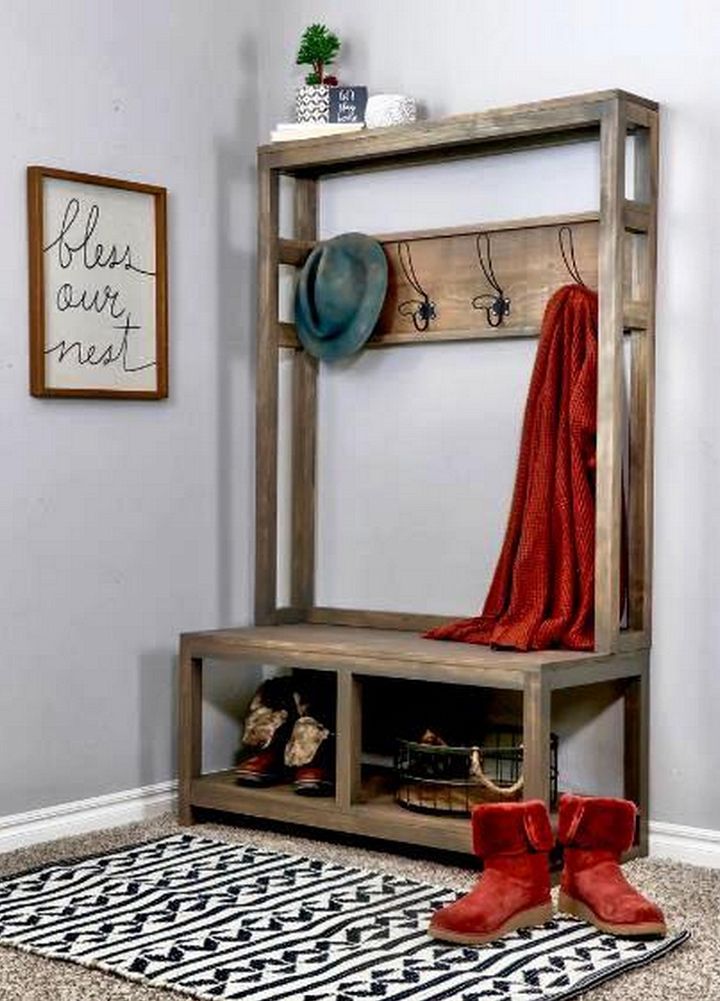 If you are also into home décor and making your home and its entrance look appealing? This project will be of great interest to you. This diy hall tree with bench is all you need to make your home more organized than ever before. A complete list of tools and materials is given here so that you can easily get along. Tutorial
19. Create a Front Entrance Mudroom With a Hall Tree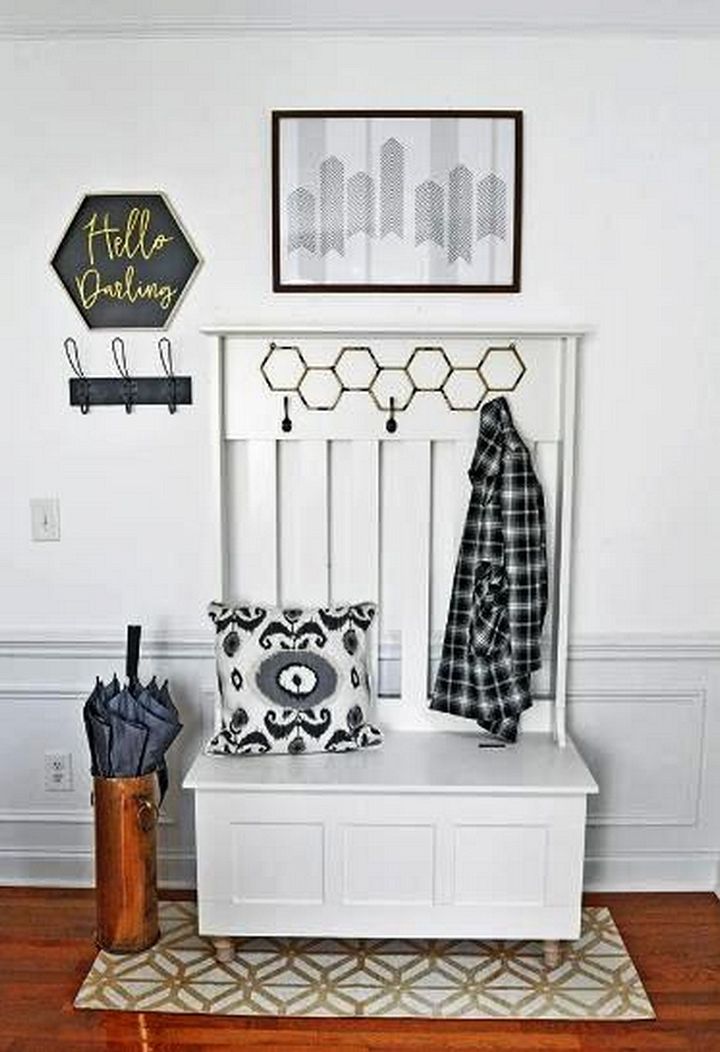 Are you also amazed with this diy front entrance mudroom? If yes then you must make some effort to build this structure all by yourself. See the written details along with the tutorial so that you do not miss out on any of the minor details of the making. Tutorial
20. How to Build a DIY Hall Tree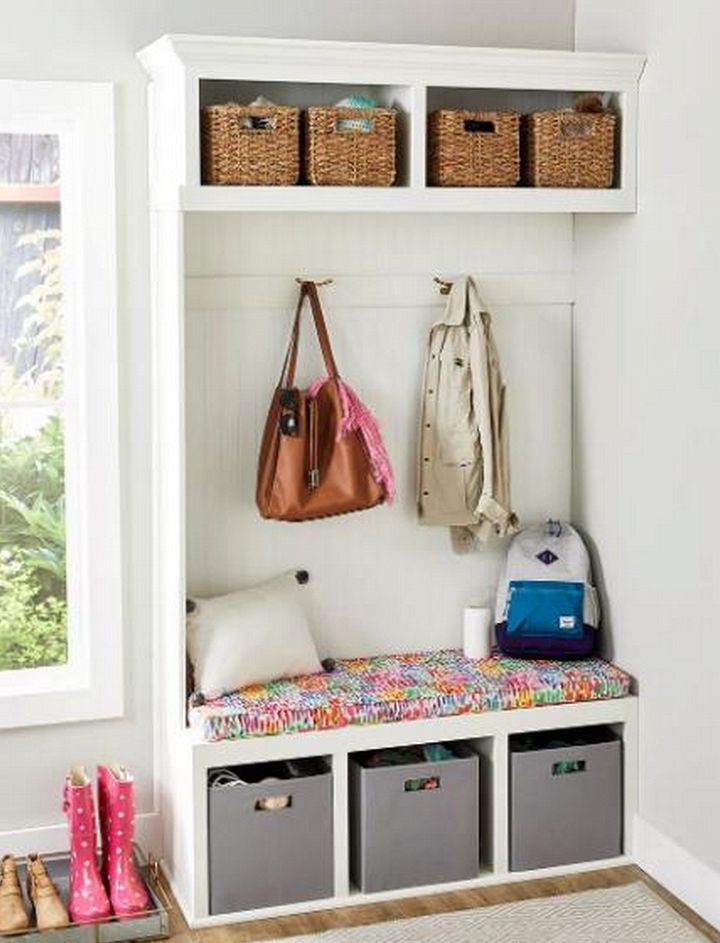 If you also have a space at the entry way of your home, you must utilize the space by building a diy hall tree like the one you see here in this project. You surely need a lot of equipment's for this project to be successful and they are all listed in the details of the project. Tutorial
21. A Durable Hall Tree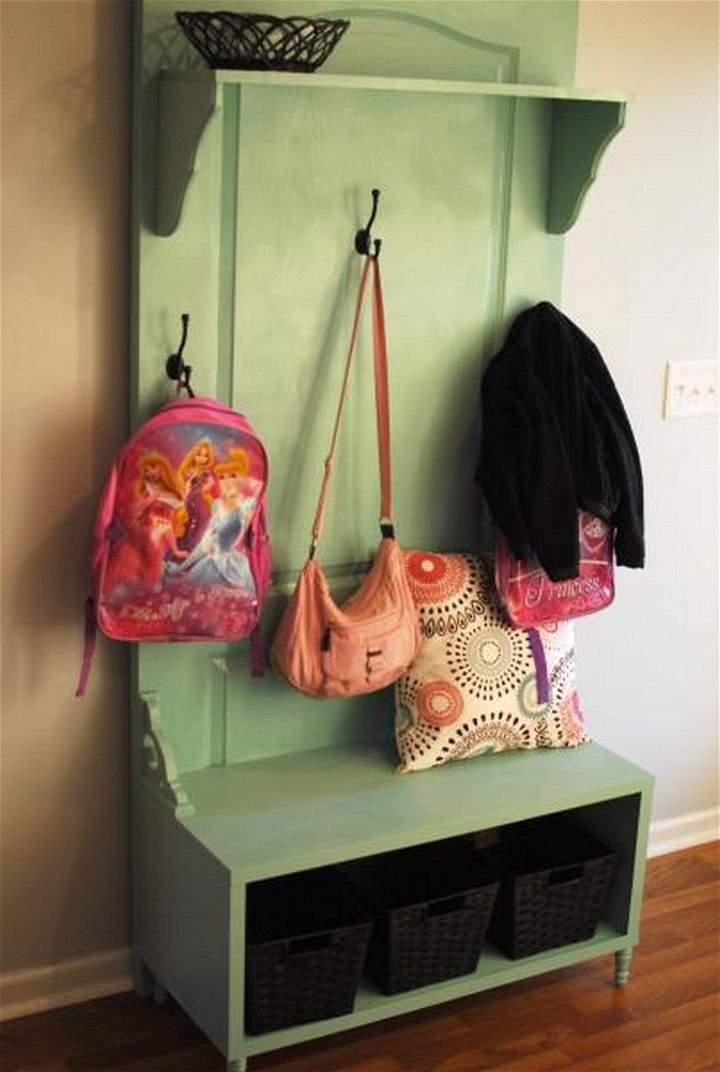 If you are looking for some durable hall tree ideas, you must pay attention to this plan. This diy hall tree is all about making your home more organized and mess free. Besides this you can also make your entry way more appealing and attractive than ever before with this make. Tutorial
22. Hall Tree Made From A Table And A Door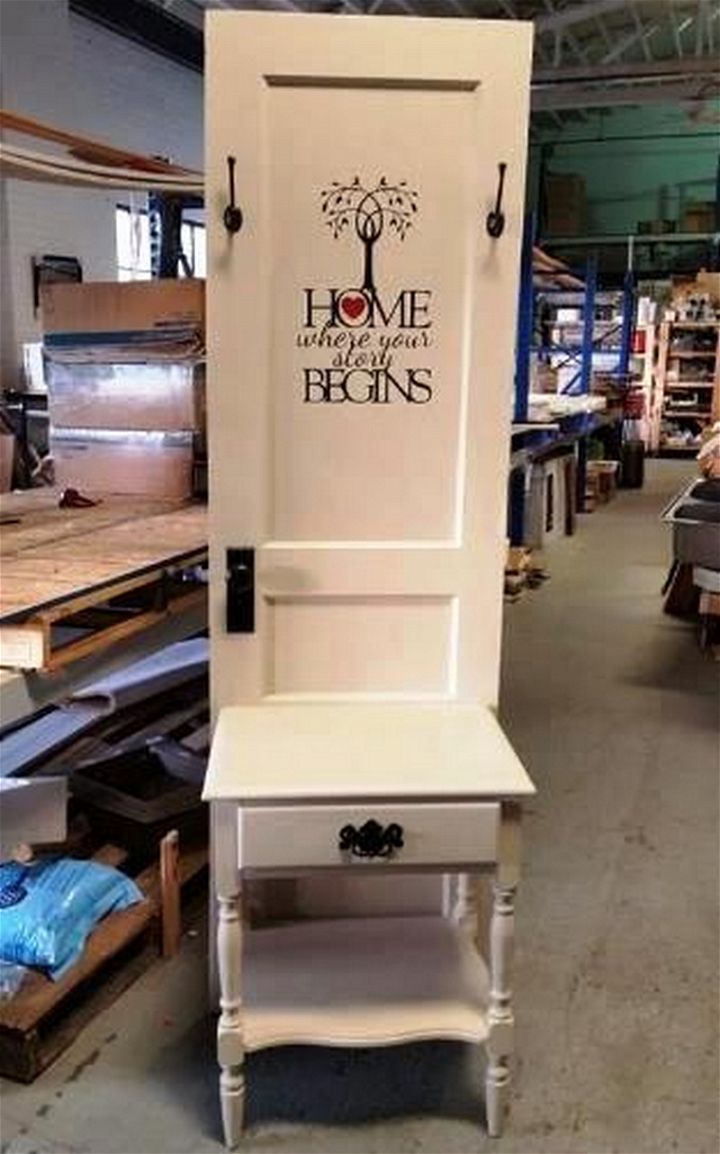 This diy hall tree is something made from a table and a door. If you are also interested in a recycling project like this, you can count on this project as you next plan for the weekend. You can easily build this hall tree within a few steps given and described here. You will start off by cleaning the recycled pieces thoroughly and then move on with the construction. Tutorial
23. Repurposed Door Hall Tree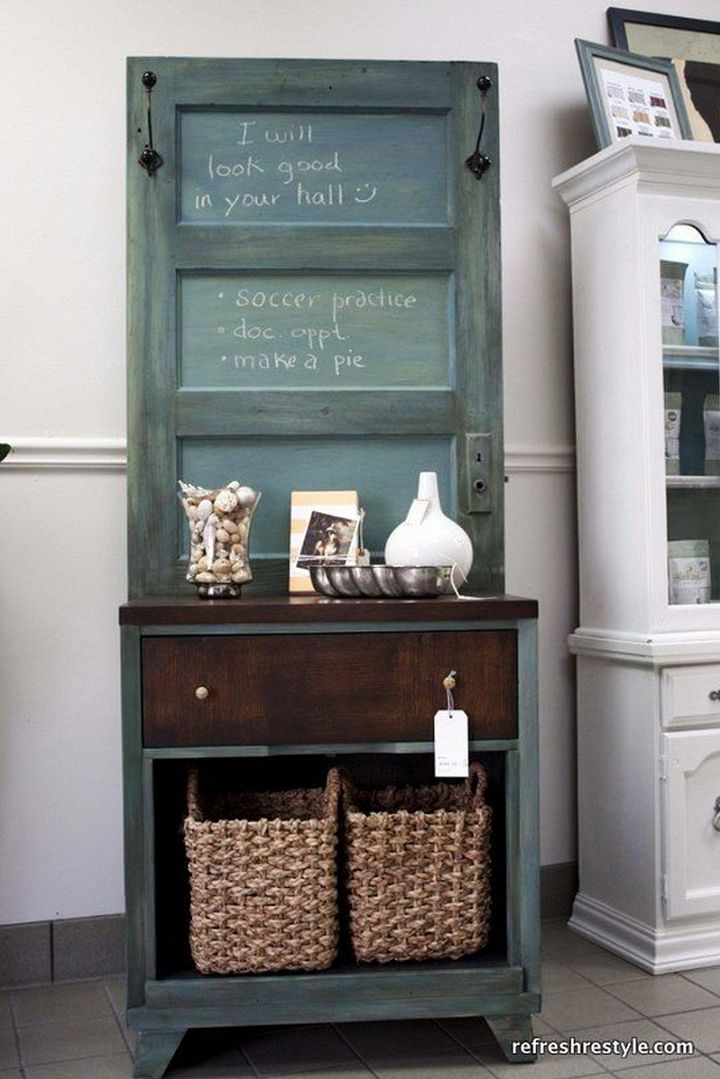 Do you also feel satisfied after you have worked with repurpose furniture pieces? If yes then you must see the details of the process here and try to get along with this. Such projects that involves old and recycled materials cost you less than anything. Grab the supplies and get started with this interesting project today. Tutorial
24. DIY Hall Tree From Old Door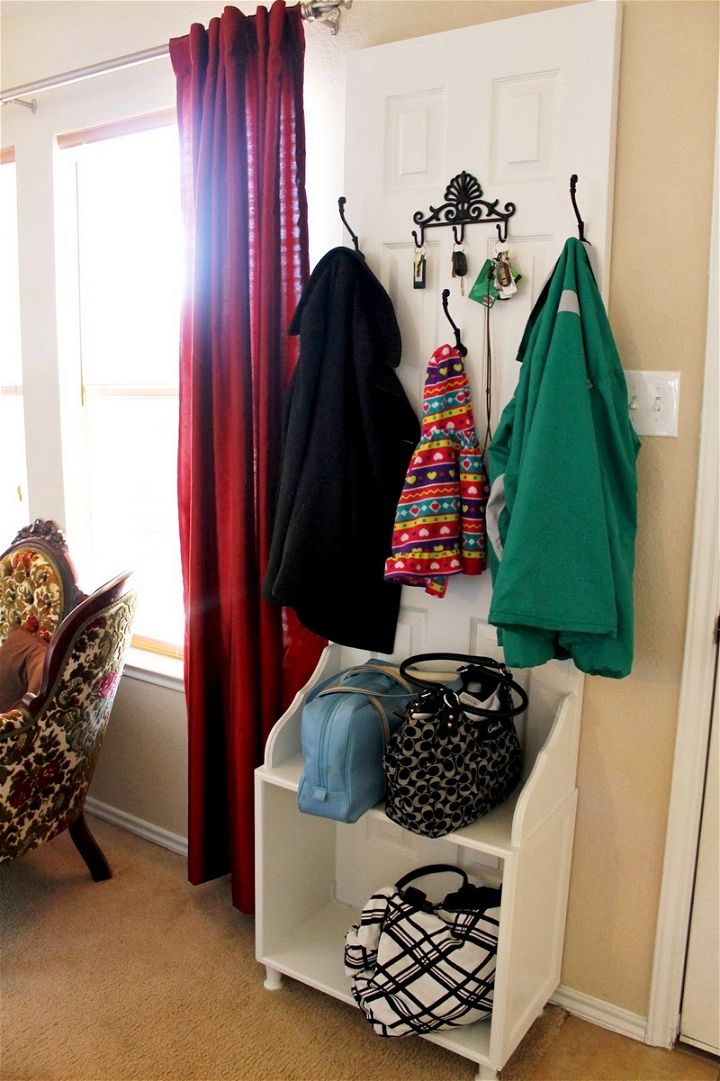 Next time when you are about to throw away your old furniture items or doors, think twice. This diy project will enable you to use any old door and turn it into a hall tree made all by yourself. Hooks are also added in the hall tree so that you can use the hooks to hang your coats and more. Tutorial
25. Pottery Barn Entry Hall Tree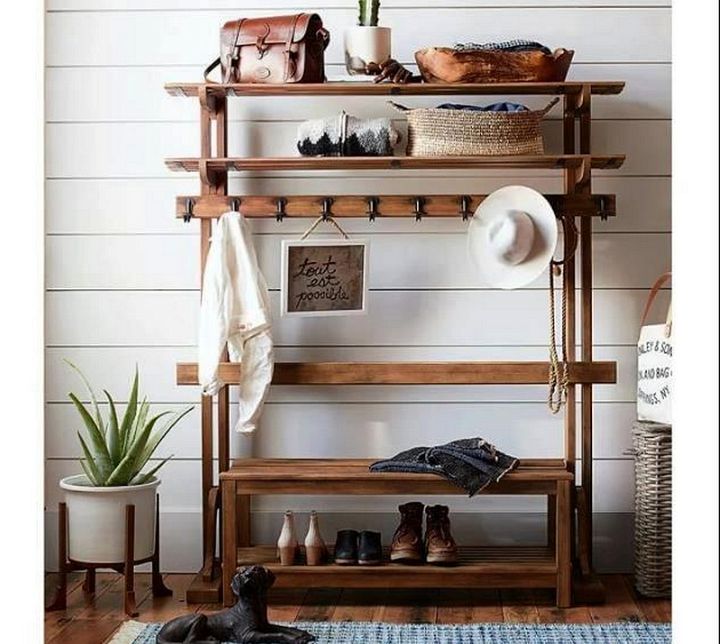 Have a look at this diy pottery barn hall tree here in this project and try to make your own. You will have to start off by deciding over the upright supports. Next comes the base and the drilling and then hook boards. Afterwards comes the making of shelves and then the finishing touches in the last steps. Tutorial
Conclusion:
Pick and choose any of your favorite projects from here and get started with your own DIY hall tree project over this weekend. Once you are done with a nice hall tree in your house, you will be impressing everyone coming over to your house. A hall tree is something that will create a nice environment and also helps you keep the home organized and mess-free.