There are some furniture pieces in the house that attracts everyone's attention immediately as they have an intense and prominent presence may be due to their size, usage, etc. one such item is a TV stand. Your TV stand is probably the most watched and observed furniture piece in the house. Since we watch TV often, the stand matters too. There are 31 Homemade DIY Tv Stand Ideas in these DIY TV stand projects that you see here. You can choose the style and type according to your choice and the space you have.
Here you will see an x-leg TV stand, the simplest TV stands, TV stands with a hidden TV lift, Ikea TV stand, corner TV cabinet, and much more that really are easy and quick. Pick your choice and start your project. These Television Stand Ideas are such that they will impact the entire aura and look of the room where the TV is kept. Building something on your own has its own advantages such as you can make the adjustments accordingly, you can easily rely on your instinct for sizes and most important, you can match according to the rest of the furniture in that room.
1. DIY X – Leg Tv Stand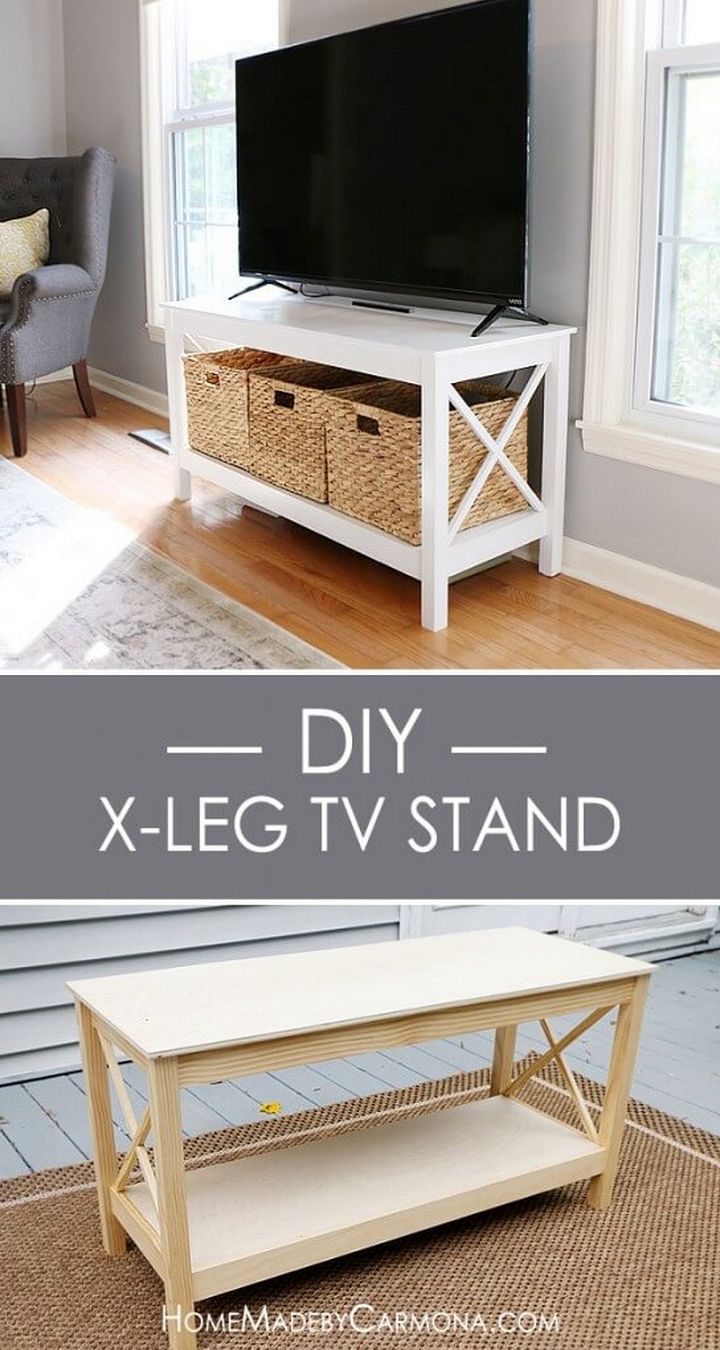 Television stands are no doubt highly expensive when we buy them from branded furniture stores. This idea will give you an insight into how you can create your very own branded style stand even if you are on a budget. have a look at this x-leg stand that you see here which is a trending style that is recently evolved in markets. here!
2. DIY TV Stand – You Can Build In A Weekend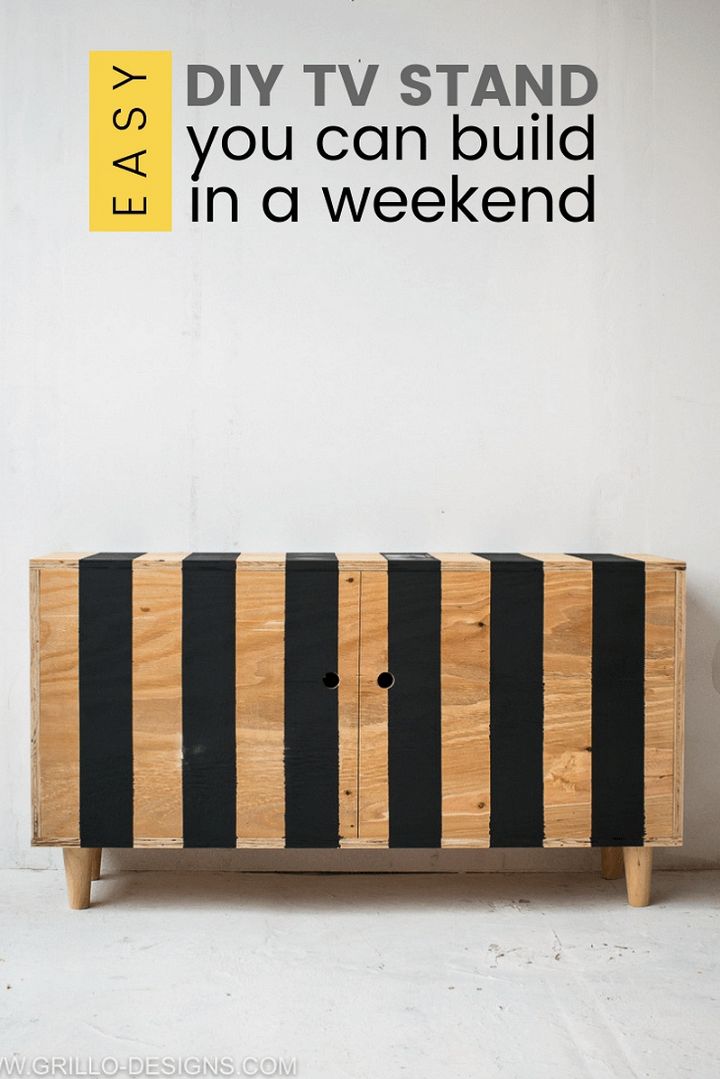 This is a television stand that you can make on a weekend and that's why this project is titled like this. have a look at this beautiful wooden black-striped stand which is not only simple but elegant and classy. therefore to create this you will need plywood, gorilla glue clear, MDF backing, screws cabinet door rings, painter's tape, wood paint, varnish, and a few other basic supplies. here!
3. Simple DIY TV Stand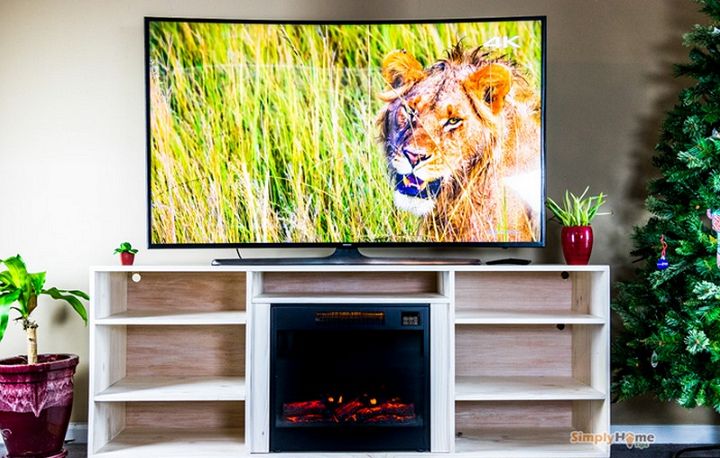 The television stands with open shelves does look great. It's best if you plan and sketch before actually starting construction. There is a list of materials that you need for this project. however, this piece will actually lift up the entire look of the room where you will keep it. Measurements and calculations are very important in this if you look closely into the details. here!
4. How to Build a DIY TV Stand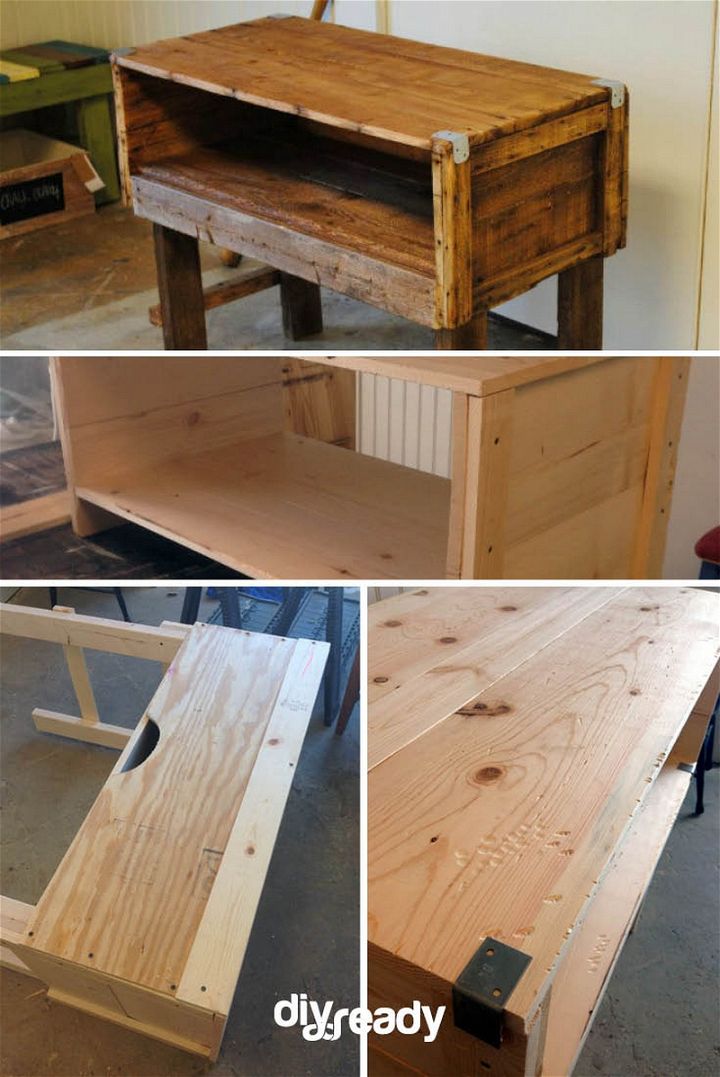 DIY Tv Stand Ideas: The project that you see here, will tell you how you are going to start building a DIY television stand from scratch. The step-by-step process will take you toward your goal. There are many different styles of stands available in furniture stores but they are highly expensive and unaffordable. To match the style and standard of such pieces you can make your own masterpiece by following some tricky steps and using specific materials for it. here!
5. DIY TV Stand With Hidden TV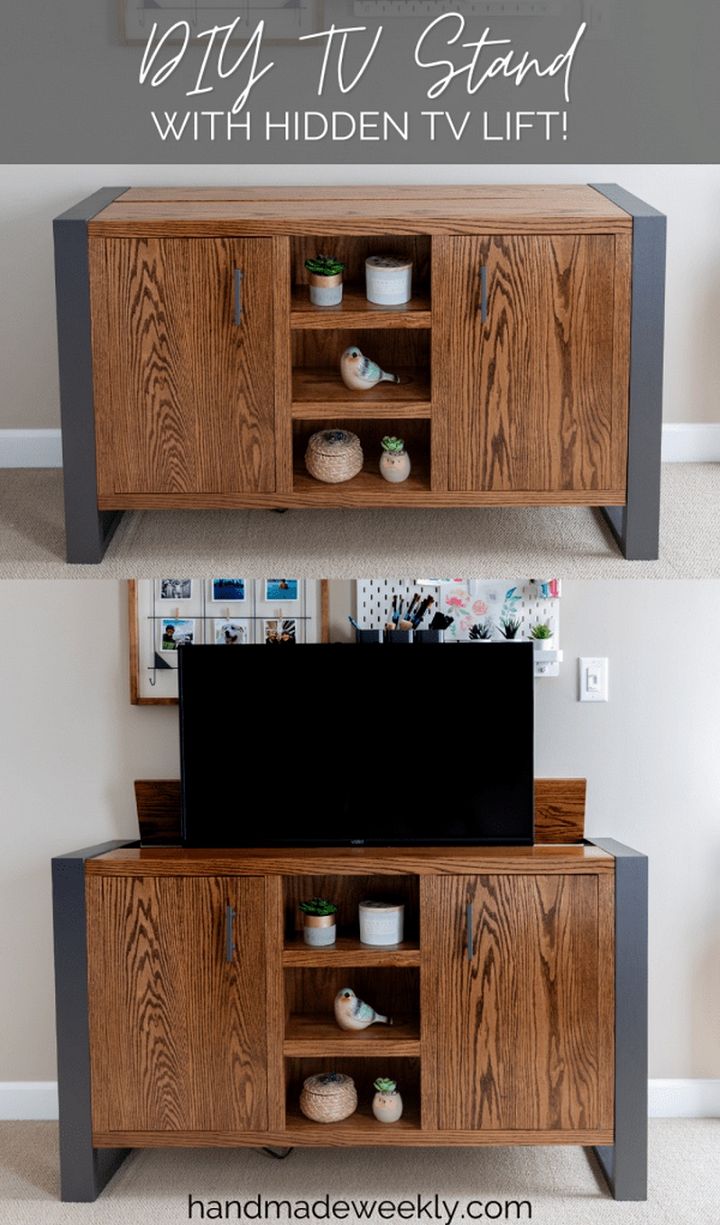 Have a look at one of the latest television stand styles that we have in the market. Such stands are very expensive and unreachable when it comes to budget. If you also like to see your television to be hidden and coming out when needed then you must look into the details of this project and see how this all can be done. here!
6. DIY Ikea TV Stand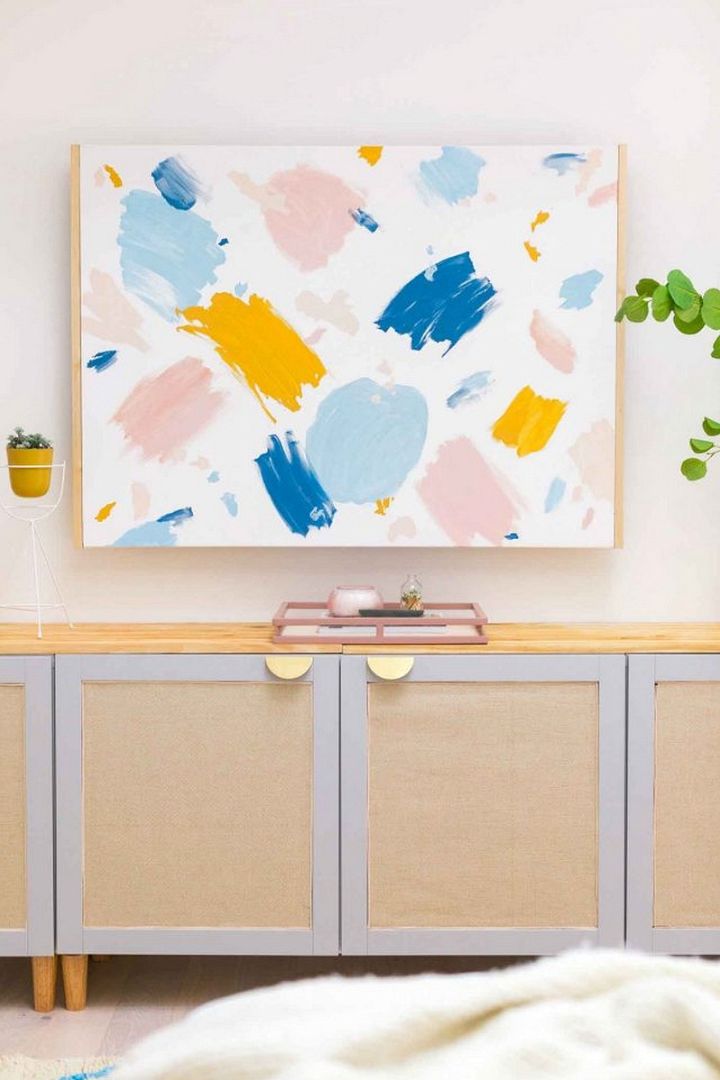 Ikea is definitely a standard when it comes to furniture and home styling. This is an Ikea hack that you can easily follow and make your house look wonderful with this amazing masterpiece. When it comes to decorating and styling our home, television stands, tables, and shelves are very important and first to look for. If you have a nice console at home, that really makes a difference. here!
7. Creating A Corner TV Cabinet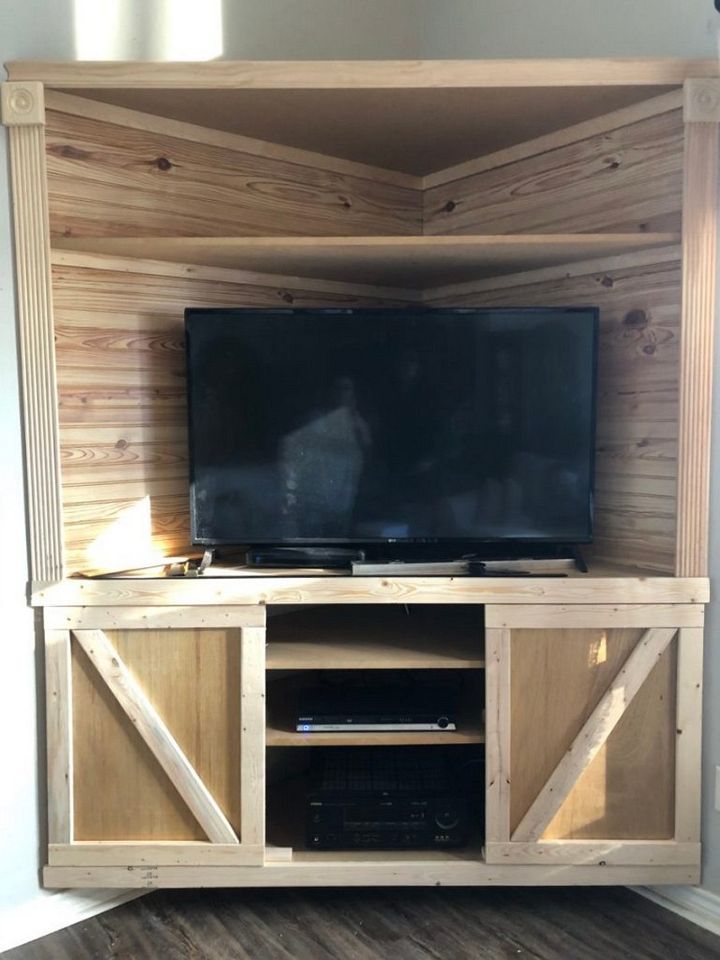 are you also thinking of managing in smaller spaces? This stand is specially designed for corners and limited spaces. Do not worry if you are only left with a corner to set up your television. This DIY television stand idea is specifically designed for small spaces and you will see some outstanding results in the end. here!
8. DIY TV Stand Scrap Wood Project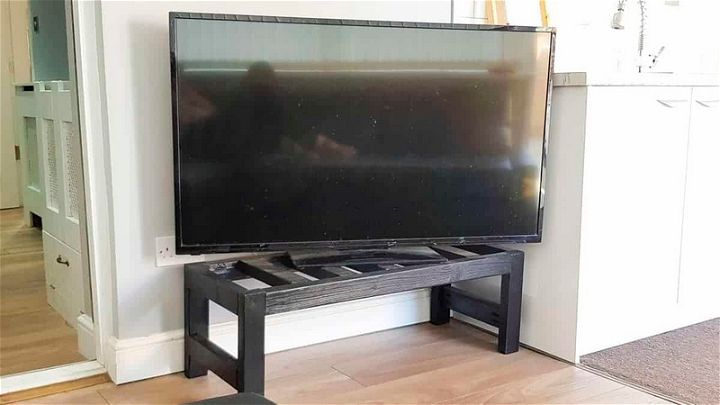 This project is very easy and can be done quickly even if you have scrap wood. The stand that you see here, is made with the wood that is probably lying uselessly at your home. This is a simple television stand as you can see without any drawers or anything. The best part of this project is that it's highly affordable and budget-friendly. here!
9. How To Build A Wall Mounted TV Cabinet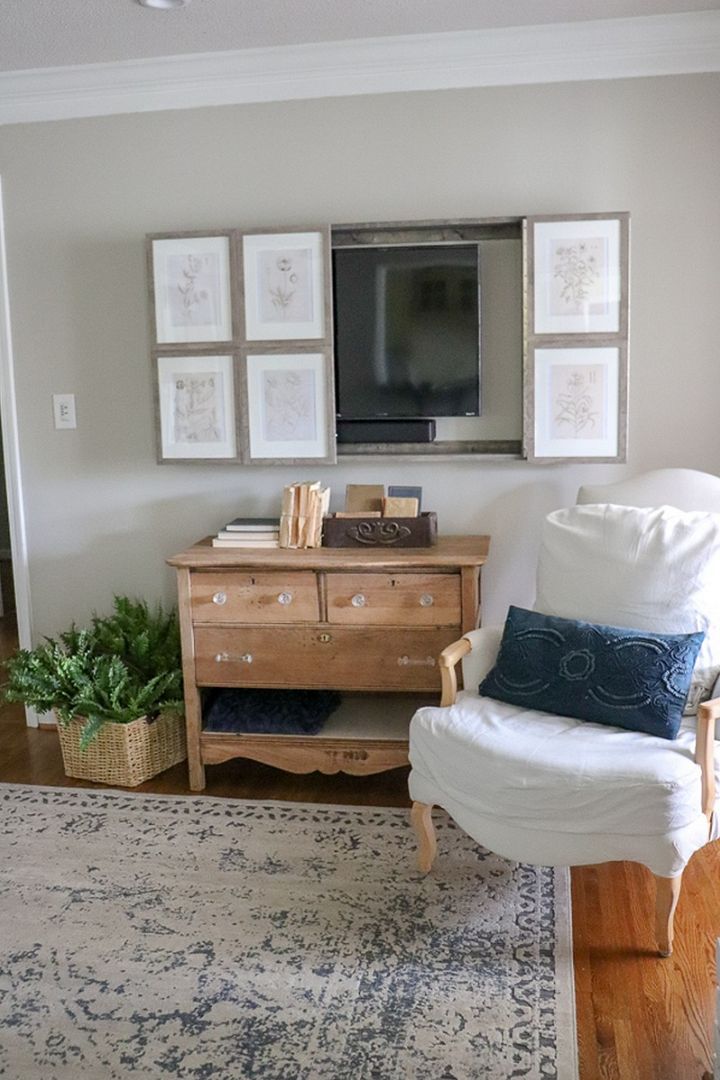 if you are looking for a television cabinet where you can easily keep your television hidden behind, then this project is perfect for you. keep the cabinet closed and open it when needed. You can make your cabinet well decorated so that when it's closed it looks cool as part of that wall. here!
10. How To Easily Build a Rustic Corner TV Stand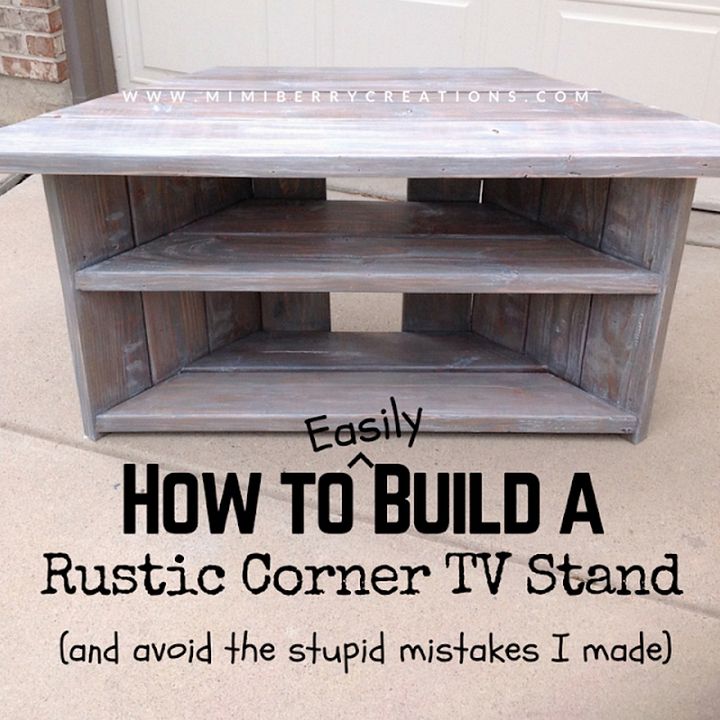 DIY Tv Stand Ideas: This is a rustic corner television stand that will make your room look super attractive and interesting than ever before. Rustic furniture is trending these days and is in fashion so try making your own DIY television stand for your television with this easy tutorial. here!
11. How to Build an Industrial Console Table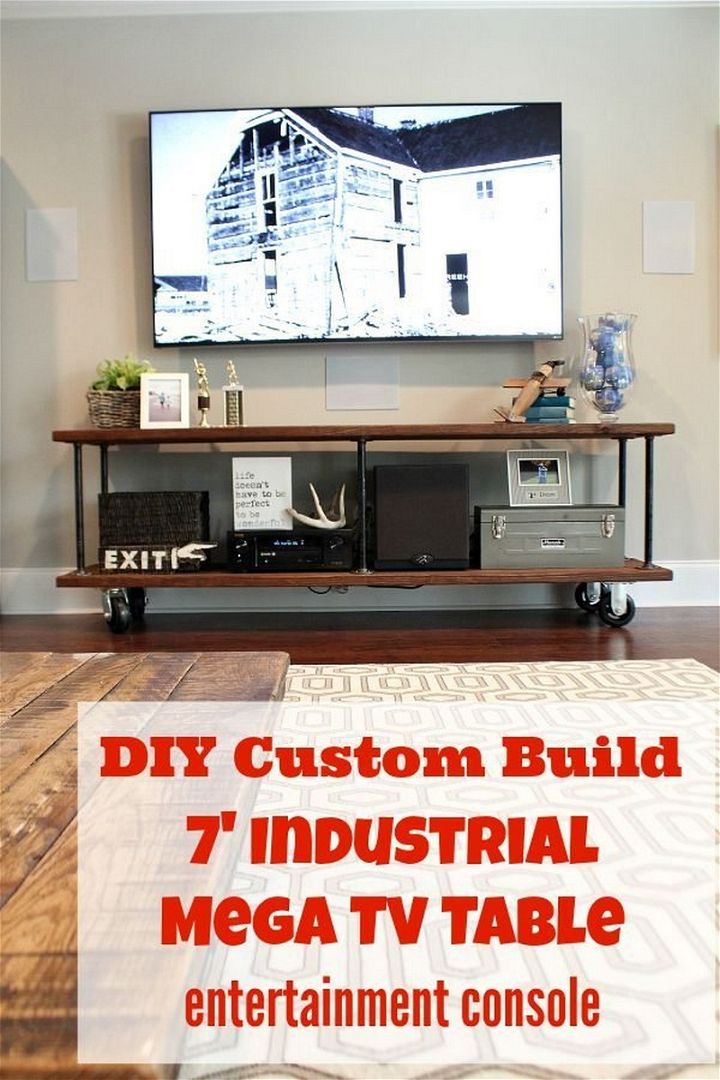 Have a look at this highly attractive industrial console table that goes perfectly with televisions. Such consoles are unaffordable as they are highly expensive at furniture stores. Now with this superb DIY idea, you can now make your own masterpiece within a few hours. This is no doubt a large entertainment center that you can make for yourself. here!
12. DIY TV Console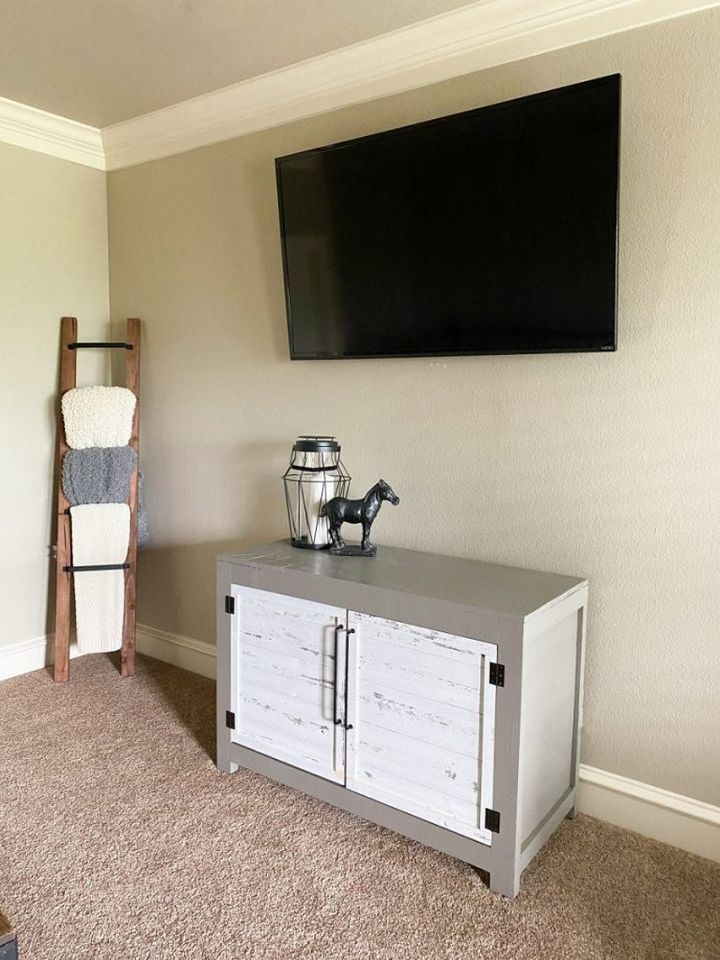 This is a small and compact television console with only a pair of cabinets. although, it is not a massive project as you can see but is easy and quick, unlike most television set ideas you will find. Don't waste your money on expensive and branded television consoles instead put some effort to make your own console with small storage space. here!
13. DIY TV Stand – Media Console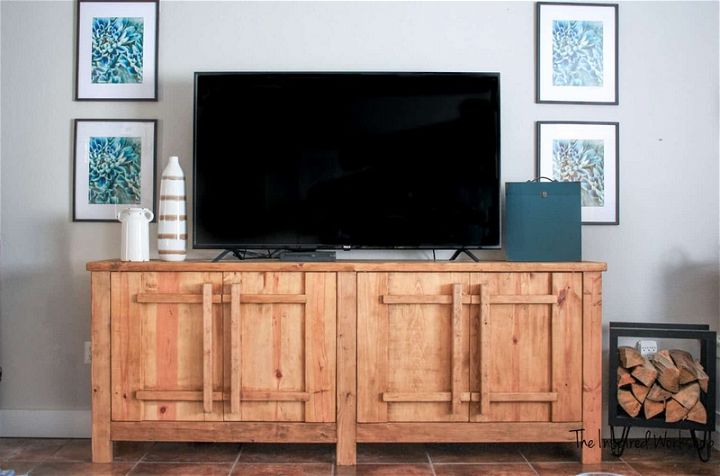 furniture designs do change with time and so we must also change the look of our house accordingly. This design is available at branded furniture stores also but at a very high price. Therefore try to build your own stylish console by following this tutorial closely and carefully. Some great wood-cutting and assembling skills are required here. besides that, you need a list of materials for this project. here!
14. How To Turn A Dresser Into A Tv Stand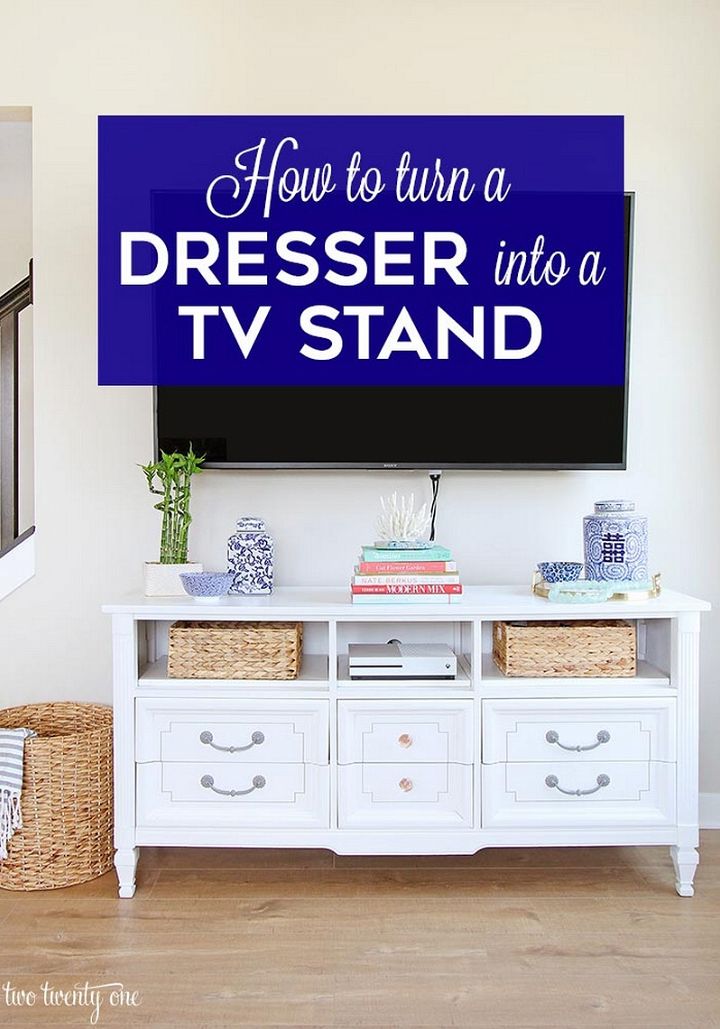 DIY Tv Stand Ideas: This project is all about recreating something to make something entirely new. The television that you see here, is made with an old dresser. If you are also bored with your old dresser and want to convert it into something new and creative, try this out. Look closely for the little details of the project to see how this upcycling is done. here!
15. DIY Tv Stand – Repurposed Coffee Table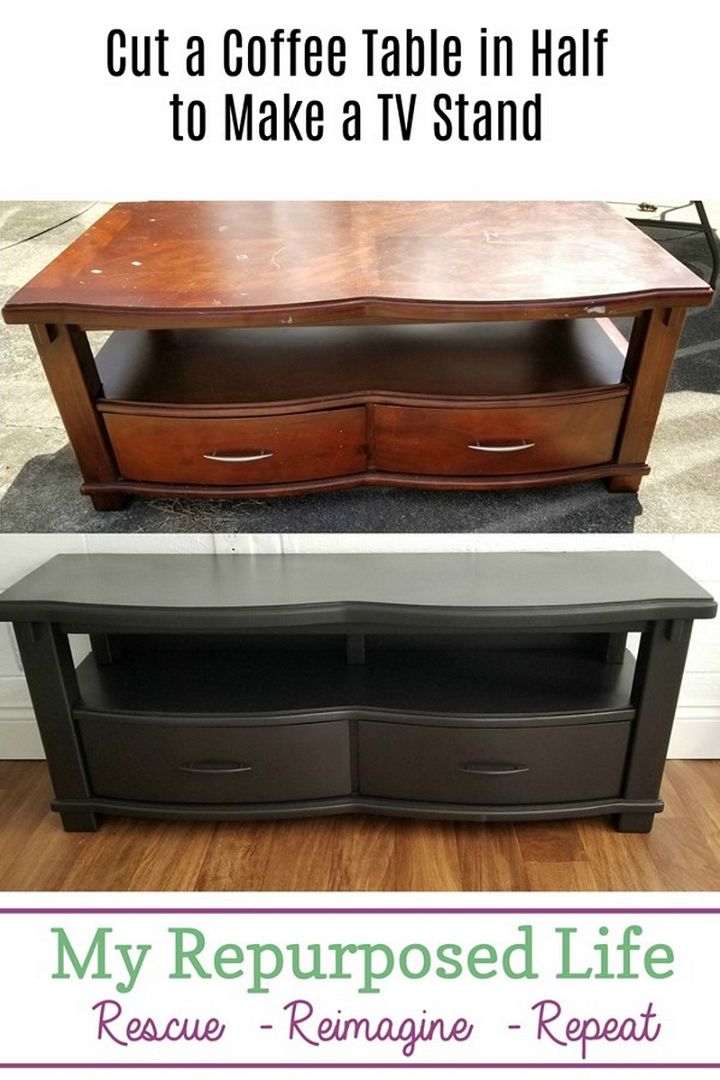 follow this project if you are looking for unique furniture pieces for your home. In this project, a coffee table is surprisingly cut in half and turned into a television console. If you want to impress people with your creativity try this out soon. Recreating requires reimagining and rescuing. Next time when you are bored with your old furniture pieces, you must transform them into something new. here!
16. DIY TV Stand Ideas For Better Family Room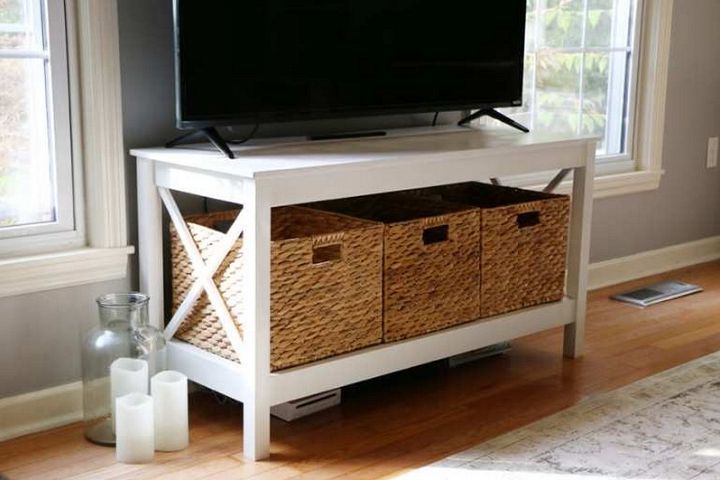 Living areas are mostly not very spacious. Therefore our television consoles should be in a size that can fit into that family living room space and not take up too much space. If you are out of ideas about how you can create some wonderful masterpieces for your living area, get some ideas from here and get started. here!
17. Build A Farmhouse TV Console – Sideboard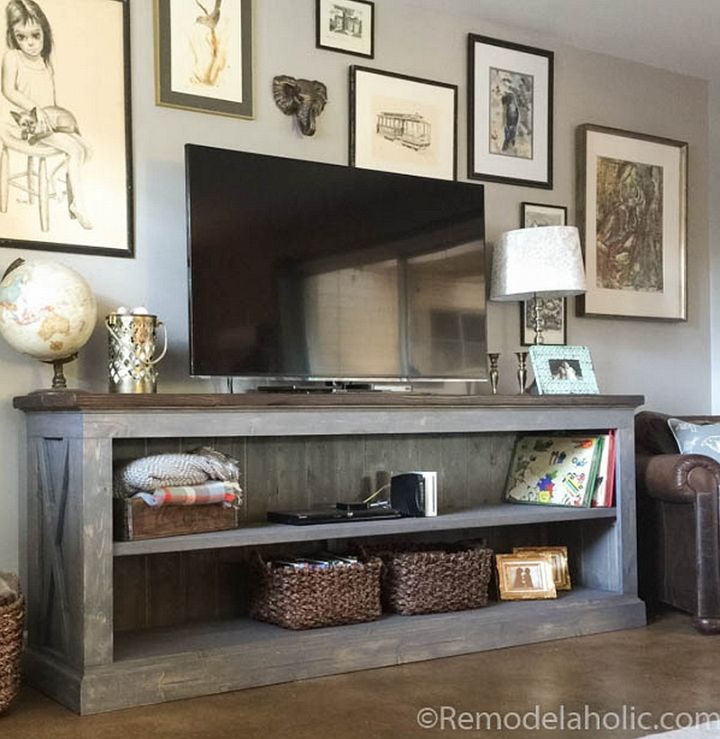 DIY Tv Stand Ideas: As we know that farmhouse furniture is trending these days. Therefore this particular project gives you an insight into how you can make a farmhouse television console for your living space. This theme always works wonders and gets adjusted with the rest of the furniture. here!
18. DIY Pallet TV Stand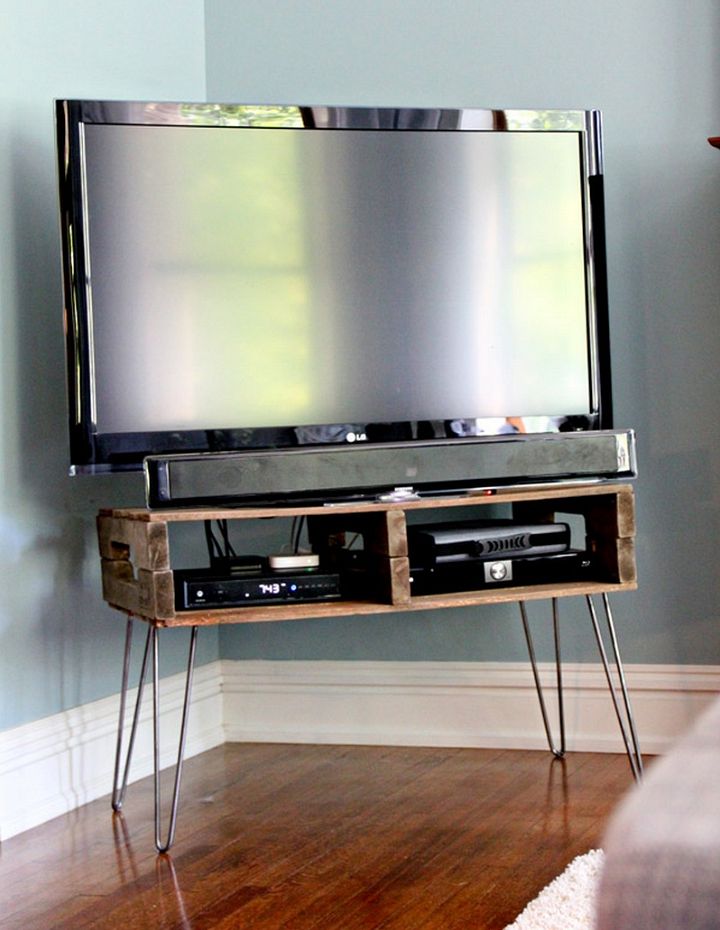 This is a very lightweight, stylish, trendy pallet television stand idea. You might find this a little tricky but once you will start making it you will realize it's easier than it seems. besides everything else, this is comparatively a unique style to try. Follow the step-by-step tutorial to see it has happened. After putting in a little effort you will start getting some amazing results. here!
19. DIY TV Stand – Farmhouse Style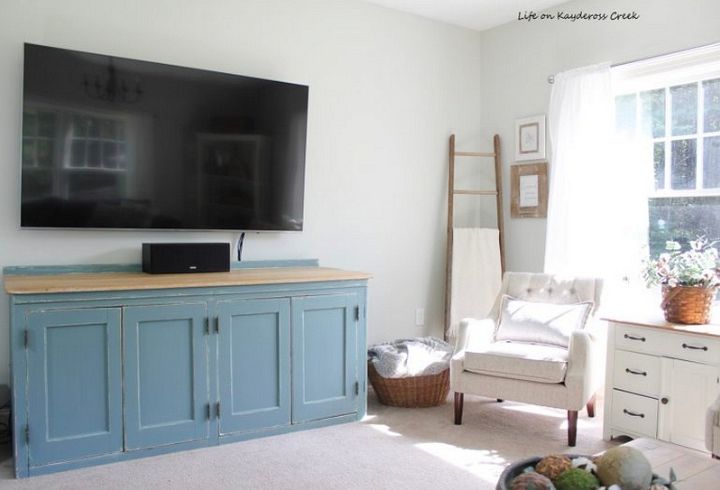 If you are looking for farmhouse furniture, this project is the goal for you. This idea is all about giving your living area a farmhouse feel. Make this DIY television console with this amazing vibe and see the impact it will have on the entire room. After just a few steps you will see some astonishing and surprising results here!
20. Ikea Hack -TV Stand Hack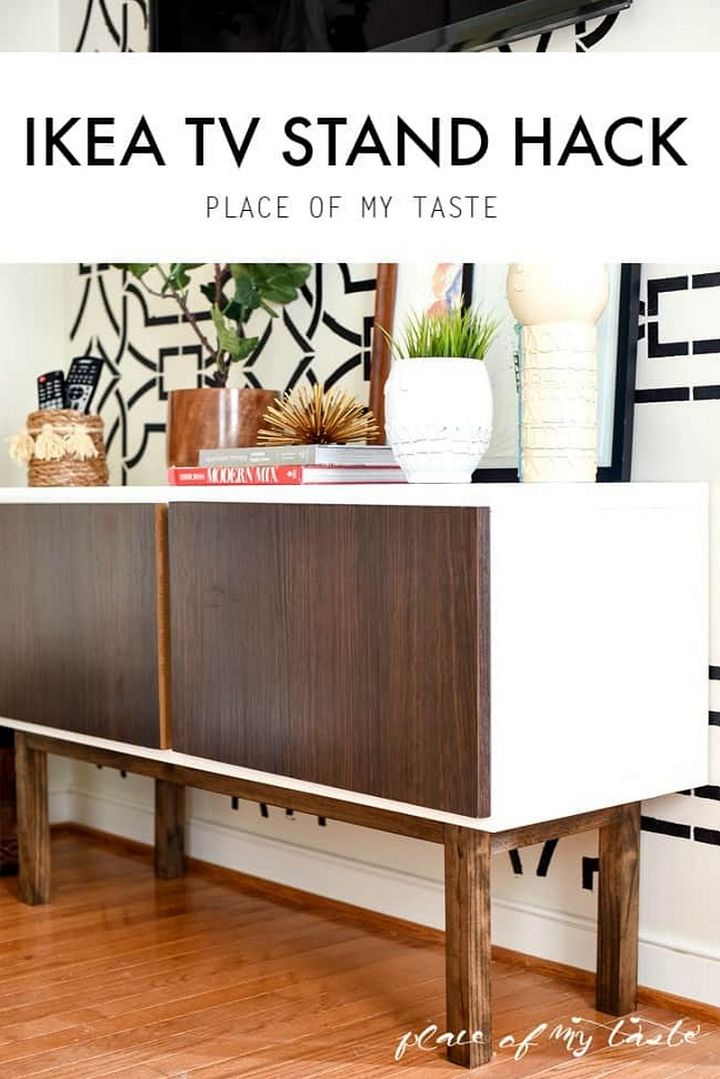 This is an idea television stand hack that you see here. use as much creativity as you want while making furniture pieces for your home. Furniture makes a great impact on your house décor if you realize it. Unique pieces bring attention to them, so try making some customized television consoles for your home. here!
21. DIY Tabletop TV Stand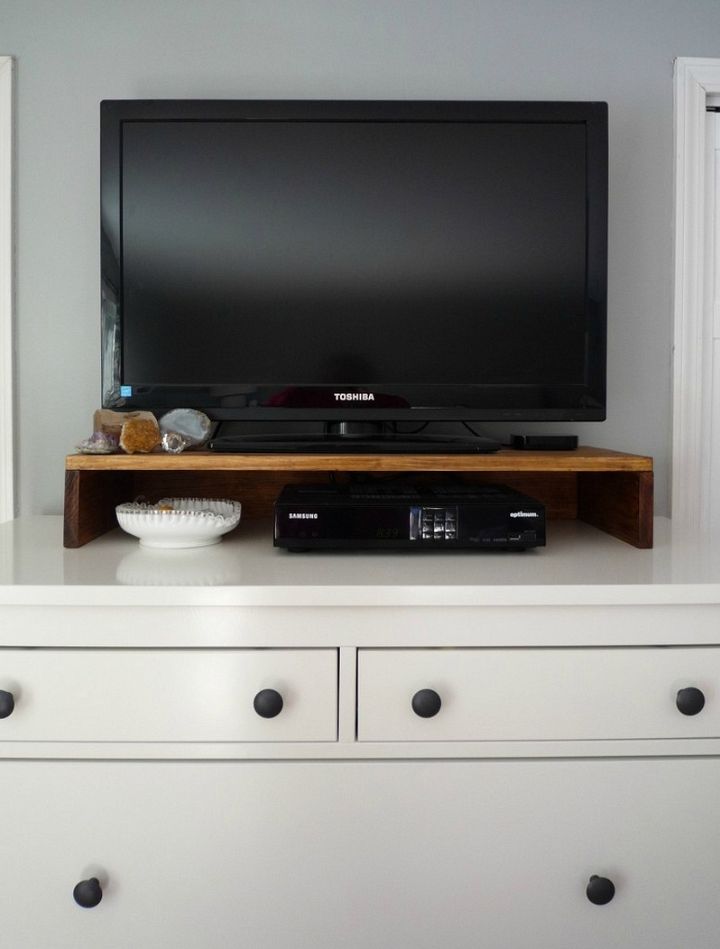 DIY Tv Stand Ideas: This is an eye-catching and attractive tabletop stand for your television as you can see. This way you will maximize your surface space in a console. Mostly when we look for consoles they are either expensive or have limited space for accessories. therefore, by building your own television stand, you can meet all your expectations and requirements. here!
22. DIY Rolling Industrial Pipe TV Stand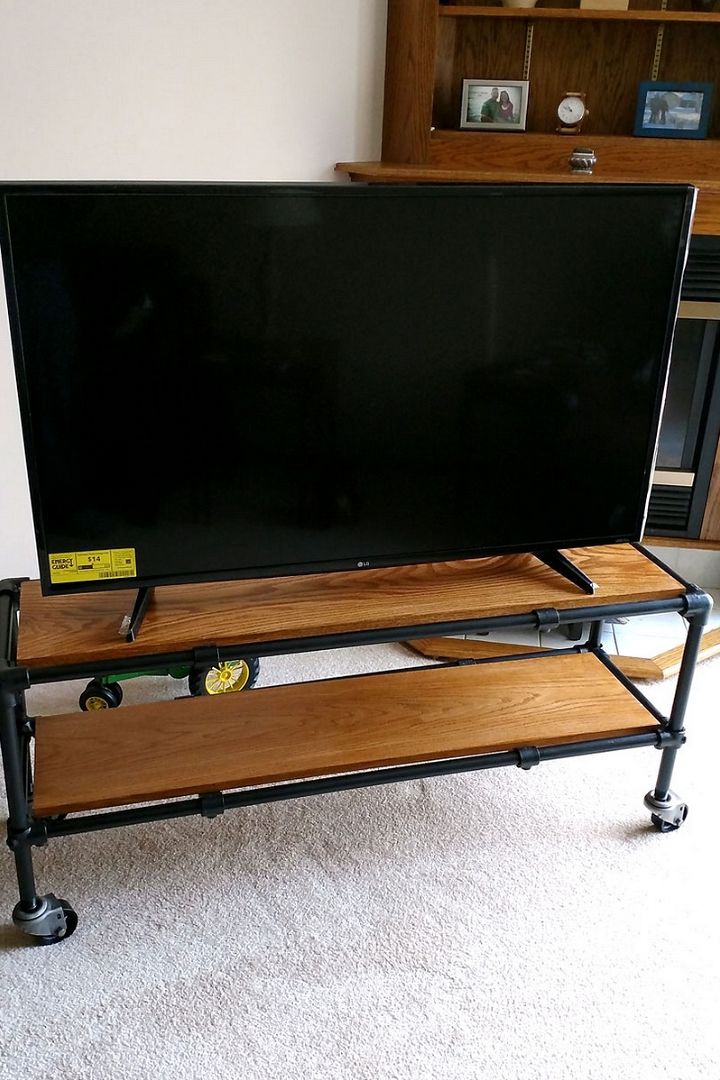 This television stand is made with industrial pipes as you can see. it is a highly affordable project and attractive at the same time. Grab some industrial pipes along with wooden planks to make all this happen. This rolling industrial pipe television stand idea is so cool that you will end up being the happiest about your creation. here!
23. DIY Restoration Hardware Sideboard – TV Stand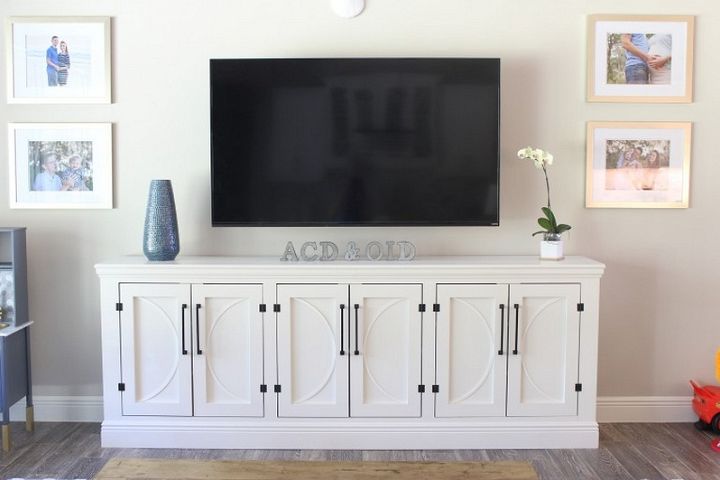 If you are up to decorating your home, or if you have just shifted into a new house, this television sideboard idea is perfect. This project is also suitable for people who are looking forward to storage space along with the television console. sideboards are made to order and are costly, therefore building your own will save you a lot of money. here!
24. DIY TV Stand Makeover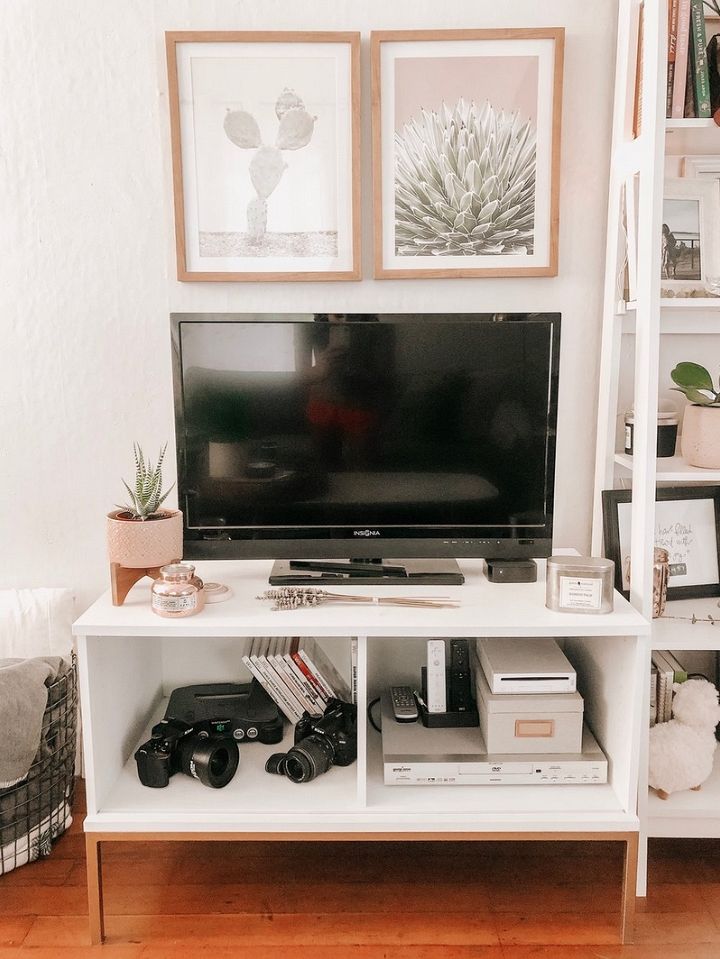 Recreating and remaking something is always fun and interesting. This is a project of DIY television stand makeover. If you have an old televise stand at home, and you are bored with it, or if its appearance does not appeal to you anymore, try this makeover idea and you will end up with an amazing transformation. here!
25. DIY Industrial Style Media Stand With Wheels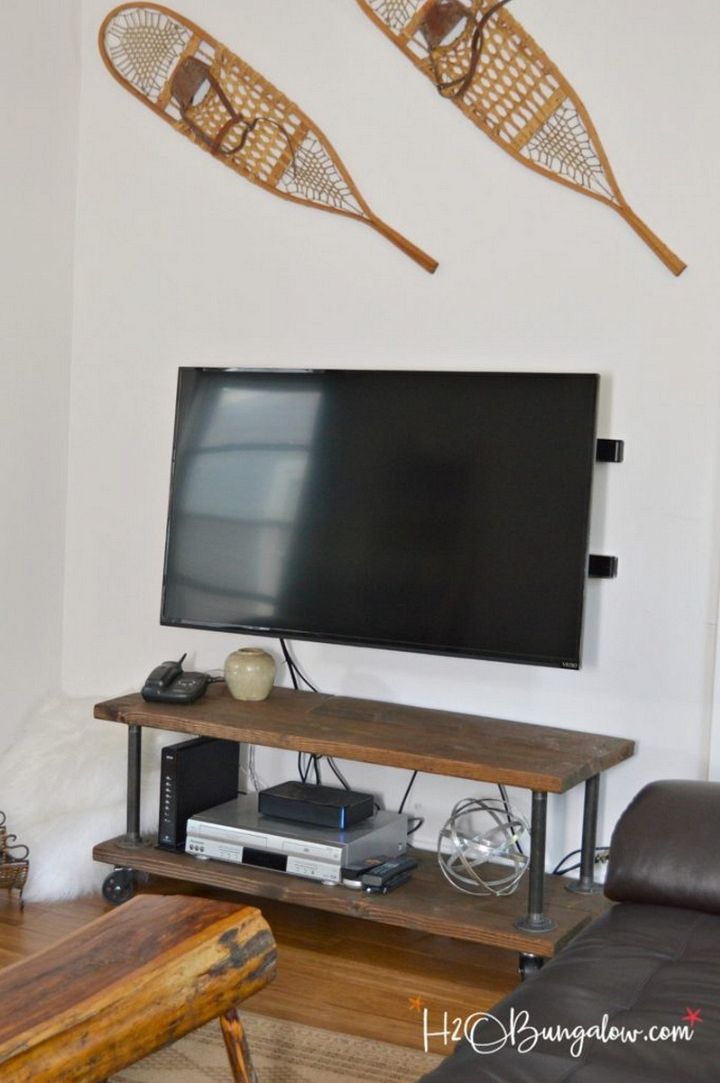 This is a movable stand as it has wheels. have a look at this industrial-style stand. This seems to be the perfect idea for people who look for compact television consoles. This is a media-style stand and this will create an amazing vibe in your entire living area of yours. here!
26. How To Paint A Laminate TV Stand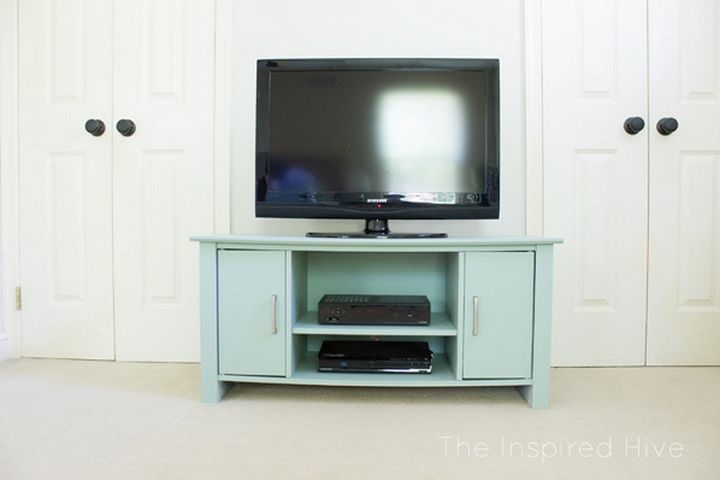 As we know that lamination has been very popular in the furniture industry. However, this is a project that will guide you through the making procedure of painting a lamination television stand. We often get bored with our old furniture and their appearances. Try some transformations to bring some change to your house. here!
27. DIY TV Stand Midcentury Makeover Tutorial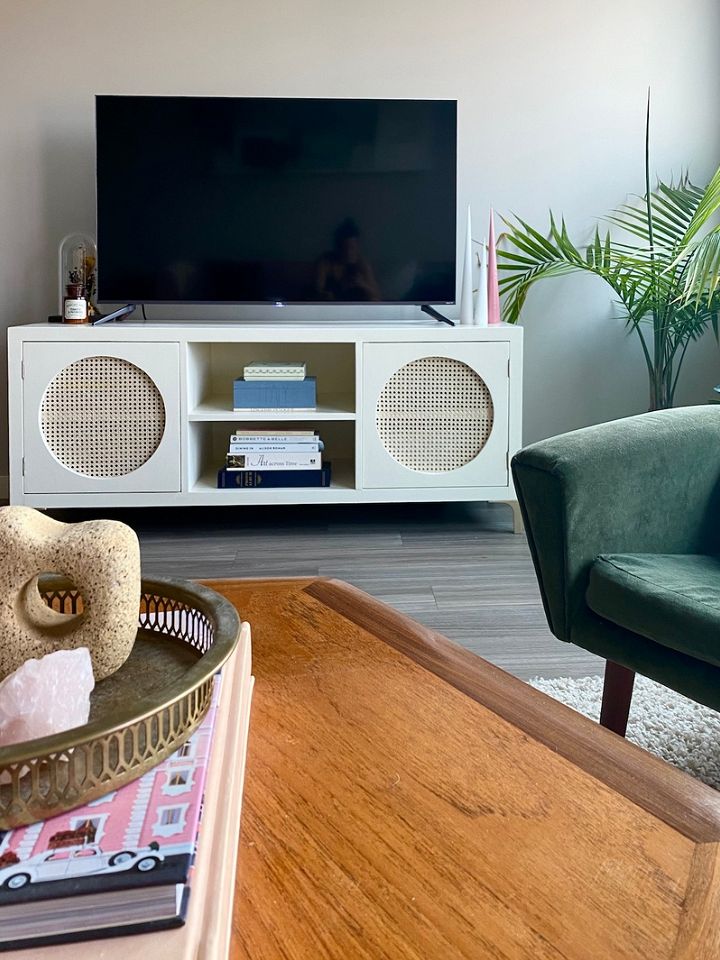 follow this step-by-step tutorial to see how you can create your own midcentury-style transformation. The vibe that is created here is eye-catching, attractive, and easy to go with the rest of the furniture in your living area. Follow the details of the project carefully so that you do not miss out on the minor details. here!
28. TV Display Easel on Wheels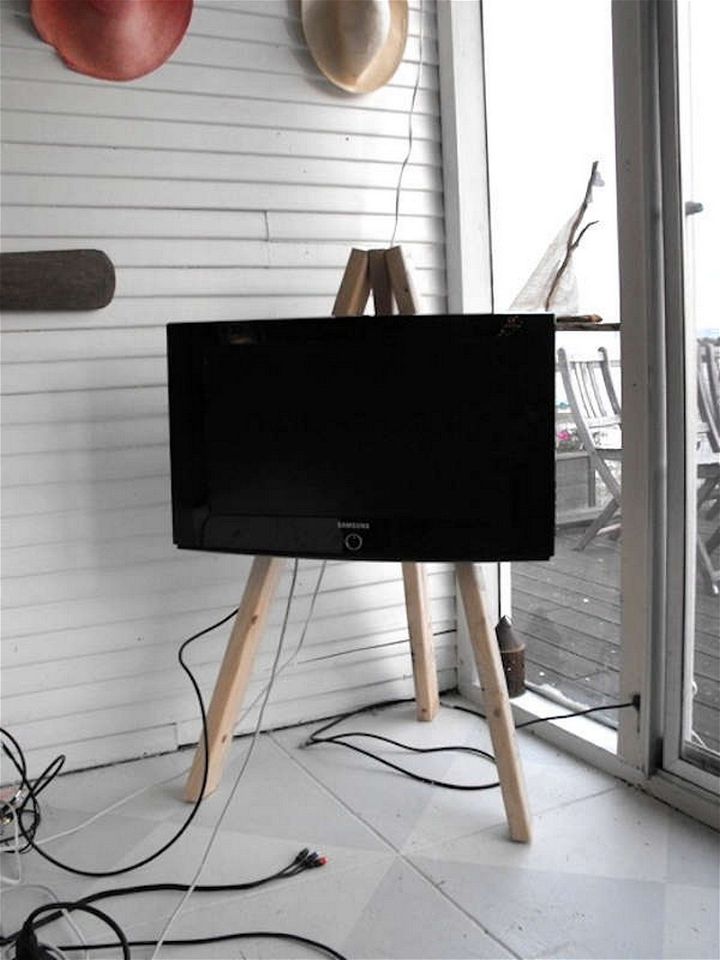 Have a look at this unique display easel on wheels serving as a television stand for us. Having unique furniture pieces in your house makes a great impact on house décor. This time, try building a different television stand for yourself instead of buying those traditional and typical ones. here!
29. Corner Media Center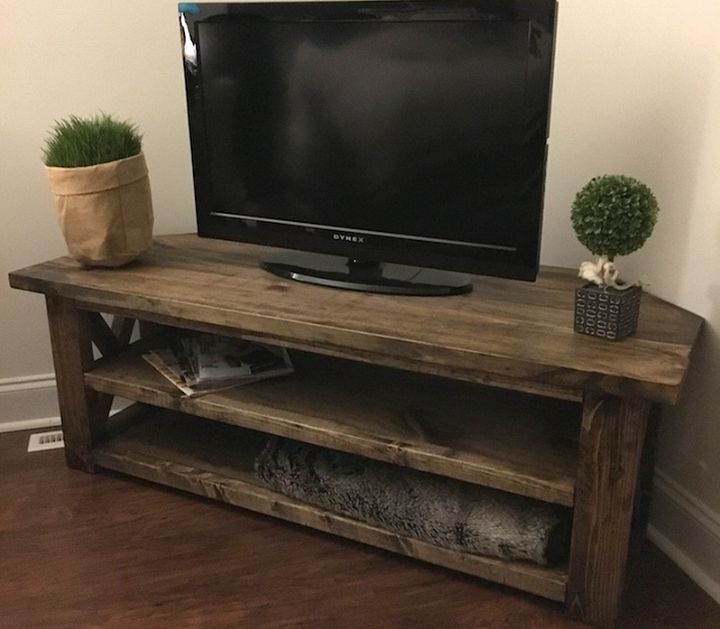 If you also have left a corner for media space, this television stand will fit perfectly in that space of your room. This is a special DIY television stand design formulated for corners and packed spaces. Not everyone has large spaces in their house, therefore such ideas are useful and beneficial. Bring some change to your room by building this DIY stand for your television and its accessories. here!
30. How to Build a Floating TV Shelf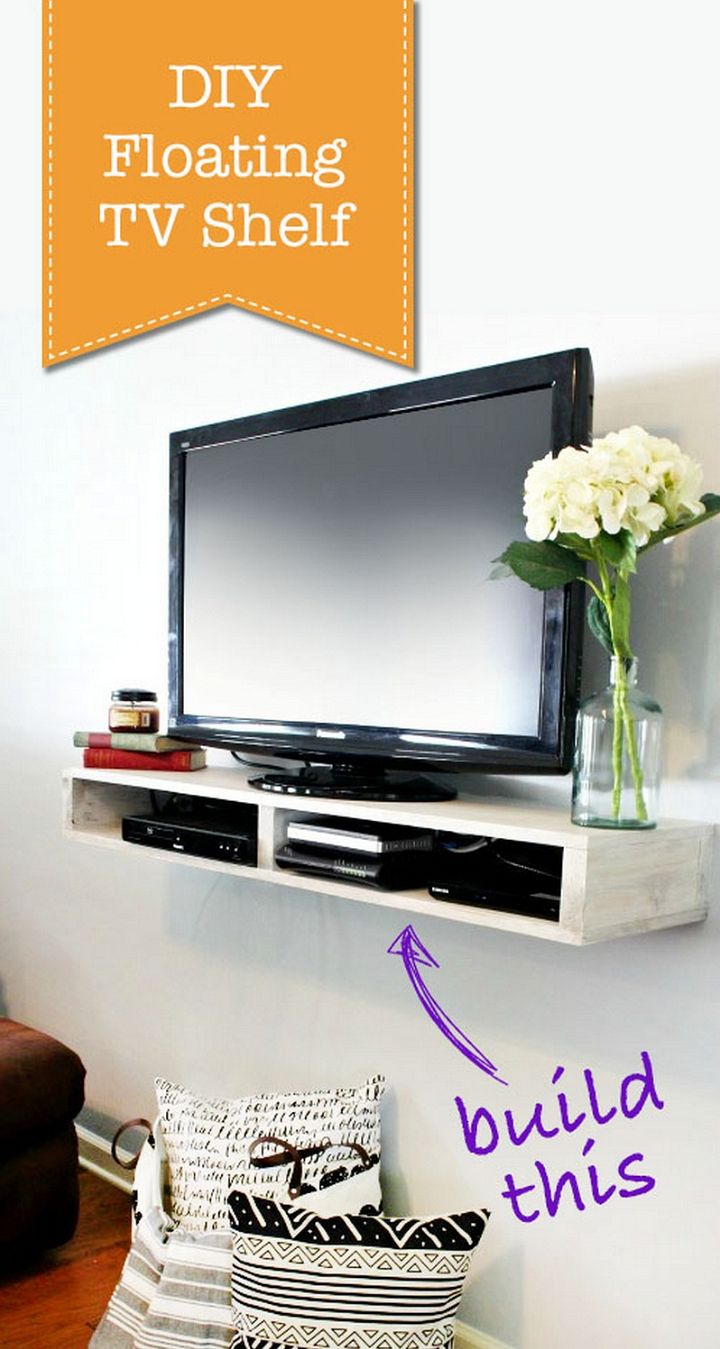 floating shelves are very much in fashion these days. therefore we have this small, simple yet classy stand idea for you to go perfectly beneath the television. This DIY television stand will not only acquire less space but will also look cool and will easily get along with the rest of the furniture in the room. here!
31. Custom DIY TV Stand With Sliding Doors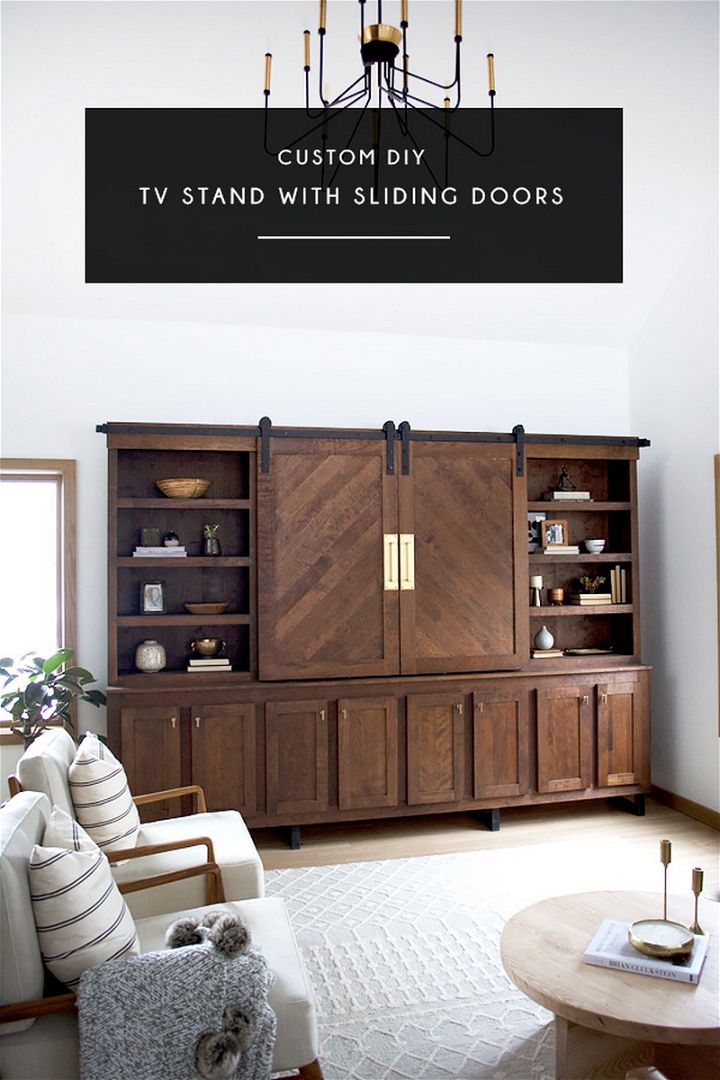 Make your own DIY customized television stands like this one. Follow the guidelines given here to see how the sliding doors are made in this television stand. Due to the sliding doors, you can hide the television by closing the doors and opening them when needed. This is not a new design at all but is in fashion once again. here!
Conclusion:
If you have a nice TV at home but the stand is not impressive then the appearance of the TV doesn't matter at all. Make a combination of a nice TV with an equally nice stand as well. Make your own stand so that you can make it according to the size you need, the materials you love, the look you have been looking for for ages, and much more.