We all can agree that Furniture Items in furniture stores are highly expensive and mostly unaffordable for most of us. Therefore with some tricks, tips, and techniques, you can build your own furniture items easily at home. Here you will see 15 DIY Monitor Stand Ideas Free Projects for DIY monitor stands. Some stands here will cost you only a fraction of what you find in store. Monitor stand ideas of all possible kinds are available here. From the most fashionable and stylish monitor stands to the simplest, most compact, and adorable ones, you will get to see all tutorials here.
These DIY monitor stands are made with a very nice finish and to copy the exact same technique, you have to be accurate with the measurements, calculation, and every inch of detailing. In one of These Projects, you will see some side facilities like a charging station for your Phone and keeping other stuff related to your computers. For teenagers, you can make this Lego monitor stand which is not only easy but also attractive and colorful.
1. Monitor Stand That You Can Build For Under $50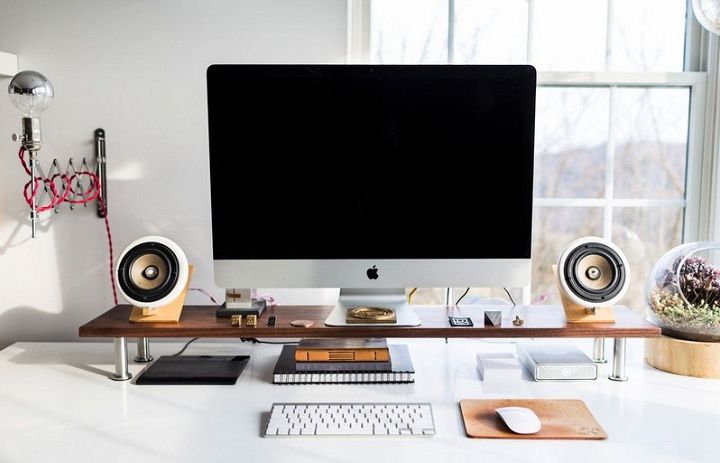 It's surprising to see some budget-friendly projects these days. This monitor stand that you see here will cost you a fraction of what you find at furniture stores. Try making this stand for your monitor to make it stand out and look more balanced and organized. here!
2. DIY Vented Monitor Stand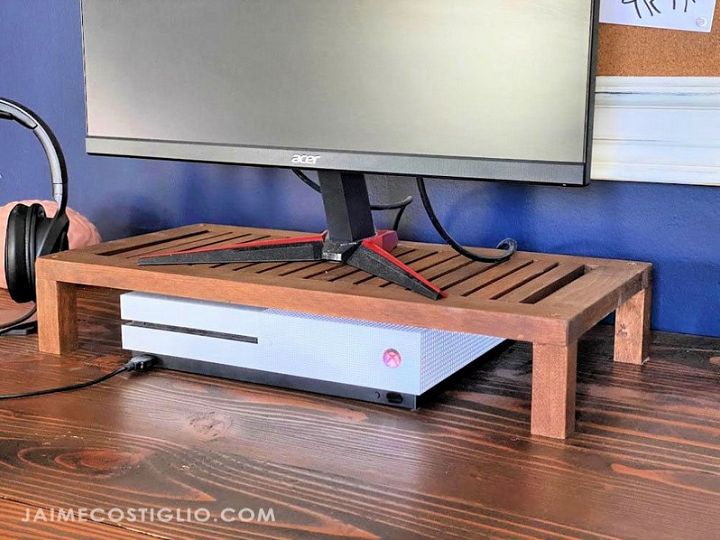 With the help of the tutorial given here for making this DIY monitor stand you will be able to copy this project accurately. Once you have decided to make this stand, gather the supplies that you are going to need. This is a vented stand that will allow the console to breathe and prevent overheating. here!
3. DIY Computer Monitor Stand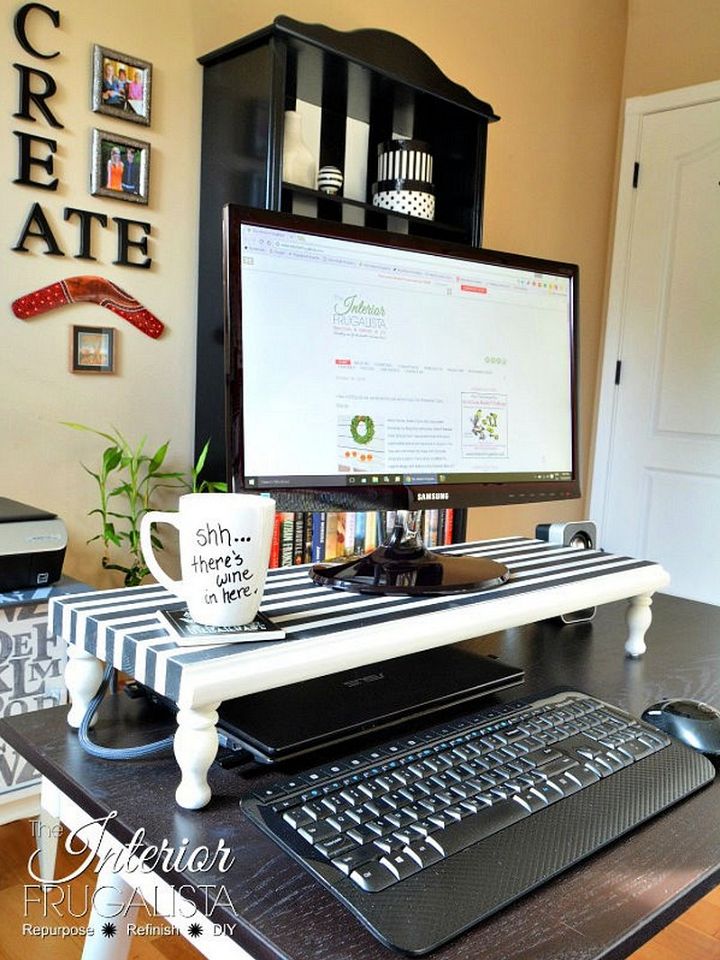 This is a stylish and fashionable monitor stand that you can also make. A little extra effort is required here but you will surely not regret those efforts as the end results are surprisingly amazing and astonishing. For this project, you need scrap wood, recycled furniture legs, wood filler chalk paint, and some other tools and supplies. here!
4. Desk Monitor Stand With Shelf DIY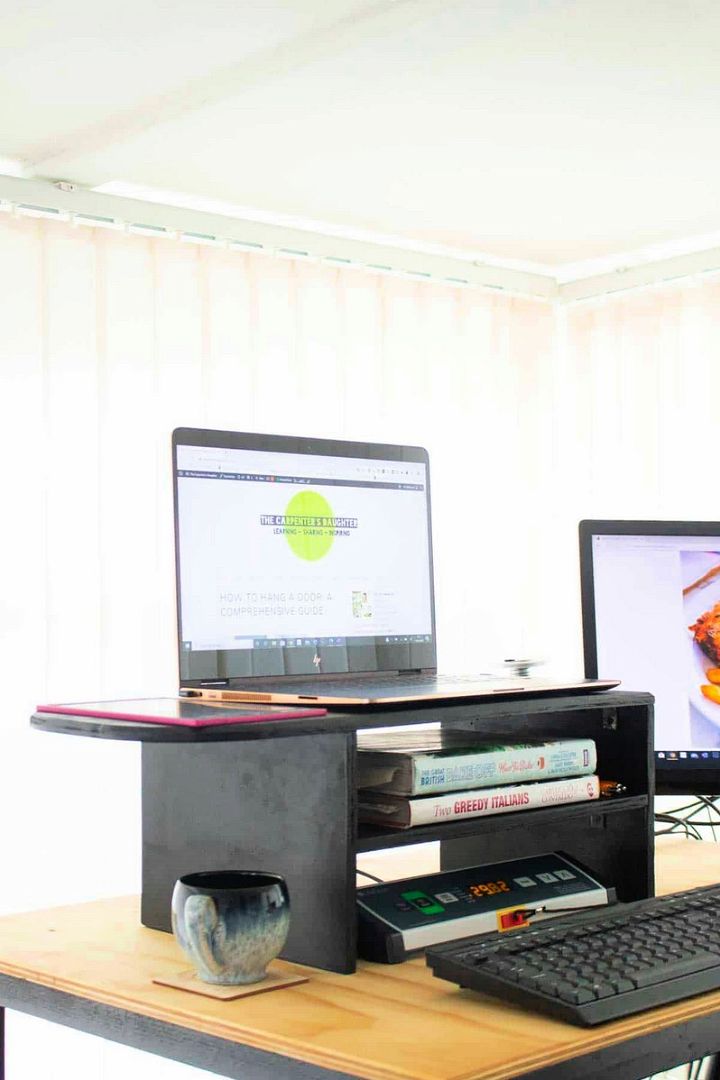 You obviously need some storage space beside your desktop. This DIY monitor stand idea will definitely solve that issue for you as it is providing shelves it. Try to copy this project and be more organized regarding your computer accessories and other materials that you need besides it. here!
5. Build Your Own Monitor Stand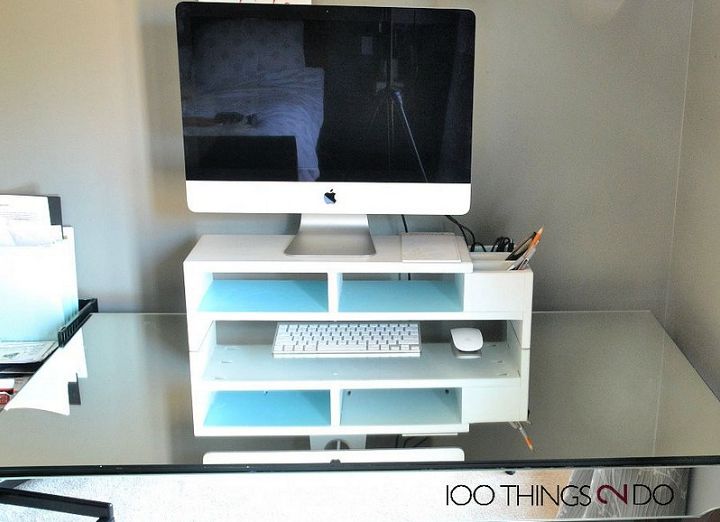 Instead of buying expensive and unaffordable monitor stands from furniture stores, try to make your own with some easily available tools and supplies. This DIY monitor stand will be budget-friendly and customized according to your own requirements as compared to the ones you will find in stores. here!
6. DIY Copper & Wood Monitor Stand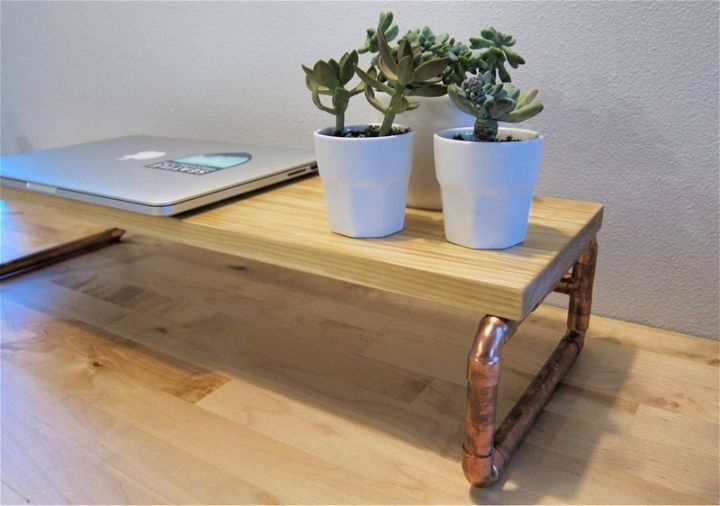 Have a look at this great combination of copper and wood for making a DIY monitor stand. This stand here looks mesmerizing and over the top. Place it anywhere in the house and this stand will make your room look more beautiful and enhanced. here!
7. DIY Modern Monitor Stand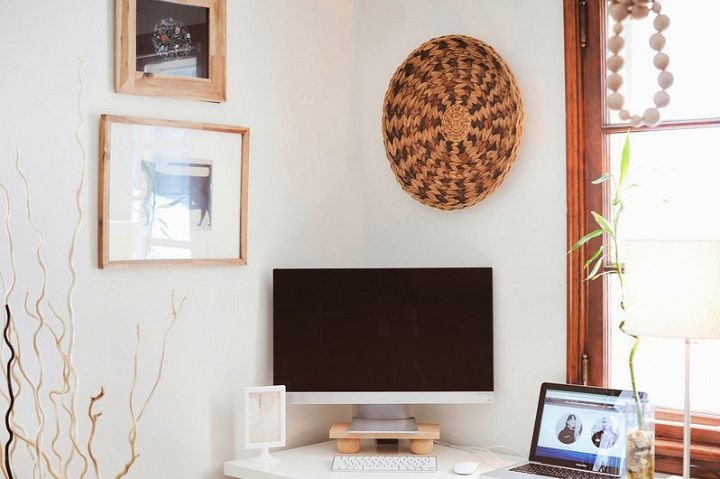 These is probably the most adorable monitor stands you would see anywhere. This is a small stand and looks sbosltelu compact and balanced. This process is completed with unfinished wood and oak pieces. Try to follow the measurements accurately so that the results you get are more satisfying. here!
8. Cardboard Monitor Stand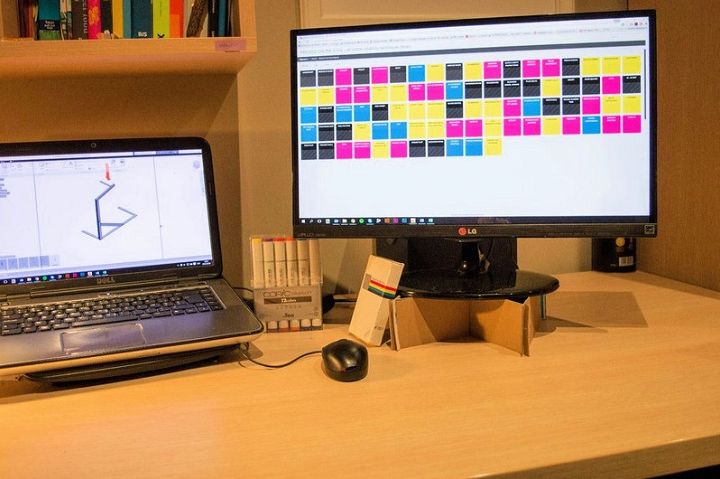 This is a DIY monitor stand project which is definitely the most budget-friendly. If you are not comfortable with any other tools and supplies or if you are not ready to start a DIY project for any reason, just use cardboard for making a cute and adorable stand for your monitors. here!
9. DIY Smart Monitor Stand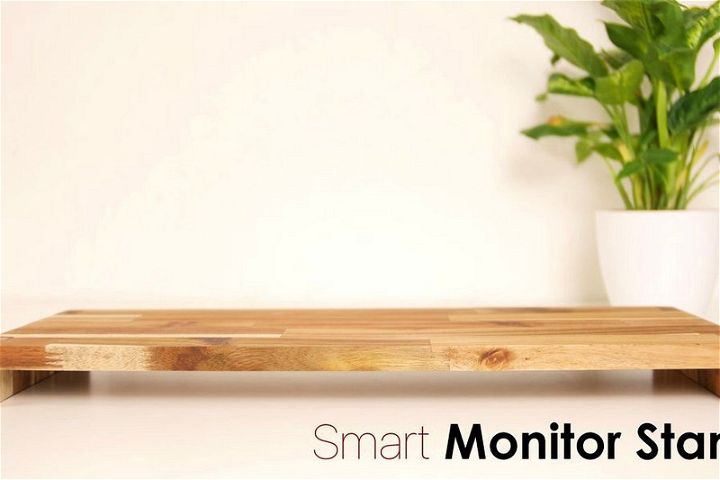 Have a look at this very simple and basic wooden monitor stand that you can make yourself. Before starting the project, you must list down the material and supplies that you need. All the materials that you are going to need are easily available in any DIY store. In addition to availability, the materials are inexpensive too. here!
10. DIY Mucem Monitor Stand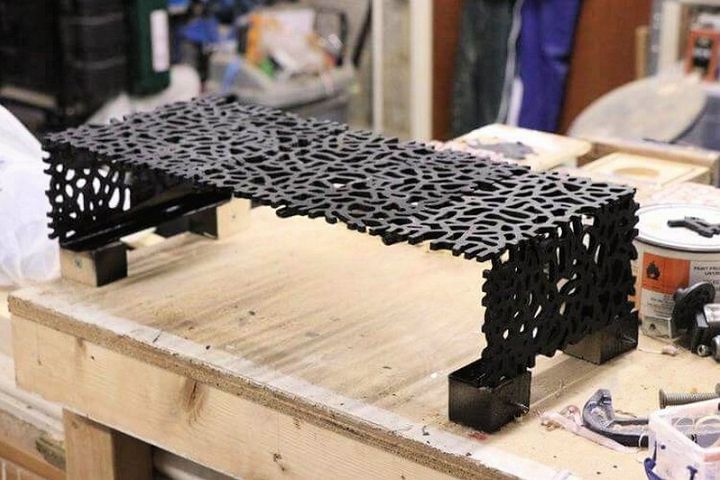 Monitor stands can be of so many different types and styles. Select your own style and project and follow that to make your monitor stand out. This is a museum monitor stand that is unique in its style and appearance. The tools you need here are a welder, grinder, metal cutting saw, silicon mold, jesmonite, angle iron, and flat bar stock. here!
11. Building a Custom Monitor Stand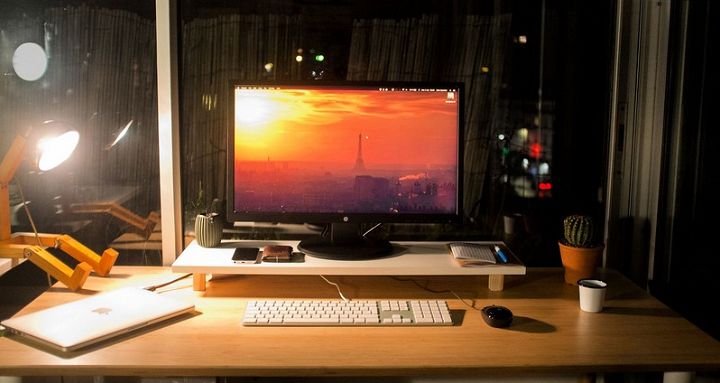 The advantage of making DIY projects is that you can make a customized and personalized item that is more suitable for you. You can adjust your DIY monitor stand more as compared to the one you find in stores. This is a monitor stand project that you can learn from scratch. here!
12. DIY Monitor Riser & Charging Station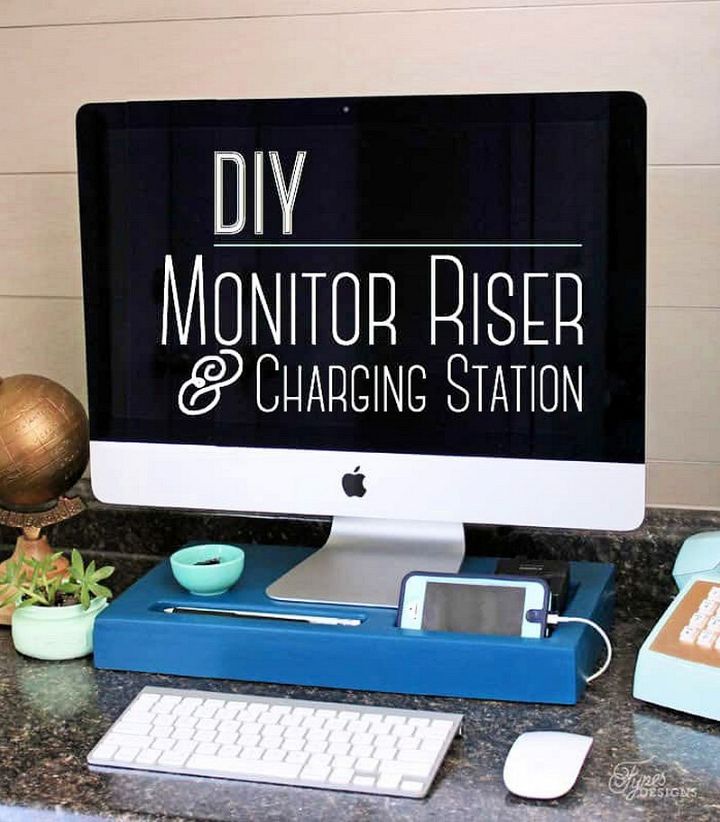 Try making monitor stands that can actually solve some other issues for you as well. This DIY monitor stand idea comes with a little storage along with a charging station too. You can now have a monitor raiser and a charging station both at the same time if you follow the project accurately. here!
13. DIY Laptop Stand For Desk Using Scrap Wood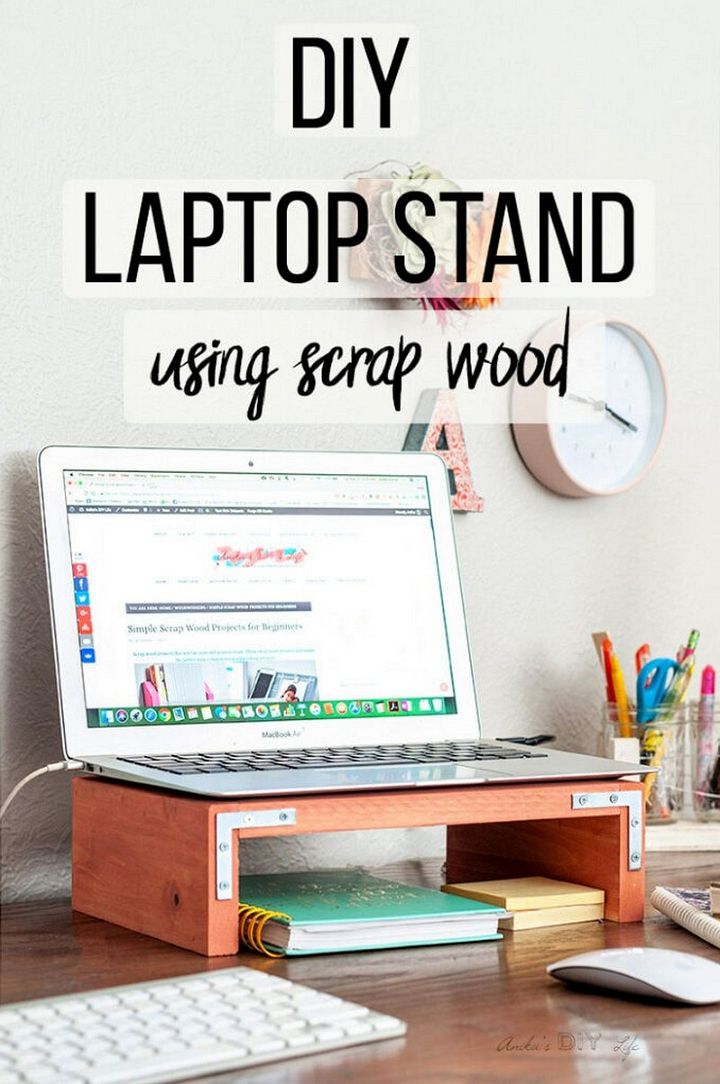 If you are also tired of keeping your laptops on your lap, bending your back, and hurting it, this is a perfect solution here. this is a wooden rack and stand that can keep your laptop safe and in the correct position while working. Try making this easy stand for your laptops and bring some ease and comfort to your life. here!
14. Lego Monitor Stand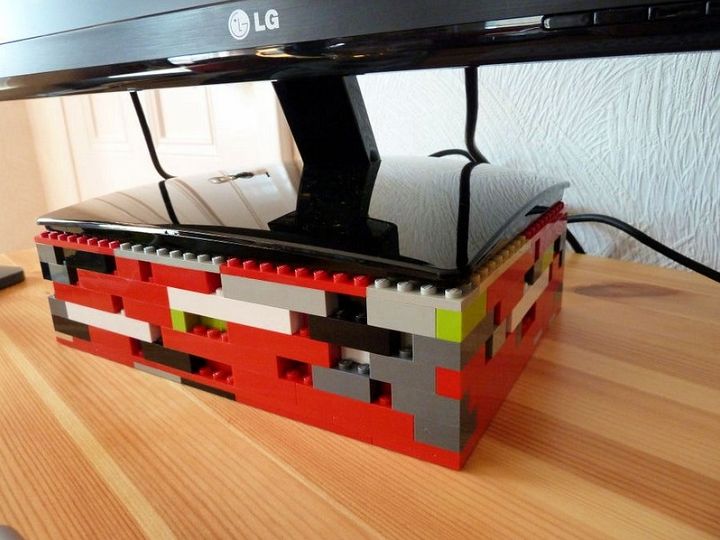 If you by chance have no access to any sort of materials and supplies for making a monitor stand, try this Lego stand and you will be amazed by your own creativity. This project here guides you on how you can make a simple leg stand for your monitors that do not require any tools at all. here!
15. Layered Plywood Monitor Stand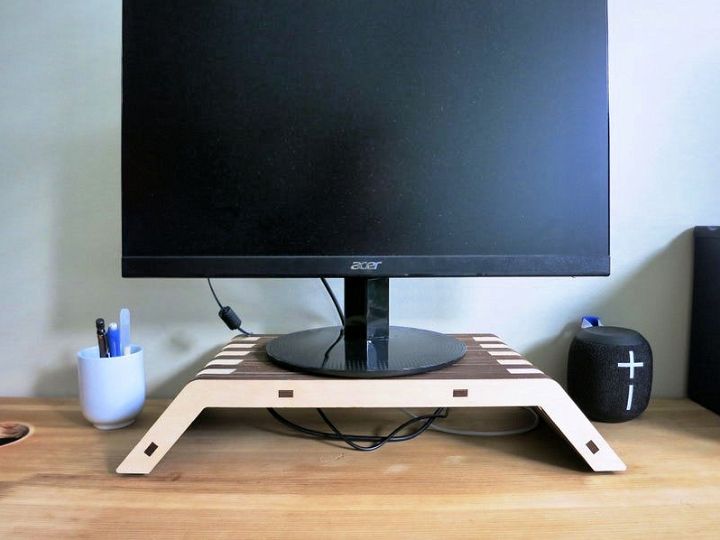 Plywood is used in many DIY furniture projects. Therefore for a monitor stand plywood is suitable for many reasons. This is a layered plywood stand that we see here. try to be more accurate with the measurements and calculations for this project and you will end up being proud of yourself for creating a nice home for your monitor. here!
Conclusion:
Monitors are something that needs to be kept safe and sound as compared to other computer accessories. Give your monitors a dedicated stand so that they can be safe and at an appropriate height. Almost all the stands are budget-friendly, easy, and quick so try them out as soon as possible.