A wedding day is an unmatchable event regarding joy and happiness and has more significance than any other day in our life. Therefore we should make this day as special as we can in terms of Decoration, memories, invitations, venue menu, and much more. Wedding décor is something that catches the attention immediately and people remember that for a longer time as compared to the rest of the arrangements. Wedding arches or arbors should be completely floral and stunning because it impacts the Entire Décor of the event. Instead of hiring someone for making a wedding arch for you, you can now build your own with these 11 DIY Wedding Arch Plans For Best Shooting.
All the ideas presented here are perfect and suitable for almost everyone. You can choose flowers with your choice and arrange them in a beautiful way on a wooden arch just to make that arch look phenomenal. Also, you will find a wedding ceremony backdrop here which is heavenly and you won't regret making any effort for that. These wedding arches look so go din pictures and make the appearance of the bride and groom memorable forever.
1. DIY Wooden Wedding Arbor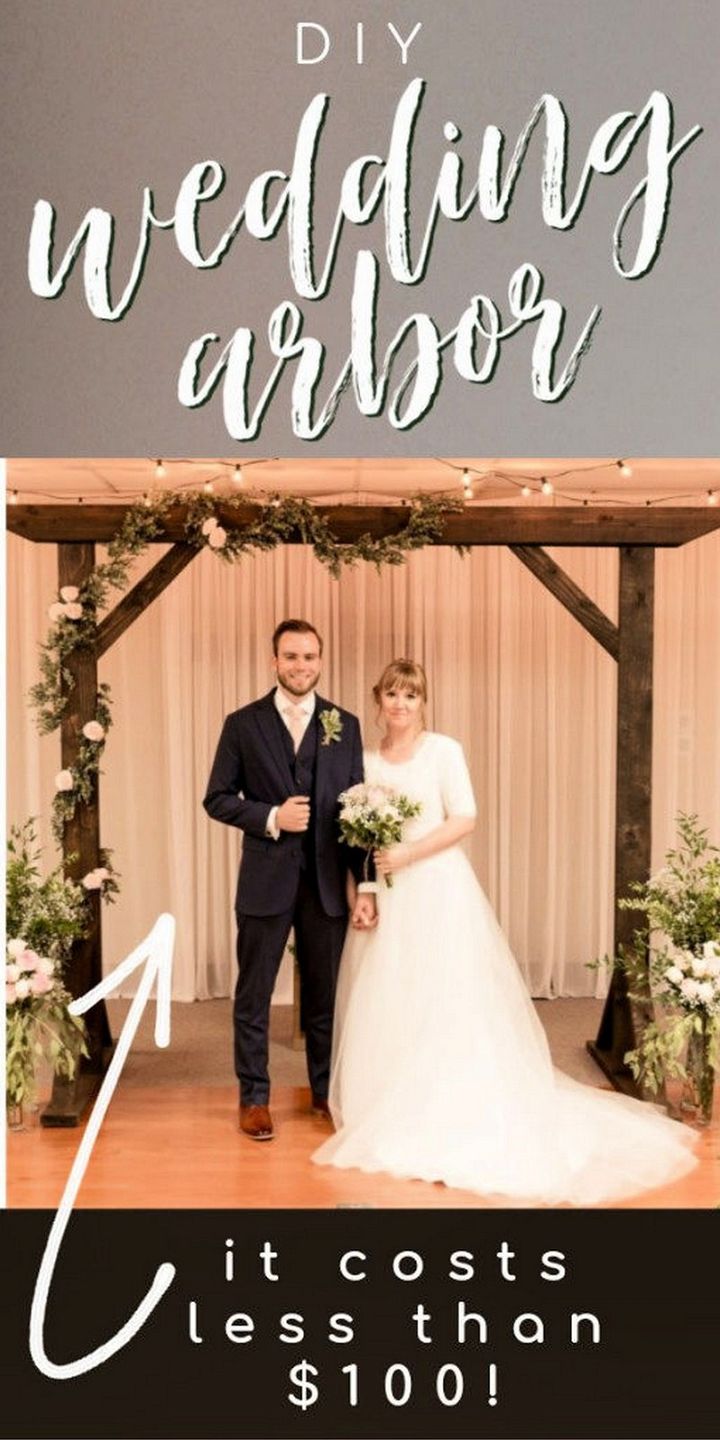 If you have a wedding in the fall, this wooden arbor will be perfect. everyone wants to have a nice wedding arbor or arch but the prices bring our morale down and we couldn't help it. This project will help you create your very own wooden arbor within your budget. here!
2. How to Make an Arch For Your Wedding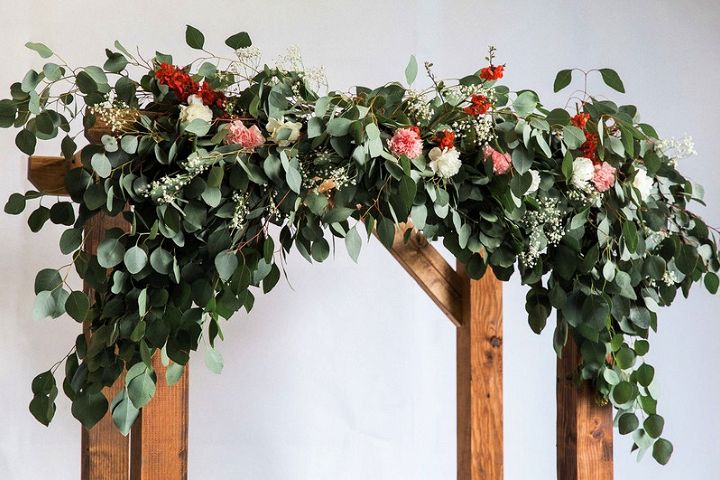 Weddings are surely the most prestigious events in one's life. Therefore have to make it as special as you can. Without a wedding arch, everything looks a little bit incomplete. You must have seen a variety of wooden arch ideas but picking and choosing the correct one in terms of money and time is really a task. Have a look at this project that will guide you on how you can build a wedding arch from scratch. here!
3. Build A Floral Wedding Arch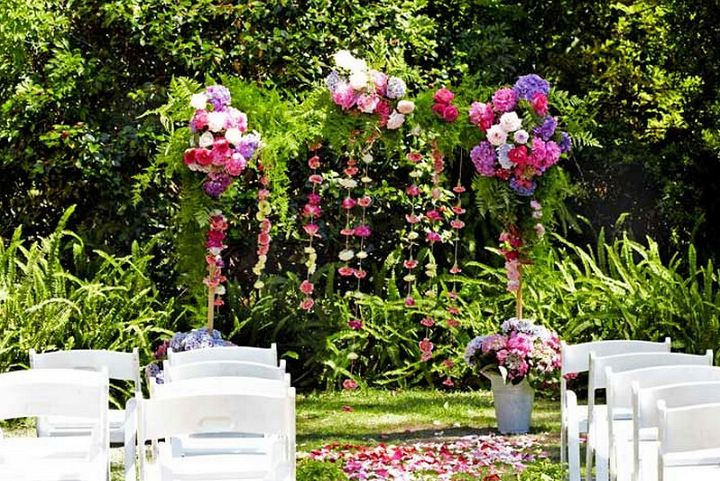 When it comes to celebrations and especially weddings, everything must be over the top. This is a DIY floral wedding arch idea that will guide you through the heavenly wedding décor and arch. Try this out and make your wedding day even more special and memorable. here!
4. DIY Backyard Arbor By Bloom Culture Flowers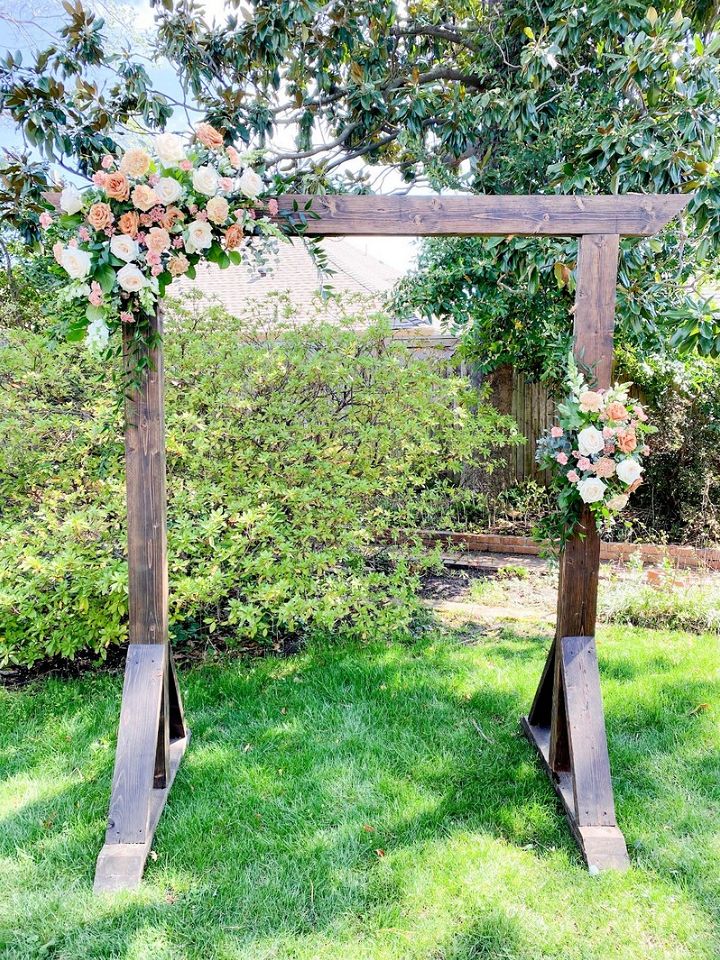 This is the most beautiful and colorful wedding arch that you can build in your backyard. These are boom culture flowers that you see here in this project so try this out and make everything bloom and look like it's being celebrated after all it's your big day. here!
5. How To Design Your Own Wedding Arch Florals With Fiftyflowers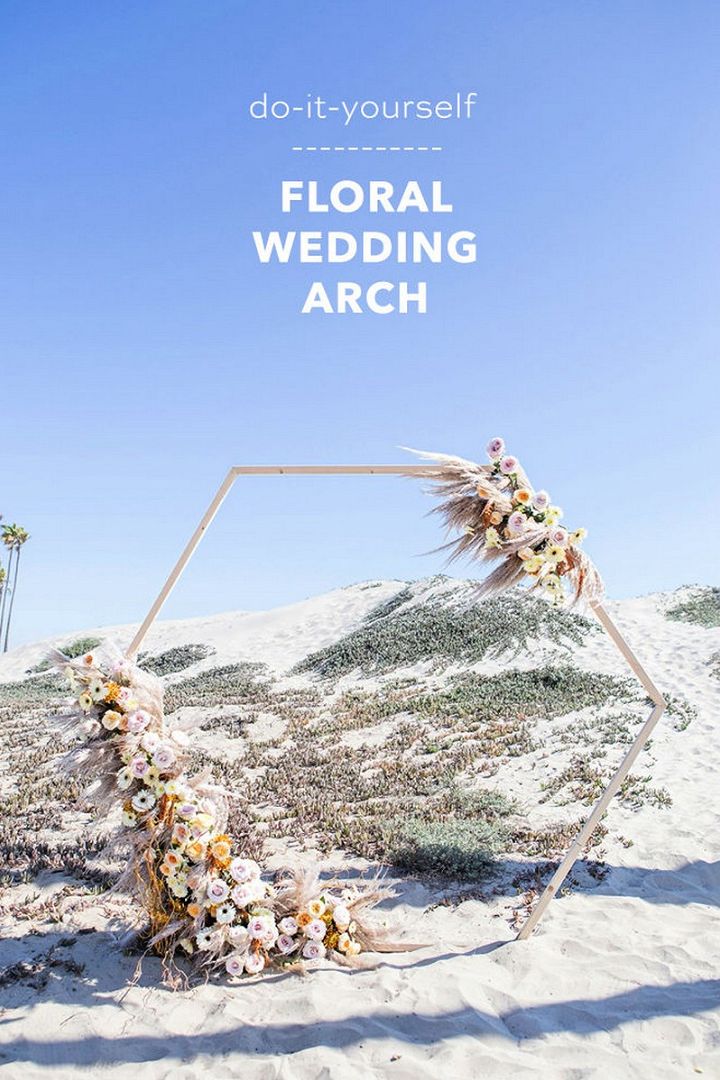 While thinking of starting any project we all worry about the budget at first. This project is budget-friendly and simple so give it a shot. The tutorial here guides you on how you can make your wedding arch with fifty flowers and make your wedding décor look like a fairy tale. Make your day even big with this great and simple idea. here!
6. DIY Self Standing Wood Arch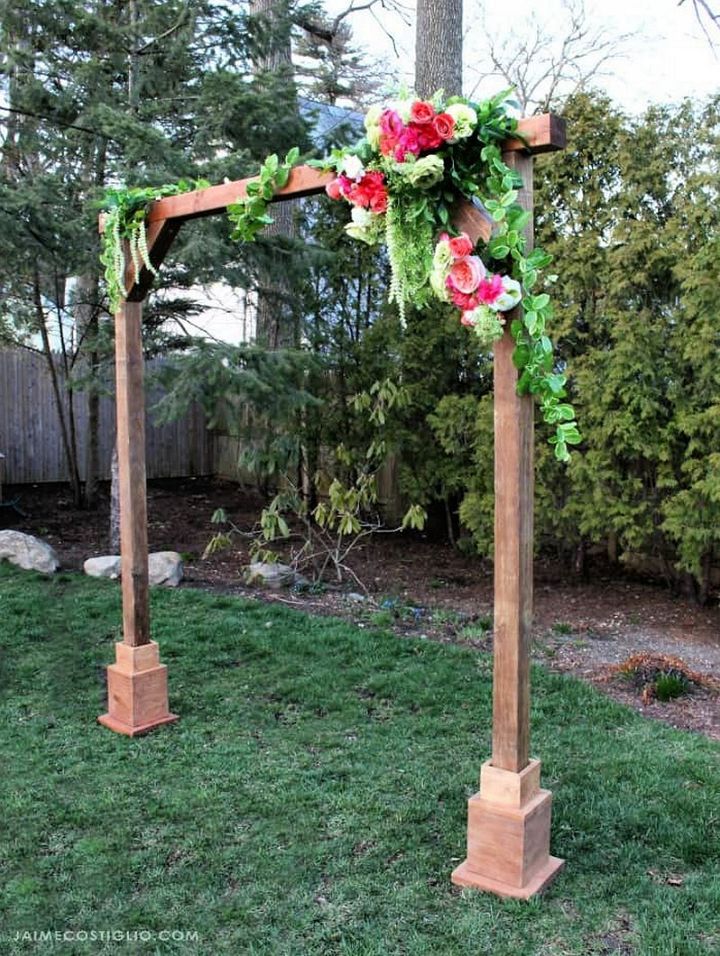 The project that you see here will definitely blow your mind and you will be amazed by the results in the end. This is a wedding arch idea which is a standing structure on its own. This wedding arch is definitely special and attractive as it has beautiful flowers and an amazing wooden frame to go along. Make your day more memorable than ever before. here!
7. DIY Wedding Ceremony Backdrop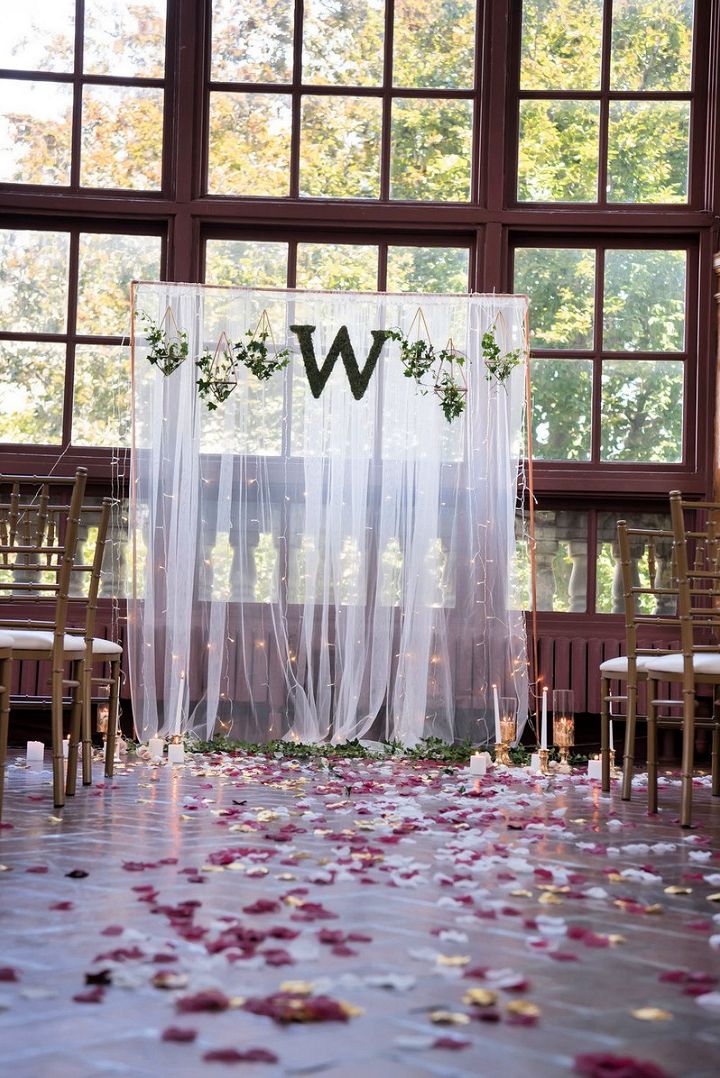 Have a look at this heavenly wedding ceremony backdrop which looks stunning. The process for this is quite simple. All you need for this project is a copper wire of a specific measurement, pipe cutters, fittings, metal glue, lights, and some other supplies alongside. This backdrop will be basically a jaw drop once you are one making this. here!
8. Rustic DIY Wedding Arch Made From Cedar Trees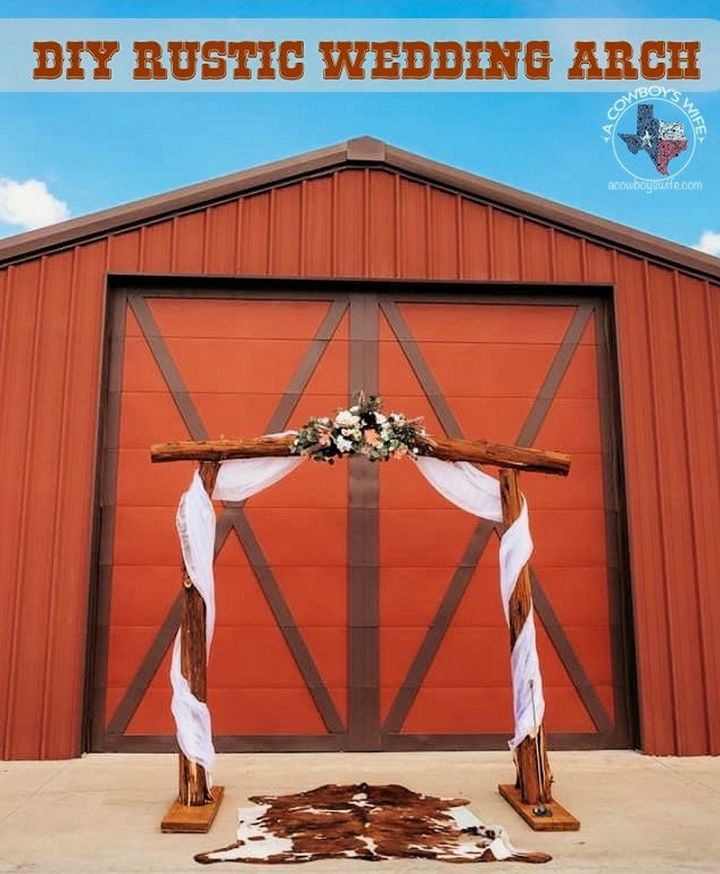 You must have seen or heard about different wedding arch ideas but this one is quite interesting. This wedding arch is made with cedar trees and everyone can try this very conveniently. This is a rustic wedding arch involving cedar trees. The end result of the efforts you are going to put into this is outstanding and enticing. here!
9. DIY Moongate Wedding Arch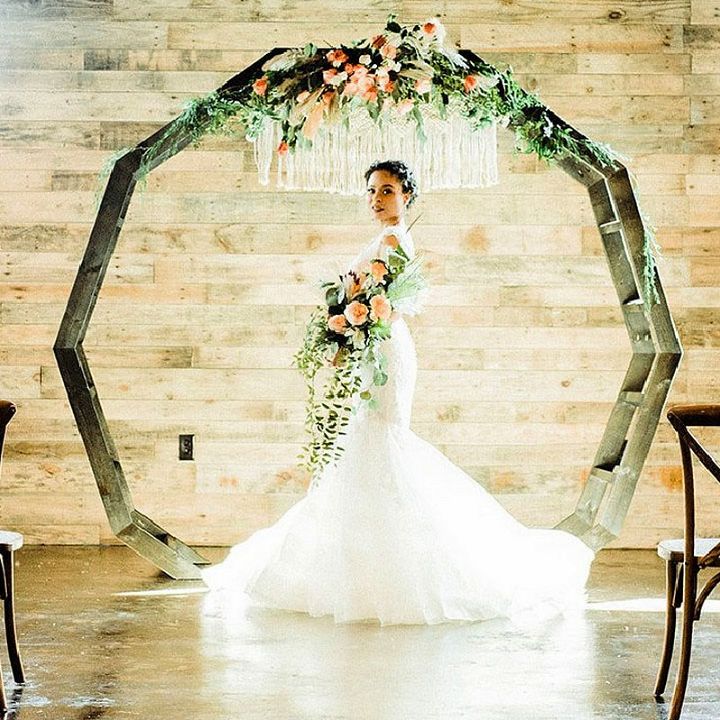 The sole purpose behind putting a wedding arch on the big day is to make it more special for the bride and groom. This project that you see here is all about creating a wooden arch that is so mesmerizing that it almost looks like a moon gate or a way to the moon. Make this for your big day or for anyone else in the family and see the difference. here!
10. DIY Ombre Magnolia Leaf Wedding Backdrop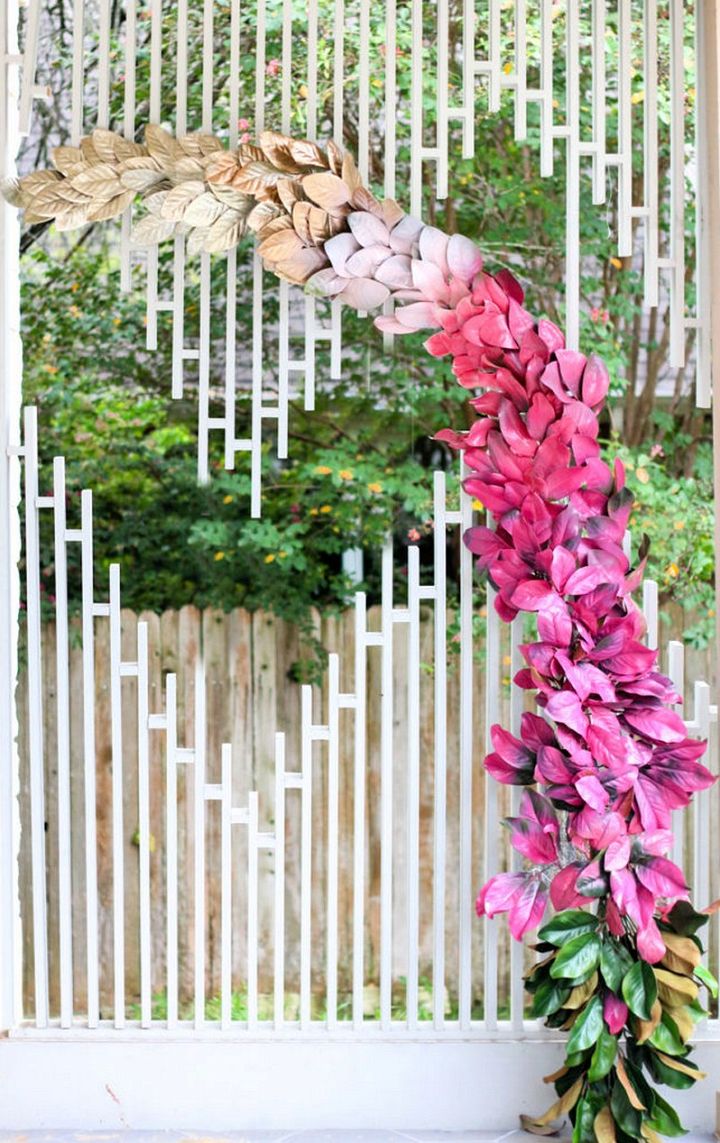 Your wedding arch will stand out if you make it with some unique flowers or leaves. This wedding arch idea here uses some Mongolian flowers in amber color and sees how amazing the whole scenario has become. Learn to make this arch with help of the tutorial here and you will see some surprising results for sure here!
11. How To Make Your Own Stylish & Affordable Foliage 'Floral' Arch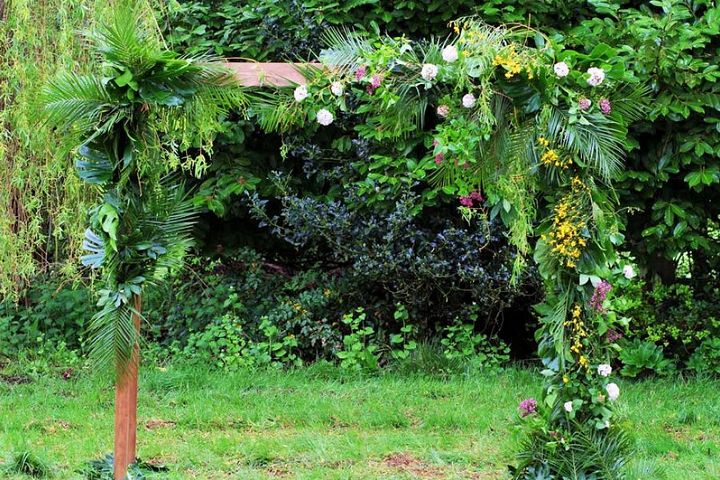 You can be as creative for your wedding day décor as you want. Show all your skills and creativity in making your venue look like heaven. This décor and arch which is shown here will blow your mind and will give absolutely stunning results. Try this out and take guidance from the instructions and tutorial here. here!
Conclusion:
You can choose the theme and pattern for your wedding décor according to your choice and desires. However, almost all of the projects here are desirable and larger than life. Select the project and start planning for that big day right away before it's too late.