String art has been famous since a long time and you can learn it from these DIY Projects. A variety of ideas and plans about doing string art are presented here in these Best DIY String Art Projects With Tutorials and you will have fun knowing about them. Hearts are made using strings in many of these projects and they look awesome. Wooden boards, scrap wood and plywood are used as the base for doing the string art. You can pick colorful strings depending on your choice of colors.
Besides this stars are also made using jute strings and they also look great. Complete detailed descriptions and tutorials are given here with all of the diy string art projects so that you can easily get along and do it all by yourself. You can choose any word or phrase while doing these string art projects. All of the ideas are budget friendly and some basic supplies and stationary are used here in these plans. You will have to have a little bit of patience while doing these projects as they are lengthy and time taking.
1. DIY String Art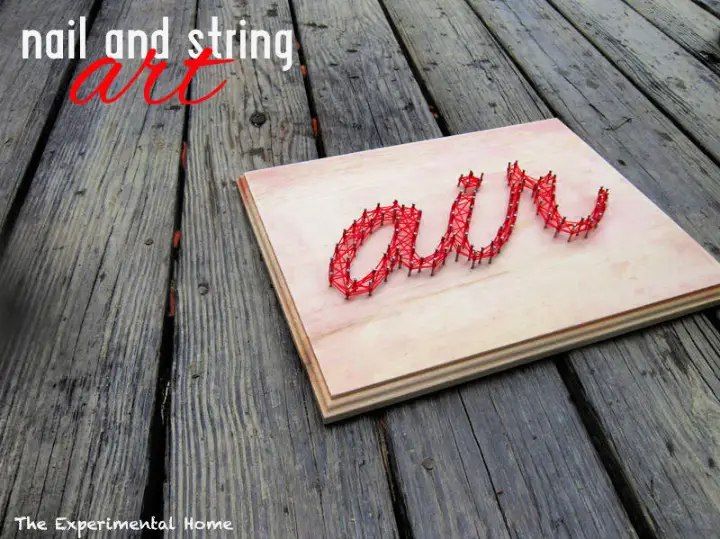 String art is definitely trending these days and people are loving it. This air craft here made using string art is truly something? If you are also interested in this art and craft, you can make it too with the help of this process here. The supplies that we need here are a piece of wooden plaque, computer, printer, crafts software, tape scissors, nail box, hammer and crochet thread. Tutorial
2. Joy String Art with Wood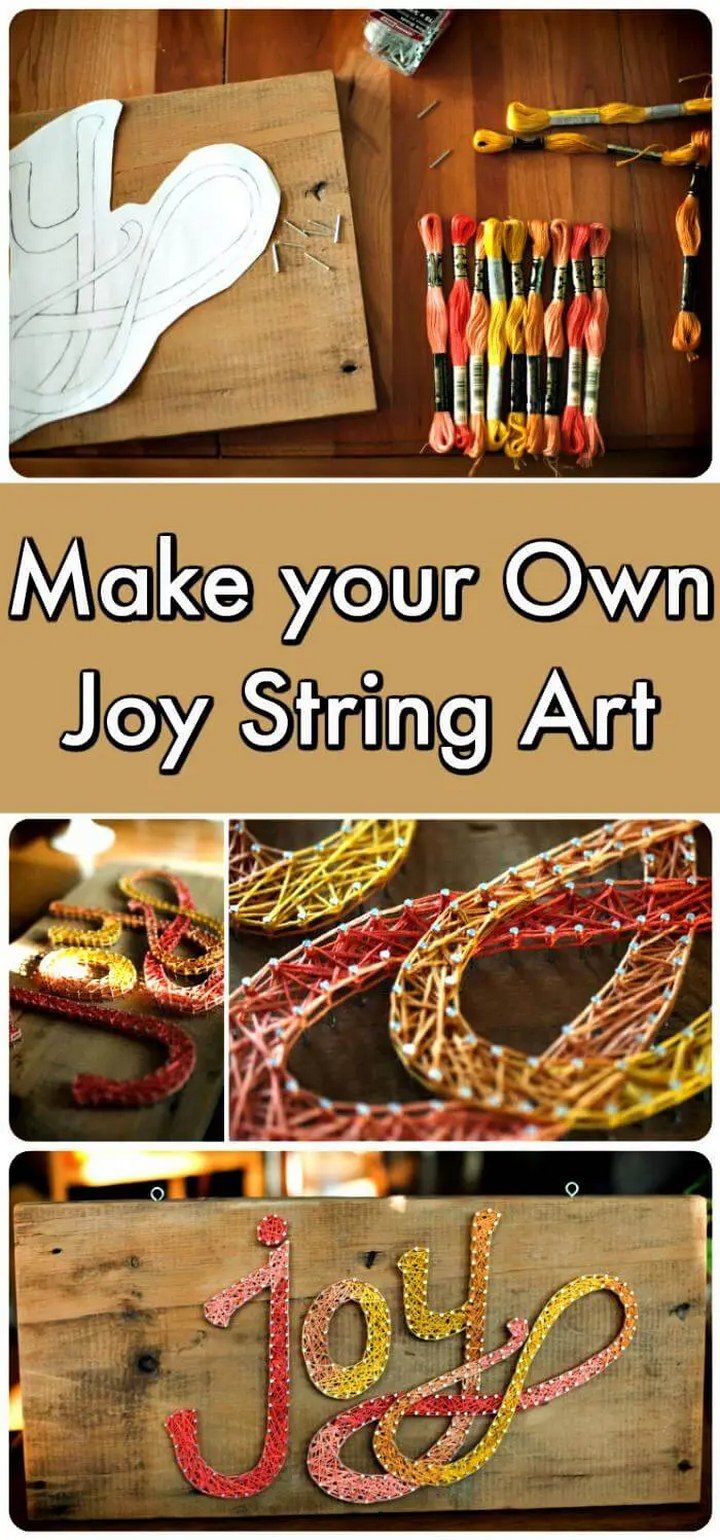 This beautiful combination of wood and strings is literally mesmerizing and magical. This joy string art is something that art and craft lover will surely love and get inspired with. Make this masterpiece using the supplies that are listed here. Choose the colors that you like for this project. Tutorial
3. DIY String Star Art Sign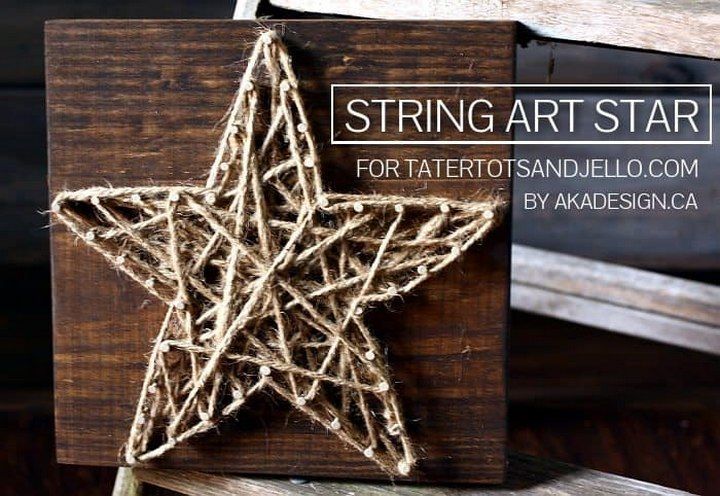 This diy project is all about making star using jute string. This looks great for wall décor and you can easily make this. the supplies that you need for this project are a piece of wood, string of jute, twine or hemp cord, nails, string art star template, pencil, wood stain, foam brush, rag, hammer, scissors and sandpaper. Tutorial
DIY Plywood Farmhouse Decor – Here are 24 inspiring DIY Farm Decor Ideas you can bring to life. You will love these beautiful and affordable ideas!
4. DIY Rainbow Heart String Art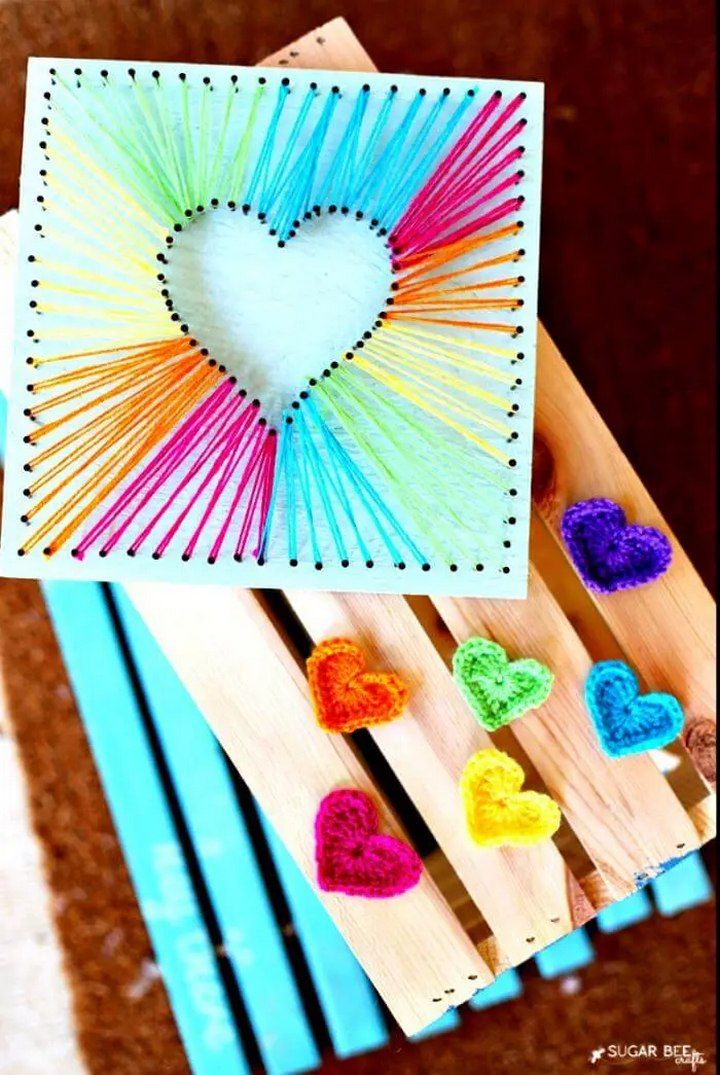 Have a look at this rainbow heart string art and get inspired with this. If you are also willing to do this art and craft, you can get into the details and get it done. These colorful hearts are so adorable that you will want to do this. The supplies that are needed are yarn, board of scrap plywood, nails with a flat top and shape template Tutorial
Big Stick Popsicle Crafts – Each of the 32 Big Stick Popsicle Crafts Cheerful Ideas which we've gathered here are stunning and definitely distinctive in their own way.
5. DIY Mini Heart String Art Tutorial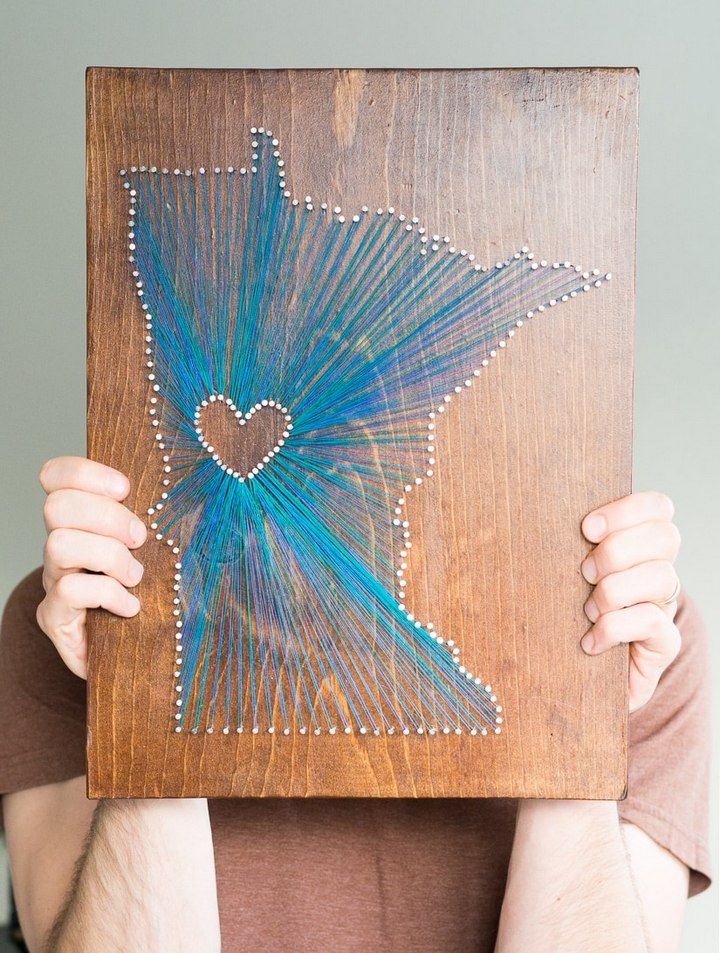 Here we have a lovely string art tutorial with pretty and mini hearts. You can make this craft as a house warming gift for anyone you wish. You need to start off by deciding for the backdrop. Pencil, marker, scissors and double sided tape are some basic stationary used in this project. You can use multiple colors. Besides this embroidery thread and fabric glue are also used here. Tutorial
Conclusion:
All of the diy string art projects that we see here are surely tempting and attractive enough to try. You can also pick and project depending on your choice. Once you are done making these crafts you can give someone as a gift for their house warming. Besides this you can also make these crafts for wall décor.