All of these 20 DIY Dining Room Décor Ideas On A Budget are so perfect and on the point that you will love all of them. All the ideas are different from each other and unique in their way. All the decorating plans and ideas that we see here are the latest and trendy. You can also, decorate your dining space with trendy, easy, and affordable ideas like these. You will also find here, ideas about decorating a small dining space and table. Besides this, you will also find some classy chair ideas for your dining table.
While you do your dining room renovation and transformation, you can change the lighting, furniture, surrounding, dining table, chairs, wall décor, and much more. Wall decor also plays an important role in changing the appearance of your dining room or area. Besides this, you can also build Floating Shelves for your dining rooms to create an impact on the whole room. Make your dinner time more special than ever before with this dining room transformation.
1. Spring Dining Room Decor Ideas – DIY Textured Vases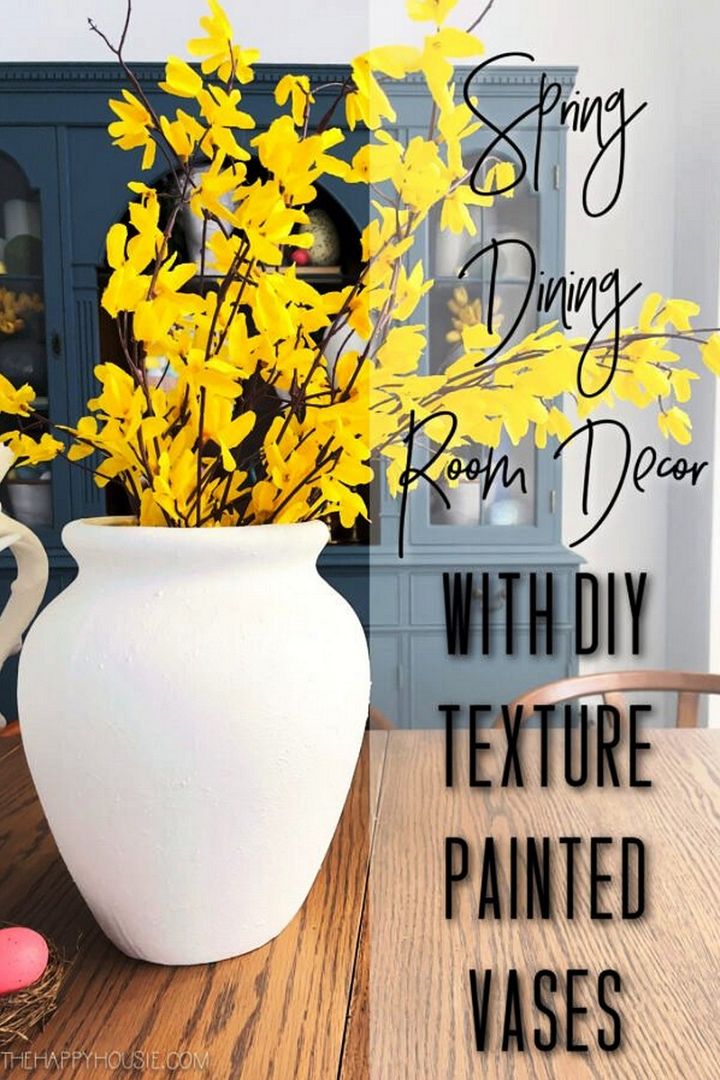 As we know that spring is all about flowers and colors. This DIY dining room décor plan is made for the spring season in particular. In this project, you see some textured painted vases. With these vases, you will be able to create a whole new perspective of your dining room and surrounding. Get the details of this project and see how this is all done Tutorial
2. Dining Room Decorating Ideas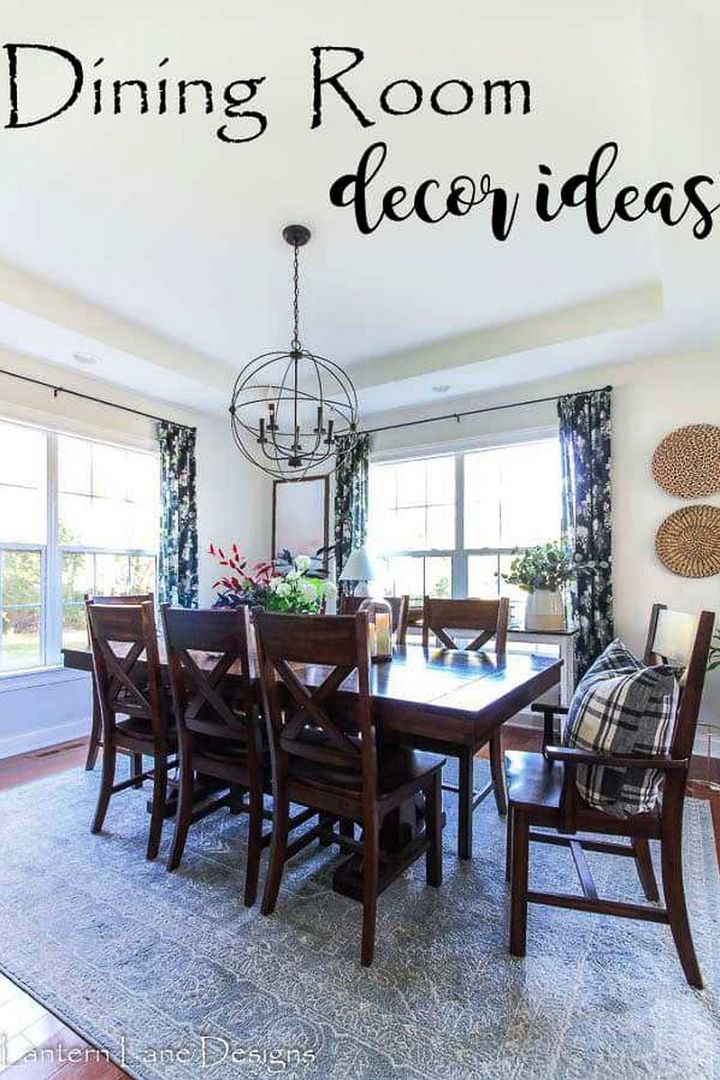 This is a very nice and eye-catching dining room décor idea that you can also use for your own dining room. You will start off by painting and then move on to the window treatments. You will then have to change the lightning. Adding an area rug will be your next step. After this, you will have to add the accessories and do the final touch. Tutorial
3. Decorating Your Dining Space In A Rental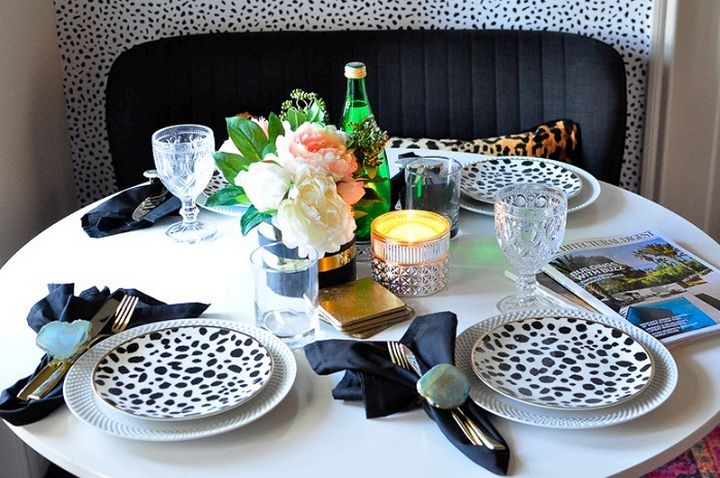 This project is all about decorating your dining space in a rental. You will start off this project by adding a statement rug. You then have set a gorgeous table in this area. Afterward, use your walls wisely. See your furnishing in the next step and see if they are in the right size. Grab the supplies and see how you can create a mesmerizing look in your dining area with the help of this project. Tutorial
4. DIY Small Dining Room Remodel Update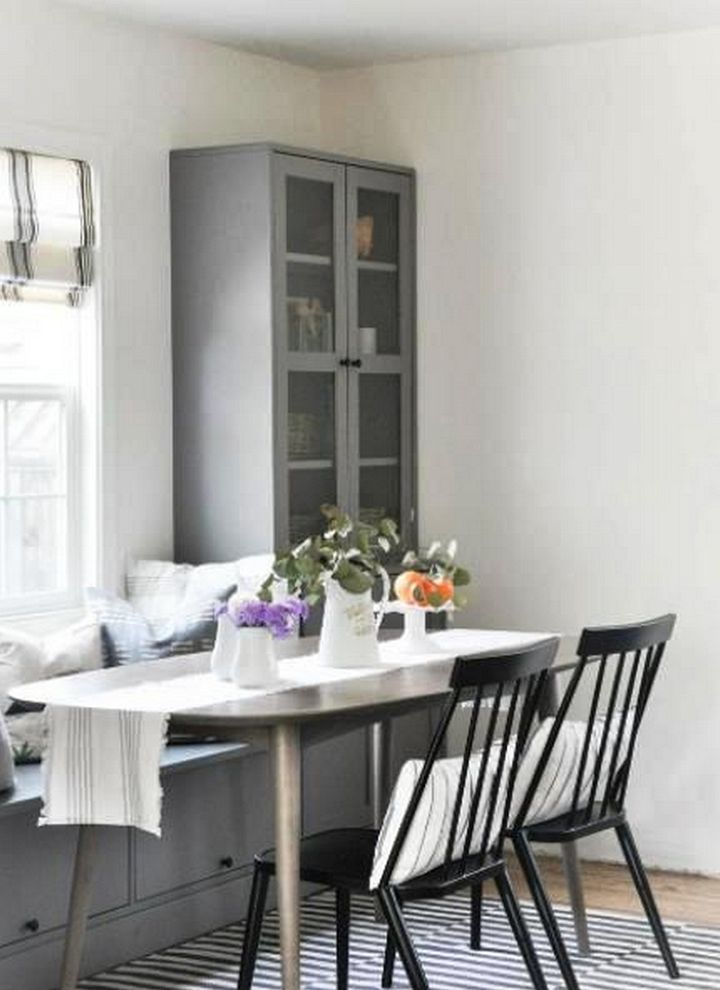 This is a small dining room remodel update plan that you see here. This diy effort will leave your dining area more attractive and appealing like never before. If you also have a small dining room, this project will be of great importance to you. See the details in the written form as well as the tutorial to be accurate with the results Tutorial
5. Kacey Musgraves Dining Room Tour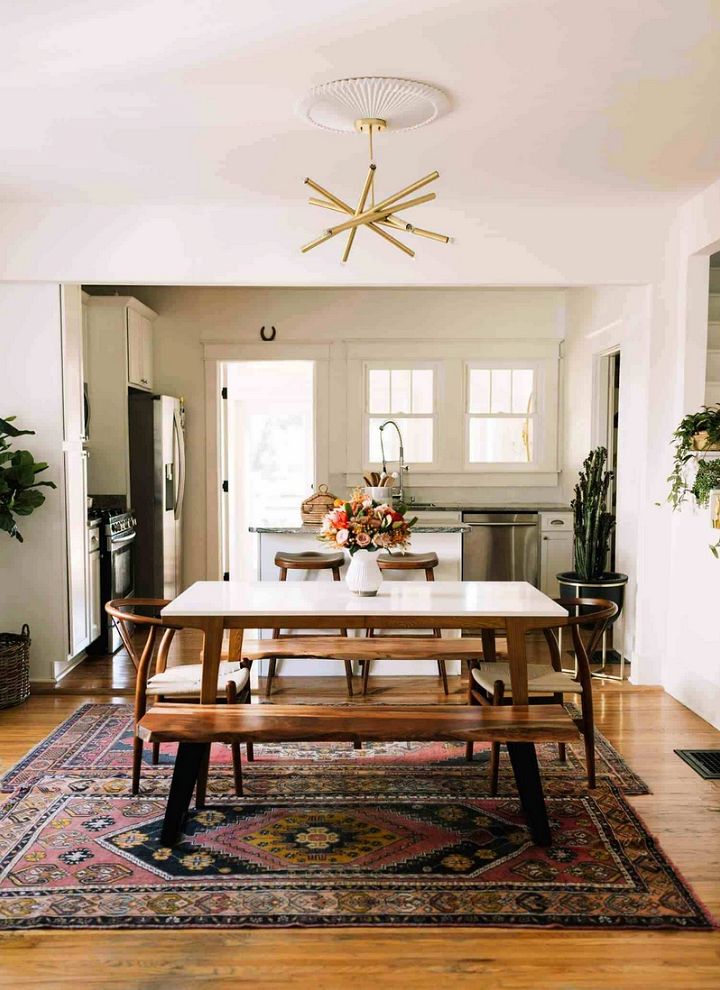 This dining room tour is as important as it gives you the complete idea about how you can decorate your own dining room with some trendy and latest ideas. See the light fixtures in your dining room and you can clearly witness how impactful it is for the whole room. Tutorial
6. How To Choose Dining Chairs For Your Dining Table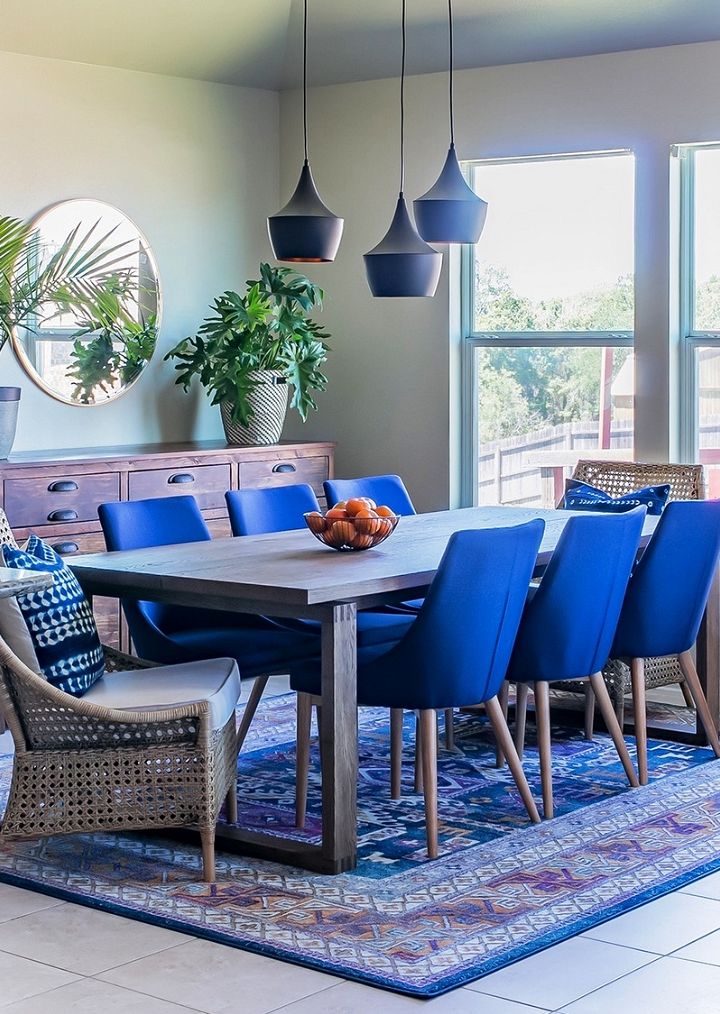 Are you ready to choose some stylish and trendy dining chairs for your dining area? If yes then you must give this a try. A nice dining table and chair clearly has a very large impact on the entire area and ultimately house. Along with some chair for your dining area, you can also see a matching bench along with it. Tutorial
7. Dining Room Table Centerpiece Ideas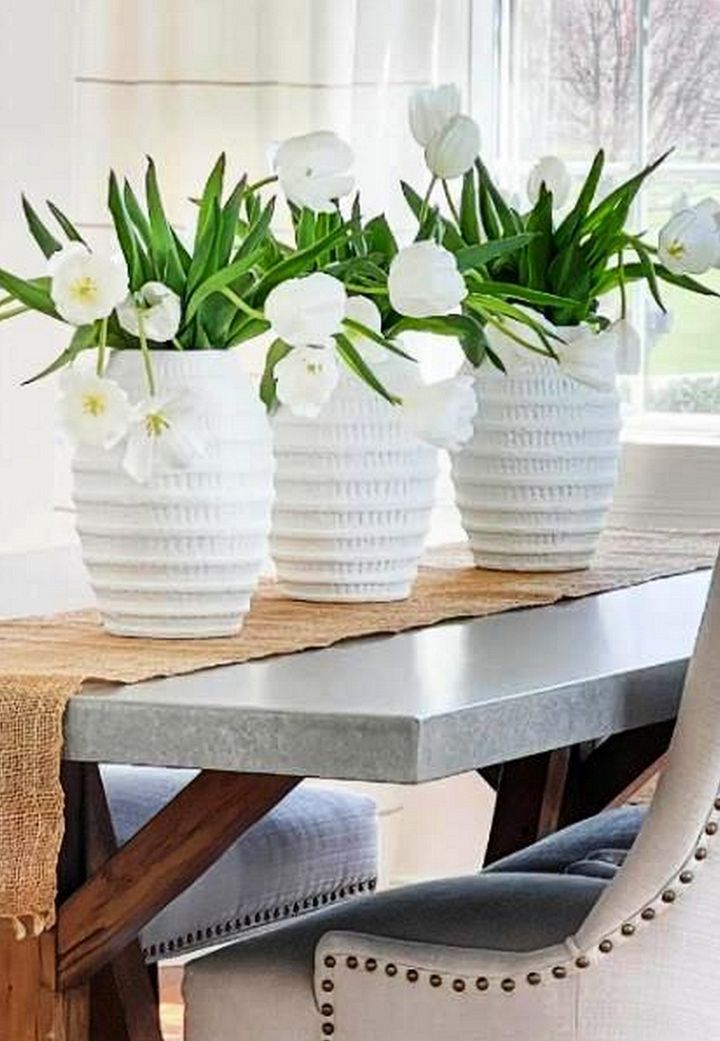 This project is all about dining room and the center piece. You can fill your dining space with all the natural elements like the ones you see here. This dining room center piece is all about dried hydrangeas, faux sunflowers, Christmas greens, spring branches, moss, faux arrangements and orchids. Tutorial
8. Dramatic Dark Blue Dining Room Reveal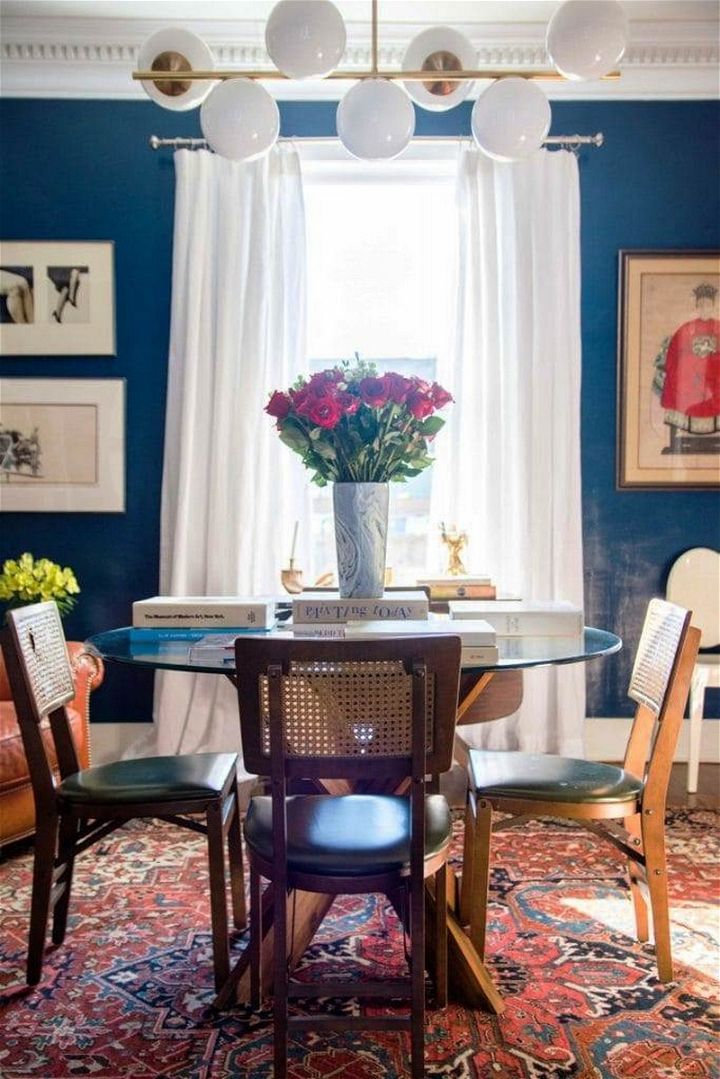 This dining room is all about dramatic dark blue color and this looks surely impactful. See the simple linen curtains that look great with the whole environments and ads positively to the ambiance. See how you can change the look of your own dining room and make it a place where you feel proud, relaxed and calm. Tutorial
9. Thrifty Dining Room Shutter Wall Decor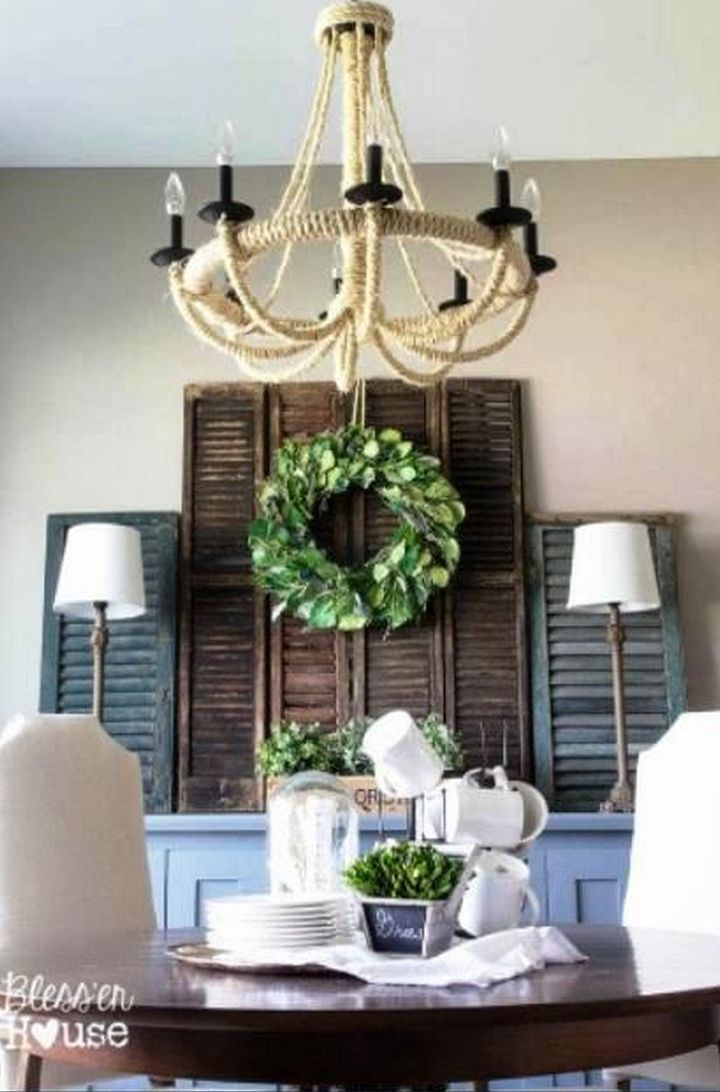 Shutter walls look dramatic and experimental. You can also do the same experience with your own dining room. Add some thrifty shutter wall décor to your dining space and watch it transformed into a completely new space with all the new vibes and calmness. Tutorial
10. Making Dining Room Wall Art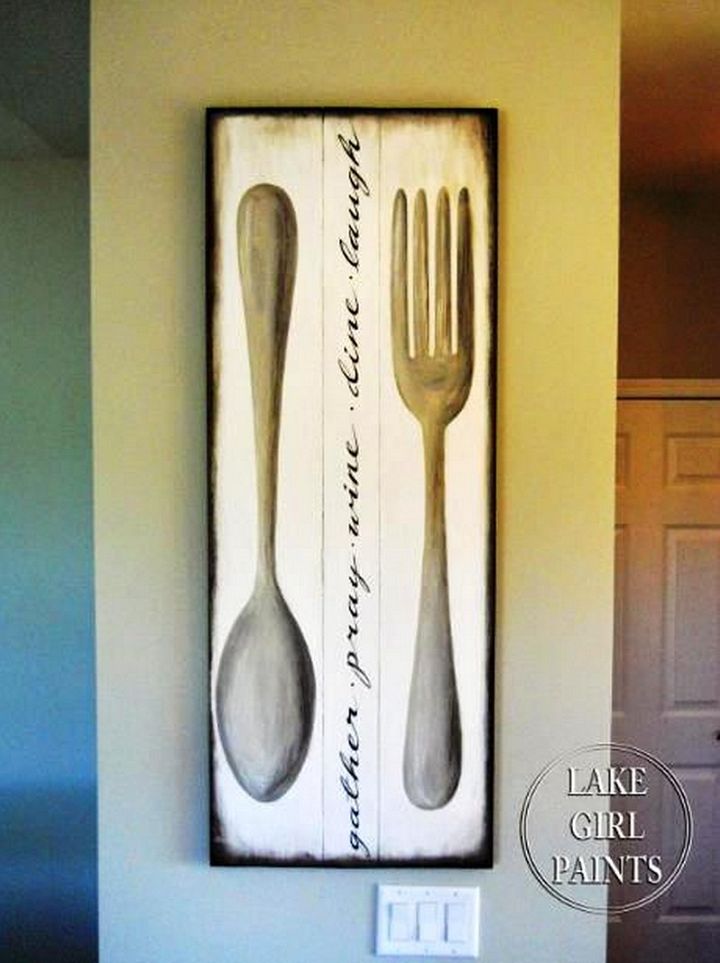 This di dining room wall art seems simple but will create an impact on the home décor in general. See how the dining area looks after the wall art has been done. Once you are done making this wall art with the help of this diy project here. Well-decorated walls look great and makes the entire room more appealing and eye-catching. Tutorial
11. How To Make Rustic Candle Holders In About An Hour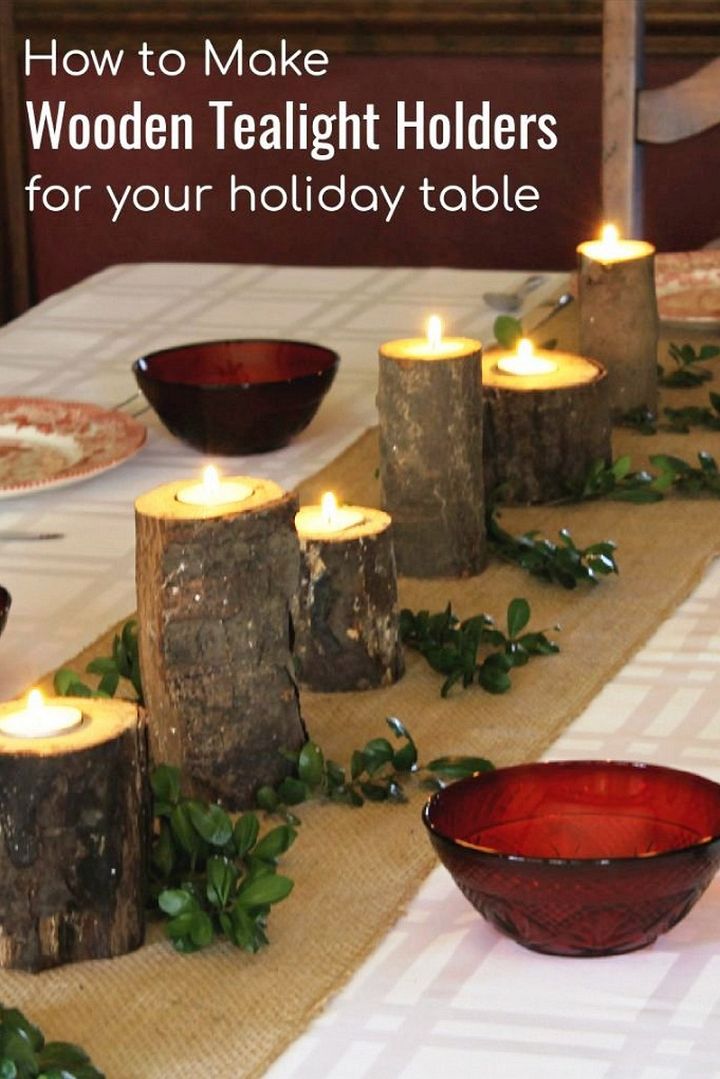 These rustic candle holders are only a matter of an hour and looks amazing. The tutorial is here to help you in making the candle holders from scratch. The use of natural materials in this project makes it quite interesting and more dramatic. Round logs and tea lights are used in the making. Whereas the tools include vice, saw, drill bit, spade and drill. Tutorial
12. How To Build Simple Floating Shelves For Any Room In The House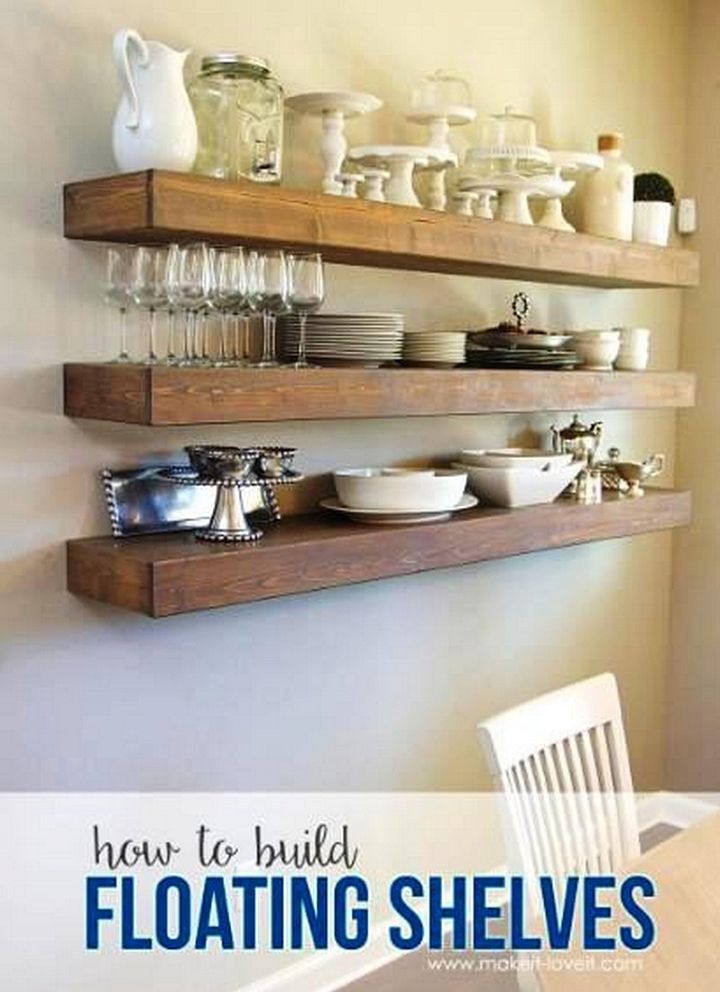 In this DIY project, you will learn to build simple floating shelves for any room in the house. You can build these shelves for the dining room to make it look more interesting than ever. These shelves are made from pine. Besides this, you will also need wood shims, screws, stain, and wood filler. Tutorial
13. DIY Wood Box Centerpiece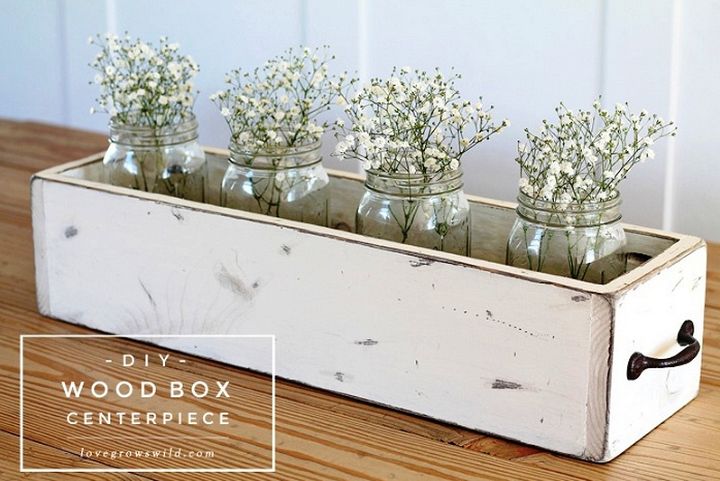 This wood box centerpiece seems perfect for any dining space. You will need a miter saw, Kreg jig, tape measure, drill, palm sander, paint or stain of choice and drawer pulls. The distressed look of this box makes everything dramatic and wilder. Make your dining space look more decorated and celebrated with this idea over here. Tutorial
14. Dine Well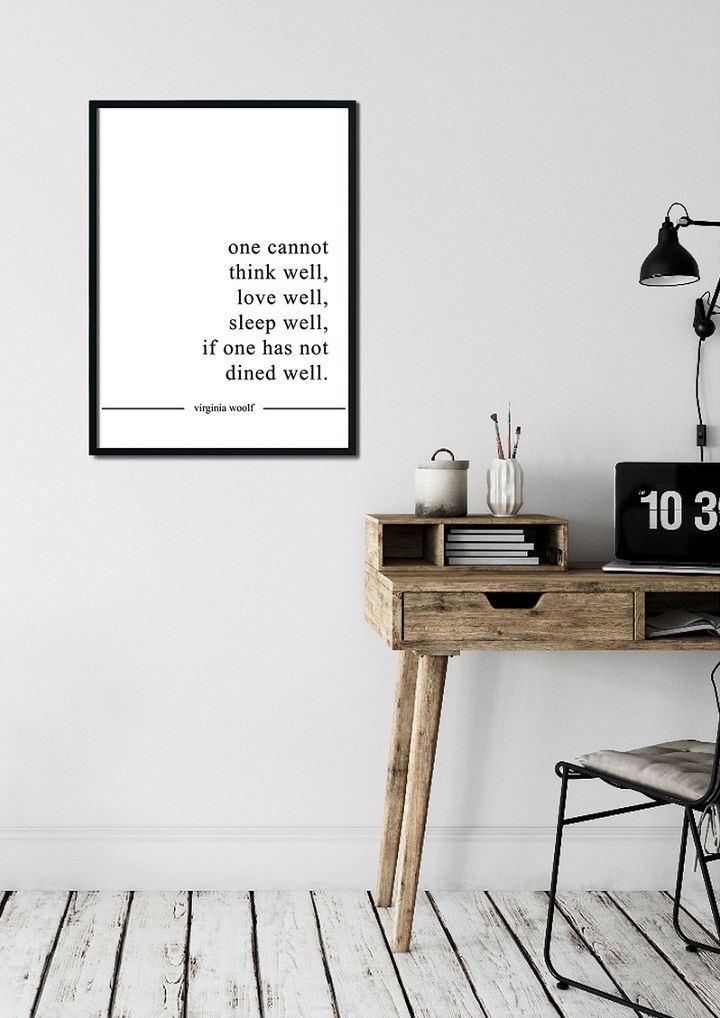 Are you ready to dine well with this diy dining room idea over here? If yes then you must get started with this amazing and interesting project. See the complete details here and make your dining time more fun and happy with ideas like these. You just have to follow the details in this project and see how you can do this. Tutorial
15. Easy Burlap And Lace Table Runner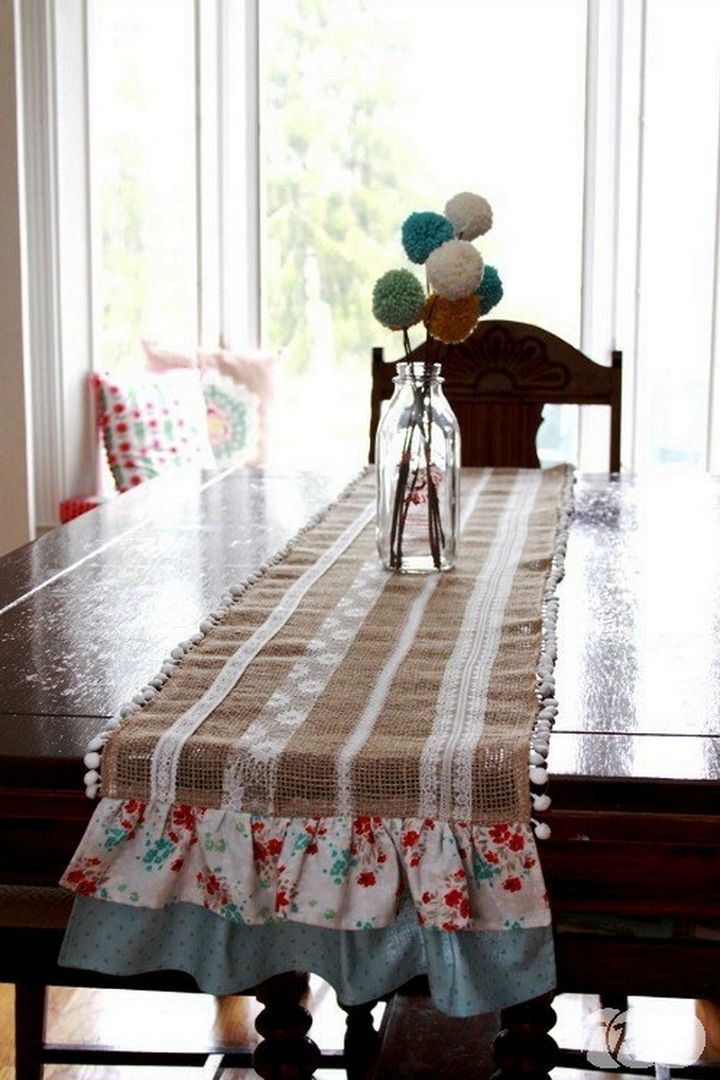 This diy table runner is made with a lovely combination of burlap and lace. With a little bit of effort, you will be able to make a stunning tablecloth for your dining table. Even if you are not so good in sewing, you can still do this project efficiently its simple. Tutorial
16. DIY Fringe Lampshade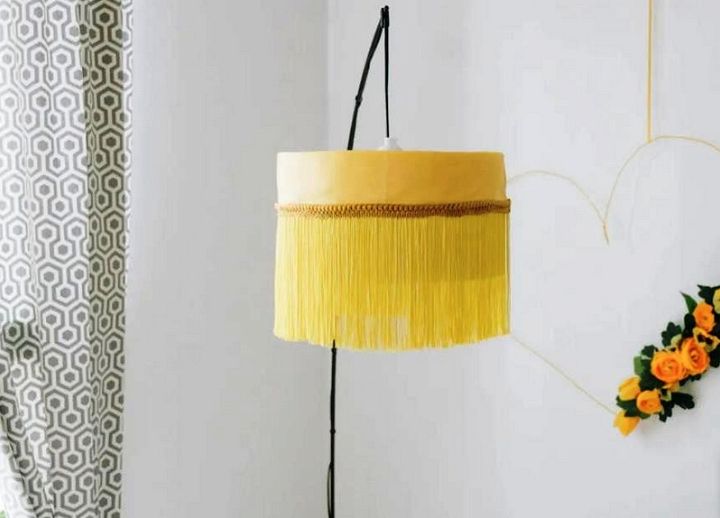 Have a look at this fringe lampshade here and see if you can make this too. This lampshade surely looks unique in its own way and elegant as well. See the step of construction and you will be easily able to get along with this amazing idea and plan. Tutorial
17. Rope Plate Charger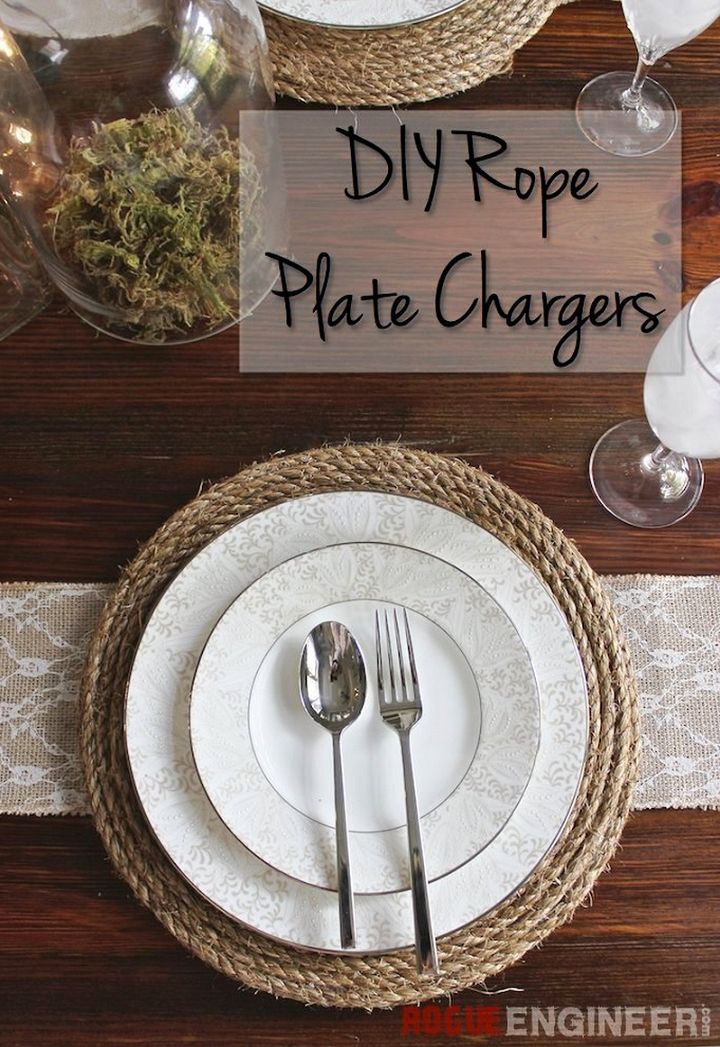 Are you ready to make this rope plate charger all by yourself? If yes then you must follow the process and see how this is done. The tools that you need are a jigsaw, safety glasses, glue gun, tape measure, scissors, and pencil. Whereas for the materials you need sandpaper, glue and some more supplies. Tutorial
18. DIY Farmhouse Table And Bench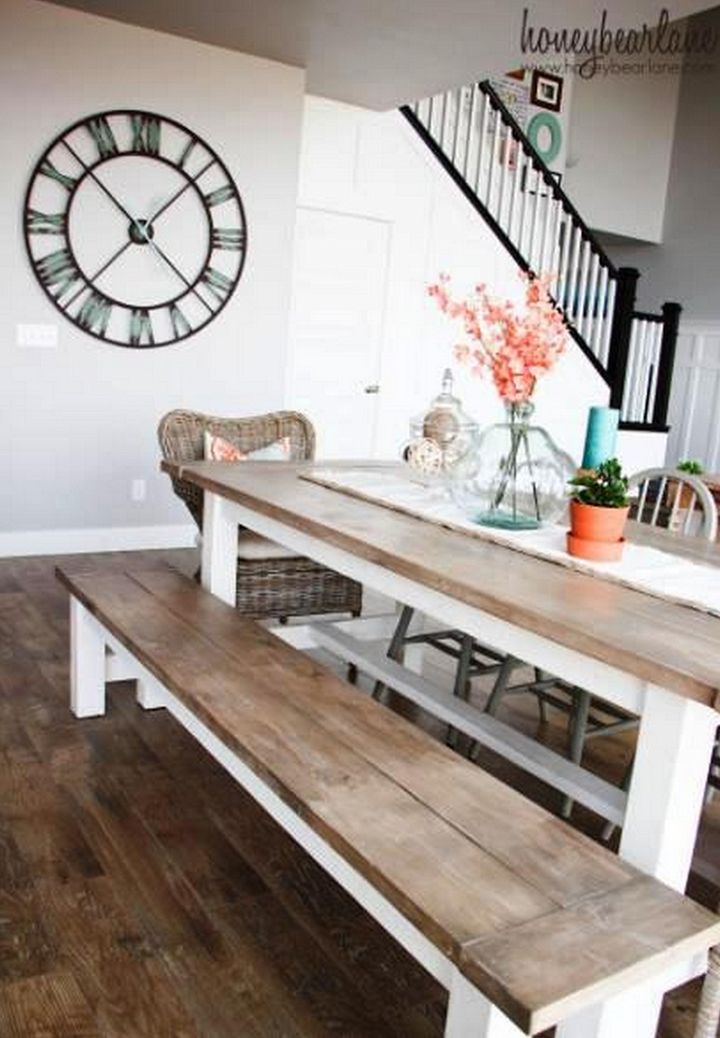 This is a farmhouse table and bench idea that you can easily be able to catch up with. This style can be easily incorporated in your household as well. The tools that are helpful in building this structure are a Kreg jig, drill and driver, miter saw, and some more. Grab the supplies and get started. Tutorial
19. How To Make A Round Kitchen Dining Table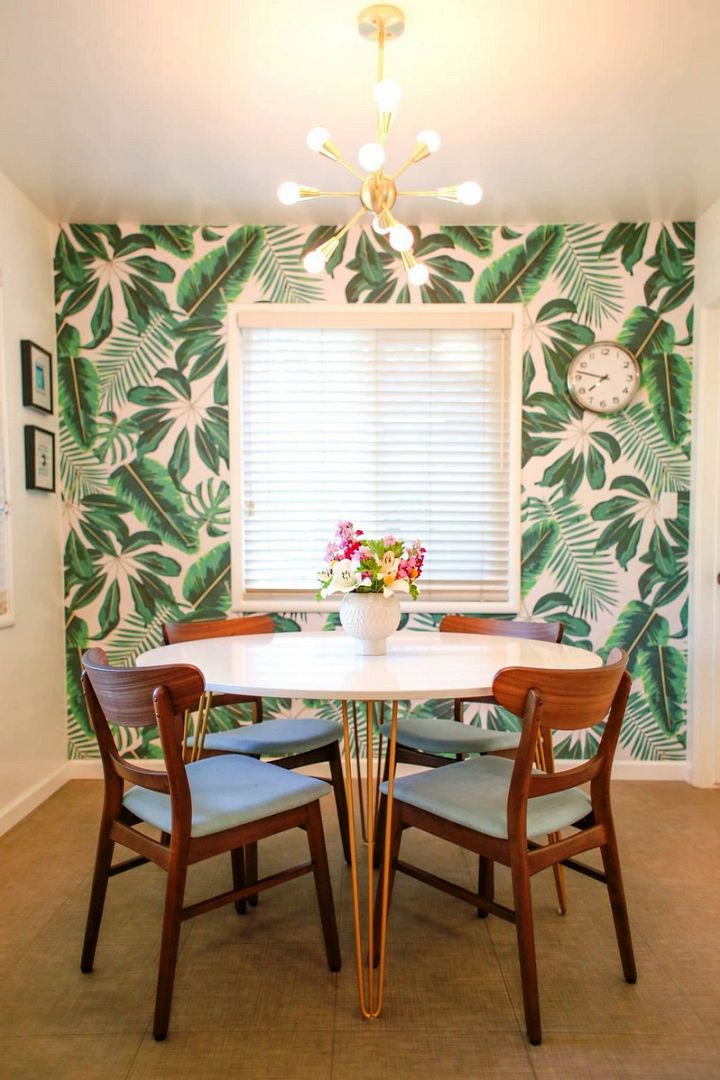 Here in this project, you will learn to build a round kitchen dining table all by yourself. You will need a few things such as hairpin legs, plywood, screws, a saw and tabletop. With the help of this project here you will be able to create an impressive masterpiece. Tutorial
20. DIY Farmhouse Dining Table With Reclaimed Wood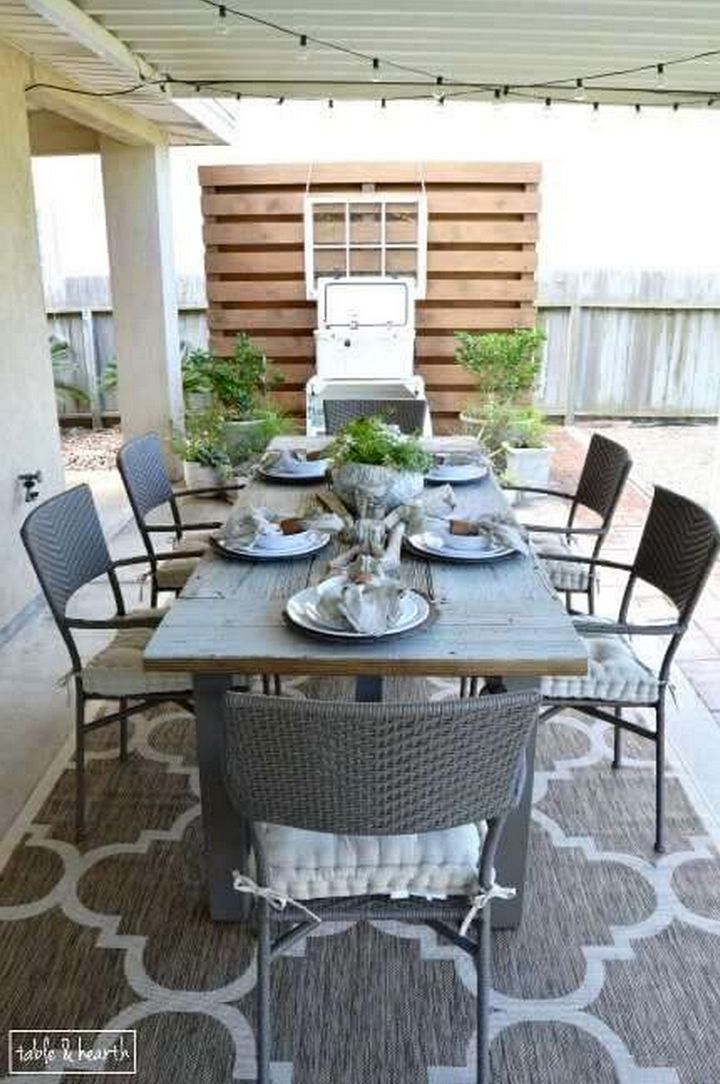 This farmhouse dining table is made using reclaimed wood and looks absolutely stylish and stunning. A complete detailed process has been given here so that you can be able to get along with this easily. With a little bit of dedication, you will be able to make a nice and appropriate dining table like the one you see here. Tutorial
Conclusion:
Pick and choose any of your favorite projects among these and see how you can do this all by yourself. Get rid of the old dining area look as well as the furniture that now looks backward. Get your supplies ready and make some eye-catching changes.