Putting up some personalized wall decor is a great way to showcase your creativity and bring some of your unique personality to your home interior. There are so many ways to create beautiful wall decor features – it doesn't need to cost you a lot of effort, or a lot of money. We've listed some suggestions for creative wall art, all of them simple and affordable. You can use these ideas for inspiration and produce something truly unique that will transform the feel of your living space.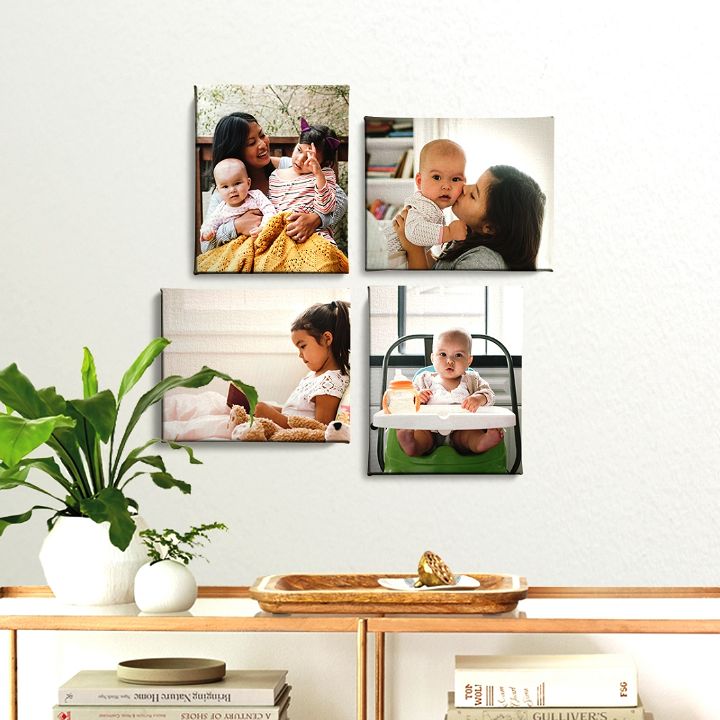 DIY Canvas Prints
Getting your own images printed on canvas means you can create unique wall art at an affordable price. No matter which images you select – vacation pictures, family or pet portraits, or abstract art – they'll look fit for a gallery when they're printed on fine-grained canvas which is stretched over a traditional wooden frame. Hanging a canvas print or two is a great place to start if you want to create an artistic ambiance at home. Why not combine several canvas prints (along with other works of art and found objects) to create a gallery wall – just make sure there's a coherent theme or color palette to bring the composition together.
DIY Metal Prints
Recent technological advancements have made high-quality prints on aluminum panels more widely available, making this premium solution a rival to classic wall art formats like canvas prints or posters. If you're looking for wall art with a contemporary aesthetic and a hint of glamor, this could be the perfect choice. Metal prints are affordable custom wall decor features providing brilliant image quality with remarkable depth and vibrancy. A perfect match for any modern design scheme, they're scratch-resistant, easy to clean, and highly durable – while remaining surprisingly low in weight. Designing your own metal prints takes just a few clicks – find a reputable online print provider, upload the photos of your choice, select the size format you want, and then wait for your prints to arrive at your door.
Statement Canvas Art
There are so many ways to express your creativity on canvas – including of course classic paintings. One simple approach you can take if you want to use your own paintings as statement wall decor is the "watercolor swirl" technique. Add a few watercolor drops to the canvas's surface, then add water little by little until the color starts to spread. Using a foam brush, add a second color and then merge the edges of the two colors. By gently tilting the canvas, pressing down in some places so the ink pools, or squeezing an empty condiment bottle at an angle to blow the ink about, you can move the paint on the canvas. Add more water and color as necessary. Once you've finished, allow the canvas to dry, and then choose a suitable frame for your brand-new work of art.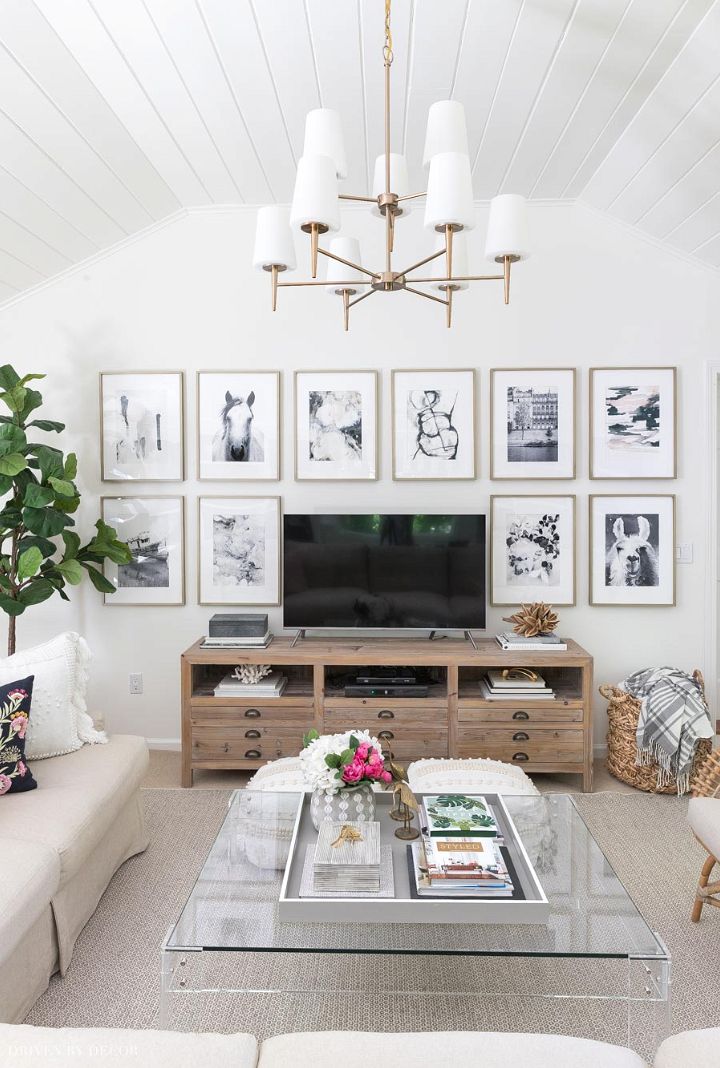 Geometric DIY Canvas Art
All you need to create geometric canvas wall art is some canvas, painter's tape, and some pots of paint (a mixture of metallic and matte finishes works best). Firstly, apply tape to a wide canvas to create a variety of triangles and other geometric patterns. Then paint each section with the color of your choice. Finally, remove the tape once the paint's dry. Use this technique and you can create a truly contemporary, even futuristic work of art that will suit a wide range of forward-thinking interior design schemes.
Embroidered Canvas Art
Using embroidered accents is another striking way to create DIY canvas art. You can let your creativity run riot here, but we've prepared a helpful suggestion if you're stuck for inspiration at first. Start by using a pencil and ruler to create a geometric pattern across the entire canvas. Then fill in each geometric shape with colors (try to stick to a harmonious palette) using a diluted watercolor wash. Leave to dry, and when it's completely dry, draw feathers in irregular positions across the canvas. You can then embroider around the edges of the feathers using yarn and an upholstery needle.
Paint Swatch Canvas Art
We recommend using this technique if you're taking your first steps in canvas art. First pick three variations of the same acrylic paint shade. Then use tape to divide the canvas into thirds. Paint the lightest shade on the top third of the canvas, the medium shade on the central third, and the darkest shade on the bottom third. After leaving to dry, remove the tape. If you want you can then write on the canvas with white paint – adding your name or any other text you like.
DIY Wall Posters
Printing your images as personalized photo posters is another cost-effective yet stylish method to brighten up your home and decorate bare walls. Photo posters are very convenient as they're very easy to hang on the wall and to move around from place to place – and of course they're very inexpensive compared to many wall art alternatives. Choose a trusted print online provider and upload your photographs to create photo posters that go well with practically any home design scheme.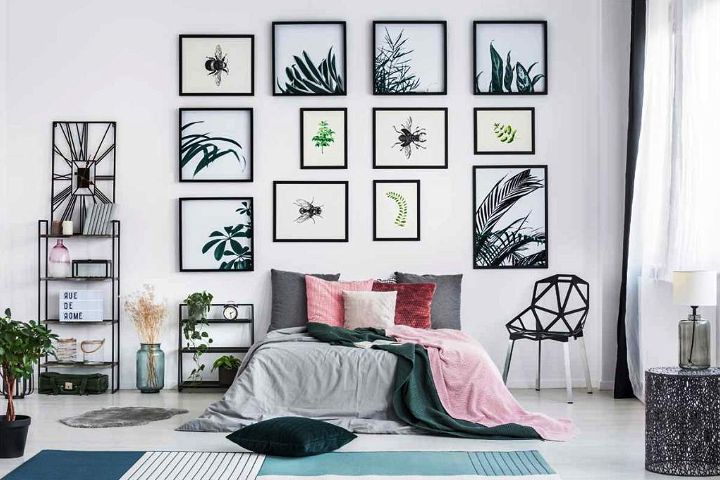 Plants on the Wall
Everyone knows that bringing a bit of greenery into your home is an effective DIY decoration idea, but using plants as wall art isn't so common. That's a pity, because displaying plants against an uncluttered background at eye level can really bring out their unique charm. And adding a row of flowers or plants to a bare wall won't just brighten your room, it will also make the air feel fresher.
Create a Travel-Themed Wall
Gallery walls make wonderfully effective design features, and they let you make a statement about yourself and your passions. For example, if you're a keen traveler, you can create a travel-themed wall featuring art prints or maps showing the vacations you've been on (or the ones you can't wait to have in the future!) As well as making a statement, your feature wall will also lift your mood by keeping those wonderful memories fresh. Just remember to choose pictures and other items that are in harmony with the current interior decor of your room – in style and in color palette.