These diy crafts are all easy enough that you can easily try these at home all by yourself. Get into the details of these 20 Easiest Crafts To Do At Home For Crafters and see how you can also follow the tutorials and make funny and interesting stuff. Besides this the supplies that you need to make these crafts are all easily available anywhere in stationary stores and craft stores. May projects among these are regarding Home Décor so get started and work towards the mission of decorating your home in a completely different way.
Summer holidays is one time of the year when kids get bored very easily therefore we must have some interesting activities lined up for them so that they can learn along with having fun. These projects are all cheap enough that everyone can easily afford. You will start off any of these projects by first gathering the supplies needed for that particular project and then go ahead with the rest of the working. Many of these diy craft to do at home are all about playing around different colors.
1. Sunflower Welcome Sign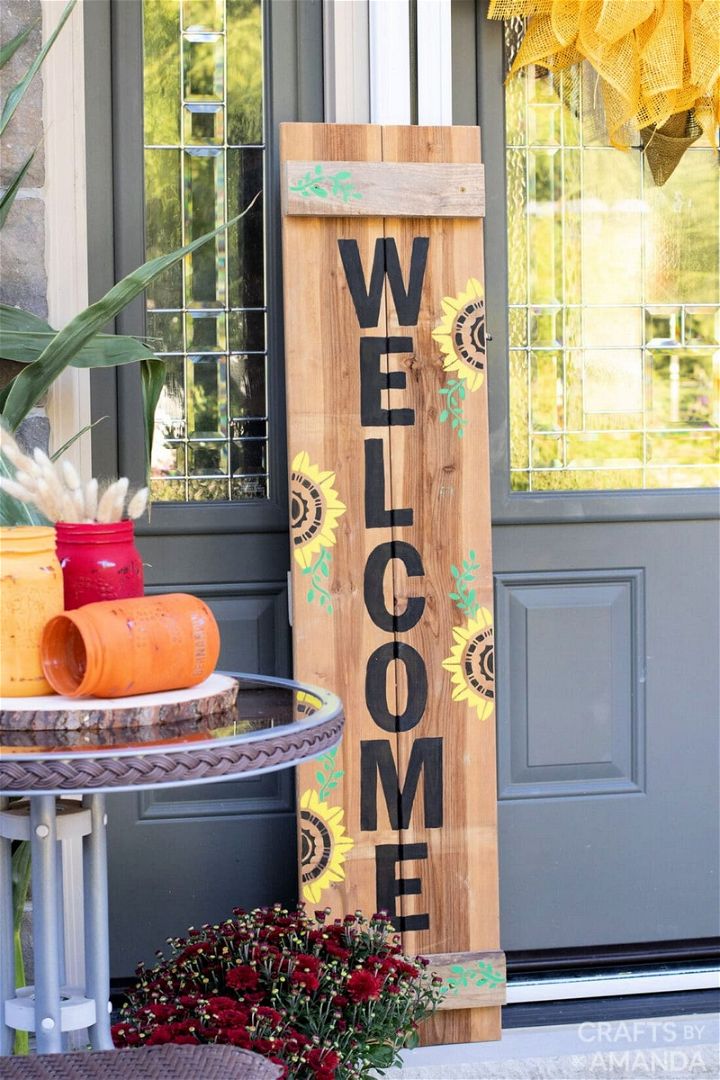 This diy craft is something that you can easily do at home. Try this sunflower welcome sign with the help of this project over here. A complete process has been explained here so that you can easily catch up with it. The crafts that you need are a plank of wood, paint, paint brush and scissors. Get started with this project and make your entrance more welcoming than ever before. Tutorial
2. Rolled Paper Flower Sign (Crafts To Do At Home)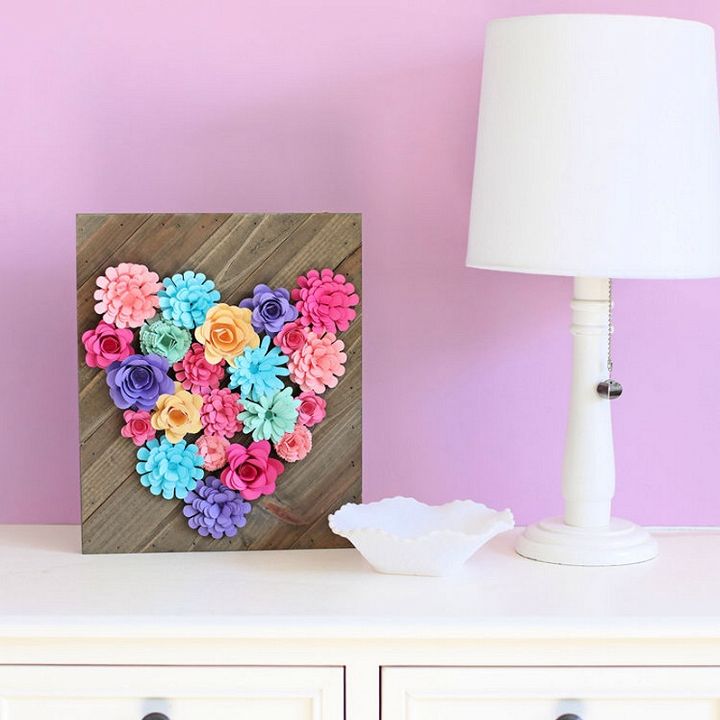 Paper is probably the most commonly used craft in art and craft projects. This diy project shows us how paper can be folded into beautiful and stunning flowers. Choose colorful papers and make this masterpiece. To make these rolled Paper Flowers we need rolled paper flower templates, silhouette cameo or circuit electronic cutting machine, smooth cardstock and hot glue gun Tutorial
3. DIY Paper Chain Rainbow Wall Hanging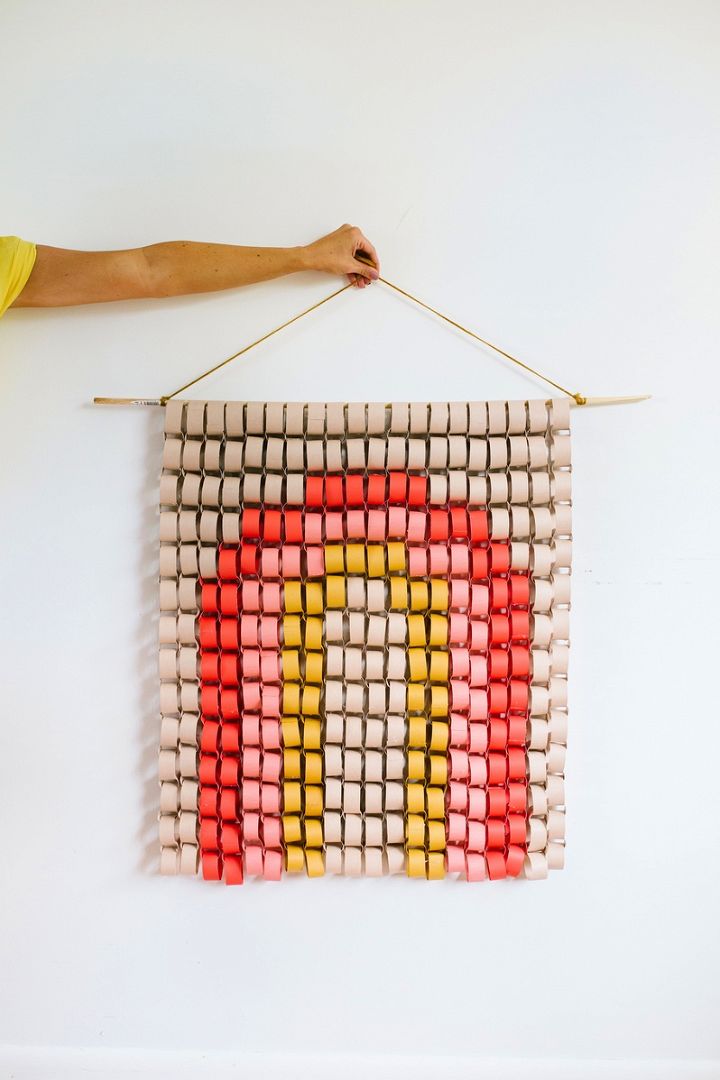 Crafts To Do At Home: Paper is truly magical when it comes to art and craft. This DIY Project is all about creating a wall hanging with a paper chain made easily using a technique which is taught here. This backdrop will look great for any photos. To make this lovely wall hanging you need a few supplies such as cardstock, rainbow template, paper slicer or scissors, hot glue gun, dowel and string for hanging. Tutorial
4. How To Make A DIY Explosion Box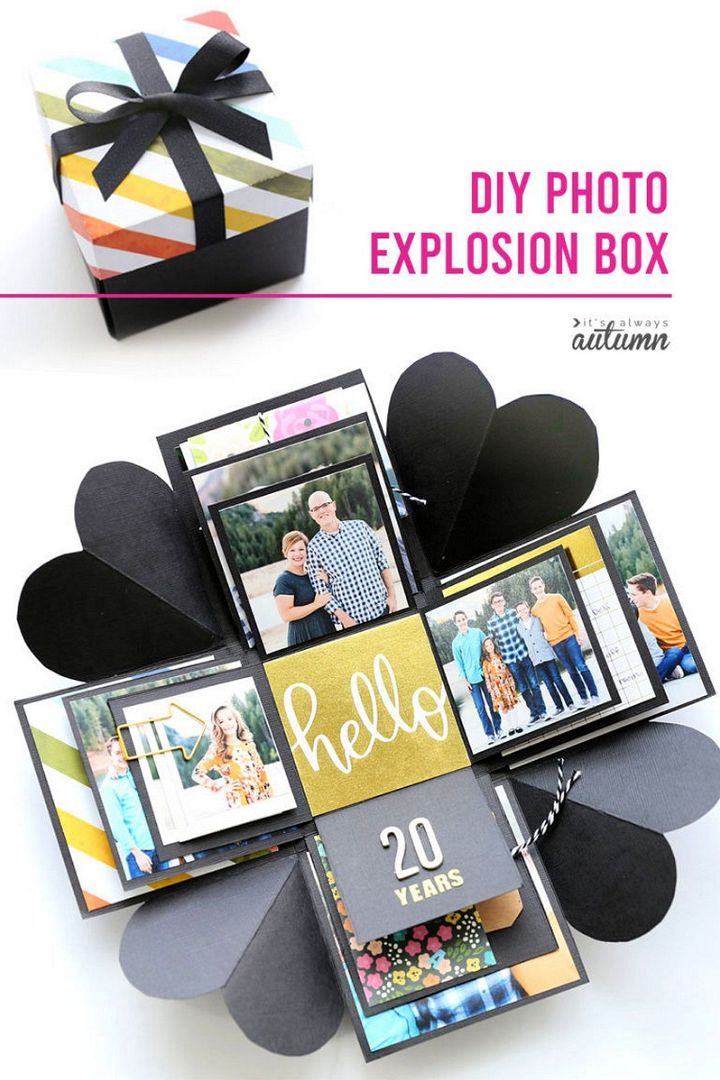 Have a look at this diy explosion box over here which is way too adorable as well as full of surprises for that special one in your life. You can learn to make this box easily and very conveniently with the help of the project. The best part of this project is that you can gift this explosion box to anyone as a gift as well to cherish the memories that you once made with them. Tutorial
Easy Popsicle Stick Crafts – Crafts with popsicle sticks are great enjoyable for children, as are these ideas that will give you endless hours of fun! They'll be amazed at how simple they are to create. Kids are especially inventive in coming up with innovative ways to make use of popsicle craft sticks. If you have a container or drawer full of these small wooden sticks Here are 35 exciting and innovative ways to make use of these sticks!
5. Colorful Back to School Teacher Gift Ideas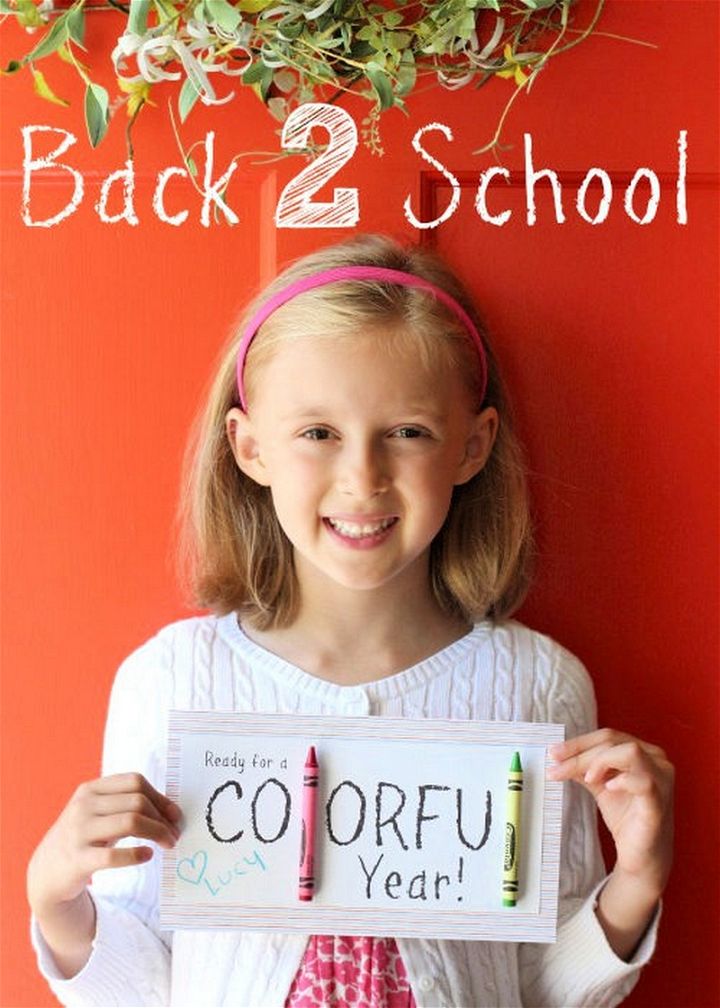 Teachers are surely our spiritual parents. Therefore it's very important that we give our teachers not only the due respect that they deserve but also some gifts to express that emotion of respect to them. This diy back to school gift for teachers seems to be a perfect idea for such expression of emotion to your teacher. Tutorial
6. Mini Coastal Clay Houses (Crafts To Do At Home)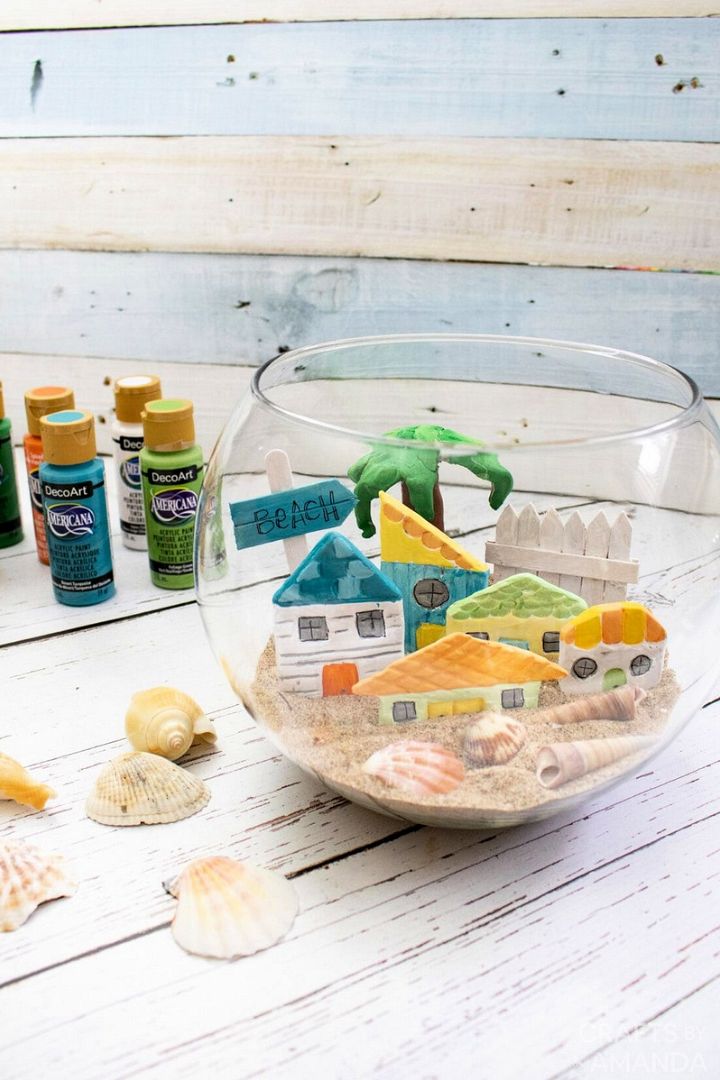 Crafts To Do At Home: Clay is something that little kids love to play with. However besides playing, clay is also used to make many different crafts. Here we have an idea where you can learn to make mini coastal clay houses very easily with simple tricks and tips. Some deep working I required here with a lot focus and concentration however the end results are simply phenomenal and awesome. Tutorial
DIY Chalkboard Ideas – These 25 DIY Chalkboard Ideas will inspire you to create your own display wall, organization, or special space for kids to draw and have fun.
7. Homemade Worry Dolls For Kids to Make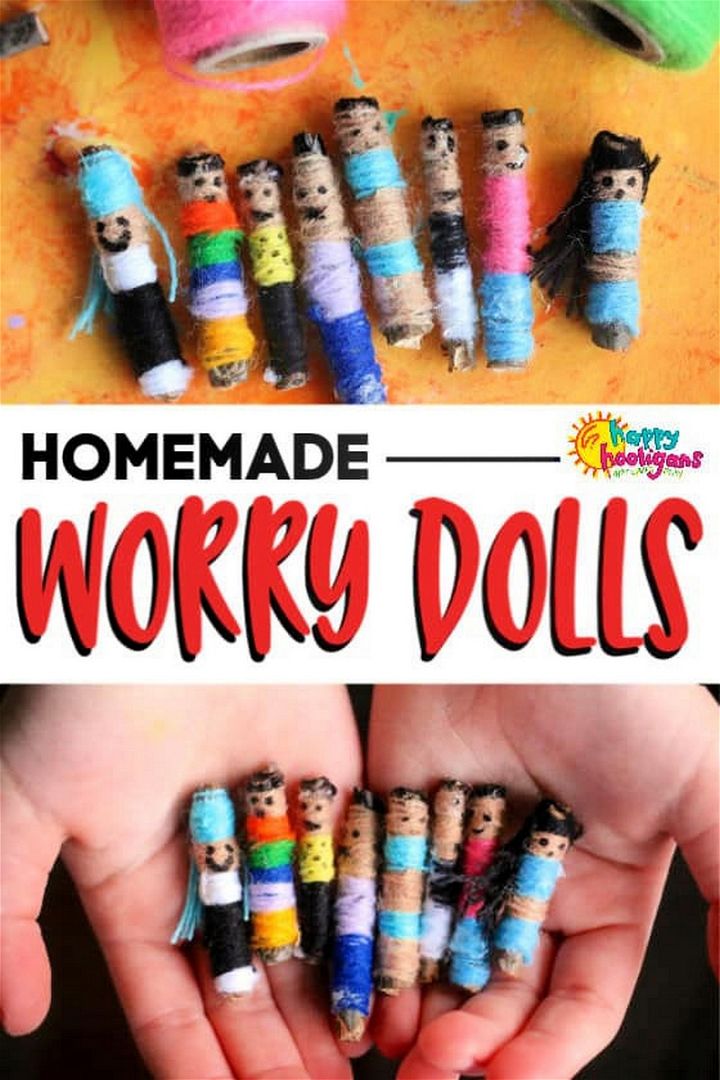 If your kids are also bored during these summer holidays, engage them in this fun activity. This project is telling us how little kids can make worry dolls at home all by themselves. Get started with this interesting craft and supervise your little ones so that they can easily catch up with it. To make these worry dolls you need supplies such as twigs, sharp scissors, fine yarn, permanent marker and low heat glue gun. Tutorial
8. Letterpressing Without Printing Plates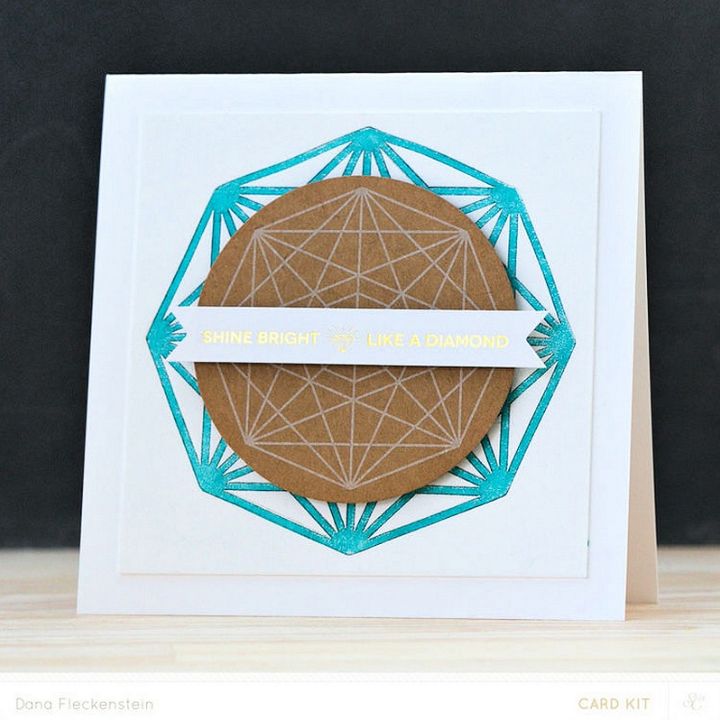 Let's do this letter pressing without printing plates with the help of this diy project over here. With a little bit of effort you will be able to create something completely worth it. A complete set of instructions is given so that you do not miss out on the minor details. Besides this a list of supplies is also given for your assistance. Tutorial
9. DIY Personalised Board Game Coasters – Quick & Easy
Have a look at these personalized board game coasters. This is an easy and a quick craft if you look closely into the details. If you want to know the supplies for this project you need to follow the details and the set of instruction along with the supply list which is given. The supplies include hot glue gun, gorilla glue sticks, scrabble board game, rummikub board game, banana grams, cork board and yarn. Tutorial
Pipe Cleaner Crafts – Select from 31 exciting animal pipe cleaners to create your next enjoyable crafting session. These are ideal to learn about animals, making as child-made gifts, or for decorating your playroom.
10. How To Turn A Cardboard Box Into Wall Art
Crafts To Do At Home: This diy project will tell us how we can turn a cardboard box into a nice wall art like the one you see here in this project. This way you will be able to look any wall in the house look great. This wall art is made with a single cardboard box. The supply list of this project includes large cardboard box, acrylic craft paint, foam brushes, sturdy scissors, small detail scissors and hot glue gun. Tutorial
11. Thrifty DIY – Encyclopedia Flowers (Crafts To Do At Home)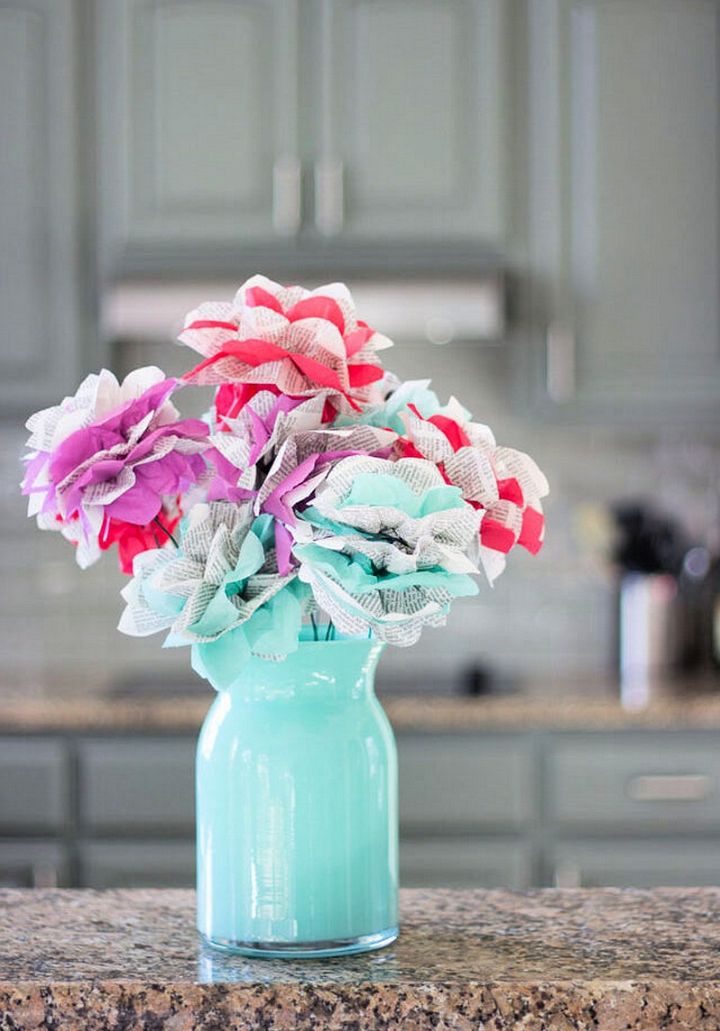 Are you ready to make encyclopedia flowers? If the answer is yes then this project will help you out in doing so. The process is simple and cheap and you can easily catch up with it. The supply list includes a few items such as encyclopedia or any book with large thin sheets of paper, tissue paper, floral wire, scissors, ruler, pencil and cardstock Tutorial
12. DIY Ribbon Vases With P-Touch Embellish Elite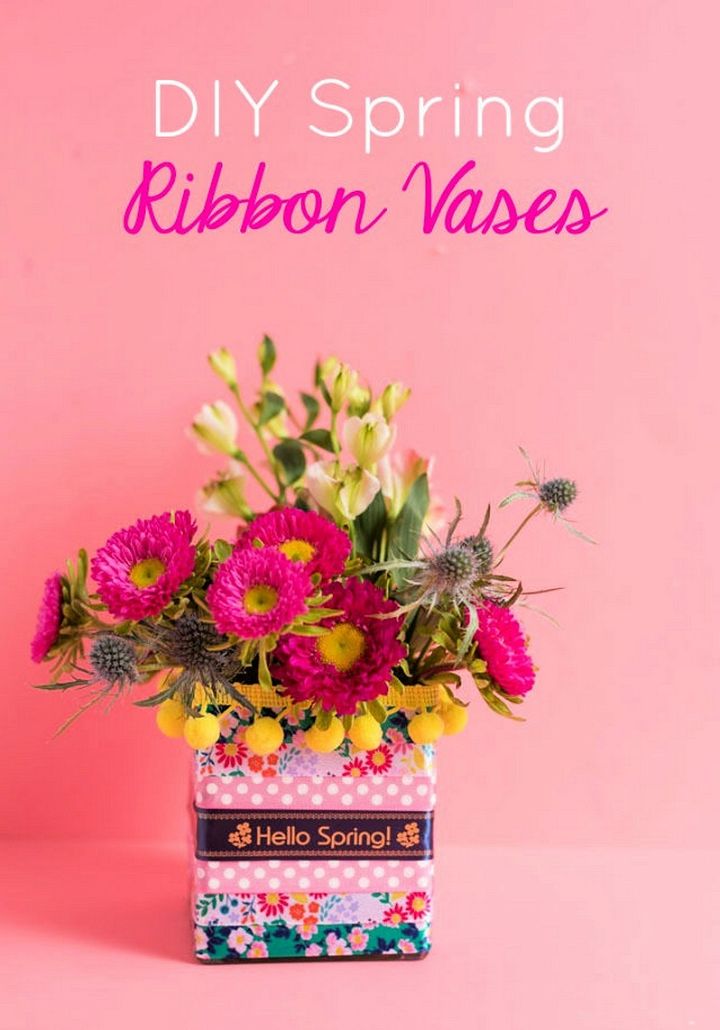 Have a look at this ribbon vases with p touch embellish elite. As we know that spring is almost here and so we must now make crafts with flowers and feel fresh an energetic at the same time. This p touch embellish elite is a tool that comes in a crafting kit and its simply awesome. Grab your supplies and get started. Tutorial
13. Yarn Wrapped Cardboard Letters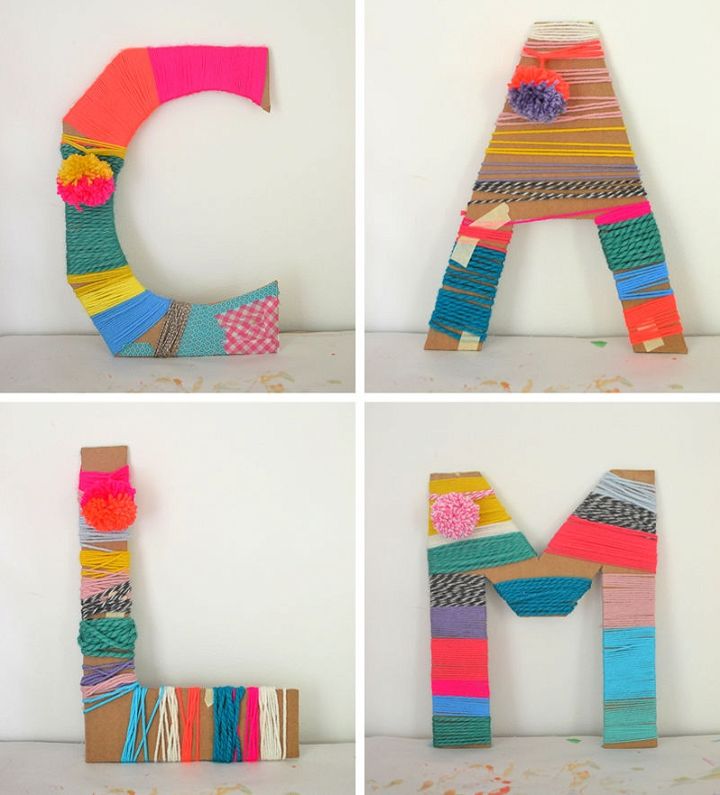 These yarn wrapped cardboard letters are simply awesome in their appearance and them easier to make as well. The supplies that you need are cardboard, sharp scissors, yarn, tape, and a plate and pompom marker. The technique with which you will have to start it off is all described in detail in the process here so that you can easily catch up with it. Tutorial
Heishi Beads Bracelet Ideas – This is a master class on making four bracelets from colored terracotta beads. You can mix and match or create something completely different. Check out Here
14. How To Embroider Baskets With Yarn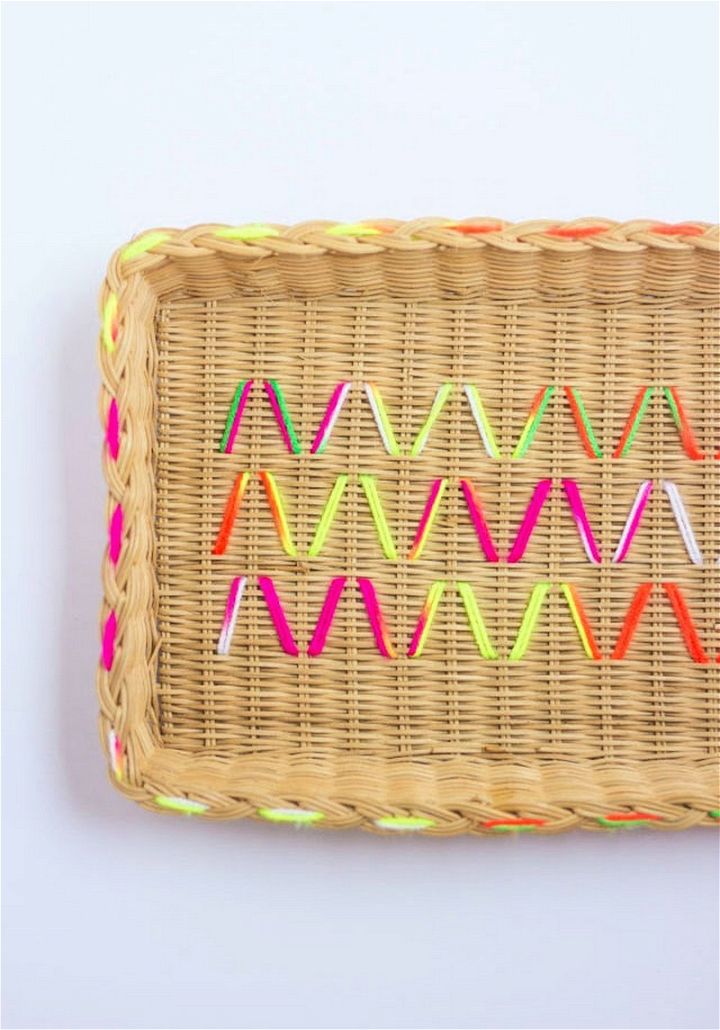 If you are also into crafts made using yarn, this diy project will also excite you. This project is all about yarn embroidered baskets that you can easily make. The process is given here so that you can easily embroider the yarn and make a lovely basket eventually. The supplies that you need are woven baskets, yarn, darning needle and scissors. Tutorial
15. Chevron Pallet Mounted Hanging Mason Jar Vase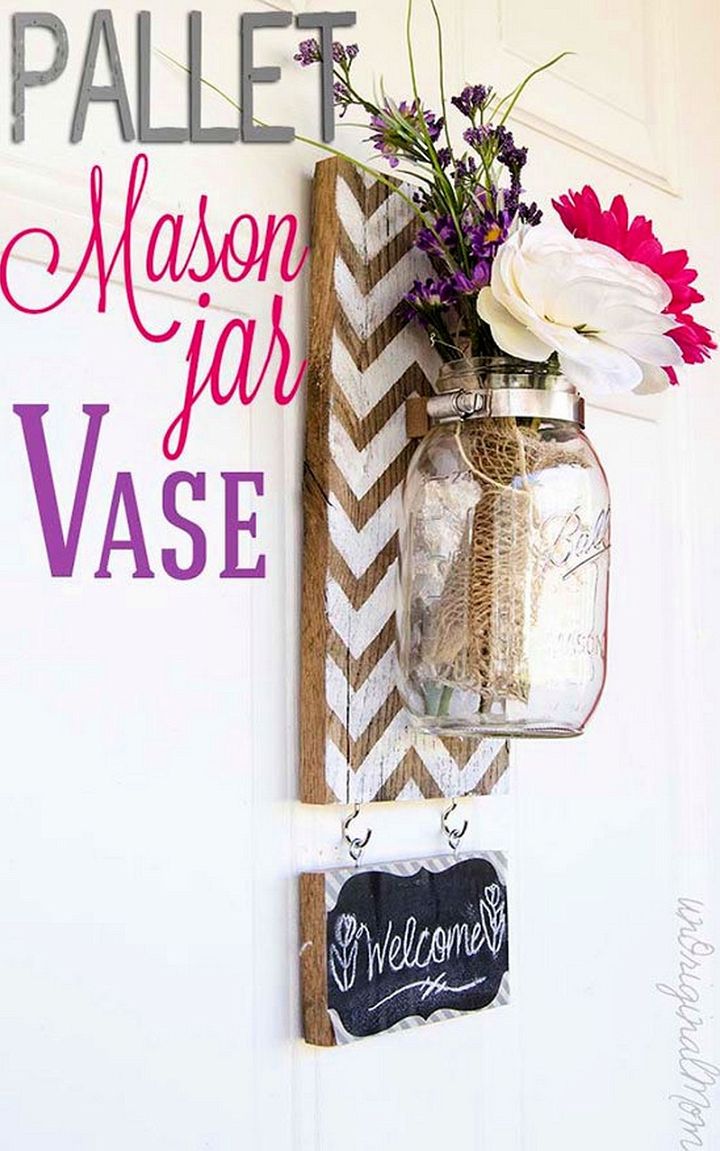 Crafts To Do At Home: As we know that the spring is approaching soon and therefore we must do some flower craft projects. If you are also willing to decorate any of your wall with a wall mounted flower vase, you can always try this method. In this diy project Mason jar is used as the main object. The other supplies besides Mason jar includes, pallet wood, chevron, washi tape, chalkboard, burlap and twine. Tutorial
16. Airplane Clothespin Kids Craft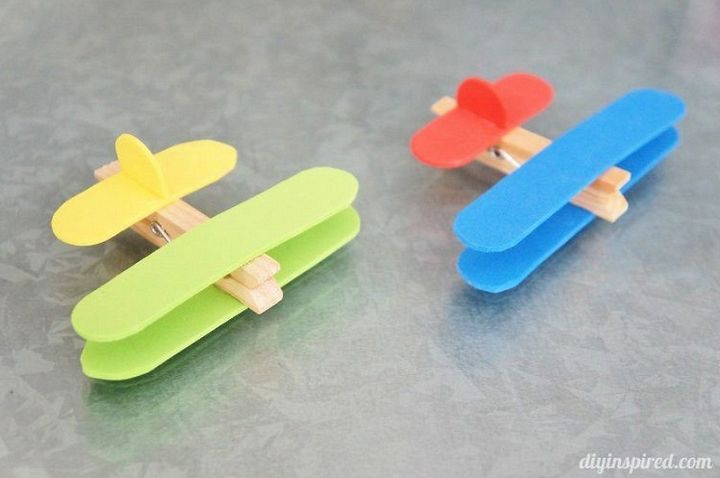 Kids like to do activities that are more fun than completely educational. Therefore you must choose for them the activities that they can enjoy while learning too. This diy project shows how clothespin can be used to make adorable airplane. Grab the supplies and get started with this interesting activity along with your kids. Tutorial
DIY Crafts You Can Do With Burlap – Here is an array of burlap-based crafts. If you're not sure what you can do using burlap, take some take a look through these DIY projects using burlap that will leave you with"WOW! "WOW" in amazement.
17. Pour Painted Pots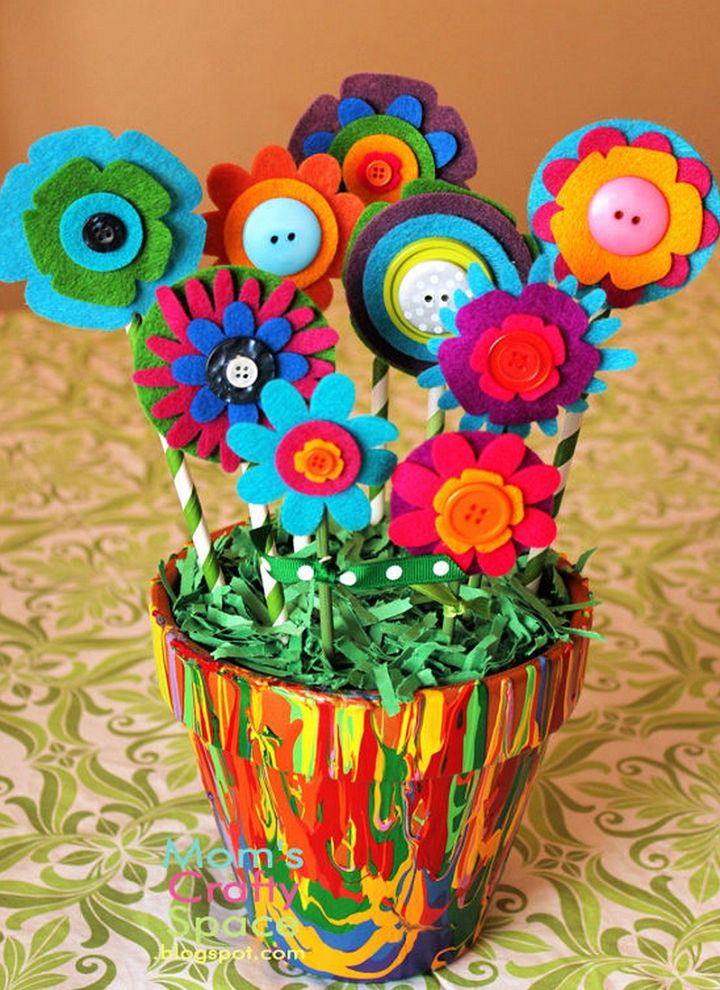 This pour painted pots idea is all you need to engage your kids during the summer holidays so that they can make the most of that time. During this project they will get to play around a lot of colors. The colors will look so pretty while dripping all over the pots and swirling around it. Once you are all done with the project you will get the marbled effect as you can see in the project. Tutorial
18. Hearts Paper Chain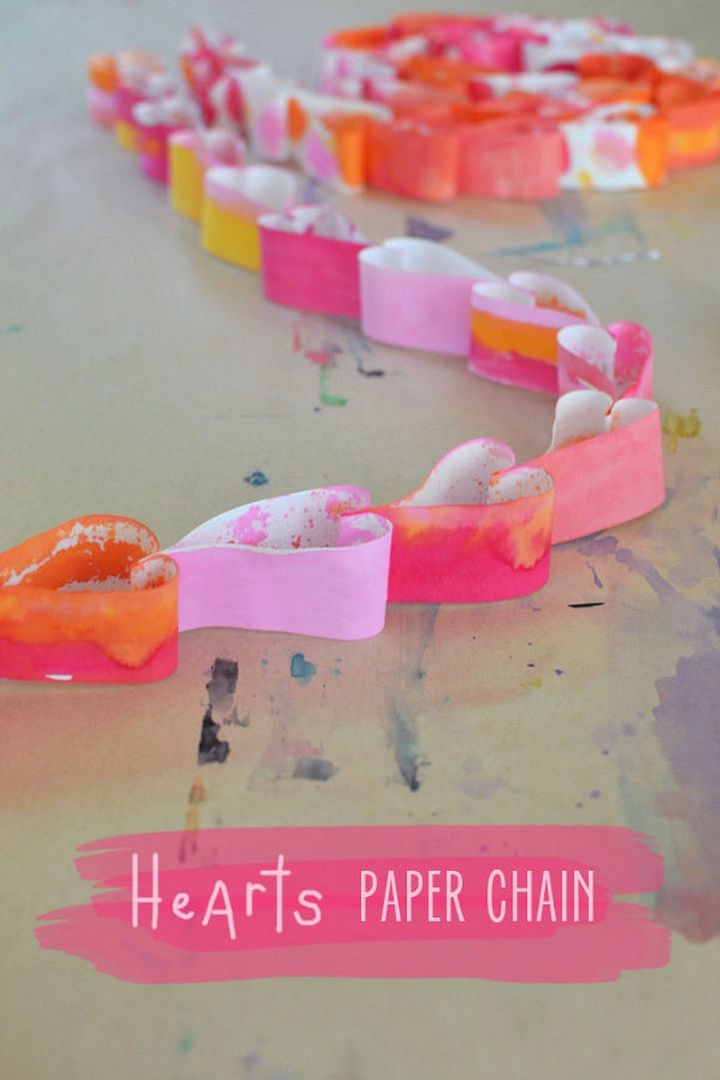 Have a look at this heart paper chain. Your kids will surely get immersed in this crafting activity once you hand over all the supplies that are required here. You will need paper strips, watercolors and stapler. Painting the strips is also done here in this project. Get started this weekend with this amazing craft. Tutorial
19. Bird Feeder Kids Craft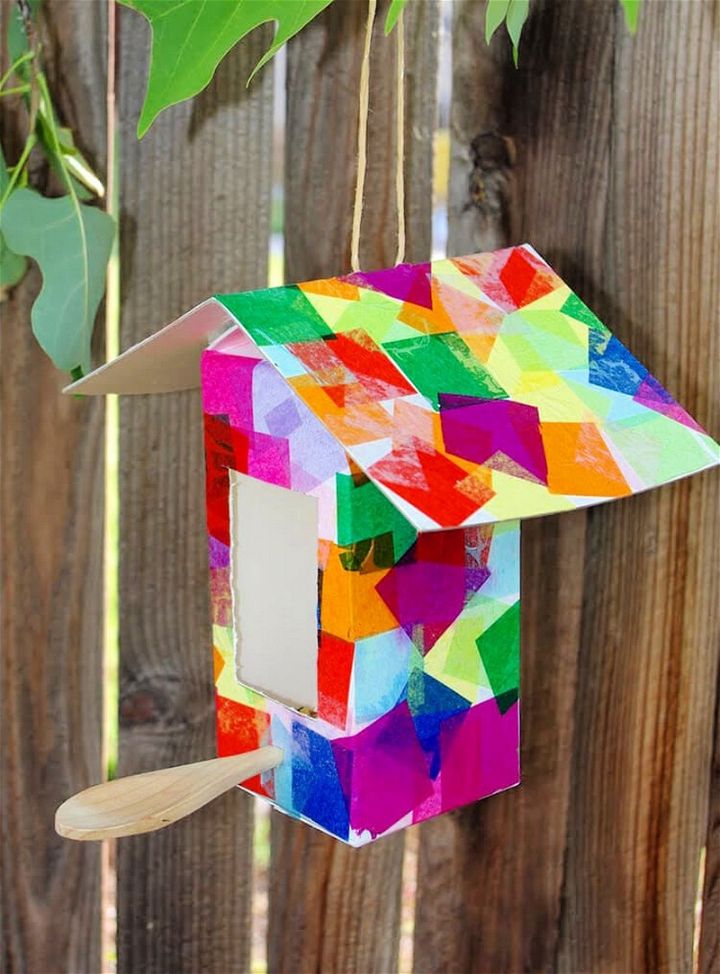 Crafts To Do At Home: In this project bird house crafts are made using milk boxes and they look awesome. This is an easy craft and you can easily catch up with this craft. To start off you first have to gather the supplies that are needed such as clean and dry recycled milk carton, white paint, and sheet of chipboard, school glue, foam paint brush, tissue paper square, twine, wooden spoon, x acto knife and mod podge. Tutorial
DIY Paper Rose Tutorials – These are collections of no-cost tutorials and templates that show you how to create paper roses with different types of papers (cardstock tissue paper crepe paper, coffee filter) and from tiny to large-sized flowers. These tutorials on paper roses are simple and perfect for those who are new to the craft.
20. Washer Necklaces (Crafts To Do At Home)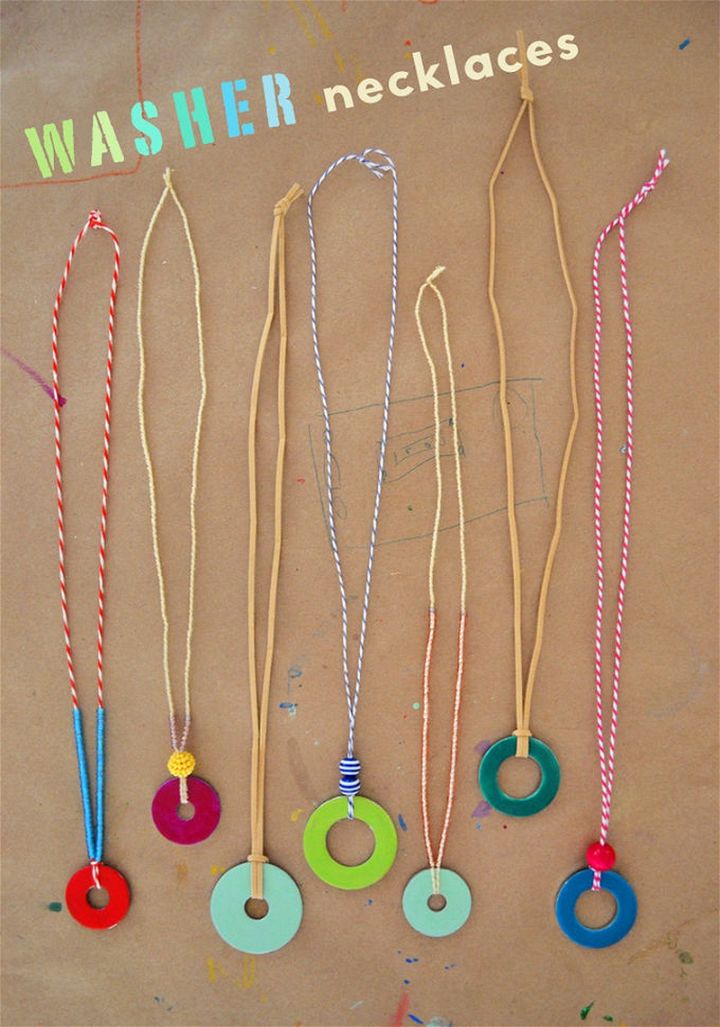 These washer necklaces are so much fun and you can also try these at home. A complete process is given here so that you and your kids can easily start it off whenever you are bored especially during the holiday season. Grab the supplies needed for this craft and see how you can make your own version of this. The supplies that are needed are washers from a hardware store, bakers twine, beads and sewing needles. Tutorial
Conclusion:
Look into the details of all of these crafts to do at home and see how you can also make your own versions of these. Pick and choose your favorite among these projects and get started along with the children during the upcoming summer holidays.