Teenagers enjoy activities only if they find them interesting enough to invest their time into. All of these 31 Crafts Kits For Teenagers Easiest Projects are compiled keeping in mind the choices and desires of teenagers and their potential creative skills which every teenager might have at an average. All of the projects are budget friendly and super simple yet very interesting and engaging. The projects that you see here are easy to be done to be done over weekends so now you have many such ideas for the entire holiday's season that is coming up.
As we know that the summer holidays are approaching soon therefore we must give our teenagers some room to explore their creativity and imaginative skills. With the help of these diy projects teenagers will be able to make new and creative stuff using easily available materials. Besides this recycled materials are also used in many of the projects here which make a plan not only cheap and inexpensive but is also good for the eco system.
1. Create a "Lovely" Button Heart on Canvas Decoration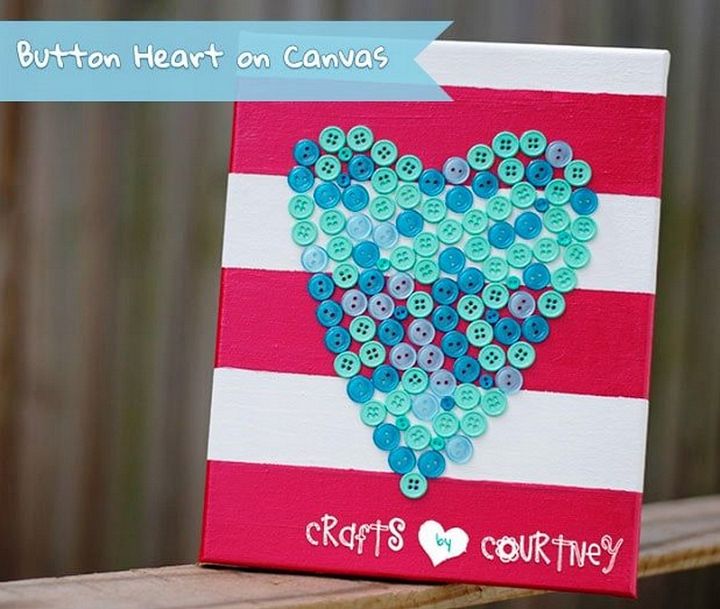 Most teenagers are people who do art and craft work only when the outcomes are classy, productive and elegant. This canvas art piece is surely attractive and will definitely get the attention from teen agers. This project teaches how one can make a giant heart using buttons on to canvas. Tutorial
2. Washer Necklaces For Kids To Make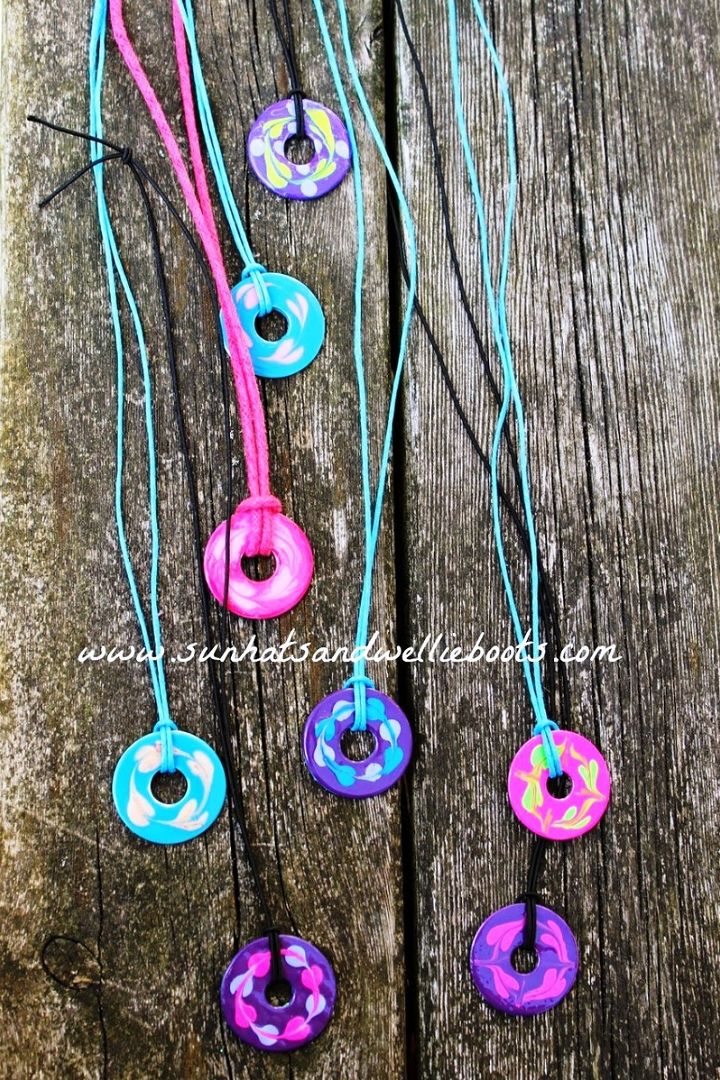 Have you ever wondered about making unique necklaces using some unique crafts and tools? If not then this is high time when you make such decision. This diy teenager crafting project tells us how we can make a necklace using washers. You only need three materials for this which are washers, nail polish and cord. Get started and make this amazing necklace with the help of this idea. Tutorial
3. Amazing Duct Tape Shoes And Fabulous Countertops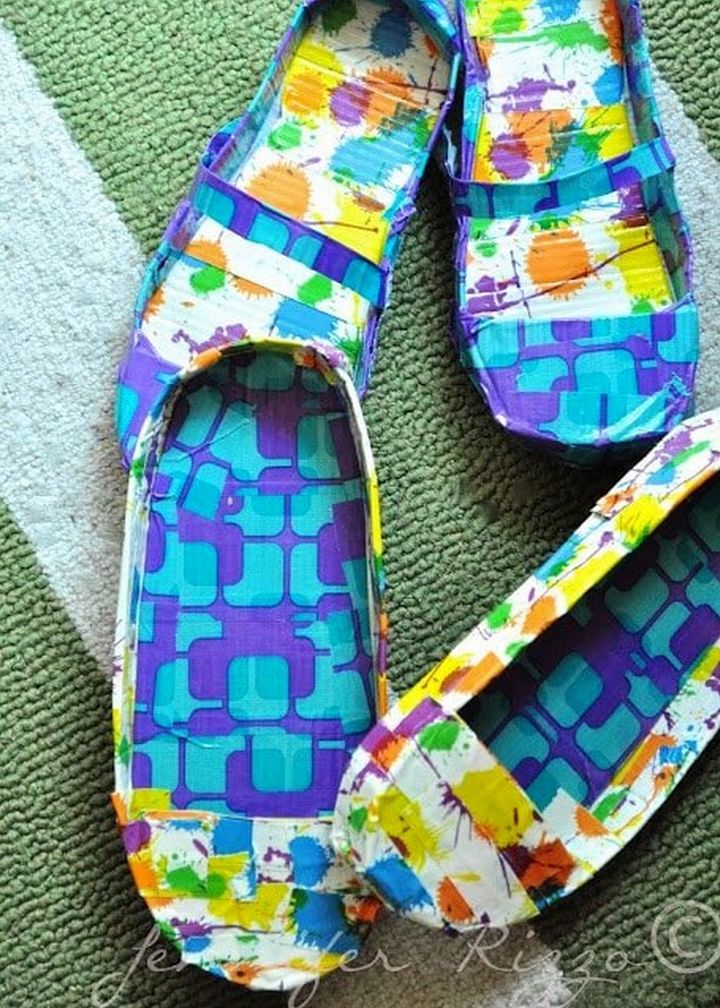 You can always use unique materials to create something different. Use your own creative skills and imaginations to make different masterpieces using regular items these shoes are made using duct tape and they look awesome. Beside shoes countertops are also done using only duct tape and they have also turned out to be amazing. Tutorial
4. How to Make Easy Paracord Snakes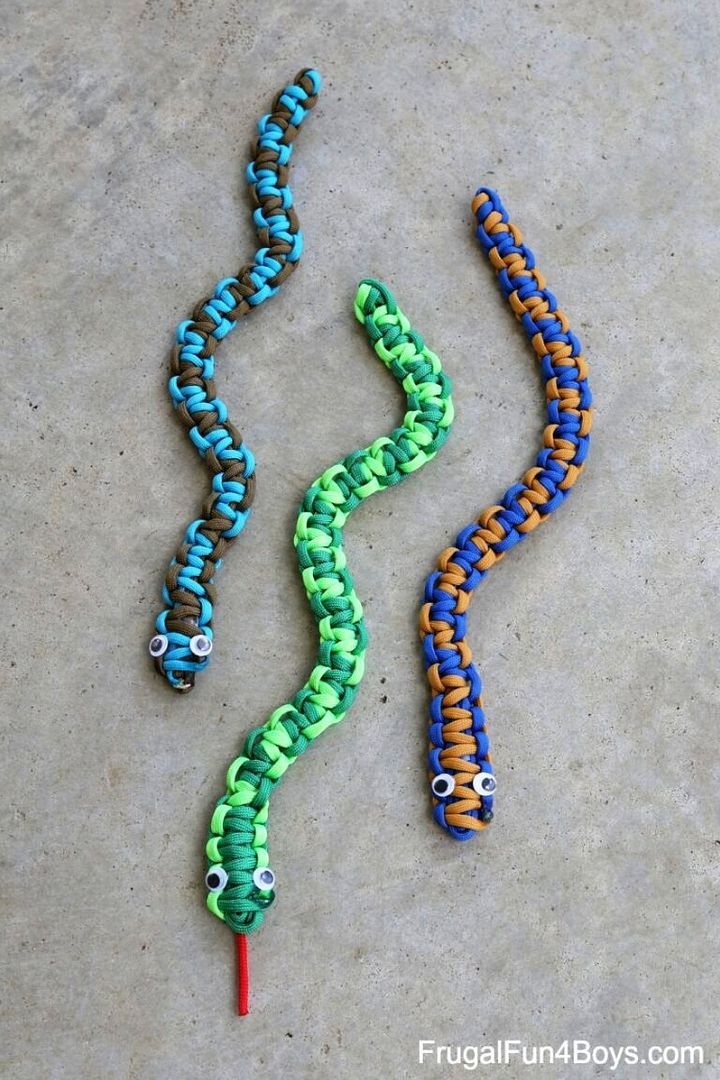 Have a look at these diy Para cord snakes over here that will catch your attention immediately. You can easily learn this craft from here and make some of your own. This is quite an easy Project for Beginners. Besides Para cord you also need scissors, ruler, pencil, lighter, googly eyes, clear tape and hot glue. Tutorial
5. Finger Knitted Necklace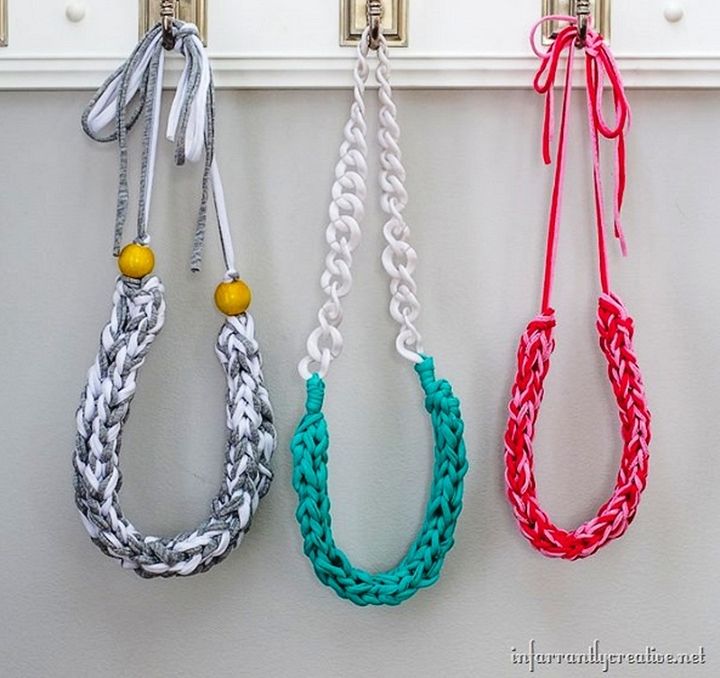 These finger knitted necklaces are so amazing that teenagers would definitely love it. A step by step process is given here in detail so that you do not miss out on the minor details of this project. Once you are done with the steps you will end up being super proud of yourself as well as your creative skills. Tutorial
6. DIY Seashell Candles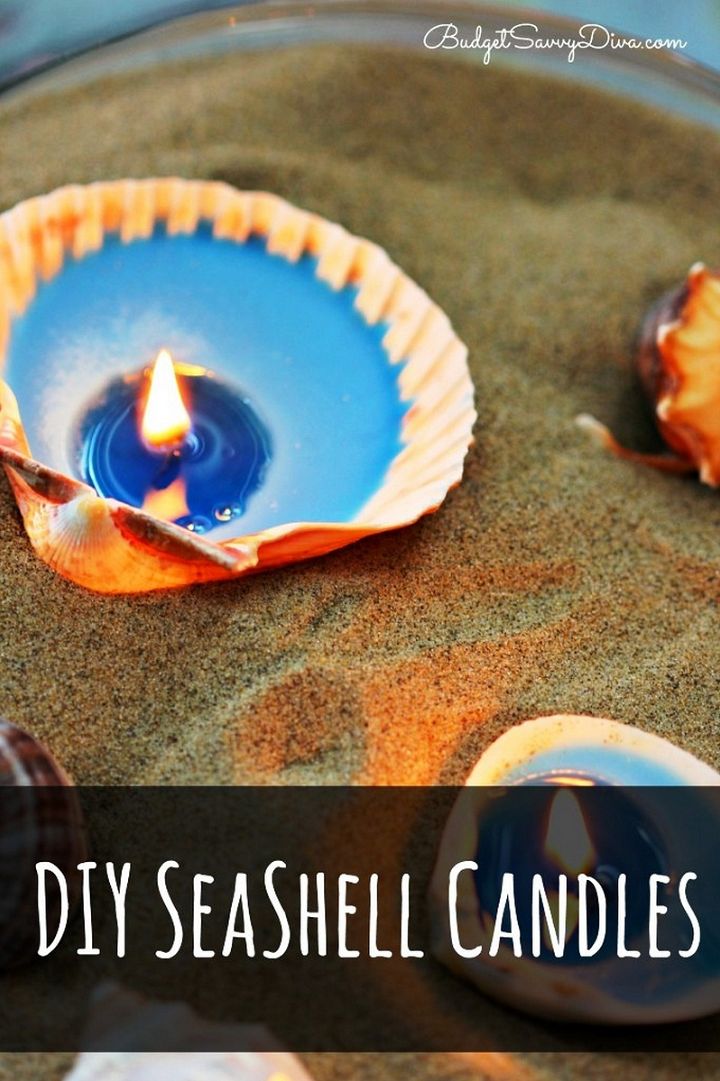 Sea shells looks attractive to many people and they use them for decoration as well. This project will guide you through the process of making sea shell candles and you will love them for sure. A tutorial is also here for assistance along with the detailed description. This will not take much of your time so get started. Tutorial
7. Yarn Painting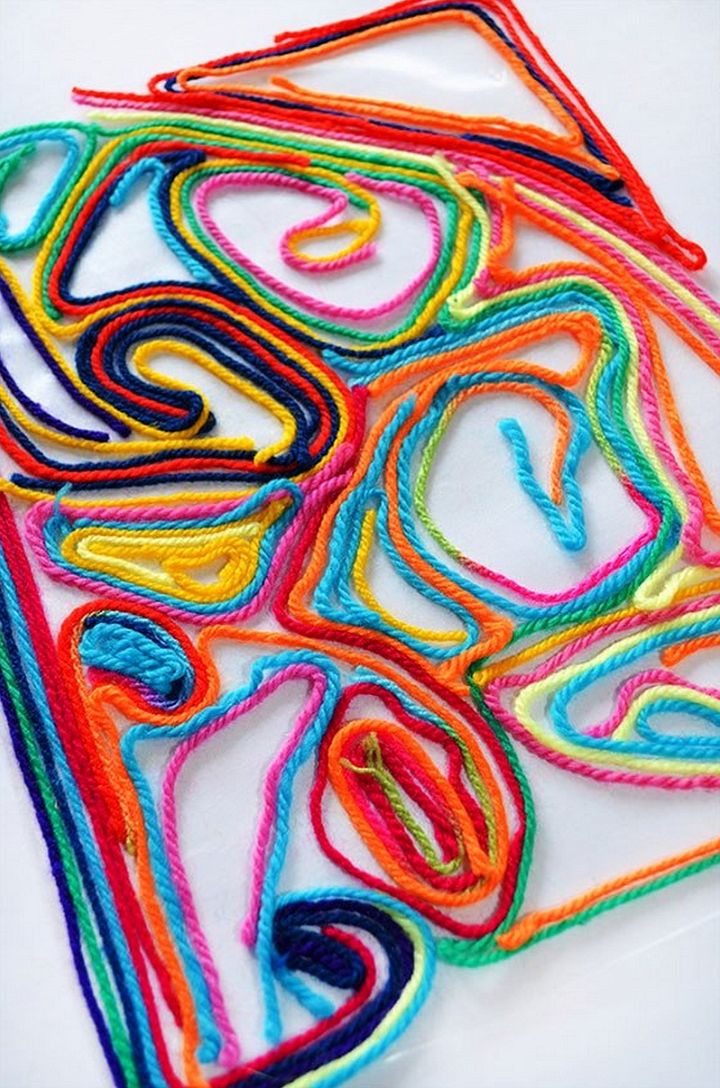 Yarn is something that is always fun to work with in any art and craft project. This diy project for teenagers is all about spreading yarn all over the canvas and playing around it. It's literally a yarn painting if you notice. A self-adhesive paper is used in the making and see how impressive the results are towards the end. Tutorial
8. Easy DIY Decorated Clothespins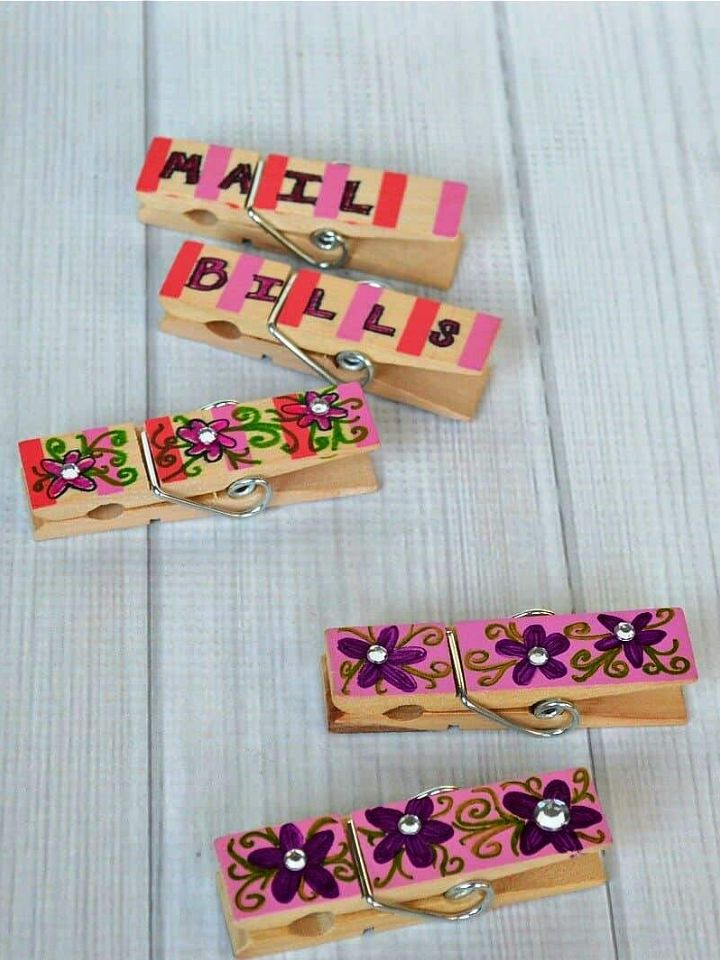 If you don't have any special plans this weekend, consider this clothespin decoration craft instead of getting bored. You only need to use your own imaginative skills and get started with this interesting activity. Get into the details of this amazing craft and enjoy. Tutorial
9. How to Make Fantasy Dragon Eggs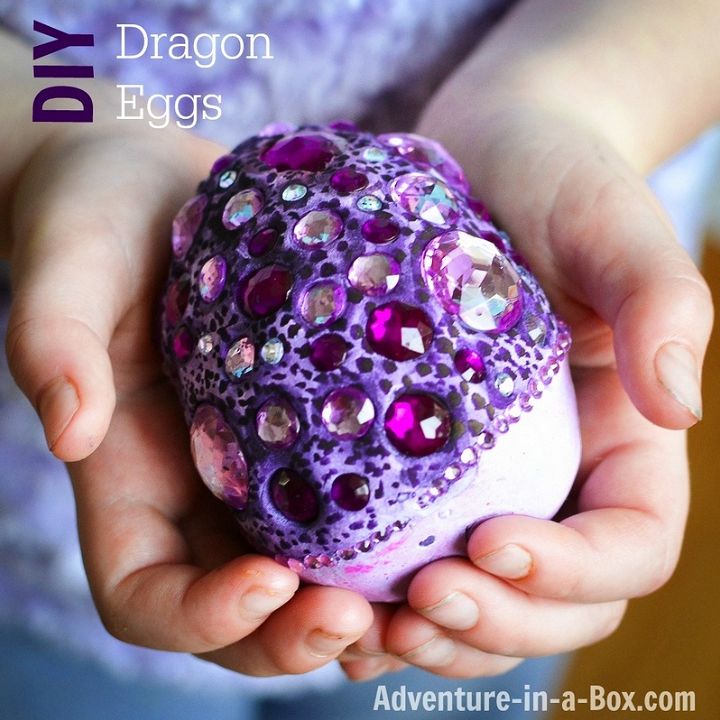 Have a look at these fantasy dragon eggs and see how you can also make your own versions of these. You need a few crafts such as aluminum foil, air dry clay, liquid watercolors and acrylic beads. Watch the complete tutorial and see how everything works. You will start off by preparing clay first. Tutorial
10. Tissue Paper Flower Bracelet Craft For Kids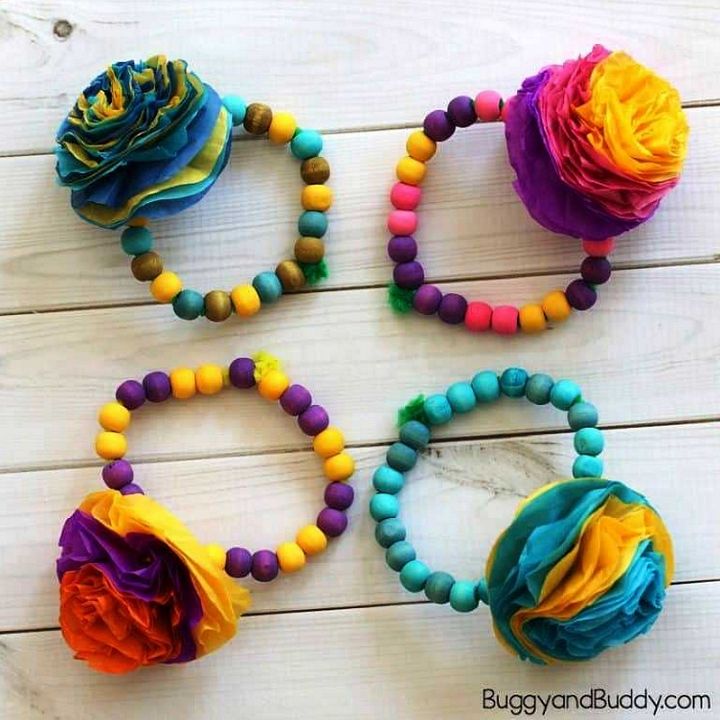 You have probably never used tissue paper so creatively and amazingly before. This diy project shows how tissue papers can be used for making flower Bracelet Crafts. Not only can you make these bracelets for yourself instead you can make these for the mother's day and express your love to your mother. Tutorial
11. DIY No Sew Pop Tart Pillow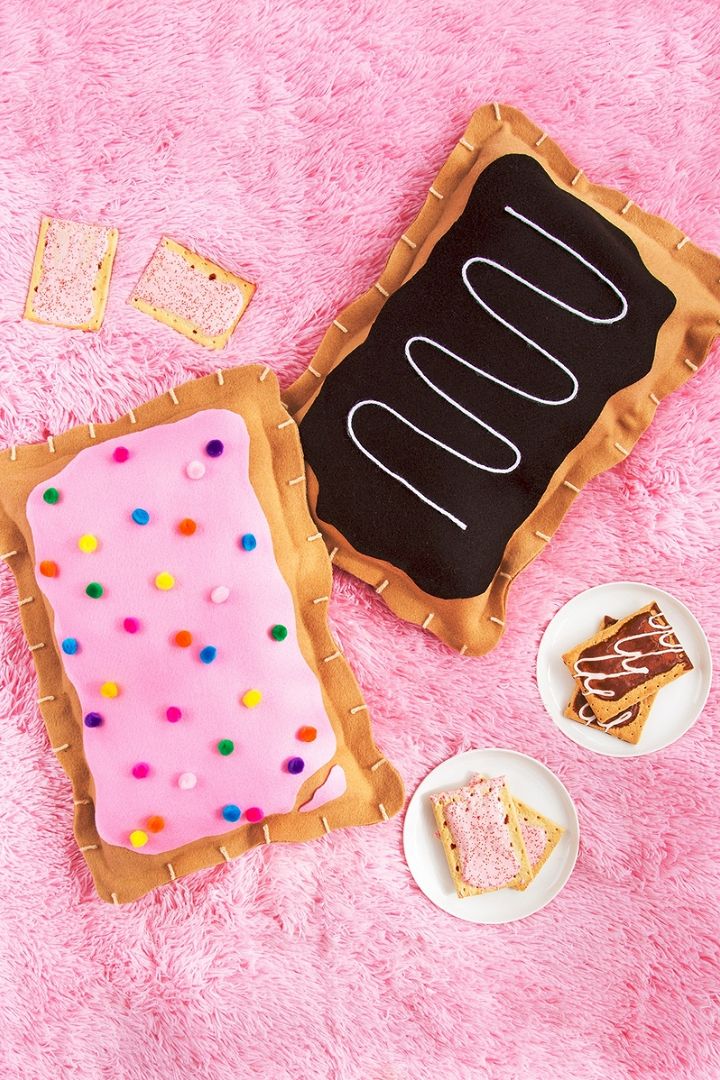 This no sew pop tart pillow will surely attract those who are not into sewing so much. This seems to be a fun craft and is definitely interesting to make. This pop tart pillow will definitely pop colors into any room and will make it look more interesting and exciting than ever before as it has so many colors in it. Tutorial
12. DIY Phone Stand From Recycled Toilet Paper Rolls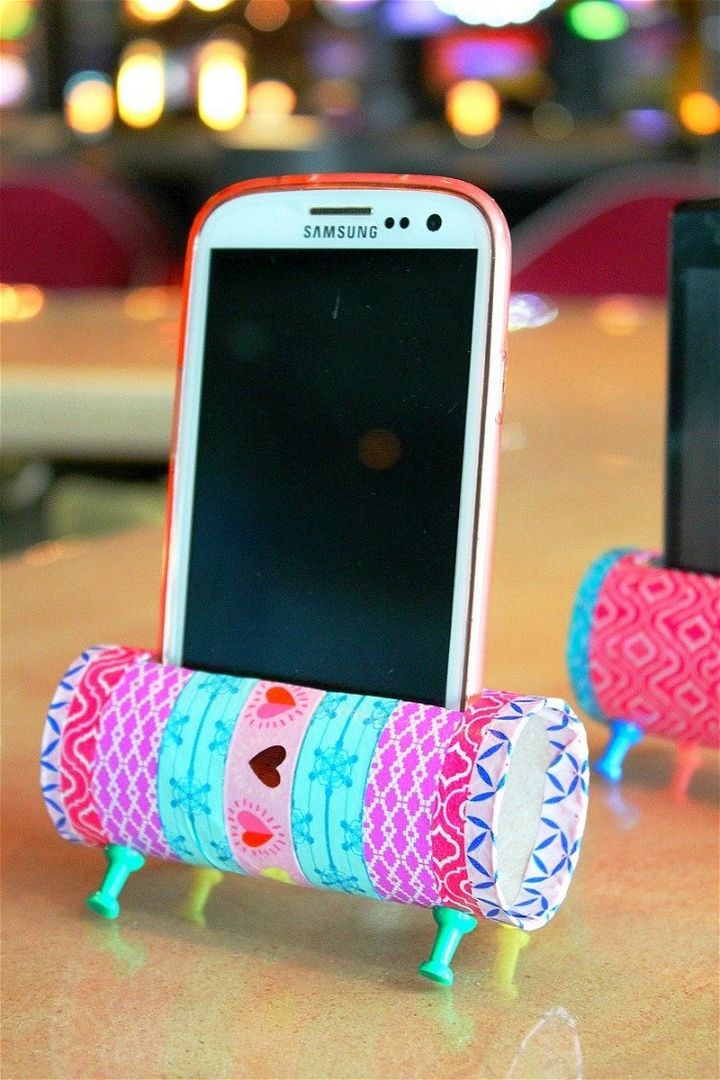 Next time when you are about to throw away your empty toilet paper rolls, think twice. You can make amazing crafts and art pieces using toilet paper rolls. This project teaches us how we can make phone stands easily. This is such a cheap and budget friendly project that you will be surprised. Tutorial
13. DIY Pom-Pom Mouse Pad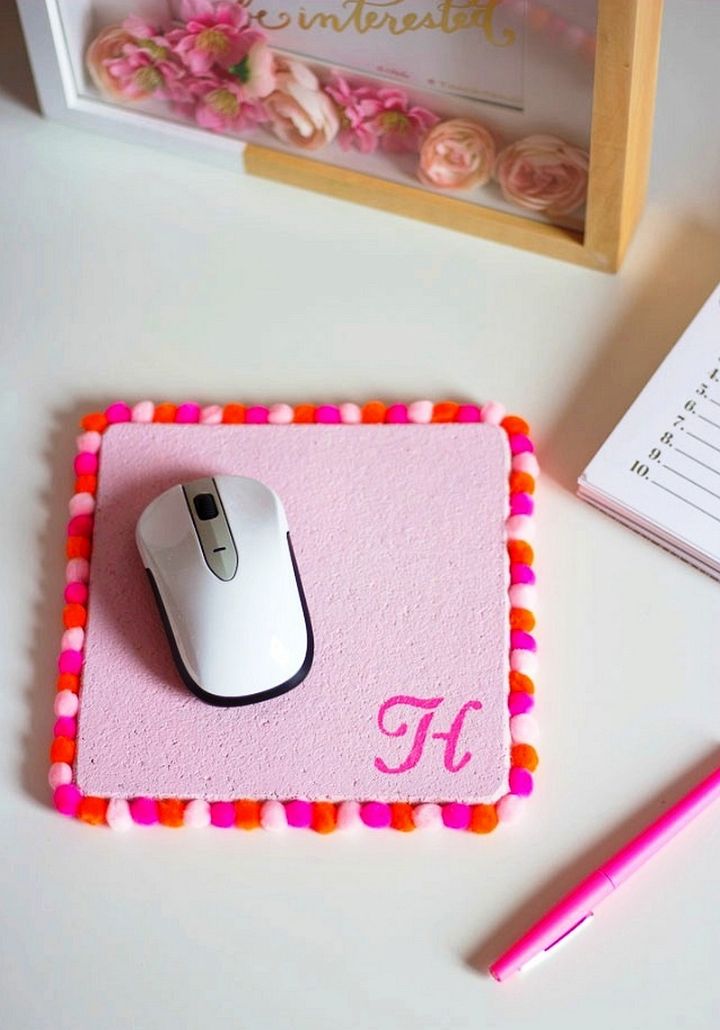 What can be better than a pompom mouse pad? This diy mouse pad is so attractive and simple to make. Here in this project you will learn that an inexpensive cork trivet can make a perfect mouse pad. The supplies that you need here are cork trivet, acrylic craft paint, letter stencil, pompoms, foam brush and hot glue gun. Tutorial
14. DIY Popsicle Favor Boxes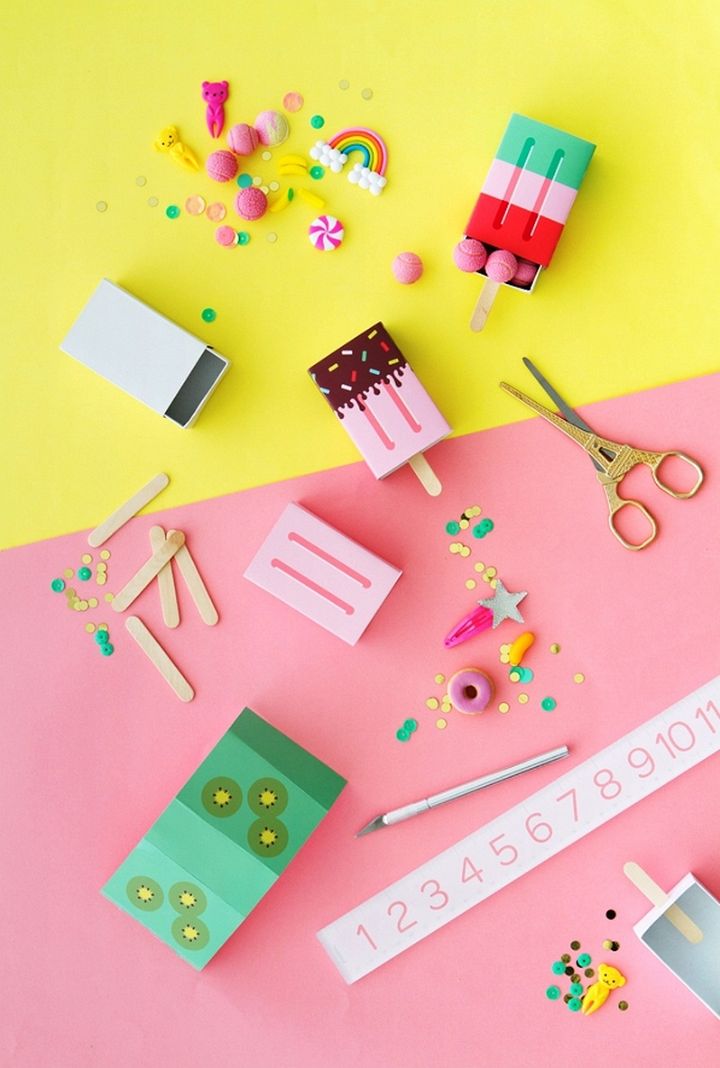 Favor boxes can be made using a variety of crafts. This diy project tells us how we can make favor boxes using Popsicle sticks. You might have never seen such adorable favor boxes made with easy and simple crafts. You can enjoy making these amazing favor boxes during the upcoming summer holidays Tutorial
15. DIY Popsicle Stick Lamp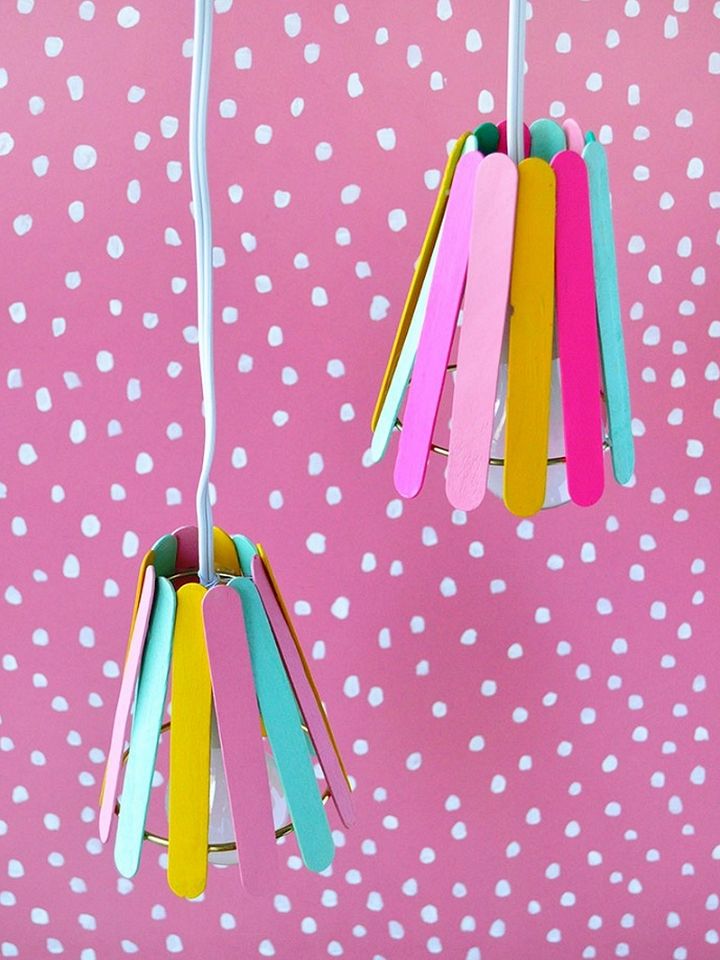 If you are interested in making small and adorable looking lamps with easy crafts, this project can be of great help. This small and cutest lamp is made using Popsicle sticks. You can paint the sticks in different colors and then combine to make a nice lamp. Tutorial
16. The Easiest Rainbow Wreath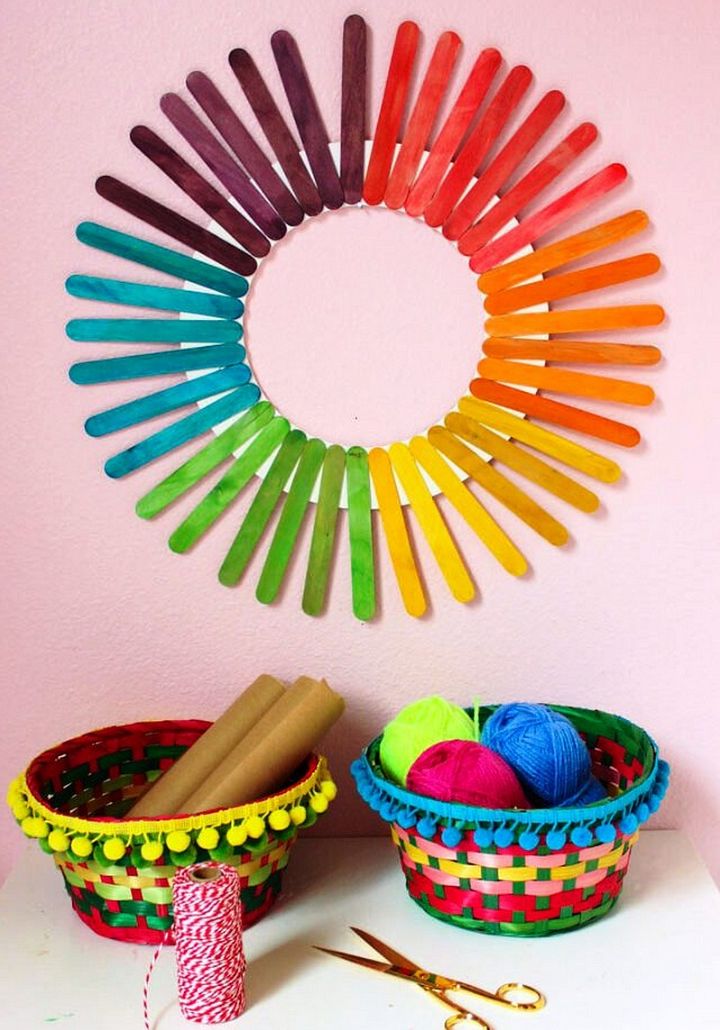 This seems to be the easiest rainbow wreath made using Popsicle Crafts. Popsicle crafts are something that are extensively used in many art and craft projects and the results turns out to be awesome. You just have to paint the Popsicle sticks in the rainbow colors and move ahead with the rest of the making of your wreath. Besides craft stick you need wood craft ring, white craft paint, foam brush and hot glue. Tutorial
17. Craft Stick Flower Pot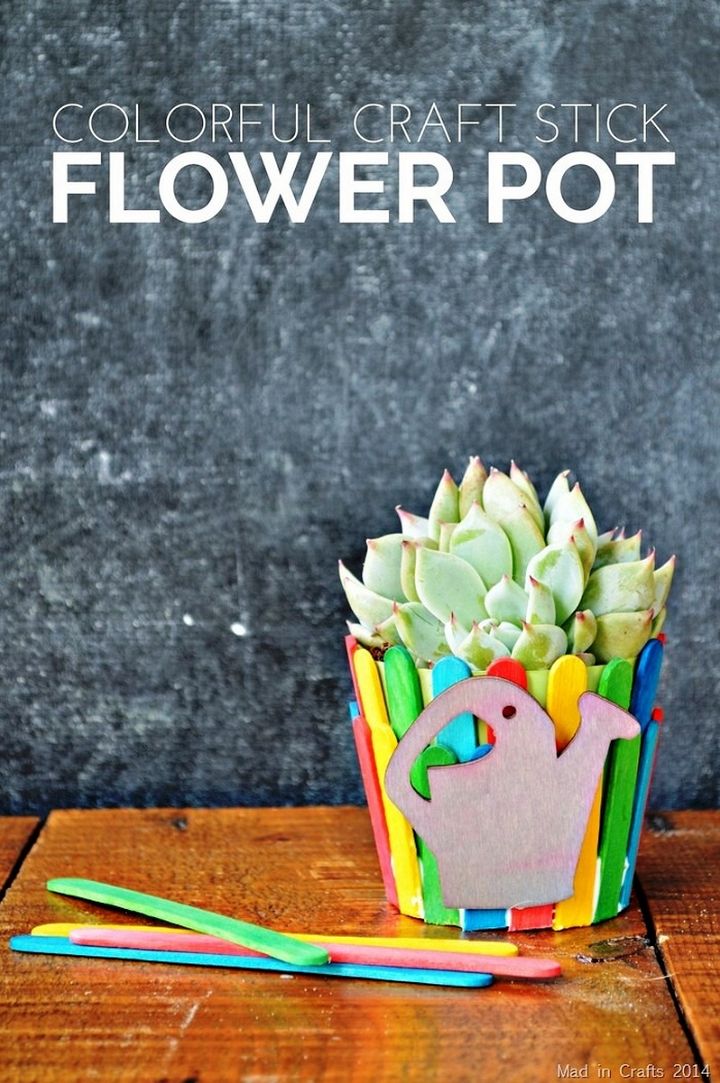 Have you ever wondered making a flower pot with craft sticks? If not then you must consider it now. This diy project will help and guide you in the making of a very nice flower pot easily and very conveniently. You can also gift this amazing masterpiece to anyone you like on any special day to express your love and emotion for them. Tutorial
18. Cute Recycled Tin Can Snowman Craft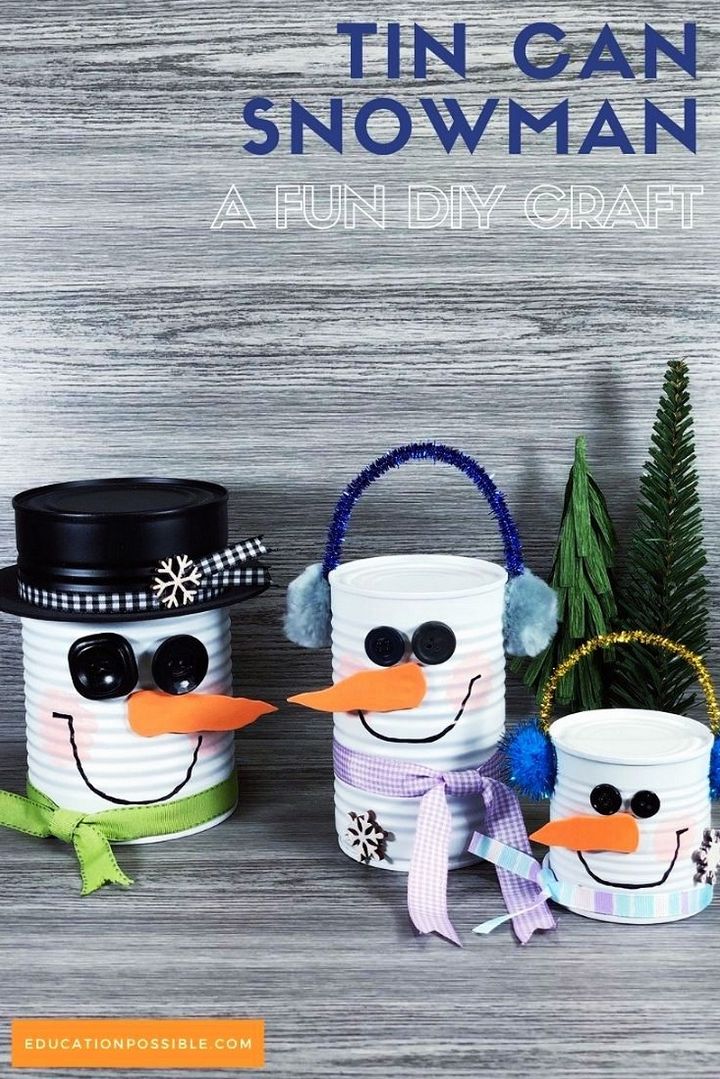 Recycling projects are always satisfying as they not only cut the cost and expense of your project but also contributes positively to the eco system. In this project you will see how recycled tin cans can be transformed into Snow Man craft. This seems to be an amazing winter craft that you can enjoy. Tutorial
19. Fishnet Wrapped Mason Jar Craft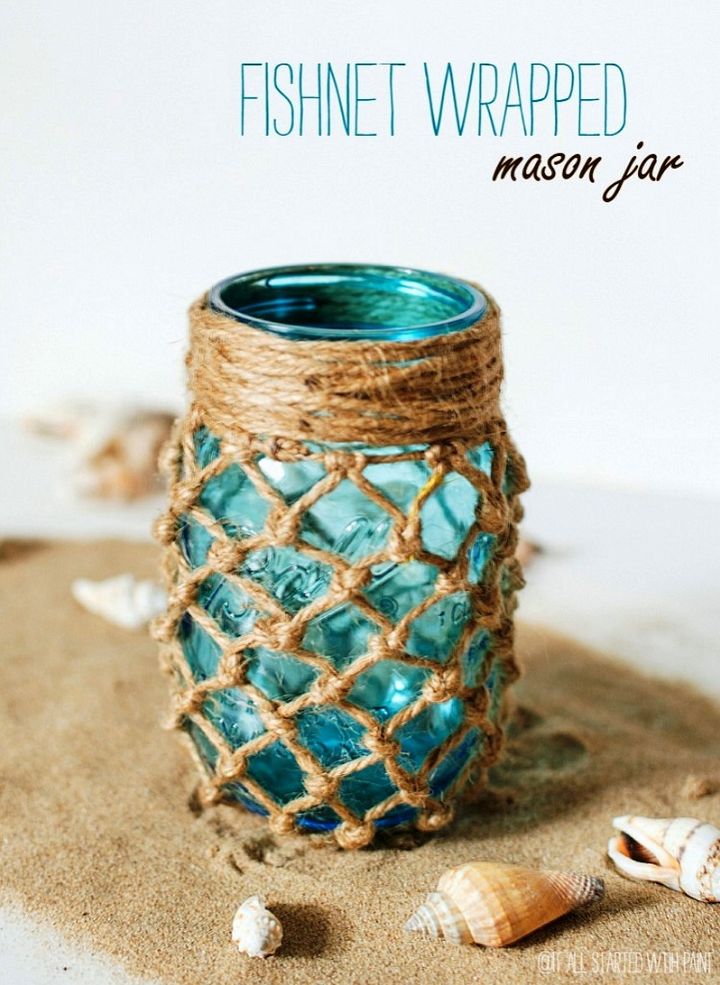 Fishnet is an amazing art work that many people enjoy. In this diy project we see how a mason jar is covered in a fishnet wrap. For this project you need blue ball heritage Mason jar, jute twine, scissors and sand and seas shells if you like. Grab the supplies and get started with this amazing mission. Tutorial
20. Create Your Own Decorated Tennis Shoes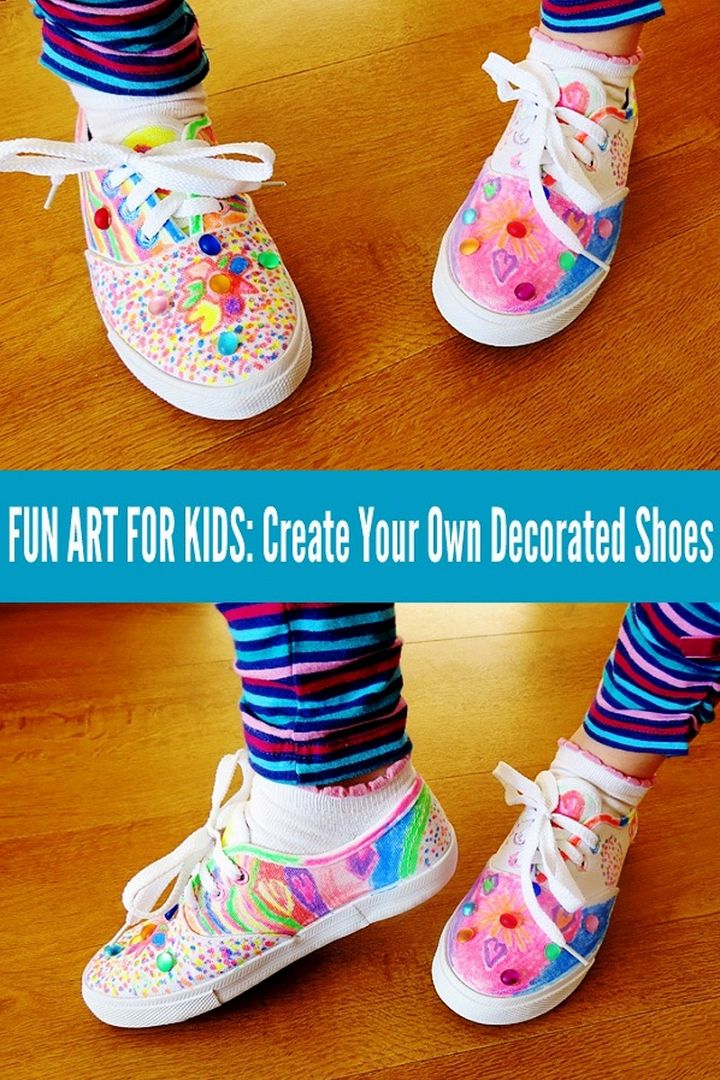 This seems to be an extremely interesting and engaging teenager crafts. In this project you will learn to decorate tennis shoes all by yourself. You can use your imaginative skills to make this project even better and inspirational. You will need white canvas tennis shoes along with fabric markers, small decorative costume jewels and hot glue gun. Tutorial
21. Easy DIY Phone Charger Holder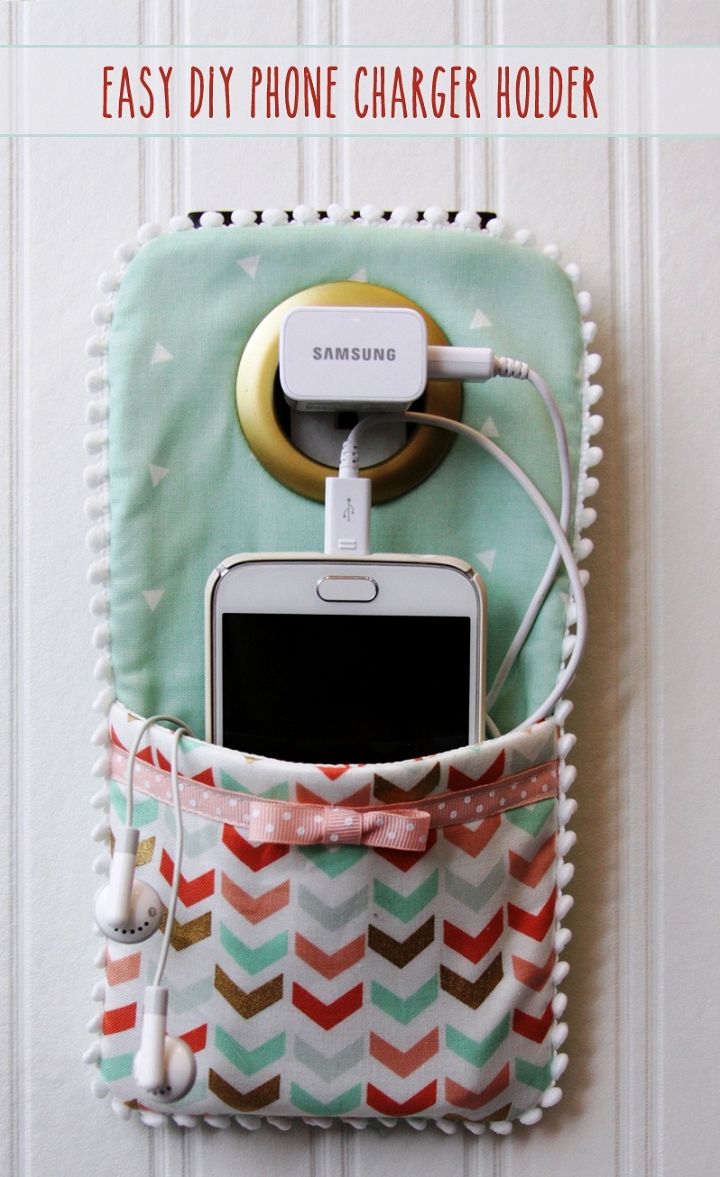 This is a phone charger holder idea that you can do all by yourself. Learn to make this charger holder and make your phone charging time easy and convenient. It's not always possible that we find a place to keep our phones so that they can be charged therefore this holder will help you hang the phone right at the point of the charging switch. This holder is made of fabric and looks absolutely awesome. Tutorial
22. Cotton Candy Lip Scrub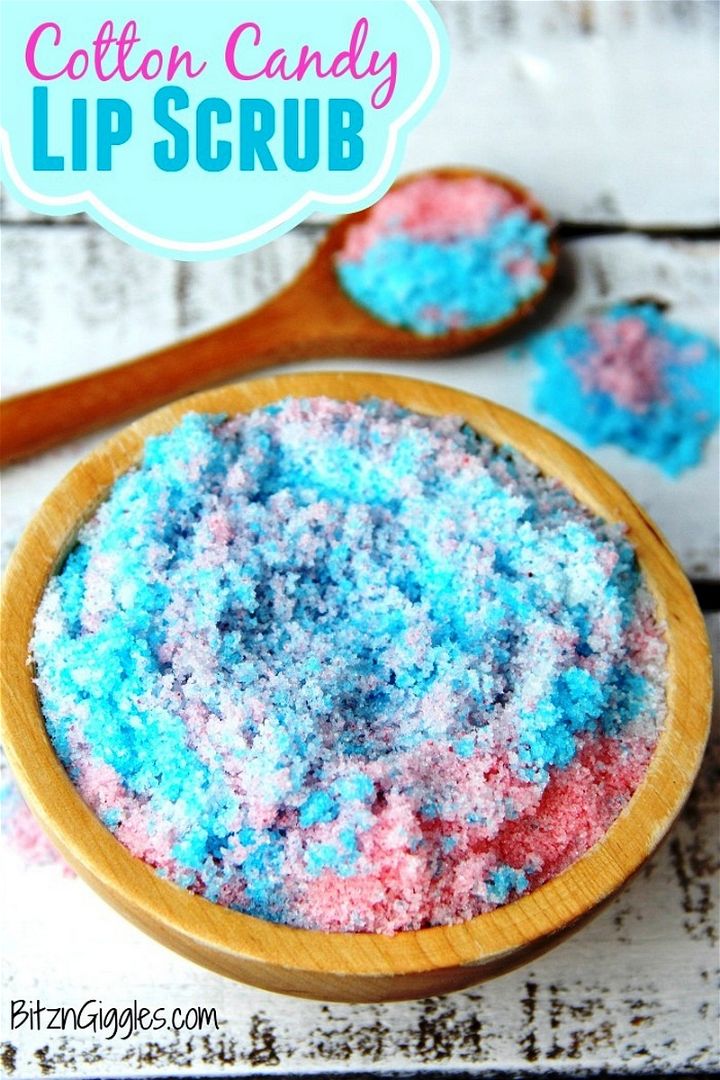 This diy lip scrub is labelled as a cotton candy lip scrub. We all need lip scrubs in winter season and this can be your perfect lip balm for the winters. For this lip balm you need sugar, olive oil, cotton candy flavoring and blue and pink food coloring. Grab your supplies and make this super amazing lip balm. Tutorial
23. Printable Friendship Bracelet Valentine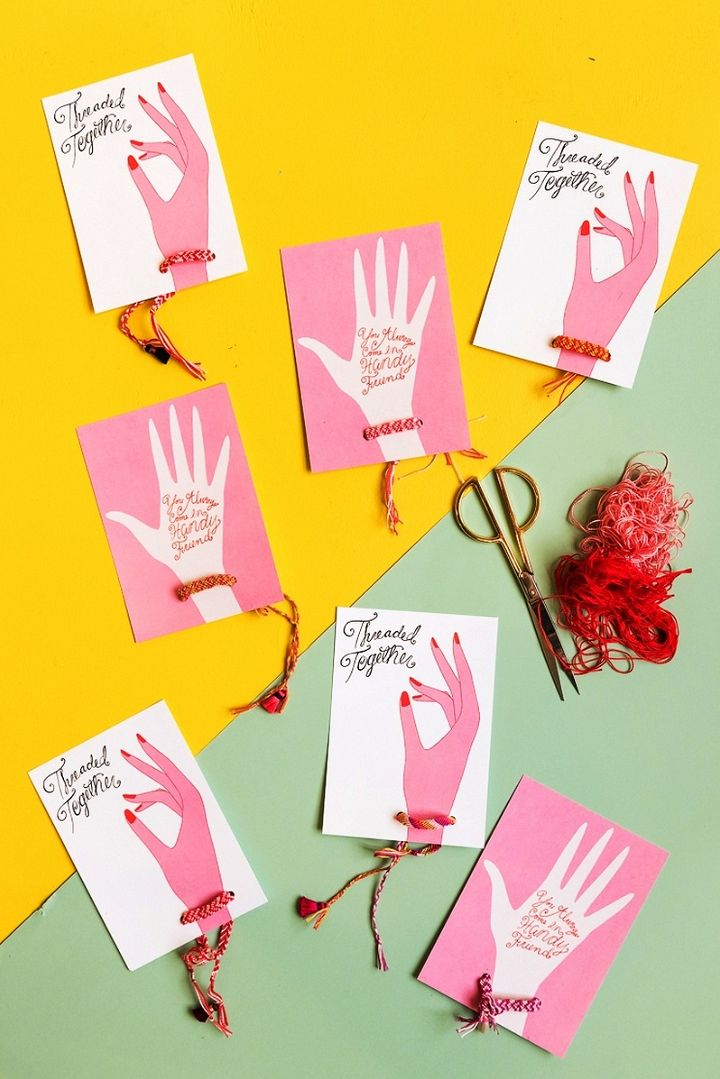 This diy project is all about making printable friendship bracelets and enjoying them. You need to see the complete tutorial to understand how everything is done here. Besides tutorial you will need printable for the project. You can gift these to someone you wish on any of the special days of the year. Tutorial
24. Countdown Calendar In A Box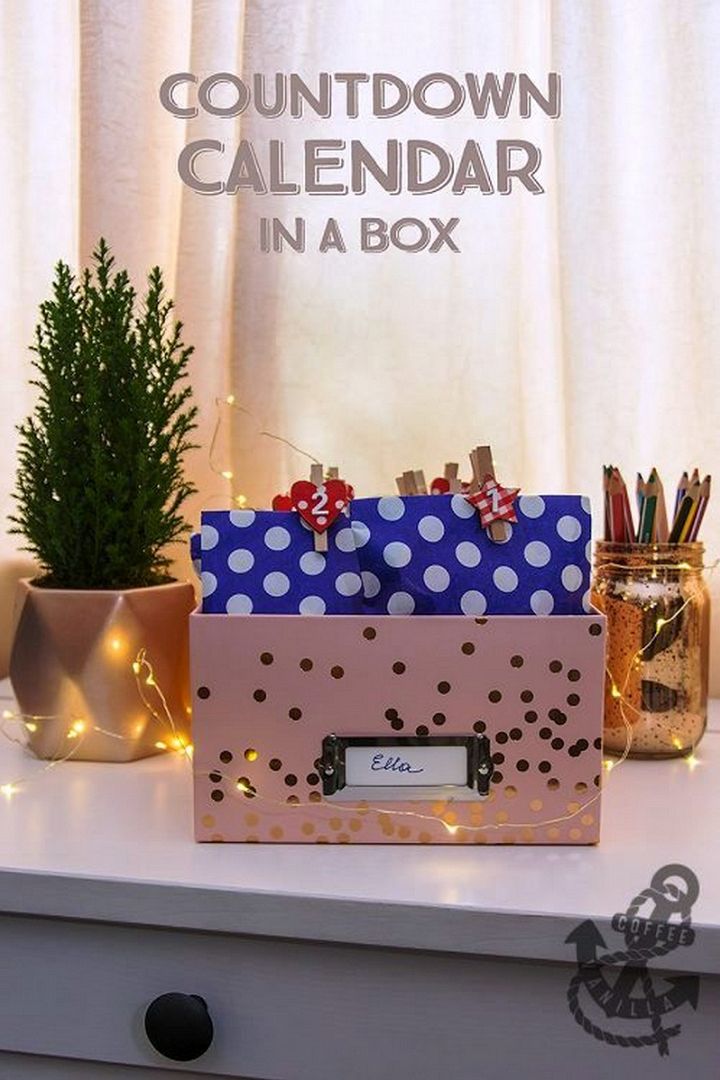 Teenagers will surely love this diy project. This is a countdown calendar in a box that you can create all by yourself. You need photo boxes along with candy bags, wooden pegs and little gifs. If the gifts that you wish to give are large enough for the box, you can keep notes inside with direction to find the gift. Tutorial
25. Schedule And Chore Board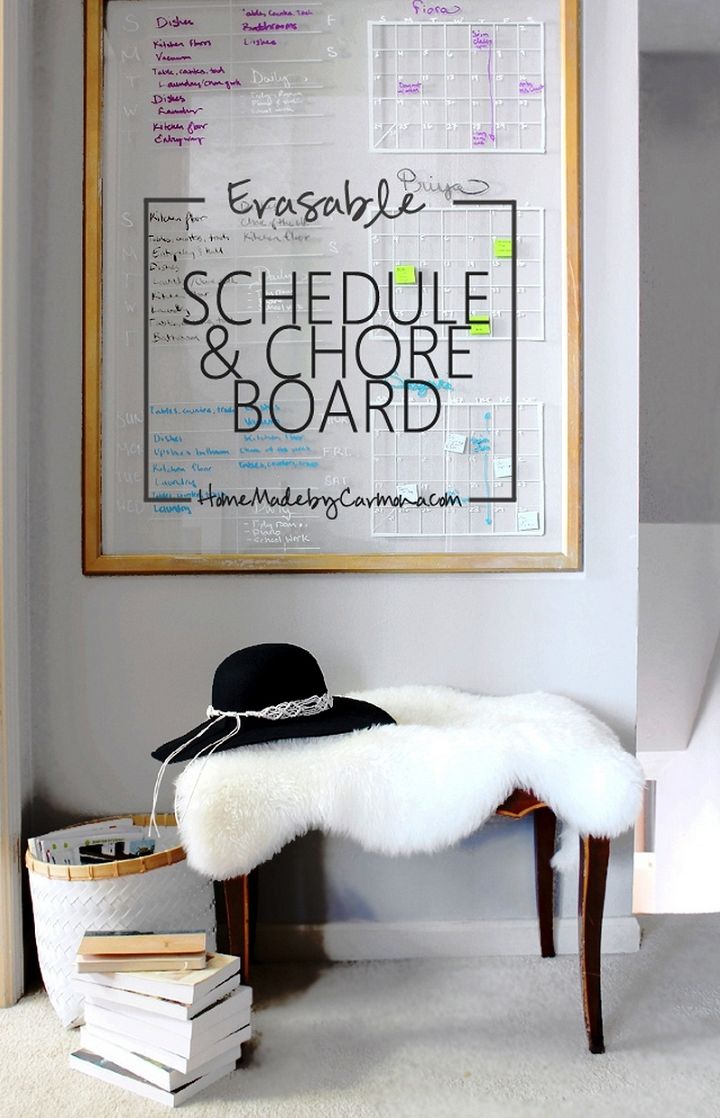 This seems to be a very appropriate craft for the teenagers. Your teenage children can also enjoy this art and craft activity during the upcoming summer holidays. By making this diy craft you can make yourself more organized and disciplined. This is a schedule chore board that you see here which can be easily made with the help of this project over here. Tutorial
26. Make Bracelets From Recycled T-shirts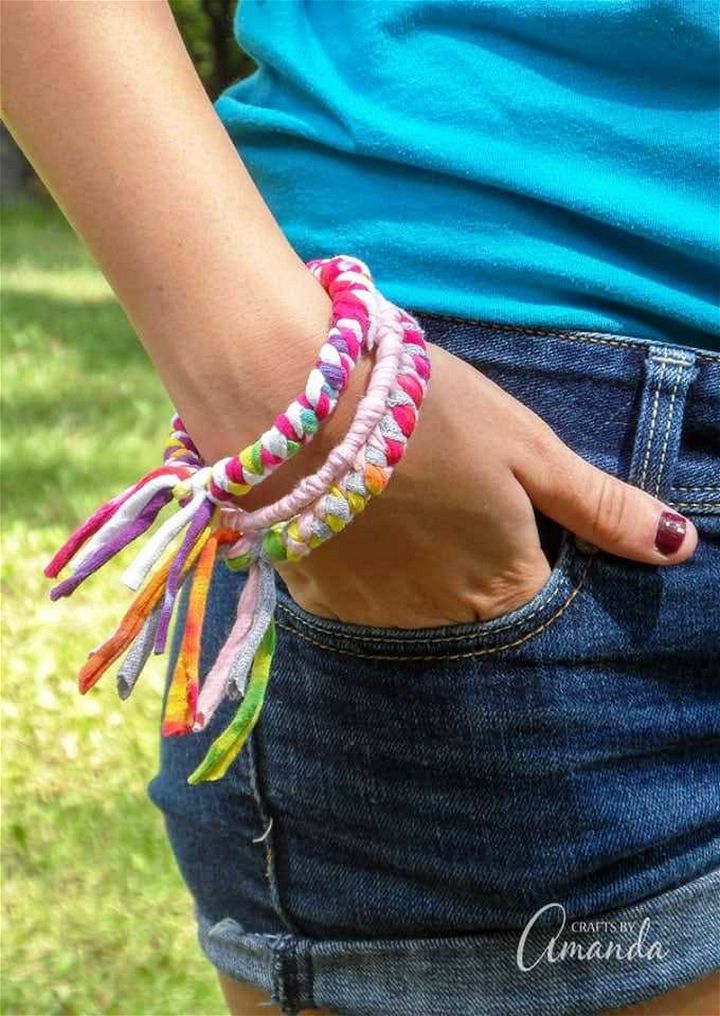 Think twice before throwing away your old t shirts from now onwards. This diy project for teenagers is all about creating some stylish bracelets using old t shirts. This is an easy to make recycled craft that you can also easily do at home with a little bit of help form this project over here. Tutorial
27. Yarn Wrapped Cardboard Letters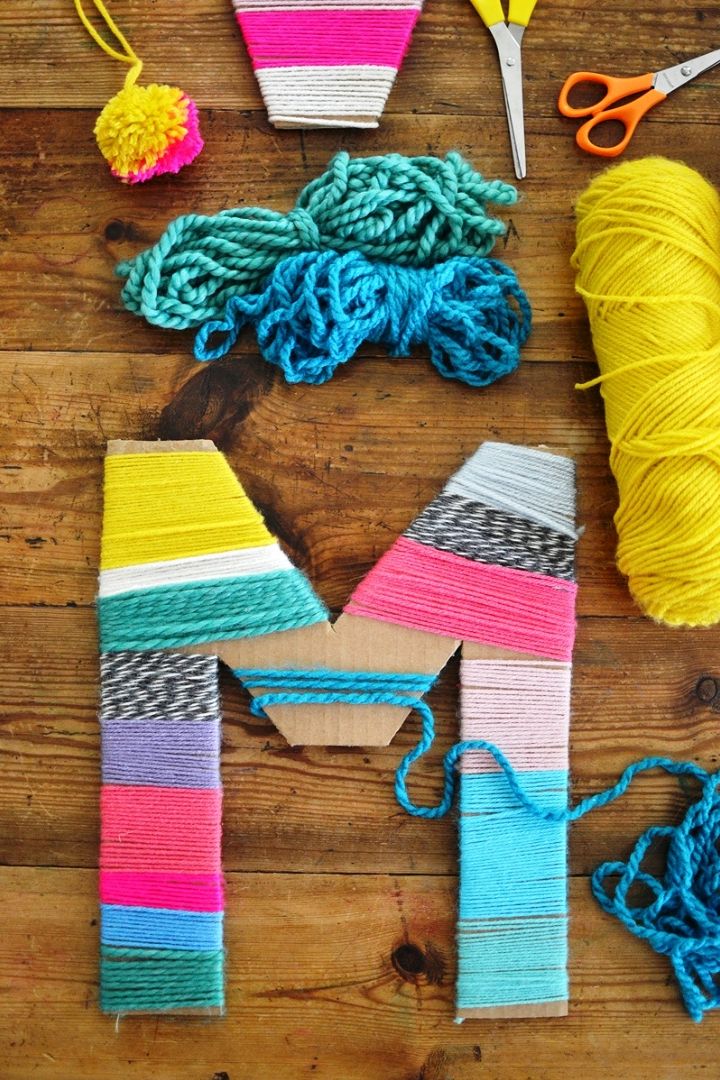 In this diy project yarn is playing an important role in creating something so attractive and appealing to eyes. With the step by step instructions given here you can learn to make cardboard letters with yarn wrapped all over. You can then use these crafts for decoration. Tutorial
28. Enchanting Flowers Suspended in Light Bulbs Glisten Like Precious Jewels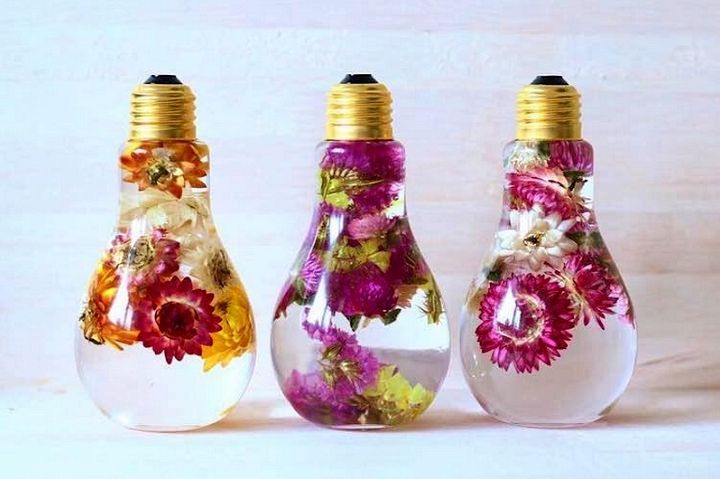 Have a look at these enchanted flowers suspended in light bulbs beautifully. This is surely a unique way to enjoy beautiful blooms in a lovely setting. This diy idea is perfect for decoration for a special occasion. You can choose the flowers of your choice to make this craft easily. Tutorial
29. How To Make Water Candles – DIY Water Candle Project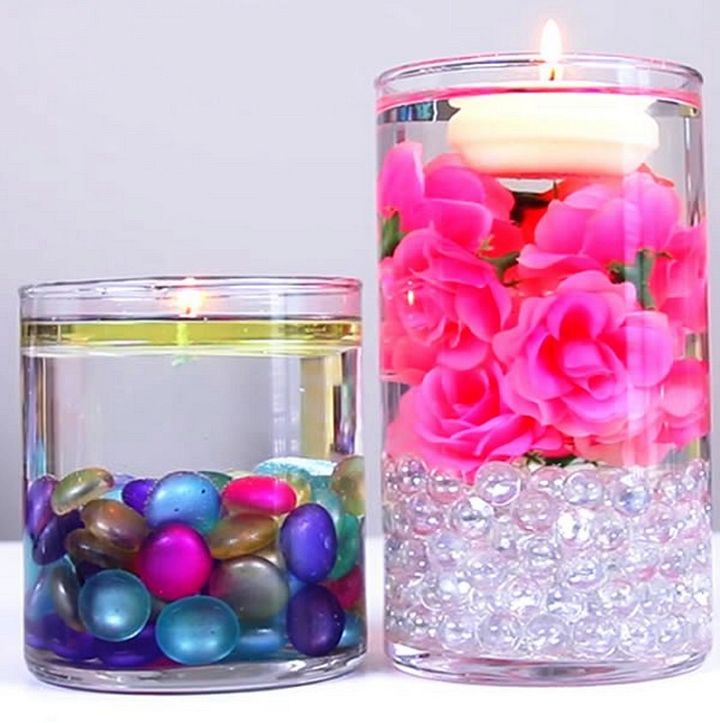 These water candles idea is especially designed for the teenagers so that they can enjoy this craft during their holidays. If you are also interested in making your own candles, you can take help from this project. You will need glass beads and gems too for this idea. A careful process is described here so that you can easily catch up and make your own candles with an easy process. Tutorial
30. DIY Beach Sunset Paint Pour Coasters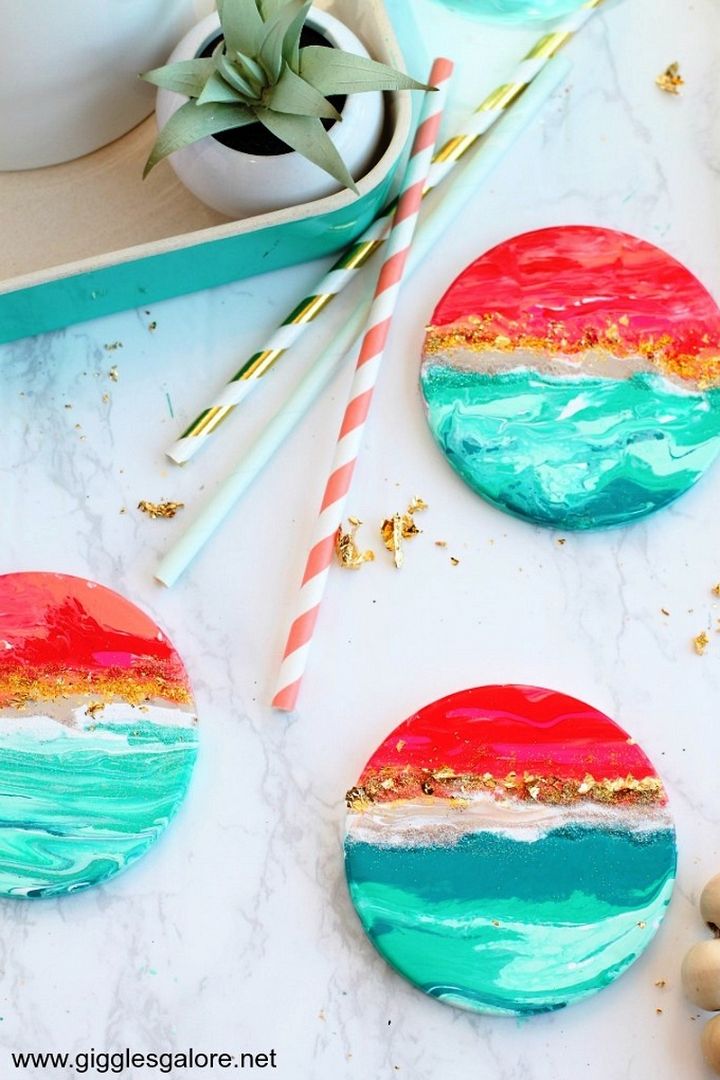 These coasters are definitely something that you really want to try. These are pour paint coasters are a mix of some vibrant colors as you can see. These beautiful ceramic coasters are something that you will be proud of once you are done making them s get started before the holiday season ends. Tutorial
31. Yarn Wrapped Rainbow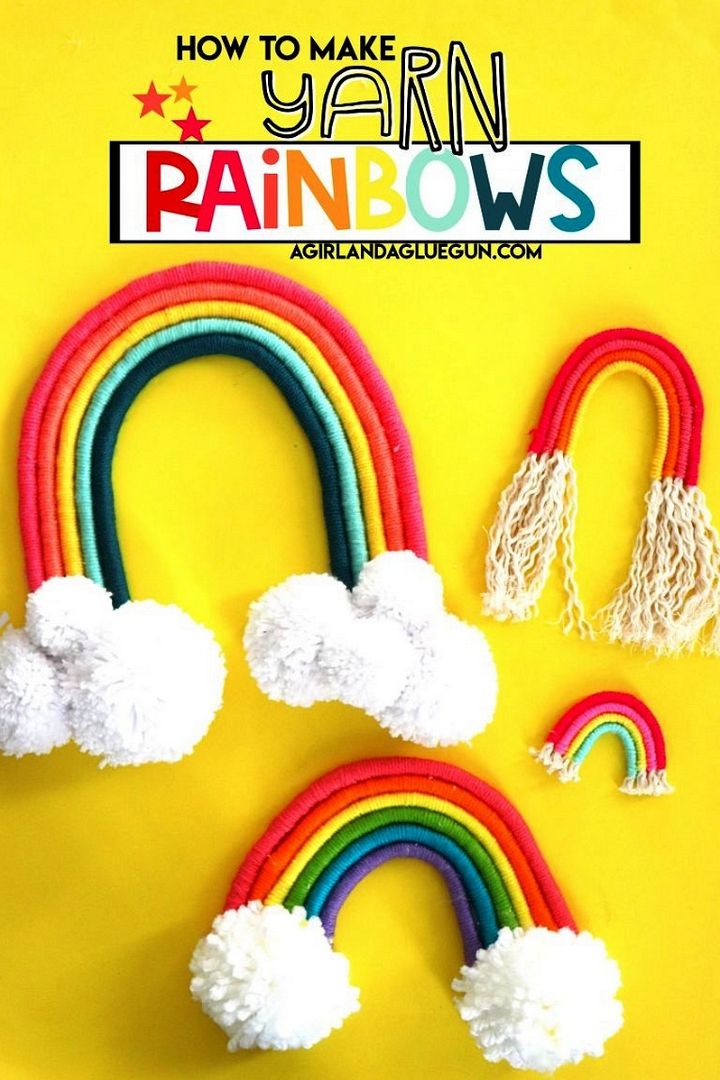 Rainbow crafts are always amazing and attractive. Once you will start making these yarn wrapped rainbow crafts, you will not be able to stop making them as they are very interesting and you will enjoy making them a lot as a teenager. For this you need yarn, rope, hot glue gun and felt. Tutorial
Conclusion:
Pick and choose your favorite projects from among these and enjoy your holidays. All of the project that you see here easy to catch up with and get along. You first have to start off by gathering the supplies for any of the projects that you wish to do.