To make your bath time interesting and enjoyable, you can make some amazing and stunning bathroom trays. These 24 DIY Bathroom Tray Ideas On a Budget will definitely blow your mind as they are so appealing to the eyes that you really want to try them. You can use many different types of wood for this purpose. Besides wood, some basic tools are required. You can make your Bathroom and bath time more relaxing and cozy with these trays. You can keep your wine glass, book, and a nice decoration piece over these trays to make them look more special and decorated.
Simple wooden planks can do it all for this project. You can use curly maple wood for making these trays. You can also make rustic trays if you like the rustic look. A nice candle over these trays will complete the whole look. While you are dipped in warm water, what's better than having a wine glass and a book beside you? You can also leave a space for Your Phones on these trays if you want.
1. DIY Bathtub Tray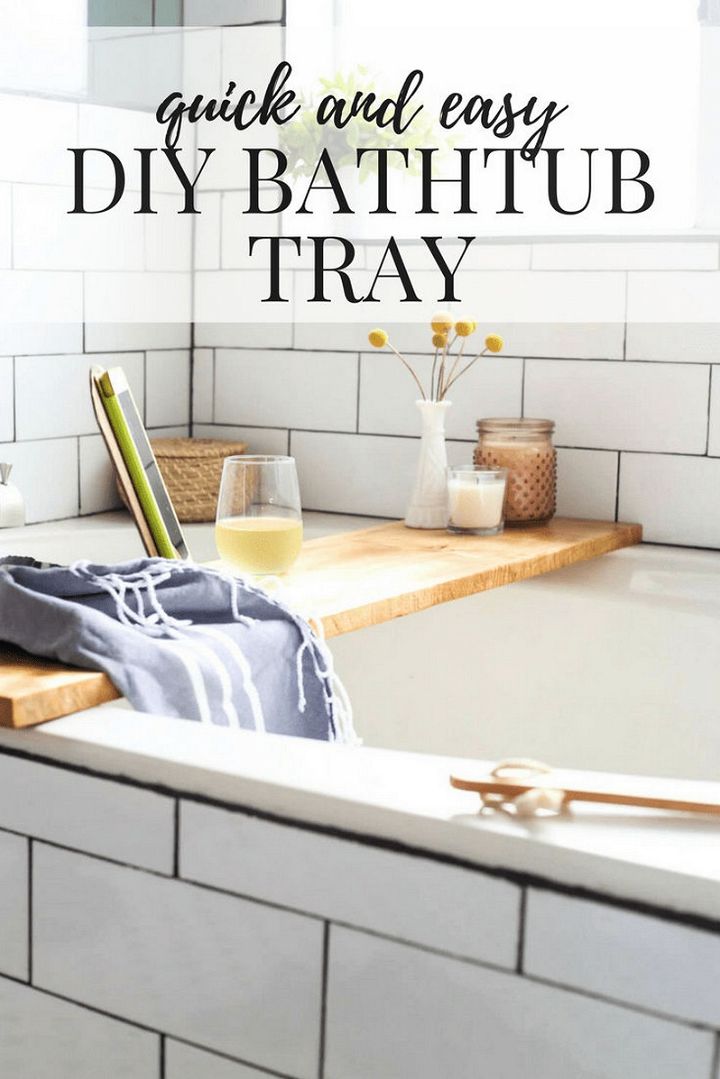 For a more relaxing bathroom, the tray can play a very important role. You can also make a wooden bathroom tray like the one that you see here. curly maple wood is used here but you can use any type. Besides wood, we need wood glue, nails, a nail gun, sandpaper, a power sander, and shellac. Trust your inner creativity and start making this beautiful tray today. here!
2. DIY Bath Tray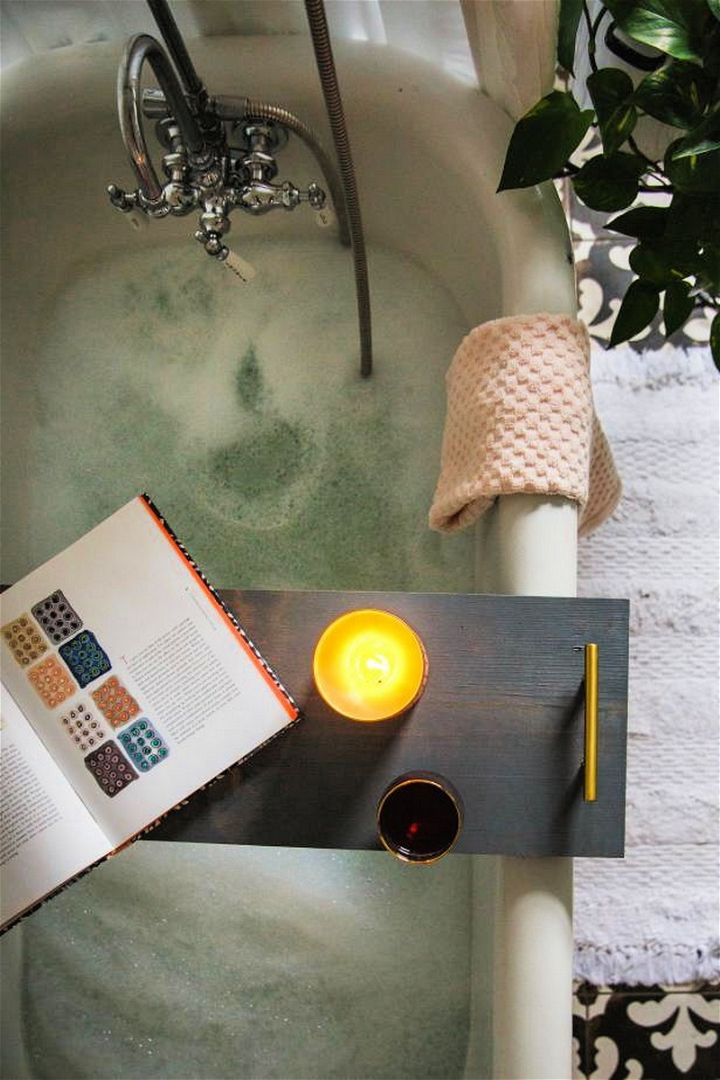 Simpler things are mostly better than very fancy and complicated ones. When it comes to DIY projects simple and budget-friendly options are more liked. If you have a candle, a book, and a glass of wine by your side while taking bath, what better feeling than that in the world? Try this out as your new project. here!
3. How to Make a Bath Tray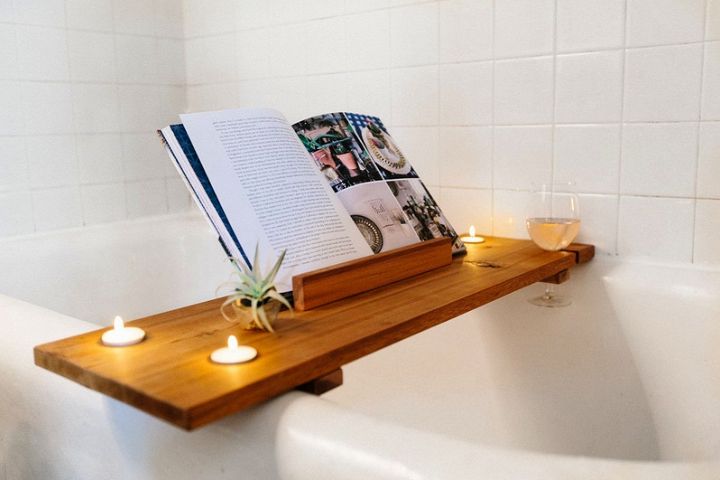 Here you are going to find a complete tutorial about how you can build your own bathroom tray easily. Moreover, you will also find here a list of items that you are going to need for this project. Hand saw is used for cutting here. You can make wine glasses and candleholders easily with some basic tools. here!
4. DIY Bathtub Tray – No Tools Needed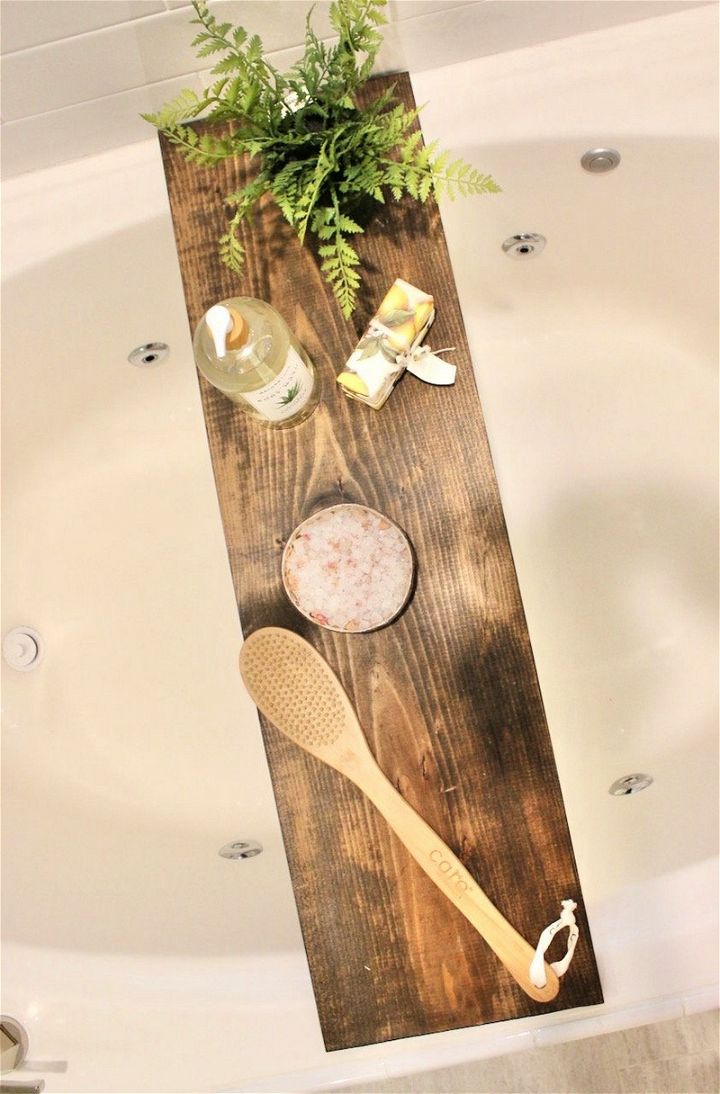 For making a bathroom tray, a simple wooden plank can do the job. In this project, no tools are required instead you need a square wooden board. Keep your favorite candle, book, and scrubber by your side while you dip yourself in a hot bubble bath. here!
5. DIY Bath Caddy Tray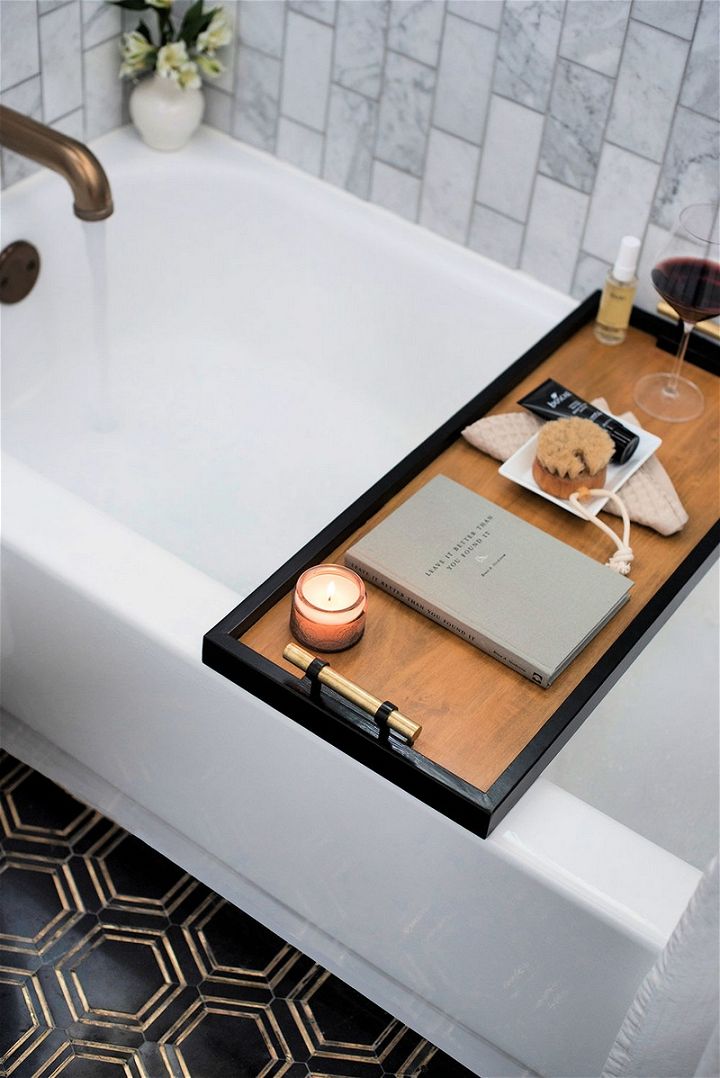 This is a DIY bath caddy tray here that you see. This caddy can contain all your essentials while having a bath. A nice book to read is loved by people when they are taking showers. A beautifully scented candle is also liked by a lot of people. If you are curious to see how it's done you must follow the project here!
6. DIY Bathtub Tray With Book Holder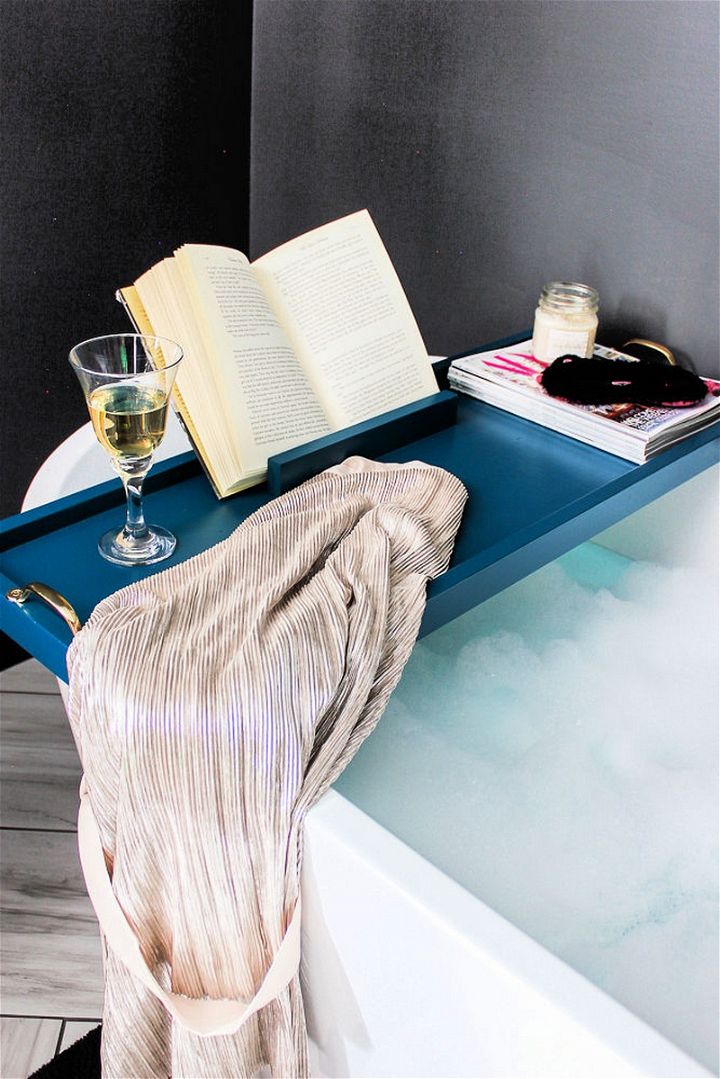 This is a simply designed bathroom tray with a twist. This tray has a book holder in it for all those bookworms out there. People like to read while having dipped themselves into warm water and it definitely sounds nice. Next time while you engulf yourself in the water you can also have a good reading time. here!
7. Easy DIY Bathtub Tray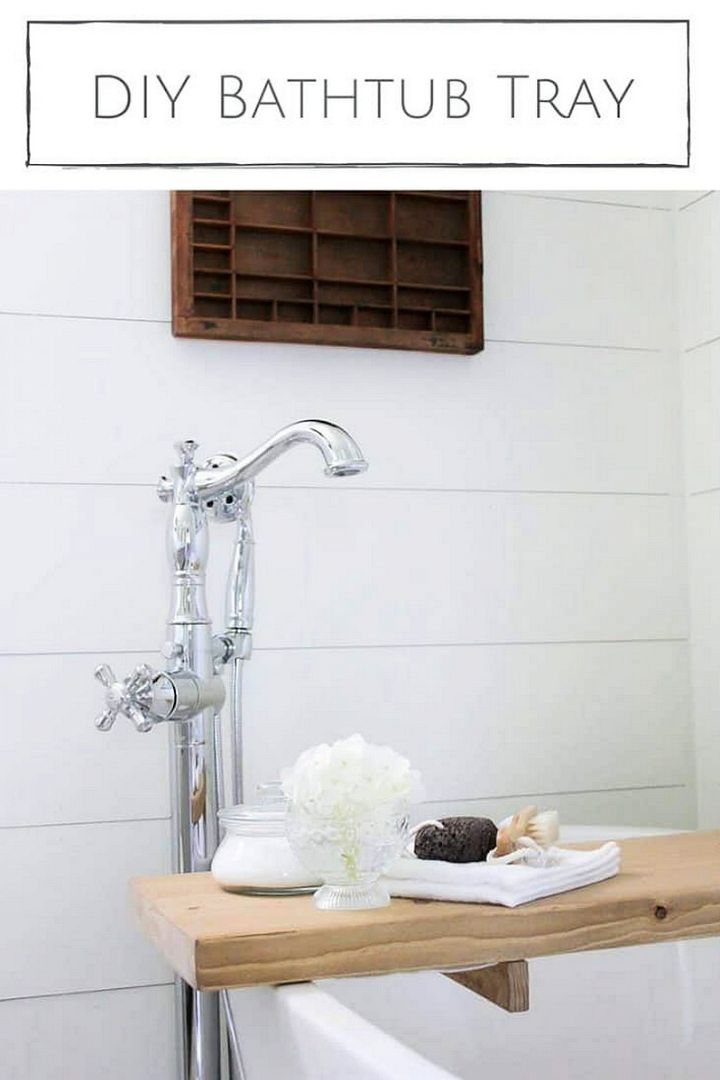 Even if you are using a simple piece of wood as a bathtub tray, you just need some supplies for that. You need to have a glue gun, a wood stain of your choice, wood screws, and some other basic items. Look into the minor details of the project and see how you can create your own bathtub tray. here!
8. Simple DIY Bathtub Tray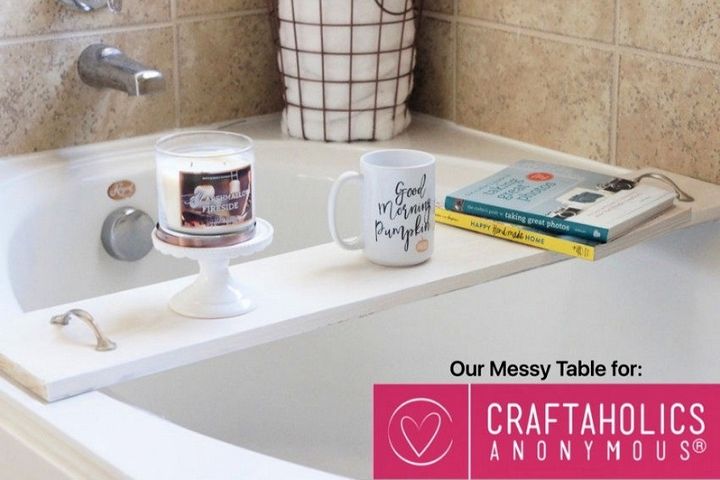 This is a simple and beautiful bathtub tray designed especially for people who quickly get bored while having long showers. If you are one of those who can't get out of the shower early, then you must engage yourself in some activity for that time. reading a book, smelling a nice candle, and drinking wine can be wonderful time-killing activities that you can do while your shower time. here!
9. Best DIY Bathtub Tray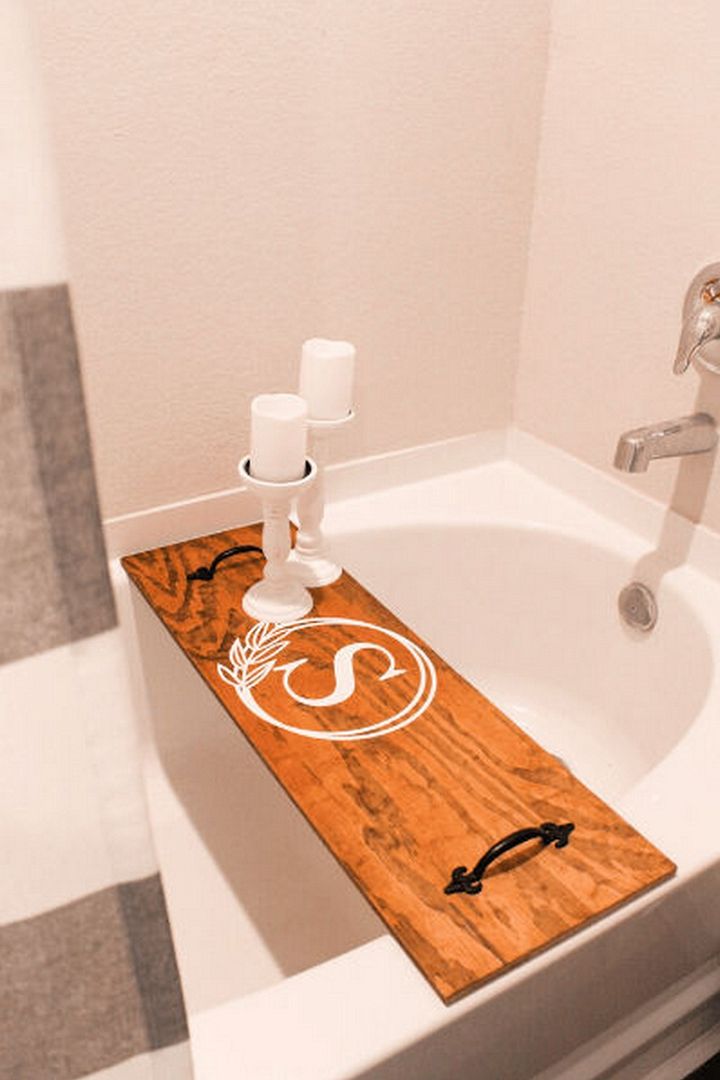 This is probably the most eye-catching bathtub tray you have probably seen. It's a simple piece of wood but some painting and designing have been done over it to make it look like a branded bathtub tray. When you make things at home you tend to save a lot of money. here!
10. How To Make A Luxury Wooden Bath Tray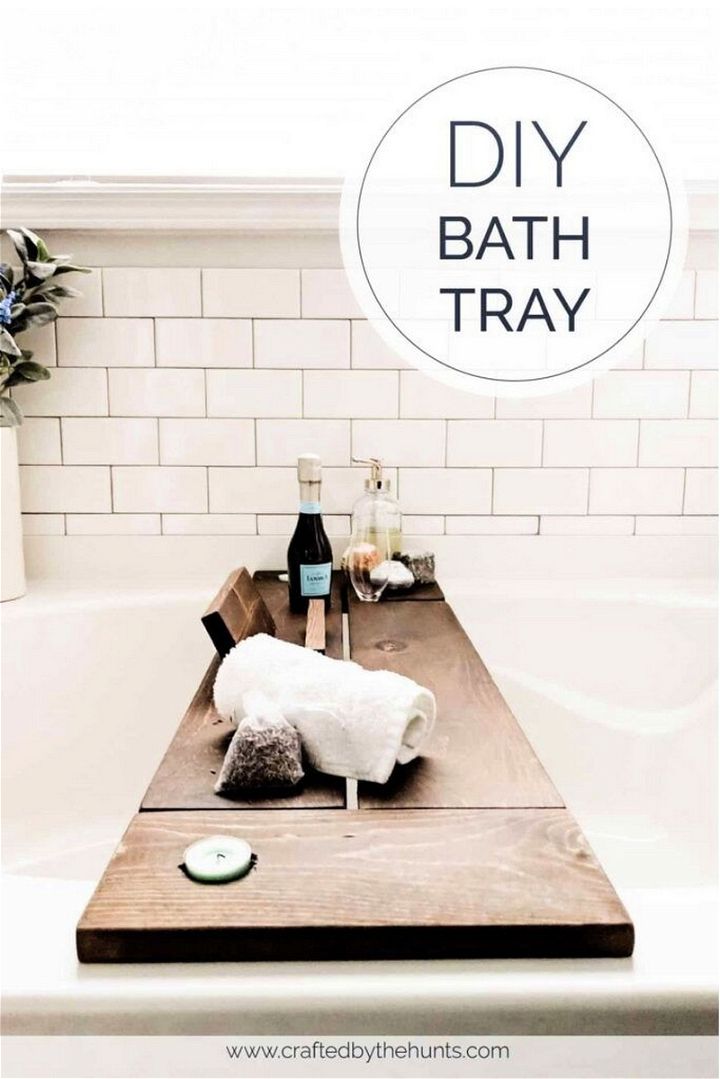 You can do designing in a simple wooden plank also. Customize a basic piece of wood in a way that it looks like a branded bathtub tray that you see at any furniture store and you know you can't afford it. Home-made things are always better than the readymade ones that you buy from stores as we can alter things according to our personal choices when we are making something ourselves. here!
11. DIY Bath Tub Tray Tutorial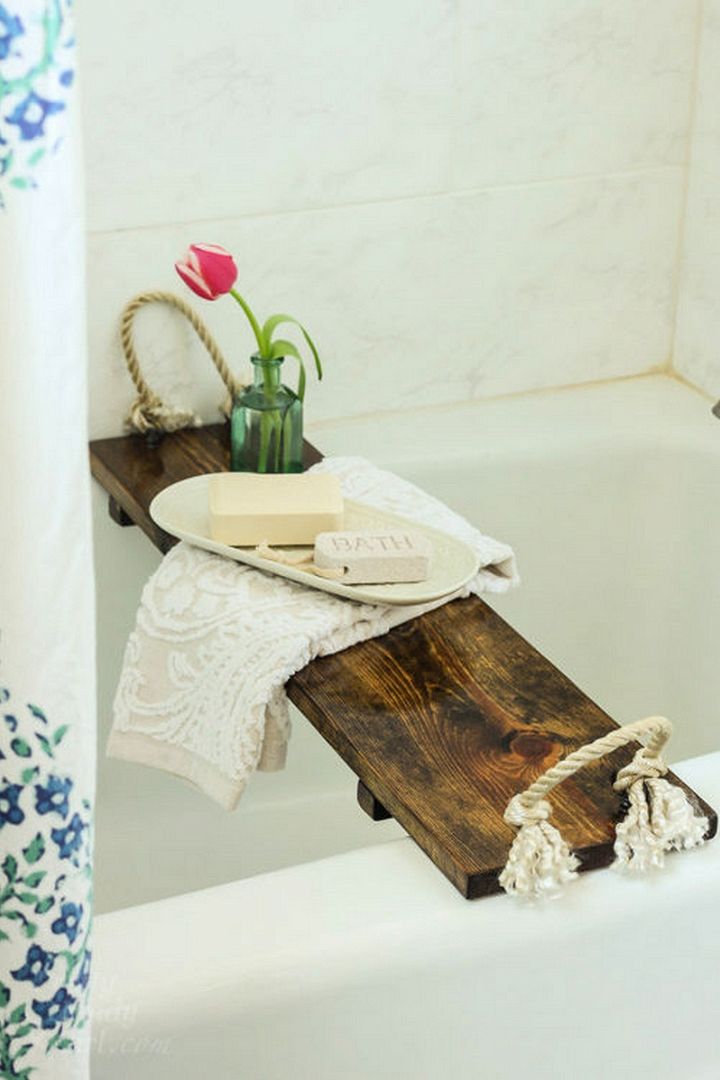 This is a DIY bathtub tray tutorial that you will find here. This tutorial is very helpful in making your personal bathtub tray that can carry stuff to entertain you while you are having a bath. Engaging yourself in your favorite activities during bath time is the most pleasant feeling one can have. here!
12. DIY Wooden Bath Tray With Phone Holder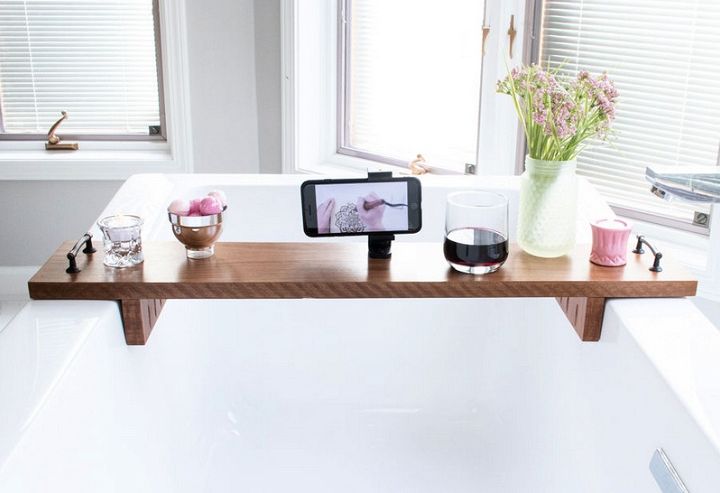 Phones are very essential to us these days. Therefore while having a bath we tend to miss our phones but not anymore. This bathtub tray with a phone holder in it will solve your problem. You can now have your phone with you while taking showers. This bathtub tray has an expensive look although it's a cheap DIY project. here!
13. How To DIY Bath Tray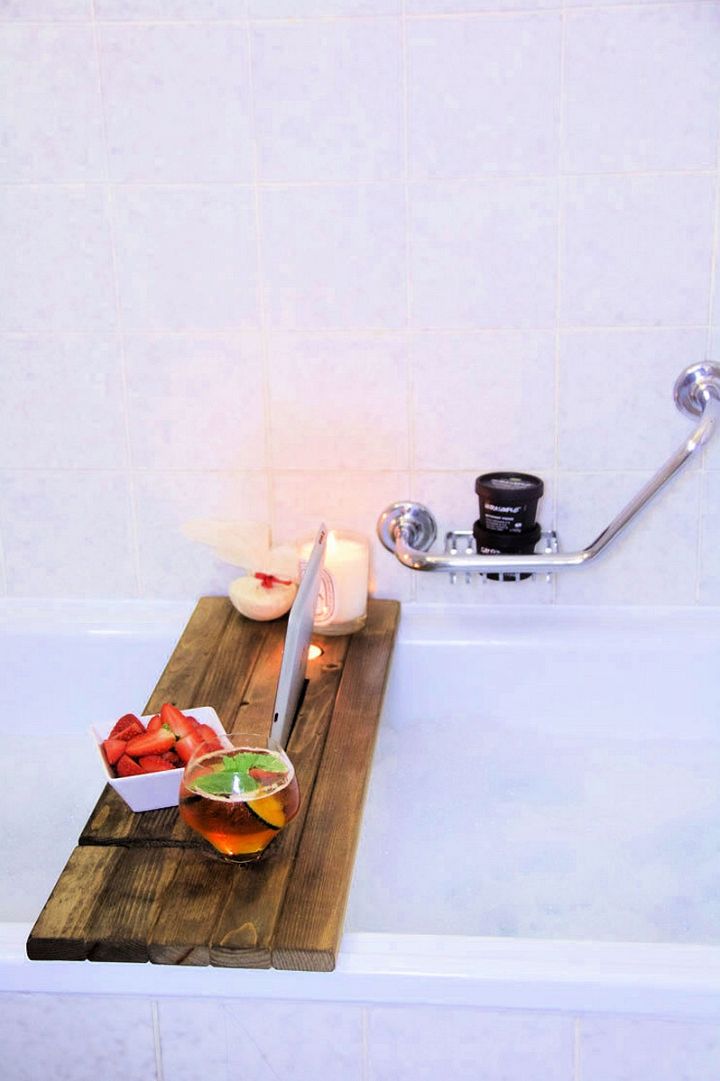 Wood is always fun to work with. Things that we make with wood are special and have an attractive look in them. Here in this project, you will learn how you can make your very own bathtub tray with holders on each side to hold it and create a nice look also. here!
14. DIY Bathtub Shelf, How To Make A Bath Tray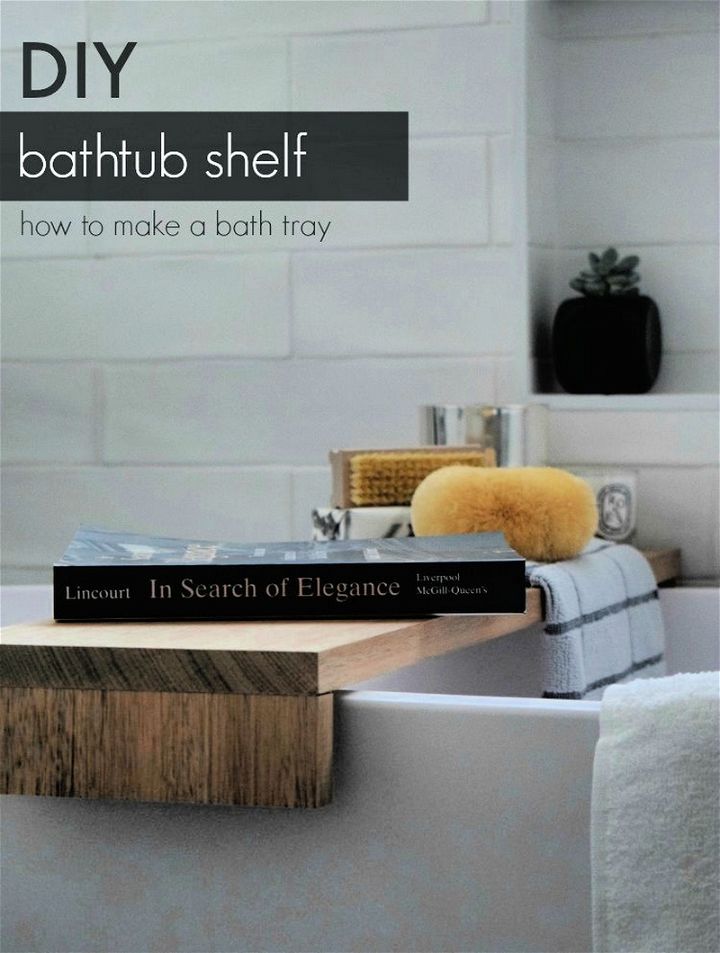 With just a few creative ideas, you can create an awesome bathtub tray. In this DIY bathtub project, a wooden plank is used as a tray and along with that two wooden pieces are attached on both sides to turn it into a shelf and place it conveniently onto the bathtub. here!
15. DIY Bathtub Tray Step-by-Step Tutorial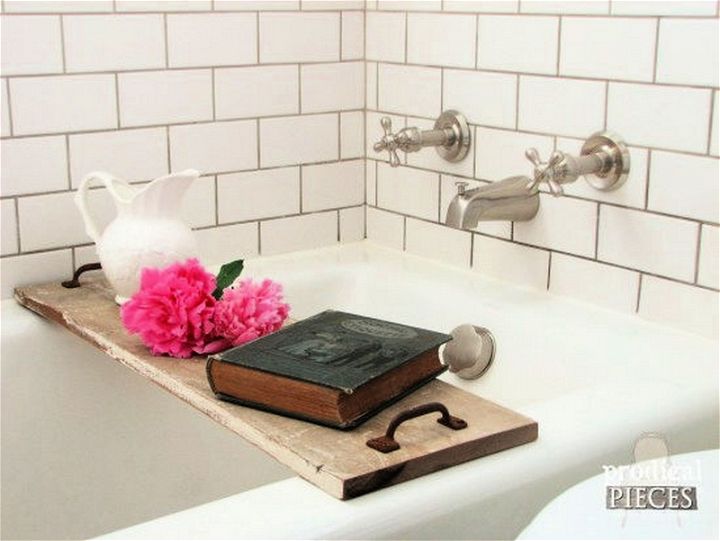 This is a step-by-step tutorial for making a bathtub tray. You can make some amazing items using your creativity and talent. When you work with wood, you tend to get some very amazing results at the end. Follow the steps carefully and you will be having a wonderful bathtub tray for your bath time. here!
16. How to Make a Wood Bath Tray That Also Serves As Artwork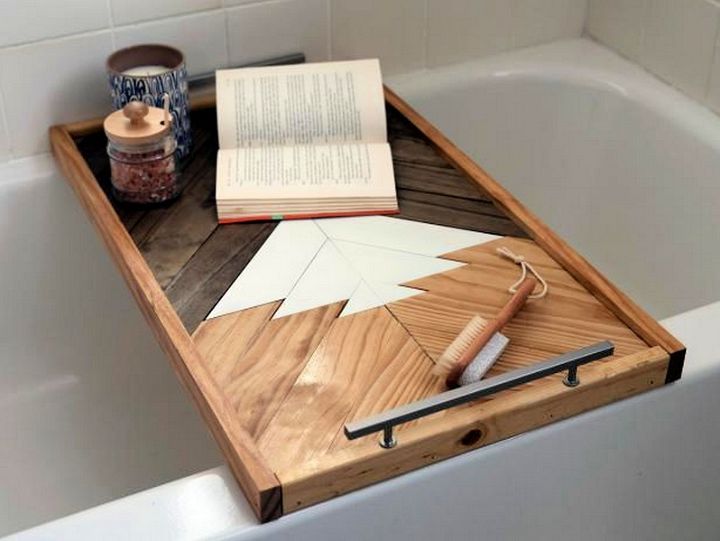 When you think that creating a bathtub tray is not enough, you can do some artwork on it. Looking at this piece of art while having a shower, is a pleasant sight for sure. Make this bathtub tray by following some simple steps from this project. here!
17. Make Bathtimes Better With This DIY Wood Bathtub Tray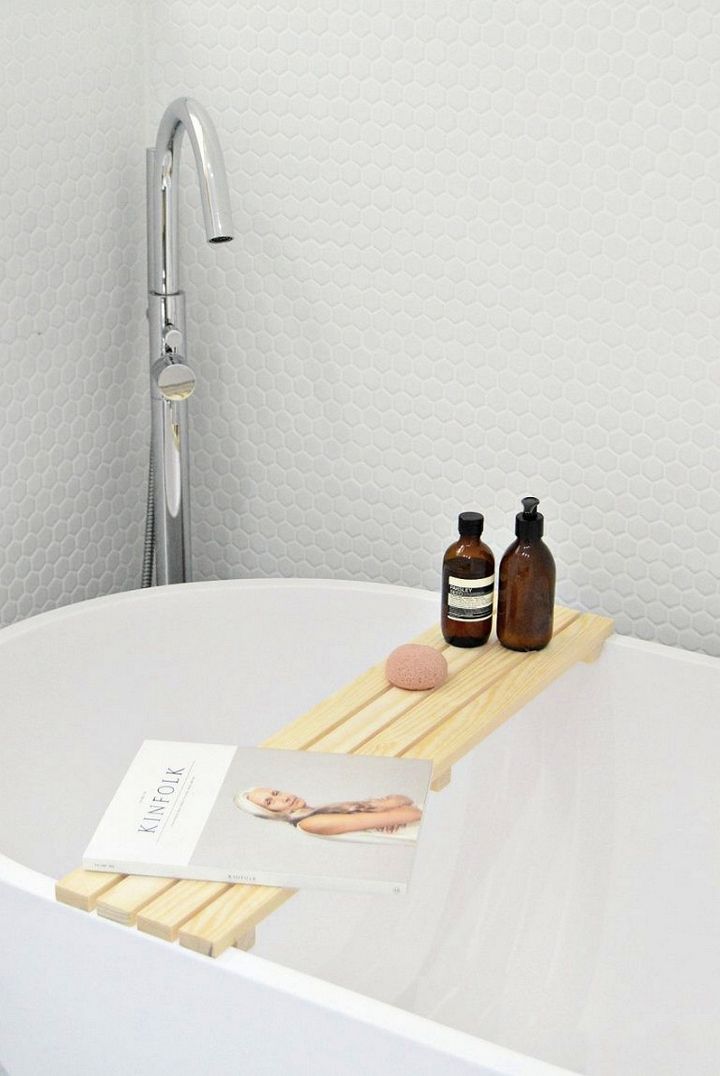 There is no harm at all in giving a quick look at a magazine, drinking some juice, and smelling candles while taking bath. It's always a pleasure being in a good mood while taking shower. Therefore this bathtub tray will definitely make your mood hence your bath time better than ever. here!
18. DIY Waterproofed Wood Bath Tray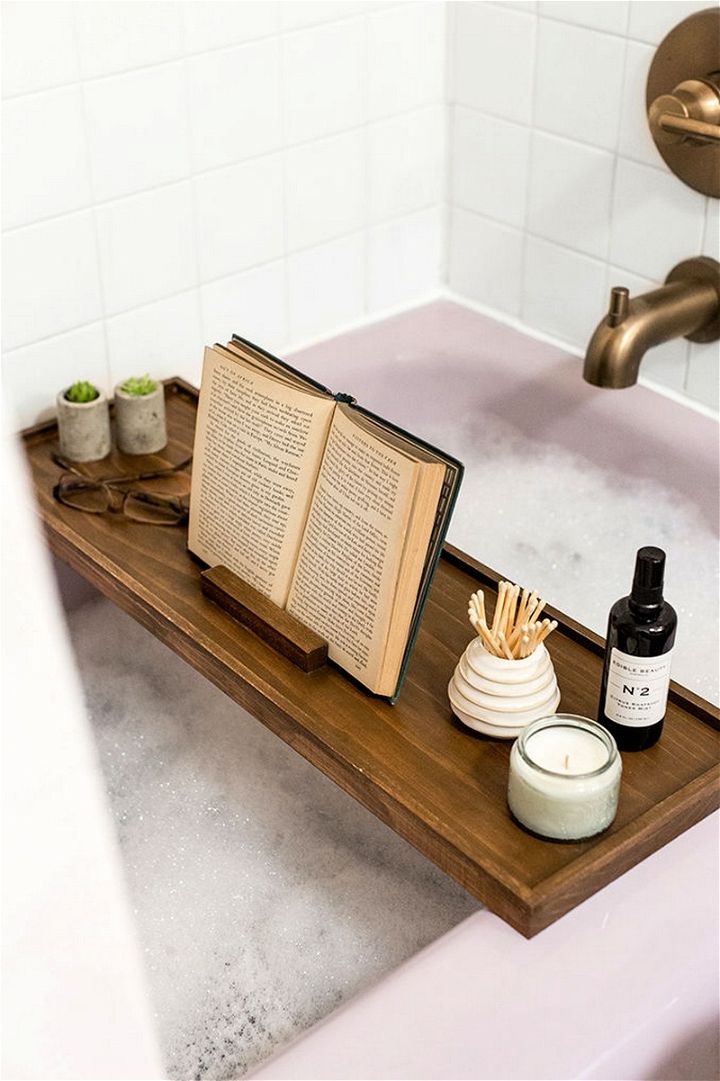 You must make sure while making a bathtub tray, that it's waterproof. This project tells us how we can make a beautiful bathtub tray that is waterproof and eye-catching. You can keep some of your favorite items on this bathtub tray while you are having a relaxing shower. here!
19. Simple And Easy DIY Bathtub Tray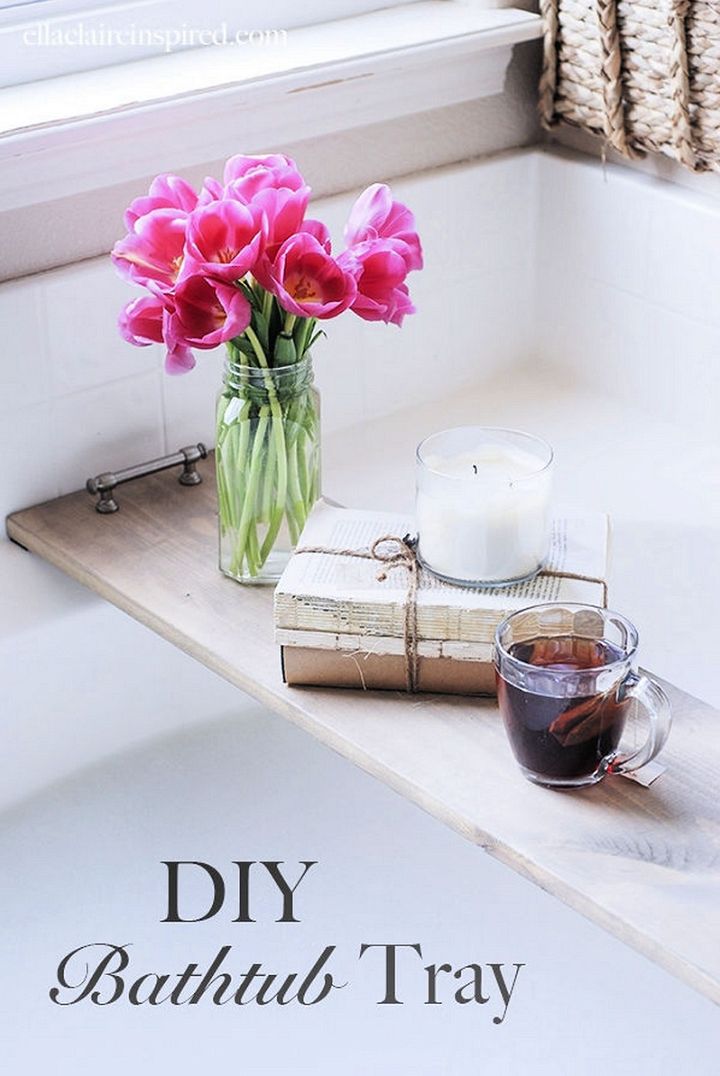 Simpler things are mostly better and easy to handle. List down some of the basic items that you observe in this project and you will easily be able to create this masterpiece to assist you in your bath time. Follow the steps carefully and you will see some amazing results coming your way. here!
20. Wooden Bath Tray – DIY Pallet Project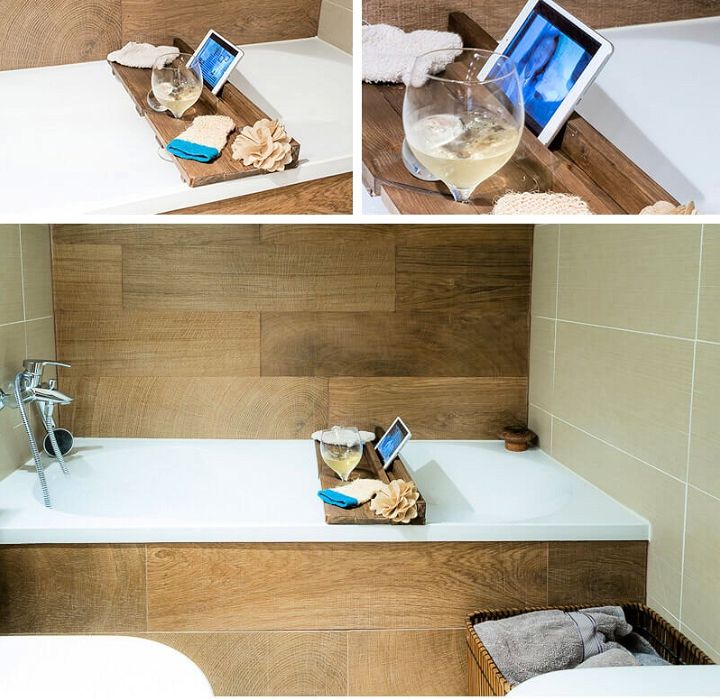 This project only requires some basic woodcutting skills. Working with wood is always interesting and this is just a simple project of making a bathtub tray to make your bath time more interesting than ever. Keep your essentials in this tray conveniently and you will be happier than before. here!
21. How To Style A Bathroom Tray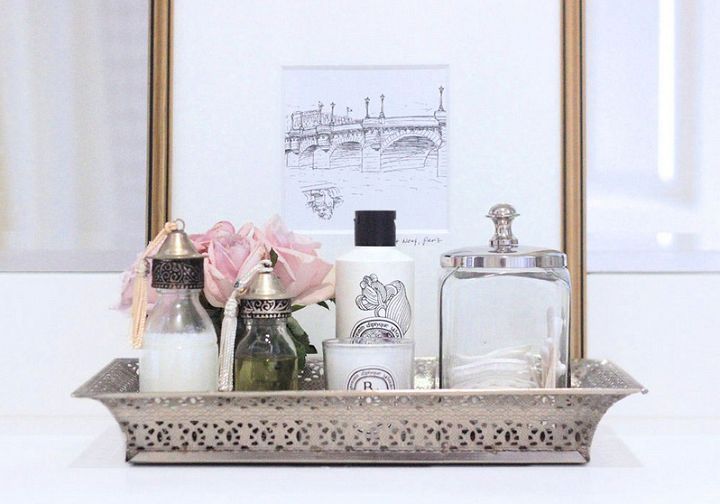 This beautiful bathtub tray will up your game for bath time. Choose some beautiful items to keep inside this bathtub tray in order to have a wonderful bath time. Be unique and creative while making something new. Innovations always come up with amazing results. here!
22. Easy DIY Bathroom Tray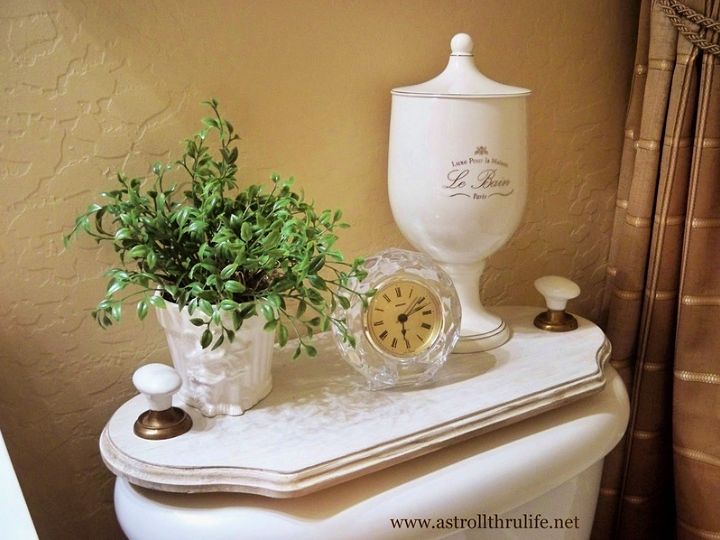 Look for easier options when you are trying to make something by yourself. Homemade things definitely save you money as compared to the ones you buy from stores. This is an easy DIY bathtub tray project that you just have to blindly follow and you will never regret the efforts that you will make for this. here!
23. Make Your Own Bathtub Organiser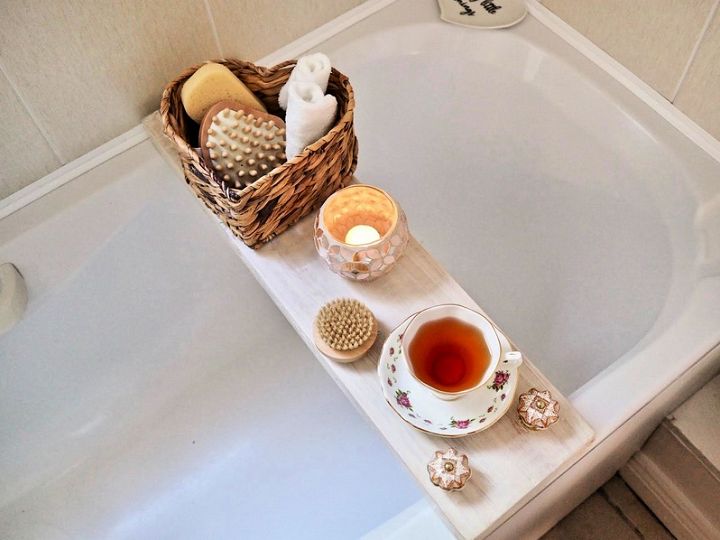 This is an easy way to make your bathtub organizer. You do not need to have too much money and time for making this tray. Spend a little bit of time, and show a lot of passion and creativity to create something new and you are all set. here!
24. DIY Bath Caddy – Tray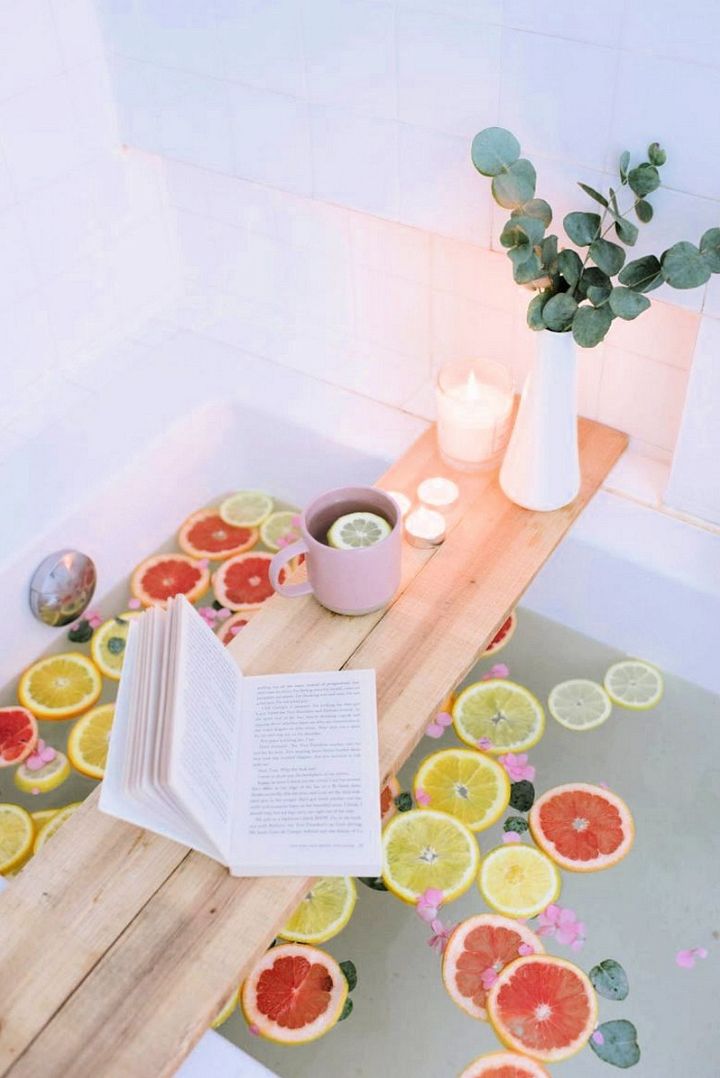 Bath times should not be boring at all. Therefore to make your bath time interesting and happening, this project has some great bathtub tray-making tips and tricks. Follow this project along with using your own ideas as well to change the entire look of the bathroom. here!
Conclusion:
Bath time is a personal time for everyone and we must enjoy it as much as we can. These DIY bathroom tray ideas will definitely make it possible for us to hang out with ourselves and enjoy our bath time to the fullest. You do not have to spend much of your time or money on these projects as they are all easy, budget-friendly, and quick.