All the 11 Hidden Gun Storage Ideas For Your Safety that we have here are useful and unique in their own ways. You will get to know the details in the written description about the making of these racks and also in the tutorial. All the Shelves and Racks that we see here are secret and are made for the purpose of hiding your gun. Most of the racks that we see here are made of wood as you can see and they look antique and artistic in their own style.
Besides shelves and racks, you will also find a secret compartment mirror plan also that can hold your gun in an amazing way that nobody can have any clue you own and keep in the house. As we know that keeping and owning weapons is a necessity for your own safety and defense, however, we often find it difficult to keep them in a hidden place at home so that only we can find them at the right time. These DIY gun storage plans will help you in keeping your weapon hidden and safe where only you can get your hand on it.
1. DIY Secret Floating Shelf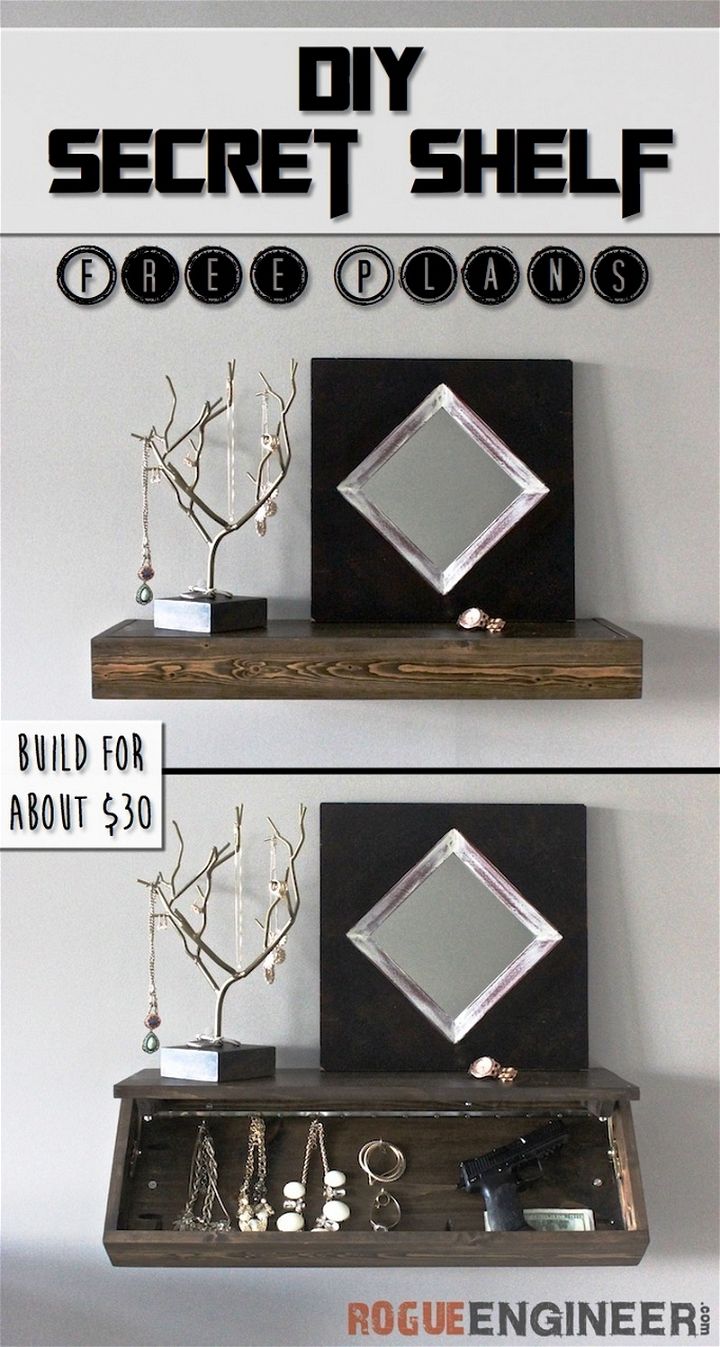 When it comes to keeping guns, we all want some hidden storage ideas for sure. This DIY project shows how you can build your own secret floating shelves in the house and keep your gun there easily and safely. the materials that we need are listed here and the list includes a miter saw, table saw, drill, pocket hole jig, level, stud finder, hearing protection, tape measure, pencil, and safety glasses. Whereas the list of tools is also listed in the details. Tutorial
2. Secret Compartment Shelf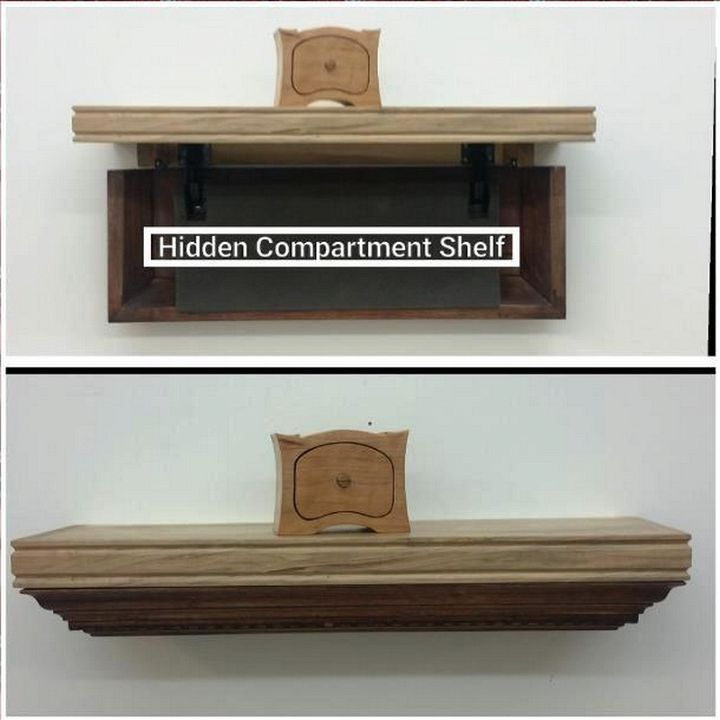 Have a look at this secret compartment shelf here and see how you can do this all by yourself. See the detailed description as well as the tutorial so that you can easily get along. This shelf can be used to store valuables that you want to hide. Cutting, assembling, painting, and some more tasks are included. Tutorial
3. How To Make A Gun Rack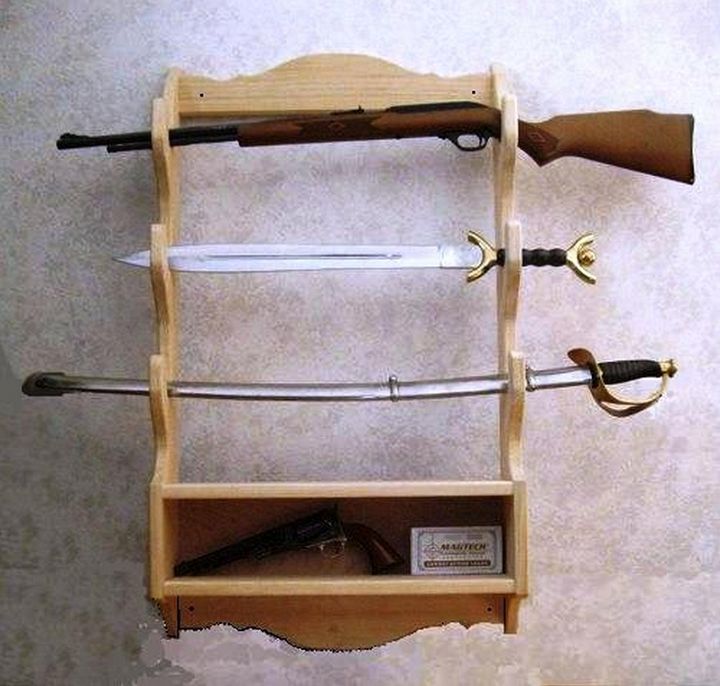 If you also own a gun, you must be thinking of making a gun rack all by yourself. the list of materials includes sandpaper, boards, plywood, wood screws, wood filler, glue, satin finish polyurethane, and some more like Kreg screws. Gather the supplies and get started. Tutorial
4. Wooden Gun Rack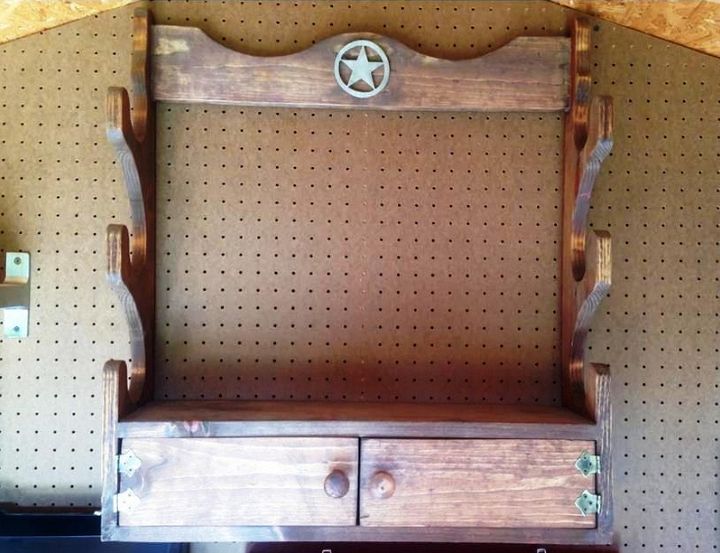 Take a look at this DIY wooden gun rack here and see how you can do this all by yourself. For this project, you will need wood cabinet knobs, antique brass cabinet hinges, stainable wood filler, wood glue, American stain, rubber gloves and old rags, Kreg jig screws, scrap pieces of aluminum, epoxy, and mounting brackets Tutorial
5. DIY Secret Compartment Mirror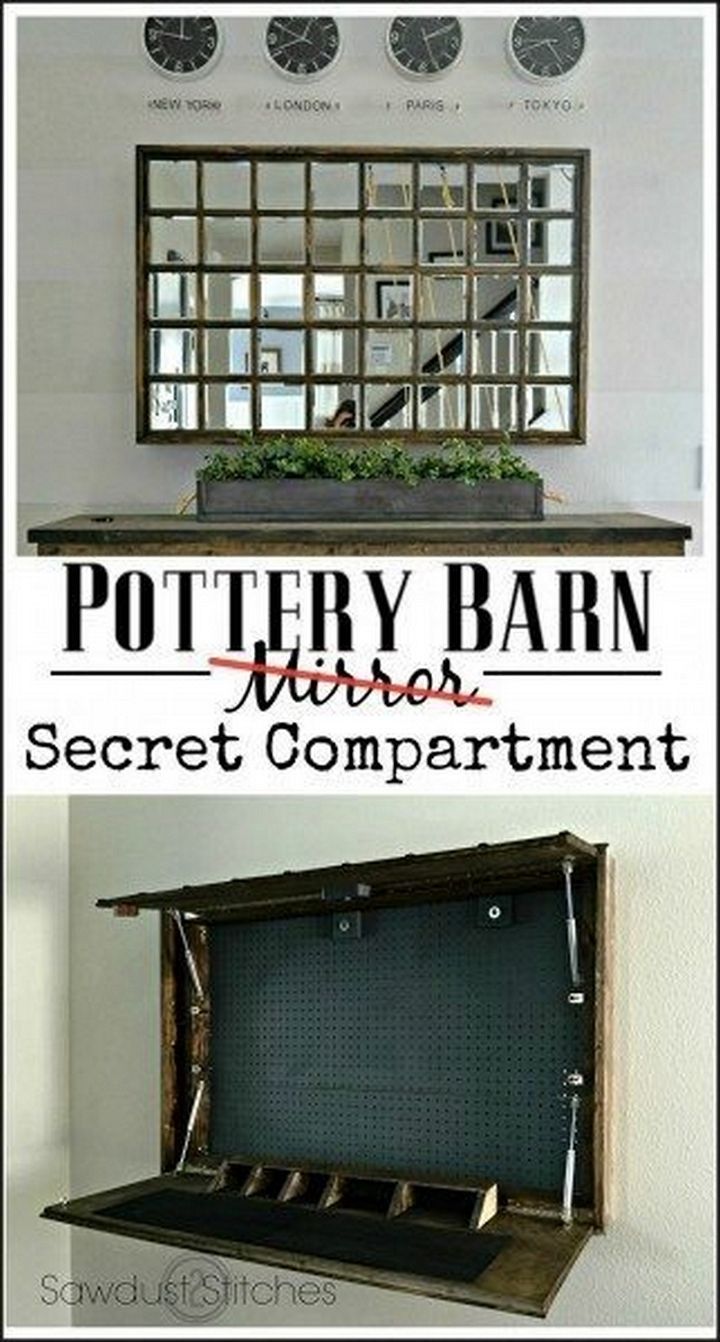 This secret compartment mirror is all you need if you own a gun as it will provide you with a confidential space at home to hide your gun. You will need wood glue, wood filler, plywood, pegboard, carriage bolts, threaded rod, eyelet hooks, piano hinges, soft close dampeners, led lights, and some hardware. Tutorial
6. How To Make A DIY Gun Cabinet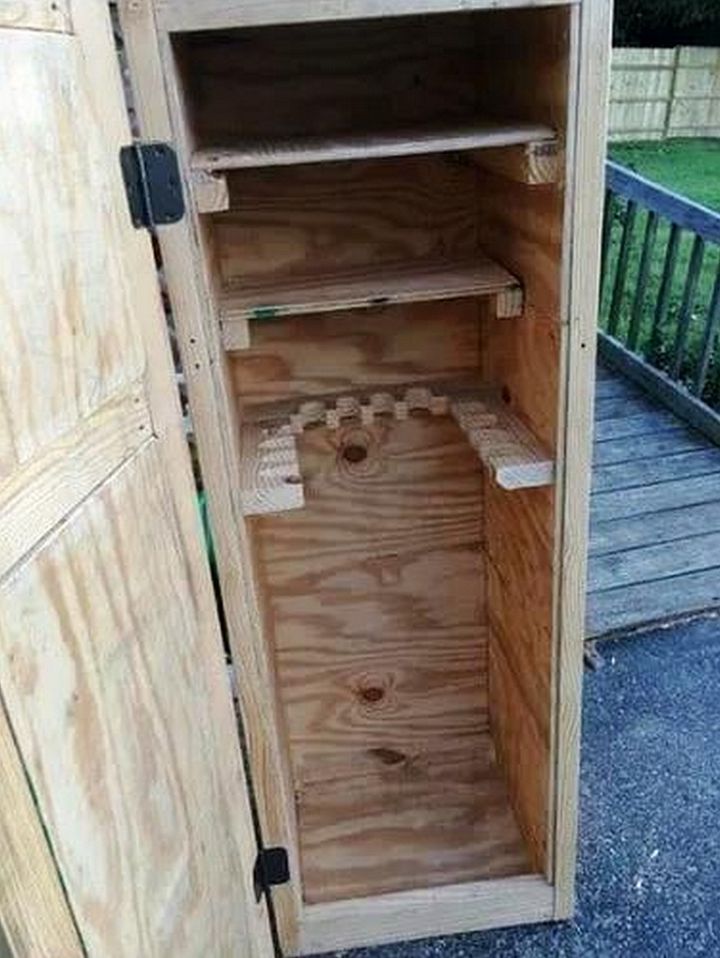 This DIY gun cabinet is all you need to make your gun safe and hidden in your own house. See how the cabinet is built within a few easy steps. the items that you are going to need for this project are a pencil, electric screwdriver, tape measure, saw, drill bits, electric drill, plywood sheets, padlocks, latch, glass retainer clips, knobs, sanding paper, galvanized steel screws, hinges, plexiglass and wood stain Tutorial
7. DIY Gun Cabinet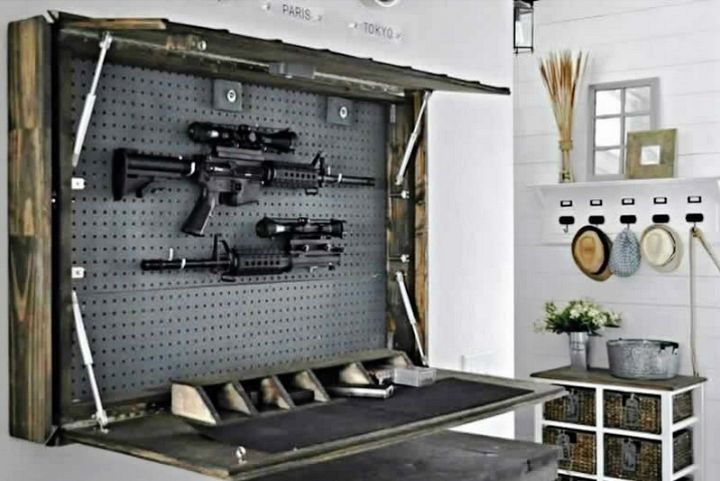 This DIY gun cabinet is perfect for gun storage and you can easily build this all by yourself. The supplies that you need are plywood sheets, an electric screwdriver, a saw, drill bits, tape measure, wood glue, padlocks, latch, knobs, sanding paper, glass retainer clips, galvanized steel screws, Plexiglas and hinges. Tutorial
8. Pallet Gun Cabinet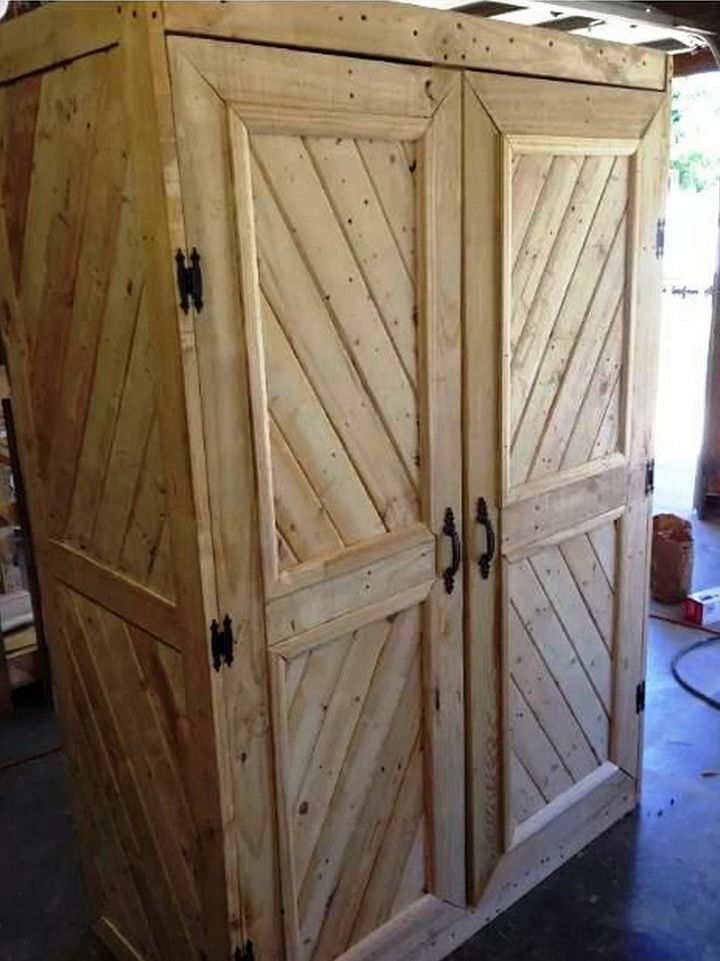 Have a look at this pallet gun cabinet here that you can easily make if you follow the instructions given here. Pallets are something that always helps us in creating Storage Boxes for different objects and they never fail to impress. This plan is all about using pallets intelligently and making excellent use of them. Tutorial
9. DIY Floating Shelf With Hidden Storage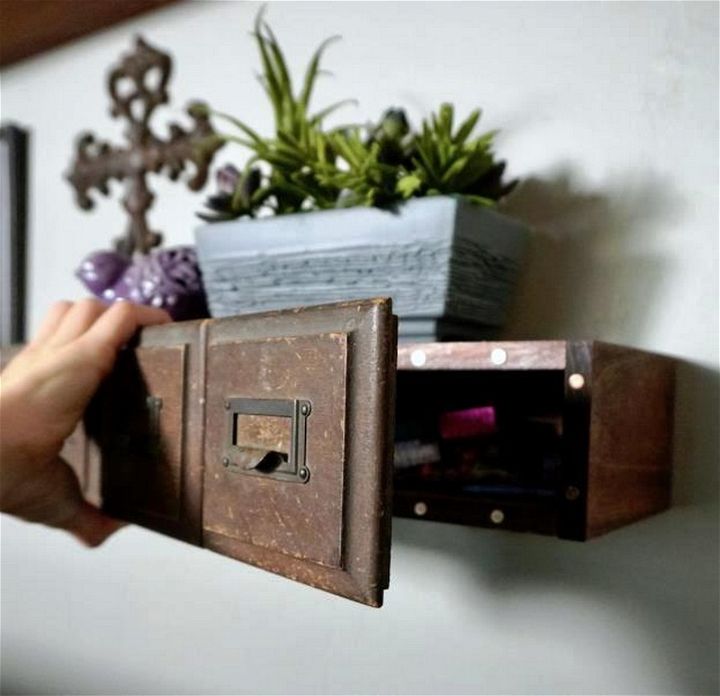 Are you also amazed at this DIY floating shelf with hidden storage? If yes then you must plan something similar like this for your own weapon as well. You will have to start off by watching the tutorial and then move on to gathering the materials. Cutting and staining come next. Afterward you need to attach fronts and French cleats and then glue and brad nail shelf parts together. Adding magnets and attaching them to walls comes next. Tutorial
10. Secret Floating Shelf Gun Safe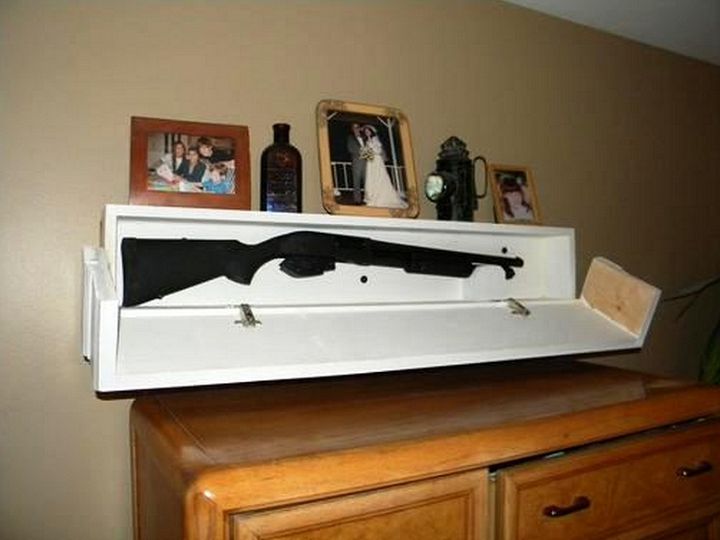 If you are thinking about making a safe space for your weapon at home, this DIY secret floating shelf will be of great help. You must note down all the necessary steps that are involved here and get started with this exciting project with the help of a detailed description and tutorial. Tutorial
11. Free Rifle Rack Plan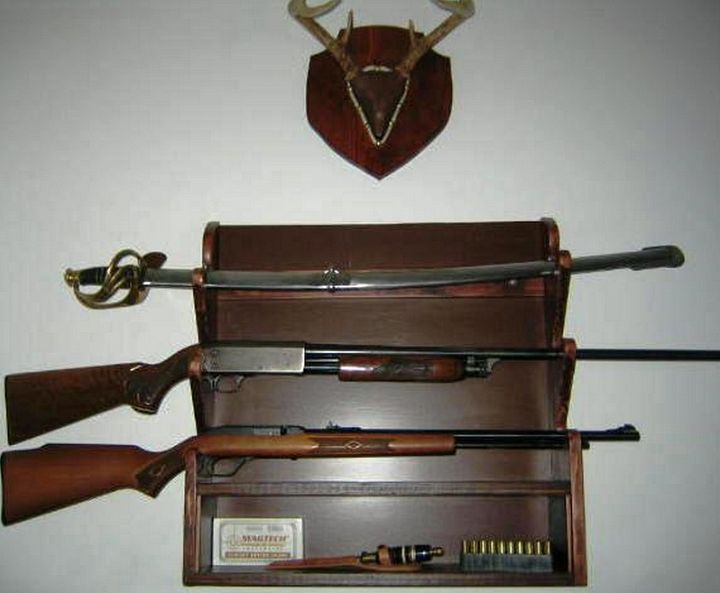 This rifle rack plan is something that will surely impress you if you also own a gun. You will need a few materials and hardware for this project that you need to gather before starting off. Follow the instructions given here and try to get along with this useful and beneficial process of making a rack for your gun. Tutorial
Conclusion:
Pick and choose your own favorite project from here. You can choose any DIY gun storage plan according to your requirement and needs. Almost all of the projects are wallet-friendly and will not put any burden on your restricted budgets.