Workbenches have their own significance for people who are into solving their own house issues immediately. These 30 DIY Work Bench Ideas That Are Perfect For Your Work will help you sort out all your technical, plumbing, and various other construction-related issues conveniently and easily. These DIY workbenches are best to keep in garages where you use them for any above-discussed issues and problems.
Besides only a bench to work on, you can also build drawers at the bottom of these benches to keep your tools, machinery, and other instruments that you need from time to time for your work related to your home. You can also keep a separate place for hanging your tools like the one you can see in one of the Projects Here. You can now make your very own workbenches with the help of the ideas given here along with the tutorials. Try to make benches with maximum storage space to help you organize everything in a better way.
1. DIY Workbench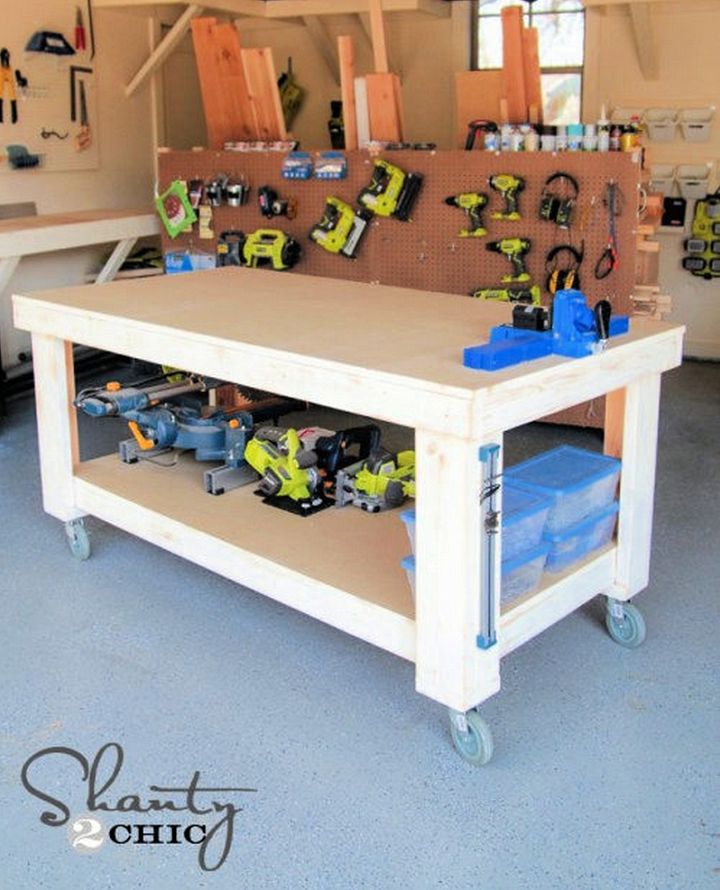 This DIY workbench is basically created for a garage. You can easily follow the step-by-step instructions and tutorial to make your very own DIY workbench. You need four casters for this project along with tools like a drill and miter saw. The first step is all about building the frames. This DIY project is perfect for beginners as you can see how easy and basic it is. here!
2. How To Build The Ultimate DIY Workbench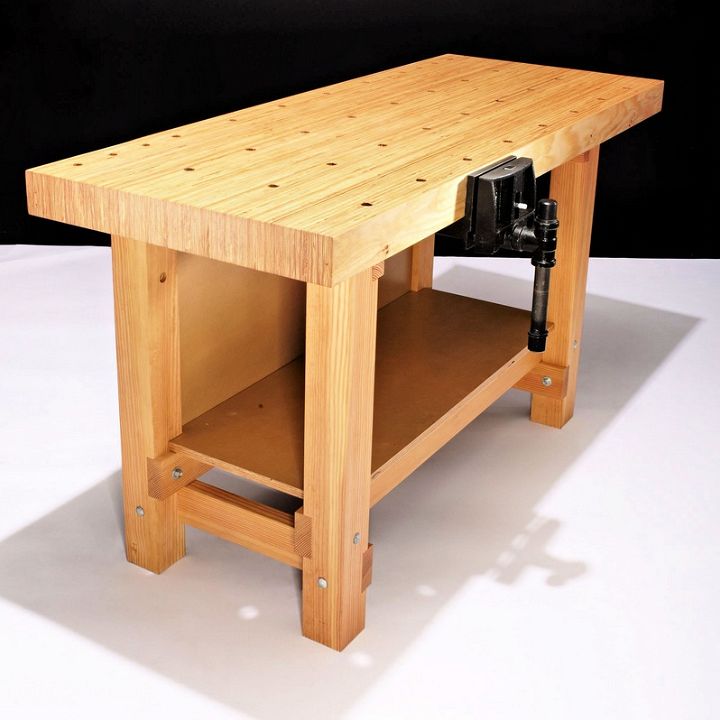 A DIY workbench can be easily handcrafted if you try. Some major and special tools are needed here for the project. This bench needs some careful calculation and a methodical construction process. Follow the project carefully and start this right away. This DIY workbench will help you in many ways and in a lot of tasks. here!
3. Simple Workbench Plans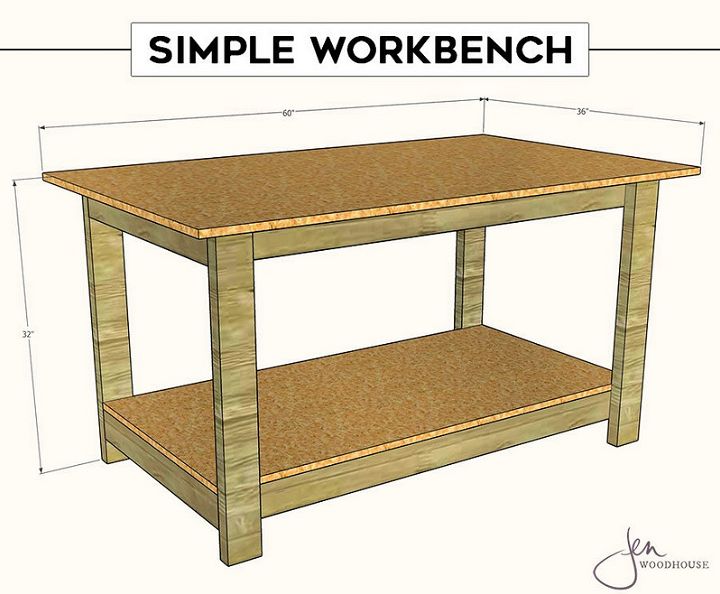 Simplicity works best especially when you are doing DIY Projects. This DIY bench is a simple one compared to others found in stores. Look for some other free plans here in this link in order to create your own masterpiece. Some woodworking skills are needed here as are some beginner-level skills of construction. here!
4. Workbench Inspiration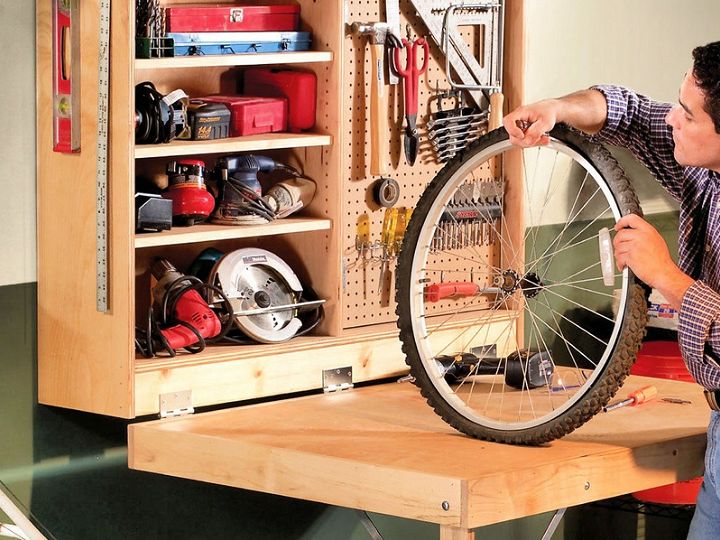 It's very important that you get inspired by something while creating your own. This way you can incorporate many unique and quick ideas into your own creation. This DIY workbench consists of a shelf along with a folding table that goes folded when not in need. Plywood is used in this project. After the completion of the project, the complete assembling requires just two minutes of yours here!
5. DIY Portable Workbench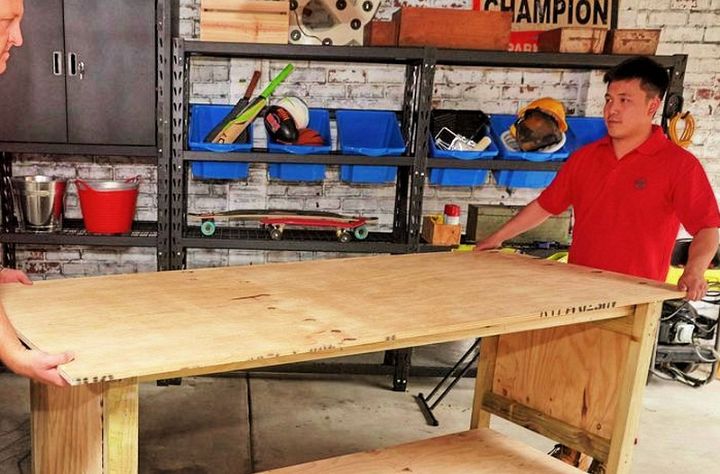 Portable things are common and easy to use. Have a look at this DIY portable workbench that is easy to use and handle. You can take this workstation of yours wherever you want. This workbench would be a great place to start any DIY project. here!
6. Easy DIY Garage Workshop Workbench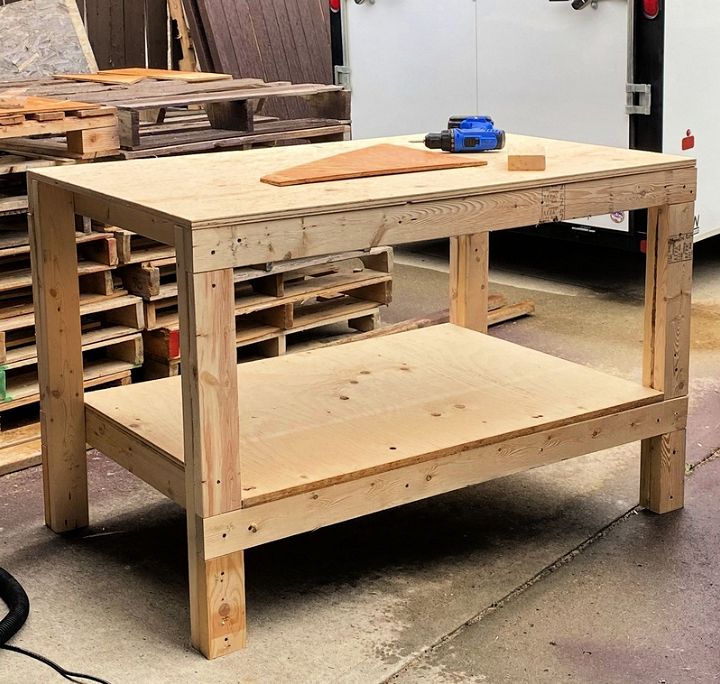 Garages are places where we can do most of our work related to construction, assembling, welding, electrical mending, and much more. To work efficiently in your garage you must have a nice workbench over there. Therefore learn this easy and budget-friendly workbench and make this for your garage so that you can do your work easily in the future. here!
7. Build Yourself an Ultimate Workbench With This Tutorial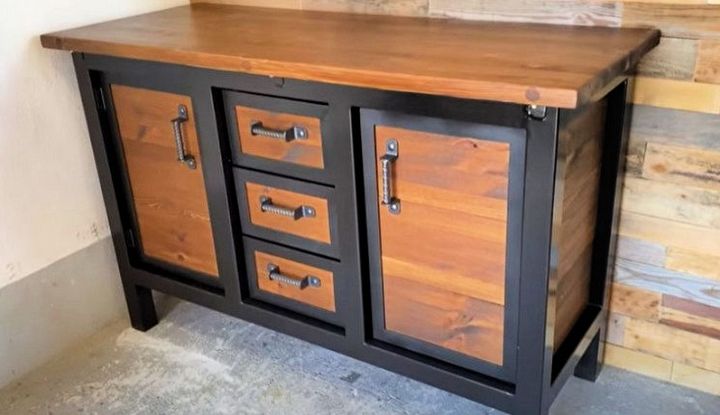 There are many workbenches available at Furniture Stores but they are almost unaffordable. Try making your own DIY workbench with this ultimate workbench tutorial that you will find here. You will observe that all the steps are given in the easiest way so that everyone can cop them easily and conveniently. here!
8. Build a Basic Workbench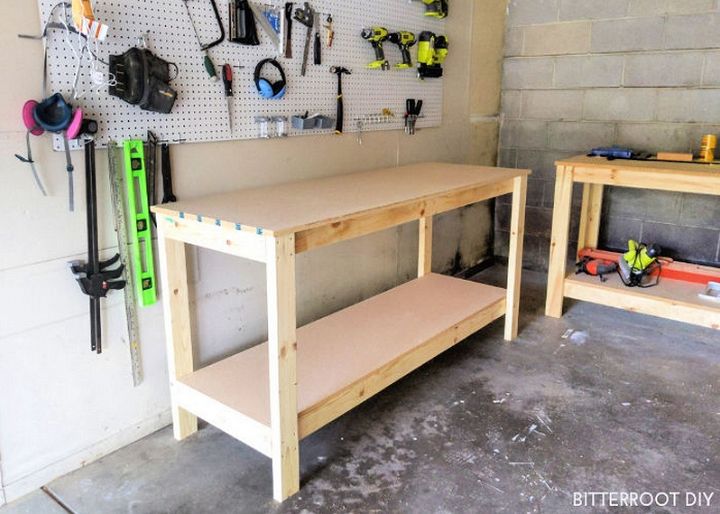 Building something on your own means customizing it according to your needs and choice. If you are unable to make any difficult bench, make a basic work bench with this easy step-by-step procedure. Gather the things that you need for this bench and you will end up being proud of yourself and your creativity. here!
9. Build a Makerspace Workbench For Under $100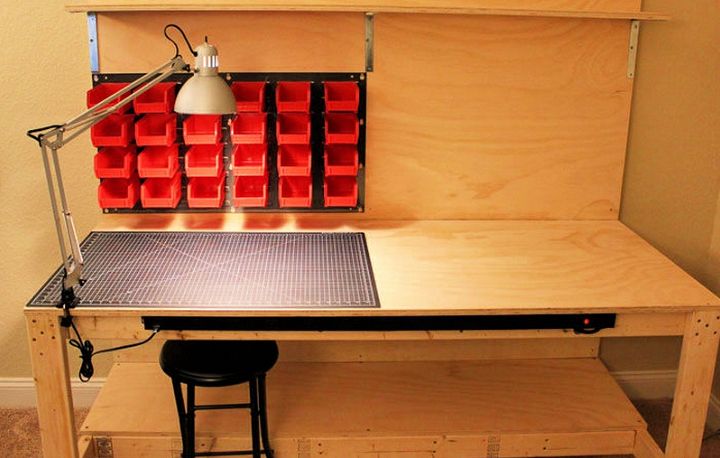 We all dream of working in a private, isolated, and peaceful environment. However, not everyone is lucky enough to have such space. With this DIY project, you will be able to make a workbench that you can keep in your basement or garage and work in complete privacy and isolation. here!
10. Easy DIY Workbench Plans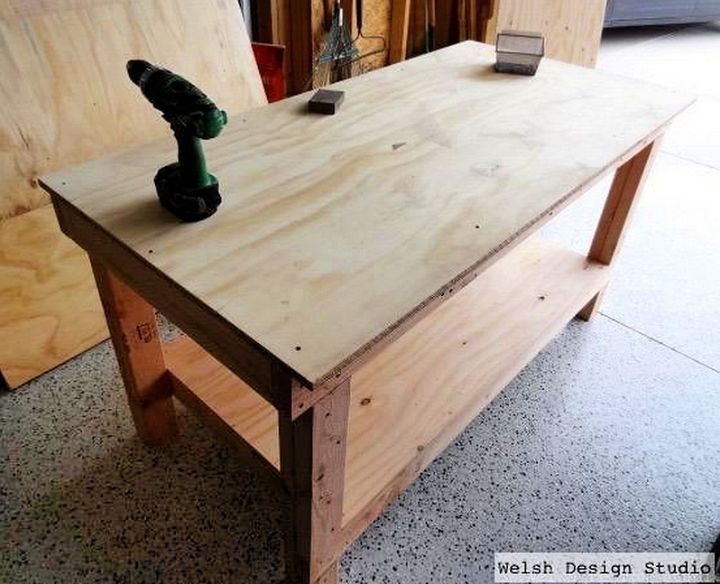 Here you can find a bunch of DIY workbench ideas easily with easy steps and within budget. Get the complete details of the project in the tutorial here so that you do not miss out on the minor detailing of the project. This workbench will help you work at your best. This is a double-story workbench so that you can work on the top shelf and keep your stuff on the bottom shelf. here!
11. How To Build A Rolling Workbench With This Simple DIY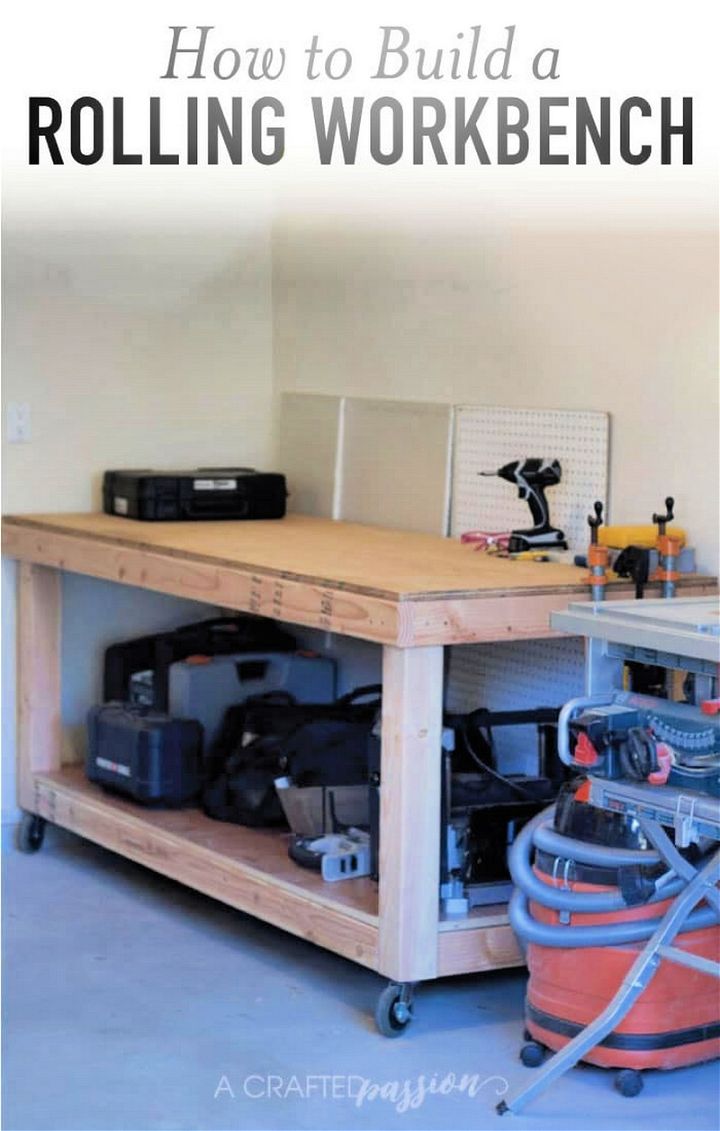 Anything that is on wheels helps us in carrying our stuff anywhere we want. This is a rolling workbench that you can drag wherever you want to sit and work. Sometimes we want to switch places where we want to work and for that purpose, this rolling workbench idea seems perfect. here!
12. How To Build A DIY Mobile Workbench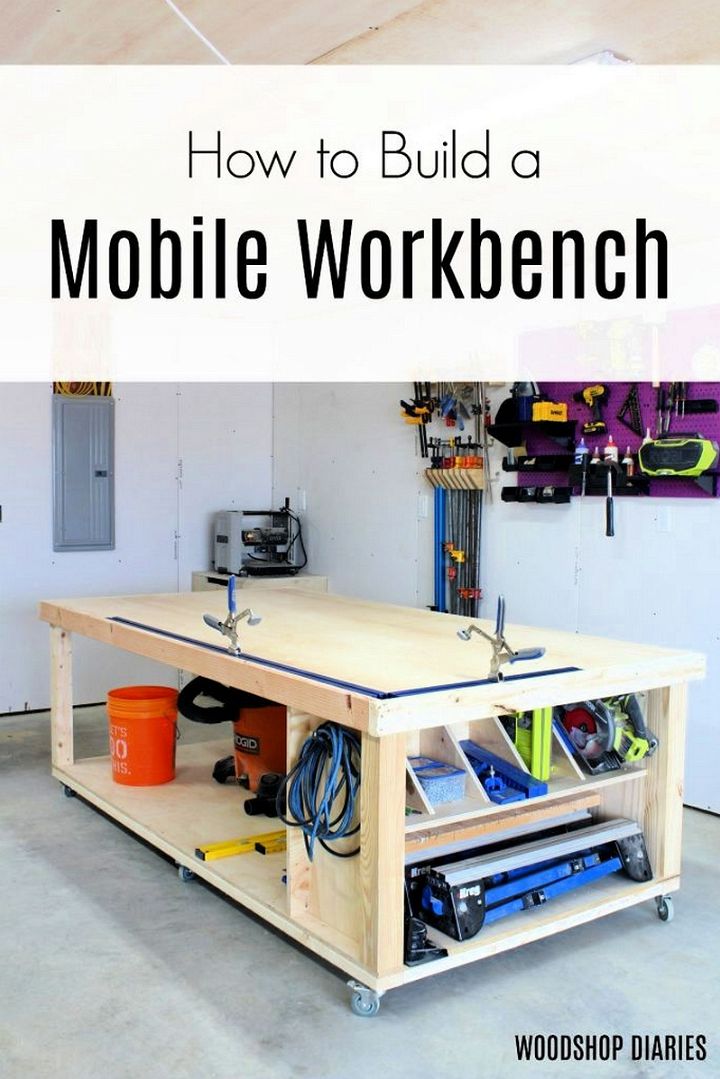 Have a look at this mobile work bench idea which is, a complete package. This is a massive work bench where you can work and keep your stuff in the various sections of the workstation that you can see here. You can make sections and divisions in this workstation in order to organize all the things and keep them spate from one another. here!
13. Easy DIY Workbench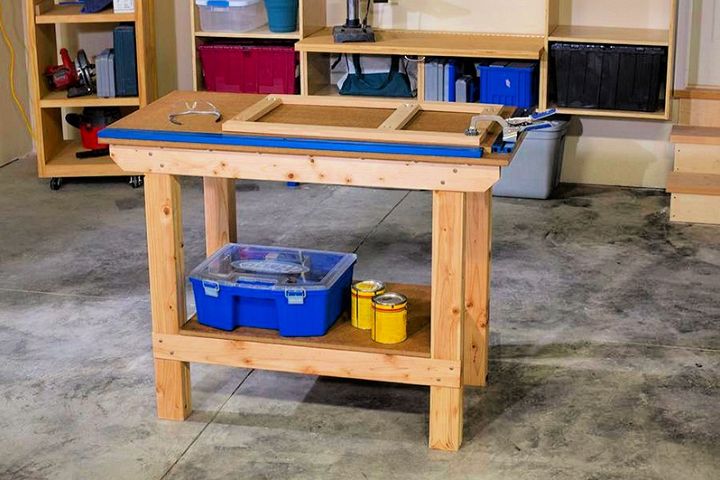 If you are thinking of building a work bench for your garage or basement, you must go for this idea presented over here. This is an easy bench idea that can be easily followed through a tutorial and written description. Always try to look for easier options while building a furniture piece for you. here!
14. How to Build a Heavy-Duty Workbench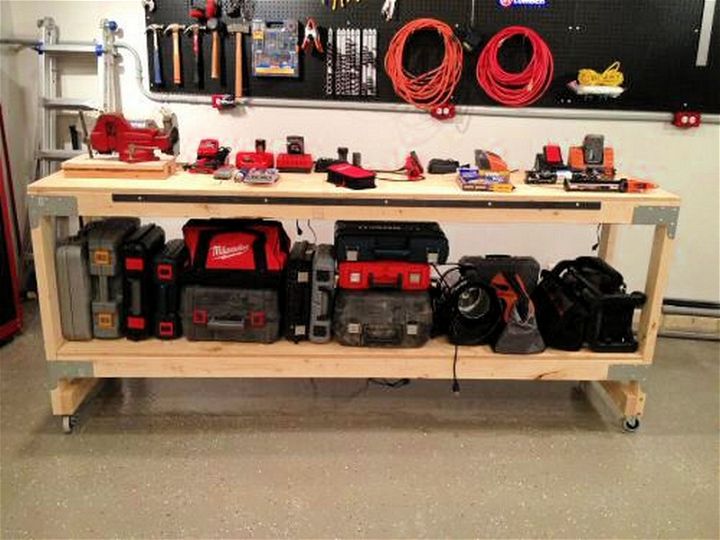 Workbenches can be of both types which are light and heavyweight. This one is a heavy-weight work bench idea that can carry heavier machinery and tools. You can place this DIY workbench inside your garage and can work efficiently in the future. Keep your tools and workstation together with help of this di workbench here!
15. How to Make a DIY Kids Workbench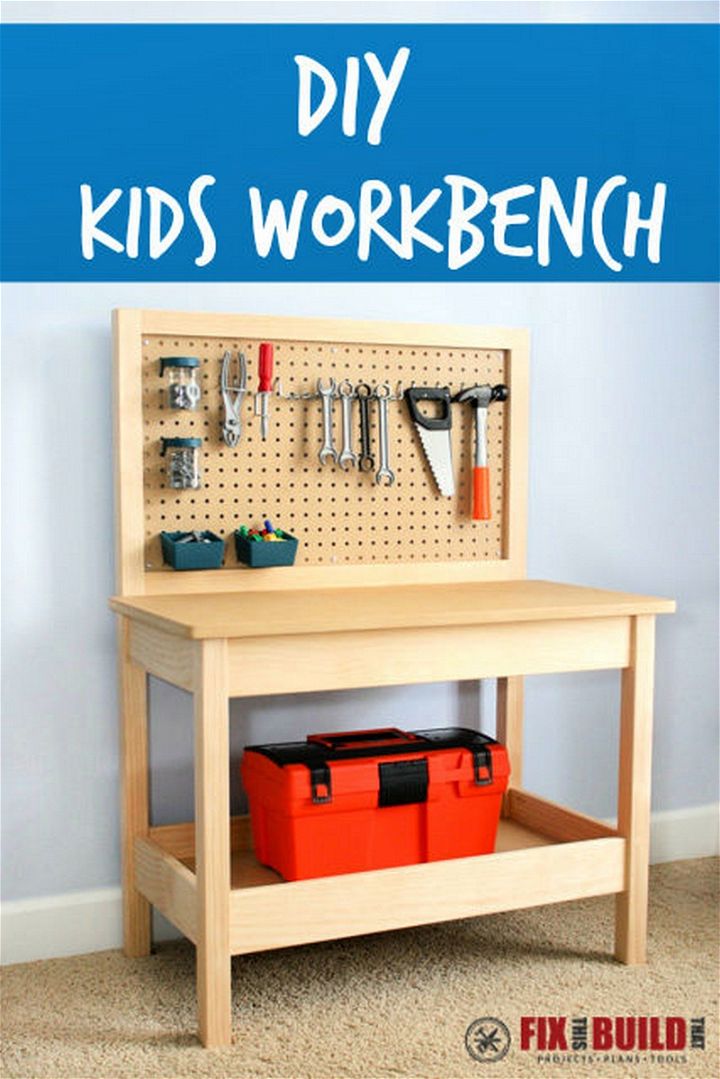 There are many kids who like to collect tools, works of constructions, electrical repairing and much more. If you also have such kids at home you can make this DIY work bench for your kids. This way they will learn more about these things and will become efficient. You can learn the process of making this adorable bench over here. here!
16. Two-Hour DIY Workbench – Free Plans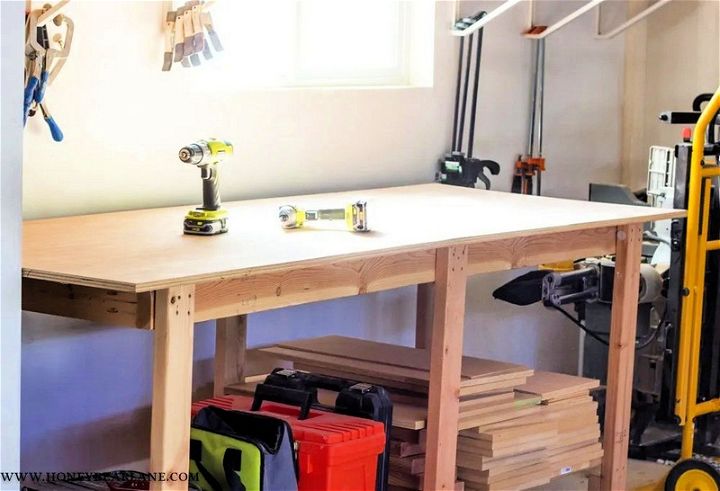 Now you don't have to spend hours making DIY work benches. This project will teach you how you can be done with making a perfect bench in two hours maximum. Here you will find many free plans for making such benches at home with materials that are easily available. here!
17. How To Make Workbench With Storage & Tool Holder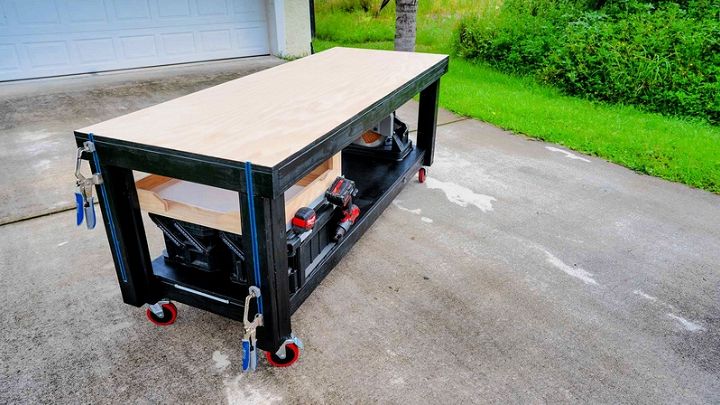 This DIY work bench is made with massive storage space and tool holders on the sides. You can hang the tools on the sides of this bench easily as you can see here in this project. Besides these qualities, this bench is movable as it has wheels so you can easily drag it anywhere you like. here!
18. How to Build a Workbench-Style Custom Desk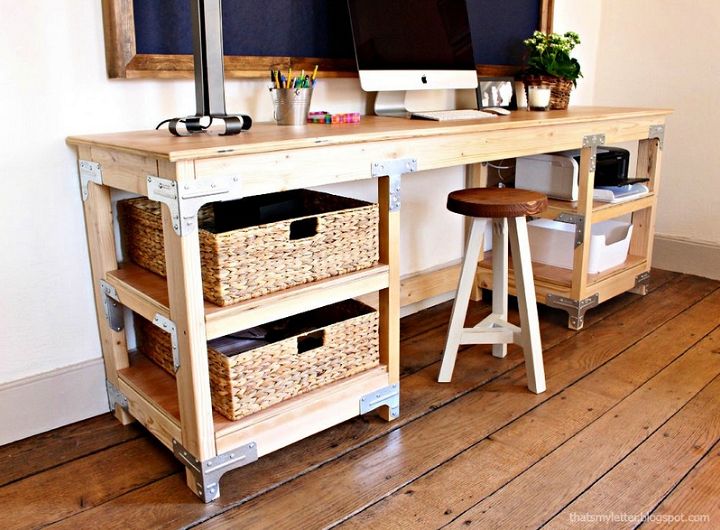 This is an all-purpose bench that you observe here. In this project, you will learn how to make a work bench-style custom desk for your personal use. All the steps are listed here along with a detailed tutorial so that you do not miss out on the minor details and can make this bench efficiently with accurate measurements and calculations. here!
19. Free Workbench Plans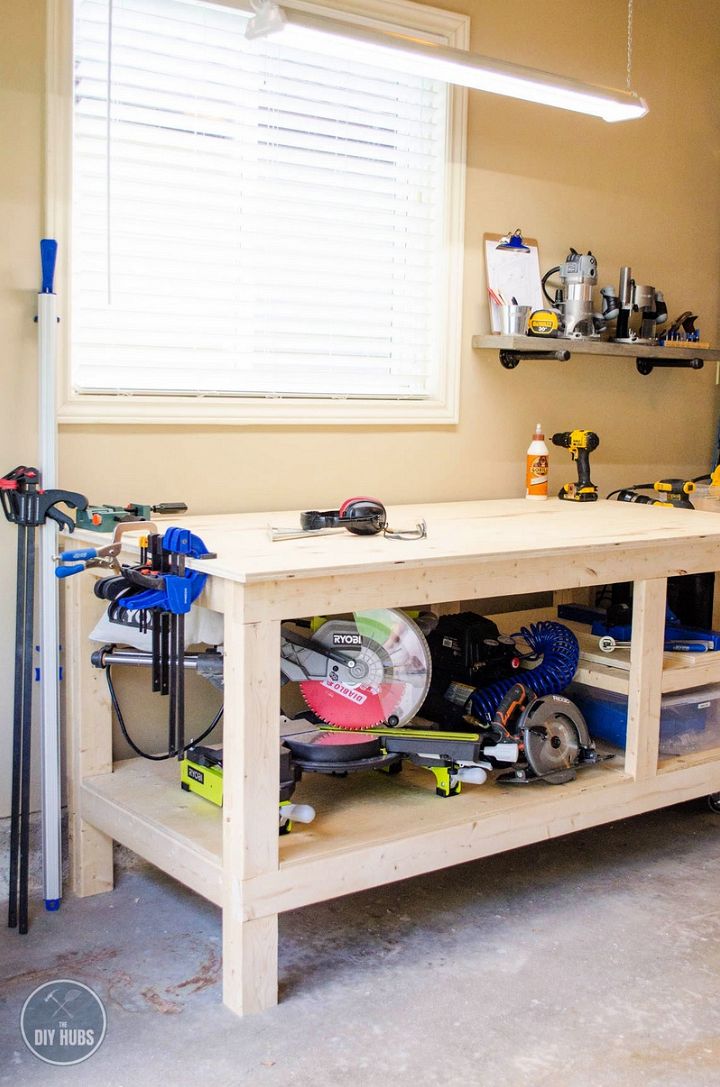 There are hundreds of furniture-making plans available on the internet these days. However, we all look prefer free plans for us to guide through the making of different items. This DIY project is all about free plans regarding DIY work benches. You must have a look at these wonderful plans if you are willing to make any work bench in the future. here!
20. Portable Workbench With Storage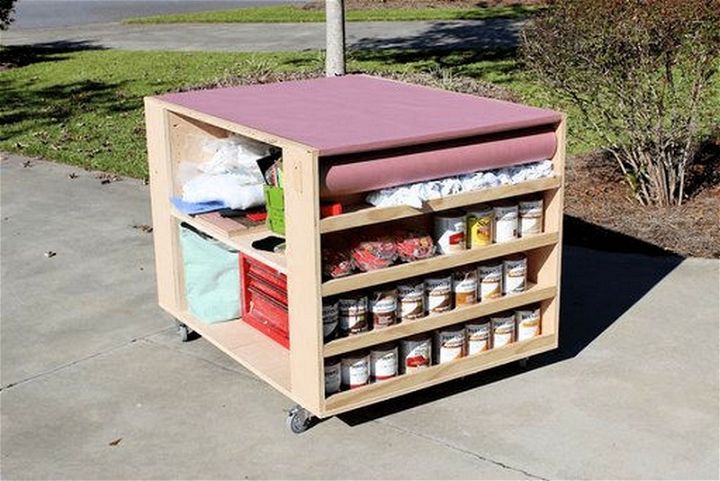 Some furniture items work best if they are portable. Have a sneak peek into this portable workbench plan here. This project is giving you an insight into how you can make your very own portable bench with massive storage space. Whether you have paints, tools, drills, scrap material, wood pieces, heavy and light machinery, or anything else, you can easily adjust everything in this DIY work bench easily. here!
21. DIY Low Workbench Free Plans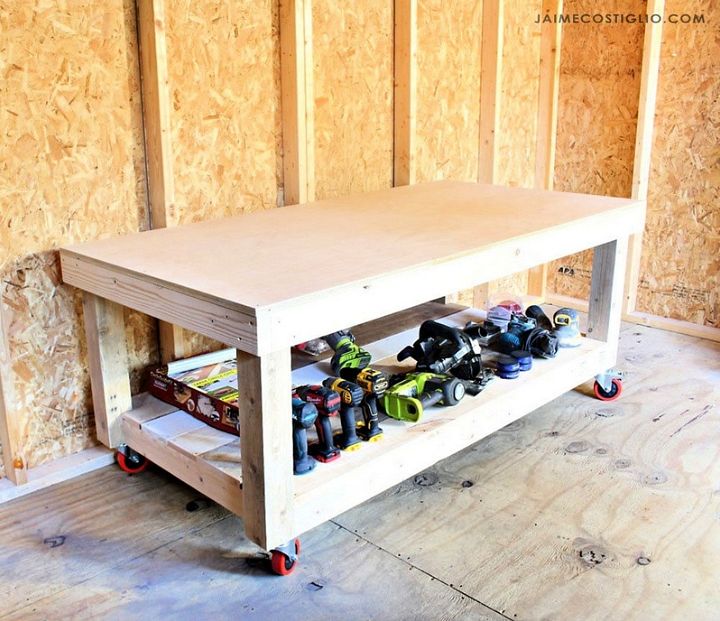 Workbenches can be of various sizes and heights. You must look for options that are best suitable for you according to your requirements. This one is a low workbench that is short-sighted and compact. This has a shelf at the bottom so that you can keep your tools and machinery there. here!
22. Build A Workbench For Your Kids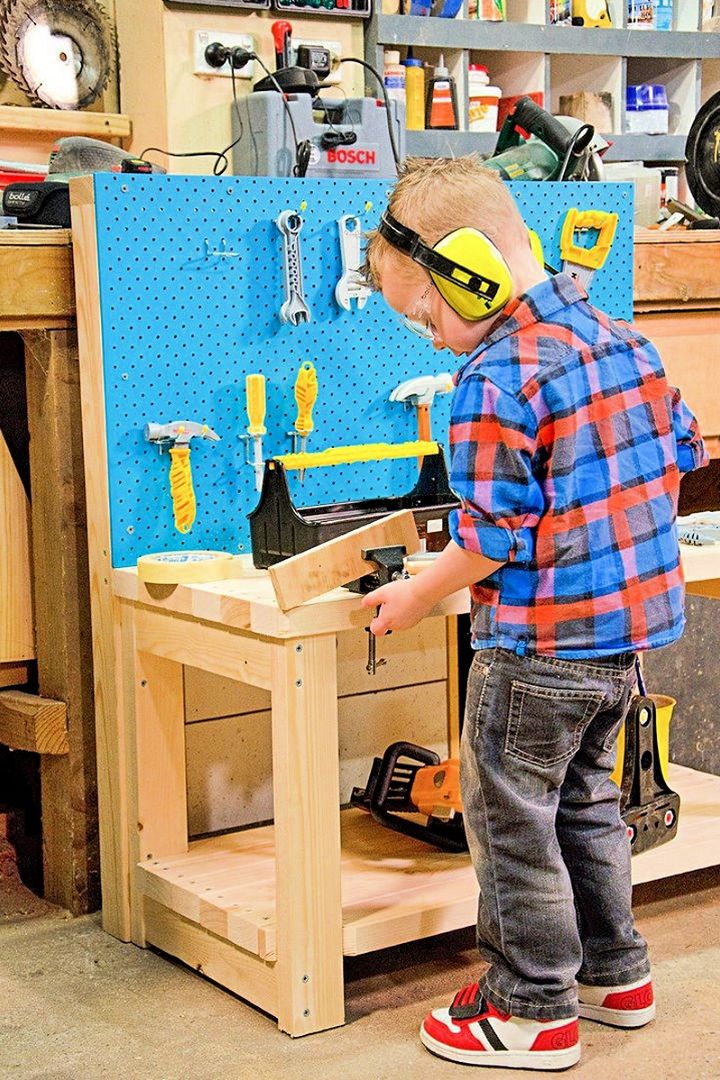 Some kids are highly interested in working with tools, remaking, and recreating things from scrap. For such intelligent kids, we have this DIY workbench plan that will help them polish their talent and enjoy their hobbies. Engage them in this productive and creative activity so that they can be efficient in many tasks in the future. here!
23. How To Build Your Own DIY Workbench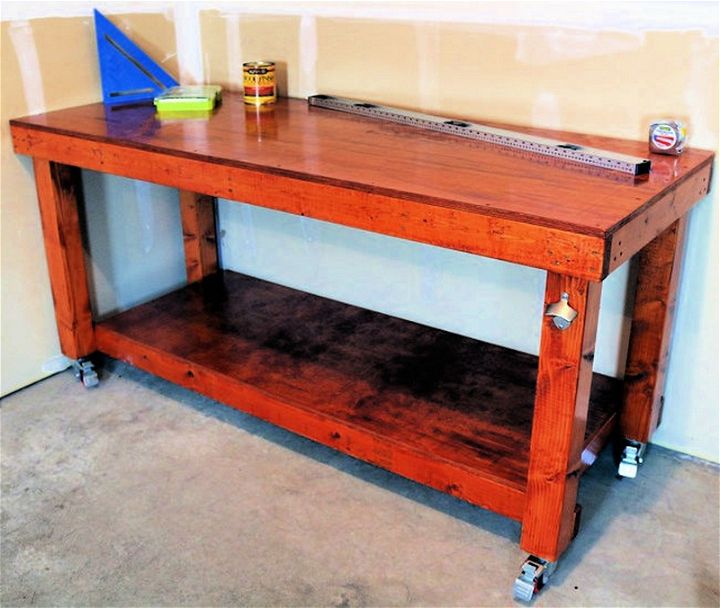 Work benches are very common these days. Everyone who loves to work for their home construction, electrical repairing, woodwork, and much more, surely needs this type of bench. This work bench will make your work efficient in the future. With this DIY work bench, you can focus on your tasks in a better way and can come up with some best results. here!
24. Choosing Timber – The Best Wood For Building A Workbench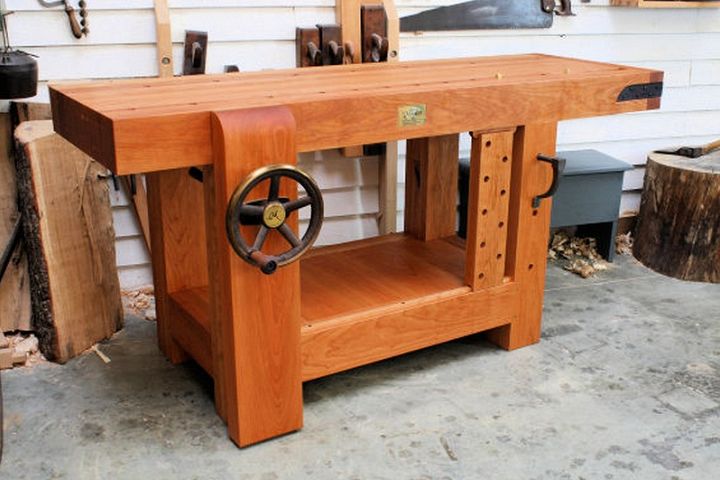 It's important to select the type of wood that you are working with. Here in this project, it is advised that you use timber for making workbenches as its best for such projects. Timber is actually a very fine quality wood as we all know. You can see a perfect finishing in the end product here. here!
25. DIY Mobile & Modular Workbench To Bring Your Shop To The Next Level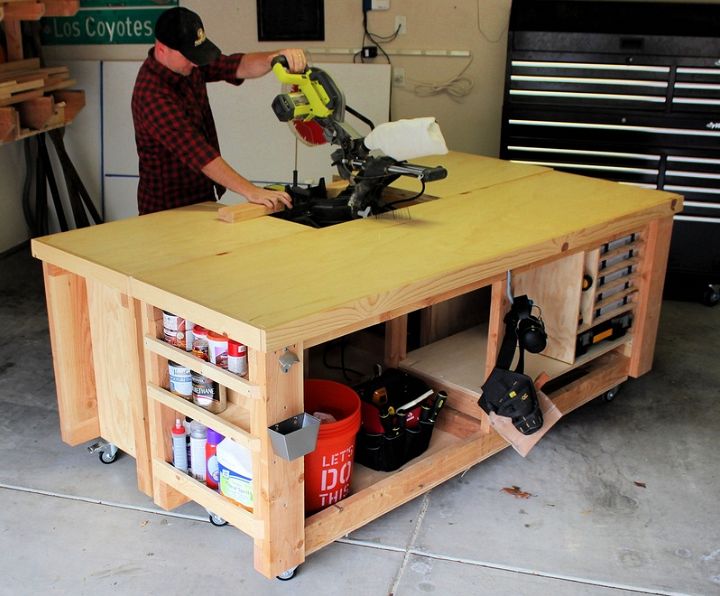 There can be many different types of work benches but you have to select the option that is best suitable for you. This project is best for a shop to bring it to the next level. This work bench plan that you see here is a portable and modular bench that is not only easy to make but is the most efficient thing you can ever have here!
26. DIY Workbench Design Fit For A Junker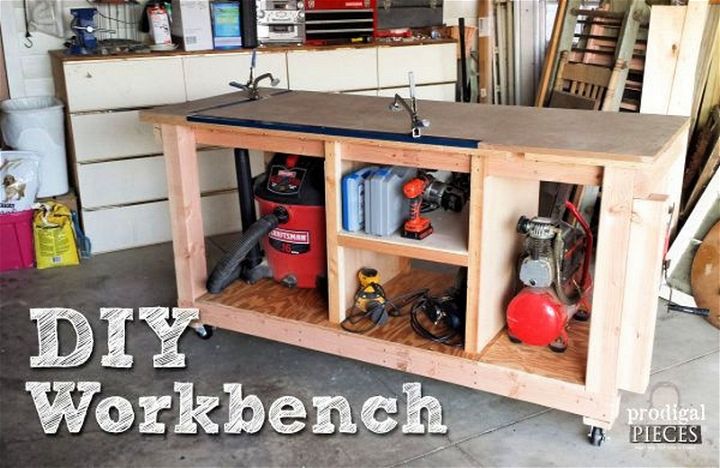 There are a number of tools and machinery that we don't understand where to keep. When we keep such items in the garage they all mess up with each other leaving the garage all messy and untidy. For such problems, we have come up with a solution. This work bench will hold all such items for you. This DIY work bench project is best for Junker as you can judge by the title. here!
27. How to Build a Mobile Workbench – Woodworking Plans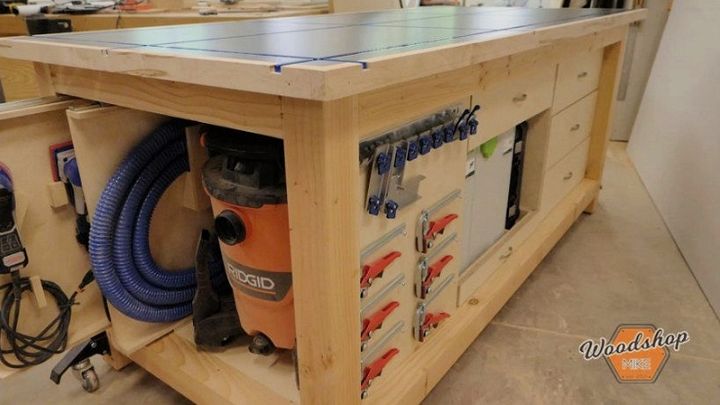 While building a workbench, you can add as many hooks and holders as you want. You can add drawers according to your own needs and requirements. If you have a large number of tools and small items these hooks, holders and drawers will help you in the best way possible in keeping all your stuff organized and arranged in a perfect manner. here!
28. How to Turn Old Furniture Into a Kids' Toy Workbench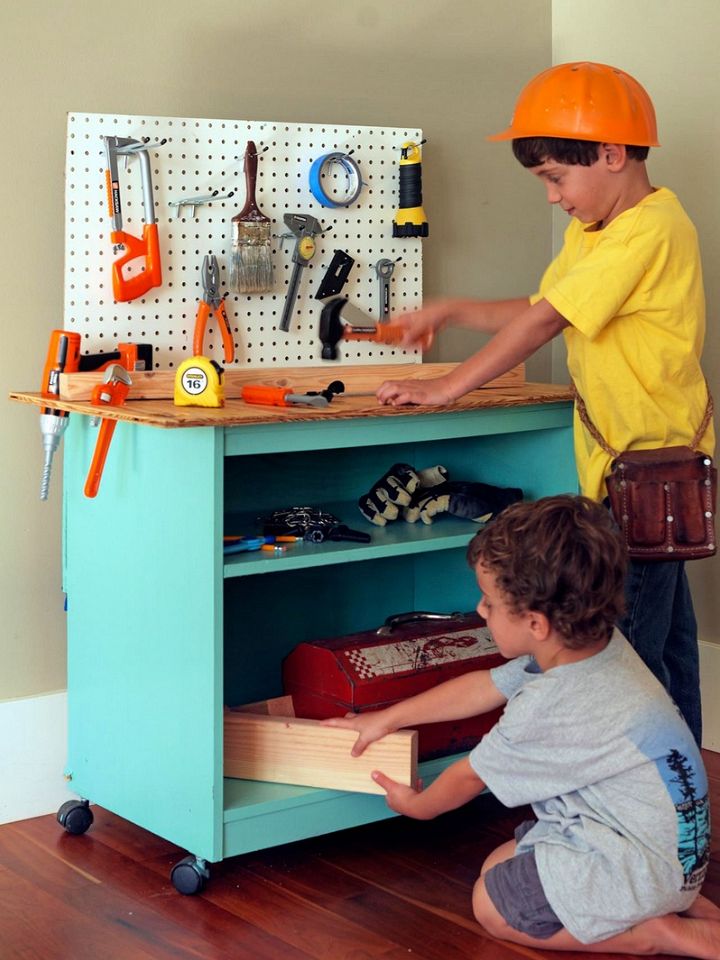 Recreating and remaking is always an interesting thing to do. However, you must have the best plans for turning something into something else. Here you can learn how to convert an old furniture item into a DIY kid's workbench. Gather the tools that you need for this project and start this mission right away. here!
29. Simpson Strong-Tie Workbench DIY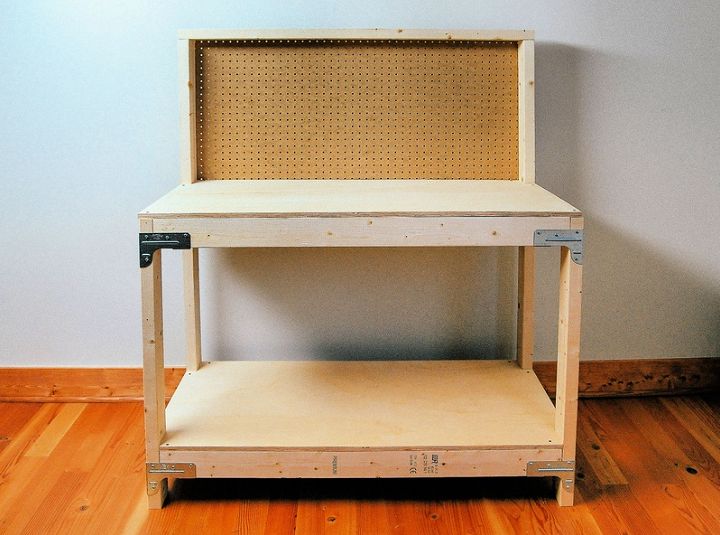 This is an adorable, compact, and easy-to-handle small workbench. This work bench is idea is formulated keeping in mind small tasks and missions and arranging a smaller number of tools than usual. Try to make this wonderful bench in no time within your budget. here!
30. Build Your Own Kids' Woodworking Space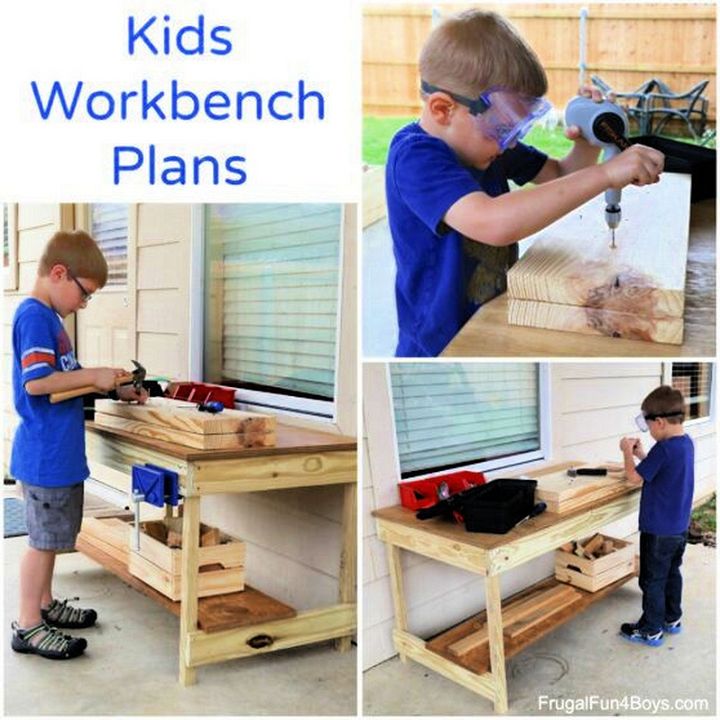 Some kids love things like construction, remaking, recreating, drilling, and making new things. To polish the talents of such kids this workbench idea for kids is perfect. Provide the kids with the safest tools and supplies before handing them over to this workbench. With this work bench, they will learn better as they will have everything around and easily accessible. This activity will improve their motor skills and technical mindset. here!
31. How to Build a Workbench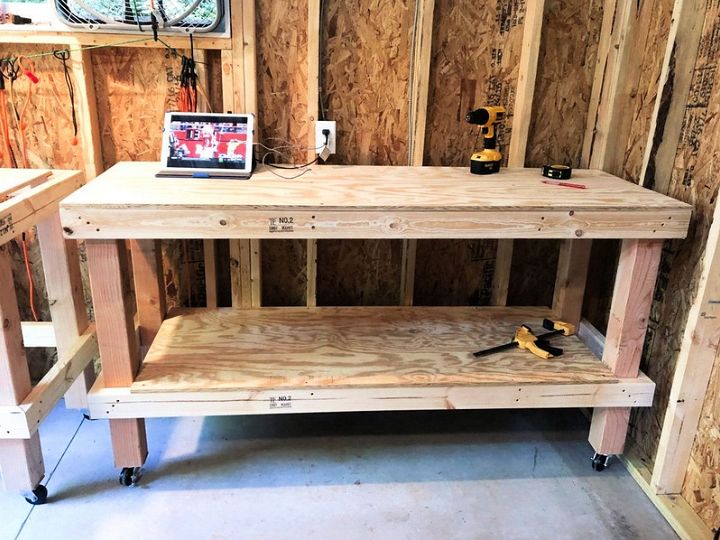 In this project, you will learn from scratch, the making of a DIY workbench. Here some basic tools are used to create this masterpiece. This is a simple bench with no holders and hooks on the sides. It only has a main top which is for doing any task and a bottom shelf to keep your stuff like tools and machinery like drills. here!
Conclusion:
Workbenches are so useful especially at times when you really want to fix something for the house and need everything side by side. You can now work in peace without being in the hassle of finding your tools and machinery. Empty a corner inside your garage for your workbench so that you can work out the solutions in isolation and privacy.