Almost all of us love rainbows and the colors in them are always appealing to the eyes. Similarly, when it comes to crayons, not only kids but grownups love them too. Let's combine these two amazing things together this DIY Rainbow Crayon article consists of several ideas. Broken crayons are not an unfamiliar phenomenon to any of us as when they are frequently used by kids, they tend to break apart. To create some amazing rainbow crayons you have to gather all those broken ones first.
For making DIY rainbow crayons, you may need some molds such as silicon molds. You can also take mold with your desired shapes and sizes. You can use both microwave and oven for melting down those broken pieces and let some different colored crayons get mixed with each other in order to make beautiful multicolor crayons. To make your kids happier, you can use star-shaped, heart-shaped, or puzzle-shaped molds to make crayons of the same shape.
1. How To Make Rainbow Crayons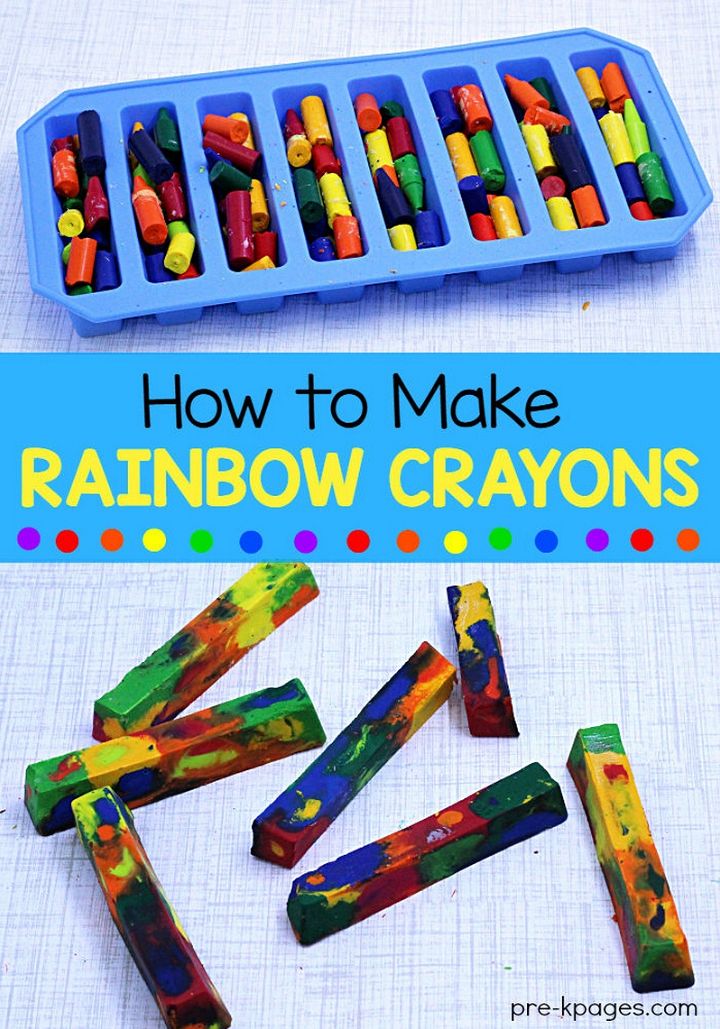 When it comes to kids, it's all about colors. Rainbow has always taken a special place in children's hearts due to the fascinating colors it has in it. This is a DIY rainbow crayon project that you can enjoy doing along with your kids and see some amazing rainbow crayons coming out. Take some broken crayons from all over your house, a bowl of water, and silicone mold, and microwave it for the time suggested here!
2. How To Make Recycled Rainbow Crayons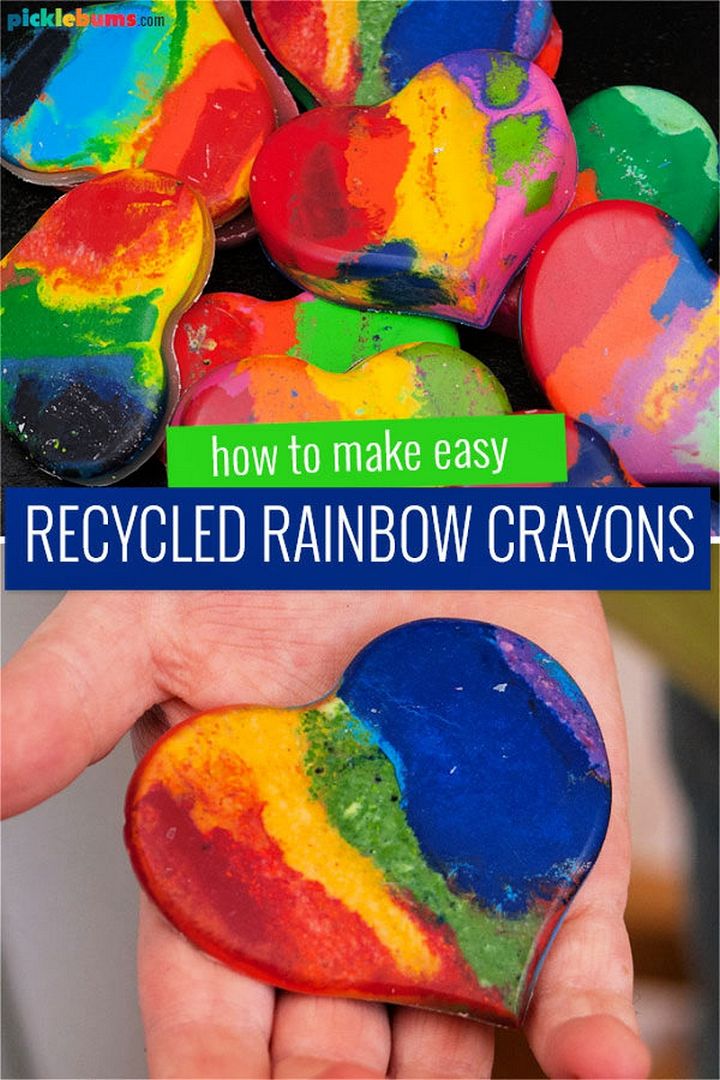 As we know that to improve motor skills in children, crayons play a vital role. Crayons provide great practice for pencil holding. Most people train their kids with crayons before they start school and proper writing. This project will melt your heart as it will help you create some super exciting heart-shaped crayons in rainbow colors. here!
3. How To Melt Crayons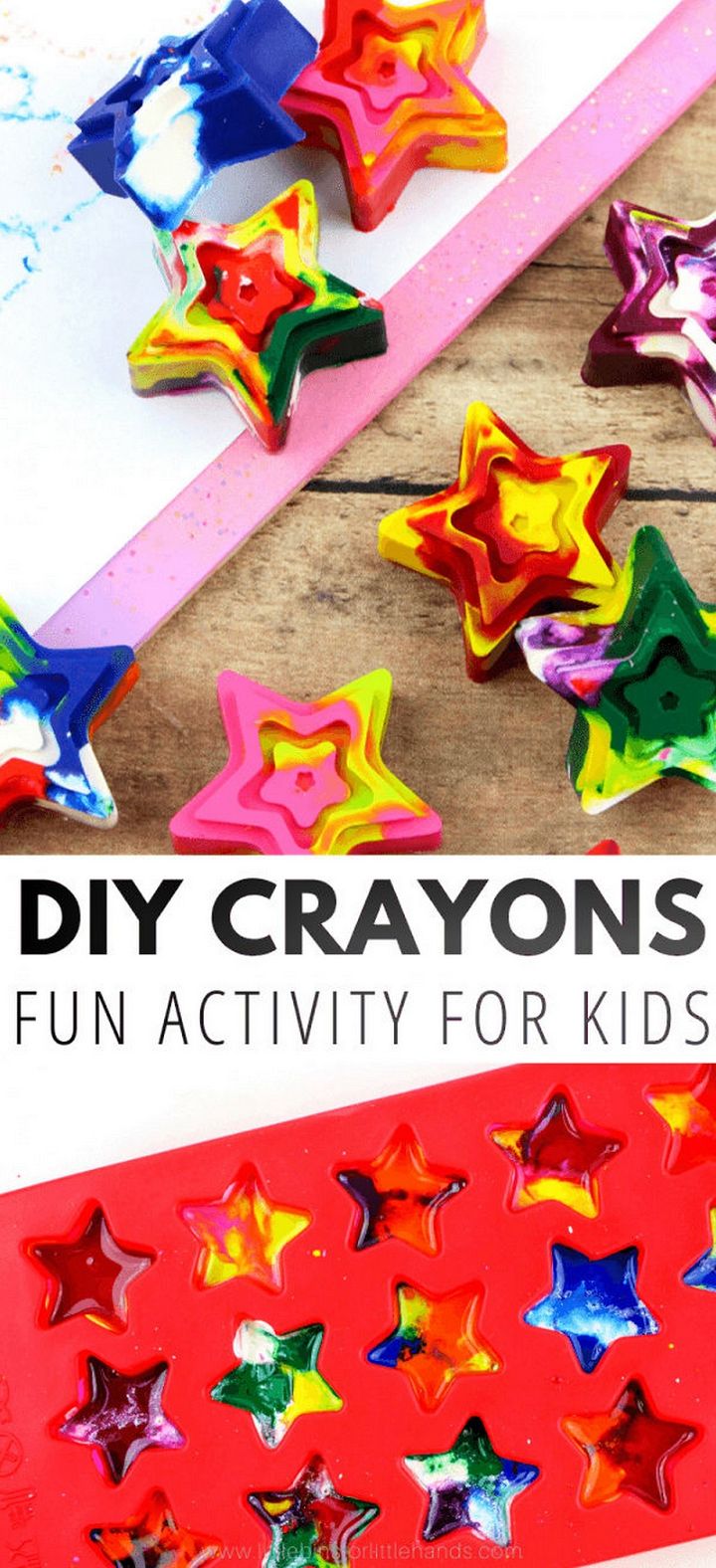 Before starting to make rainbow crayons you obviously have to first melt them. Therefore you have to soak the crayons into a bowl of water overnight. Furthermore, drain the water the next day and fill a silicon mold with this remaining crayon mixture. However, if you do not wish to soak them overnight in the water you can just put broken crayons into a mold and heat them in the preheated oven to melt them down. here!
4. How To Make Recycled Crayons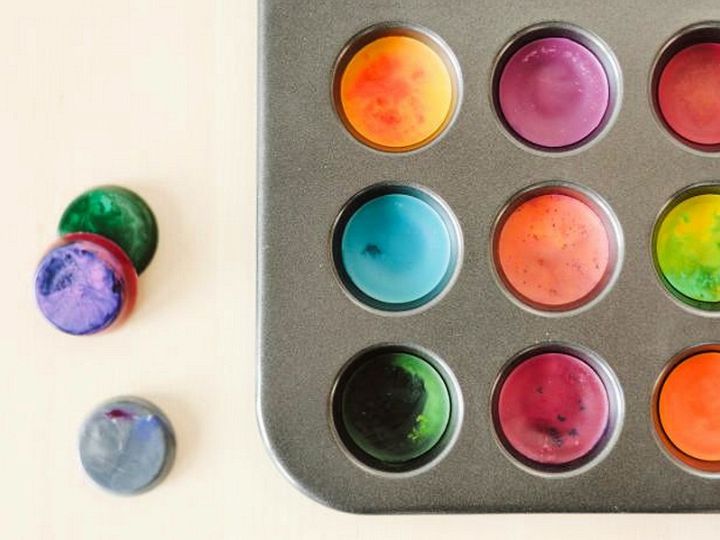 Recycling is very important for our ecosystem as we know. Besides its importance for the environment, recycling is fun also. Try to create some wonderful rainbow crayons with some old and broken ones. For this project, you need to have a mini muffin pan and wax crayons in assorted colors. here!
5. Easy DIY Rainbow Crayons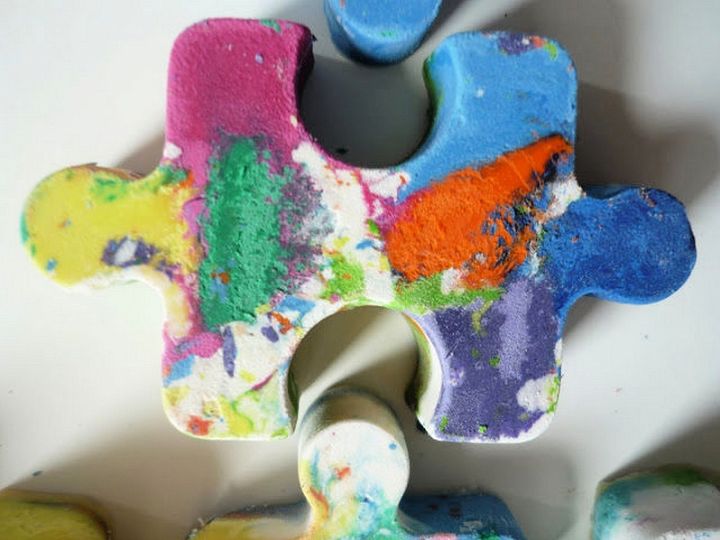 Have a look at this wonderful and productive project of turning old crayons into new rainbow crayons. For this project, you can have the molds of your choice. As you can see, different molds have been suggested such as puzzle molds, fish mold, and shape mold. You can try this project with any mold starting with breaking the old crayons and filling them up in silicon molds and then heating them in a preheated oven. here!
6. Get Coloring With Recycled Chunky Crayons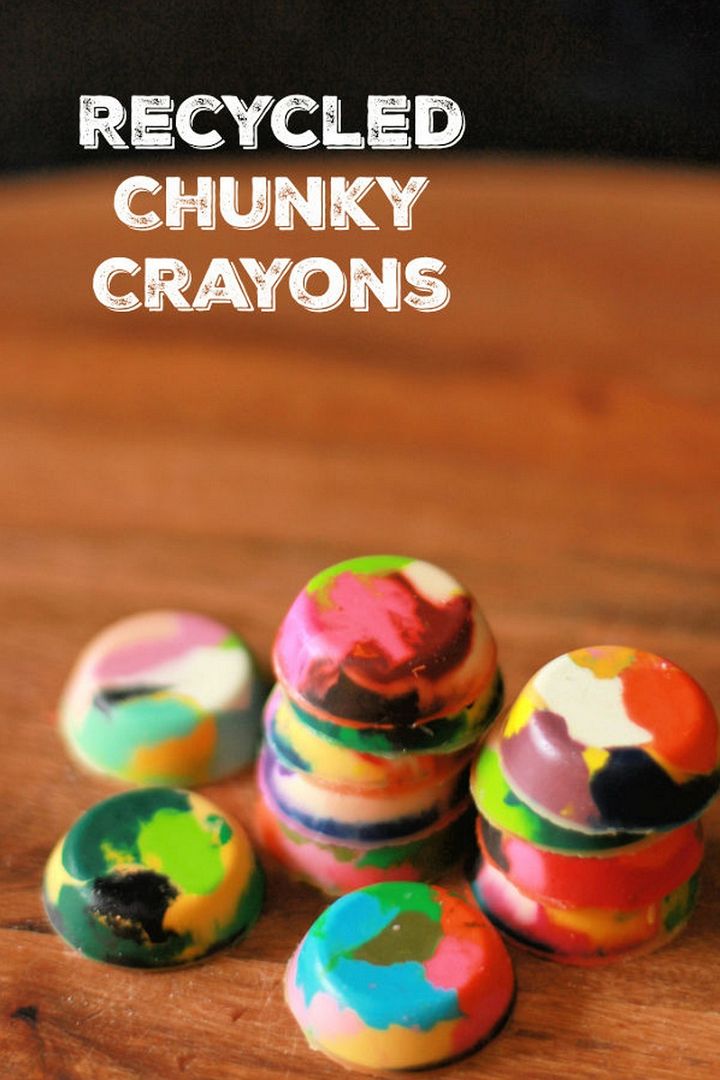 You can go for different options regarding the molds for making rainbow crayons. Have a look at this project where some chunky rainbow crayons have been created in the easiest way. Recreating something to make something new is always fun and interesting. Try this out with your kids today here!
7. Easy DIY Crayons Using Silicone Molds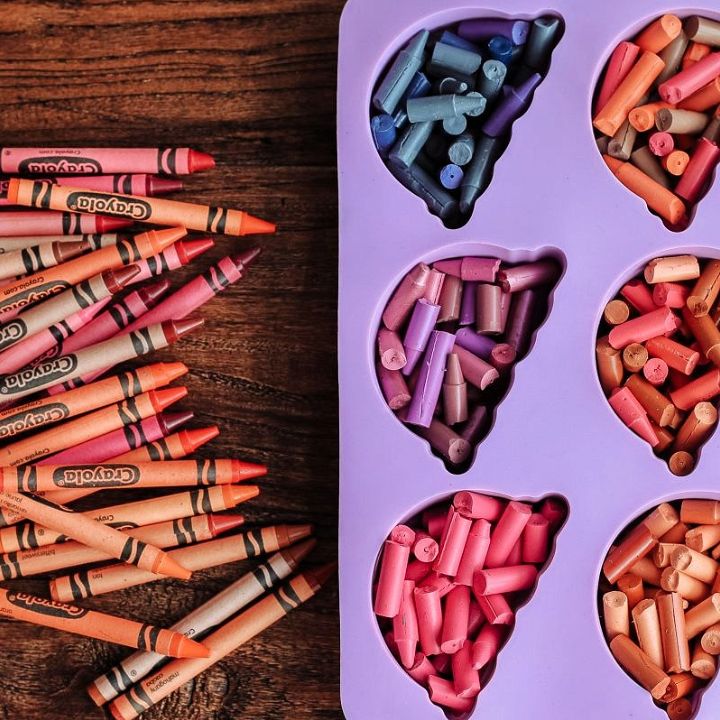 Since the invention of silicon molds, life has been much interesting than before. These molds are easy when it comes to transferring the item. They are easy to twist in order to bring the ice out as compared to plastic molds. Therefore, for making some amazing rainbow crayons, you must go for silicone molds. here!
8. Easy Rainbow Crayons Craft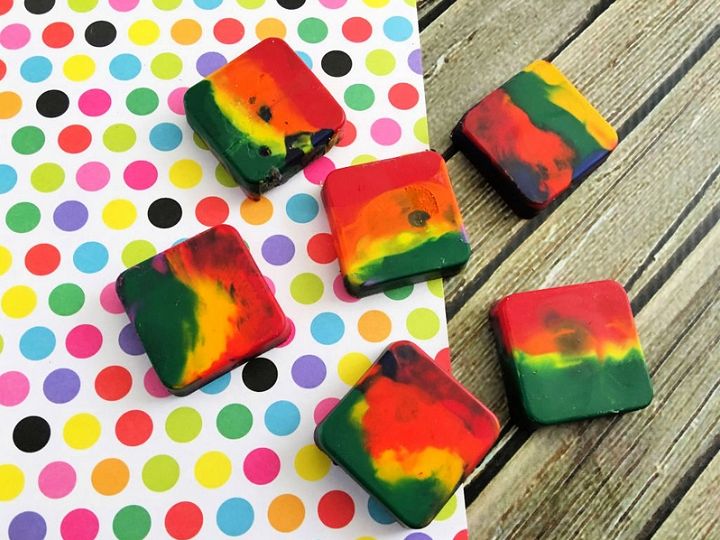 This is an easy project if you realize it. You only have to use some old and broken crayons to make some new rainbow crayons. Next time your kids are bored you don't have to think about any other activity. Engage your kids in this fun and interesting project to make them happier. here!
9. Make Super Easy DIY Rainbow Crayons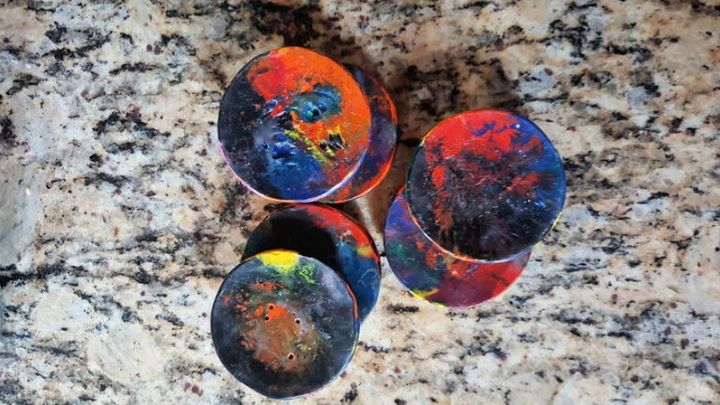 This rainbow crayon making is super fun and easy. Make your kids learn how things can melt and take a new shape when cooled down. This project will help you in engaging your kids in productive activities. With this project, kids will learn how we can reuse something to make something new instead of throwing it away. here!
10. Rainbow DIY Melted Crayon Art Canvas Gift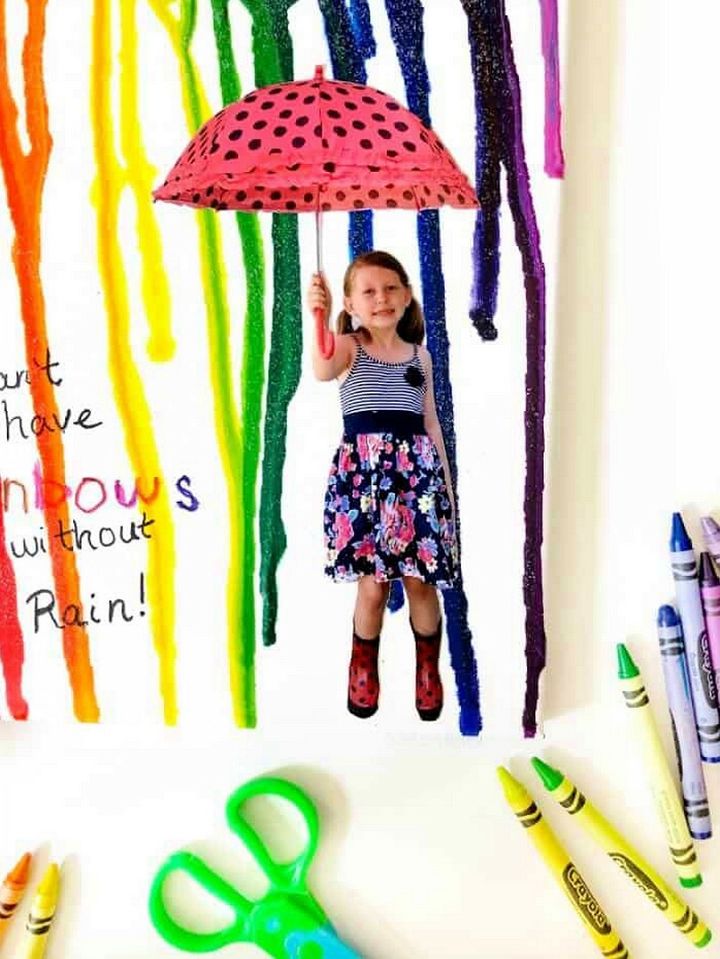 This painting idea with melted crayons has been very popular on the internet. You must also try this out to make your kids learn how things work. For this project, you need to have a canvas or sketching paper, a hairdryer, and crayons of sorted colors off course. This painting or a piece of art will blow your mind towards the end and will surprise you with some amazing results. here!
11. Tips & Tricks For Making DIY Rainbow Halloween Crayons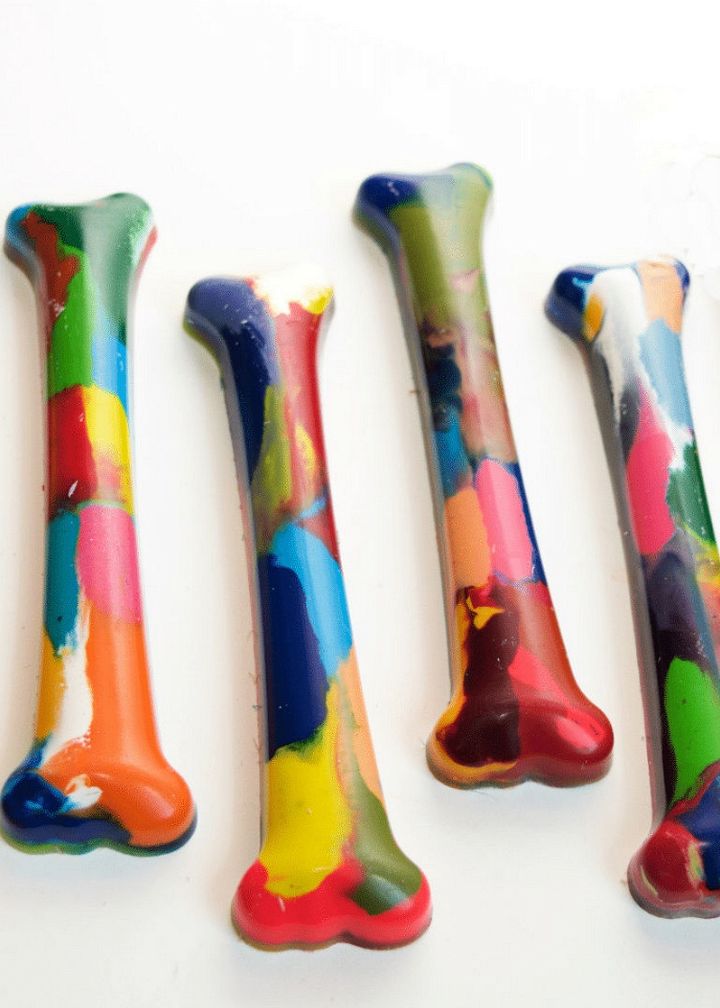 If you want to make crayons for specific occasions then you must use different molds to create that vibe. For example, here you can see some bone-shaped rainbow crayons that have been made for Halloween that is just coming up. Similarly, you can use different molds for different occasions so that the crayons can be a part of the occasion. here!
12. Fast And Easy Homemade Crayons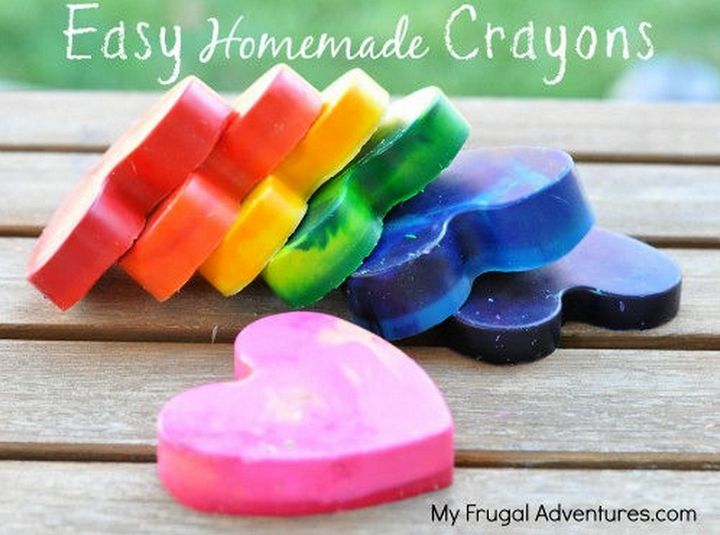 This rainbow crayon making is super-fast and fun at the same time. Learn this process and make your kids do this under your supervision. Do not get your kid's handle this project alone as it requires adult supervision for sure. Help them in using the oven for melting the crayons in order to get some colorful and exciting heart-shaped crayons in the end here!
13. DIY Rainbow Crayon Discs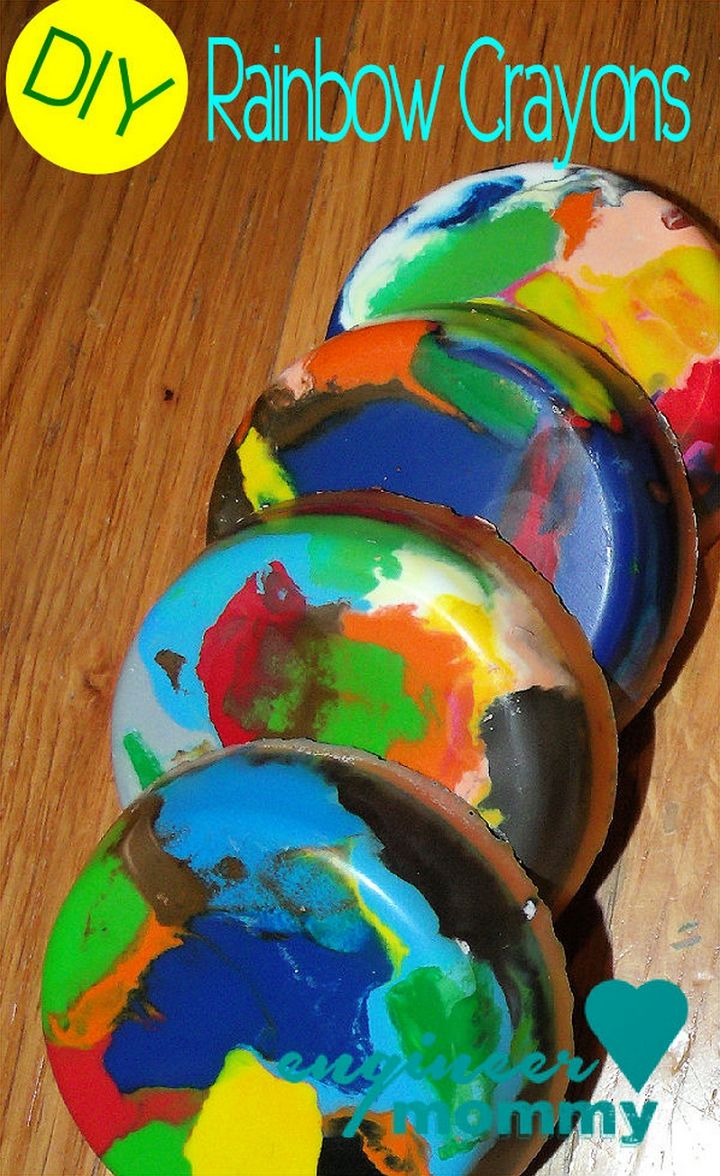 These are some disc-shaped rainbow crayons for you. Many adults also love crayons like kids do. To make these wonderful DIY rainbow crayons you have to gather all those broken ones from school, home, and everywhere. Once you have gathered the old crayons, follow the step-by-step process to reach a beautiful ending. here!
14. Upcycle – DIY Rainbow Crayons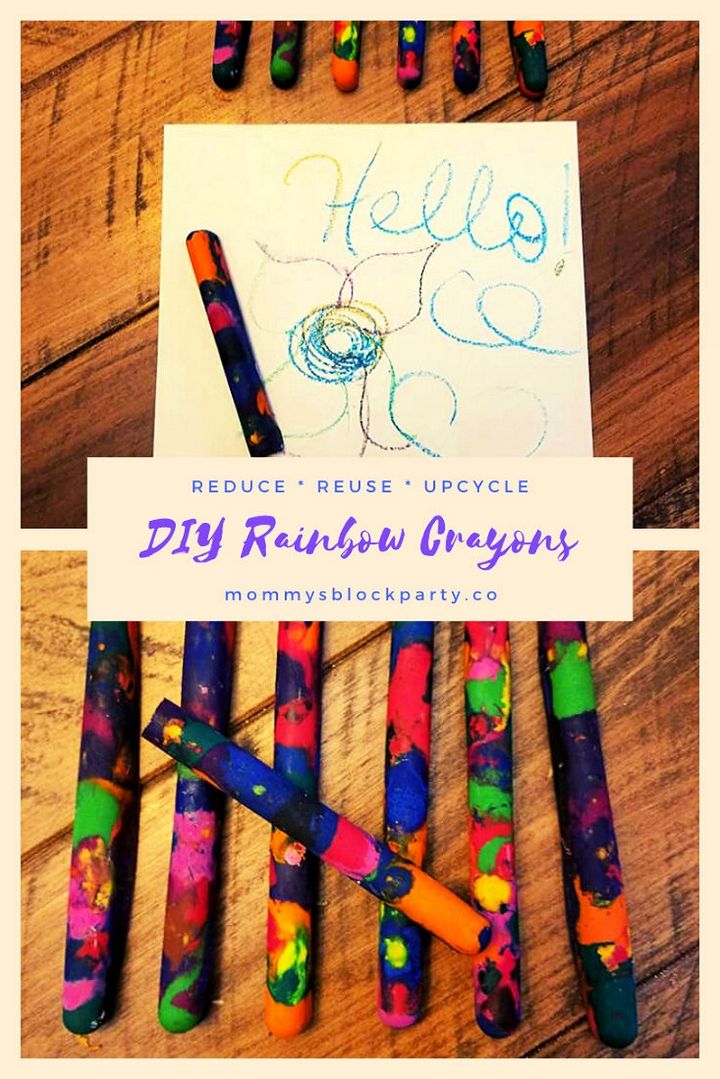 When your kids will these amazing rainbow crayons the mixture of colors will blow their minds. To make these DIY rainbow crayons you have to have some supplies. For this project, you will need some broken crayons, a mini muffin or silicon mold, a pair of scissors, and mini bowls for sorting the crayons. here!
15. Rainbow Crayon Holder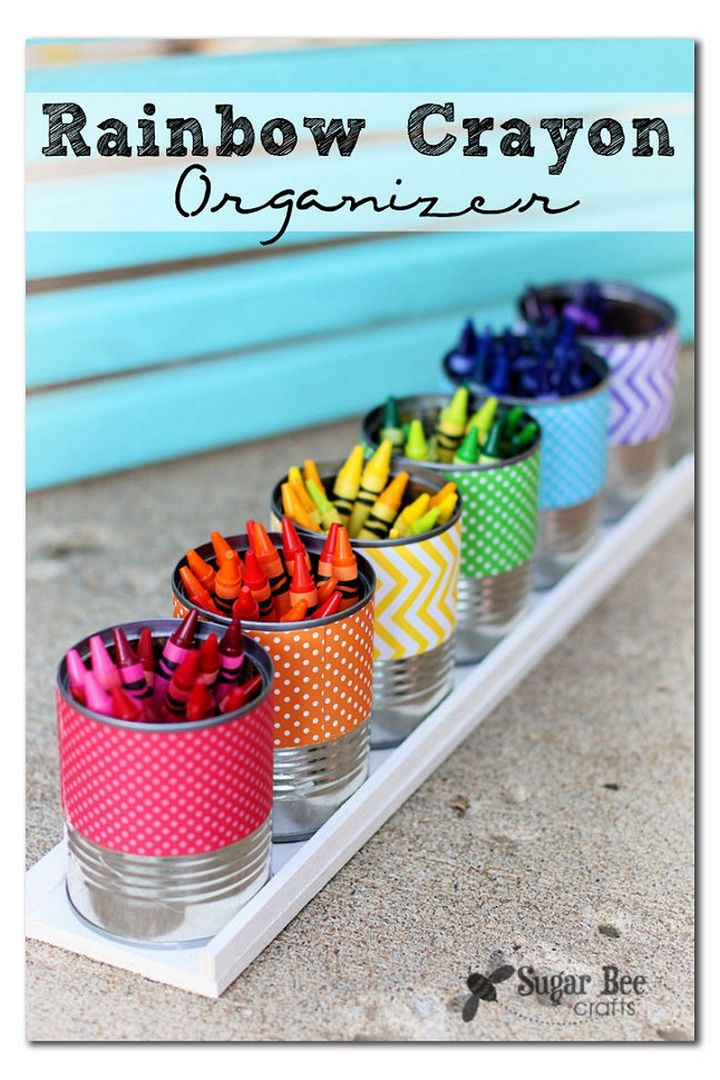 If you have a lot of crayons at home try his project of sorting them out with colors. Use different boxes for different colors of crayons. Label the boxes with the same colored paper and see how sorted and symmetrical they look. Gather all the old and new crayons from your house and arrange them in this way. here!
16. Simple DIY Rainbow Crayons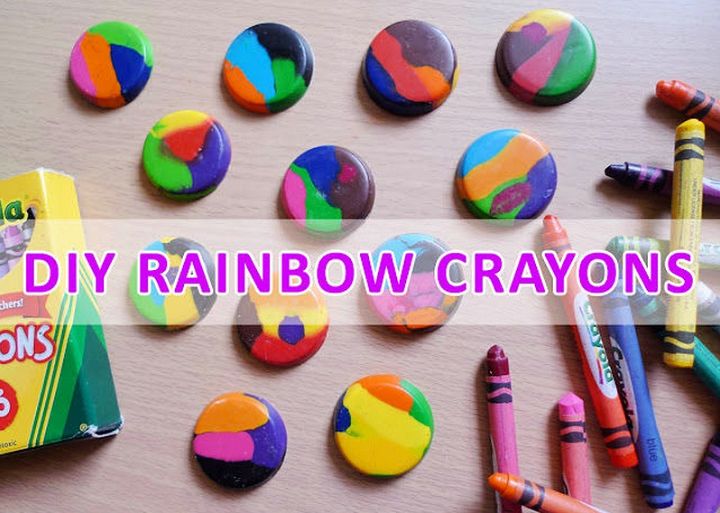 You do not have to worry if you don't have special molds for making different shapes of crayons. In that situation, you can make simple DIY crayons like the ones you see here. These are round in shape and are easy to make with help of any mold. The process is simple and quick. You just have to gather some old and broken crayons and melt them either in a microwave or in the oven to make rainbow crayons like these. here!
17. Melted Crayon Art Rainbow Tutorial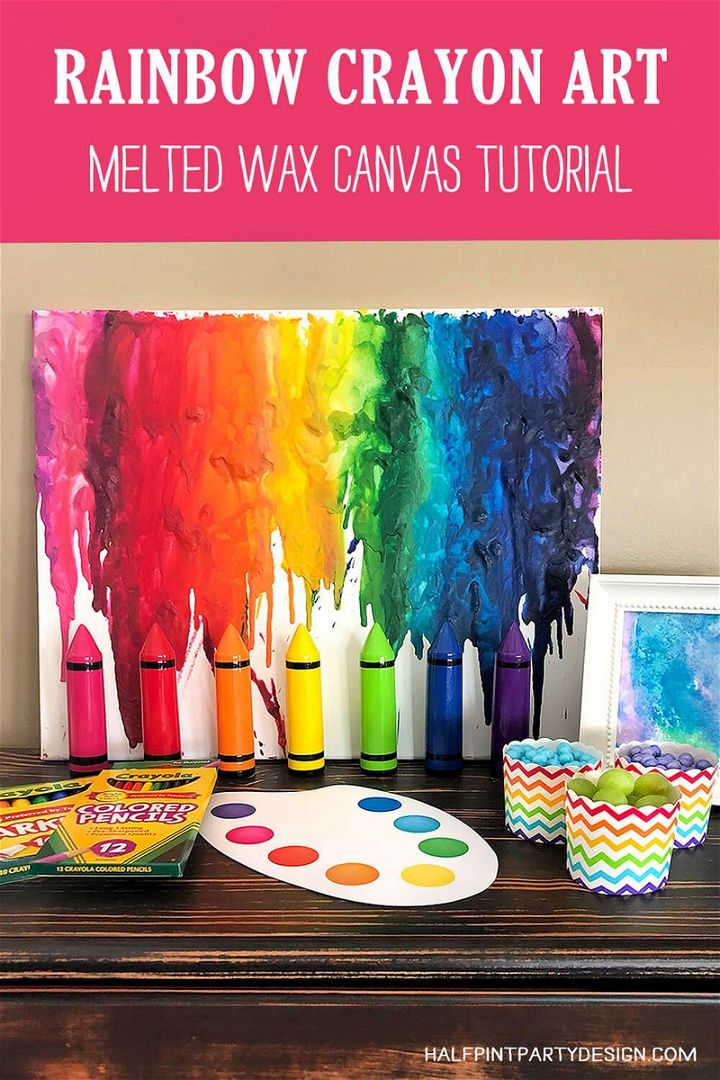 This project will definitely blow your mind especially if you are looking forward to doing any art and craft work with crayons and you love rainbow. You can now have a wonderful art party with your friends and enjoy this perfect activity. You need to have a box of 64 crayons, a box of 16 crayons, stretched canvas, a hot glue gun, and a hairdryer. Try his out to have some fun at your art party. here!
18. DIY Rainbow Crayon Holder & The Coolest Thank You Cards Ever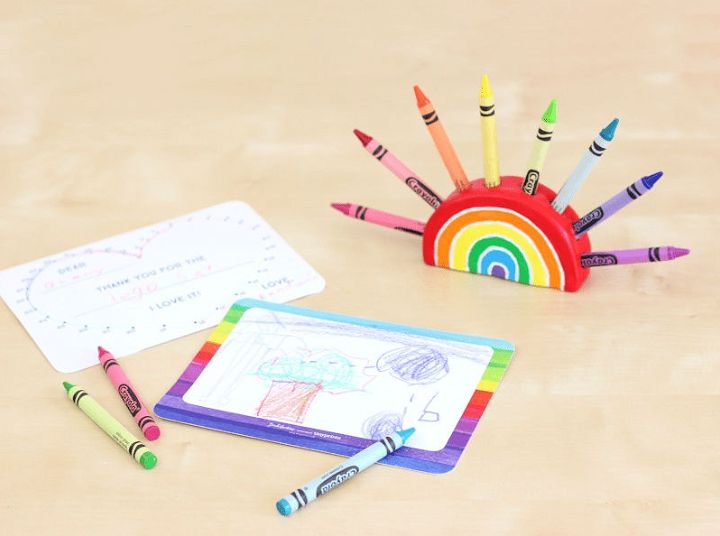 Crayons are the favorite pass time of most of us and we must agree on this. Here you will learn how you can make a rainbow crayon holder and make some amazing than you cards with different colors of crayons. This crayon holder is made with air-dry clay and it's so much fun making this. Besides clay, you need to have crayons, water, paper towels, clay tools, paint, and sealant. here!
19. How To Make Rainbow Crayons – DIY Rainbow Crayons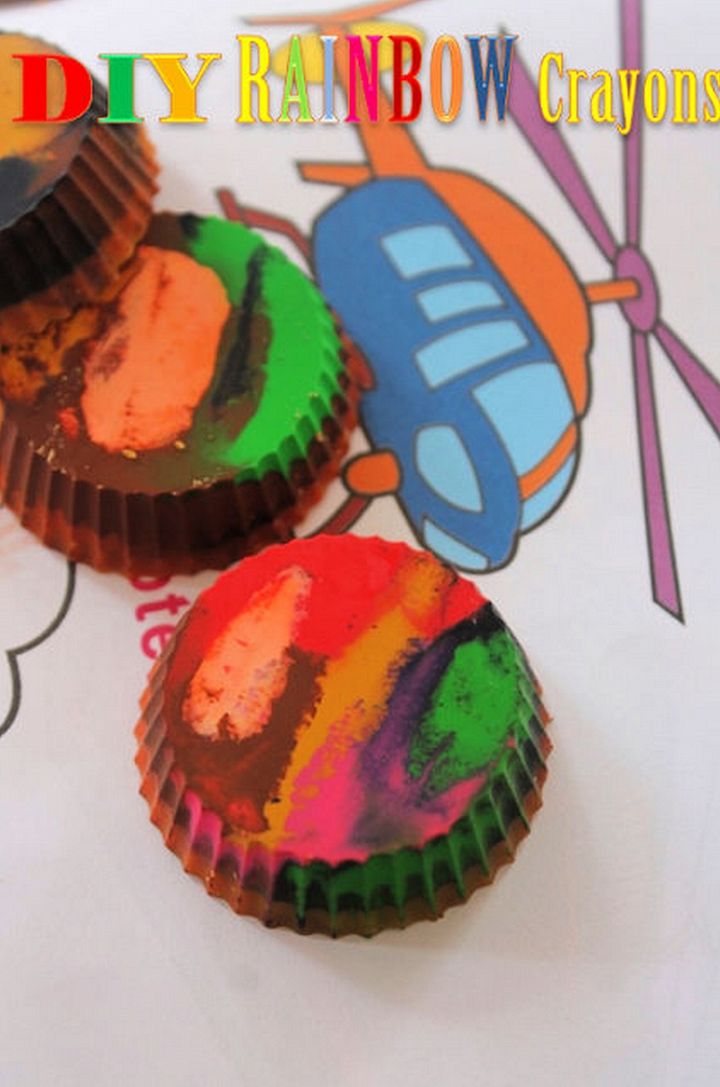 Crayons are amazing when it comes to art and craft projects and creativity. You all must have lots of bits and pieces of crayons lying around our house. Use all of those crayons to make rainbow crayons. For this project, you can either use a silicone mold or a cupcake tray. here!
20. Faux Stone Rainbow Crayon Wall Art DIY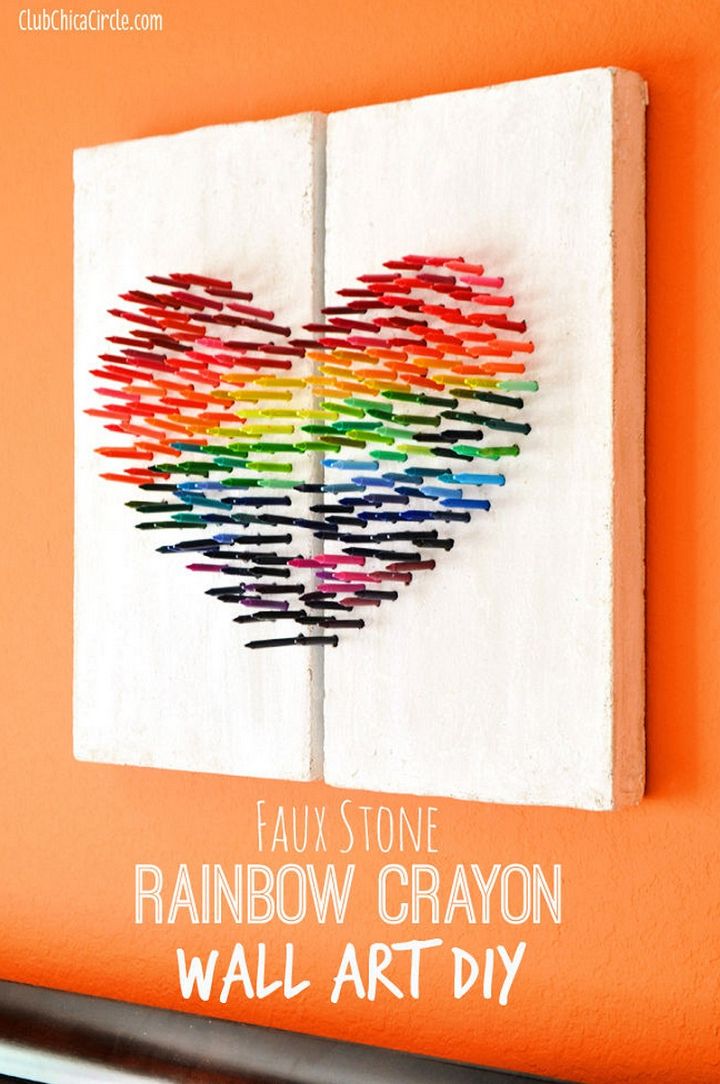 Have you ever thought of doing wall art using crayons? This project will show you how you can easily decorate a wall with help of regular crayons that we use for coloring. Besides crayons, this wall art involves faux stone, and see how beautiful this looks all together. Gather the supplies that you need for this project and you will have an impactful wall in the house. here!
21. DIY Crayon Rainbow Candle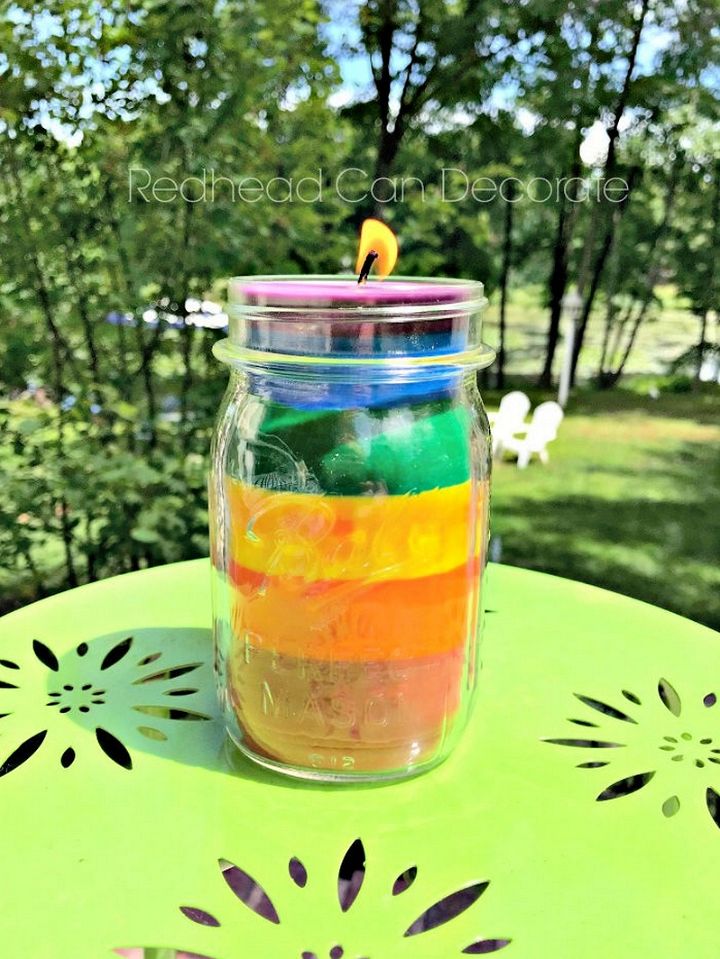 Candles can be made with so many crazy ideas using different materials and supplies. This candle is made with crayons and that too in rainbow colors. You need to obviously have crayons for this project along with an old large white candle, clear glass candle container, white wax, wicks, wooden chopsticks, and a few other supplies. here!
22. DIY Crayon Candles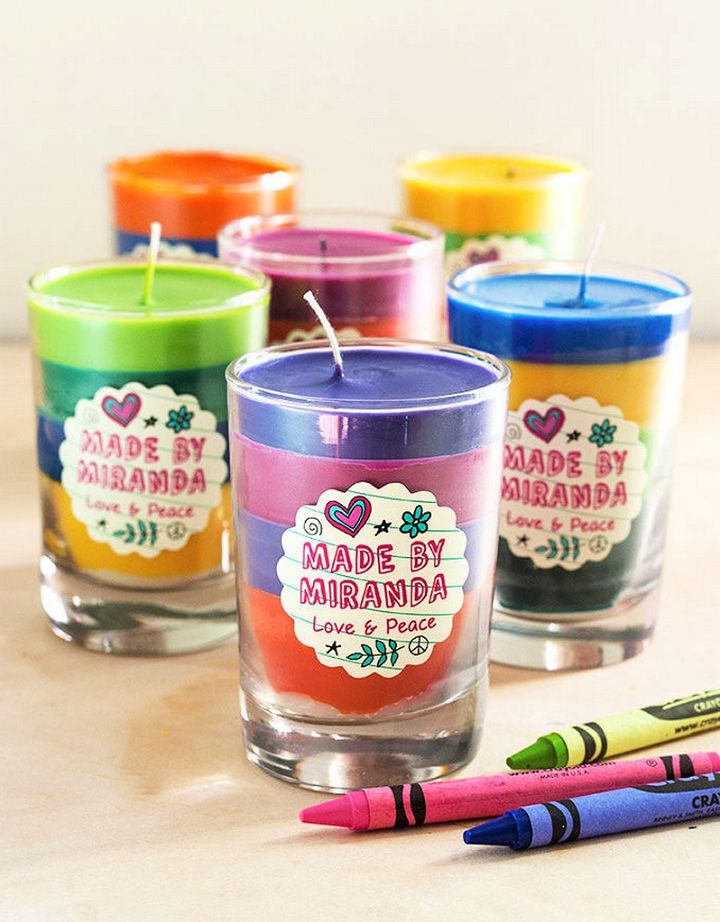 Mixing some wax with crayons and filling them in a rainbow pattern in clear glass jars will blow your mind at once. Try this project along with your friends so that they can also enjoy this creative side of yours. Learn this process from here and follow the tutorial to be accurate. here!
23. How To Melt Crayons in Silicone Molds – A Step by Step Craft Tutorial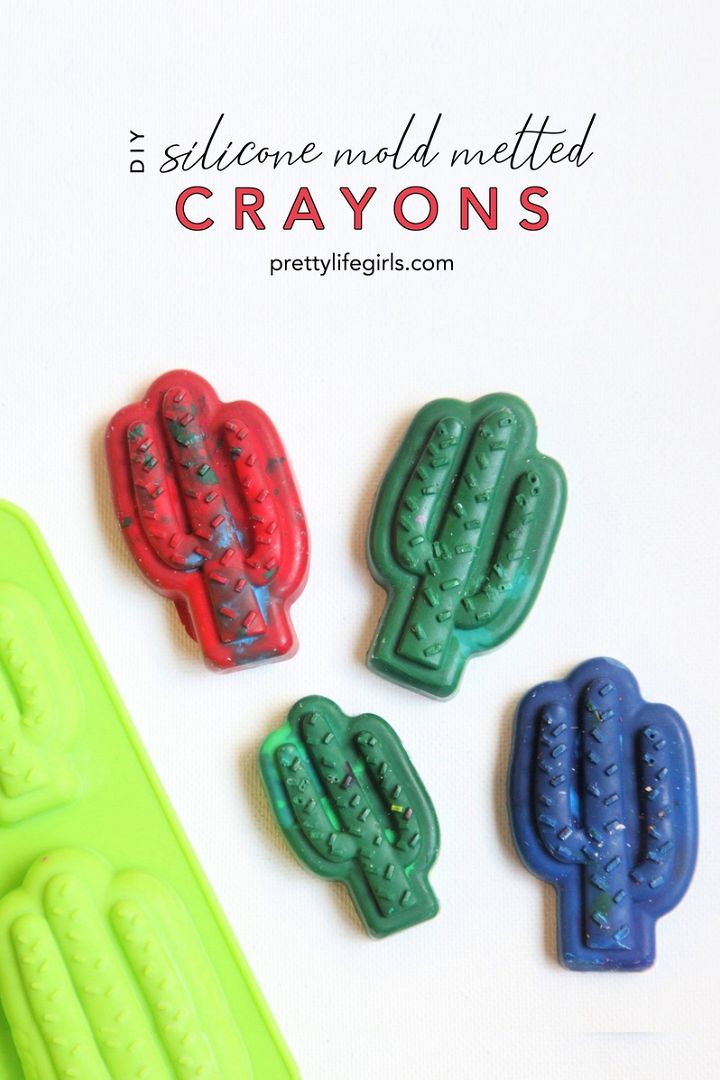 For making rainbow crayons, molds are very important. Try using silicone molds for making these enticing DIY rainbow crayons. Gather all the broken crayons from school and home and melt them down to recreate something amazing. If your kids are trying this project, do supervise them as this involves some careful steps like melting the crayons in the oven or microwave. here!
24. Homemade Crayons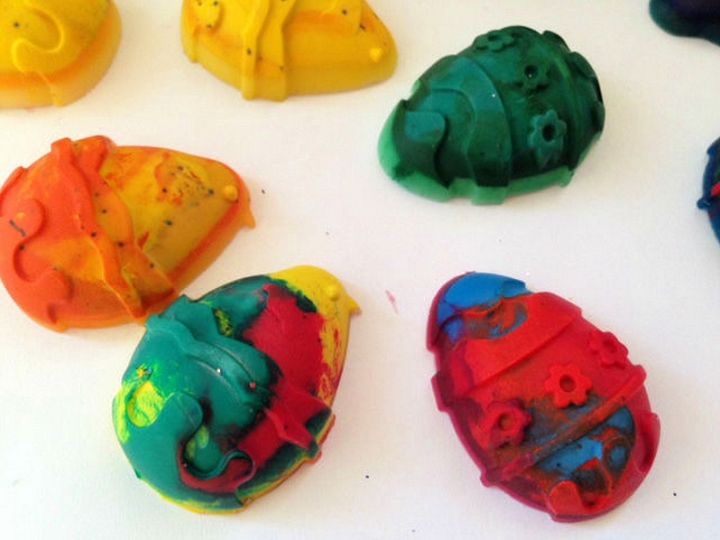 Home-made things are always special. Try creating some new crayons with the old ones. Gather the old and broken crayons, follow the melting process from the tutorial and try this out now. these new crayons in completely new shapes will blow your mind and excite your kids. here!
25. DIY Rainbow Halloween Pumpkin Crayons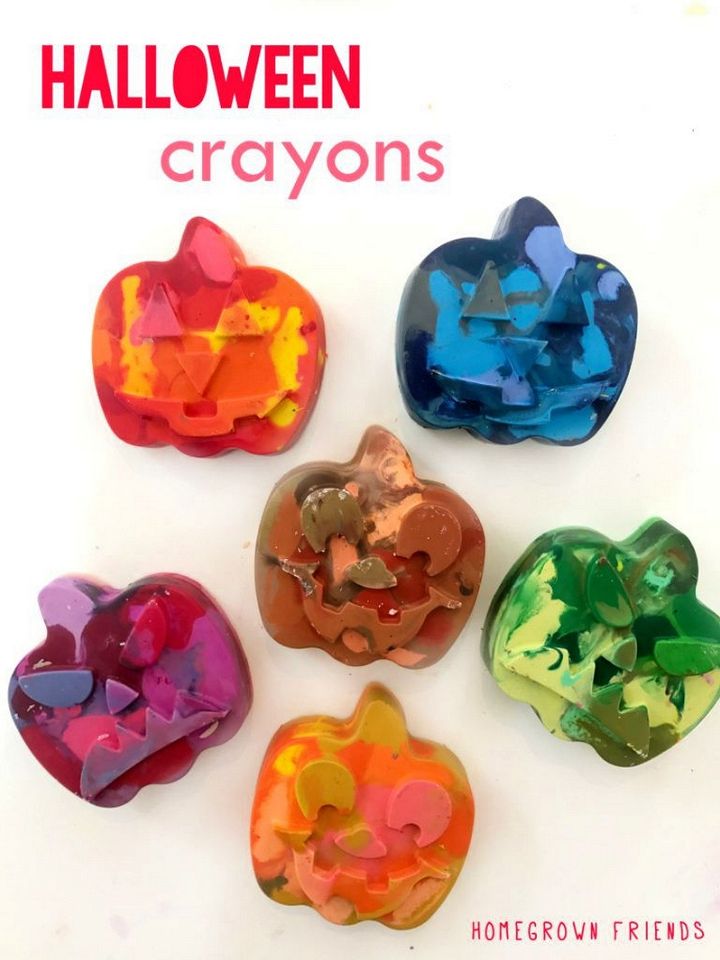 For this project, you need to have some special Halloween pumpkin molds so that you can make crayons like these. It's important to make things for festivities so that they give that special vibe of that occasion. This crayon-making project is specially designed and formulated for the upcoming Halloween here!
26. DIY Rainbow Candles – How To Make Melted Crayon Candle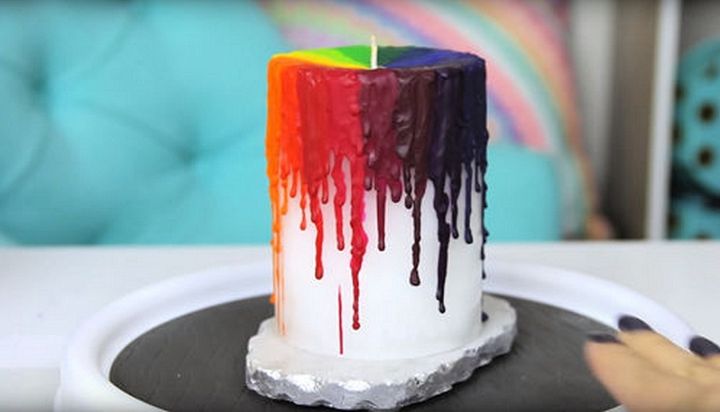 This rainbow candle will melt your heart. However before it melts your heart, you have to melt the crayons for doing this project. Follow the steps from this project so that you can be accurate and do not miss out on the minor detailing. For this project, you need supplies like a white candle, Crayola crayons, and a hot glue gun. Start the project by first removing the paper from the crayons. here!
27. Melted Crayon Art Tutorial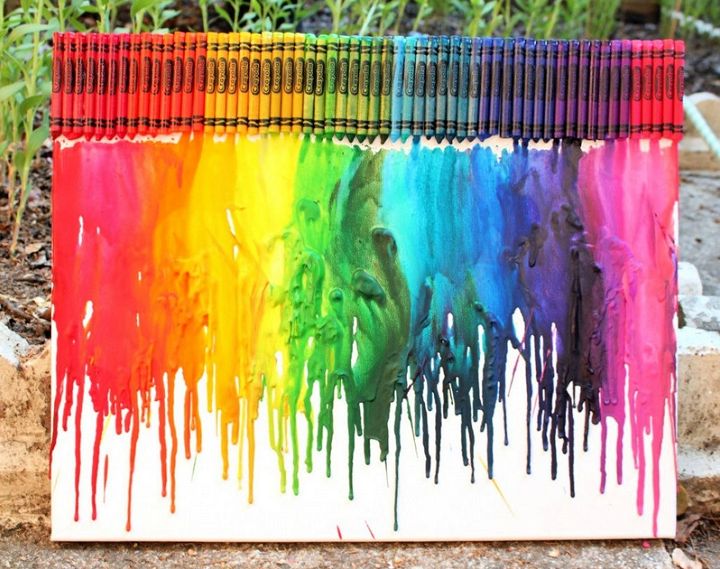 This tutorial will give you step-by-step instructions on how you can make this melted crayon art piece. You need to have a canvas along with a large box of crayons. Besides this, a hairdryer is also required here for melting the crayons and ending up in creating a masterpiece. here!
28. Recycling Crayons- How To Make Crayons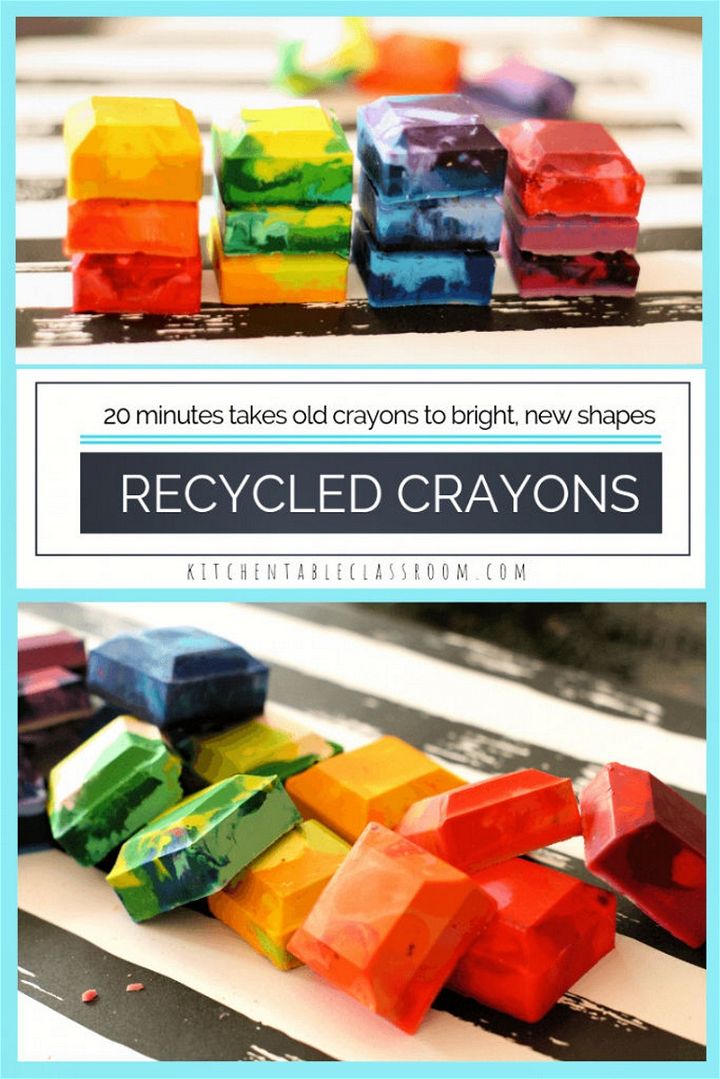 Recycling is always appreciated as it helps our ecosystem. Try to reuse recycle and repeat this process. This project is all about recycling old crayons in order to make new rainbow crayons. This DIY project will hardly take a few minutes of yours and you will end being proud of yourself for creating a masterpiece. here!
29. DIY – Recycled Crayon "Cupcakes."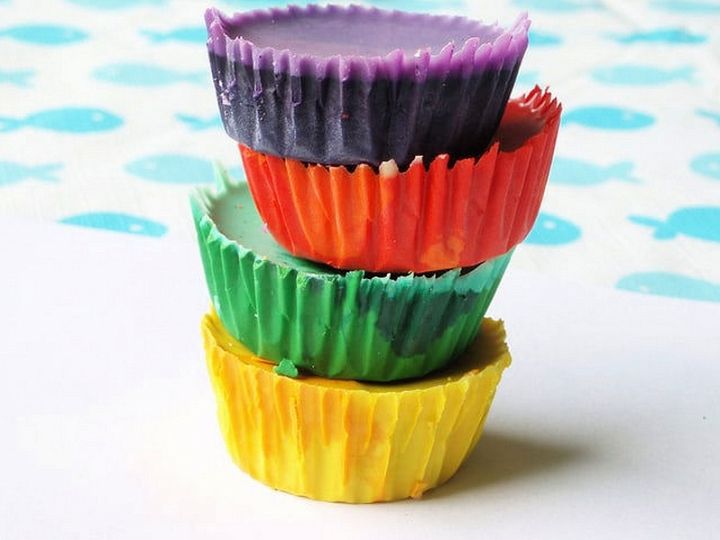 Enough of boring baking now. Try baking and making DIY rainbow crayons in your oven using your cupcake molds. These cupcake crayons are the most adorable things you would probably see on the internet today. Gather the items such as broken crayons and cupcake paper molds. here!
30. Gorgeous Rainbow Crayon Candles DIY STEAM Project For Kids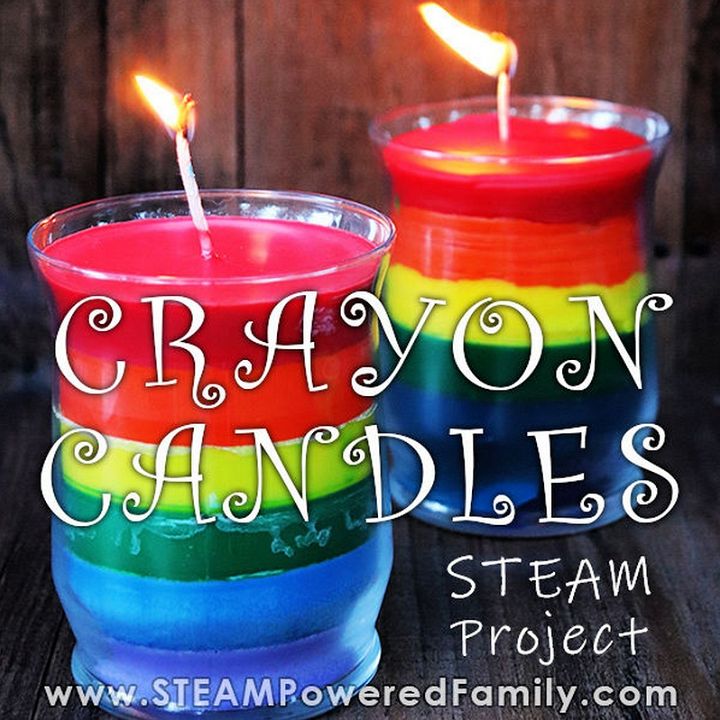 Try something new with your old broken crayons. This project is all about using those old crayons to turn them into DIY rainbow crayons. Projects like these require adult supervision. Therefore do not let your kids try this project alone so that they may not harm themselves. here!
31. How to Make Your Own Crayons From Pieces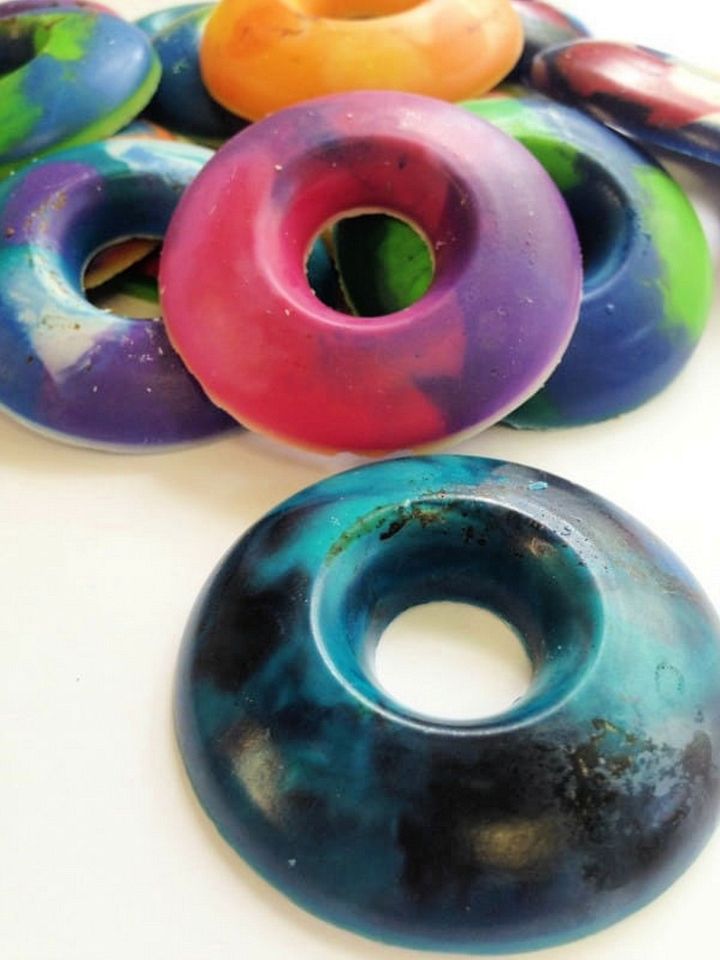 Do not worry if your kids have broken down their crayons into bits and pieces. Use those pieces to make DIY rainbow crayons like the ones you see here. in this project, they have used doughnut-shaped molds for making rainbow crayons. You can find these molds at any art and craft store easily. here!
32. Handmade Rainbow Crayons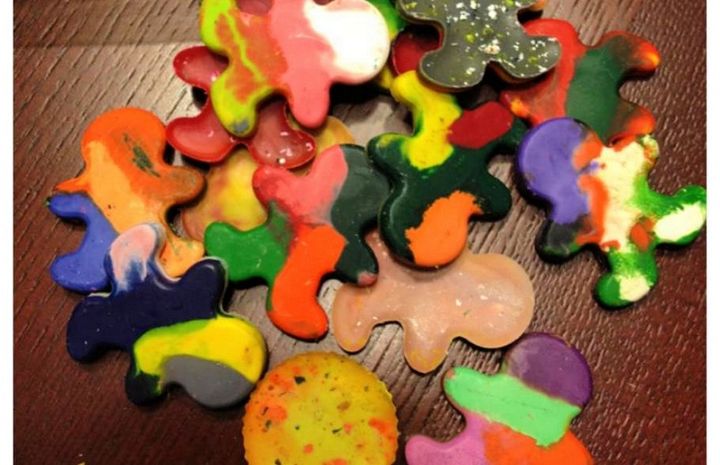 Handmade things are always special as they hold a special kind of affection and purity in them. try this handmade crayon project here and you will be seeing some surprises coming at the end in form of beautiful and colorful crayons. You can use molds of any shape for creating these special crayons here!
33. DIY Unicorn Crayons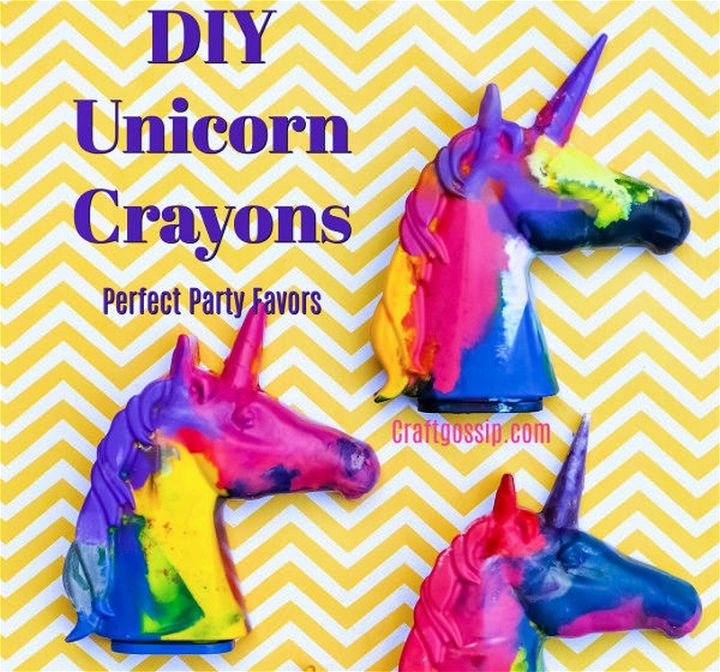 Have a look at this amazing unicorn crayon project. These crayons are so cool and attractive that your kids will definitely love and adore. Bring some unicorn-shaped molds from any art and craft store and make these DIY rainbow crayons for the next coloring art parties here!
Conclusion:
Life is incomplete without colors, and if you can get all colors in one coloring stick, then there is nothing more perfect. In these projects, one crayon is made containing all the colors of the rainbow hence making the kids excited with happiness and surprises. Do not let your kids handle these projects alone, because this involves melting the crayons, using the oven and microwave. Therefore always supervise them in such activities.