The 24 DIY Printable Banners For Party Decor that you see here are all inspirational and so cool that you will definitely want to try them. All the ideas are different and unique in their own ways so you can pick any of them depending on your choice and desire. You will find banner ideas for almost every occasion to make it better and more celebrated. For Valentine's Day this year, you can now make some of the most amazing and eye-catching banners that will add more and more beauty to the entire décor in general.
As we know that the festive season is coming and the New Year is just about to start, therefore you must look into the details of this craft and make banners that say welcoming phrases and words for the year coming ahead. You can cut letters with the help of the ideas given here. With these amazing ideas, you can impress everyone coming over. You can also add some glitter to your banners so that they look more appealing and eye-catching. Decoration can be more interesting and complete with such printable banner ideas.
1. Printable Banner for St. Patrick's Day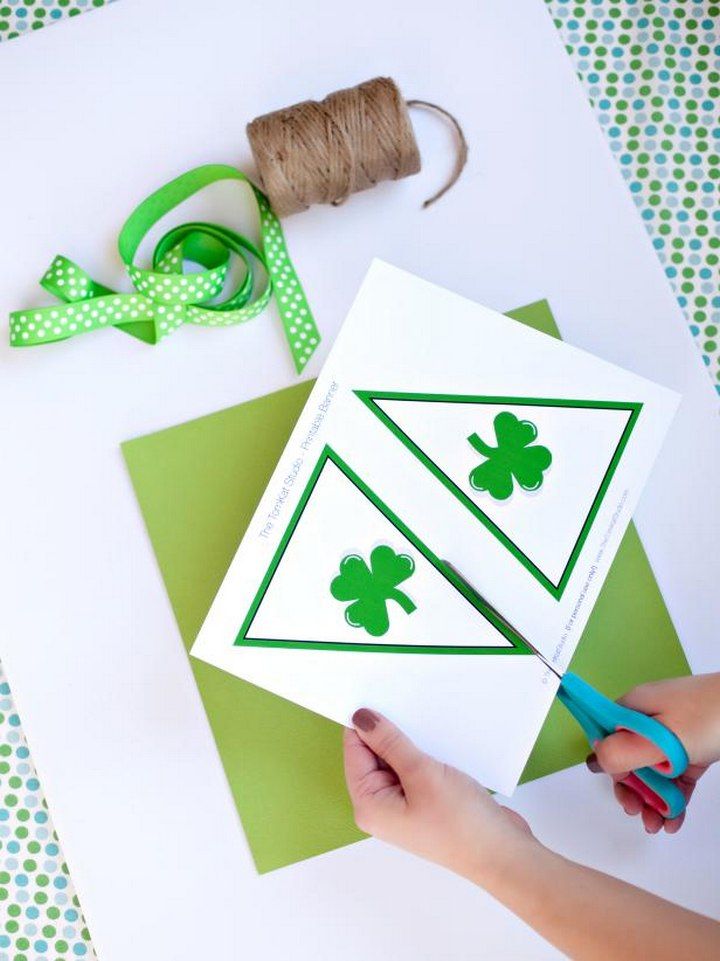 This printable banner is made especially for the st Patrick 's Day. The materials that you need for this craft are listed here and the list includes bright white cardstock, jute, ribbon, craft knife, paper cutter or scissors and a banner template that you need to download. Tutorial
2. Free Printable Bunting Flags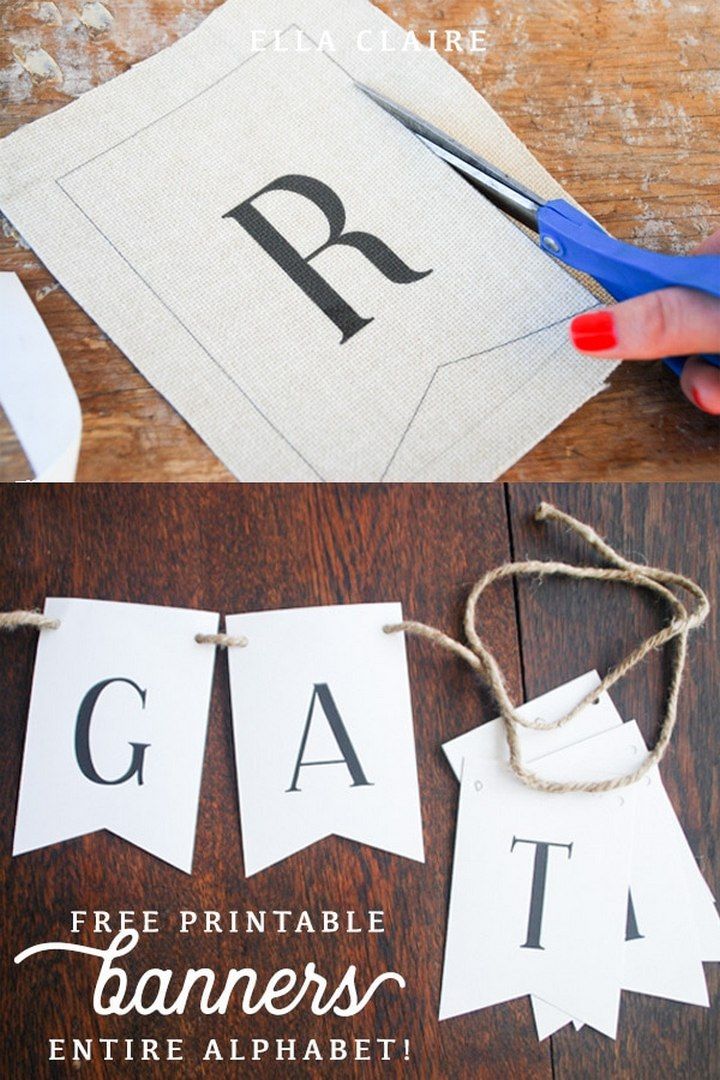 Are you also excited to make this free printable bunting tags? Besides written description you will also find a tutorial so that you can easily get along. You first need to print the letters that you want to use. Secondly you need to cut out each of your flags and after punching a hole in them you must string your letters into ribbon or jute. Tutorial
3. Hot Cocoa Banner Free Chalkboard Printable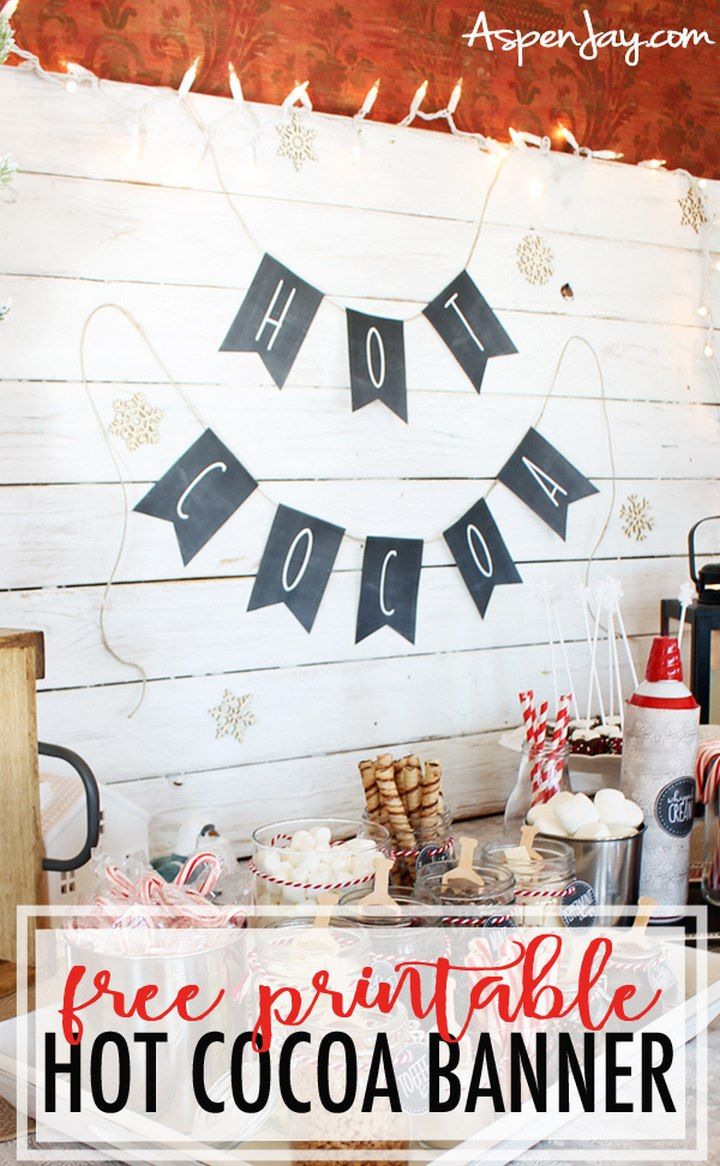 This is a free chalkboard printable that says hot cocoa. As we know that the winters are almost here and thus this banner seems interesting and will give that warm feeling for sure. If you also wish to prepare a hot chocolate bar, this project will be of so much interest to you. This diy printable banner will definitely add some style into your bar so try this out. Tutorial
4. Free Printable Chalkboard Banner Letters, A-Z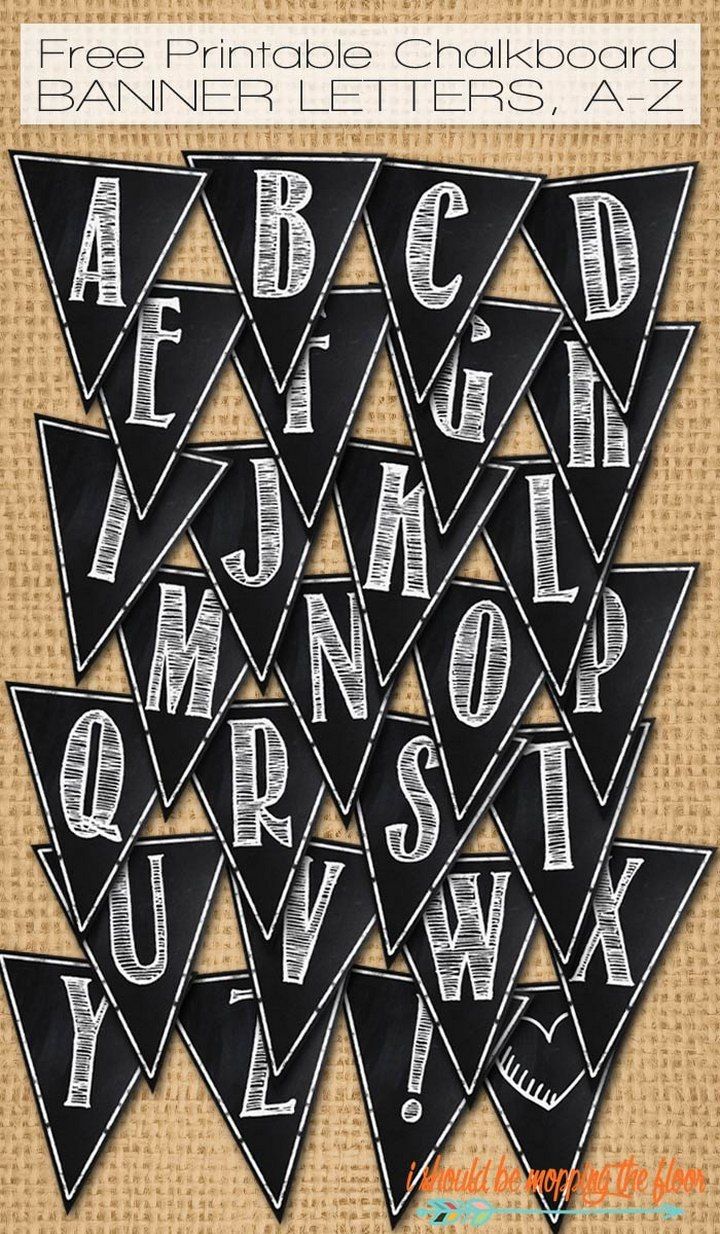 Look at these free chalkboard printable banner here and see if you can make these too. You must see the entire process here and decide if you can also make this by following the instructions. Besides this you will find a complete tutorial also so that you can easily get along. Tutorial
5. Free Printable Happy New Year Banners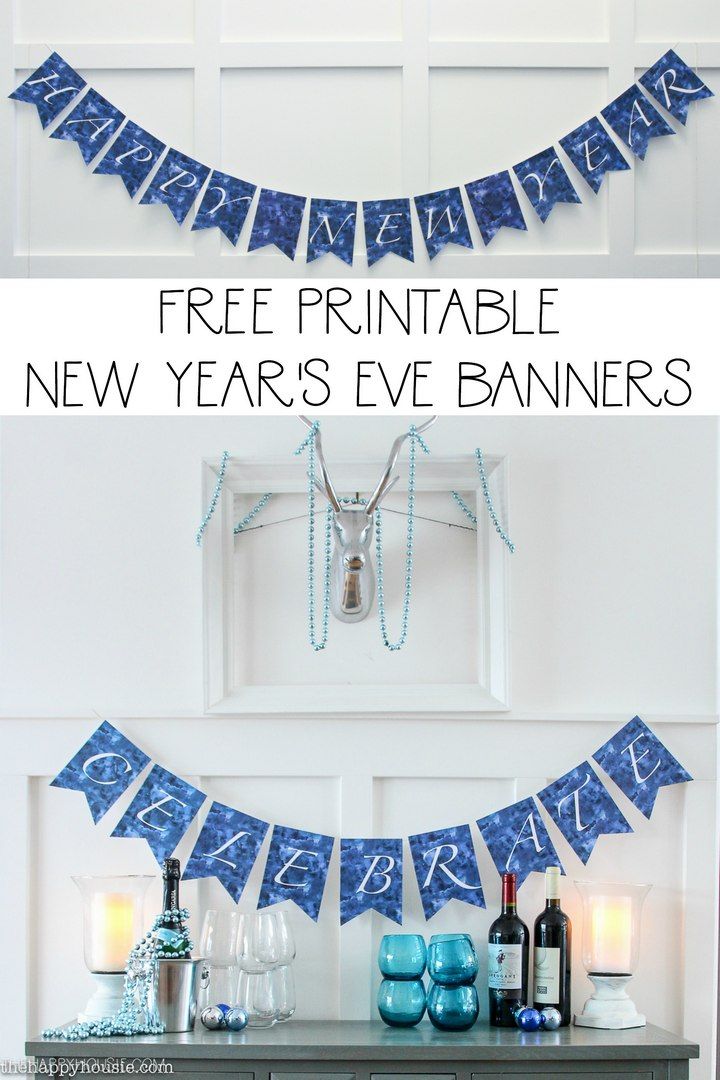 This diy free printable banner is especially designed for the New Year event. You can also make this banner easily within a few steps that are described here. You must follow the complete instructions and grab the supplies that are needed to make your New Year celebration better than ever before. Tutorial
6. Happy Birthday Banner & Alphabet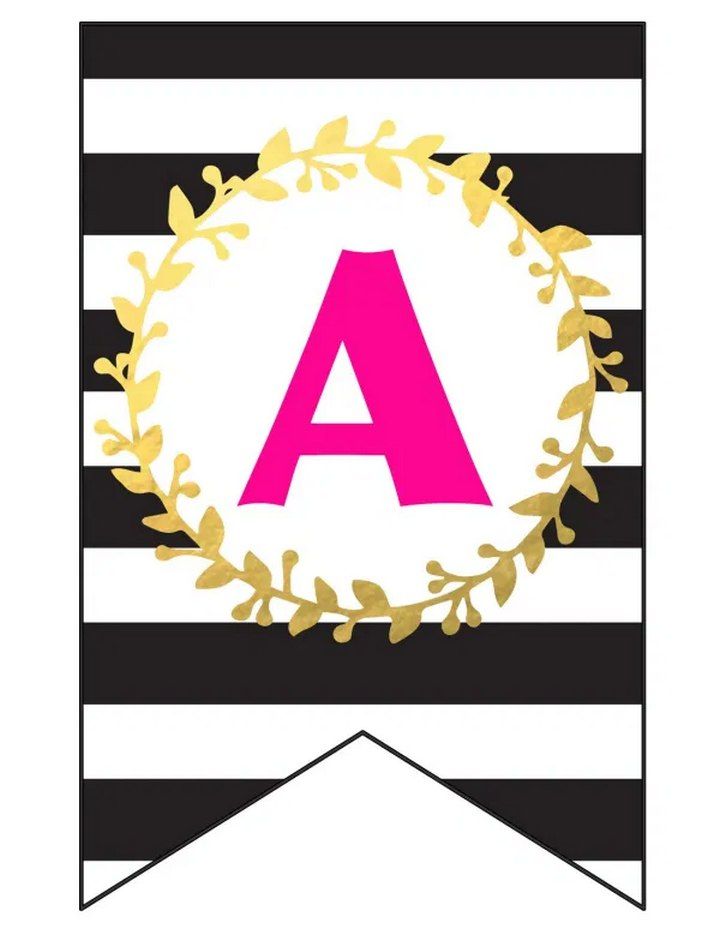 This diy project will show you an entire process in which you will learn to make a banner for a birthday. Besides this you will also learn to make letters with the help of this idea so try this out. This trendy banner has black and white stripes that look cool as always. Tutorial
7. Free Printable Just Married Floral Banner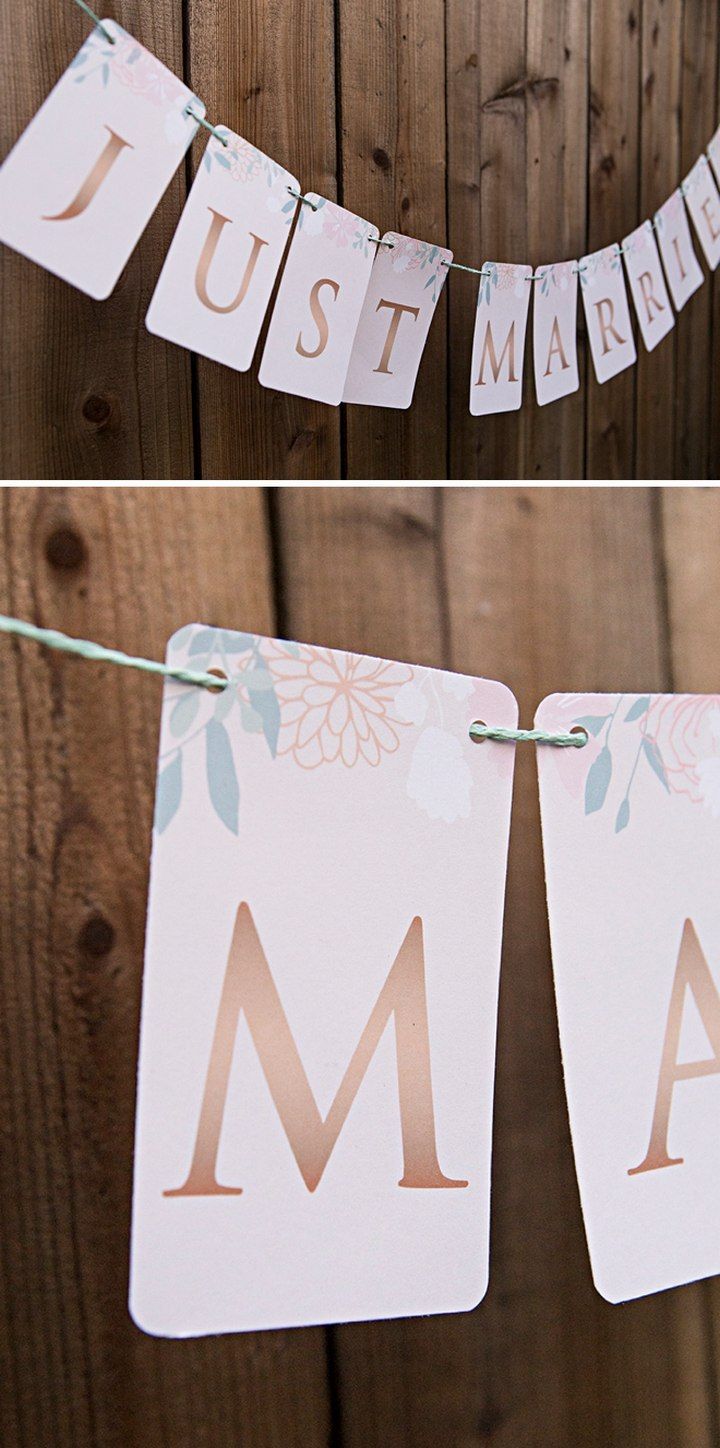 Here we have an ideas to make a free printable banner saying 'just married'. This is a trendy design that you see here. If you also wish to make someone's big day more special and exciting, make this diy banner for them. This is a floral banner and the flowers are enhancing the beauty of the banner. Tutorial
8. Printable LOVE Valentine's Day Glitter Banner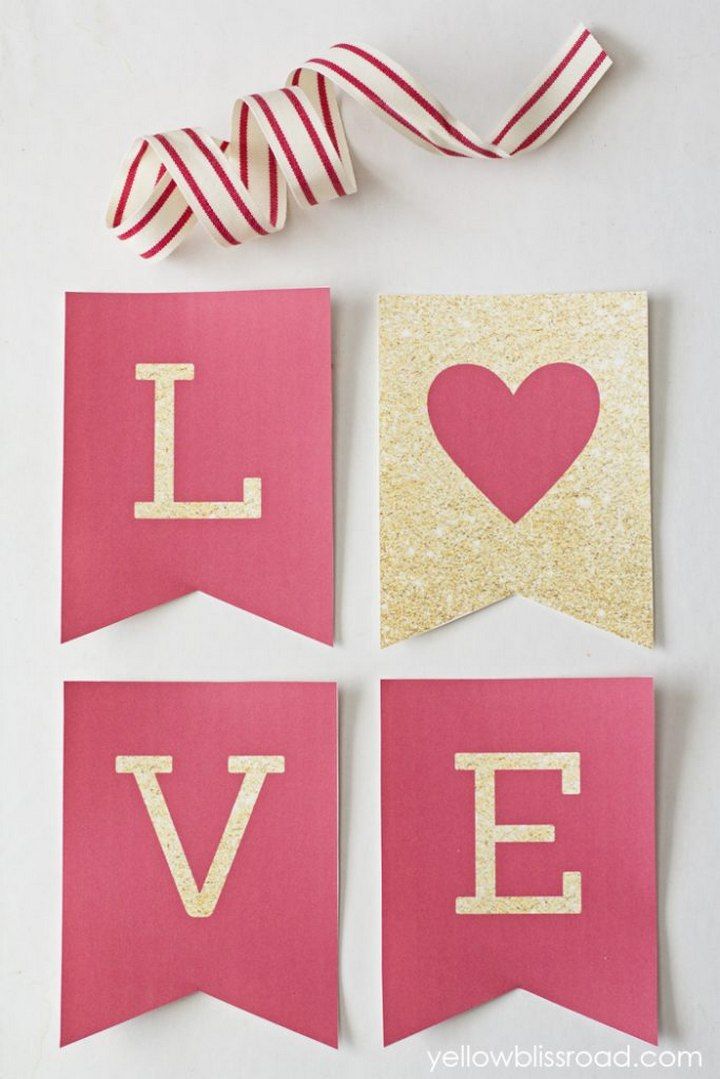 This is a glittered banner that you see here designed especially for the Valentine's Day. This banner says love and looks absolutely eye catching and appealing. The banner says 'love' and you can also learn to make this before the Valentine's Day comes over. Tutorial
9. Preppy Navy Valentines LOVE Banner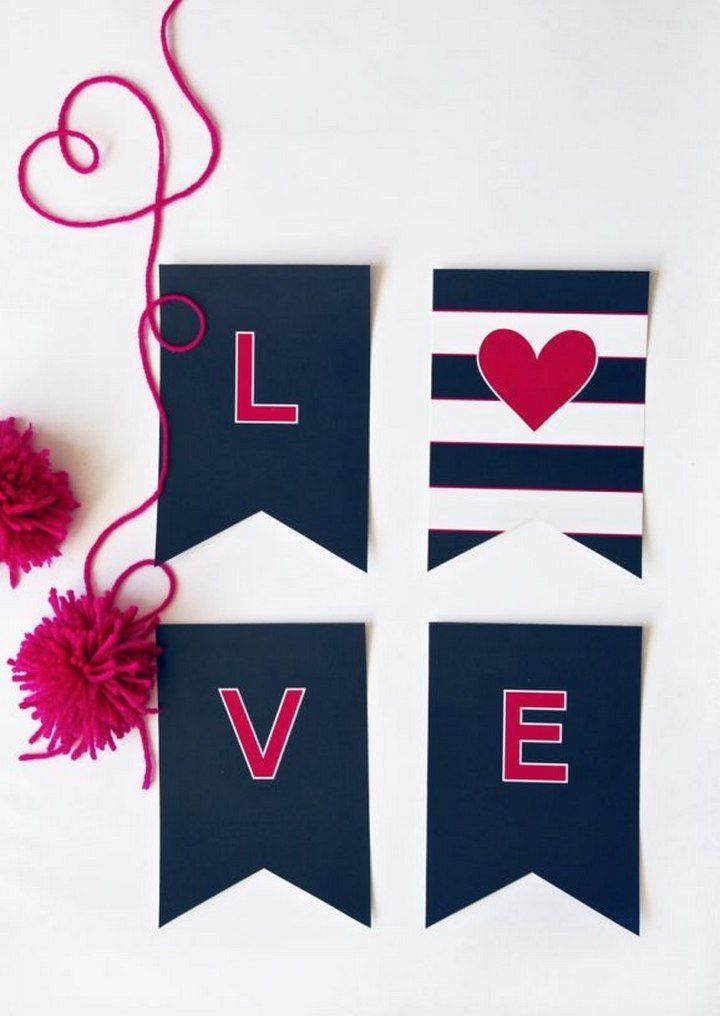 Have a look at this navy valentine's love banner and see if also wish to make the same. The design and template that you see here is inspired by little girl's clothing's and looks stunning. If you are also ready to embrace the navy trend, you must also see the complete details here and get started. Tutorial
10. Happy New Year Free Printable Banner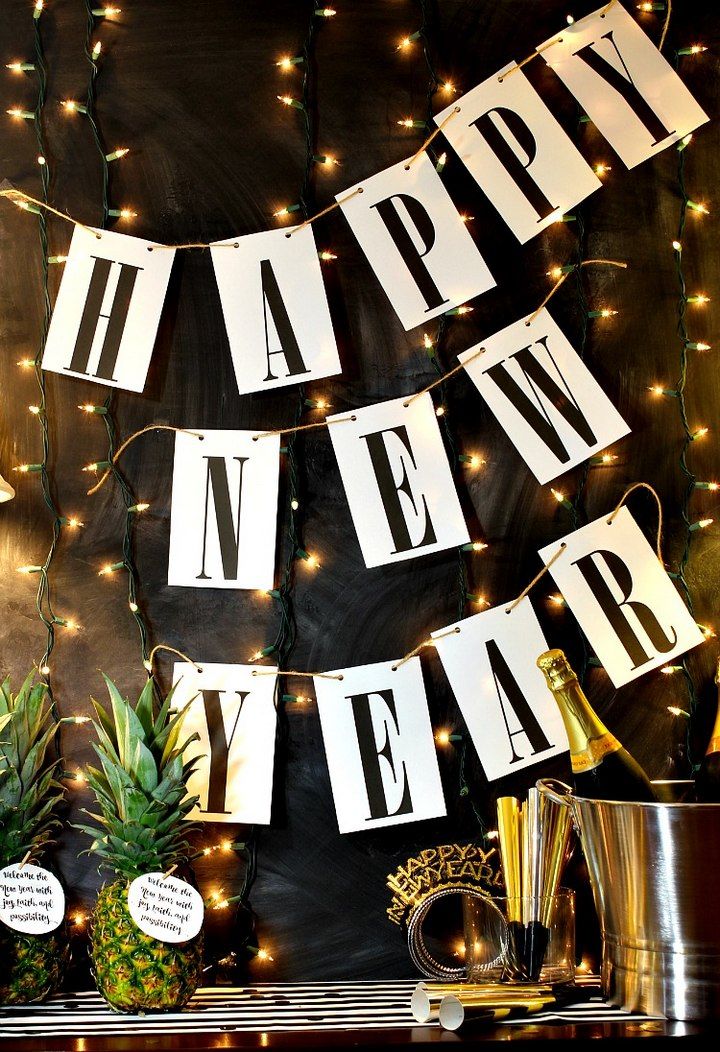 This is a diy happy New Year banner that anyone can easily make at home. You need to follow the complete instructions here and decide how you can get along with this. You must gather people on different occasions and strengthen the bonds between them and what's better than a New Year night? Try this New Year banner by yourself and you will see magical elements in your décor. Tutorial
11. Free Printable Alphabet Letters & Numbers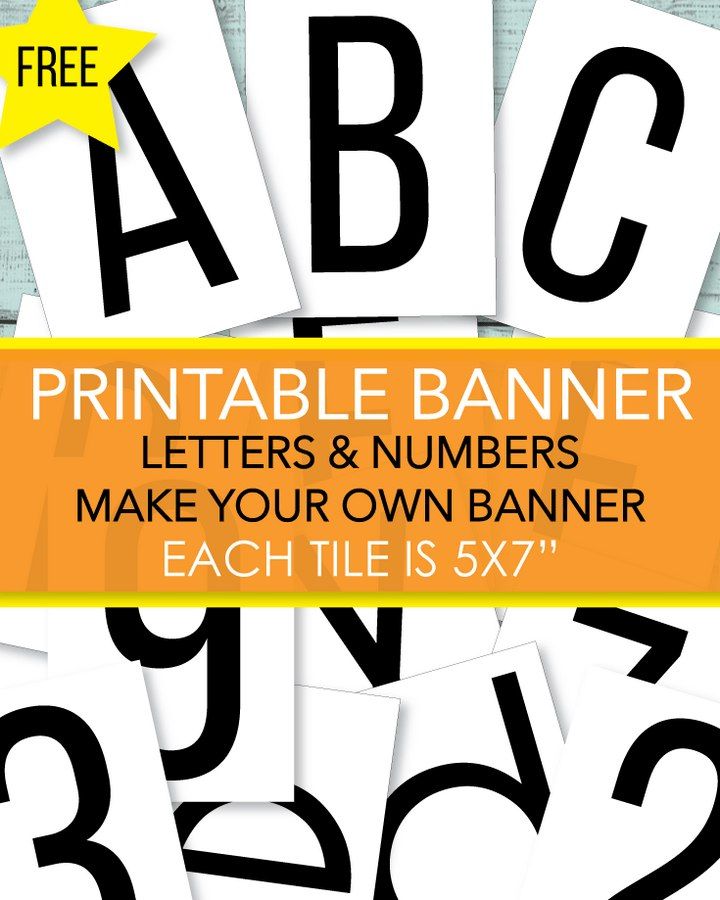 This diy project is all about free printable letters and numbers and you can try this too. You will start off by cutting the crepe paper. Make it fancy by cutting triangles in each of them. Next you will twist the center of the paper together. Then make a loop and twist to secure. Continue making these until you have enough amount. Lastly add your free alphabet printable to make the idea even cuter Tutorial
12. Free Easter Banner Printable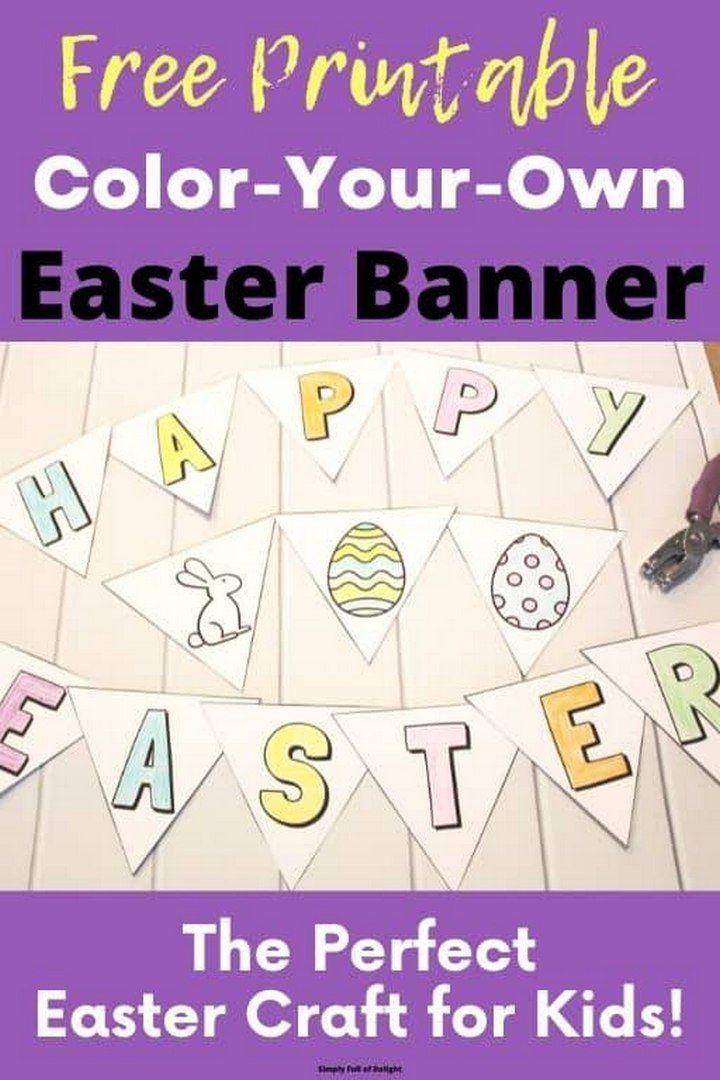 This free Easter banner printable that we have here is all you need to make your Easter better and more joyful than ever before. This craft will also attract little kids. You will need free printable Easter banner along with other supplies such as cardstock, crayons, scissors, hole punch and ribbon or string.Tutorial
13. Happy Mother's Day Banner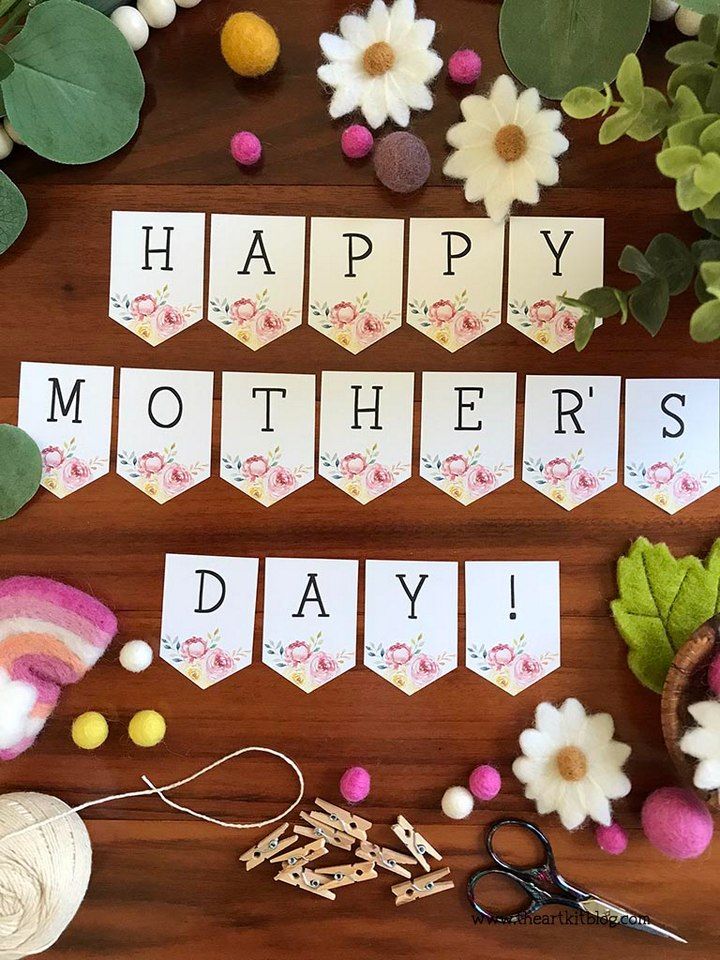 Have a look at this mother's day banner and make this by yourself. as we know that the mother' s day every year is a special and heart felt even for almost all of us and we all need to celebrate it in high spirits. Grab the materials which are printed paper, scissors, hole puncher, twine, mini clothespin, laminator and wool pompoms. Tutorial
14. DIY Valentine Banner with Patterned Template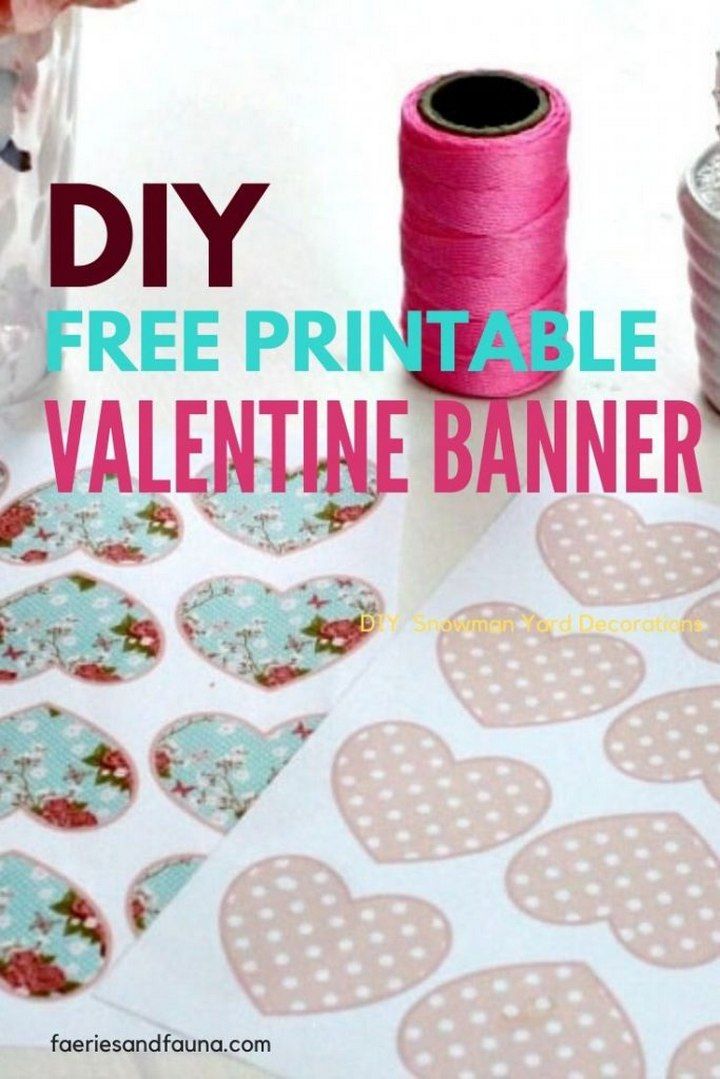 Take a look at this diy valentine's banner with patterned template and see some magic going around on this exciting occasion. Besides template you will need some other things such as plain card stock, scissors, twine, sewing machine and a few more. Tutorial
15. Happy Easter Banner with Glitter Details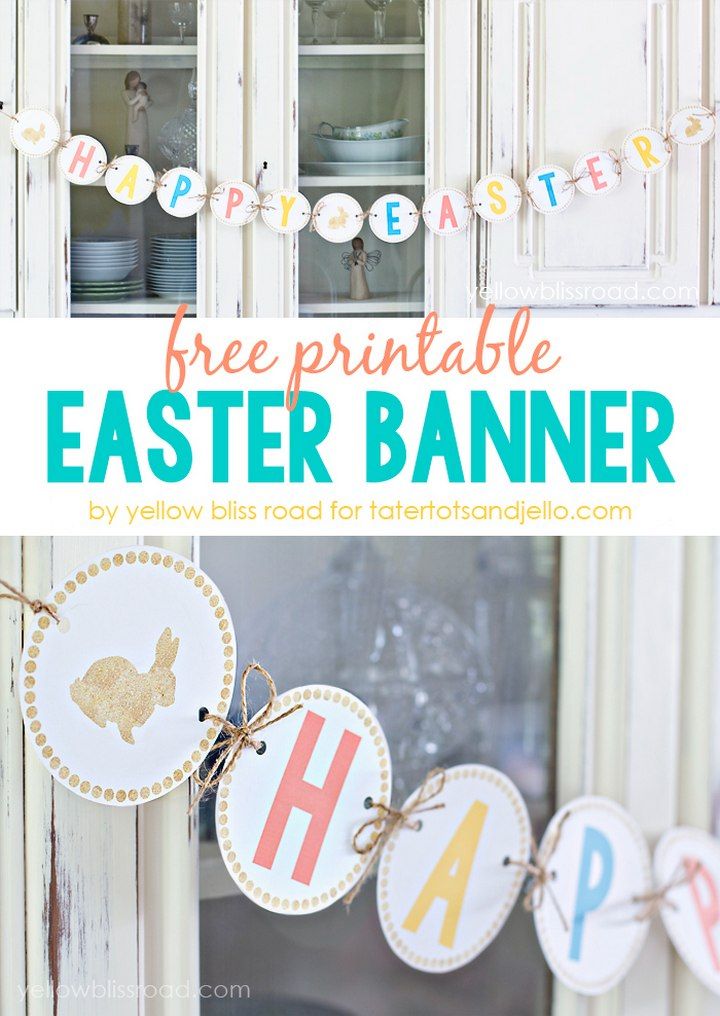 This banner that says happy Easter is all you need to make any Easter celebration better and memorable. You can see some glitter details here in order to make the banner look more exciting, eye catching and appealing to eyes. Grab the materials that are listed here and see how things can be done in your own style. Tutorial
16. Free Valentine's Printable Banners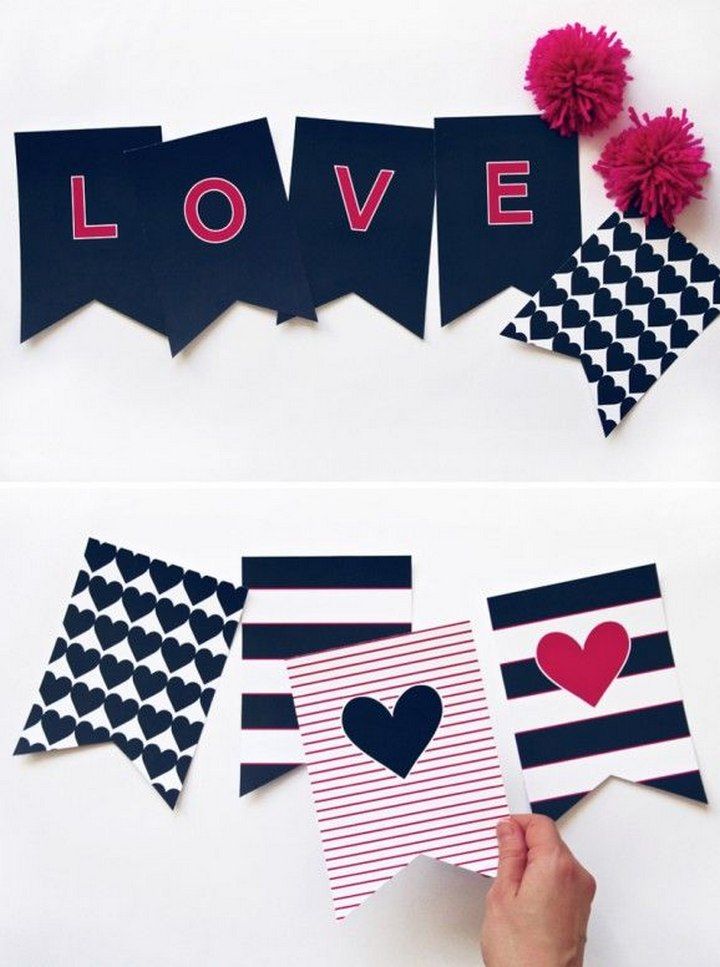 As we know that the Valentine's Day is just round the corner and you must make some arrangements to make that day more special and delightful. This banner is made using some awesome colors and designs that will appeal your people around. Look into the details of this craft carefully and try to make this masterpiece by yourself. Tutorial
17. Free Printable Patriotic Banner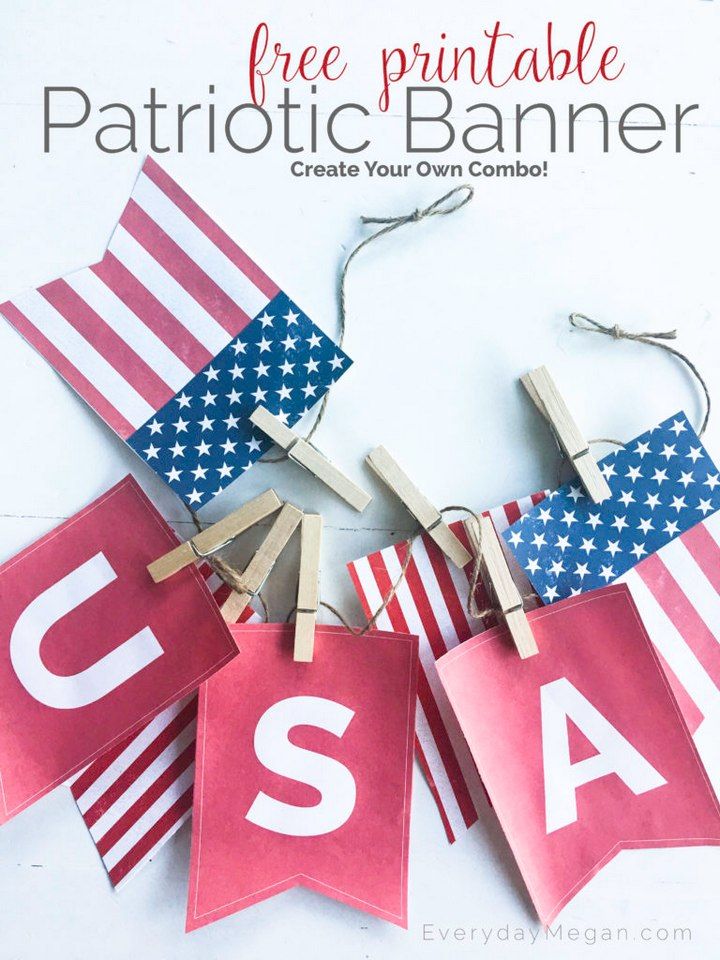 This is a diy free printable patriotic banner and anyone can easily make this. You can also customize your banner with the help of the tricks and tips given here. There can be a variety of ways to hang the banner also. You need to print the banner on cardstock as told here in this project. Tutorial
18. Trick or Treat Halloween Banner Free Printable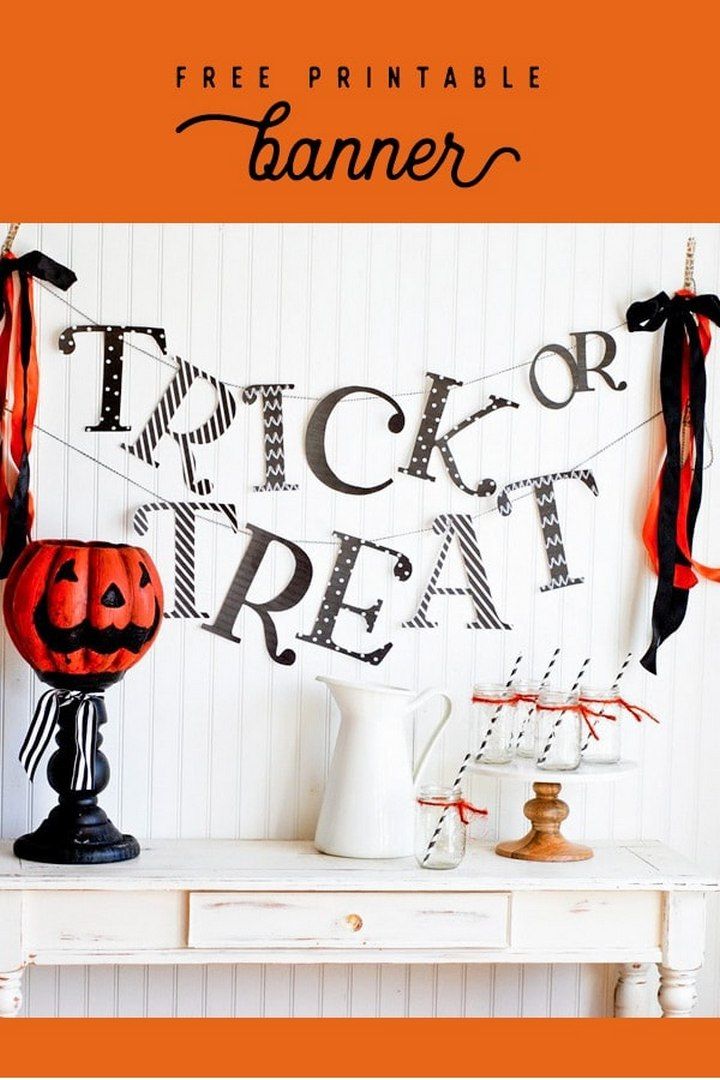 As we know that the Halloween is just round the corner and we must make some arrangements to make the occasion better than ever before. This is a diy free printable Halloween banner idea that you can follow and make your own craft. You will have to use baker's twine in this project. Tutorial
19. DIY Burlap Banner Free Printable File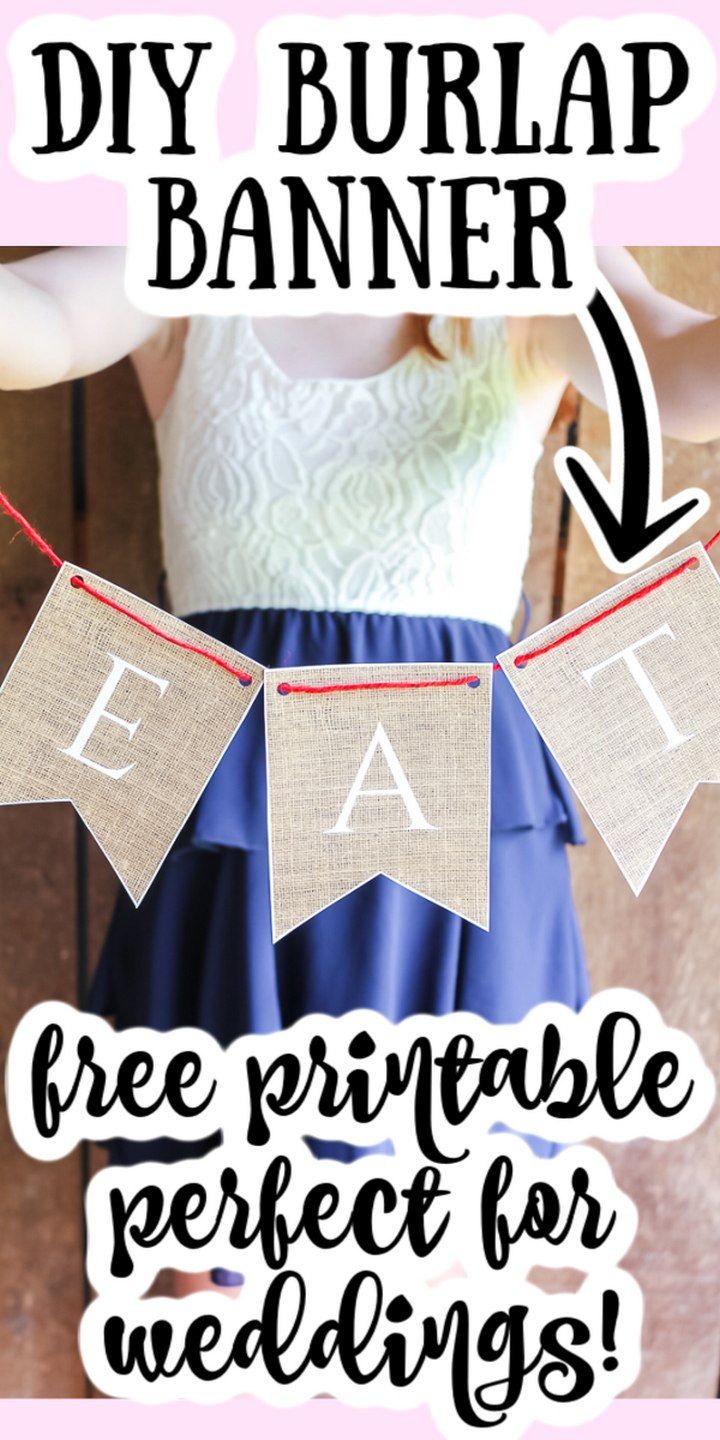 You can see how burlap is used creatively in this diy project to make a burlap banner free printable file. For the supplies you will need a printer, scissors, hole punch, white card stock and twine. Grab the supplies and get started with this amazing and joyful experience. Tutorial
20. Free Printable Floral Banner Letters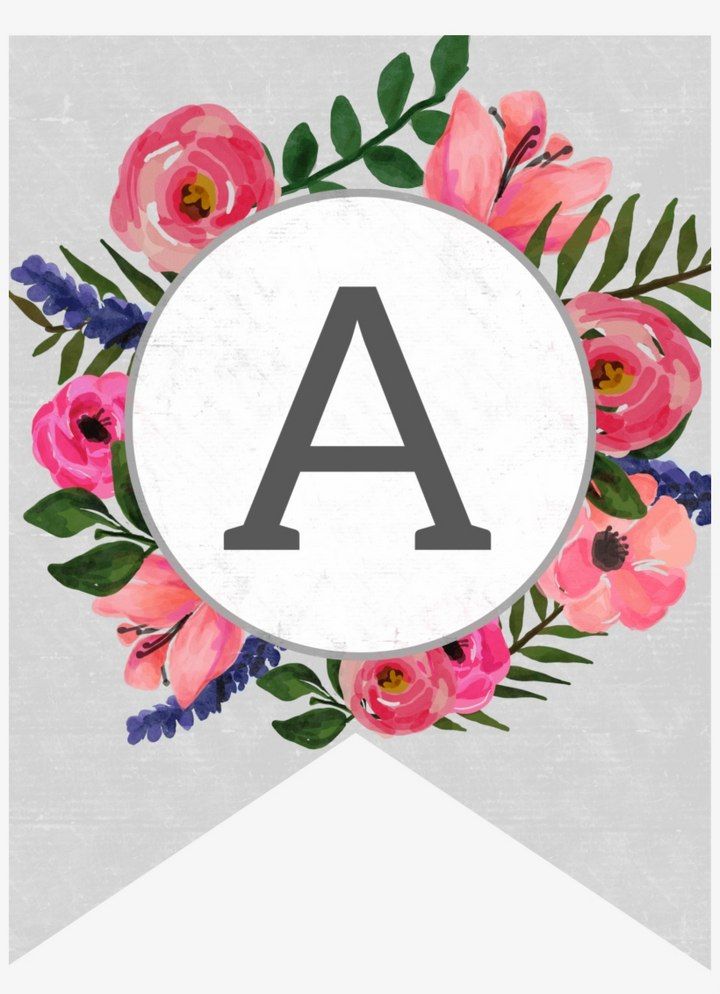 Here we have free printable floral banner letters that you can easily make by yourself. Get into the details of this project and get along with it. This is surely a joyful experience that you can have if you carefully follow the instructions and do this thing by yourself. Tutorial
21. Snow Printable Bunting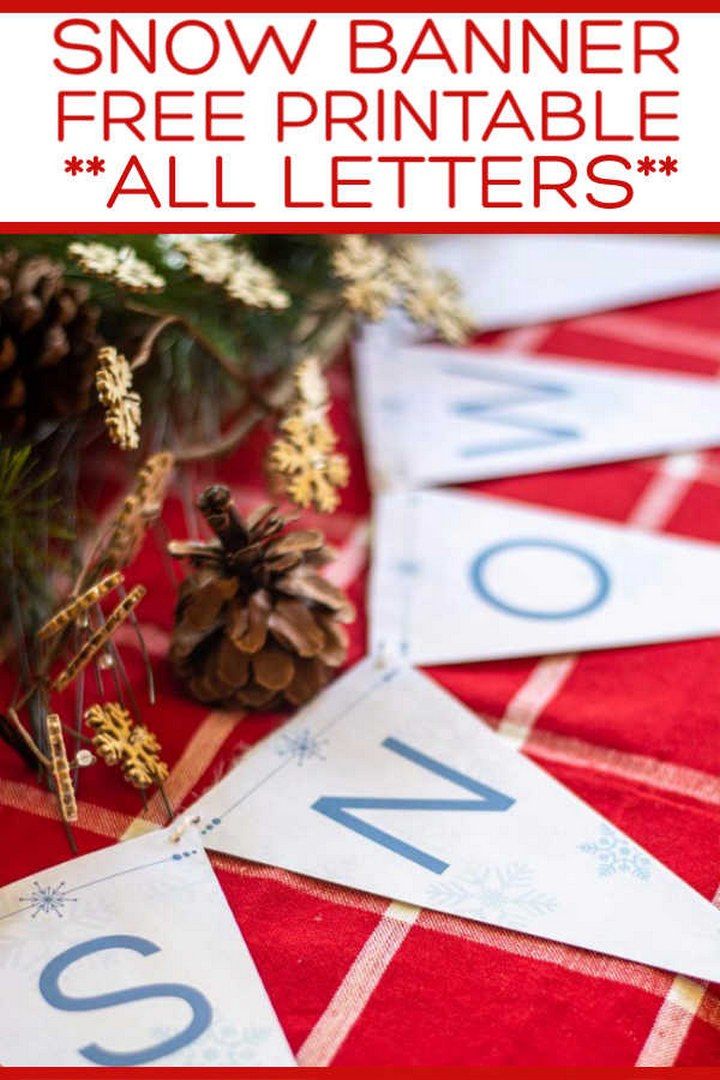 This is a snow banner free printable that you see here in this project. You need to cut and make the letters carefully by following the instructions given here in the details of the making. Besides this you will also find a tutorial here so that you can easily get along and get some perfect results Tutorial
22. Valentines Day Banner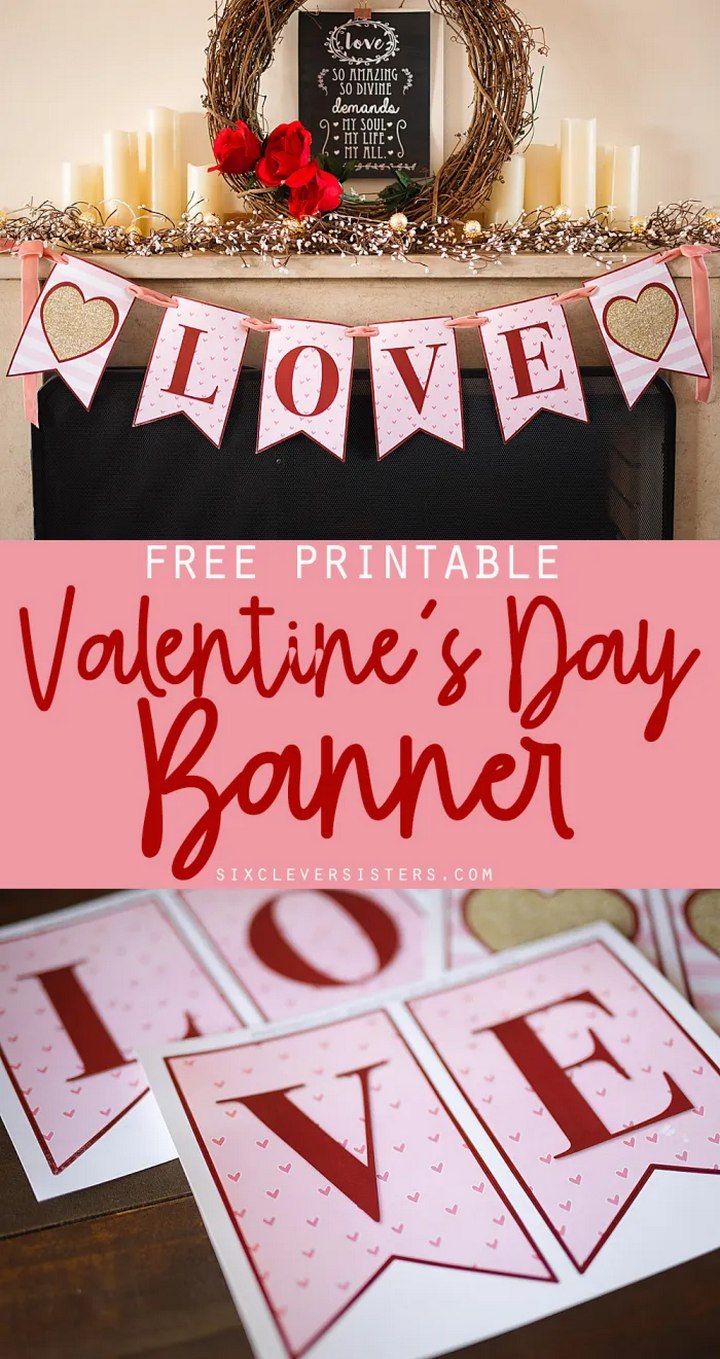 Take a look at this Valentine's Day banner here and make your own for the special occasion coming over this year. If you also wish to decorate your space for the valentines without spending money, this project can be of so much interest to you. You will also get the tricks and tips here to display this banner in a beautiful way Tutorial
23. Free Printable Birthday Banners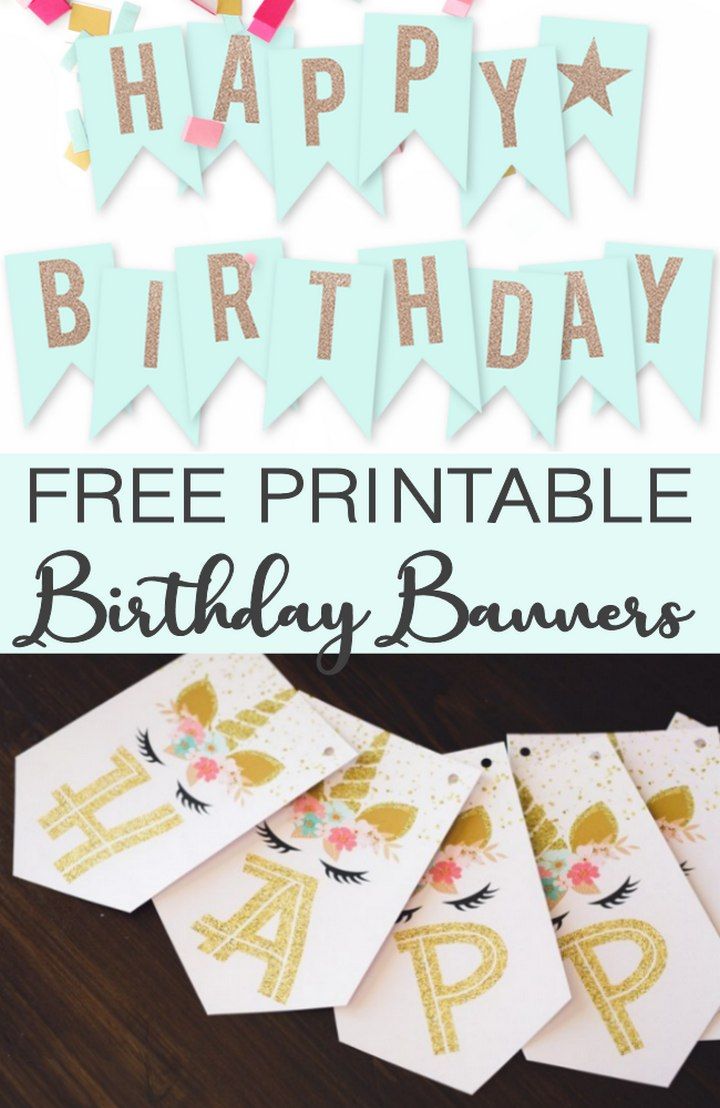 This diy project is all about making a free printable birthday banner. This banner includes neutral colors as you can see such as pinks and blues so that you can make the banner for both girls and boys. See the complete process and decide where you need to start off. Tutorial
24. Trucks & Tractors Birthday Boy Banner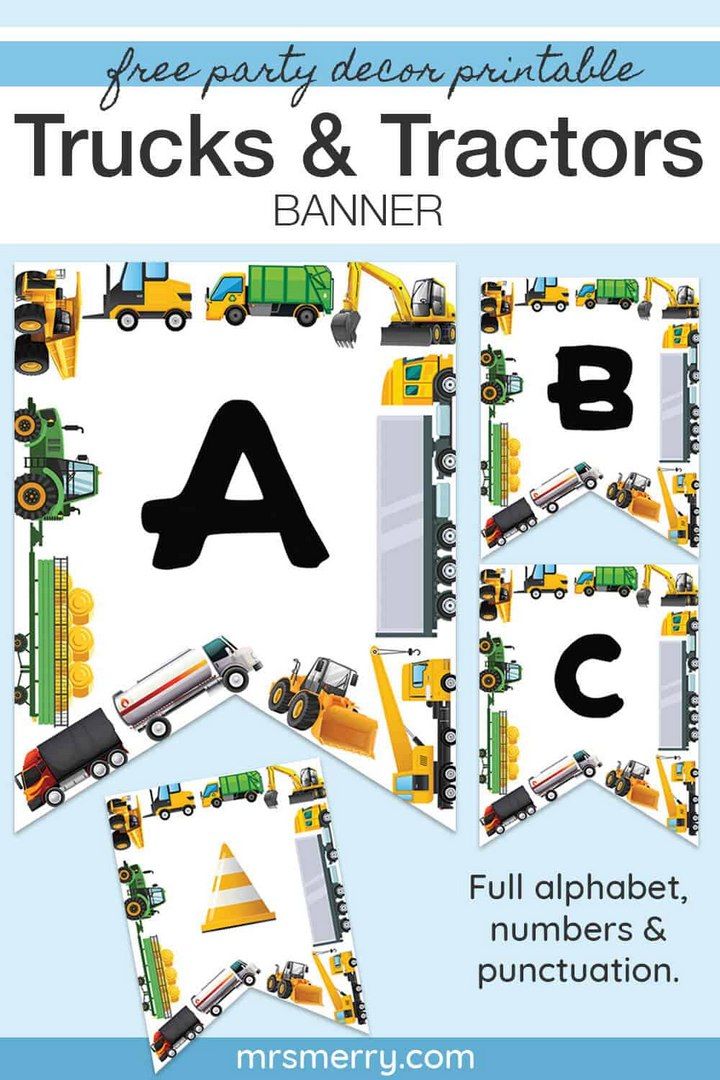 This DIY project is all about making a birthday corner for a boy that includes trucks and tractors. You can make your kid happy with this amazing and inspirational birthday party décor. Get the details correct so that you can achieve the best and most desirable results. Tutorial
Conclusion:
Pick and choose any of your favorite projects from here and try to make DIY free printable banners. You will find a variety of ideas, tricks, and tips here that will help you in the art and craft projects in the future. Tutorial and written descriptions are available with every project so that you can easily get along.