All these 20 Free Cow Crochet Pattern Projects are so amazing and astonishing that you will love them. If you also have the basic skills and knowledge of crocheting, you can easily do these projects. Most of the projects and plans that you see here are all about making crochet cow patterns however you will also see some other animal crafts as well. Some pretty colors are used in the making of these crafts that are relevant. You can make the kids happy with these engaging and exciting fun crochet cow crafts and toys.
As we know that the holiday season is approaching anytime soon, therefore such DIY projects will be of so much use as they will help you explore your own creative skills and talent. If you also like amigurumi patterns, these projects will definitely excite you. Crocheting is an art and it makes kids happier to see something creative made using skills like crocheting. Engage your kids in these fun-filled activities as well so that they may also learn new things.
1. Crochet Cow Rattle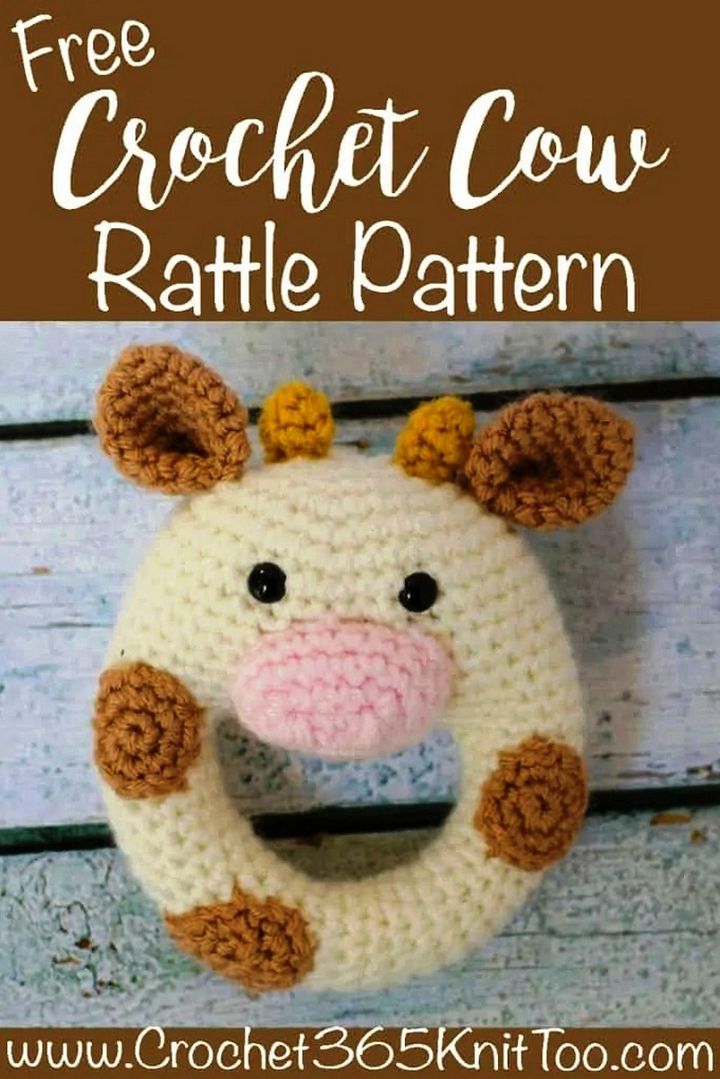 Have a look at this crochet cow rattle and see how your version can be made. This cow rattle is made using a combination of light brown and ivory and this looks the sweetest. The supplies that we need are a crochet hook, worsted weight yarn, scraps of yarn, safety eyes, polyfill stuffing, and a toy rattle noise insert. Tutorial
2. Crochet Cow Hat Pattern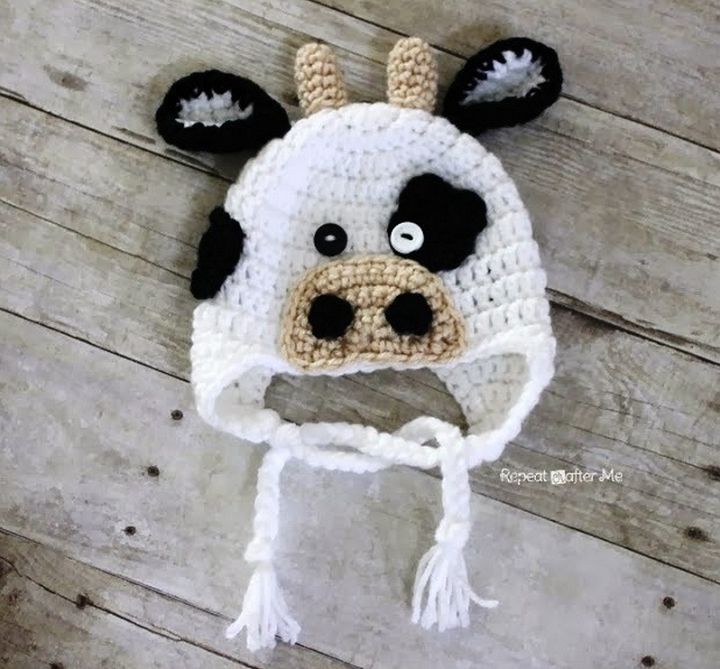 With the crochet cow pattern that we see here, we can make a crochet cow pattern. The materials that we need are a crochet hook, worsted weight yarn, tapestry needle, stitch marker, yarn scraps, and buttons. See the sizes and the measurements according to them so that you get the desired results. Tutorial
3. Lolly Baby Cow Amigurumi-free Pattern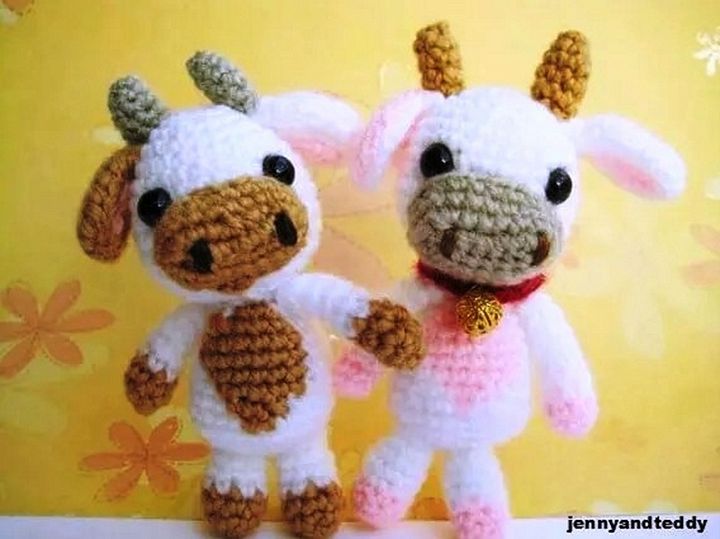 Take a look at this DIY baby lolly baby amigurumi pattern and see how you can also make this all by yourself. To make this baby cowl you will need a few materials like acrylic yarn, plastic eyes, fiber polyester, sewing yarn needle, embroidery, ribbon and crochet hook. Tutorial
4. Moomoo Crochet Cow Amigurumi Pattern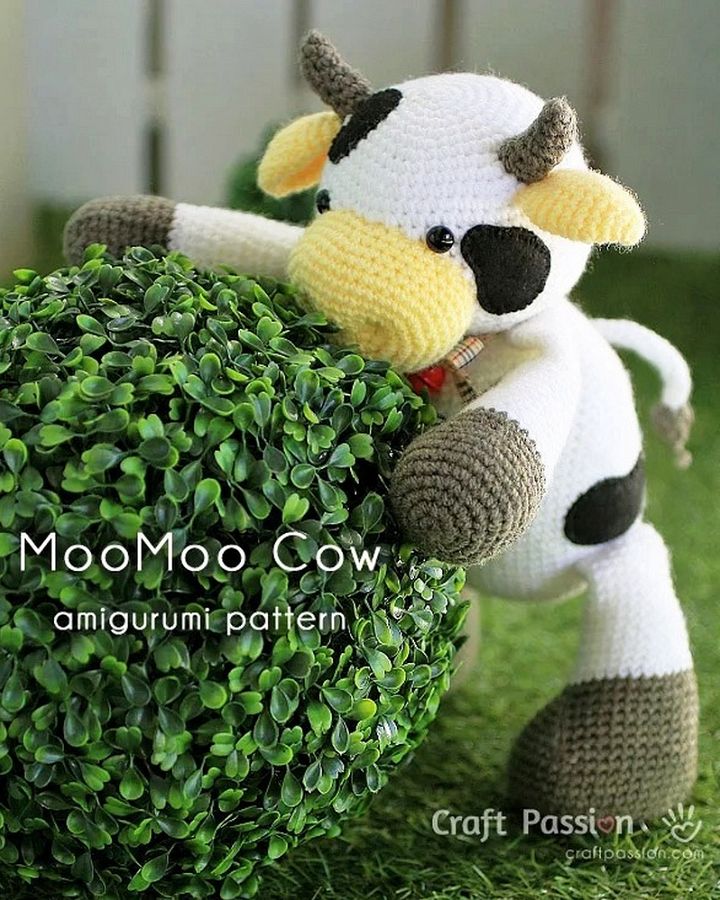 Look at this crochet cow amigurumi pattern here and see if you can also make this all by yourself. Before you begin, you first should start off with the amigurumi pattern. The materials that you will need here are acrylic yarn, black felt, safety eyes, ribbon and sewing thread. Tutorial
Crochet Wall Hanging Patterns – Instead of buying expensive wall steps, instead of hanging the Crohite wall that is not fully according to your choice, with some easy and fast cricket skills.
5. Free Crochet Cow Pattern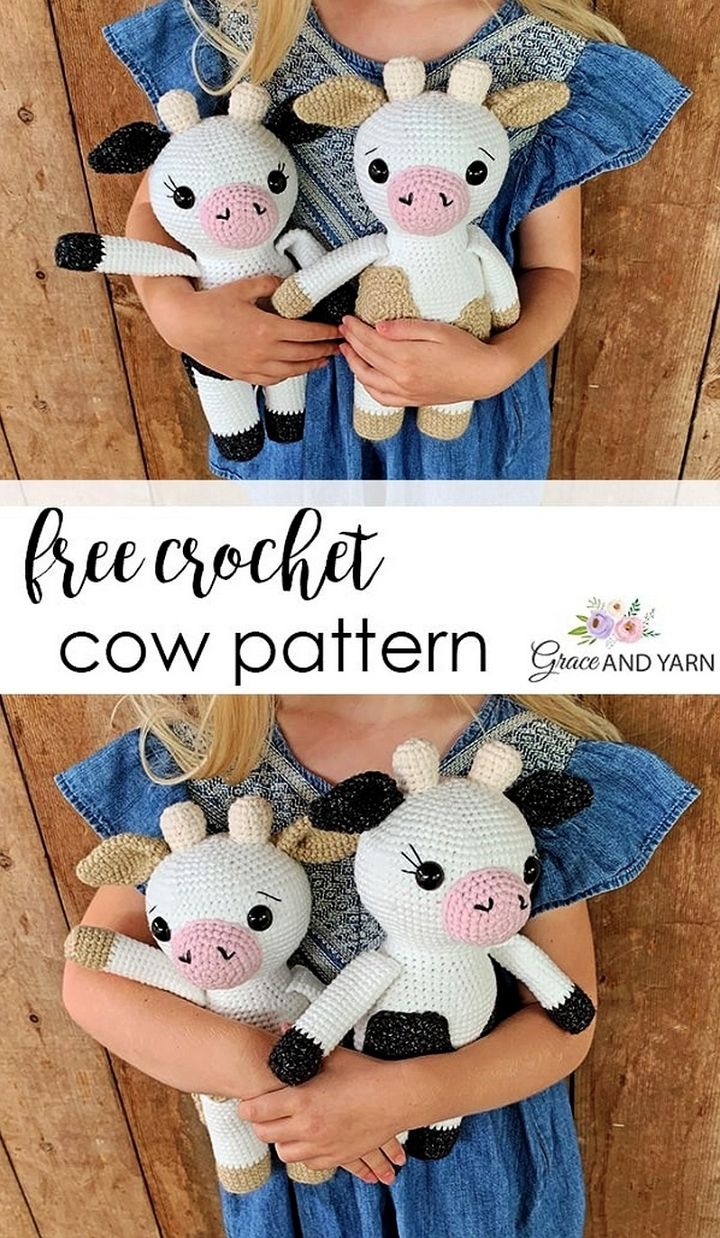 This DIY free crochet cow pattern is all you need to learn if you are looking forward to some fun crochet projects. You will need worsted weight yarn, crochet hook, safety eyes, embroidery thread, scissors, tapestry needle, stuffing, and stitch markers. Tutorial
Crochet Gnomes – These Crochet Gnomes are useful for Decorating Your House and last-minute Christmas gifts.
6. Amigurumi Cow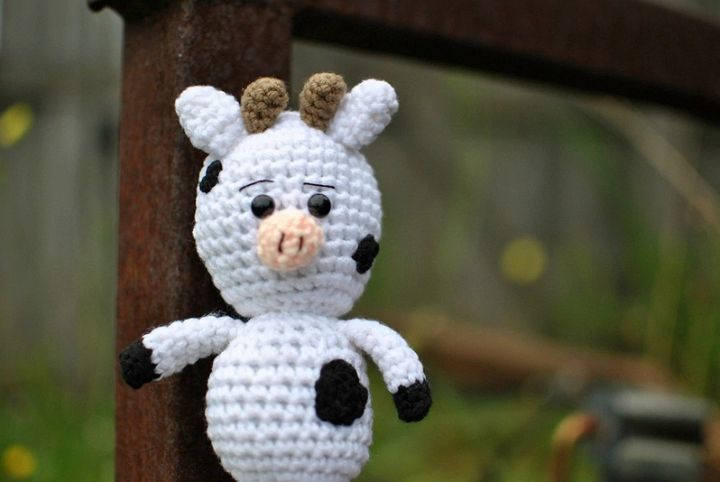 Amigurumi patterns are always amazing and evergreen when it comes to crocheting. Color combination of black and white is used in the making and they look relevant. You will need yarn, a hook and some basic crochet supplies. A complete detailed written description along with a quick video tutorial is given here so that you can easily catch up with the project. Tutorial
7. Crochet Cow Pattern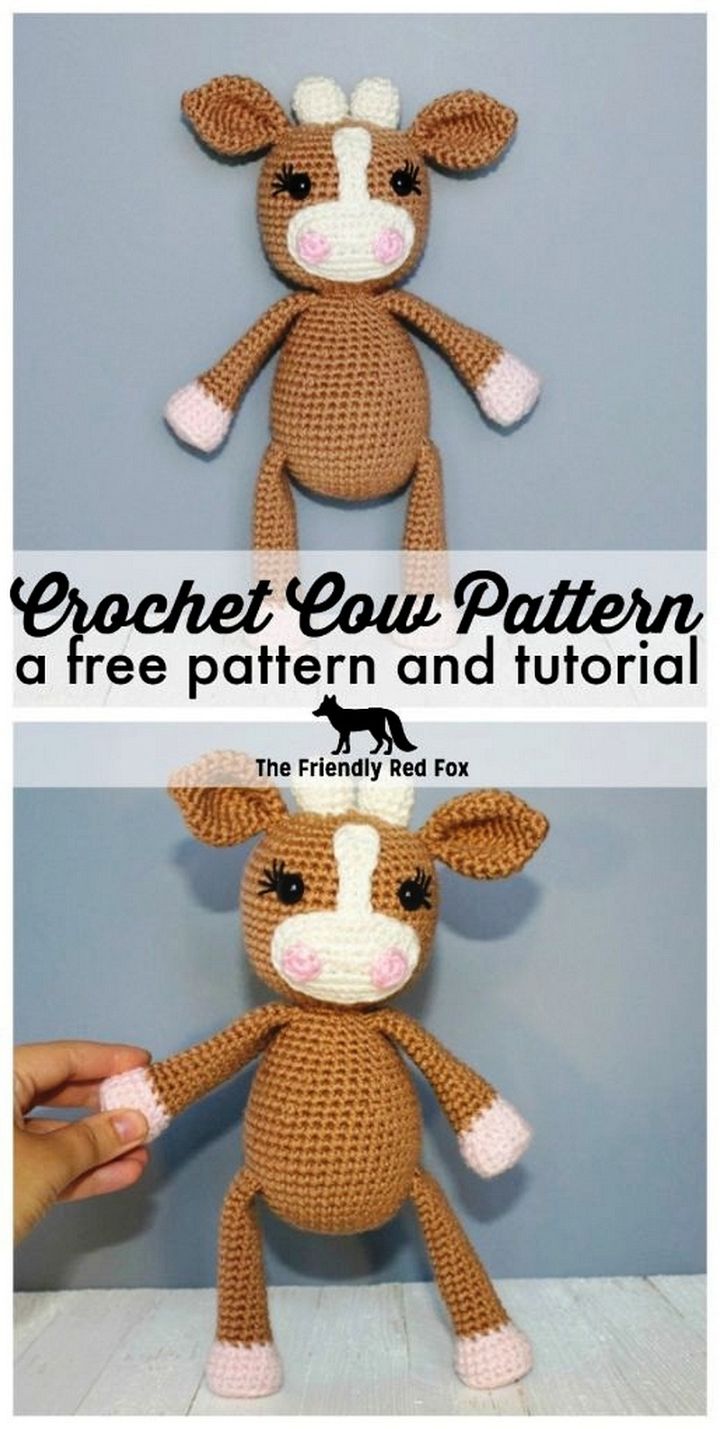 This crochet cow pattern is giving you an opportunity to use your basic crocheting skills and make some masterpieces. You will need yarn along with other supplies like a crochet hook, tapestry needle, polyfill, safety eyes, stitch marker, and embroidery thread. Tutorial
8. Temple the Little Cow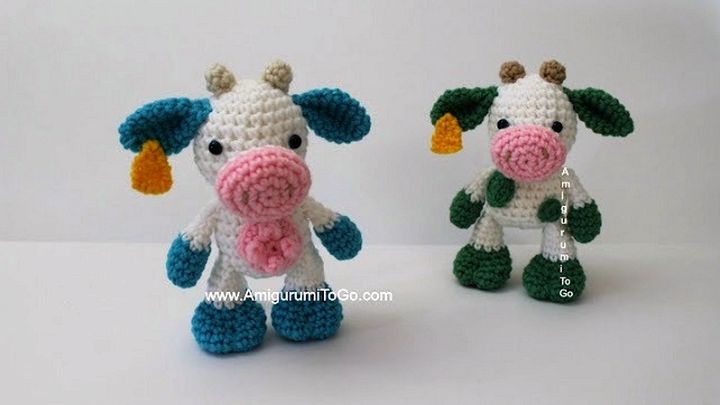 Have a look at these adorable little crochet cows and see how your version can be made. You will need yarn, scissors, and polyester filling. See the details of the stitches and rounds here so that you can also make some amazing masterpieces like the ones you see here. Tutorial
9. Crochet Cow Pattern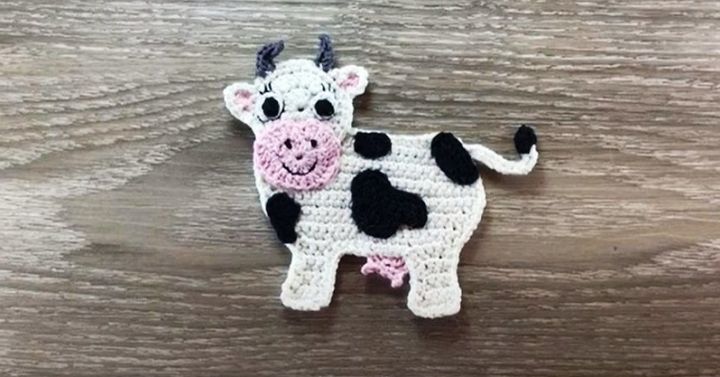 See this crochet cow pattern and you will be amazed by the results. To make this adorable craft you need white, black, grey, and pink cotton or wool. Besides this, you will also need a crochet hook, scissors, thread, a sewing needle, and a darning needle. Tutorial
10. Cow Tipping, The Humane Way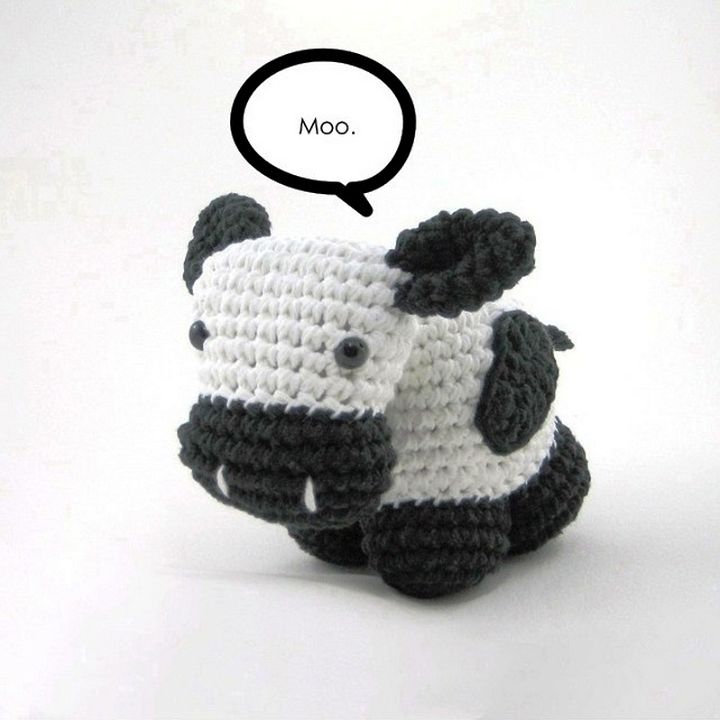 This DIY cow tipping project is so interesting that you will definitely want to try this. If you are also looking forward to making some fun and exciting crafts over the weekends. You will need a crochet hook, bulky weight yarn, stuffing, safety eyes, a noisemaker can, needle and thread, scissors, and a tapestry needle. Tutorial
11. Easy Knitting Patterns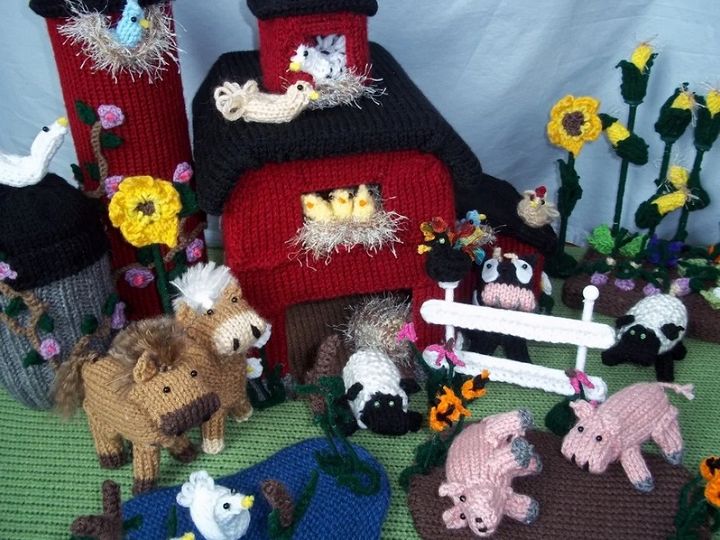 See this easy knitting patterns for making a cow toy and you will be amazed. The crafts that you will learn to make with these knitting patterns are barn, chicken coop, corn crib, haulage silo, pig, and much more like horses and cows. See the details in the tutorials and written descriptions so that you can achieve the desired results. Tutorial
Crochet Summer Tops Patterns – All the ideas here are economic and need to follow the patient's precision style to achieve the best and most desired results.
12. Awesome Animal Finger Puppets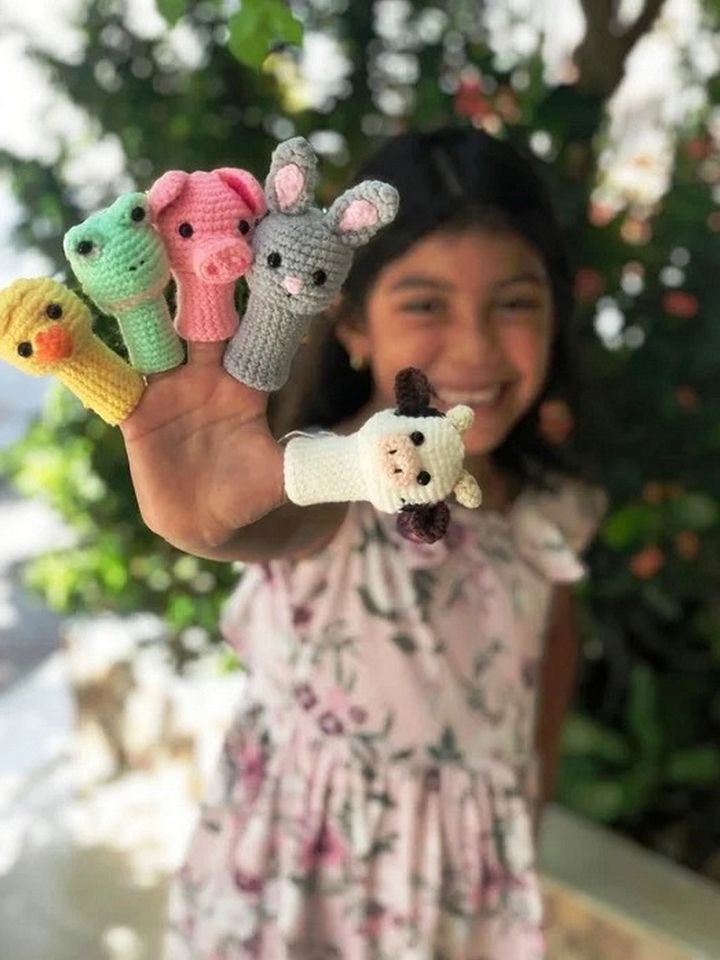 Look at these awesome animal finger puppets here and see how you can also make these all by yourself. You will need yarn of your choice of color. Besides this you will also need crochet hook, markers, crochet needle, security eyes and polyfill stuffing. Tutorial
13. Caroline the Cow Free Amigurumi Pattern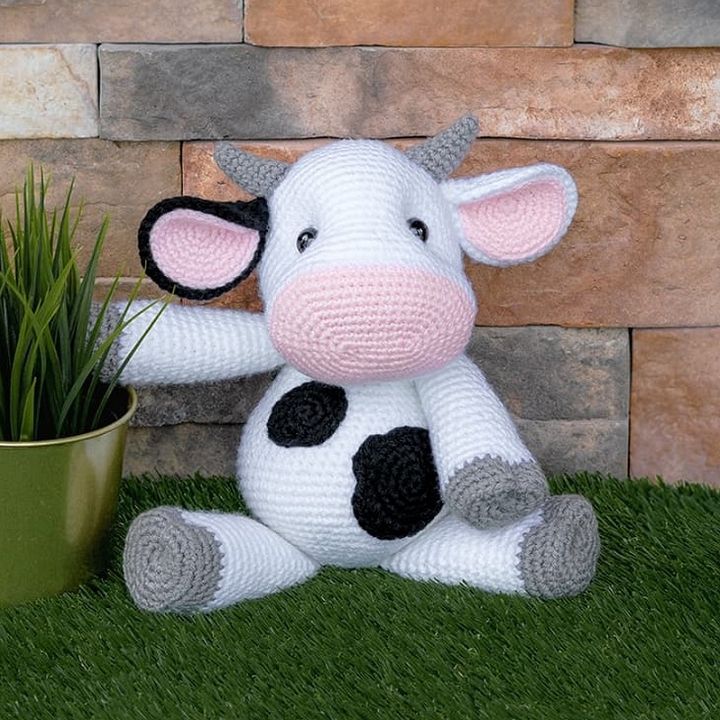 This cow free amirugumi pattern will teach you to make the best cow toys ever. If you have some basic crocheting skills and knowledge, you will easily be able to do projects like these. You will need some intermediate skills of crocheting for this project. Besides this you will also need crochet hook, safety eyes, stitch markers, yarn needles, fiber fill and ink marker. Tutorial
14. Amigurumi Cow – A Free Crochet Pattern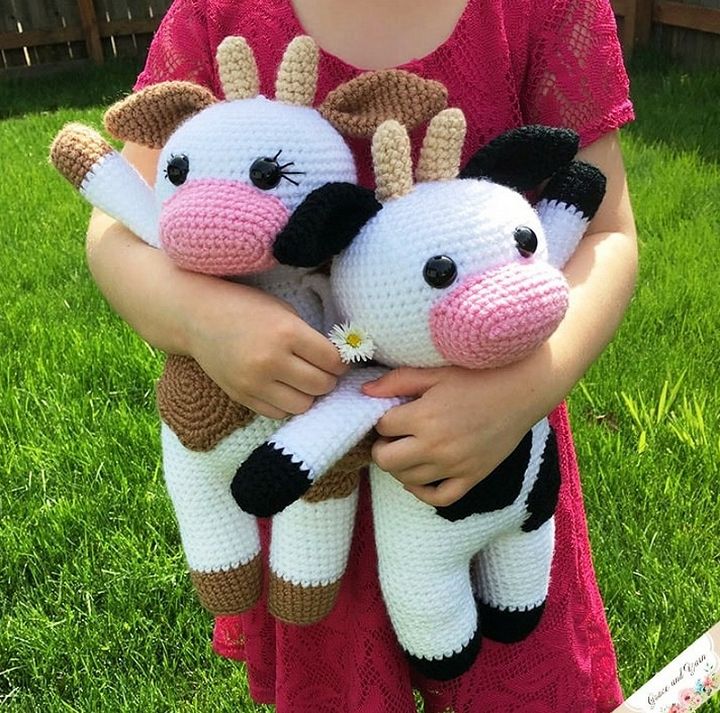 This amirugmi cow surely looks attractive and appealing. To make this craft you need to have a few supplies like crochet hook, safety eyes, embroidery thread, scissors, tapestry needle, stuffing and stitch markers. Grab the supplies and get started. Tutorial
15. Free Crochet Cow Pattren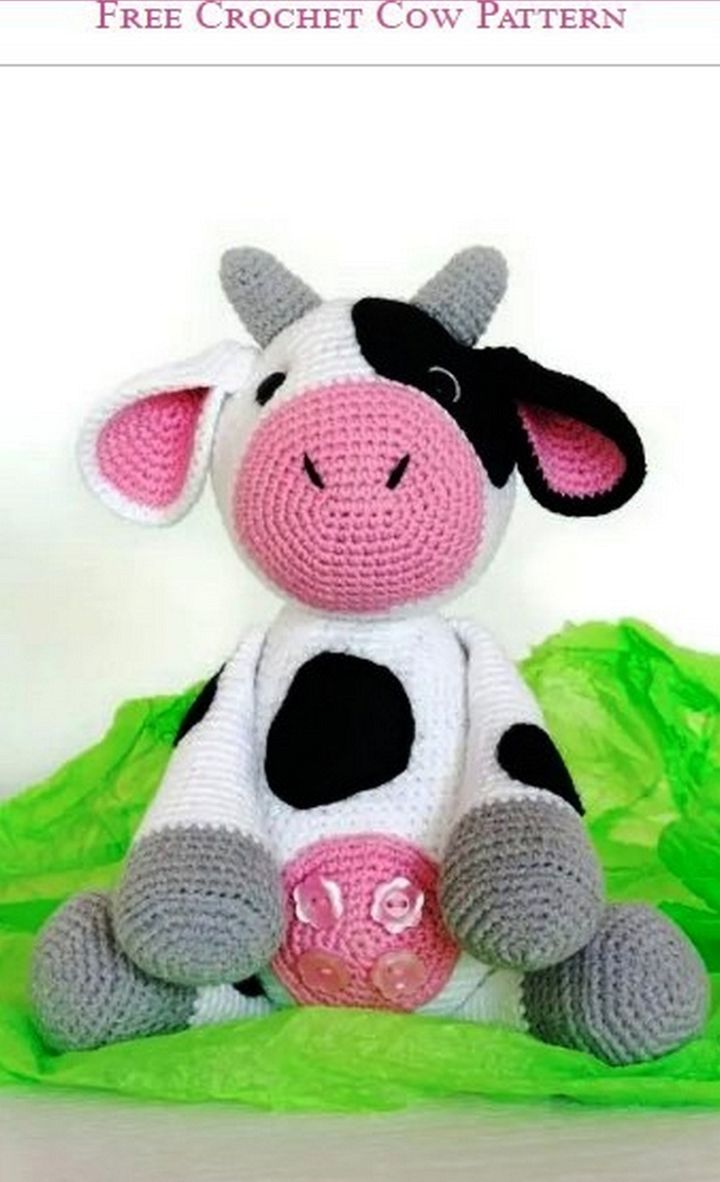 Have a look at this diy free crochet cow pattern that you can also make all by yourself. If you are good at crocheting and have some basic crocheting skills, you will surely love this project. With a little bit of effort you will be able to get the desirable results as shown in the project. Tutorial
16. Bonnie the Cow – Free Crochet Cow Plushie Pattern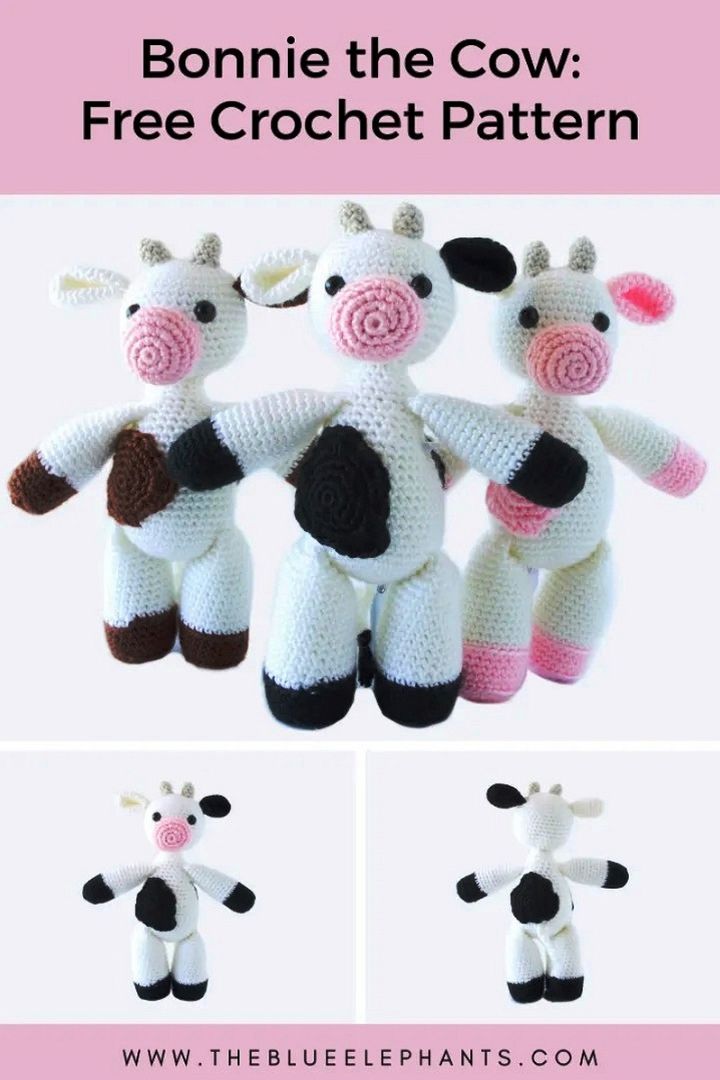 Look at this bonnie the cow crochet pattern here and see if you can also make this. For this project you will need crochet hook, medium worsted weight yarn, stitch markers, tapestry needle, safety eyes and polyfill stuffing. Gather the supplies and get started. Tutorial
17. Hilde The Cow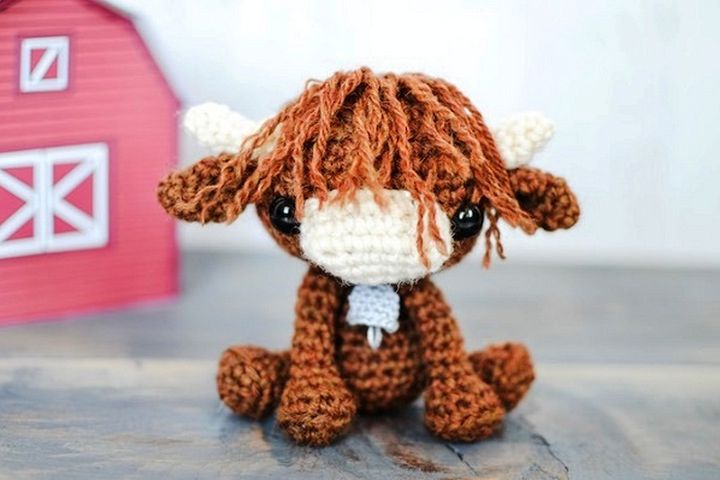 This diy craft here is named as hide the cow and it looks amazing. This is an adorable craft that anyone can easily make with some of the beginner and intermediate level of crocheting skills. The typical brown color of a cow is used in the making of this craft. Tutorial
18. Amigurumi Cow Crochet Pattern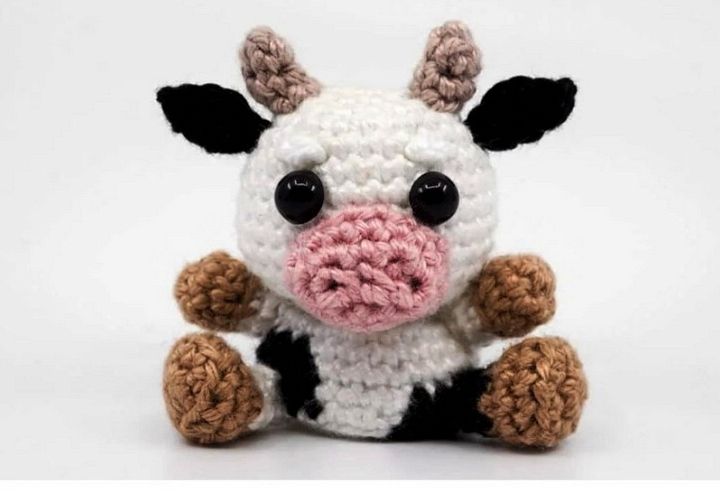 In this cow crochet pattern some very nice and original colors of a cow are used in the making and they look great. The colors that are used here are pink, white, black and brown. You can make this diy cow toy easily with your basic to intermediate level of crochet skills easily. Tutorial
19. Crochet Cow Lovey Blanket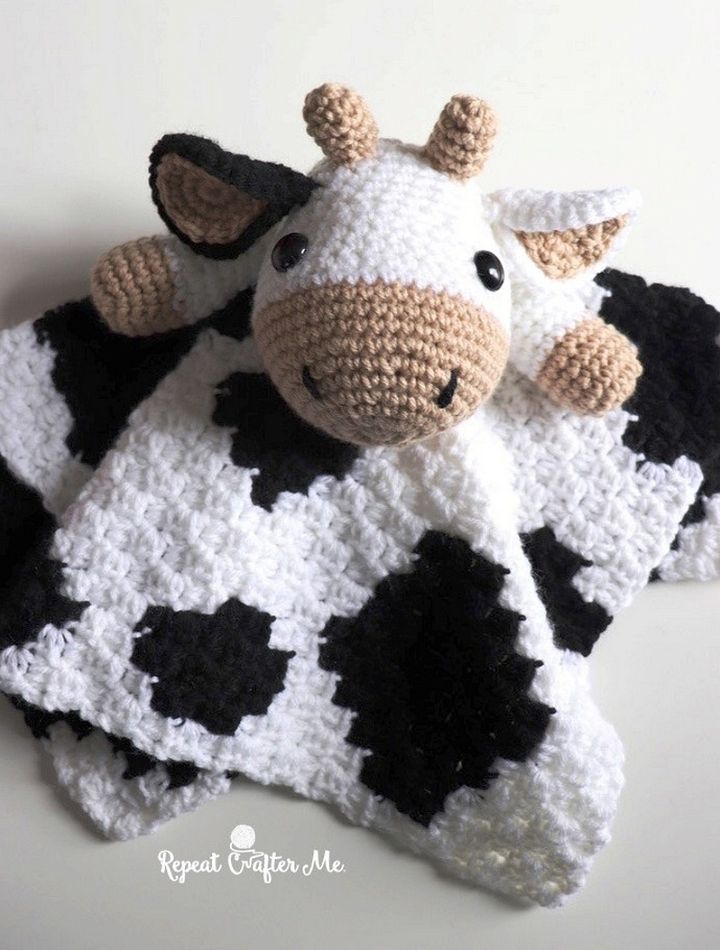 See this crochet cow lovey blanket over here and see how you can also learn to make this. A short video tutorial is given here that will show you everything in detail about the making of this craft. You will need yarn, crochet hook, safety eyes, polyfill fiber stuffing and tapestry needle. Tutorial
20. Cow Amigurumi Free Crochet Pattern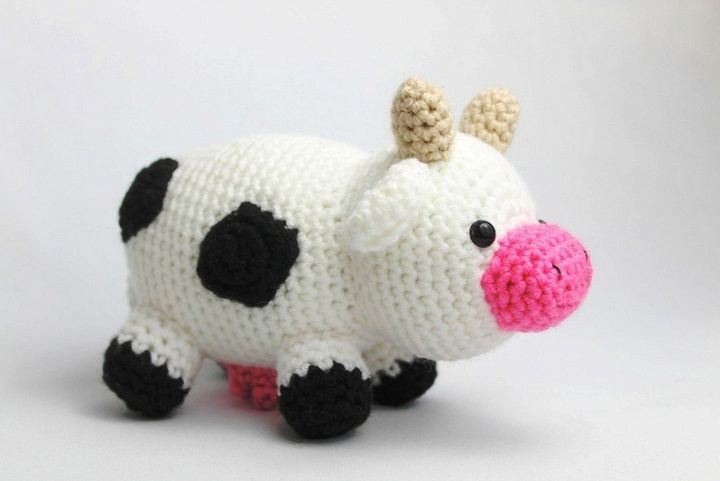 This is a free amirugumi crochet cow pattern here that you can easily make all by yourself. Some very pretty colors are used in the making. With a little bit of effort you will be able to make this masterpieces and be proud of your own creativity and skills. Tutorial
Conclusion:
Pick and choose any of your favorite projects from here and see how things work for you. If you like crocheting, these projects will make you feel excited. All the projects that you see here have all the written details along with a quick video tutorial