All the 25 Recycle Old Tires Into A Cute Chair Planters that you see here are about turning an old tire into something amazing and more ineetsrging. Instead of letting an old tire sit in your garage for no reason at all, use it to make something that you can use and that is appealing to the eyes. Among these DIY tire ideas, you will find a variety of projects such as converting an old tire into a seat, planter, Wall Hanging Planter, and much more. You can also make coffee tables using old tires and impress everyone coming over.
With the help of one of these diy tire projects, you can also make a nice Dog Bed, plush stool, tea cup planter, and much more. Besides written descriptions, you will also find tutorials on every project so that you can make some perfect masterpieces. You can also make sandboxes using old tires. Once you are done with making these amazing DIY crafts you will definitely be proud of your own creative skill and innovative ideas.
1. Recycle Tire Planter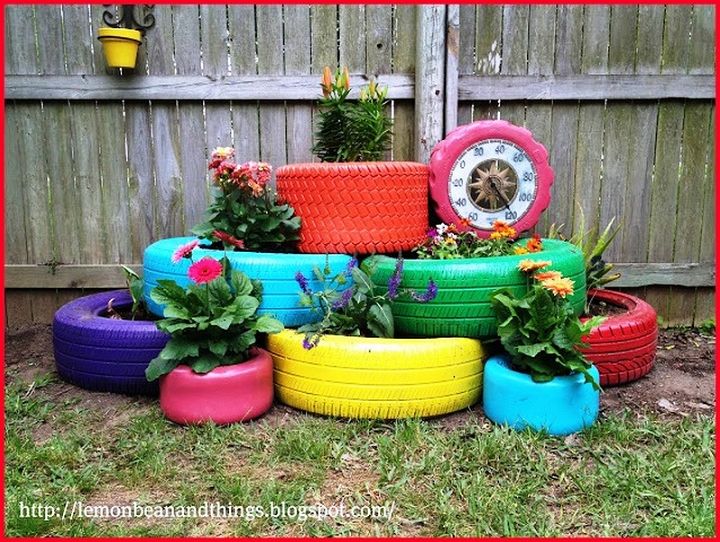 Recycled projects are always amazing as they utilize useless materials and turn them into something inspirational and appealing. the list of supplies include used tires, plastic burlap feed bags, bags of cheap top soil, spray paint, plants, old pallet, hammer, saw, staple gun, drill, scissors, gorilla glue, temperature dial and pug helper. Tutorial
2. DIY Recycled Tire Coffee Table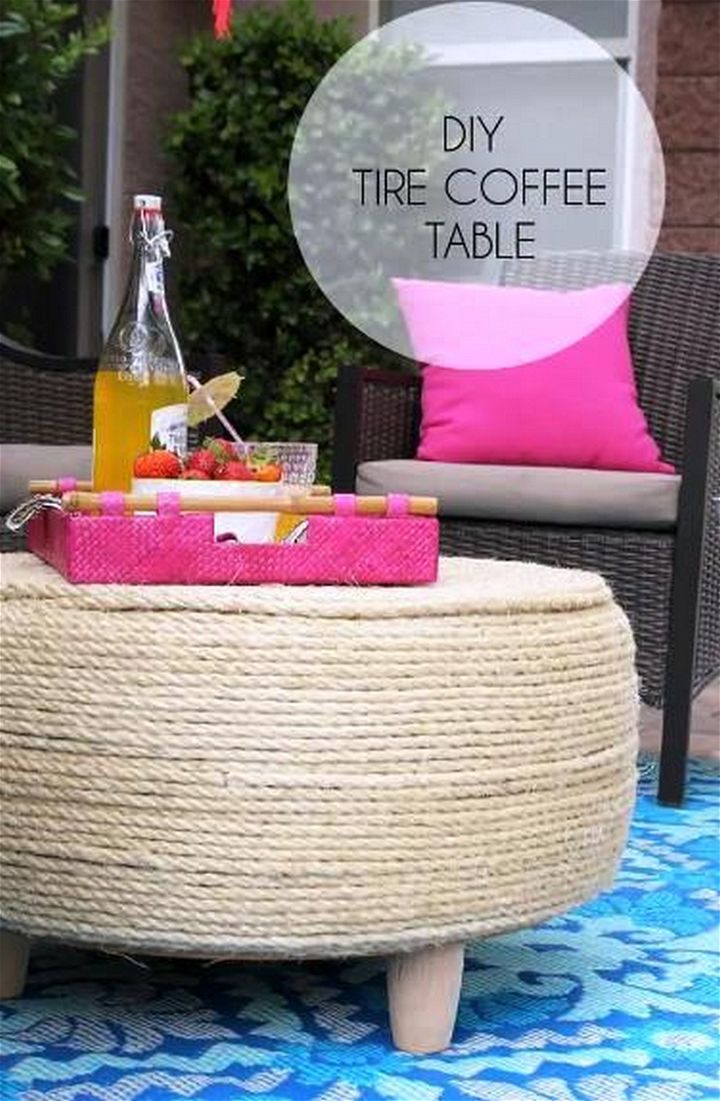 Use some used tires to turn them into a nice and elegant coffee table like the one you see here in this project. Besides an old tire you will need some more supplies such as plywood, jigsaw, drill, screws, furniture feet, sisal rope and construction adhesive. Tutorial
3. DIY Dog Bed From A Recycled Tire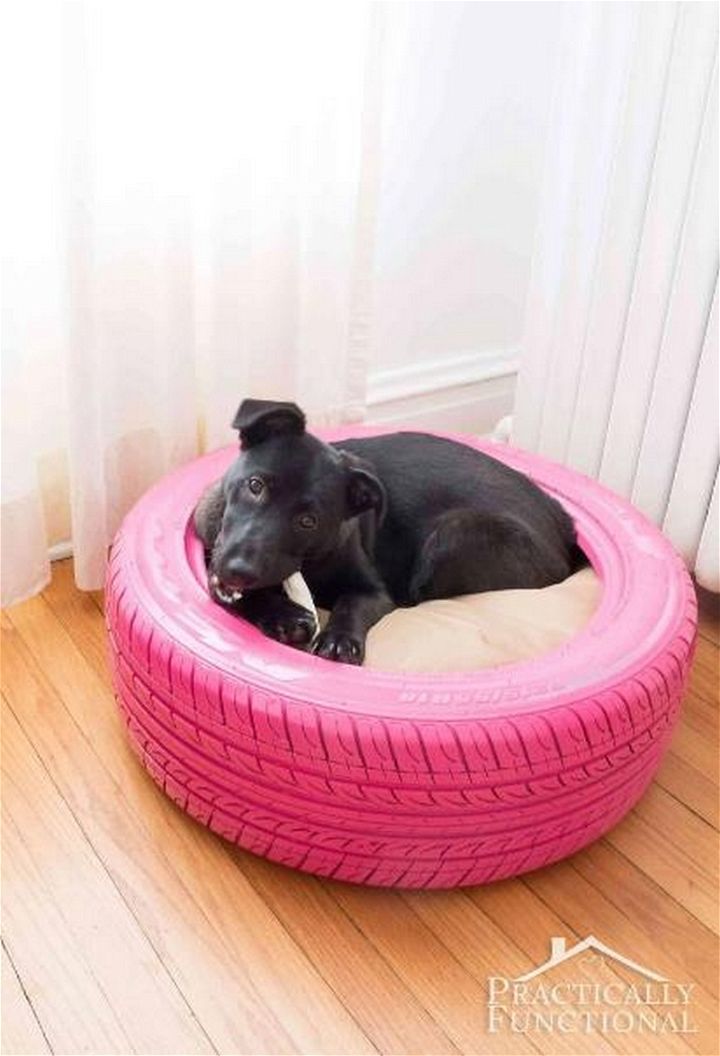 Get your dog a nice and new place to sit back and relax. For this new dog bed you will need old and recycled tires. You will need a stiff bristle brush along with other supplies that will help and assist you in making something that you can really feel proud for. Tutorial
4. How To Make A Plush Stool With An Old Tire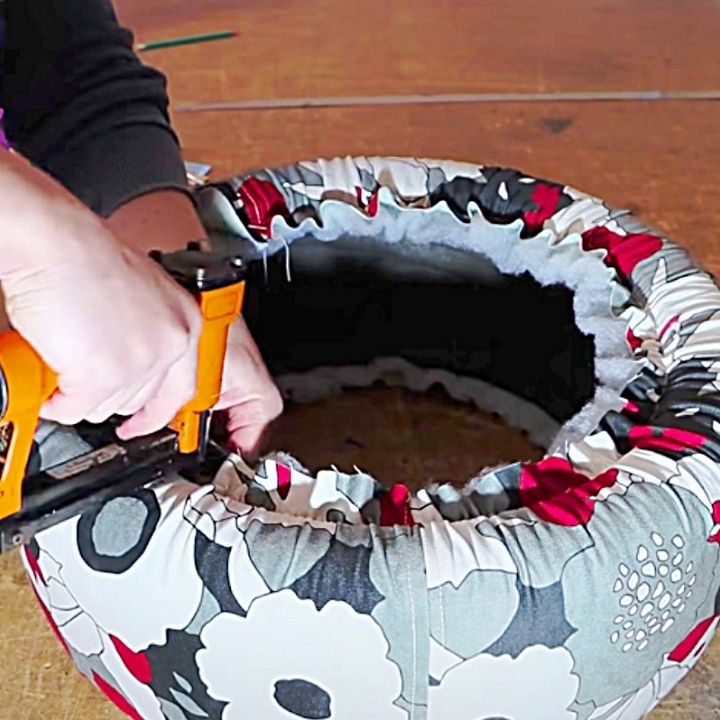 If you are interested in making a plush stool out of an old tire, you must see the details of this project here. The process that you see here is simple and only with a little effort and love for art and craft you will be able to make something really worth all your efforts like this plush stool here. Tutorial
5. DIY Old Tires Into Flower Pots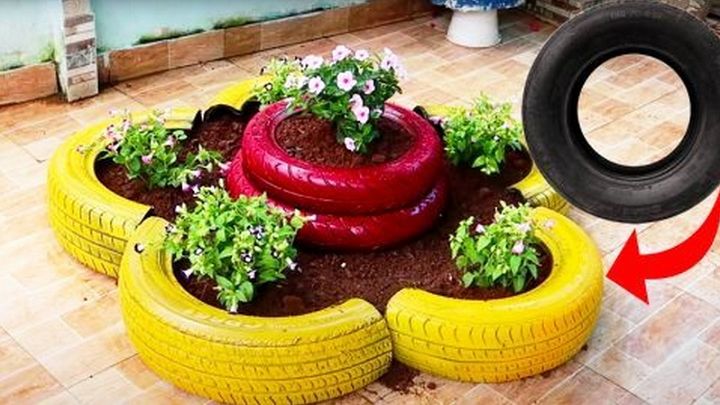 Let's turn some old tires into flower pots with the help of this project. Besides old tires you will also need some other things such as spray paint, marker, yardstick, powers saw, utility knife, adhesive glue, soil and flowers. Grab the supplies and get this done over a weekend to make your outdoor space look better than ever before. Tutorial
6. How To Make A Teacup Planter From Old Tires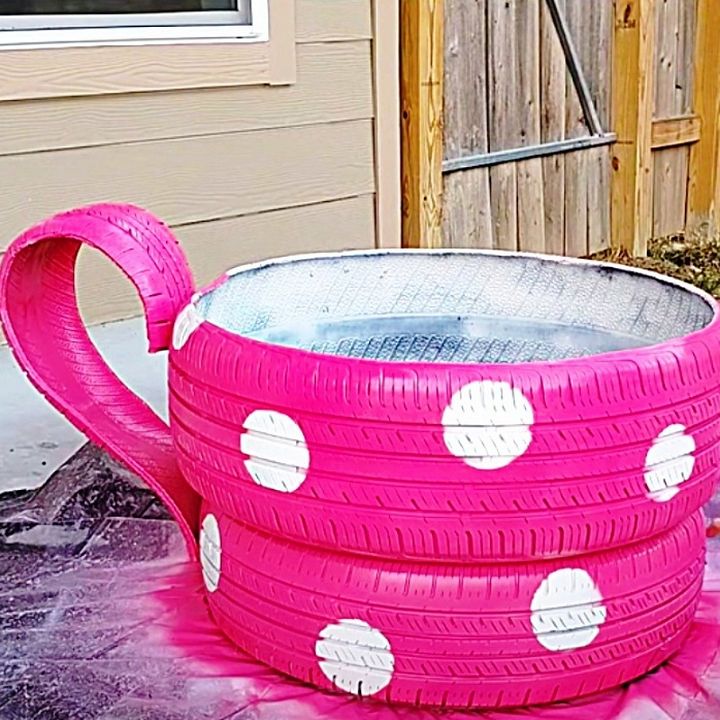 Let see how we can make stylish and good looking tea cup planters using the old tires that we don't have to use anymore. You will get a lot of tricks and tips from here that will help you in the future projects of art and craft. See the details of this craft and see how things can be done in your way. Tutorial
7. DIY Tire Flower Planter Tutorial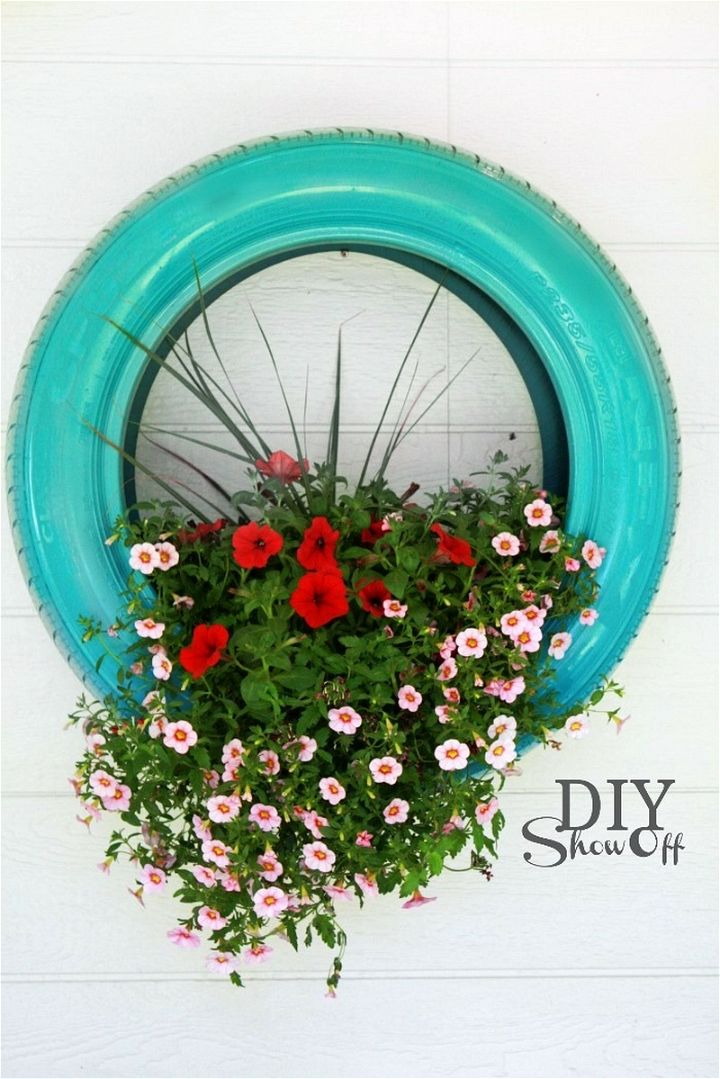 Let's see how a flower planter can be made using old useless tires. This craft will definitely add a lot of spark in your outdoor space. You can play around colors while working over this project. Besides old tire you will need spray paint, potting soil, flowers, chain and s hook. Tutorial
8. Trendy Tire Table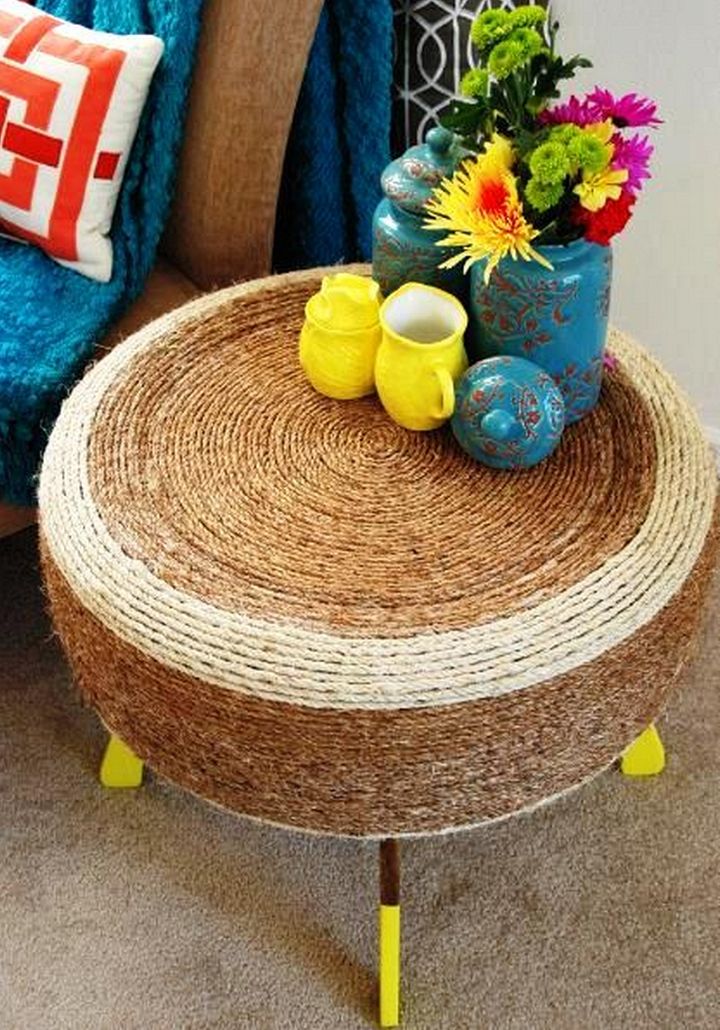 Adding a nice creative table in your house is no big deal now. You can now use old tire to make a lovely table like this one. You also need a jute rope so that you can wrap it over the tire in such a way that it looks eye catching and inspirational. Get into the details of this craft to see how you can achieve desirable and perfect results. Tutorial
9. The Easiest DIY Sandbox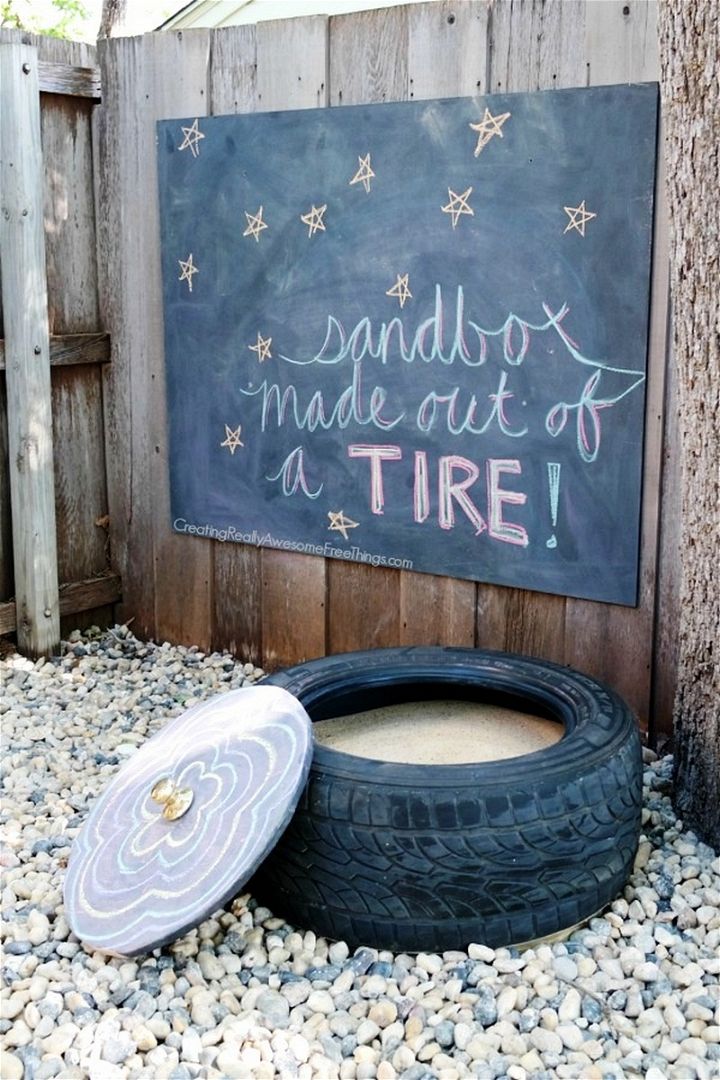 Making sandboxes can be so much fun however if you are in need to a sandbox immediately and don't want to spend extra money over them, this project will be of great help for sure. This sandbox is made using old tires. With only a little bit of effort you will be able to get perfect results. Tutorial
10. DIY Tetherball Set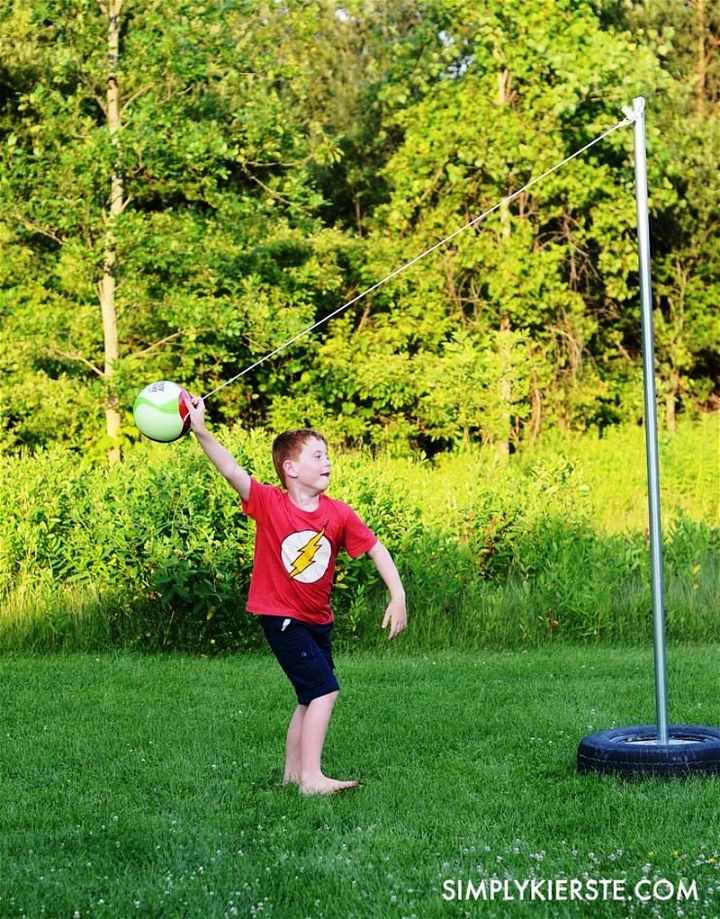 This is a tetherball set that you see here. For this craft you will have to use tires that are almost useless for you now. A list of supplies is given here so that you can first grab them and then start your mission. Besides this you will also need to see the tutorial here in order to get the perfect and remarkable results. Tutorial
11. DIY Ideas Made With Old Tires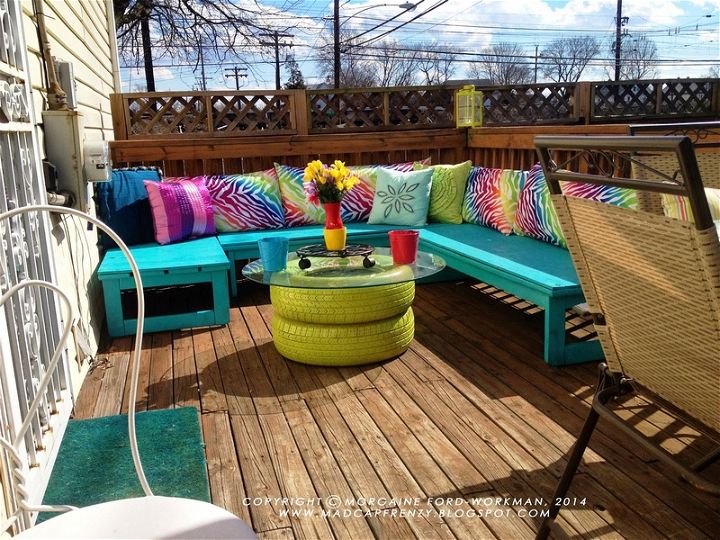 Old tires are something that can be used for a variety of purposes and can make excellent masterpieces. This diy project is also about creating something exceptionally amazing and awesome using old tires. If you also want some more seats in your outdoor space, you must see in this project how this can be done using tires. Tutorial
12. Repurposing Old Tires Into Chicken Baths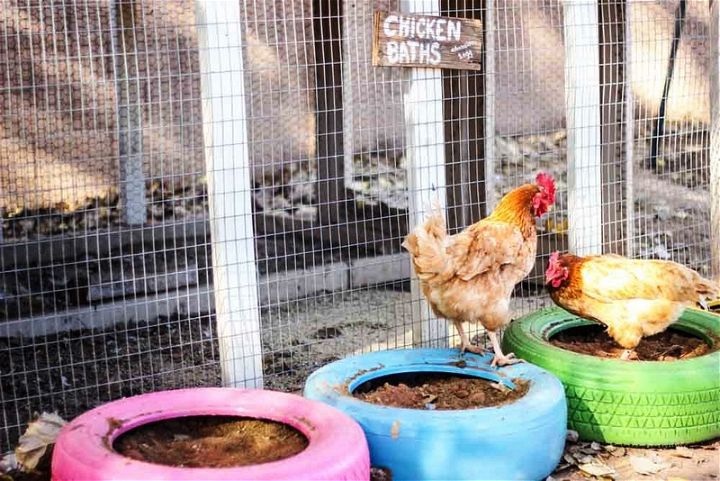 Are you also amazed to see the tires being used for chicken baths here in this project? If yes then you are also advised to do the same. You can use old tires to make chicken baths in a few simple steps given here. Besides this you will also get to see the complete video tutorial where you will learn the step by step process. Tutorial
13. Rolling Storage From Old Tires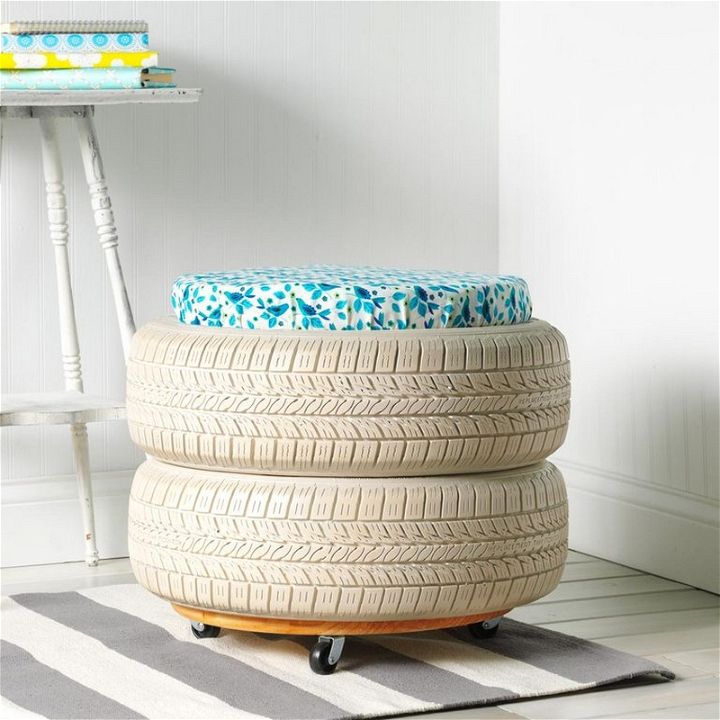 Old tired can be so intelligently used in the making of rolling storage that is also a seat. Get into the details of this craft and see how you can also convert useless tires into something so useful like storage space. As it has wheels at the bottom so you can grab it anywhere in the house wherever it's needed. Tutorial
14. Make Garden Stools That Look Like Toadstools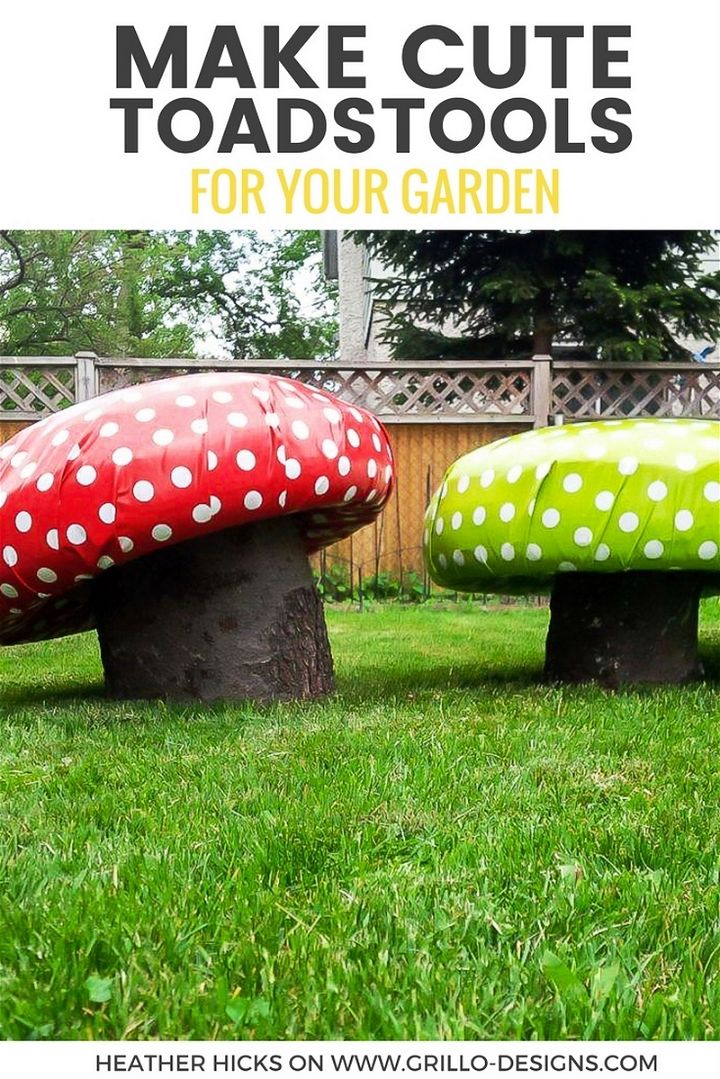 Are you ready to make garden stools like the one you see here using old tires? If yes the you must see how this process is done within a few steps in only a limited budget. A complete detailed project is given here along with all the details and the tutorial that will help you achieve the perfect results at the end. Tutorial
15. Ladybug Tire Swing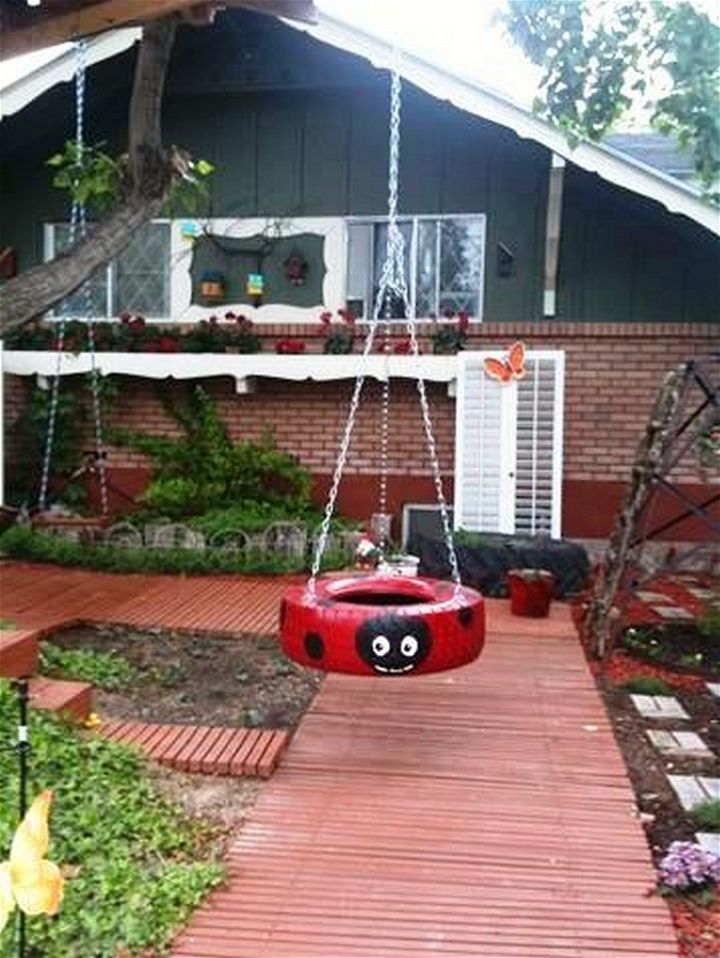 Tire swings are something that are popular and are made in many households using tires. If you also like such swings, you can grab an old tire and turn it into a lady bug swing like the one you see here. You will start off by taking an ordinary tire first and then paint it red. You will then add some chain and hardware. Once it's done, hang it with a tree house. Tutorial
16. Ever Tire of Flowers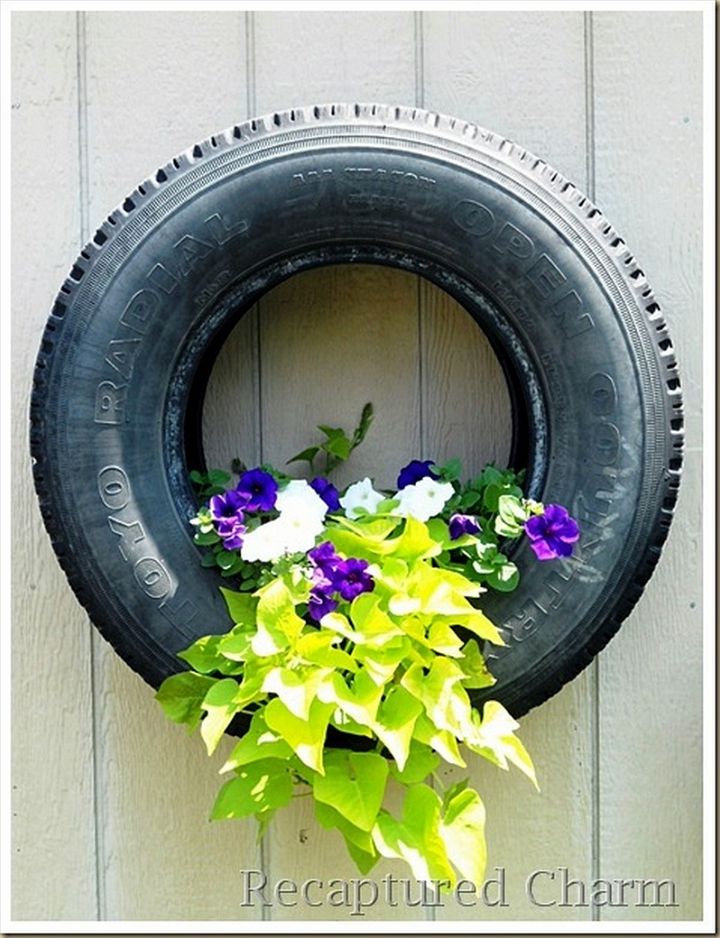 Look at this tire of flowers and see if you can also make this by yourself. When you use recycled items you tend to contribute positively towards the environment. Use old tires and combine them with beautiful flowers to make an amazing craft that you can hang anywhere in the outdoor space. Tutorial
17. How to Make "Frieda La Frog" From Recycled Tires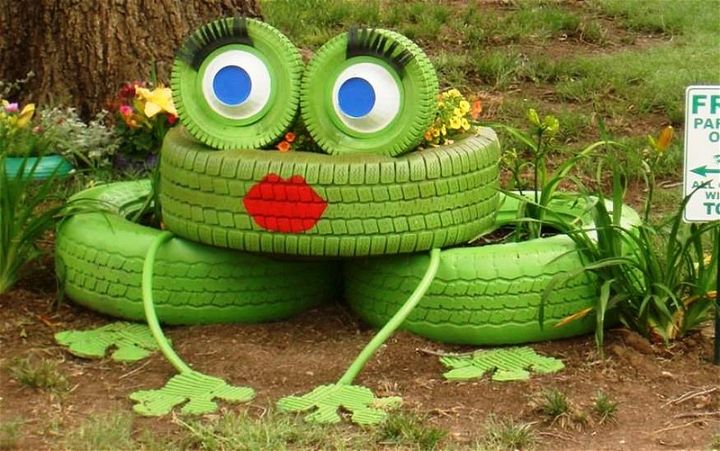 Do not throw away the recycled tires instead make something more amazing like the one you see here. This is a Frieda la frog project that you will love to do by yourself. You will need car tires along with a few truck tires too. Besides this you will also need plastic bowls, tire inner tube, garden hose, and recycled rubber door mat, lid from a broken storage tote, cement, silicon caulk, spray paint and brush paint. Besides this you will also need some tools that are also listed here in the details Tutorial
18. DIY Kids Seating Using A Tyre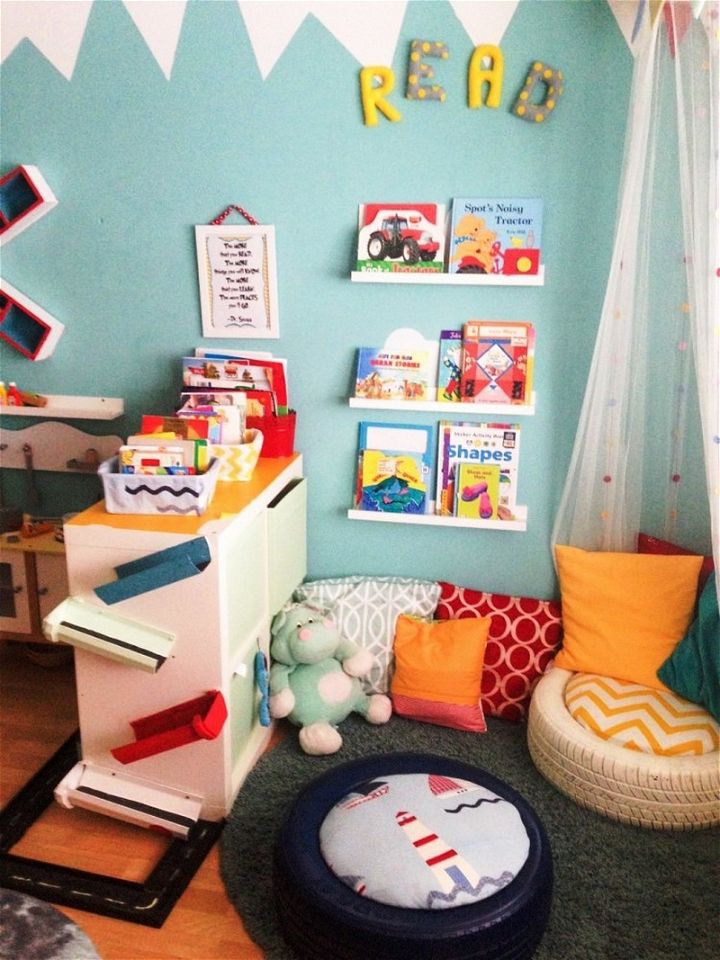 Let's see how a kid's seat is made using a tire here in this project. You will see a complete process here that will assist you in the making. You must also engage your kids in the making so that the results are amazing and perfect. This addition to the kid's room will make the room look more appealing and eye catching. Tutorial
19. Used Tired Raised Garden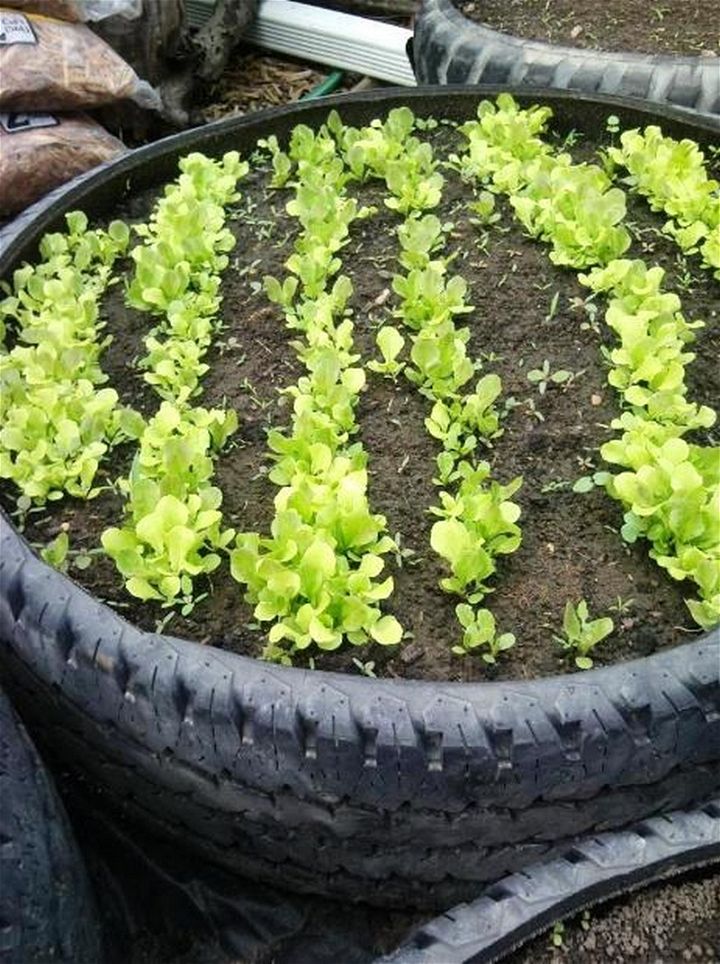 Raised gardens are something that are trendy and people are making them in their own gardens. This raised garden here is made using old tires and looks amazing. Besides used tires you will also need sharpie knife, jigsaw, dual saw, landscape fabric, dual saw and garden soil. Tutorial
20. Spill Proof Dog Bowl Recycled Tire DIY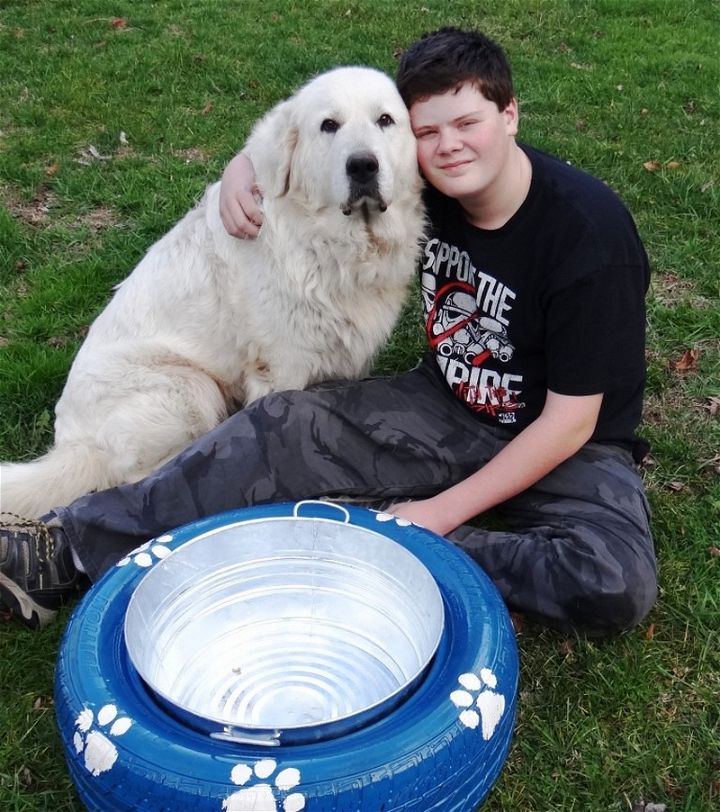 Look at this spill proof dog bowl done with recycled tires. If you also have extra tires lying uselessly around your house, this project will help you make some excellent use of them. You can now make your dog happier with this amazing new meal bowl. Tutorial
21. Easy DIY Tire Swing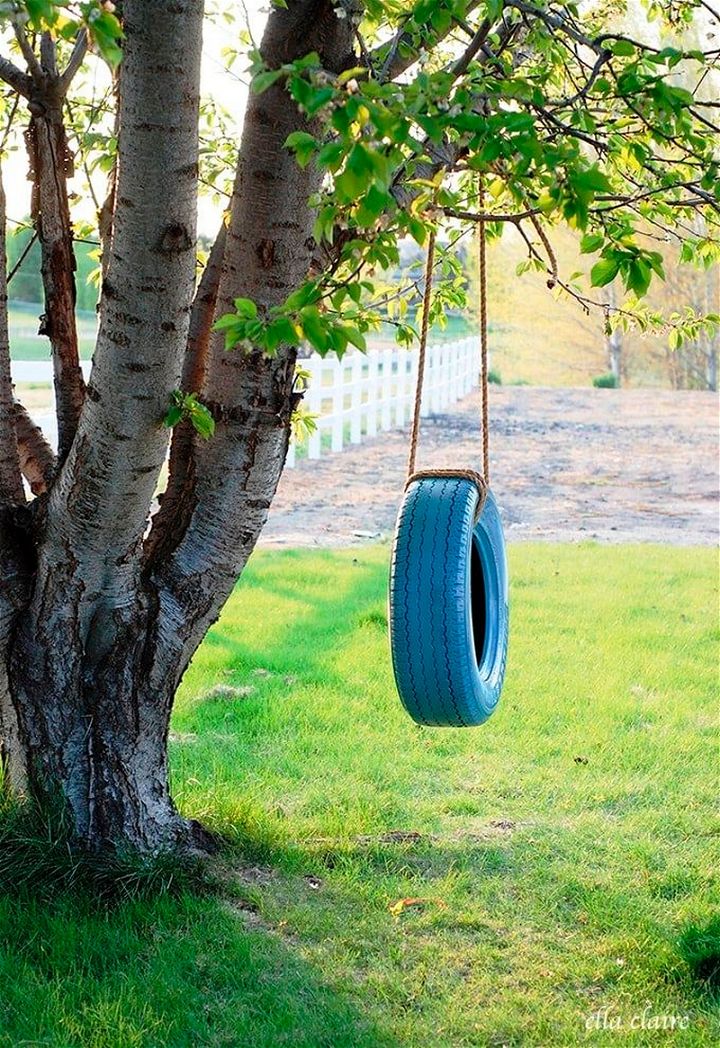 This is an easy diy swing made using tires and is so perfect for any outdoor space in your house. You can grab an old tire easily from a discount store. You will also need spray paint to add some color and spark to your tires. See the complete details of this craft and seen how this can be done in your own style. Tutorial
22. DIY Car Tire Planters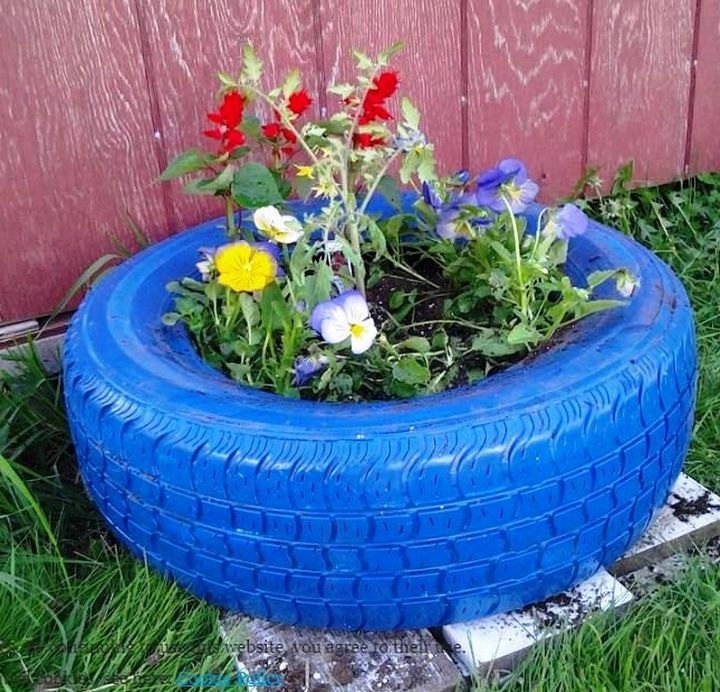 Recycling projects are always appreciates as they contribute positively towards the environment and also budget friendly. This project involves the making of a planter for your garden using old tires. You will start off by finding and cleaning the tire. You will then have to prime the tire and paint the tire with desired color Tutorial
23. DIY Recycled Tire Planter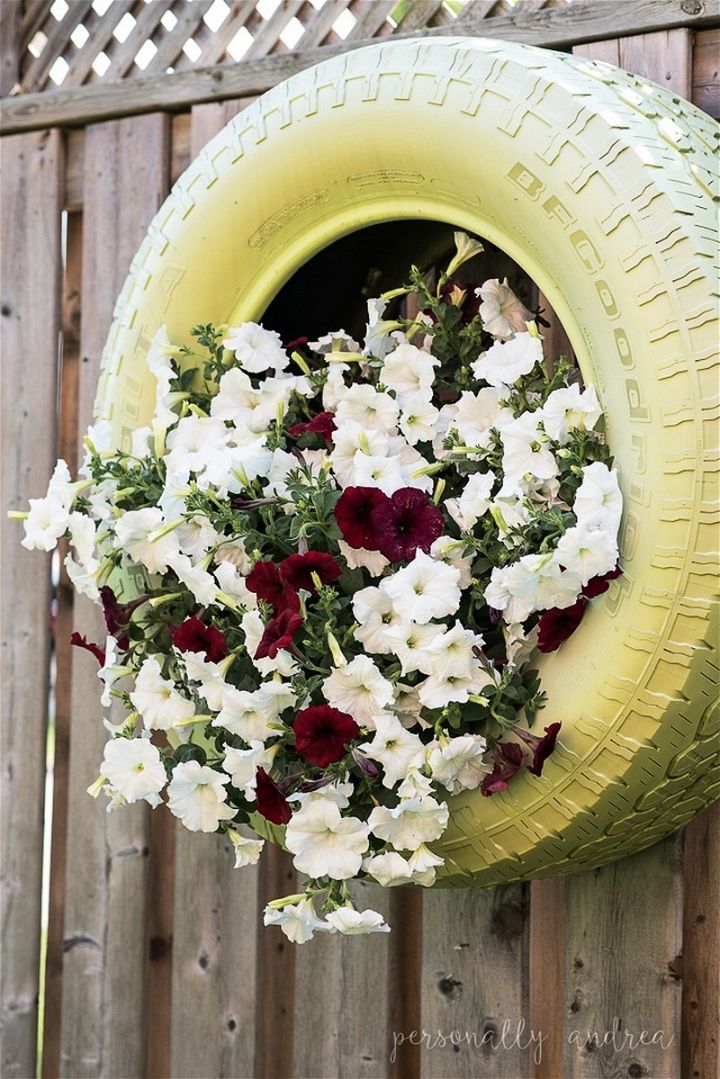 If you are also one of those who love plants to bits and re always looking forward to making new planters using creative ideas, this project will be of great help. In this diy project you will see how an old car tire can be used to make planters that you can hang on any all in the outdoor space of your house. Tutorial
24. DIY Tire Sandbox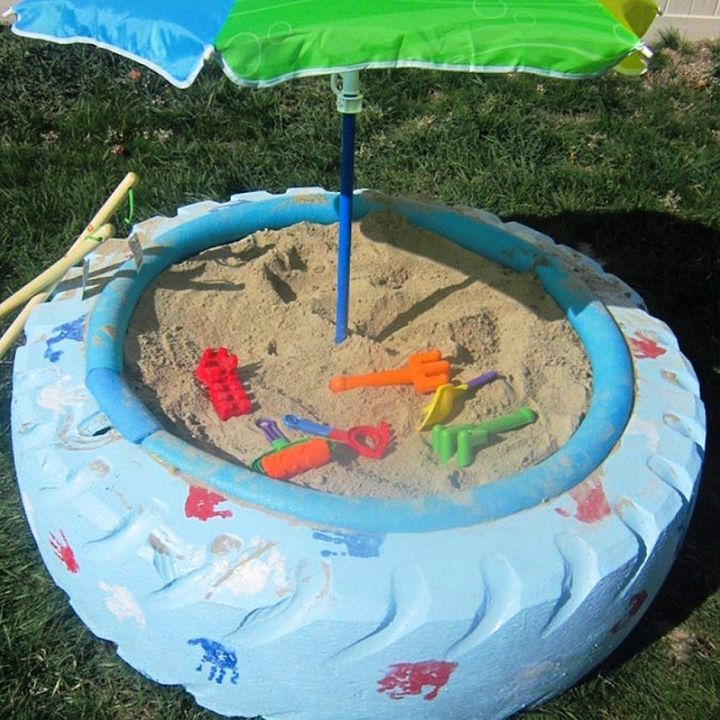 Are you also tired of those old sand boxes that you are using? If yes then you must see how an old tire can be used to make sandboxes easily and very concvineitly. This sandbox is made within only five easy steps. The materials that you will need for this craft are tractor tire, pool noodle, and old sheet or weed guard, sand, plywood, scissors and reciprocating saw. Tutorial
25. How To Make A Tire Teeter Totter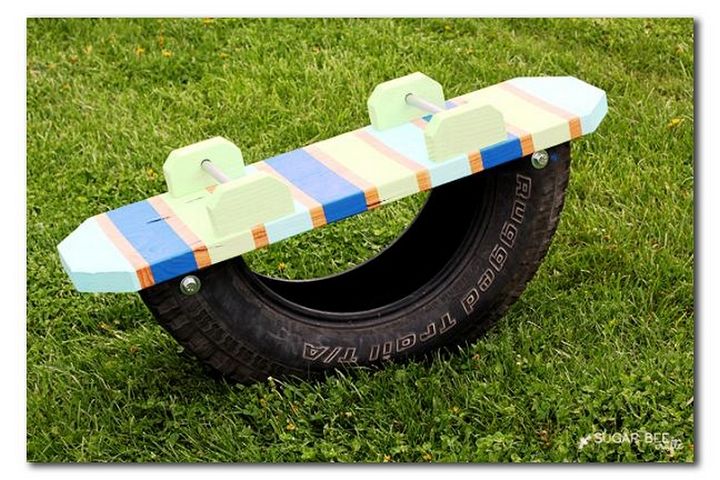 This is a tire teeter totter that you can also make for your kids and let them enjoy. Besides a recycled tire you will need things like scrap wood, electrical conduit pipe, bolts with washers and paint. Grab the materials and get started with this interesting mission. Tutorial
Conclusion:
Pick and choose any of your favorite projects from here and see how you can use tires to make something that looks absolutely eye-catching and appealing. Using tires can make a huge impact on both the indoors and outdoors of your house so try this out.