For those celebrating Easter, here we have 24 DIY Paper Flower Eggs To Make A Busy Day ideas. Let's celebrate Easter in the most fun way now and enjoy this festival like never before. Have a look at the projects here and you will realize how plastic eggs can be decorated with Paper Flowers in a stunning and tempting way. You can definitely use several techniques for the décor of eggs.
By looking into the details of the projects you will observe how some of the things that seem to be completely useless can be used for making Amazing Crafts. Such things include egg cartons which usually are thrown away once emptied but in these DIY paper flower egg projects, they have been used to make beautiful flowers. Besides decorating eggs with paper flowers, you can also make a garland consisting of plastic eggs and flowers. Similarly, you can also make paper egg ornaments.
1. Easy DIY Paper Flower Eggs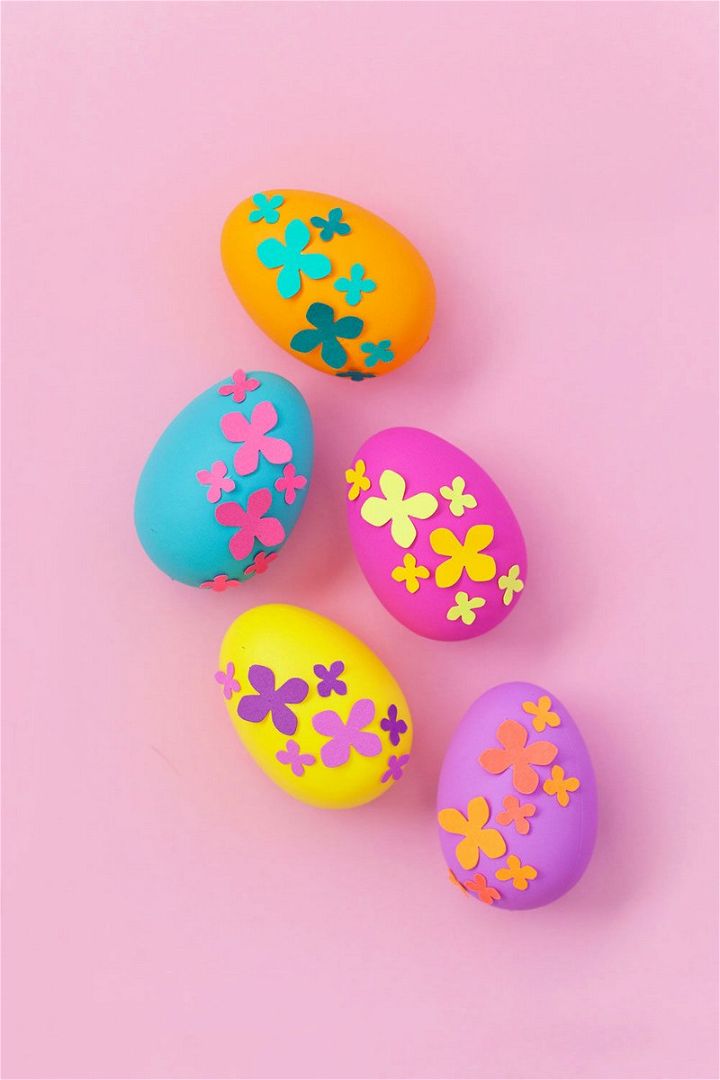 When it comes to creativity, there is never any limit. You can be as much creative as you want. This project is about creating DIY paper flower eggs. These are plain colored eggs made with plastic and decorated with paper flowers on the top of those eggs. For this project you have to take colored chart paper to cut colorful flowers from it., a hot glue gun, punch, and plastic eggs. here!
2. How To Make A 3d Paper Egg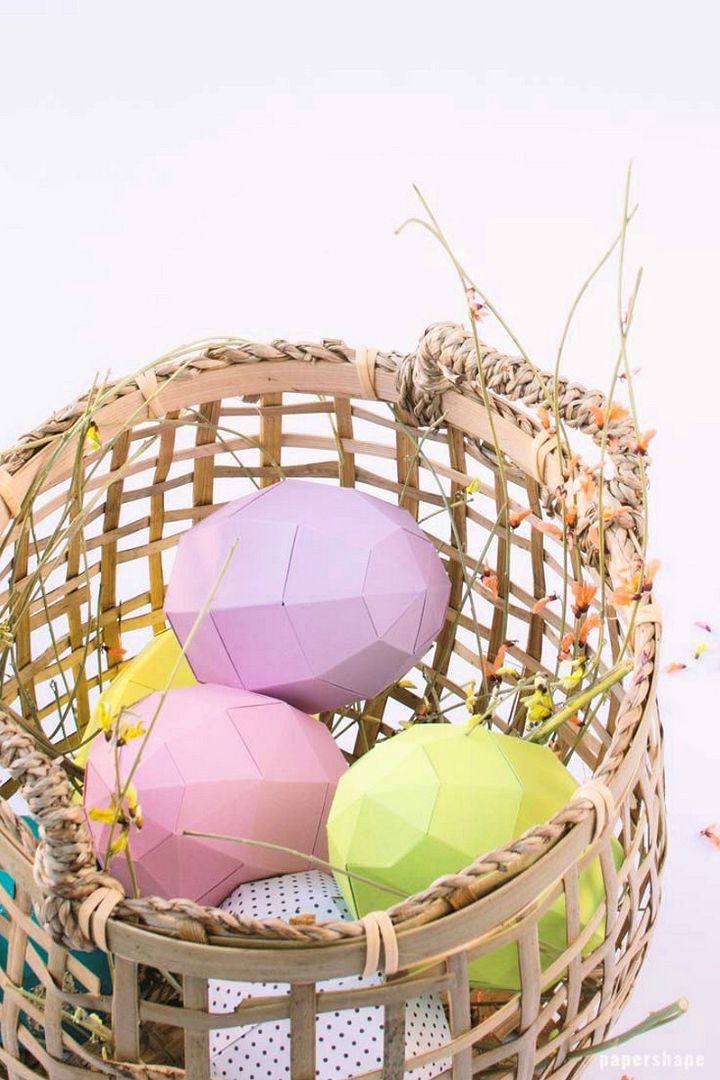 These are some very attractive 3d paper eggs that you see here. Learn how to make these eggs with help of paper and a few other supplies like cardboard. For this project, uni colors look cool but you can also use patterned cardboard to make them look more attractive. For this project, you need to have cardstock, glue or double-sided tape, scissors, a ruler, a bone folder, a cutting mat, and sweets for filling. here!
DIY Tissue Paper – Adults and children will be fascinated by these straightforward steps to create beautiful paper flowers.
3. DIY Paper Flower Holder For Egg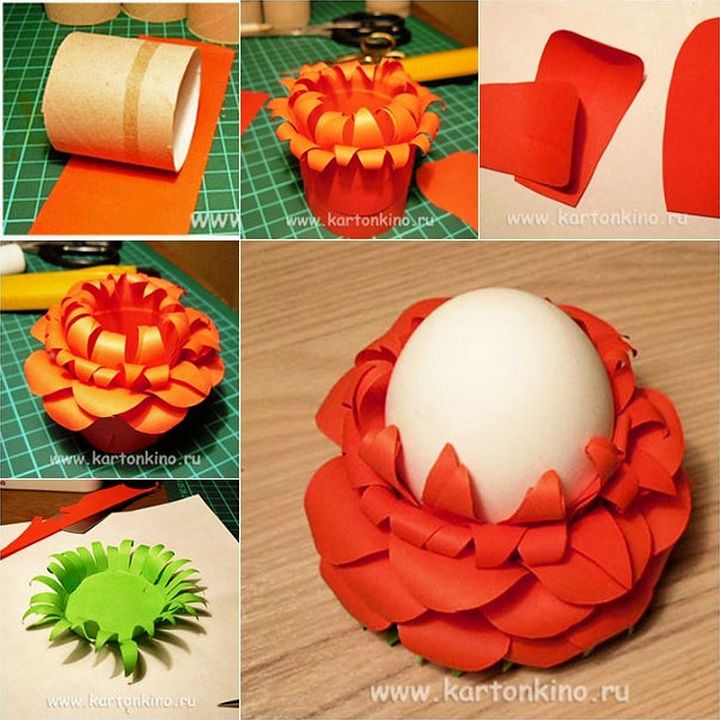 Have a look at this project where some beautiful paper flower holders are made with easy procedure. Follow the tutorial and step-by-step instructions for this amazing project and you will end up making some adorable flower holders for eggs. Engage your kids in this interesting activity so that they can also have fun and learn how to do paper cutting and crafting here!
4. Tutorial – DIY Flower Eggs
As we know that summer holidays are just about to come. It's a challenging task to engage kids during summer vacations in some productive and learning activities. This project will solve such problems of yours. You can now engage your kids in this DIY flower eggs project. here!
5. DIY Egg Carton Flowers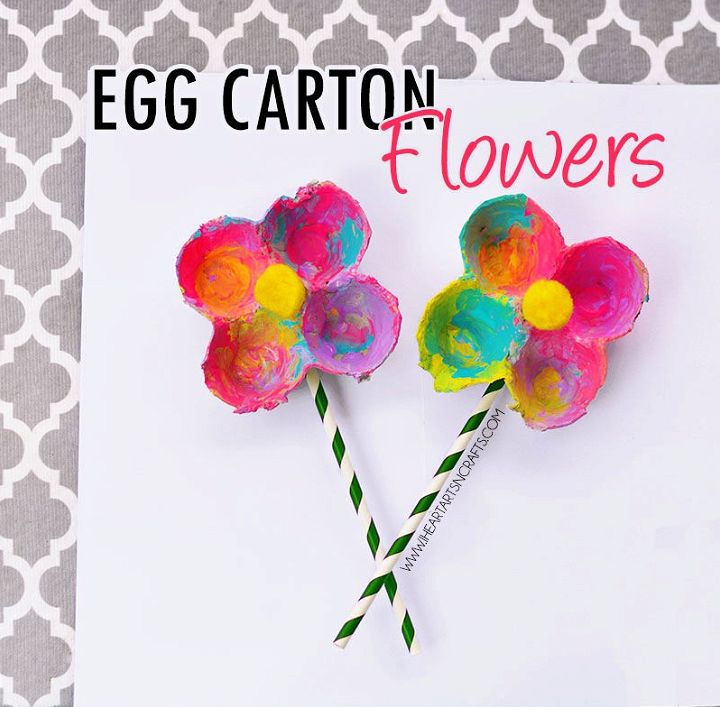 We all must have some egg cartons lying in our kitchens. Make use of such cartons to make some creative art pieces. These are flowers made with egg cartons and they look absolutely amazing and exciting. Engage your kids in cutting the carton and coloring it with watercolors here!
6. How to Make a Paper Flower Basket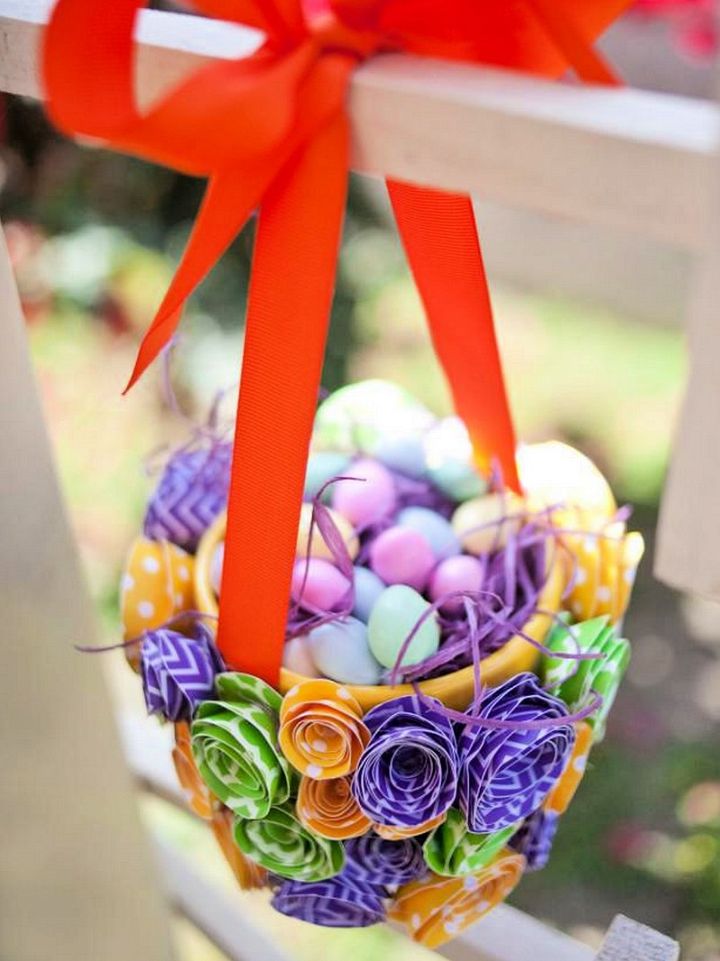 You can make some amazing crafts using paper. This weekend take some colorful chart papers and make a paper flower basket for your kids. Have a look at these beautiful and colorful baskets that are easily made with some crafting skills. Grab the supplies and try the project soon. here!
DIY Paper Crafts – This list of 30 Papercrafts DIY to Spend Your time are all simple and affordable. It is easy to pick the craft you enjoy most and do it this weekend.
7. DIY Plastic Egg Flower Bouquets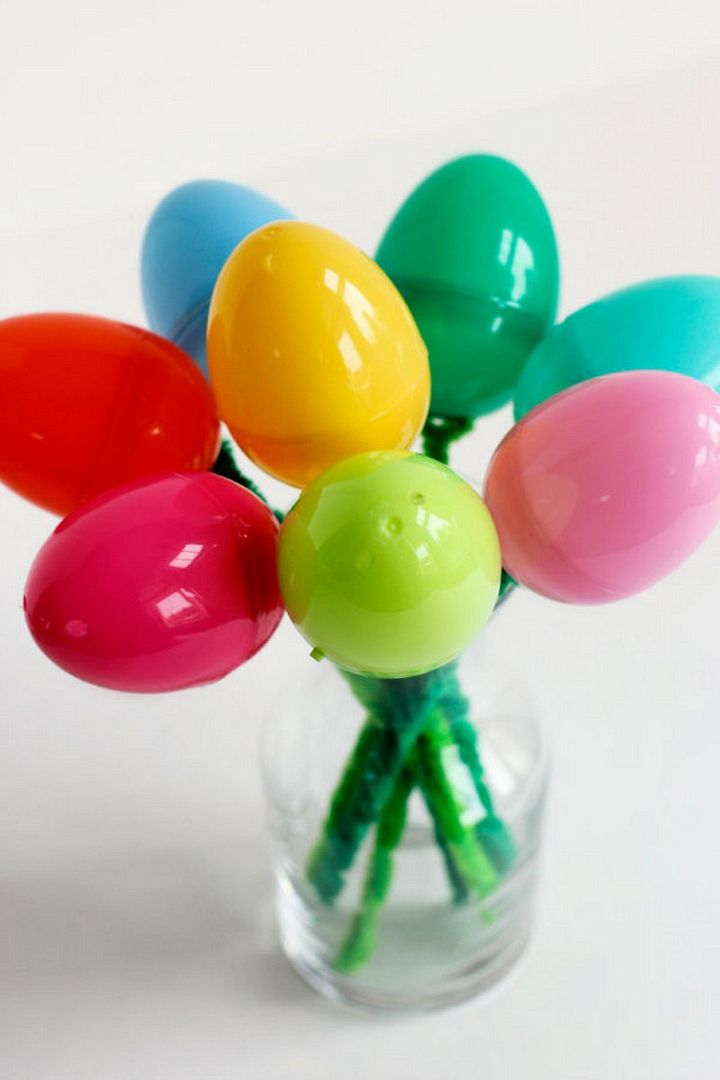 For this project, you need to grab some plastic eggs in different colors and make a bouquet like the one you see here. Engage your kids along with your son that they can also enjoy seeing different colors around them. These colorful plastic eggs will make a lovely bouquet. Try this project just for fun. here!
8. DIY Pressed Flower Eggs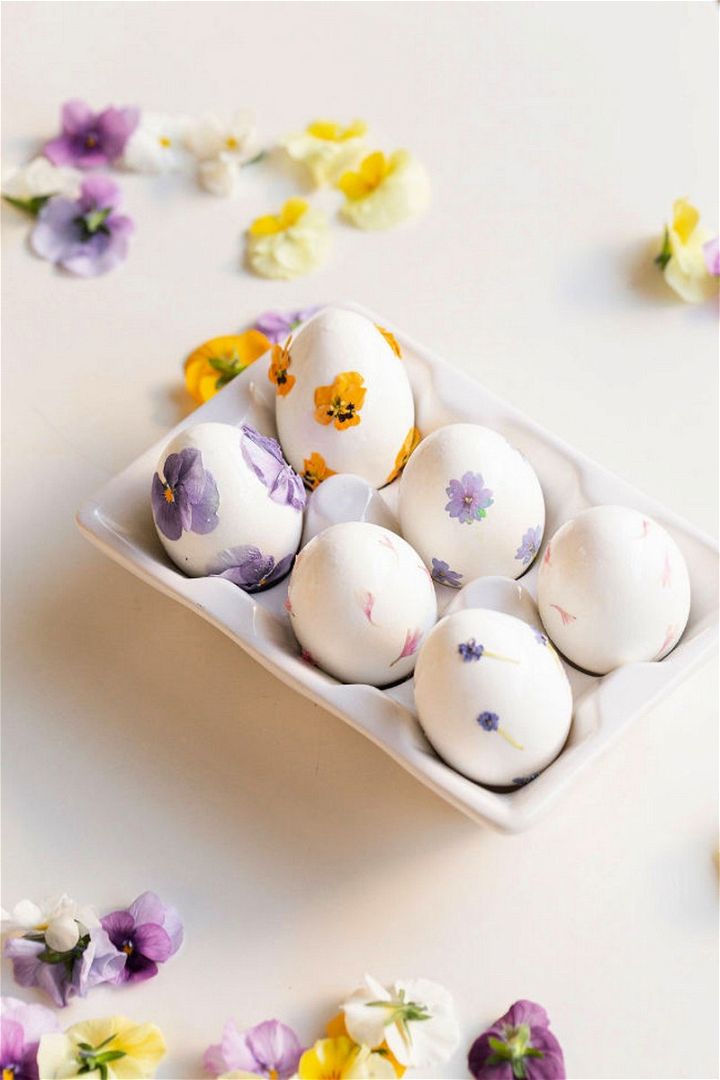 Have a look at these pressed flower eggs. These beautiful eggs are made with an easy process. Watch the tutorial here to see how things are done so that you do not miss out on the minor detailing. Grab some supplies that you can easily find in any craft store. here!
9. Recycled Egg Carton Flower Craft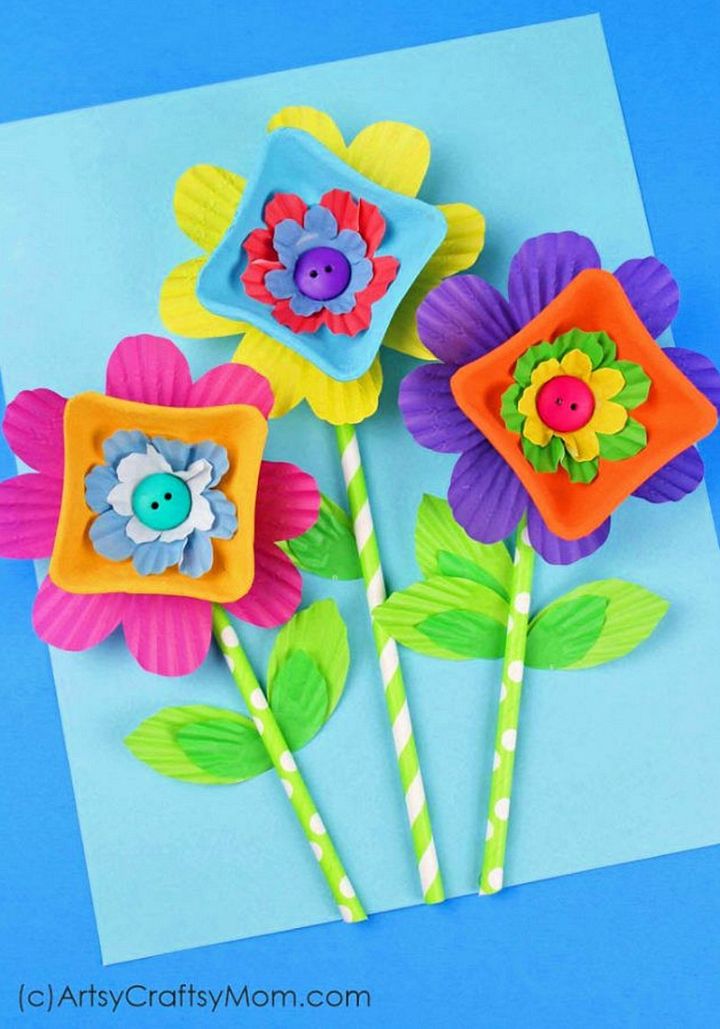 You must have some egg cratons lying uselessly at our home. Try making some creative items from those cartons. Engage your kids and make them learn the process of recycling and reusing something to make something new. With that carton you can make flowers like the ones you see here. here!
10. Paper Flower Covered Egg Ornament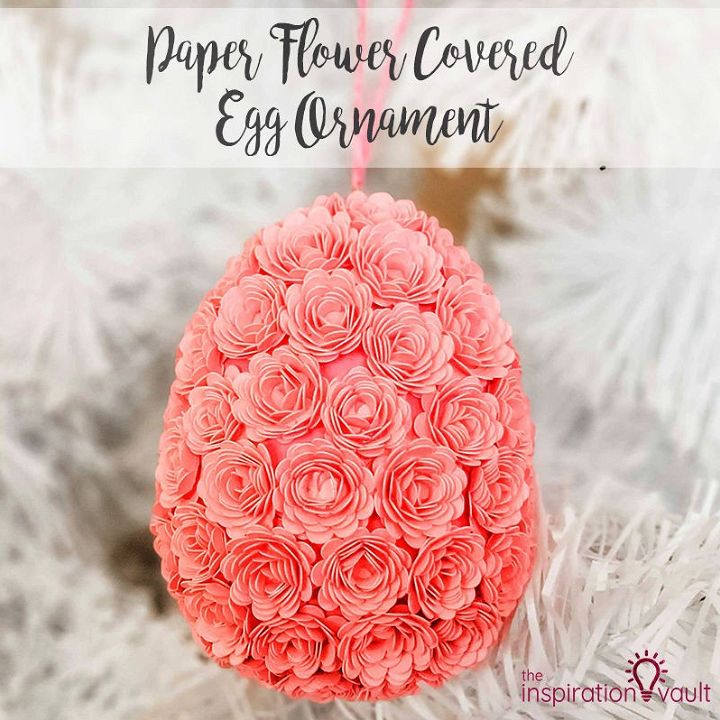 Have you ever thought of making an egg ornament? You need to take some colored paper and make flowers with it. You can easily make paper flowers and even if you don't know how to do it you can find them here in this tutorial. This project will blow your mind towards the end. here!
DIY Envelope Ideas – A great present for the person who has everything is a gift card! Today, I'll show you how easy it is to create a gift envelope for a card using scrapbook paper that you have at home!
11. How To Make Flowers From Paper Egg Cartons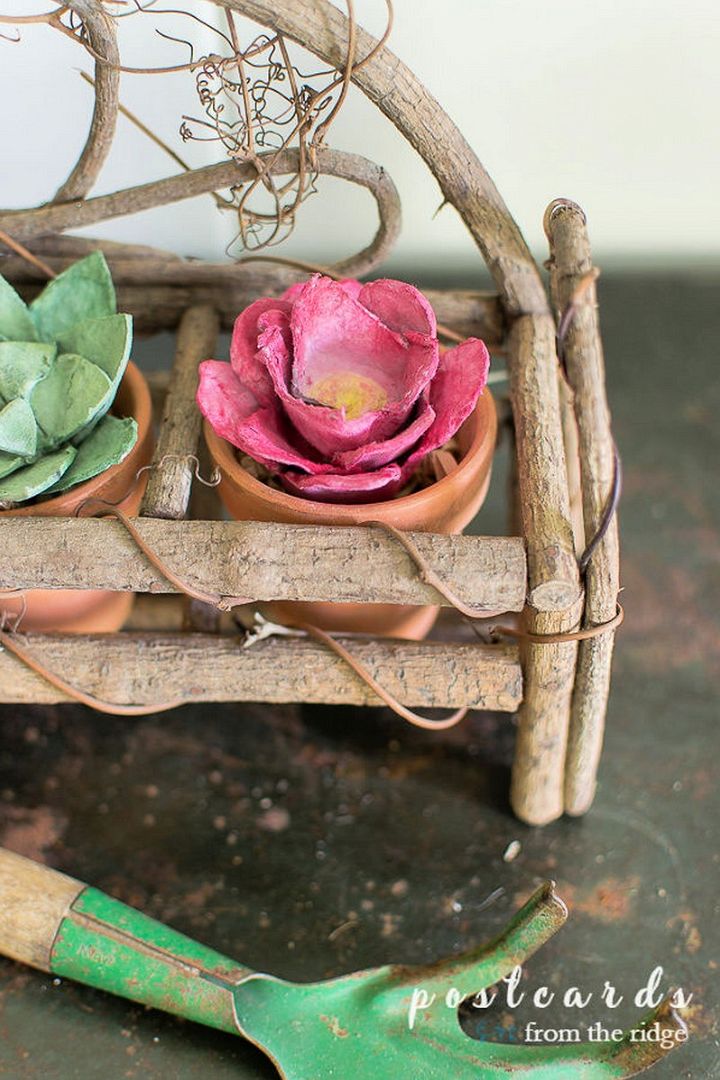 Egg cartons normally have no use for us. We usually throw away these cartons once they are empty. Next time, before throwing away these cartons you must give it a second thought. Try making some flowers with these egg cratons and color them at the end to make them look more attractive and beautiful. here!
12. Egg Carton & Paper Straw Flower Craft For Kids To Make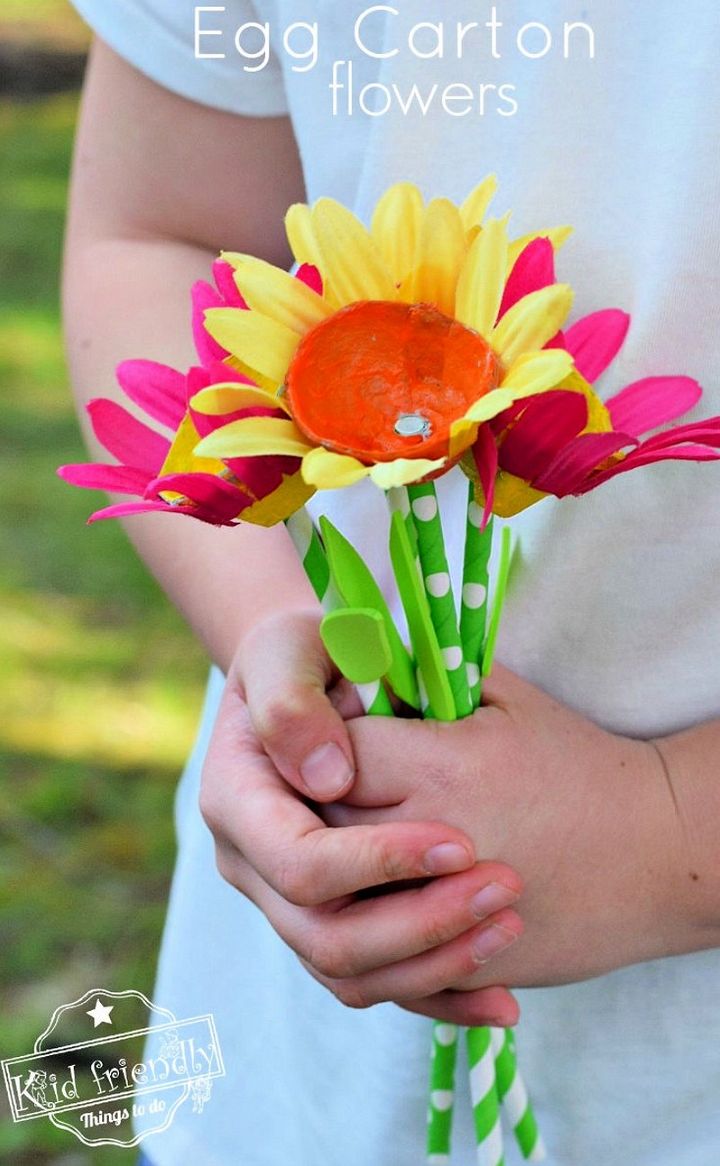 This project involves recycling and reusing two items. The first thing is the egg carton that we normally always throw away once they are empty. The second thing recycled here is the paper straws. The egg carton is used to make flowers and the straws are used to make flower stems here. here!
13. DIY Egg Carton Flower Crown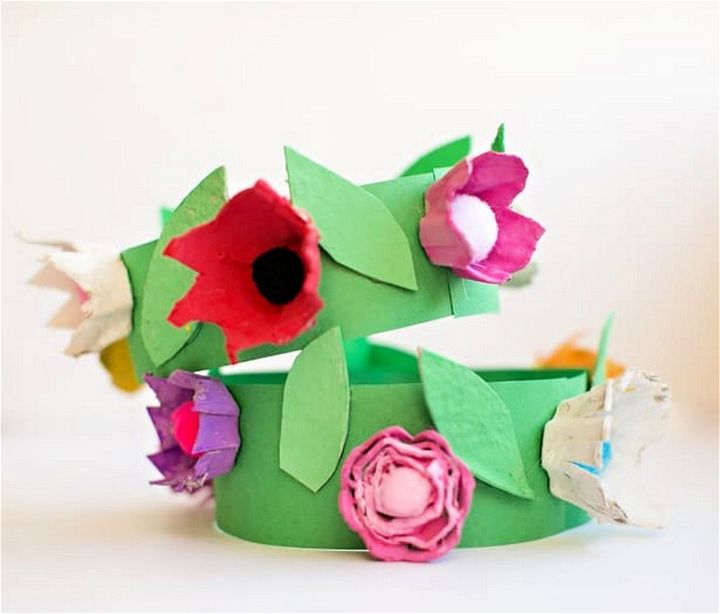 We are normally out of ideas when it comes to doing any art activity with our children. This project will definitely solve this problem to some extent. Take some egg cartons and make these amazing crowns with flowers over them. This activity is not only interesting and fun but will also make your kids learn the concept of reusing and recycling. here!
14. Gorgeous DIY Floral Eggs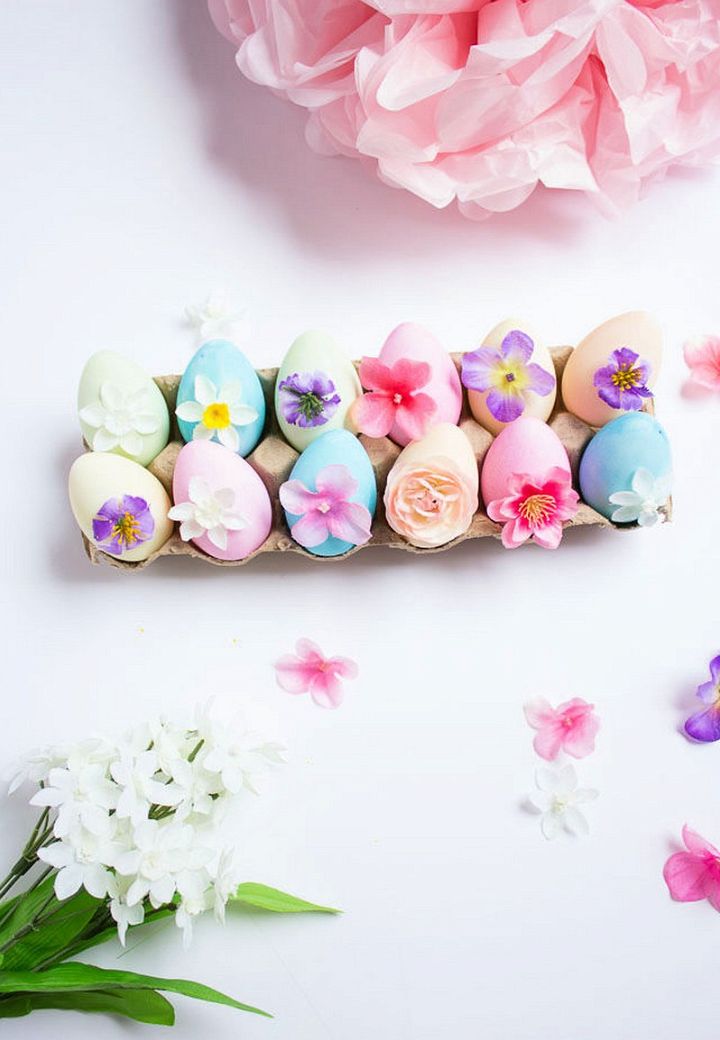 Diy projects are interesting when they are budget-friendly and less time-consuming. This DIY project will get your attention as it has both the qualities in it. This is a budget-friendly project which does not demand much of your time. Grab some of the supplies needed for this project and enjoy making these floral eggs with your kids. here!
15. How To Make Flower Eggs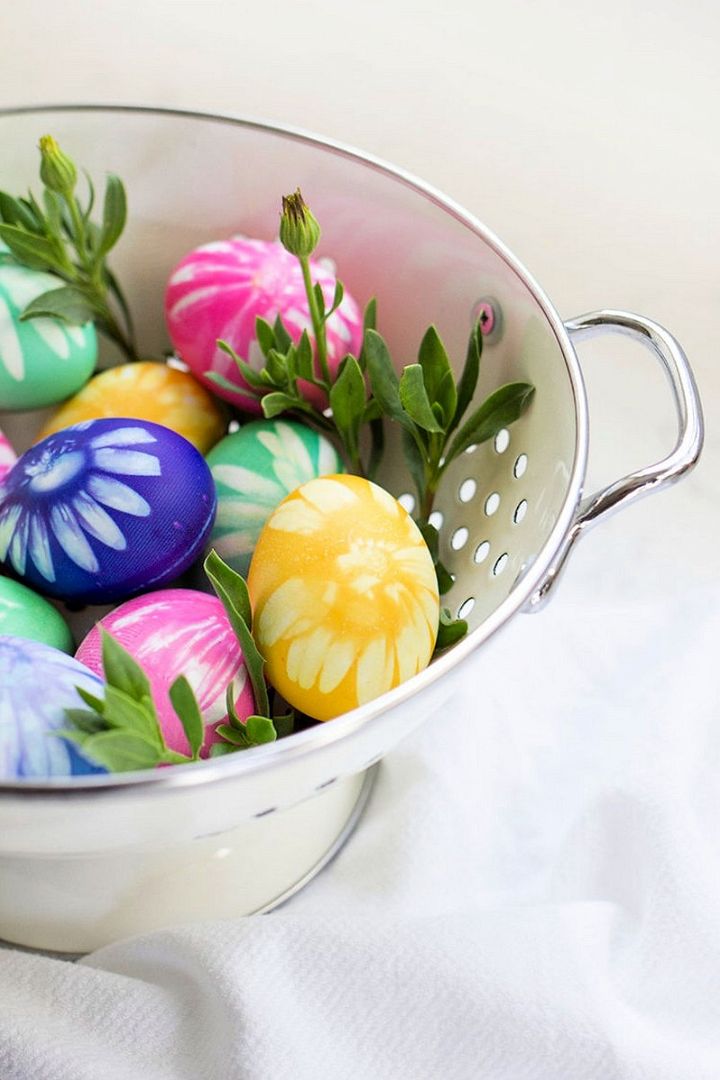 These flower eggs are perfect for Easter. Learn through this tutorial about making these flower eggs easily and conveniently. It's your choice whether you want to make a uni color or a colorful bunch of eggs in a basket. Look at this beautiful basket here. Grab the supplies needed and start over. here!
Cherry Blossom – The cherry blossom is among the most stunning flowers, with the most exquisite patterns and hues. It is the flower of national significance of Japan however, because it is so rich and stunning it is adorned across the globe.
16. Egg & Paper Flower Garland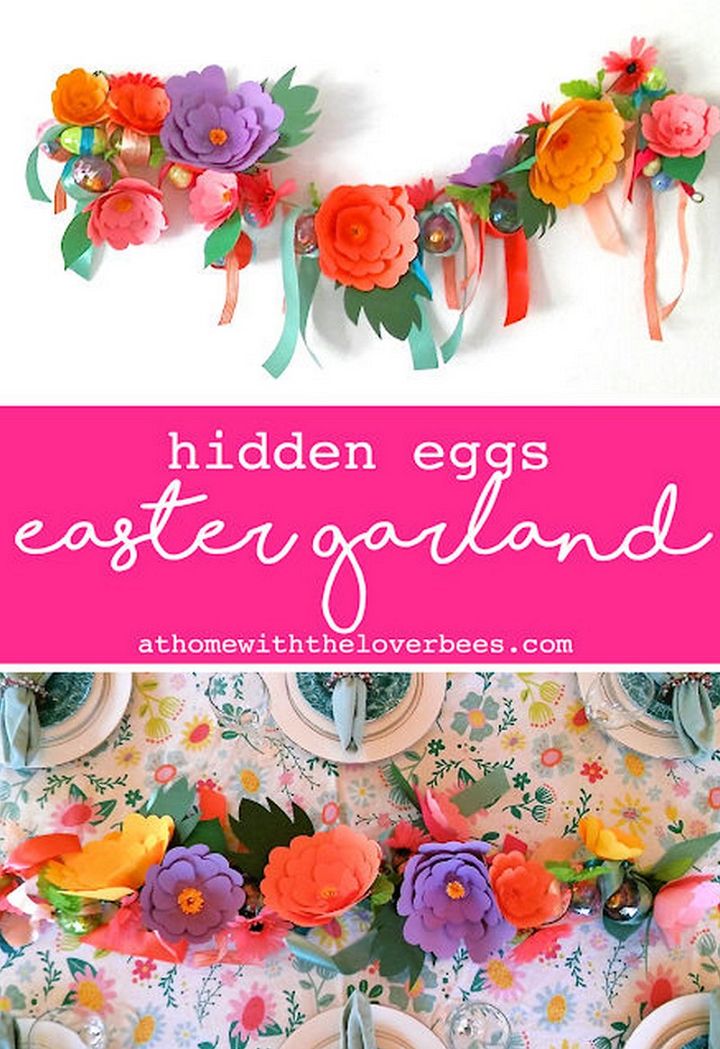 Garlands always play an important role when it comes to the decoration of the house. This is a paper flowers garland that you can easily make with just a few supplies and crafts and your will end up making an amazing masterpiece. Go through the written instruction and the tutorial thoroughly to be accurate. here!
17. How To Make Egg Ornaments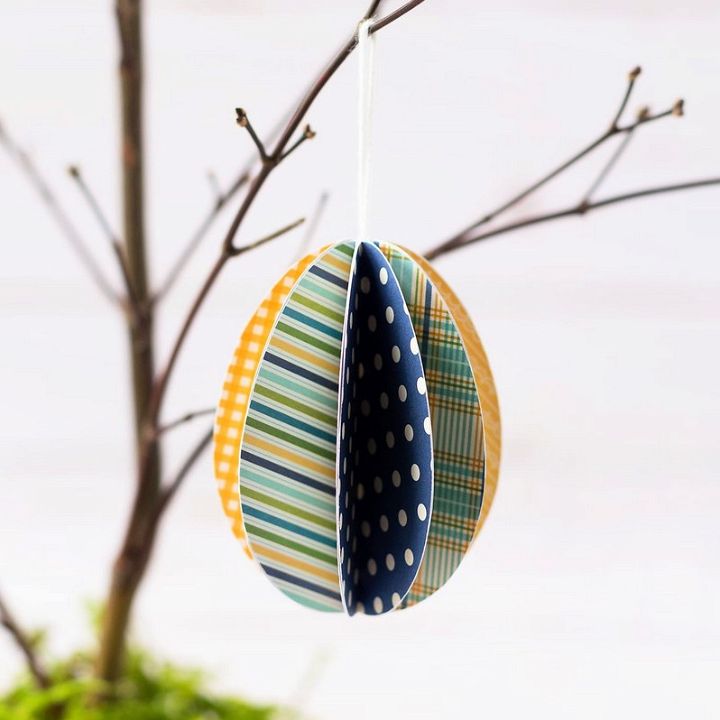 Egg ornaments can be so interesting and fun. Have a look at this interesting project and see how you can make your own egg ornaments. This can be the perfect decoration for Easter. You can hang these egg ornaments on a tree-like you see here in this project. These egg ornaments are easier than they seem to be. Take a paper of different prints so that you add some variety to your ornament. here!
18. Floral Eggs With Rifle Paper Co. Wrapping Paper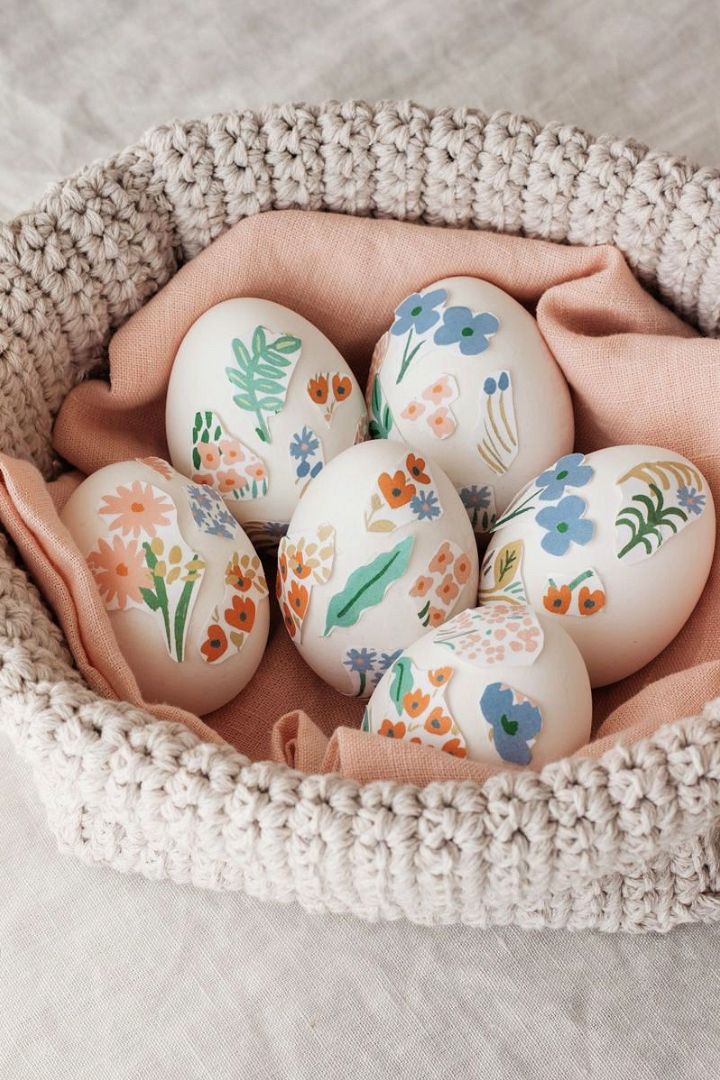 You can make flower eggs with so many different crafts and supplies depending on your choice and availability. These flower eggs are made with rifle paper and wrapping papers. Follow the project carefully to see how it's all done. Grab the supplies listed here. here!
19. Egg Carton Flowers – Recycled Egg Carton Crafts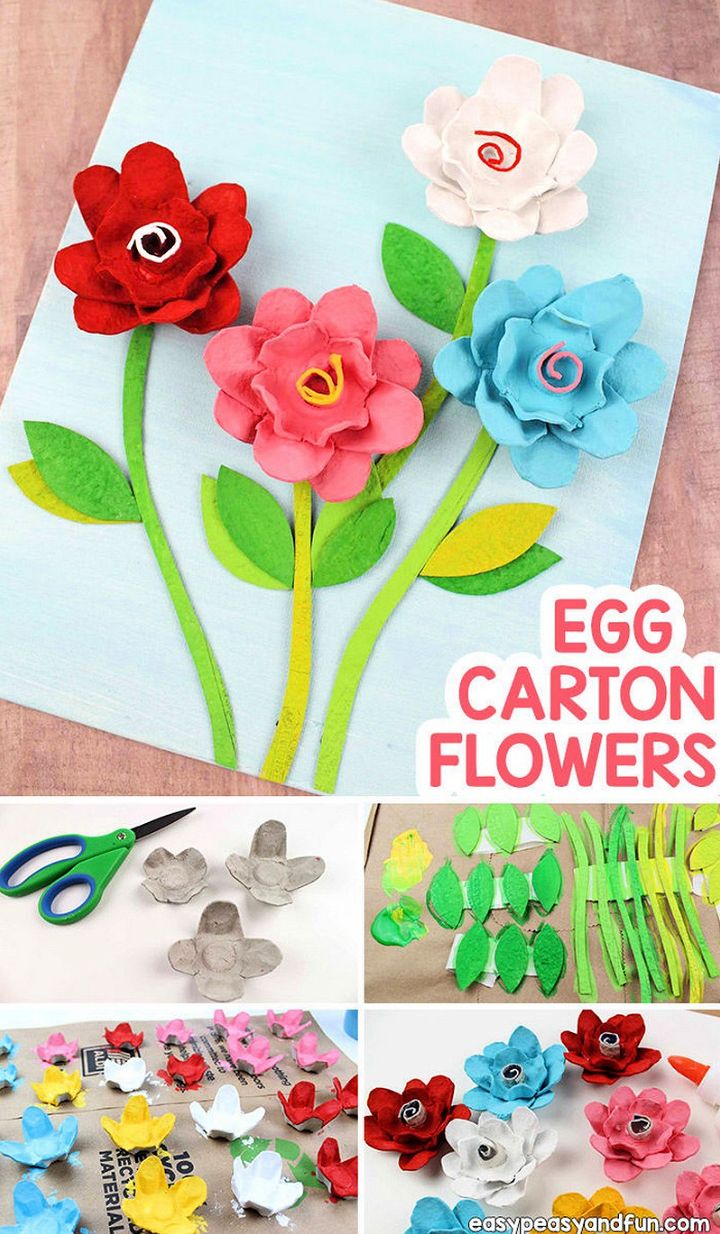 Egg cartons are normally thrown away every time they are empty. This time you must wait before you throw these cratons away because you can be very creative with them and make some amazing decorative flowers from them. Go through this project and see how you can make your own flowers with egg cartons. here!
20. Stand-Up Paper Eggs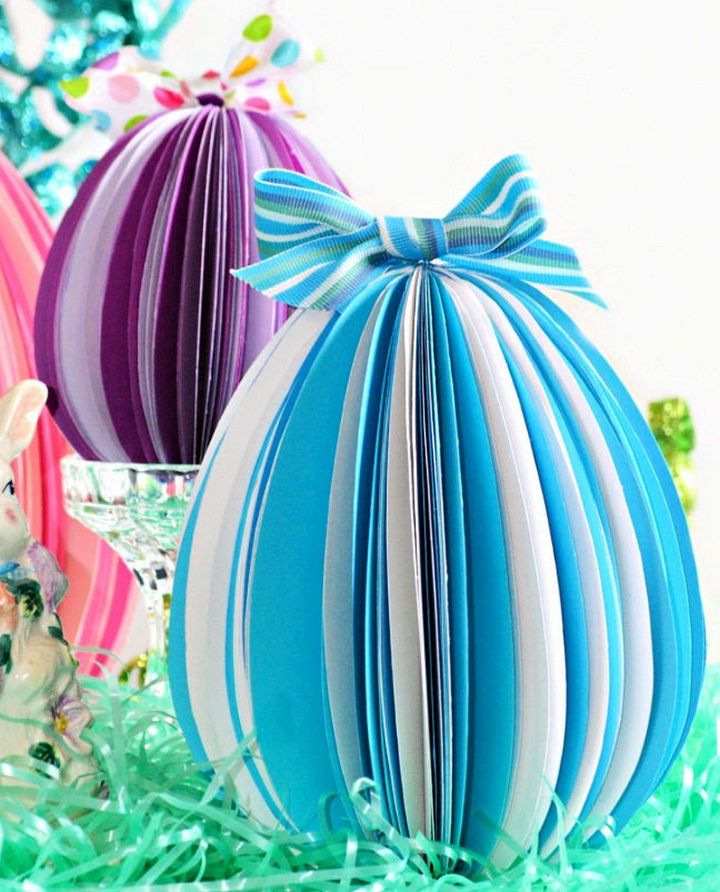 Have a look at this project and see how you can also make your own standing eggs with chart papers. Grab some items listed here from any stationery shop and try this out. There is a simple technique of making these eggs and everyone can do this easily. this DIY paper egg is made with a combination of two colors as you can and looks mesmerizing here!
21. DIY Paper Egg Wreath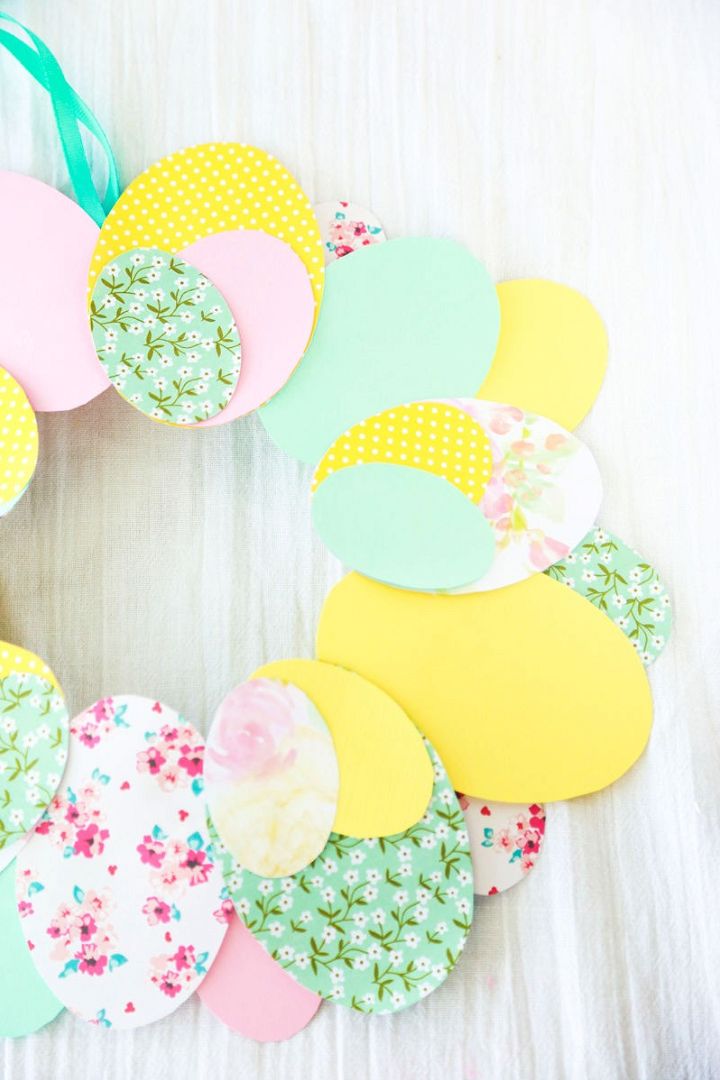 When it comes to creativity, there is never any limit. You can be as much creative as you want. This project is about creating DIY paper flower eggs. These are plain colored eggs made with plastic and decorated with paper flowers on the top of those eggs. For this project, you have to take a colored chart paper for different reasons. Take colored chart paper for cutting flowers, plastic eggs, a hot glue gun, and a punch. here!
Crafts For Kids – This collection of ideas includes activities and tasks of all kinds that children will find exciting.
22. DIY Blooming Eggs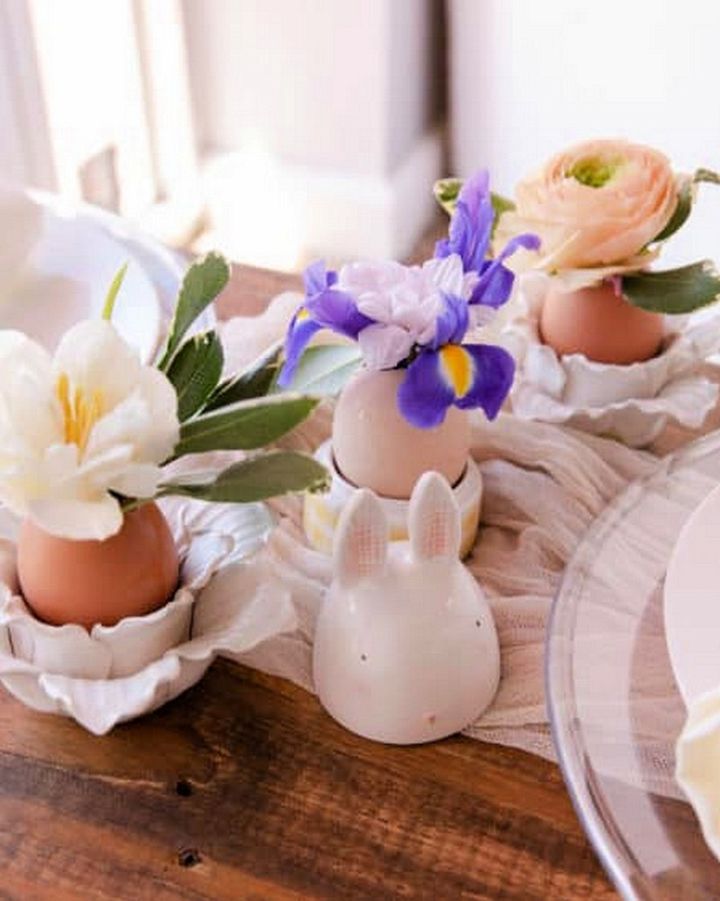 This is a DIY blooming egg project here. As we know that Easter decoration must include eggs so follow this idea for Easter next time. It often happens that we run out of ideas for Easter decoration or we are bored with that typical old decoration idea. Try some new and fresh ideas like this one. here!
23. DIY Vases Using Recycled Egg Cartons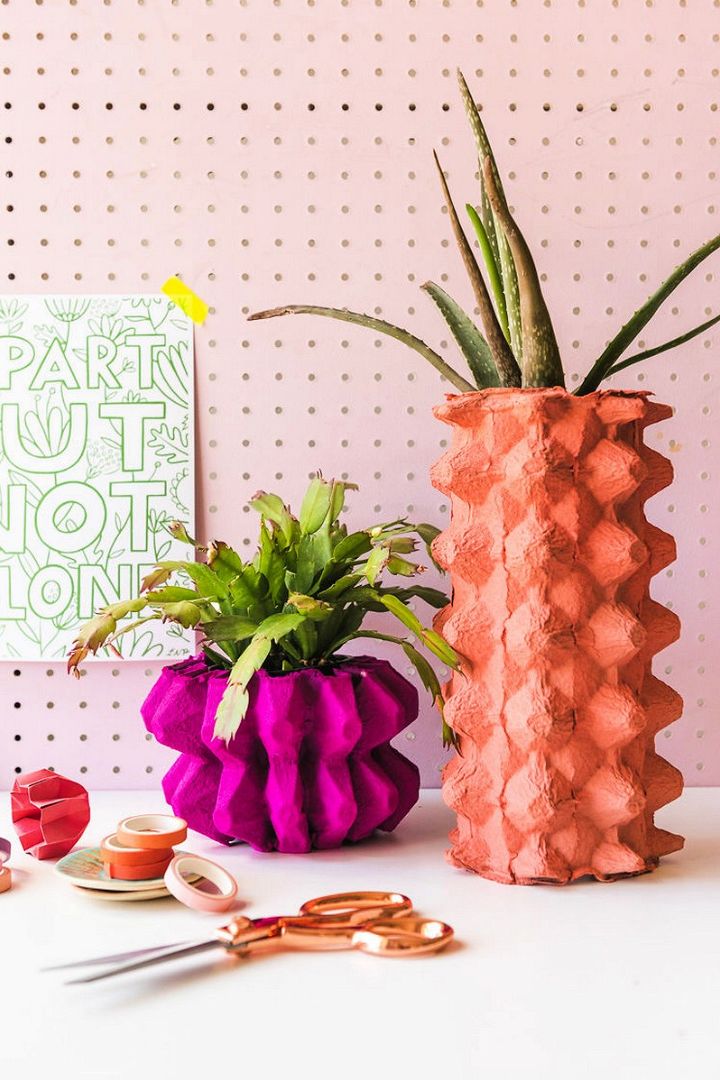 Egg cartons are normally thrown away as soon as they are empty. Think twice before throwing these cartons next time. you can make hundreds of art pieces with these cartons. They seem useless but the reality is quite different. Try making some flowers with these egg cartons and fill in beautiful colors to make them look more attractive. here!
24. DIY Daffodil Egg Cups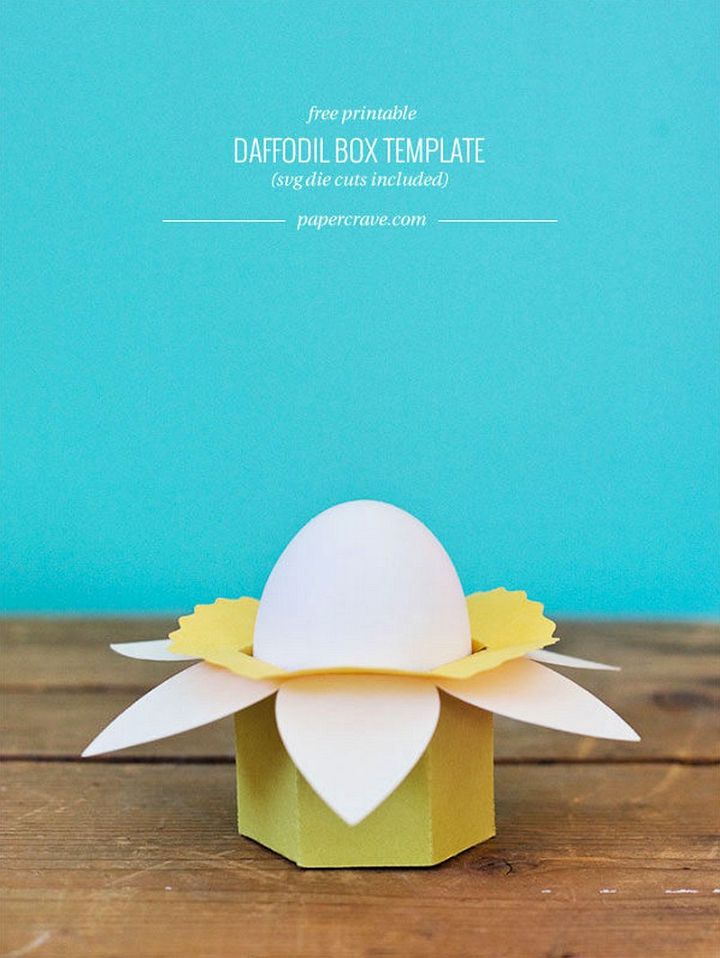 Have a look at these adorable daffodil egg cups. This decoration is perfect for Easter. Are you also bored with the typical old Easter decoration ideas? If the answer is yes, then you must follow this project and you will end up making some extraordinarily beautiful, and adorable daffodil cups. Get rid of old easter egg ideas and try the new ones like the one you see here. here!
Conclusion:
Be it Easter or any other festival, it can be made more and more special with some outstanding DIY projects. Make your Easter more interesting and memorable with these cool egg ideas involving paper flowers and plastic eggs. You can be as creative as you want while making your eggs. The only thing you need is a little bit of passion and love for art and craft.