If you are also looking for 10 Refreshingly Delicious Best Kiwi Recipes involving fruits, try these easy kiwi recipes. There is a variety of kiwi recipes that you can try depending on your choice and demands in your family. You will find both winter and summer recipes involving kiwi. If you haven't ever tried kiwi or recipe made with it, this is high time that you must try this to introduce your taste buds with an amazing taste. Besides kiwi these recipes involves other things combined with kiwi to make great snacks such as lemon cheese and much more.
Whether you are a fan of snacks or smoothies, you will find ever kind of kiwi recipes here. Start by gathering the ingredients first so that you can easily get along with the rest of the steps given in the instructions of the recipes. You will also find kiwi recipes that you can enjoy before your workout to boost some energy inside the body. Kiwi has vitamin c, e and k along with potassium and is also very refreshing especially for breakfast.
1. Winter Fruit Salad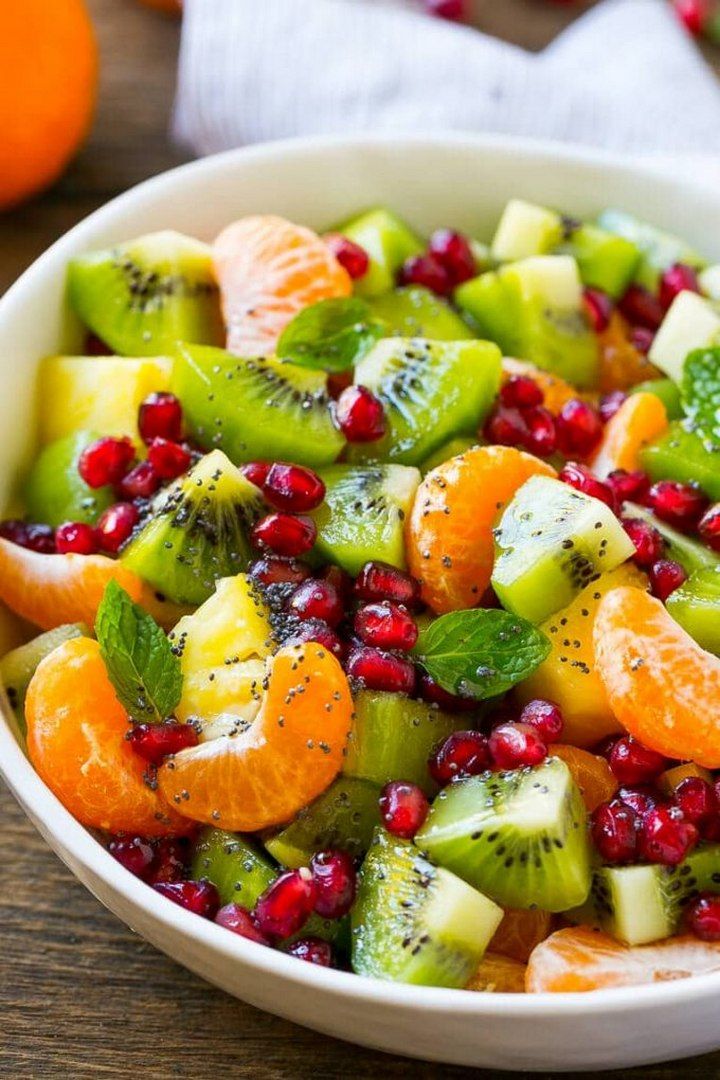 This winter fruit salad seems to be a lovely and colorful combination of fruits. During the winter season apple is all over while the rest of fruits disappear from stores. Some oranges and bananas can also be seen during this time. We can make this salad by combing fruits like mandarin oranges, pineapple, kiwi and pomegranates. You can garnish the salad with some fresh mint leaves. Tutorial
2. Lemon and Kiwi Cheesecake Bars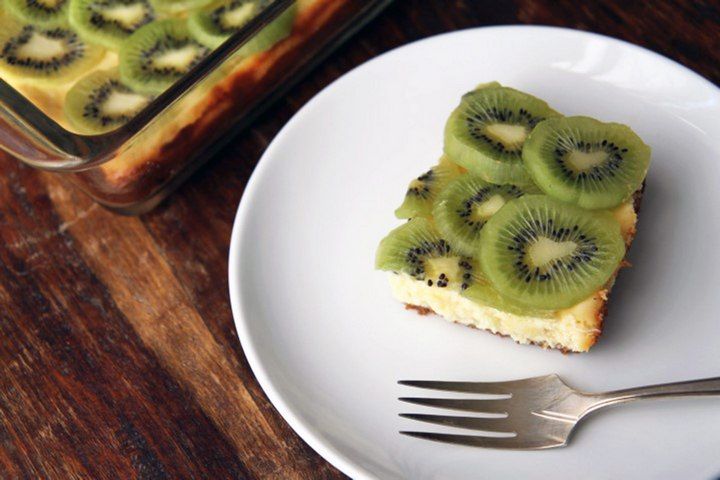 Have a look at this lemon and cherry cheesecake bars idea and make this with all you dedication towards culinary art. You will need graham crackers, unsalted butter, cream cheese, granulated sugar, fresh lemon juice, lemon zest, large eggs and sliced kiwis for topping. Tutorial
3. Kiwi Wraps or Rolls Recipe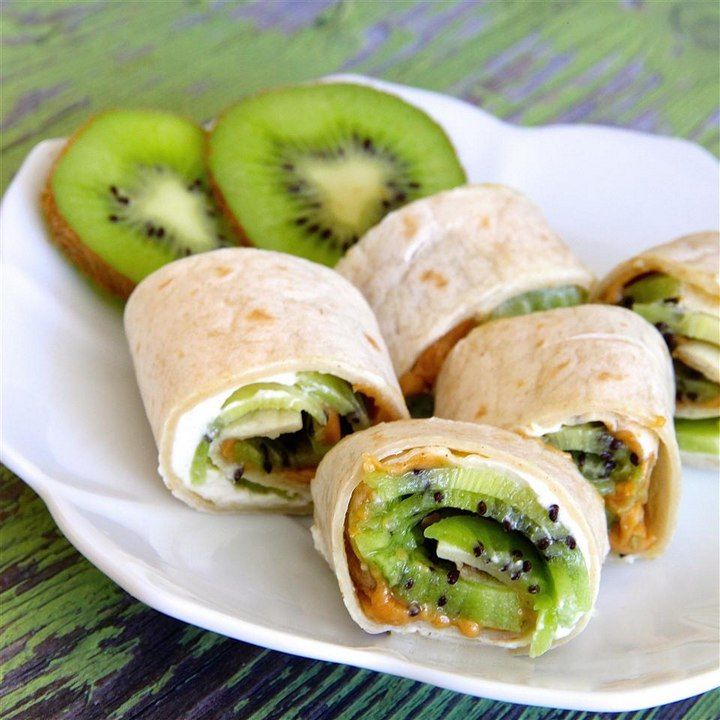 Have you ever tried kiwi wraps or rolls? If not then you must because they are a delight for sure. You can make these rolls at home with some simple tips and tricks. This can be your complete meal as it contains not only fruits but also bread to fill the tummy. Tutorial
4. Apple Kiwi Green Smoothies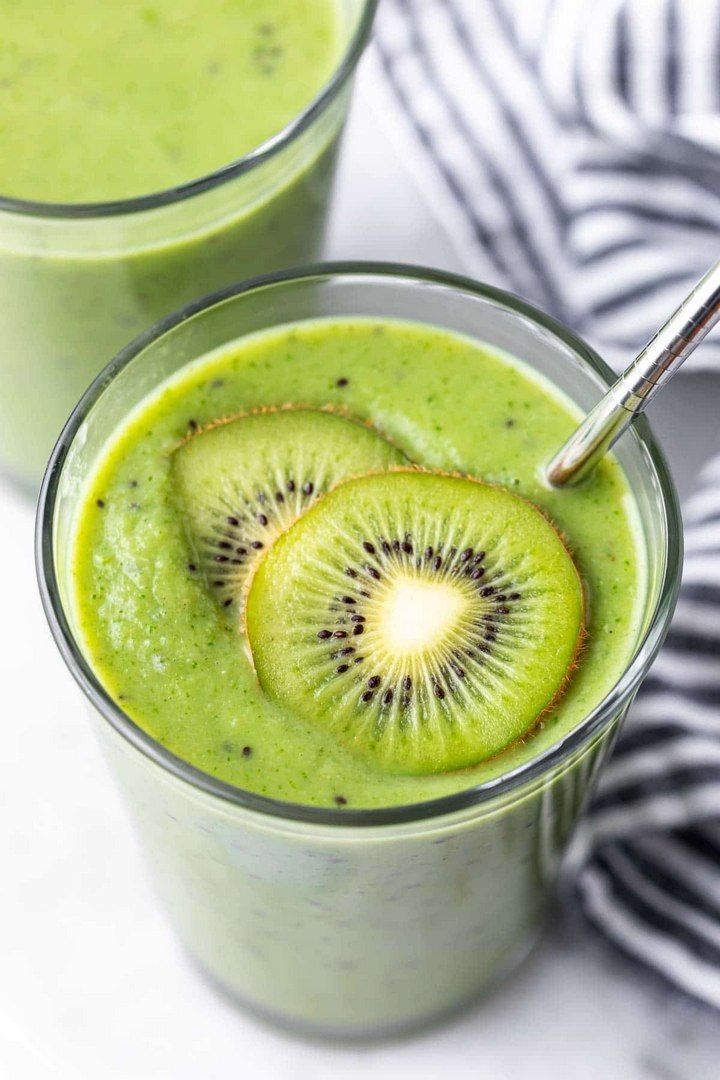 This smoothie is a beautiful combination of apples and kiwis and it looks delicious. If you are also interested in making this mouthwatering smoothie, you are welcome to learn the recipe from here. This is a refreshing smoothie that will make your day. Tutorial
5. Easy Kiwi Jam Recipe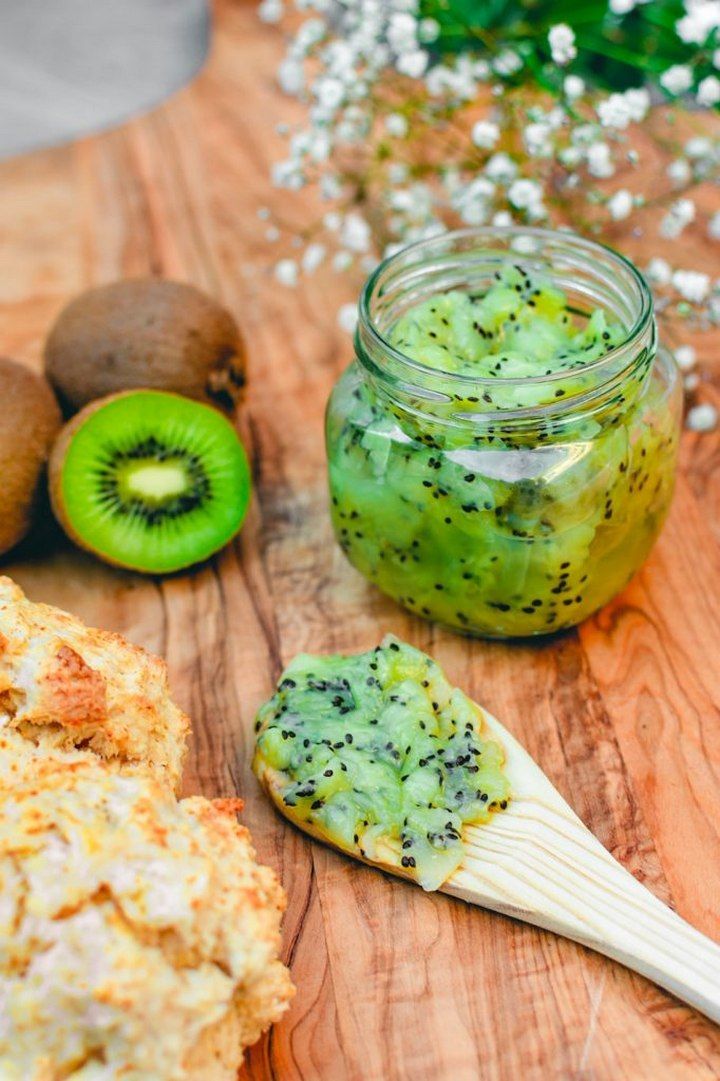 This is an easy kiwi jam recipe that will make your morning better than ever before. Get rid of your boring breakfast and try this new and yummy jam for the winter mornings to feel refreshed throughout the day. You are now in for a real treat once you are done with making this jam Tutorial
6. Kiwi Sorbet Healthier Desserts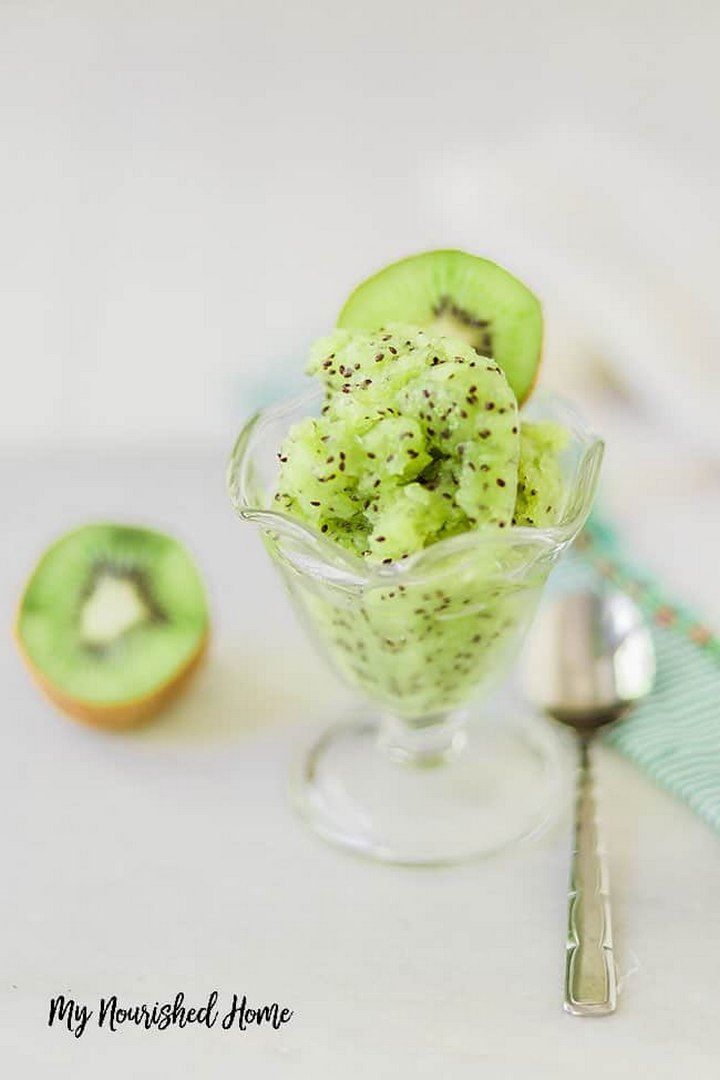 If you are also looking for some healthier desserts, nothing can be perfect than this one. This is a kiwi sorbet that you can easily try at home with the help of this recipe. If you are also in love with the healthy food, this dessert will definitely excite you. Tutorial
7. Golden Kiwi Piña Colada Popsicles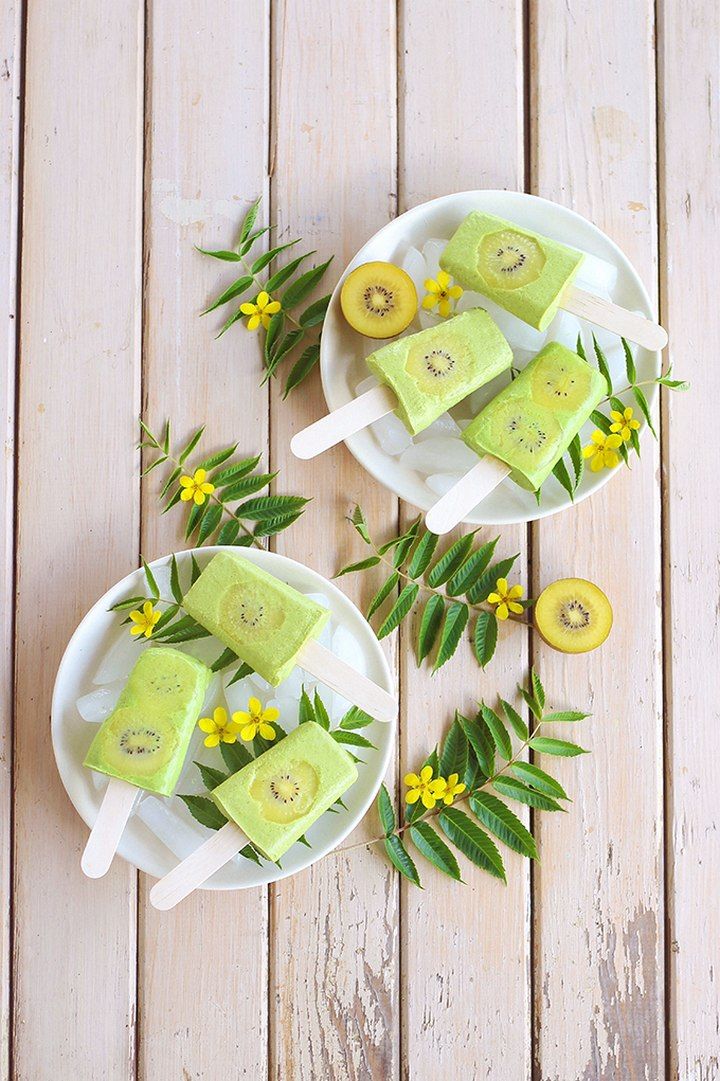 For those of you who like Pina colada, this recipe will surely be a treat. These are Pina colada popsicles that has kiwi in it. This can be a great summer treat that involves a beautiful blend of fruits, greens and coconut cream. This treat is loaded with vitamin c and e. Tutorial
8. Kiwi Lime Slice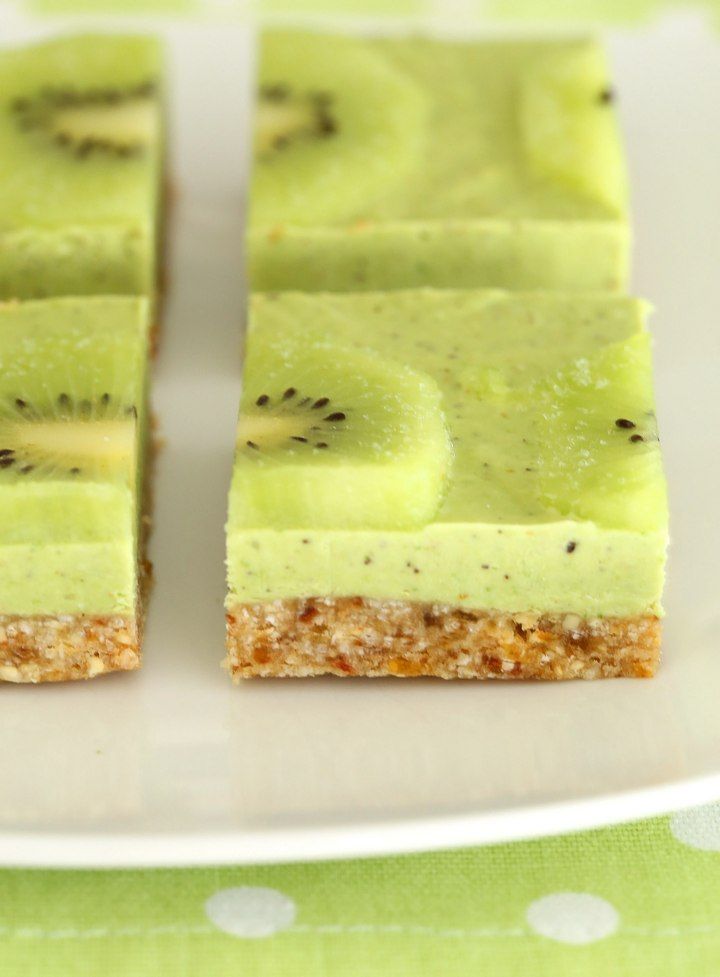 Have a look at this kiwi lime recipe and try making this at home. You will never regret the efforts made for this amazing treat. These are easy and delicious no bake slices. This recipe is free from refined sugars and dairy. It's a vegan recipe involving spinach to bring that vibrant green color. Make these easy healthy and quick snack at home. Tutorial
9. iwi Chia Pudding Parfait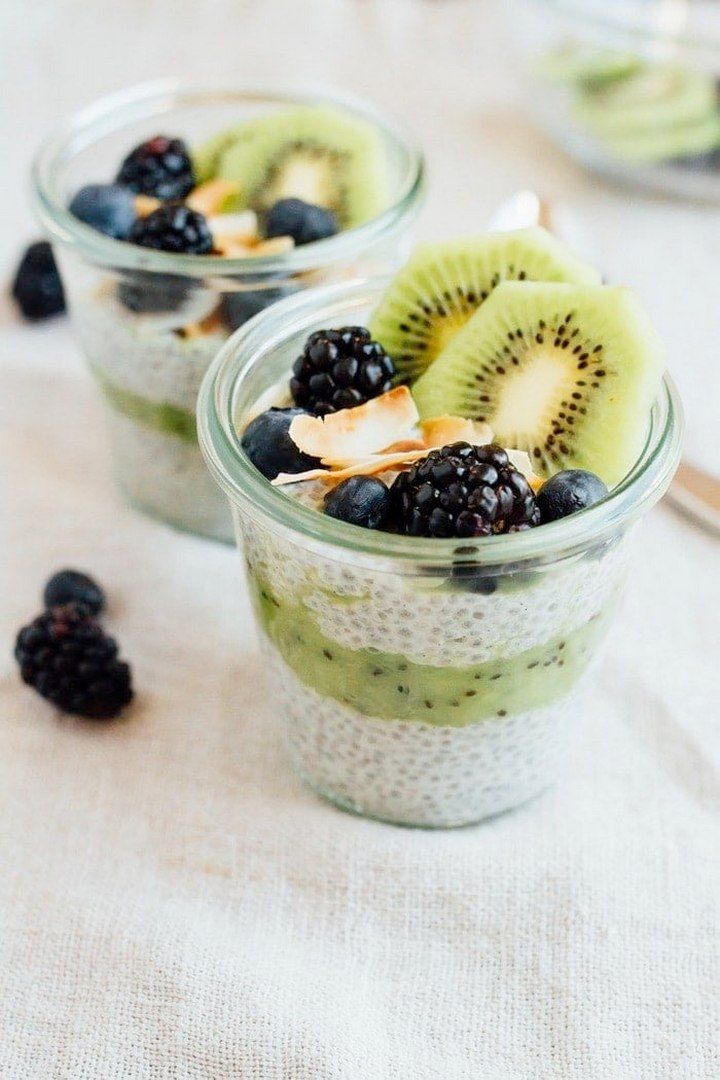 Try this pudding parfait and you won't regret any efforts made for this. Kiwi is great for snacking and you can try this for kids at home. These parfaits are colorful and delicious. You can also use this as a pre workout energy boost snacking. We will get vitamin e, k, c and potassium from kiwi. Tutorial
10. Kiwi Coconut Chia Popsicles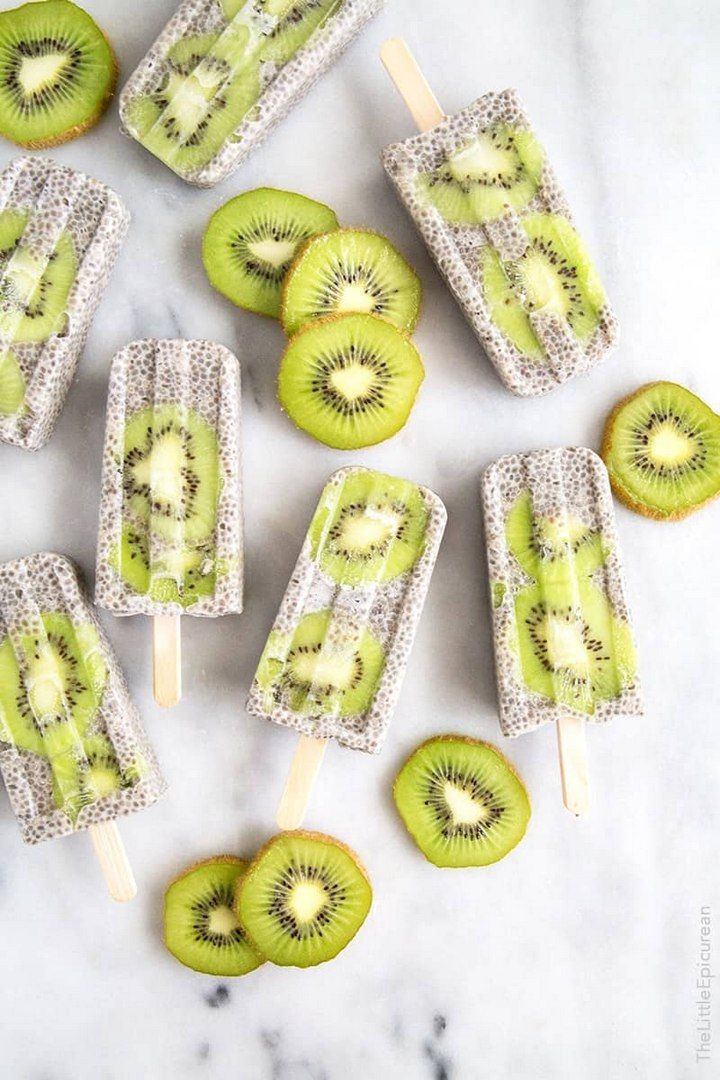 Are you interested in this kiwi coconut chia popsicles? If yes then you must try this recipe all by yourself and enjoy along with friends and family. This can be a satisfying breakfast or evening snack. You will need unsweetened coconut milk, soy milk or any alternative, chia seeds, agave syrup and peeled and sliced kiwis. Tutorial
Conclusion:
If you like any of these kiwi recipes here, you can change your breakfast routine and make it healthy like never before. Kiwi will give you a refreshing start in breakfast for the rest of the day. Get a closer look into the details of these recipes and try making them at home all by yourself.