Little girls look beautiful flaunting their hair. However, it's very impotent that we tie their hair up so that they don't get damaged and look pretty as well. Here you will find Easy Hairstyle Ideas For Little Girls, cool, and easy hairstyles for little girls. No matter if the hair is short or long you can pick your style and learn it from here. You can also add Flowers, beads, and other accessories to their hair to make them look more attractive.
If you like ponytails you can follow this twist-wrap ponytail project here. If you are looking for hairstyles for their school days, there are many for that purpose. From toddlers to teenage girls you will find many exciting and fun hairstyles for every occasion, festival, and party. For birthday parties you can try this princess crown braid to catch that vibe. Be it buns, braids, ponytails, or crowns, all these projects have easy instructions along with tutorials to help you out with the minor detailing.
1. Easy Hair Styles for Girls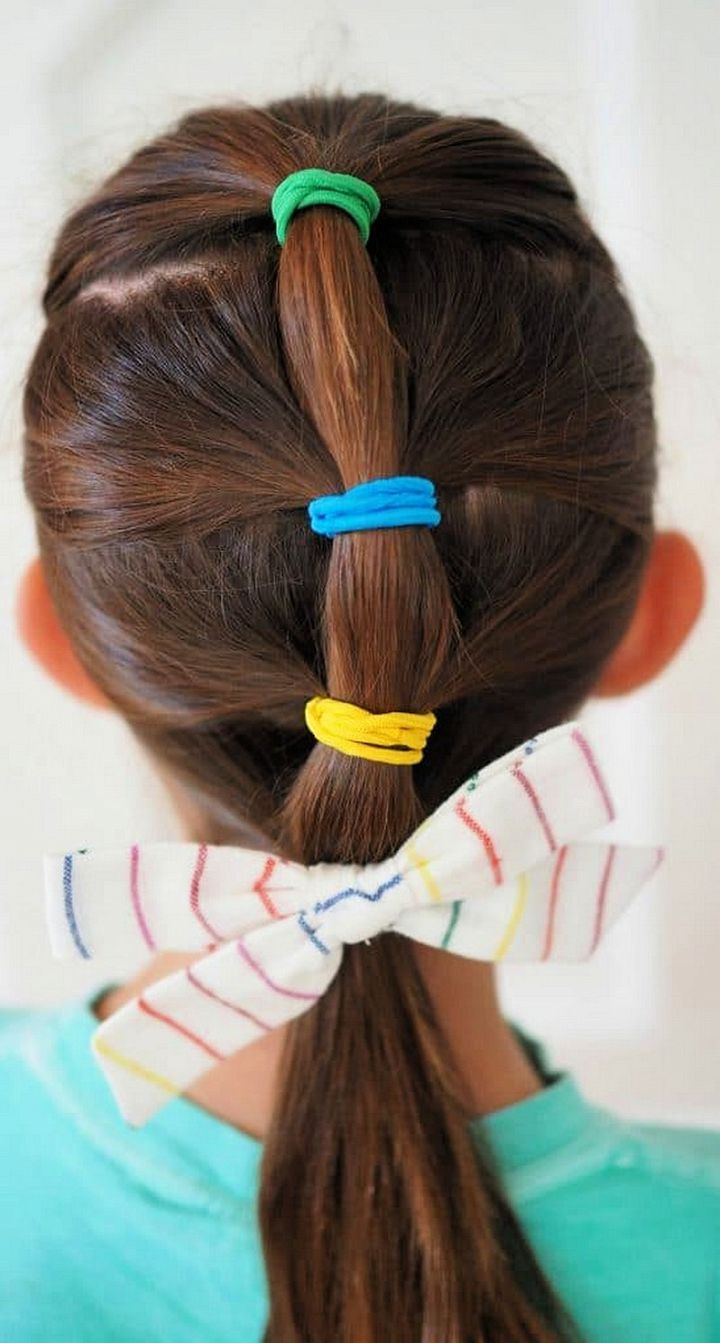 We all love our little girls and their styles and DIY fashion sense make them more beautiful and adorable. This is an easy hairstyle for your little girls. For this hairstyle you will first have to make a ponytail of hair of the hair and then keep going down, adding more hair along with them and tying them up with colorful bands. At the very bottom tie a ribbon and together it all looks amazing. here!
2. How To Cut Girls Long Hair At Home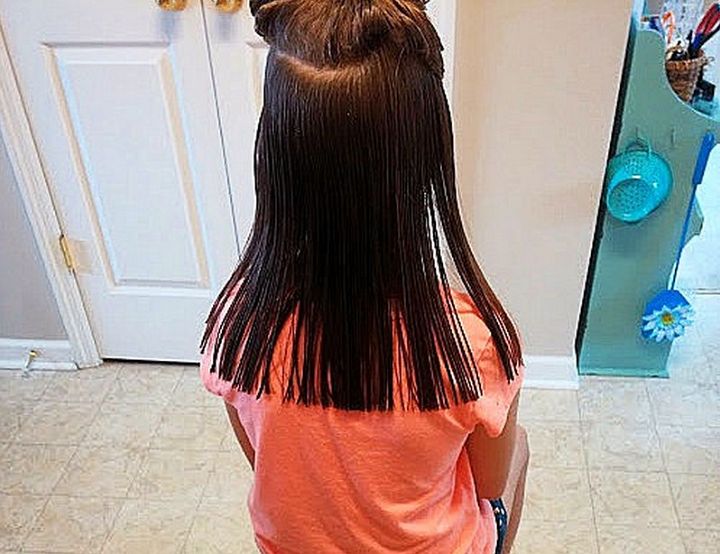 Cutting your little girl's long hair is not always easy. We don't get a chance every time to go to a salon to let them have a haircut. Instead of spending money in salons along with your time and energy, cut your little girl's hair at home only. You can easily cut her hair by first dividing it into sections. Start cutting off and then pull that section above to move further. here!
3. How To Make Flower Hair Bows For Little Girls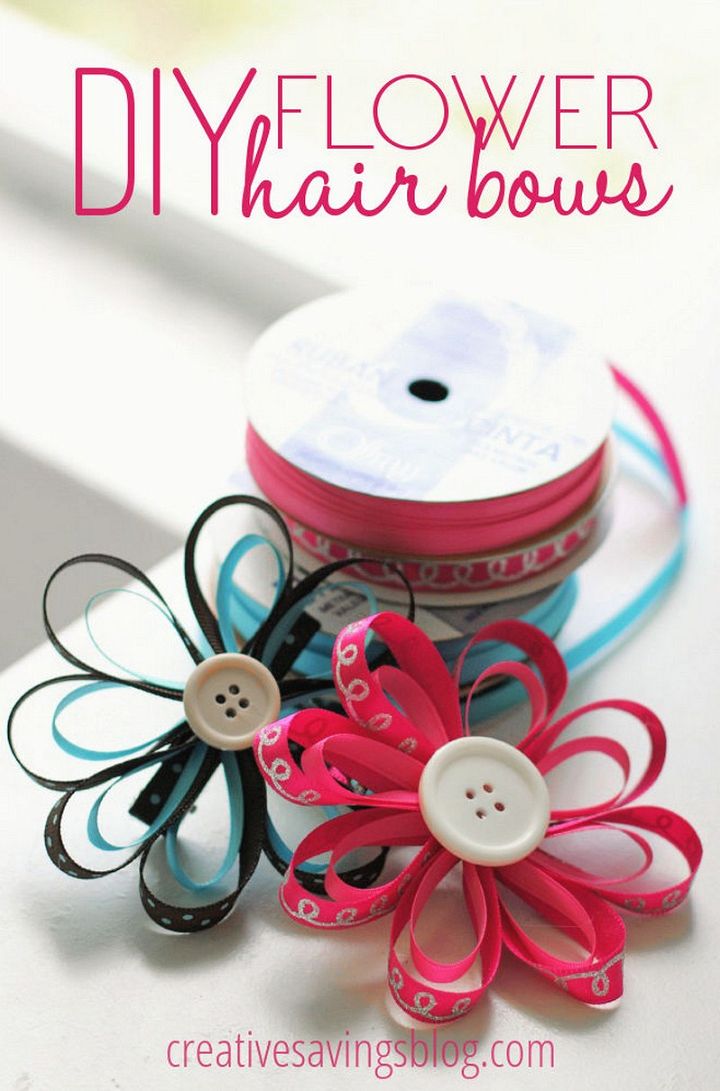 Easy Hairstyle Ideas For Little Girls: Tying hair becomes easier when you have different kinds of pony, bands, ribbons, and clips. Now you can easily and very conveniently make some flower bows for your little girl's hair at home with just ribbon, and some crafts like buttons and beads. here!
4. Twist Wrap Ponytail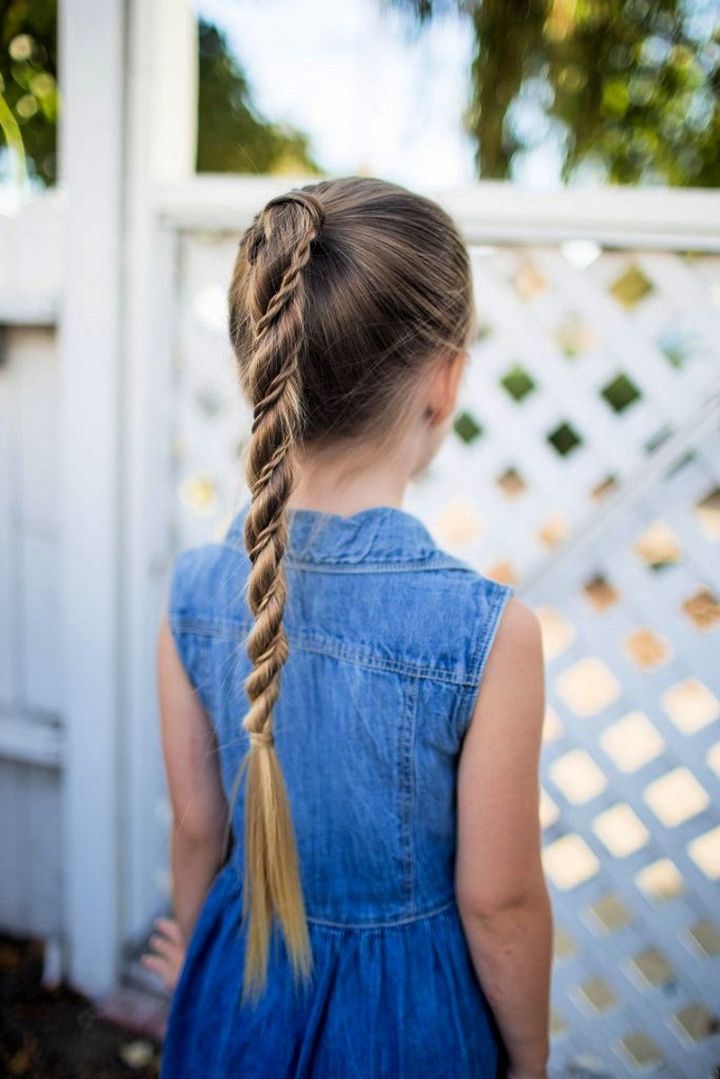 This is a very easy hairstyle yet looks very funky and stylish. For this hairstyle, you need to tie a ponytail first while leaving behind just a small section of hair that you need at need to complete the look. Once you are done with tying a ponytail, take that section and twist it around the ponytail to complete your styling here!
5. 5 Minute Hairstyles for School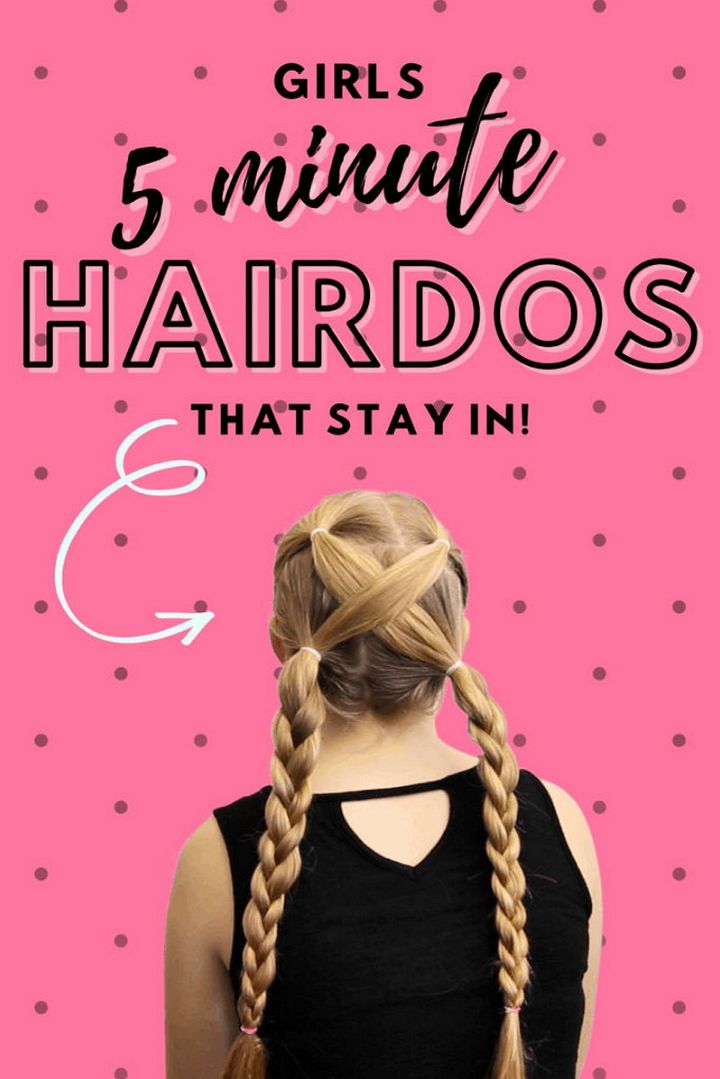 When our little girls start school, it's very important for them to dress gracefully and elegantly. Dressing up for school means hurrying by every means. For such a purpose, we need to learn some very quick hairstyles that will take not more than five minutes. This hairstyle that you see hair seems time taking but it's actually very simple and can be easily and quickly done before school time. here!
6. Toddler Top Knot Hair How-To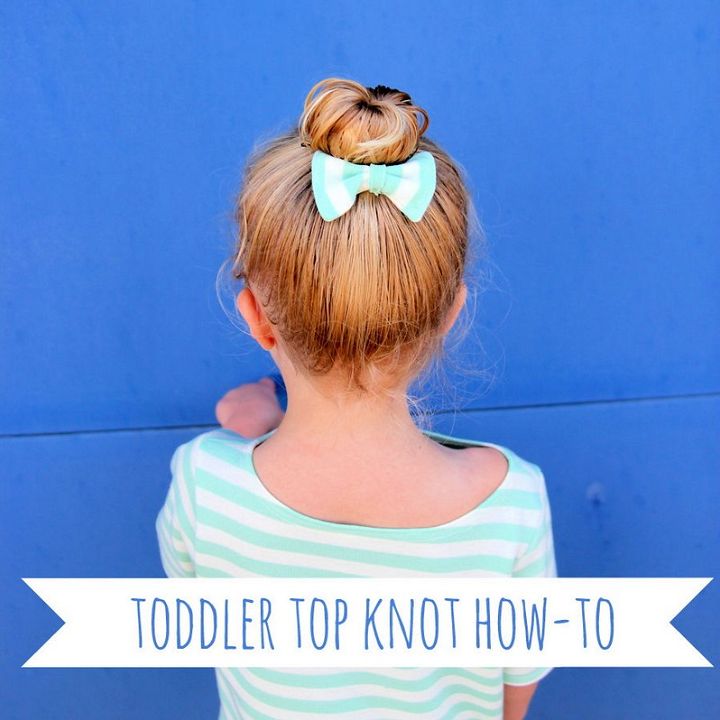 Top knots are better in summer. This is an easy way to make a top knot for your little girl. With this hairstyle, you will let them be free about their hair, and have fun playing around. This top knot has a nice and not-so-messy look so that they can wear this style at their friend's party as well. here!
7. Little Girl Hairstyles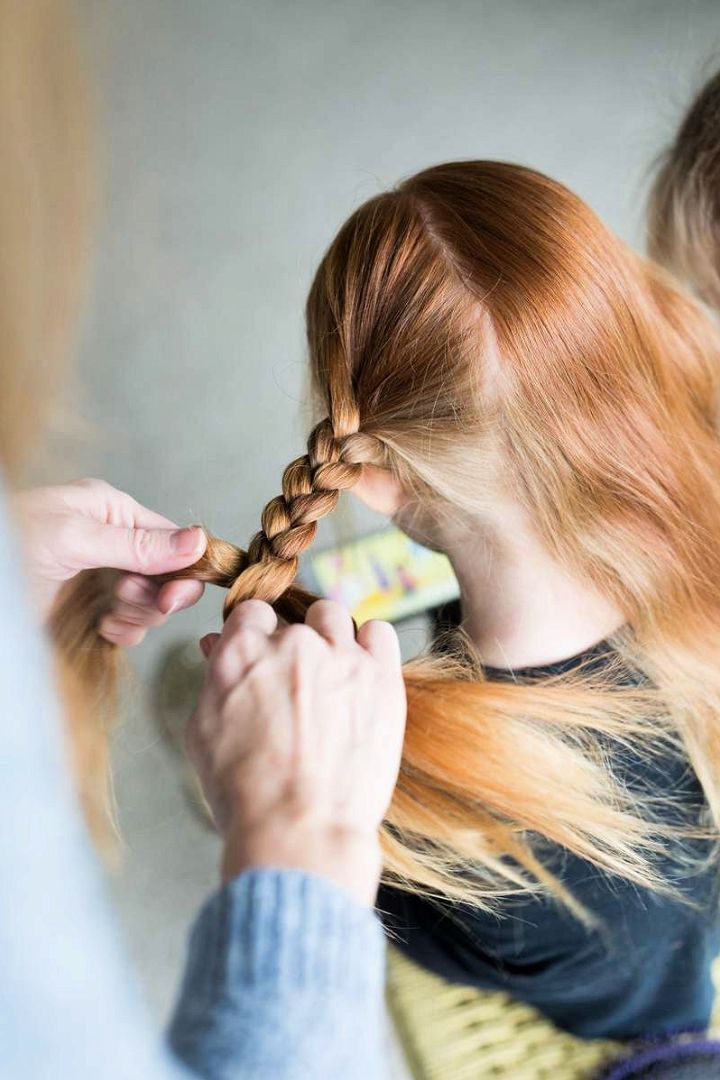 Simple braids will never go out of fashion as we know. For little girls, we can let them wear two braids and see how beautiful they look in them. it's very important to protect hair and it's only possible if you tie them up and do not let them go frizzy and damage themselves. here!
8. Cute & Easy Crown Dutch Braid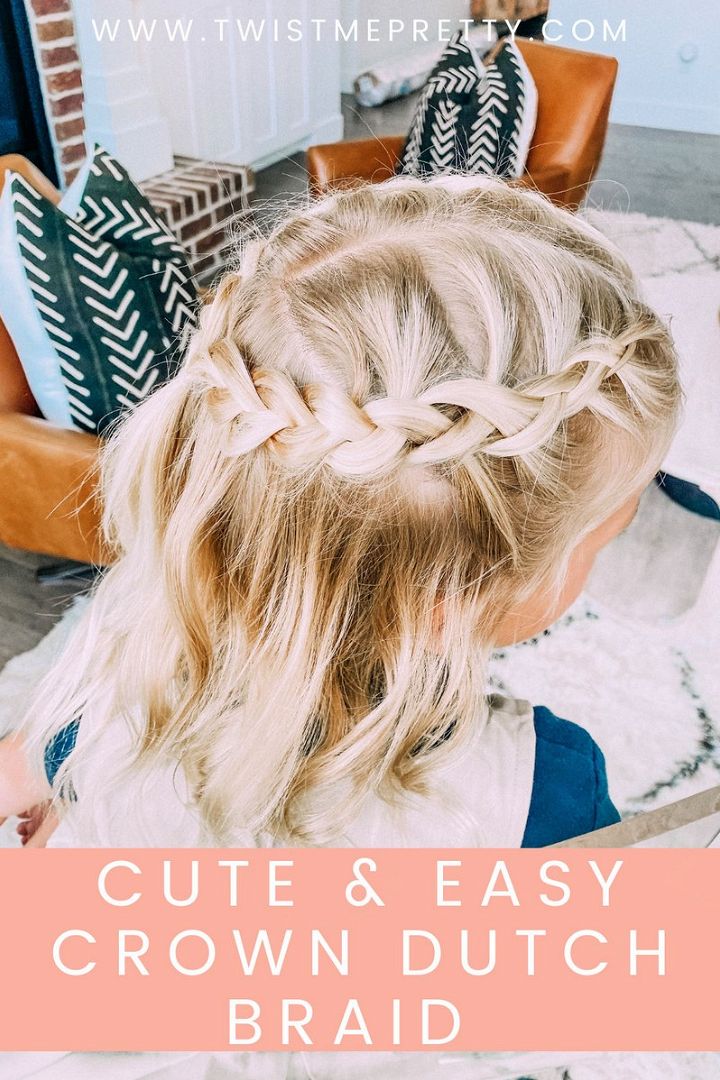 Easy Hairstyle Ideas For Little Girls: Crown braids are very popular these days and look how easily you can make them. This is an easy crown Dutch braid that looks attractive and nice on the sides as you can see here. You can also make this braid on full-length hair but it looks absolutely amazing on a side with half hair only. here!
9. Sunny Day Hairstyle With Savy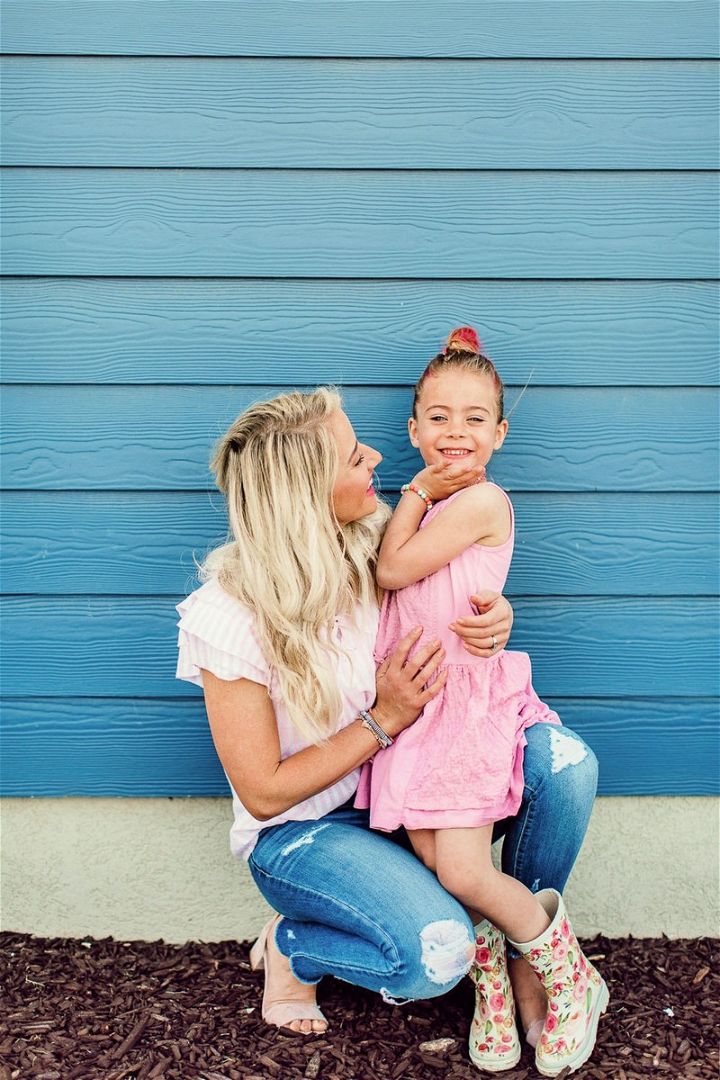 When it's summertime we all are concerned about pulling up our hair and being free. For hot summers this easy sunny day pulled-up hair bun is a very intelligent idea to go with. Start with detangling your hair and gathering all of them. once you have detangled and gathered your hair, you can now make a nice tight bun on top to escape the hot weather. here!
10. Princess Crown Braid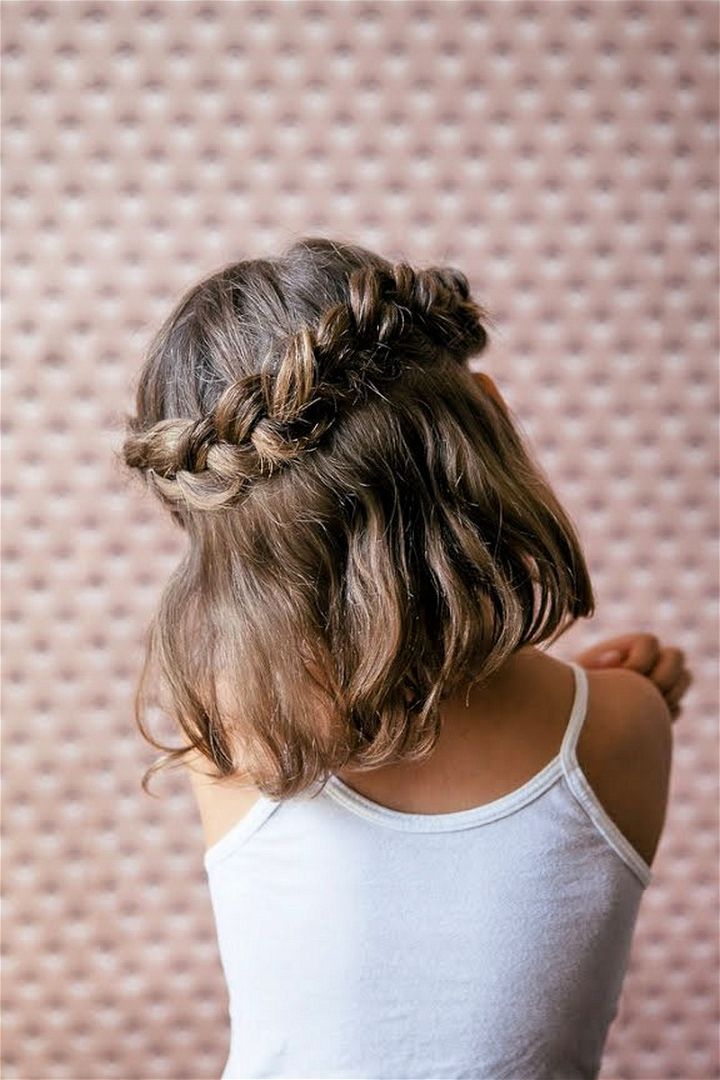 Make this beautiful crown braid for your little princess so that she can actually feel like a princess. This hairstyle is not only meant for long or only for short hair instead this is a perfect hairdo for all hair lengths. Make this hairstyle and add some beads and ribbon alongside. here!
11. Skip a Beat Braid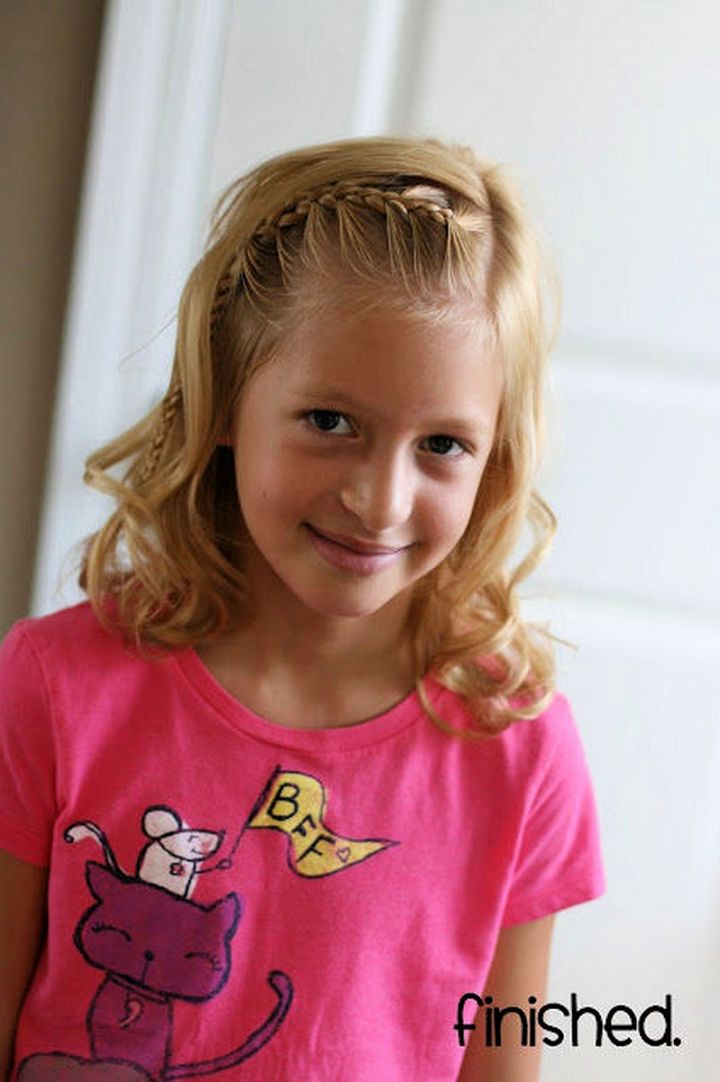 This is a bead that you can easily make with just a smaller section of hair. This has been called a skip-a-beat braid for little girls. For little girls, only half hair tied up looks great. For these braids, you can use small ponies or colorful rubber bands. here!
12. Triple Buns Hairstyle How-To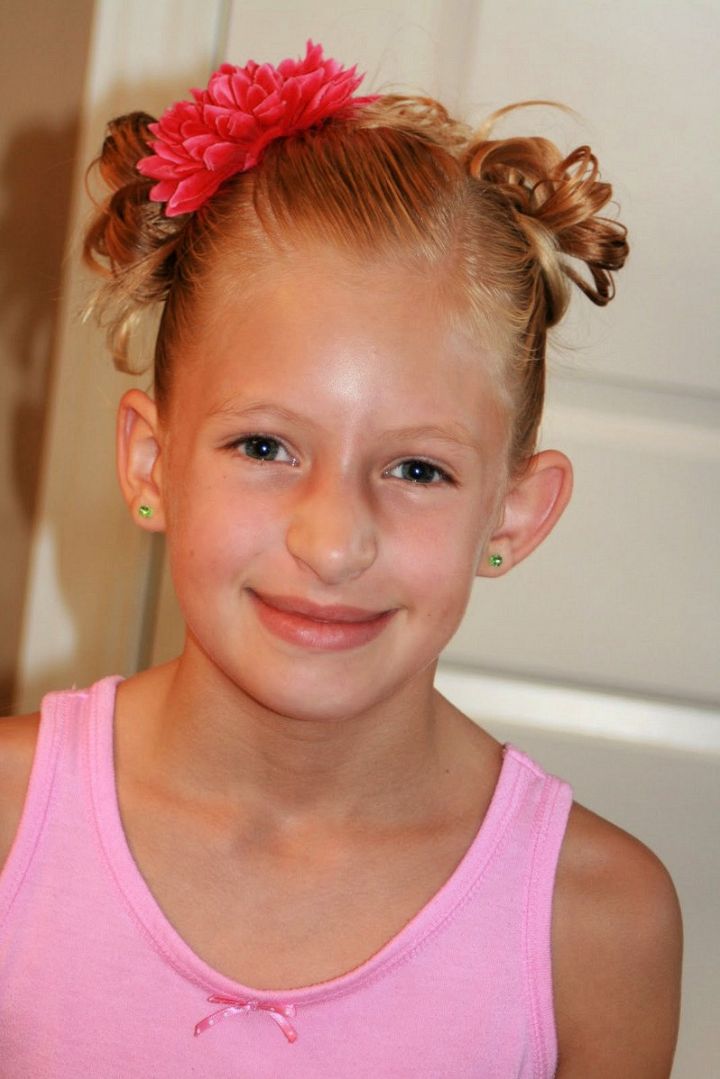 For little girls, you can be very creative while making hairstyles for them. Have a look at this three-bun style that you can easily make using different ponies. This hairstyle best suits short hair as it looks more appropriate on shorter hair rather than long here!
13. Lace Braid Headband (Easy Hairstyle Ideas For Little Girls)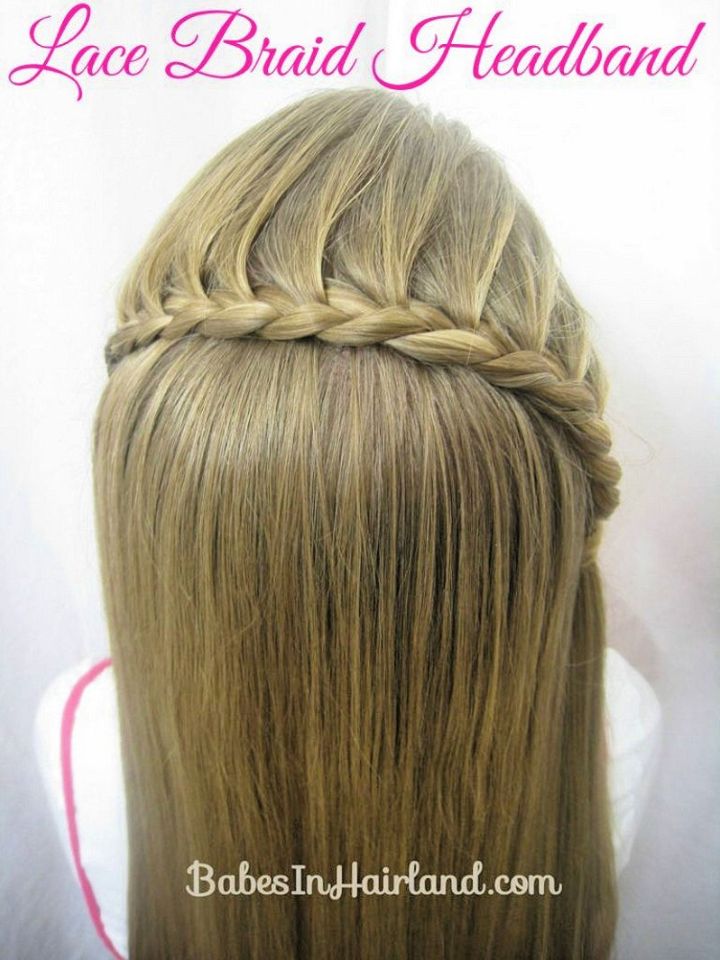 Easy Hairstyle Ideas For Little Girls: This is a lace braid headband. It's actually a hairstyle that looks exactly like a headband if you notice. Make this braid on completely detangled hair and let the rest of the hair stay open. Learn the technique of making this braid in this tutorial. here!
14. Braided Flower Tieback – Hairstyles for Long Hair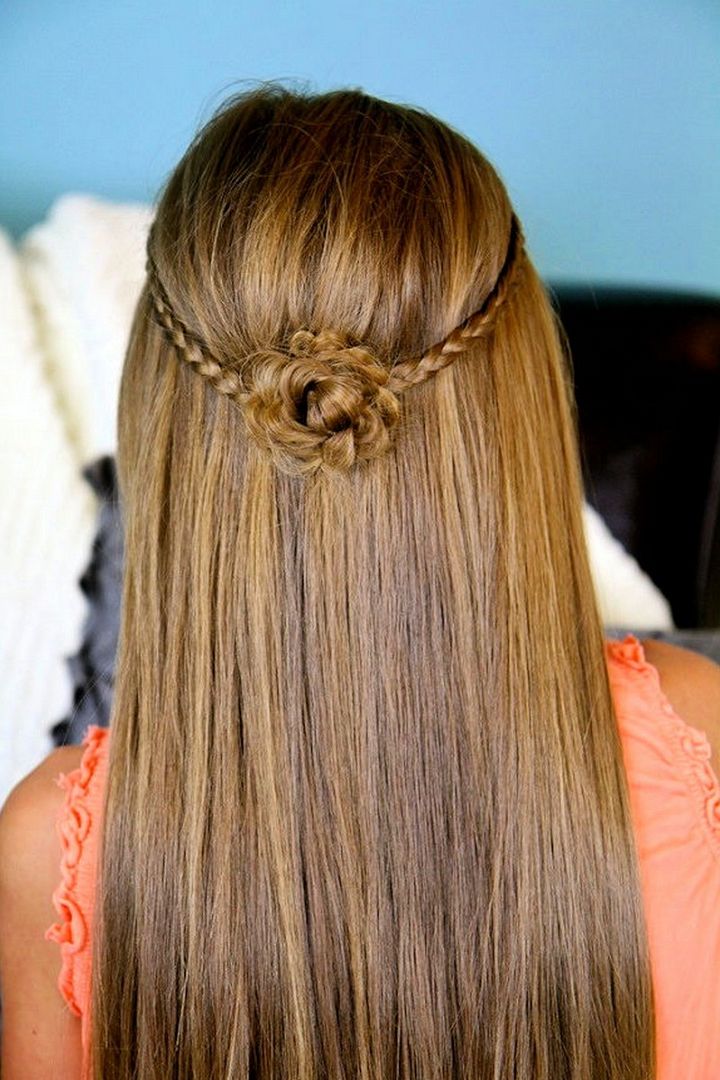 This hairstyle is so beautiful and worth making for your little girls. This is made in such a way that it looks as if a flower or a bow has been tied with hair. First, you have to detangle the hair and then make two simple braids on both sides of the head, bring these braids at the back and make a flower together from the lower portion of each of braid. here!
15. Hair Wrapped Bubble Ponytail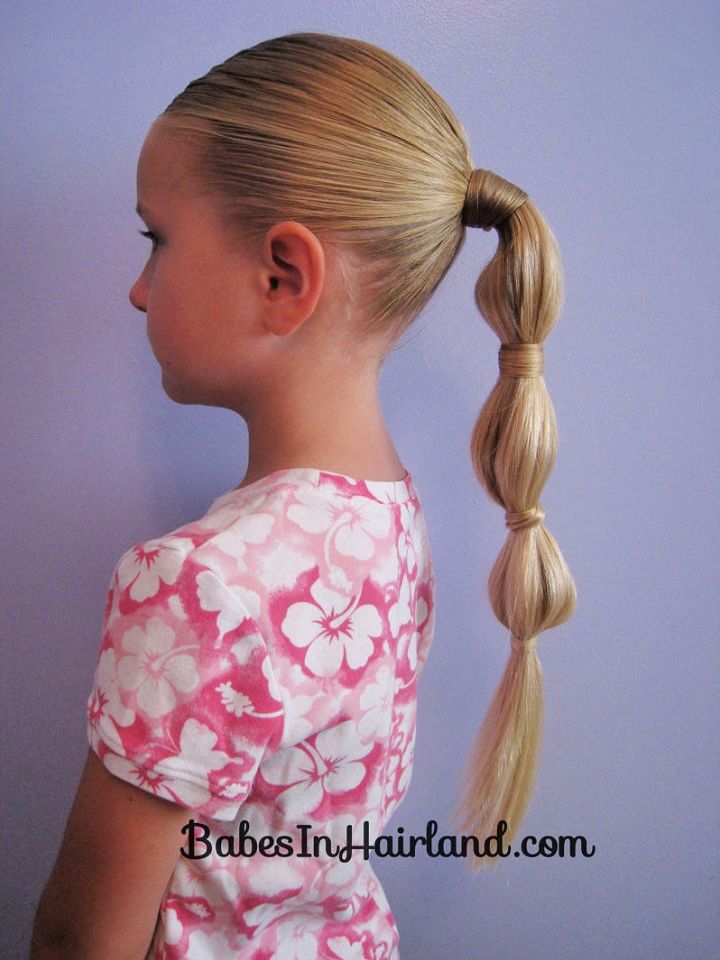 This is probably the favorite of all little girls. This is the easiest yet cutest hairstyle of all time. For this style, you have to make a ponytail first of all the hair. Tie another pony ahead of the first one and make a bubble in between with hair by pulling them softly. Do this again with the next portion and repeat until the end. here!
16. Ribbon Braid Wrapped Sock Bun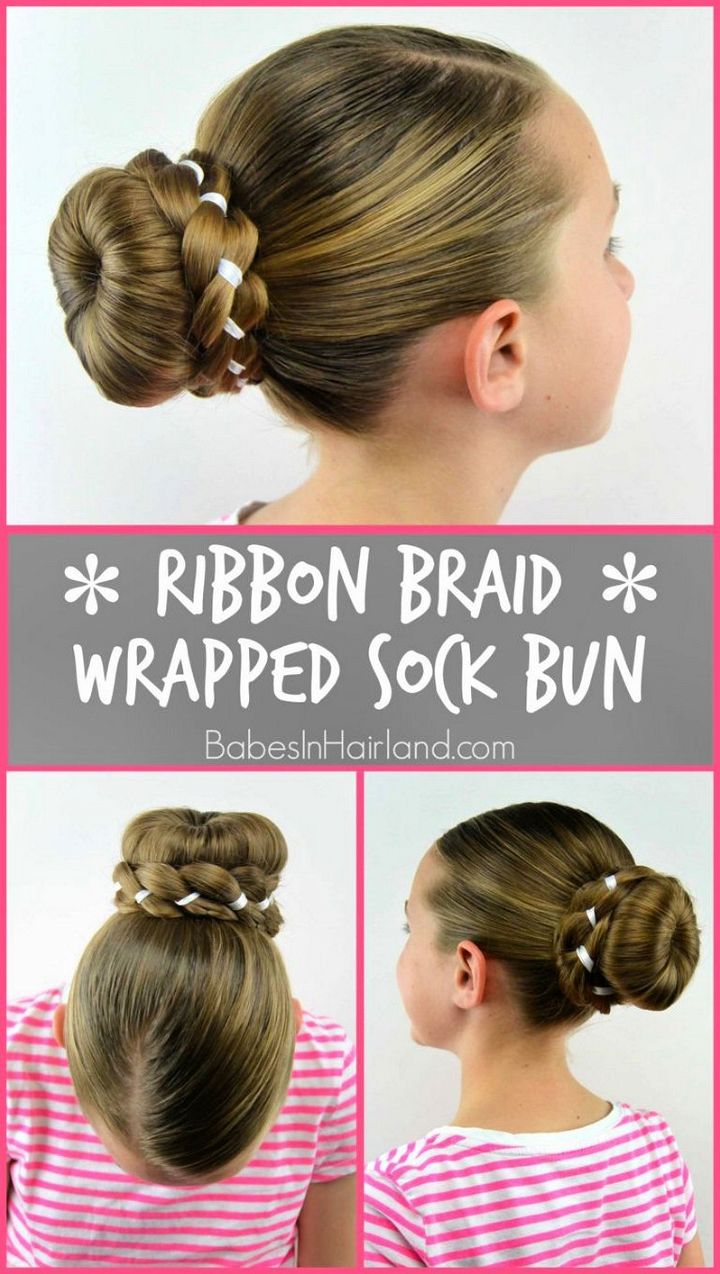 This hairstyle has been named a ribbon braid-wrapped sock bun. Don't you worry about the long name of the hairstyle? It's indeed very simple and easy to do. Look into the details of the hairstyle and you will be able within a few minutes to make this cute and adorable hairdo for your little girl. here!
17. Woven Braids & Twists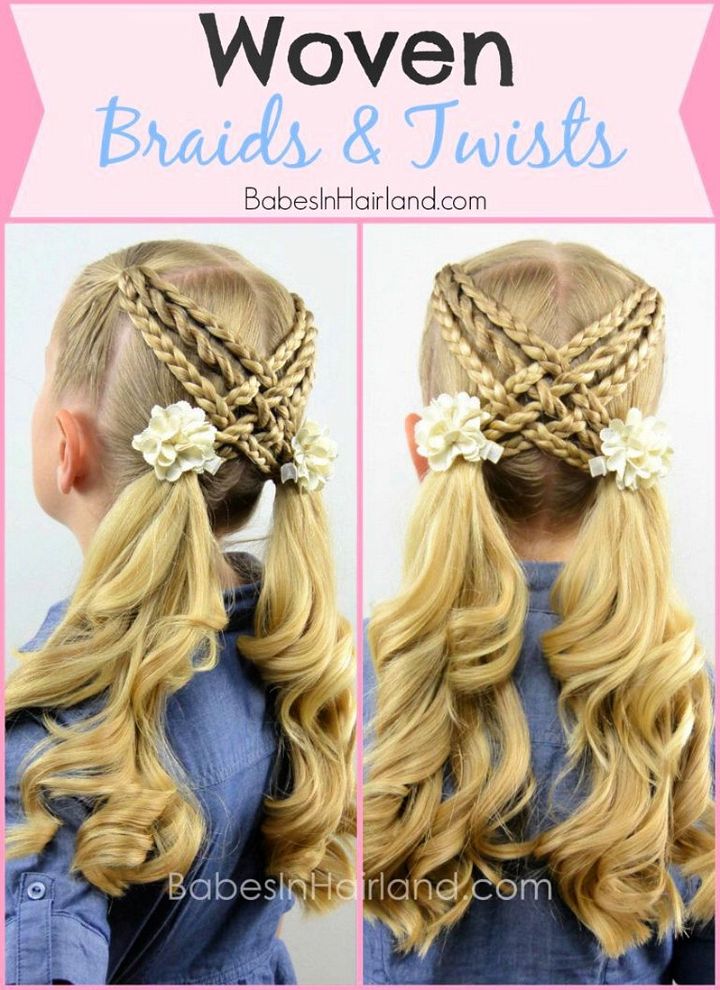 This is probably a hairstyle that you can do for a party, picnic, wedding event, or any formal function that you are going to. These are some woven braids twisted around at the end along with each other. This is an easy yet good-looking hairstyle for your girls. First, you will divide the hair into two sections equally, make braids on both sides and then twist them around as you can see instructions. here!
18. Double Braided Headband – Any Age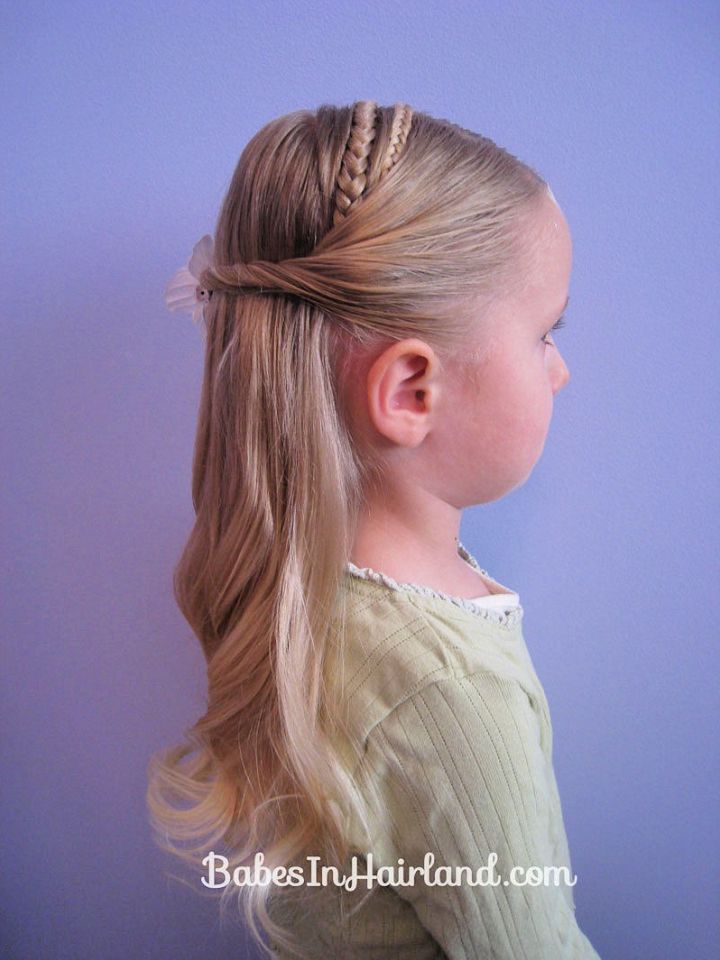 Headbands look really cute on little girls. It is even more wonderful when you make a headband out of hair only. Try this headband by following this tutorial and you will see some amazing results at the end. It's called a double-braided headband here!
19. Growing Out Bangs – Triple Dutch Braids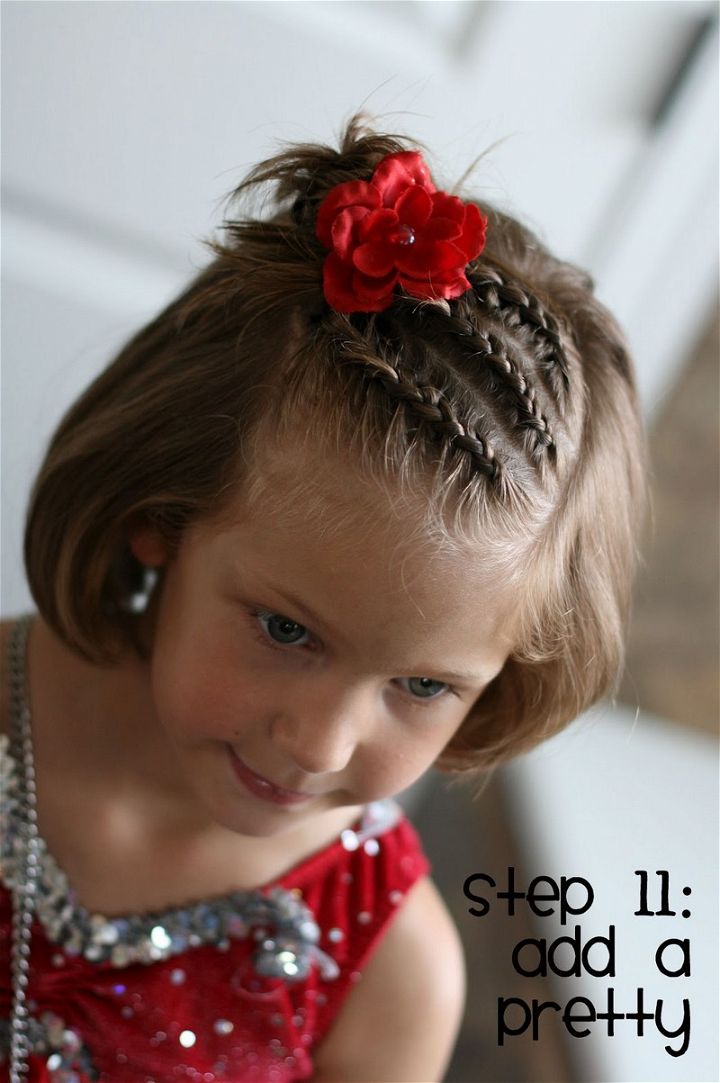 This is a triple Dutch braid that you see here. This is perfect for even the smallest length of hair. This hairstyle is made with bangs that are growing in length but could not be managed easily. These bangs will be adjusted in this multilayered braid here and will look completely different and stylish. here!
20. Snowman Hairstyle For Crazy Hair Day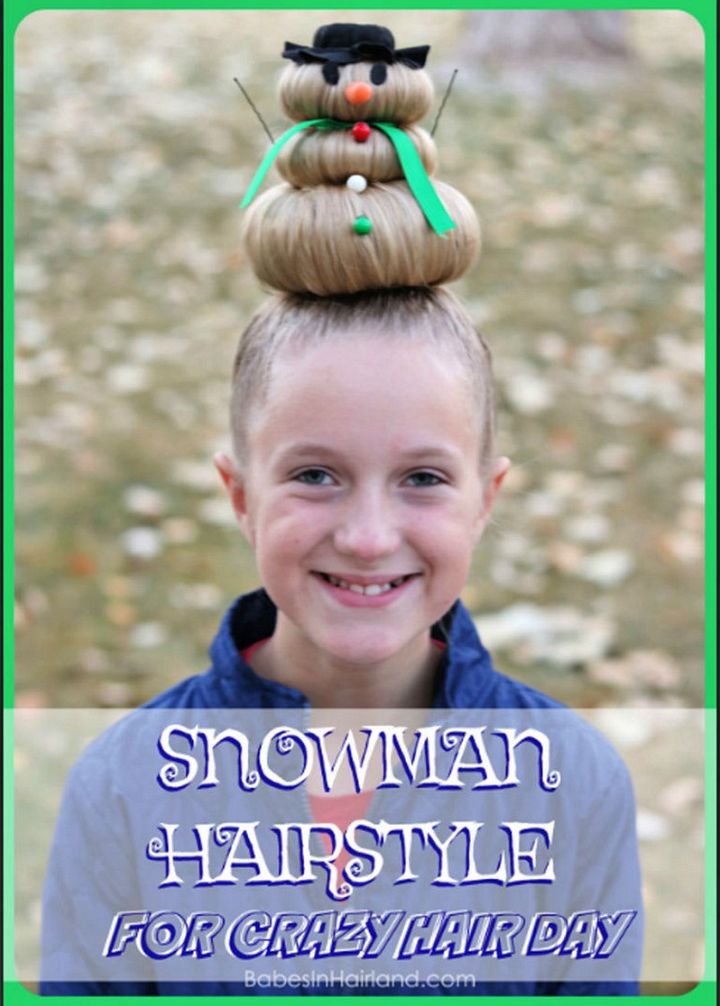 This is a snowman hairstyle that you see here. It's made with multilayered buns. This hairstyle is more appropriate for long hair rather than short. Have a look at this multi-layered bun which looks absolutely beautiful attractive and crazy also. Make this style on a crazy hair day at school. here!
Conclusion:
Make your little girls look like a princess on every occasion and festival. Girls love their hair and they like to show them off. Instead of some boring and typical hairstyles, do some experiments regarding hairdos for your little girls?