You can now learn to make 20 DIY Stool Ideas – Easy Stool Projects with the help of these projects here. Step by step construction process is given here along with the details of the project in order for you to achieve the best results as described. Some of these are complete wooden stool whereas some of these are made with a combination of wood and industrial pipes. Many Projects here are about transforming old bar stools into completely new ones. You can use a variety of materials to decorate the old stools.
The makeover projects among these diy stool ideas are so easy and super quick that you will definitely want to try these. Once you have completed the makeover of your old wooden stools, you will love the new and changed look for sure. Some of these plans will teach you how you can build your own farmhouse style stools all by yourself at home. The upholstering projects among these are also satisfying and easy that even the beginners can try them. You will also see some amazing and surprising reclaimed wooden stool plans here that you will surely love. DIY Stool Ideas
1. Incredibly Simple DIY Shop Stool Plans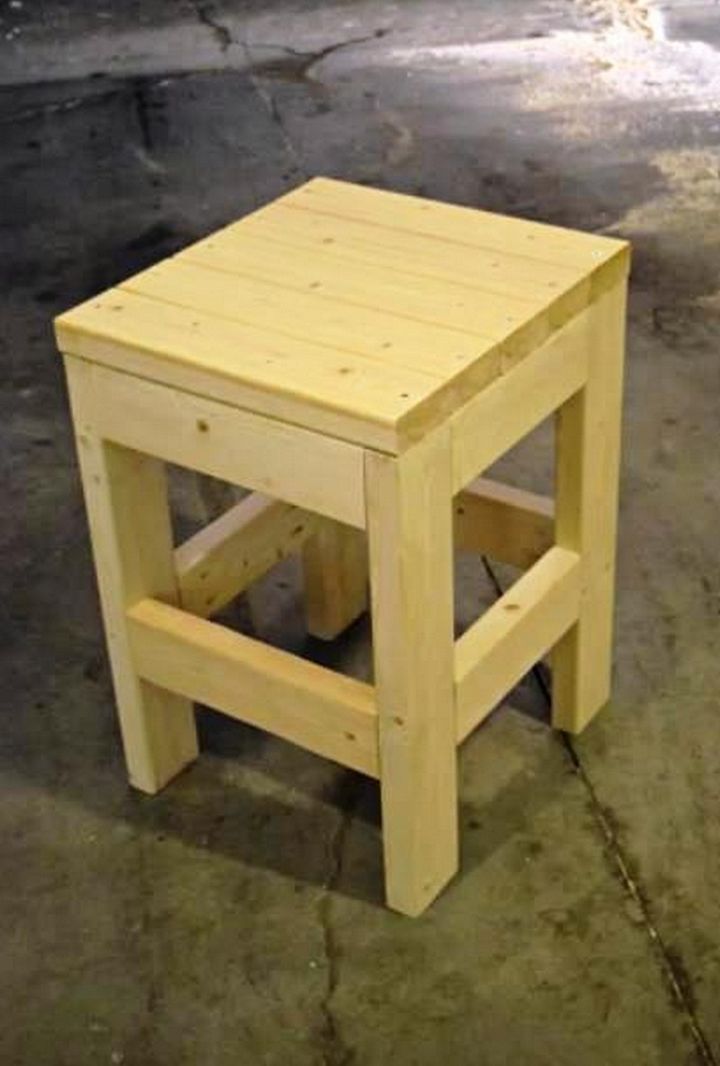 Stools are definitely an important and useful thing in the house. This diy project is about creating incredibly simple shop stool plan. The cost of this project is very less and that's the best part about it. the list of supplies include boards along with pocket hole screws, flathead screws, wood glue, sandpaper and finishing supplies. Whereas the tools include tape measure, speed square, pencil, safety glasses, ear protection, drill, miter saw, sander and kreg jig. Tutorial
2. Decorate A Wooden Stool With Paper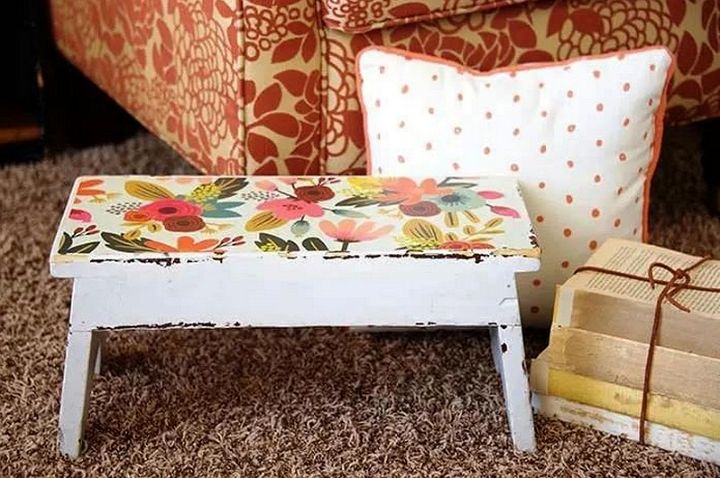 If you have a wooden stool at home and it has gotten old, you can learn to renovate it from this project. Here in this project you can learn how a wooden stool can be decorated in a nice way with paper. With a little bit of effort you will see some amazing results coming up. You will need mod podge, paint brush, patterned wrapping paper and cardstock, pencil, scissors and plastic scrapper. Tutorial
3. Easy Barstool Makeover – DIY Stool Ideas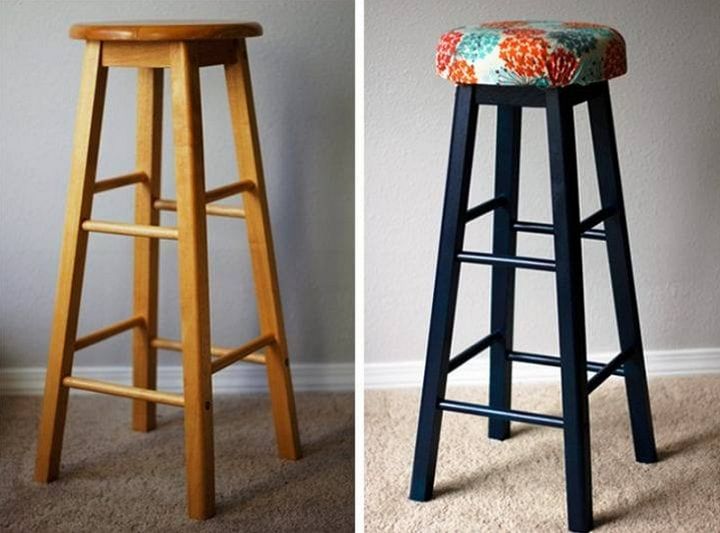 DIY Stool Ideas: In this project we see a bar stool being transformed into a completely new and presentable things. You can also do a nice makeover of your bar stools with the help of this project here. You will have to use fabric and cushion to make it soft and cozy. Tutorial
4. Build A Barstool Using Only 2x4s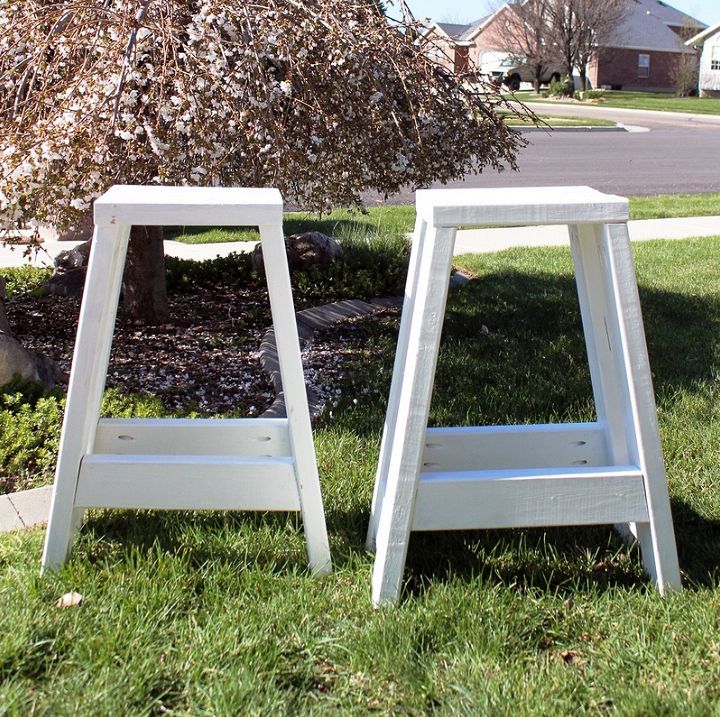 This diy bar stool is made using 2*4 and it turns out to be amazing. You will have to use wood glue on wood joints. You will need pocket hole jig, pocket whole screws, wood glue, drill and miter saw. If you are new in wood working, you will definitely get so much help from this project. Tutorial
Low Ceiling Loft Bed Ideas – Here, you'll find 15 amazing ideas for building an adult loft bed. It will be clear how adaptable these designs are in terms of style, size and construction.
5. Easy DIY Stool Idea – Farmhouse Style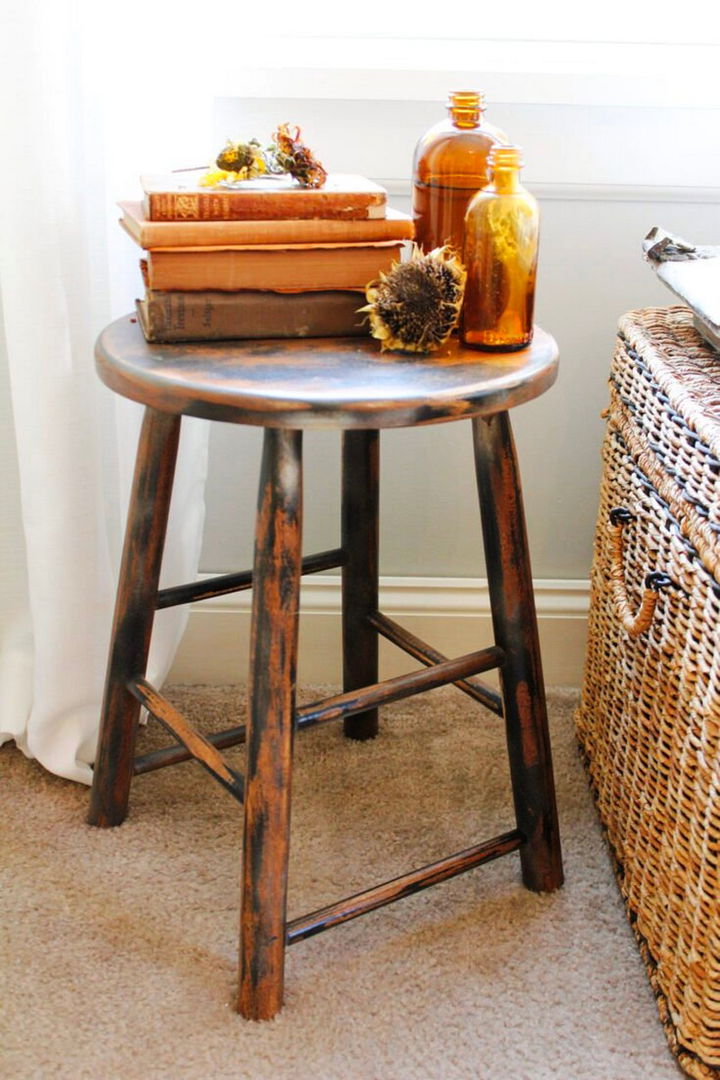 This diy easy stool project is inspired by farmhouse style and it looks absolutely amazing. if you are up to renovating your house and making it look better for the festive and holiday season coming, this diy stool project should be on your to do list for sure. You will need wooden bar, hand saw, palm sander, spray paint, min wax, cotton rags and felt chair pads. Tutorial
6. How to Upholster a Bar Stool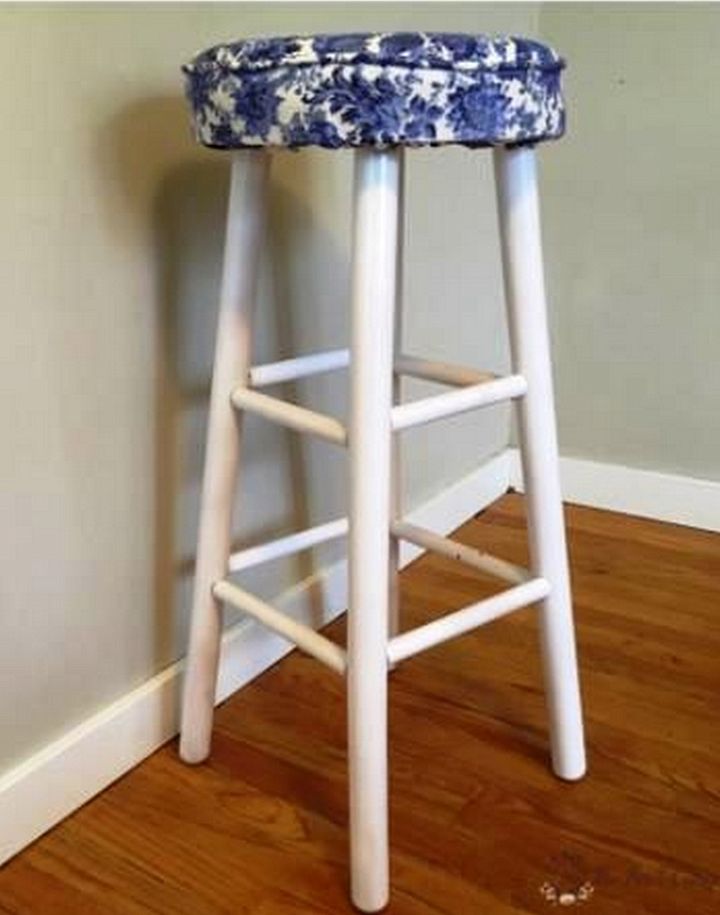 In this diy project you will learn how to upholster a bar stool. You can follow this project if you are also into home décor and bringing a new style to the interior of the house. The crafts that you need are sewing machine, scissors, tape measure, and marker, stapler, cutting mat, rotary cutter, wonder clips and hammer. Tutorial
7. DIY Bar Stools – DIY Stool Ideas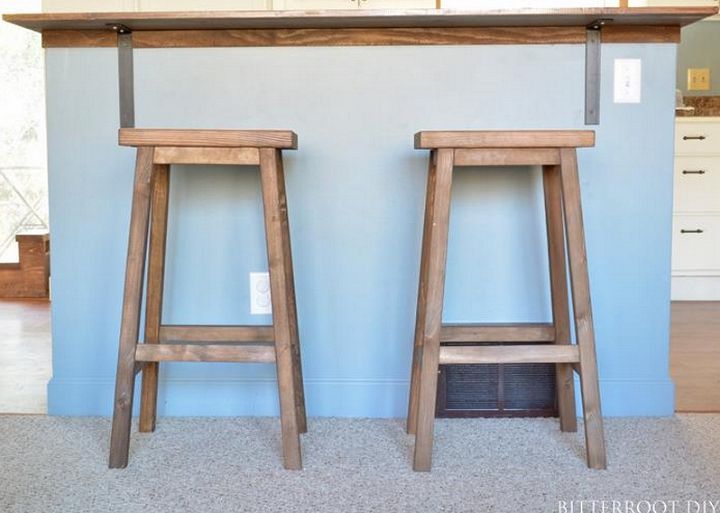 Even if you are beginner in wood working and building things, you can still get along with this project. A long list of supplies and tools will be required to build this multipurpose stool. Get started with this and take help from the tutorial which is here with the project Tutorial
8. How to Make a Small DIY Wood Stool from a Bar Stool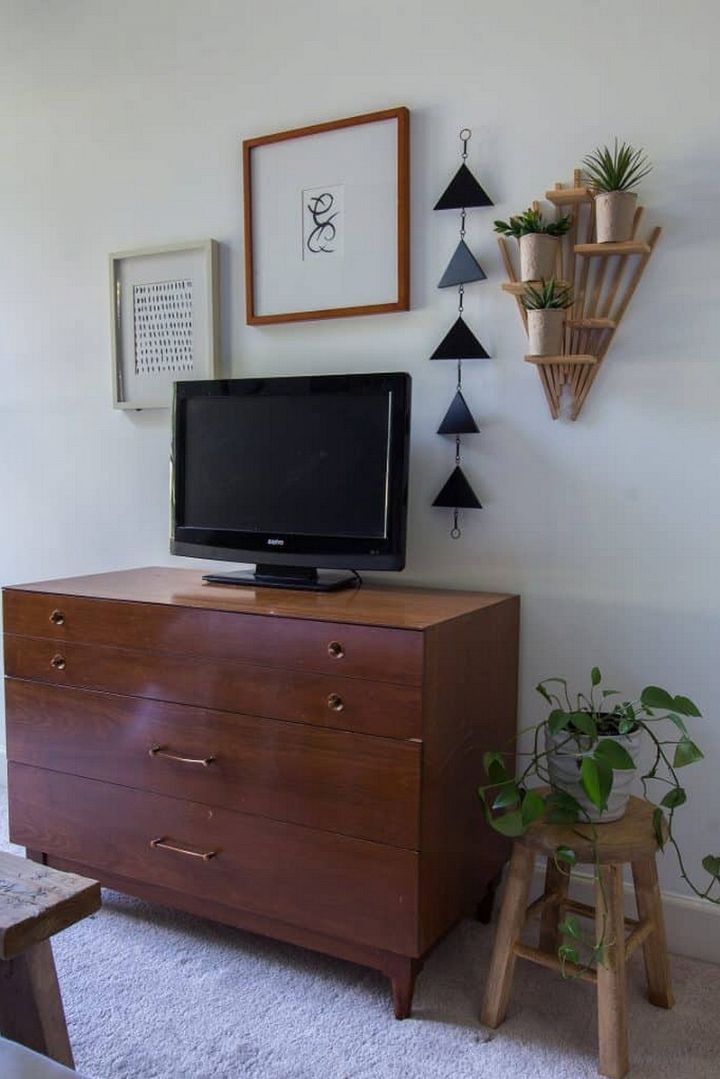 This project will guide you how a bar stool can be transformed into a nice wood stool easily. The list of supplies include sander, saw and wood stain. Take notes from this project over here and see how some amazing results comes your way. Some basic wood working skills and tools and required here. Tutorial
9. Easiest Stools Ever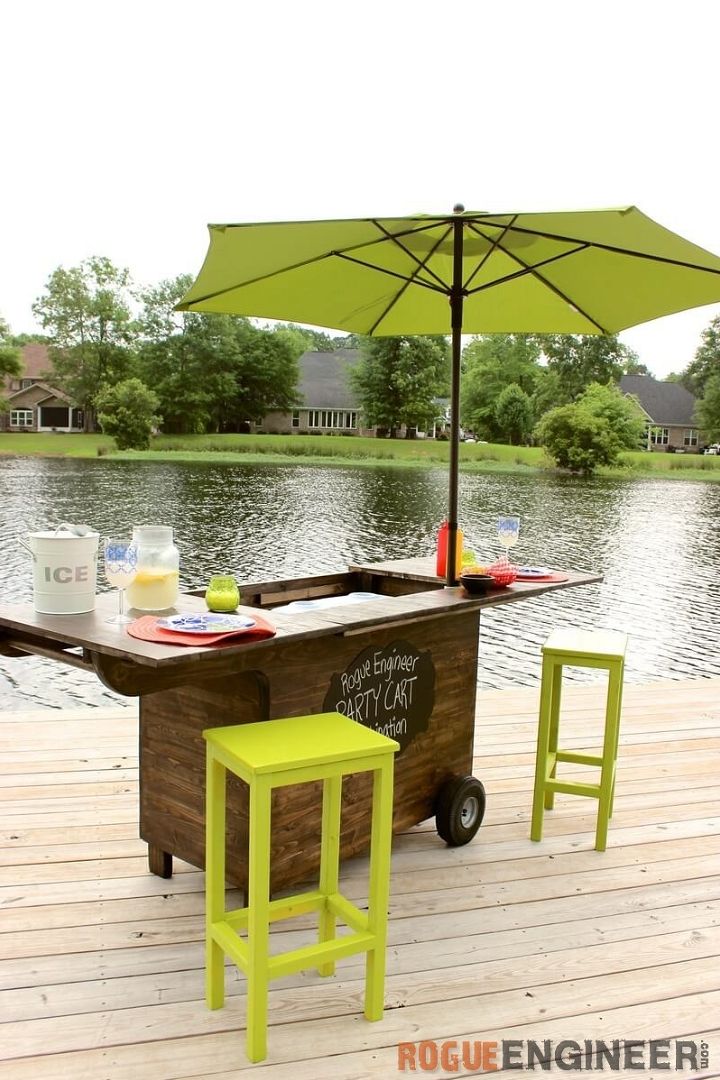 This seems to be the easiest stool idea ever. You can also make such stool all by yourself with a little bit of effort. Besides the main material you will need some tools to complete this mission such as drill, miter saw, tape measure, and pencil, safety glasses and hearing protection. Tutorial
DIY Desk Ideas – Your office must be a comfortable productive and comfortable environment, however for a lot of us, that often isn't true. Desks are a popular choice for modern homes as well as small office spaces, particularly for those who work at your home. The idea is to build something practical and elegant enough to complement the home design.Grab your tools and roll up your sleeves and give a go at some of these DIY desk designs. Explore these fantastic desk designs.
10. DIY Reclaimed Wood Stool With Plans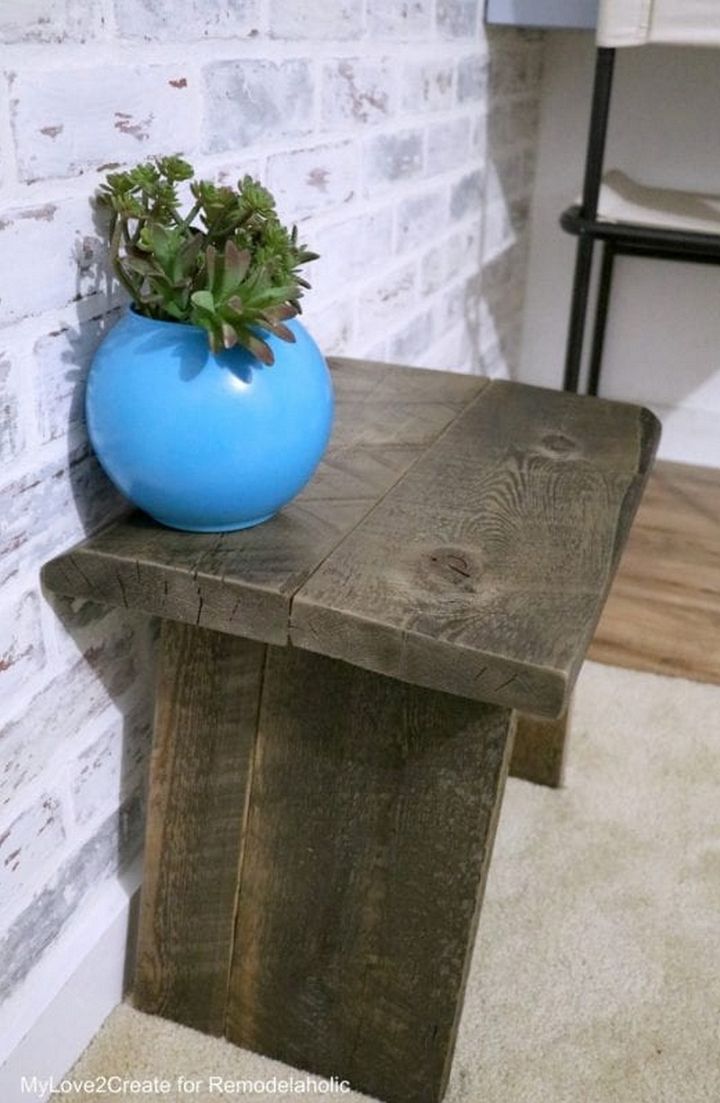 DIY Stool Ideas: Have a look at this reclaimed wood stool plan over here and see how you can also make one. These wooden stool plans here will guide you through the making of your own reclaimed wood stool in an easy way. The tools that are required here are miter saw, kreg pocket hole jig, nail gun, drill, clamps, sander and finishing supplies. Tutorial
11. Wooden Step Stool Makeover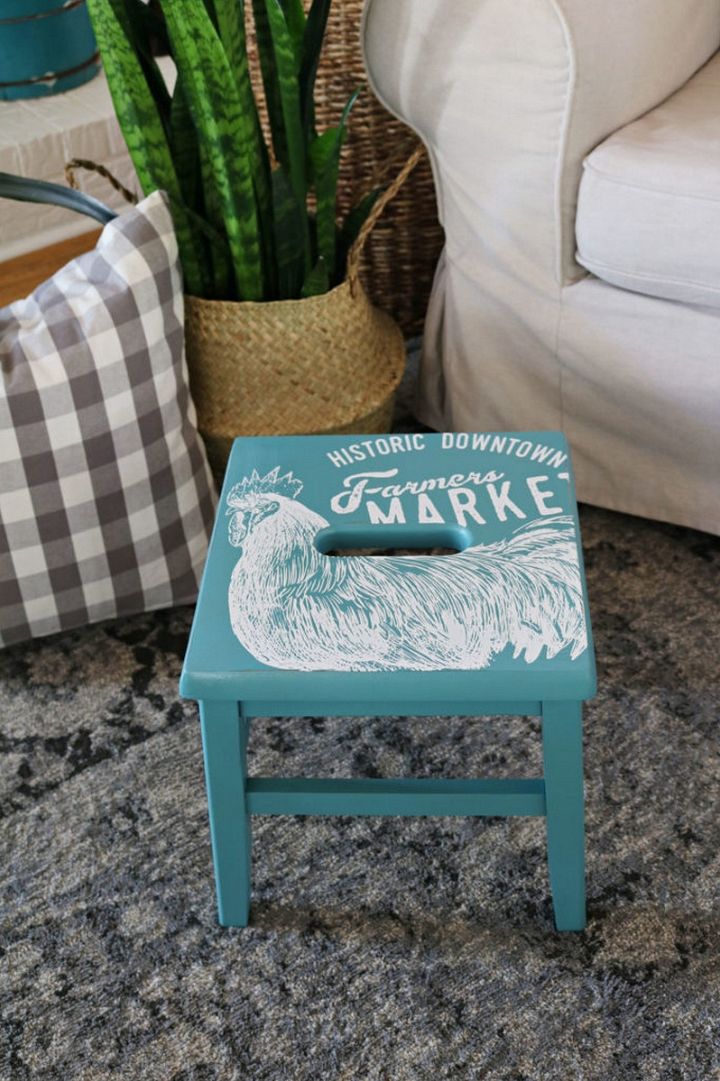 If you are tired of an old wooden stool at your home, try this make over project for your stool and you will definitely be amazed by the results. The supplies that are used to decorate the wooden stool can be easily bought from a thrift store. You will need a sanding block, rust oleum coat, dust cloth, stencil, chalk paste and a clear top coat. Tutorial
12. DIY Pallet Bar Stools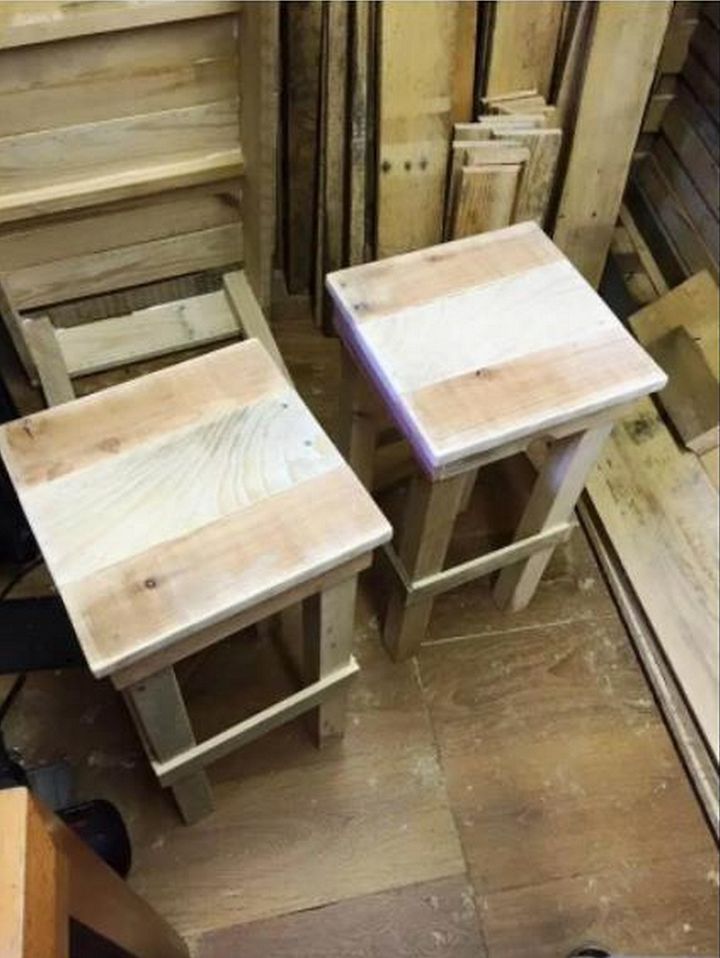 Here we have a pallet bar stool idea and plan so try this out. You can also build a same stool like this and use it for a variety of purposes. With the help of this diy stool project you can start making your own stool in your garage over this weekend. Tutorial
13. Ridiculously Simple Shop Stool Plans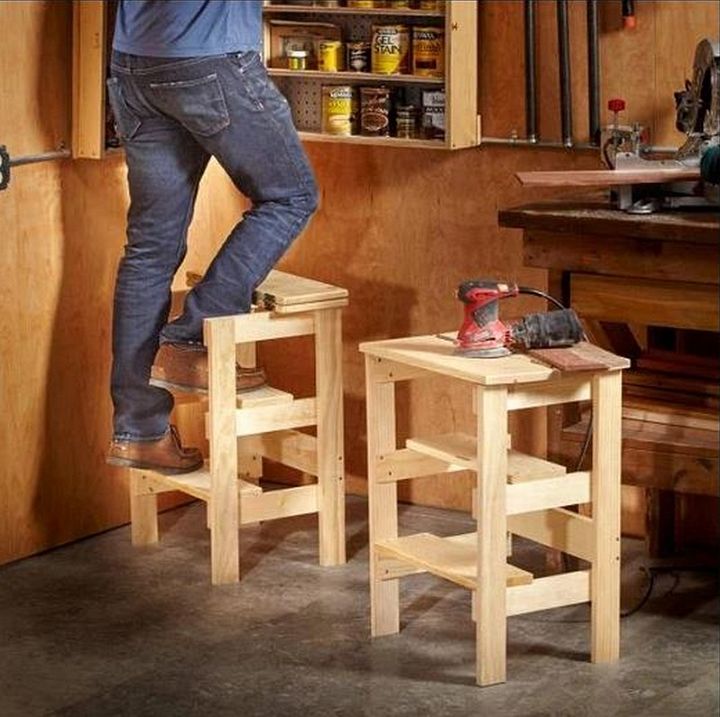 This is a simple shop stool plan that you can also follow. You need to have some basic wood working skills for this project. Besides this you will need some wood cutting tools and equipment's, drill for drilling and a few more things. You can use this stool for a number of purposes. Tutorial
14. DIY Industrial Pipe Stools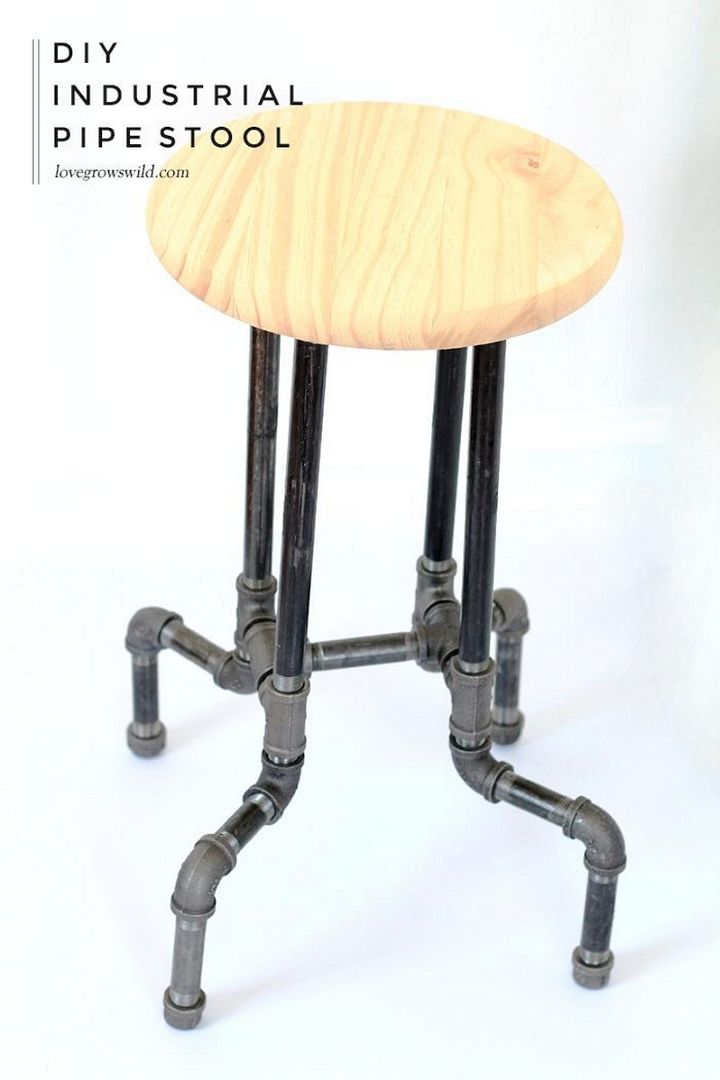 This is one unique stool made using industrial pipes. You can also try this stool project at home with the help of this tutorial here. You will need a few materials like round wood seat, floor flanges, pipes, elbows, close nipples, caps and Elmer's pro bond advance along with a few more. Tutorial
15. DIY Stool Makeover – Furniture Upcycle Ideas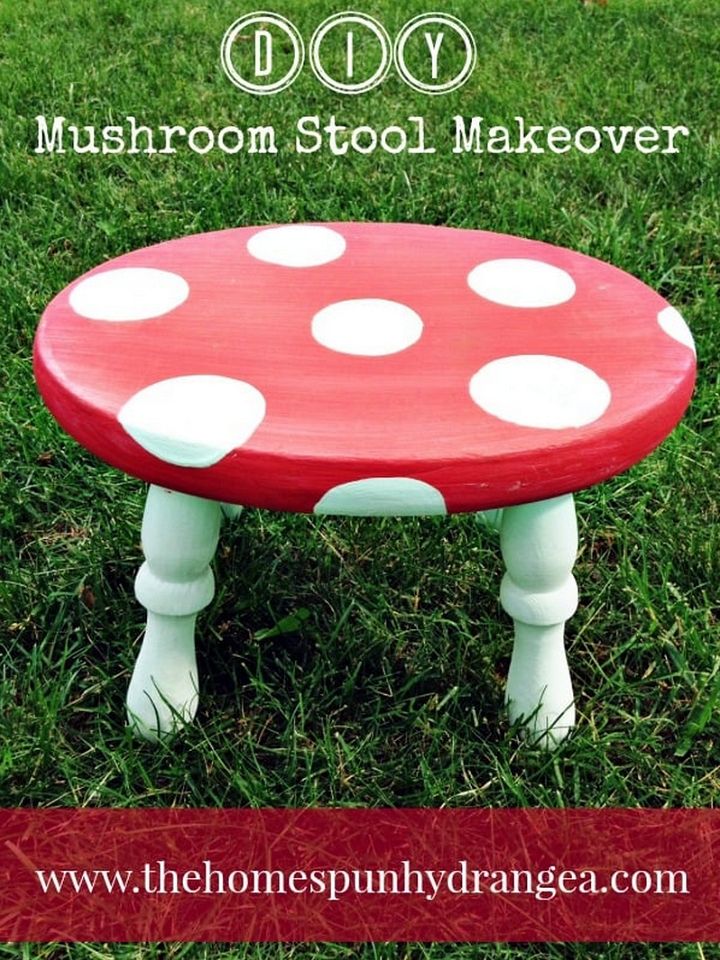 Some furniture upcycle ideas are so cool that you definitely want to try them. Upcycling idea are always useful as they only cut the cost but also let us do some creativity and re use something beautifully. Try to make this diy stool for your house too and enjoy this beautiful addition to your outdoor space. Tutorial
16. How To Build A Barstool With Pipe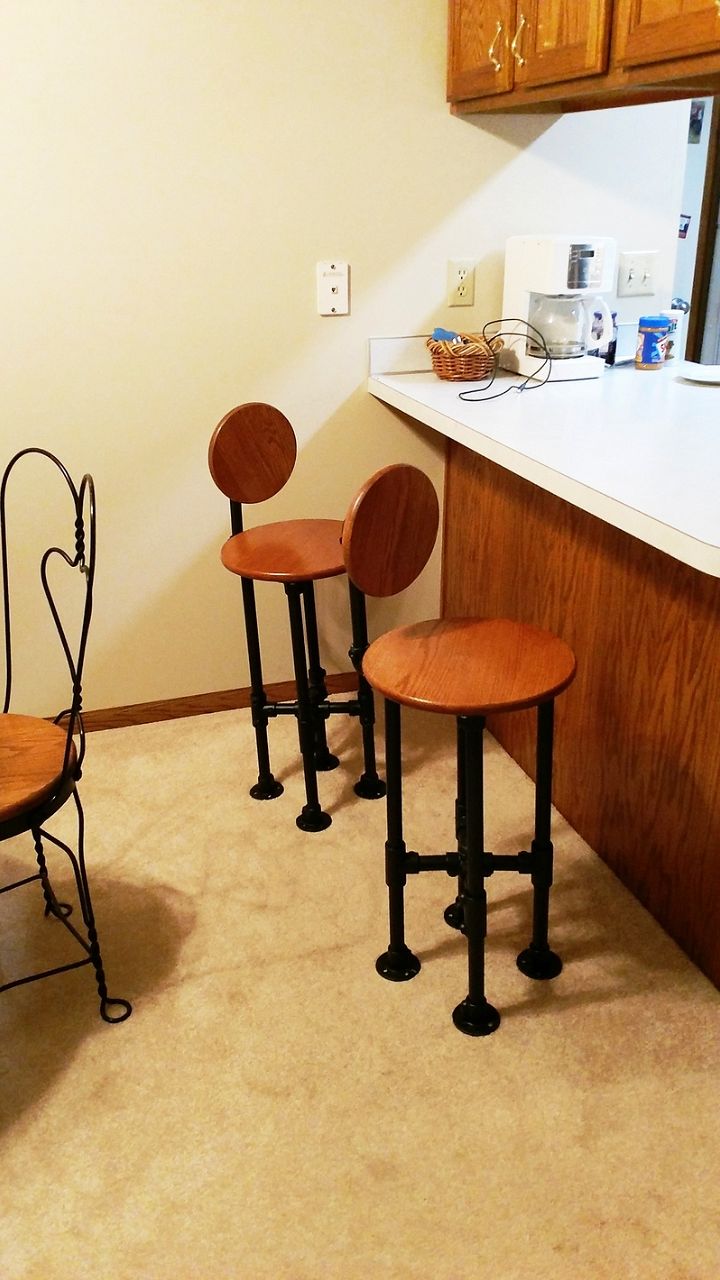 DIY Stool Ideas: Are you ready to build a bar stool all by yourself? If yes then you must follow this project accurately. This bar stool here is made with pipes and it looks truly awesome. This project shows you how you can build a nice stool in a few steps. Follow the steps accurately to achieve the desired results. Tutorial
17. How To Build A Bar Stool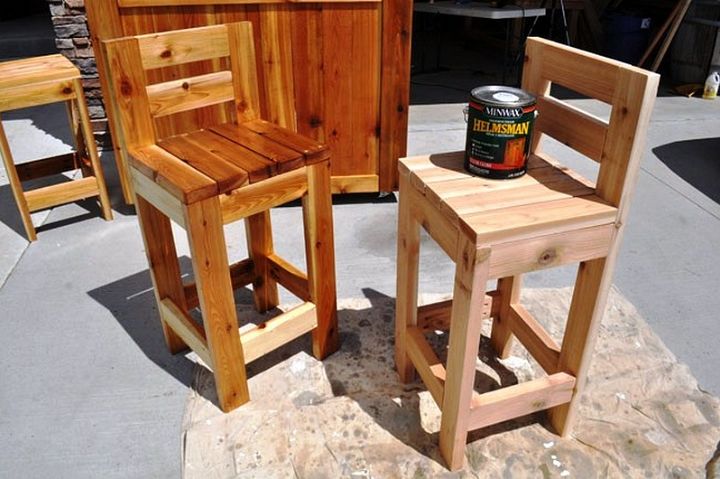 This bar stool is designed more like a chair. if you are also interested in making this super easy bat stool you will need miter saw, orbital sander, drill, kreg jigs, clamps, pencil, tape measure, safety glasses, ear protection , rubber gloves and paint brush. Grab the supplies and tools and make this happen over the weekend. Tutorial
18. How To Make A Simple Round Stool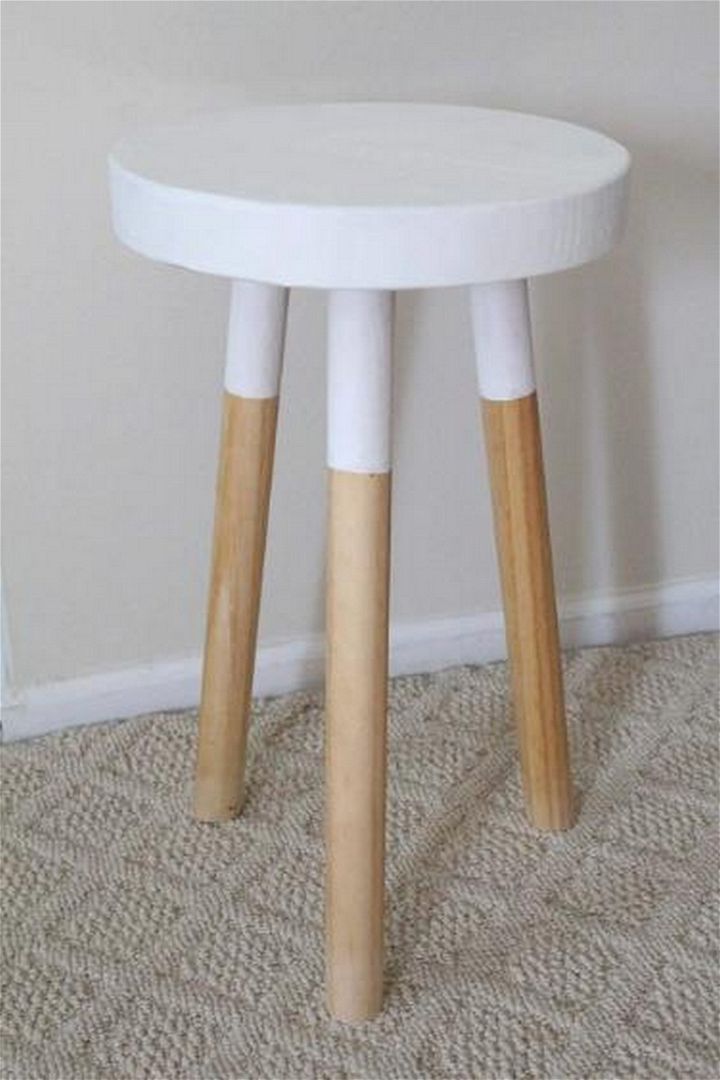 This diy simple round stool is all you need to add some spark to your home décor. A simple stool is a must in every household for a variety of purposes. Follow these steps that are taught here and make you own simple and cheap stool all by yourself. Tutorial
Best Things To Do With Washi Tape – These ideas for washi tape have endless possibilities and are simple to make for children of all ages, and enjoyable activities even for grown-ups!
19. DIY Wooden Step Stool Using Scrap Wood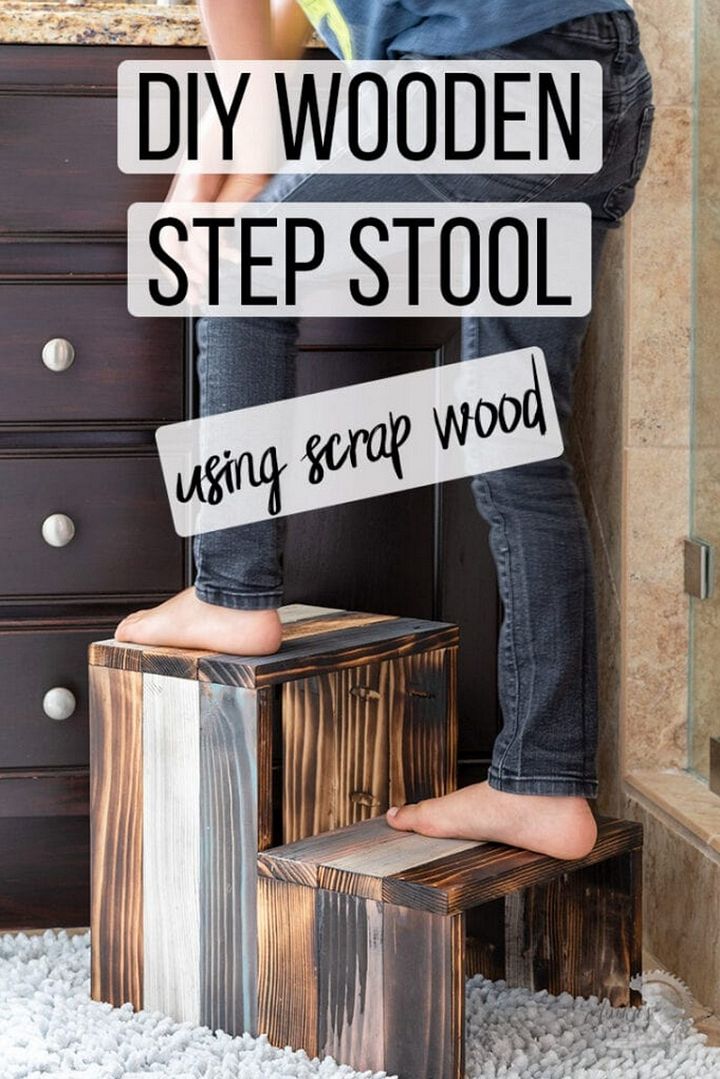 If you also have some scrap wood left and lying in your garage, you can make this stool for your house too. You will need lumber along with miter saw, sanding sponge, tack cloth, heat shrink torch, keg jig, pocket hole screws, wood glue, spray polyacrylic and paint. Tutorial
20. What You Need for DIY Industrial Bar Stools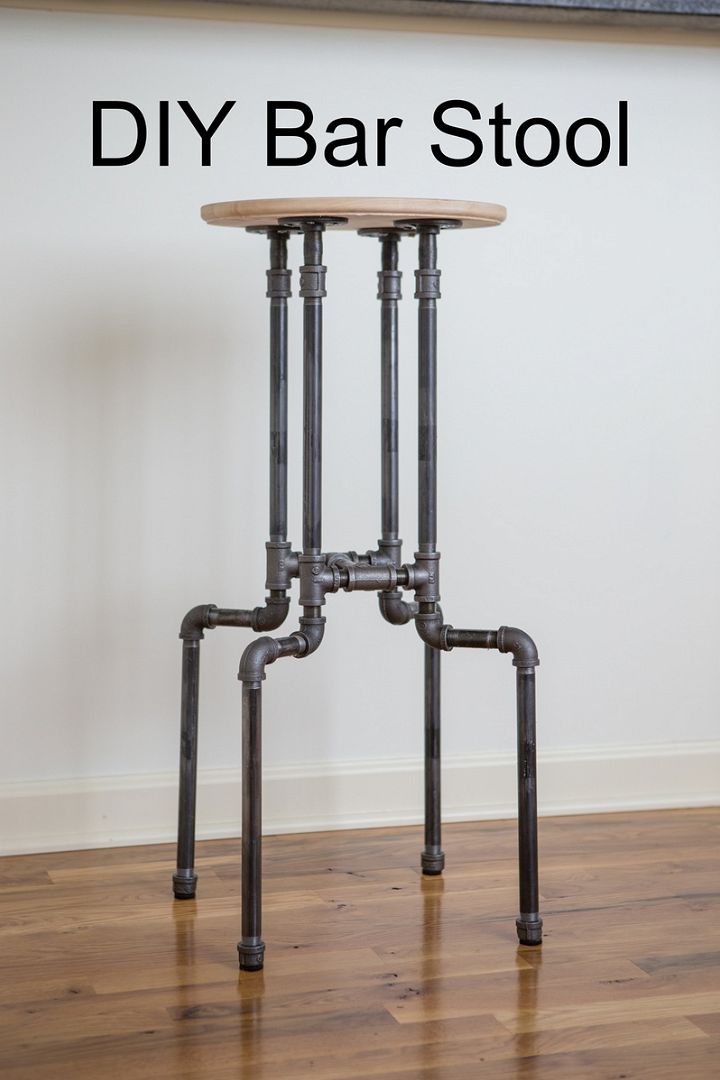 DIY Stool Ideas: This diy project will guide you through the process of making an industrial bar stool. You will need round wooden seat, floor flanges, pipes, elbows, caps, glue and much more. You will see a step by step construction process that will eventually lead you towards the making of an amazing stool like the one you see here. Tutorial
Conclusion:
All of the stools that you see here are remarkable and multipurpose. You can make these stool easily and use them for your day to day use as well as a formal seat in any area of the house. Build your own stools and have fun.